I have visited hundreds (maybe thousands) of places in Norway over the years, but one that I just can't get my mind off of is Bugøynes, a small village on the Varanger Fjord.
This beautiful village, also known as 'Little Finland' (I explain more below) has to be one of the most idyllic places to visit in Northern Norway and one that actually gets overlooked due to its extremely remote location.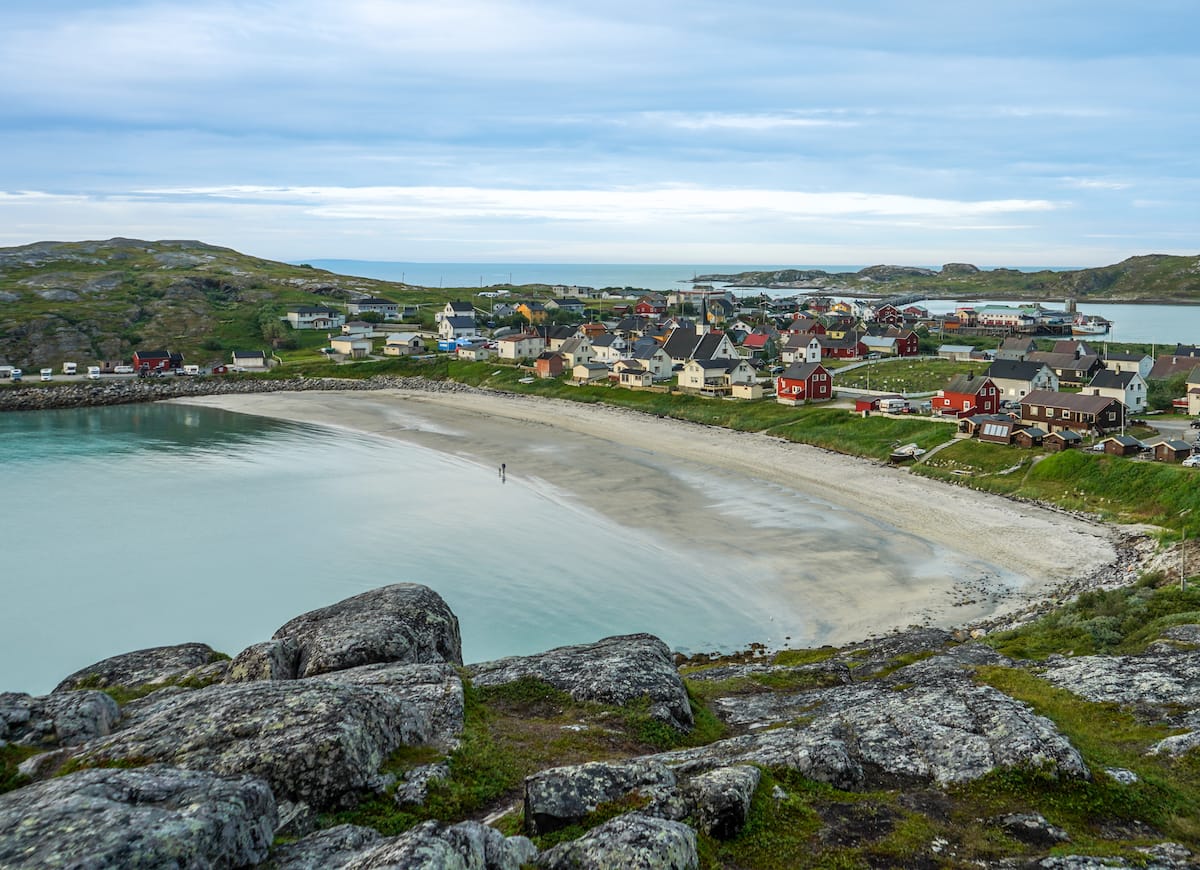 In this guide, I will discuss why I visited Bugøynes, a bit of its unique history, and what to do when you're there.
If you are planning to visit Kirkenes or do a road trip along Norway's Varanger Peninsula, throw some extra time in your itinerary and make a stop at Bugøynes!
Did I miss anything in this guide? Let me know if you have any questions in the comments. Thanks!
About Bugøynes (and Where is It?!)
Bugøynes is a small fishing village (only around 230 people live there) that is situated on the Varangerfjord in Sør-Varanger municipality.
While I think the destination is a must-visit in Troms og Finnmark county – many people simply haven't heard of it.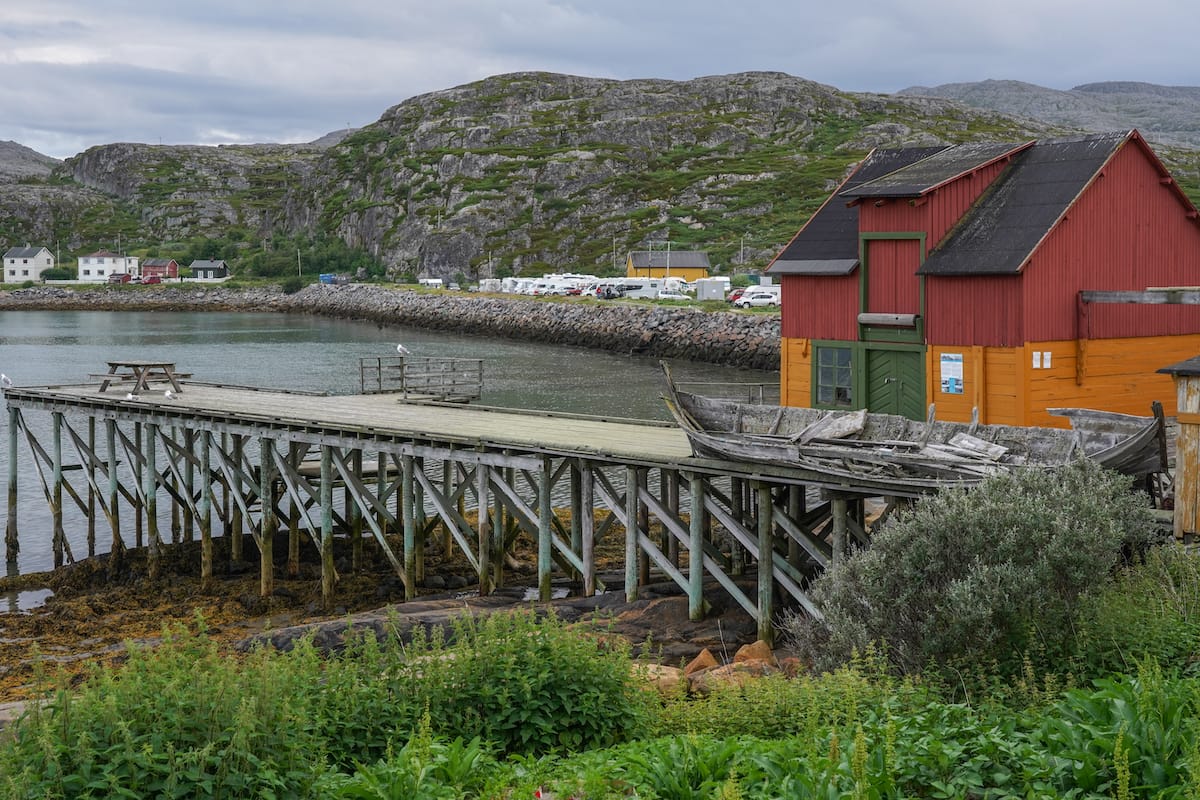 First settled by Norwegians in the 17th century, the village was later left abandoned… only to be repopulated by Finns in the 18th century.
Today, the village is inhabited by many with Finnish ancestry, and some still speak the language. Bugøynes has been dubbed 'Lille-Finland', or 'Little Finland' because of its unique history and ties with Finland.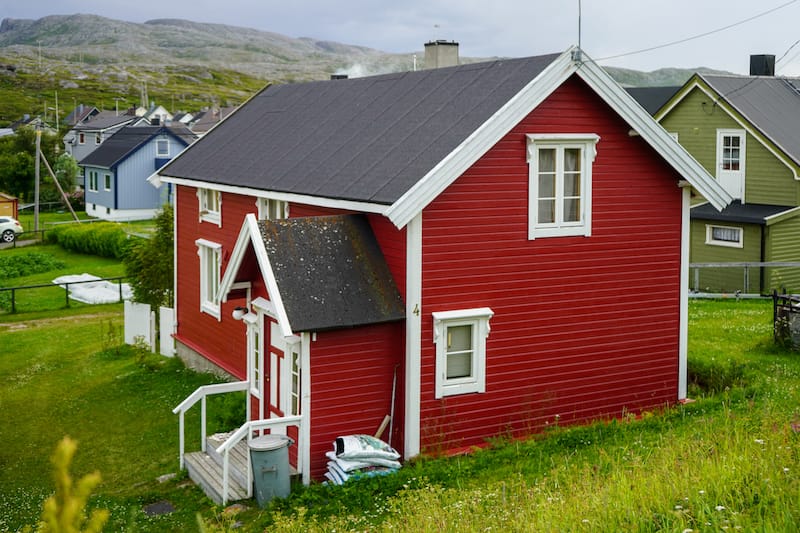 However, one super interesting fact is that Bugøynes was never burned down or destroyed by 'Operation Nordlicht' during WWII.
Operation Nordlicht was a German operation in 1944-1945 where the Germans retreated after the Finns and USSR made peace, but burned everything along the way.
Throughout this time, they scorched almost all buildings in Northern Norway's Finnmark region, getting rid of any facilities the enemies could make use of.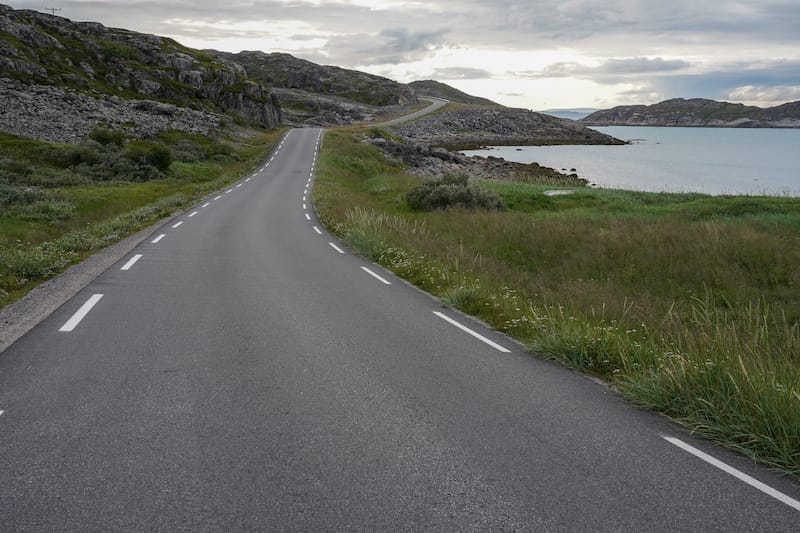 However, Bugøynes was never burned down (likely due to its off-the-grid location) and it remains one of the only places in the region that escaped this history.
Today, you will see a village teeming with cute wooden homes and buildings and a complete standout in a region quickly rebuilt after WWII for functionality rather than aesthetics.
How to Get to Bugøynes
Interestingly, I found quite a few travelers in Bugøynes during the summer months – 100% of whom were making a stop in their campervans. I didn't see anyone else.
So, you can get there by RV (they have a nice parking spot with free bathrooms, showers, etc), or you can make the trip there from Kirkenes or any other launchpad in the region.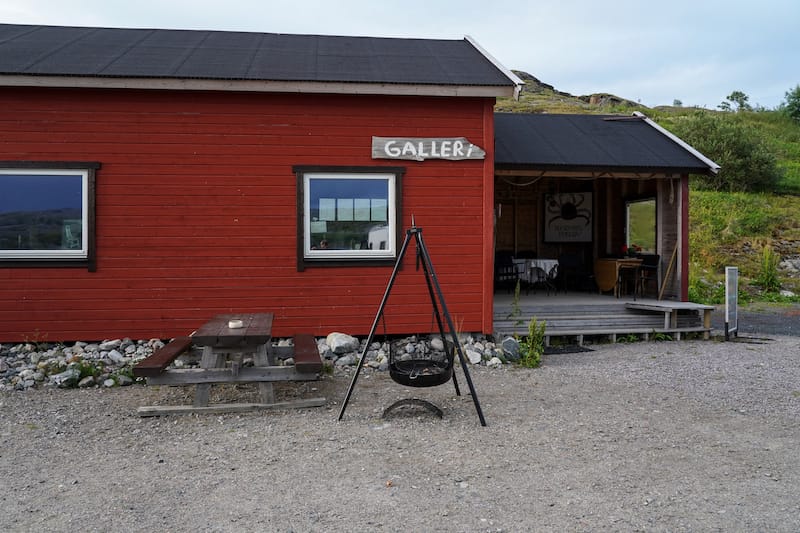 From Kirkenes, you will need to drive the E6 west and turn right on the Fv355 just before getting to Gandvik. It is a straight shot from there.
Beware that this road is hilly and not too wide (although it is in good condition) and be prepared for campervan traffic along the way if you're visiting during the summer.
The drive from Kirkenes to Bugøynes is about an hour and a half each way. Watch out for reindeer on the road, which is always something to be vigilant of when driving in Norway (well, the North at least).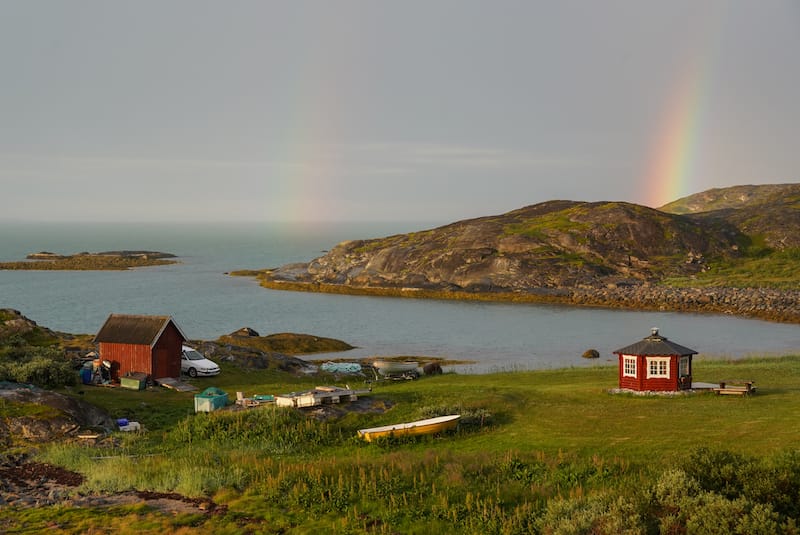 If you are visiting from the Varanger Peninsula (Vadsø or Vardø), you can take the E75 toward Varangerbotn and then the E6 toward Kirkenes (taking a left once you're slightly past Gandvik on the Fv355).
Best Time to Visit Bugøynes
Summer. This area of Norway is pretty cold and during the winter months, it is dark.
The summer brings long days and the village also has a festival during July called the Bugøynesfestivalen which happened to be at the same time I was visiting.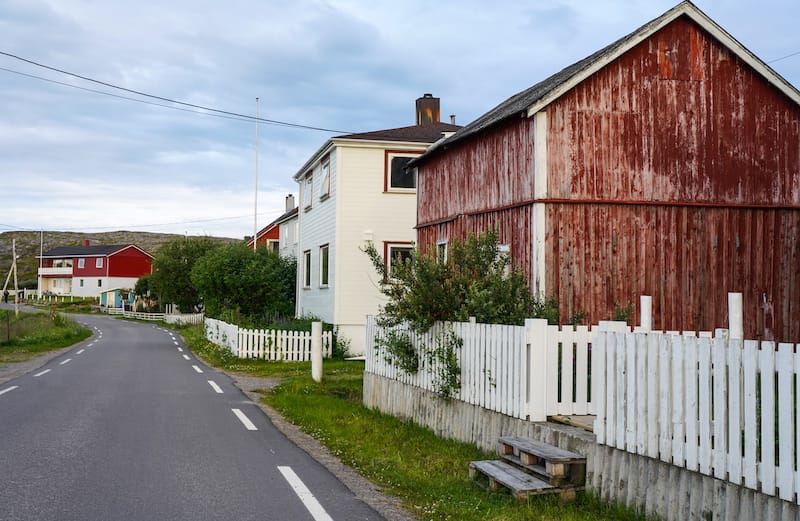 It was such an energetic place during this time – which I never expected from a such a small village!
How Long Do You Need in Bugøynes?
Honestly, if you're arriving in a campervan, I think it is a good place to enjoy a couple of nights. It was peaceful and the town was super friendly. But, if you're with a car, a day is plenty of time.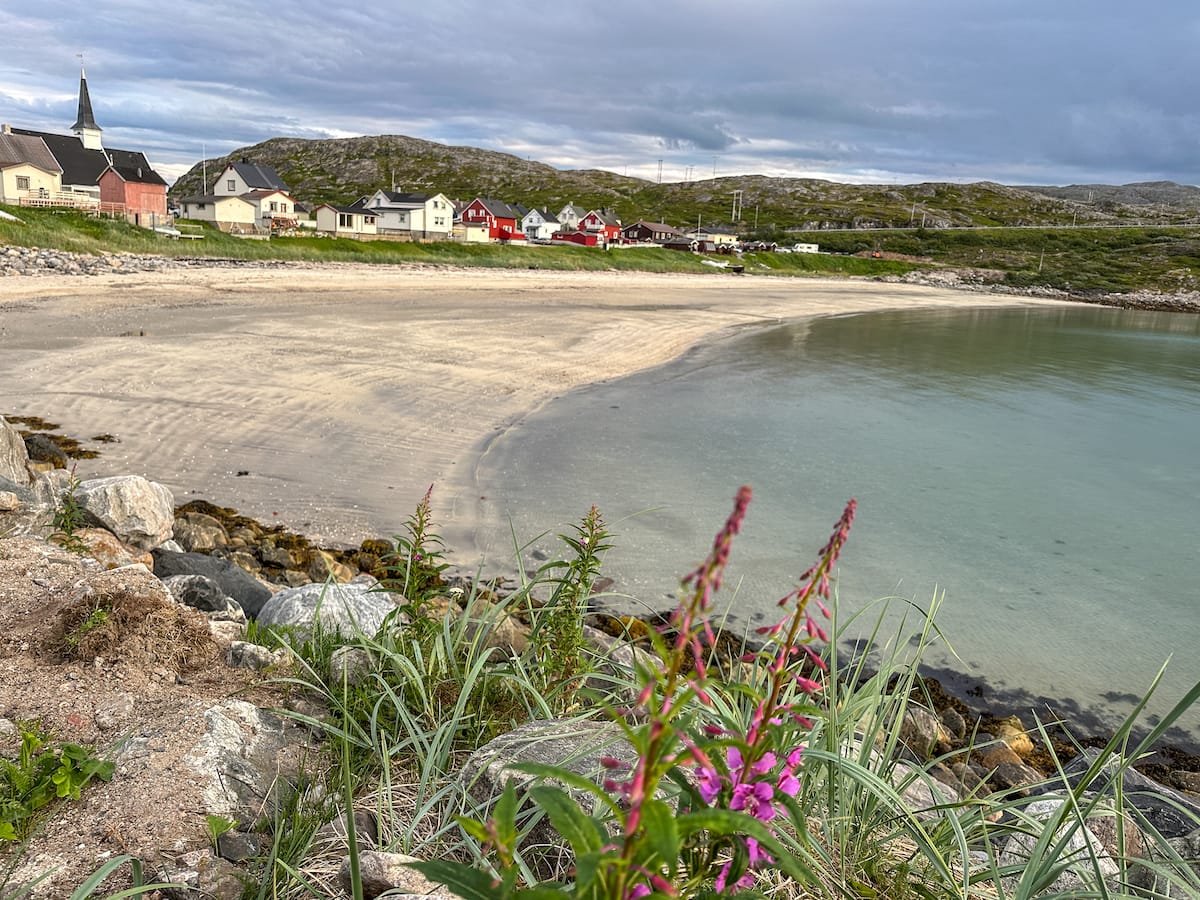 There is not an overabundance to do there, but the nature is so jaw-dropping that I think it warrants an entire day.
Getting there from Kirkenes takes about an hour and a half and the route there is insane, so I recommend planning some extra time in your itinerary for random stops.
Best Things to Do in Bugøynes
1. Walk Around the Village
The best thing to do in Bugøynes is to wander about the village.
I found the locals super friendly and the wooden homes and historic buildings were so appealing that it was fun to just wander about and take it all in.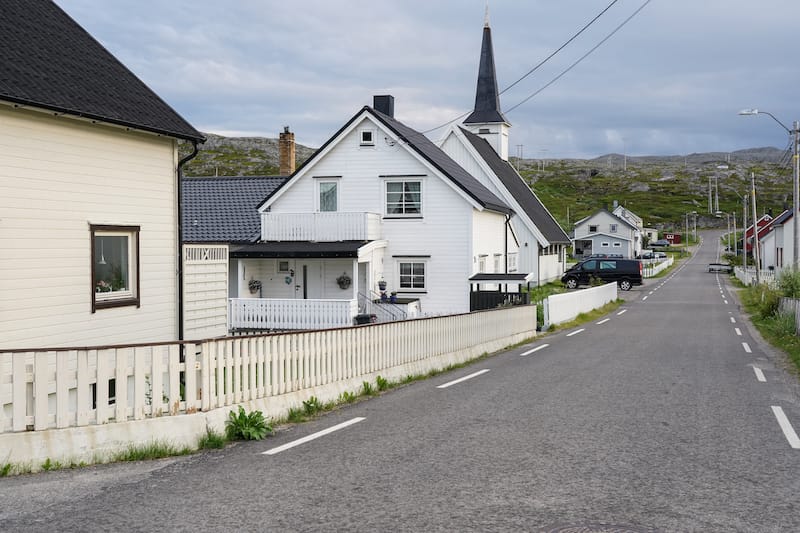 Two iconic buildings to check out are:
Lassigården (Lassi House): built in 1847 as a trading house for a family from Vadsø called the Ebensens that has been repurposed as a museum.
It is open during the summer months (generally from 1100-1700).
Bugøynes Chapel: only dates back to 1989 and built by Lien & Risan Arkitektkonto. It is hard to miss the Bugøynes landmark as it is surrounded by a cemetery.
Around the church, there is a very rare plant/flower called the Boreal Jacobs-Ladder that you can check out. It is forbidden to pick it.
2. See the Beaches in Bugøynes
One of the top Bugøynes attractions is the view of the place, as odd as that sounds! You have a strip of land with a beach on both sides of it and that is where most of the town lives.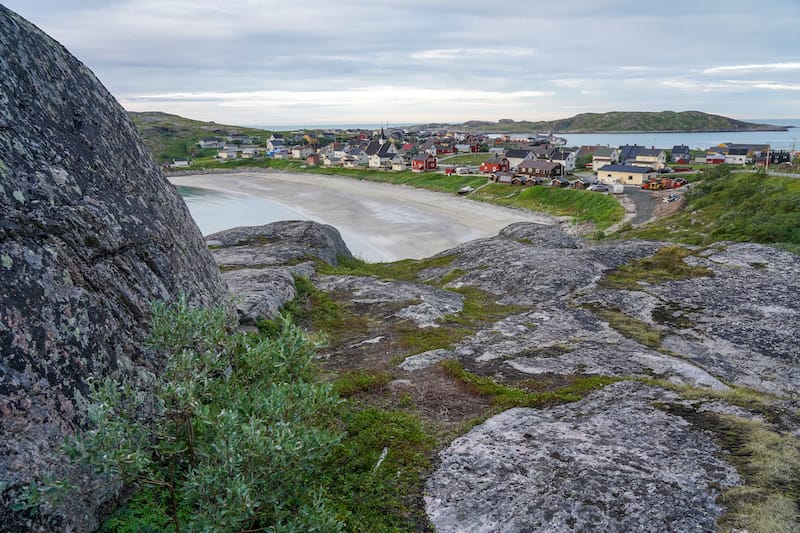 The beaches are called Sanden and Vestersanden. There are many views of Vestersanden, and you can see through the crystal-clear water if you are in the right place.
3. Go on a King Crab Safari
This region of Norway is known for its king crab, and you can even go on a king safari in Bugøynes! Truthfully, this is one of the best things to do if you're visiting Norway with kids, as it is an interactive experience (and also tasty).
I went on one in Kirkenes (such a worthwhile experience) and will definitely partake in one in Bugøynes next time I visit!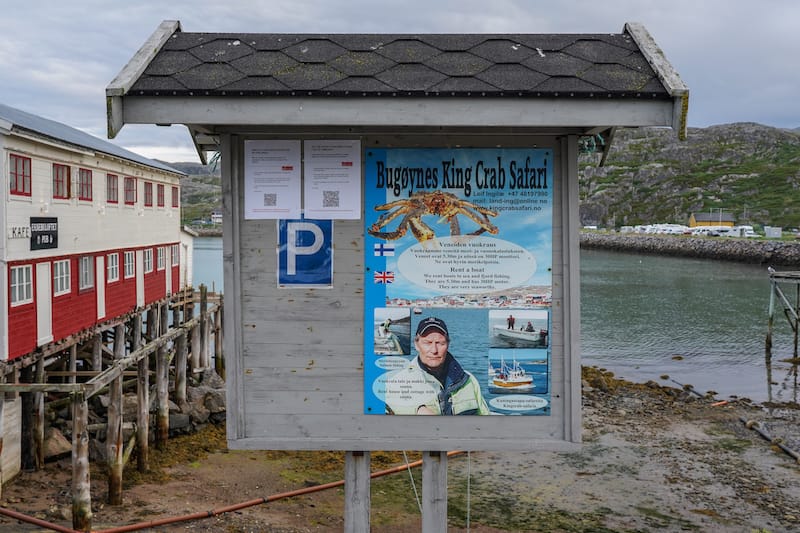 The duration of the RIB boat tour is 2-3 hours and it is 1650 NOK for an adult (kids under 14 are half price). You will also be given a floatation suit.
Once the part of the tour on boat wraps up, you will head to Bugøynes Bistroen and they will cook up what you caught so you can enjoy a nice meal afterward.
>> Click here to book a king crab safari in Bugøynes
4. Have a Meal at Bugøynes Bistro
Opened in 2015, Bugøynes Bistro is the only one in the village (well, the only one I happened to see).
They serve local food, and a lot of it comes straight from the Barents Sea at their doorstep. King crab is their specialty and I highly recommend lunch or dinner here when visiting!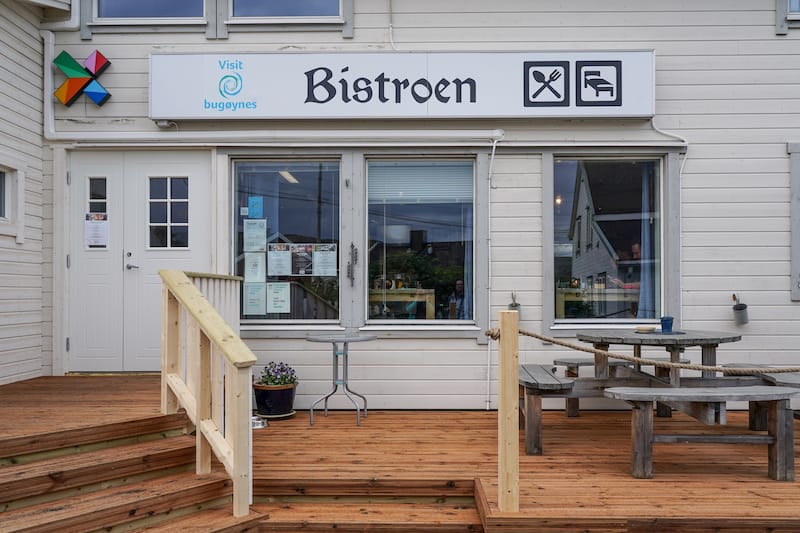 They are open Monday-Saturday from 1000-1800 and are closed on Sundays during the winter months. They are open daily during the summer.
5. Drink with the Locals at Egnebuloftet
There is one pub in town and it is called Egnebuloftet. Since there was a festival going on that occupied my time right beside it, I didn't pop into the bar (and I was also driving back to Kirkenes).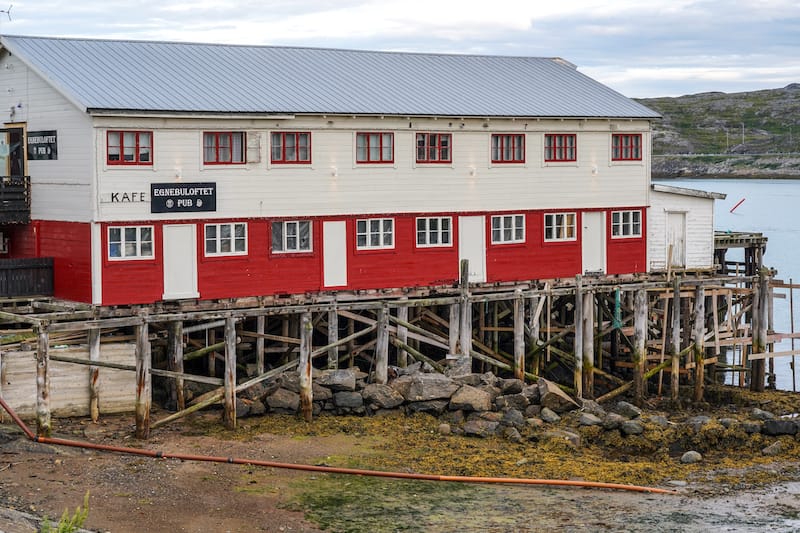 But, if you're staying overnight, this is a great place to have a pint with locals in the evening!
6. Rejuvenate at the Jäämeren Sauna
Would a trip to 'Little Finland' be complete without a visit to the Jäämeren Sauna?
No. I didn't do my research beforehand and did not plan (or dress) for the occasion, which left me gutted! But, I hope you can visit the wood-fired sauna and relax on your trip to Bugøynes.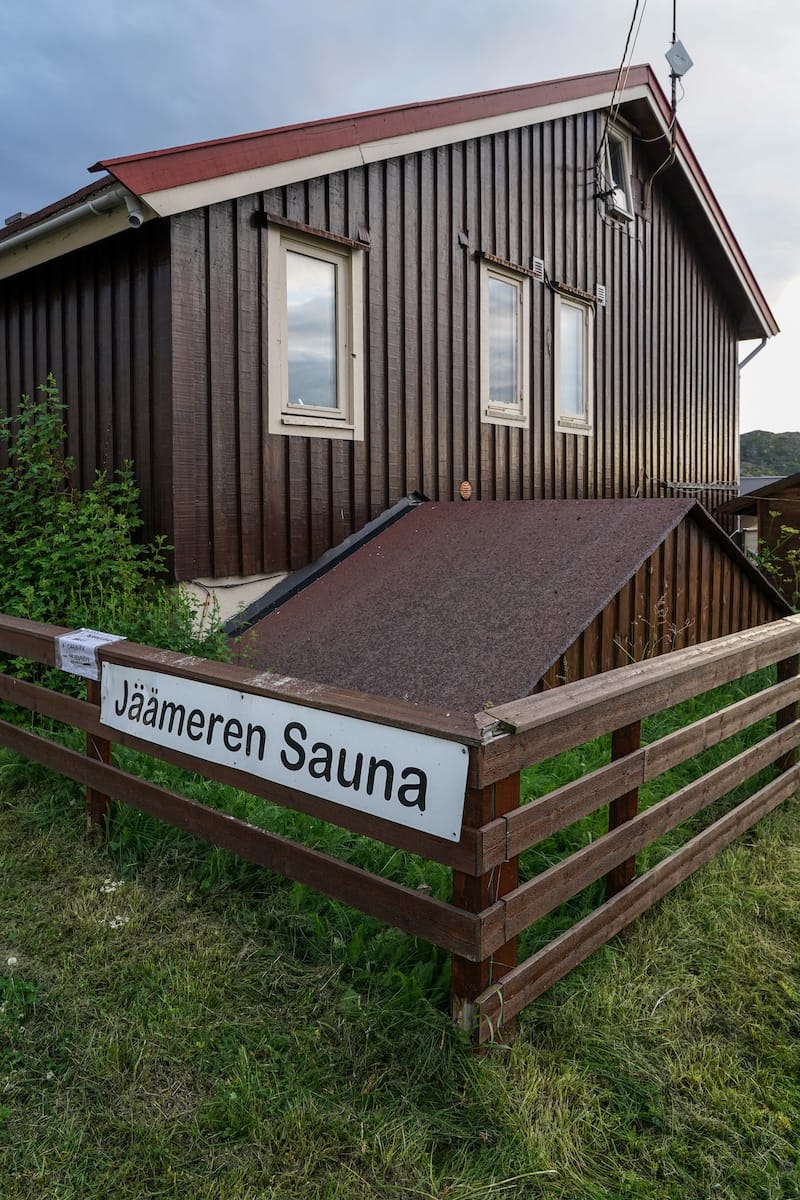 The sauna is fired with birch wood and you will also get to enjoy some snacks and refreshments after you enjoy the sauna (and a dip in the cold Varangerfjord!).
One cool thing about the sauna experience is that you can book it online and they also offer local accommodation in their Olgahuset (1-10 people), Dagrunhuset (1-6 people), or the House of Prayer (1-6 people). Bedding is included but breakfast is not.
>> Click here to book the sauna or accommodation at Jäämeren
7. See if Primafisk's Food Truck is Around
To be frank, I have no idea if this was a one-off thing because of the festival or if the Primafisk food truck is regularly around Bugøynes (and I can't seem to track the info down easily).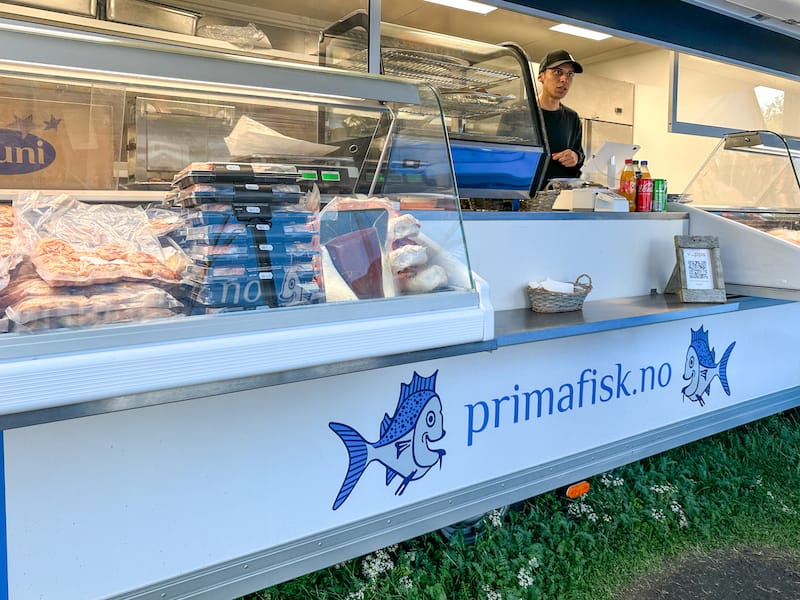 But, if they are there (they were located near the campervan area), INDULGE. Everything they serve is ridiculously fresh and mouthwateringly good!
I bought a fishcake and sat at a nearby picnic table overlooking Vestersanden.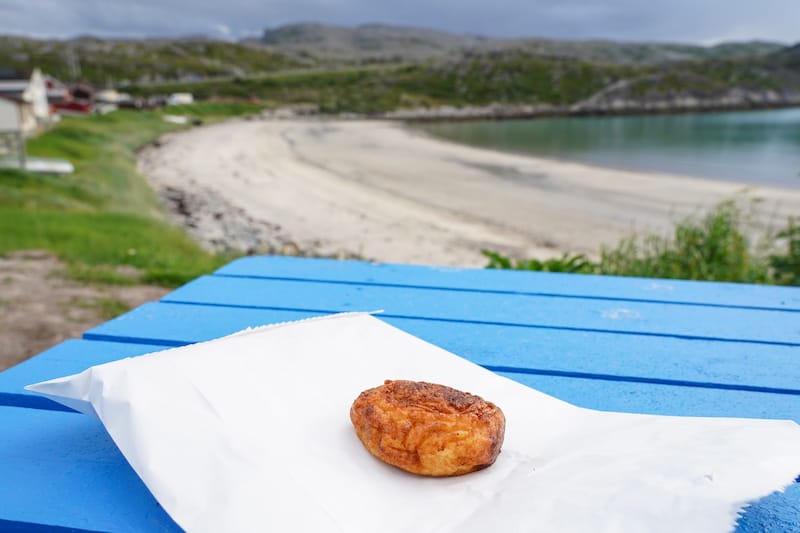 I was so gutted that I ate before finding the food truck because they had soup and other delicious items on their menu.
Where to Stay in Bugøynes
Hedvig House
The most popular place to stay in Bugøynes is the Hedvig House, which is situated super close to the Bugøynes Bistro. The house is historical and has been converted into accommodation.
Some other places you can book are:
Krambui Apartment (2-bedroom apartment that can host 4 people)
Panorama Annex Suite (has panoramic views and a sauna – can host 1-2 people)
All of the places listed above can be booked on Visit Bugøynes' website.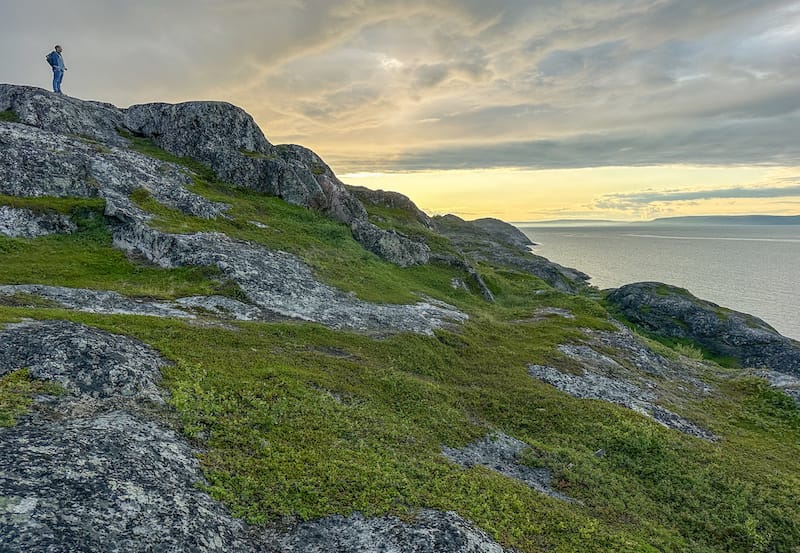 Do you have any questions about the best things to do in Bugøynes or any information you'd like to know before visiting? Let me know in the comments. Thanks!
More Northern Norway Travel Guides
Pin this Bugøynes Travel Guide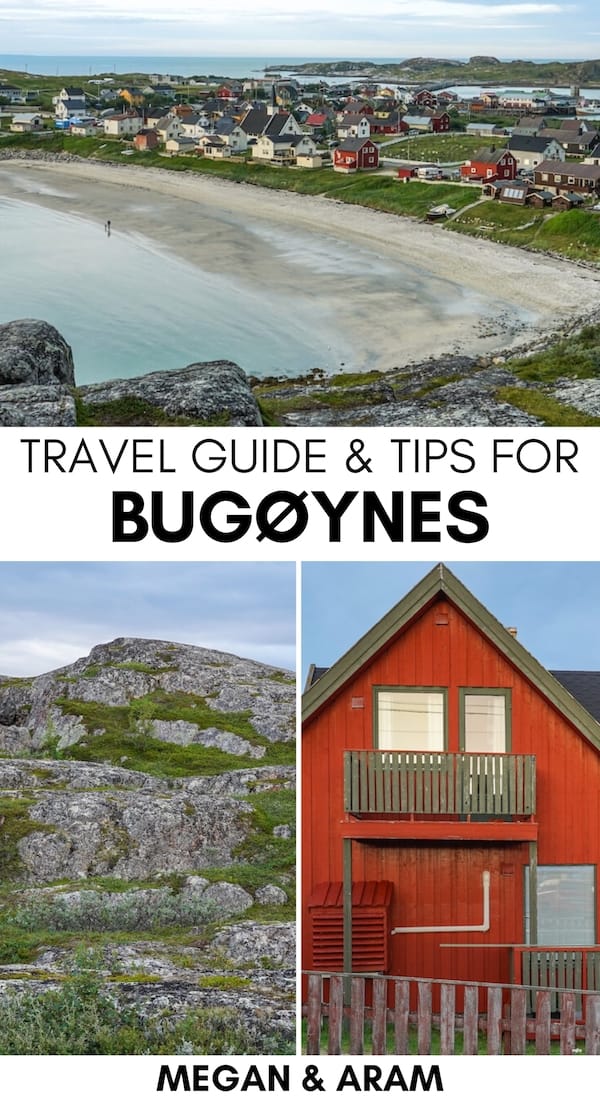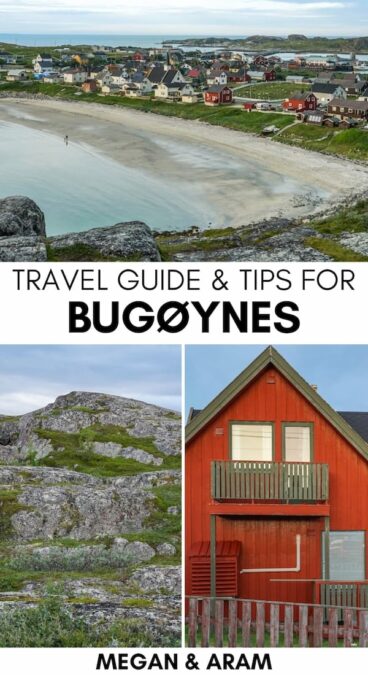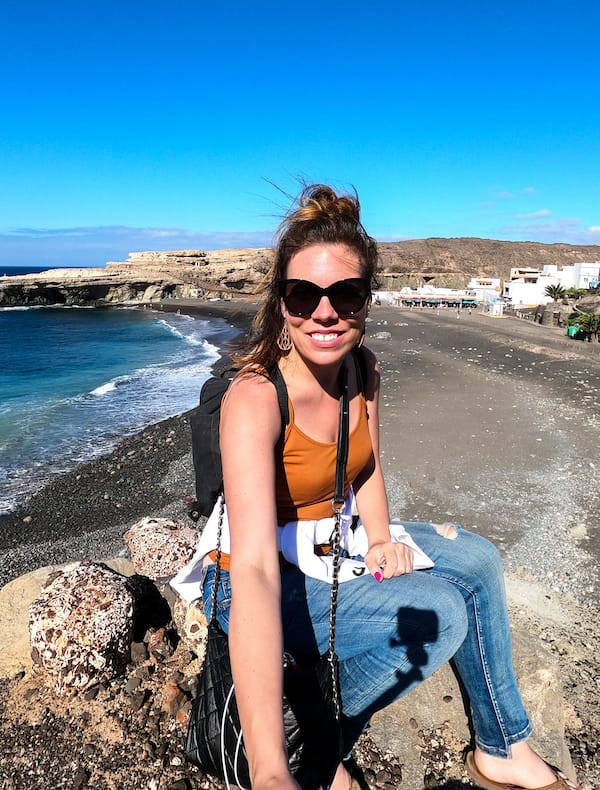 Megan is a travel blogger and writer with a background in digital marketing. Originally from Richmond, VA, she now splits her time between Frankfurt, Germany and Arctic Finland after also living in Norway, Armenia, and Kazakhstan. She has a passion for winter travel, as well as the Nordic countries, but you can also find her eating her way through Italy, perusing perfume stores in Paris, or taking road trips through the USA. Megan has written for or been featured by National Geographic, Forbes, Lonely Planet, the New York Times, and more. She co-authored Fodor's Travel 'Essential Norway' and has visited 45 US states and 100+ countries.