Crested Butte is one of the top winter destinations in Colorado. This is a list of the top things to do in Crested Butte in winter… beyond just skiing!
Are you planning your trip to Crested Butte last minute?
Be sure to book yourself a hotel well ahead of time as the winter in Crested Butte can be a bit busy!
Here are our top recommendations for accommodation in Crested Butte:
Elk Mountain Lodge (historic stay in a 1919 miner's hotel – our #1 pick!)
The Lodge at Mountaineer Square (right at the ski base)
Purple Mountain (B&B with daily beer tastings)
You'll find a plethora of activities in Crested Butte during December, January, February… and the rest of winter!
We have included some active things to enjoy during winter in Crested Butte, as well as some passive things (including museums!)
Did we miss any amazing things to do on a winter trip to Crested Butte? Let us know in the comments – thanks!
Crested Butte Winter Tips + FAQ
Average Snowfall in Crested Butte
On average, Crested Butte receives about 197 inches of snow annually. The average amount received in the United States is 28 inches annually – so you can definitely see why this is such a wonderful winter destination!
Another great thing is that there are 273 sunny days a year in Crested Butte! So, while it may be a top winter destination and not so warm, and least you are likely to have some sunny days on your trip!
Average Temperatures During Winter in Crested Butte
For the sake of this guide, we are typically chatting about the colder winter months like December-February, but we also included the average temperatures for November, March, and April below.
Crested Butte in November: Highs around 39F, lows around 9F
Crested Butte in December: Highs around 28F, lows around -3F
Crested Butte in January: Highs around 26F, lows around -6F
Crested Butte in February: Highs around 31F, lows around -2F
Crested Butte in March: Highs around 38F, lows around 7F
Crested Butte in April: Highs around 47F, lows around 18F
Please note that while Crested Butte is most often sunny, it does rain/snow more in winter than in other months throughout the year, so be prepared for precipitation while there.
Best Things to Do in Crested Butte in Winter
Snowshoeing in Crested Butte
This small Colorado town will entertain you with so many wintry activities and things to do. If you want to explore the surroundings and relish sweeping winter landscapes, go snowshoeing in Crested Butte!
Crested Butte boasts great snowshoeing opportunities, from groomed trails to wild backcountry areas.
Check out Brush Creek, a unique track away from the crowd that offers vistas of Teocalli Mountain. It is the perfect choice for beginner snowshoers.
If you're looking for more daring adventures, join the Gothic Trail, which offers deep snow, epic views, and a visit to the abandoned ghost town of Gothic.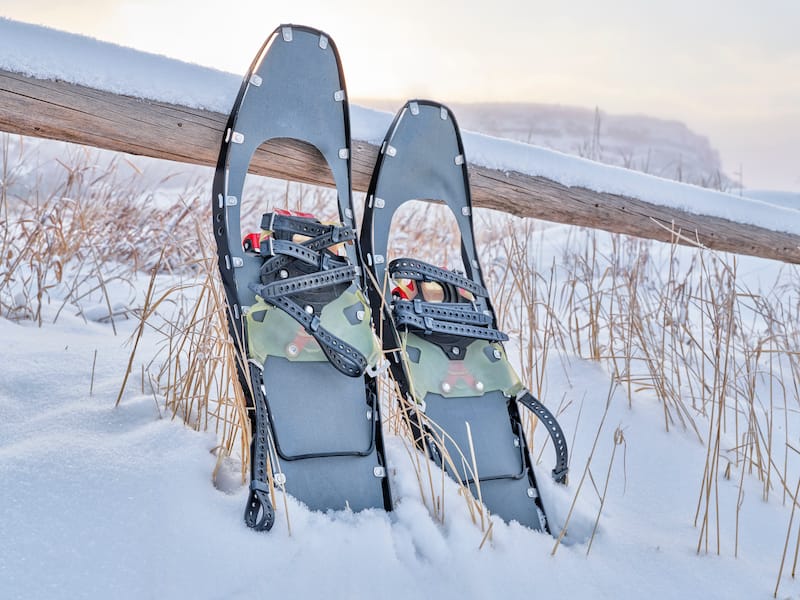 Another popular path winding through snow-covered meadows is Washington Gulch. The trail is of moderate difficulty and offers panoramic views of Gothic Mountain, Crested Butte, and Whetstone.
You can also take a guided backcountry tour through aspen groves, dark timbers, and open meadows.
Just join Irwin Guides if this is something that you think would be suitable for your trip! If you're seeking places to rent snowshoes, poles, and boots, be sure to head to the Crested Butte Nordic Center.
Crested Butte Museum
Explore the history and culture of the Gunnison Valley at the Crested Butte Museum. The museum is focused on preserving, spreading, and celebrating local traditions.
Visitors can enjoy various exhibitions, take a historical walking tour of Elk Avenue, or join numerous educational events.
The museum maintains an extensive collection with items dating back to the 1880s. Discover local mining, ranching, and other history in their permanent exhibits.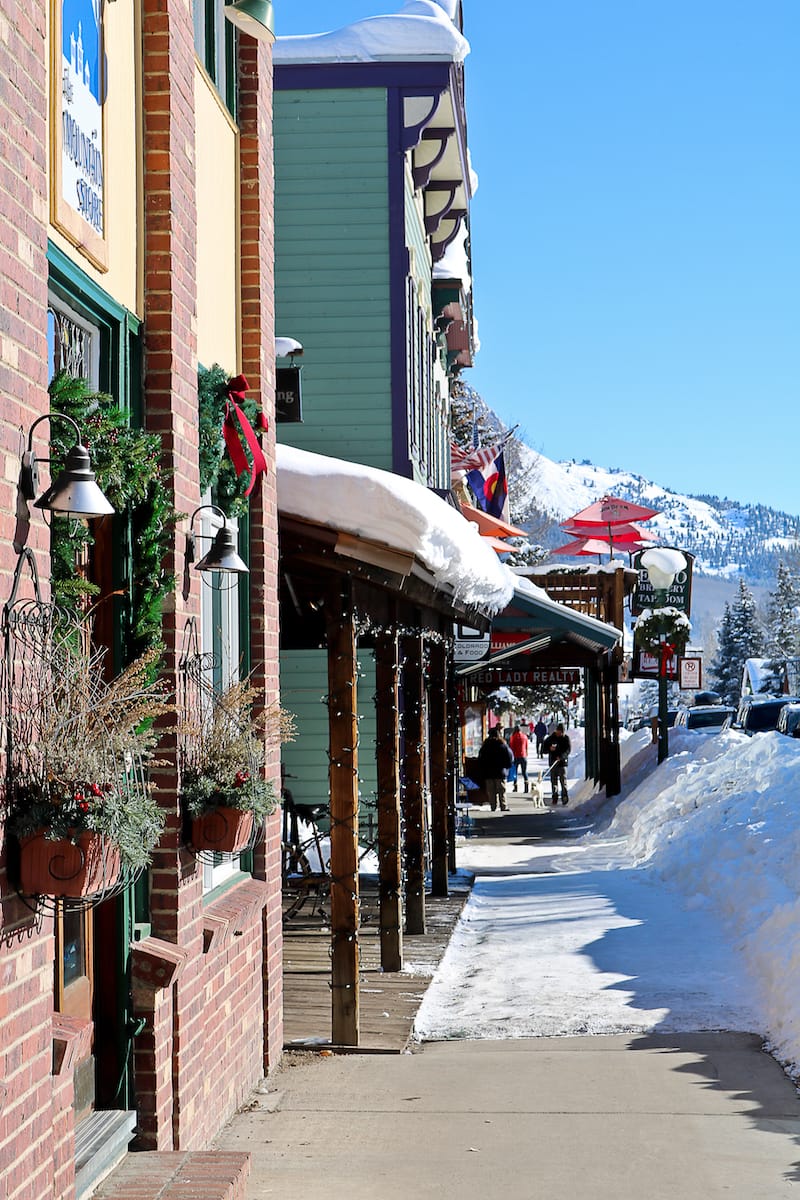 You can take themed walking tours dedicated to a specific area of the town.
And don't miss your chance to stop by the museum store that has several shelves of unique merchandise, including artwork, nostalgic games and toys, ornaments, apparel, books, and home decor.
See the Colorful Buildings on Elk Avenue
Take a stroll down the lively main street of Crested Butte, Elk Avenue. Immerse yourself in the historical and cultural atmosphere and enjoy world-class shopping and dining.
Love art? Visit the Creative Art District, see hand-painted buses, check out downtown galleries, and get acquainted with the local artists. In 2016, Crested Butte was officially recognized as a Creative District.
Traces of art can be found in every corner of the town, as a result, and it is one of the top things to do in Crested Butte in winter in between skiing and enjoying the powder.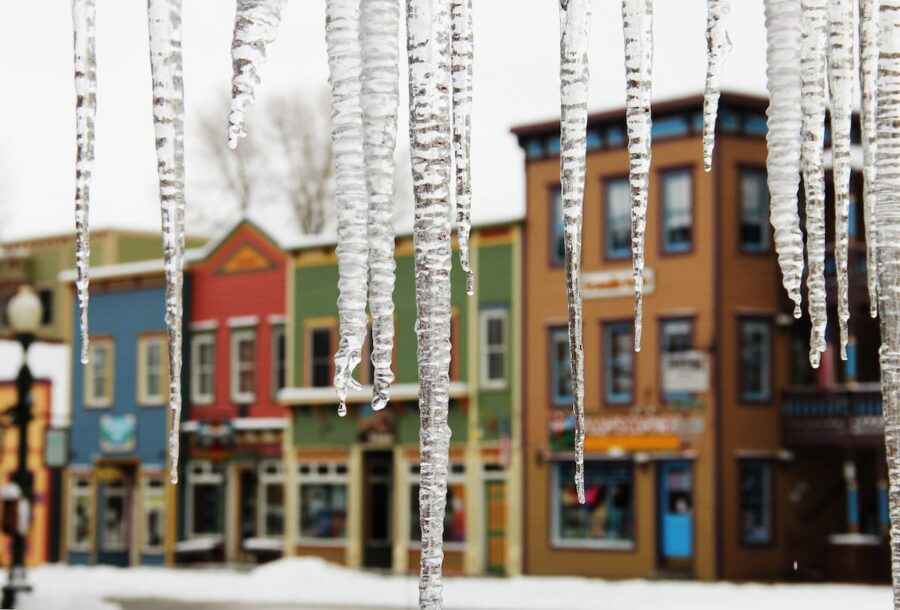 The area also boasts one of the state's largest National Historic Districts. Stop at the Crested Butte Museum or the Trailhead Children's Museum to dive into the local history.
Don't leave without a souvenir! You can do a bit of shopping at Chopwood Mercantile, Townie Books, Little Sparrow, and the Nest.
Crested Butte Winter Adventure Park
The Crested Butte Winter Adventure Park is a thriving place for winter recreation that will keep your entire family entertained during your trip!
Located at the base of Crested Butte Mountain Resort, the park features bungee trampolines, a climbing pinnacle, and mini-golf.
Let your kids have fun while you're taking a break at the Butte 66 restaurant, situated just beside the slopes. The Powerade Bungy Trampolines offer a hovering 'ride' up to 30 feet in the air.
Try jumping as high as you can, harnessed into the bungee. The climbing wall has a 28-foot tower with six routes and an auto-belay. This is one of the main attractions in Crested Butte in winter, so do note that it may be busy!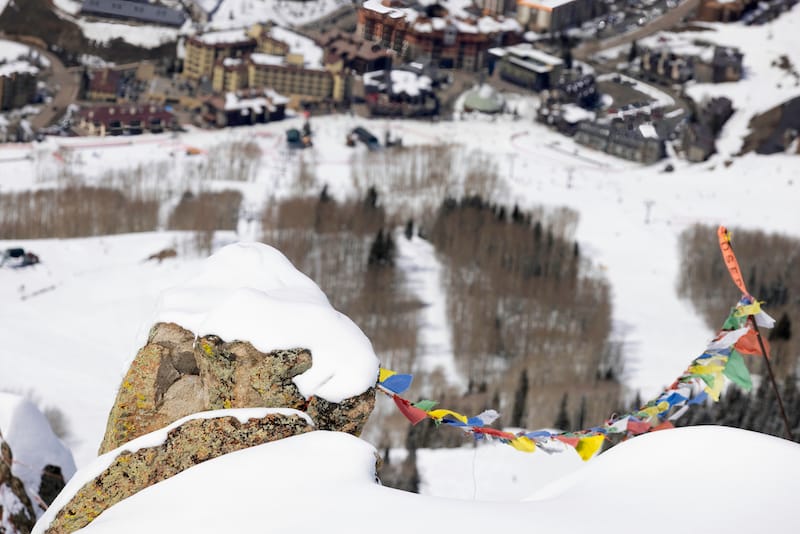 Visit Creekside Spa
Find a tranquil rejuvenation spot for your body and mind at Creekside Spa in downtown Crested Butte. The center welcomes its visitors with a peaceful atmosphere and experienced wellness therapists.
The spa provides therapeutic massages, body treatments, and organic facials. You'll be offered organic, natural, wildcrafted products, as well as the spa's unique steam towels and heated tables.
Whether you're having chronic pains or need deep relaxation, Creekside Spa always has something to suit you.
Choose among Swedish, therapeutic, hot stone, mother-to-be, or couples massage when there and give your body the attention it needs in between skiing and enjoying the winter activities.
The center offers various body treatments, including shea butter mineral scrub, aloe vera body wrap, and foot treatments. You'll also find different facials that focus on age revitalizing, CBD balancing, and crystal light procedures.
Hike the Gothic Trail
Planning to escape the winter crowds? Take to the Gothic Trail, a peaceful place in Crested Butte offering tons of winter enjoyment.
Along with epic landscapes, it provides a background for fat biking, Nordic skiing, snowshoeing, and skiing. This 3-mile groomed path may vary in its difficulty, ranging from moderate to difficult.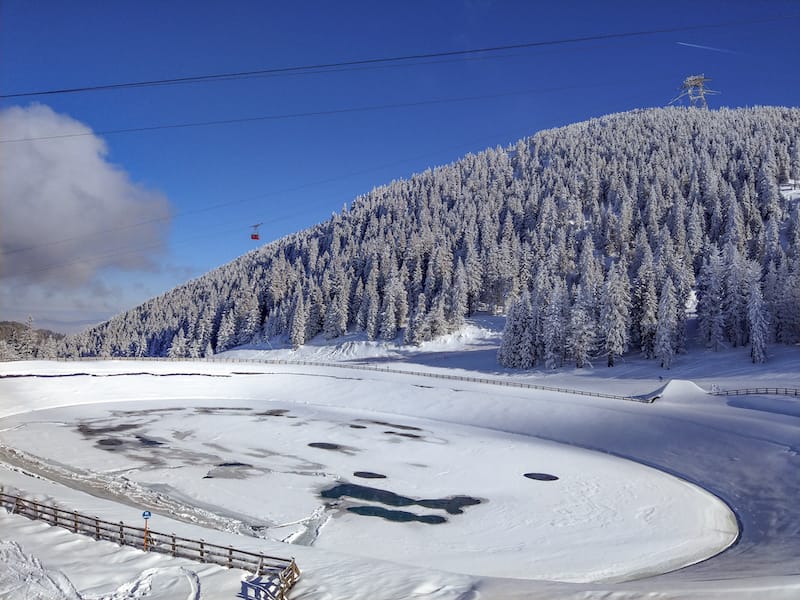 The trail starts at the parking area on the groomed track and follows down through Aspen groves to the valley floor. After crossing the East River, you'll find the gem of your Crested Butte itinerary- the abandoned town of Gothic.
Stop and have a break, enjoy the old town scenery, take pictures, and return the way you came. The trail back is mostly uphill, so be sure to grab water, snacks, and layers with you for the journey.
Ice Skating in Crested Butte at Big Mine Ice Arena
Big Mine Ice Arena is an outdoor covered ice skating rink- a real treasure for ice-skating enthusiasts. Its natural ice has no 'refrigeration', which makes skating faster and more enjoyable.
The area covers 26,000 square feet, and electricity is available throughout the facility. The arena has a paved parking area with 48 head-in spaces. From December to March, the rink is packed with hockey players and public skaters.
Forgot your skates? Don't worry. Crested Butte Nordic Center provides a selection of figure skate rentals for both adults and children. Grab your skates, check out the rink schedule, and hit the ice.
Remember to get acquainted with the regulations of the Big Mine Ice Arena beforehand.
Enjoy Coffee at First Ascent
Start your winter adventures in Crested Butte with a cup of fine coffee. First Ascent is a roasting company located in Crested Butte producing one of the most delicious instant coffees on the market.
Starting as a cafe on Elk Avenue, today they focus on roasting fine coffees highlighting the unique flavors. This is the only instant coffee-making company that maintains all the processes like roasting, brewing, freeze-drying, and packaging under one roof.
Thus, they guarantee the freshness of coffee before packaging. Whether you need a specialty roasted coffee or a handcrafted instant one, First Ascent has plenty of varieties to suggest, including Hero Day Blend, Ethiopia, Dawn Patrol Blend, and more.
Hike the Slate River Trail
The Slate River Trail is another ideal route to enjoy winter activities. Stretching through the most iconic valley in Crested Butte, it boasts epic views of the snow-covered river, valley walls, and Mineral Point.
The trail is always filled with skiers, snowmobilers, snowshoers, and backcountry travelers. Start from the parking area and climb a small hill, then take the right trail for a shortcut. Join the road again, pass the Gun-site bridge, and follow the Slate River Road to the valley.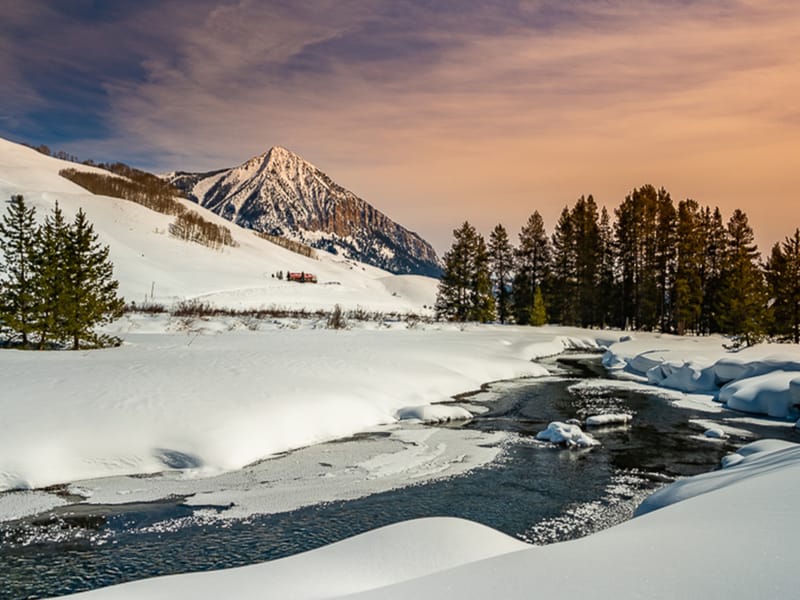 You may turn around at any point to shorten your journey. The trail is pet-friendly, but the on-the-leash rule is applied, and remember to pick up after your little friends.
This Crested Butte hiking trail is a great option for beginners!
Go Nordic Skiing in Crested Butte
Crested Butte Nordic is a world-class cross-country skiing destination with 31 miles of groomed trails. The trail system is easily accessible from the town.
If you have never cross-country skied, don't worry, the center offers lessons with a team of experienced instructors. All the lessons are private, and you may join youth, family, or adult groups.
Find the ultimate winter experience provided by guided ski tours with a variety of stunning terrain. Choose between half-day or full-day options and explore the area with your professional guide as you learn more about Nordic skiing in Crested Butte (and its history!).
Please note that the tours and lessons are available only by reservation.
Need equipment for your Nordic skiing trip? Find ski package rentals, including traditional cross-country (classic) skis and poles at the Crested Butte Nordic Center.
Hike the Snodgrass Road Trail
This intermediate-difficulty winter trail is one of the most popular ones to visit in Crested Butte. Covering 2.8 miles in length and 1500ft elevation gain, it creates perfect conditions for Nordic skiing, snowshoeing, fat biking, and backcountry skiing.
The groomed Snodgrass Road Trail starts from the parking area and stretches up to the mountain. Take the left path leading uphill as it offers an incredible view of the mountain Crested Butte and the ski area.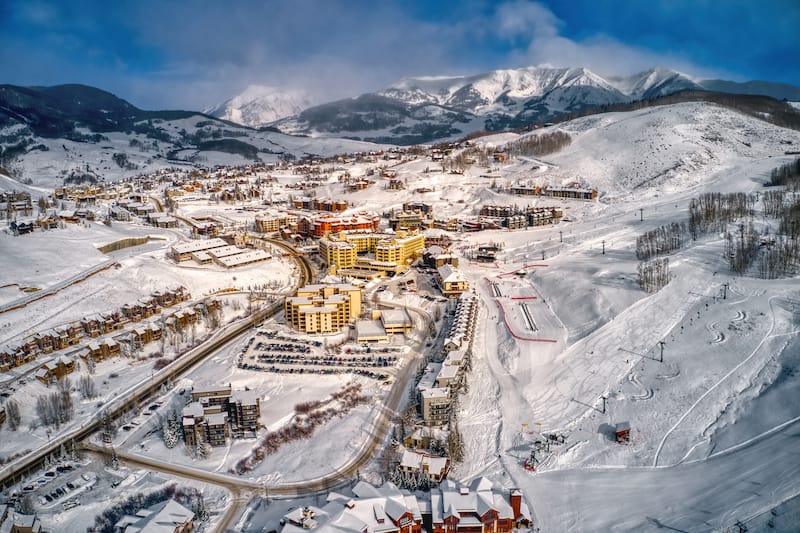 Those looking for more fun can stay on the trail as it reaches Snodgrass Mountain. Choose your turn-round point and have a pleasant descent down to the parking area. The route is well-marked and pet-friendly.
Enjoy Art at the Redline Gallery
A great way to spend your time in Crested Butte is to explore local art collections. One of the popular places to stop is Redline Gallery. It was established in 2014 and is located on Elk Avenue.
The gallery focuses on highlighting and sharing the works of local artists. Visitors can enjoy unique art pieces featuring paintings, ceramics, sculptures, and photography.
The Redline Gallery is also an excellent shop to find something for your home or office.
While many visit the area for winter opportunities, checking out the Redline Gallery is one of the best things to do in Crested Butte in winter for those looking to take refuge from the cold for a bit!
Go Fat Biking
Crested Butte boasts marvelous conditions for fat biking, even during the colder months. Plenty of trails with a variety of terrain are maintained by local companies and outfitters.
Crested Butte Nordic manages 6.2 miles of groomed trails, open to fat biking and free to use. These mellow, rolling treks are situated among the East SideTrails and are perfect for beginners.
The paths include Town Ranch, Rec Path, Riverbend Connector, and Teocalli Connector.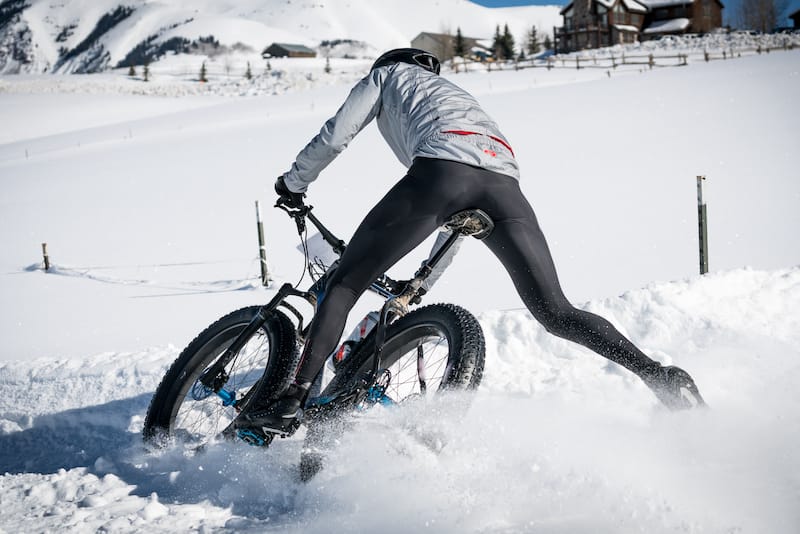 The Crested Butte Mountain Bike Association offers another group of groomed fat bike trails, with various difficulty levels, like Gothic Road, Teddy's Trail on Snodgrass Mountain, Cement Creek Road, The Club at Crested Butte.
If you're looking to rent a fat bike, be sure to check out The Alpineer, Big Al's Bicycle Heaven, and Crested Butte Sports.
Visit the Montanya Distillery
Explore the flavors of traditional high-mountain rum at the Montanya Distillery. This female-owned distiller is famous for producing award-winning smooth craft rums.
The founder and owner, Karen Hoskin, fell in love with rum 20 years ago in India when she first tried aged dark rum. That was the beginning of great changes, resulting in the foundation of the distillery in 2008.
Since then, the company has won 29 double gold, gold, and silver medals in numerous international competitions.
Each bottle is made with Louisiana sugarcane and pristine water from the Rockies appropriate to the oldest distilling traditions of the world.
Check out their signature products like Platino one-year aged white rum, Oro one-year aged dark rum, Exclusiva three-year aged rum, and Valentia four-year aged rum.
Lucky Cat Dog Farm Husky Sledding
Find your fluffy adventure at the Lucky Cat Dog Farm and enjoy an unforgettable dog sledding experience in Crested Butte!
The tour provides a two-hour ride through the backcountry of Gunnison County. You can come early to learn how to harness a dog and more about the sledding experience as a whole.
Stand at the back of the sled or cozy up inside the sled and watch the snow-covered miracle happening around you! Call 970-641-1636 to make reservations to join the tour.
Go Snowmobiling in Crested Butte
Crested Butte is home to opportunities for snowmobiling with an extensive network of trails, as well as numerous local companies providing guided or unguided rentals.
Whether you're seeking a thrilling ride or a peaceful scenic ride, the area has something to suit you. For beginner and intermediate riders, snowmobiling at Lake Irwin is a perfect choice.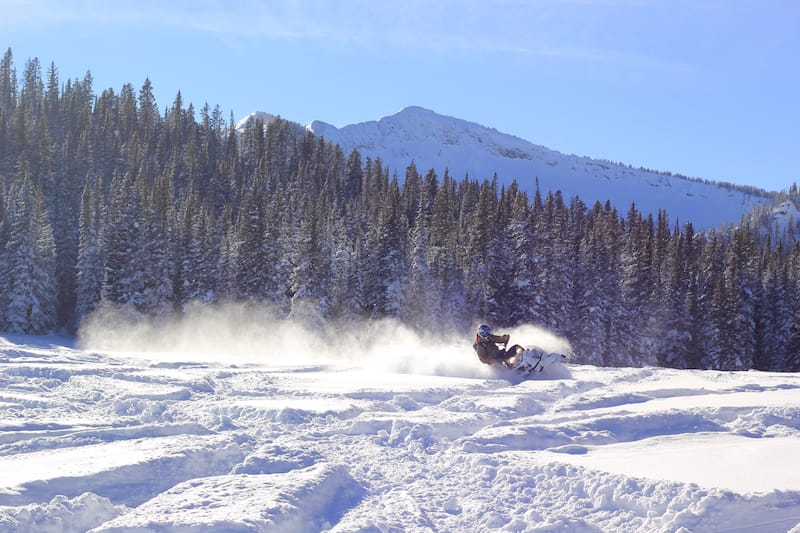 Advanced riders often prefer Lost Lake, offering great off-trail powder. Also, be sure to check out Kebler Pass and Splain Gulch. There's no shortage of snowmobile rentals and guided tours in Crested Butte!
Action Adventure Snowmobiling provides tours in the backcountry and you can rent boots and suits there (and other gear).
CB MotorSports has rentals, including snow machines, helmets, boots, goggles, maps, and more. They also organize tours in the greater Crested Butte area.
What to Pack
To fully enjoy winter in Crested Butte, Colorado, you will need to dress appropriately. The temperatures hover around freezing during the day and dip well below at night, and thick heavy-duty winter clothing is a necessity.
Other than dressing in layers, there are a few essential clothing items that you will need to bring with you to this CO town. Below are three of the most essential clothing items to pack, from my experience.
Winter Parka
One of the most important things to wear is a high-quality parka jacket. A decent parka will last a lifetime, and it is worth investing in a top-quality jacket from a brand that specializes in making clothes for colder climates.
I have an amazing parka jacket from the Norwegian company Helly Hansen, which specializes in making coats for the Arctic. I own the Helly Hansen Svalbard Parka, which has kept me comfortable and warm during several trips to the Arctic.
Sorel Snow Boots
After a decent parka jacket, the next most crucial clothing item is a pair of snow boots. There is nothing worse than getting cold feet, as once the cold gets into your boots, there is no warming them back up until you get out of the snow.
Sorel makes some of the best snow boots going, and I have trusted their boots to keep my feet warm for years. The boots are specifically designed for the Arctic and include thick warm woolen insoles and removable lining that will keep your feet warm in the coldest of temperatures.
While I have owned several pairs over the years, these are my favorite ones.
The boots are great on their own but I do recommend purchasing a size larger than you normally would, so you can also wear a pair of thick woolen socks for extra warmth.
Crampons
If you are anything like me, you will need all the extra grip you can get on the icy pathways of Crested Butte (especially if you're hiking in winter). Crampons conveniently clip onto the bottom of your boots and help keep you upright as you walk around.
One of the best benefits of crampons is protecting your back from severe pain caused by constantly trying to keep you upright on the ice. I have used several brands over the years but have now settled for a pair of Yaktraks, which have recently saved me from many falls.
Additionally, I highly recommend bringing a good pair of mittens with you, as they are far more effective at keeping your hands warmer than regular gloves. Along with thermal underwear and hats. I tend to purchase hats from some of my favorite Scandinavian designers, as they are always stylish and practical.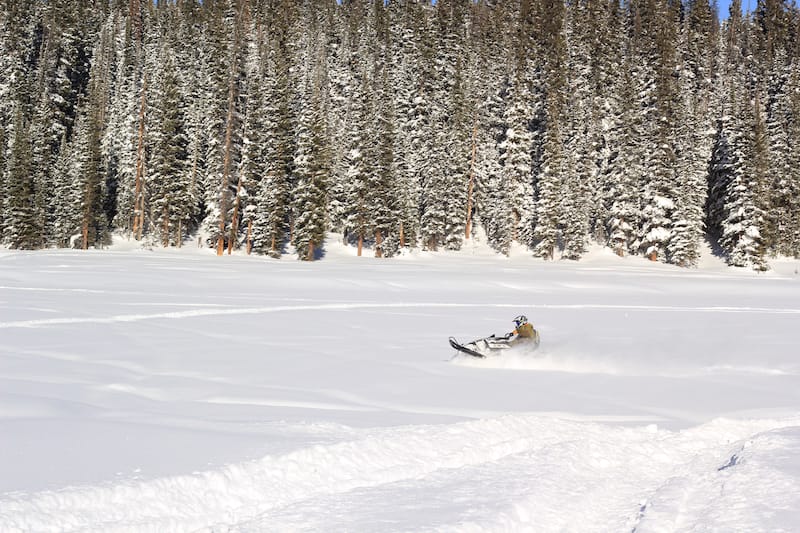 What to Pack (Gear & Miscellaneous)
While packing the correct clothing is often a challenge, there are also several non-clothing items that I personally don't leave the house without, especially if I travel to colder climates.
Powerbank
In cooler temperatures, smartphones have to use up more power to keep their internal temperatures at the optimum level. This additional workload means they often run out of battery quickly when it's cold.
Bringing a power bank on your trip is the perfect way to ensure you don't find yourself with a dead phone while you're out exploring Crested Butte.
I recommend purchasing a power bank with at least 25,000 mah as you will be able to charge your phone multiple times throughout the day. Click here to buy my recommended power bank on Amazon.
Spare Camera Batteries
If like me, you are a keen photographer, I suggest taking spare batteries for your camera. The cold weather impacts camera batteries far more than is often considered.
I have found that while my camera's battery lasts for days on end in warm destinations, the battery can deplete within hours in cold settings. Along with spare batteries, I also bring along a USB battery charger, which can be plugged into a power bank.
Dry Bags
The weather in Crested Butte in winter can often turn quickly, and you will want to make sure your equipment stays dry and safe. This is also important when you're around snow!
I always use dry bags when I travel; they are brilliant at keeping things dry and safe while looking stylish. I use these bags from The Friendly Swede.
Where to Stay in Crested Butte
You will find plenty of lodging and accommodation in Crested Butte during winter!
Here are some of the best places to stay on your trip:
What are some of the top things to do in Crested Butte in winter aside from skiing, in your opinion? Let us know in the comments! Thanks!
More Colorado Winter Guides
Pin this Winter Trip to Crested Butte Guide