One of the top places to visit in Colorado regardless of the season is Steamboat Springs.
These are the best things to do in Steamboat Springs in winter… beyond skiing and snowboarding, which is what the town is famous for!
Even though we say this guide is without any skiing and snowboarding recommendations, we do list cross-country (Nordic skiing) on it as an alternative!
In addition to the many Steamboat Springs winter activities, we have highlighted a few things to do before visiting the Colorado ski town! Steamboat Springs is a great weekend trip from Colorado Springs and Denver both!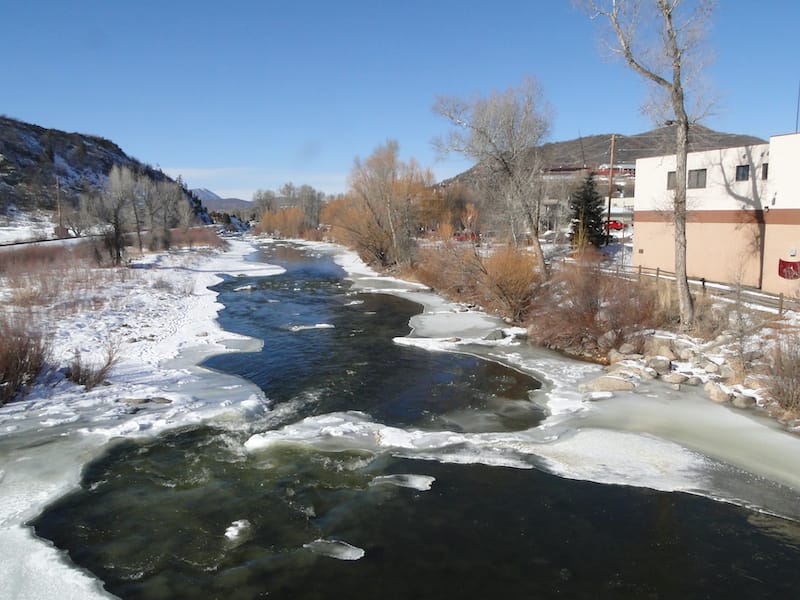 Did we miss any amazing activities during winter in Steamboat Springs? Please let us know in the comments! Thanks!
Steamboat Springs Winter Tips + FAQ
Below is a quick guide to some things to known before visiting Steamboat Springs during the winter!
When is it Winter in Steamboat Springs?
Over 40% of the year sees a bit of snow on the ground in Steamboat Springs! But, that doesn't necessarily constitute winter in the Colorado town!
For the sake of this guide, we concentrate on December, January, and February in Steamboat Springs. If you have any tips or questions outside of those months, please let us know in the comments or send us a message!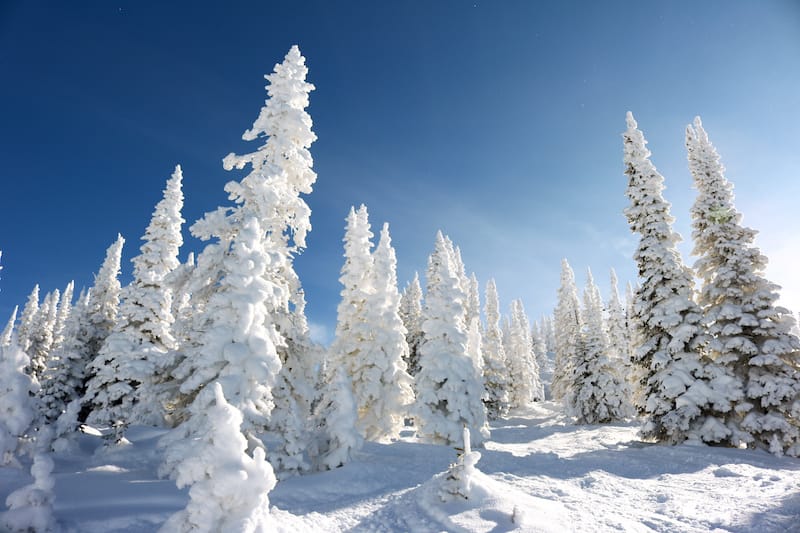 Average Winter Temperatures in Steamboat
Steamboat Springs has frigid temperatures during winter, which is completely unsurprising to most. The skies can also be rather grey during the winter months.
Here are the average winter temperatures in Steamboat Springs, Colorado:
Steamboat Springs in December: Highs around 30F, lows around 5F
Steamboat Springs in January: Highs around 29F, lows around 3F
Steamboat Springs in February: Highs around 34F, lows around 6F
Average Snowfall in Steamboat Springs
Steamboat Springs typically gets its first snow in October. On average, about one inch of snow falls on the Colorado mountain town a day and 40% of the year has at least an inch of snow on the ground there.
And on average in wintertime, the snow on the ground averages from ​​1.5 to 2.3 inches.
How to Steamboat Springs from Denver
If you are planning to visit Steamboat Springs in winter and to land at Denver International Airport, then your trip to the mountain area will take approximately 3.5 hours via US-40 E and I-70 E highways.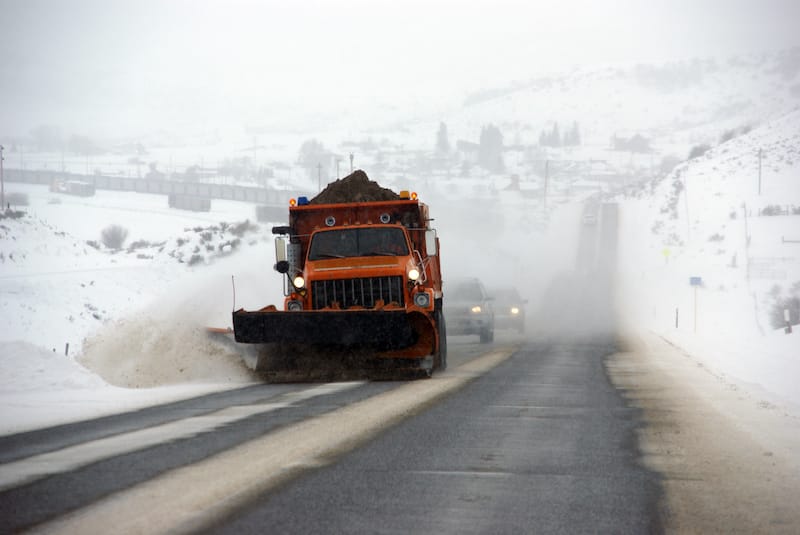 However, there is also a quicker way to get to Steamboat Springs if you land at Yampa Valley Regional Airport which is located 24 minutes away.
From there, you will need to take the US-40 W highway from the airport directly into Steamboat.
Best Things to Do in Steamboat Springs in Winter
1. Hiking to Fish Creek Falls
Meet the 280-ft tall Fish Creek Falls, one of the most popular attractions in Steamboat Spring. These legendary falls are easily accessible for the whole family.
Enjoy the views over the pristine water smoothly cascading down the rocks, or try your skills at kayaking, rafting, and paddleboarding.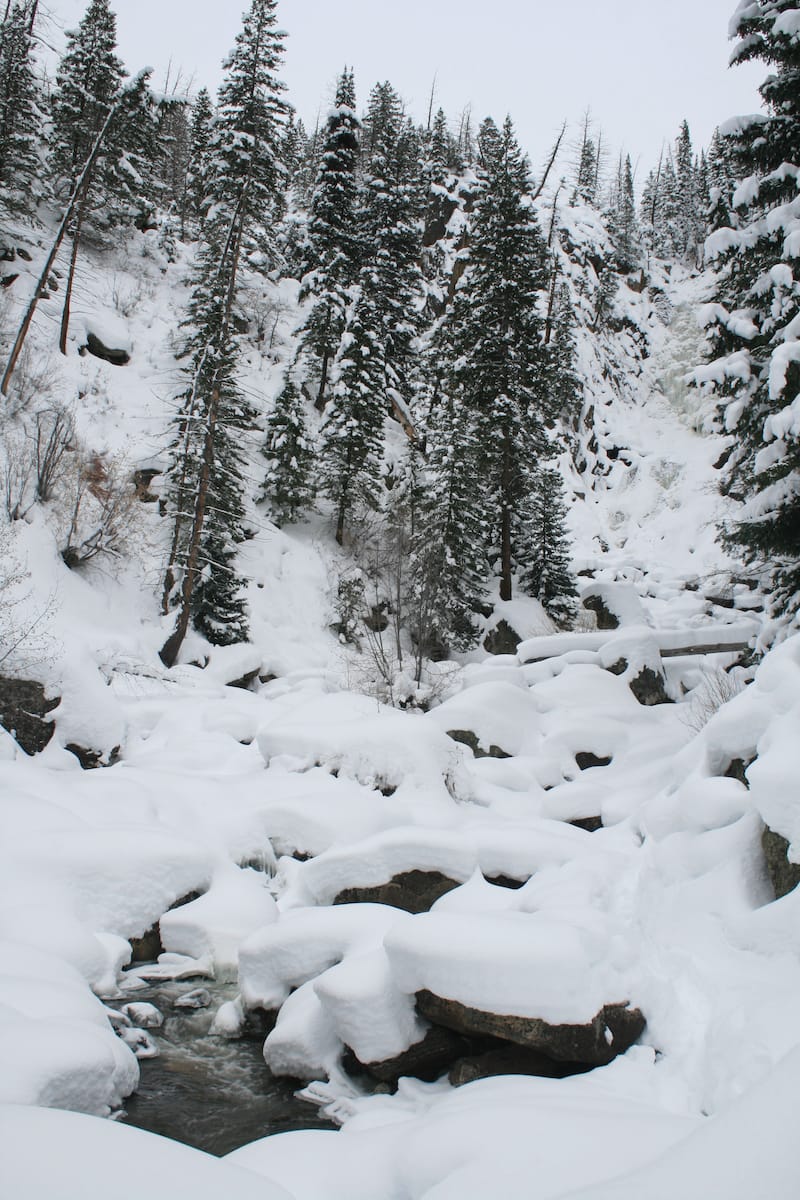 Visitors can walk down a short 1/4-mile gravel path or hike a more adventurous trail to Upper Fish Creek Falls and Long Lake. The latter is somewhat challenging so be sure to grab some snacks and lots of water!
The falls have no off-season, and it's a famous place amongst ice-climbers seeking frozen adventures in Steamboat Springs in winter.
2. Snowshoeing in Steamboat Springs
In winter, there's nothing better than to enjoy a bit of snowshoeing in Steamboat Springs! There are many places in the resort town and nearby where you can go.
Visit Dry Lake Campground, located on Buffalo Pass and is home to plenty of trails.
The most popular snowshoe route is the 1.3-mile-long Panorama Trail. Prospectors Trail is another great choice, stretching along peaceful white meadows and boasting majestic mountain landscapes.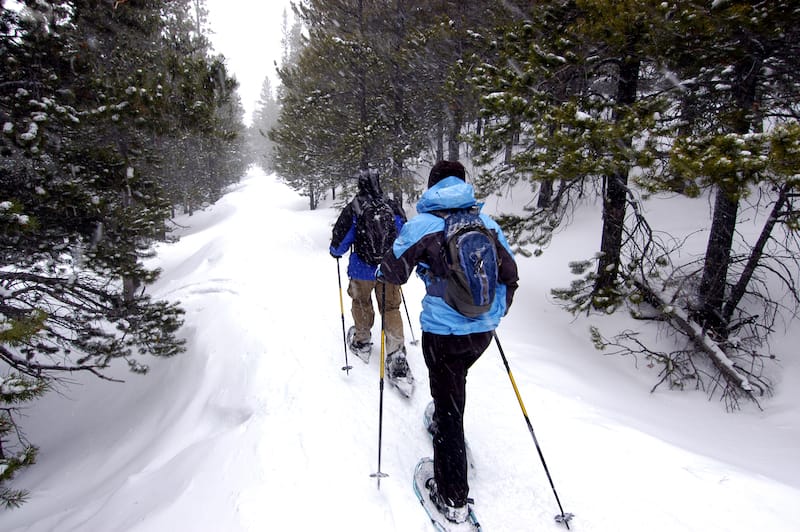 Steamboat Lake offers various flat trails around the lakeshore, including a 1-mile loop trail called the Tombstone Trail, an ideal option for families.
Find the epicenter of winter activity at Lake Catamount Touring Center, where you will find a large network of snowshoe trails.
Five miles long trails wind around and across the lake, offering vistas of hills and peaks.
3. Take a Snowmobile Tour
Discover the magic of snowmobiling in Steamboat Springs. The town contains a large selection of tour companies and one to consider for your adventure is Steamboat Snowmobile Tours.
Situated in the center of the Routt National Forest, it offers tree-lined trails with open meadow vistas.
Another great option for an outfitter is High Mountain Snowmobile Tours, offering guided tours through the scenic terrain of high mountain meadows and ridges around Steamboat Springs.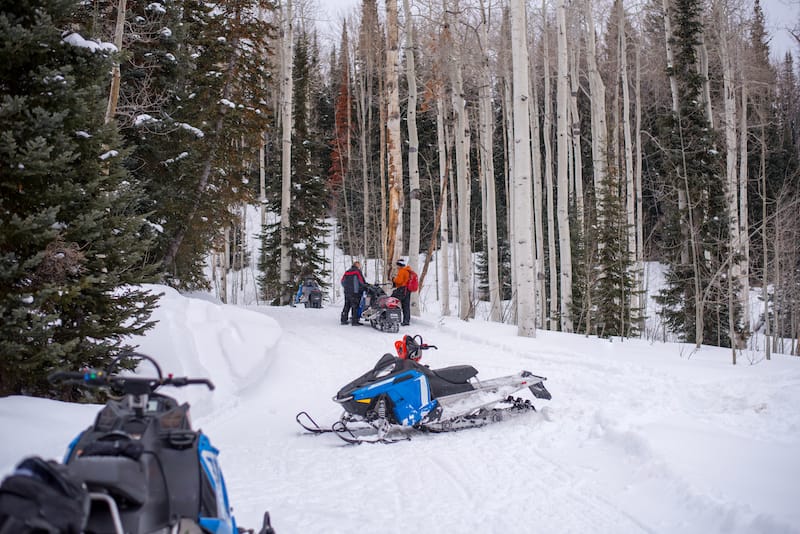 These tours require higher skill levels. In both cases, drivers must be at least 16 and those with passengers at least18 years of age. In addition, you can take a complimentary shuttle tour.
Experience the best Champagne powders on groomed trails and enjoy driving a new Arctic Cat Snowmobile!
4. Visit Strawberry Hot Springs
Imagine relaxing in a 102°F pool nestled in a high mountain valley! Welcome to Strawberry Hot Springs, a resort offering pools of varying sizes and temperatures, cabins and tent sites, Watsu therapy, and massage options.
Explore the stone pools filled with hot mineral-rich water, the floors of which are covered in soft sand. In the winter, the pools are surrounded by a cold pond and creek.
If you're brave enough, try soaking in the cold water in the pond and returning to the hot spring.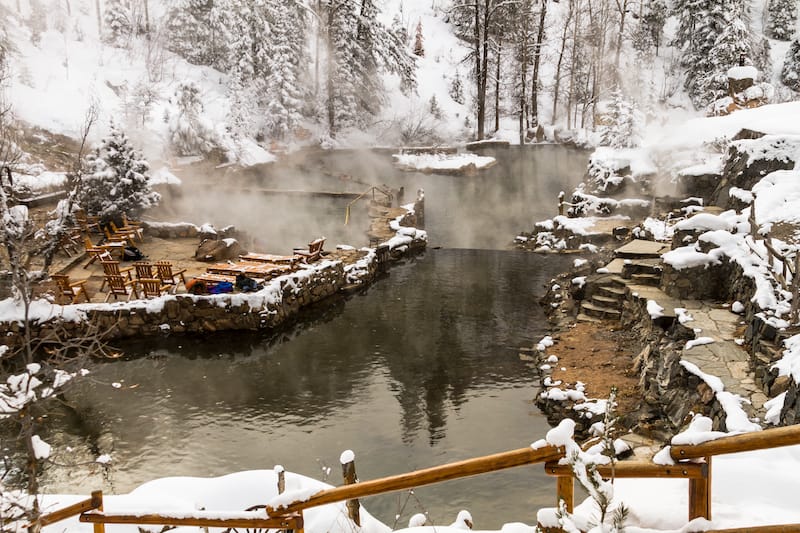 The licensed therapists, providing overall relaxation or focused therapy, will meet your needs to rejuvenate you. In addition, you will find restrooms, picnic areas, and a heated cabin for your comfort.
Accommodation options may include rustic cabins, tent sites, train caboose, and covered wagons. This is one of the best places to visit during winter in Steamboat Springs!
Address: County Road #36 Steamboat Springs, CO 80487
5. Visit the Craft Breweries of Steamboat Springs
Explore a unique trail of Steamboat Springs's best craft breweries via the Steamboat Brew Trail.
This trip itinerary includes three local breweries producing the finest beer in the area and a distillery offering vodka, gin, and delicious whiskey.
You'll start from Mahogany Ridge Brewery, a Steamboat Springs brewery providing eight taps of handcrafted beer and American cuisine.
The next stop of the tour is at Mountain Tap Brewery. Here, you can enjoy wood-fired pizza, beer, and Emerald Mountain views while sitting on their lovely patio.
Next, you'll reach the Storm Peak Brewery on the west side of the town, where visitors can choose between twenty beers on tap.
The last stop is Yampa Valley Brewing Company's newest location in the heart of Steamboat Springs, with a cozy interior and great outdoor patio option.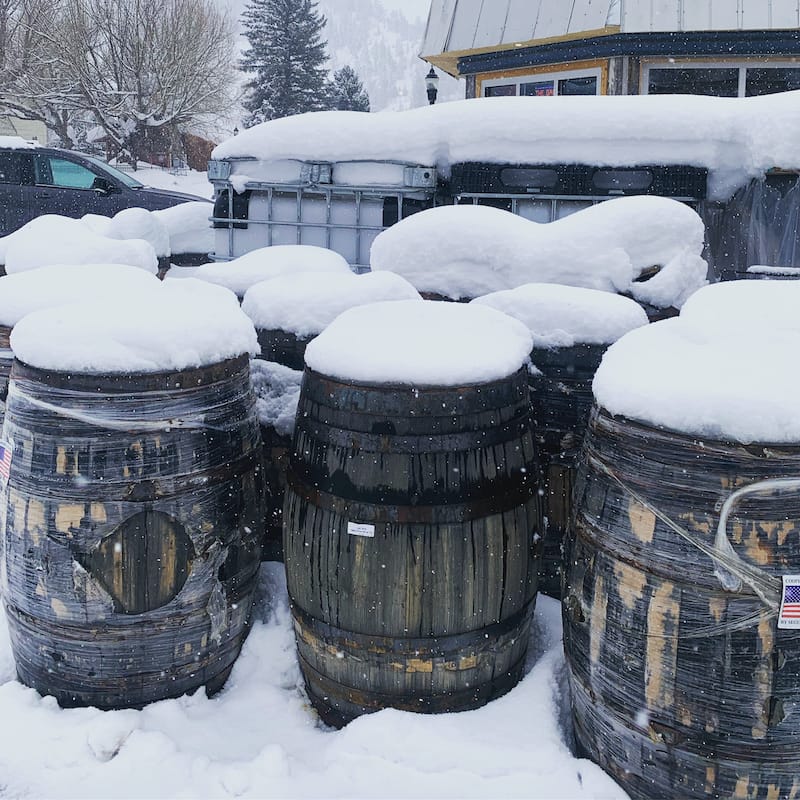 6. Steamboat Music Fest
The Steamboat Music Fest usually takes place during the first week of January and lasts six days. This festive event gathers together not only lovers of music but also skiing enthusiasts.
Top musicians from all over America arrive at the world-class resort of Steamboat to perform live for excited patrons! The festival welcomes various music legends as well as upcoming artists.
There are plenty of places to view these shows in Steamboat, including a dancehall, a pub, an old saloon, and a hunting lodge. This year the festival will be from January 6-11, 2024.
7. Enjoy Pearl Lake State Park
Located at the mouth of Farwell Mountain and surrounded by a pine forest, Pearl Lake is a real treasure for year-round recreation.
With ideal scenery and natural surroundings, it offers great opportunities for camping, including 38 campsites and two yurts that are even available during winter.
From here, you'll find easy access to the hiking and biking trails of Routt National Forest.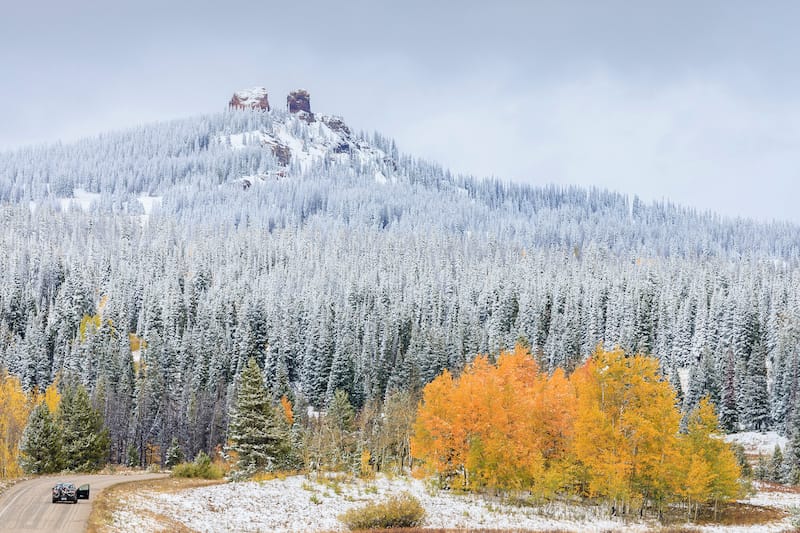 Another popular adventure at the lake is fishing, as cutthroat trout are usually caught there. Take a paddleboard and soak in the stunning views of the mountains surrounding Steamboat Springs and nearby.
In winter, the area gets 300 inches of snow, creating ideal opportunities for snowshoeing, cross-country skiing, and snowmobiling.
8. Drink Craft Beer in a Gondola
Have you ever tried dining in a gondola? Mountain Tap Brewery had an extraordinary idea of turning gondolas into private seating booths, equipped with tables, heaters, and Bluetooth speakers.
The gondolas came from Killington Ski Area in Vermont. They were refurbished and installed on the patio. The cabins expand the seating places of the restaurant and offer perfect outdoor dining opportunities while preventing the spread of the virus (or noise of other people nearby!).
They provide a private and unique dining experience with craft beer and wood-fired cuisine on the menu. Each gondola cabin can hold up to 6 adults. No smoking within the cabins is allowed.
Although each gondola has a heater, remember to dress for winter! Gondolas are available by reservation.
Address: 910 Yampa Street, Steamboat Springs, CO 80487
9. Helicopter Tour with Zephyr Helicopter Company
Discover Steamboat Springs from the air by taking a Zephyr Helicopter Tour. The company offers one-hour-long scenic tours.
You can enjoy the stunning views of Fish Creek Canyon, Rabbit Ears, the Never Summer Mountains, and the Gore Range.
You'll fly over Strawberry Park, the Zirkel Wilderness, and North Routt, including Hahn's Peak, Steamboat Lake, Pearl Lake, and the Sleeping Giant.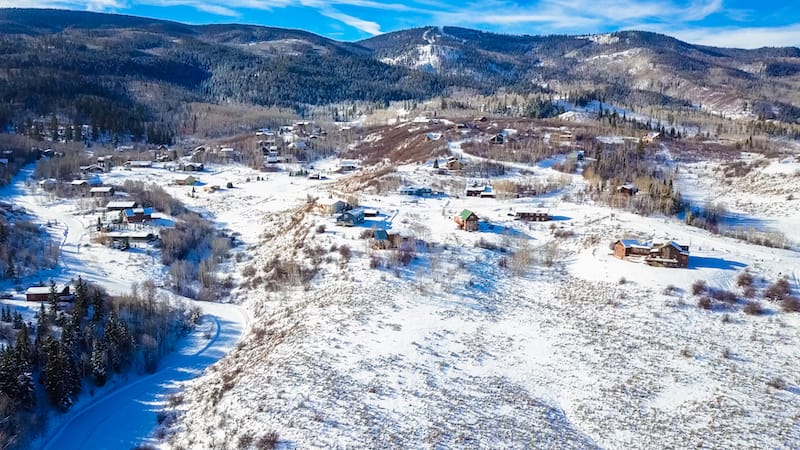 This tour is the perfect chance for those interested in scoping out the Colorado valley.
In addition, visitors can customize their own tour if there is something specific they are desiring to check out from above. Don't forget to bring your camera along!
10. Steamboat Springs Winter Carnival
The 111-year-old Steamboat Springs Winter Carnival is a long-standing tradition of celebrating winter in this Colorado ski town!
It was started by the Steamboat Springs Winter Sports Club and supported the residents in their efforts to cope with cabin fever during the winter season.
Today, the carnival draws people together, allowing them to experience a bit of history and tradition. The fest usually contains youth outdoor activities, and descends over the darkened backside of Howelsen Hill with flares, fireworks, snow sculptures, the soda pop slalom, and horse events.
Due to current restrictions, there will be no spectator events this year, but you can still experience the winter magic. The event is planned for February 7-11, 2024.
11. Relax at Old Town Hot Springs Steamboat
Old Town Hot Springs is a magnificent center for health and wellness and one of the best things to do in Steamboat Springs in winter. Situated in the center of the town, it has worked for the locals and visitors since the 1880s.
Old Town Hot Springs offers family-friendly recreation options and something for everyone! You can relax in hot pools, get a massage, or visit the fitness center.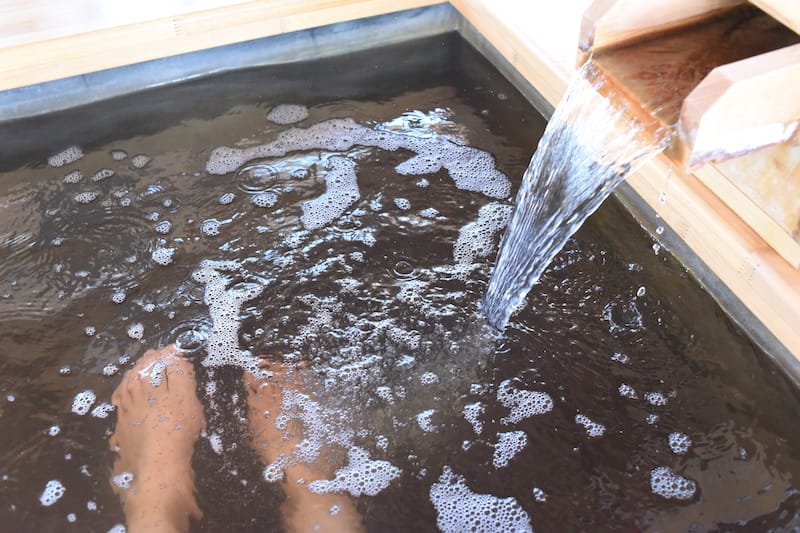 The center boasts eight hot mineral water pools of various sizes and temperatures. All of them are open year-round. Check out two 230-foot water slides, a 25-yard lap pool, and a children's pool.
The spa provides different types of massages, from deep tissue to reflexology. The fitness center includes a weight room, cardiovascular area, personal trainers, and various exercise programs, like Pilates classes.
Address: 136 Lincoln Avenue, Steamboat Springs, CO 80477
12. Have Dinner at Aurum and Table 79
Aurum is the best riverfront dining in town, offering seasonal American cuisine with fresh local ingredients and craft cocktails.
The restaurant boasts elegant and contemporary indoor and outdoor spaces allowing you to enjoy the surrounding nature.
The regular menu has delicious selections like Buffalo, Duck, Salmon, Striped Bass, and Lamb along with Salads as well as their famous appetizers including Nachos, Pork Ribs, and Beef Burgers.
Steamboat is also home to another fantastic dining option, the sister restaurant of Aurum called Table 79 Foodbar. It provides indoor and outdoor patio dining, featuring an open kitchen and a unique layout.
Experience their great menu flavors and try portobello fries with lemon aïoli, ribs in chipotle barbecue sauce, crusted chicken kebabs, and various craft cocktails.
Aurum Address: 811 Yampa St., Steamboat Springs, CO
Table 79 Foodbar Address: 345 Lincoln Ave., Steamboat Springs, CO
13. Winter Horseback Riding Tour
Horseback riding is a popular winter activity in Steamboat Springs and the local area and it is available at ranches and stables in the area.
If you want to have an unforgettable ride through the snowy Colorado landscapes, visit Saddleback Ranch.
It's a fourth-generation, actual working cattle ranch, spanning over 8,000 acres. The Ranch provides two-hour riding excursions over snow-covered hills and trees.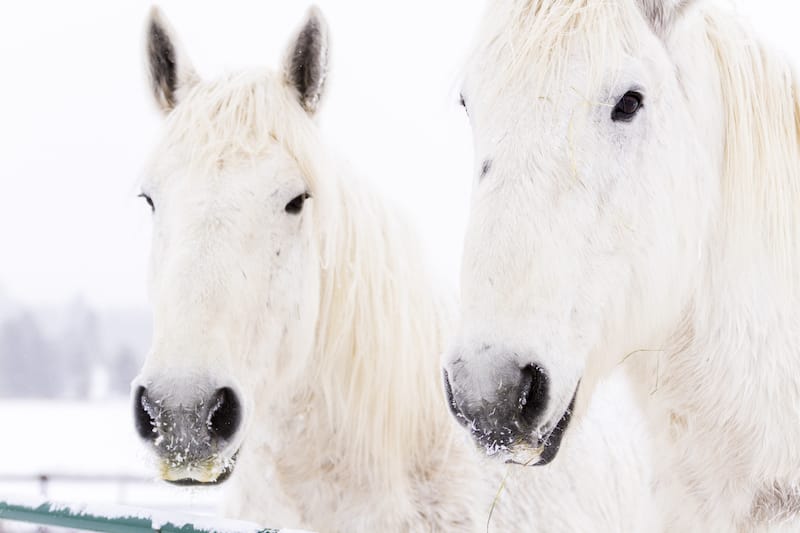 You'll have the opportunity to explore the Flattops, Sleeping Giant, and Mt. Werner. Horses for all rider skill levels are available.
After your snowy ride, you'll be offered hot chocolate and freshly baked cookies. You must be 8 years of age or older to partake in this Steamboat Springs winter activity! Helmets are mandatory for children under 13 but it is advised to wear a helmet regardless of age.
Address: 37350 RCR 179, Steamboat Springs, Colorado 80487
14. Winter Wondergrass Festival
Visit one of the best music festivals of the season is the Winter Wondergrass Festival, drawing together 20 Colorado craft breweries and more than 25 bands.
The festival focuses on creating a community full of authentic bluegrass music and original microbrew products.
The three-day festival includes food trucks, cocktail bars, beer tastings, a kid's zone, a coffee bar, and a lot of live music. This annual fest is a perfect place to go with your family.
Kids will especially like face painting, hula hooping, and crafts, while the parents can enjoy live music and drinks. If you want to continue the day and listen to more music, the WinterWonderGrass After Dark will keep you rocking.
This year's festival will take place March 1-3, 2024.
15. Cross Country Skiing (Nordic Skiing)
Check out the oldest ski area in North America that's still functioning, Howelsen Hill. Located right in the heart of downtown, it offers perfect Nordic skiing opportunities.
Not only local athletes visit and train here but also many Olympians can be seen here perfecting their skills. If you want to have a peaceful experience in the natural surroundings, try Nordic skiing in Steamboat Springs!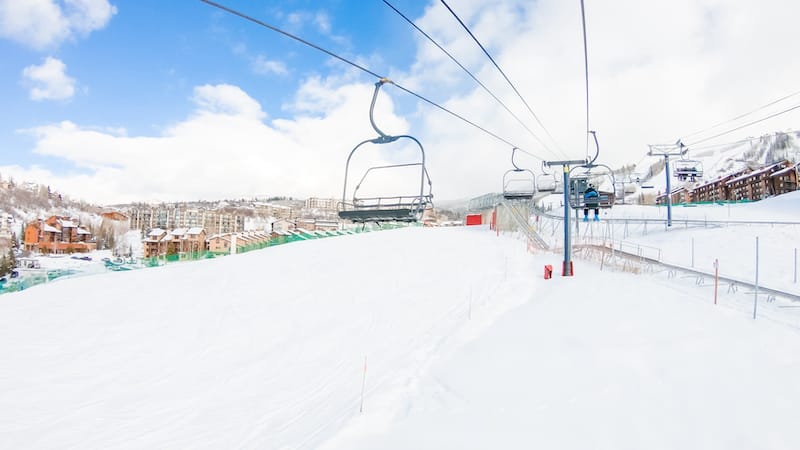 Howelsen Hill Nordic Center contains thirteen miles of winding, beautiful Yampa Valley trails. Everything is groomed daily. Nordic passes are sold separately from the downhill skiing tickets and can be found at the Howelsen Hill Lodge.
After your frozen adventure, head to the downtown restaurants to warm up and recover. As a bonus, you may join the Ski Free Sundays and enjoy a whole day of free skiing.
16. Sledding and Tubing in Steamboat Springs
Along with skiing and snowboarding opportunities, beautiful Steamboat Springs offers sledding which is the perfect family activity! Visit Howelsen Hill for the most convenient sled hill in the area, and it is also a place where you can go tubing in Steamboat.
The 20-foot high slope is located in the heart of downtown and is a great place to enjoy sledding and the hill is groomed periodically. Another option for winter recreation is tubing provided by Saddleback Ranch.
The hill is groomed and equipped with a tube lifting system. The ranch offers free transportation for those tubing for two hours. This winter adventure is suitable for both kids and adults of all ages and ski helmets are recommended when you go for safety!
You'll find some snacks and warm drinks at the Longhorn Warming Lodge, located conveniently at the bottom of the slope.
17. Go Fat Biking
Fat biking is a newcomer to the winter scene in many places around the United States, but its popularity is increasing and you can go fat biking in Steamboat! You will find plenty of places in the local area to enjoy the recreational activity.
Haymaker Nordic Center offers 6 miles of specific, groomed paths with three loop options. Stagecoach State Park includes 5.5 miles of groomed winter trails and also the reservoir surface once it's frozen for the season.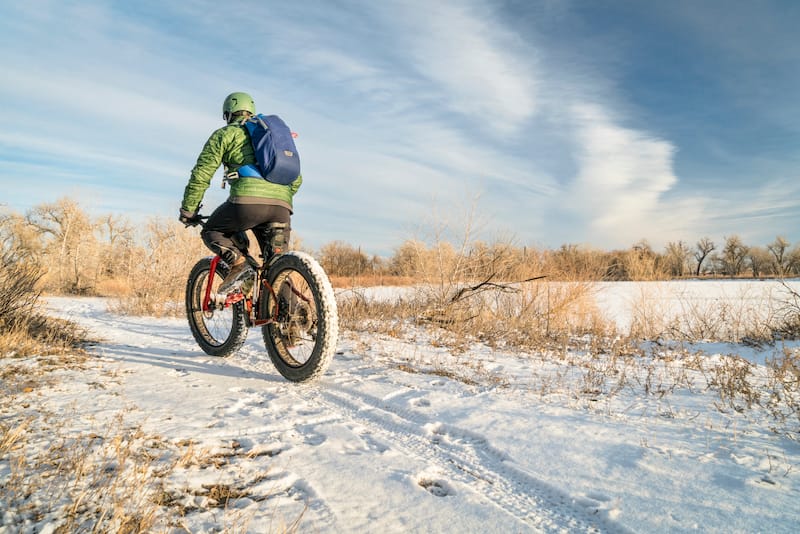 For newcomers, they have specialized fat-tire bikes that you can rent. All trails are marked. Find more fat biking trails at Lake Catamount Touring Center, Routt County Roads, and Howelsen Hill Nordic Center.
Find fat bike rentals at Wheels Bike Shop, Lake Catamount Touring Center, Orange Peel Bikes, and Ski Haus. Click here for more.
18. Hot Air Balloon Ride with Wild West Balloon Adventures
Book a day in the sky with Wild West Balloon Adventures, where you will head up in the air for 45 minutes, getting to enjoy the views of the Yampa Valley, the Flat Top Mountains, and Hahn's Peak.
The balloon ride includes a Champagne celebration, a continental breakfast, and a personalized flight certificate. The company has two sizes of baskets, carrying up to four and up to ten passengers.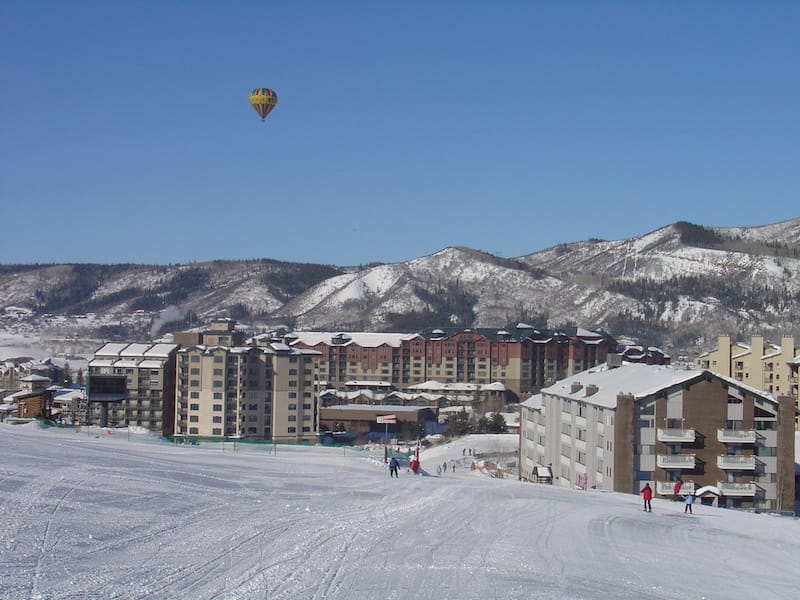 Group, adult, and child discounted rates are available. Flights kick off early in the morning due to wind and weather conditions. The rides may be canceled depending on current weather for safety purposes.
In addition, Wild West offers services for special events like proposals, birthdays, and anniversaries. If you're looking for a cool thing to do as a day trip from Denver, this is an unforgettable experience!
>> Click here to book a hot air balloon adventure
What to Wear
To fully enjoy winter in Steamboat Springs, you will need to dress appropriately. The temperatures hover around freezing during the day and dip well below at night, and thick heavy-duty winter clothing is a necessity.
Other than dressing in layers, there are a few essential clothing items that you will need to bring with you to this Colorado mountain town. Below are three of the most essential clothing items to pack, from my experience.
Winter Parka
One of the most important things to wear is a high-quality parka jacket. A decent parka will last a lifetime, and it is worth investing in a top-quality jacket from a brand that specializes in making clothes for colder climates.
I have an amazing parka jacket from the Norwegian company Helly Hansen, which specializes in making coats for the Arctic. I own the Helly Hansen Svalbard Parka, which has kept me comfortable and warm during several trips to the Arctic.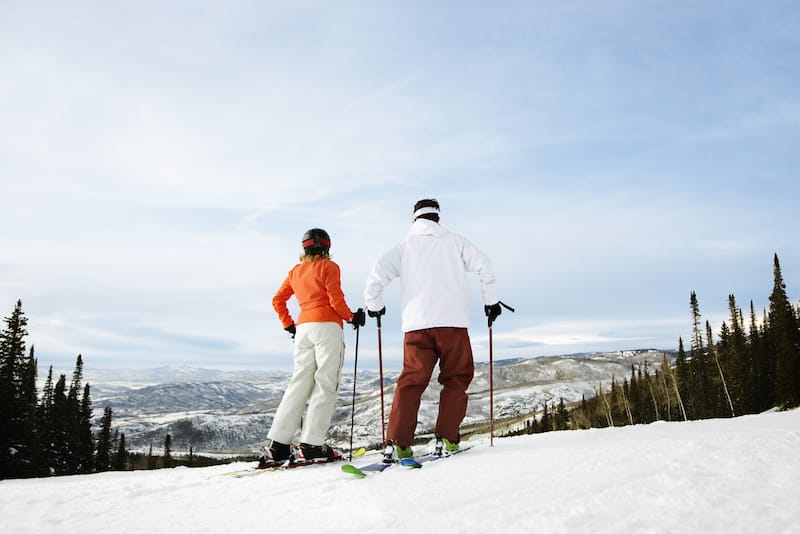 Sorel Snow Boots
After a decent parka jacket, the next most crucial clothing item is a pair of snow boots. There is nothing worse than getting cold feet, as once the cold gets into your boots, there is no warming them back up until you get out of the snow.
Sorel makes some of the best snow boots going, and I have trusted their boots to keep my feet warm for years. The boots are specifically designed for the Arctic and include thick warm woolen insoles and removable lining that will keep your feet warm in the coldest of temperatures.
While I have owned several pairs over the years, these are my favorite ones.
The boots are great on their own but I do recommend purchasing a size larger than you normally would, so you can also wear a pair of thick woolen socks for extra warmth.
Crampons
If you are anything like me, you will need all the extra grip you can get on the icy pathways of Steamboat (especially if you're hiking in winter). Crampons conveniently clip onto the bottom of your boots and help keep you upright as you walk around.
One of the best benefits of crampons is protecting your back from severe pain caused by constantly trying to keep you upright on the ice. I have used several brands over the years but have now settled for a pair of Yaktraks, which have recently saved me from many falls.
Additionally, I highly recommend bringing a good pair of mittens with you, as they are far more effective at keeping your hands warmer than regular gloves. Along with thermal underwear and hats. I tend to purchase hats from some of my favorite Scandinavian designers, as they are always stylish and practical.
What to Pack (Gear & Miscellaneous)
While packing the correct clothing is often a challenge, there are also several non-clothing items that I personally don't leave the house without, especially if I travel to colder climates.
Powerbank
In cooler temperatures, smartphones have to use up more power to keep their internal temperatures at the optimum level. This additional workload means they often run out of battery quickly when it's cold.
Bringing a power bank on your trip is the perfect way to ensure you don't find yourself with a dead phone while you're out exploring Steamboat Springs.
I recommend purchasing a power bank with at least 25,000 mah as you will be able to charge your phone multiple times throughout the day. Click here to buy my recommended power bank on Amazon.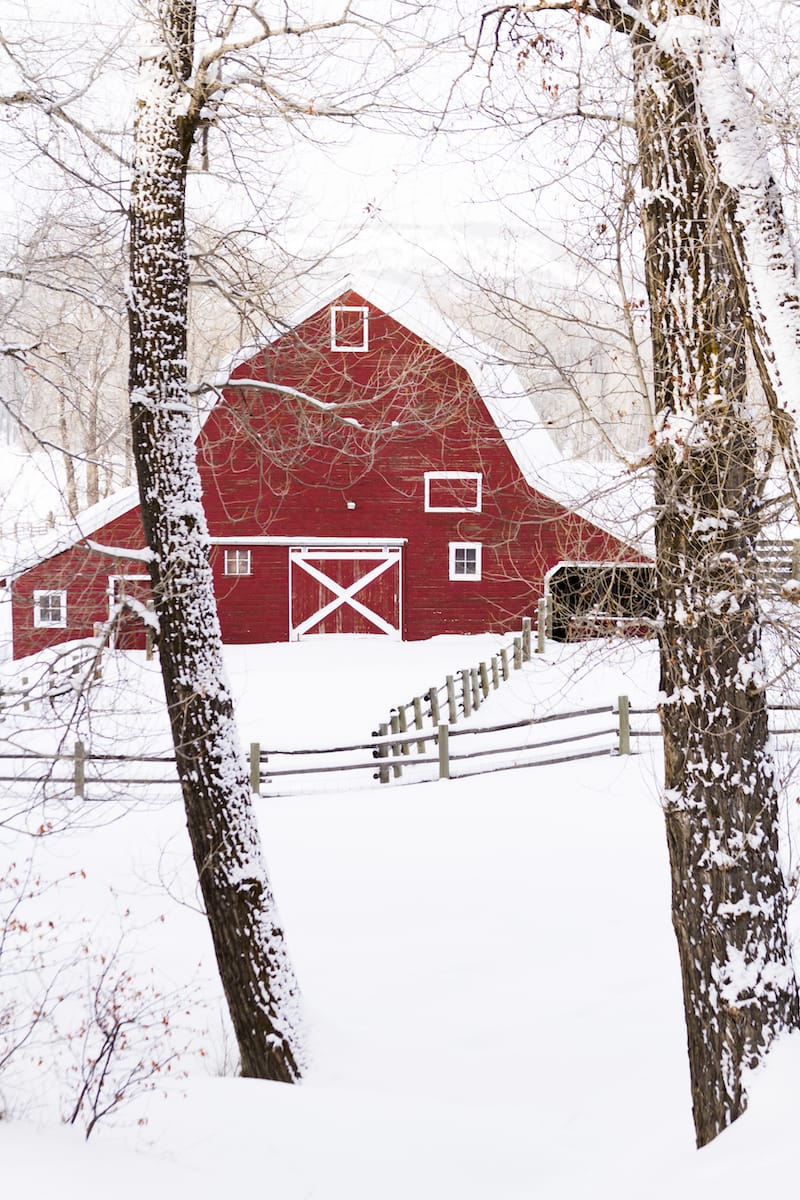 Spare Camera Batteries
If like me, you are a keen photographer, I suggest taking spare batteries for your camera. The cold weather impacts camera batteries far more than is often considered.
I have found that while my camera's battery lasts for days on end in warm destinations, the battery can deplete within hours in cold settings. Along with spare batteries, I also bring along a USB battery charger, which can be plugged into a power bank.
Dry Bags
The weather in Steamboat in winter can often turn quickly, and you will want to make sure your equipment stays dry and safe. This is also important when you're around snow!
I always use dry bags when I travel; they are brilliant at keeping things dry and safe while looking stylish. I use these bags from The Friendly Swede.
Where to Stay in Steamboat Springs
There are many places to stay in Steamboat and these lodging options can accommodation a variety of budgets.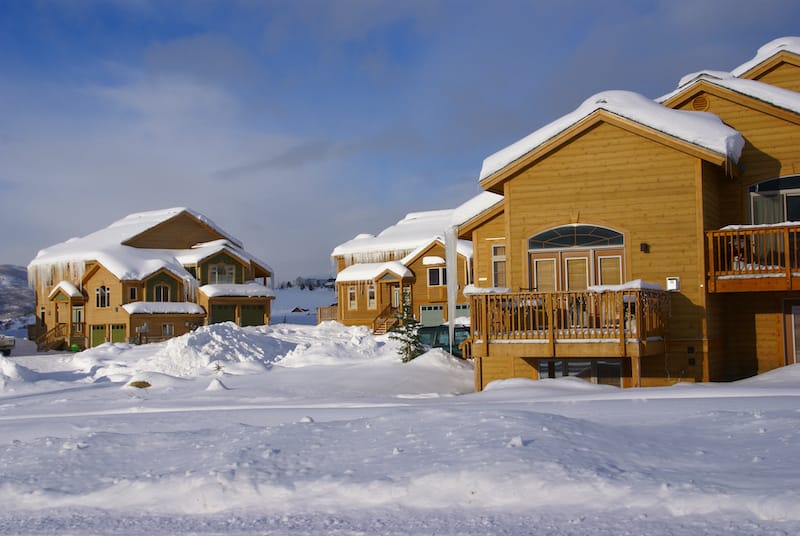 Here are a few of our top picks for places to stay in Steamboat Springs:
Did we miss any amazing things to do in Steamboat Springs in winter? Let us know your top tips, attractions, and more in the comments! Thanks!
More Colorado Travel Guides
Pin this Winter in Steamboat Springs Guide