There are so many amazing places to go skiing in Colorado and Telluride is one of them. But, there is a lot to do in Telluride in winter beyond just skiing!
Are you planning your trip to Telluride last minute?
Be sure to book yourself a hotel well ahead of time as the winter in Telluride can be a bit busy!
🛌 My top picks for lodging in Telluride:
❄️ Top tour option in Telluride:
Half-day ice climbing (perfect for adventurers!)
🚗 Visiting Colorado independently? Be sure to book your rental car ahead of time to ensure availability!
This guide details some of the best activities for those spending a bit of their winter in Telluride. We highlight other snow activities and things to do with families during the colder months.
Did we leave out any cool things to do in Telluride during winter? Let us know your tips in the comments! Thanks!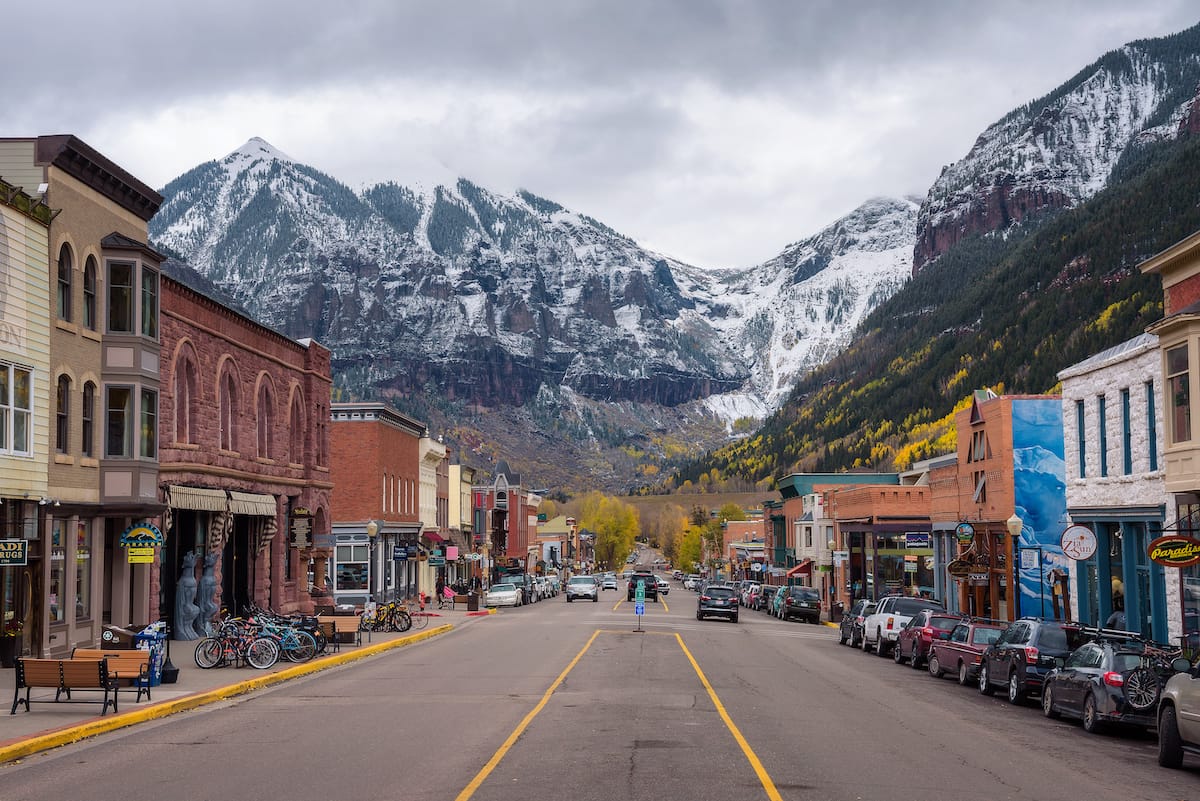 Telluride Winter Tips + FAQ
When is it Winter in Telluride?
Telluride is one of those places where you will find no best time to visit. Because the entire year has something to offer and is truly one of the coolest destinations in the United States!
And while we, for the sake of this guide, focus our efforts on December, January, and February in Telluride, winter 'more or less' lasts from mid-November until early April.
Average Snowfall in Telluride
The first snowfall in Telluride typically comes in October and the last snowfall happens in May. Here are the averages (by month) in Telluride.
November: 24.7 inches
December: 26.2 inches
January: 24.6 inches
February: 26.9 inches
March: 34.7 inches
April: 20.3 inches
As you can see, March is the 'snowiest' month typically. And March is also when the most snowfall days happen in a month, averaging 10.4 inches.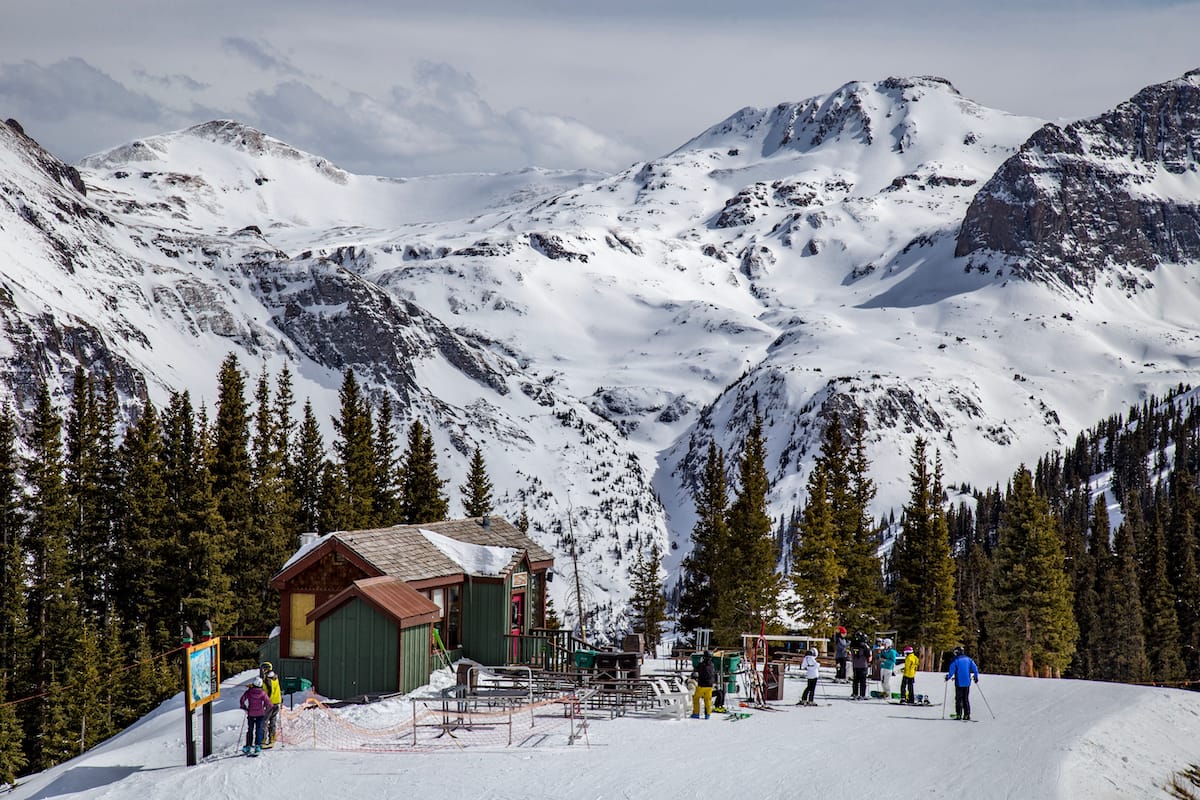 Winter Temperatures in Telluride
We have listed the average winter temperatures by the month below. Granted, some of this falls during 'spring' or 'fall', but for the sake of the snowfall amounts during these months, we know foot traffic in Telluride is heavy.
Telluride in November: Highs around 45F, lows around 14F
Telluride in December: Highs around 37F, lows around 5F
Telluride in January: Highs around 36F, lows around 4F
Telluride in February: Highs around 39F, lows around 8F
Telluride in March: Highs around 43F, lows around 15F
Telluride in April: Highs around 51F, lows around 22F
Best Things to Do in Telluride in Winter
1. Ice Climbing in Telluride
Tired of a traditional ski vacation? You can seek out the more adventurous things to do in Telluride in winter, such as ice climbing!
The small Colorado town boasts many gorgeous ice venues making it possible to enjoy this exciting activity. We highly recommend doing this as part of an organized activity such as the one we recommend below!
Mountain Trip operates private tours of ice climbing in Telluride. Their experienced guides organize the instruction and a half-day ice climbing adventure for you.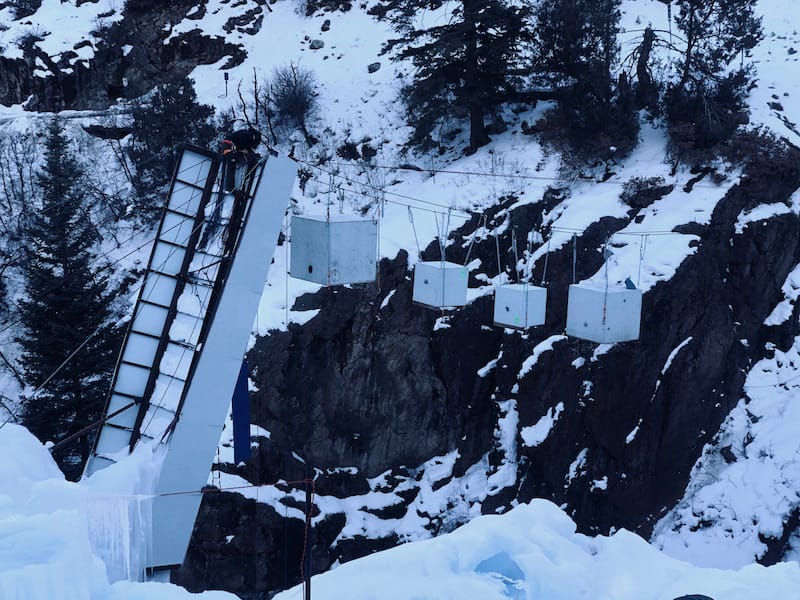 This tour is best for families, newcomers, and those short on time. All the necessary equipment like ice tools, mountaineering boots, helmets, and harnesses are provided.
The participants must be of moderate physical condition with no heart or back problems or any other medical conditions.
The tour could be canceled if weather conditions do not cooperate, but you can have a chance to rebook it or you will be fully refunded if this happens.
>> Click here to book a trip ice climbing in Telluride
2. Snowmobiling in Telluride
The great snow conditions of Telluride create the perfect paradise for snowmobiling. Telluride boasts plenty of snowmobiling tours for all ages and ability levels.
If you plan to go snowmobiling in Telluride, consider the following options and tours with Telluride Outfitters:
Alta Ghost Town Tour provides historic family and group tours for beginner and intermediate riders. Enjoy the stunning scenery and historical experience of old mining times.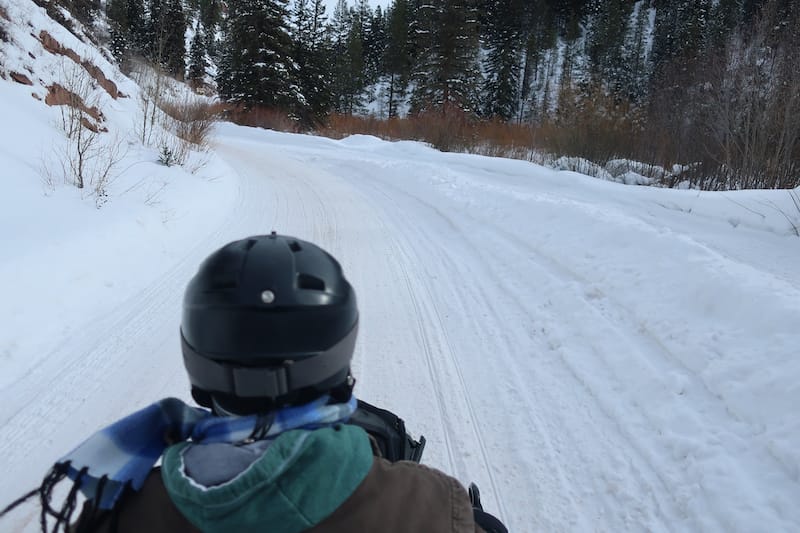 Dunton Hot Springs Tour is a great choice offering private tours to the historic town of Dunton and delicious lunch in its natural surroundings. Single and double riders are welcome. The trails aren't groomed.
For those seeking more adventurous trips, Full Day Backcountry Tour organizes rides to remote alpine settings. Lunch, snacks, and drinks are included. You'll also visit Barlow Creek and Dunton.
>> Click here to explore all options and book a tour!
3. Hike Bear Creek Trail
During winter in Telluride, many trails of the area become inaccessible for half of the year, whereas Bear Creek Trail offers year-round activities, including hiking.
This mellow trail welcomes newcomers and families with kids (in summer). The double-track trail Bear Creek follows several creeks (hence its name), stretches through conifer woods, and reaches open meadows with vistas of surrounding steeps and cliffs.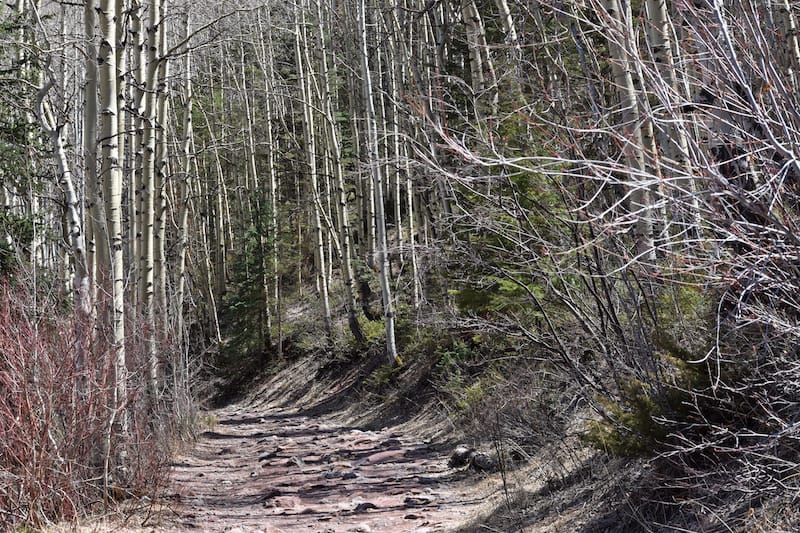 After two miles of hiking, find yourself on a flat plateau and can enjoy the fantastic view of the falls at the back of the canyon. As a bonus, you'll have a chance to check out any Colorado wildlife that stumbles in your path along the trip!
Add Smuggler's Brewpub, located at the base of the trail, to your hiking plan to have a post-hike drink and snack.
>> An important note: Even though Bear Creek can be a smooth and fun hike during the summertime, during the wintertime, it can be dangerous with potential avalanches because of the large amount of snow.
Please do this hike ONLY if you are a professional winter hiker and have the right gear for that. Also, if you are planning to take your kids with you during the winter, make sure you are extremely skilled and safe.
4. Enjoy Craft Beer in Telluride
In operation since 2011, Telluride Brewing Company produces excellent craft beers made with premium malt, hops, and yeasts.
With its high-quality craft beer, the company has earned a special place in the world of beer crafting. Their Face Down Brown has won Gold at World Beer Cup (2012) and the Great American Beer Festival (2012 & 2014), as well as Bronze at the Great American Beer Festival (2016).
Their Whacked Out Wheat is another unique product that has taken medals at the Great American Beer Festival (2015) and World Beer Cup (2016 and 2018).
Today, the company still goes on innovating and expanding its tap range, and you should stop by and try it when you're visiting Telluride!

Address: 156 Society Dr, Telluride, CO 81435
5. Go on a Fat Biking Adventure
Telluride has a never-ending list of winter recreation activities and fat biking has become especially popular in recent years.
Grab yourself a fat bike (tour or rental!) and discover the trail network on the Valley Floor. The most famous trails are Bear Creek, starting right in the town, and Jurassic, stretching from Mountain Village to the Valley Floor.
If you don't like exploring trails on your own, join custom tours organized by various companies like Bootdoctors and Paragon Outdoors, Telluride Brewing Company Tour, and the Telluride Adventure Centre.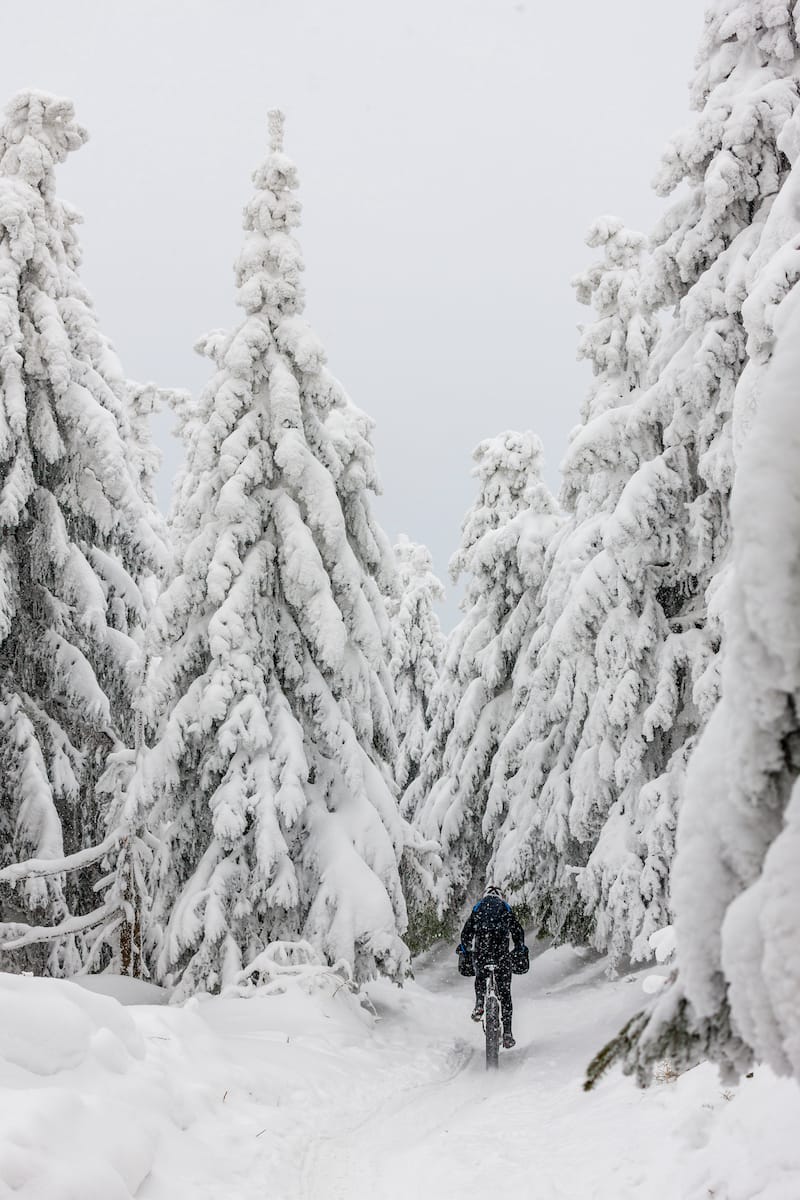 If you're a newcomer and want to try your skills at fat biking in Telluride, renting a bike is an option for you.
For rentals, check out Bootdoctors/Paragon Outdoors, Box Canyon Bicycles, and Gravity Works. You'll also be able to get some local maps and information before starting your biking journey.
6. Go Nordic Skiing in Telluride
There are plenty of places to enjoy Nordic skiing in Telluride but these six places are popular for their diverse terrain, groomed trails, and epic views.
Telluride Town Park
Valley Floor
Trout Lake
Priest Lake
Golf course in Mountain Village
Top of Chair Ten
The Telluride Nordic Center maintains and grooms its trails. It also provides cross-country skiing lessons, trail maps of the area, and rental options.
Dog owners can head to Priest and Trout Lake trails or Mountain Village. Don't forget to control and pick up after your pets if they join you for the day!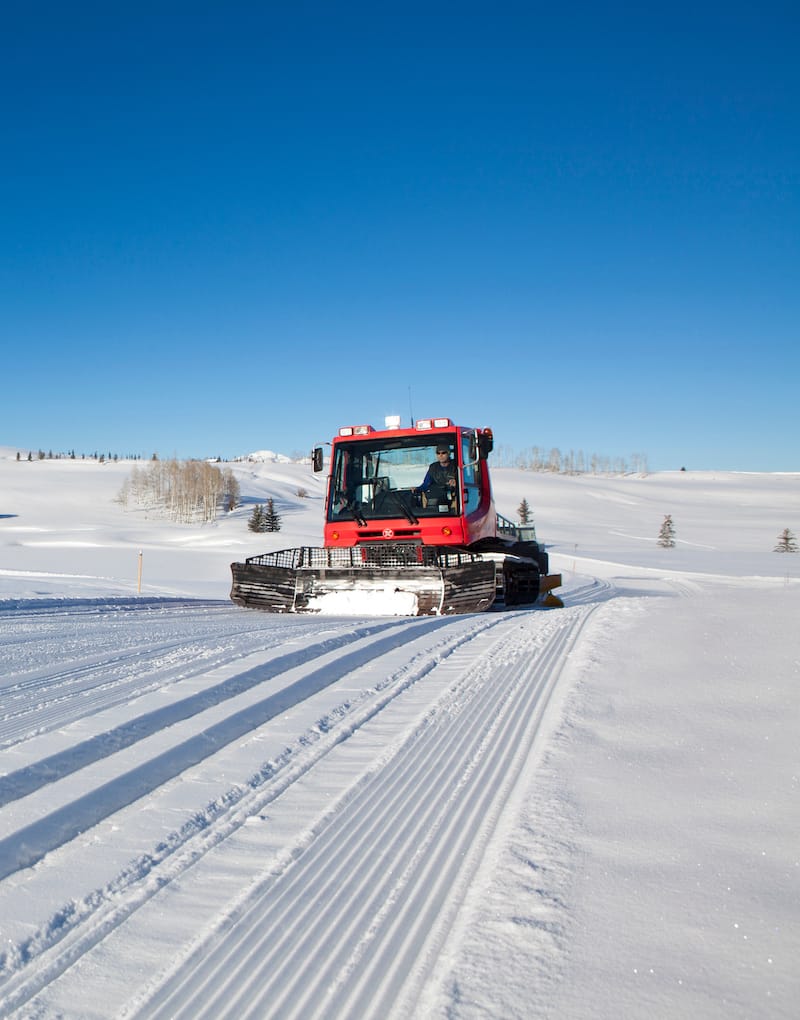 If you plan to visit the area regularly, get the membership, partly securing the funding of Telluride Nordic Association. As a bonus, attend special events held throughout the year, like ski demo days.
7. Snowshoeing in Telluride
Explore the sweeping snow-covered landscapes of Telluride by snowshoeing, a winter activity for all ages. Choose among various guided trails organized by local companies and enjoy the surrounding nature lands.
Below are some of the popular trails for snowshoeing in Telluride (and nearby):
Bear Creek Trail is a moderate option for snowshoeing and offers waterfall vistas along the hike. Another moderate trail featuring a picturesque lake is the gorgeous Hope Lake Trail.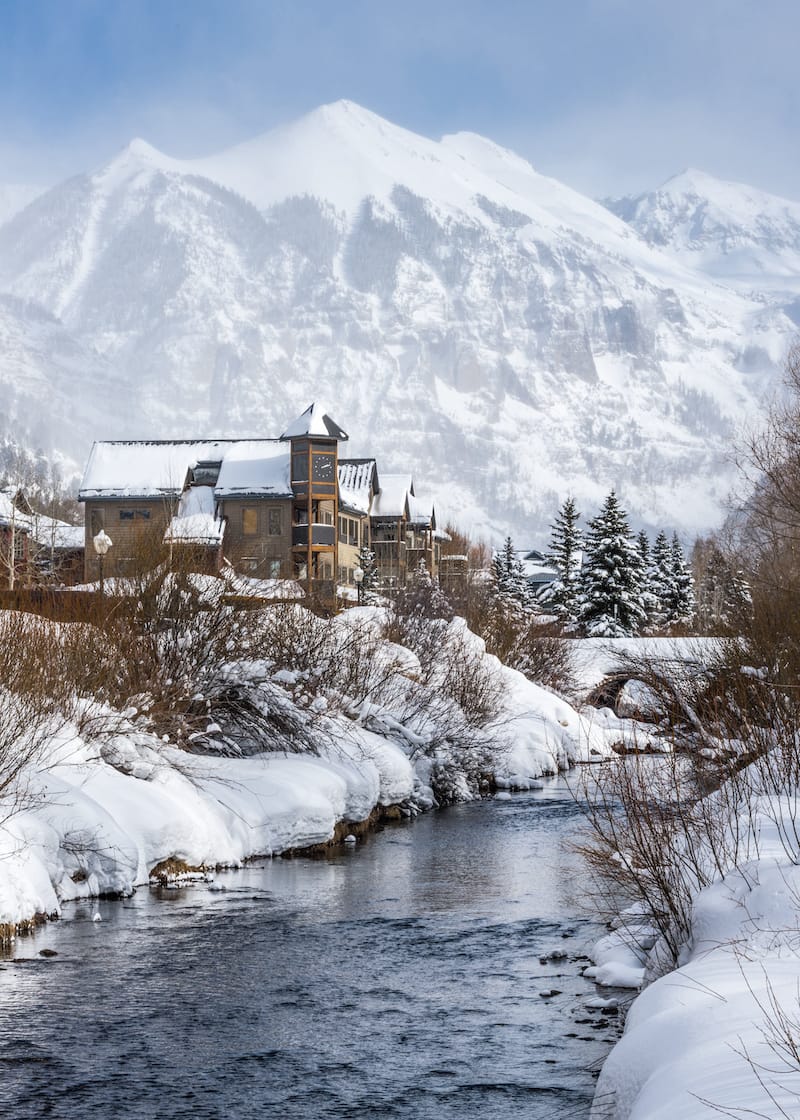 The Valley Floor is also an incredible spot for snowshoeing with an available parking lot, views of the frozen river, and Ajax.
For the extreme adventurer, try Lizard Head Pass, stretching through pine woods and hills. While snowshoeing, try not to walk on the groomed tracks intended for Nordic skiers!
8. Go Ice Skating in Mountain Village
Telluride is full of winter culture and things to do and the mountain town boasts the perfect opportunities to get out on the ice! Find another frozen adventure in the heart of the Mountain Village.
Enjoy skating at the full-service ice rink maintained by Madeline Hotel and Residences.
Their scenic rink is an ideal place for family skating and beginners. It provides daily open skating from 12 p.m. to 8 p.m and you may also join a free skate hour if you wish!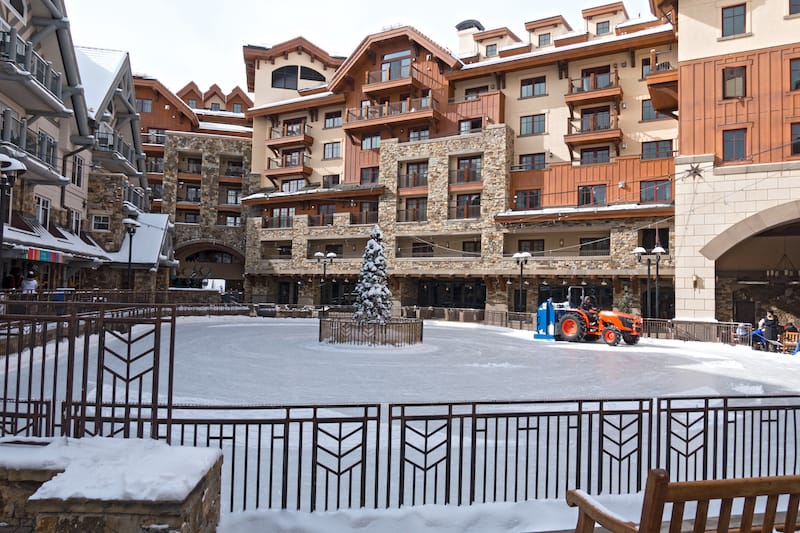 The Madeline offers equipment rents, punch cards and season passes, and skating lessons. The rink is also a great choice for children's gatherings and parties. For food and drinks, visit the restaurant and bar inside of the hotel. Special events are also organized on the plaza.
Address: 650 Mountain Village Blvd, Mountain Village, CO 81435
9. Go Heli-Skiing with Helitrax
Discover the ultimate heli-skiing in Telluride with Helitrax. The company organizes trips for those looking for untracked powder in the backcountry.
Board the helicopter and experience the best skiing in Colorado this way (but beware, this is not for beginners)!
The trip offers 200 square miles of pristine terrain in the San Juan Mountains with a group of professional guides where you'll have access to stunning Alpine valleys and couloirs.
The tour includes a morning briefing, avalanche safety equipment, powder skis, snacks, and water. You'll have six runs, at approximately 10,000-14,000 vertical feet.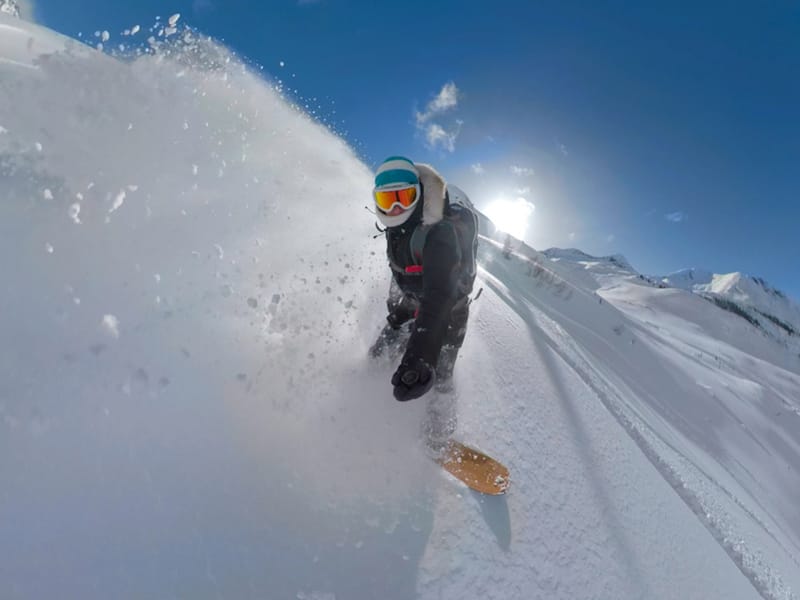 At the end of the day, enjoy après skiing. Visitors can book a single or multiple-day heli-ski trip. Helitrax also provides custom tours for private groups.
>> Click here to book a heli-skiing adventure with Helitrax
10. Soak in Hot Springs near Telluride
Take a break from skiing, skating, and biking by visiting one of the numerous hot springs in Telluride and its vicinity. Below are some of the most beloved spots nearby!
Orvis Hot Springs offer natural pools from 98 to 114 degrees, an indoor kids pool, a cabin, a massaging tent, and a clothing-optional experience.
At luxurious Dunton Hot Springs, visitors can soak in the mineral-rich pools, spend a night in a private log cabin, and visit Colorado's only geyser situated nearby.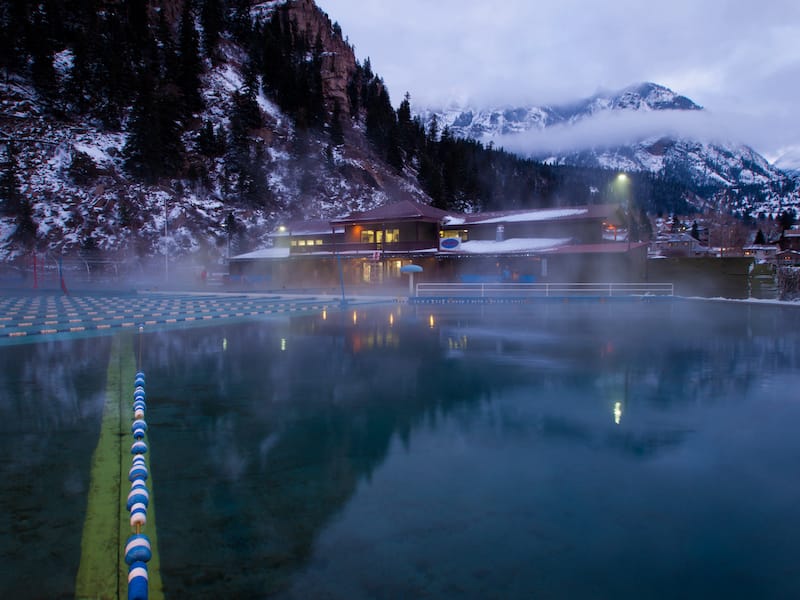 Another wellness spot worth visiting is the natural vapor cave and spa treatment room at the Historic Wiesbaden Hot Springs Spa & Lodgings.
Ouray Hot Springs is a famous family destination, offering slides, a diving area, a water volleyball area, and shallow sections for young swimmers.
And the last spot to mention is Penny Hot Springs. This Colorado natural gem is located in the Crystal River.
11. Visit Lumiere Telluride for a Luxury Experience
Have an unforgettable and luxurious vacation at the Lumière with Inspirato. For travelers seeking an upscale stay in Telluride, this boutique hotel is an absolute treasure.
Located in the heart of Mountain Village, Lumiere is an exclusive hotel, offering 18 boutique residences and excellent ski-in, ski-out opportunities.
You'll have full services and amenities designed to secure your personal mountain experience. You can relax at the health spa, jump in one of the pools, visit a sauna or an outdoor hot tub, and plenty more.
Check out high-quality wines, cocktails, and beers at the fireplace and have a board game with friends or family. The hotel can also arrange outdoor adventures, personal chef services, and babysitting. In addition, you'll meet the most polite and helpful personnel at Lumiere!
Address: 118 Lost Creek Lane, Telluride, CO 81435
12. Fly Fishing in Telluride
Grab your fly rods and add another fantastic outdoor activity to your trip itinerary – fly fishing! Enjoy the winter fly fishing season in Telluride in the beautiful rivers of the area.
You'll find several excellent places for fly fishing, including the Uncompahgre, San Miguel, and Gunnison Rivers. Spend a gorgeous day floating from the Gunnison Forks toward the Austin Bridge, and enjoy the surrounding scenery.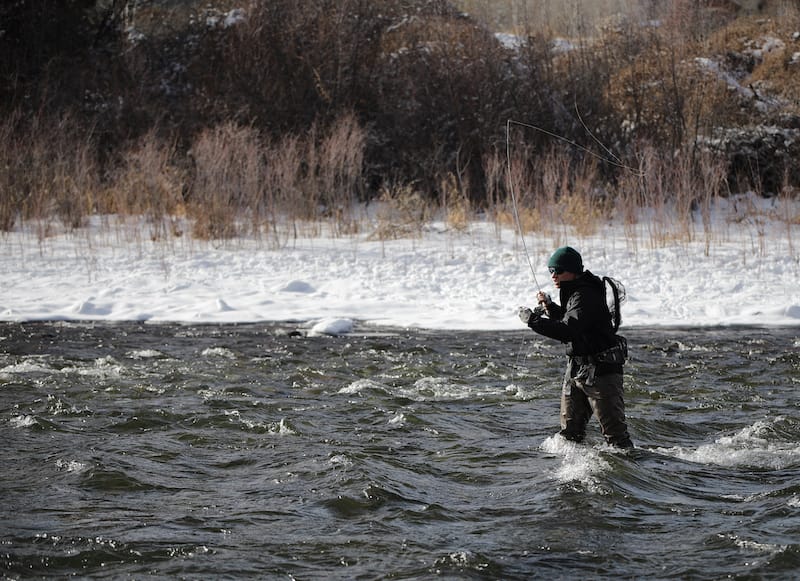 The Lower Gunnison River is populated with rainbows and brown trout and this is an ideal Denver day trip for anglers. The San Miguel River is excellent from February until April and nymphing is the primary technique used during this season.
The river is just several minutes away from a fly shop where you can restock your gear for your trip.
The perfect place for winter fishing, and one that is preferred by locals and visitors, is the Uncompahgre River. Optimal water conditions and low fishing pressure bring forth the best fly fishing opportunities in the area!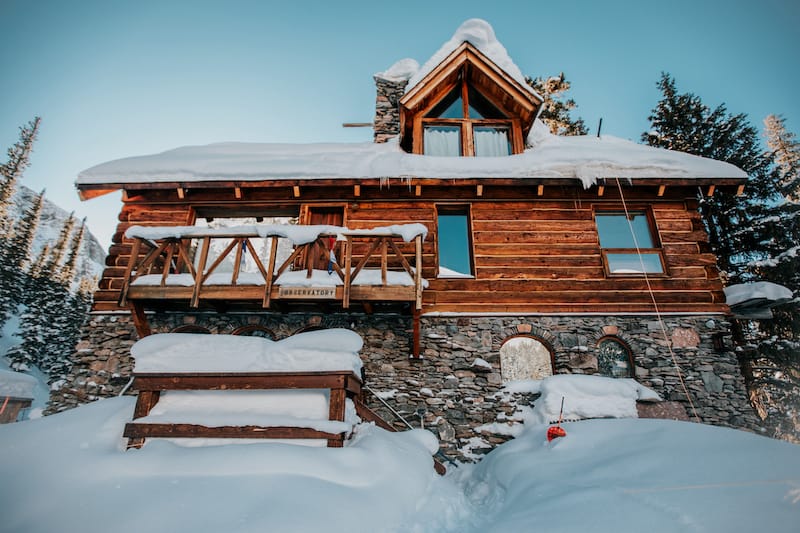 Where to Stay in Telluride
You will find plenty of lodging and accommodation in Telluride during winter! Here are some of the best places to stay on your trip:
What are some of the top things to do in Telluride in winter aside from skiing, in your opinion? Let us know in the comments! Thanks!
More Colorado Winter Guides
Pin this Winter in Telluride Guide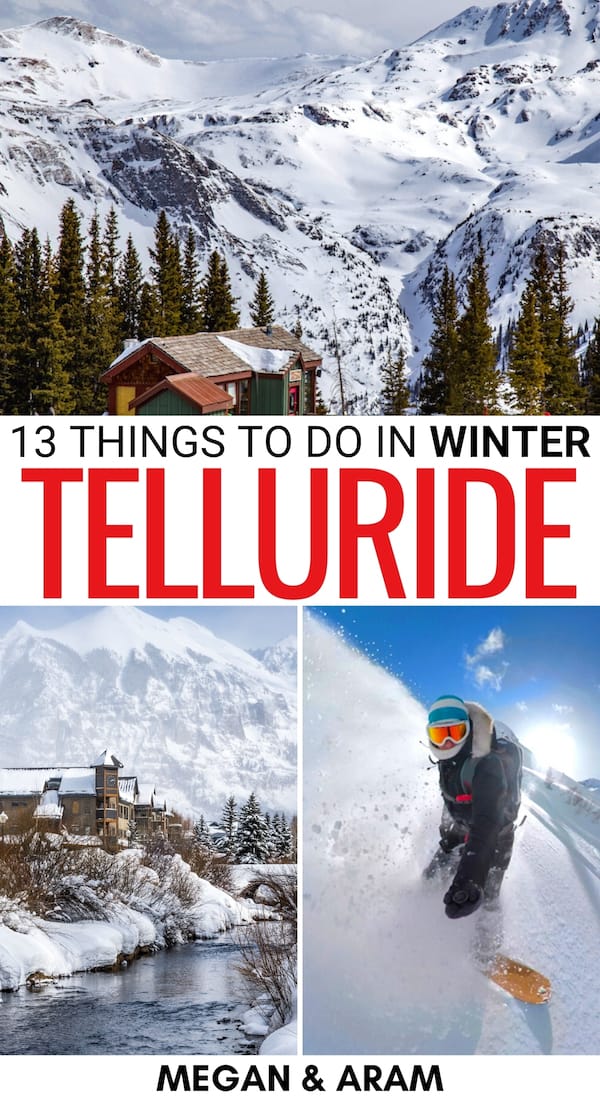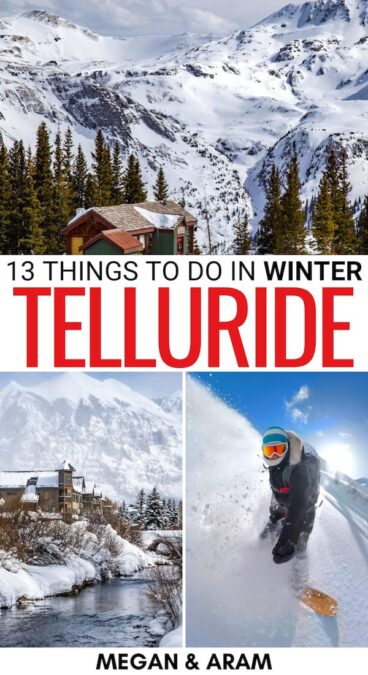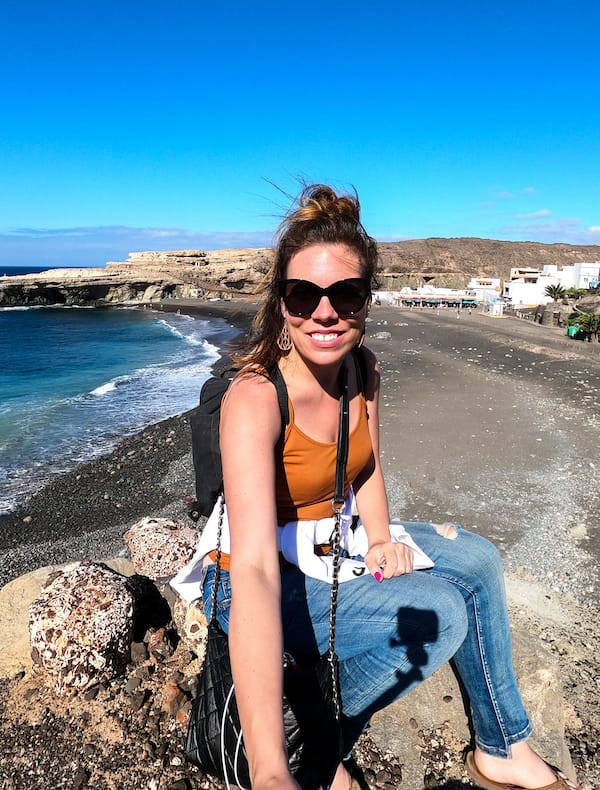 Megan is a travel blogger and writer with a background in digital marketing. Originally from Richmond, VA, she now splits her time between Frankfurt, Germany and Arctic Finland after also living in Norway, Armenia, and Kazakhstan. She has a passion for winter travel, as well as the Nordic countries, but you can also find her eating her way through Italy, perusing perfume stores in Paris, or taking road trips through the USA. Megan has written for or been featured by National Geographic, Forbes, Lonely Planet, the New York Times, and more. She co-authored Fodor's Travel 'Essential Norway' and has visited 45 US states and 100+ countries.