I've been kayaking in many countries and Switzerland was one of the most memorable experiences for me because it has everything, including stunning mountains, crystal-clear lakes, and wonderful nature.
This guide talks about my experience kayaking in Interlaken and I give you all the necessary details on how to book your own trip!
Fortunately, this Interlaken kayaking trip can be done by everyone – whether you're a beginner or not! It also runs year-round so you don't have to worry about the seasonality of it!
Below, we touch upon why I booked this Interlaken kayaking trip, how you can book your own, and what to expect on your trip.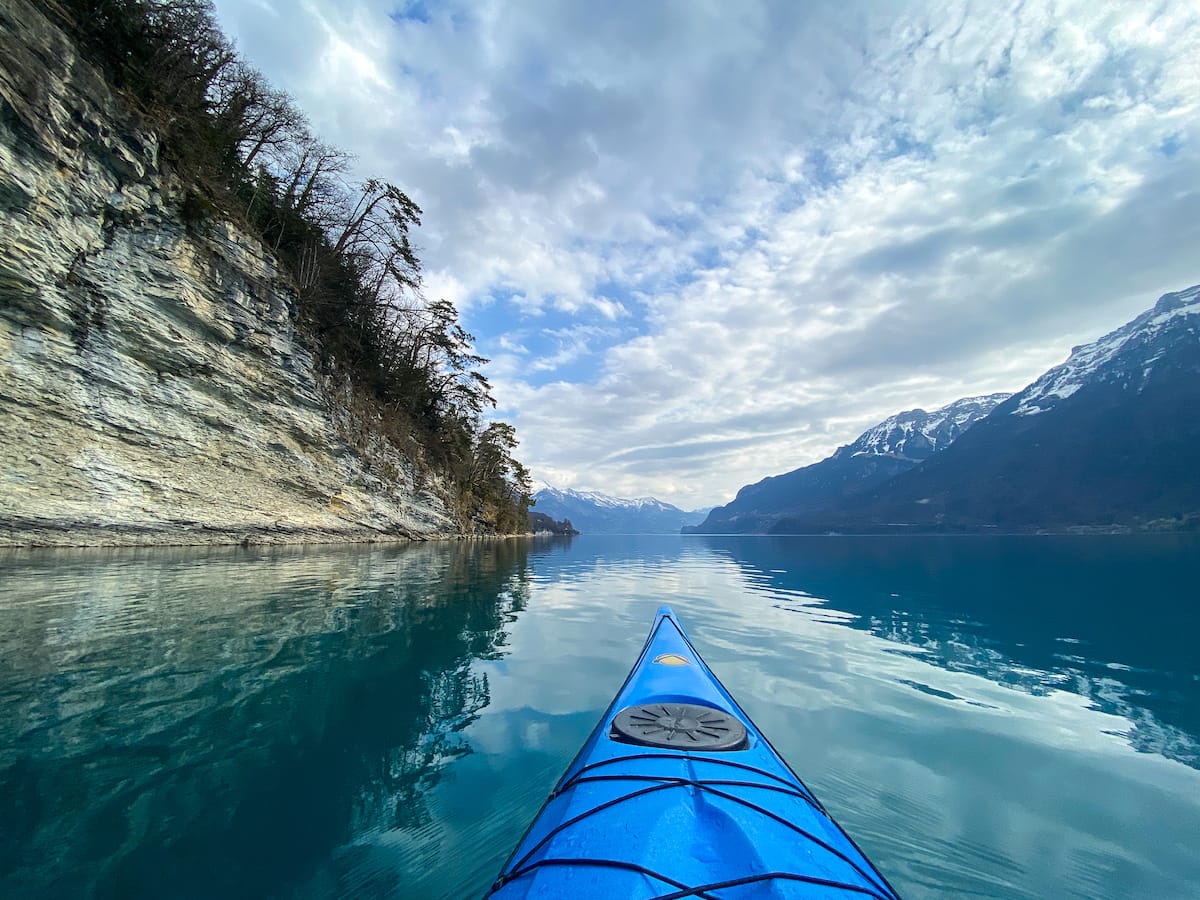 If we missed anything about kayaking on Lake Brienz – let us know in the comments! Thanks!
Why I Booked an Interlaken Kayaking Tour
To be honest, I had two adventure tours in mind to do when I was visiting Interlaken – kayaking and paragliding.
I happened to be visiting Interlaken in winter, so I was a little apprehensive about temperatures, but I was assured that the proper clothing would be given and I was just meant to go out there to enjoy the tour.
So, I booked the trip and was looking forward to exploring Interlaken from the water!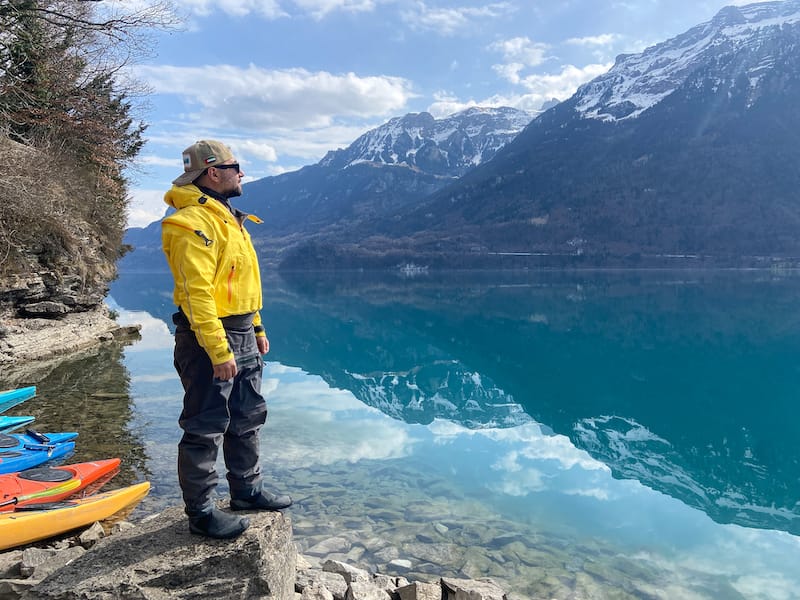 Since Interlaken is surrounded by two lakes, Lake Brienz and Lake Thun, I was excited to see what the hype was all about since my kayaking tour took me onto beautiful Lake Brienz!
About Kayaking in Interlaken (Details + Seasonality)
As noted above, there are two seasons in which you can take this tour – summer or winter. But, it really spans more than just those two seasons!
The 'summer' kayaking actually runs from the beginning of May until the end of October. During this time of the year, the temperatures are pleasant and there is far less snow in the mountains that surround the region.
The 'winter' kayaking is actually what I booked and it was an unbelievable experience! The trip runs from the beginning of November until the end of April.
❄️ Book winter kayaking in Interlaken (November-April)
☀️ Book summer kayaking in Interlaken (May-October)
I was expecting completely frigid temperatures but it was quite pleasant, as well!
Nevertheless, this Interlaken kayaking tour can be booked at any time of the year!
The only advice I give is to book it ahead as much as possible as it does sell out fairly fast – particularly during the high tourism seasons and holidays.
How to Book an Interlaken Kayaking Trip
I always book my adventure activities through our partner, Manawa, and this trip was no exception. The process was quick and straightforward.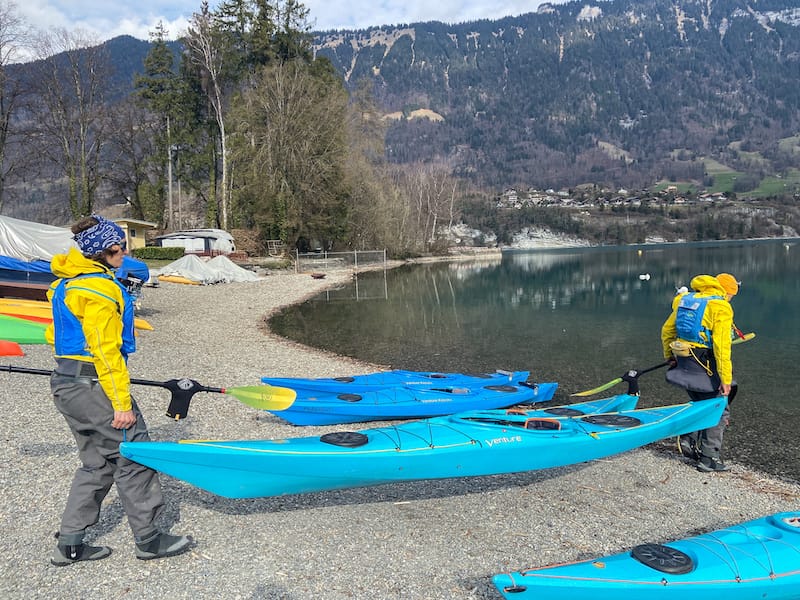 Within 48 hours of booking the trip, they will send you a confirmation saying that the activity company confirms your trip, and voila!
It is pretty simple from there – you will get a voucher to take the day of the tour and then you will head on your way. Be sure to review cancellation policies just in case of last-minute changes on your end.
>> If you're booking a kayaking tour from May – October… click here!
>> If you're booking a kayaking tour from November – April… click here!
Meeting Point for the Kayaking Tour in Interlaken
On the day of your kayaking trip in Interlaken, you will need to get to the Hightide Kayak School. You can take a taxi there or you can take public transportation as I did.
I was able to take Bus 103 toward Iseltwald from Interlaken city center and my accommodation.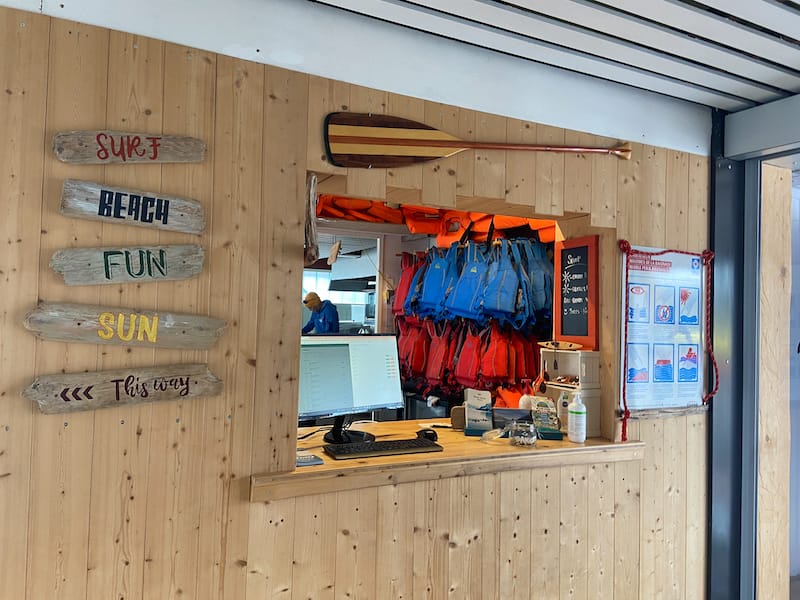 If you have a city pass, the bus service is free to you and runs every half-hour from Interlaken Ost or West. You can grab a city pass from the tourism office in downtown Interlaken.
Prefer to drive there? If so, there is free parking located behind Hotel Seiler au Lac, which is next to the office of the kayaking school.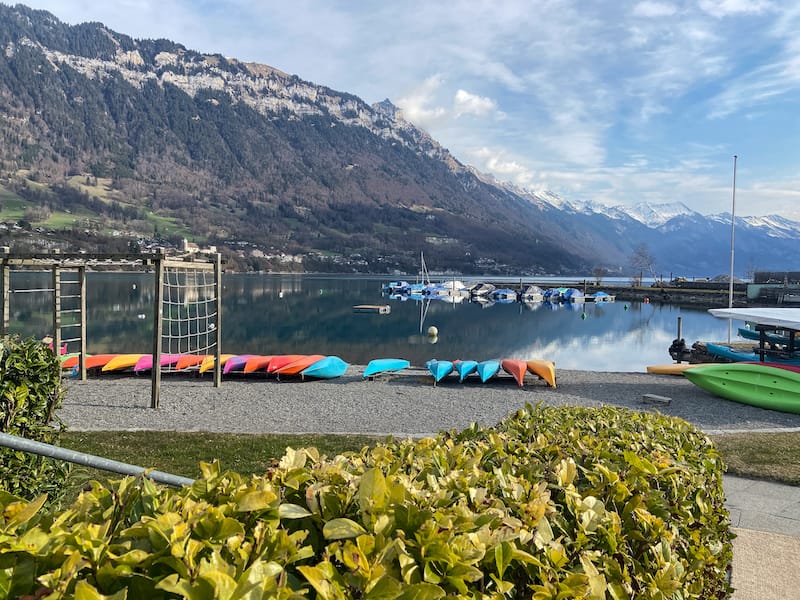 Alternatively, if you are a walker and want to get some physical activity in before the kayaking trip – you can walk along the river for around 30 minutes from Interlaken Ost to reach the base situated in Bönigen.
Highlights (& My Experience) from the Trip
Duration: 3 hours
Meeting Point: Hightide Kayak School, Lütschinenstrasse 24
Language: English, French, German
✅ CLICK HERE TO BOOK!
Once you arrive at the meeting point, your group and you will get briefed on how to kayak once the guide introduces themselves.
If you are doing the winter kayaking trip (like me!), you will be given all kinds of warm clothing to help you enjoy the trip more!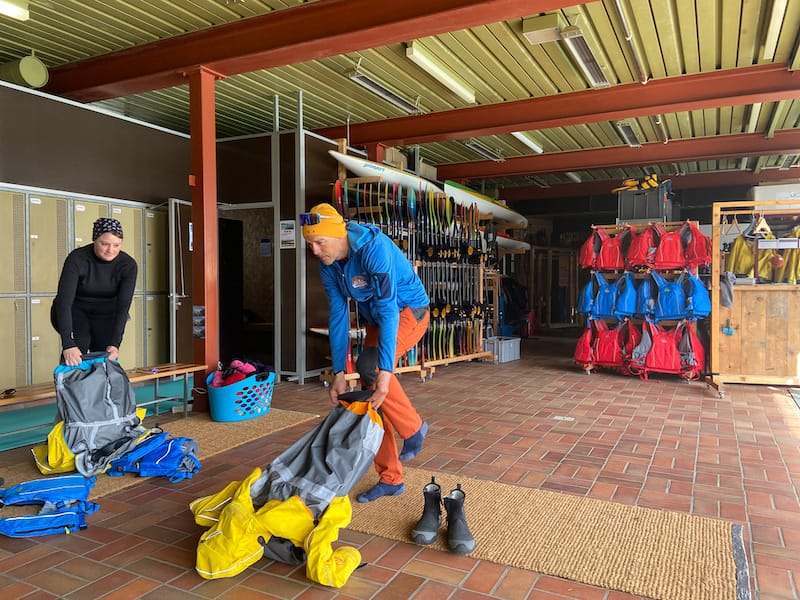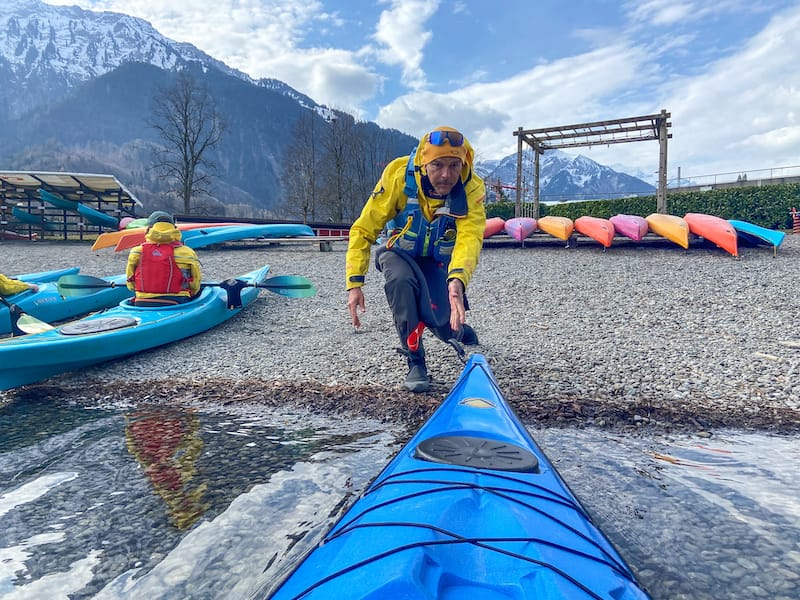 I was given Palm's high-end Aleutian dry suits and boots to avoid getting wet, as well as a life jacket.
BOOK HERE: Interlaken Kayaking Tour
If you're on the summer kayaking trip, your regular clothing should be just fine – just do dress appropriately for the weather on a mountain lake! You will still need to wear a life jacket, however.
The kayaking was fairly easy and I was lucky that the lake was super calm the day I took my tour.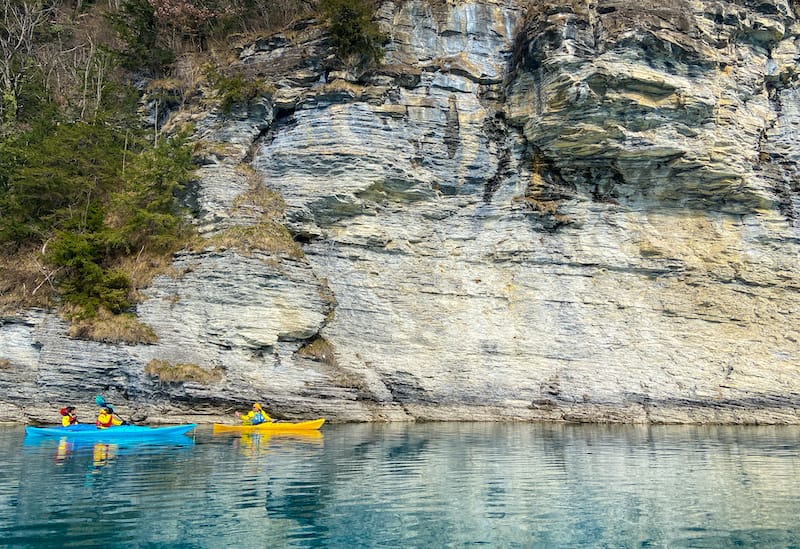 Before you go out, however, the guide will give you some instructions on paddling best practices and what to expect throughout your journey.
Lake Brienz
You will be heading out onto Lake Brienz. This is a stunning lake located near Interlaken (the canton of Bern).
The lake is 29.8 square kilometers and is fed by the Aare River (which flows in from the Aare Gorge).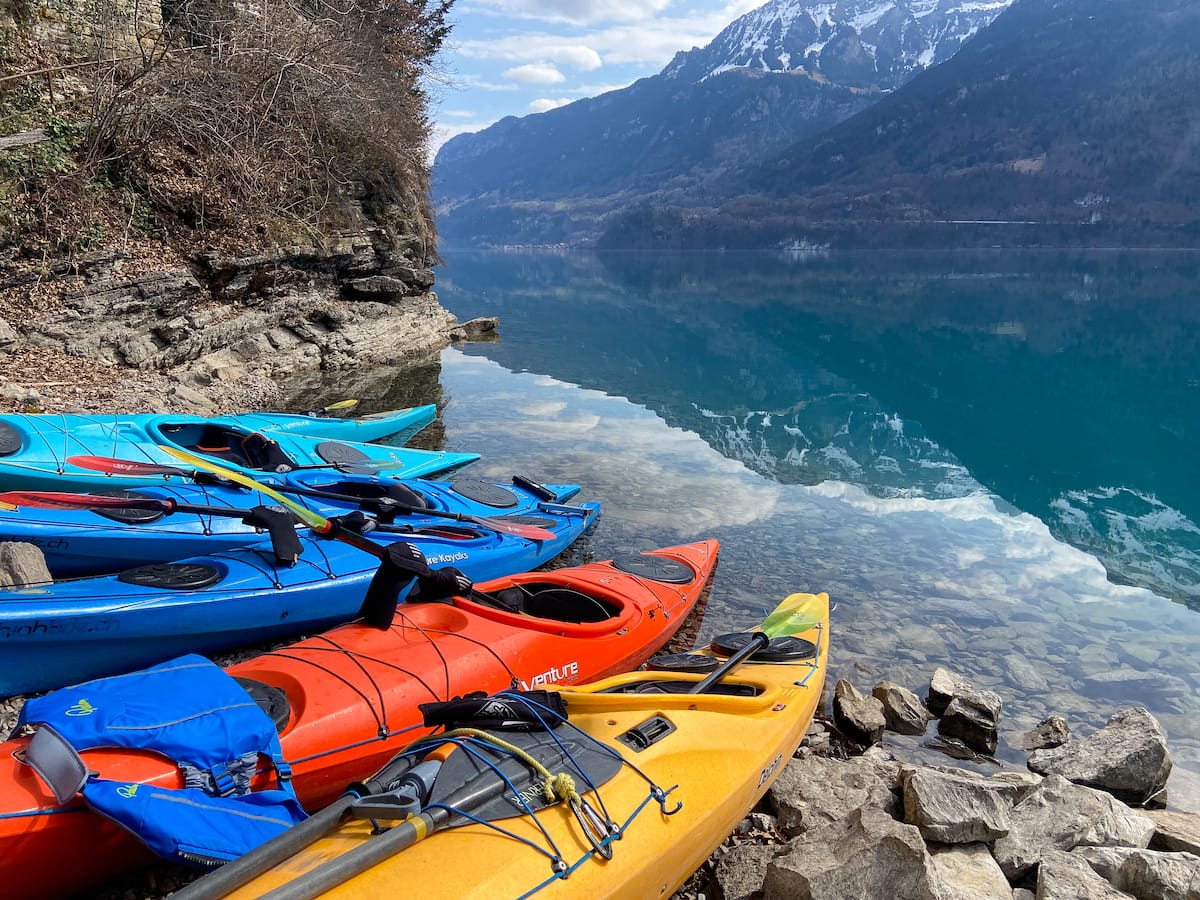 The water is crystal-clear and almost has a turquoise hue to it as it glistens against the Bernese Alps.
On the Water
My journey started at the Hightide Kayak School's beach and we traversed the Lütschine River toward the northern shore while admiring the picturesque mountains in the backdrop.
We discovered hidden beaches and sights along the way – including the 12th-century Ringgenberg Castle.
Throughout the tour, the guide took photos of us which was pretty cool! At the end of the tour, you can get the photos from them for free.
One thing I particularly loved about this kayaking trip is that it gave us the chance to slow down and admire the nature and scenery.
BOOK HERE: Interlaken Kayaking Tour
We didn't have to quickly paddle the entire time and it really let us soak in the clean air and scenery surrounding us.
We continued to kayak for around an hour and a half before stopping at a secret beach where the guide prepared some hot tea that we got to warm up with along with some delicious cookies.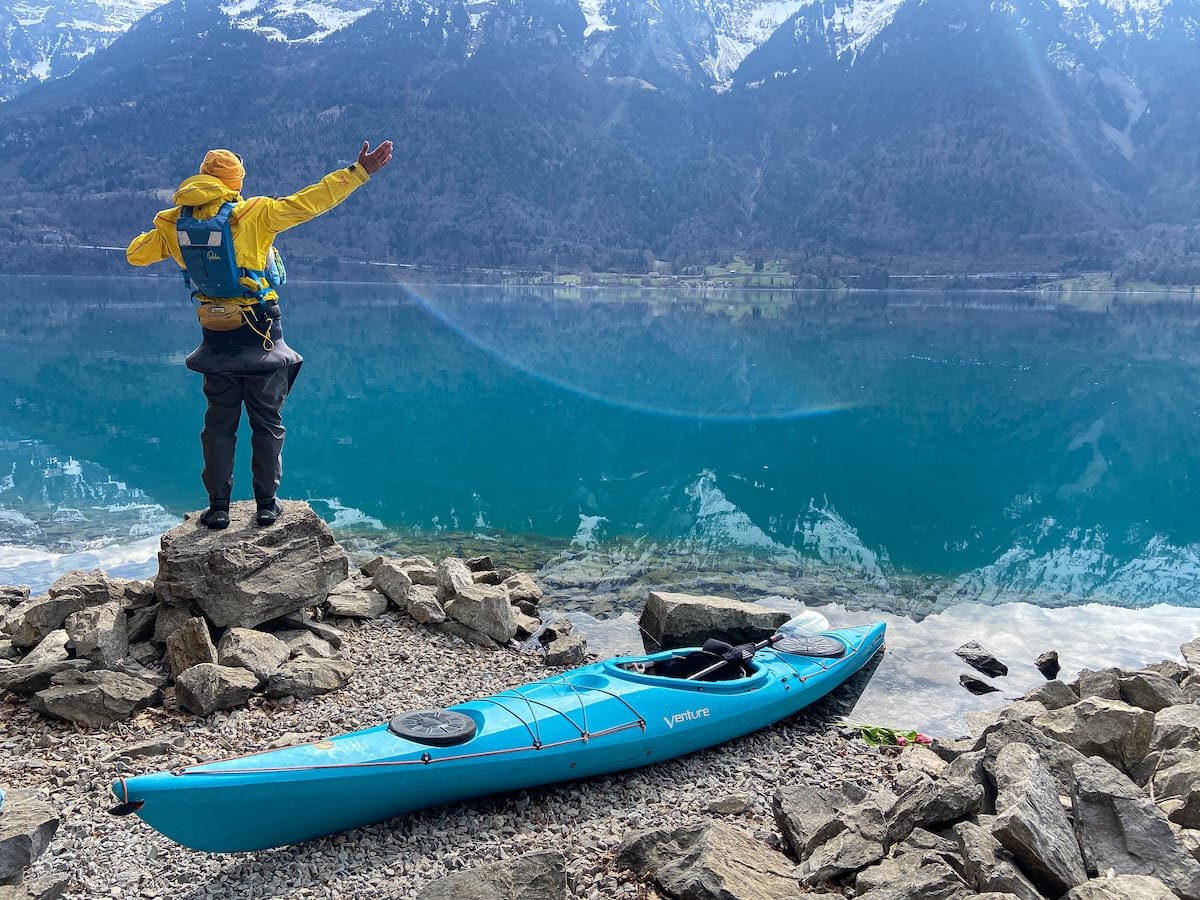 We chatted and sipped on the tea a bit before getting back in the water with our kayaks.
I thought the return trip would be a repeat of the trip there but we actually were amazed at the views that were previously behind us – so nothing was less boring.
And, to top it all off, we did the kayaking tradition of a 'Nose Kiss' where you have to face another kayaker and touch the kayak's noses together.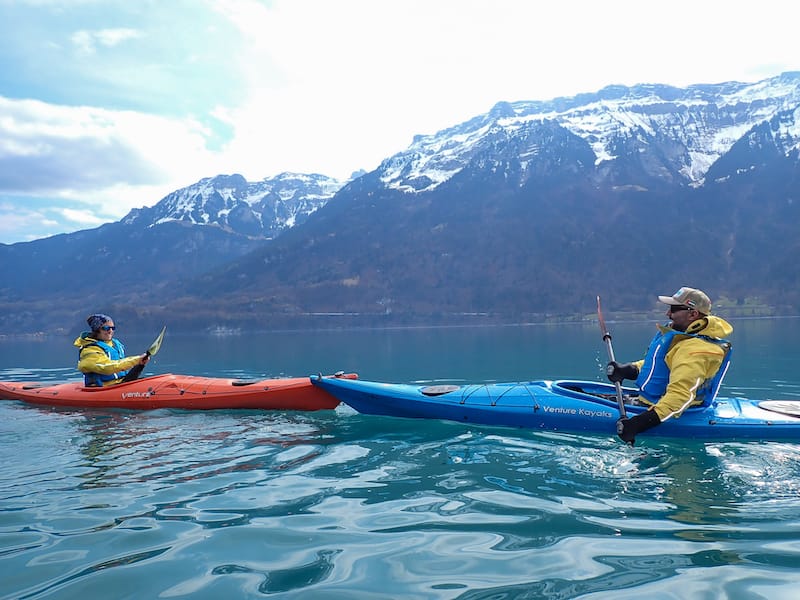 This was truly a special day and I hope everyone heading to Interlaken has the chance to take this kayaking tour, regardless of which season you head there during!
What to Know Before You Go
There is not too much to know before heading on this Interlaken kayaking adventure, but if you are heading out in autumn, winter, or early spring, you will want to bring the following items:
Warm clothing to wear underneath the dry suit, such as a thermal top and bottom, thick socks, and a thin jumper
Additional layers of clothing for colder weather, as well as sunglasses, sunscreen, and a sunhat
A change of clothes in case you sweat or get a little wet
If you are heading out on the late spring and summer trip, you will want to bring the following:
You will need to bring a bathing suit
A fast-drying t-shirt to wear beneath the wetsuit
Should You Book a Kayak Tour in Interlaken?
Yes! This was one of the most enjoyable days I have had this year and it is always fun to see a place from a different perspective. In this case, it was from the water!
If you have any questions or concerns about going kayaking in Interlaken, please let us know in the comments or send us a message!
More Switzerland Travel Guides
Pin this Interlaken Kayaking Guide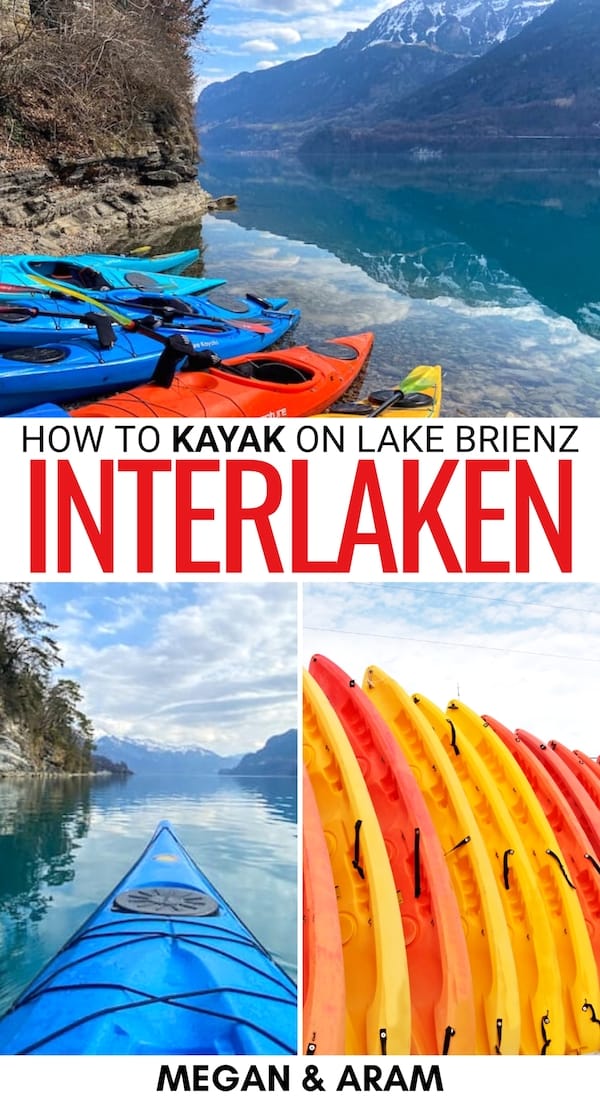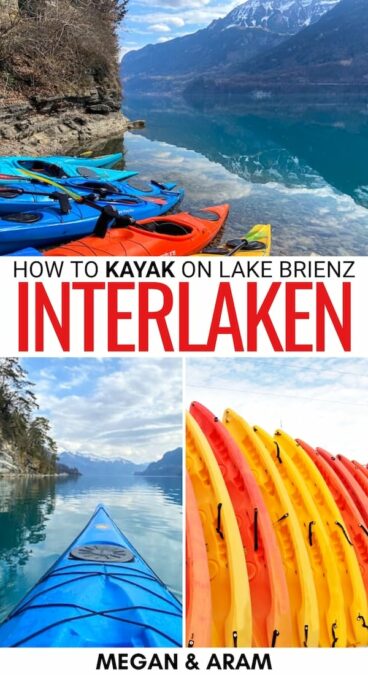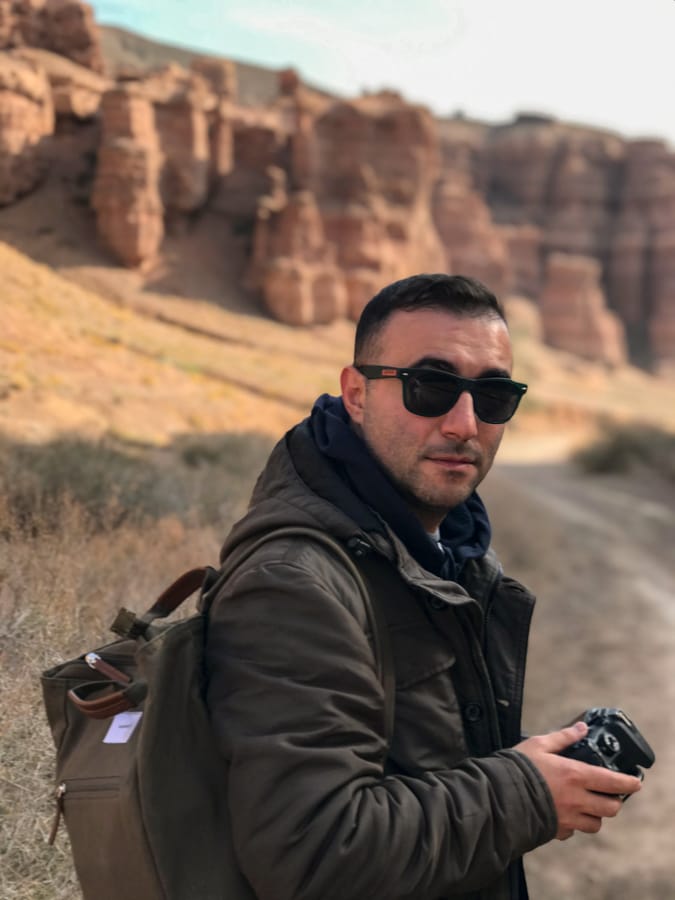 Aram is a travel blogger and writer from Armenia who spends his time between Spain and his home country. He is passionate about music and football (the European kind) and covers a lot of Western European destinations on the blog. Aram is a laidback traveler who enjoys meeting new people and finding the best food in each city that he visits (hence his frequent trips to France, Italy, and Greece!). He has been featured in (or written for) Forbes, BBC, The Guardian, Fodor's Travel, and more.