One of the best places to visit on a day trip from Athens is the island of Poros. This guide gives all you need to know to take the Athens to Poros ferry from Piraeus port.
Are you planning your trip to Poros last minute?
If youʻre booking your trip to Poros last minute, we have you covered. Below are some of the top tours, hotels, and more!
Top Experiences and Tours in Poros:
Top Hotels in Poros:
Sto Roloi Island Houses (Budget)
7 Brothers Hotel (Mid-range)
Xenia Poros Image Hotel (Luxury)
It also gives port details and shows how to book a ticket in advance. Let us know if you have any questions!
How to Take the Athens to Poros Ferry from Piraeus
After my first visit to Greece's Saronic islands, I was left wanting to see more of these idyllic islands and yearning for my next trip back.
When the opportunity arose to return to Athens, I knew that I was going to travel to Poros and enjoy everything the island had to offer.
Thankfully, Poros lived up to all my expectations and made for the perfect little getaway from Athens' summer crowds.
This guide will take you through all you need to know for getting to Poros from Piraeus Port in Athens.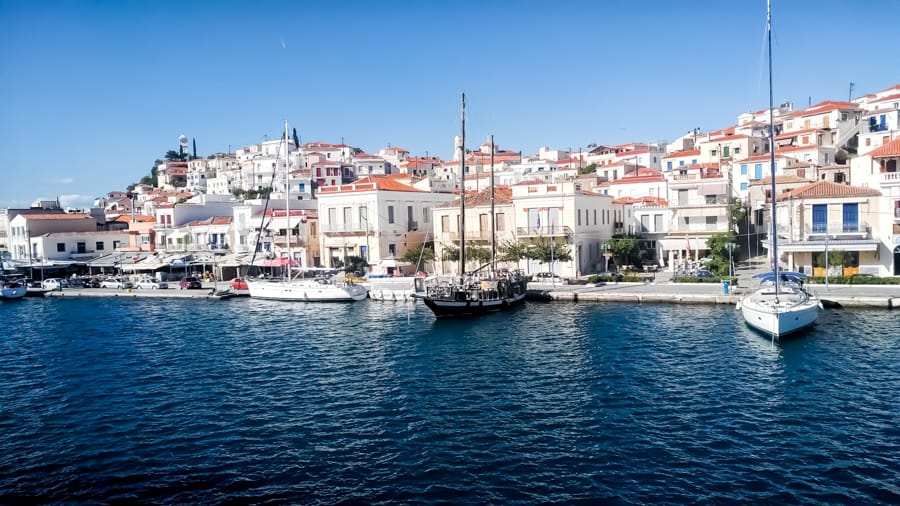 Getting to Piraeus Port Near Athens
In the west of Athens, you will find the Port of Piraeus, the main hub for reaching the beautiful Saronic islands.
There are three main ways to get to port from either the city center or airport. They are taxi/transfer service, metro, or bus.
I, personally, traveled to the port directly using the Welcome Pickups transfer service.
I opted to take advantage of a transfer service as I often find public transport overwhelming in large cities and the stress of traveling with bags is an absolute killer for me and causes me anxiety.
I'll be honest, I love Welcome Pickups. I have used the service in several different countries (Italy several times, Greece several times, Spain a few times, and Germany once) and found it a brilliant experience each time.
All drivers speak English to a high standard and the drivers in Greece will happily tell you everything about Athens and its long history.
If you are heading to the port from the airport, the drivers will track your flight and plan their arrival based on the status of your flight.
If you are held up in a long customs line, the Welcome Pickups driver will wait at the airport for an hour or you will be given their WhatsApp details to text them about any delays so they know to wait a little longer.
In arrivals, the driver will be waiting for you, holding a sign with your name which totally makes you feel VIP.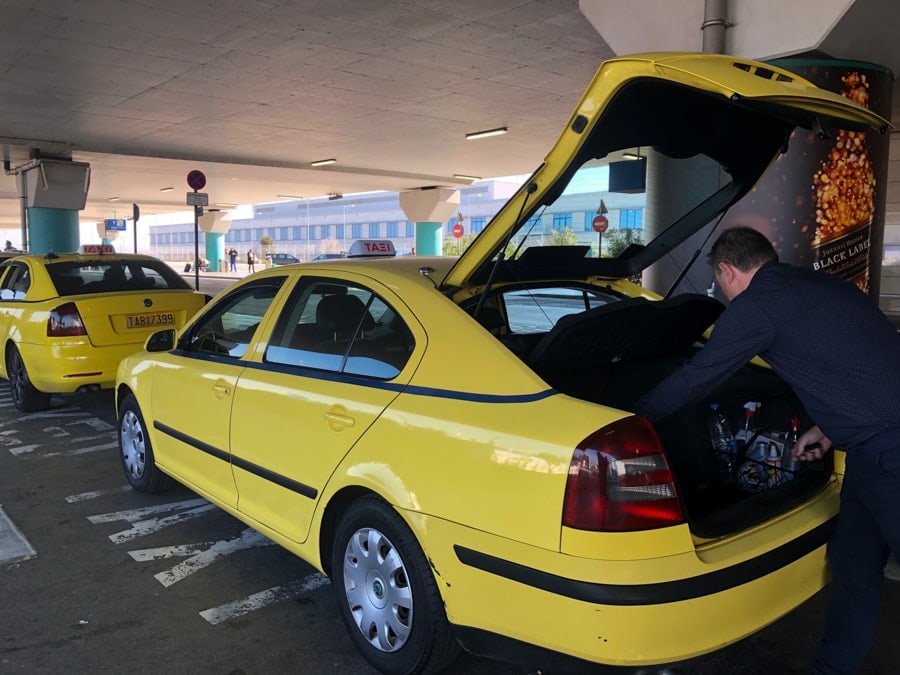 If you are getting picked up from your hotel, your driver will simply wait outside the hotel for you to come down.
During the booking process, you will be able to add on any extras you need for a smooth trip, including a Greek Sim card for your phone or tickets to any of Athens' top attractions, such as the Acropolis.
Before adding any extra costs, the website will let you know the base price which will be calculated based on the number of people, bags, and pick-up location.
I wholeheartedly recommend this service if like me you are easily stressed out in crowds or when trying to navigate a city with a lot of baggage.
Insider Tip: I have often found Welcome Pickups to be cheaper than a regular taxi, so definitely plan ahead and see if this is the case if you're on a budget!
>> Click here to book a transfer with Welcome Pickups in Athens
If you are looking for a cheaper way to travel and have plenty of time to get to the port, you can opt to use the bus or metro services available.
From the airport, expect a lengthy travel time by bus, which fully depends on traffic conditions at that time.
Although the metro is unaffected by traffic, you will need to rely on making the correct connections and traveling from the airport to the port can take up to two hours.
I find booking an airport transfer SO much easier than spending two hours on public transportation.
Is there Luggage Storage at Piraeus Port?
Yes, there is luggage storage available at Piraeus Port. Luggage storage is dependent on how you are traveling to and from the port.
For those traveling on regular ferry services, you will find luggage storage at Heation Passenger Terminal or Akti Letionia, both of which will store your bags for the day.
For cruise ship passengers, you will find luggage storage at Terminal A.
Poros is close enough to Athens for a day trip, so being able to leave your luggage is very convenient, although I do recommend spending a night or two on Poros if you have the time.
Is There Food at Piraeus Port?
There are plenty of food options in and around the port where you can purchase anything from refreshments and light snacks to heartier options like burgers or Gyros.
I would definitely eat before hopping on your Athens to Poros ferry.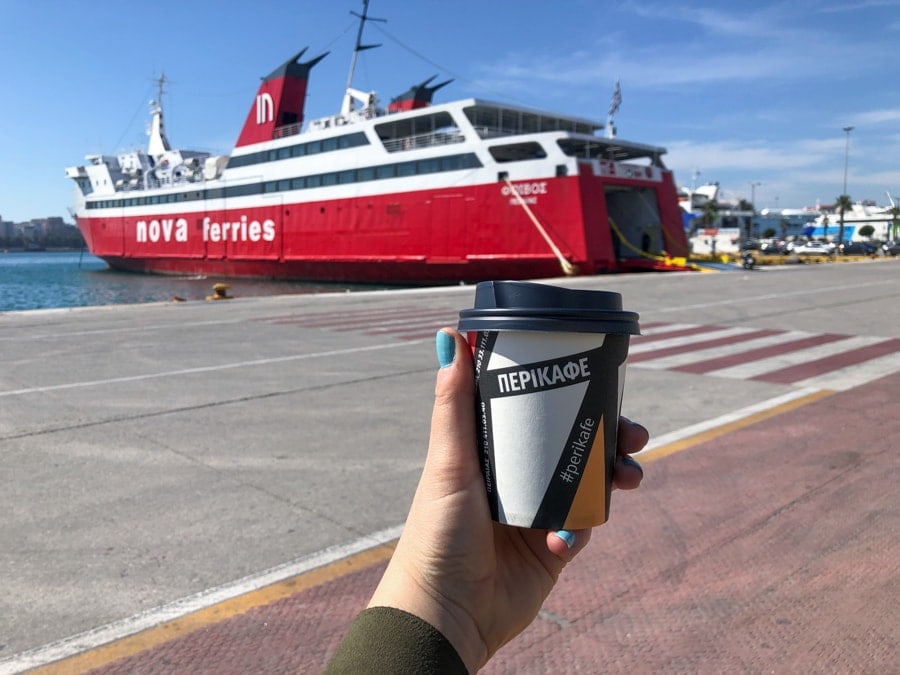 Outside of the port boundary, you will find Perikafe a great little spot for specialty coffee.
Despite being a chain, they had a pretty killer flat white. And coffee in Athens is definitely a can't-miss experience in Greece for all!
Around the corner from Perikafe is Live More Juice Bar. They serve up great, refreshing juices that are perfect for cooling down during the summer months.
Athens to Poros Ferry Options
There are several options for ferries between Athens and Poros. I book all of my tickets in advance with Direct Ferries.
During the week, Blue Star Ferries offer FlyingCat and Flying Dolphin options that will transport you between the ports in just over an hour.
These ferries are for foot passengers only.
If you want to bring your car on the island (they are permitted on Poros), there are larger ferries that dock at the port on weekends and are able to transport vehicles.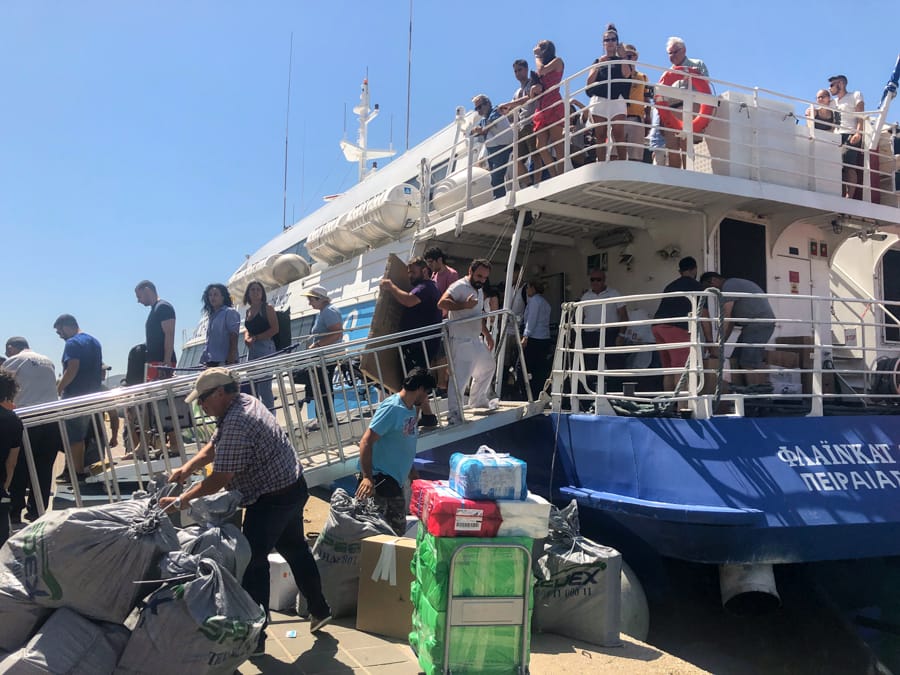 The Poros car ferry on weekends is significantly cheaper for walk-on passengers than the FlyingCat or FlyingDolphin options but it does take far longer.
The difference between FlyingCat and FlyingDolphin ferries is the size.
FlyingCats are much larger and more comfortable than the FlyingDolphin. In addition to the size difference, the FlyingCat comes with a nice little cafe.
Price-wise, both ferries cost the same.
How to Buy a Ferry Ticket from Athens to Poros
There are two ways to buy tickets to Poros, both of which are simple and stress-free. Tickets can be bought either by heading to the port and purchasing them on the day or by purchasing them online prior to travel.
It's highly advisable to book tickets in advance in order not to be disappointed, as there are a limited number of ferries each day and tickets do sell out.
I actually always wanted to visit Poros but the reason I did opt to go there the specific day I did was that Hydra tickets were sold out.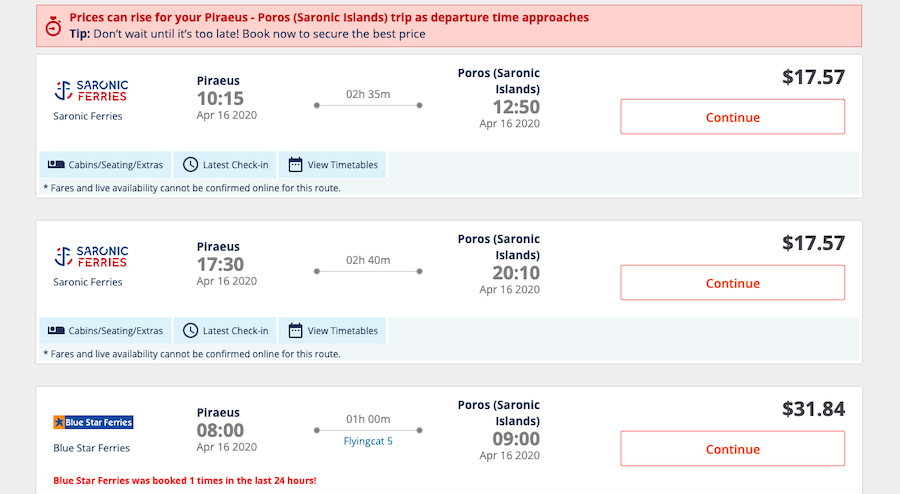 Even though you book tickets online, you will still need to pick up the tickets in person from the port but the tickets will at least be guaranteed.
Booking your Athens to Poros ferry tickets online is really easy and convenient and the process is fairly self-explanatory.
I used Direct Ferries to book my tickets between Athens and Poros, a company I have used throughout Europe to book various ferry tickets.
The website is available in multiple languages and currencies, making booking the ferries very simple. You will need to select a time of travel, which is not transferable and will also determine which boat you will travel to Poros on.
>> Click here to book your Athens – Poros tickets with Direct Ferries
Booking the Fast Ferry to Poros from Piraeus
If you opt to sail with the FlyingCat or FlyingDolphin, you'll select your time and you will need to choose which area of the boat you desire to sit in.
The options for both the boats are the same and split into lounge one or lounge two.
FlyingDolphin Booking
On the FlyingDolphin, lounge one is at the front of the boat with several rows of multiple people. This is a great option if you are traveling in a large group and many people want to sit together.
Lounge two is at the rear of the boat and is split into three sets of seats with pairs of seats next to the windows and in the middle blocks of four seats.
This lounge is great for those not wanting to sit in large groups or next to people they do not know.
FlyingCat Booking
On the FlyingCat, it's slightly different since the boat is much larger. The boat was not completely full when I used it I was able to sit anywhere regardless of the lounge I purchased.
The lounge you choose on either boat makes no difference in price and both are very comfortable.
The boats are different, however, and if you have the flexibility and choice in which boat to choose, I'd recommend the FlyingCat for convenience since there is a small cafe on board.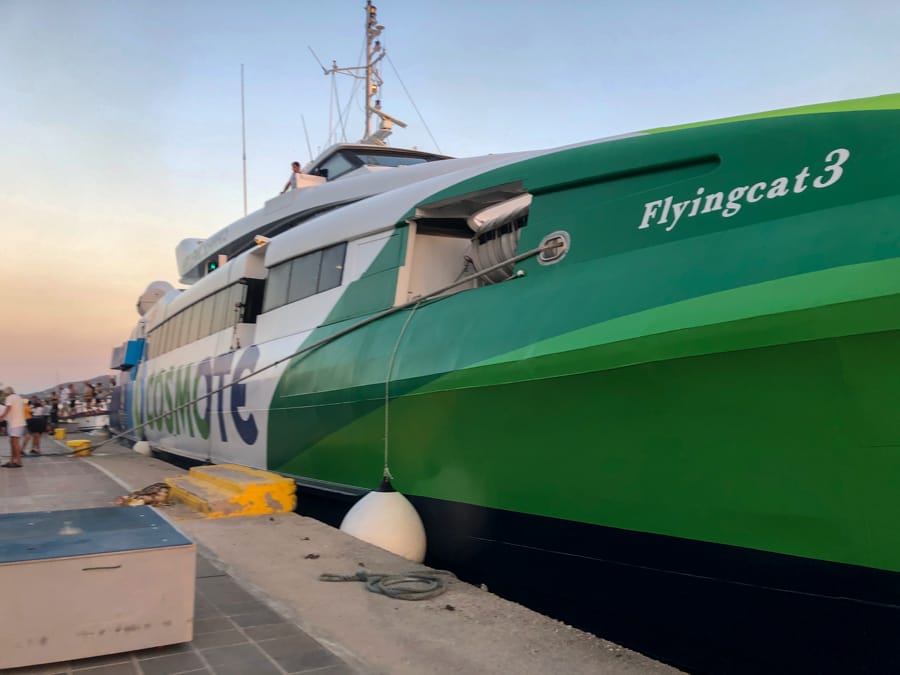 However, the FlyingDolphin does offer the ability to grab fresh air at the back of the boat.
Car Ferry Booking
If you opt for the car ferry option, there is only one deck option available when purchasing which makes the booking process far simpler.
You will, however, need to book a space for your vehicle if you have one, which will inevitably increase the price.
I haven't traveled on the car ferry myself, so I can not really say too much more about it. Most of the ferries to Poros operating in that area are of high quality, so I am sure it is a pleasant way to travel to Poros.
I do not recommend taking this ferry if you are traveling by foot because it takes over double the time of the FlyingCat and Dolphin series boats and sails less frequently. It is cheaper, however.
Picking Up Your Pre-booked Ferry Tickets at Piraeus Port
Tickets for the ferries need to be picked up from the port and designated offices as they do not send them out or offer you the ability to print them from home.
During the booking process, you will be given a list of places to pick up the tickets from- some of which may charge a small processing fee.
I found the best place to pick them up from was the Piraeus port itself since it was free and you are already next to the boats.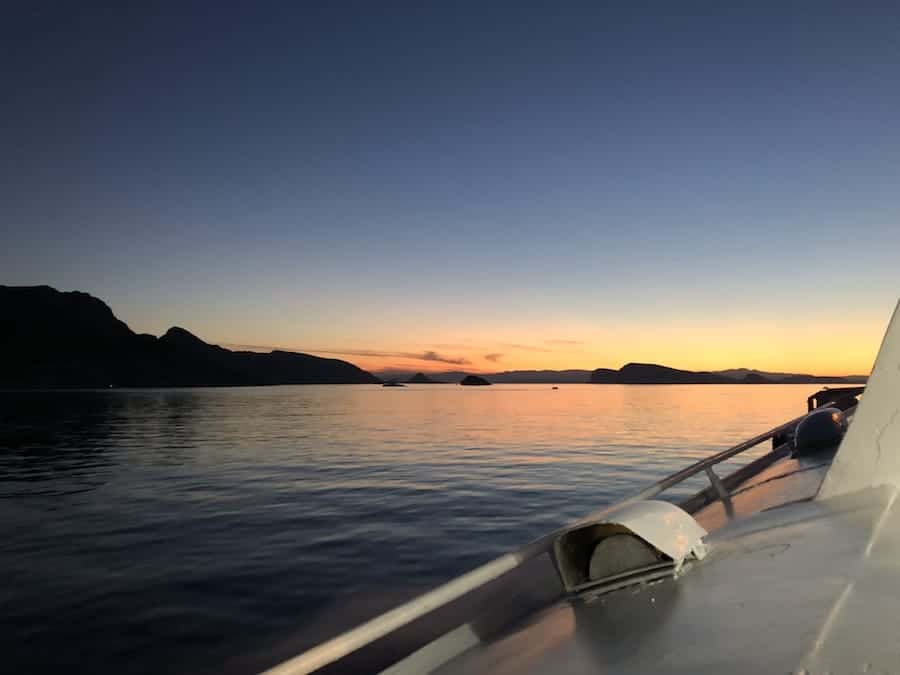 I recommend bringing ID with you. They may ask for it while picking up the tickets even if they didn't ask for mine.
At the port, you will be assigned your seats. Once on the boat, people seem very adamant to stick to their assigned seats.
So, if you are traveling in a big group, or even as a couple, you may find yourself sitting apart despite booking the tickets at the same time.
I really recommend booking all your tickets before your trip starts and then picking them all up from the port at once.
Sometimes it is more of a challenge to find the ticket office on the islands to do a pickup there.
>> Click here to book your tickets in advance with Direct Ferries
How Much is A Ticket From Athens to Poros?
A one-way ticket on the FlyingCat or FlyingDolphin costs around €26.50 (as of March 2020).
This price is somewhat consistent throughout the year but it can increase or decrease as the date approaches.
The car ferry costs somewhere around €14 if you intend to travel by foot. However, if you want to bring your vehicle to the island, you will need to pay extra. A car of any size will cost an extra €32.
A motorbike under 200cc is €7 while anything above 200cc is €10.
Tips for the Athens – Poros Ferry Ride
The hour or so long ride on the FlyingCat/Dolphin boats is insanely beautiful and pleasant. You will travel along mainland Greece's scenic coastline and pass by little islands where the small towns and villages climb up the hillside.
If you are on the FlyingDolphin, I recommend bringing water and snacks as there is no food available to buy onboard. On the FlyingCat, there is a fully-stocked cafe that accepts all major credit cards.
You will need to be at the port at least 15 minutes before as the boats do not hang around for late passengers. If you need to pick up your tickets, you will need to arrive even earlier in case there is a line at the offices.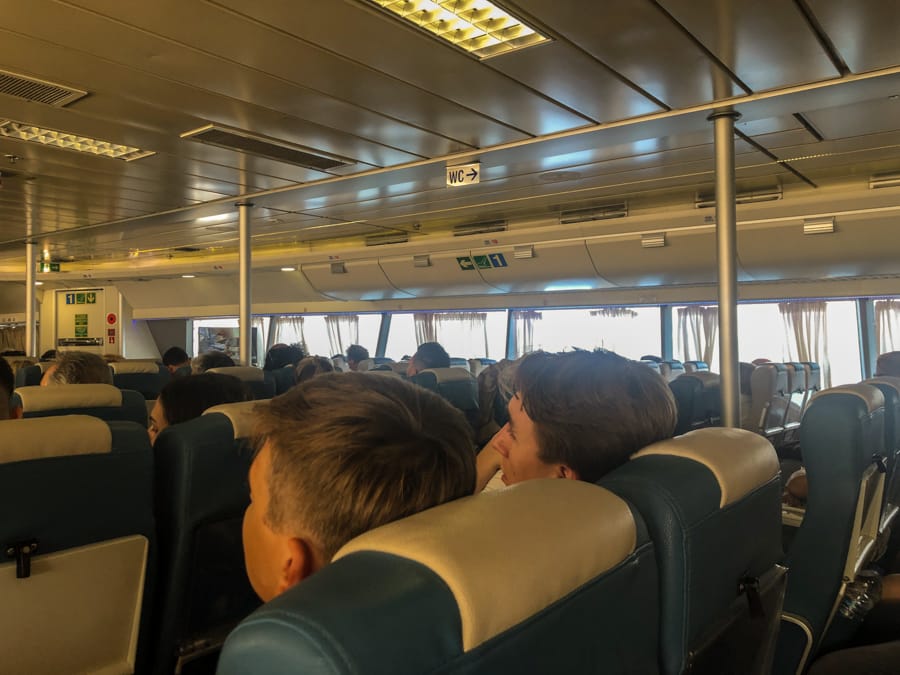 On the FlyingDolphin, take the opportunity to stand at the back of the boat and take in the beauty of the surrounding area, during the sunset the sky glows orange and offices fantastic views.
Prewarning- sometimes this area is really dirty with the smoke from the boat.
I haven't traveled on the car ferry, so I am not able to give a personal account of this journey, however, as the boat is large, I imagine it comes with a fully-stocked cafe and is a comfy way to travel as you slowly cruise through the Saronic Gulf.
If you are prone to seasickness, it is advisable to purchase an anti-seasickness band before traveling to Greece.
The water isn't rough but if you are like me, seasickness can strike even when the water is as calm as can be. Click here to purchase a cheap pair of sea-bands for your trip.
Once You Arrive on Poros From Athens
There are several ports on Poros and the FlyingDolphin/Cat ferries will stop close to the center of Poros Town where you will find many of the main sights and plenty of awesome restaurants where you can indulge on fresh seafood along with other Greek specialties.
For those planning to stay overnight, there are plenty of hotels in the town center. Beaches can be found on the outskirts of the town and throughout the rest of the island.
Since cars are allowed on the island, there is a network of buses and taxis that connect Poros with other parts of the island.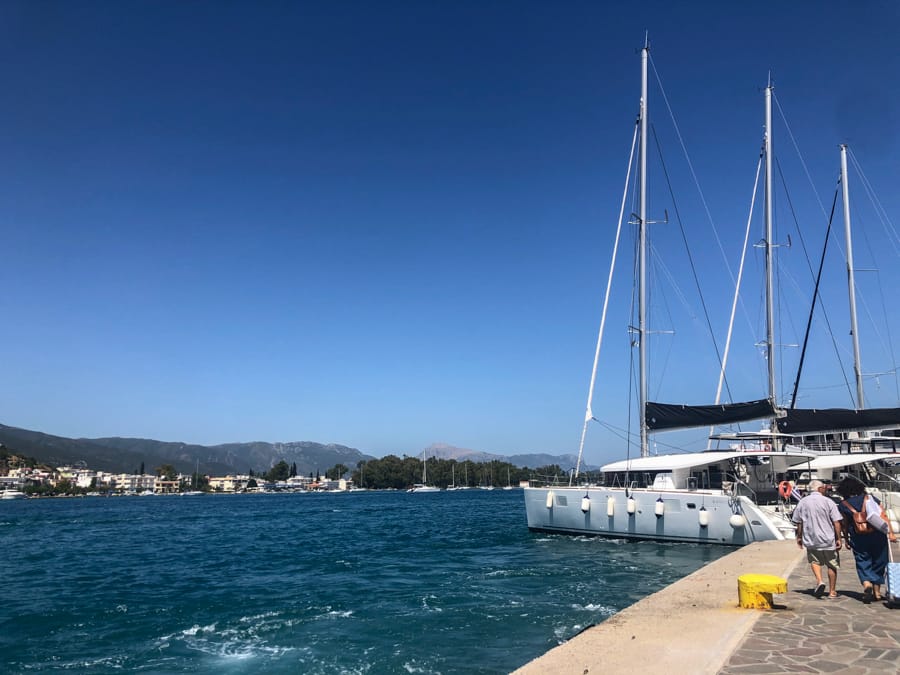 The larger vehicle ferry docks towards the edge of Poros town, but since the island is small, everything is within walking distance.
If you have your own vehicle with you, Poros is easily navigable and from the ferry, it won't take too long to reach many of the main areas of the island.
Organized Tours to Poros from Athens
If you are looking to visit a few Greek islands in one day, there are several organized tours that will take you to Poros, along with stunning Hydra and the gorgeous island of Aegina.
The day-long tours head to each of the islands and spend a little bit of time exploring the main sights. The Poros tours are popular and may sell out.
Luckily, there are a few to choose from, so if one has sold out, another should hopefully have some space.
⇒ Hydra, Poros, and Aegina Full-Day Cruise with Lunch
⇒ Athens Combo: Greek Islands Cruise and the Acropolis Ticket
Getting Back to Athens From Poros
Returning to Athens from Poros is very easy and requires just doing the same journey in reverse. I do, however, recommend having all of your tickets booked in advance to ensure you do not get stuck on the island.
I would also pick the tickets up from Piraeus, as finding the pickup location is much easier than in the small island towns.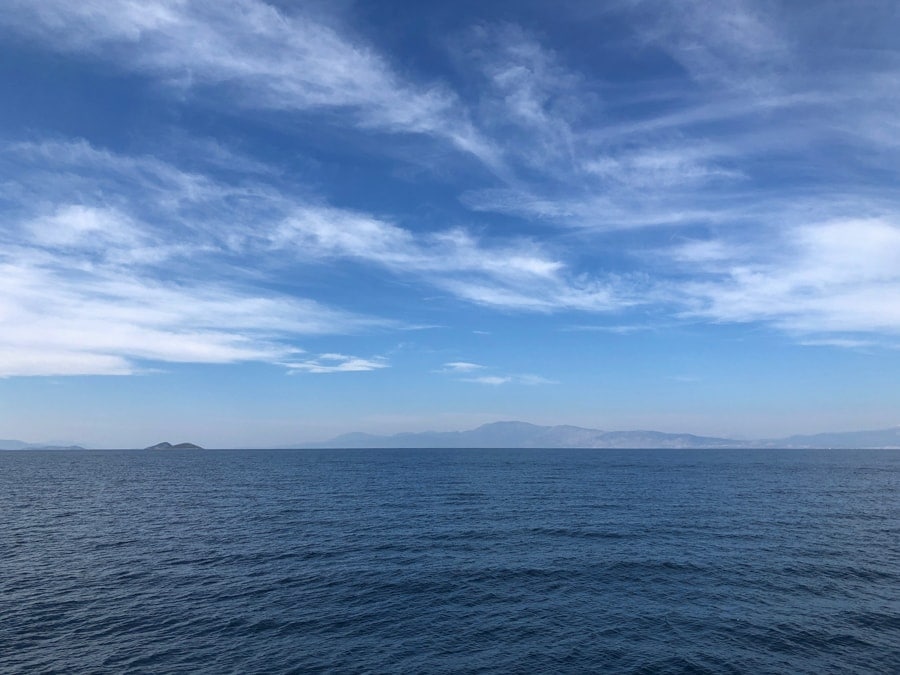 Alternatively, you can use Poros as a launchpad to explore some of the other Greek islands, such as Hydra and Spetses, which are both connected to Poros by boat.
Where to Stay on Poros
Poros is a well-developed island and there are plenty of places to stay on it for all budgets.
With high-end resorts and budget apartments, you will be able to find a place that suits your traveling style, although some are located a little outside of the town center.
Here are my Poros accommodation recommendations:
Final Thoughts on My Trip to Poros
I thoroughly enjoyed Poros and found the island to be a great day trip from Athens.
The island has a slightly more chilled out vibe than Athens and was different than the other Saronic Islands or Greek Islands I had visited.
I really enjoyed sitting by the coast and enjoying fresh seafood and watching the day go by.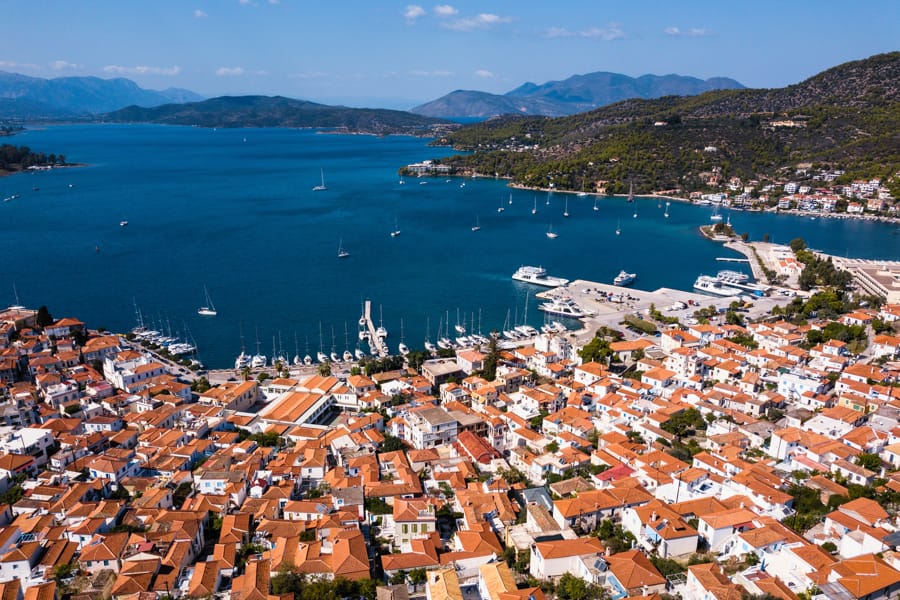 I went to Poros during the high season and although there are plenty of tourists around, it is still easy to relax and the beaches are not as busy as some of the more popular island destinations around Greece.
I hope this guide helps you confidently book your Athens to Poros ferry.
Please let me know if you have additional questions!
YOU MIGHT ALSO LIKE: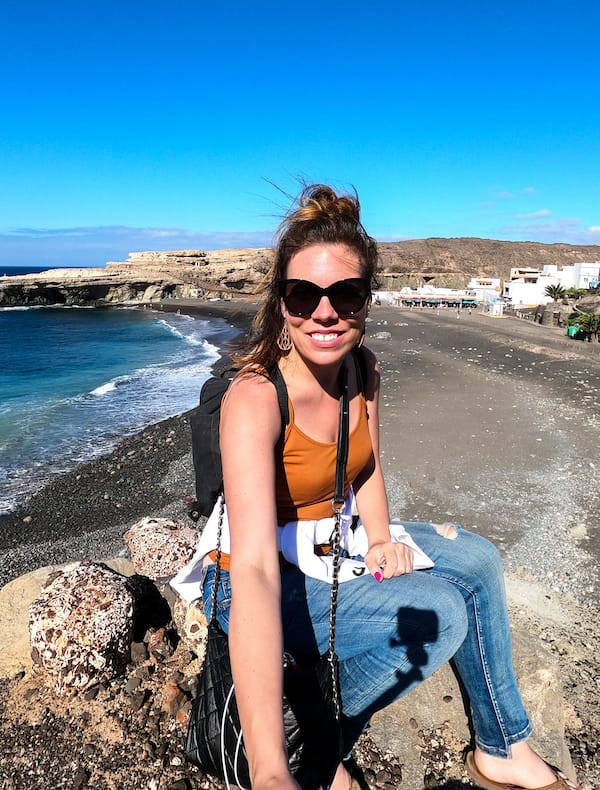 Megan is a travel blogger and writer with a background in digital marketing. Originally from Richmond, VA, she now splits her time between Frankfurt, Germany and Arctic Finland after also living in Norway, Armenia, and Kazakhstan. She has a passion for winter travel, as well as the Nordic countries, but you can also find her eating her way through Italy, perusing perfume stores in Paris, or taking road trips through the USA. Megan has written for or been featured by National Geographic, Forbes, Lonely Planet, the New York Times, and more. She co-authored Fodor's Travel 'Essential Norway' and has visited 45 US states and 100+ countries.