On my recent Greece trip, I had the amazing opportunity to take the Athens to Hydra ferry to the gorgeous Saronic Island teeming with a lot of great history.
Are you planning your trip to Hydra last minute?
If youʻre booking your trip to Hydra last minute, we have you covered. Below are some of the top tours, hotels, and more!
Top Tours to Hydra and the Saronic Islands:
Top Accommodation and Lodging in Hydra:
Sto Roloi Island Houses (Budget)
7 Brothers Hotel (Mid-range)
Xenia Poros Image Hotel (Luxury)
This guide details exactly how to get to Hydra from Athens, including Hydra ferry ticket prices, travel tips for the journey, and everything else you need to know.
How to Take the Athens to Hydra Ferry from Piraeus
Prior to my trip to Greece, Hydra was one of the few islands that I had heard of and I was certain that I had to make sure I got there after realizing how close it was to Athens.
Hydra completely lived up to my expectations and was one of the highlights of my trip to the Saronic Islands.
Despite it not being one of the 'undiscovered' Greek Islands, it still offered the peace and relaxation I needed from the place and I found so many cool things to do in Hydra.
In this guide, I will detail all you need to know for getting out to Hydra from Piraeus Port in Athens.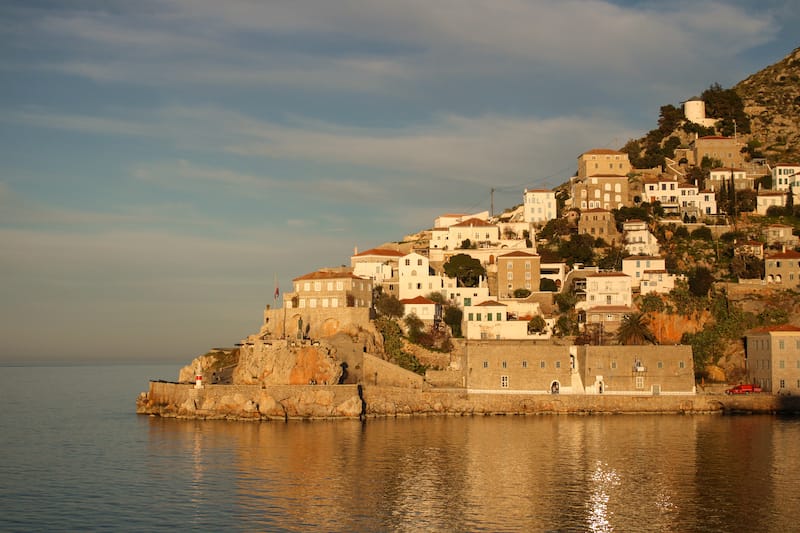 Getting to Piraeus Port Near Athens
The Port of Piraeus is located to the west of Athens and is where most of the ferries leaving for destinations in the Saronic Gulf depart from.
There are three ways to get to the port from either the airport or from central Athens: taxi, metro or bus.
I traveled there directly from the airport and used the service Welcome Pickups as I was in a rush to reach the port and relying on public transport can be slightly problematic in Athens as the traffic is prone to congestion (and metros freak me out at rush hour as a person who is claustrophobic).
Welcome Pickups is a truly exceptional service that I highly recommend to anyone who is planning to make this trip.
All drivers speak exceptional English and will track the arrival of your flight, timing their arrival based on any flight delays.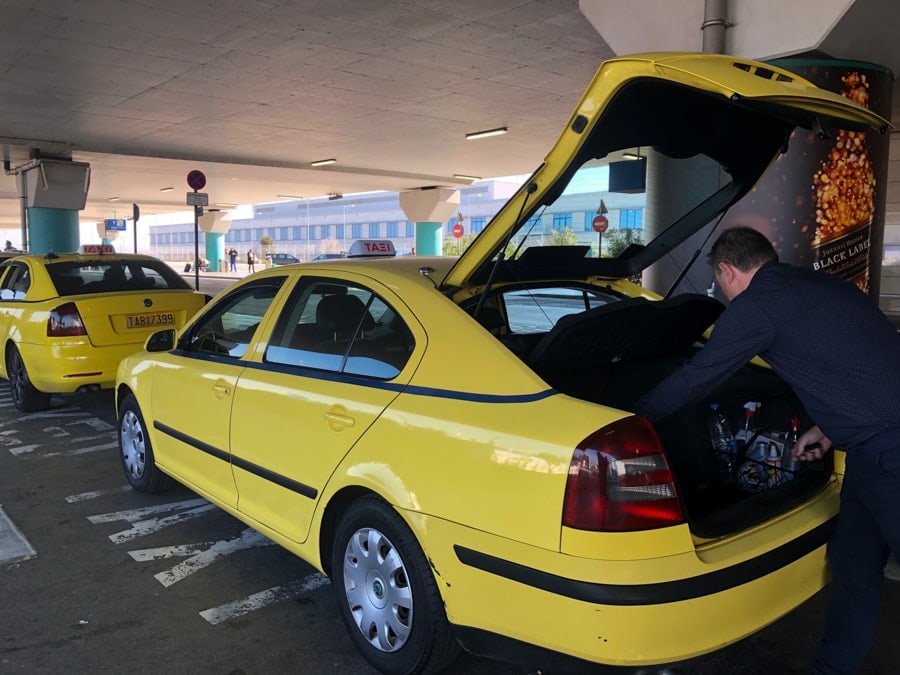 Once at the airport, they will wait an hour for you to get through customs and baggage collection.
If you feel this will take longer, you are able to call or message them on WhatsApp as contact details will have been provided in advance of your pickup time.
You will easily be able to find your driver as they will have a sign with your name on it. The cars are all incredibly clean and you will be given an awesome Athens tote bag along with a map of the city and a bottle of water.
The drivers all have a great knowledge of Athens and will happily provide you with any information that you need along the way.
During the booking process, you can ask to have the drivers bring any additional extras such as a Greek SIM card with data or museum and skip the line tickets.
The base service for the pick-up (no SIM card or tickets) cost 56 euros, which was well worth it for the brilliant service.
Click here to learn more about Welcome Pickups
If you are traveling on more of a budget or have plenty of time to get to the port, you can choose to get the bus or metro. There is a bus that departs from the airport that goes to the port, however, the timing of this depends on the traffic.
There is also the metro which involves changing in central Athens and due to the timings of the connections, can take almost two hours.
Is There Luggage Storage at Piraeus Port?
Yes, there is luggage storage at the port. If you are a regular passenger, you have two options- the Heation Passenger Terminal or Akti Letionia. Both of these places will happily store your luggage for the day.
If you are arriving on a cruise ship, there is luggage storage available at the cruise passenger Terminal A.
Hydra is close enough that going for a day trip is definitely possible, although personally, I would suggest spending a few days there and taking your luggage with you.
Is There Food at Piraeus Port?
Yes, there are plenty of places where you can purchase food and refreshments in and around the port.
Within the port, there are plenty of little kiosks selling basic snacks and cold drinks.
There are also a few stands selling the traditional Koulouri Thessalonikis, which is a kind of sweet bread ring covered in sesame seeds and is incredibly tasty.
Outside of the port, you will find plenty of coffee shops and fast food places.
I personally loved Perikafe, a cool specialty coffee shop that makes a killer flat white.
If the day is hot and you are craving something cold, then I suggest grabbing a fresh juice from Live More Juice Bar which is located just around the corner from Perikafe.
Athens to Hydra Ferry Options
As Hydra is an island that doesn't allow any form of motorized vehicles, there are no car ferries that stop there.
Luckily, Hellenic Seaways offers a regular service to Hydra with its FlyingDolphin and FlyingCat boats.
Depending on your itinerary, I would highly suggest aiming to book a FlyingCat, which is a large catamaran boat, over the much smaller FlyingDolphin hydrofoil.
Other than the size difference, the FlyingCat comes with a nice café where you can buy refreshments on the journey.
Either one you book will cost €36-40 per person each way.
Click here to check out ferry timetables on Ferries in Greece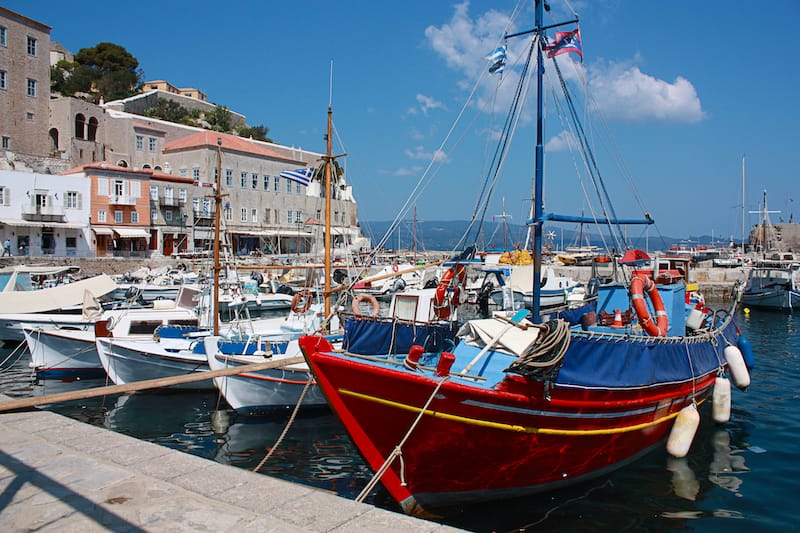 How to Buy a Ferry Ticket from Athens to Hydra
Buying ferry tickets to Hydra is extremely easy. There are two options for purchasing tickets: in-person or online. It is highly advised to book them online prior to departure as the ferries are prone to selling out, especially as they make many stops on their way to Hydra.
Even though you have booked your tickets online, you will still need to go to a ticket seller to pick up your tickets. But, they will be confirmed and you won't risk the chance of not having them.
Booking tickets online is a simple process that is easy to navigate. I used Ferries in Greece to book my tickets and it was a walk in the park.
The website is available in multiple languages.
When booking the ferry, you will notice that there is a choice between two different boats- The FlyingDolphin or the FlyingCat. The price is the same, but the boats are very different.
The FlyingCat is a much larger boat. The second choice you will get is the seating option of either ATS1 or ATS2.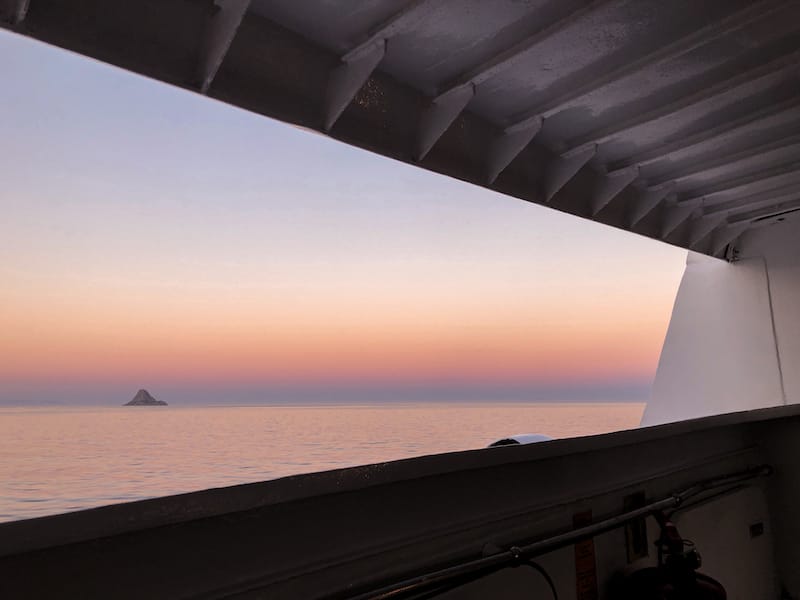 The FlyingDolphin
On the FlyingDolphin, the difference is, ATS1 is seated at the front of the boat, there are fewer seats than at the back but the rows are wider with more seats.
ATS2 is the rear larger section of the boat and the seating is split into 3 sections, the two side sections are seats in pairs with a middle section of 4 seats in a row.
Personally, I preferred ATS2 seating especially as the side seating is in pairs and you do not need to sit with lots of people you do not know.
The FlyingCat
On the FlyingCat, the difference is between which level you are sat on, however, my experience of the FlyingCat was short and the boat was relatively empty and I was ushered into the lower section of the boat, so I am completely unaware of which seating section I was actually in.
As the boats both cost the same and are very comfortable. it's not that important which one you book.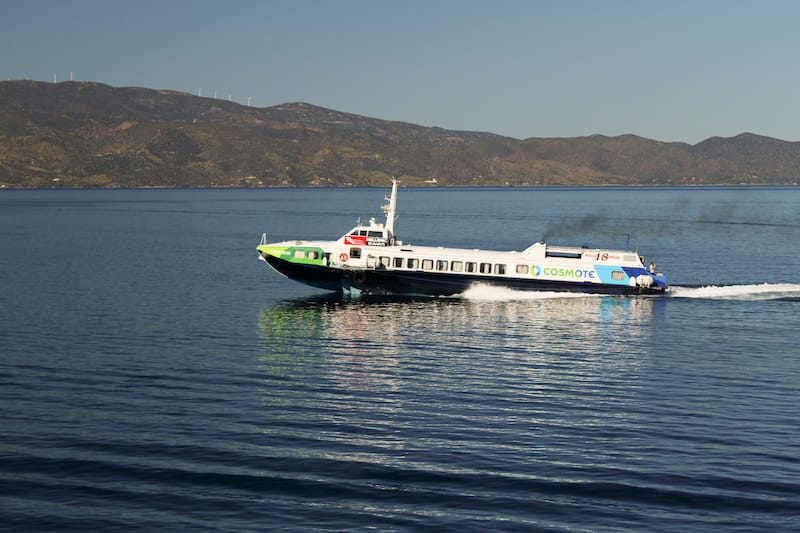 Tickets will not be sent to you, nor can you print them out. Instead, you must pick them up in person from one of the many distributors at the port.
During the booking process, you will be given a list of places where you can collect your tickets. Some of the places charge a Euro service fee.
I picked up my tickets from the ticket office directly at the departure point and it was free of charge. You may need to bring ID with you, but I was not asked to present any.
Another important thing to note is that you are allocated seats when you pick up the tickets and there is no guarantee you will be sat with your group even if you booked well in advance.
If you have booked multiple ferry rides, I recommend picking up all the tickets at the same time as once on the islands the places are not open as regularly as locations in Piraeus.
Click here to check out more Hydra ferry information

How Much is A Ticket from Athens to Hydra?
A one-way ticket to Hydra will set you back €36-40 per person.
This price is consistent and flat across the day so there are no peak or off-peak ticket prices.
This is also the only option as there are no car ferries between Piraeus and Hydra since cars are banned on the island.
Tips for the Hydra Ferry Ride
The one and half hour journey is super pleasant but I would suggest that if you are sailing on the FlyingDolphin to bring some snacks and drinks as there is no shop on board.
On the FlyingCat, there is a well-stocked café that takes all major credit cards.
Make sure you arrive at the port at least 15 minutes prior to the journey because the boats do not hang around for stragglers.
Enjoy the fresh air on the FlyingDolphin as you whizz past neighboring islands. The sunset hours provide a great chance to take some gorgeous photos.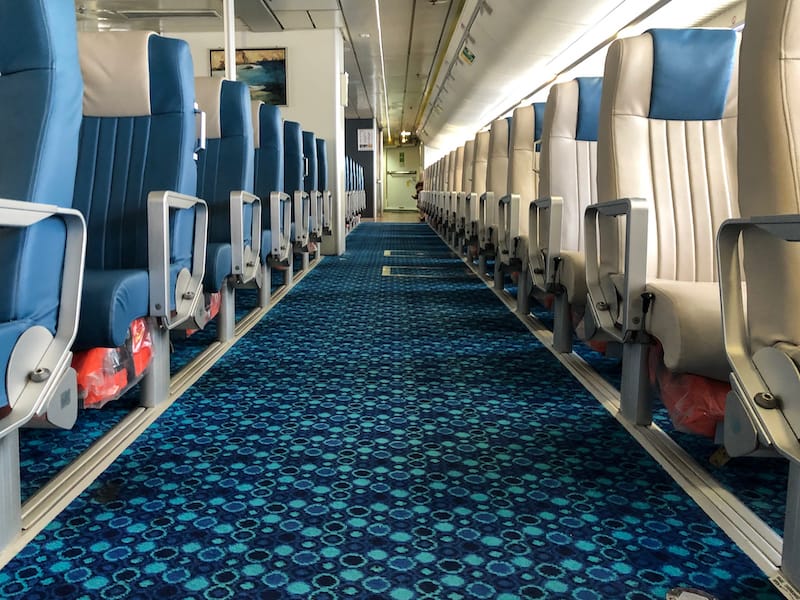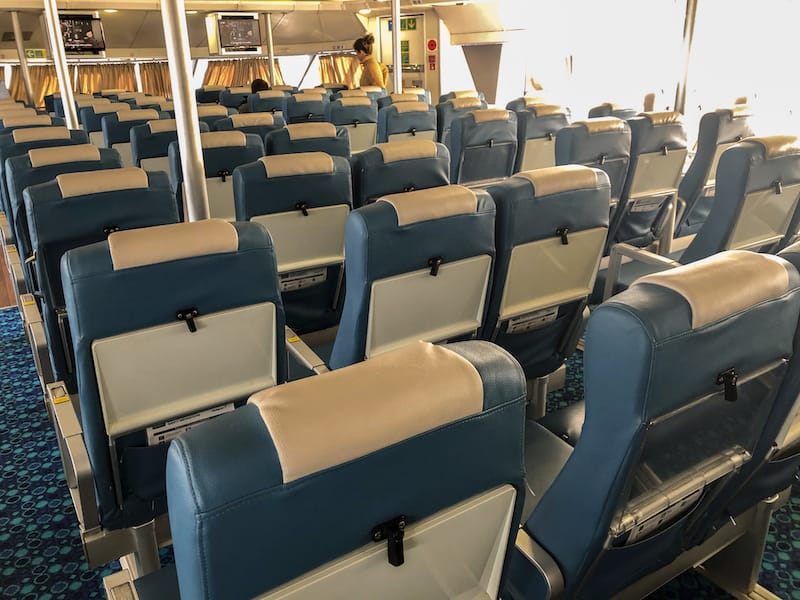 Once You Arrive in Hydra from Athens
The harbor on Hydra is directly in the middle of the town.
With the majority of hotels within walking distance, it should be easy enough for you to get to your hotel by foot as there is no form of motorized vehicle allowed on the island.
However, if your hotel is located further up into the hills, you may need to hire one of the 1000 donkeys on the island to transport you and your luggage to your hotel.
If you are staying in one of the villages along the coast, your hotel should be able to organize a water taxi to pick you up.
Organized Tours to Hydra from Athens
You can take an excursion or a tour to Hydra easily from Athens. You can also take a day trip on the regular ferry services.
Here are a few suggested Hydra tours that you can book (they will also take you to other islands):
⇒ Hydra, Poros, and Aegina full day cruise with lunch (bestseller!)
⇒ Full day tour of the Saronic Islands from Athens
⇒ VIP Cruise of the Saronic Islands from Athens
⇒ Visit to Saronic Islands + Skip-the-Line Acropolis ticket (great combo!)
Getting Back to Athens from Hydra
Getting back to Athens from Hydra is as simple as actually getting to Hydra in the first place.
Just make sure you have collected all your tickets in Piraeus to avoid having to scramble to get them in Hydra as places on the island are not as easy to find, nor are they open as consistently as those in Piraeus.
If you have time to spare, it is worth breaking the journey up and stopping off on another one of the islands along the way.
The ferry stops at picturesque Poros Island, although I haven't been there yet it is firmly on my list for the next trip.
Where to Stay on Hydra
There are plenty of hotels on Hydra and they are all fairly reasonably priced. Depending on your budget, you will be able to find high-end hotels or more budget-friendly ones.
I stayed at the Amaryllis Hotel, which was more on the budget side of the scale at €43 a night (currently ~€110).
>> Click here to check rates and availability for the Amaryllis Hotel
Other Places to Stay on Hydra
There are several options for great places to stay on Hydra. Here are some top-rated accommodation choices:
⇒ Affordable & Mid-range: Hydra Port Apartments | Check rates: Booking.com
⇒ Affordable & Mid-range: Mistral Hotel | Check rates: Booking.com
⇒ Luxury: Four Seasons Hydra Luxury Suites | Check rates: Booking.com
⇒ Luxury: Angelica Traditional Boutique Hotel | Check rates: Booking.com
Final Thoughts on My Trip to Hydra
I will never forget my time on the idyllic Hydra. Its beauty has truly been ingrained into my memory forever. You will definitely not regret going there to spend a few nights enjoying the peaceful island life.
The true lack of any motorized vehicle really makes for an incredibly relaxing atmosphere and you quickly forget about the drone that comes with city life.
I visited during the off-season and even though it was quiet, there are still plenty of places open for business and to support the constant streams of tourists visiting.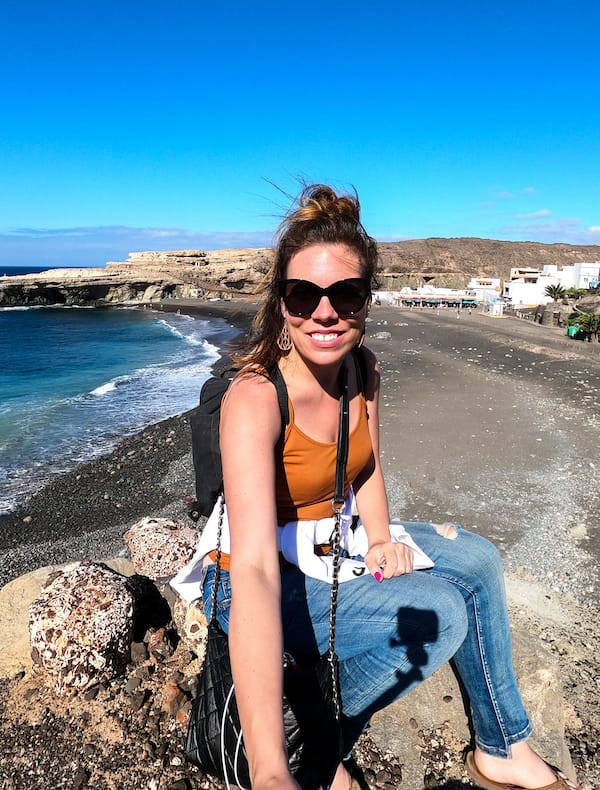 Megan is a travel blogger and writer with a background in digital marketing. Originally from Richmond, VA, she now splits her time between Frankfurt, Germany and Arctic Finland after also living in Norway, Armenia, and Kazakhstan. She has a passion for winter travel, as well as the Nordic countries, but you can also find her eating her way through Italy, perusing perfume stores in Paris, or taking road trips through the USA. Megan has written for or been featured by National Geographic, Forbes, Lonely Planet, the New York Times, and more. She co-authored Fodor's Travel 'Essential Norway' and has visited 45 US states and 100+ countries.