This guide details how to easily take the Athens to Aegina ferry from Piraeus. Read on to find out more!
Are you planning your trip to Aegina last minute?
If youʻre booking your trip to Aegina last minute, we have you covered. Below are some of the top tours, hotels, and more!
Top Tours to Aegina and the Saronic Islands:
Top Accommodation and Lodging in Aegina:
It offers tips, how to book your ferry ticket, port information, and the best tours you can take as an alternative!
I recently had the opportunity to visit Aegina, one of the Saronic Greek Islands on an overnight trip from Athens.
While this trip to Aegina could have been done as a day trip, I opted to stay there and experience it to the fullest I could.
This is a descriptive guide about how to take the Athens to Aegina ferry from Piraeus (the port near Athens). Click here if you're looking for things to do in Aegina.
How to Take the Athens to Aegina Ferry from Piraeus
After all of my travels, I realized I had never actually gone to any Greek Islands.
I guess I assumed all would be heavily touristed and not really a place I wanted to venture off to.
Imagine my delight when I discovered that there were more Greek Islands than Santorini and Mykonos (unapologetically ignorant).
Nevertheless, I did not fully realize how accessible the islands actually are from Athens. Again, unapologetically ignorant.
I finally had the chance to check some of them out on my recent trip to Greece and I think I will likely trek back here annually to see what the other ones are like.
This guide will take you to Aegina, an island not far from Athens and known for its pistachios.
Yea, you heard me. It was two days of absolute bliss for me as I consumed a lot of pistachio butter and pistachio ice cream.
You can catch the ferry from Athens to Aegina easily from Piraeus and this will tell you how to do so and what you need to know before taking that ferry from Piraeus to Aegina.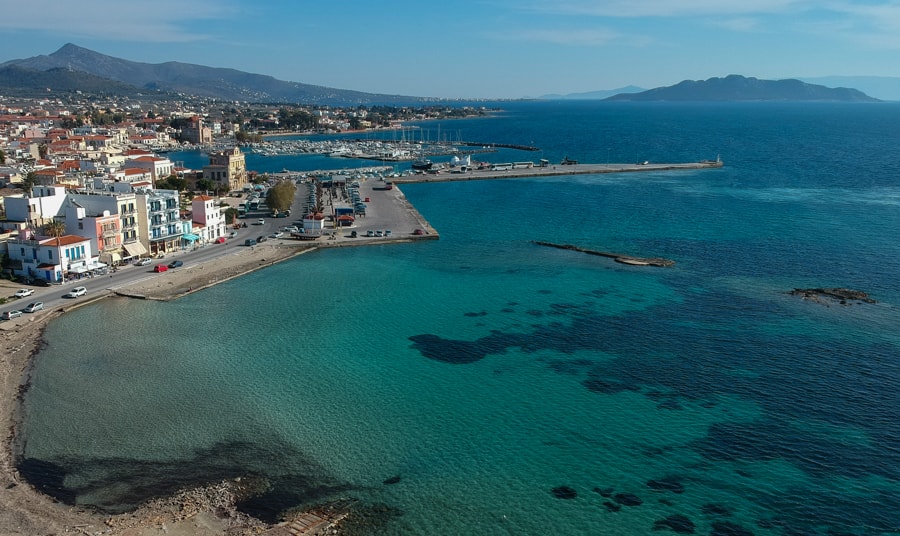 Getting to the Piraeus Port near Athens
Your Aegina ferry will depart from the Piraeus port near Athens. You can actually get there via the Metro or the bus if you wish.
Unfortunately, it will result in several connections and it will take an hour and a half or two hours to do so.
You can also hire a taxi to take you there from Athens city center or the airport.
This will cost around 17 Euros one way from the city center and about 50 Euros from the airport.
I actually wanted to try a service I had heard about called Welcome Pickups.
This cost 56 Euros straight (per car, not per person) from the airport to the Piraeus port.
The driver picks you up from the airport with a sign and takes your bags straight to their vehicle which is nice and not a dingy taxi and does not smell like stale cigarettes.
They will also wait for you for an hour at the airport (all included in the one cost) and monitor your flight situation.
All drivers speak exceptional English and will even have a SIM card for you if you wish.
This service is rad and they even gave me an Athens tote bag on arrival. It is available in multiple cities in Europe and all over Greece.
>> Click here to learn more about Welcome Pickups <<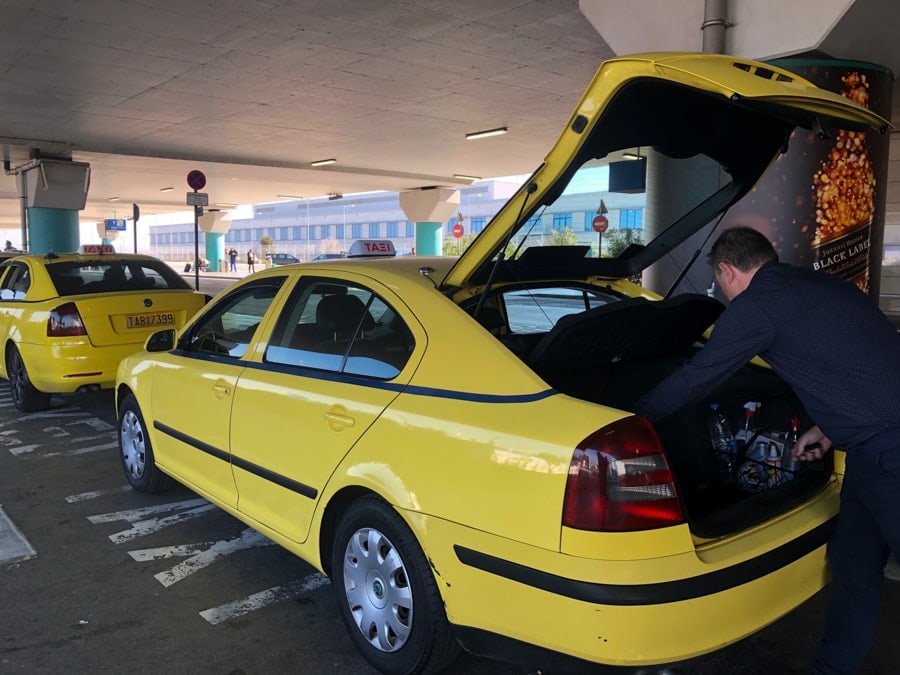 Is there Luggage Storage at Piraeus Port?
There is luggage storage at Piraeus Port, actually. You can find it at the Heation Passenger terminal, or Akti Ietionia. This is for ferry passengers.
You can also find luggage storage if you're a cruise ship passenger at the cruise passenger terminal A. Storing your luggage at Piraeus is a great option if you're taking a day trip to Aegina or any of the other nearby islands.
Is There Food at the Piraeus Port?
Yes! There are heaps of food options around the Piraeus port and even small kiosks and 'cantinas' inside of the port area.
I found an amazing specialty coffee shop there called 'Perikafe' that has a really great flat white if you're a coffee addict like me.
They have locations throughout Athens but are still a nice stop before the journey.
There were plenty of cafes, restaurants, and other things around the port to keep you occupied before you catch your Athens to Aegina ferry.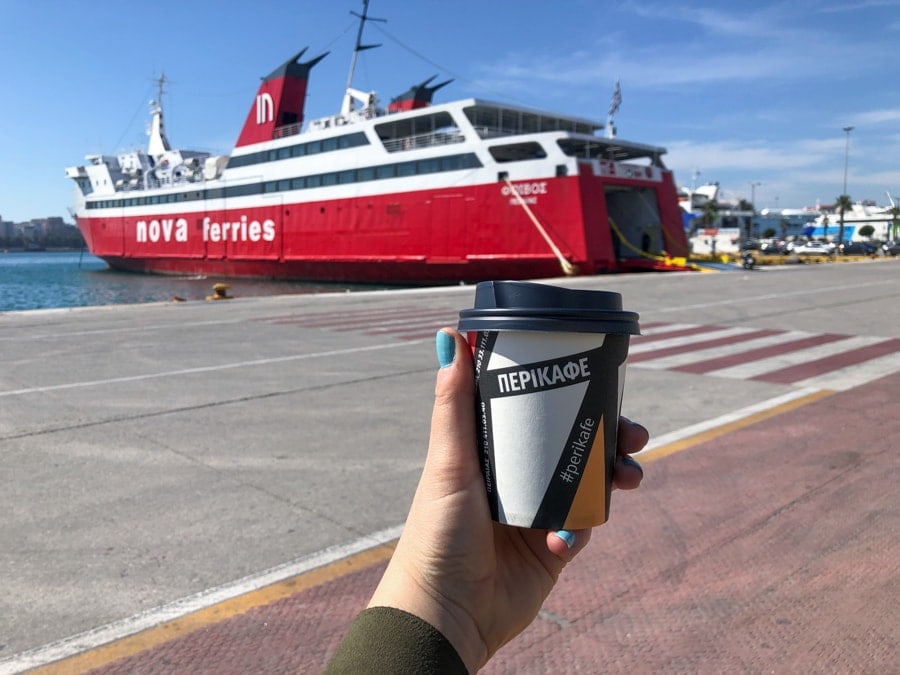 Athens to Aegina Ferry Options
You have two options for ferries to get from Athens to Aegina (Piraeus to Aegina). The first option is a really large car ferry with Blue Star ferry lines.
This is the cheapest option and costs 8 Euros per person one-way.
The ferry is large and takes around 1 hour and 20 minutes to get from Athens to Aegina. Click here for Blue Star ferry timetables and options.
The second ferry option is with Blue Star / Hellenic Seaways and is a smaller, carless ferry called the Flying Dolphin. It takes 40 minutes to get to Aegina from Athens. The cost is 14 Euros per person one-way.
This is the option I took for the sake of time. I can highly recommend it. Click here for Hellenic Seaways ferry timetables and options.
How to Buy a Ferry Ticket from Athens to Aegina
You have a couple of options of how to get your ticket from Athens to Aegina. You could walk up to the port and purchase one right before the ferry.
I do not recommend this in low-season or high-season as my ferries were rather full in March. I definitely recommend purchasing in advance. I purchased my tickets via this website.
It will guide you through the procedure of purchasing tickets, reserving a seat (if it is an option), and securing your tickets so you have no worries once you arrive at the port.
Once at the port itself, I had to pick up my actual tickets with my reservation information. I was able to pick up all tickets at once, even for the future journeys I had.
They say they require an ID, but no one asked for my passport.

How Much is a Ticket From Athens to Aegina?
The ticket price depends on which ferry you take, the time of the day, and whether or not you're taking a car. They range from 8 Euros to around 14 Euros for passengers.
I would not suggest bringing a car to Aegina and would rather hire a taxi there if you're looking to circumnavigate the island.
The price from Aegina (main city at the harbor) to the other side of the island where the historical sites are is only 35 Euros and the driver will wait for you and your crew.

Tips for the Athens – Aegina Ferry Ride
There is not a whole lot to know before taking the ferry from Athens to Aegina. The one thing that startled me a bit was that I got slightly nauseous before we took off.
I boarded the boat around 15 minutes before it departed and had to remove myself. The water wasn't choppy but the smooth rocking of the boat made me queasy. The ride itself was fine. If you get seasick, do bring some bands or pills with you before the trip.
I actually don't get seasick and I still felt nauseous. I recommend these seabands for ferries.
I would also recommend having your camera ready and equipped for photos.
They will store your bag separately once getting on the ferry, so if you want to go to the back or side tours to video or photograph, make sure you have your stuff handy!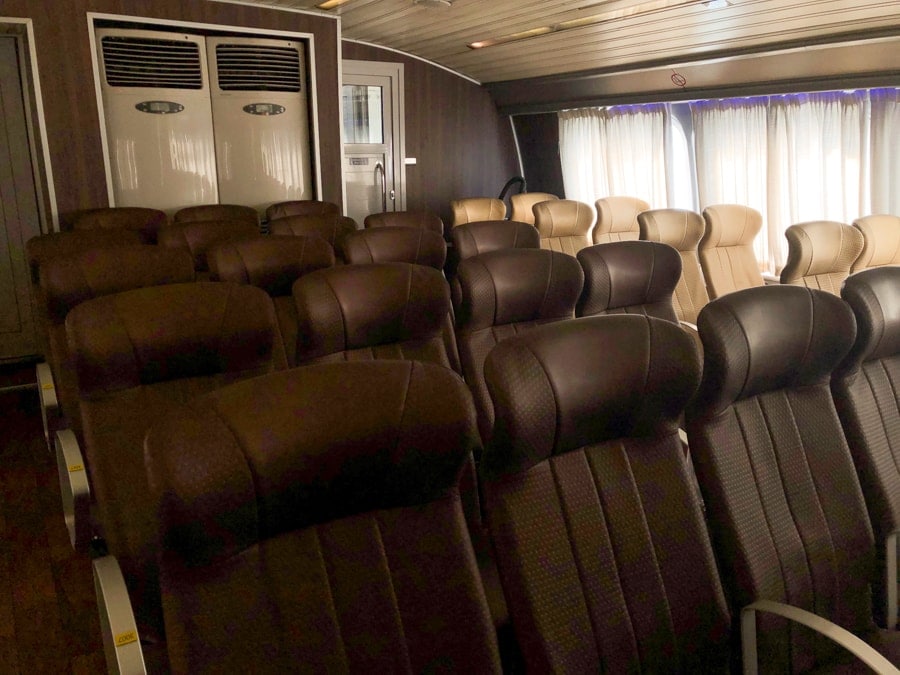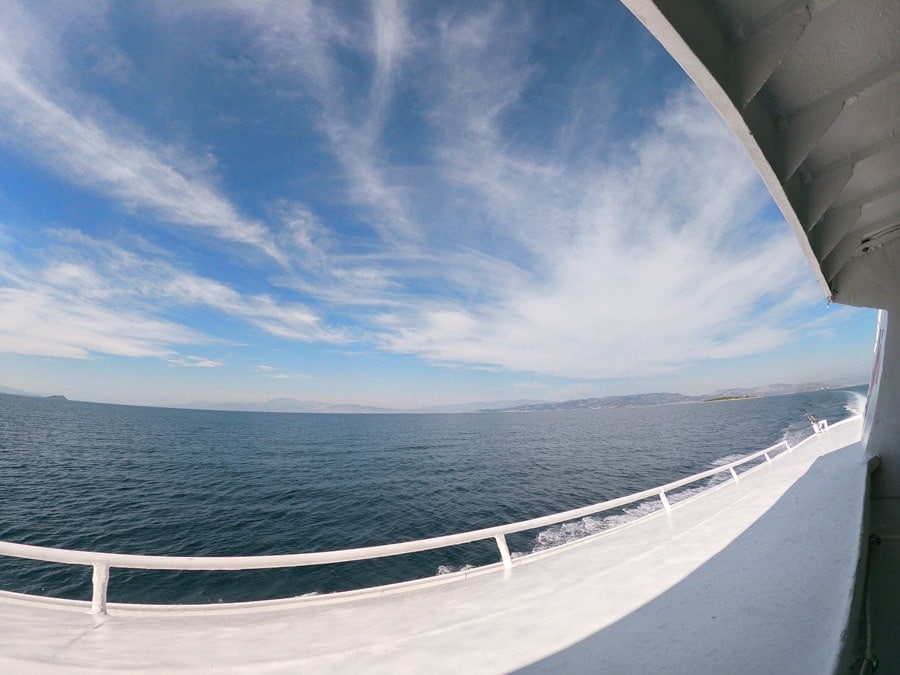 Once You Arrive at Aegina from Athens
You will either arrive 40 or 1:20 minutes later depending on the ferry you took from Athens to Aegina. I arrived 40 minutes later and the port was right in the middle of Aegina city.
My hotel was just a stone's throw away from the port itself and was walkable.
But, if you're staying somewhere else on the island, there will be taxis in the area or you can always go and ask a hotel or business to call a driver for you.

Organized Day Tours to Aegina from Athens
Another amazing option to get to Aegina from Athens is by partaking in an organized day trip there.
This is an excellent alternative for those who don't have a lot of time in Athens but still want to get an introduction to the Greek Islands.
These cruises not only go to Aegina but additional islands too. Here are a few highly recommended Aegina tours from Athens (day tours):
⇒ Hydra, Poros, and Aegina full day cruise with lunch (bestseller!)
⇒ Full day tour of the Saronic Islands from Athens
⇒ VIP Cruise of the Saronic Islands from Athens
⇒ Visit Saronic Islands + Skip-the-Line Acropolis ticket (great combo!)
Getting Back to Athens from Aegina
Do your best to pre-purchase your tickets! There is not an actual port area at Aegina's docks.
You can surely purchase somewhere in the city but I think you should save yourself some time and just purchase a roundtrip ahead of time.

Frequently Asked Questions
How long is the ferry from Athens to Aegina? The ferry ride time from Athens to Aegina depends on the ferry itself. It can range from 40 minutes on a car-less ferry to 1 hour and 20 minutes on a car ferry.
How much is the ferry from Athens to Aegina? The ferry price from Athens to Aegina depends on the ferry. The Flying Dolphin, fast ferry is about 14 Euros one way while the slower, car ferry is about 8 Euros one way.
What is the fastest way to get from Athens to Aegina? The fastest way to Aegina from Athens is on the Flying Dolphin ferry. It will take about 40 minutes to arrive.
What is the cheapest way to get from Athens to Aegina? The cheapest ferry is the car ferry from Piraeus port to Aegina. The tickets are around 8 Euros per person.
Can you travel with a car to Aegina? Yes, you can take a car to Aegina. Just be sure that you book the car ferry and not the Flying Dolphin!
Where to Stay on Aegina
I stayed at Hotel Plazza on Aegina. This hotel was brilliant and for $50, I got a sea view and terrace. The owners were incredibly kind and I felt like family from the moment I walked in the door.
I highly, highly recommend this hotel (and the delicious restaurant right next door!)
–> For current rates and availability click here
Other Places to Stay in Aegina
Here are some alternative places to stay if you're not interested in my recommendations above (they seriously are awesome though!):
⇒ Affordable & Mid-range: Danae Hotel | Check rates: Booking.com
⇒ Affordable & Mid-range: Hotel Aegina | Check rates: Booking.com
⇒ Luxury: Marini Luxury Apartments & Suites | Check rates: Booking.com
⇒ Luxury: The ROOF Seaview Apartment | Check rates: Booking.com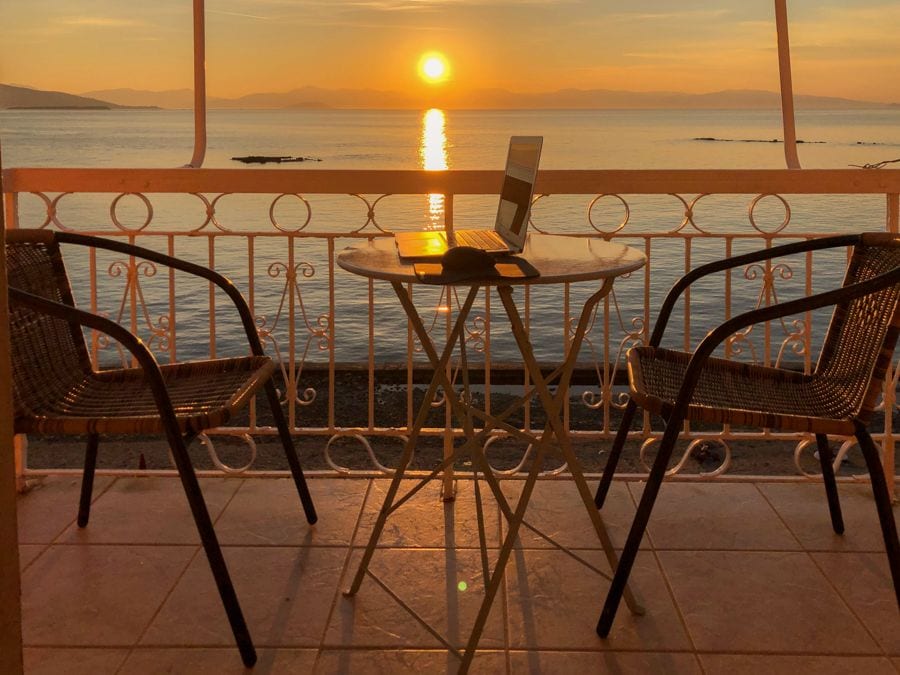 Final Thoughts on my Trip from Athens to Aegina
I am so happy I got to go to Aegina on my trip to Greece. Basically, I just want to move there and eat pistachios for the rest of my life. The trip from Athens to Aegina by ferry was extremely easy and didn't require much effort as this post indicates.
I highly recommend taking a day trip there or hopping on one of the aforementioned tours that will let you see a bit of the Saronic Islands if you don't have much time in Greece this trip.
I genuinely believe that the Saronic Islands are one of the best places to visit in Europe in March and pretty much every other month of the year.
Please drop a comment if you have any questions!
Visiting the Other Saronic Islands?