One of the best day trips from Athens is most definitely Poros. I went to Poros with my friend last year and had a blast during my time there.
This is a Poros travel guide on the best things to do in Poros.
Are you planning your trip to Poros last minute?
If youʻre booking your trip to Poros last minute, we have you covered. Below are some of the top tours, hotels, and more!
Top Experiences and Tours in Poros:
Top Hotels in Poros:
Sto Roloi Island Houses (Budget)
7 Brothers Hotel (Mid-range)
Xenia Poros Image Hotel (Luxury)
This guide includes delicious restaurants, historical sights, and some of the Saronic Gulf's finest beaches.
It will definitely get you sorted with what to do in Poros if you get a chance to visit!
Things to do in Poros
Last summer, I took a trip to Greece with Aram and his sister, Ashkhen.
Aram had to leave a few days before Ashkhen did and once he did, it was finally a 'girls trip' for us.
It was also the 4th of July, a holiday that I don't really get the chance to celebrate in Europe.
I wanted to plan something special for that time so I surprised Ashkhen and made her go to Poros with me.
Luckily, she obliged for the trip and some much-needed beach time on an island!
My first impression of Poros was that it was 'livable'.
Many of the other islands I had been to felt like a retreat and a vacation the entire time.
I had read many books set in Greece that romanticized places to the point of not feeling real. Poros felt real and unlike anywhere I had previously been.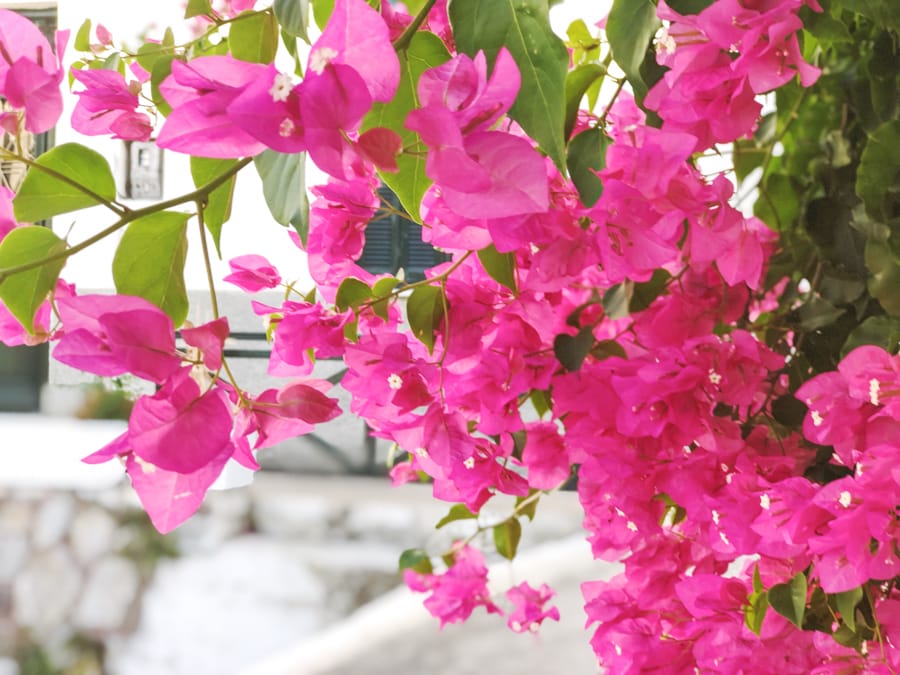 Poros didn't feel like that. It felt like a place that has an everyday routine and one that had a bit of edge to it.
Something about that intrigued me and made me like the island for very different reasons than I liked the others.
One thing I would truly suggest before traveling to Poros is to actually do your research, however.
The island is much larger than other ones nearby and you need to make an effort to get around it if you want to see it all.
About Poros
The size of Poros is 33 km² and the population is around 3,650 people.
It is an easy ferry ride from Athens and if you're concerned about the cost of a trip to Greece, this is definitely a budget destination and much cheaper than other islands!
Something most people don't realize about Poros is that it is made up of two different islands.
The islands are Sphairia and Kalaureia.
On the island, most of the northern and far east/west sides of the island are super dry and in the south and center, you'll find a lot of greenery and old pine forests.
This truly is a great trip to make if you have more than 2 days in Athens and need an escape!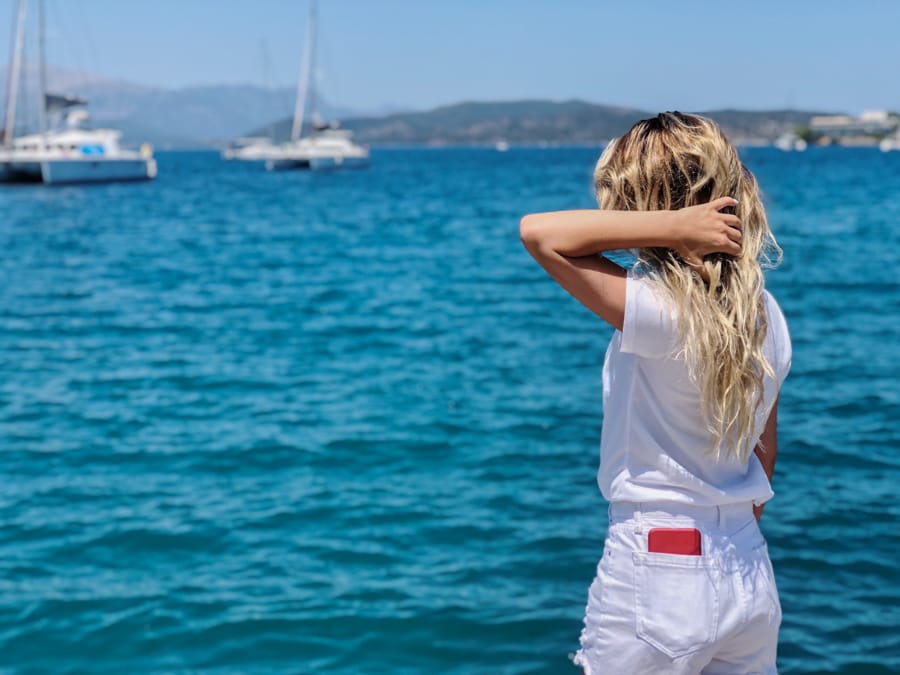 But really, the best thing about Poros, for me, was that because there were people living there year-round, it just felt like a diverse island where you could stay a couple of days and would have no problem keeping occupied with all the cool places to visit in Poros.
Best Time to Visit Poros
The best time to visit Poros depends on what you want to do there.
I think I would recommend spring or autumn, but I actually didn't find it too crowded when I was there in early July.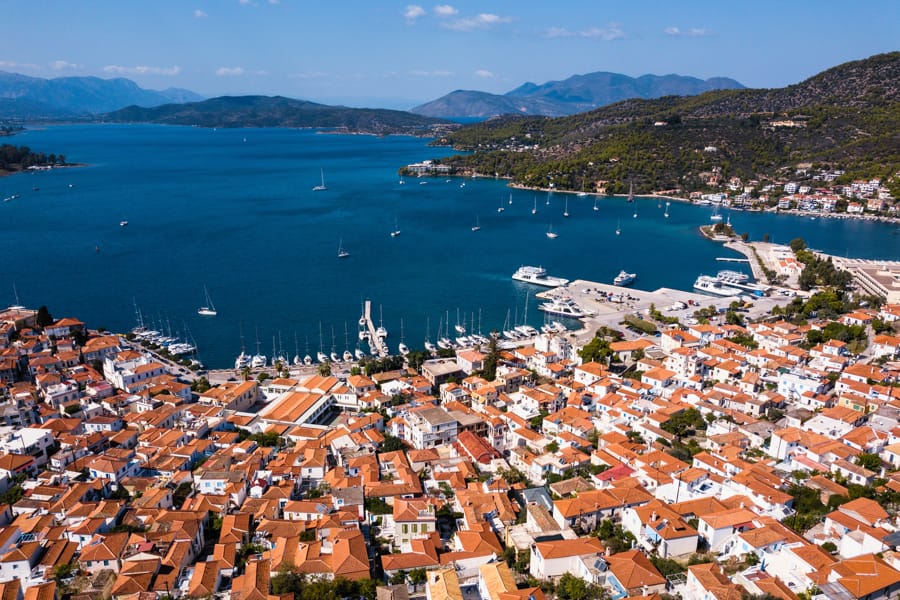 It was hot and there was a lot going on and all of the restaurants in Poros were open (which was different than when I went to the Saronic Islands in March earlier in the year).
The island felt spacious enough that I didn't feel overwhelmed and getting a lounge chair at the beach was easy.
Hotel prices will obviously be elevated during the summer, however. Do book in advance.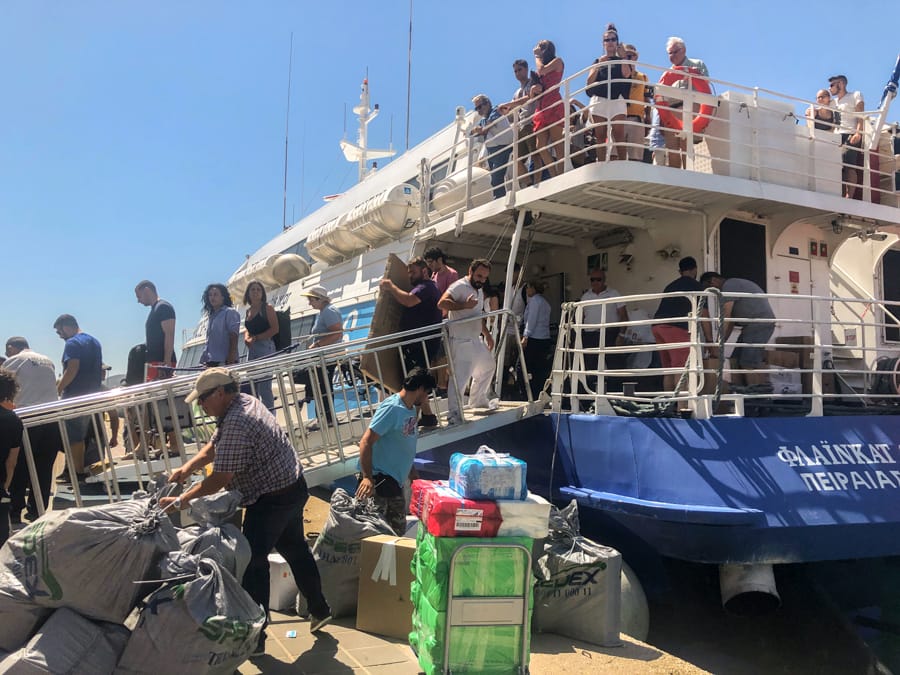 How to Get to Poros
The best way to get to Poros is by a tour or by taking the ferry. I recommend booking your ferry through Direct Ferries.
They use various companies to travel to Poros and the two main ones are Saronic Ferries and Blue Star.
Saronic tends to be slower and takes 2.5 hours to get there for around 17 Euros.
Blue Star takes just around an hour and it costs 22 Euros. I recommend taking Blue Star, personally.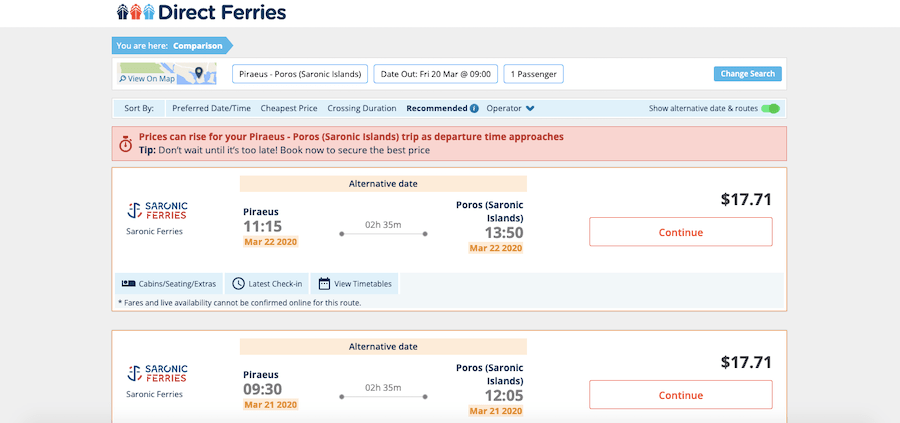 You will need to book your ferry in advance to ensure you have a spot on it! Trust me, lesson learned with ferries in the Saronic Gulf!
If coming from Athens, you will need to take the ferry from Athens Piraeus to Poros.
⇒ Click here to check ferry prices to Poros
Tours to Poros
To be honest, it might just be cheaper to take a tour to Poros than to go there independently.
While I went on my own, there are so many awesome Poros tours available that will get you out there to get a quick impression of the island (and the chance to see other islands too).
⇒ Full-day Tour of the Saronic Islands from Athens (Poros, Aegina, and Hydra)
⇒ Hydra, Poros, and Aegina Full-Day Cruise with Lunch
⇒ From Athens: VIP Day Cruise to the Saronic Islands (Aegina, Poros, and Hydra)
Do you Need Travel Insurance for Greece?
Before your trip to Poros and the rest of Greece, we recommend making sure you have travel insurance.
Our recommended partner is SafetyWing and we have used them all over the world from Greece to Norway to Mauritius.
⇒ Click here to get a Greece travel insurance quote
What to Do in Poros for History Lovers
This section includes some things to do in Poros for those that really love history.
Poros has several historical sights and is a great place to go for people who want to see a blast from the past.
I didn't get a chance to head to Kalaureia Monastery, but that is also a recommendation from many that go to Poros.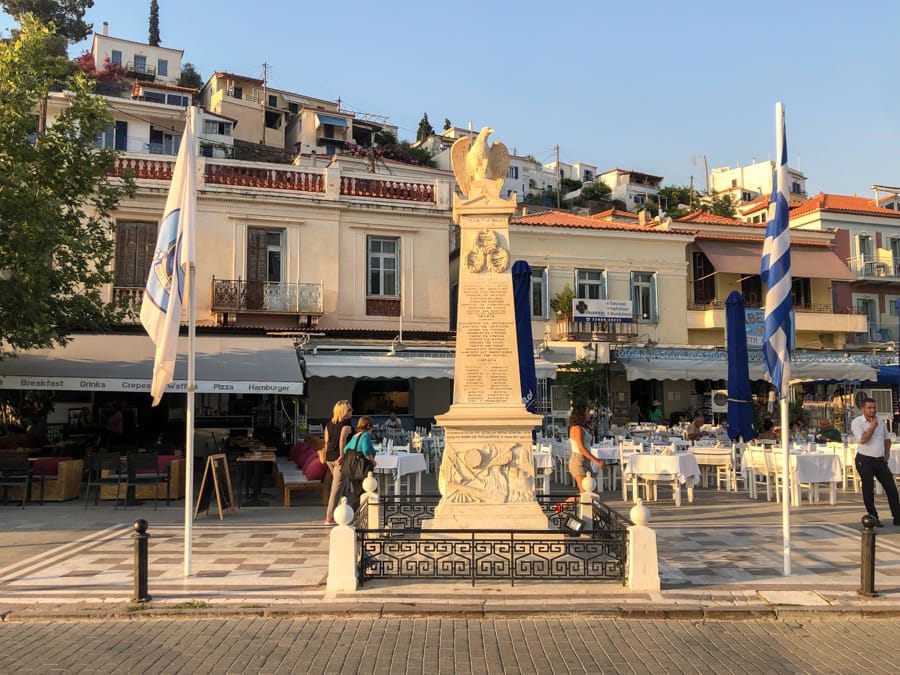 Visit the Archaeological Museum of Poros
Located in Koryzis Square, the Archaeological Museum of Poros is a must-visit for history lovers visiting the island.
The museum that was built in the 1960s contains artifacts from the Mycenaean era to the Roman times.
You can even find pieces from excavations at Poseidon at Kalavreia there, in addition to ones from Methane and Hermoine.
Opening hours for the Archaeological Museum of Poros are as follows:
November 1-June 30: Tuesdays – Fridays from 0800 – 1430; Weekends and Holidays 0800 – 1430; Closed on Mondays
July 1st to October 31: Tuesdays – Sundays from 0830 – 1500; Closed on Mondays
Walk to the Top of the Clock Tower
On Poros, you will find a clock tower high above the city and it is definitely suggested to walk up to it! It is an easy walk up and the best time to head up to this structure that dates back to 1927 is at golden hour so you can admire the sunset (which is truly spectacular on Poros!)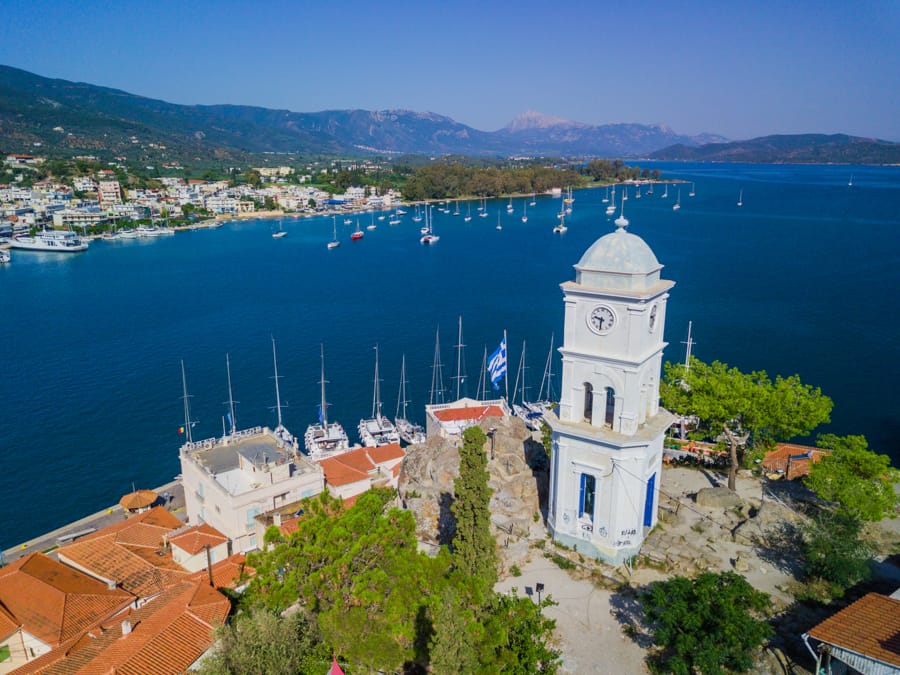 Go to Russian Bay
In the 1820s, there was involvement in the Greek Revolution from several different countries, including Russia. This meant that various parts of Greece were under control by certain countries and Poros had a Russian base on it.
The base was eventually bought out by the Greeks and after being rebuilt, it became known as Russian Bay.
Today, only remnants remain but it has become a popular area to chill out and enjoy the water and stunning, Poros scenery.
You will see the pieces of the crippled structure and that adds to the appeal of the place. There is currently a snack bar, toilets, and a few other places to relax at Russian Bay.
There is an hourly bus that runs there from the main city for around 1 Euro per person. It only runs twice daily.
Visit the Sanctuary of Poseidon
History lovers will love visiting the Sanctuary of Poseidon, temple ruins on Poros.
Unfortunately, there is not a lot to be seen there these days as it really just looks like a lot of rocks, but if you know Greek history, you will appreciate visiting Poros to learn a bit more about this ancient temple.
They suspect that the temple dated back all the way to the 6th-century BC but nothing is concrete currently and a lot of studies and research is still being conducted.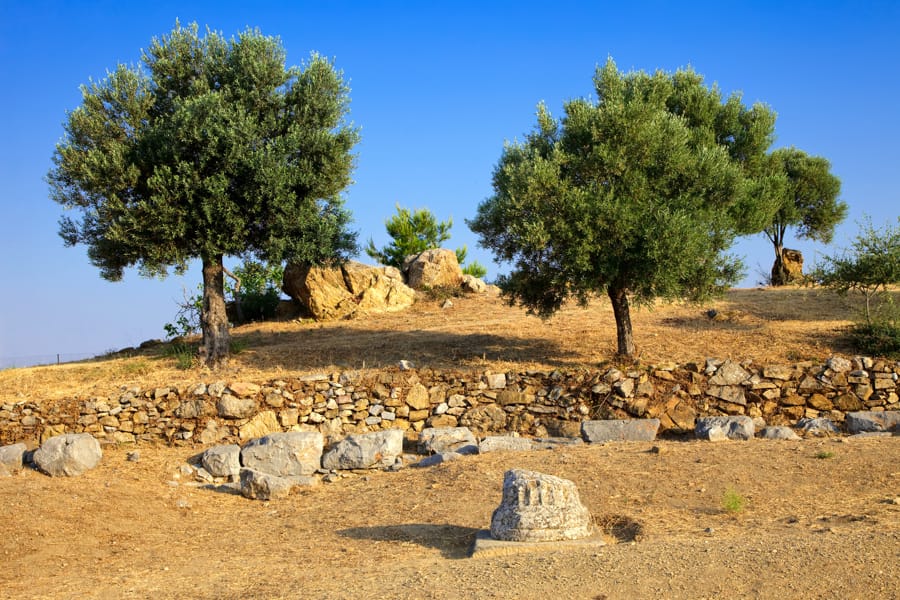 Sanctuary of Poseidon
Poros Restaurants, Cafes, and More
One of the best things to do anywhere in Greece is to eat!
I found that Poros had a couple of really nice spots to fill my incessant need and addition to Greek salads and taramasalata.
Here are a few great spots to check out when you're traveling to Poros.
Get Gelato at I. Karayiannis Bakery
One of my favorite spots I visited in Poros was I. Karayiannis Bakery, a nice cafe and ice cream shop situated on the opposite side of where you arrive by ferry to Poros.
It sits on the quieter back side of the old town and it was cozy and had really tasty gelato.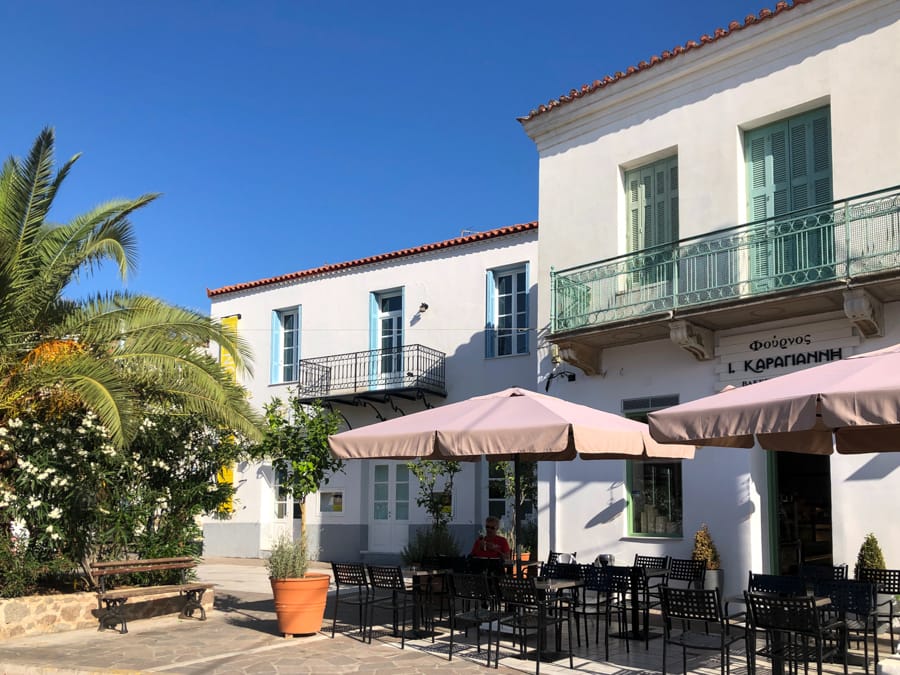 Unfortunately, our time at the bakery was tainted by witnessing a motorcycle crash with a young girl without a helmet right outside of the cafe. The young girl was okay, but it left everyone pretty shaken up in concern for her.
Nevertheless, go here for some ice cream and enjoy it on their lovely terrace!
Have Lunch or Dinner at Oasis Taverna Poros
It is always a gamble not doing your research before heading somewhere, particularly when it comes to food.
It turns out that Ashkhen and I were starving once we arrived by ferry and we headed straight for food.
The stop made was at Oasis Taverna, a place right near the water and with a very inviting staff.
She ordered pasta while I ordered a Greek Salad and taramasalata (pretty much my staple meal when in Greece as basic as that is).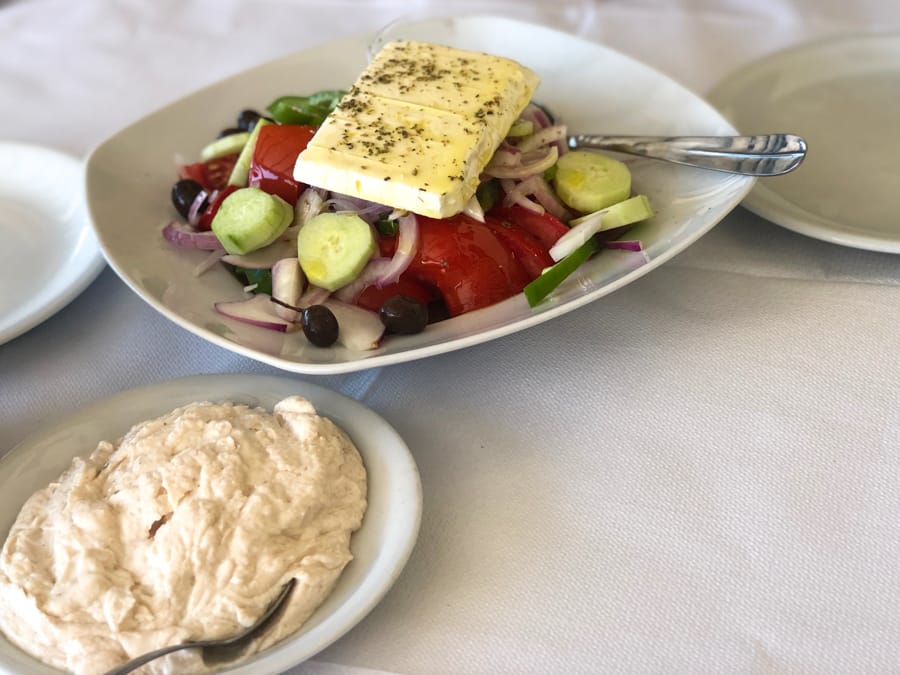 Unfortunately, she wasn't able to finish the pasta and I was unable to finish the salad.
We didn't want to waste the food so we jokingly asked the restaurant to hold it for us for the day in their fridge until we caught our ferry out.
They obliged without hesitation and kept it for us all day so we had dinner later that evening.
The service was so exceptional there and customer-focused that I will definitely be heading back there on my next trip to Poros.
The food was delicious and I know why Oasis has been in business since 1965.
Click here to check out Oasis Taverna's website.
A couple of other places that are popular on Poros for food are Apagio Taverna and Poseidon Taverna… in case you're seeking additional options!
Poros Beaches and Nature Spots
If you're seeking what to do in Poros and you're mainly interested in beaches and nature spots, you're in luck.
Poros has plenty, although not all are easy to get to. Here are some of our recommended beautiful places to visit in Poros.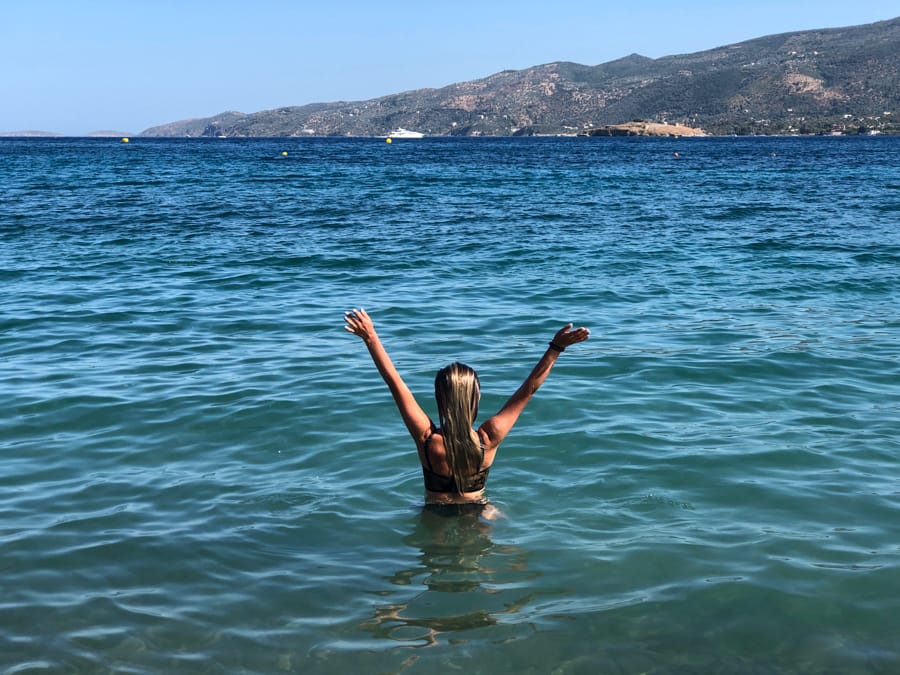 Visit Love Bay
One of the most popular places to chill out and catch some rays is at Love Bay on Poros.
This beach is located a fair distance from the old town but it is not unwalkable (you may get lucky and catch the bus that swings by a few times a day!)
At Love Bay, you'll find a lot of shade and trees located close to the shore where the beach is.
There are also some snack shacks and bars in the nearby area, making it the perfect place to chill out and get some sunshine while you're visiting Poros.
Lounge Around at Askeli Beach
While it may not rival beaches on other Greek Islands, it definitely was a nice place to hang out for part of the day. We walked to Askeli Beach from the main town and it didn't take too long and we passed a cemetery and some beautiful views along the way.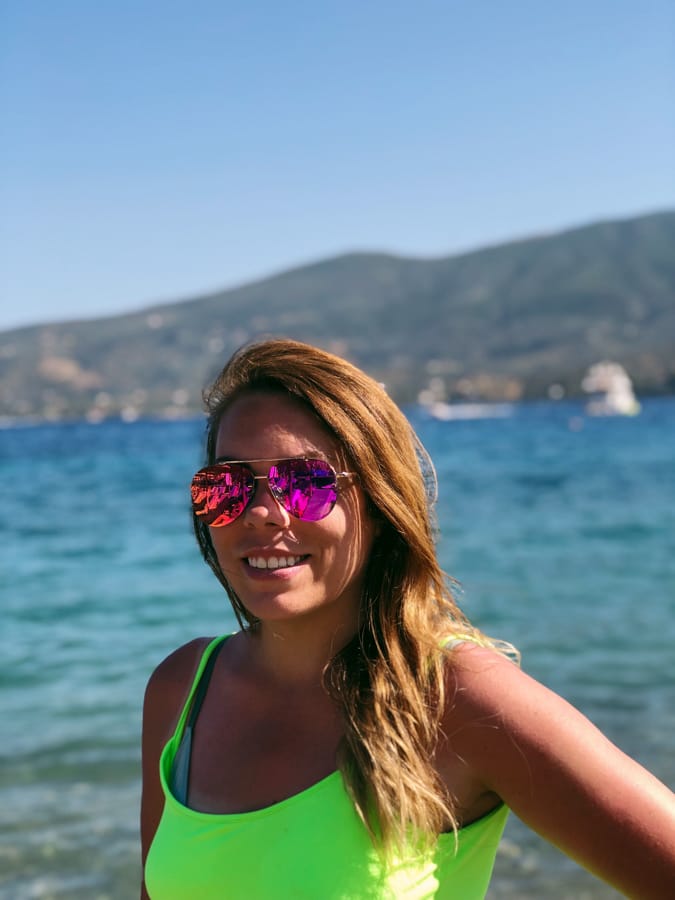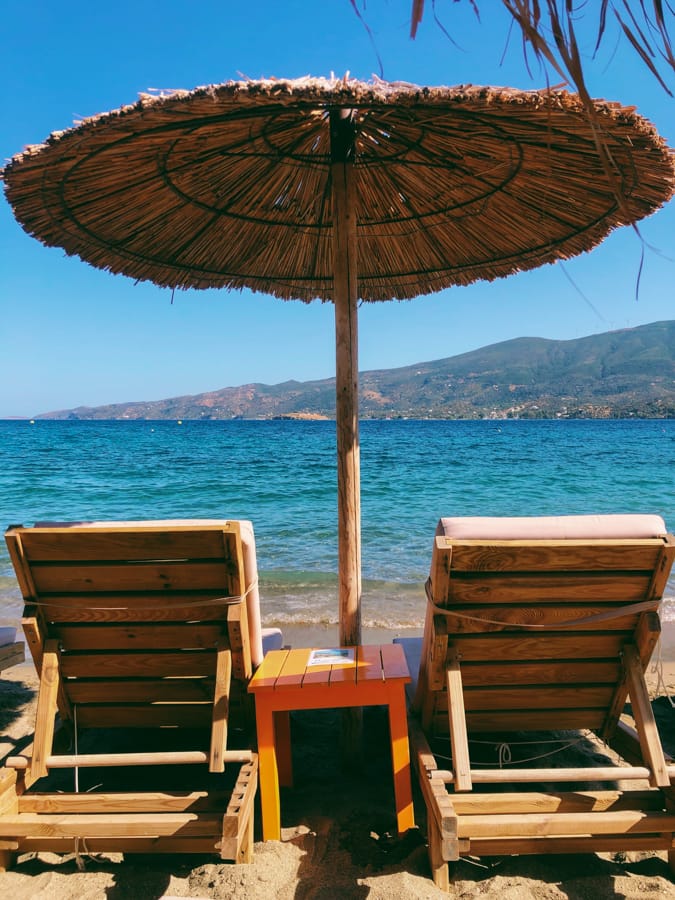 Askeli had many lounge chairs and as long as you were ordering from the cafes or restaurants associated, you were free to use them.
The water was extremely calm and it wasn't too crowded the day we went, but I heard that it can get packed there on the weekends when Athenians flock to the islands.
Be sure to grab a smoothie from Panorama Cafe at Askeli Beach.
I had a delicious berry smoothie from them that was extremely refreshing under the hot, Greek sun.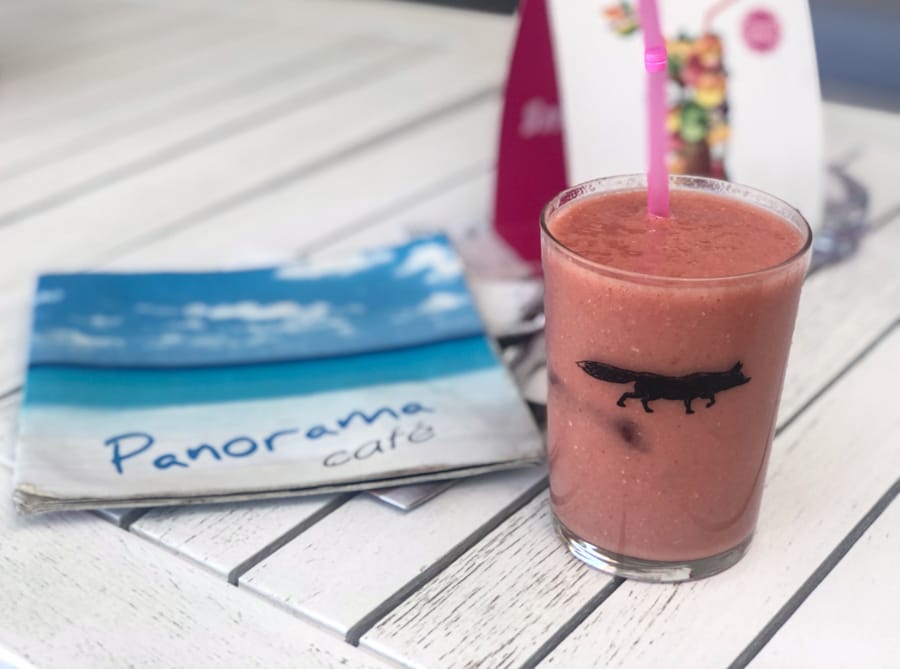 Have a Swim at Kanali Beach
Another Poros beach that is super popular is Kanali Beach, a stunning stretch that is not too far of a jaunt from the old town and where the ferry drops off.
You will encounter it as soon as you cross the tiny bridge and it remains a bit hidden from the road if you're not paying a lot of attention.
This beach has loungers and a nice beachside eatery called Kanali Beach Bar & Restaurant that you should grab a refreshing cocktail at.
Go Snorkeling at Vagionia Bay
One of the most beautiful places to visit in Poros is Vagionia Bay.
The stunning piece of heaven is situated in the northern part of the island and while there is not too much going on in that part of Poros, if you're looking for a quieter beach, Vagionia Bay definitely delivers.
There is a snack bar there as well as a few lounge chairs. It is a great place to go diving or snorkeling.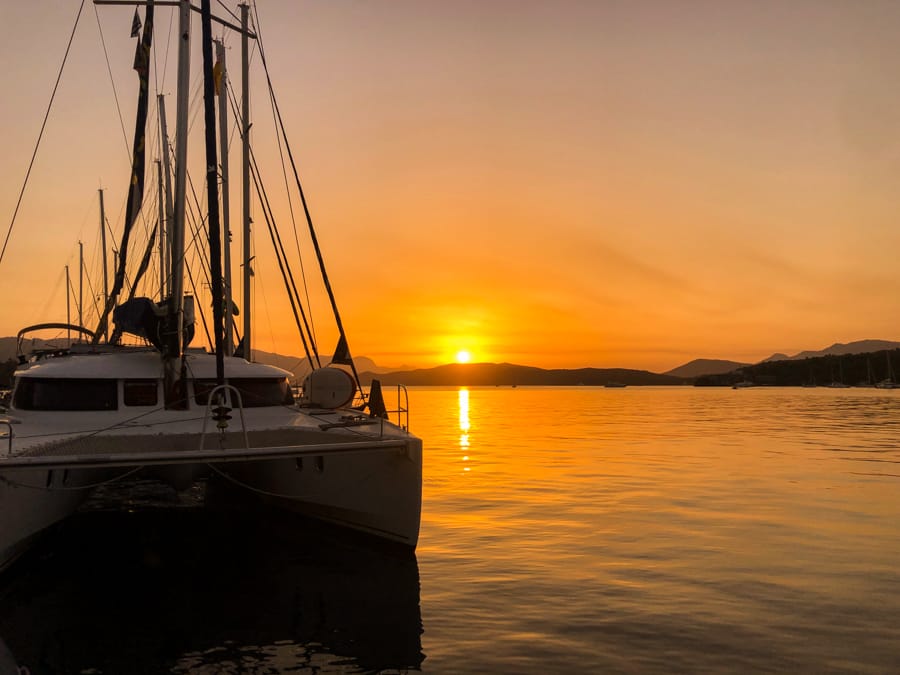 Cultural & Iconic Places to Visit in Poros
There is an abundance of cultural places to visit in Poros, but for the sake of this guide, I am keeping this section short because it really depends on what your main interests are when determining which Poros sight is best for you to visit.
Stop by the Citronne Gallery
There are actually two Citronne Galleries- one in Athens and one in Poros.
I never actively seek out art galleries when I travel (just being honest) so I didn't even know this place existed until I stumbled upon it when I was on my trip to Poros.
You can find out more about the gallery here but it is definitely a can't-miss place to put on your Poros itinerary.
The art gallery in Poros sits inside of an 18th-century example of island architecture on the backside promenade of the island.
Opened in 2006, the name pays tribute to the lemon groves on Poros and a novel by Kosmas Politis with the same name.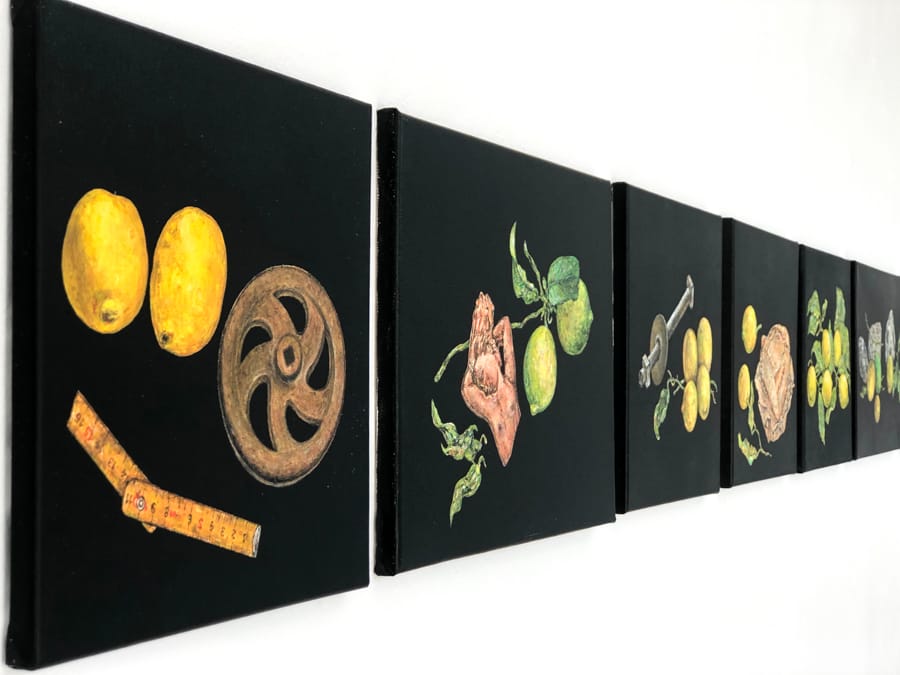 Poros has a reputation for being a great and inspiring place for writers and has been referenced in pieces of Greek literature as such.
Citronne Gallery is located at Virvili Square on Poros and is open daily from 1100-1300 and 1900-2300.
Visit the Dana Lighthouse
Another iconic place worth visiting in Poros is the Dana Lighthouse.
In order to reach it, you will need to head to the opposite end of the island where it is located and take a path from Gerolimena.
It's fairly easy to get there and well-worth the views if you do!
The Dana Lighthouse was built in 1970 and later restored in 2001.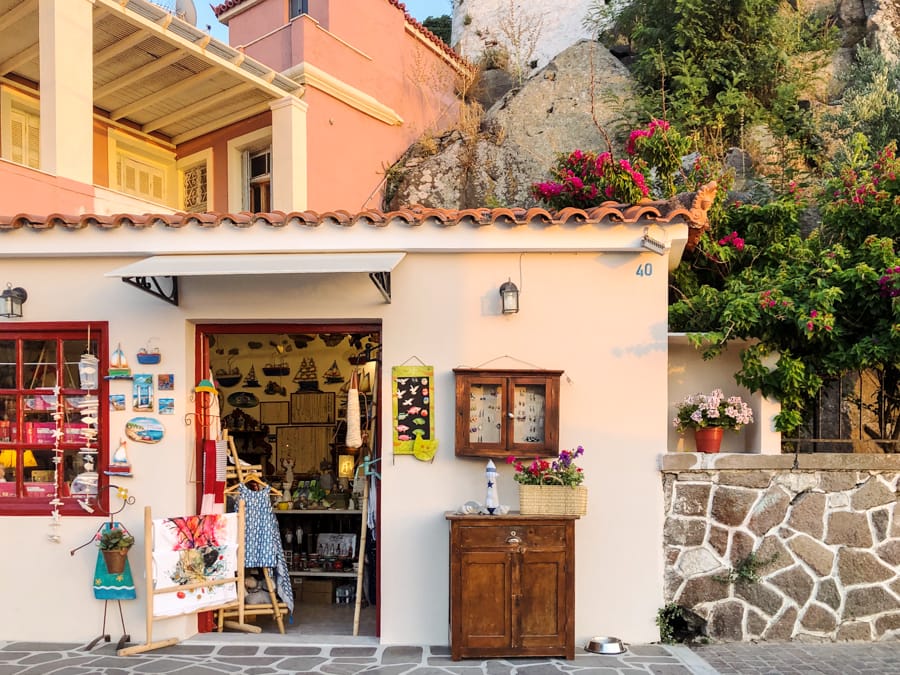 Where to Stay in Poros
Poros is a well-developed island and there are plenty of places to stay on the island for all budgets.
With high-end resorts and budget apartments, you will be able to find a place that suits your traveling style, although some are located a little outside of the town center. Here are three of our top picks:
There are many great reasons to visit Poros and I hope this guide gets you sorted when it comes to what to do there.
If you have any tips for things to do in Poros, please leave them in the comments!
PIN IT FOR LATER!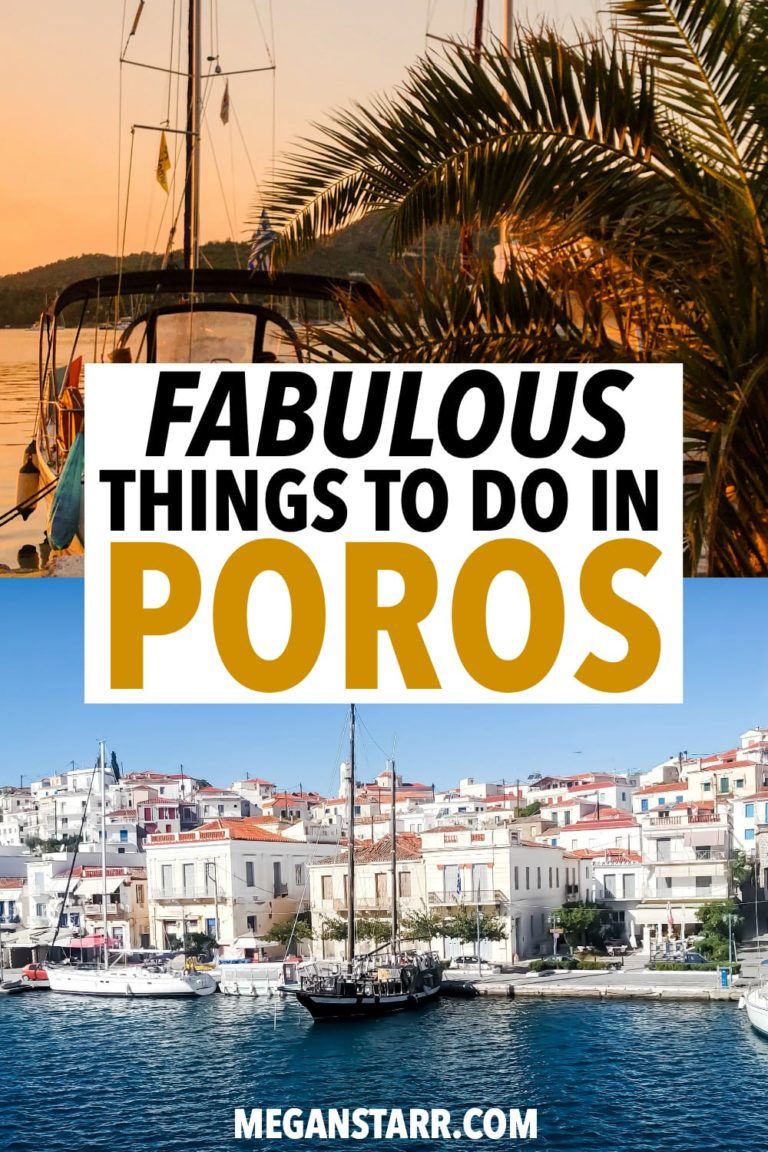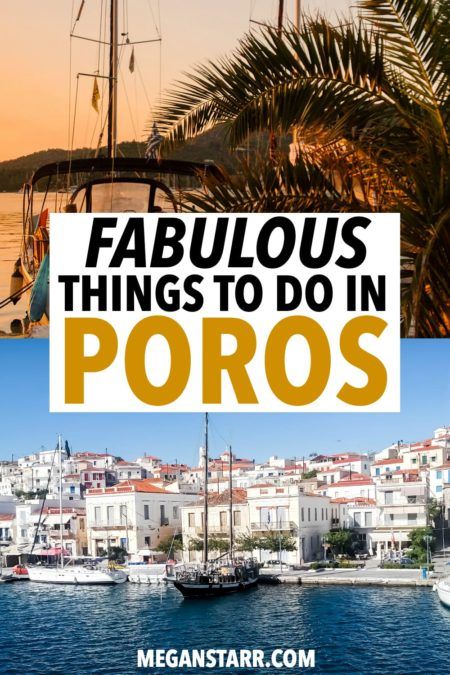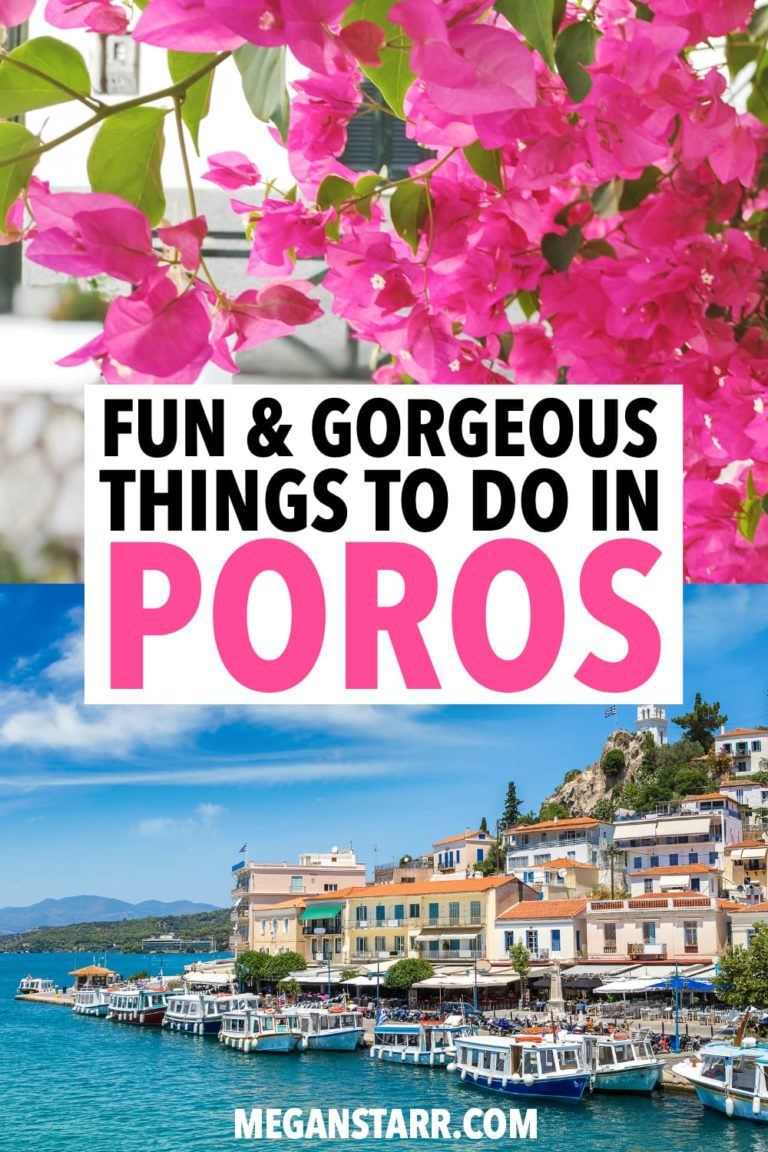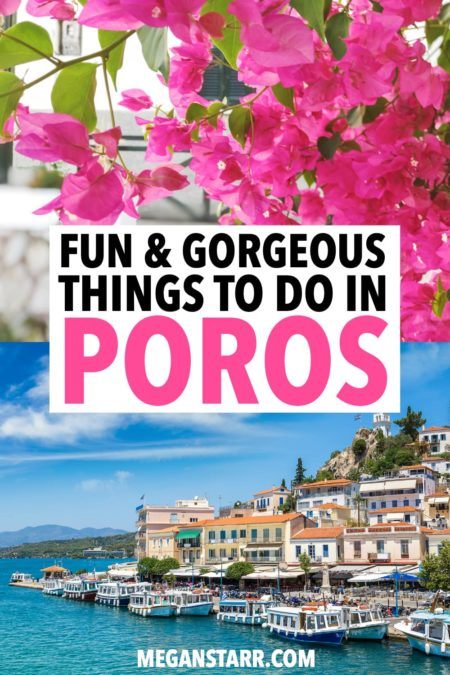 YOU MIGHT ALSO LIKE: