Getting from Athens to Spetses is pretty easy if you plan your trip ahead a bit.
This guide describes how to take the Athens to Spetses ferry from Piraeus at the port located close to the Greek capital city.
Are you planning your trip to Spetses last minute?
If youʻre booking your trip to Spetses last minute, we have you covered. Below are some of the top tours, hotels, and more!
🇬🇷 Top-rated Saronic Islands tours (these are close to Spetses):
🛌 Where to stay in Spetses:
Villa Nika (where I stayed- killer terrace with ocean views!)
Poseidonion Grand Hotel (luxury- beautiful view!)
Hotel Kamelia (mid-range- great location!)
🚗 Looking for the best way to get around Spetses? Click here to check rental car rates for Greece!
It also gives tips, shows you how to book the Spetses ferry, and tells you how to get to the Piraeus port from Athens airport.
How to Take the Athens to Spetses Ferry from Piraeus
During my weeklong trip around the Greek islands, I used the time as an opportunity to explore several different islands.
After a night in Aegina, I planned to head to Spetses on the very edge of the Saronic Gulf.
I had decided on Spetses as I wanted something slightly different from Aegina (or maybe just to have a pistachio detox).
Spetses stands out amongst the other islands as it is incredibly green and has a large amount of foliage.
There are also so many things to do in Spetses that I wanted to explore.
Renowned for being an affluent island, its claim to fame was that it was the first island to declare independence during the Greek War of Independence.
After declaring independence, the island was the preferred choice for senior naval officers who built many large and impressive houses on the island.
Spetses has since become a tourist hotspot amongst Greeks and other nationalities thanks to its beautiful white houses, pristine turquoise waters, and endless tranquillity.
In this guide, I will detail all you need to know for taking the Athens to Spetses ferry.
If you have any questions, please drop them in the comments below and I'll do my best to answer!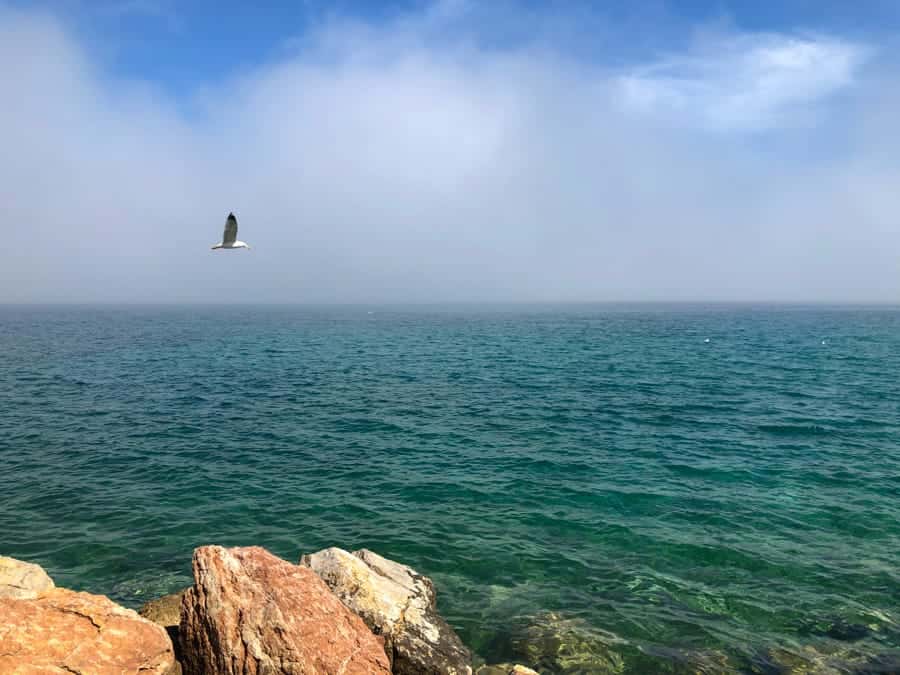 Getting to Piraeus Port Near Athens
Piraeus used to be a separate city from Athens, however, due to urban sprawl, it was engulfed by Greece's capital city and became part of it.
There are actually multiple ways of getting to the port from the Athens city center or Athens airport.
However, due to time constraints, I opted to use the service Welcome Pickups as taking public transport with all of my luggage was a daunting thought.
If like me you prefer a seamless arrival, then I'd highly advise taking the Welcome Pickups option.
If you are heading to the port from the airport, the fee will be about 56 euros and the driver will be waiting for you with your name on a sign so you can easily find him or her.
One of the biggest benefits of using the service is that all of the drivers speak exceptional English and have modern, clean cars.
The best thing about the airport pick-up service is they will track your flight and be there waiting for you, so if your flight is delayed the driver will be aware and time his arrival.
They will also wait an hour after the declared pickup time in case immigration or baggage is taking some time.
⇒ Click here to read more about Welcome Pickups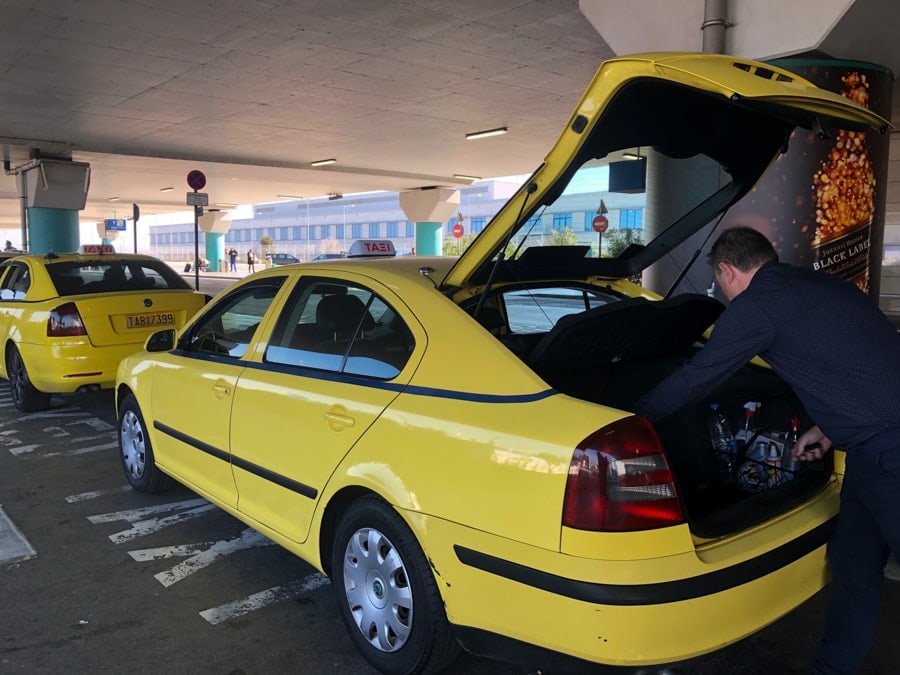 Is There Luggage Storage at Piraeus Port?
Yes, there is luggage storage at the port although make sure you head to the correct storage facility.
Those who are regular ferry passengers should head to the Heation Passenger Terminal, or Akti Letionia.
For cruise ship passengers, there is luggage storage at the cruise passenger terminal A.

Is there Food at the Piraeus Port?
Yes, there are plenty of options ranging from little kiosks within the port boundaries to bakeries and restaurants just outside of the port.
I had coffee from an awesome café called Perikafe.
In the middle of summer when a hot coffee might not be your preferred option, there is a great juice bar called Live More Juice Bar close by.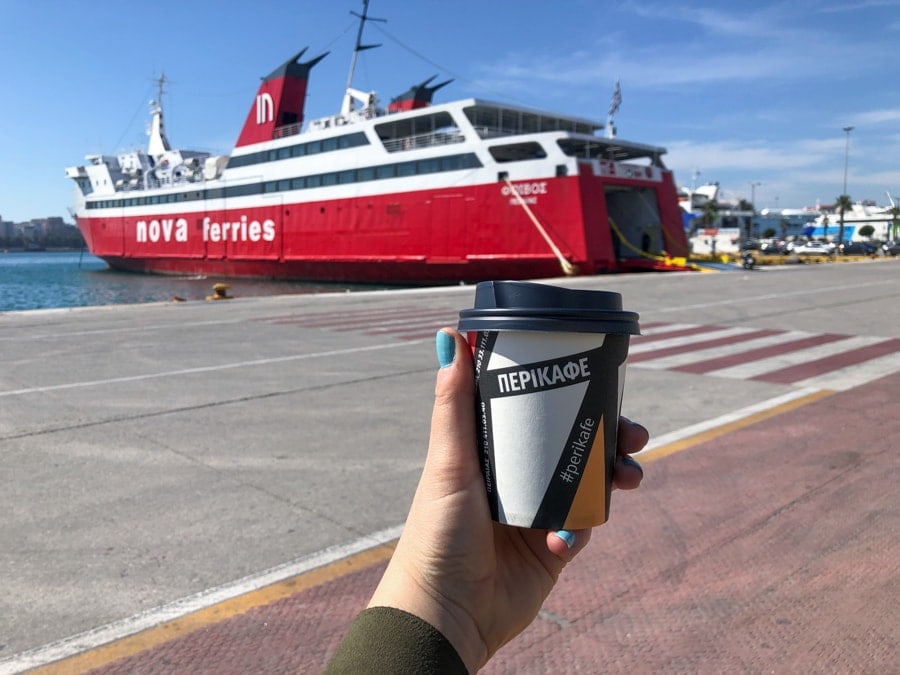 Athens to Spetses Ferry Options
There is only one provider offering ferries to Spetses, which is Blue Star/Hellenic Seaways.
However, there are two options of boats available: the smaller Flying Dolphin Hydrofoil boat or the Flying Cat, a much larger catamaran.
If you have the option and time is on your side, I would opt for the Flying Cat which is much more comfortable and has a bar/cafe on board.
The cost of the ferry with either option is €48 – 54 per person one way.
There are no car ferries to Spetses as cars are not allowed on the island aside from a few taxis and vehicles being used for construction.
While you are on the island, you can hire scooters or ATVs to get around the island (which is 22 square kilometers).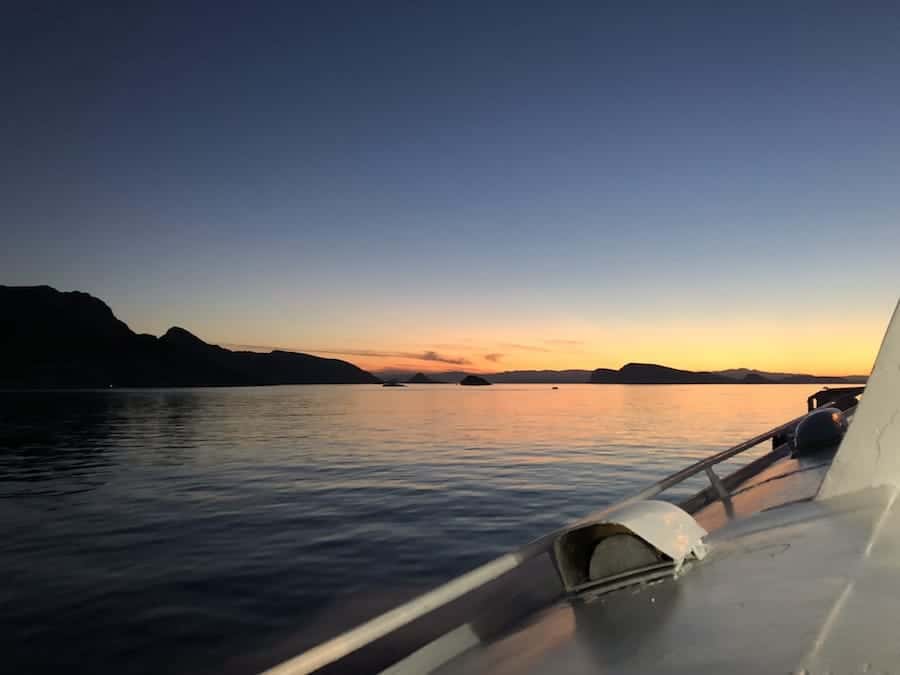 How to Buy a Ferry Ticket from Athens to Spetses
In order to ensure you get a place on the ferry, it is important to book tickets in advance. Even in the off-season the ferries are pretty busy and book up quickly.
As this ferry makes multiple stops along the way to Spetses, seats are in high demand.
There are several ways to purchase tickets, either by walking up to one of the ticket offices around the port or by booking online.
I highly recommend booking online to avoid any disappointment.
Booking the tickets online is incredibly easy and quick. I booked my tickets via.
The website will walk you through the booking process and show you the available ferries for that day.
You will either need to select a Flying Dolphin or Flying Cat- both ferries are run by the same company but just drastically vary in size.
The Flying Dolphin is the smaller of the two boats and has far less seating compared to its larger counterpart.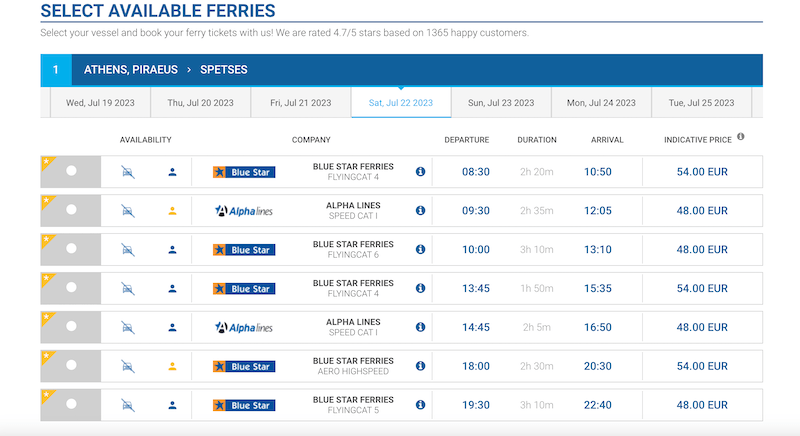 While booking this, you need to choose between the two different seating sections: ATS1 or ATS2.
ATS1 is located at the front of the boat and is a smaller section but the rows are seats of 4 or more with one row facing backward.
ATS2 is the larger section at the back with pairs of seats on either sides and rows of 4 seats down the middle.
Personally, I found the ATS2 much better than the ATS1 seats and would choose to go in that section next time again.
The Flying Cat is a much larger boat split over 2 levels. I only went on this vessel between Spetses and Hydra so did not get the full feel of the boat as it was basically empty.
But once again the seating selection is between ATS1 and ATS2 but, I have no idea which one is better.
Both boat options cost the same and are incredibly comfortable.
The Flying Cat has a well-stocked café, which the FlyingDolphin doesn't have. Although, on the FlyingDolphin, you are able to get fresh air at the back of the boat.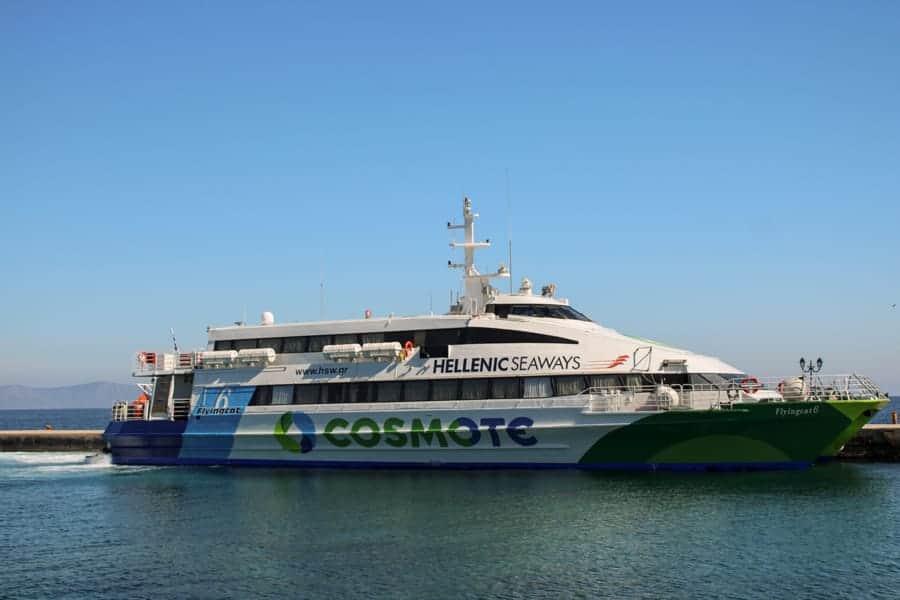 Once you have purchased your tickets, you will have to pick them up at the port from one of the verified distributors and a list of these will be provided during the purchasing of the tickets.
I picked my tickets up from the port next to the departure point.
They say they require ID to be picked up but I was not asked for any.
Seat numbers are allocated when your tickets are picked up, so be warned if you are traveling in a group they may not sit you together no matter how far in advance you booked.
⇒ Click here to book your ferry ticket to Spetses

How Much is A Ticket from Athens to Spetses?
A one-way ticket between Athens and Spetses will set you back €48-54.
This is a flat price and doesn't depend on which seating section you choose or the type of ferry you pick.
As there are no car ferries going to Spetses, this is the only option for getting there.

Tips for the Ferry Ride
The ferry is incredibly prompt so make sure you arrive with plenty of time to board and find your seats on board.
If you are sailing on the Flying Dolphin make sure you bring snacks and drinks, as there is no option to purchase anything during the two-hour journey.
If you are prone to seasickness, I advise picking up some seasickness tablets or bands. I recommend these seabands for the trip.
Head out to the back of the Flying Dolphin to grab some awesome photos and videos, especially if you sail during sunset hours. It is also great for bad selfie attempts.

Once You Arrive on Spetses from Athens
You will dock at the main sport in Spetses which is centrally located in the town.
Depending on the amount of luggage you have, it may be possible to walk to your hotel if it's in the main part of town.
However, if you are located further away, you will need to arrange transport.
Although you cannot bring cars onto the island, there are a limited number of taxis available and your hotel should be able to arrange a pick-up for you from the port.
Otherwise, there are horses and carts available during the peak season and you can rent a scooter or ATV incredibly easily.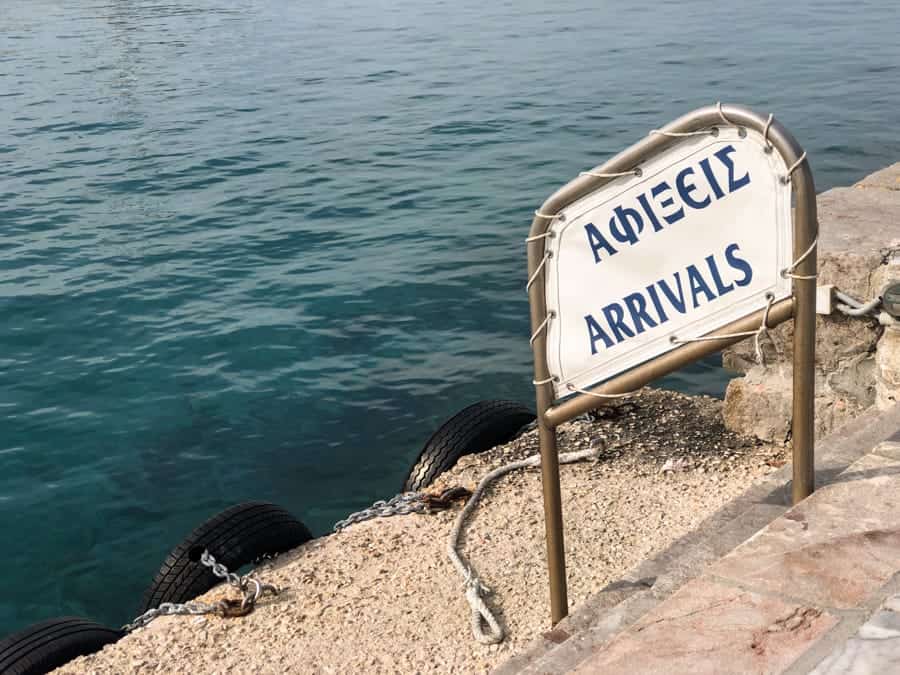 Getting Back to Athens from Spetses
Make sure you have booked your tickets in advance as there are very few locations on Spetses where you can pick up tickets and these places are not open as consistently as those at Piraeus.
I would suggest picking up all of your tickets at once from Piraeus, rather than trying to find places on Spetses.
Another great option is to take advantage of the ferry route and stop off at a different island on the way back.
On my trip, I broke up my journey by stopping off on the island of Hydra for 2 nights.
Click here to read about how to get from Athens to Hydra.

Where to Stay on Spetses
I stayed at Villa Nika which was centrally located just off of the main road.
The hotel was insanely clean and nice and I even had a shared terrace with sea views.
The owner of the hotel is very accommodating and always willing to provide advice and help.
I stayed on Spetses during the off-season and the price was incredibly reasonable at around €41.50 a night.
–> For current rates and availability click here

Final Thoughts on My Trip to Spetses
I highly recommend taking some time to visit Spetses as the island is extremely beautiful and really stands out from the other islands due to the number of trees and greenery providing a nice contrast from the normally rugged landscapes of the other Greek islands.
Although I feel I should warn you that during the off-season most bars, restaurants, and hotels are closed, so finding food is fairly limited although there are some local places that stay open year-round and sell amazing food.
The island is easily walkable and really is a great place to relax for a while. If you have any questions, feel free to drop a comment below!
⇒ Here is a guide to what to do in Spetses
⇒ Click here for tips on visiting the Acropolis in Athens
⇒ Click here if you're seeking out the best things to do in Hydra
⇒ Aegina on your Greece itinerary? Click here to see how to take the Athens to Aegina ferry.