The US Virgin Islands gets a lot of annual visitors and many are looking to put together the best St. Thomas itinerary to maximize their time on the island. We are here to help!
Are you planning your trip to

St. Thomas

last minute?
If youʻre booking your trip to St. Thomas last minute, we have you covered. Below are some of the top tours, hotels, and more!
🇻🇮 Top Tours on St. Thomas and the USVI:
🛌 Top Accommodation and Lodging in St. Thomas:
Point Pleasant Resort (4-star)
🚗 Looking for the best way to get around St. Thomas? Click here to check rental car rates for USVI!
St. Thomas has it all – from gorgeous beaches to interesting history and beyond.
You can actually see quite a bit if you're planning 7 days in St. Thomas!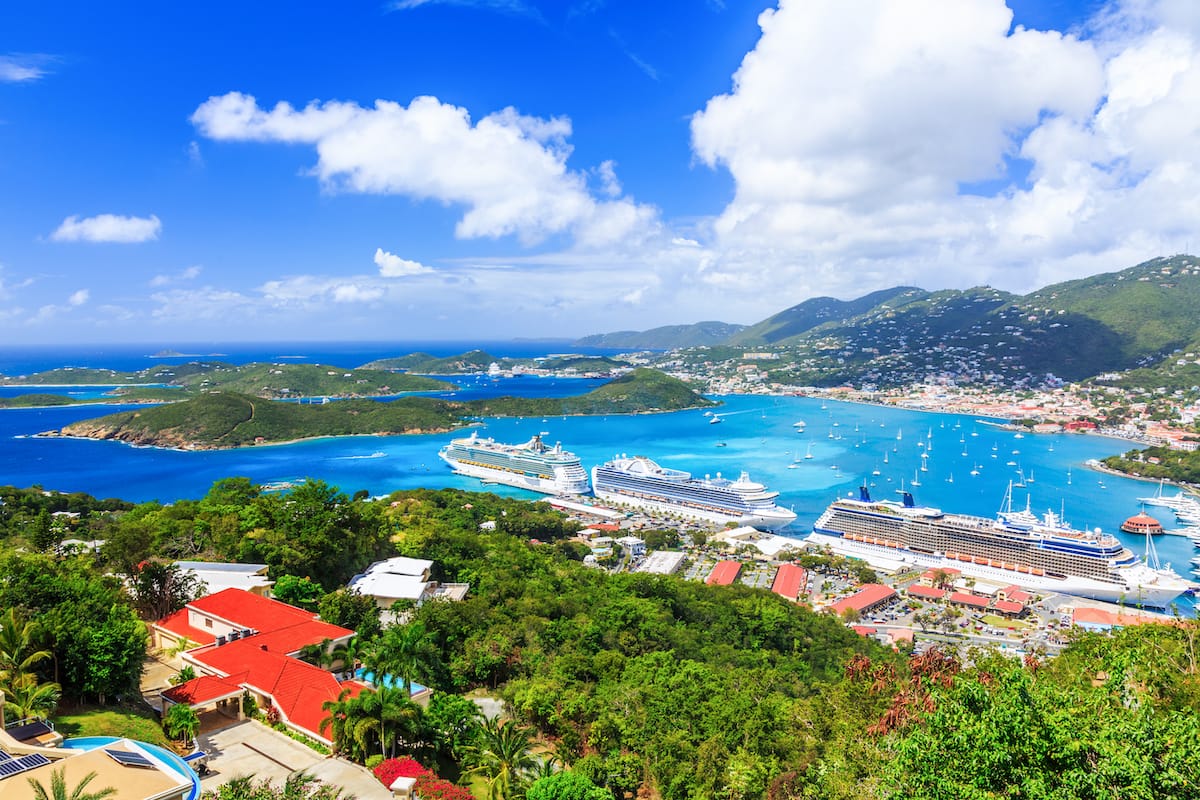 Did we miss anything on this week in St. Thomas itinerary? Let us know in the comments.
Getting to St. Thomas
To get to St. Thomas, you must either arrive by plane and fly into the Cyril E. King Airport in Charlotte Amalie or by boat (private, ferry, or cruise ship).
Direct flights to St. Thomas can be scheduled from JFK and EWR in New York City, Charlotte, Orlando, Atlanta, Boston, Dulles, and Miami on the east coast of the US, along with Dallas, Houston, Minneapolis, and Chicago O'Hare.
Another option is to fly through San Juan, Puerto Rico.
The second way to get to St. Thomas is by ferry from another nearby island, such as Tortola or Virgin Gorda in the British Virgin Islands.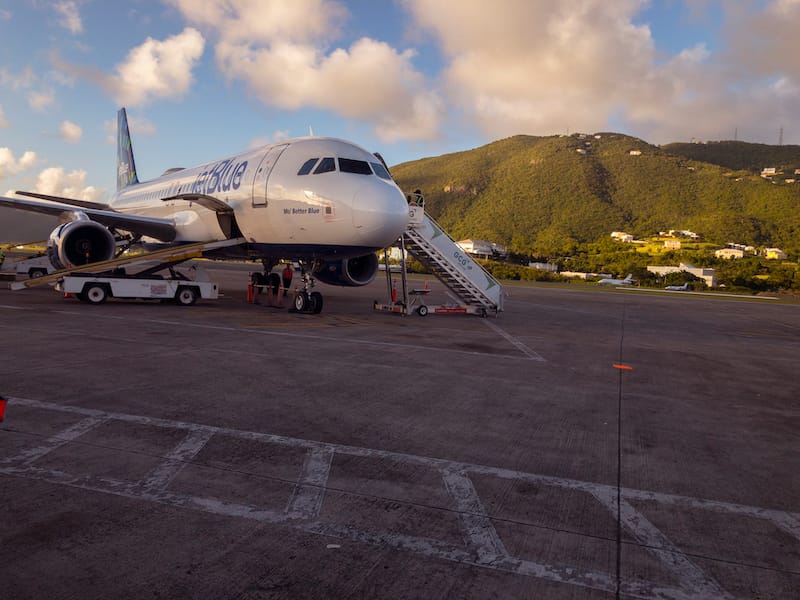 When arriving by ferry, you will either enter Charlotte Amalie at the Blyden Ferry Terminal or the Urman Victor Fredericks Marine Terminal in Red Hook.
Many people visit St. Thomas for the day and arrive by cruise ships that dock in Charlotte Amalie. From here, it is a short walk into town or a taxi ride to various locations around the island.
Finally, some, with private boats, arrive on St. Thomas through the many marinas around the island.
Where to Stay in St. Thomas
If you are staying in St. Thomas and not just visiting on a cruise ship port stop, here are some of the favorite places to stay around the island.
Where to stay? East End or West End
The East End has a wide selection of resorts, fantastic beaches outside your door, Red Hook restaurants and entertainment, and a ferry service to St. John.
While if you stay around Charlotte Amalie, you can walk to historical sites, shop, and dine in Frenchtown. Here you will find more affordable hotels, be closer to the airport, and have access to public transportation.
Luxury
The Ritz-Carlton – St. Thomas – The Ritz-Carlton offers a refreshed look after being renovated in 2019.
The reception area provides gorgeous sweeping ocean views, and the hotel has four restaurants that feature tropical breakfasts, beachside lunches, and Caribbean and Italian dinner entrees.
The Ritz-Carlton has 180 spacious rooms and suites with a furnished balcony with at least a partial ocean view.
The onsite spa features an excellent Stress Relief Massage and an extensive menu of other services. The hotel is near Red Hook on the island's eastern side.
Affordable Luxury
The family-friendly Marriott Frenchman's Cove Hotel is part of the Marriott Vacation Club and has 221 rooms and villas with fantastic views overlooking Pacquereau Bay.
The hotel has an infinity-edge pool, beach, and the Sunset Cove Bar and Grill, where you can grab a bite. This hotel is a 10-minute drive from Charlotte Amalie's restaurants and entertainment.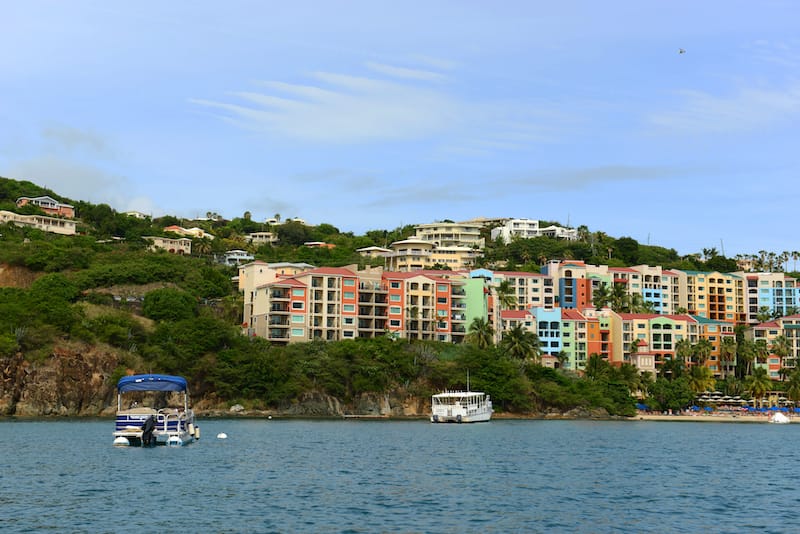 Mid-Range
Sapphire Village Condominiums offers studio and one-bedroom units with kitchenettes close to Sapphire and Lindquist Beaches.
Each unit is individually owned and offers unique charm.
Budget
Winward Passage Hotel is within walking distance of shopping, entertainment, and dining options in Charlotte Amalie and a short drive to Cyril E. King Airport.
The hotel offers basic rooms featuring two double or one king bed with or without an ocean view.
Emerald Beach Resort is conveniently located in Charlotte Amalie West and is the only beachfront hotel in Charlotte Amalie.
This 90-guest-room boutique hotel sits directly on Lindbergh Bay and is close to the airport.
We found this hotel conveniently located near the airport, restaurants, and beaches we wanted to explore while on St. Thomas. This hotel is perfect if you intend to use only some of the higher-priced resorts' bells and whistles.
Getting Around St. Thomas
Renting a Car
Renting a car is the most convenient way to get around St. Thomas. If you are flying into the Cyril E. King Airport, there are Thrifty, Budget, and Avis Rental Car booths right at the airport (do book in advance though).
Here on St. Thomas, most visitors choose to rent economy cars at a price of around $100 per day. If you visit in October, you will find the cheapest rental car prices of the year.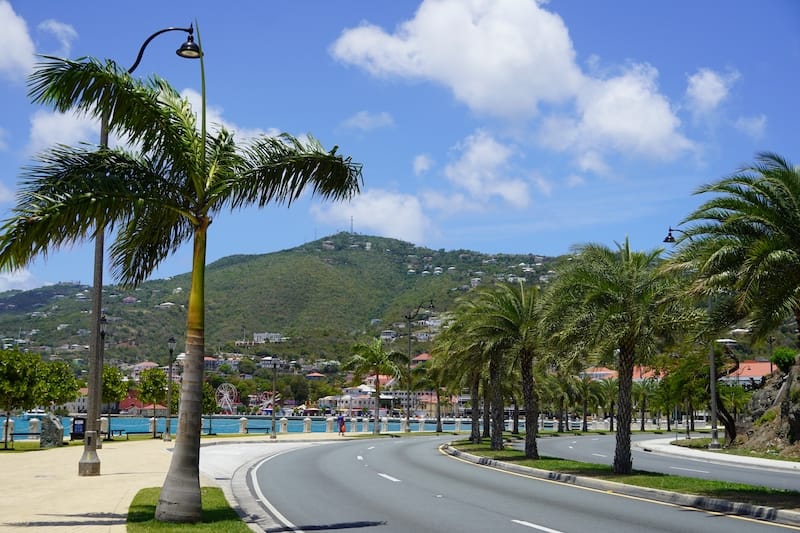 Pay attention once you rent a car since you will be driving on the left-hand side of the road. Once outside Charlotte Amalie or Red Hook, you will find narrow streets with plenty of twists and turns.
You can also rent a car on St. Thomas and take it across to St. John on the car barge leaving out of Red Hook.
>> Click here to check affordable rental car options on St. Thomas
Shared and Private Transportation
If you don't rent a car in St. Thomas, you still have options for getting around the 32-square-mile island. St. Thomas has a variety of tax and tour services you can use during your stay.
On St. Thomas, all taxi fares are by person and destination. There are additional charges for luggage and waiting.
Best Time to Visit St. Thomas
There is never a bad time to head to the USVI!
The temperatures range from highs in the high 70s during the winter months to the high 80s throughout the summer, and evening temperatures are roughly 10-15 degrees cooler than the high temperature.
Being a teacher, we always had to go in July and August, when the island temperature was at its warmest, with highs around 86 degrees and lows in the low 70s.
The warm air temperature also coincides with the months with the warmest water temperatures, which is excellent for snorkeling, scuba diving, and enjoying the beaches.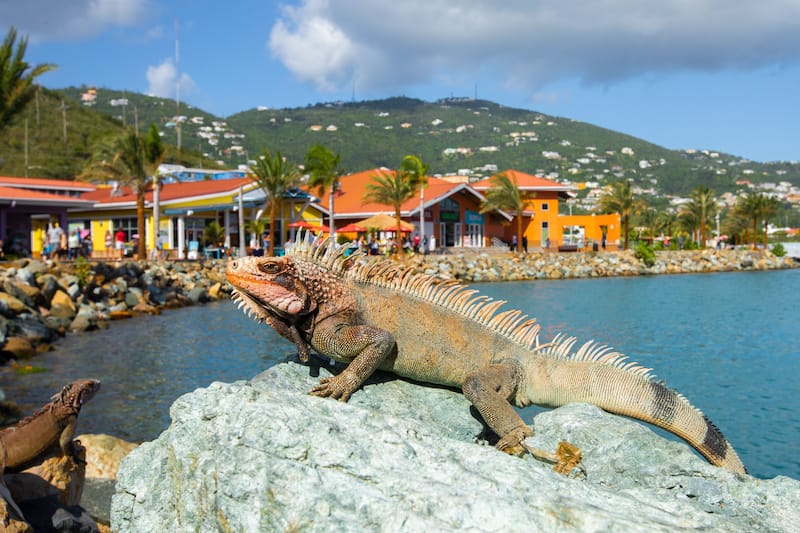 During the summer, there are between eight and 12 days when there will be rain in the forecast. However, most of these are brief afternoon showers unless there is a passing hurricane.
October, November, and December are the rainy months on the island, and you will have a chance of rain about half the days each month.
December through February is the island's peak season, so expect beaches to be a bit more crowded during this time, especially from mid-December through mid-January for the holidays.
During this time, you will find all the restaurants and hotels open; however, hotel and rental car prices are at their highest.
Spring (March through May) offers the driest weather, with precipitation under ten days a month. During this time, you will see smaller crowds and lower lodging prices.
7-Day St. Thomas Itinerary Overview
Day 1: Arrive, hike to Mermaid Chair, wander the streets of Charlotte Amalie, venture to Paradise Point, dinner at Prime, visit the Leatherback Brewing Company
Day 2: Breakfast at Sib's on the Mountain, explore Phantasia Tropical Botanical Gardens, head up to Mountain Top, hike to John Brewer Rock, enjoy the day at Brewer Bay Beach, eat at Virgilio's
Day 3: Breakfast at Barefoot Buddha, look down on Charlotte Amalie from the Charlotte Amalie Overlook, enjoy the view from Drake's Seat, enjoy the afternoon at Magens Bay, stop at Udder Delights, dinner at the Twisted Cork Cafe
Day 4: Breakfast at The Delly Deck, climb Charlotte Amalie's 99 Steps, fly through the trees at Tree Limin Extreme Ziplines, explore Hull Bay Beach, dine at Greengo's
Day 5: Breakfast at Curiga's Island Cafe, venture into the mangroves with VI Ecotour's kayak excursion, enjoy the afternoon at Secret Harbor Beach, dinner at Sunset Grille
Day 6: Breakfast at Lattes in Paradise, relax at Sapphire Beach, take a Sunset Cocktail Cruise, dinner at Sapphire Beach Bar
Day 7: Breakfast at Picaso's Coffee Bar, explore the ocean sanctuary at Coral World Ocean Park, soak in the sun at Coki Point Beach, dine at Pesce Italian, choose between Tap and Still locations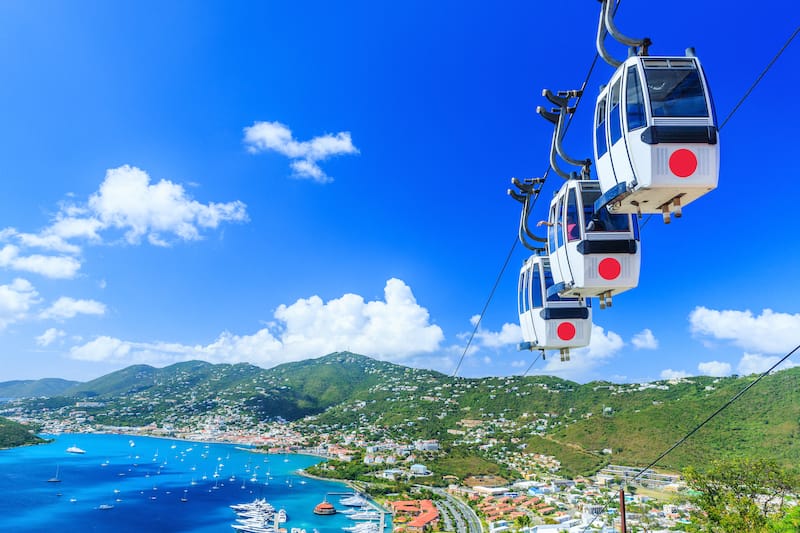 Day 1
Arrive at the Cyril E. King Airport or the Charlotte Amalie Ferry Terminal
Upon arrival, either head to the rental car reservation desk in the terminal or catch your waiting shuttle service.
Hike to the Mermaid Chair
If you are up for a challenging yet beautiful hike, consider heading to the West End of St. Thomas to the Preserve at Botany Bay, where you will find rock structures you can climb, scenic views, and a secluded beach.
Plan to begin your hike about 1 1/2 to 2 hours before low tide.
This way, you can enjoy the two narrow strips of beach known as Mermaid's Chair, which separates the Caribbean Sea and the Atlantic Ocean, before the beach disappears as the water rises and becomes one.
The 3-mile, round-trip hike begins at The Preserve at Botany Bay's entrance gate. You must park outside the gate on the shoulder of Fortuna Road.
Then check in with the security guard, who will give you a map of the community, check your ID, and take your picture before sending you off to follow the signs to the Mermaid's Chair.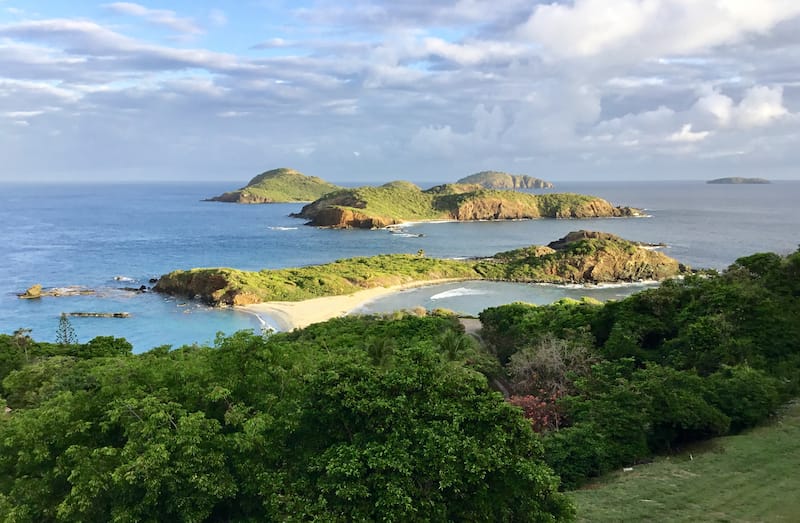 To get to the Mermaid's Chair, you will walk on the community sidewalks and along the road; during the 1½ miles, you will descend 500 feet to the beach.
Once there, enjoy the peaceful beach you may have to yourself, and also journey across to West Point and explore the rocky areas behind the brush.
One of the best places to lay out on the sand is near the only palm tree.
If you are up for more exploring, take the trail opposite the lone palm through the brush to the western edge of St. Thomas. Here you will find epic views, cliffs to climb, and small pools.
This area is only accessible during low tide.
You may even see Puerto Rico, Culebra, and Vieques from the top of the cliffs. If you continue around West Point, you will see Sandy Bay and planes coming into land at Cyril E. King Airport.
Notes:
The Preserve at Botany Bay community is only open to visitors from 8:30 AM until sunset.
Check the tide schedule before you go so you don't go at high tide.
The best time to photograph Mermaid's Chair is during the afternoon due to the hill that casts shadows earlier in the day.
Wander the Streets of Charlotte Amalie and Explore the Shops
Begin shopping along Charlotte Amalie's cobblestoned Main Street, where you can find jewelry, island art, perfume, clothing, Dutch chocolate stores, and gift shops with a wide array of souvenirs.
When you need a break, there are even fabulous shady courtyards to rest among the historic buildings and enjoy people-watching.
The Crown Bay Center has a variety of local arts and crafts, as well as Aseck Jewelers, A. H. Riise Liquors, and Blooming Things Clothing and Flower Boutique.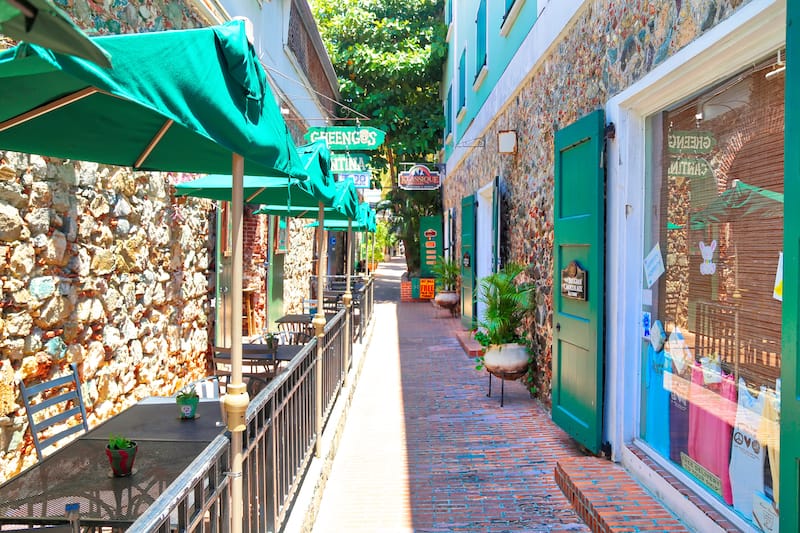 At Havensight Shopping Mall, located on the Cruise Ship Dock, you will find The Butterfly Garden, Biz Scooter Rental, Little Switzerland, and Omni Jewelers.
For upscale shopping, head to the Yacht Haven Grande, St. Thomas' prestigious shopping area that includes Coach, Perfumania, Tommy Hilfiger, Bebe, and Fat Turtle.
Note:
St. Thomas offers $1,600 worth of duty-free shopping per visitor. However, you will need to keep your receipts to make filling out customs forms easier.
There is a limit of 5 cartons of cigarettes and 5 liters of liquor (at least 1 liter has to be produced in the Virgin Islands)
Venture to Paradise Point
From Charlotte Amalie, you will see the gondola heading up the mountainside to Paradise Point.
From Paradise Point, 700 feet above the Caribbean Sea, you can see the Havensight Cruise Ship Dock, Charlotte Amalie, and some of the best views of St. Thomas Harbor. If it is a clear day, see if you can find St. Croix or Puerto Rico.
To get to the top, you can either drive or take the 24-passenger Skyride to the top. The Skyride takes seven minutes to get from the bottom to the top.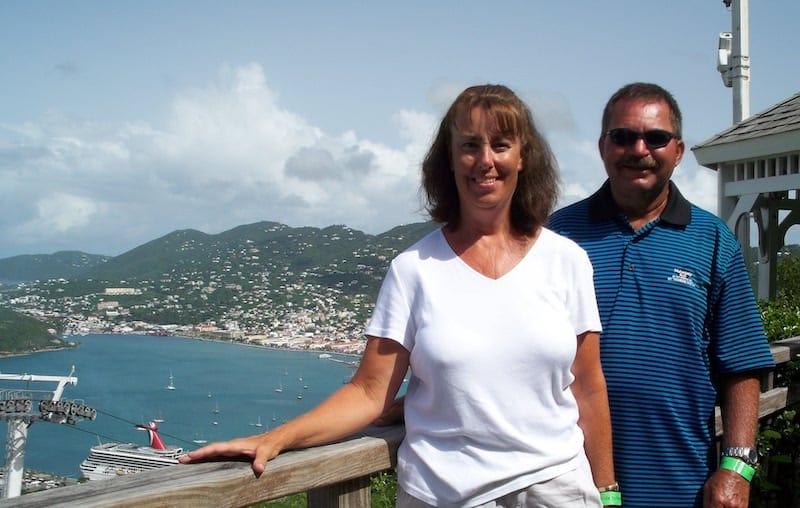 Once you reach the top, visit the restaurant and enjoy their signature Baileys Bushwacker or the banana daiquiri and take selfies looking down onto the Caribbean Sea and Charlotte Amalie.
Note: The tram usually only operates if a cruise ship is in port.
Dinner at Prime at Paradise Point
Begin your first dinner on St. Thomas with a terrific steak or Caribbean lobster dinner and one of the best panoramic views of the Charlotte Amalie harbor, Havensight, and Water Island.
The 125-seat restaurant offers indoor seating and a beautiful outdoor patio where you can marvel at how the Caribbean skyline changes colors at sunset. As the sky darkens, the lights of Charlotte Amalie begin to twinkle.
Prime's signature 45-day dry-aged Tomahawk steak is a favorite with an exquisite table-side presentation.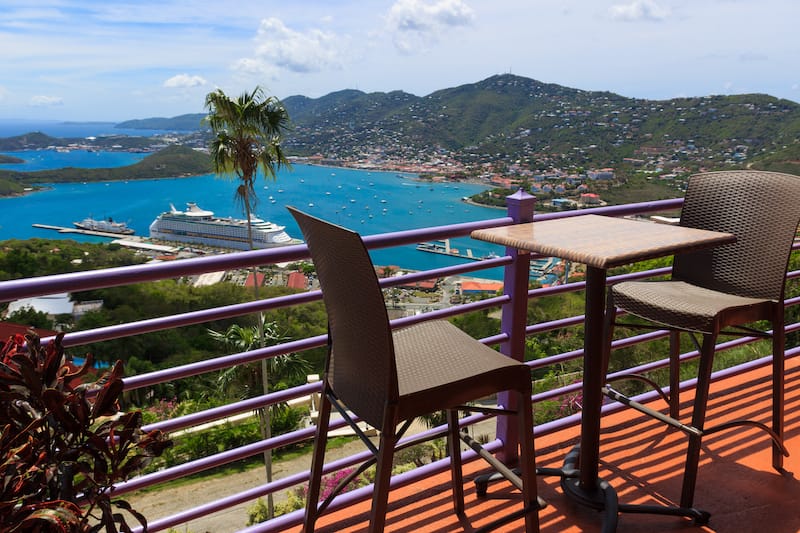 Have dinner on Wednesday for the Wildfire Wednesday special that includes exotic meats like ostrich, antelope, and bison and features the entrée prepared table-side.
Complete your meal with pastry chef Nicole Roman's crème brûlée or other creative pastries made fresh daily.
Diners on Thursday through Saturday evenings can enjoy listening to pianist Freddie Rabuse from 6:30 – 9:30 PM.
Leatherback Brewing Company
The Leatherback Brewing Company, based in St. Croix and has a St. Thomas brewery and tasting room, was named after the Leatherback Sea turtles that nest on some VI beaches.
Leatherback Brewing Company is 100% run by solar power and offers beer made from locally sourced ingredients, including mangoes harvested in Frederiksted, St. Croix. The brewing company offers five flagship beers and a variety of limited-release brews throughout the year.
Whether you enjoy just drinks from the bar, like the Sunshine and Rain Mango Double IPA, a Coffee Stout, or a ginger lime seltzer, or pair them with a salad, pizza, or wrap.
This is a must-stop for beer lovers, and even Fido can join you on the patio across from the cruise terminal in Havensight.
Day 2
Breakfast at Sib's on the Mountain
Sib's on the Mountain is a low-key restaurant set high on the mountain and in the middle of nowhere, which has been family owned and operated for about 100 years.
They offer food and drink specials you can enjoy at the outside tables.
Order an egg, cheese, and sausage sandwich on toast, a bagel, or other healthy and reasonably priced breakfast specials.
Note: They only accept cash, but there is an ATM in the bar area.
Explore the Phantasia Tropical Botanical Gardens
The small Phantasea Tropical Botanical Gardens is the perfect way to begin your day in nature.
This eco-friendly site is in Lerkenlund near Mountain Top, and it offers a shady area where you can walk around the tropical flora and fauna for an hour.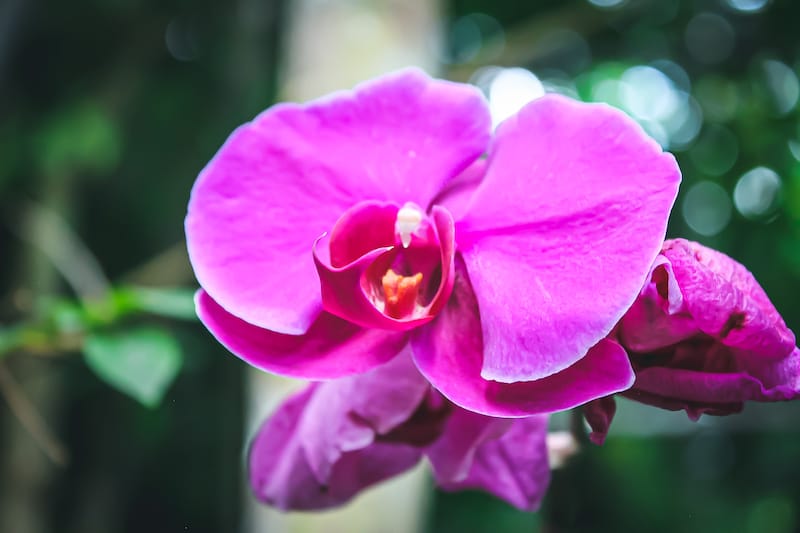 As you explore the lush 2-acre grounds, you will see turtles, over 1,000 orchids, succulents, Heliconia ginger, Bromeliads, palms, and aroids. The gardens also offer scenic views of Magen's Bay, Saint John, and Tortola.
Stop in the gift shop and purchase an orchid, flowers, or a gift to take home.
Head up to Mountain Top
Mountain Top, which stands 1,500 feet above sea level at the top of St. Peter Mountain, offers epic views from the island's highest clifftop.
From the overlook, you will have a clear view of the beautiful blue Caribbean Sea waters and spectacular views of the Saint Thomas coastline, Magen's Bay, and 15 other islands and Cays.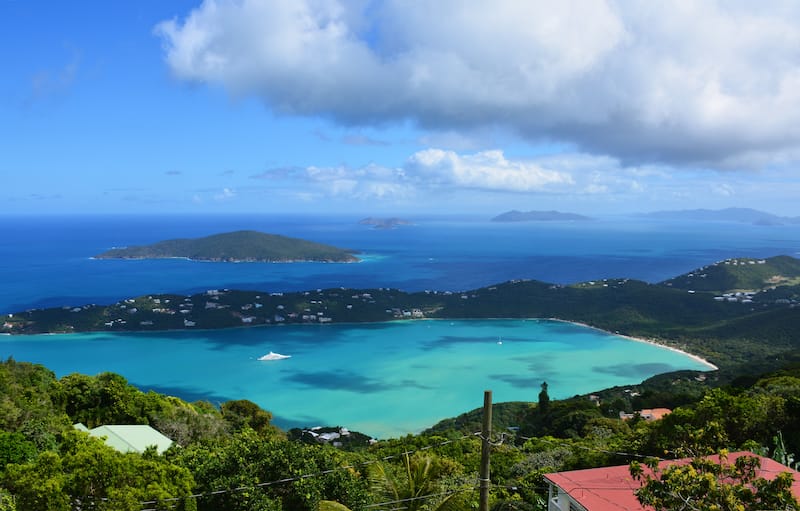 As you enjoy the panoramic view from the observation deck, sip one of Mountain Top's famous banana daiquiris. The banana daiquiris made here at the Mountain Top bar are the best you will find while on the Virgin Islands.
Besides the observation deck and bar, you can enjoy a snack in the cafeteria and explore the souvenir shop, where you can find beachwear, hats, clothing, and jewelry.
Hike to John Brewer Rock
The two-mile trail to John Brewer Rock is one of the more challenging hikes on St. Thomas. The gut path, which begins across from the abandoned building along Brewer's Bay, is rocky and has smooth rocks that are the base of the path until you approach John Brewer Rock.
Once you get near the rock, you will find the trail becomes dirt, and there are ropes to aid you in climbing this section.
Once you reach the top, you will have an excellent view of St. Croix, Water Island, Vieques, Culebra, and possibly even Puerto Rico.
Plan to allow at least two hours to hike and enjoy the views from the top.
Enjoy the Day at Brewer Bay Beach
Brewer Bay Beach, just west of the airport and the UVI St. Thomas Campus, offers gorgeous, calm, clear blue waters and a grassy area to lay down your towel.
When visiting here, you will want to bring your snorkel gear to explore the sea grass areas on the left side and swim with the sea turtles and maybe even a stingray. Just be sure to stay at least 10 feet from them.
The water here at Brewer Bay has a sandy bottom and is easy to enter and then wade or swim around.
The beach offers a narrow strip of sand that is perfect for beach combing.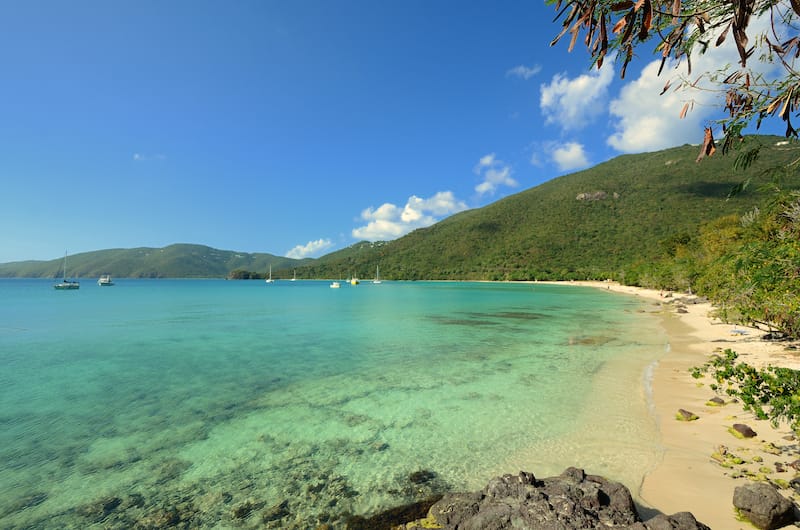 You may find a variety of shells, sea glass, and coral, but remember to leave all the seashells since taking them off the Virgin Islands' beaches is illegal.
If you want to sit on the beach and watch the planes flying in and out of the Cyril E. King Airport, be sure to bring your chair since the only amenities here are a bathhouse with outdoor showers and flush toilets.
Several food trucks that offer fried chicken and other local dishes often are parked along the road.
Parallel parking spaces are available along the road, or you can take the bus to the last University campus bus stop and walk about 3/10 miles up a hill to the beach.
Eat a Classic Italian Dinner at Virgilio's
Just off Main Street, on Store Tvaer Gade, you will find Virgilio's, a classic Italian restaurant in downtown Charlotte Amalie.
The legendary restaurant, which opened in 1988, only has a small sign hanging from the canopy over the door, but once you walk in, you will feel that old-world charm.
You will find arched walkways, wooden beams, and ornately framed paintings that will remind you of being in an art gallery inside. All the artwork that is on display is for sale.
World-class Chef Ernesto Garrigos will encourage you to Mangia or eat one of his most popular northern Italian dishes, including the Lasagna de Maria or the Osso Bucco alla Milanese, which is the all-time favorite dish made with veal shank over linguini and Milanese sauce.
The extensive menu includes handmade ravioli and manicotti, all with individually made sauces.
Finish your meal with a "Secret Recipe" cappuccino and tiramisu or banana foster.
Day 3
Breakfast at Barefoot Buddha
Barefoot Buddha's in the Havensight Shopping Center is an Asian-chic coffee house with a wide selection of coffees, teas, and smoothies.
They also have delicious baked goods and breakfast sandwiches (McMuffin, burritos, bagel sandwiches, and croissants) packed with house-made ingredients.
The menu includes a quiche of the day and a Bodhi breakfast bowl full of black bean chili and spinach with a scrambled or fried egg.
If you need time away, enjoy breakfast with one of their magazines or peruse the local crafts and artwork displayed throughout the restaurant.
Look Down on Charlotte Amalie from the Charlotte Amalie Overlook
As you head out of Charlotte Amalie, stop at the Valdemar A. Hill, Sr. Drive Scenic Overlook. The overlook faces the southern side of St. Thomas.
From here, you will have a fantastic view of Charlotte Amalie, Hassel Island, and Water Island and all the activity in the harbor.
The overlook has 12 parking spaces, benches, and a public restroom.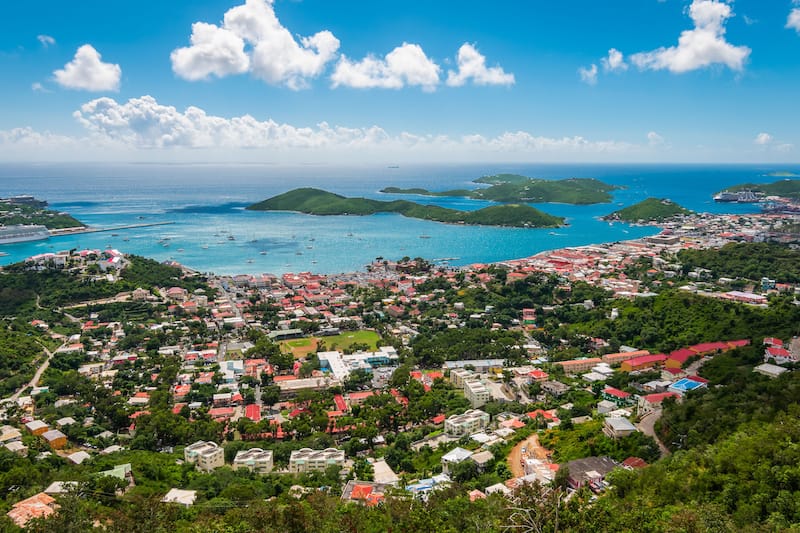 Enjoy the View from Drake's Seat
The legend is that Sir Francis Drake sat where Drake's Seat is today to watch for Spanish enemy ships that were passing nearby.
Today, Drake's Seat still offers an outstanding view of the turquoise waters of the Caribbean Sea and the iconic Magens Bay and beach.
From this location, you can also see St. John and Josh Van Dyke and Tortola, two of the British Virgin Islands, and about 100 other little islands offshore.
The overlook sits 500 feet above Magens Bay and looks over the north side of St. Thomas.
While sitting on Drake's Seat, take that iconic Magens Bay Beach photo to remember your time on St. Thomas.
Laze the Afternoon Away at Magens Bay
The Instagram-worthy Magens Bay is one of my favorite places to visit whenever we are on St. Thomas. The pristine mile-long white sandy beach surrounded by the greenery and the turquoise water just makes my heart melt.
Even though this is St. Thomas' busiest beach, it is so long that it never really seems overcrowded. However, you will find smaller crowds along this pretty beach if you want to visit in the morning or late afternoon.
The bay offers a sandy bottom and gently deepening water with little to no wave action, which makes it perfect for children playing in the water, walking along the shore, swimming, and snorkeling.
Magens Bay has various amenities, including chair and umbrella rentals, kayaks, floaties, snorkel gear, and paddle boats for rent during your time at the bay.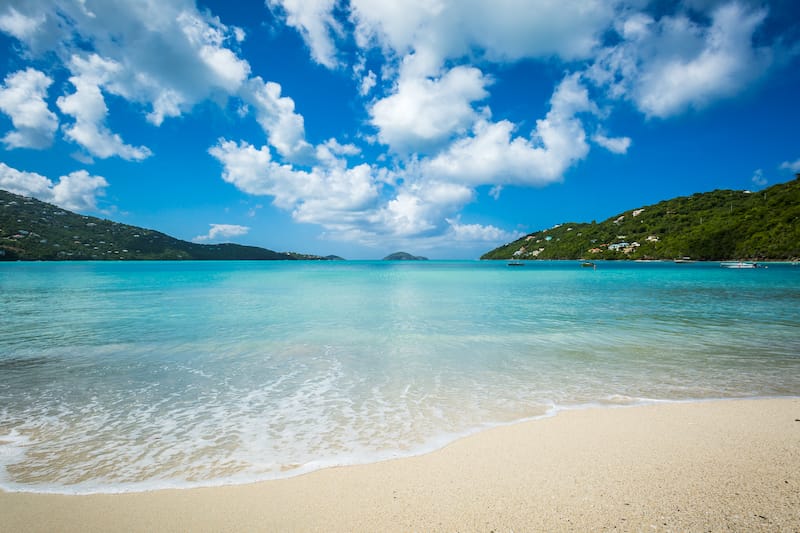 Snorkelers will want to head along the rocky outcroppings along the southern side of the bay, while paddleboarders will want to glide across the center of the bay, keeping their eyes out for a sea turtle.
When you are ready for lunch or a snack, head to the Magens Point Bar and Grill at the back of the sandy beach area and pick up something to eat. The menu offers pizza, burgers, mahi-mahi, and curry shrimp.
Be sure to pick up one of the island's special painkillers. Then head to the picnic tables under the shady palm trees.
If you get tired of enjoying the sights at this pristine Caribbean oasis or just need a change of pace, visit the botanical garden and coconut grove, or walk along the 2.4-mile Discovery Nature Trail that takes you through a tropical forest and mangroves.
Note that part of the trail is steep and has ropes to aid your climb or descent. The path only has views of the bay at the wooden platform overlook partway up/down the trail.
For those who only want to hike the trail one way, park along Magens Bay Road and hike down to the beach.
The advantage of walking down the trail is that you avoid the fee station. Magens Bay also has lifeguards on duty throughout the year.
Note: Magens Bay has a fee for parking and entering. For non-residents, there is a $2.00 parking fee and an entrance fee of $5.00 a person for those 12 and older. Those younger than 12 can enter free of charge.
Stop at Udder Delights
Udder Delights is a must-stop on the way to or from Magens Bay. You will find the island's best creamy, deliciously smooth milkshakes at this little ice cream stand.
Udder Delights is most well known for its World Famous Liquor Milkshakes, but any shake can be made as a virgin.
The shakes often have an exotic twist and genuinely capture the island's culture.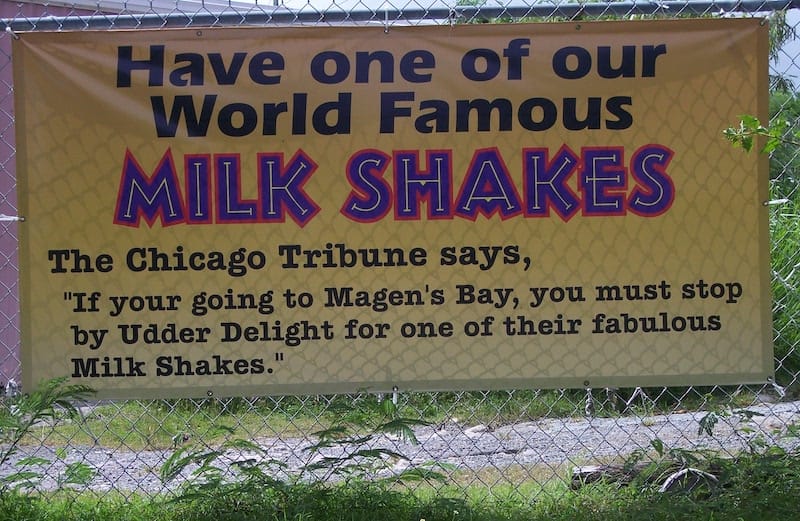 Enjoy a fan favorite Banana Foster made with banana and vanilla ice cream, crushed banana, caramel, and banana rum, or the Choco-Mocho made with a trio of ice cream (Rocky Road, chocolate, and coffee), coconut milk, chocolate syrup, and Kahlua.
Be careful; they could spoil your dinner and entice you to make repeat stops while staying on St. Thomas.
Dinner at The Twisted Cork Café
Head to the Frenchtown section of Charlotte Amalie, where you can get the Local/Cruise Ship/Visitors Special of buy two Entrees and Get one Dessert for free at The Twisted Cork Café.
Owners Eric Gaspard and Bryan Lewis' restaurant is wine-focused, and the menu features just-caught fish and uses produce from their onsite garden.
Some of the customer favorites are the exotic Blue Crab stuffed with Lionfish, the Salmon Risotto with a Port wine balsamic reduction sauce, and the Twisted burger.
Save room for one of their house-made desserts, including bread pudding and a maple bourbon sundae.
Day 4
Breakfast at The Delly Deck
The Delly Deck in Havensight Mall has been serving waffles, omelets, and breakfast sandwiches to locals and visitors alike since 1976.
The restaurant has been named the best family restaurant on the island for high-quality food, including eggs benedict with smoked turkey, blueberry pancakes, and breakfast burritos.
Climb Charlotte Amalie's 99 Steps
In the center of Charlotte Amalie, you will find one of St. Thomas' most famous landmarks. The staircase was built in the 1700s by the Dane Colony to make climbing the hills of St. Thomas easier.
As you step up and down the old ballast brick steps, enjoy the colorful gardens, and once you reach the top of the 103 steps, you will find Blackbeard's Castle, a National Historic Landmark, Fort Christian, and breathtaking views.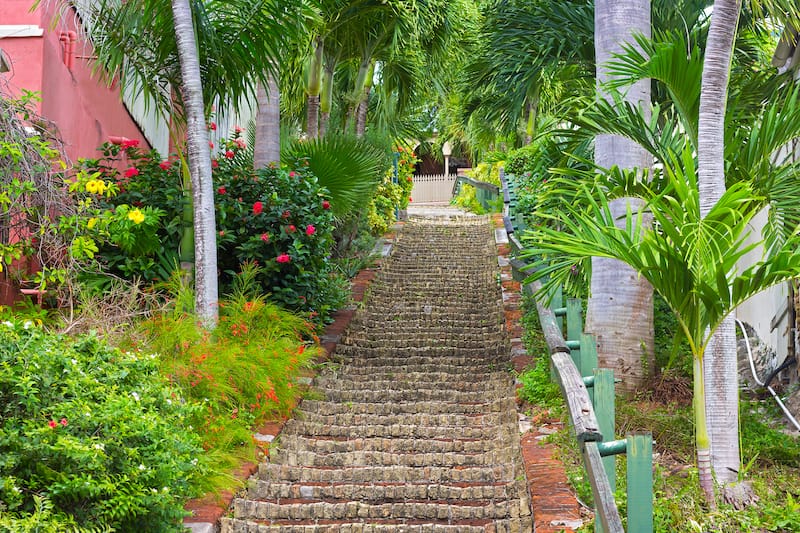 This is an excellent walk on a sunny day since there is so much shade along the steps.
Fly Through the Trees at Tree Limin Extreme Ziplines
When you need a bit of excitement in your day, head to Tree Limin Extreme Zipline, where you can take to the sky and zip around St. Peter Mountain and get a peak of Magens Bay, one of the top 10 views in the world, according to National Geographic.
The zipline course has you soaring through the St. Thomas rainforest treetops at up to 35 MPS as you make your way between eight aerial platforms connected by two sky bridges and six zip lines.
Tree Limin Extreme Ziplines has been voted Best of Virgin Islands by the Virgin Islands Daily News Readers Poll six times since 2014.
Children as young as five and weighing 70 pounds or less can zip tandem with an adult, while children over 70 pounds can zip solo.
The entire St. Thomas tour lasts about 2½ hours and is open Tuesday – Saturday from 9:00 AM until 5:00 PM.
Explore Hull Bay Beach
Hull Bay Beach is an off-the-beaten-path beach that is a favorite of locals, fishermen, and surfers.
During the winter months (November – March), the waves pick up at this beach, and the left side of the bay is the perfect spot for surfing.
When the waves are calm, Hull Bay Beach has a lovely coastline on the right side that offers rocky ledges, perfect for snorkeling and seeing sea animals and small fish.
Even though small, the beach has white sand and palms, sea grapes, and seaside mahoe, which gives some shade. The water here is usually clear, but lots of little rocks make walking barefoot in the water a little difficult.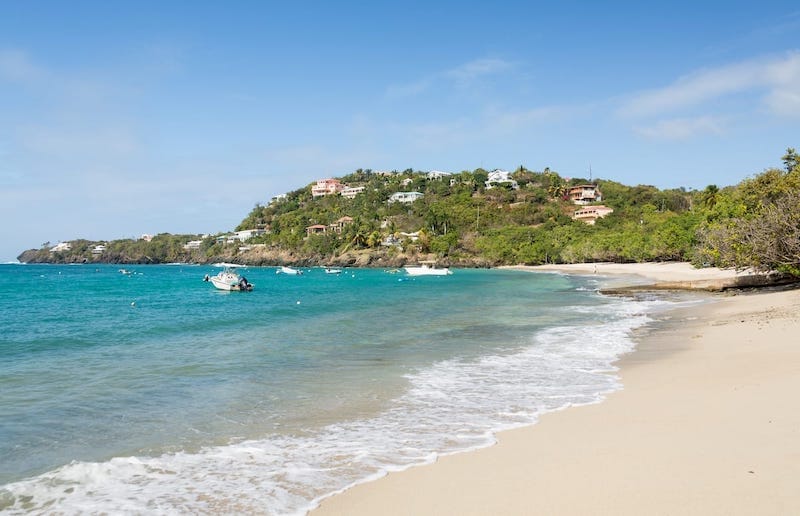 The view from the beach is quite lovely as you look out to the boats bobbing in the water, Tropico Point, and Inner and Outer Brass islands on the horizon. Stay for sunset, and you will not be sorry.
Parking is available on the left side of the bay. Here you will find a dirt or sandlot. Additional parking is on the right side along the road if you come on a busy weekend.
Amenities here are few. There are no bathrooms or chair and umbrella rentals.
However, you can head across the road to The Shack at the Hideaway for something to eat and drink. They are known for their tacos and have tables in the sand floor courtyard under the shady palm trees.
St. Thomas Scuba and Snorkel Adventures rent snorkel gear, surfboards, and paddleboards near Hull Bay Beach. You should check out their options if you are looking for a guided snorkel tour at Hull Bay or a night snorkeling trip.
Dine at Greengo's
Head to Hibiscus Alley (Dronningens Gade) in Charlotte Amalie for Greengo's Caribbean Cantina's delicious Sonoran-style Mexican food.
The restaurant, which sits on the waterfront in the historic district, has arched doorways and original stone walls.
Inside you will find a unique mural created by artist Lalo Cota and flat-screen TVs to catch up on all your local sporting events.
Begin your meal with homemade tortillas and the bar's infused margarita or tequila. Then choose one of their delicious entries, including the tasty shrimp cantina bowl, tacos, and burritos.
On Friday nights, the only night Greengo's is open after 5:00 PM, you can enjoy the cantina ambiance while sipping on a strawberry-infused margarita and listening to the live music that plays until closing at 8:00 PM.
Be sure to stop into their tortilla factory next door to the cantina.
Day 5
Breakfast at Curiga's Island Café
Stop at Curiga's Island Café for one of the best breakfasts along Benner Bay lagoon.
Before entering the door, check out the chalkboard for the daily specials, including a loaded croissant with ham, bacon, eggs, and cheese or the beach blast French toast with sautéed apples.
Other favorites are the shrimp and grits, bacon-topped deviled eggs, and banana pancakes.
Venture into the Mangroves with VI Ecotour's Kayak Excursion
With the Virgin Islands Eco Tour, take a three-hour kayak, snorkel, and hiking trip to explore the Cas Cay Ecosystem from the Mangrove Lagoon Marina near Red Hook.
The trip begins with a safety meeting before paddling behind your guide in kayaks through the Mangrove Lagoon Wildlife Sanctuary. As you paddle around the sanctuary on your way to Ca Cay, you will learn it has a rich pirate history.
You will stop in the mangrove to learn about the fascinating Manchineel tree that produces poisonous apples, the red mangrove forest, and many of the plants and animals in the lagoon and cay.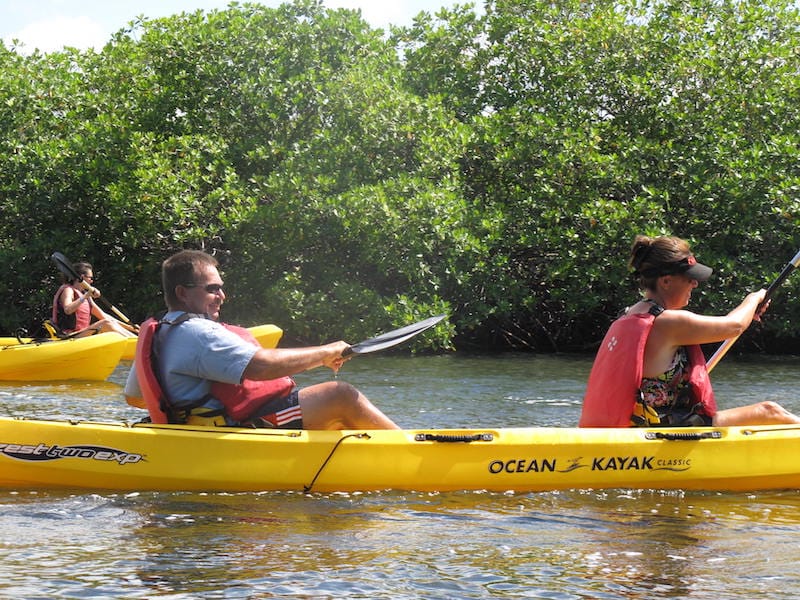 Once on the uninhabited island of Cas Cay, you will take a short hike to tidal pools, a blowhole, and volcanic cliffs. From the tip of Cas Cay, you will have time to snorkel and look at the area's various tropical fish, stingrays, and sea turtles.
Before paddling back to the marina, you will be treated to a boxed lunch and cheer on your hermit crab in the hermit crab race.
The kayak tour is a great family-friendly adventure for all ages.
>> Click here to check kayak tour rates and availability
Enjoy the Afternoon at Secret Harbor Beach
After enjoying a morning of kayaking and snorkeling, drive two miles east towards Red Hook to Secret Harbor Beach. The beach here is the perfect place for an afternoon of swimming and snorkeling.
Even though the beach here at Secret Harbor is small, it is picturesque, with hammocks tied between the palm trees.
The crystal-clear water here is protected and is usually calm.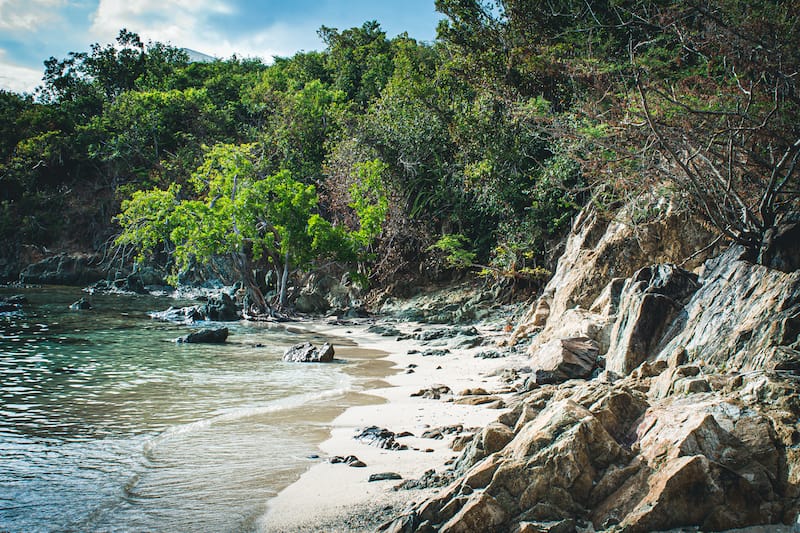 As you snorkel the waters along the rocky coastline on the right side of the bay, look for an impressive array of colorful fish, turtles, lobster, squid, stingrays, and colorful coral.
When you are ready to soak in some sun, head out to the floating raft anchored in the bay's center. The float is so relaxing that you may want to stay and watch the sunset on the water.
The Aqua Action Dive Center at Secret Harbor offers stand-up paddle boards, kayaks, noodles, skim boards, and snorkel gear for rent.
After a long day in the sun, you may want a suite booked at the Secret Harbour Beach Resort. It is one of the finest resorts in the Virgin Islands.
Dinner at Sunset Grille
The Sunset Grille at Secret Harbor Beach offers two types of beachfront dining with two different menus.
For a more casual dining experience, visit The Patio. This Tiki Bar-style restaurant has about sixty seats and is on the beach. The Patio's menu includes thin-crust pizza, sandwiches, burgers, and salads infused with a Caribbean and Southwest flare.
Try their Mediterranean steak, snapper, or vegetable primavera for a more substantial meal.
Don't pass up the BBQ rib special if you happen to be there on a Friday night. You can also enjoy drinking your favorite tropical cocktail while you wiggle your toes in the sand.
You will find finer dining at the Sunset Grille. Even though the menu includes steak, seafood, and pasta, the most popular dishes include:
The butter-poached Caribbean lobster tail
The bacon-wrapped filet mignon
The crispy skin Muscovy duck breast
Plan your dining time to watch a splendid sunset as you drink an Absolutely lavender martini or one of your favorite specialty cocktails.
Day 6
Let Lattes in Paradise Serve Your Breakfast
Lattes in Paradise in the American Yacht Harbor shops along Vessup Bay in Red Hook offers breakfast options each day beginning at 6:00 AM. The cozy café serves home-brewed coffee and tea, including some of the best chai tea on the island.
If you need an extra pick-me-up, try the dirty chai with a shot of expresso.
Besides lattes, they also serve various pastries, bacon, sausage, eggs, bagels, and terrific egg sandwiches and breakfast burritos. They also have a great selection of gluten-free items.
Enjoy sipping your coffee or coconut lime smoothie and eating a piece of their blueberry crumb cake on their open-air deck. You can even catch up on your emails or Facebook using the free WiFi.
Lattes in Paradise is a bit hard to find since it is around back in the strip mall.
If you can't find it, ask since it is worth looking for.
Relax at Sapphire Beach
Sapphire Beach is located on the northeast corner of St. Thomas, five minutes from Red Hook and 25 minutes from Charlotte Amalie.
Various condo complexes surround the beach, including Sapphire Vacations, Blue Island Breeze Condos, and Sapphire Beach Condominium Resort.
The pure, white sand of Sapphire Beach offers a perfect spot to relax in the sun or the shade under the sea grape trees. The water sports booth has chairs and umbrellas for rent.
If you want to engage in a variety of water sports, including windsurfing, jet skiing, kayaking, standup paddleboarding, snorkeling, scuba diving, or sailing, Sapphire Beach is where you will want to be since there are rental facilities on premises.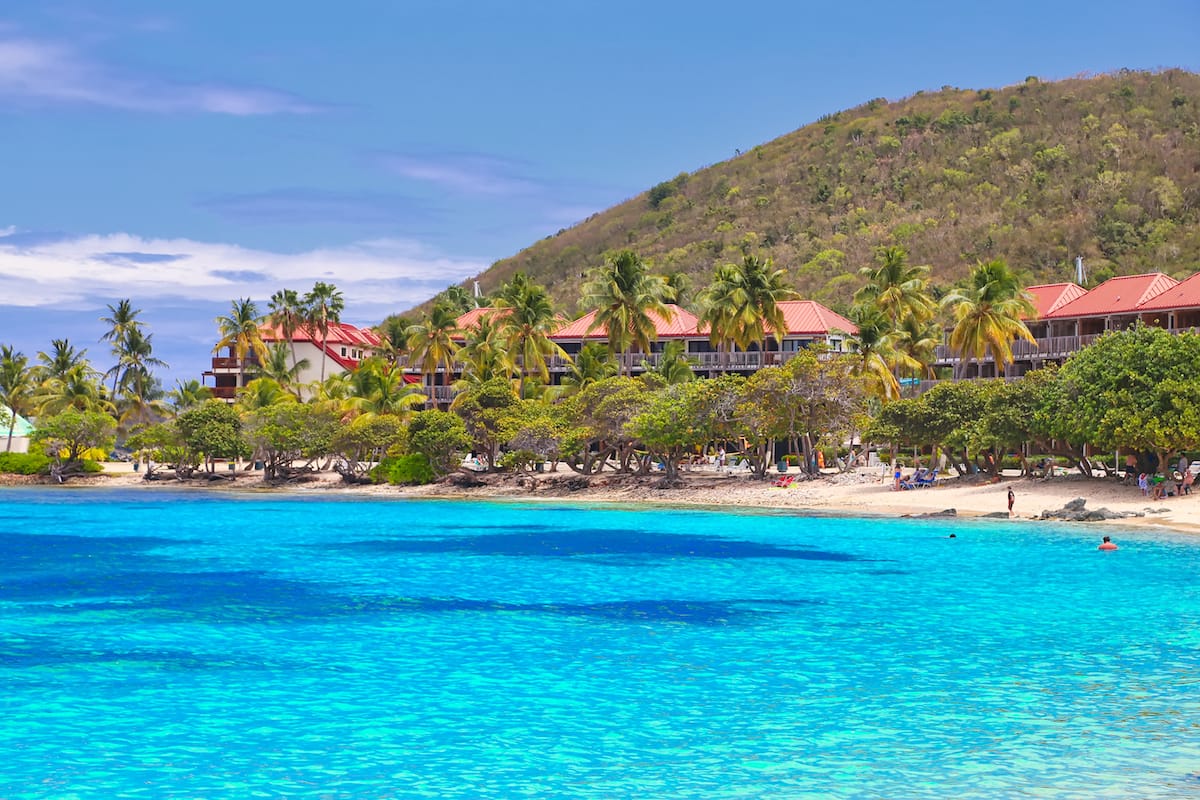 Snorkelers will want to head off to the reefs and shallow rocky ledge along the right side of the bay to see various tropical fish and coral.
From the beach, enjoy the views of the turquoise water and the islands of St. John, Jost Van Dyke, and Tortola in the distance.
If you need a bite to eat or drink, head to the open-air grill or the nearby condo restaurants.
The Sapphire Beach Marina offers boat charters and parasailing excursions.
Take a Sunset Cocktail Cruise in Caribbean Waters
Board the New Horizons and Breakaway Charter boat for a relaxing 2-hour tour. The Cocktail Sunset Cruise from Sapphire Beach Resort begins at 5:00 PM each evening from the Sapphire Beach Marina.
As you sail the Caribbean Sea, take in the views of St. Thomas, the surrounding islands, and the outer keys as you lounge on the deck.
The crew will engage you in funny stories and a bit of St. Thomas history as you enjoy Hors D'ouevres and an open bar while waiting for the sun to set.
At Sunset, the champagne comes out as you toast the sunset from an excellent vantage point out at sea.
There is a 30-traveler limit, so book early.
>> Click here to check tour rates and availability
Dinner at Sapphire Beach Bar
After a day of sun at Sapphire Beach and a Sunset Cocktail Cruse, head over to Sapphire Beach Bar, where you can enjoy a light, late dinner of superb fish tacos that have a whole flank of fish, with lettuce and tomatoes, the best tropical chicken sandwich with bacon, a burger, or coconut shrimp.
The beach bar on the Sapphire Beach sands offers guests an unforgettable setting and magnificent views.
The open-air restaurant usually has a good breeze and plenty of music throughout the evening to make for the perfect casual dining experience.
From the bar, order a frozen mango tango painkiller, a guava freeze, a cold beer, or your favorite cocktail to enjoy as you overlook the blue waters.
Day 7
Start Your Morning at Picaso's Coffee Bar
When morning calls, and you need a delicious cup of coffee, then head to Picaso's Coffee Bar, a family-run café along Smith Bay Road.
Try the Milky Way or the Snickers Picasso Explosion (chocolate, caramel, and peanut butter) blended coffee or the Caramel Macchiato for something a bit different.
They also have a variety of flavored rums and a vast selection of teas to choose from.
Picaso's breakfast menu includes freshly made quiches, sandwiches, bagels, twist donuts, and egg and cheese croissants.
Soak in the Sun at Coki Point Beach
Spend the afternoon soaking in the sun on the east end of St. Thomas at Coki Point Beach. Coki Beach offers an array of vendors selling food and souvenirs and renting chairs, umbrellas, and snorkel equipment.
The lively St. Thomas beach, with often Caribbean music playing, offers a crescent beach with white sand, some small rocks, and crystal-clear blue water that gradually deepens.
Coki Point is the perfect place to put on your snorkel and mask and float for hours, exploring the rocky shore and being surrounded by friendly fish.
From the shore, sit back in your chair under an umbrella since there are not many trees near the beach, and enjoy gazing out at the turquoise-blue water and the undeveloped Thatch Cay as you eat a burger and a tropical fruit drink purchased from one of the vendors.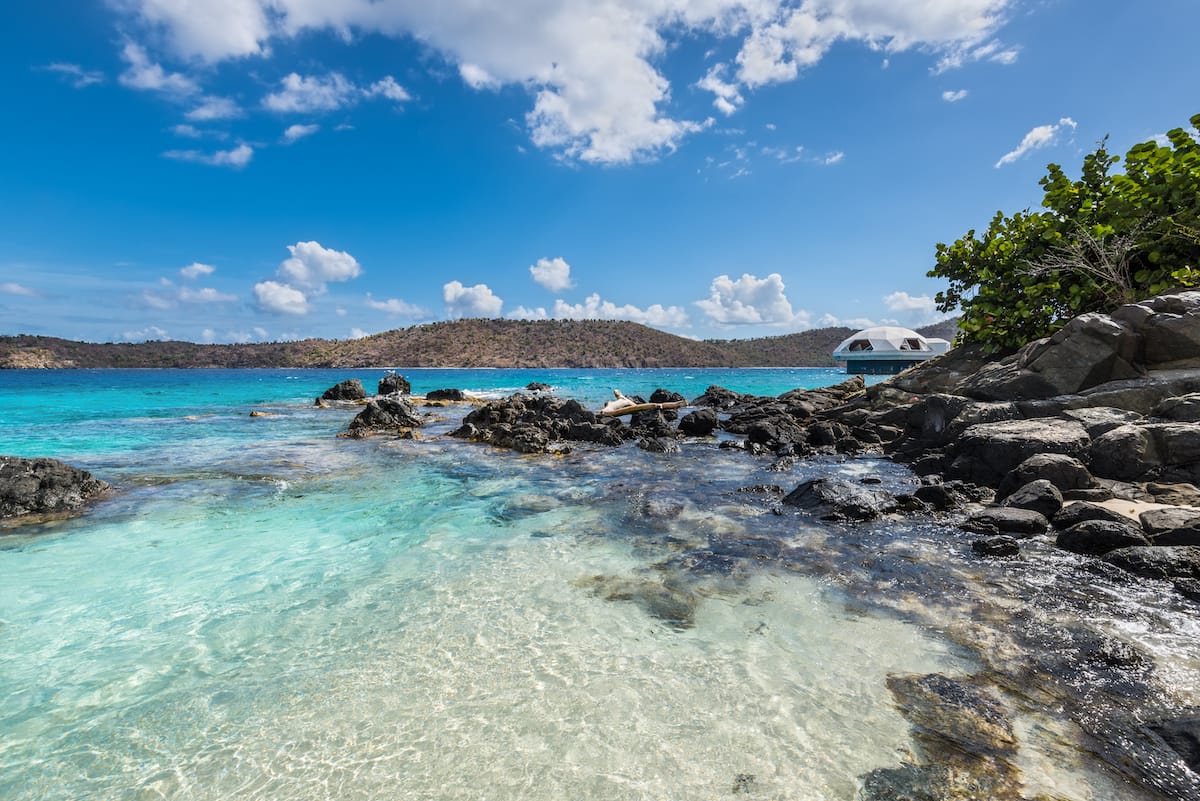 If you want to try scuba diving, the Coki Dive Center is onsite and has introductory dive lessons and certification classes for adults and children. SNUBA, parasailing, jet ski rentals, and standup paddleboards are all available nearby.
Before heading out to dinner, watch the sunset on the water.
The downside of Coki Point Beach is that it is a smaller beach and does get crowded when cruise ships are in port.
If you are looking for a lovely quiet beach, you should head to another beach or check out Coki early in the morning before it gets rocking.
Parking at Coki can be a challenge during a busy afternoon. There is roadside parking and a small dirt parking lot that charges $5. If you don't want to worry about parking, take a taxi. When you are ready to leave, a taxi stand is on site.
Dine at St. Thomas' Version of Tuscany at Pesce iTALiAN
Pesce iTALiAN in American Yacht Harbor is home to homemade pasta and fresh seafood.
As you walk in the doors of Pesce iTALiAN, you will think you have time traveled to Tuscany instead of St. Thomas.
Begin your meal with Pesce's outstanding garlic rolls. Dinner entrees will make you choose between Penne Alla Vodka, Mahi Diablo, a favorite entrée of guests, lobster ravioli, and melt-in-your-mouth gnocchi.
If you want something vegetarian, try the stuffed bell peppers.
The restaurant offers a Wind Spectators Award Winning wine list with multiple options for a perfect pairing with your meal. Before heading out, try some of their tiramisu; you won't be sorry.
Choose Between Two Tap and Still Locations
Whether looking for a juicy hamburger and fries or a local craft beer, Tap and Still offers two locations to meet your needs on St. Thomas.
You can find Tap and Still in the Havensight Mall near the cruise terminal in Charlotte Amalie or at the American Yacht Harbor in Red Hook.
Within the Tap and Still at Havensight, you will find the Rock City Brewing Company, where you can stand behind the glass and watch the brewing process.
If you are looking for a delicious beer, try the Juniper Pale Ale or even the Dumpster Cock, a West Coast-style IPA, which the Brugos brothers won in the 2013 home brewing competition in Coral Bay, St. John before opening Tap and Still, or their popular Mexican-style beer, the Hull Bay Beach lager.
Have More Than 7 Days in St. Thomas?
Take the VICat to Buck Island National Wildlife Refuge.
Learn more about the pirates of St. Thomas at the Pirate Treasure Museum.
Visit Fort Christian in Charlotte Amalie and find out its location to help protect the Dano-Norwegians.
Relax at Lindquist Beach.
Take a jeep tour and discover some of St. Thomas' sugar plantation ruins.
Explore the village of Red Hook and its salty dive bars and high-end restaurants, or catch a private charter boat or water taxi.
Did we miss any of the best things to do with 7 days in St. Thomas?
Let us know any St. Thomas itinerary additions you might have in the comments! Thanks!
More USVI Travel Guides
Pin this Week in St. Thomas Road Trip Itinerary