Are you looking for the best way to spend 7 days in St. John, US Virgin Islands? This St. John itinerary has you covered – keep reading!
Are you planning your trip to

St. John

last minute?
If youʻre booking your trip to St. John last minute, we have you covered. Below are some of the top tours, hotels, and more!
🇻🇮 Top Tours on St. John and the USVI:
🛌 Top Accommodation and Lodging in St. John:
🚗 Looking for the best way to get around St. John? Click here to check rental car rates for USVI!
On this 7 day St. John itinerary, we break down each day of your trip with the best things to do on the island!
We also include an extra day in there so you can move things around accordingly (especially if you're not a hiker).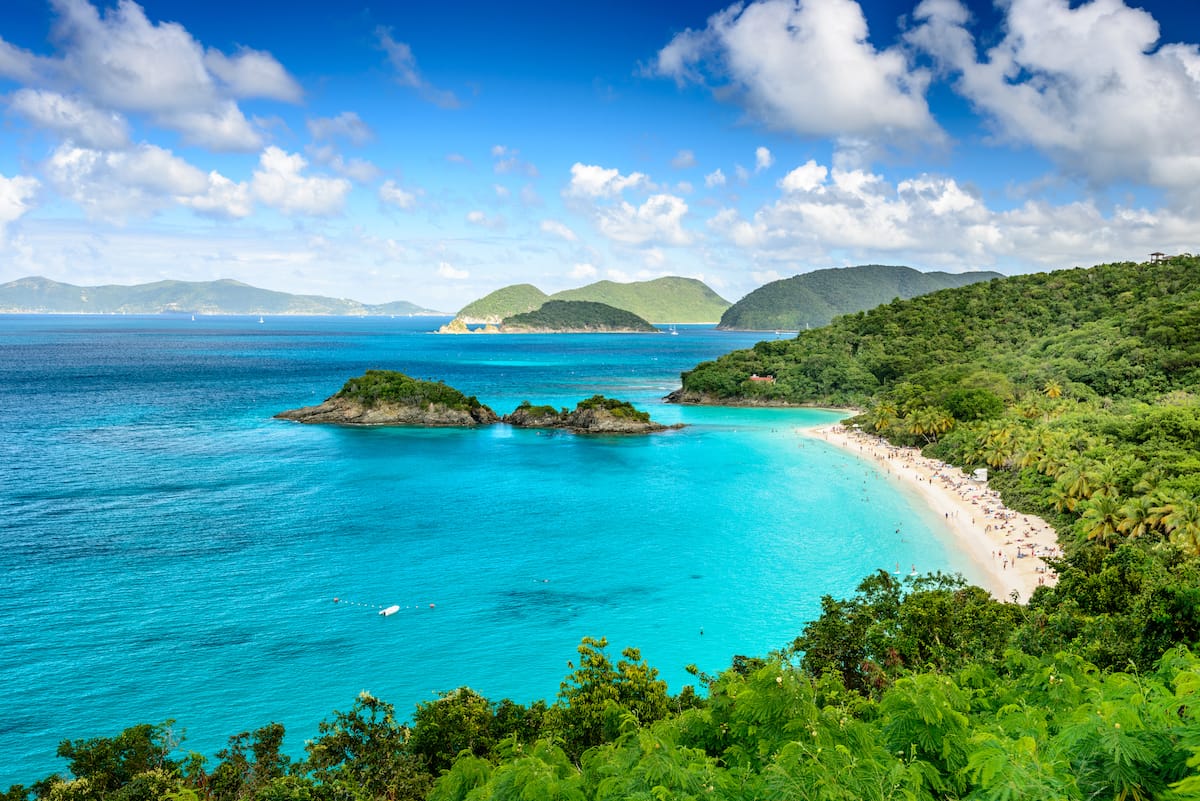 From visiting some of the best beaches in St. John to embarking on some adventurous day tours (and food!), we hope we can help you plan your trip!
Did we miss any of the top places to see with one week in St. John? Let us know in the comments!
How to Use this St. John Itinerary (+ Map!)
This itinerary for St. John is broken up day by day with details for each day of your trip!
We also include info on how to get there (and around the island), when to visit, where to stay, and more!
Since this is merely a suggested itinerary, feel free to include whatever else your heart desires along the way! We leave enough time on each day that you can tailor the itinerary the way you'd like!
If you have more than 7 days in St. John, we will include some additional things to do at the end of the guide.
To add this map to your Google Maps account, click the 'Star' icon next to the map name. You can then view it on your cell phone or computer by heading to your Google Maps account, click the menu and add it to 'Your Places'.
Best Time to Visit St. John
There is really never a bad time to head to the USVI!
The temperatures range from highs in the high 70s during the winter months to the high 80s throughout the summer, and evening temperatures are roughly 10-15 degrees cooler than the high temperature.
Being a teacher, we always had to go in July and August, which is when the island temperature is at its warmest, with highs around 86 degrees and lows in the low 70s.
The warm air temperature also coincides with the months with the warmest water temperatures, which is excellent for snorkeling, scuba diving, and enjoying the beaches.
During the summer, there are between eight and 12 days when there will be rain in the forecast.
However, unless a hurricane passes through, most of these are just brief afternoon shower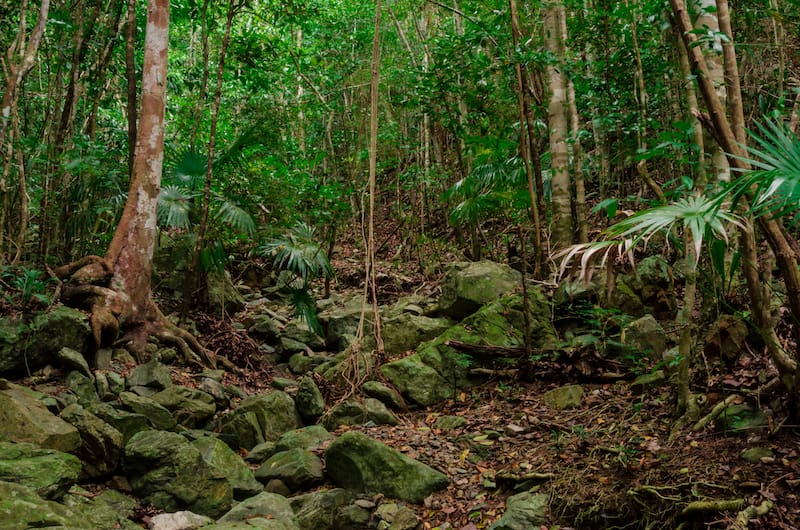 October, November, and December are the rainy months on the island, and you will have a chance of rain about half the days each month.
December through February is the island's peak season, so expect the St. John beaches to be a bit more crowded during this time, especially from mid-December through mid-January for the holidays.
During this time, you will find all the restaurants and hotels open; however, hotel and rental car prices are at their highest.
Spring (March through May) offers the driest weather, with precipitation under ten days a month.
During this time, you will see smaller crowds and lower lodging prices.
How to Get to St. John (and Getting Around the Island)
The best way to get to St. John (unless you have a private yacht chartered) is to fly into St. Thomas and take a ferry from there.
We have an entire guide on how to get to St. John that also includes info on how to get around the island!
Where to Stay on St. John
For the sake of this itinerary, we think it is best to spend your first 5 nights in Cruz Bay and then the last two in Coral Bay.
Here are some of the top places we recommend for staying in each!
Cruz Bay
The Westin St. John Villas (Luxury)
The Westin St. John Resort Villas, the largest resort on St. John, sits atop the hill overlooking Great Cruz Bay.
The 47-acre property offers guest rooms, 2- and 3-bedroom villas, and opportunities to kayak, windsurf, scuba dive, or hike within the VI National Park.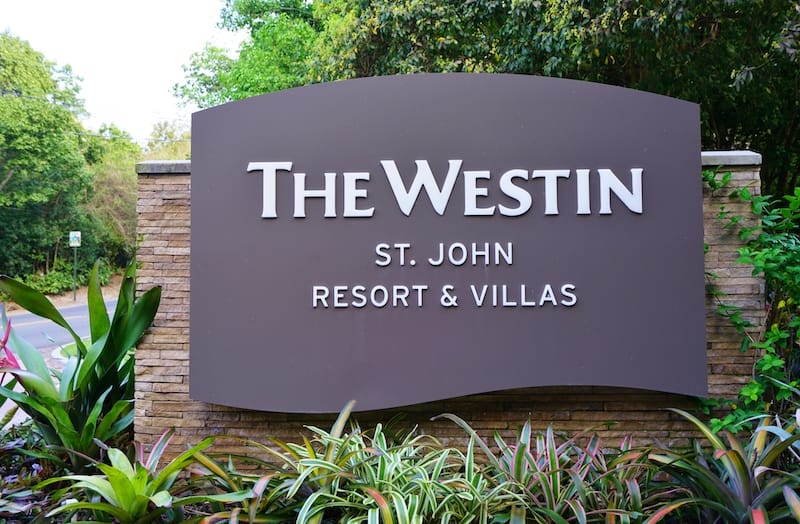 The resort offers a full-service spa and a large pool. The property also has a deli and an open-air bar and grill. Each villa has a kitchen or kitchenette and Wi-Fi.
The Westin is a 7-minute drive into Cruz Bay.
Gallows Point Resort (Mid-range)
The Gallows Point Resort is located just outside of downtown Cruz Bay.
The villas offer waterfront views overlooking the ocean and Cruz Bay or Frank Bay. Each one-bedroom villa has air conditioning, Wi-Fi, and a full kitchen.
There is no need to bring your beach cooler or rent a beach chair on the island since each suite has these items for guest use.
Arrival and departure shuttle service are complementary between the Cruz Bay Ferry Terminal and the resort.
The resort also offers fitness classes on Tuesday and Saturday mornings, a hot tub and pool, and an island-to-table restaurant, Ocean 362.
Gallows Point Resort is an easy 5-minute walk into Cruz Bay.
Coconut Coast Villas (Budget-friendy)
The Coconut Coast Villas is a boutique hotel that offers studio, two-bedroom, and three-bedroom condos overlooking Turner Bay.
The rooms have large patios, air conditioning, and fully equipped kitchens.
There is also a pool, hot tub, and guest laundry facilities. You can walk down to Turner Bay from the villas and enjoy the pebble beach and the incredible sound of the lapping water rolling the stones.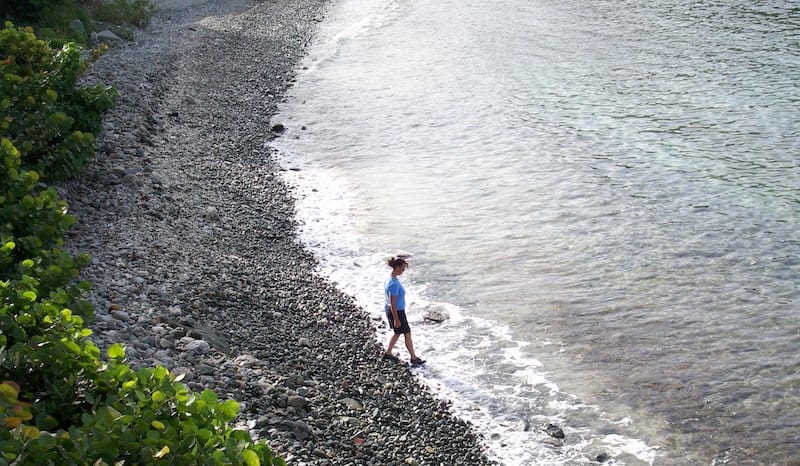 It is an easy walk from Coconut Coast Villas to Cruz Bay, and a path leads around the Small Pond and exits beside the Coconut Coast Studios on Tobacco Road.
From there, it is only an 8-minute walk to the ferry dock, and all Cruz Bay has to offer.
We have stayed here twice and loved the location and convenience it offered.
Coral Bay
The Garden of Eden Cottages (Mid-range)
Book your stay at one of the four Garden of Eden Cottages and enjoy a beautifully decorated 1-bedroom cottage with a spacious deck with ocean views, a plunge pool, and AC.
Concordia Eco Resort (Budget-friendly)
Concordia Eco Resort is located near Salt Pond on the Coral Bay end of St. John.
The resort offers guests a chance to sit back and relax in one of their villas or treehouse Eco Cabanas.
The villas offer an ocean view balcony, queen bed, kitchenette, and bathroom with shower.
The Eco Cabana sleeps up to 5 people with a queen bed, two twin beds, and a double mattress.
The kitchenette has a mini-fridge, shower, and a balcony overlooking the ocean.
This is the perfect spot for nature lovers to relax and unwind.
St. John Itinerary Overview
Day 1: Arrive in Cruz Bay, rent a car, North Shore Road, Trunk Bay, dinner at Ocean 362
Day 2: Breakfast at St. John Provisions, Maho Bay Beach, lunch at Maho Crossroads, shopping in Cruz Bay, dinner at The Longboard, night kayaking, beach bar
Day 3: Breakfast at Cruz Bay Landing's Coffee House and Creamery, America Hill Great House ruins, Cinnamon Bay Beach, dinner at La Tapa, St. John Brewers
Day 4: Breakfast at Sun Dog Cafe, Annaberg Plantation ruins, Leinster Bay Trail, Waterlemon Cay, dinner at Zozo's
Day 5: Breakfast at the North Shore, Reef Bay Trail hike (with NPS ranger), dinner at The Banana Deck
Day 6: Breakfast at High Tide, Peace Hill Windmill, Hawksnest Beach, Coral Bay Overlook, dinner at Skinny Legs Bar and Grill, Mumbo Jumbo
Day 7: Breakfast at Love City Cafe, Ram Head Trail to Salt Pond, Salt Pond Bay (and Drunk Bay), dinner at Miss Lucy's
Day 8: Sunrise at Coral Bay, shopping, Lime Out, Cruz Bay, St. John Scoops
Day 1
Arrive in Cruz Bay
Arrive in Cruz Bay at the Cruz Bay Ferry Terminal – where most St. John vacations begin.
After debarking the ferry, either grab a bite to eat, catch a taxi to your lodging, or head to get your rental car.
Your tropical vacation is about to begin.
Stop at St. John Car Rental or another car rental facility to pick up your transportation.
St. John Car Rental is just a 2-minute walk from the ferry terminal.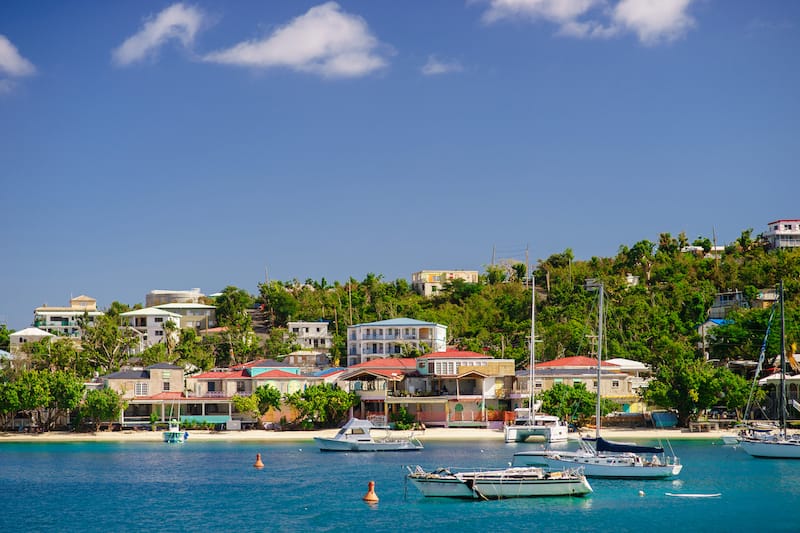 Explore the overlooks along North Shore Road
On your way to explore Trunk Bay, enjoy the beautiful scenery and five miles of the winding North Shore Road.
Along the route, pull off and enjoy the stunning overlooks where you can snap a picture or two.
The high mountain, North Shore Road, allows you to enjoy overlooking some of St. John's most popular beaches, like Caneel Bay, Trunk Bay, and Maho Bay, and the crystal-clear turquoise waters surrounding the island.
Get Your Feet and Snorkel Wet at Trunk Bay
Trunk Bay's long white sandy beach with the brilliant green tropical palm and beach Mahos surrounding the bay's impossibly blue waters is one of St. John's busier beaches.
Due to the popularity of the beach, plenty of watersport equipment is available to rent, as well as chair and umbrella rentals. The facilities also offer a snack bar and bathrooms with showers.
Besides enjoying the pristine beach, you can rent snorkel equipment and explore the 650-foot Coral Reef Underwater Park Trail on the left side of the cay.
Along this snorkel trail, signs under the water label the coral. Unfortunately, in 2017, Hurricane Irma damaged part of the reef system.
When in the water, keep your eyes peeled for various fish, sea rays, squid, and even the Leatherback turtles that come in to eat the seagrasses.
The beach facilities also rent stand-up paddleboards and kayaks so you can explore more of the rocky outcroppings of the cay.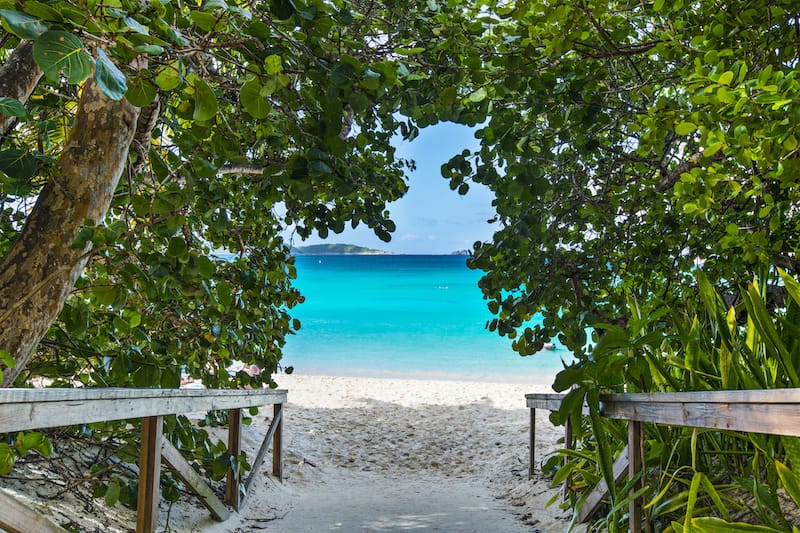 Parking at Trunk Bay
Trunk Bay has a main parking lot but often fills up by mid-day.
Be sure you do not park in a spot explicitly labeled for taxis since rangers will ticket and possibly tow illegally parked vehicles.
If the lot is full, you can park across the road by the plantation building, but make sure all four tires and your mirrors are off the road.
There are sections marked with no parking beyond this point, please also abide by these signs' arrows, or you will again have a ticket on your vehicle when you return from one of the Caribbean's most beautiful beaches.
Trunk Bay Fees
Trunk Bay is the only beach within the Virgin Islands National Park that you must pay to enjoy.
$5.00 for Adults and children 16+ years old
$2.50 for Interagency Access and Senior Pass holders plus three guests
After enjoying the late afternoon and evening at one of the Caribbean's most gorgeous beaches, return along the North Shore Road to Cruz Bay.
Along your way, stop at the Cruz Bay Overlook (just before heading into town) and watch the bustling ferries transport visitors and locals between islands and charter boats.
The overlook is also a beautiful spot to watch the sunset if you are passing through during the golden hour.
Dinner at Ocean 362
Dinner at Gallow Point Resort's Ocean 362 means a creative dinner by artist chef Walter Hines and a chance to see one of St. John's spectacular sunsets from a table overlooking the ocean or head up to the upper-level bar to a high-top table for one of the island's best sunset views.
The island-to-table restaurant offers delicious mahi-mahi with mushrooms and racks of lamb.
However, as your first course, you should begin with the tomato tart tatin with fried pesto ice cream and ricotta salata. Ocean 362 offers a delicious key lime pie for dessert.
If you are driving into Cruz Bay for dinner, the Gallows Point has paved and gravel parking lots just east of the resort entrance for easy parking. Ocean 362 is closed on Tuesdays.
Address: 362 Strand Gade Estate, St John 00831
Day 2
Breakfast at St. John Provisions
Start your morning with a delicious breakfast biscuit, bacon, egg, and cheese English muffin or cinnamon roll from St. John Provisions.
Each morning (Monday – Friday), the staff at ST. John Provisions are baking fresh pastries, brewing coffee, and pressing fruit for juice for customers between 6:00 AM and 1:00 PM.
You may even want to pick up some Grab N Go items for a picnic lunch at Maho Bay Beach.
Address: 259 Contant St. John, 00830
Relax at Maho Bay Beach
Enjoy passing the beautiful overlooks again during your 20-minute drive from Cruz Bay to Maho Bay along the North Shore Road.
After you pass Trunk Bay, watch for the beautiful Cinnamon Bay and the Maho Bat Overlook, which is worth a stop.
Even though Maho Bay is not as crowded as Trunk Bay, it is not any less beautiful, and there are plenty of ways to explore the crystal-clear bay.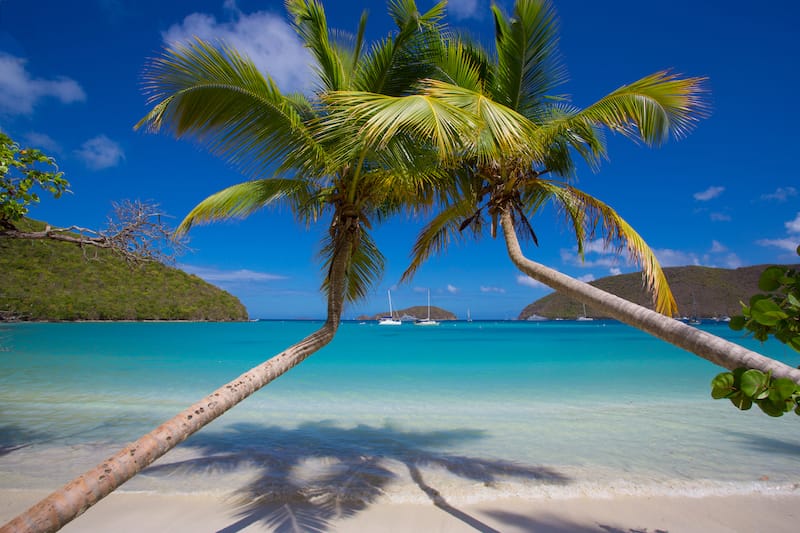 The long sandy beach is perfect for soaking in vitamin D, and the Reef2Peak shop, near the beach, rents snorkel equipment, paddleboards, kayaks, and even beach chairs and umbrellas.
If you rent a kayak, try heading to Whistling Cay or Francis Bay. Look out for the sea turtles as you snorkel or paddle around the bay.
The endangered Green Turtle, as well as Loggerhead and Leatherback turtles, often hang out here. Remember to give them space and never try to touch them.
Touching a Green Turtle is a felony offense. The turtles are usually around in the morning and late afternoon.
Besides the turtles, explore the waters for various fish and stingrays. There isn't much coral to see here at Maho Beach.
Maho Bay is a great spot for families to enjoy the water since Maho offers some of the calmest water around the island.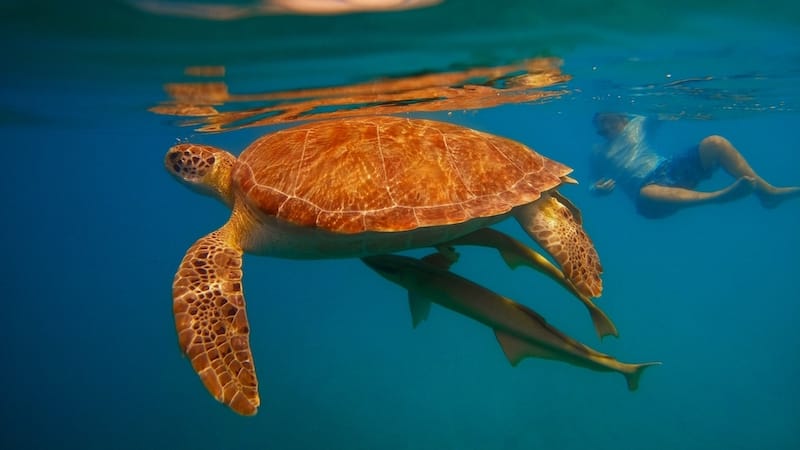 If you are looking for a mid-day snack or drink, several food trucks often hang out at the beach and tiki bar.
Parking at Maho Bay Beach is tricky, to say the least, on a busy day. Before you reach the beach, there are several parking spots before you get to Maho Crossroads.
You cannot park past the last structure because this is a nesting beach for sea turtles. There is also a parking lot opposite the tiki bar.
You can park along the roadway as long as all four wheels of your vehicle are entirely off the road if the lot is full of cars.
Enjoy Lunch at Maho Crossroads
Whether you need lunch or an afternoon snack after paddling around Maho Bay, Maho Crossroads has just what you need.
This outdoor complex across the street offers a variety of food stalls and a full bar at the Paddle-In Tiki Bar.
You can get a Painkiller, an island special featuring a mix of orange and pineapple juice with coconut mixer and more rum than a drink should have, paired with a Mahi sandwich, hot dog, or burger from the VW Bus food truck named Furthest.
Take a break from the beach and even play a lawn game at the Terrapin Beach Club or shop for a souvenir at the Love Maho Beach Boutique.
Maho Crossroads also has live music starting at around 2:00 PM most afternoons. Check their events calendar to see what is happening on the stage.
Address: 5000 Estate Enighed, Pmb 397, St John 00830
Go Shopping in Cruz Bay
After spending much of the day enjoying Maho Bay, explore the shops around Cruz Bay before dinner. A great place to begin exploring is Mongoose Junction.
Here you will find almost 20 different shops, including Sugar Birds, where you can find island hats, crafts, and gifts, and Made in St. John, a story where you can find unique St. John T-shirts. Then head over to Wharfside Village.
Along Cruz Bay's shoreline, this group of shops features Beach Gurl Designs, Turquoise Turtle, the Pink Papaya, and St. John Spice, where you can find all your Caribbean hot sauces, rubs, and spices.
All that shopping will work up some hunger and make you thirsty, so head over to The Long Board for dinner.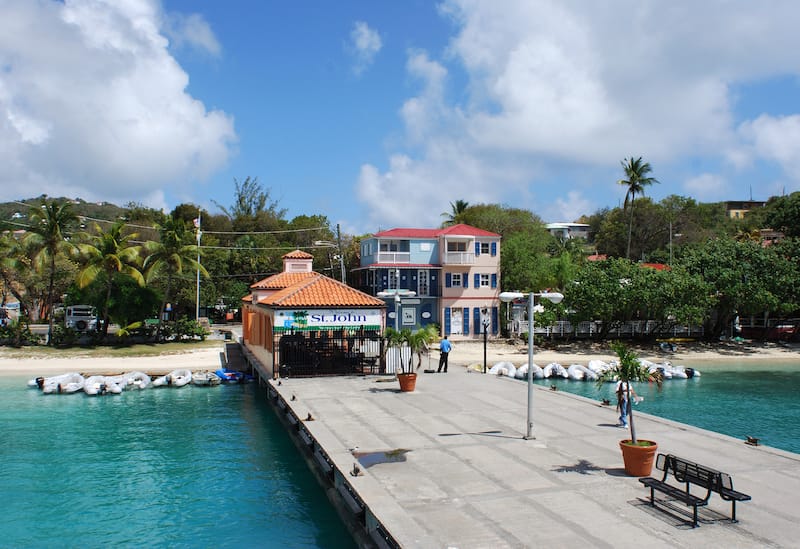 Have Dinner at The Longboard
The Longboard is just a block from the Cruz Bay Ferry Terminal.
It features an open-air restaurant where you can partake in a meal of poke bowls and shareable small plates made with locally caught seafood and local fruits and vegetables and prepared with a Caribbean twist.
Begin your meal with the cracked conch appetizer, and then enjoy the Caribbean Spice Bowl with spicy jerk seasoned pork or one of the ceviches served with yuca chips.
If they are offering lobster tacos, give them a try. They are so good that author Elin Hilderbrand featured them in her Paradise series.
Address: 2213-B Middle St, Sullivan's Island, SC 29482
Go Night Kayaking in St. John
Have you ever kayaked at night? Take the 45-minute tour with Night Kayak and watch the ocean waters begin to glow.
The 75-minute excursion begins on the beaches of the Westin Resort outside Cruz Bay, where you can deck yourself out in body paint that glows and glow sticks.
After some on-land time, paddle your clear-bottom kayak over the cove waters, where you can see tarpons and stingrays swimming below you.
Tours are at 7:00 and 8:30 PM daily, Sunday through Friday. There are no tours on Saturdays.
>> Click here to check night kayaking rates and availability
Have a Drink at Beach Bar
Make The Beach Bar your final stop for the evening.
After paddling around Great Cruz Bay for 45 minutes, you may need a drink and even a bite to eat.
Start with their version of the world-famous Painkiller or their famous Bushwack, an adult-only milkshake. They also feature St. John Brewers beers on tap.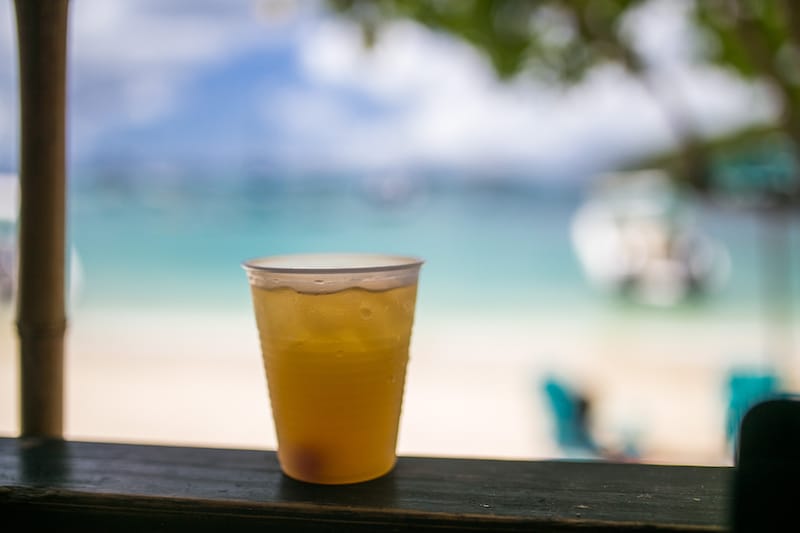 Need an appetizer, try the conch fritters or the Macho Nachos. If you need something more substantial, go for the juicy Beach Bar Burger or the fish basket with fries.
Most evenings beginning between 7:00 and 8:00 PM, you can catch some live music from the Beach Bar stage.
Check their schedule or even tune in to the webcam and enjoy the music from home.
Address: 4A Wharfside Village, St John 00831
Day 3
Have Breakfast at Cruz Bay Landing's Coffee House and Creamery
Begin your day at Cruz Bay Landing's Coffee House and Creamery.
You can get your caffeine fix here by ordering one of their signature VI Coffee Roasters brews or an Almond Joy or Salted Pretzel cocktail latte.
They also serve delicious smoothies, like the Island Berry with passionfruit, blueberries, and strawberries and the Surfin Strawberry with strawberries, peaches, and lemonade.
Enjoy a breakfast taco with sausage, fluffy blueberry pancakes, a meat lovers' omelet with bacon, ham, and sausage, or a breakfast BLT.
This family-owned coffee house also offers a lunch and dinner menu of shrimp, wings, and wraps with a 3:00 – 5:00 PM happy hour.
Stop in for creamy ice cream, a root bear float, a street waffle sundae, or key lime pie a la mode, and play a game of shuffleboard.
Cruz Bay Landing is open daily from 7:00 AM – 9:00 PM daily.
Address: 6 D Cruz Bay Town, St John, VI 00831
Explore the America Hill Great House Ruins
The Great House Ruins
The buildings on American Hill are said to be of Danish descent and date back to the early 1800s.
The great house was a guest house in the early 1900s for visitors to the island. Dominican Republic dictator Rafael Trujillo is believed to be one of the last house guests.
After being a guest house, the house became a run runners' headquarters during prohibition.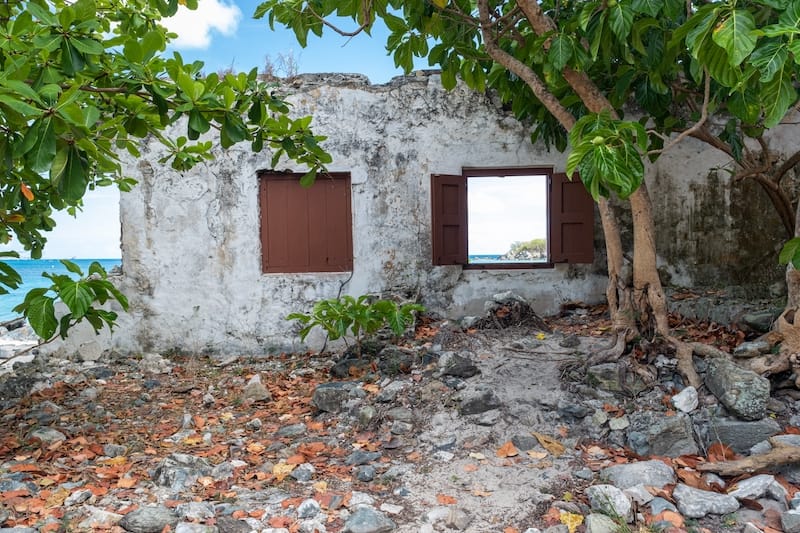 To the right of what remains of the main house, you will find what remains of the cook house, and to the left, the remains of the well and cistern.
Having the cook house away from the main house was a standard safety practice during the 1800s due to fires.
If your timing is right, you will find the America Hill Estate House covered in pink flowers since the island plants are taking over the house.
NOTE: Please adhere to the NPS warning signs to keep off the structures and out of the guest house due to unsafe conditions.
The Hike
The trail to America Hill is 6/10-mile one-way or 1.2-mile round trip.
The Cinnamon Bay Trailhead begins steeply up the stairs at the Cinnamon Bay Sugar Factory.
After about 200 meters, you will cross a gut and then come to the America Hill spur trail on your left, a former Danish connector road to Centerline and North Shore Roads.
Continue climbing 400 meters along America Hill Trail, and this section will take you through five switchbacks before reaching the Great House.
As you approach the Great House, you will find brilliant green foliage and beautiful pink tropical flowers worth a picture or two.
The View
You will find some fantastic views from the summit just past the house.
From here, you can look out over Francis and Maho Bay, and on a clear day, you may even get to see Tortola, BVI.
The Parking
You can park in a couple of spots along the road at the Cinnamon Bay Trailhead or at either of Cinnamon Bay Beach's two parking lots.
There is also one spot beside the sugar factory where you can park. Remember that if parking along the road, have all four tires off the pavement.
Explore Cinnamon Bay Beach
Since you're parked at Cinnamon Bay Beach, you might as well enjoy the afternoon at St. John's longest beach. Cinnamon Bay Beach never seems crowded due to its length, and Beachgoers spread out nicely to make it feel uncrowded.
The waters here in Cinnamon Bay are usually calm and perfect for snorkeling out to Little Cinnamon Beach, where you can find the remains of a wrecked plane.
As you snorkel, be observant of the turtles that like to feed here; however, while on the beach, watch for the deer that come out of the woods in the early morning and late afternoon.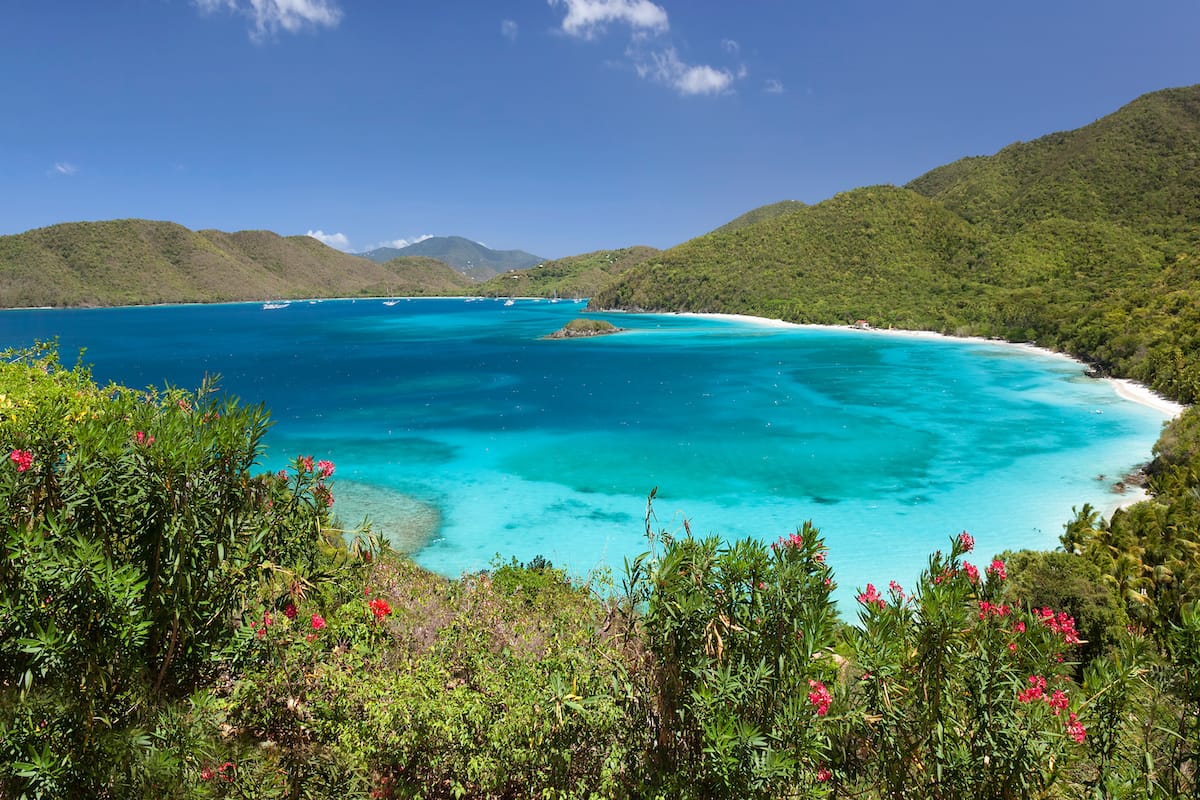 Cinnamon Bay's long beach is an excellent place for a beach stroll, or you can take the more challenging hike over to Little Cinnamon Beach, where you will find a lovely little secluded beach.
As you are walking, look up on the left side of the bay to see the iconic views of Peter Bay's mansions.
Since Cinnamon Bay is one of the more popular beaches on St. John, there are bathroom facilities and food trucks, and Cinnamon Bay Water Sports has chairs, umbrellas, snorkel gear, and kayaks for rent.
Enjoy Dinner at La Tapa
La Tapa, located in Cruz Bay's Wharfside Village, is a contemporary Mediterranean restaurant that offers guests seating with views of the harbor and a chance to see a magnificent sunset over the beach while dining.
La Tapa's owner and executive chef, Alexandra Ewald, changes the menu nightly. If offered, begin with the boquerones or seared foie gras with grape-gewurztraminer compote.
Then continue to your main course of steak or fish, including local mahi, gigli pasta with shrimp and bacon, or seafood and spice sausage risotto. Save room for some of the best desserts on the island.
The apple tarte tatin with lemon lavender ice cream and the chocolate cake with carajillo ice cream are exceptional.
La Tapa is open each evening, beginning at 5:00 until 9:30 PM.
Address: Cruz Bay, St John 00830
Take a Stroll along Cruz Bay Beach
After dinner, stroll along Cruz Bay Beach, the waterfront, and the marina.
The sun setting over the water and behind the boats is beautiful and one of my favorite spots on the island to watch the sunset.
Have a Beer at St. Johns Brewers
When you have a taste for a local beer, head up to the 2nd floor of Mongoose Junction, where you will find brewers and founders Kevin Chipman and Chirag Vyas.
The former University of Vermont roommates left their jobs in 2004 as a NASA scientist and physical therapist to brew tasty concoctions for what is now known as St. John Brewers.
St. John Brewers is a small craft brewery that makes a variety of beers onsite.
Visit their Tap Room for a Juicy Booty Hazy IPA, Tropical Mango Pale Ale, or a Chocolate Hole Stout.
The Tap Room features all their latest features, seasonal brews, and their core beer. Many of their beers have a tropical fruit flavor since the island has plenty of fruit.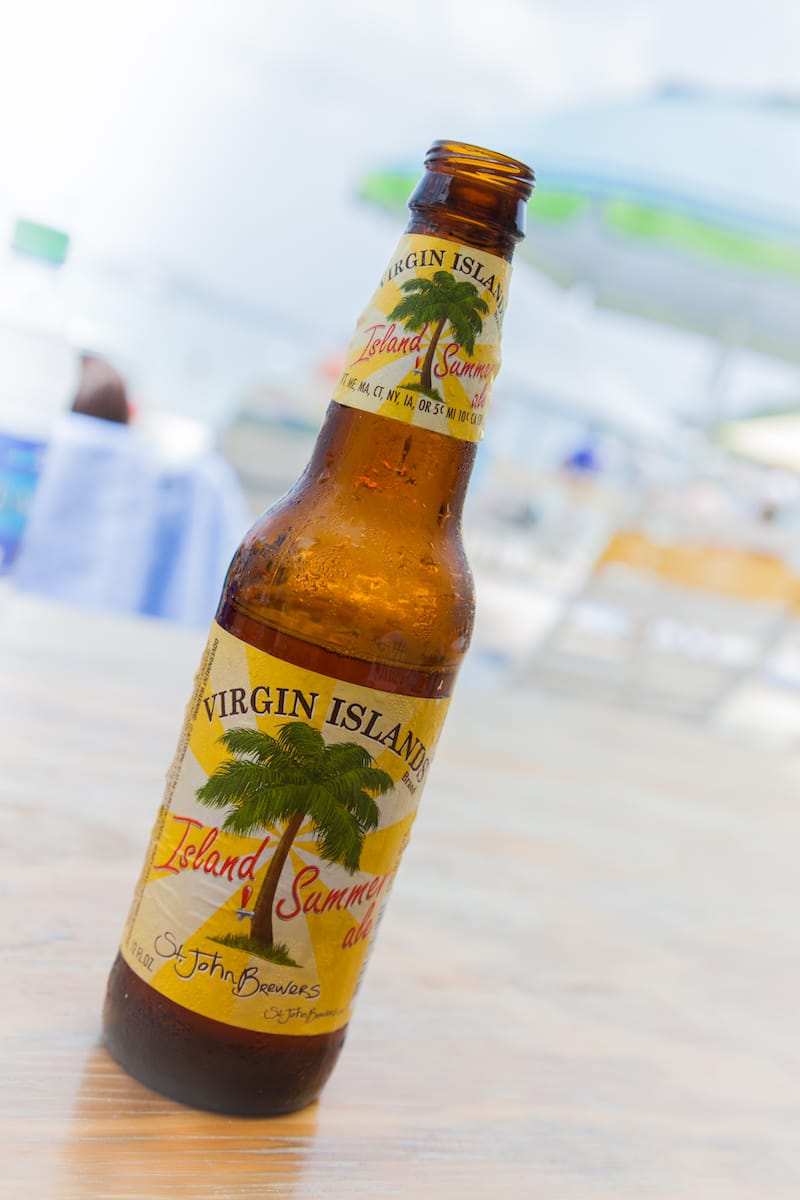 Not a drinker? Still, head to St. John Brewers and try one of their handcrafted sodas.
The Green Flash is an energy drink, and they also have two classics – root beer and ginger beer, both non-alcoholic.
The Tap Room menu includes all your favorite pizzas, wings, nachos, burgers, tacos, and soft pretzels with dip.
Hours: The Tap Room is open daily from 11:00 AM until 11:00 PM, while the kitchen closes each evening at 9:00 PM.
Their Brewtique Store, with all their t-shirts, cups, and souvenirs, is located on the first floor of Mongoose Junction and open from 9:00 AM – 9:00 PM daily.
Address: Mongoose Junction, 2nd Floor, St John 00830
Day 4
Fuel Up with Breakfast at Sun Dog Café
Sun Dog Cafe offers diners an open-air courtyard where you can sit and eat on marble tables under green umbrellas, and people watch the center courtyard at Mongoose Junction.
The brunch menu, served from 9:00 AM – 12:00 PM, features stuffed French toast, eggs benedict, breakfast quesadillas, and burritos. Spice up your breakfast a little with $25 Bottomless Mimosas and $8 Bloody Marys.
Sun Dog Café is not just for breakfast.
They also serve a terrific Jamaican jerk chicken salad and white pizza with artichoke hearts for lunch and dinner. Wednesday and Friday nights, your dinner comes with live music from 6:00 – 8:30 PM.
Happy hour is from 3:57 – 6:00 PM, with domestic beer, Island Painkillers, and Bushwackers all on sale.
For those guests needing gluten-free or vegetarian options, their menu is well-marked for your convenience.
Address: St. John, 18 Mongoose Jct o2, Cruz Bay, 00830
Explore The Annaberg Plantations Ruins
Before heading to the beach at Waterlemon Cay, do some exploring.
The Annaberg Plantations Ruins, one of the many sugar plantations that used to dot St. John and were run by slave labor, is just up the road.
The Annaberg Plantation was 518 acres and had at least 16 cabins for enslaved people in the early 1700s when the first Danish Governor of St. Croix, Frederick Moth, was the owner.
In the early 1800s, they produced sugar, exported rum, and made molasses.
As you wind around the plantation along the 2/10-mile trail, you will find signs about plantation life, the sugar production process, and the history of St. John's sugar plantations.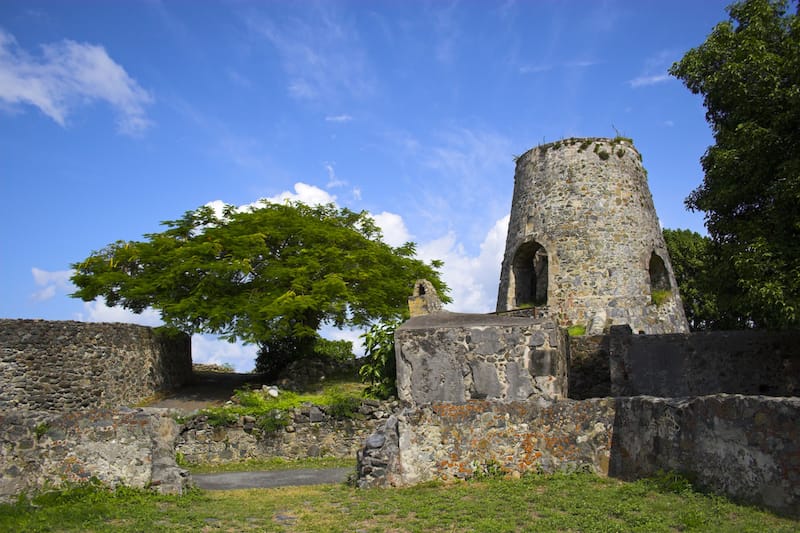 The ruins of the plantation include the remains of the factory, rudimental slave quarters, and one of the largest windmill towers on the island. There are also pieces of rusting equipment from the plantation's hay days.
Annaberg Sugar Plantation is the best preserved of the 25 sugar mills that dotted the island.
As you explore the ruins, take time to hike some of the trails going away from the plantation. Many of them lead to spectacular views of Waterlemon Bay and the island.
To get a unique picture of the ruins, arrive before sunrise and watch the sun rise from behind the sugar mill.
Walk Along the Leinster Bay Trail to Waterlemon Cay
Retrace your steps 1/10 mile down the road to the parking area for the Leinster Bay Trail. The parking lot also has bathrooms.
Then cross the street and follow the flat, 0.8-mile-long Danish Road around Leinster Bay to Waterlemon Cay and the narrow beach.
If you continue on the trail through the opening in the trees past the beach, it will bisect the Johnny Horn Trail at a large boulder in the middle of the trail.
Here you will take a left and climb up to the Windy Hill Greathouse Ruins, which includes the guard house and the Murphy Great House.
From this vantage point, you will have an excellent spot for a picnic with views of Tortola and the Sir Francis Drake Channel.
Enjoy Beach Time at Waterlemon Cay
If I only had time to snorkel in one spot on St. John, Waterlemon Bay out to Waterlemon Cay would be my go-to spot.
After hiking in with all your beach paraphernalia, there are no amenities here except the bathrooms where you parked; you will find a narrow beach.
The beach is not the best or most extraordinary; however, those who do come, come for the fantastic snorkeling opportunity around Waterlemon Cay, a tiny island in the middle of a coral reef.
When we have snorkeled to the cay, we have always begun at the beach since there is plenty of fish to see in the shallow waters along the right-hand side.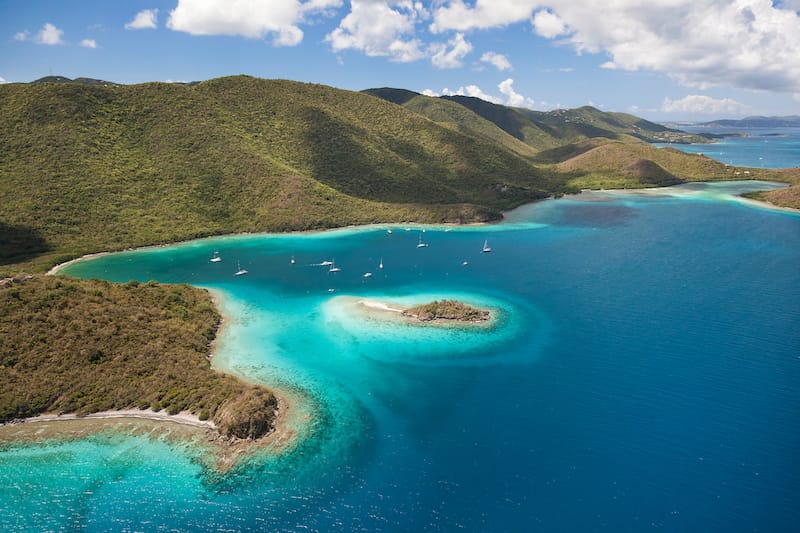 Starting from the beach makes for a longer swim, but it is worth swimming over the seagrasses to see the rays, turtles, and fish.
Once you get past the seagrass, the water gets deeper, and you will find a fantastic collection of starfish.
As you reach the cay, swim around the island and enjoy the beautiful coral field, including colorful purple swaying fans, brain, elkhorn, pillar, and Mustard Hill coral.
Note: Be careful as you come around the back side of the cay. You may find strong currents; if so, relax and swim at an angle if you find yourself in these currents.
Snorkel vests are also an excellent option in case you get tired.
The advised way is to swim counterclockwise around the cay, but it all depends on the current and winds.
If you need a break from swimming before swimming back across Waterlemon Bay, take a break at the tiny beach on the cay.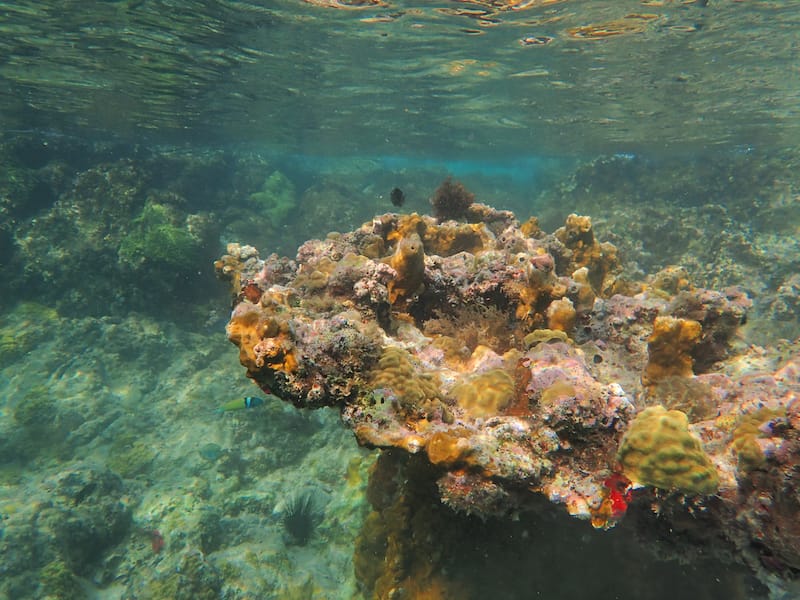 The second way to snorkel around the island is to continue walking down the Leinster Bay Trail past the beach until the shore becomes rocky.
You can enter the water here and be closer to Waterlemon Cay's beautiful underwater world.
Even though this is an off-the-beaten-path beach, you will be one of many here since it is one of the top places to go on St. John.
End the Day with Dinner at Zozo's
After driving the North Shore Road to Caneel Bay, you must go through the area where the luxurious Caneel Bay Resort once stood before the 2017 hurricanes destroyed it and much of the landscape.
Since that fateful summer, Zozo's owner John Ferrigno has rebuilt the restaurant from scratch, which reopened in December 2020.
Today you can enjoy a four-course al fresco waterfront dinner of seafood, Italian, and Caribbean cuisine as you enjoy the changing sky as the sun sets.
The menu is prix fixe and features a second course of mango salad, prime steak with risotto, or gnocchi.
A seafood melody, hot sausage, tilefish with roasted broccoli, or Osso Buco with grilled asparagus follow the second course.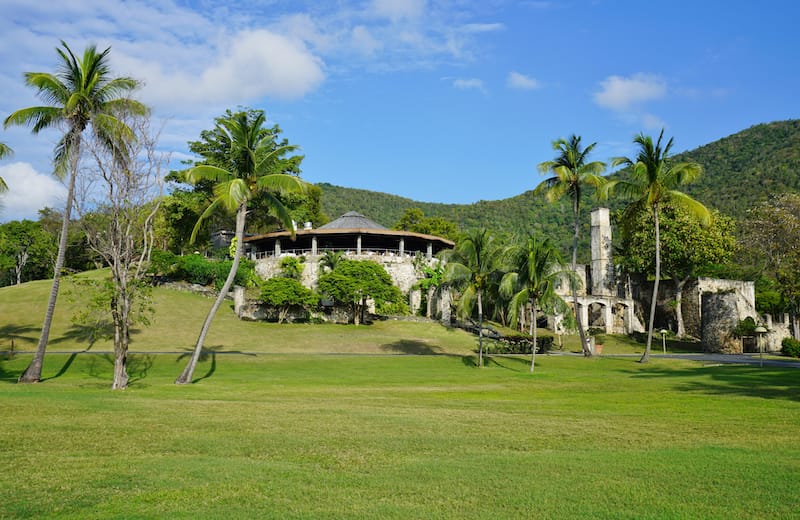 Dessert will entice you with the chocolate mousse with raspberries, ricotta with peaches, mango sorbet, or a budino custard with caramelized bananas.
Zozo's offers designated seating times each evening, Sunday – Friday, at 6:00, 6:30, 7:00, and 7:30.
Dinners cost $140 per person and last for 2½ – 3 hours.
Zozo's also offers roundtrip private boat services from the National Park Dock in Cruz Bay to the Caneel Bay dock for $250 for up to eight passengers.
Here are a few things to know before dining at Zozo's:
Reservations are accepted up to 30 days in advance.
The restaurant does not permit children under five on the premises, and no children's menu exists.
Zozo's menu does not have a vegan option.
Address: Salomon Bay Rd, Caneel Bay, St John 00831
Day 5
Have Breakfast at North Shore Deli
Begin your day at Mongoose Junction's North Shore Deli.
The deli is the perfect place to have a delicious breakfast of corned beef hash, French Toast, veggie frittata, or the North Shore Scramble with sausage.
They also serve some tasty drinks, including blueberry Bliss and Passion fruit smoothies.
Their menu and pre-packaged items note if items are vegan.
Before you leave, check out their grab-and-go selection to take with you to snack on during the Reef Trail hike.
This family-run deli opens at 7:30 AM each morning and closes at 4:00 PM, except on Sundays when they close at 3:00 PM. Breakfast is served daily until 11:00 AM.
Address: St John, N Shore Rd, Cruz Bay, St John 00830
Take the Reef Bay Trail Guided Hike with a National Park Ranger
Taking the guided Reef Bay Trail hike with a National Park Ranger is one of the best and easiest ways to explore this section of the VI National Park.
The 6½ hour tour begins at the National Park Headquarters in Cruz Bay, where you will take the NP bus to the trailhead on Centerline Road.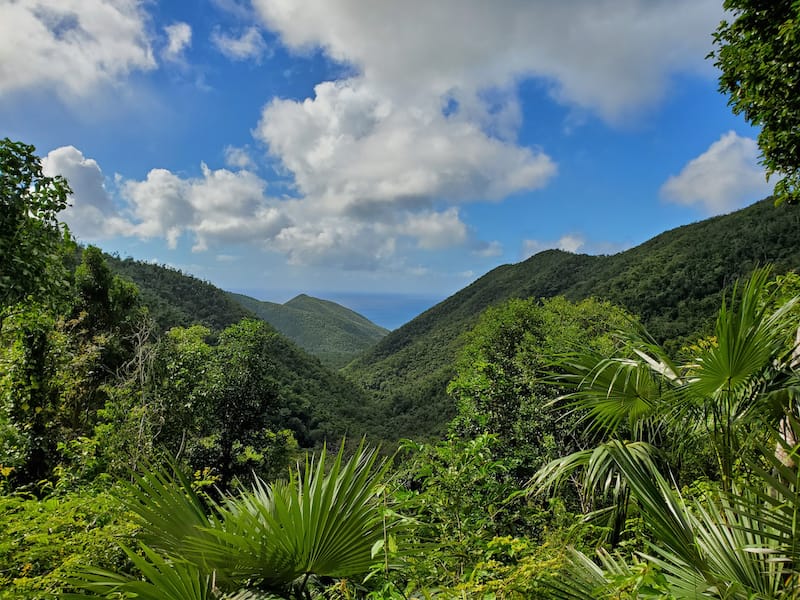 The ranger will lead you three miles down the Reef Bay Trail through the tropical forest while frequently stopping to give you a bit of history about the area.
The trail quickly descends 1,000 feet.
Luckily with the guided tour, you do not have to walk back up to Centerline Road like you would if you explore the trail on your own.
Along the trail, you will see various native plants, petroglyphs along the Petroglyph Trail spur trail, and the remains of a sugar mill built in the 1800s and used until the early 1900s.
At the sugar mill site, the main factory building features some equipment.
Around the sugar mill site, you will see signage that explains pieces of the site.
After passing the Reef Bay Sugar Factory, the trail ends at Reef Bay Beach along Reef Bay. Here, you will catch a boat and enjoy a 40-minute cruise back to Cruz Bay.
The southern coastline of St. John is beautiful along the route and is a great way to see this part of the island.
Tour Time: 8:45 – 3:00 – Check the Virgin Island National Park calendar for the hike schedule.
Tour Cost: $75/person
End the Day with Dinner at The Banana Deck
The Banana Deck is located on Bay Street, not far from the ferry dock and across the road from Wharfside Landing.
Its open-air dining room offers a great view of Cruz Bay Beach and the boats in the marina.
Known for its hand-cut Ribeye steaks, the Banana Deck also has juicy burgers, salads, Caribbean chicken, scallops au gratin, and other island delicacies.
The only requirement is to leave room for dessert. The Xango, a tortilla filled with banana cheesecake and then deep-fried with ice cream al a mode, is to die for.
The Xango is my go-to dessert when on St. John.
On Thursday and Sunday evenings, The Banana Deck has live music.
Address: Bay St, Cruz Bay, St John 00830
Day 6
Start the Day with Breakfast at High Tide
Begin your day with a beautiful view of Cruz Bay as you enjoy breakfast of cinnamon French toast, eggs benedict, biscuits, and gravy, or an omelet while you sip one of High Tide's mimosas or breakfast cocktails.
High Tide is in the Wharfside Landing complex, and they begin serving breakfast at 8:00 each morning.
Address: 4-B Wharfside Landing Cruz Bay, St John 00830
Visit Peace Hill Windmill
Begin today's exploration with a 100-meter hike to the Peace Hill Windmill.
The ruins of the old stone windmill offer a panoramic view down onto the North Shore Beaches of Hawksnest and Oppenheimer Beaches and Caneel Bay.
Look out into the ocean and see if you can find St. Thomas, Jost Van Dyke, and Tortola, BVI.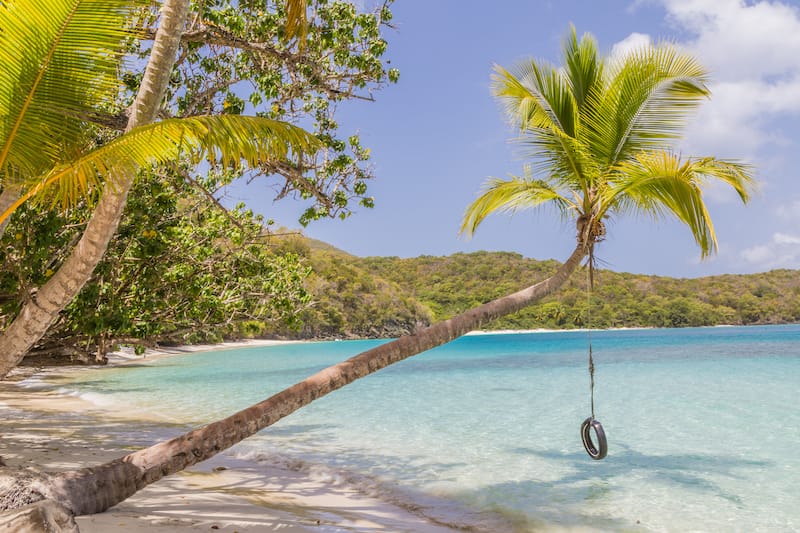 Don't be alarmed that the St. John donkeys may be there to say hello when you get up there.
It is one of their favorite places to hand out, so watch your step if you know what I am saying.
Parking:
A small, paved parking lot is at the Peace Hill Windmill sign, so you can easily find a parking place.
Relax at Hawksnest Beach
Seagrape trees shade Hawksnest Beach's narrow, sandy shoreline and offers the perfect place to enjoy the beach and catch some afternoon shade.
Not only will you be in awe of the emerald foliage, turquoise water, and the white sandy beach here at Hawksnest, but the landscape and the view are amazing.
The one downside of Hawksnest Beach is that the bay faces east, and the water is rougher here than on other beaches around the island.
Snorkelers will find some coral along the shallow reef in the center of the beach, where you can see the waves breaking.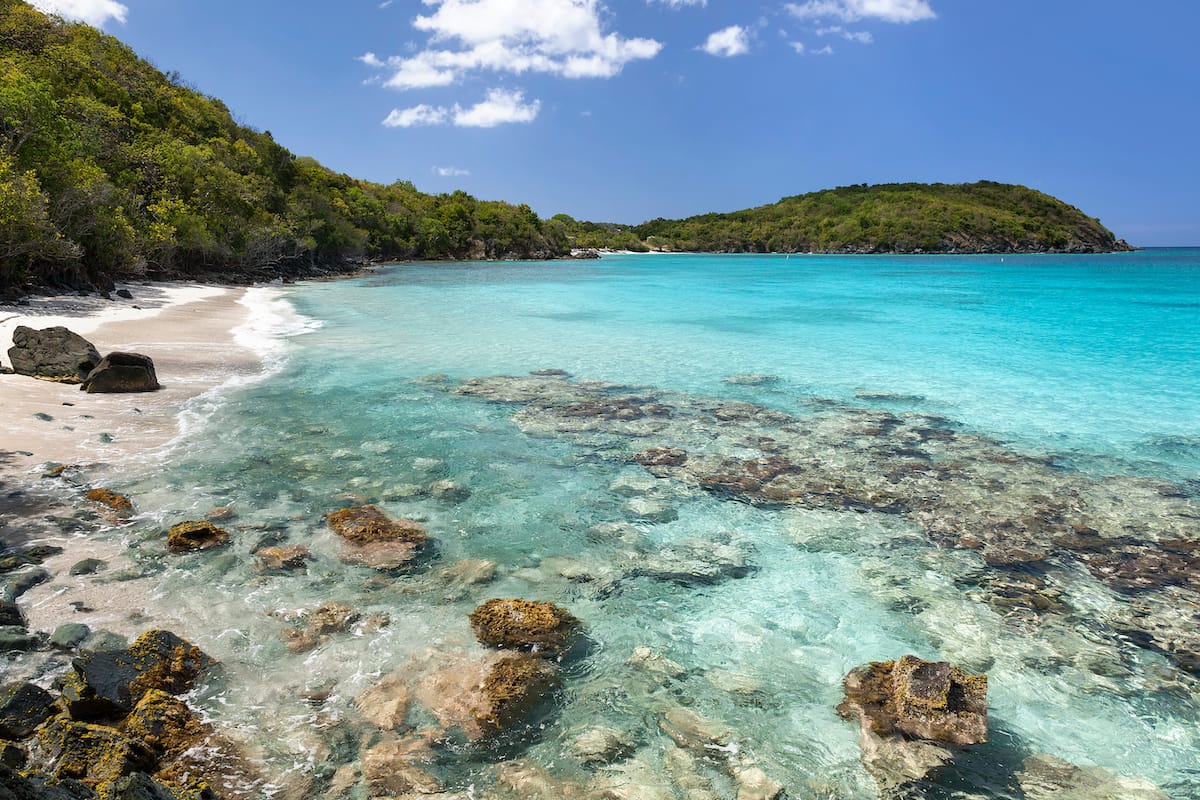 When you snorkel on either side of the waves, you can see Elkhorn and Mustard Hill coral, various colorful fish, and even an occasional turtle.
In the evening, Hawksnest Beach is the perfect place to watch the sunset.
The Hawksnest Beach offers visitors a covered picnic shelter and pit toilets.
Parking at Hawksnest Beach
Not only does Hawksnest Beach have a parking lot, but you can park on the beachside of the road before or after the lot if it is full. Just remember to make sure all four wheels are off the road.
While in the parking lot, check out the beautiful blooming Flamboyant trees if you visit in the spring or summer.
Stop at the Coral Bay Overlook
Be sure to stop at the Coral Bay Overlook before driving to Coral Bay for two days of fun on St. John's east coast.
The Coral Bay Overlook is located along Centerline Road, 0.7 miles east of the North Shore Road junction.
At this pull-off, enjoy the Caribbean blue water and the boat harbor of Coral Bay from above.
Have Dinner at Skinny Legs Bar and Grill
While visiting Coral Bay, stop in for a dinner of delicious burgers and a painkiller cocktail at Skinny Legs Bar and Grill.
The divey beach bar is one of the best places to get a painkiller cocktail made the authentic way, like in the Jost Van Dyke, BVI Soggy Dollar Bar with Pusser's dark spiced rum, orange and pineapple juices, nutmeg, and cream of coconut.
Be sure to ask for the dark-spiced rum version to get the official Pusser's Painkiller.
Dougie Sica and Moe Chabuz opened Skinny Legs, an open-air bar and grill with delicious food and drinks, in 1991.
In 2012, after 12 years of working at Skinny Legs, Doug Bean and his wife Jaime Elliott bought the business, which is famous for its burgers and has made the Top 100 bars in Esquire Magazine and, in 2022, the Travelers' Choice award.
The mouth-watering, ½-pound juicy burgers come in three varieties – plain, with cheese, and the blue cheese burger, which is quite tasty. They also have a burger of the day special.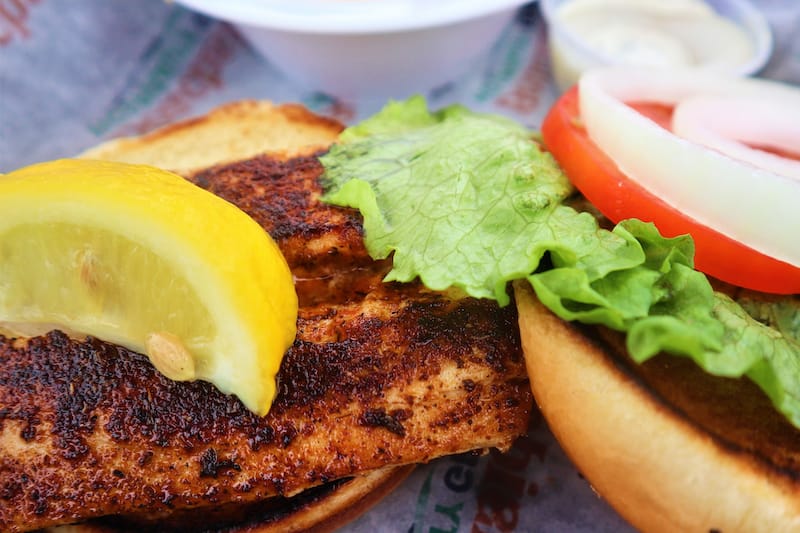 If you're not hungry for a hamburger, they have a veggie burger, Reuben, and a grilled chicken or mahi mahi sandwich.
All sandwiches as served with chips. No French fries are on the menu here.
For dessert, you will only want to leave after enjoying their deliciously tart Key Lime pie.
While dining, catch your favorite sports game on one of their TVs or enjoy a game of horseshoes.
They also have live music throughout the week, so check their website to see who will be playing and when.
Skinny Legs is open Tuesday through Sunday for lunch and dinner from 11:00 AM until 8:00 PM.
Address: 9901 Estate Emmaus, St John 00830
Browse Around at Mumbo Jumbo
While waiting for your food at Skinny Legs, or after that last bite of key lime pie, head over to Mumbo Jumbo, which is attached to the restaurant, for a new t-shirt, swimwear, or a souvenir.
Day 7
Have Breakfast at Love City Café
Stop at Love City Café, which opened in 2021 in a shipping container.
Here you can start your morning with some of the owner Brenda's delicious Virgin Islands Coffee Roasters' coffees, cappuccinos, and chai teas.
Then try to decide which of owner Anne's homemade breakfasts you want to enjoy. She offers fresh muffins and sweet bread along with breakfast sandwiches and wraps.
Need to get food for a day at the beach? Order a breakfast basket for two with coffee or non-alcoholic beverages, two sandwiches, and a sweet treat.
They also offer a lunch basket with a sandwich, a non-alcoholic drink, and chips.
The Love City Café's hours are 7:00 AM – 3:00 PM daily but are closed on Sundays and Wednesdays.
Address: Rte 107, St John 00830
Hike the Ram Head Trail to Salt Pond
The hike to take in the Coral Bay area is the Ram Head Trail. Take the trail to the Salt Pond beach from St. John's southernmost peninsula's dirt parking lot.
At the end of the beach, turn right onto the scenic Ram Head Trail.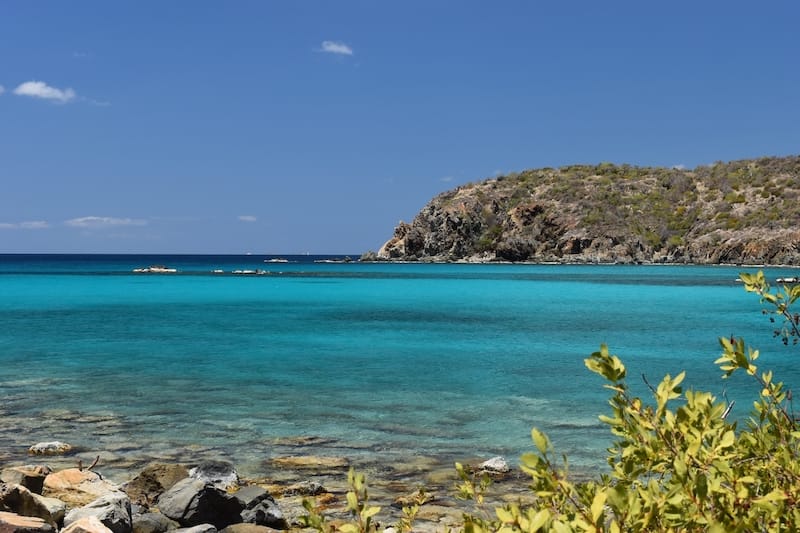 Along the rugged 2.3-mile trail, you will have fantastic sea views, hike along the rocky Blue Cobblestone Beach, and through a unique cactus-covered landscape.
Once you get to the end of the trail and you are standing on the rock formation known as Ram Head, you will have a magnificent 180-degree view of blue ocean waters.
On clear days you can see St. Croix and the BVI.
If you want an additional challenge, hike the Ram Head Trail before dawn and watch the sunrise from the peak.
Spend the Afternoon Relaxing at Salt Pond Bay, the Salt Pond, and Drunk Bay
Since you have ventured to this out-of-the-way point of St. John, spend the day here after hiking to Ram Head.
On your return trip from Ram Head, continue past the Salt Pond, do not turn left to Salt Pond Beach, and enjoy some time at Drunk Bay.
Here you will find a rocky beach unprotected from the mighty Atlantic Ocean.
The beach has a lot of broken pieces of coral scattered around, and you will also find Jumbies, or coral cairns and figures that people have made.
Even though rougher, the water here is crystal clear and perfect for a refreshing dip after the rugged hike.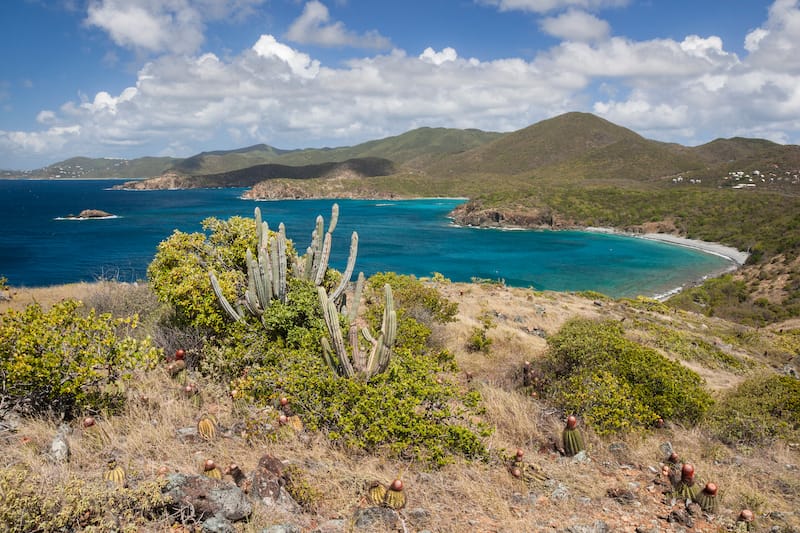 The Salt Pond is along a short trail past Salt Pond Beach. Here, swampy waters appear brown, and foamy salt forms around the edges.
The Salt Pond is the perfect place to have a Do-It-Yourself spa day since the mud in the salt pond is mineral-filled.
Rub mineral-filled mud over your body, then return to the beach and let the sun dry the mud before rinsing off in the bay.
If you visit Salt Pond during one of St. John's drier and windy periods, you can even harvest fresh salt from the pond.
Salt Pond Bay is beautiful, and the crystal-clear water is a great place to do a bit of snorkeling.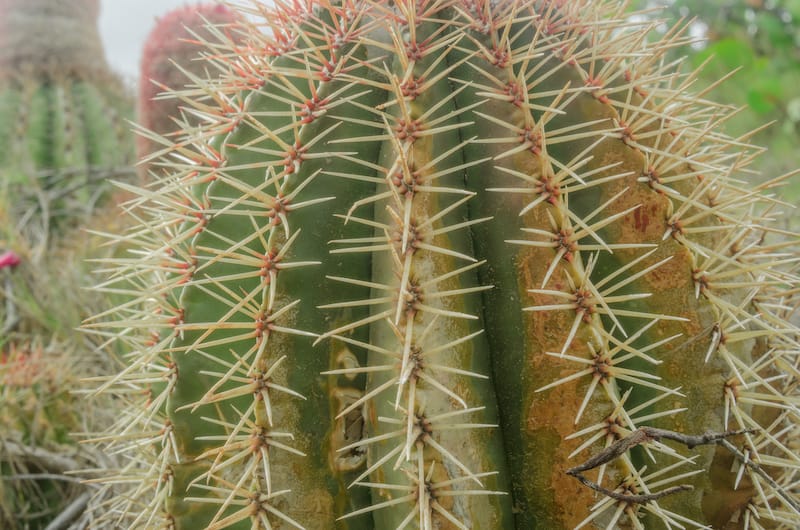 The best places to snorkel here are around the rock in the middle of the bay.
Watch for sea turtles who feed in the seagrasses near the shore.
The crescent-shaped white sand beach usually has a nice breeze and shallow water access.
Have Dinner at Miss Lucy's
Miss Lucy's, situated right on the water of Friis Bay, is just a mile north of the Salt Pond parking lot and south of Coral Bay.
Grab a table under the mangrove canopy close to the lapping bay waters for a terrific view.
Here you will enjoy a contemporary flair of Caribbean food, such as an appetizer of callaloo soup or conch fritters followed by an entrée of fresh grilled mahi-mahi or fried local fish or paella with sausage, chicken, and seafood over saffron rice, served with plantains or okra.
If your schedule allows, Miss Lucy's also has a lovely Sunday brunch from 10:00 AM – 2:00 PM that usually has a waiting line very quickly after opening.
The brunch menu includes crabcake Benedict, conch fritterdict, and pain perdu.
Thursday evenings from 5:30 – 9:00 PM Miss Lucy's has an open mic night for guests, and during every full moon, there is a Full Moon pig roast from 6:00 – 9:00 PM, which is excellent.
This legendary restaurant was opened in the late 1970s by the late Lucy Smith-Prince, St. John's first female taxi driver and entrepreneur.
Address: Route 107, Friis Bay, U.S., St John 00830
Day 8
Enjoy Sunrise at Coral Bay
Nothing could be better than watching the sun rise above the ocean horizon from Coral Bay.
Grab a cup of coffee, sit, and watch as the island sees the first light of a new day.
Shop at Coral Bay
Coral Bay has fewer shopping opportunities than Cruz Bay, but there are some shops that you will want to explore while on this end of the island.
The SJVI Pottery shop is full of products that local artists have made on St. John.
The gallery includes unique home décor items, vases, mugs, and bowls.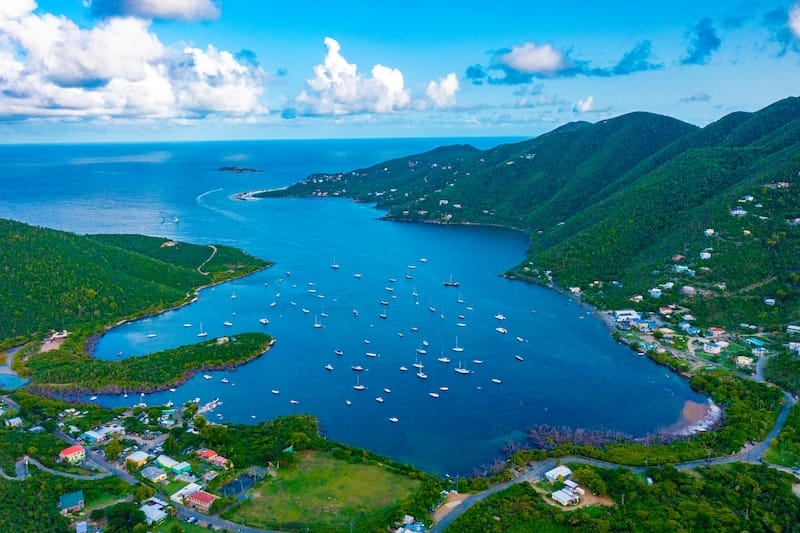 The shop also offers a variety of adult and children's classes that you can participate in. Check out their website for what is being offered.
The potter shop is open Monday through Saturday from 10:00 AM – 4:00 PM.
In the Isola Shoppes, you will find souvenirs and jewelry at Zemi Island Designs and various t-shirts and hats at the Jolly Dog.
Go to Famous Lime Out for Lunch
Lunch at Lime Out will be one of your most memorable meals on St. John. Lime Out is a floating taco stand in the middle of Coral Harbor, and you will need a boat or take the Salt + Lime Express to the floating tables.
The Salt + Lime Express runs from the Salt Deck five times daily, except on Saturdays when Lime Out is closed.
Each round trip lasts about two hours, leaving at 10:30, 11:45, 12:45, 1:45, and 2:45.
The shuttle is $30 per person, and reservations are highly recommended.
Once you arrive at the floating 39-foot restaurant surrounded by floating tables and a swim-up bar, enjoy a cold rum drink or a St. John Brewers ale and a Caribbean-style taco full of fresh ingredients created by Chef Amaro Rivera.
Note: You cannot swim or snorkel to the Lime Out pontoon.
Address: West Fortsberg Coral Bay, St John 00831
Stop at St. John Scoops for Some Homemade Ice Cream
Drive back to Cruz Bay, return that rental car, and get your final St. John snack before jumping on the ferry.
St. John Scoops, located in Mongoose Junction, is the perfect place to say farewell to your island vacation.
Here you can choose between more than 20 flavors of ice cream, frozen yogurts, sorbets, smoothies, and slush puppies.
St. John Scoops makes delicious island flavors like passionfruit, mango, and guava right on St. John.
However, they also offer adult-only ice cream like the Blue Chair Bay Rum Cream and Soggy Dollar Painkiller sorbet or ice cream.
Address: St. John, Mongoose Jct, Cruz Bay, St John 00831
Did we miss any essentials for a St. John itinerary? Let us know your top things to do with one week in St. John!
More USVI Travel Guides
Pin this 7 Days in St. John Road Trip Itinerary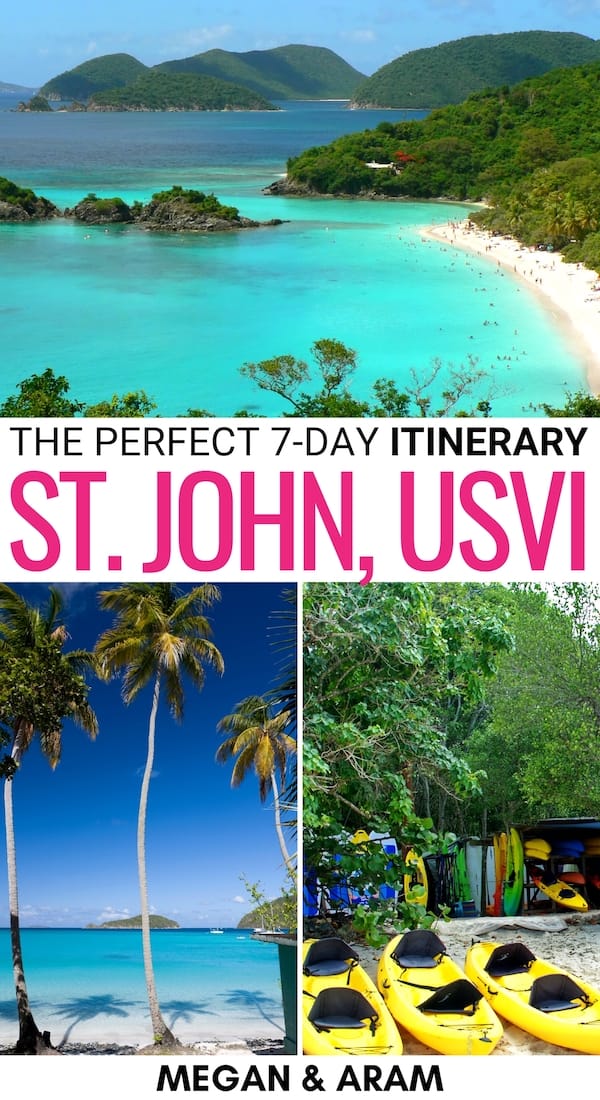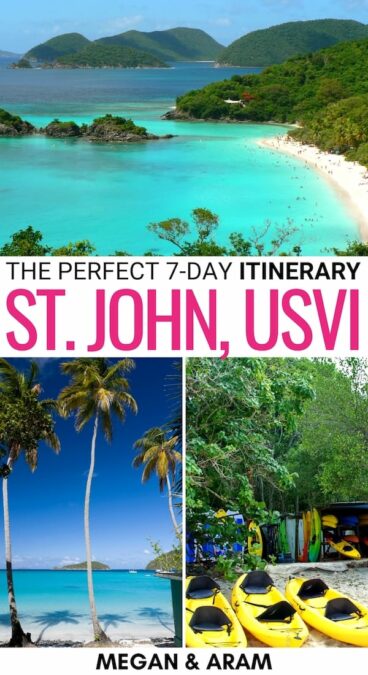 Laura Gray is a travel blogger and retired teacher. She is from Western Pennsylvania but has lived in Virginia for the past 30+ years. During the summer months, you will find her enjoying the beach in her hometown when not out on an adventure. Laura thrives on creating itineraries to make the most of each place she visits. She enjoys exploring National Parks (Laura has explored 1/3 of all the US National Parks), waterfalls, and beaches. Her travel blog posts have been featured on nearly a dozen sites.