One of the main reasons people visit the US Virgin Islands is to check out those gorgeous St. Thomas beaches! This guide uncovers the best beaches in St. Thomas!
Are you planning your trip to

St. Thomas

last minute?
If youʻre booking your trip to St. Thomas last minute, we have you covered. Below are some of the top tours, hotels, and more!
🇻🇮 Top Tours on St. Thomas and the USVI:
🛌 Top Accommodation and Lodging in St. Thomas:
Point Pleasant Resort (4-star)
🚗 Looking for the best way to get around St. Thomas? Click here to check rental car rates for USVI!
From famous Magen's Bay Beach to Lindquist Beach at Smith Bay Park, there are so many amazing places to enjoy the waters of St. Thomas.
Did we miss any of the most beautiful beaches in St. Thomas, in your opinion? Let us know in the comments!
Best Beaches in St. Thomas
1. Sapphire Beach
Sapphire Beach is a destination worth checking out for its pure white sand and sea grape trees along the beach. Visiting is one of the best things to do in St. Thomas!
The famous beach near Red Hook is part of one of the most crowded beach resorts, Sapphire Beach Resort, which has become the main reason for having such a developed infrastructure with lots of fun things to do.
There is also the Sapphire Beach Bar with live performances and an open-air grill bar for snacks.
For activities, find a water sports booth on the beach to rent amenities for windsurfing, kayaking, and snorkeling.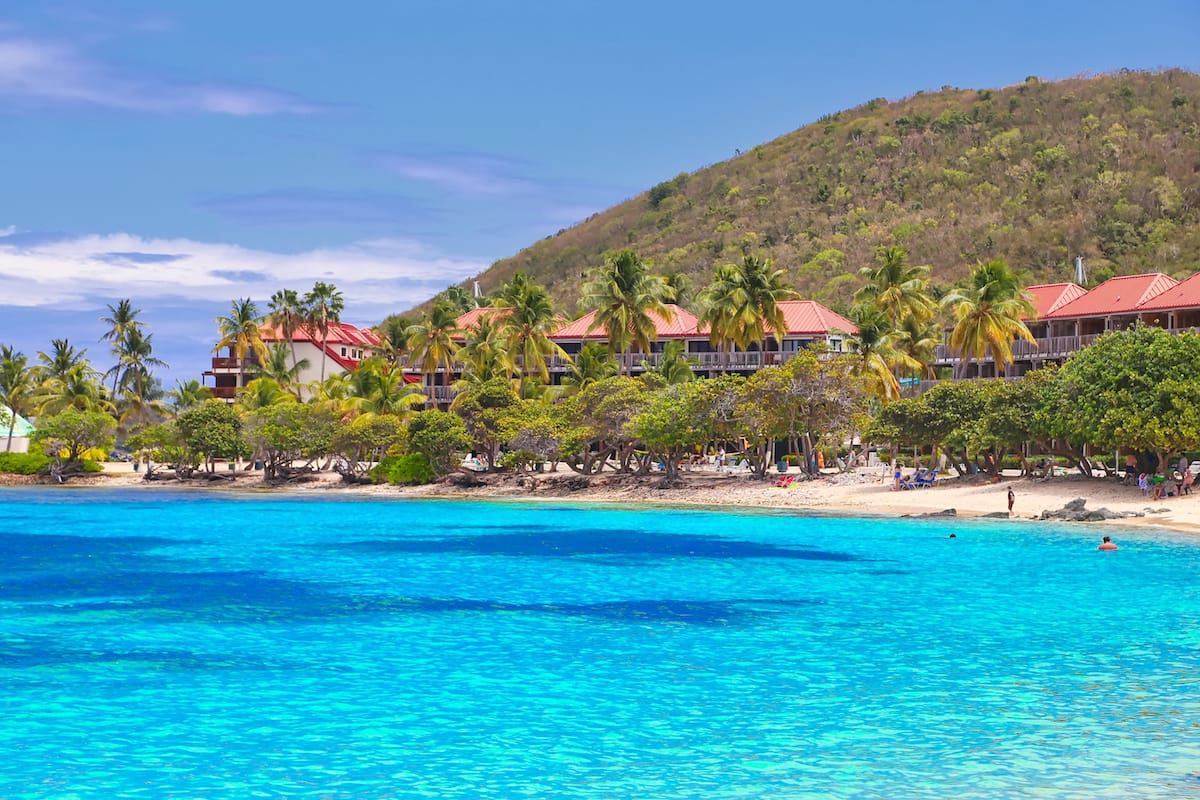 You can also take private snorkeling tours on a boat to spot rich marine life and coral reefs (some of the best in the US!).
The on-site marina also offers some of the best-rated St. Thomas tours by boat along the bay, jet skis, and parasailing.
When strolling along the western side of the bay, watch out for iguanas hiding in the rocks.
2. Magens Bay Beach
Known as the most "Instagrammable" or photogenic beach in the Virgin Islands, Magens Bay Beach is worth a visit for a symbolic entry price of $2 for residents and $5 for non-residents.
The beach has one mile of white sand and pristine water, adored by leisure seekers.
The water is generally calm with no current, making the beach perfect for family vacations and swimming.
The bay deepens gradually to the rocky coast, making the beach perfect for snorkeling.
For other activities, you can find a water sports booth to rent sunfish, kayaks, paddle boats, or beach chairs for sunbathing.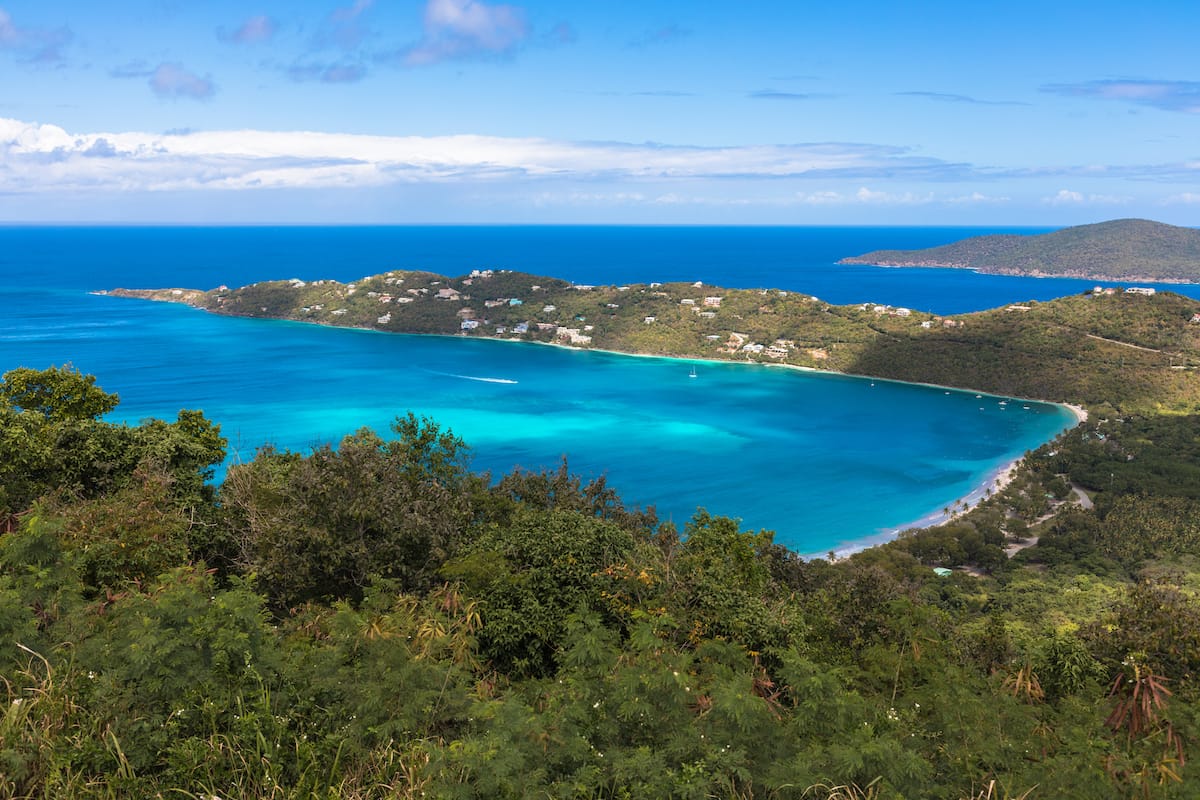 Look for a line of colorful boats on the beach, and you will see the booth.
Snacks and refreshing drinks in between swimming can be found at the beach bar and cafe, offering pizzas, food from the grill, salads, snacks, beer, and signature concoctions.
For picnics and parties, you can rent a pavilion with picnic tables and charcoal grills.
Finally, change landscapes by exploring the island's wildlife on the Discovery Nature Trail.
The trail off Magens Bay Road will take you through the mixed-dry forest to moist-tropical woods, and mangroves, and back to the beach.
3. Limetree Beach
Limetree Beach, or Bluebeard's Beach, is a small, secluded beach with a rocky seafloor and is considered one of the most beautiful beaches in St. Thomas.
It is advised to wear water shoes for swimming due to the rocky sand.
It is less popular than other beaches, which means fewer crowds and more privacy for you.
And because of being less crowded, the water sports booth for renting amenities may be closed during your visit.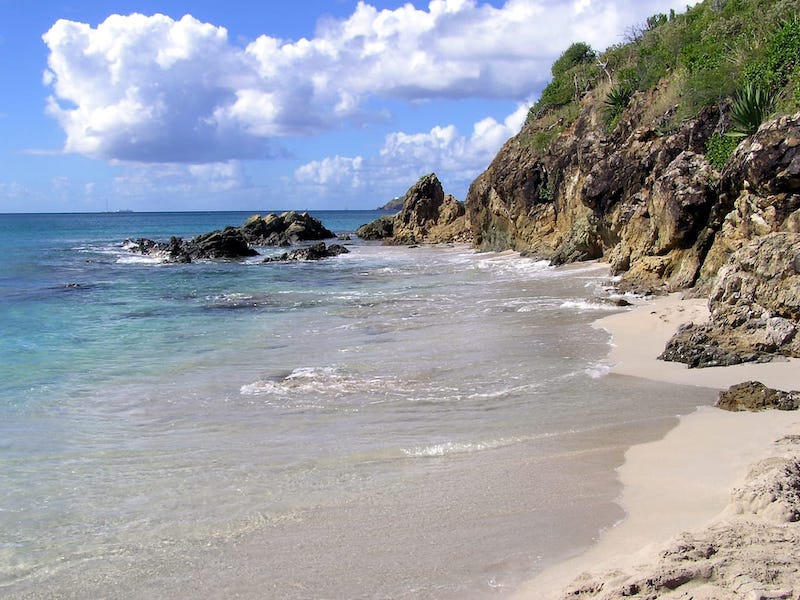 A pretty cove and lush tropical foliage surround the beach, so you can always hide in the shade.
If you want to stay here for a couple of days, Limetree Beach Resort by Club Wyndham is the top choice for accommodation.
Lightly swaying palm trees and secluded condos with private balconies will make you fully enjoy your days.
4. Santa Maria Bay
On the west end of St. Thomas, you will find secluded Santa Maria Bay, a favorite spot for hikers coming here for views, coral reefs, and crystal clear water.
The best or worst thing about Santa Maria Bay is that there is no road taking you to the beach. You can get there only by hiking.
A short hike from the north side of Fortuna Road to the beach, crossing an old forest road, is worth any effort because, later, you will be rewarded with absolute silence interrupted by the noise of waves.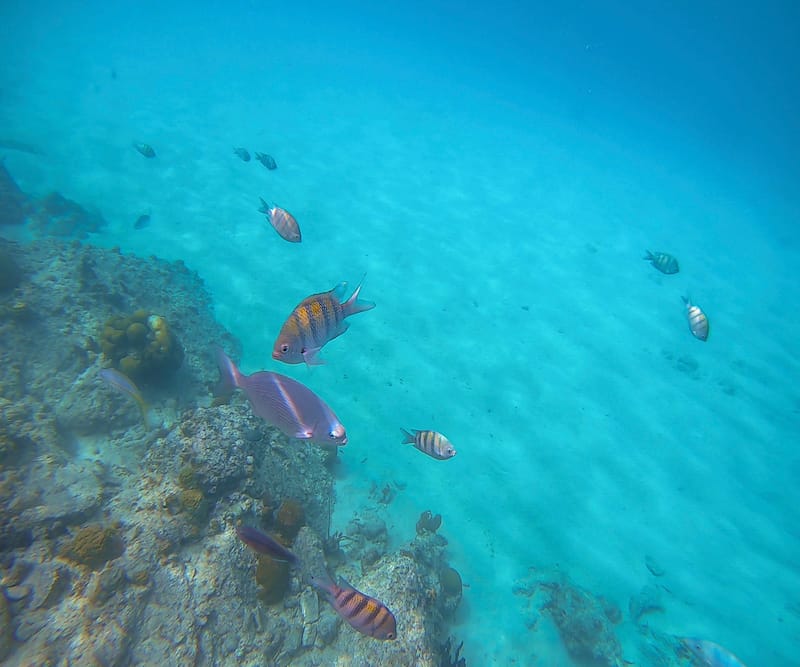 People mostly come to Santa Maria Bay to snorkel in pure waters and explore the rich marine wildlife with colorful fish.
Keep in mind that there are no restaurants, beach bars, or equipment rentals, so don't forget to bring the necessary equipment, snacks, and water.
5. Emerald Beach
There are plenty of things to do at Emerald Beach, from exploring the underwater world to simply enjoying the beach.
Divers who want to find larger marine creatures often charter boats to get to deeper waters and observe the colorful marine wildlife.
It is also home to 16 sunken vessels. Who knows, maybe you will find treasure!
The Emerald Beach Resort is located directly on the beach and offers all the amenities you could wish for.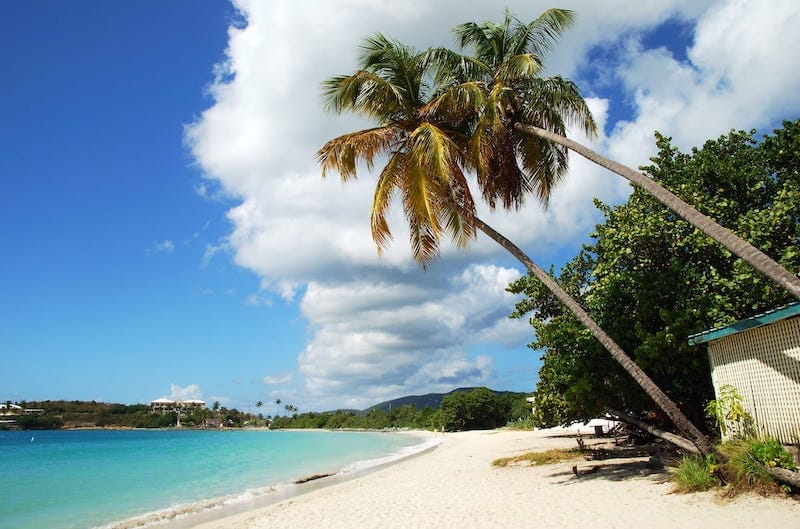 There is an outdoor pool, a beachfront bar and restaurant open to the public, and water sports rentals.
The rental service has small sailboats, kayaks, paddle boats, scuba diving equipment, and more.
Professional diving excursions with training and equipment rentals are organized at the on-site P.A.D.I. Dive Shop.
6. Lindquist Beach
Part of the 21-acre Smith Bay Park protected preserve, Lindquist Beach is an excellent escape to enjoy privacy, white sand, and clear waters that get rockier towards the eastern end.
At either end of the beach, there are two major resorts: Wyndham Sugar Bay Beach Club and Sapphire Beach Resort.
Both have every comfort, but you can't find anything on the beach except the sun, sand, and the endless turquoise of the water.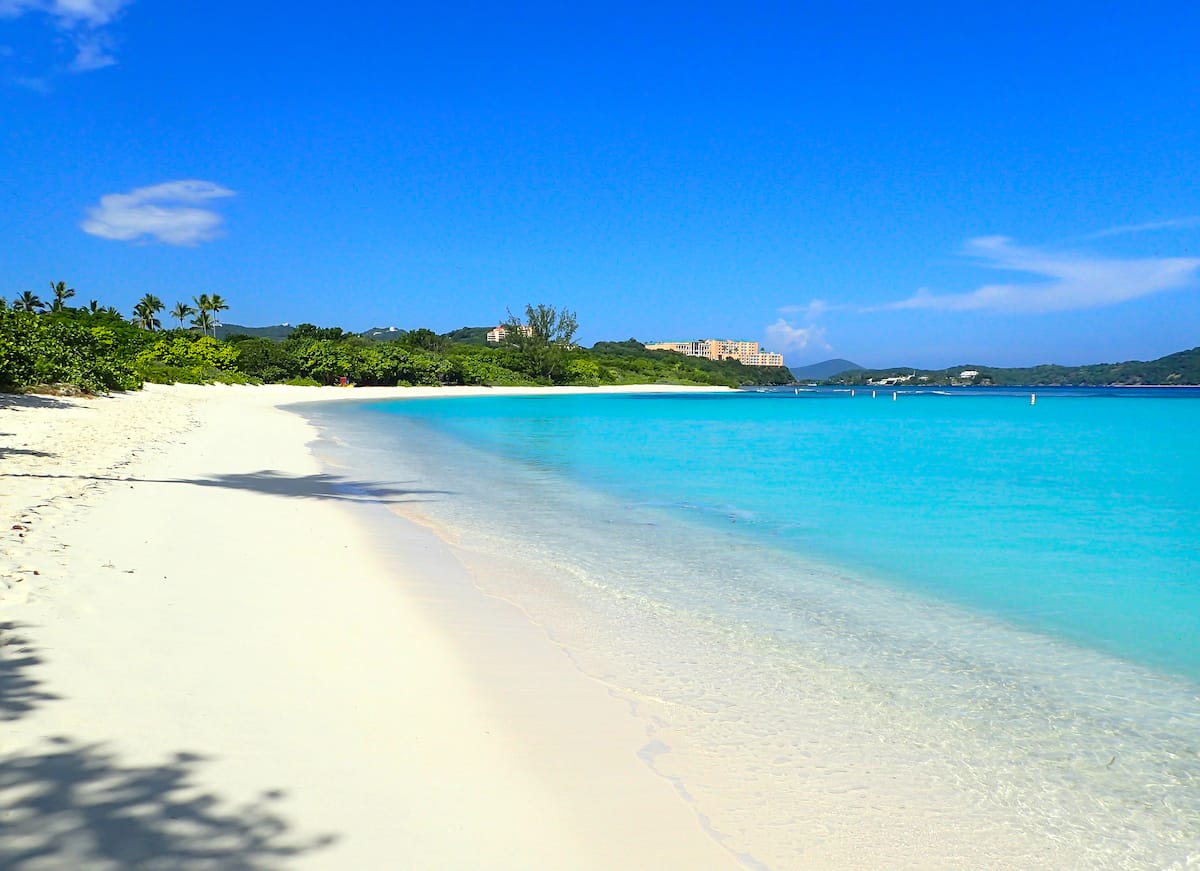 There are no water sports rentals or a bar to have refreshing drinks.
Plus, there is a $5 entry fee per visitor as a warranty that you will keep the territory clean and a $2 parking fee (the parking is a 5-minute walk from the beach).
Bring your snorkeling gear because there is fantastic snorkeling right off the beach, on the right side, with sea turtles, lobsters, stingrays, and more.
7. Brewers Bay
Brewers Bay is the first sight guests visit after arriving at St. Thomas airport, and the first thing they see is the serenity and natural beauty.
The most popular snorkeling destination promises you views of sea turtles.
Watch out- you may also see them a few feet from the shore.
Professional divers find this place one of the most exciting, with a decent depth near the Black Point.
Keep your snorkeling mask ready on your way back to the beach so you won't miss those fascinating 15-foot-deep coral reefs.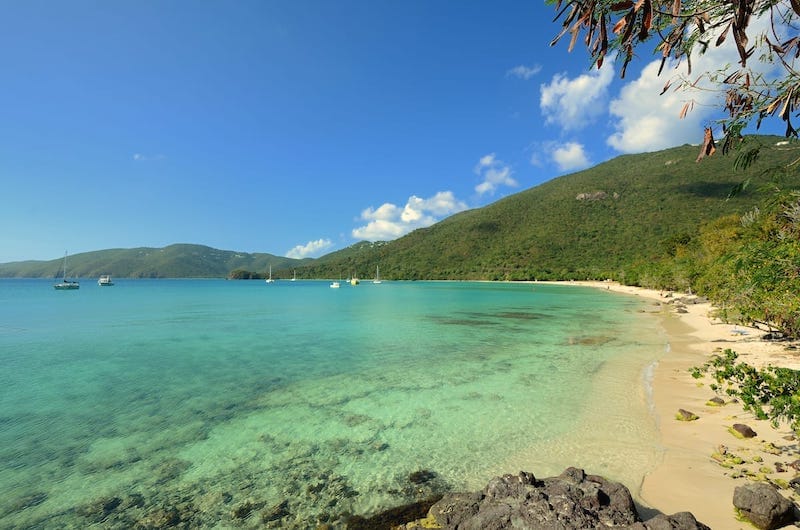 The beach is almost always empty, which means nothing will disturb you while swimming with turtles or enjoying the pure beach.
On weekends, you may see locals having picnics and parties with their families, but the huge beach with one of the widest shores never gets crowded.
As a public beach, Brewers Bay has restrooms and freshwater showers.
You may also find food trucks that line the street adjacent to the beach with Caribbean food.
Finally, keep in mind that no water sports or beach amenities are available for rental, so bring anything you may need with you.
8. Hull Bay
Located on the north shore of St. Thomas on the Atlantic Ocean, Hull Bay is a surfer's paradise with waves, especially during the northern swell.
The surf season runs from November to March, with up to 6-foot swells, and the rest of the year is ideal for swimming, snorkeling, and kayaking.
The beach is partially rocky, but the seafloor is mostly rocky.
Board rentals may be scarce, so make sure to bring your own board or rent one from another place.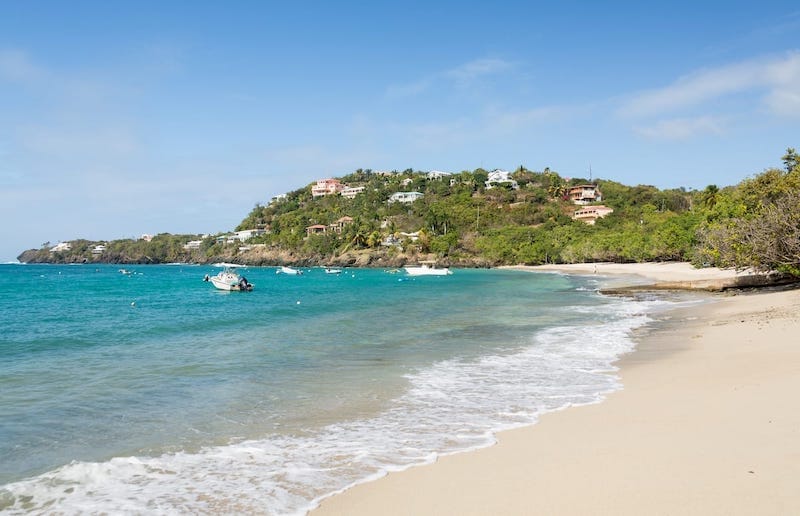 For other water sports amenities, there is an on-site dive shop with snorkeling and scuba diving equipment. It also organizes guided trips in the deep waters to see coral reefs and larger fish.
Bars, cafes, and restaurants are located across the street from the beach.
Next to the cafes is a barber shop, so even though you may not be able to find a board for surfing, you can always go to the barber shop for a new haircut. Just kidding!
9. Cowpet Beach
In spite of its strange name, Cowpet Bay is a gorgeous beach. It got its strange name from its Danish heritage, and today, Cowpet Bay is a small beach with a well-developed infrastructure with restaurants, bars, and water sports rentals.
The beach and the seafloor are sandy with rocky parts, mainly on the left side, going deeper into the water, with a good snorkeling area.
The residential condominium community of Cowpet Bay offers amazing condos for rent during your stay, or maybe you will even decide to stay longer.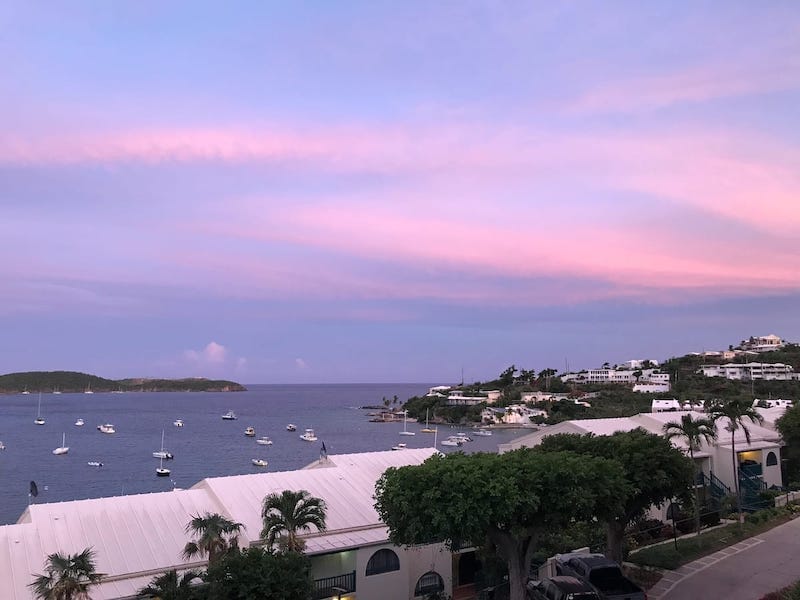 Overall, Cowpet Bay is a great place to stay, but it is mostly chosen for its good accommodation and location.
It is a short drive to other popular beaches to the east—Secret Harbour, Sapphire, and Lindquist beaches.
10. Dorothea Beach
Dorothea Beach is located on the island's north coast, a secluded and pretty hard-to-find beach surrounded by tall palm trees.
The beach is usually empty because of the rocky coastline with coral reefs and cobblestones. It is always windy with beautiful waves, but this beauty is dangerous for surfing.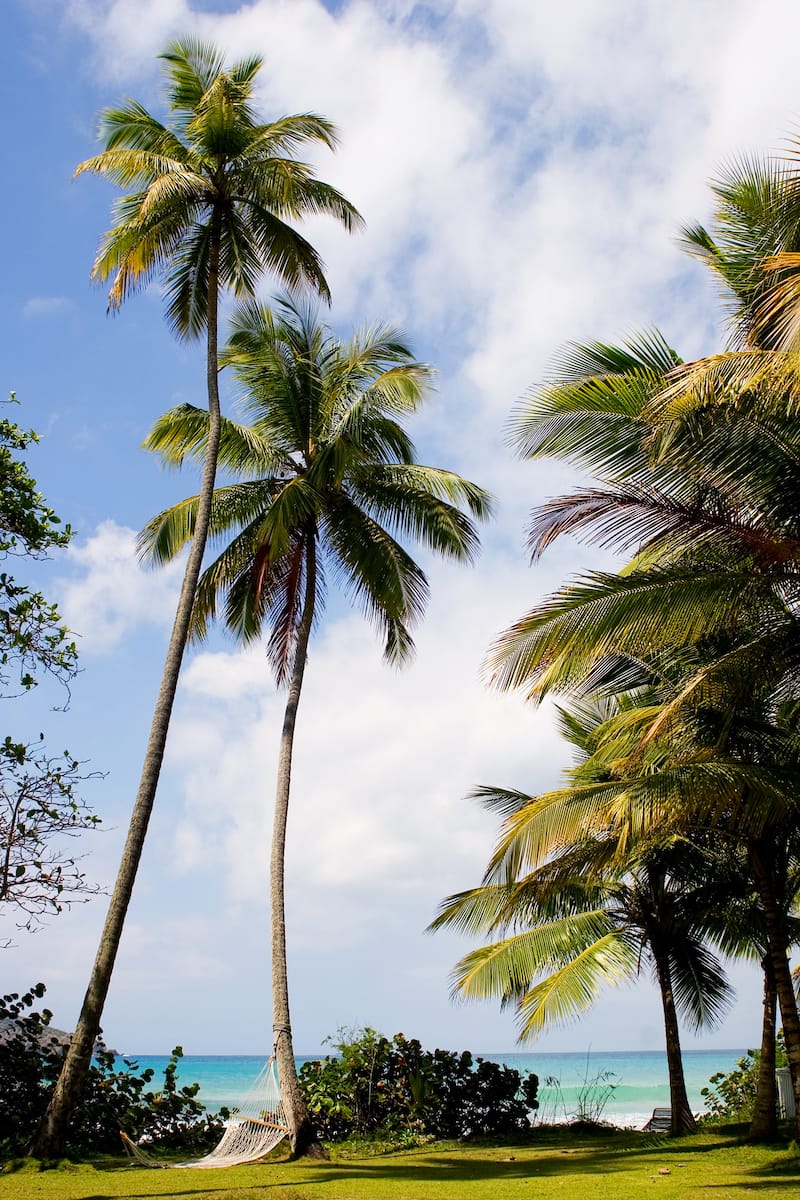 Not suitable for swimming and snorkeling, you won't find any public restrooms or water sports rentals here, but there are cafes and small restaurants nearby.
Why visit Dorothea Beach? Even though you won't be able to dip into the water, the whole scene with waves crashing against the rocks, turquoise water, and palm trees on the back is so relaxing.
11. Coki Bay
A favorite destination for scuba divers and snorkelers, Coki Beach is another not-to-miss beach in St. Thomas.
While neighboring beaches are mostly popular because of their calm waters and sandy beaches, Coki is heaven for swimming with fish.
The beach is located next to Coral World Ocean Park, an indoor and outdoor aquarium, as well as a walk-through aviary and underwater observatory with amazing fish species like small sharks, stingrays, starfish, and more.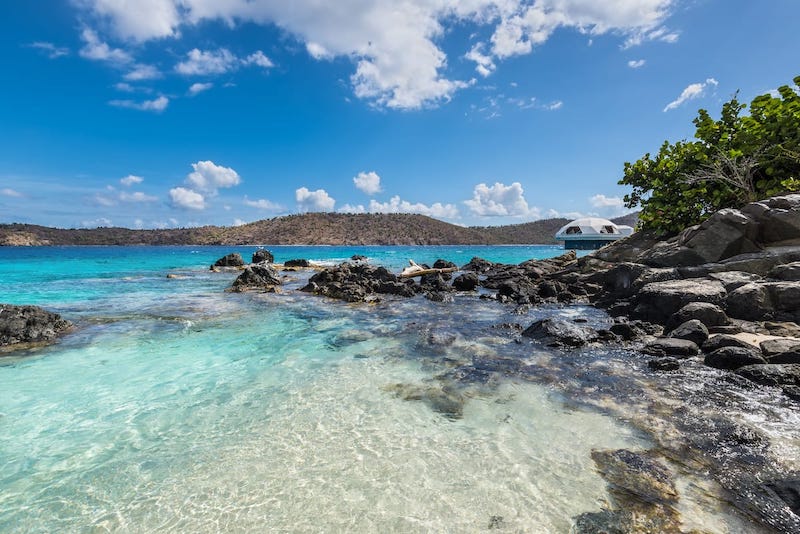 You will love Coki Beach for its active life, beachfront bars, and music, several food vendors with fast food and fresh seafood, always available water sports rentals, and clean bathrooms.
You can also find a Coki Dive Center for diving equipment, training, and certification.
All this comfort, though, has its price.
You will often find the beach crowded; cruise ship passengers stop here for snorkeling on the weekdays, and on the weekends, locals visit the beach.
12. Mermaid's Chair
Mermaid's Chair Beach is one of the most fascinating destinations in St. Thomas, and you are truly lucky if you have seen it at least once. It is a must for all itineraries!
It is a unique double-sided beach that separates the Atlantic Ocean and the Caribbean Sea with a strip of the coast (high tide covers the strip).
The beach is hard to reach, but still, there are enthusiasts ready to visit it.
You can get there by snorkeling 2 miles from Oppenheimer Beach and Gibney Beach, by boat or kayak from Hawksnest Bay or Honeymoon Beach, or by hiking to Mermaid's Chair.
If you choose the latter option, overpack water and wear comfortable shoes to overcome a 3.6-mile out-and-back trail.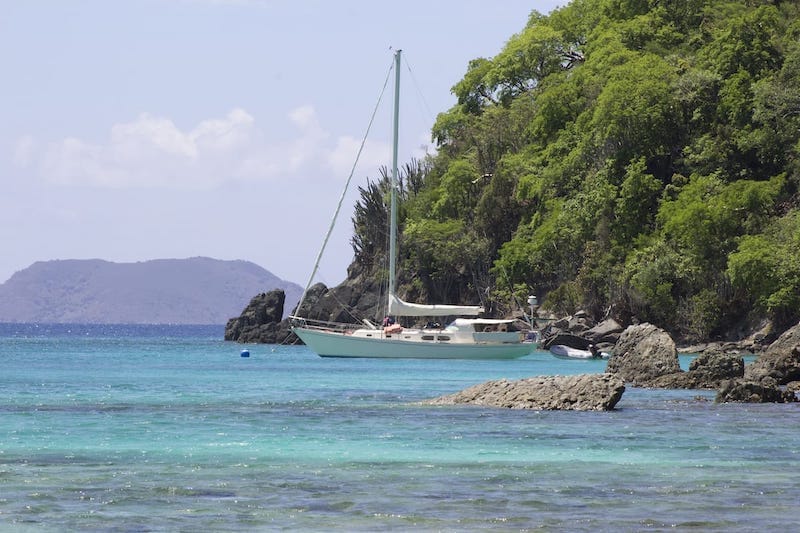 The 2-hour hike starts at the Preserve at Botany Bay private community.
Once you reach there, you will see amazing views of rocks decorated with human-built hoodoos from shells and white rocks (don't touch or ruin them).
Keep in mind that no facilities are available nearby (no showers, restrooms, cafes, or chairs).
Did we miss any of the most beautiful beaches in St. Thomas? Let us know the best St. Thomas beaches in the comments. Thanks!
More USVI Travel Guides
Pin this St. Thomas Beaches Guide