Are you looking to visit Crater Lake in winter? This guide is perfect for you!
Winter in Crater Lake is not for the chilled-out traveler. Instead, it is a dream destination for the active, winter-loving adventurer!
This guide takes you through all of the great things to do in Crater Lake in winter. It also includes several Crater Lake winter tips like what is closed and what stays open, how to dress, and where to stay (including the best Airbnbs near Crater Lake)!
If you have any suggestions for what to do in Crater Lake during winter, please leave a comment below!
Reasons to Visit Crater Lake in Winter
While most wouldn't think to visit Crater Lake in winter, it is definitely a great time to make the trek there if you love snow and photography!
The Oregon National Park is not one of the top visited parks in the US, but it definitely becomes much quieter during winter than it is during summer.
Another perk of visiting Crater Lake during winter is that it is near so many other cool places in Oregon. We list them in our 'things to do' section of this guide.
Snowboarders, cross-country skiers, snowshoes, and other adventurers will fall in love with Crater Lake in winter and easily keep occupied for days!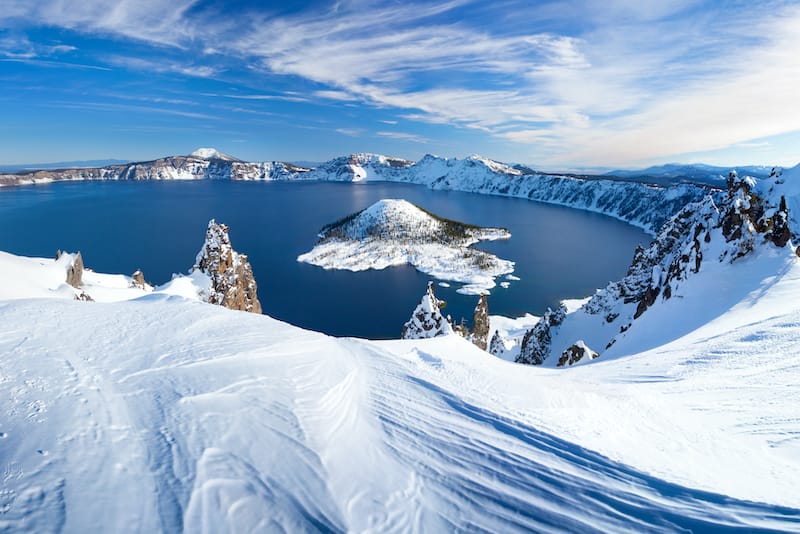 When is it Winter in Crater Lake?
Oregon is a land of many ecosystems and climates. Crater Lake experiences short summers and long winters. The winter in Crater Lake tends to start in November and usually lasts all the way until early May.
Crater Lake Winter Weather – Temperatures
It definitely depends on which month you travel to Crater Lake which determines how cold it is. Here is a small breakdown of the winter months with average temperatures and the number of 'rainy' days (which are likely snow at Crater Lake!).
Does it Snow in Crater Lake NP?
It would be a very rare event not to witness snow in Crater Lake during the winter and it usually persistently snows all the way into spring (and most of the season).
Annually, Crater Lake receives an estimated 43 feet of snow. The heaviest snowfall comes during the months of December, January, and February. This will usually create road closures (see below for more information on driving in Crater Lake during winter).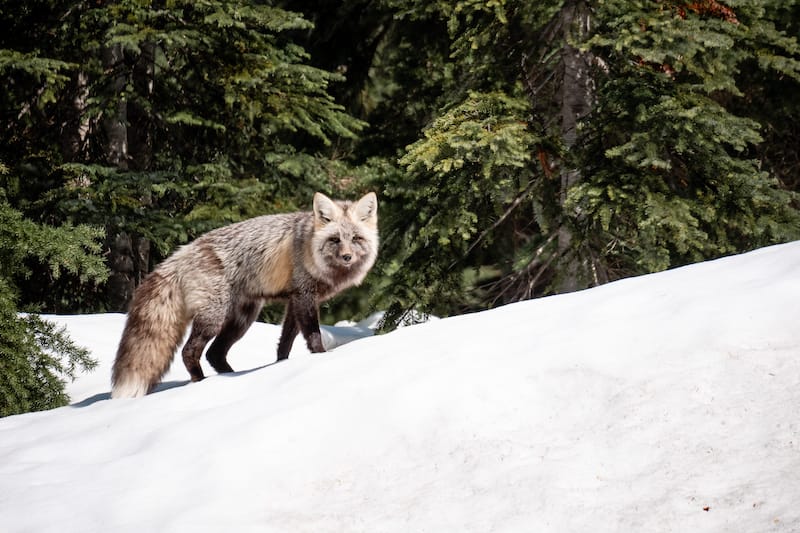 What to Wear in Crater Lake in Winter
Below are our top recommendations of what to wear when visiting Crater Lake National Park during winter.
Note: I am a huge fan of REI for all of my winter gear in the US, but I also love throwing minimalistic Scandinavian brands into the mix. I am listing an array of my favorite winter gear below.
Winter Parka
You need a winter parka for Crater Lake in winter. Point blank. I actually love my Helly Hansen Svalbard parka and I have worn it on several of my Arctic trips and it has served me so well. Helly Hansen is a Norwegian brand and they know winter and outdoor clothing well.
Because of the severe temperatures in Crater Lake during winter, I only feel comfortable recommending the parka above as I haven't had a chance to test others since this one has always done the job for me! Click here to see my Helly Hansen Svalbard parka (I own it in black because I'm boring).
Crampons
If you're not sturdy on your feet (*sheepishly raises hand*), definitely invest in a pair of crampons for your Crater Lake winter trip.
What are crampons? They are basically attachable 'traction' for your boot. They can feel a bit awkward when you first put them on but at least you won't end up with severe back pain from having to hold your gait funny in the end.
I have used several types throughout the years and I found that these ones from Yaktrax are the best ones for me, personally. Click here to purchase them on Amazon.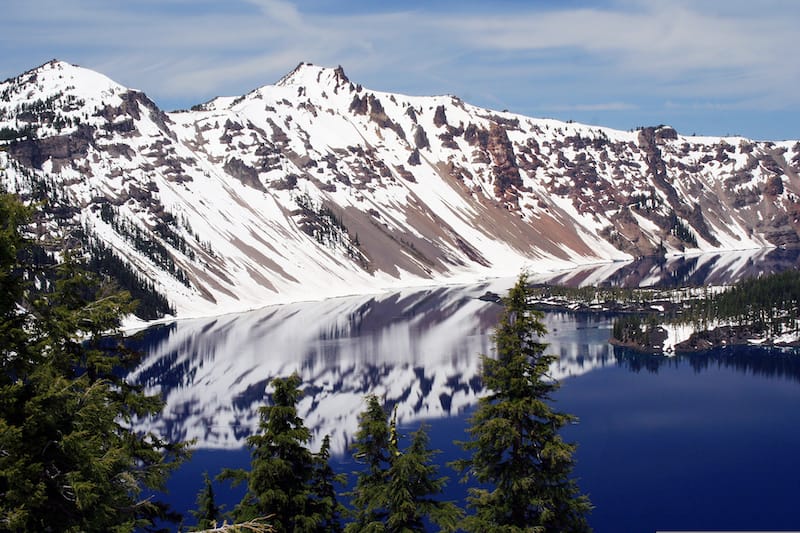 Sorel Snowboots
There is actually nothing worse on the planet than frozen feet. At least for those surrounding me, frozen feet are a surefire way for me to complain and annoy everyone else. So, I take my snow boots seriously!
I have used Sorel Snowboots for the last 7-8 years and I love them. I think I purchased them because they were trendy at first, but they served me well and I haven't looked back and I ended up purchasing multiple pairs. But, my favorite pair is this one.
Make sure you buy them big enough that you can throw some thick wool socks on when you're dressing for your adventure in CLNP! Click here purchase my Sorel Snowboots on Amazon or, if budget isn't a factor, this other Sorel pair that I recommend from REI.
In addition to what I listed above, I definitely recommend that you take a good pair of mittens (never gloves), thermals, and a hat. The hats I recommend (stylish, yet warm) are from two of my favorite Danish brands Libertine-Libertine and Samsøe & Samsøe.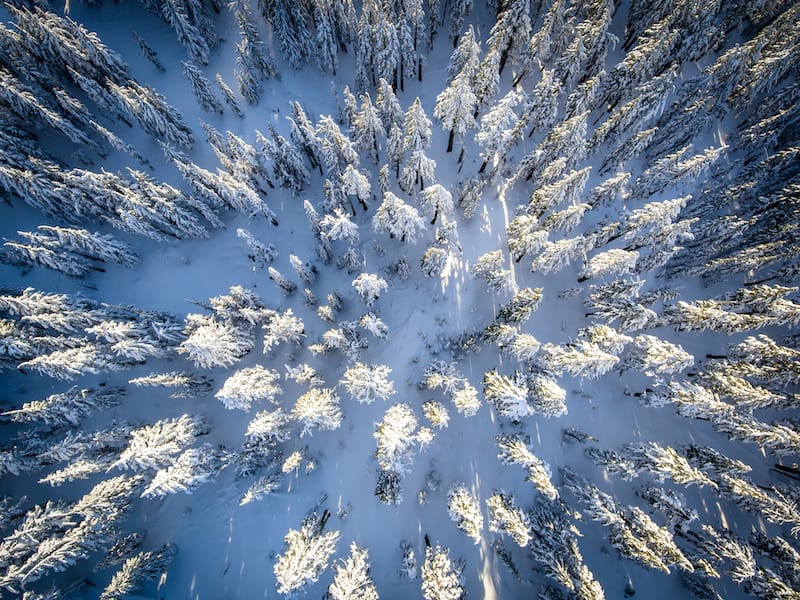 What to Pack for Crater Lake in Winter (Gear & Miscellaneous)
Packing the right clothes is always the most challenging part, but you need to consider the other things you will bring with you, too. Below are some items I always tote along in winter when I travel to cold places and will definitely make a great addition to your Crater Lake trip.
Mobile Power Bank
The weather will deplete your cellphone battery. I repeat- the weather WILL deplete your cellphone battery. Bring a mobile power bank with you to ensure you can snap photos whenever you want! Click here to purchase my recommended power bank on Amazon.
Extra Camera Batteries
If you're into photography but have never photographed in a cold setting, you're going to want to ensure you have a few extra batteries to bring along for the ride. The camera battery will deplete quicker in subzero temperatures just like phone batteries do.
I also travel with a USB charger for camera batteries that I can stick in my mobile power bank in case times get tough. Click here to find a USB charger for camera batteries.
Dry Bags
It will be snowy and the weather will be a bit off-putting on certain days on your winter in Crater Lake vacation… so don't let it ruin your equipment or gear! I travel with dry bags just as an extra precaution and they have served me well all over the world. These dry bags from the Friendly Swede are my favorite.
Things to Know Before Traveling to Crater Lake During Winter
Quick Facts about Crater Lake NP
Location: Oregon
Size: 183,224 acres
Annual Visitors: 527,259 (2021)
Established: May 22, 1902
Closest city: Klamath Falls, Medford
Crater Lake National Park Highlights: The Pumice Desert and The Pinnacles, Mount Scott, Crater Peak, Rim Drive, Union Peak, PCT, Wizard Island
Facilities Open at CLNP in Winter
Many facilities remain closed in Crater Lake National Park in winter. They tend to remain closed from October until May, and this includes Crater Lake Lodge and the Rim Visitor Center.
The only place that consistently remains open during winter in Crater Lake National Park is the Steel Visitor Center that is open daily from 10am until 4pm (closed on December 25). *Note: The Steel Visitor Center is be closed until Fall 2023 for renovation.
Crater Lake in Winter Driving Tips
During the Crater Lake winter, the only open entrance to the park is via the entrance in the south. As a result, those coming on a weekend trip from Portland or Seattle will need to drive to Medford/Jacksonville and then enter from the other side.
READ ALSO: Best national parks to visit in March
The entrance fee is $30 for cars and you will need to ensure your vehicle has good winter tires and/or chains on the tires in order to easily drive in Crater Lake National Park in winter.
Does Crater Lake Ever Freeze?
Not really. Even though you will see snow around the park and lake nearly 8 months of the year, the last time it properly froze over was in 1949!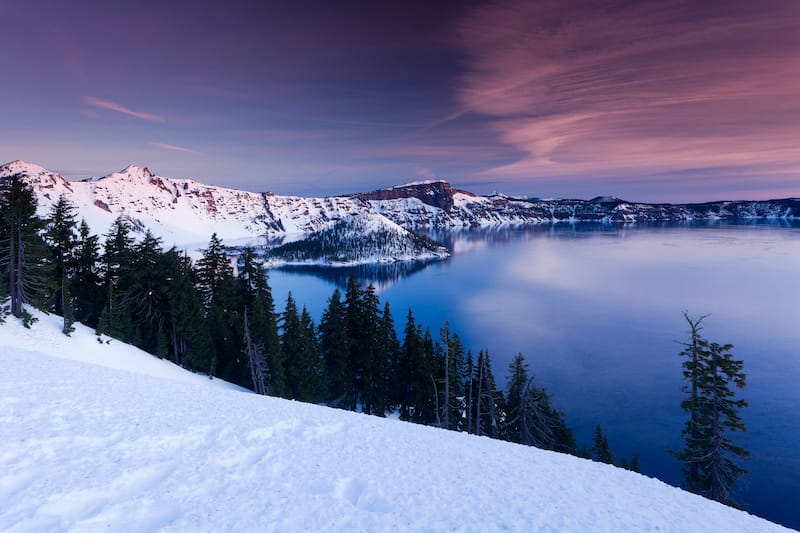 Things to Do in Crater Lake in Winter
While Crater Lake flourishes with activities during the summer months, definitely don't count out the winter months! There are plenty of things to do in Crater Lake in winter and we have some of the top activities below.
1. Ranger-led Snowshoe Walks
During wintertime, Crater Lake usually receives around 43 feet of snow, which is pretty great to enjoy a full itinerary of snowshoe walks.
For the visit, the participants should have water-resistant shoes and warm enough clothes on them. The age restriction requires participants to be at least 8 years old.
The snowshoes are provided free of charge, and any previous experience of snowshoe walking is not required. Notably, there is no cost for the tour, so that's great as well and makes it the perfect budget activity.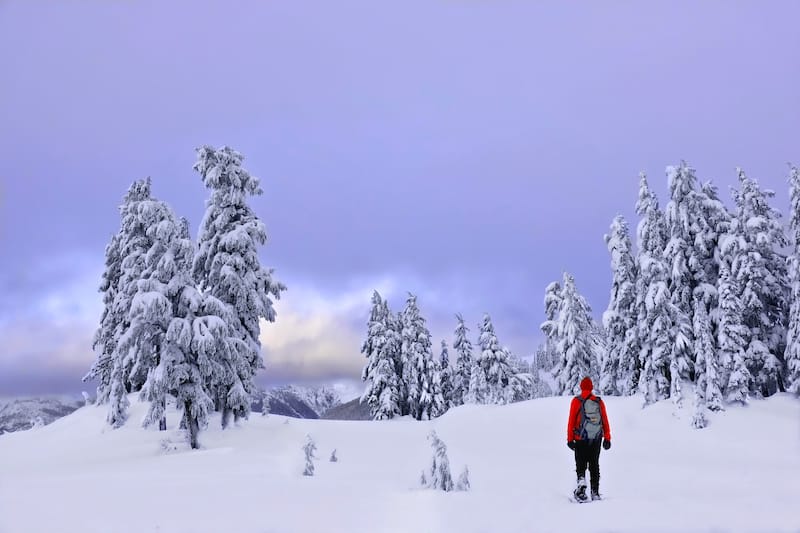 However, don't forget you'll still need to pay the initial $30 entry fee.
The pathway does not follow a certain trail; instead, visitors walk through meadows and forests along the rim of Crater Lake. The overall tour usually lasts about 2 hours and covers about 1-2 miles in total.
There is limited space for these tours, so guests are highly encouraged to make their reservations beforehand. Hiking clubs, scout troops, and other pre-arranged (and approved) groups can visit the location and do the walks separately on their own. For more information, call the park's visitor centers.
2. Sledding
Sledding is a super popular activity at Crater Lake in winter – especially for children. In Crater Lake, there are numerous locations where you can enjoy the sport and, of course, there is always plenty of snow!
Even though the sled hills or snowy areas are not designated, you can simply select a suitable space with a gradual slope and enjoy!
Just be attentive, do not choose paths and dangerous slopes that have any obstacles or obstructions in the way, like trees or other barriers. A gentle slope with a relatively flat landing is what you need to go sledding at Crater Lake.
READ ALSO: Best national parks to visit in February
One of the widely known spots for sledding is the open meadow south of Crater Lake Lodge. Note that sledding and other related types of winter sports are prohibited in the caldera and on all roadways within the park where vehicle traffic may occur.
3. Downhill and Cross-country Skiing
If you're keen on a truly unforgettable experience, cross-country skiing around Rim Drive is a fantastic choice. Depending on weather conditions, the loop can be completed in 3-5 days (or quicker!). It is around 30 miles + long.
You're completely free to choose the path you desire to explore. It can be right through the forests, along West or East Rim Drive, etc. You can find the maps and all the necessary information about the skiing trails on the NPS website.
Note that none of the routes are groomed, but, in general, the conditions of the area are significantly impacted by the weather. Again, skiing is strictly prohibited inside the caldera, along Hwy 62, and in parking lots. The road to Rim Village is also banned for skiing, no matter whether it is opened or closed.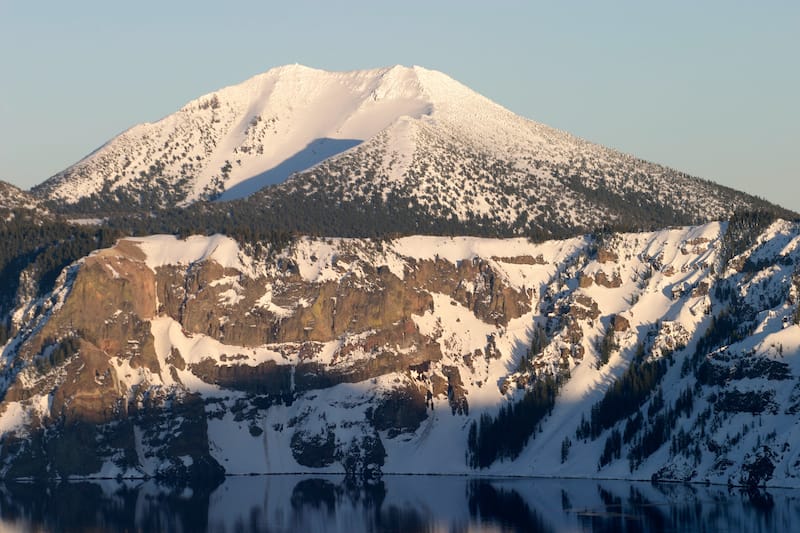 One last thing to take into account is that skis are neither rented nor sold in the park. However, visitors can have a look at the list of available ski rental locations (which are outside of the park) on the publications page under activities.
Also, be aware that there are a few areas prone to avalanches, so remember to familiarize yourself with the information regarding avalanche safety precautions. If you decide to be in an area that has the potential danger of avalanche, then carry snow shovels and avalanche transceivers with you.
Look out for any possible dangers that might be on the route, and be cautious as the rescues in avalanche areas may take more than 24 hours.
4. Crater Lake Snowmobiling
If the snow conditions allow, the 9-mile snowmobile route is open each winter. You can rent snowmobiles right in the park.
The maps of trails will guide you through snowmobiling at Crater Lake, helping you to control and be aware of your quick tour through the Oregon woods.
The available trail report provides some important information about the routes' conditions and is being updated quite frequently to ensure that visitors to the park are notified about everything.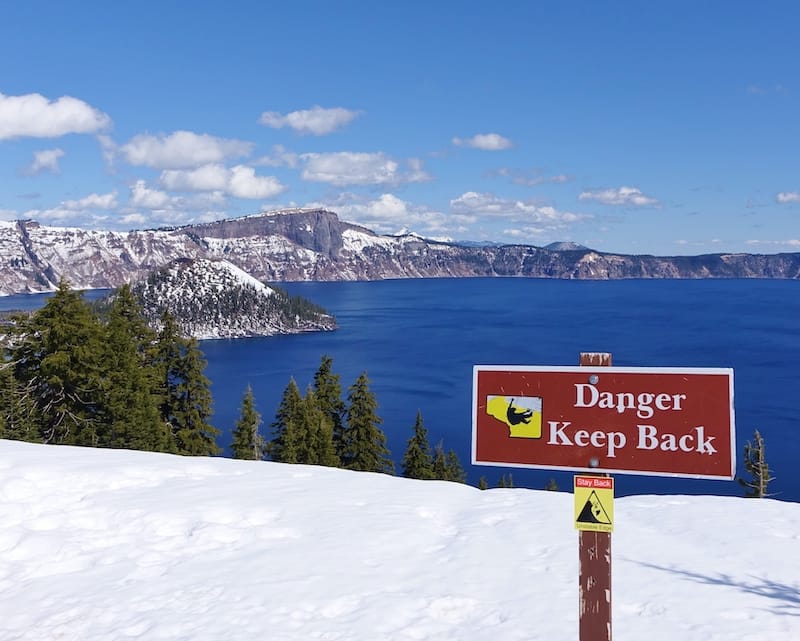 The route at Crater Lake goes from the north entrance of the park up until the caldera's rim. The months from December through March are known to be the time to go snowmobiling at Crater Lake National Park. Keep in mind that snowmobiles are not allowed anywhere else in the park.
5. Tubing
For tubing activities, everything is quite similar to sledding. Be careful about choosing the location. It should be free of trees, bumps, and other things that might get in your way and cause an inconvenience, or even danger.
Tubing is prohibited in the caldera, roadways, and parking lots to eliminate any chance of possible accidents.
At Diamond Lake Resort, located not that far from Crater Lake, there are opportunities for family tubing fun (ages 3 and up).
READ ALSO: Best national parks to visit in January
On some nights, cosmic tubing also takes place specifically for those who want to enjoy an exciting experience. Everything that makes the tubing better is there for the nights: laser lights, music, and the overall atmosphere.
Before you plan your visit, just make sure you check the weather and conditions of the area. Also, consider taking some emergency supplies with you. You never know what may happen and it is far better to be prepared for the unexpected!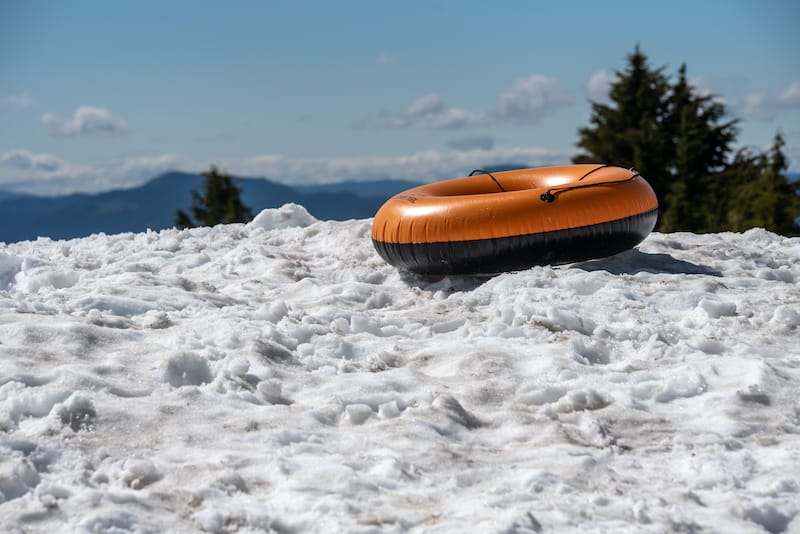 6. Winter Hiking in Crater Lake
This list would not be complete if there is not a section about winter hiking in Crater Lake!
One of the most notable trailing routes is the Discovery Point Trail. It has a length of 3.97 miles and an elevation gain of 915 feet. It is considered to be a good trail whether you're an amateur hiker or a professional one.
Garfield Peak Trail is another option for hiking at Crater Lake and it has a length of 3.4 miles. Visiting the area, you'll experience the Klamath Basin's most incredible panoramic views and southern Cascade features. The path towards the top is a good one, but the trail also has a few challenging portions until you reach the highest point.
The Sun Notch Trail is relatively short in length (0.8 miles) and is a heavily trafficked loop trail located close to Crater Lake. It is rated to be an easy level, so it's accessible for everyone. Also, the trail is accessible in every season of the year.
7. Places to Visit Near Crater Lake
One of the greatest attractions near Crater Lake (just 31 miles away) is the Crater Lake zipline. Just a 30-minute drive away and you'll be there!
The area has nine extremely long ziplines, rappels, and challenging sky bridges accompanied by spectacular mountain and forest views. It is truly one of the best things to do in Crater Lake in winter!
READ ALSO: Best national parks to visit in December
Lake of The Woods Resort, located quite close to the lake (51 miles away), is a great getaway option if you like to enjoy the wonders of nature and cabin life. Being situated high in the mountains, this lake resort is full of outdoor recreational activities accessible for summer and winter.
If you're interested in fishing and related stuff, you might find it essential to visit Klamath Falls, a small town in Oregon where you can take in all the pleasure from guided fly-fishing to bird hunting, kayaking adventures, and more.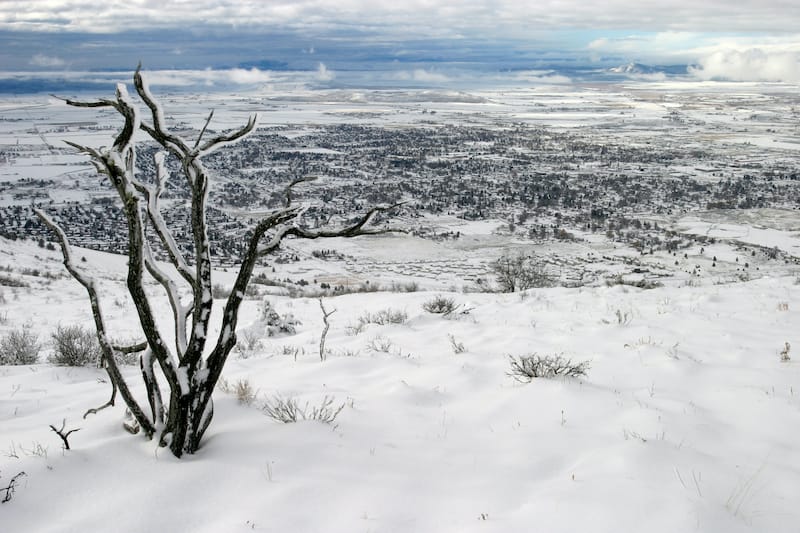 For the latter, you can sign up for a guided kayak tour or rent one in the area. In winter, you can also do some hunting- mainly upland, duck, and goose.
"Morrison's Rogue Wilderness Lodge and Adventures" (located nearly 100 miles away from Crater Lake) offers riverfront lodging, rafting, hiking, and fishing trips where you can learn a lot about the wildlife in the Rogue River Valley area.
Beyond that, they also provide rafting-single and multi-day trips and camping trips that are great for traveling with families or friends.
Last but certainly not least is Oregon's Gold Coast (187 miles away from Crater Lake), which is widely known for the town of Bandon, one of the most famous golf destinations in the world.
But that's not the only reason to have Bandon on this list. In fact, aside from that, the town offers its visitors a lot of fun activities like birdwatching, surfing, crabbing, fishing, and much more.
We're leaving all of these for you to explore, and share your thoughts with us by leaving a comment below if you have a favorite day trip from Crater Lake or a place in the local area worth exploring!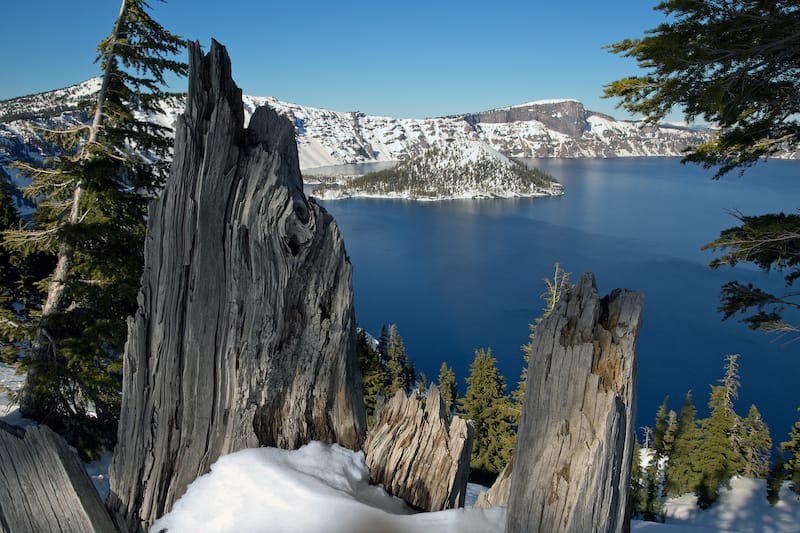 Crater Lake Lodging and Accommodation
You will have a variety of options of where to stay for a visit to Crater Lake. However, most are not super close to the lake. This next section is broken down into hotels, Airbnbs, RV, and camping/glamping options.
If you're opting for Airbnb and are not a member, be sure to use our code here to receive $41 off of your first booking. If you're camping and are not a member of Hipcamp, also be sure to use our code here to receive $10 off your first booking!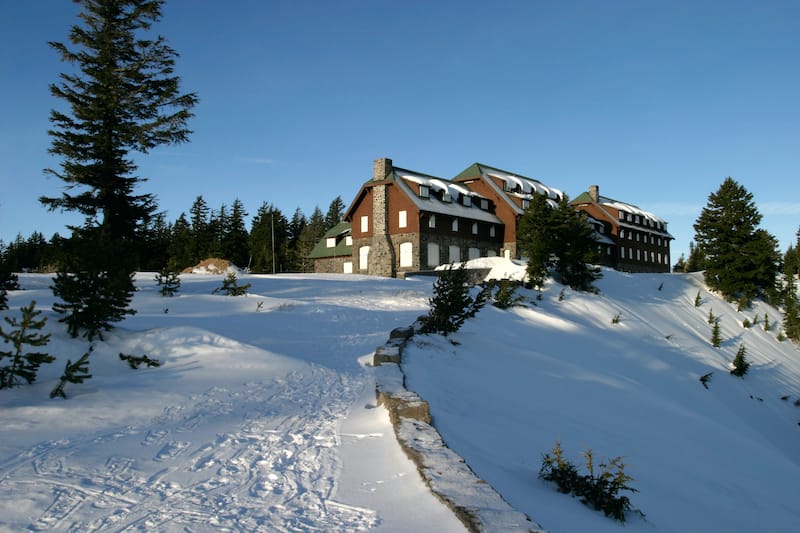 Hotels Near Crater Lake
The closest town to Crater Lake National Park is called Prospect. There is a historic hotel there that you can stay at called the Prospect Historic Hotel and you can make a reservation by calling them at 1-800-944-6490.
If you go a bit further should, you can head to Shady Cove and there is a mid-range hotel called the Edgewater Inn there.
Otherwise, you will want to go to Medford another 20 miles away. Alternatively, you can find places to stay in Klamath Falls. Here are some of our top picks:
Crater Lake Winter Camping
Backcountry camping is permitted in Crater Lake National Park during the winter months with a permit. This is valid from November until May.
In order to take advantage of this, snowshoers and skiers must go at least one mile away from the closest plowed road to set up camp (and must be a minimum of 100 feet from the edge of the rim).
Please see winter hazards for camping in the park here.
If you're looking for a proper campsite near Crater Lake National Park, here are a few top-rated suggestions:
Renting an RV
Another unique alternative for your trip to Crater Lake is to rent an RV. While I definitely wouldn't recommend doing this without feeling comfortable driving one or on roads during winter, it is a viable option for many adventurous travelers and those looking to really get down with nature on their trip.
Airbnbs near Crater Lake
My favorite choice of places to stay near Crater Lake are the variety of Airbnbs available close to the park. The best thing about Airbnbs is that some are so quirky and unusual that it makes your stay even more memorable.
Here are some of our top Airbnbs near Crater Lake National Park that you can easily book in winter:
Click here if you want to see more Crater Lake Airbnbs.
Should You Visit Crater Lake in Winter?
I think it depends on what type of travel you are, first and foremost. Visiting Crater Lake in winter is best suited or those that really love winter weather and adventure. If you're a snowshoer and skier, this is definitely the park for you!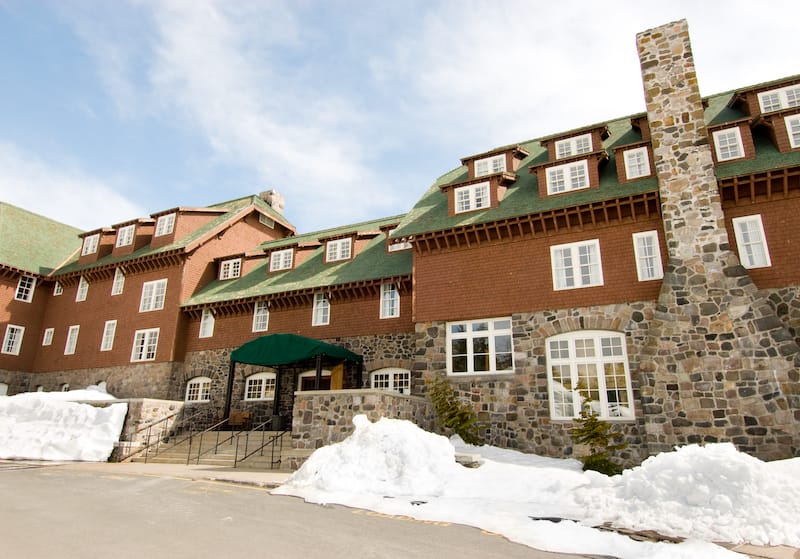 If you prefer to relax or do leisure hiking perhaps winter in Crater Lake is not the most optimal time to visit. Nevertheless, whenever you end up visiting Crater Lake, prepare to be blown away!
ABOUT THIS LAND
Crater Lake National Park is on the unceded land of the Klamath peoples. We ask you to join us in acknowledging their communities, their elders both past and present, as well as future generations.
We also acknowledge that Crater Lake NP was founded upon exclusions and erasures of many Indigenous peoples, including those on whose land these US National Parks are located.
⇒ Do your research before visiting National Parks and places in the US. Native Land and Whose Land are good starting points.
⇒ Hire Native guides when possible and encourage National Parks and government organizations to start hiring them.
⇒ Donations matter. Part of the proceeds from this blog is donated monthly to the Native Women's Wilderness.
Additional PNW Travel Resources
Pin this Crater Lake Winter Travel Guide