Are you planning a trip to Crater Lake National Park this year? These are the best Airbnbs near Crater Lake (including a few fantastic Klamath Falls Airbnbs). They will help you have an incredible and relaxing trip to the Oregon park.
There is truly no bad time to visit Crater Lake in Oregon. If you visit in summer you will have many hiking opportunities and if you visit Crater Lake in winter, you will be greeted with an abundance of snow activities.
But… finding the right accommodation is crucial to having a great trip to one of the 7 wonders of Oregon!
This guide has some amazing Crater Lake Airbnbs, including many Airbnbs in Klamath Falls and Chiloquin to help ensure you have a good night's sleep before tackling this underrated national park!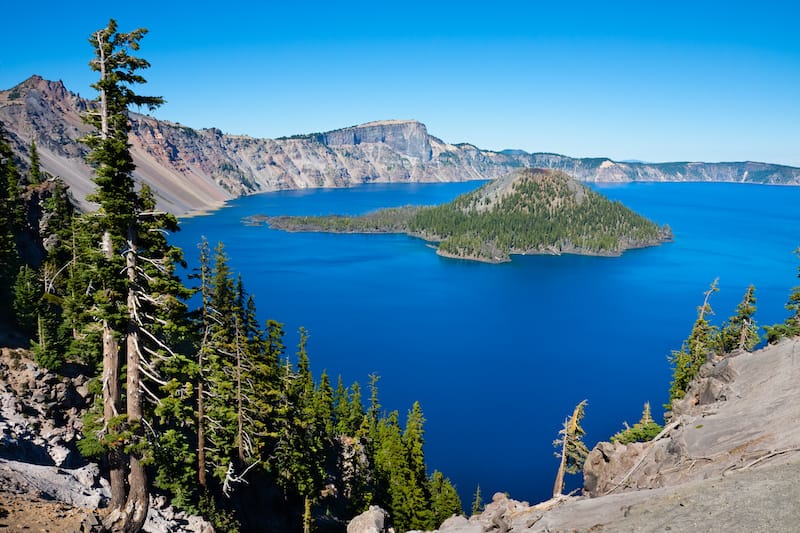 We have curated a list of Airbnbs near Crater Lake and Klamath Falls that are suitable for a variety of budgets and travelers. You'll find plenty of accommodation in the small towns nearby!
We have also included properties in Grants Pass and some other Oregon destinations, many of which are great Portland weekend getaways!
If you have stayed at an awesome Klamath Falls or Crater Lake Airbnb, please let us know in the comments! Thanks!
Best Airbnbs near Crater Lake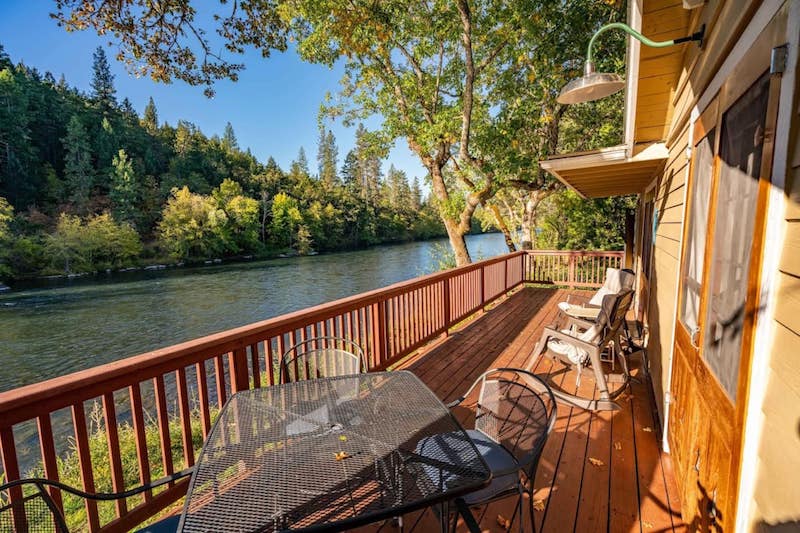 Okay, so this property may not be located as close to Crater Lake as the others (it is 52 miles away), but it is well-worth to distance to stay at this top-rated riverside cabin!
The beautiful Oregon cabin is located in Trail and can accommodate up to 4 guests in its 1 bedroom and 1 bathroom.
This is one of the most popular cabins on the Upper Rogue and full breakfast is provided daily. The cabin dates all the way back to 1937 but has modern amenities and furnishings for your comfort.
Not only will you enjoy the riverside views, but you will also enjoy the hot tub and dry/moist sauna available on-site. The bedroom has one queen-sized bed.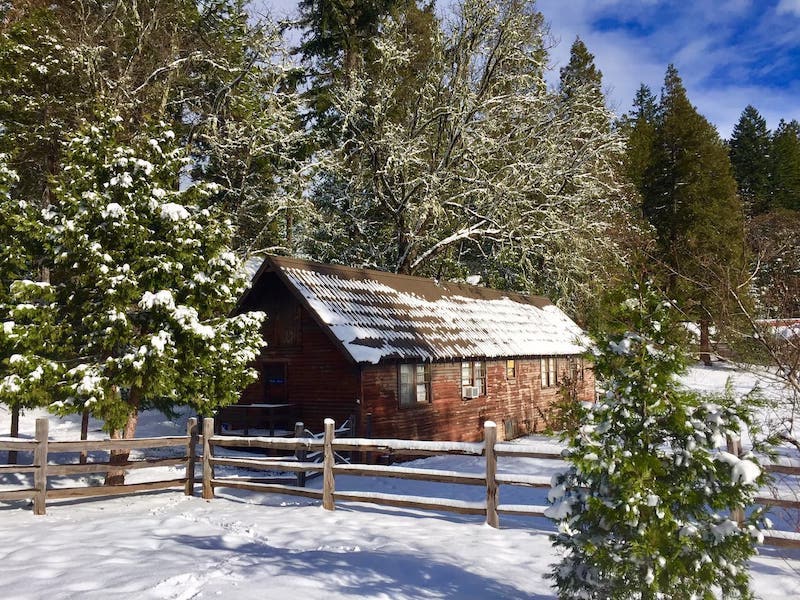 There are many fabulous Crater Lake Airbnbs and cabins and this is definitely an exceptional one!
It fits up to 3 guests and has 1 bedroom, 2 beds, and 1 bath. You will have access to the entire home and the private ranch is called 'Bunkhouse'. It sits on a meadow near horse paddocks and a barn that overlooks the area and many wonderful hiking trails.
The bedroom has one king-size bed and a single bed in it. On-site, you will also find a bathtub, free parking, air-conditioning, room-darkening shades, and a fully-equipped kitchen.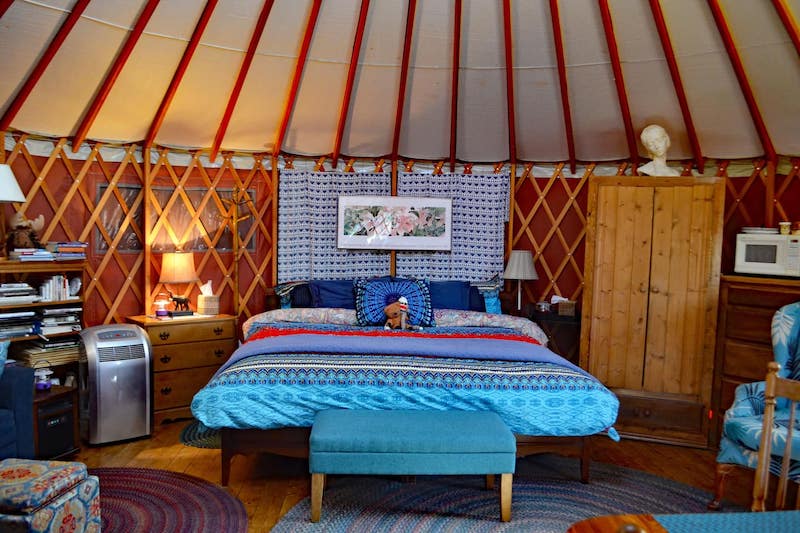 If you're up for unique accommodation in Oregon, this fabulous yurt has you covered! Again, this is a bit of a haul from Crater Lake, but it is worth heading to Grants Pass to stay here!
The yurt hosts up to 4 guests in its open space and it has one bath and 2 beds inside. It is located in Applegate Valley close to many wonderful wineries.
There is a hot tub that you can sit beneath the stars and soak in after a long day of exploring the beautiful state of Oregon. You will also have breakfast available in the mornings.
Inside the 24 square-foot yurt, you will find a king-size bed as well as a queen-size sofa bed. This is one of the best Airbnbs near Crater Lake but please note that it still does require a drive and is not as close as Klamath Falls!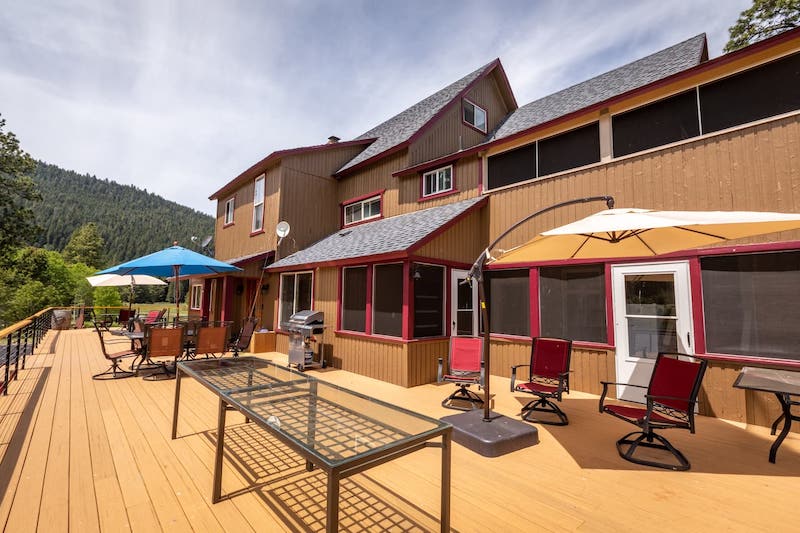 If you're seeking accommodation near Crater Lake that can host large groups of people, this is your place!
The Crystal Creek Lodge and Cabin is a huge house that accommodates up to 16 guests in its 8 bedrooms and 12 beds. There are also 7.5 bathrooms there.
This was one of the first homesteads in Northern Klamath County and you can call it home for a few nights and enjoy the 132 acres that it is situated on! You are right next door to Crater Lake, Fort Klamath, and so much more!
Other amenities you will find there are wifi, dedicated workspaces, washer/dryer, and free parking.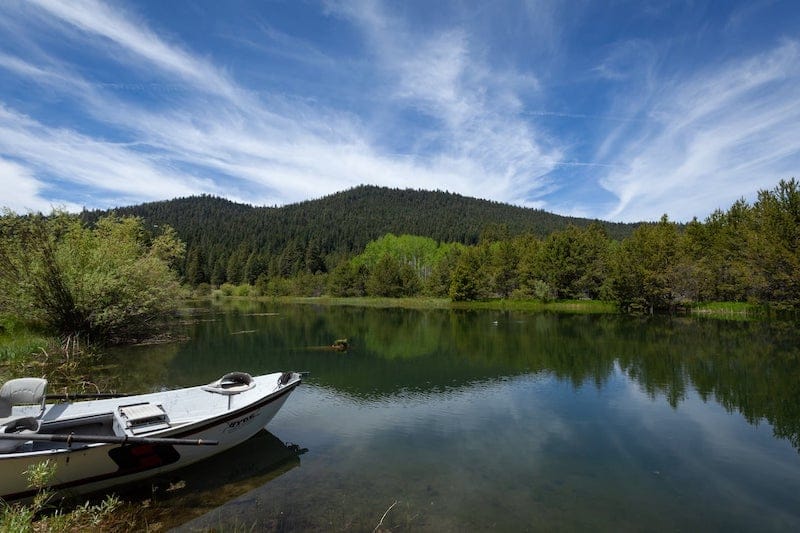 A gorgeous cabin on a lot of spacious land is this beautiful Airbnb in Klamath Falls. The spacious property is suitable for up to 6 guests and has 2 bedrooms, 4 beds, and 1 bath.
In the first bedroom, you will find a queen-size bed and in the second you will find a king alongside a bunk bed.
Some of the amenities are a private entrance, free parking, indoor fireplace, fully-equipped kitchen, TV, heating, and much more!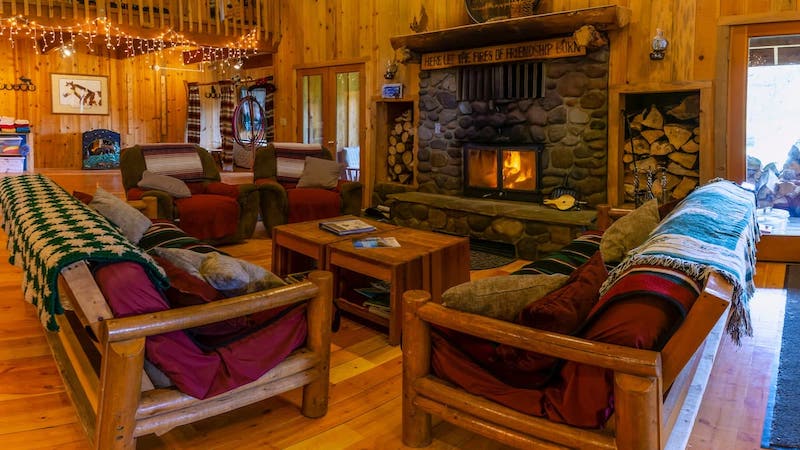 Another spacious cabin near Crater Lake, the Sun Mountain Ranch Bunk house accommodates up to 16 guests in its 7 bedrooms (with 12 beds and 4 baths).
You will have the entire cabin to yourself and it is located on 280 acres a few minutes from the entrance to Crater Lake National Park (around 35 minutes to the rim).
The cabin is 5,000 square meters and has large beds in the bedrooms. Some other amenities it offers are heating, a well-equipped kitchen, high chair, indoor fireplace, private entrance, wifi, and more!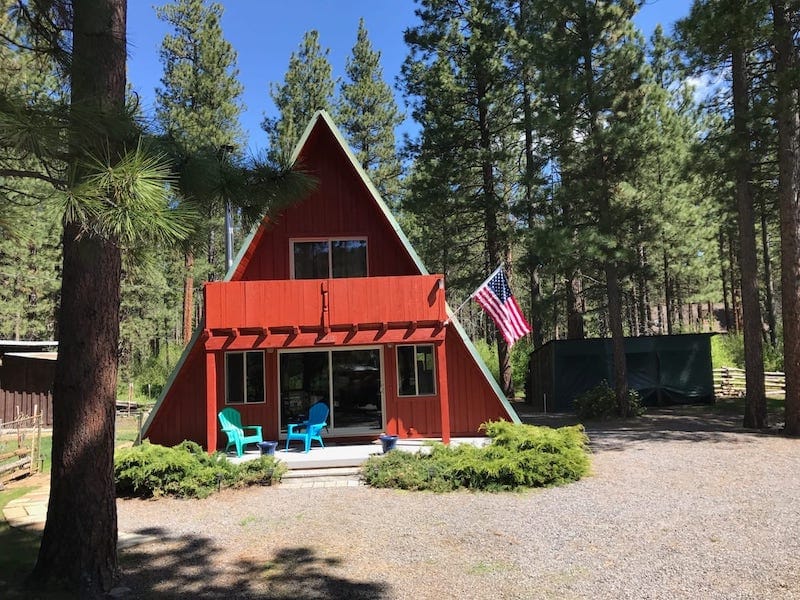 If you're looking for an Airbnb near Crater Lake that offers a cozy atmosphere in a rustic environment, this bungalow is a fantastic choice!
It is perfect for up to two guests in its 1 bedroom and 1 bath space. Alice's Cottage is an undisturbed getaway nestled in the hidden trees of Rocky Point.
This area is known for bird watching and there is also an opportunity to go canoeing, kayaking, or hiking along the many trails in the area. It is also merely one mile from a zipline.
Some of the amenities you will have are a private entrance, heating, free parking, and more!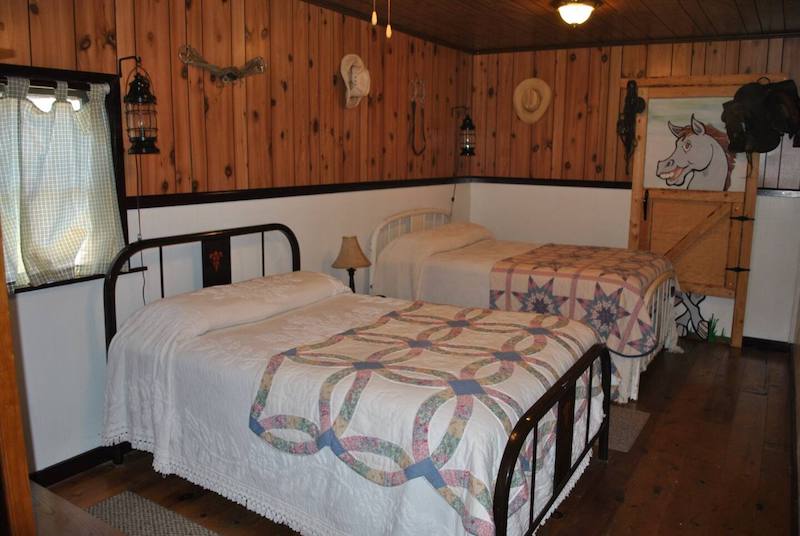 A fantastic place to stay in Fort Klamath is the Historic Wagon House. It is one of the best Crater Lake cabins and it fits up to 6 guests in its 2 bedrooms and 1 bath facilities.
This is similar to a 'Cowboy's bunkhouse' and you will find everything from a pool and cards room to a front porch with a swing. It truly will take you back in time and offer an old-fashioned Oregon experience!
In one bedroom, you will find two doubles and in the other, two queens. It has a private entrance, wifi, heating, and a fully-equipped kitchen.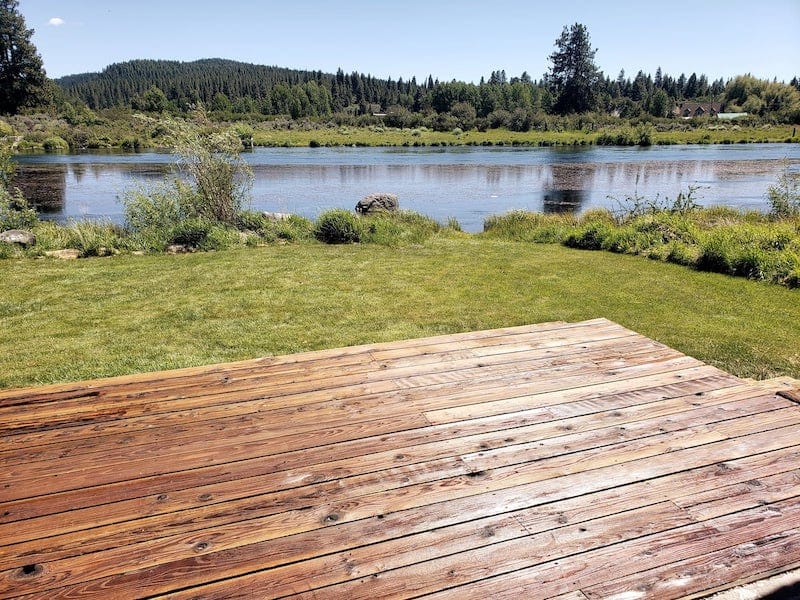 This home is located just a short distance from Crater Lake National Park in Chiloquin. It has 2 bedrooms and can accommodate up to 4 guests. There are 2 bathrooms. Both bedrooms offer queen-size beds.
Located right on the Williamson River, you will love the nature surrounding you, as well as the wildlife. Just out back you have the chance to see osprey, eagles, beavers, and otters!
The drive to Crater Lake is around 30 minutes. Some amenities you'll find on-site are a private entrance, free parking, heating, dedicated workspace, wifi, and more.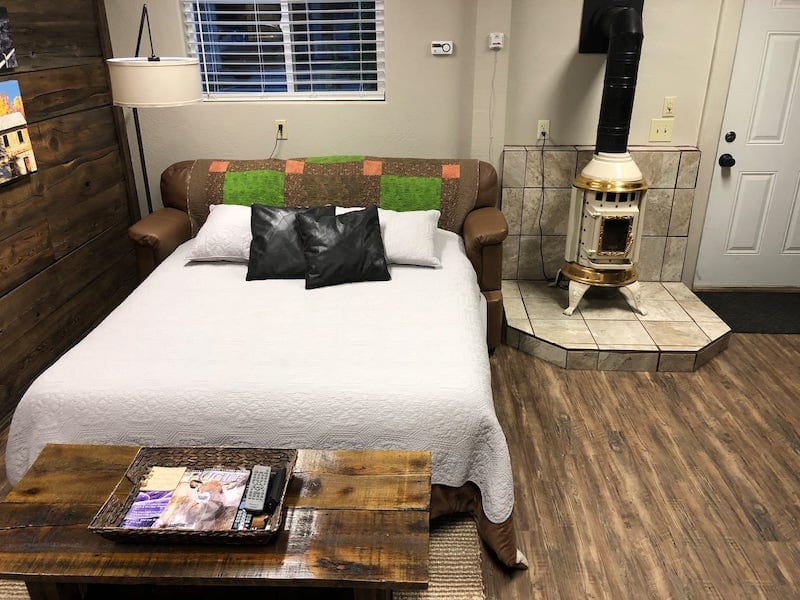 This gorgeous guesthouse will blow your mind and make you never want to leave this part of Oregon! Located in Chiloquin, this accommodation fits up to 4 guests in its two beds and one bath.
It is around 30 minutes from Crater Lake National Park. It has picturesque views and a nice outdoor seating area where you can enjoy a cup of coffee in the mornings.
One bed is a queen-sized bed and the other is a sofa bed. You'll also find room-darkening shades, a private entrance, crib, heating, and wifi inside.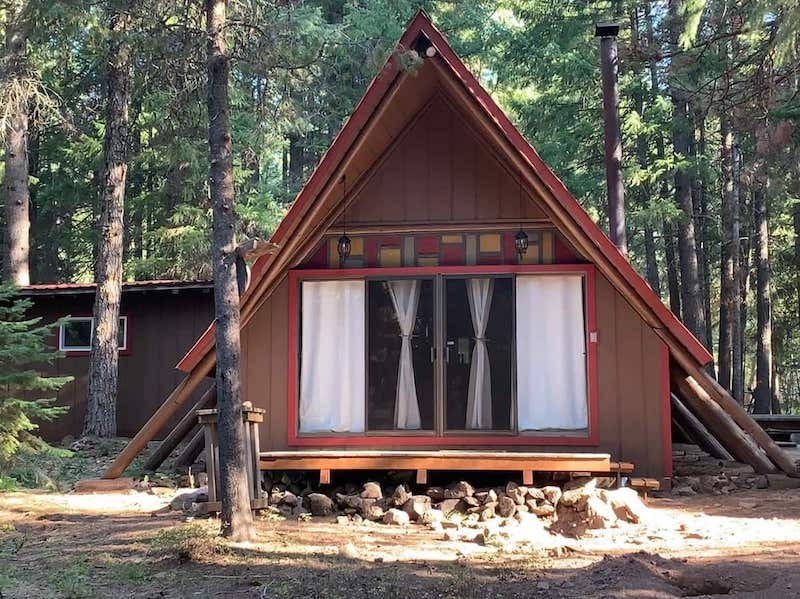 Fitting up to five guests, this Klamath Falls cabin is a great place to stay if you're looking to visit Crater Lake and the surrounding area.
You will find one bedroom and one bath inside this secluded and remote property. There are hundreds of miles of hiking trails in close vicinity to the property and it is the perfect stay for active travelers looking for a place with a lot of value.
You will find free parking, a TV, heating, a kitchen that is fully equipped, and more.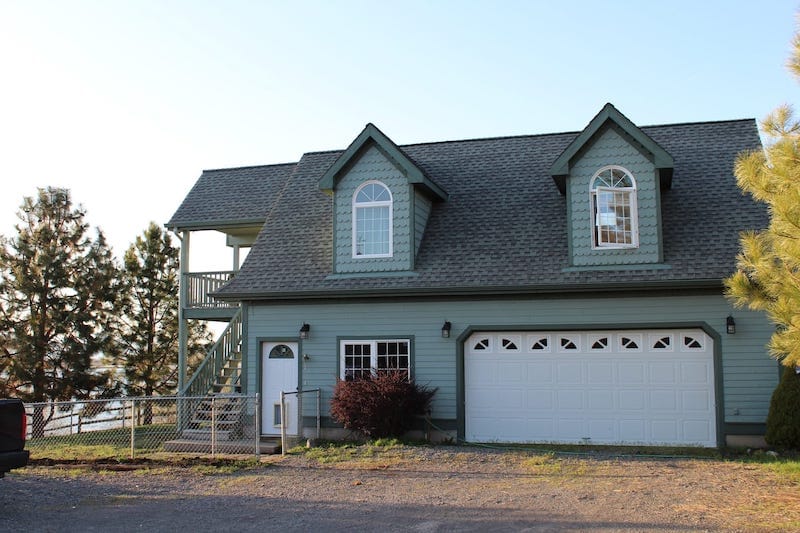 Fitting up to four guests, this lakefront apartment should be on everyone's list of the best Airbnbs near Crater Lake as it truly is a spectacular place!
With one bedroom, one bed, and one bath, the property has views of Agency Lake and the mountains that surround Crater Lake. It is an upstairs apartment with a private entrance and has skylights, a flat-screen TV, and one large bedroom. There is a fully-equipped kitchen and even kayaks to loan during the summer.
There is heating, an indoor fireplace, and wifi at this Chiloquin accommodation.
We hope that you found some of the best Airbnbs near Crater Lake to consider booking for your trip! If you have any Klamath Falls Airbnbs or Crater Lake Airbnbs to recommend, please let us know in the comments!
ABOUT THIS LAND
Crater Lake National Park is on the unceded land of the Klamath peoples. We ask you to join us in acknowledging their communities, their elders both past and present, as well as future generations.
We also acknowledge that Crater Lake NP was founded upon exclusions and erasures of many Indigenous peoples, including those on whose land these US National Parks are located.
⇒ Do your research before visiting National Parks and places in the US. Native Land and Whose Land are good starting points.
⇒ Hire Native guides when possible and encourage National Parks and government organizations to start hiring them.
⇒ Donations matter. Part of the proceeds from this blog is donated monthly to the Native Women's Wilderness.
Additional PNW Travel Resources
Pin This Crater Lake / Klamath Falls Airbnbs Guide