Are you planning a trip to the Olympic Peninsula and are in search of the best cabins near Olympic National Park? This guide has you covered!
One of my favorite places in the world is Washington's Olympic Peninsula. The Hoh Rainforest, Rialto Beach, and the incredible Olympic National Park trails resonate with me and bring back intense memories from some of my greatest trips.
ABOUT THIS LAND
Olympic National Park is on the unceded land of the Lower Elwha Klallam, Jamestown S'Klallam, Port Gamble S'Klallam, Skokomish, Quinault, Hoh, Quileute, and Makah peoples. We ask you to join us in acknowledging their communities, their elders both past and present, as well as future generations.
We also acknowledge that Olympic National Park was founded upon exclusions and erasures of many Indigenous peoples, including those on whose land these US National Parks are located.
⇒ Do your research before visiting National Parks and places in the US. Native Land and Whose Land are good starting points.
⇒ Hire Native guides when possible and encourage National Parks and government organizations to start hiring them.
⇒ Donations matter. Part of the proceeds from this blog is donated monthly to the Native Women's Wilderness.
There are many great places to base yourself for a trip to the park, and one place is Port Angeles! These Port Angeles cabins and Airbnbs near Olympic National Park offer something for every budget and traveler.
We have picked Port Angeles cabin rentals and other types of lodging to offer a diverse array of properties to choose from as you explore Olympic National Park, one of the most popular US National Parks.
Please let us know if you have a favorite Olympic National Park cabins that we didn't include on the list!
Top Cabins near Olympic National Park
We hope that you're able to find a suitable Olympic National Park Airbnb on this list! These are our top places to stay in Port Angeles, Washington.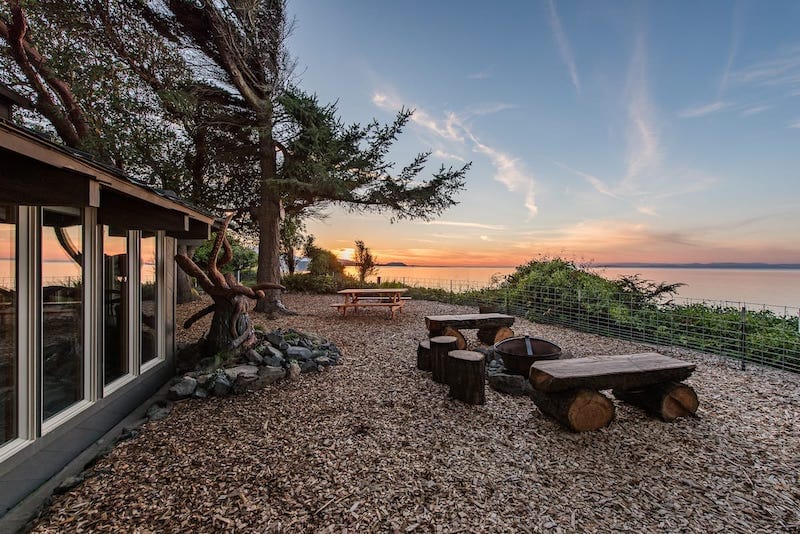 If you love waterfront locations and epic views, this Port Angeles cabin has you covered!
Bluff Haven is located in an area that offers wildlife viewing opportunities and views of the Strait of Juan de Fuca and is spacious enough to bring along the entire family!
Fitting up to 9 guests, the property has three bedrooms, five beds, and two baths. There are some fantastic amenities and you will also have access to free parking on the premises. Guests say that this place is even better than in photos! This is definitely one of the top Airbnbs in Port Angeles!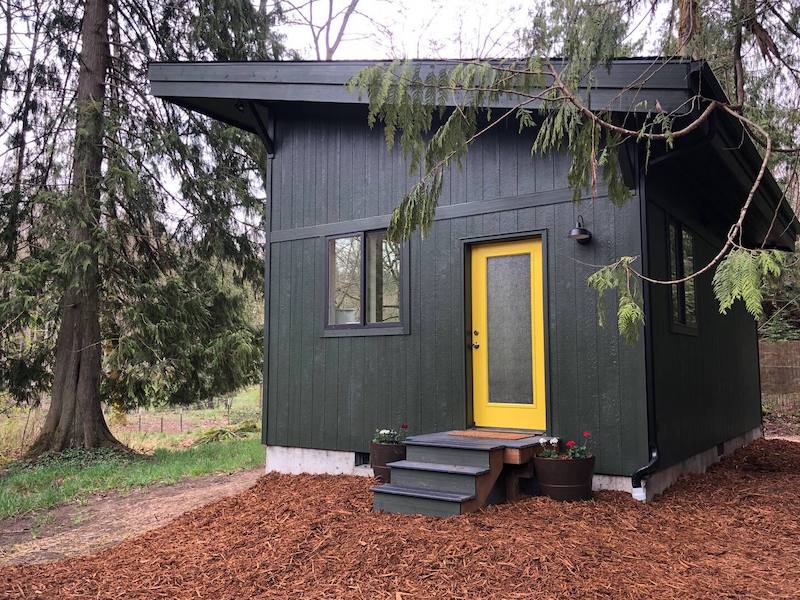 This 4-person cabin is small but sensational. The upscale cabin sits right along Morse Creek near Olympic National Park and is the perfect respite from city life for a weekend or longer.
You will be close to the Olympic National Park Visitor Center and Discovery Bike and Walking Trail. At about 400 square feet, this cabin is practical but feels like a place you'll never want to escape from! There is high-speed wifi throughout.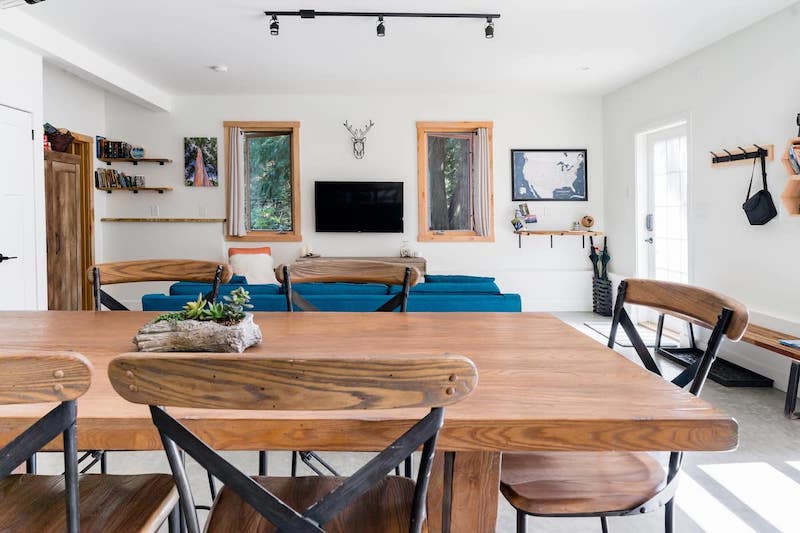 This place may just be one of the most beautiful Airbnbs in Washington state, let alone Port Angeles. The Port Angeles Airbnb has been decorated with inspiration from the spectacular scenery that surrounds it – from reclaimed slate countertops to salvaged live wood edge and beyond. There is also a gorgeous gas fireplace to help relax you and your friends and family in the evenings.
The property fits four guests offers a really nicely equipped common area with a TV, fully-stocked kitchen, floor mattress, and even game consoles.
The details here are one of a kind and you will remember your stay there forever!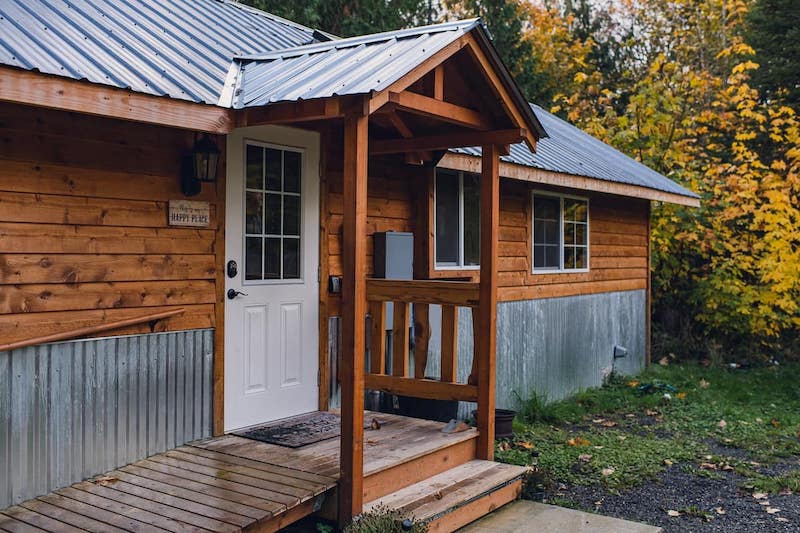 If you're looking for a more secluded location, this Airbnb near Olympic National Park and Port Angeles is calling your name. The deluxe cabin is only a 5-minute drive from Ocean Straits. It has an outdoor deck with a BBQ that faces the woods.
On the property, you will also find an indoor fireplace, a fully-stocked kitchen, and many other amenities.
There is one bedroom and it has a large, king-size bed. The Airbnb has free wifi and parking.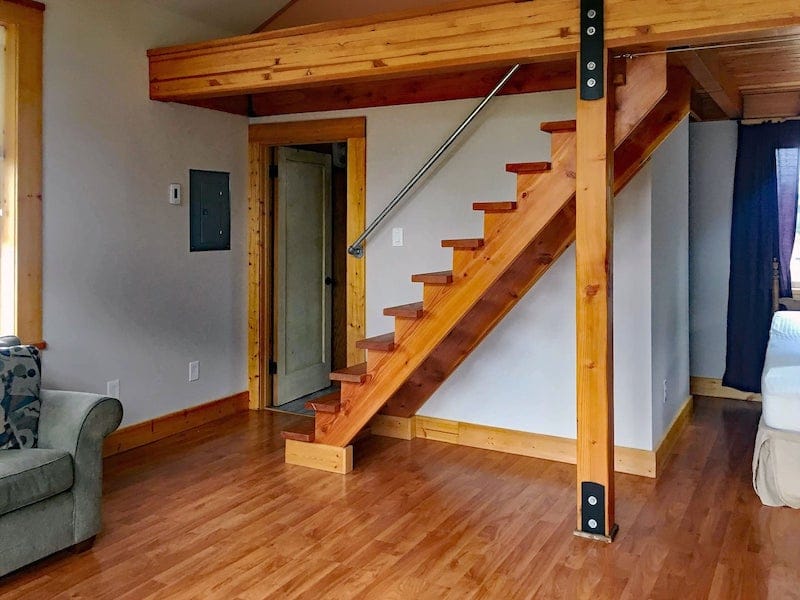 If you'd prefer to stay in the town and not out in the woods, this is a great option for a Port Angeles Airbnb. The central location is just minutes from the downtown area in a residential neighborhood. It is a 400 square foot studio apartment that has a spacious hot tub out back in a gated backyard.
Inside, you will find a queen bed in the sleeping area and a kitchenette with a fridge, microwave, coffee machine, and toaster. There is no actual stove, however. There is also a full bathroom and an electric car charger for guest use (J1772 plug).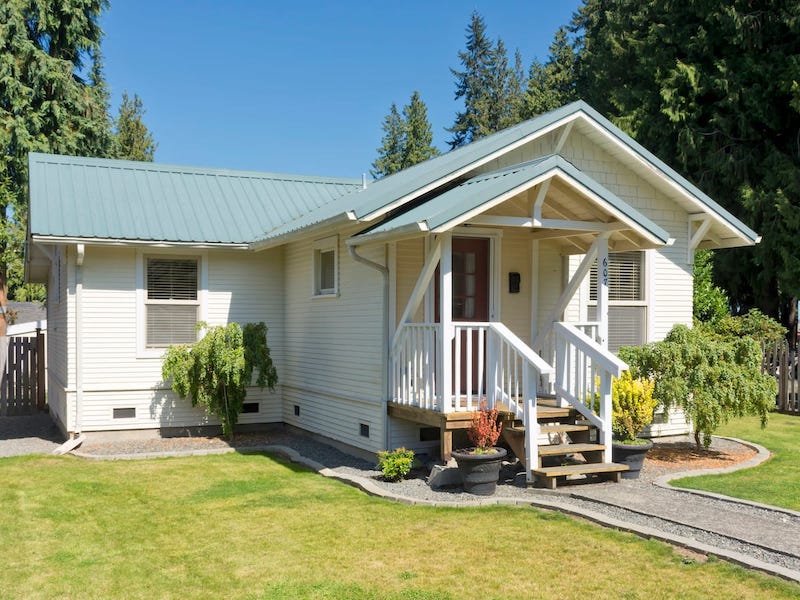 This cozy and charming house is located in Port Angeles and is bright and exciting and the perfect place for your Olympic National Park trip or trip exploring the Olympic Peninsula!
You'll find a house with a large fenced in backyard, heating, and air-conditioning.
There are two bedrooms with a queen-size bed in one and a full-size bed in a sectional couch in the other. The kitchen is fully stocked and there is a dining table for six guests.
You will also find a spacious commons area with an additional sofa bed. This is a fantastic Airbnb in Port Angeles for your stay!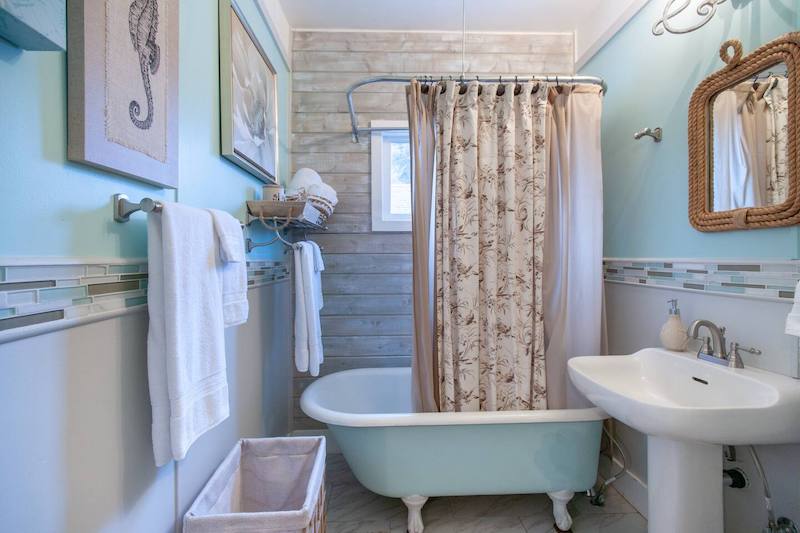 This place is so idyllic it is like a vacation in itself! The Port Angeles cottage is a two-bedroom, one-bath property located in the heart of the city. You'll find everything you need for the perfect stay – from HDTV to high-speed internet and more!
The kitchen is fully-stocked and despite being centrally-located, you will feel like you have your own little private space at the SeaShell Cottage.
There are two bedrooms- one has a queen size bed and the other has a double bed. There is free street parking, and indoor fireplace, and so much more!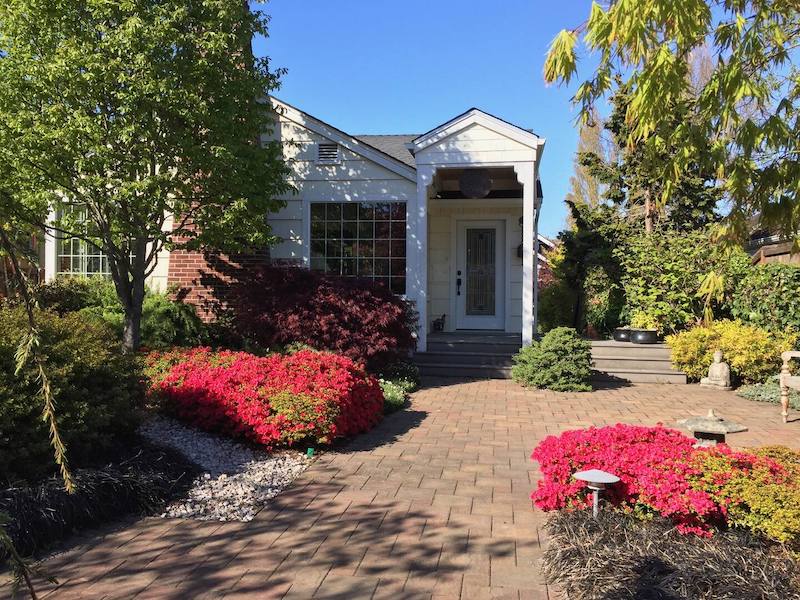 Suitable for two guests, this Port Angeles Airbnb is great for budget-friendly travelers. Rented out at an affordable rate, you will find a little slice of paradise in this hidden garden Airbnb.
You'll have a private entrance and inside of your rental, you will find a coffee machine, toaster, microwave, and a small fridge. There is a king-size bed in the bedroom and the common area is spacious for it being a private room.
Street parking is free and there is a lock on the door as well as heating, wifi, and all the other essentials you'll need for a fabulous stay in Port Angeles!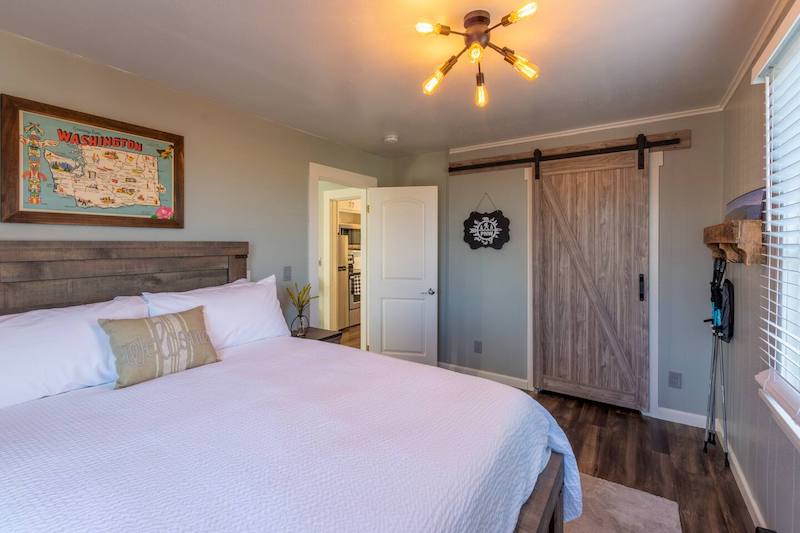 This fantastic home in Port Angeles is a great rental option for up to five guests who are looking for a spacious place with a centralized location. Located merely 5 minutes from Olympic National Park, the Airbnb is truly a relaxing place to come back to in the evenings after a long hike or road trip throughout the Olympic Peninsula.
There is a deck with mountain views, a fully-stocked kitchen, and a fireplace where you can cozy up in the evenings and watch a movie or read a book beside.
The Airbnb in Port Angeles has one bedroom with a queen-size bed and a common space with a sofa bed. There is free parking on the premises and breakfast is included.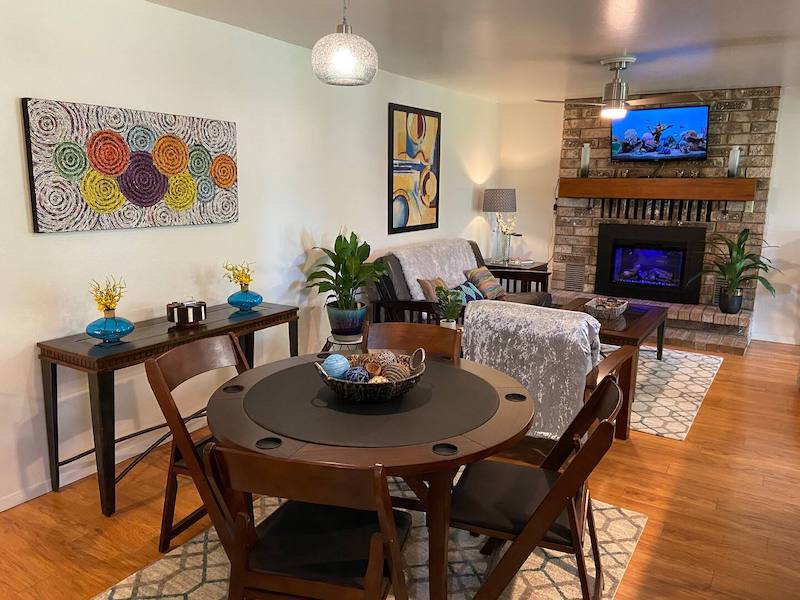 This beautiful Port Angeles rental is located in a fantastic area and is only a few minute's walk to Olympic National Park's visitor center and the downtown. You will find a newly renovated place that sleeps four, has a large kitchen with an island, an electric fireplace, coffee bar, and more!
There is a covered patio with an outdoor bar and grill area with views toward the forest. There is one bedroom with a queen-size bed and a sofa bed in the common area. Free parking on premises.
We hope that you found one of these cabins near Olympic National Park suitable for your needs and help create that perfect trip! If you have any tips for amazing Airbnbs in Port Angeles and the Olympic Peninsula, please leave them in the comments!
In addition, if you know of any other Airbnbs near Olympic National Park, please let us know! We would love to expand this guide over time and test them out ourselves as this is one of my favorite corners of the US!
Additional PNW Travel Resources