Many people don't realize that Ohio used to be America's most famous wine region, but it was! This guide discusses wine in Ohio and details the best Ohio wineries throughout the midwest state. Let us know your favorite wineries in Ohio below!
This post was written by Anna Maria Kambourakis, a Certified Sommelier, and wine educator at Unraveling Wine.
History of Wine in Ohio
Would you believe that Ohio was once the most famous wine region in the United States? It's true! Ohio's wine history dates back to the 1820s – decades before the first commercial winery in Napa Valley!
In 1825, Nicholas Longworth, the father of Ohio wine, planted the first grapes in the Ohio River Valley. The wine industry flourished and by the late 1850s, Ohio was the largest wine-producing state in America with Cincinnati as its hub.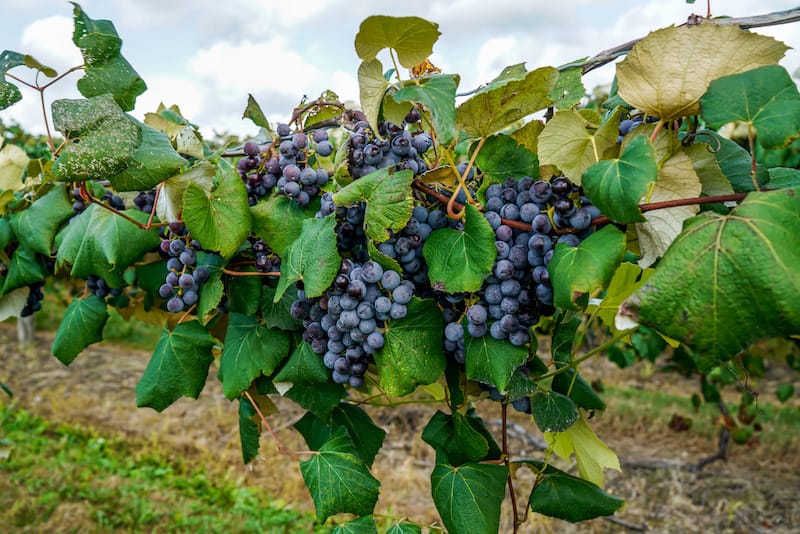 Americans were not big wine drinkers at the time, but an influx of European immigrants in Ohio kept the demand high. So what happened? The Civil War.
Ohio was instrumental in manning the war effort due to its large population and central location. While the American Civil War raged, from 1861 to 1865, all able-bodied men went to war and there was no one left to tend to the labor-intensive vineyards.
Ohio wine production saw a steady decrease in production. After the war, the wine industry started to shift further and further west to California.
Ohio's wine industry moved from the Ohio River Valley to the fertile soils of Lake Erie. After the war, the temperance movement gained steam. Even before the 18th Amendment officially ushered in Prohibition in 1920, Prohibitionists, or those that wanted to outlaw all alcohol, pressured grape growers and politicians to limit, and later to end, wine production.
These pressures forced farmers to grow table grapes instead of the grapes better suited for wine.
Thankfully, the Ohio wine industry recovered from Prohibition and is currently thriving. Ohio is the 6th largest wine-producing area in the United States. Today, the state boasts over 300 wineries!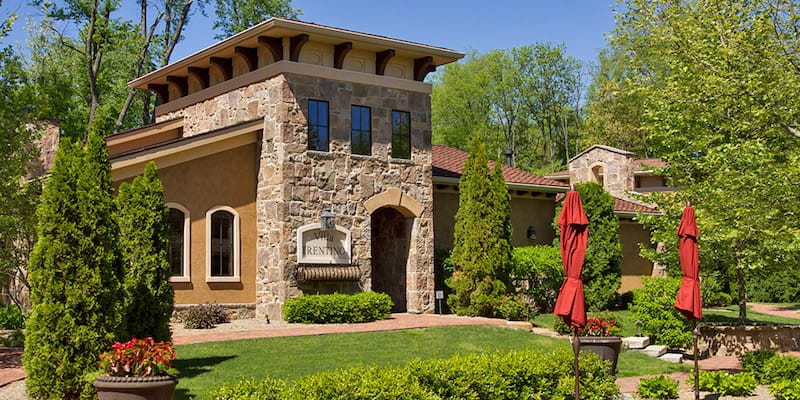 There are wine festivals, wine trails, and wine events organized by winemakers' associations, making wine tasting in Ohio lots of fun and easy to organize.
Some wineries have lodging, others have spas, and most have restaurants. Visiting wineries in Ohio is a must-do activity!
Wine Regions in Ohio
Ohio is home to 5 designated AVAs, or American Viticultural Areas. The 5 designated AVAs in Ohio are:
Ohio River Valley AVA
Grand River Valley AVA
Lake Erie AVA
Isle St. George AVA
Loramie Creek AVA
The Ohio River Valley AVA is considered the birthplace of American Viticulture. Centered around the Ohio River, Ohio's southern border, it is the second-largest AVA in the United States. Its 16,640,000 acres traverse portions of Ohio, Indiana, Kentucky, and West Virginia.
Known for Chardonnay, Gewurztraminer, and Pinot Gris, the Grand River Valley AVA is in Northeast Ohio close to Cleveland.
It is within the multi-state Lake Erie AVA. This appellation is shared with New York and Pennsylvania and the region around Lake Erie. Isle St.George AVA is located on North Bass Island, part of the Lake Erie Islands. Lastly, Loramie Creek AVA is in western Ohio, near Indiana, though there are no wineries currently operating.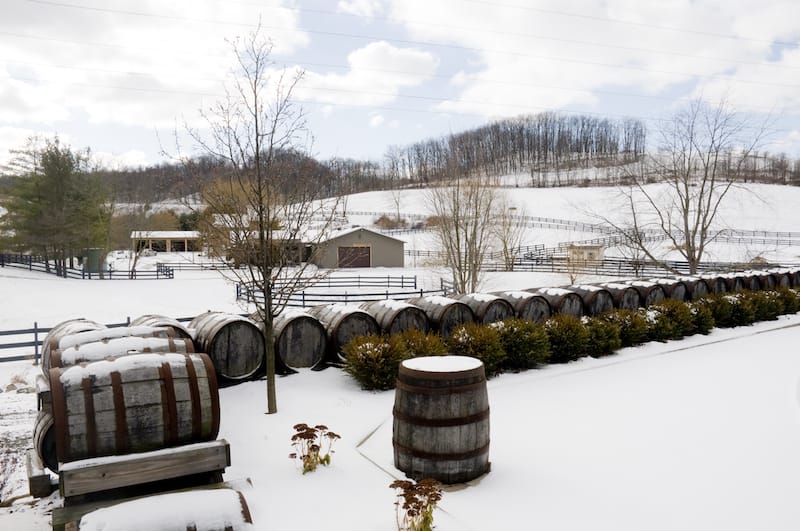 Ohio Wine Trails
The Ohio Wine Producers Association has six wine trails throughout the states, with over a hundred participating wineries. Hop on a Trail for a day, a weekend, or even a week!
The 6 wine trails in Ohio are:
Appalachian Wine Trail (southeastern Ohio)
Ohio River Valley Wine Trail (near Cincinnati)
Canal Country Wine Trail (Ohio and Erie Canal + Amish country)
Capital City Wine Trail (around Columbus)
Lake Erie Shores and Island Wine Trail (North coast)
Vines & Wines Trail (Grand River Valley – most wineries in the state)
Each Ohio Wine Trail highlights a different region, where you can discover new wineries, take in the beautiful landscape, and enjoy local delicacies.
The Appalachian Wine Trail takes you through southeastern Ohio along the border with West Virginia. Explore the Appalachian foothills, visit Hocking Hills State Park or stop by Athens and Ohio University.
Sip wines from unglaciated terrain. The Ohio River Valley Wine Trail guides you to the wineries around Cincinnati and the birthplace of viticulture in Ohio.
The Canal Country Wine Trail delves into the area once dominated by the Ohio and Erie Canal. Today you can walk or bike the Towpath, take the Cuyahoga Valley Scenic Railroad, or drive America's Byway. The southern part of the Canal Country Wine Trail leads you through Ohio's Amish Country.
The Capital City Wine Trail explores wines around Columbus in the heart of Ohio.
Explore the North Coast on the Lake Erie Shores and Island Wine Trail. Beyond the region's award-winning wines, you can enjoy the legendary Cedar Point, the lighthouse at Marblehead, or escape to the islands- Ohio's summer playground.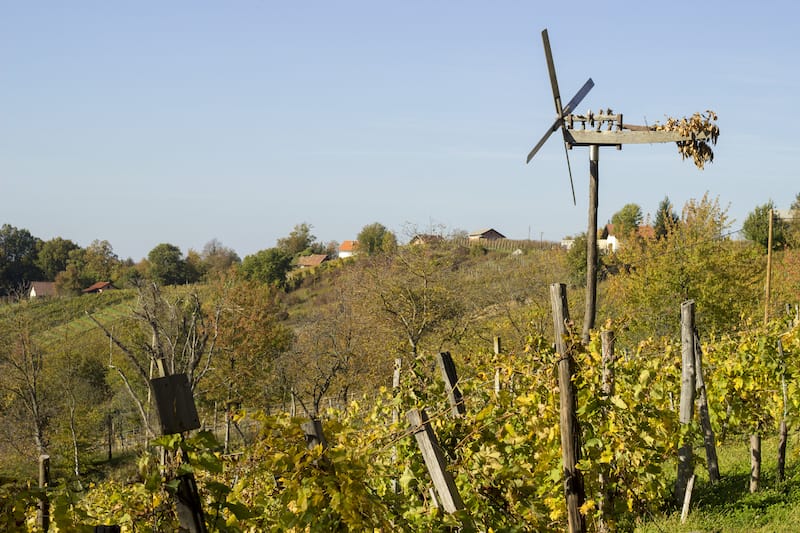 Lastly, the Vines & Wines Trail takes you through the valley created by the Grand River. This region in Northeast Ohio boasts the highest concentration of wineries in the state and many are located in the charming small Ohio towns in the area.
Perfect for a getaway, explore covered bridges, antique shopping, and resort communities all while sipping on the real star of the region.
Wine Grapes Found in Ohio
The grapes that make the wines that we are familiar with like Cabernet Sauvignon and Chardonnay are a Eurasian species of grape called Vitis vinifera.
Vitis vinifera grapes could not survive the freezing cold winters and plant diseases of the eastern United States when Ohio was first planted.
Viticulturists, or grape growers, created hybrid grapes by crossing Vitis vinifera grapes with the American species of grape Vitis labrusca. It didn't end there.
Through the years and as vine technology advanced, crosses and hybrids were formed across all species of grapes.
This way, the grapes could grow and make great wines in extreme climates and be resistant to vine diseases and pests. Some of these hybrids are found throughout the world.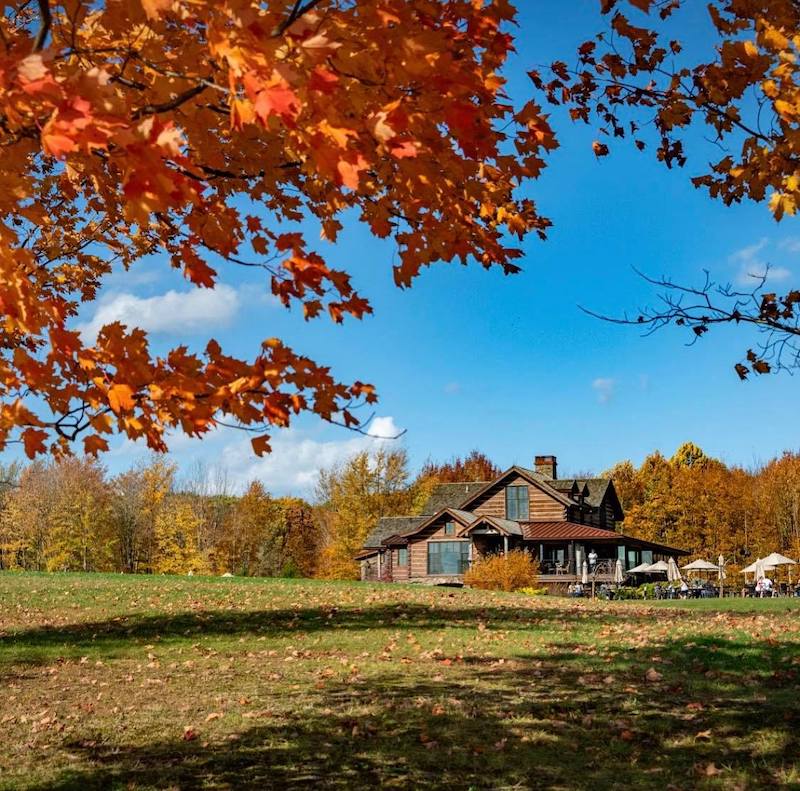 The first grapes Nicholas Longworth planted in Ohio were Isabella and Alexander, both hybrid grapes that are very sweet. Unfortunately, it is believed that these grapes are now extinct.
A few years later, he also planted Catawba, a native grape that's even hardier, that was the sweetheart grape of Ohio wines.
Nowadays, Ohio has vineyards of both hybrid varieties, like Vidal and Niagara, and international varieties like Cabernet Franc, Riesling, and Pinot Noir. Also worth mentioning is that Ohio makes great sparkling wine.
Tasting Notes for Grapes Grown in Ohio
There's a very wide range of grapes that farmers have planted in Ohio. The styles of wine are just as diverse.
You'll find very sweet ice wines, dry reds and whites, semi-sweet rosé wine, and even some festive sparkling wines. Here are some tasting notes on the aromas and tastes you can expect from each grape: Ever wonder how wine gets its smell?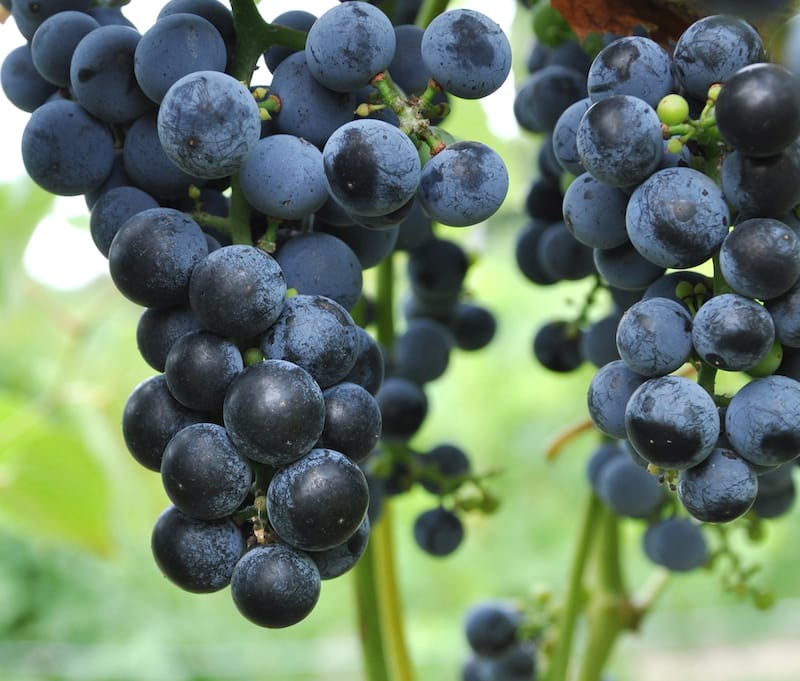 Native Grapes (Vitis labrusca)
Catawba: predominantly used for semi-sweet

rosé wines, smells and flavors of wild berry, watermelon, and grape candy

Concord: sweet red wine with strawberry and grape jam flavors with signature foxy notes
Norton: red wines with chocolate, raspberry, and blueberry aromas
Delaware: an aromatic red grape generally made into

semi-sweet rosé wines with floral and fruit characteristics

Niagara: a white grape that makes off-dry wines with tropical fruit flavors
Hybrid Grapes (Vitis labrusca x Vitis vinifera)
Cayuga white: a white wine with floral, wax, and honey aromas
Chambourcin: a deep red wine with minty, dill flavors
Chardonel: as its name suggests, Chardonel is a hybrid from Chardonnay. It's a bit hardier and can survive the cold. It has similar lemon and green apple characters as its parent grape.
Corot noir: red grape for red wine production with cherry, berry, and bright flavors
Frontenac: cherry-scented red wine with blackberry flavors
Frontenac gris: white wines with fresh apple, dried apricots, and overripe peach flavors
La Crescent: sweet wines with lemon, lime, and apricot jam flavors
Marechal Foch: red wines that are usually fortified into syrupy sweet wines with cocoa, honey, and blackberry jam aromas and flavors
Marquette: fruity red wine with deep colors and smoky aromas
Noiret: a peppery red wine with raspberry and vanilla flavors
Traminette: a beautifully aromatic white wine with tropical and rose petal aromas that is often produced in a sweet style
Valvin Muscat: white wine grape with orchard fruit and flower blossom aromas
Vidal: the most beloved of the North American hybrid grapes, Vidal makes extraordinary dessert wines
Vignoles: generally produces off-dry to sweet white wines with honey and peach characteristics
International Grapes (Vitis vinifera)
Auxerrois: off-dry fruit driven white wines with moderate acidity
Cabernet Franc: green pepper and red currant smells create this medium-bodied red wine
Cabernet Sauvignon: black currant, blackberry, and vanilla full-bodied tannic red wines
Chardonnay: white wine usually oak-aged with lemon, butter, and green apple flavors
Gruner Veltliner: white wine with cracked white pepper and peach characteristics with bright acidity
Lemberger: spicy red wine with deep purple colors and fruit centric aromas
Merlot: blueberry, plum flavored red wines with rich fruity character
Petit Verdot: a very structured inky red wine with rose, violet, and herbal aromas
Pinot Gris: white wines with lemon, apple, pear, and honey characteristics, sometimes off-dry
Pinot Noir: an earthy light-bodied red wine with mushroom, leather, and cherry notes
Riesling: a peach driven white wine that makes a variety of styles from dry to sweet
Sauvignon blanc: a crisp white wine grape that makes citrusy and grassy dry wines
Syrah: a spicy, inky red grape with raspberry and black pepper notes
Viognier: a floral white grape with peach and nectarine characteristics
In addition to making wine from grapes, you'll also find various fruit wines in Ohio made from apples, cherries, pears, and berries.
Best Wineries in Ohio Map
Below, you will find some of the best wineries in Ohio and their respective regions. If there are any Ohio wineries that you believe should be on this list, please leave a comment below for readers! Here is a map to help you locate each!
To add this map to your Google Maps account, click the 'Star' icon next to the map name. You can then view it on your cell phone or computer by heading to your Google Maps account, click the menu and add it to 'Your Places'.
Wineries in Cincinnati (and Vicinity)
Cincinnati, Ohio was once the epicenter of the American wine industry. If you're staying in the city, there are lots of wineries in Cincinnati and just outside of it to choose from.
They really make for some of the best weekend trips from Cincinnati!
Henke Winery and Restaurant
Address: 3077 Harrison Avenue, Cincinnati, OH 45211
513-662-9463
info@henkewine.com
Henke Winery Facebook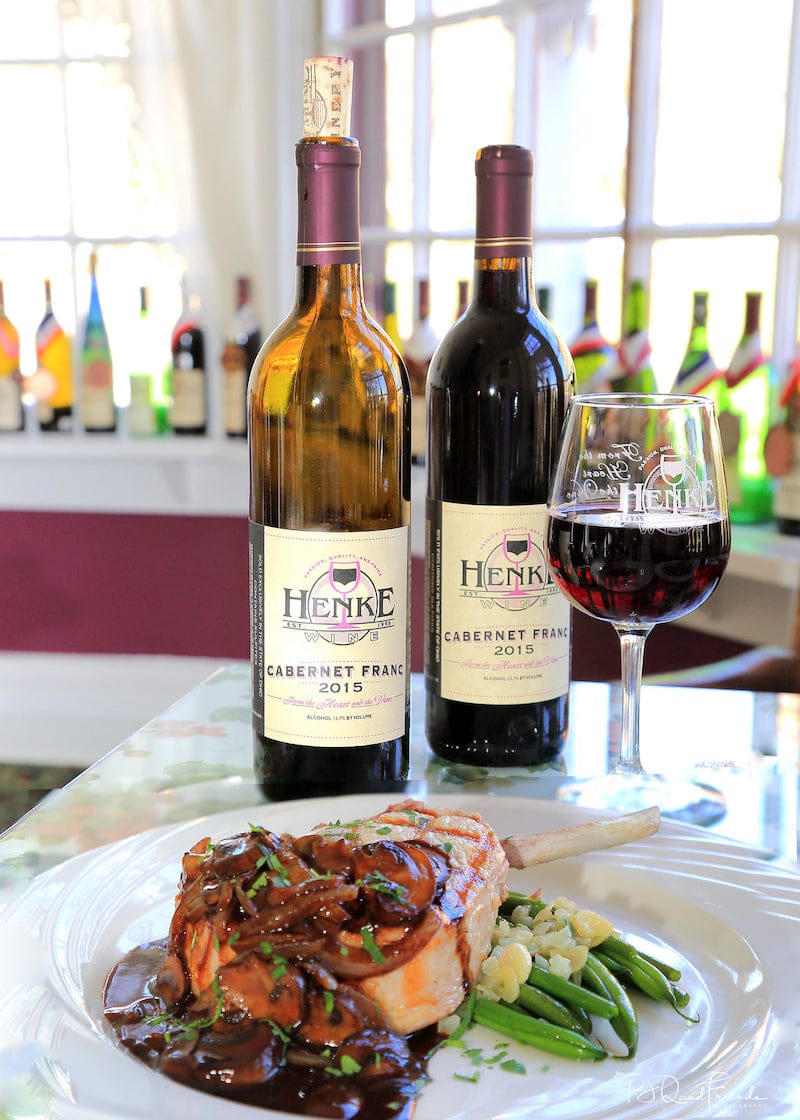 Henke Winery and Restaurant is among the best urban wineries in the nation. Come for the wine, stay for the food!
Walk-ins are welcome to taste 5 different wines for just $10. Avoid going during the dinner rush on Friday and Saturday night if you just want to taste wine. Otherwise, indulge in their amazing creative menu that pairs perfectly with their wine selection.
Hanover Winery
Address: 2165 Morman Rd, Hamilton, OH 45013
513-863-3119
info@hanoverwinery.com
https://www.hanoverwinery.com
You can reach Hanover Winery in under an hour from Cincinnati. Their slogan says it all, "Just far enough to feel like you've gone somewhere".
Hanover Winery is open to visitors all year round. Small groups don't need a reservation but if there are 9 or more, give them a heads up so they can set up a spot for you.
The wine tasting includes 6 of their delicious wines and you get to keep their logoed glass as a souvenir. They make all different styles from sweet to dry so there's something for everyone. Meat and cheese plates are available for purchase as well.
The winery has lots of themed events like music nights and charity benefits throughout the year that they host under their big tent by the lake.
Vinoklet Winery & Restaurant
Address: 11069 Colerain Avenue, Cincinnati, Ohio 45252
513-385-9309
https://www.vinokletwines.com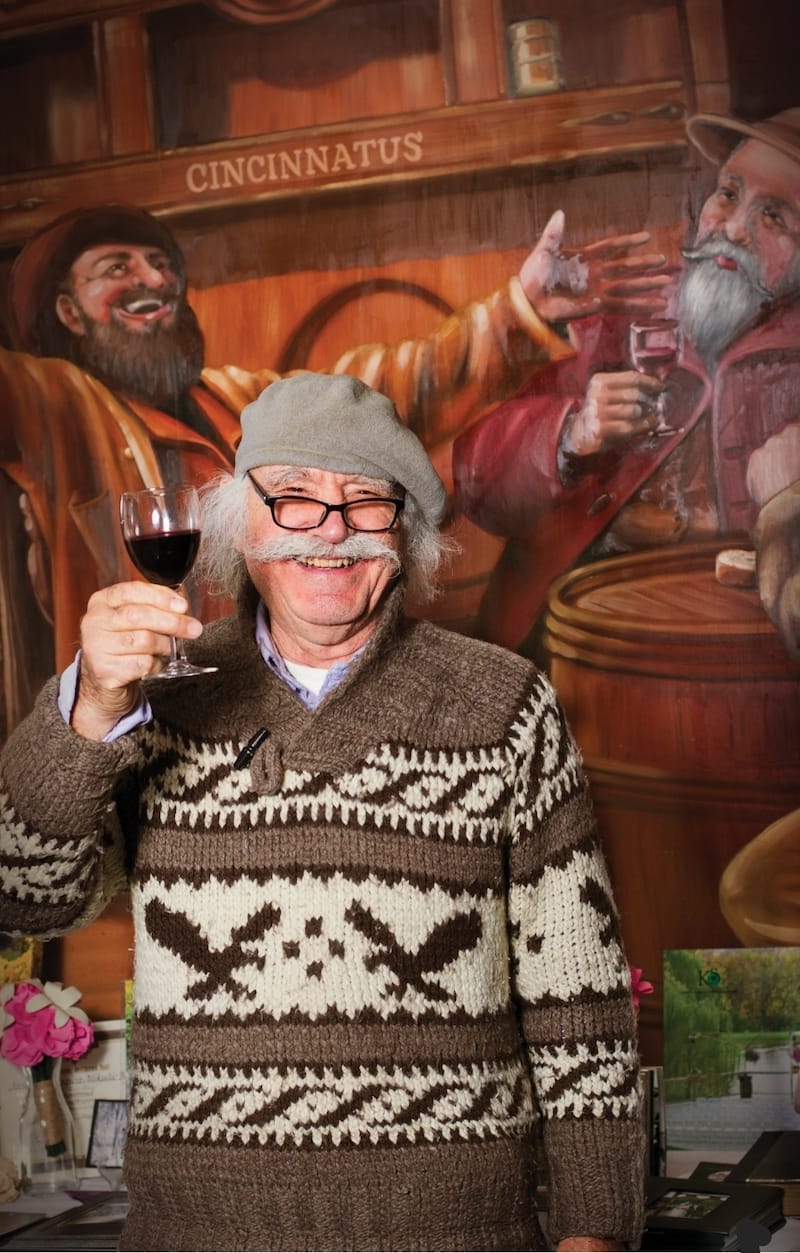 If you're looking for the coolest man in Ohio, you must visit Vinoklet Winery & Restaurant. The owner and founder, Kreso Mikulic, is an Olympic gymnast, aerospace engineer, and owner of the world's most epic mustache.
An immigrant from Croatia, Mikulic has winemaking in his blood, but it was later in life that he started Vinoklet Winery. After some trial and error, Vinoklet now boasts some of the best accolades of any Ohio winery.
Wine tasting is a hands-on experience. On Fridays and Saturdays, you can sample 6 different wines while grilling your own meats! They have lots of unique events happening throughout the year. Vinoklet is one of the most talked-about Ohio wineries!
Woodstone Creek Winery and Distillery
Address: 4712 Vine Street, Cincinnati, Ohio 45217
513-569-0300
woodstonecreek@yahoo.com
Woodstone Creek Winery Facebook
Wine, mead, and spirits, oh my! At Woodstone Creek Winery and Distillery, you have a chance to taste all three. Their tasting room is open on the weekends for a great weekend activity if you're visiting Cincinnati.
You'll find a large variety of wine made from local grapes, made from fruit, and even blended with chocolate! Their selection changes throughout the year.
Wineries in Northeast Ohio (Cleveland & Vicinity)
There are hundreds of wineries within an hour's drive of Cleveland. Head south into the heart of Ohio for unique wine experiences or head east to the Lake Erie coast where each winery is a stone's throw away from the next.
Gervasi Winery
Address: 1700 55th Street NE, Canton, OH 44721
330-497-1000
https://www.gervasivineyard.com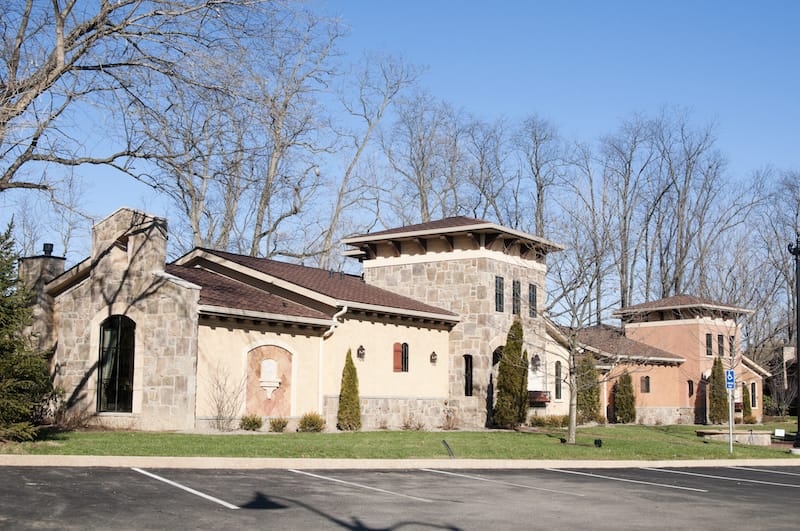 Want to visit Tuscany for the weekend without leaving the state? Head to Gervasi Winery.
The Ohio winery has Tuscan-inspired villas, a farmhouse, and a boutique hotel among their 5 acres of vineyards to stay in all year long. While you're on your romantic weekend getaway, you can enjoy live music, fine dining, and even take a cooking class.
INSIDER TIP: You must have the lasagna paired with the GV Sangiovese.
Old Firehouse Winery
Address: 5499 Lake Road, Geneva-on-the-Lake, OH 44041
1-800-UNCORK-1; 440-466-9300
https://www.oldfirehousewinery.com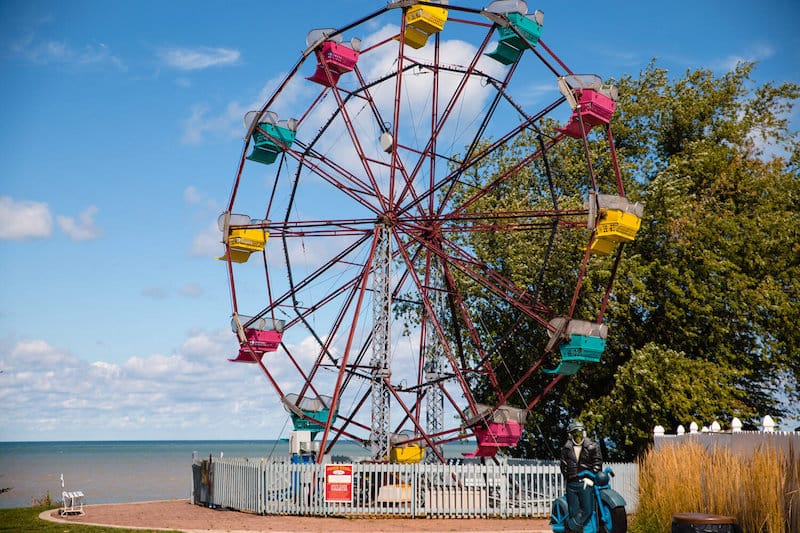 Grab the kids and head to the winery! Old Firehouse Winery, located in Geneva-on-the-lake, is the only winery in the world with a Ferris wheel! This antique Ferris wheel operates all summer long with an extraordinary view of Lake Erie.
Oh, and the wines are great! Grab a glass of their fantastic sparkling wine or apple wine and enjoy a perfect summer evening. They offer live entertainment throughout the year. Their restaurant is kid-friendly, too.
Ferrante Winery & Ristorante
Address: 5585 State Route 307, Geneva, OH 44041
440-466-8466
https://www.ferrantewinery.com
The Ferrante family has been making wine in Ohio since just after Prohibition ended. The Italian-American family makes some seriously delicious wines to match their authentic Italian cuisine.
They've chosen the best international varieties for the colder climate of Ohio at Ferrante Winery & Ristorante. Their Cabernet Franc is not to be missed! Enjoy wine tasting, dinner, and live entertainment while you stroll their sprawling vineyards.
Laurentia Vineyard & Winery
Address: 4599 S. Madison Road, Madison, Ohio 44057
440-296-9175
info@laurentiawinery.com
https://www.laurentiawinery.com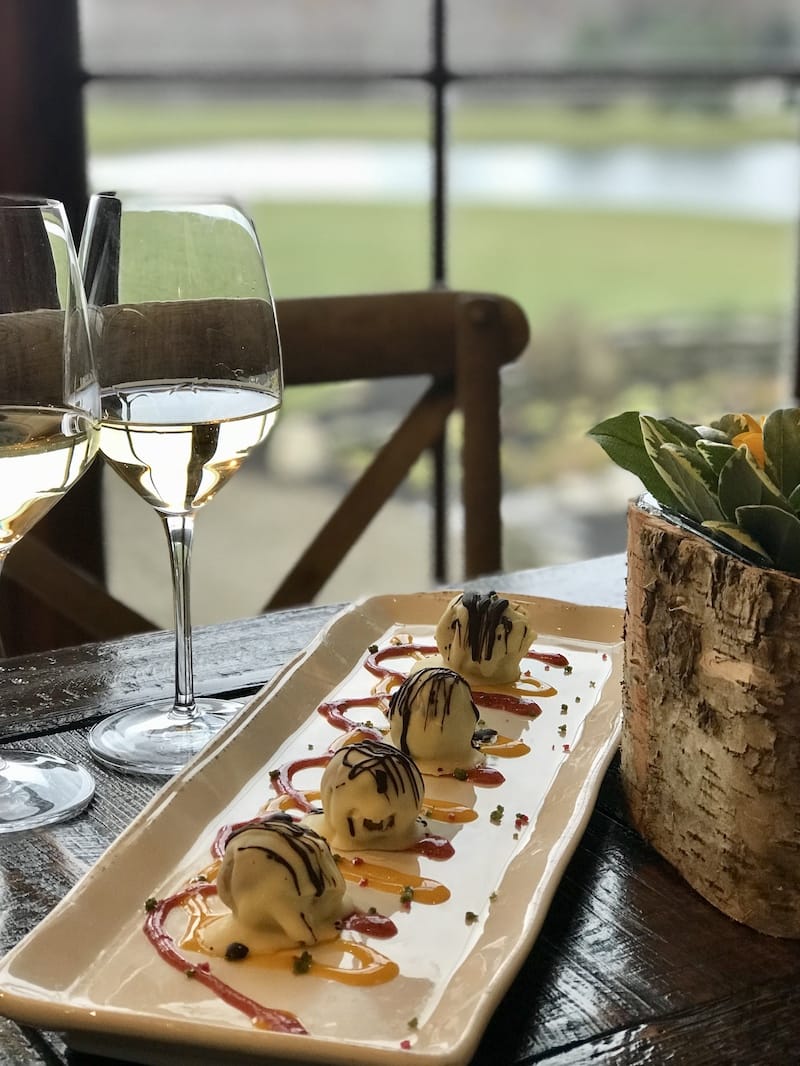 Laurentia Vineyard & Winery is one of the most beautiful wineries in Ohio. The vineyards sprawl around the property, perfect for those Instagram pics!
The winery isn't all looks; the wines are the result of a careful examination of the region's terroir. The wines are exquisite and will diminish any doubt you have about Ohioan wines. Laurentia has a full restaurant with culinary delights that are perfectly paired with their wines.
Klingshirn Winery
Address: 33050 Webber Rd, Avon Lake OH 44012
440-933-6666
Klingshirn Winery Facebook
Klingshirn Winery is as Ohio as it gets! The winery was established way back in the 1940s when there was a surplus of Concord grapes.
Albert R. Klingshirn decided to start making wine. This evolved into the building of the first winery and later expansion to the winery as it stands today.
The third generation of Klingshirn Winery still focuses on authentic Ohioan grapes like Catawba and American grapes like Concord and Niagara. Check out their website for events year-round for a wholesome Ohio experience.
Lake Erie Wineries (& the Islands)
Some of the first wineries in America were on the islands of Lake Erie. There's a rich history in this area and a relaxing island vibe. Visiting some of these make for great weekend trips from Pittsburgh, Erie, and many other places.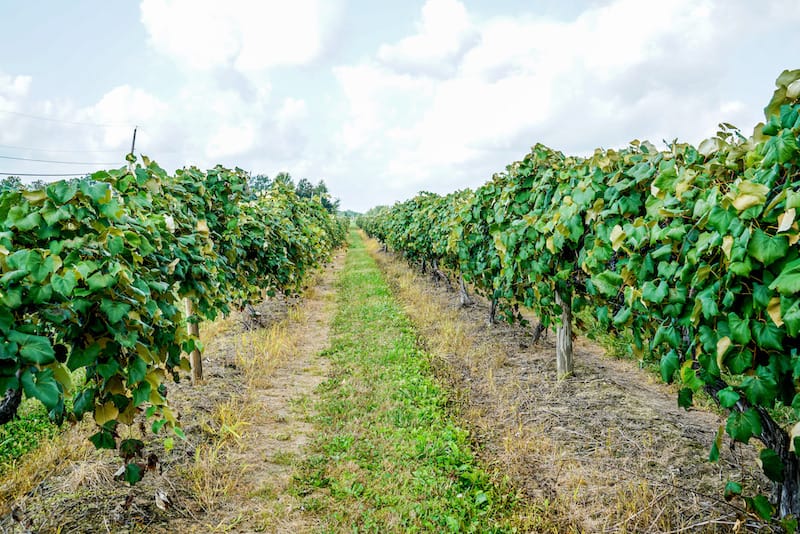 Kelley's Island Wine Co.
Address: 418 Woodford Rd, Kelleys Island, OH 43438
419-746-2678
https://www.kelleysislandwineco.com
Kelley's Island is a small island in Lake Erie accessible by plane or ferry. This family-owned winery exclusively makes wine from grapes grown on the island.
Tasting these wines will give a full understanding of the terroir of the island. There are picnic tables throughout the property where you can enjoy the full range of the restaurant's dishes alongside samples of wine. Bonus- there are goats and chickens for petting!
Crooked Tree Vineyard
Address: 715 E. Lakeshore Drive, Kelleys Island, OH 43438
https://www.crookedtreevineyard.com
You'll feel right at home at Crooked Tree Vineyard. This is a small winery with mighty wines. Their Cabernet Franc is loved by all, including the raccoons who nibble on the grapes when they are ripe.
The tasting room is very inviting and cozy. You can visit on the weekends and taste their red, white, rosé, and sweet wines.
Heineman's Winery
Address: 978 Catawba Ave, Put-In-Bay, OH 43456
419-285-2811
Heineman's Winery Facebook
Ohio's oldest winery is located on Put-In-Bay Island. Heineman's Winery was started in 1888 by a German immigrant from the famous wine region of Baden.
The island was noted for the vastness of its wild grapes. During Prohibition, the winery survived financial ruin from an unlikely source.
While digging for a well, workers stumbled upon the largest crystal cave in the world! Visitors to the cave kept the winery afloat until Prohibition ended. You can visit the cave and enjoy a sample of wine in the beautiful wine garden.
Ohio Wine Month (June)
Throughout the state of Ohio, wineries put on special events during the month of June to celebrate Ohio Wine Month. You can participate in road races, hear live music, win contests, and enjoy themed festivals.
Outside of June, you can always find something exciting happening in the vines and at the wineries. The wineries and grape growing associations have invested a lot in their visitors' experience.
It is nearly impossible not to have a great time tasting the wines of Ohio. You'll surely discover something new!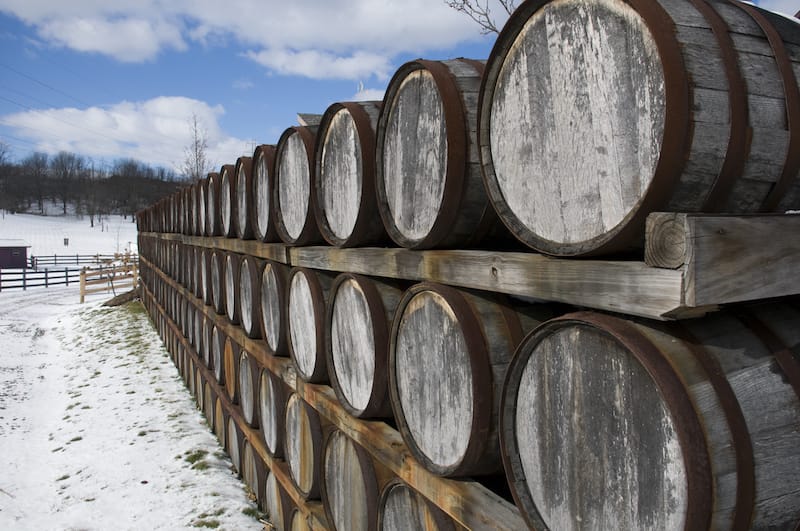 Should You Visit Ohio Wine Country?
Yes! While it may not receive the recognition of other regions in the US, and particularly in California, this area is home to an extensive amount of US wine history and wine in Ohio is seriously underrated.
What are your favorite Ohio wineries or have you heard anything about the best wineries in Ohio? Let us know in the comments!
About Anna: Anna Maria Kambourakis is a Certified Sommelier who is passionate about wine education. With her blog, Unraveling Wine, she seeks to provide useful and practical information about wine in an easy-to-understand way.
When she's not writing or sipping on wine, she enjoys traveling to wine regions and trying out new recipes. You can follow her on social media here: Facebook // Instagram
More Ohio Travel Guides
Pin this Ohio Wineries Guide