As someone who was born in Ohio and spent a fair portion of my life there, I definitely think the state is underrated. And, you will find some of the best small towns in Ohio within easy reach of the larger cities!
This guide is dedicated to those Ohio small towns. This guide showcases some of my favorites (and other people's favorites) for a weekend getaway in the state.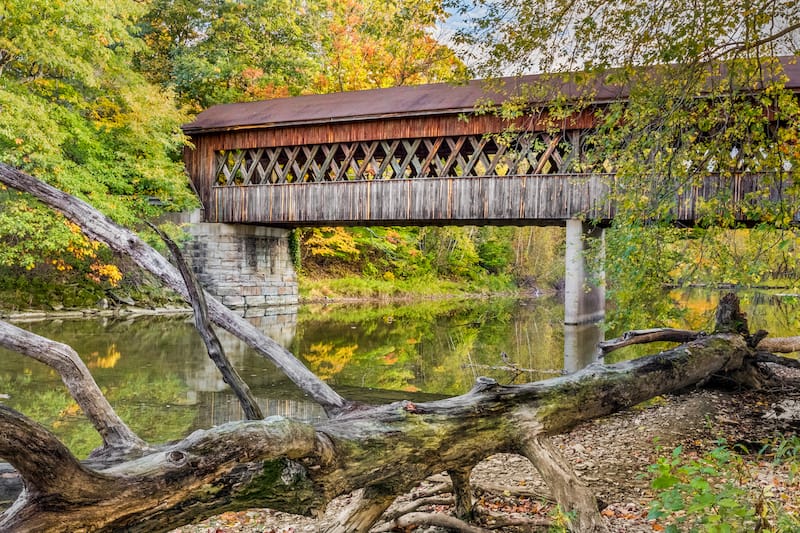 Did we miss any amazing small towns in OH? Let us know your recommendations in the comments! Thanks!
Best Small Towns in Ohio
Gallipolis
The city of Gallipolis has a rich historic background with ties to France. The name of the city, Gallipolis, has two root words, "galli", meaning gaul or France, and the Greek word for city, "polis."
Now the French had a very big impact on the city and you can become more informed by visiting the French Art Colony and also the Gallia County Historical and Genealogical Society.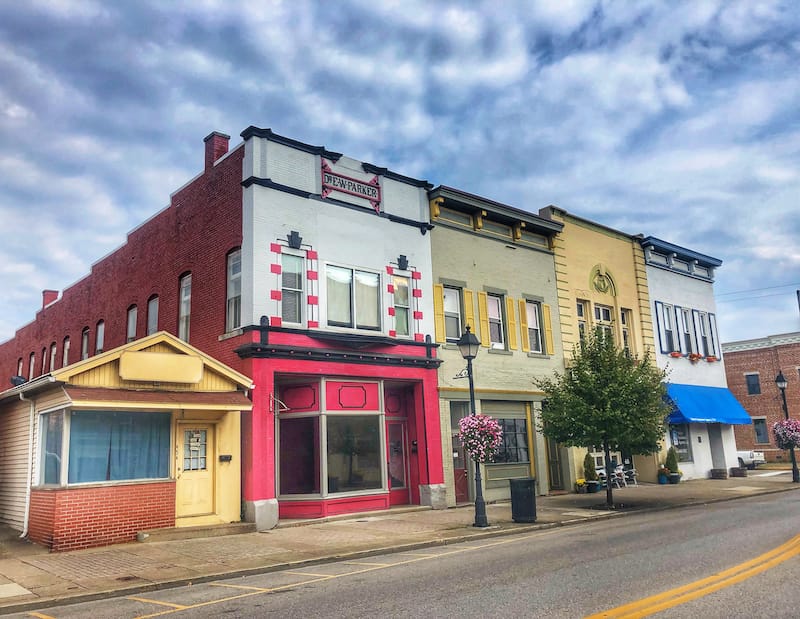 If you want to learn more about the history and preservation of Gallipolis culture in general, you can also visit the Our House Museum.
Besides history though, Gallipolis is big on arts and you can see that if you go and watch a show at the Ariel Theatre.
Conneaut
The small Ohio town of Conneaut has very important historical value to the United States. When the city was first settled in the 1700s, the place had very rich soil and was used for agricultural purposes.
Conneaut was a great opportunity for rural and economic growth both for individuals and the masses. The name "Conneaut" comes from the Seneca language, a Native American language, meaning "River of Many Fish."
Besides its Native American history, Conneaut is also known for its advances during the late 19th century.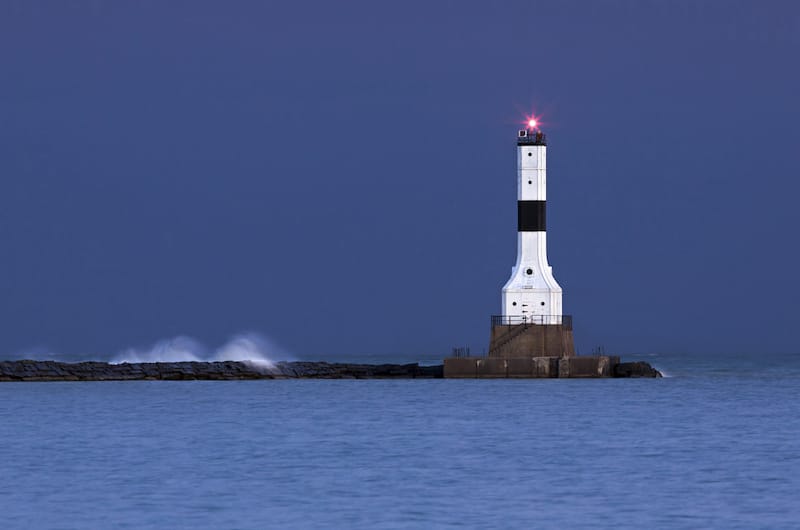 Today, when visiting Conneaut, you can go to the Conneaut Railroad Museum where you can see what transportation was back in the day and also learn some things about history you might not have known about.
Conneaut also has this neat tradition where, each year, they have a Bridge Festival. Each year, in the second week of October, they play games and have many presentations!
Glenford
Often overlooked, Glenford is such an amazing little town with so much to offer! With the people's love for wine, there are many wineries and vineyards in the city.
Some of the best are the Vingerige Vineyard and the Sand Hollow Winery! You can also spend some time going to the various dinners and nice restaurants.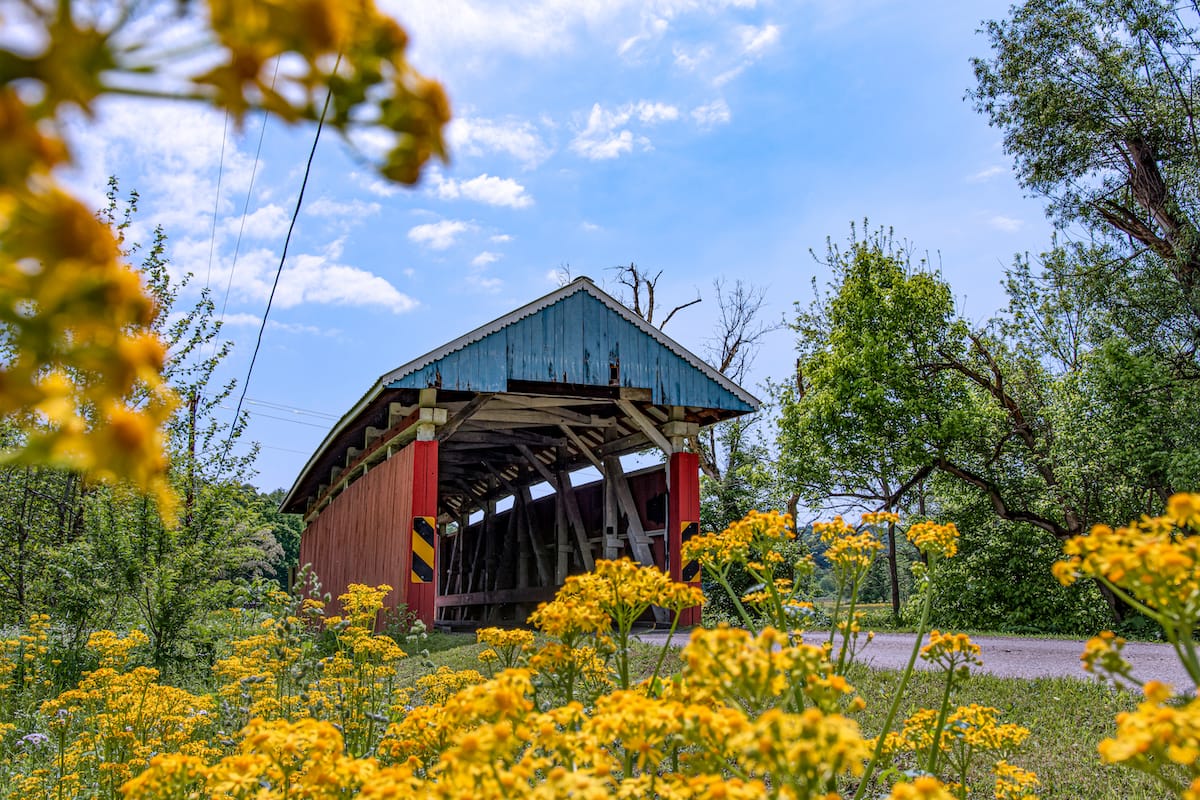 Since Glenford is one of the smaller, small towns, you can feel free to interact with the locals as they are usually quite friendly and are willing to help you out. Get to know the real, raw Glenford by just stepping in their shoes for a while!
Sugarcreek
Known as the 'gateway to Amish country', Sugarcreek is rich with Amish as well as German and Swiss history and is a perfect weekend trip from Pittsburgh, Cleveland, and beyond.
The first to arrive in this small town were Amish families, and, even today, the mark of the Amish remains in this city as there are various bakeries and restaurants along with hotels and ins which are showcased in a more Amish style.
There are also areas for shopping where local artisans sell their handmade crafts! There are also hints of Swiss culture remaining as they contributed greatly to the architecture of the city and their well-known cheese heritage.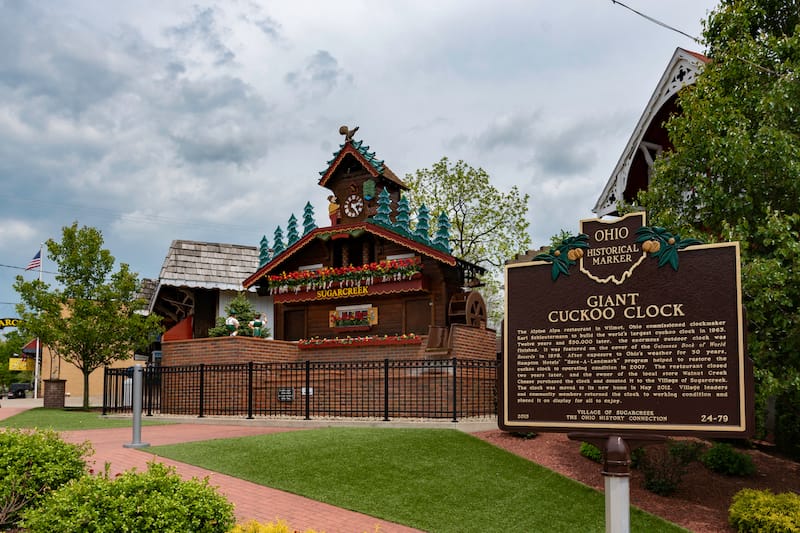 After a while, the town became known as "little Switzerland" and, from 1952 'till today, Sugarcreek holds an annual celebration called the Ohio Swiss Festival where Swiss culture is celebrated in music, food, dance, and games.
When in town, you can visit the Broad Run Cheesehouse / Swiss Heritage Winery where you can taste great wine and cheese and make your selection of choices at the end.
While in town, you can also go see the world's largest cuckoo clock… it reminded me of the one in Triberg, Germany that I visited!
Hudson
Hudson is said to be one of the most peaceful places. With more than 1,000 acres of park, Hudson is known for its various outdoor activities like boating, skateboarding, fishing, golf, and more!
One place you can definitely visit while in town is The Learned Owl Bookshop. With its academia feel and old-timey yet modern vibe, one truly feels like the main character of their own story.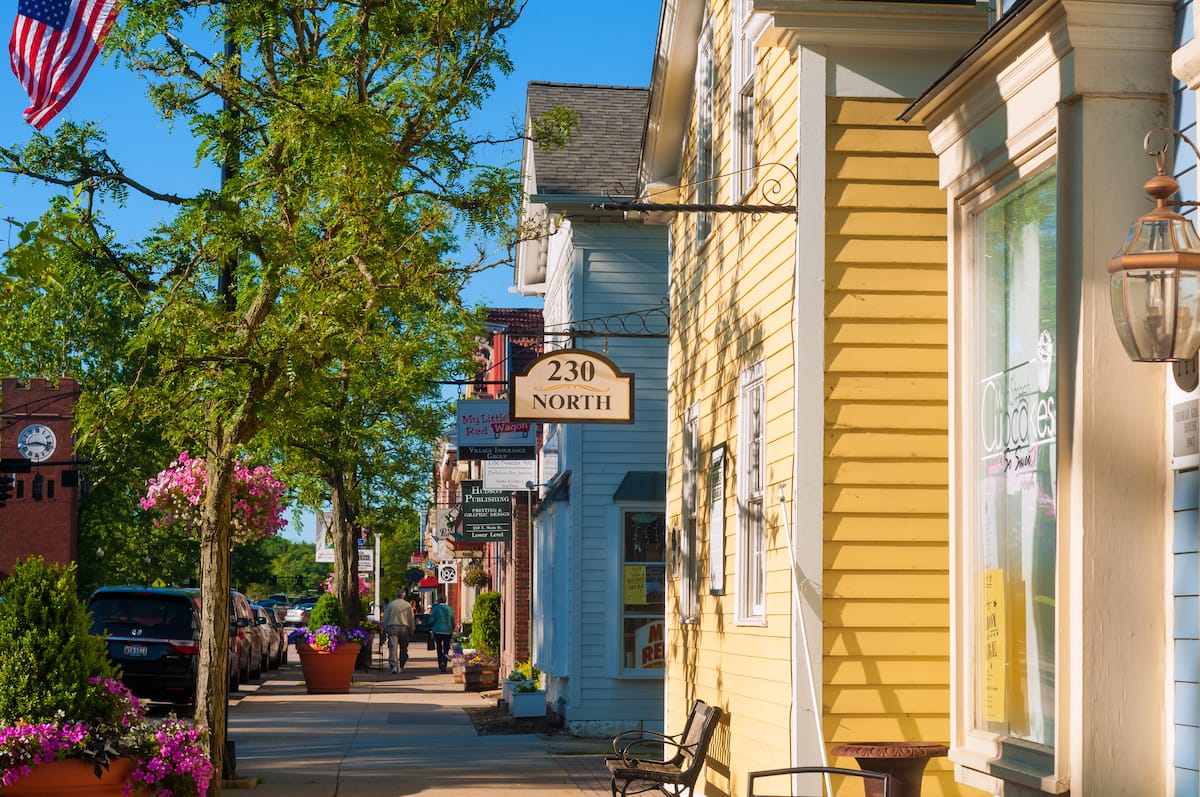 Now, as people may now find comfort in this city, they did so also in the past. Hudson was known for being a refuge for many fugitive slaves, as the road to Canada passed through the city.
Hudson was one of the stops of the Underground Railroad!
Bowling Green
Being a fairly new town, Bowling Green was officially given the title of being a city in 1901, although it was originally settled in 1832.
Now when in Bowling Green, you can visit a variety of places but the Art-a-Site is by far the only place that caters to the needs of everyone.
It's a hands-on art studio that not only allows one to truly express themself but also has paint and pizza parties for kids and wine and canvas nights for adults.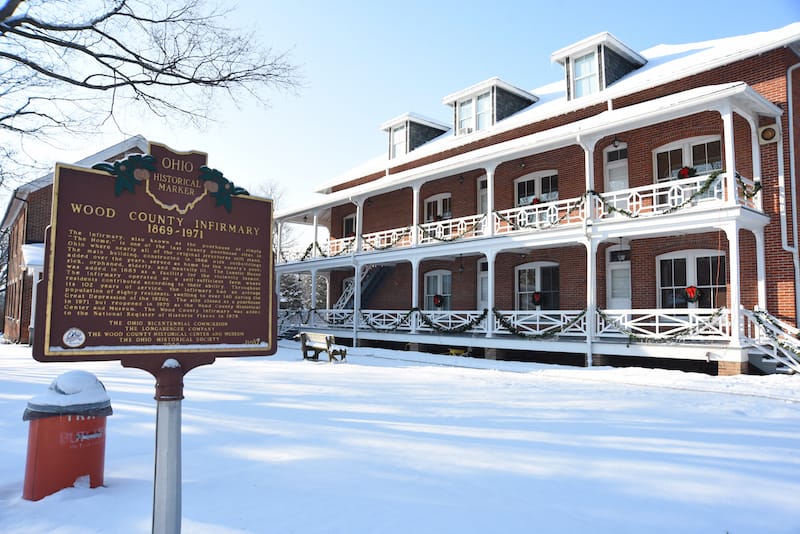 Bowling Green was also rich in oil some time ago so if you can go look at some houses, you totally can!
You can still picture the wealth on Wooster Street where some of the oldest and largest houses in the U.S were built!
Put-In-Bay
Known for its hospitality, Put-In-Bay is an island of Ohio is a small populated town that prides itself in its identity (and being one of the most exciting weekend getaways from Cincinnati, Cleveland, and more)!
You can visit the island and take part in its various fun activities like spending some time at the bay and also renting bikes and golf carts which you can enjoy on the flatlands of the town.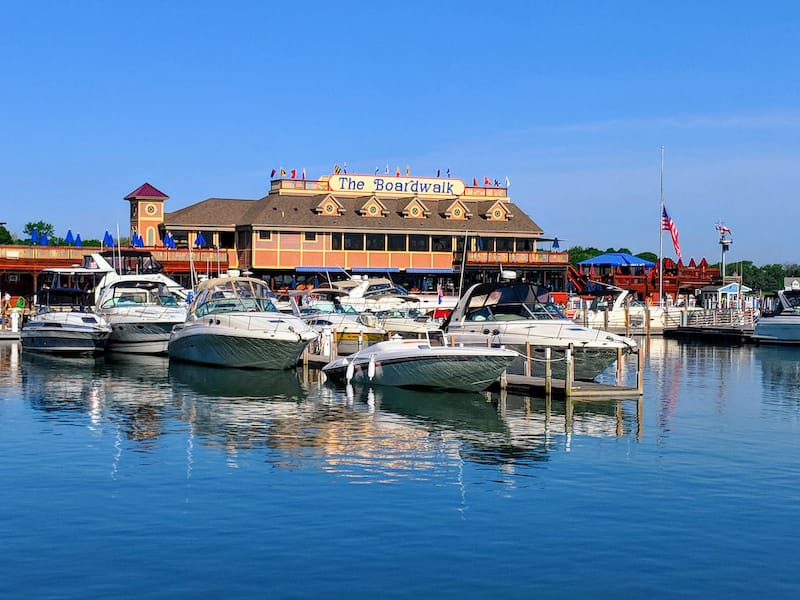 You can spend some time in peace and comfort as the town isn't crowded with people and all that's left is to let your imagination take you where it wants!
Another great attraction that is also a reason why Put-In-Bay is notorious in the world is that it is the home of the world's longest bar. So when in Put-In-Bay, make sure to check it out!
Geneva-on-the-Lake
Settled in 1869, Geneva-on-the-Lake is another small town in Ohio that has been greeting tourists with open arms since it was founded.
If you're more interested in its history, you can visit the Jennie Munger Gregory Museum where small artifacts and the history of the first settlers are portrayed in various ways!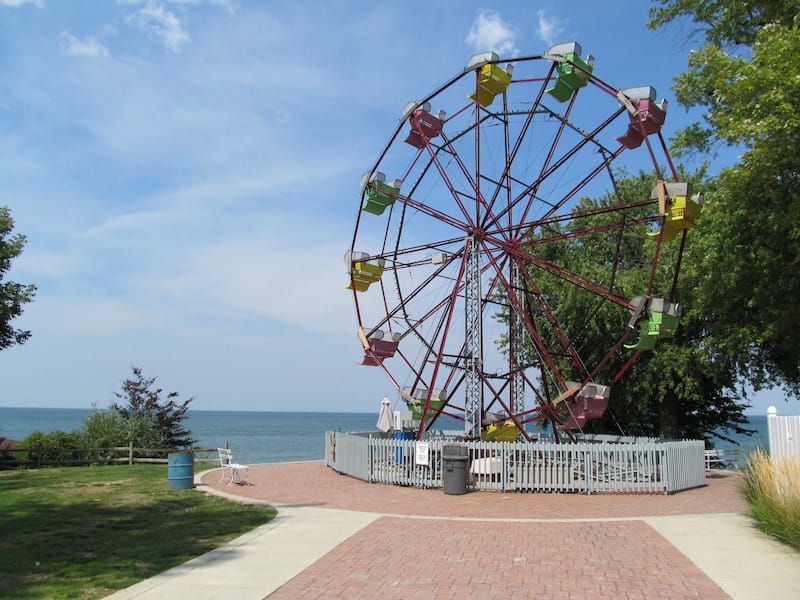 If not, you can take part in more physical activities like playing mini-golf or doing some of the water sports, both of which are very popular in the town! You can also go fishing or go to one of the old-timey diners they still have around!
Athens
Athens is the perfect combination of old culture and modern life! Although having many great qualities, Athens is known for being the home of Ohio University!
If you want to learn more about their history, you can take a stroll down Athens Downtown Historic District or you can visit the Southeast Ohio History Center with its impressive artifact and record collection!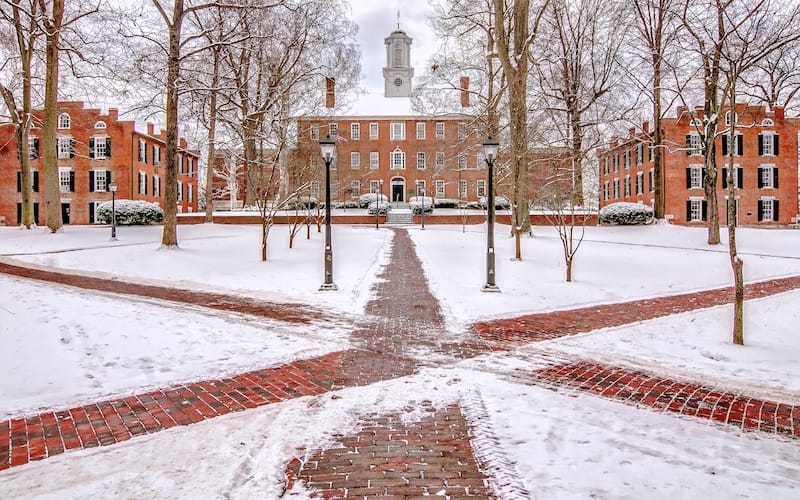 Besides its interesting history, if you're more into the arts, the Athena Cinema and the Random House are also great alternatives for a fun weekend!
Athens is also known for its infamous Athens Skate Park if you're one for getting your fun in the outdoors!
Marietta
Marietta is the perfect American small town. What started out as many family businesses continues today.
The family business owners' fifth generations continue the traditions and businesses of their forefathers and keep their memories along with the values and customs of the small town alive.
With all this history and culture, you can feel free to do some shopping as most of the products are from family-owned businesses. Also, if you're into hiking, Marietta is a great place to do so!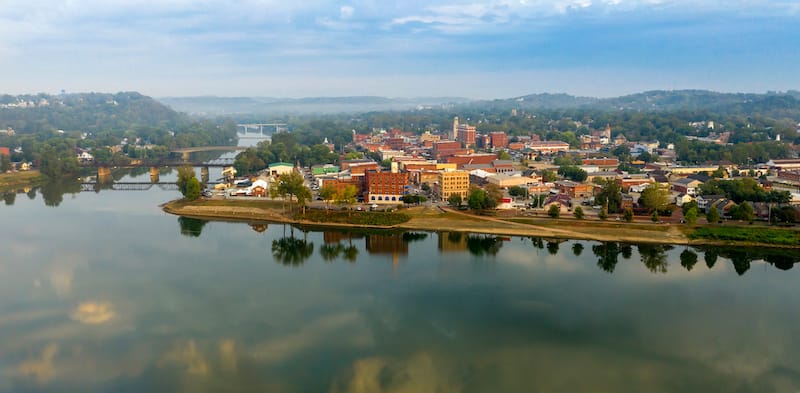 The place is filled with hiking trails and camping spots! Another great thing the Marietta is known for is its Mansion Tours. When in the city, make sure to check them out as you do not want to miss out on the superb architecture!
While there, you can also visit the Anderson Hancock Planetarium where you can explore the wonder that is space!
Yellow Springs
Although today, Yellow Springs has various new attractions for the modern-day youth, back-in-the-day, this small town wasn't very popular and was settled by a mere 100 families.
However, in 1846, the Little Miami Railroad was completed which brought in commerce, tourism, and more inhabitants. Over time, the culture of tourism evolved, and Yellow Springs had more fun activities for tourists!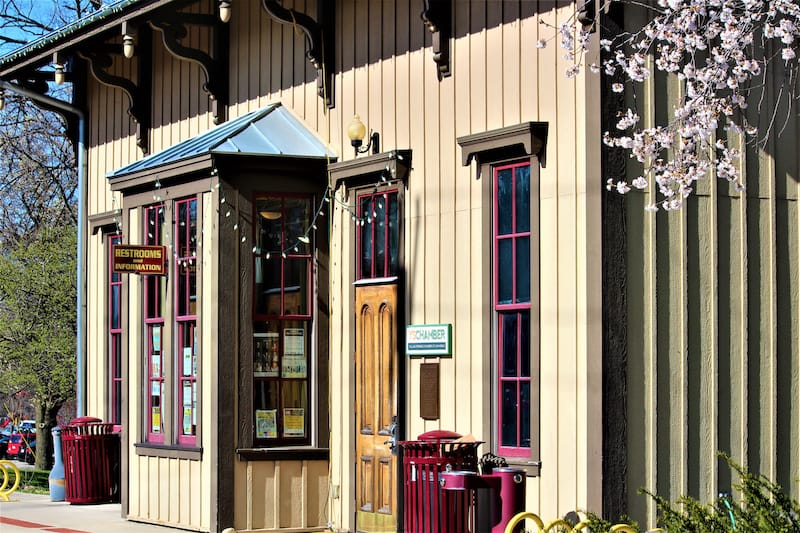 One of the things to do in summer would definitely have to be going to the Yellow Springs Street Fair! There, you can shop for whatever, as it's formatted as more of a bazaar! This Ohio town is a hippie enclave and one of my absolute favorites.
Chagrin Falls
Another small town notorious for its incredible nature, Chagrin Falls got its name from the series of waterfalls along the Chagrin River.
This small town is so small that people even call it "The Village of Chagrin Falls." Although small, there are still fun pastimes the locals, as well as tourists, enjoy.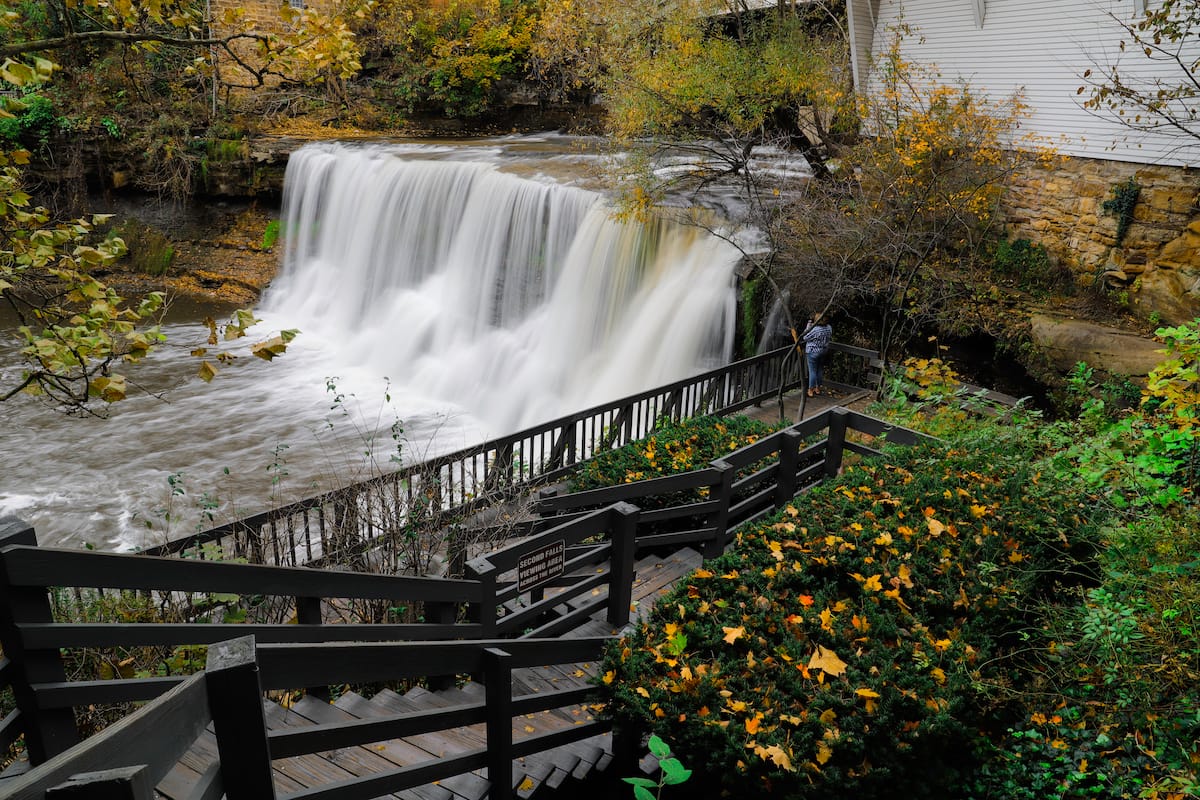 For example, there's the infamous Ladybug Ranch where you can go around the city in a horse-drawn carriage! You can also go to The Golf Dome and play mini-golf or go to the Beartown Lakes Reservation and enjoy yourself in the arms of nature!
Also, given its name, it'd be a shame not to actually visit the waterfall!
Milan
Now, without a doubt, Milan is the most interesting hidden gem as it is the birthplace of Thomas Edison but so often overlooked!
Apart from its rich American history and New England-styled community, Milan is still a great attraction in different ways as well.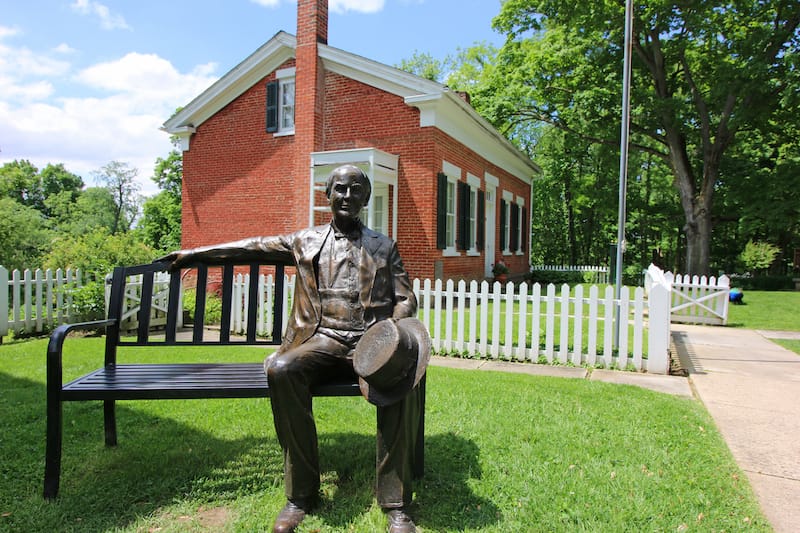 One great thing to look forward to in Milan is the annual Melon Festival! The community is warm and welcoming, much like other small towns, but there are also elements of surprise that you may not find in other places such as run-ins with preserved architectural buildings which will just take one to a different era!
Circleville
Circleville is a city along the Scioto River, 25 miles south of Columbus. The town got its name in 1810 when its original borders fit within the 1,100 ft diameter of a circle of Hopewell tradition.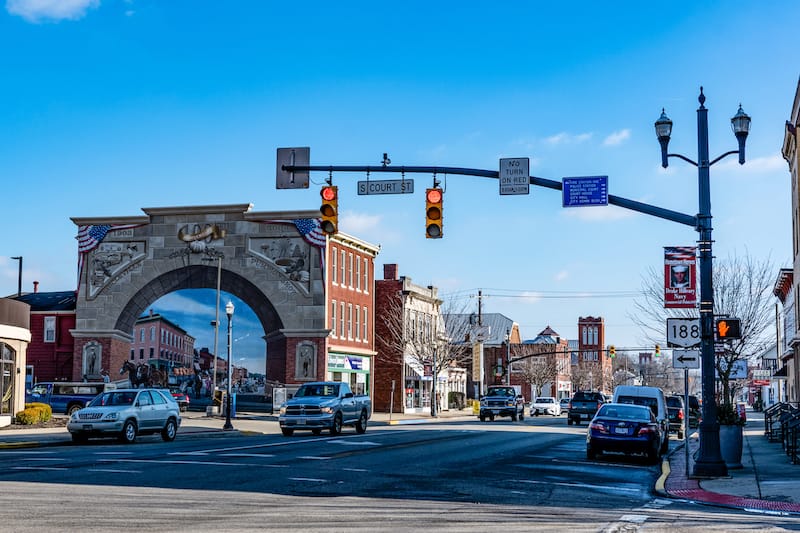 The name remains the same, centuries later, as a reminder of its origins. However, Circleville isn't most known for its name but the Circleville Pumpkin Show which has been held since 1903!
People from all over the surrounding towns and cities come each year to participate in the pumpkin show. Tourists like to join in as well at times.
Ashtabula
The name of this small town, although hard to pronounce and what may seem a bit odd, actually has a very positive meaning!
In Lenape, a Native American language, it translates to 'always enough fish to be shared around.' And they weren't wrong; this spot is still for well-known fishing!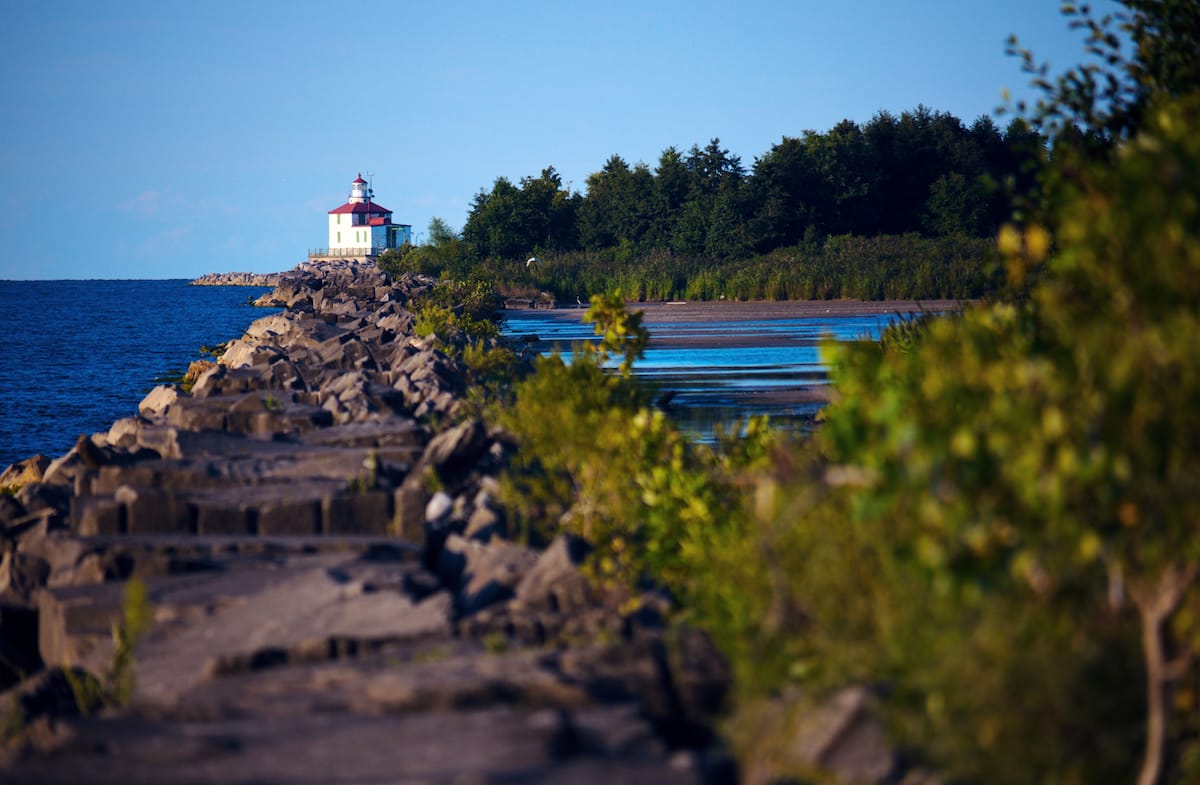 When you're in the city and like to fish, you can also take part! Although it's infamous for fishing, Ashtabula has other great attractions and things to do.
For example, you can go to Walnut Beach and relax in the sand or take a swim in the beautiful fresh waters. You can also visit the Ashtabula Maritime Museum where there is a collection of artifacts with which you can learn new things about Ashtabula's role in the Great Lakes!
Medina
Medina was founded in 1818, with the original name of Mecca, however, it was changed due to the fact that the name Mecca was already in use in Ohio.
Now besides its unusual name, this city has a very interesting story where the locals' courage and unity are portrayed. Two times this village had an awful fire, both times, they pushed through and came out stronger than before!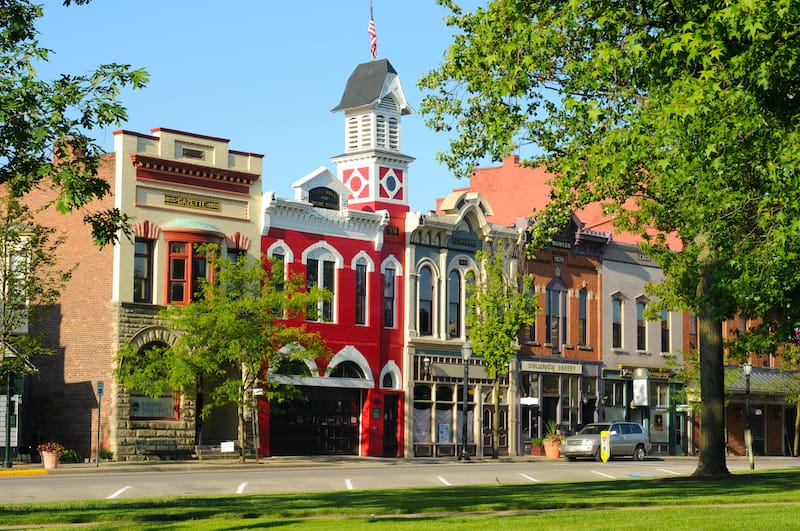 Now, if you are ever in Medina, you can go to the various parks in the city, free of any fire hazards! Some of those parks include Reagan Park and Austin Badger Park!
Westerville
One of the nicest suburbs out there, Westerville is the ideal place in terms of education, safety, and a great community. In Westerville, you can find a variety of places to go and things to do.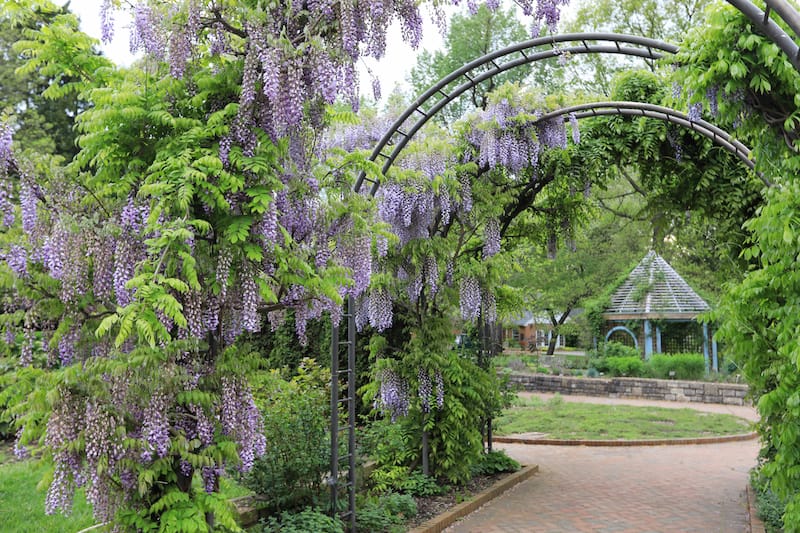 If you're looking to destress, unwind, and relax, you can visit the Inniswood Metro Gardens where you'll immerse yourself in nature and enjoy the beauty it holds.
If you're looking for a place to eat, you can go to Jimmy V's Grill and Pub where you can spend some time with family and friends and have an amazing meal!
Twinsburg
Twinsburg – what an interesting name. Interestingly enough, the town was named after identical twins!
These twins, Aaron and Moses Wilcox, bought 4,000 acres in 1819 and created schools and jobs for people which grew the economy. In short, these twins really helped this small town grow and hence the name of the town, Twinsburg.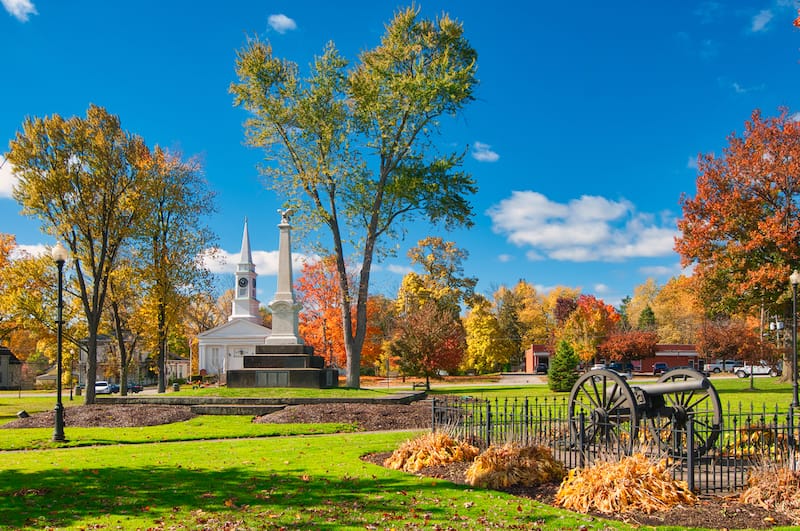 Today, Twinsburg has a variety of things that attracts both tourists and locals. For example, if you love beautiful views, you can go on hot air balloon rides in Twinsburg!
However, if that isn't your thing, there's plenty more to see and do in Twinsburg. You can go to 1899 Indoor Golf where you can have a meal and play some mini-golf with friends and family!
Millersburg
From old-timey stores to old-timey architecture to old-timey people, Millersburg is a flash from the past! One of Ohio's 'Amish Country' cities, Millersburg shows a great deal of Amish culture and lifestyle every day.
After all, some of the first people who settled in these parts of the US were the Amish who brought with them their beliefs along with their customs and traditions.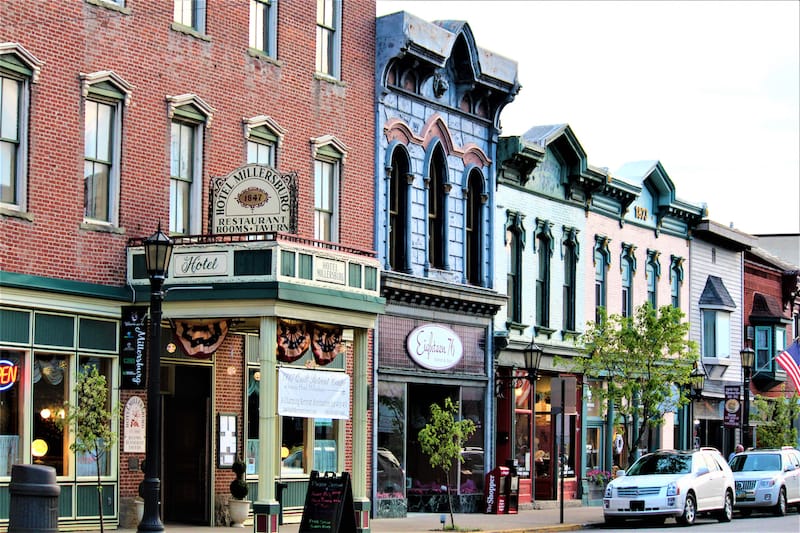 All in all, Millersburg is a great place to go shopping as there are tons of authentic and original pieces in the one-of-a-kind shops. From jewelry to fabric to just about anything, you can find it at Historic Downtown Millersburg!
Bedford
Like other towns, Bedford was originally part of the Western Reserve, Bedford became official in 1823. Today, Bedford is the heart of the tri-state area.
In Bedford, you can also find Cuyahoga National Park, one of the most underrated national parks in the US. You can also find the Bedford Reservation of the Cleveland MetroParks which covers up a fifth of the land.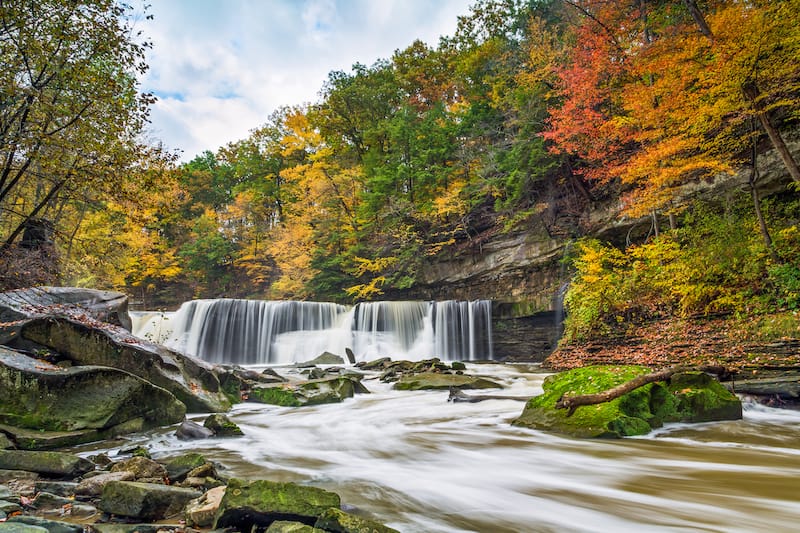 There, you'll find the Tinker's Creek Gorge! You can also visit the Bedford Historic District and become acquainted with its history more in-depth. Bedford also has interesting seasonal events as it is a town of many many festivals!
Did we miss any amazing small towns in Ohio? Let us know your top Ohio small towns in the comments. Thanks!
More Ohio Travel Guides
Pin this Ohio Small Towns Guide