Ohio is one of the best places to visit if you are interested in scenic landscapes, down-to-earth people, and cozy small towns.
But, you also need to check out the beautiful Ohio covered bridges scattered throughout parts of the state.
Are you planning your trip to Ohio last minute?
🚗 Renting a car in the USA: Discover Cars is our top pick for rental cars in the USA and abroad! They have several add-ons and also offer full-coverage insurance as an option. They also have a huge inventory of cars to choose from – something suitable for every traveler!
🇺🇸 Visiting any US National Parks along the way? Get your National Parks Pass for only $79.99 here!
🛌 Booking a hotel in the USA: We use Booking.com for all hotels in the US – many also offer last-minute cancelation.
It is possible to drive across many of these covered bridges in Ohio, but a lot of them are open to pedestrians and bikers.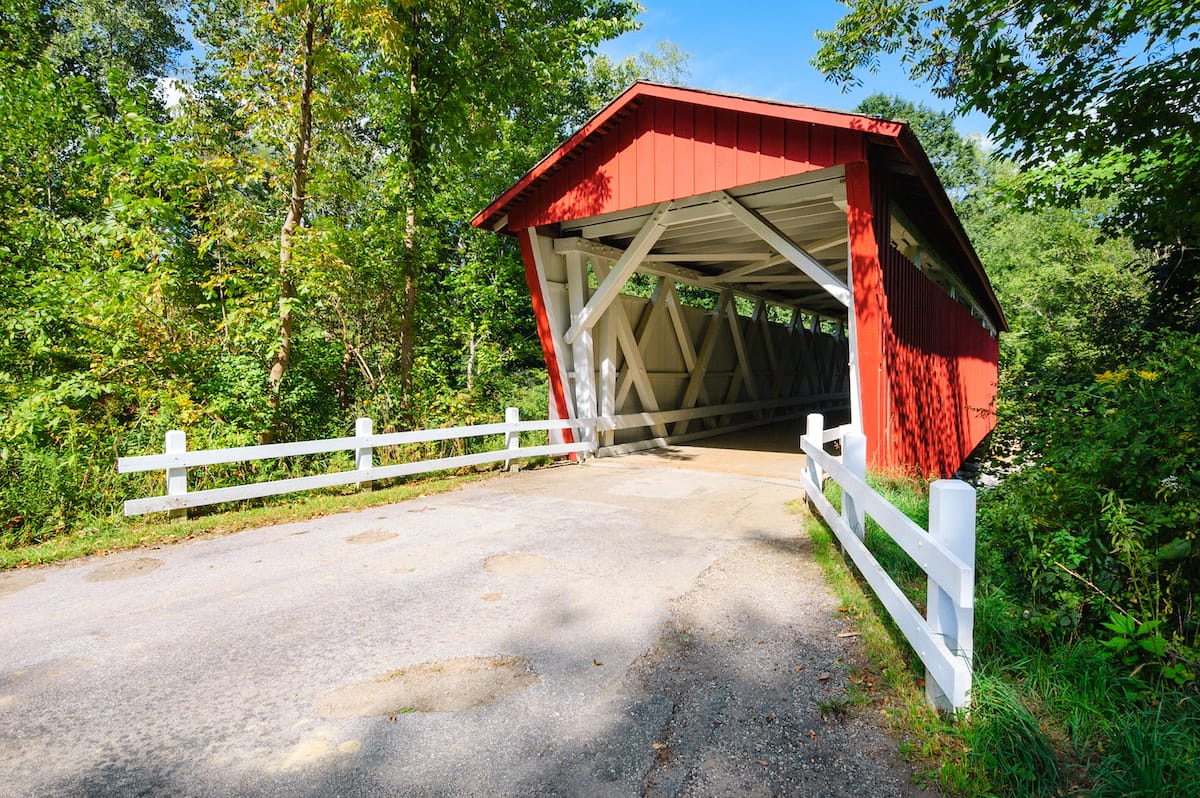 Along these bridges, you will be able to see gorgeous views of Ohio's rivers, valleys, and mountains.
In this article, we will discuss some of the most popular covered bridges in Ohio that you should be sure to visit. Have your cameras ready!
Let us know if we missed any famous Ohio covered bridges in the comments! Thanks!
Best Ohio Covered Bridges
1. Johnson Road Covered Bridge
The Johnson Road Covered Bridge was built in 1869 by prolific Ohio bridge builder Robert W. Smith. This single-span wooden truss-covered bridge spans Brushy Fork Little Scioto River on Johnson Road near Petersburg in Jackson County.
It was constructed upon Smith's 1869 patent, and today it is a rare gem showcasing 19th-century wooden bridge technology.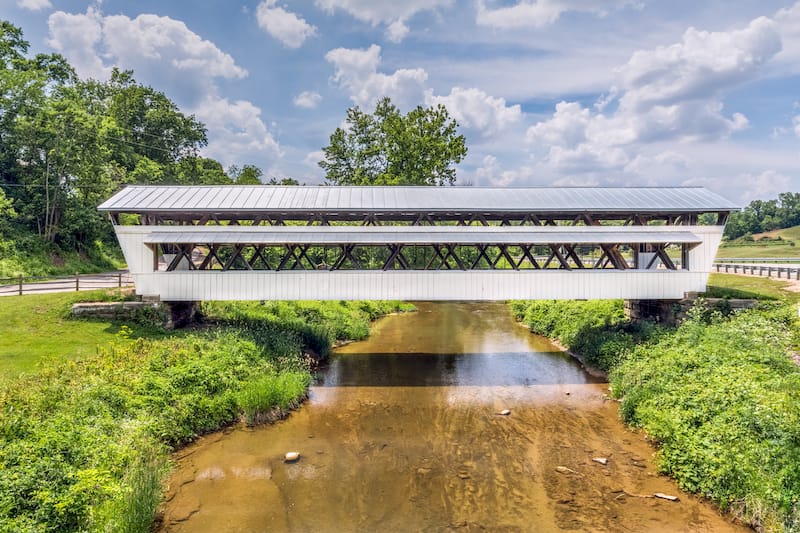 This 71-foot-long and 14-foot-wide bridge was restored for pedestrian and vehicle traffic in 2000.
Johnson Road Covered Bridge has been listed on the National Register of Historic Places since 1984.
Address: 1599 Johnson Rd, Jackson, OH 45640, Jackson County
2. Helmick Covered Bridge
Known as one of Ohio's oldest covered bridges, Helmick Covered Bridge is located east of Blissfield in Clark Township, Coshocton County.
It is a two-span wooden truss-covered bridge originally built in 1863 by John Shrake of Newark and named for Congressman William Helmick of Tuscarawas County.
During the early days, the bridge played a significant role in trade in the village of Helmick and was mainly utilized by farmers to get access to two nearby grist mills.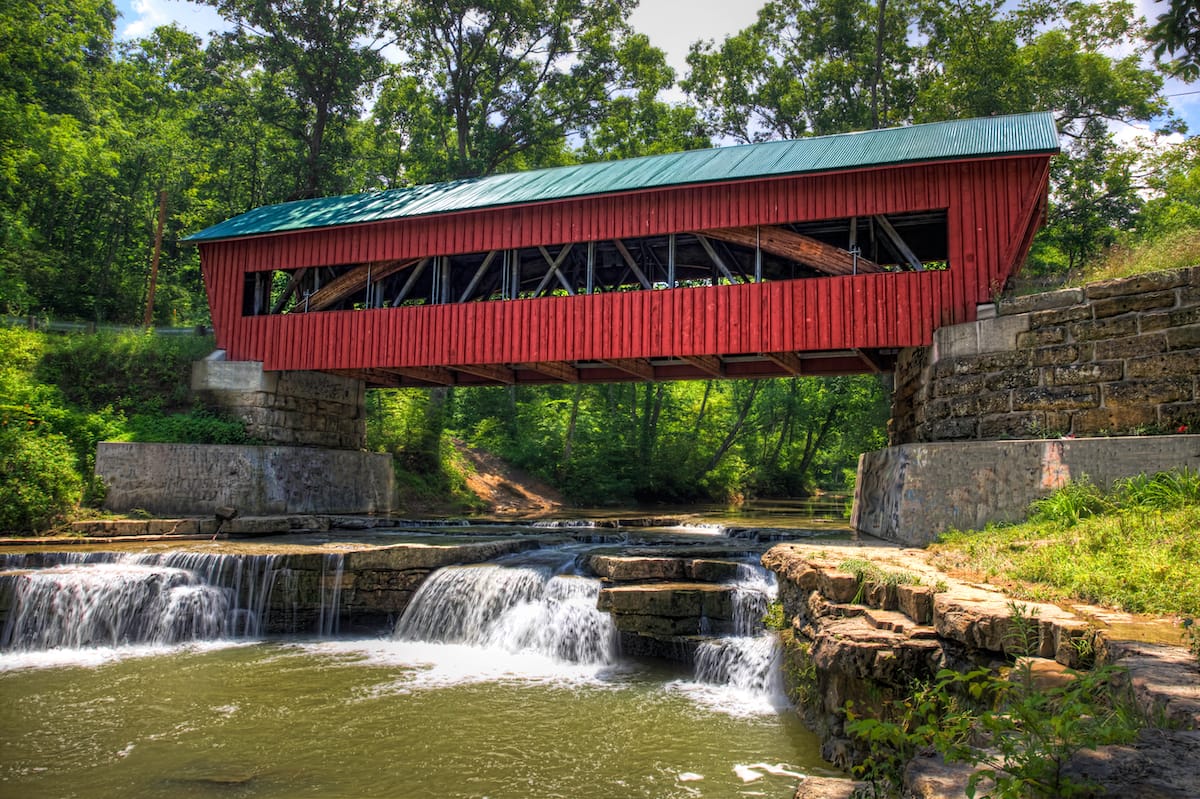 Helmick Covered Bridge was closed in 1981 due to falling into decay and was restored later in 1996, costing over $250,000, which was collected by the locals.
Since 1975 the bridge has had its unique place on the National Register of Historic Places.
Address: Helmick Rd, Malta, OH 43758, Coshocton County
3. Netcher Road Covered Bridge
Spanning Mill Creek in Jefferson Township, Netcher Road Covered Bridge is one of Ashtabula County's newest and currently 17 drivable covered bridges that was opened to traffic in 1999.
This is a 110-foot-long and 22-foot-wide single-span covered bridge that features timber arches with inverted Haupt walls. The project began in 1998 and was sponsored by the ODOT Timber Grant.
The main highlight of the bridge is its unique Neo-Victorian design.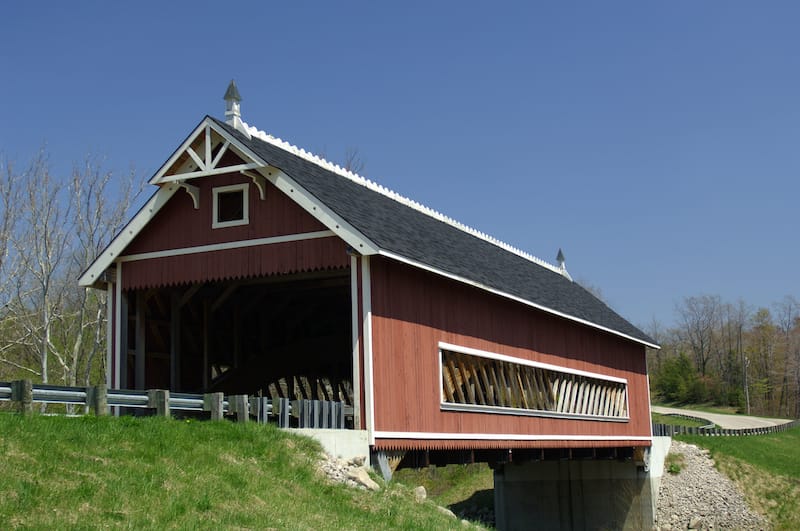 Make sure to have your camera with you for this drive (especially in the fall) to capture its unique beauty as well as the surrounding vibrant foliage.
Address: 1544 Netcher Rd, Jefferson, OH, Ashtabula County
4. Smolen-Gulf Bridge
Smolen-Gulf Bridge in Pratt Truss design is the longest covered bridge in the US and the fourth-longest covered bridge in the world.
Carrying State Road, this 613 ft. long and 30 ft. wide bridge spans the Ashtabula River at the Plymouth and Ashtabula Township line in northern Ashtabula County.
John Smolen, the former County Engineer, was in charge of the bridge's engineering and structural design, while the stunning architectural design was done by Timothy Martin, the current County Engineer.
Take your time driving across the bridge and taking in the surrounding spectacular views.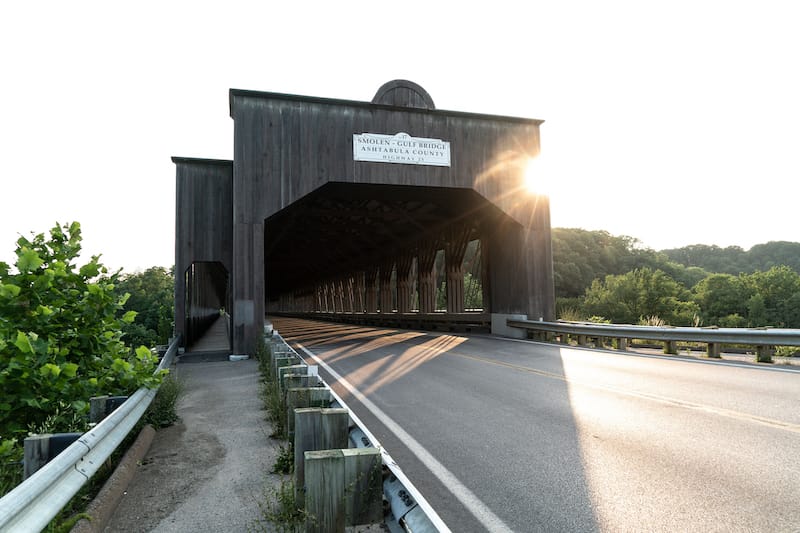 Nearby you will find Indian Trails Park, which offers a trail system just beneath the bridge at the Ashtabula River Gulf, where you can appreciate the beauty of the Bridge from all sides.
The bridge opened to full road traffic in 2008 and is expected to last around 100 years.
Address: State Rd, Ashtabula, OH 44004, Ashtabula County
5. Teegarden Covered Bridge
Being one of only five remaining covered bridges in Columbiana County, Teegarden Covered Bridge, also known as the Centennial Bridge, was built in 1876.
This 66-foot-long multiple king post span stretching Eagleton Road crosses the Middle Fork of the Little Beaver Creek in Eagleton's Glen Park near Salem.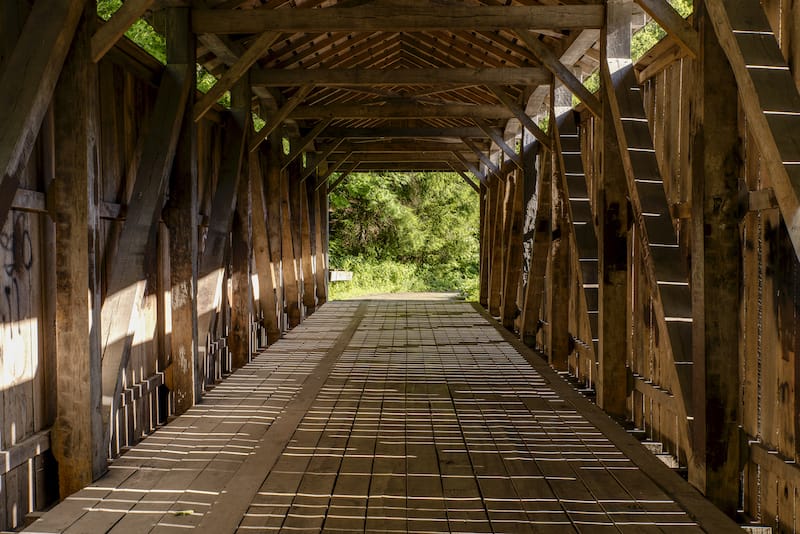 It was named after U. Teegarden, who owned property close to the bridge. After being bypassed in 1992 and restored in 2003, the photogenic bridge is currently only open to pedestrian traffic.
Teegarden Covered Bridge has been listed on the National Register of Historic Places since 2010.
Address: 35703-35763 Eagleton Rd, Salem, OH 44460, Columbiana County
6. Newton Falls Bridge
Newton Falls Bridge, also known as Arlington Boulevard Covered Bridge, is Ohio's second-oldest covered bridge and the last surviving one in Trumbull County.
It is said to be a replacement for a log bridge that was constructed in 1856 on the same site. This 117-foot-long and 24-foot-wide three-span truss bridge was constructed over the east branch of the Mahoning River in 1831.
Later in 1921, a covered crosswalk was built right next to it to ensure the safety of students walking to school, which made it the only covered bridge with a covered crosswalk in the state.
The latter is now mainly used to get a closer view of the bridge and appreciate its unique town lattice truss style.
Trucks are prohibited. Newton Falls Bridge was proudly added to the National Register of Historic Places in 1974.
Address: Newton Falls, OH 44444, Trumbull County
7. The Bridge of Dreams
The 370-foot Bridge of Dreams is the second-longest covered bridge in Ohio and the third-longest in the US.
Spanning the Mohican River along the Mohican Valley Trail in Union Township, the bridge is perfect for walking, hiking, biking, or simply taking in the surrounding gorgeous scenery.
The 4.5-mile Mohican Valley Trail connecting Kokosing Gap Trail and the Holmes County Trail in Knox County allows non-motorized vehicles, so keep your eyes peeled for horse-drawn Amish buggies as you cross the bridge.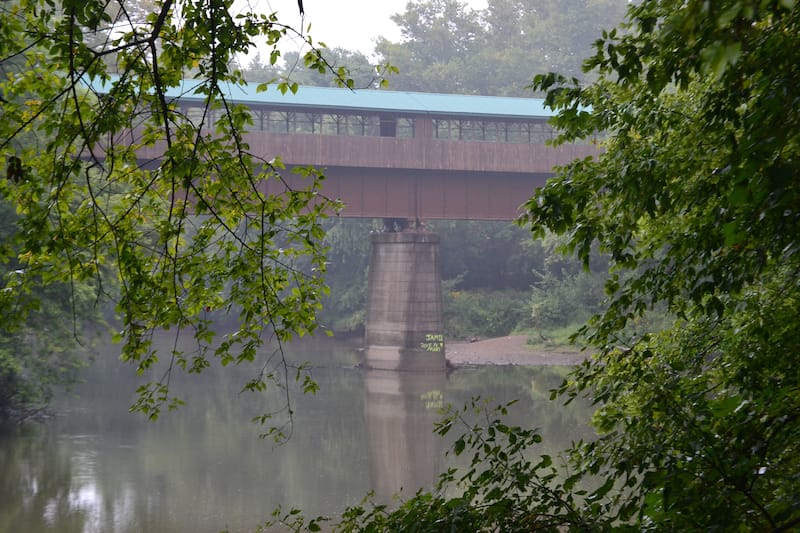 Originally built in 1920, the Bridge of Dreams mainly served as a railroad bridge and later in 1998 turned into a covered pedestrian bridge.
Everyone believed that the "covered bridge" project would fail, but its successful completion led to the current name of the bridge and made this a symbol in the community.
Address: 15791-15799 Main St, Gann, OH 43006, Knox County
8. Lanterman's Mill Covered Bridge
Built in 1989, Lanterman's Mill Covered Bridge is a scenic addition to Lanterman's Mill that was designed after a bridge used by farmers to carry grain to the mill.
Tucked away in Mill Creek Park near Youngstown, the bridge crosses Mill Creek allowing access to Lanterman's Mill as it did back in the 1800s.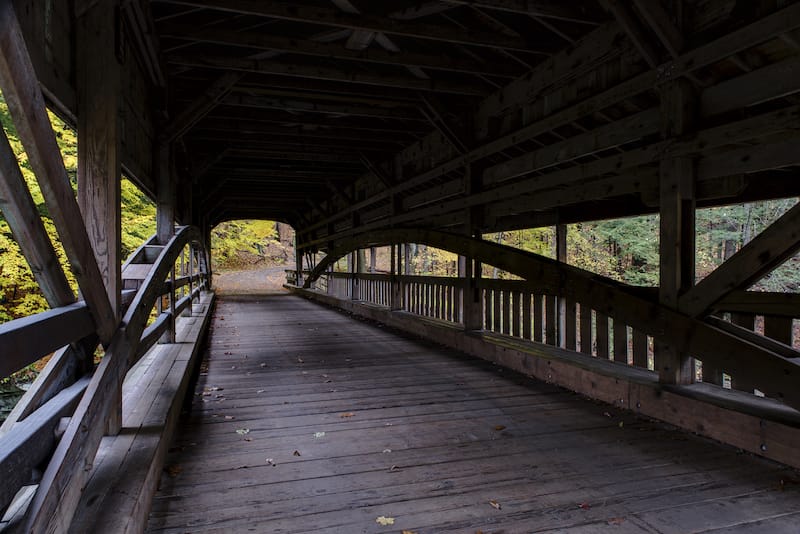 Taking a walk on the old planks along this 96-foot-long bridge located upstream of the old mill will make you experience the historic charm of the site.
Nearby you can admire the lovely views of Lanterman's Falls, visit Mill's gift shop, and enjoy the scenic hiking trails.
Address: 1001 Canfield Rd, Youngstown, OH 44511, Mahoning County
9. Middle Road Covered Bridge
The Middle Road Covered Bridge spanning Conneaut Creek, eastern Ashtabula County's longest river, in Conneaut, has been recognized as a "Century Bridge" by the Ashtabula County Historical Society.
This 136-foot single-span bridge was built in 1868 in the Howe Truss design and is currently one of the 16 drivable bridges left in Ashtabula County.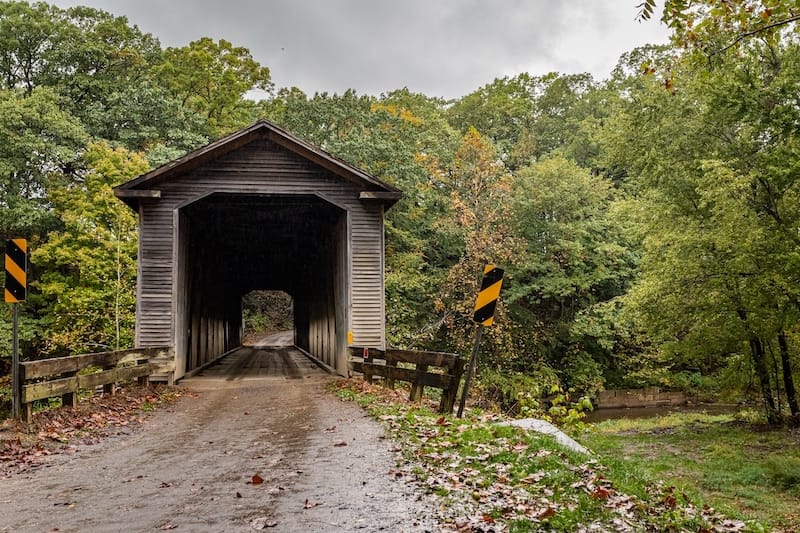 A unique wooden interior will certainly make you travel back in time. The bridge was refurbished in 1984 with the help of three volunteers and four college students.
Rustic bridge perfectly blends with the surrounding lush greenery creating the postcard-perfect backdrop for your photos.
Address: 1298 Middle Rd, Conneaut, OH 44030, Ashtabula County
10. Everett Covered Bridge
Crossing Furnace Run at Everett Road in Peninsula within the Cuyahoga Valley National Park, Everett Covered Bridge is the only surviving covered bridge in Summit County.
Built in the 1870s in Smith Truss design, it had a significant role in the transportation system for the Ohio & Erie Canal in the 19th century.
Legend has it that once, a farmer and his wife tried to cross the Furnace Run on a cold winter's eve but didn't make it.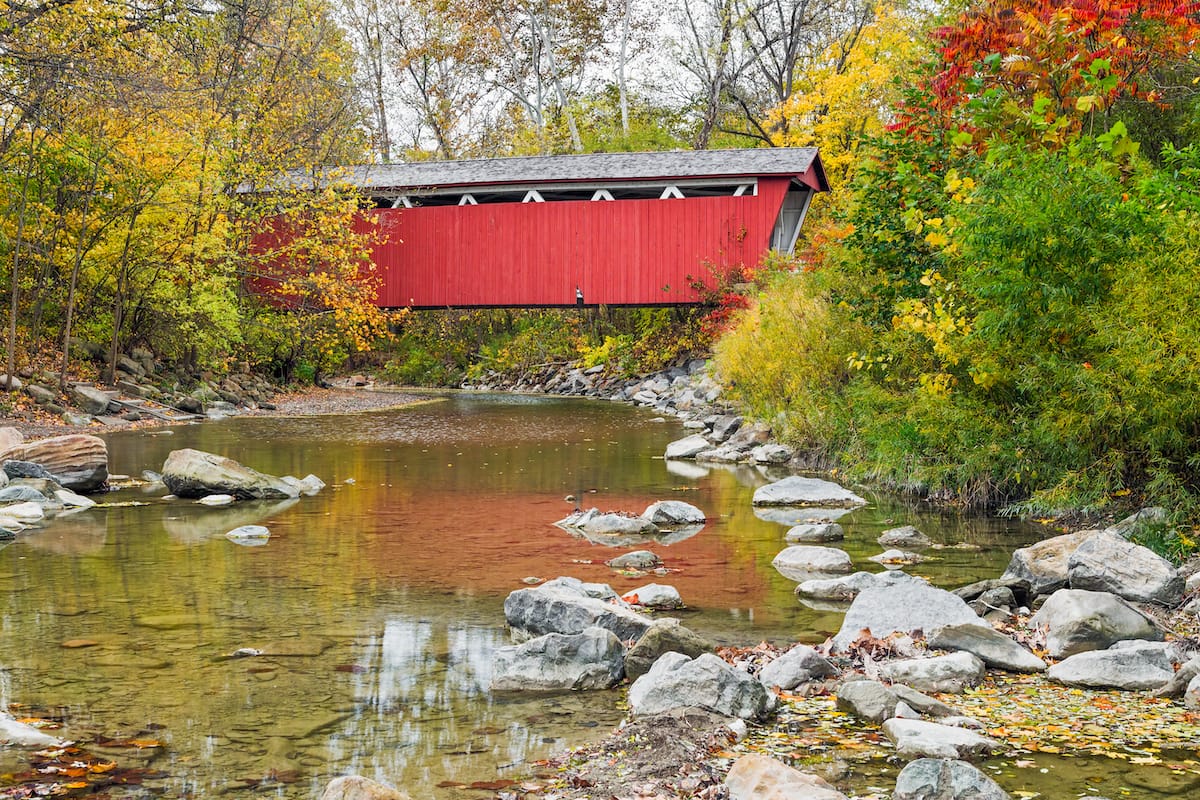 And now, the bridge is said to be haunted by their ghosts.
The bridge was rebuilt at least twice following substantial damage, first from a flood in 1913 and later by a truck in 1970, but a historically accurate reconstruction of this bridge was completed in 1986.
Currently, this scenic relic from a bygone era is open only to foot traffic.
Address: 2370 Everett Rd, Peninsula, OH 44264, Summit County
11. State Road Covered Bridge
Built in 1983 across Conneaut Creek in Monroe Township, the State Road Bridge was the first covered bridge designed and built by County Engineer John Smolen, Jr.
This is a 152-ft single-span Town lattice bridge that is now one of 16 drivable bridges in Ashtabula County.
The bridge is made of 97,000 ft of southern pine and oak and features a 4-ft-tall window that stretches from one end to the other, showcasing the unique Town lattice construction.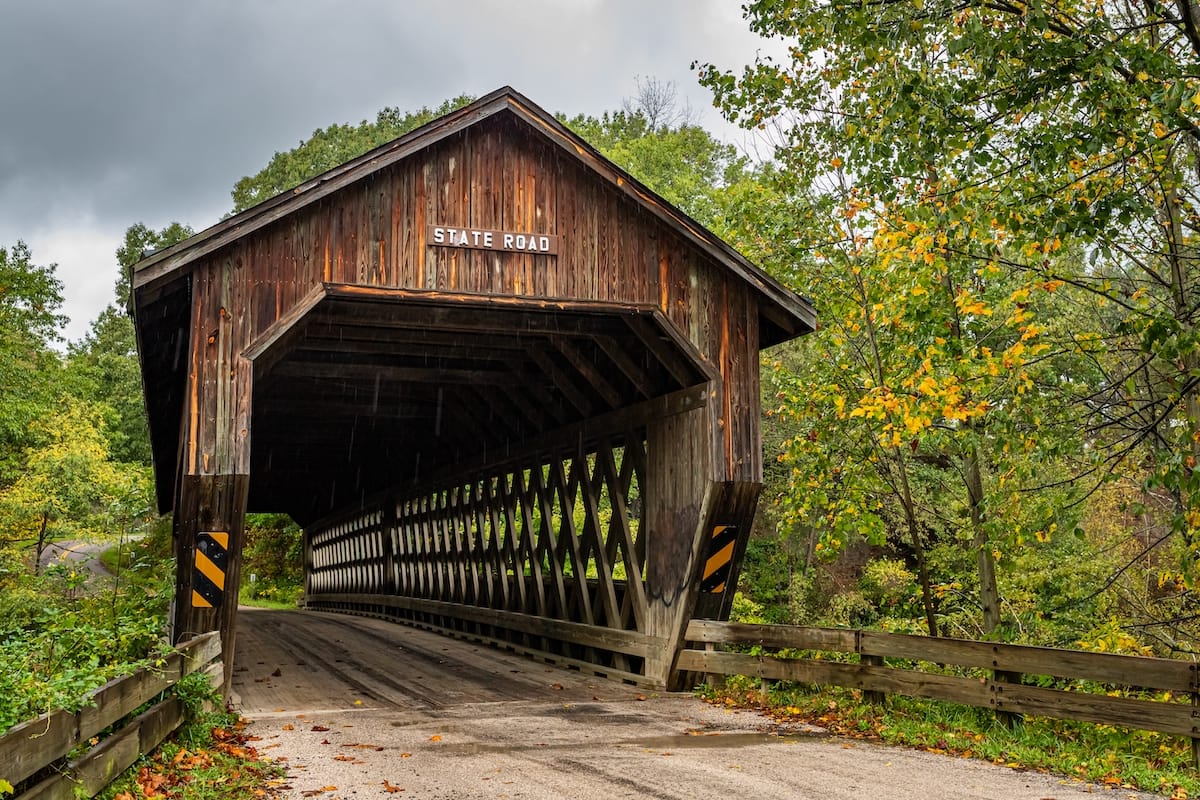 The Covered Bridge Festival had its start with the bridge's dedication in 1983.
This wooden bridge is nestled in a picturesque setting, allowing you to admire its beauty even while walking through the creek below. It is open to vehicle traffic with limited roadside unpaved parking.
Address: 5882 State Rd, Kingsville, OH 44048, Ashtabula County
12. Rinard Bridge
The Rinard Covered Bridge, sometimes referred to as the Hendershott's Ford Bridge was built in 1876.
It is one of the three covered bridges that span the Little Muskingum River in New Matamoras, Washington County. The bridge was constructed by H. H.
Townsend in the Smith Truss design and was added to the National Register of Historic Places in 1976.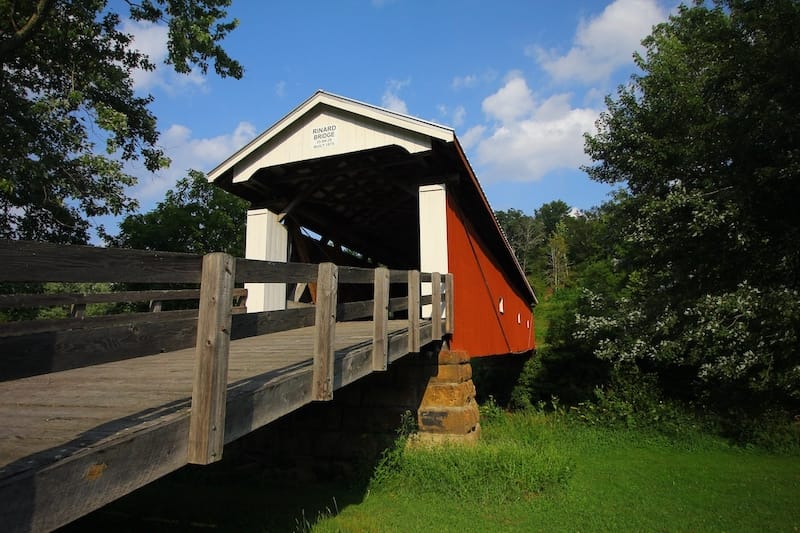 After a severe flash flood in 2004, the bridge was reconstructed in its former site in 2006, using most of the original timbers.
Hike or bike along the scenic Covered Bridge Trail to Rinard Bridge, which is a 7.6-mile moderately trafficked loop trail located northeast of Wingett Run, Ohio that will lead you to admire this historic bridge.
Address: County Road 406, Ludlow Township, Washington County
13. Harpersfield Covered Bridge
Located in the Greater Cleveland area, Harpersfield Covered Bridge used to be the longest-covered bridge in America.
Now, this historic 228 ft. double-span Howe truss bridge is the third-longest covered bridge in Ohio and one of 16 drivable covered bridges in Ashtabula County.
Spanning the Grand River in Harpersfield Township, it was built in 1868 and listed on the National Register of Historic Places in 1975.
In 1913, a steel span was attached to the bridge after a flood swept away the land from the north end of the bridge.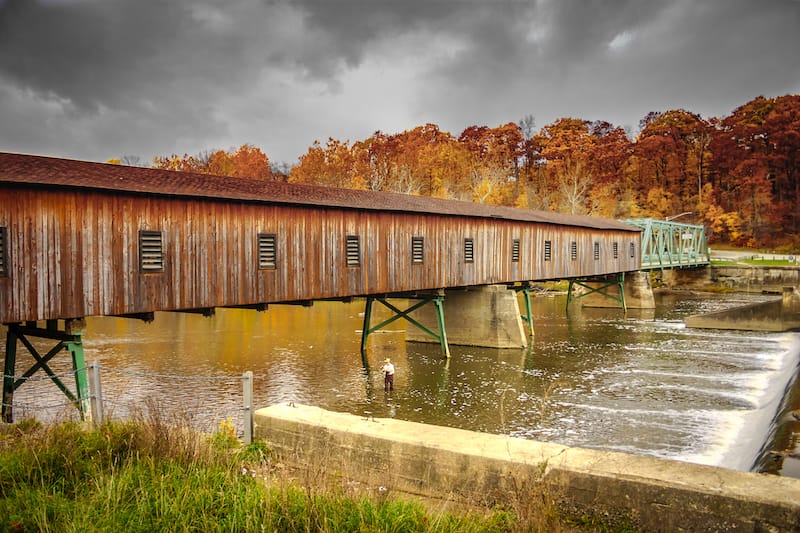 The bridge also features a walkway that was added in 1991-1992 during renovation.
Harpersfield Covered Bridge is next to the Harpersfield Covered Bridge Metropark, which offers parking, bathrooms, a picnic area, and a range of outdoor activities.
Address: 1122 Harpersfield Rd, Geneva, OH 44041, Ashtabula County
14. Benetka Road Covered Bridge
The historic Benetka Road Covered Bridge is a favorite among visitors in Ashtabula County. It is a 138-foot single-span Town lattice construction built in the 1890s.
Spanning the Ashtabula River, it is another one of 16 drivable bridges in the county.
The bridge was renovated in 1985, during which a laminated arch that is 9 inches wide and 38 inches thick was added to it.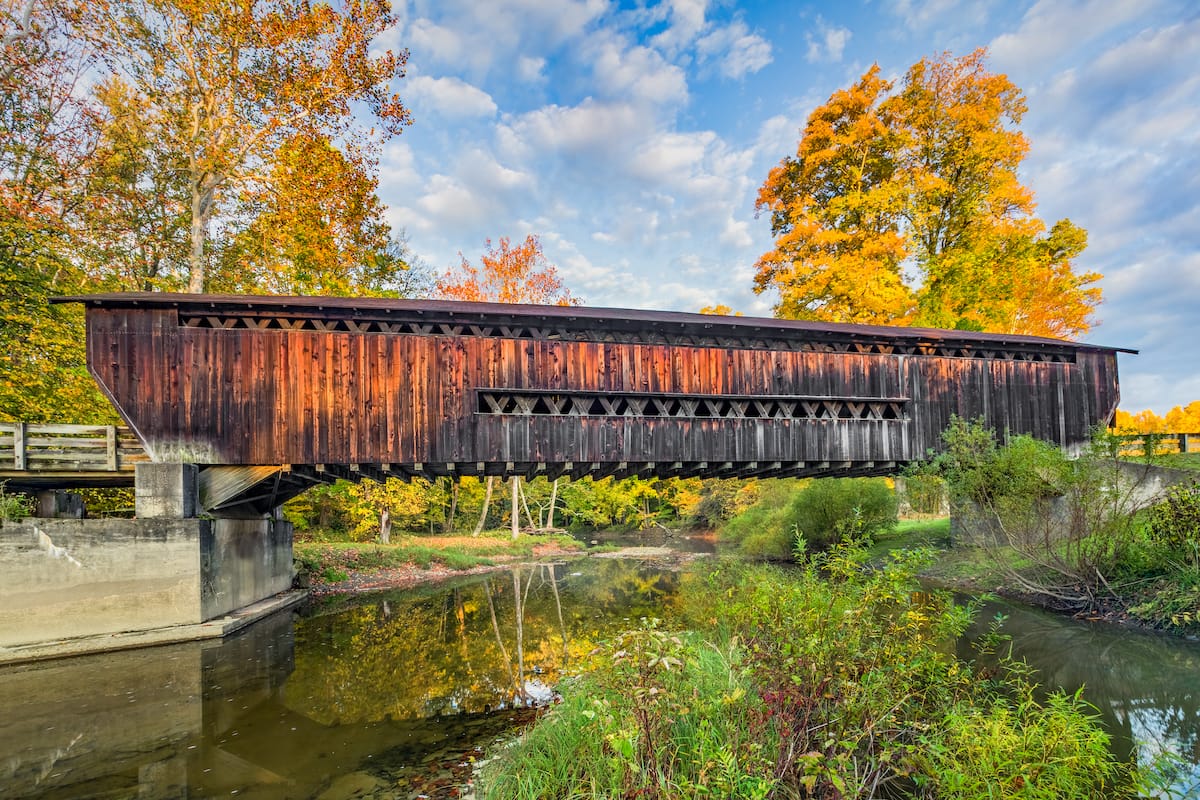 The bridge is open to vehicle traffic with unpaved roadside parking, where you can stroll, take in surrounding natural beauty, and even walk through the slow-moving stream.
Address: 4500 Benetka Rd, Ashtabula, OH 44004, Ashtabula County
15. Hueston Woods Covered Bridge
The last bridge on this list is one of Ohio's newest covered bridges, tucked away in Hueston Woods State Park, Preble County.
Hueston Woods Covered Bridge was constructed in June 2012 over Four Mile Creek on Camden College Corner Road between Buck Paxton Road and Hedge Row Road.
This is a 108-ft single-span modified Burr Arch bridge that features a timber structure with reinforced concrete foundations.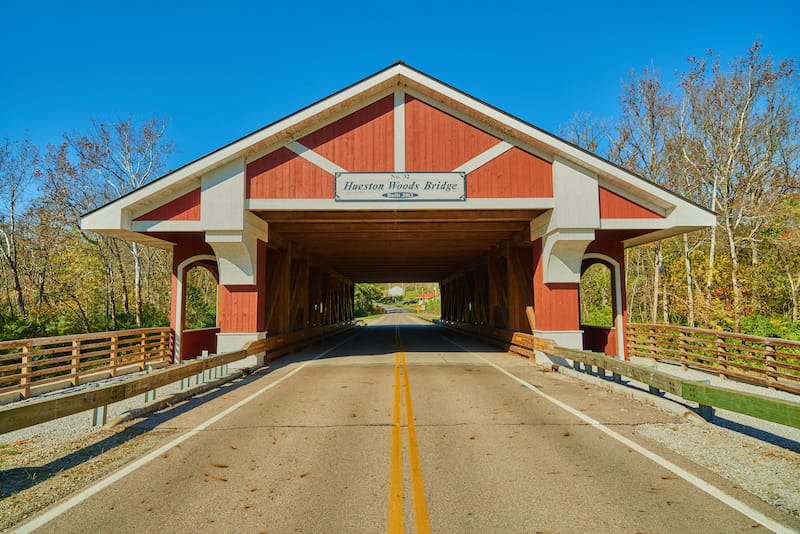 There are also 6-foot covered walkways from both sides that offer a safe area for pedestrian traffic and a nice spot to marvel at scenic views of Four Mile Creek.
Nearby you will find biking trails, golf courses, cabins, and picnic areas that perfectly enhance your Hueston Woods State Park experience.
Address: 7667 Camden College Corner Rd, College Corner, OH 45003, Preble County
Did we miss any gorgeous covered bridges in Ohio? Let us know the best Ohio covered bridges in the comments. Thanks!
More Ohio Travel Guides
Pin this Covered Bridges in Ohio Guide