Are you searching for the best things to do in Dayton OH for an upcoming trip? This guide contains the top Dayton attractions and landmarks to help you out!
Are you planning your trip to Dayton last minute?
If you're traveling to Dayton last minute, you want to ensure you have lodging ahead of time! Below are some of our top picks in town!
🛌 Best Hotels in Dayton:
🚗 Looking for the best way to get around Ohio? Click here to check rental car rates for OH!
Dayton, Ohio is the place to go if you're in love with history, art, and good food.
Known as the birthplace of many inventions, especially aviation, history buffs will have a lot to explore at a variety of museums when visiting Dayton.
Here, you can also take part in a multitude of events, concerts, festivals, and more. And for the more outdoorsy crowd, there are plenty of places to get in touch with nature in Dayton.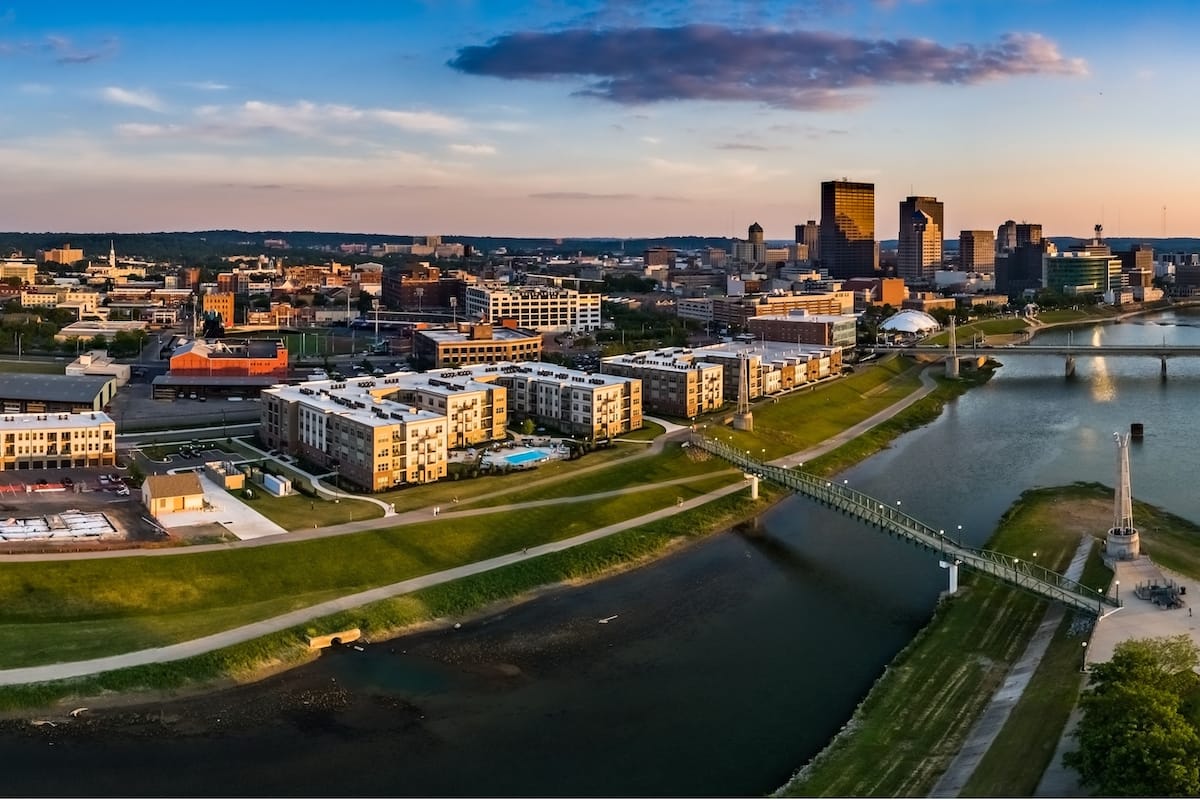 In short, it's the perfect place to spend a weekend or two in the spring or summer whether you're alone or with family.
In this article, we've outlined some of the best places in Dayton that you should add to your itinerary.
Did we miss out on any famous Dayton landmarks? Let us know in the comments! Thanks!
Best Things to Do in Dayton
1. Visit Carillon Historical Park
Carillon Historical Park is an open-air history museum and the ultimate place to learn about Dayton's culture and history.
The highlights of the park are the original 1905 Wright Flyer III, the only airplane designated a National Historic Landmark and the Wright Brothers National Museum.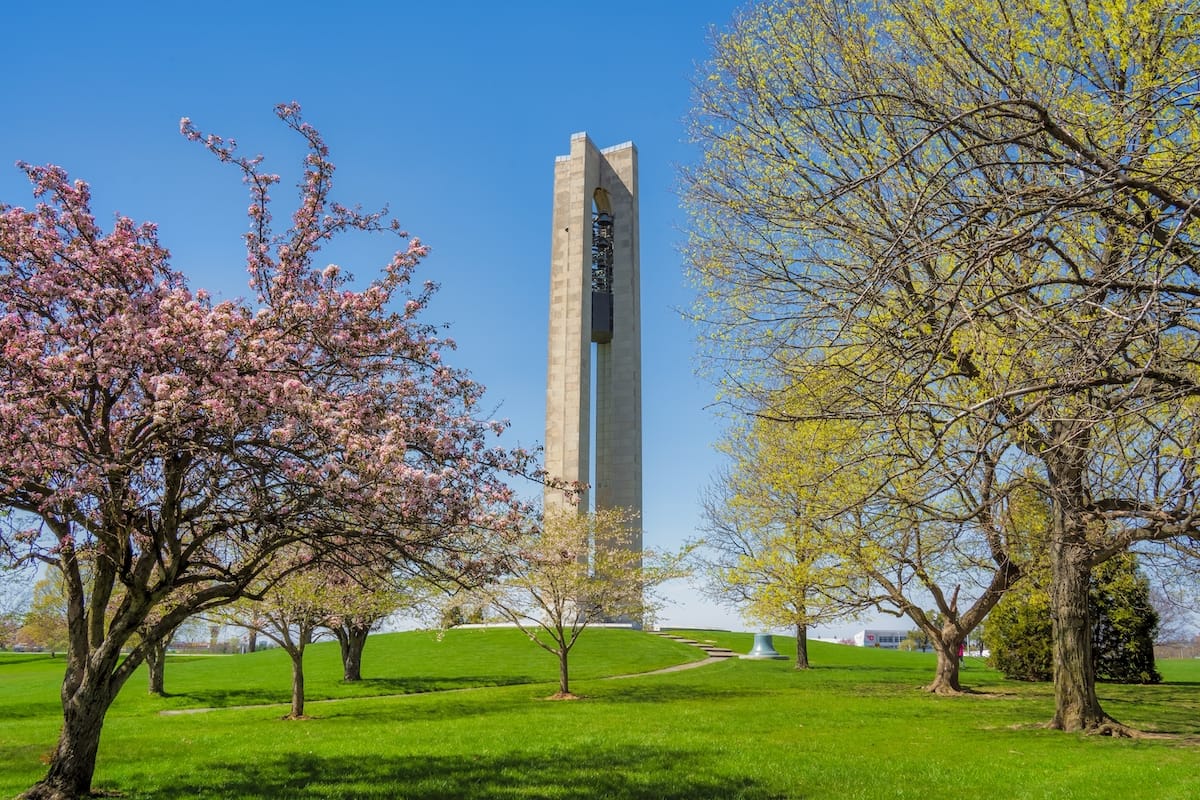 You can start your visit by exploring the Heritage Center of Dayton Manufacturing & Entrepreneurship, where you'll get a lot of information about some historical and innovative companies that were launched in Dayton.
Other must-sees here include the famous Print Shop that has real 1930s printing equipment, and the Early Settlement Area, which features some of the oldest standing buildings in Dayton, like Newcom Tavern and William Morris House.
Address: 1000 Carillon Blvd, Dayton, OH 45409
2. Dine at Wheat Penny
Wheat Penny is one of the best spots in Dayton that makes every visitor feel at home. It's an American-style restaurant featuring entirely homemade cuisine.
First things first, it's a pizza-centric restaurant! So, pizza lovers especially are welcome.
The dishes are rustic and have some creative twists to them. The bar is very highly rated here, so you might want to reserve a spot.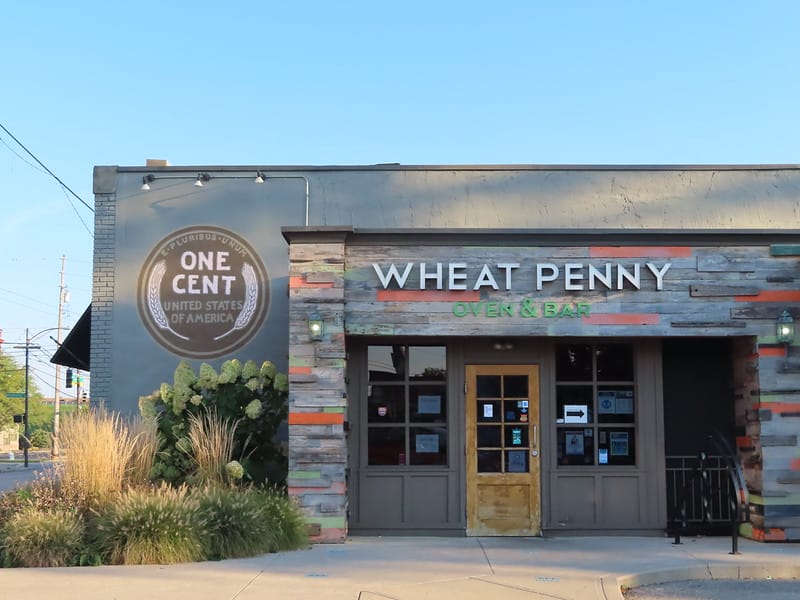 Wheat Penny leaves almost all of its visitors wanting to come back due to its imaginative food, tasty pizzas, amazing cocktails, and very friendly staff.
You can even bring your dog with you. Just based on this, it's quite easy to imagine how friendly and welcoming the hosts are here, right?
Address: 515 Wayne Ave, Dayton, OH 45410
3. See a Performance at the Benjamin and Marian Schuster Performing Arts Center
The Benjamin and Marian Schuster Performing Arts Center is known for providing not only local but also international entertainment.
The center was built in 2003 and includes 3 main facilities: Mead Theatre, Mathile Theatre, and Kettering Wintergarden.
The first one, Mead Theatre, is a 2,300-seat area that hosts performance arts including opera, orchestral music, dance, and more.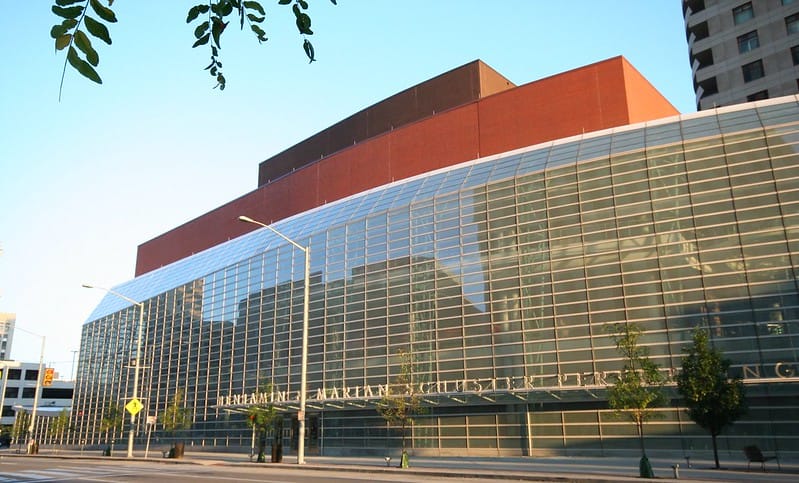 Mathile Theatre, on the other hand, has a much smaller setting and hosts rehearsals or small audience performances.
Lastly, Kettering Wintergarden is a six-story glass atrium that hosts events with around 1,000 people.
Apart from taking part in some of the very best events in Dayton here, note that all facilities are open for reservations and you may arrange meetings, parties, and even weddings.
Address: 1 W 2nd St, Dayton, OH 45402
4. See the Automobiles at America's Packard Museum
Famous as one of the top ten auto museums in the US, America's Packard Museum is a place worth checking out at least once when in Dayton.
The museum was founded in 1992 and is the only restored Packard dealership operating as a museum.
It features the world's largest Public Packard Automobile collection and has more than 50 automobiles showcased in the halls.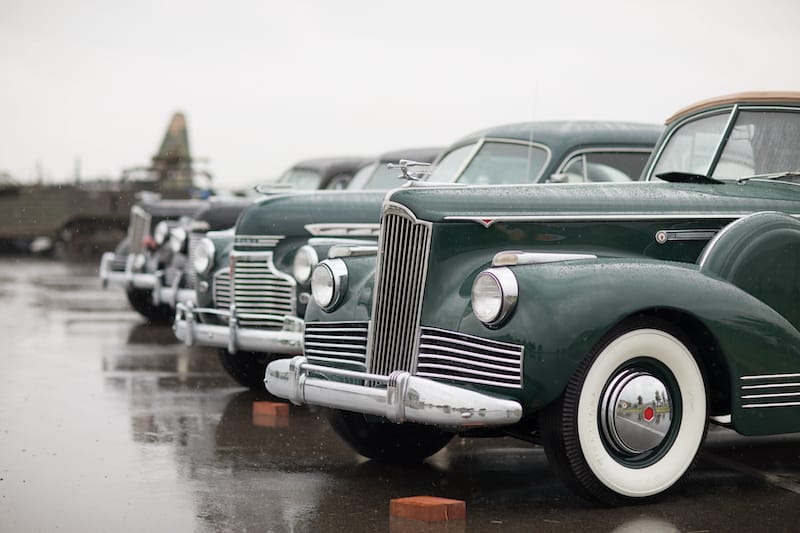 In recent years the museum has gained a lot of popularity, and even the neighborhood surrounding the museum has been named Dayton's Motorcar District.
The museum welcomes guests from fall to winter and is open from Wednesday to Sunday (though Wednesdays are for large groups of 10 and more).
The entrance fee is $15 for adults, $10 for seniors, and $2 for students with ID.
Address: 420 S Ludlow St, Dayton, OH 45402
5. Learn About Aviation at the National Aviation Hall of Fame
The National Aviation Hall of Fame is where Dayton honors its aerospace legends, promotes innovation, and aims to create better future leaders.
They showcase inspirational exhibits that convey the idea of how powerful technology can be in the air and space industry.
The Hall of Fame overall incorporates a museum, a research center, and an award ceremony.
The latter is one of the main activities here, and it's very often referred to as "The Oscar Night of Aviation."
You might also want to stop by their store, where among many items you'll find limited edition prints signed by an aviator of your choice.
The National Aviation Hall of Fame is open during the whole year except for holidays. Admission and parking in the center are free of charge.
Address: 1100 Spaatz St, Dayton, OH 45433
6. Check Out the Dayton International Peace Museum
As the name suggests, this museum is about peace and has a vision of conveying ideas about nonviolent alternatives to conflict resolutions.
The museum features several exhibits and programs that cover topics like social justice, equity, tolerance, and world protection.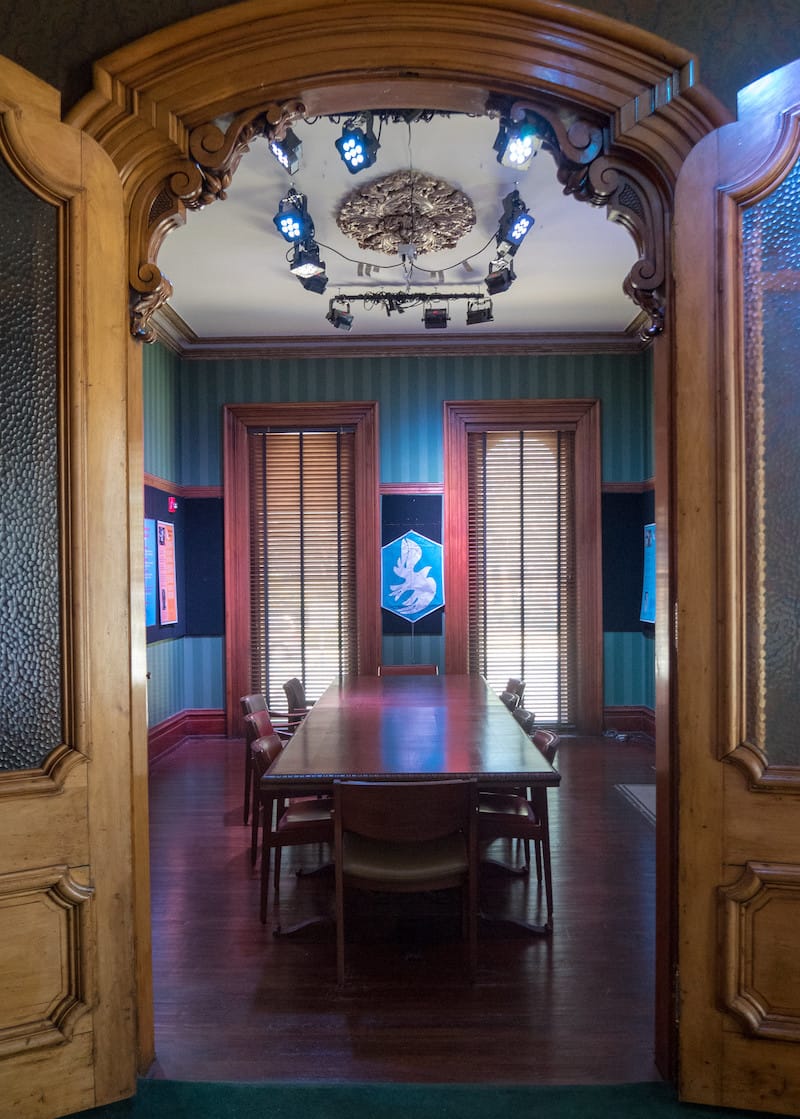 Apart from the exhibition areas, the museum has a library, an interactive children's room, and a place suitable for gatherings, book debates, and discussions.
A fun fact about this museum is that it's the only peace museum located in Western Hemisphere that still has a physical location.
Admission is $5 and free for kids 6 and under.
Address: 10 N Ludlow St, Dayton, OH 45402
7. Get in Touch with Nature at the Aullwood Audubon Center
The Aullwood Audubon Center is all about nature, the environment, and sustainability. It includes an educational farm and discovery center, a nature center, and a sanctuary.
Aullwood's Marie S. Aull Education Center has two themed discovery rooms and six thematic classrooms that have interactive displays and exhibits.
The facility also hosts animals like turtles and snakes, a bird-watching room, a Windows on Wildlife room (great for quiet relaxation), and Aullwood's Gift Shop, which can be your source of memories in the form of gifts.
The Aullwood Farm features an educational facility with agricultural programs. It also houses farm offices.
In addition, there is the vast Farm Yard and the Wyse Pavilion (which can be rented), a focal spot from which the guests can enjoy the farm's buildings, landscape, and animals.
The admission fee here is $12 for adults, $10 for seniors, $8 for children ages 4-12, and free for kids 3 and under.
Address: 1000 Aullwood Rd, Dayton, OH 45414
8. Have Dinner at White Lotus Restaurant
White Lotus has a feel of Asia in it and that's what sets it apart from other restaurants in Dayton. Here you'll get delicious food along with a friendly, cozy atmosphere that feels just like home.
Their bestsellers include their yummy burger, green curry, red curry, and pepper steak.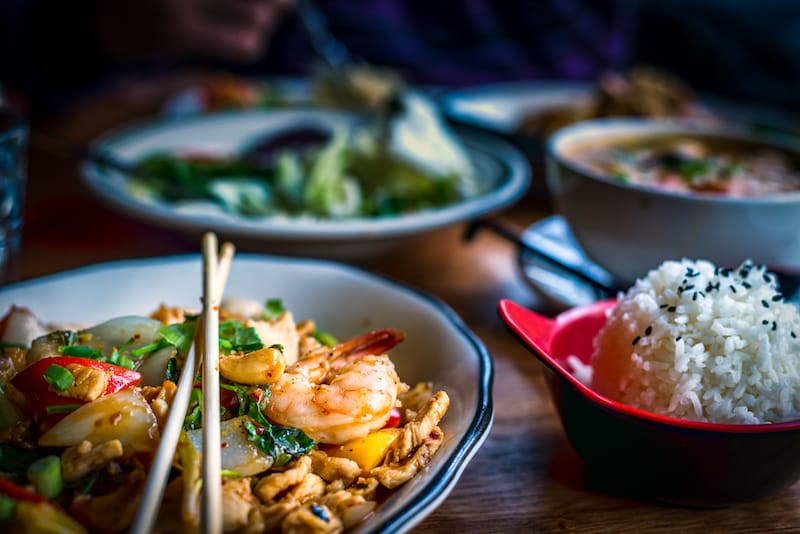 The menu here is not that big, but it's a combination of Thai and American cuisines, both of which have very high ratings. If you're looking for Thai food in Dayton, White Lotus might be your number-one choice.
Apart from great quality food, you can enhance your experience here by learning about the story of the owner, who is a true inspiration and a great example of dedication and hard work.
Address: 327 E 3rd St, Dayton, OH 45402
9. Go on a Day Trip to Yellow Springs
When in Dayton, a good option for a day trip is Yellow Springs.
Though it's a small village, there are many attractions and hidden natural gems located here. You're very likely to find something to do for the whole day, no matter if you're visiting alone, with friends, or with family.
When it comes to natural sites, Glen Helen Nature Preserve and Clifton Gorge State Nature Preserve provide beautiful scenery and breathtaking views of springs, waterfalls, and limestone cliffs.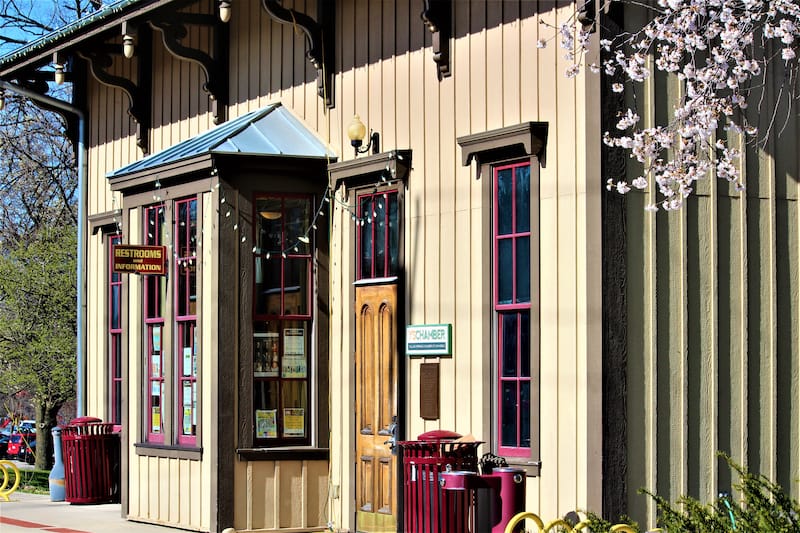 Among other must-sees are Clifton Mill – a historic building that takes you back into the 1800s; Little Art Theatre; Village Artisans Co-Op for unique gifts; and around 15 eateries and pubs to experience tasty, local food.
In the area, you will also see some of the beautiful covered bridges in Ohio.
10. Explore the Little Fish Brewing Company – Satellite Brewery
This brewery was built by two beer enthusiasts in 2015 and has quickly gained popularity not only among locals but also among visitors to Ohio.
The owners have designed a few original beer recipes from fully Ohio-grown ingredients, the most famous one of which is called Saison du Poisson.
The best part is that the brewery has a vast selection, so you're sure to find something you'll enjoy.
The inside has a seating area near the brewing equipment, while the outside features a beautiful garden where you can enjoy your beer with views of hop arbor, fruit trees, and the city-owned wetland.
The company also takes many sustainability initiatives and tries its best to decrease harm to the environment.
Address: 8675 Armitage Rd, Athens, OH 45701
11. Travel Back in Time at SunWatch
SunWatch Indian Village is now a National Historic Landmark in the US. Many years of archaeological research at the site yielded major insights regarding the Fort Ancient civilization.
The site currently operates as an open-air museum.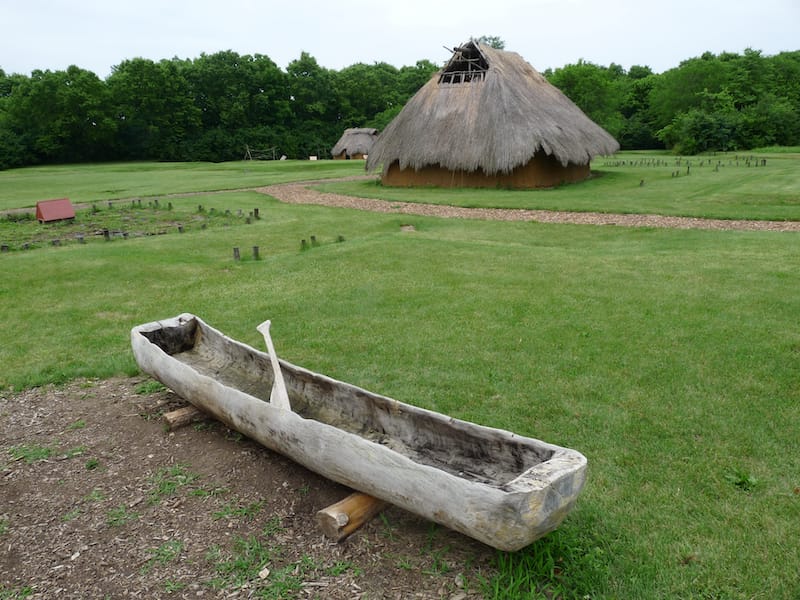 When visiting the site, you can partake in many activities, including watching an introductory film in the indoor theater, making a journey to the past by immersing yourself in the lifestyle from 800 years ago and learning some interesting details about the history of the village and its inhabitants in the Interpretive Center.
SunWatch Indian Village and Park are open from April to November. The admission fee is $7 for adults and $6 for seniors and kids.
Address: 2301 W River Rd, Dayton, OH 45417
12. Indulge Your Curiosity at Boonshoft Museum of Discovery
The Boonshoft Museum of Discovery is all about technology, natural history, science, and children.
Boonshoft Museum is a bit similar to SunWatch Indian Village – both places include huge natural history collections and exhibits.
There are a variety of daily public educational and fun programs offered here, the exact dates and times of which you can check out on their daily calendar.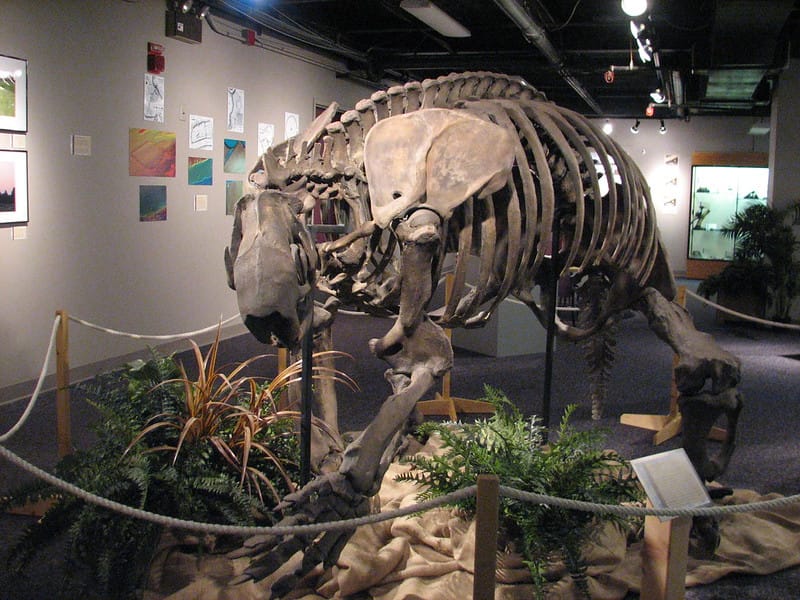 You can't, of course, miss the exhibits here.
There is a huge anthropology section that includes specimens and artifacts from SunWatch and more; a biology section with insects, plants, and animals; geology, astrology, and the list goes on.
The amount of time needed to explore the Boonshoft Museum could range from 5 hours to a whole day. The entrance fee is $15 for adults, $12 for children, and $13 for seniors.
Address: 2600 Deweese Pkwy, Dayton, OH 45414
13. Get Artsy at Dayton Art Institute
The Dayton Art Institute is a premier art museum hosting a collection of 5,000 years of art history, special programs, exhibitions, and events.
The museum holds around 27,000 items from not only American but also Ancient American, Asian, and European fine art collections.
The institute also hosts concerts, youth and family programs, and more.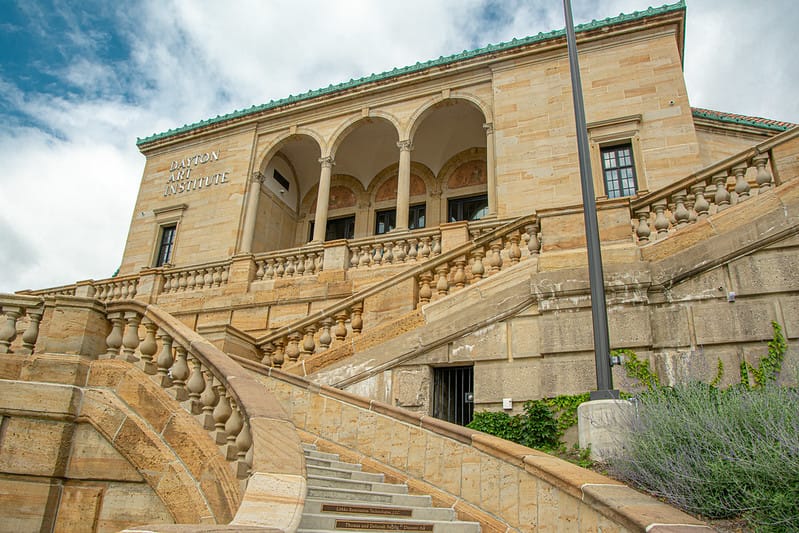 Among the most famous special events are the Art Ball and Oktoberfest, which take place once a year.
Also, to stimulate some creativity, don't miss the Lange Family Experiencenter – the museum's interactive gallery.
The admission fee to the Dayton Art Institute for adults is $15, $10 for seniors and youth 7-17, and free for children 6 and under.
Address: 456 Belmonte Park N, Dayton, OH 45405
14. Wander Around the Oregon District
The historic Oregon District is situated in the heart of downtown Dayton and is its oldest neighborhood. It's home to numerous boutiques, pubs and bars, restaurants, and coffee shops.
​This district has one of the earliest surviving mixtures of business and residential architecture in Dayton.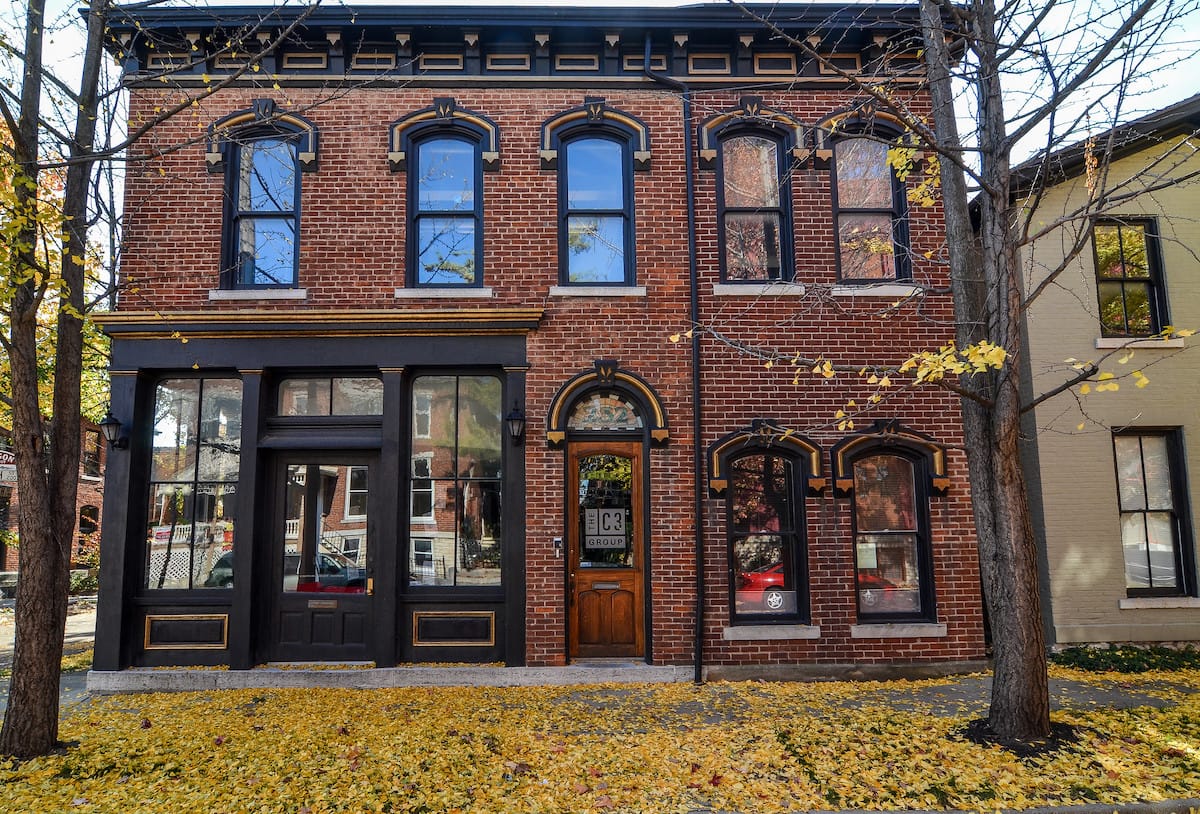 A prominent site in the Oregon District is Fifth Street, which gets closed on weekends and is known by the name "Out on 5th."
It opens up more space for eateries to expand their patio, for shopping, and for relaxing while walking through the closed business district.
15. Participate in an Event at the Victoria Theatre
Victoria Theatre has been one of the main entertainment centers of Dayton for many years.
This theatre hosts a variety of events, mostly ballets, concerts, and other performances from Dayton's arts organizations.
The theater was renovated in 1988 and is now even more stunning both inside and outside.
To get to know the events taking place here, you can check out the events calendar, which can be found on their official website.
It's worth mentioning that the calendar is usually quite full of events, so you'll most probably catch something interesting no matter when you visit the theater.
If you're interested in hosting an event in the area, meetings, parties, performances, and banquets can all be held at the Victoria Theatre.
Address: 138 N Main St, Dayton, OH 45402
16. Enjoy Nature at Wegerzyn Gardens MetroPark
Wegerzyn Gardens is the ultimate place for you and your family to get closer to nature and some gardening inspiration.
Visitors can take the Marie Aull Nature Trail into the woods to experience the floral diversity of the Stillwater River Corridor.
Alternatively, the gardens offer some great programs for children and designated areas like the Children's Discovery Garden.
The top activities to do here are walking around and relaxing along with the beautiful sights of the gardens, as well as finding the Giant Pedestal Oaktree and the Swamp Forest, which is home to Fairy Shrimp, only found in vernal pools.
Address: 1301 E Siebenthaler Ave, Dayton, OH 45414
17. Learn More at Dayton Aviation Heritage National Historical Park
The connection between Dayton and aviation history is undeniably strong, and the Aviation Heritage National Historical Park is proof of that.
This site is the birthplace of aviation – the location where Wilbur Wright started thinking about creating a flying machine and the challenges that come with it.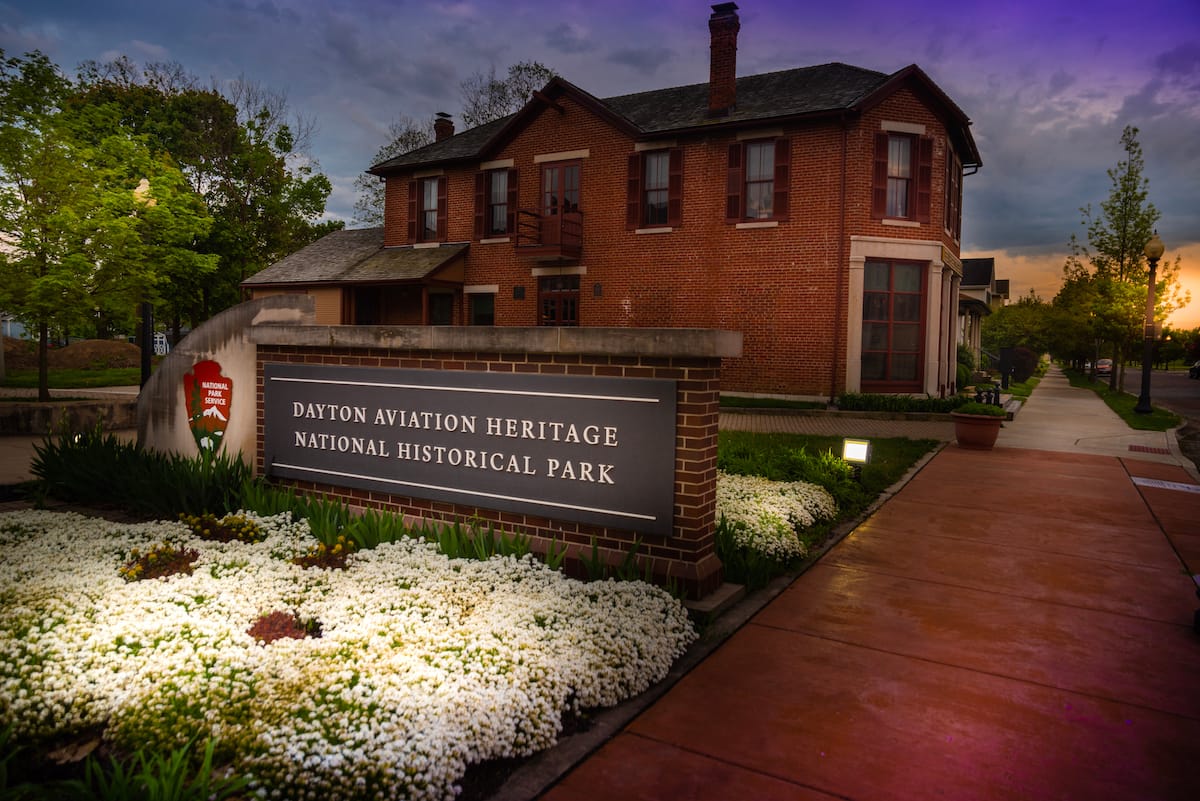 The park includes the brothers' 4th bicycle shop, the Paul Laurence Dunbar House Historic Site (which was his last home), the Huffman Prairie Interpretive Center, and more.
Here you'll visit the Wright Brothers' third airplane, the Huffman Prairie Flying Field, and Hawthorn Hill (the Wrights' estate).
Almost all areas of the park do not charge a fee for admission.
Address: 16 S Williams St, Dayton, OH 45402
18. See the National Museum of the U.S. Air Force
Visit the world's largest military aviation museum in Dayton!
Here you'll find more than 19 acres of indoor exhibit area, holding 350 aircraft vehicles and missiles, as well as thousands of fascinating artifacts.
Among the exhibits at the National Museum of the U.S. Air Force, you can check out the Early Years, World War II, Korean War, the Cold War galleries, and many more.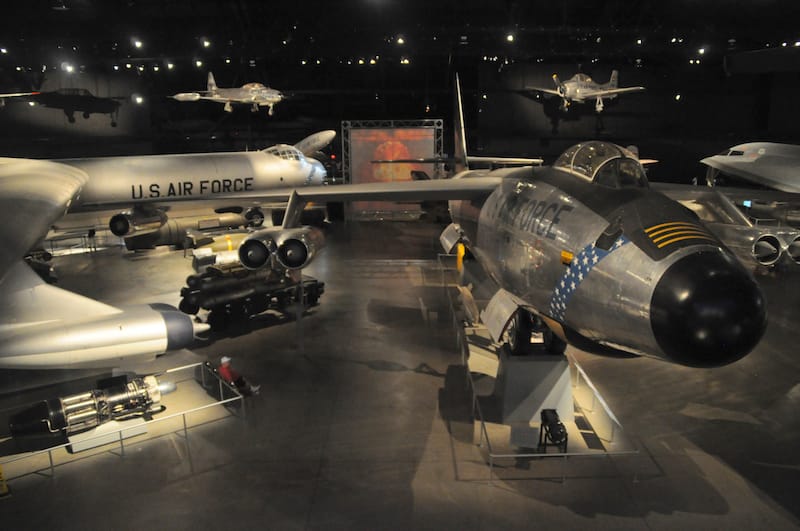 Apart from the main tours and exhibits, you can make your visit even more remarkable by watching a movie at the museum theater, taking a ride in a stimulator, or by visiting the museum store you can take a few souvenir pieces with you.
Both admission and parking at the museum are free.
Address: 1100 Spaatz St, Dayton, OH 45433
19. Laugh and Dine at Dayton Funny Bone Comedy Club and Restaurant
In case you're into some comedy and food, the Dayton Funny Bone Comedy Club and Restaurant should certainly be on your travel itinerary.
There are stand-up comedy shows taking place here every Monday through Friday. Some of the well-known artists performing here are Gary Owen, Damon Williams, Josh Blue, and Greg Warren.
Something to note here is that they sometimes give away free tickets via email signups, so you have a chance to check out a comedy show at no charge.
Overall, it's a nice and entertaining way to spend your evening when in Dayton.
Address: The Greene, 88 Plum St #200, Dayton, OH 45440
20. Relax at RiverScape MetroPark
RiverScape is situated around the Grand Miami River and features extra-beautiful gardens and flower pots.
The park welcomes visitors who want to relax, play, or work while feeling nature close to them.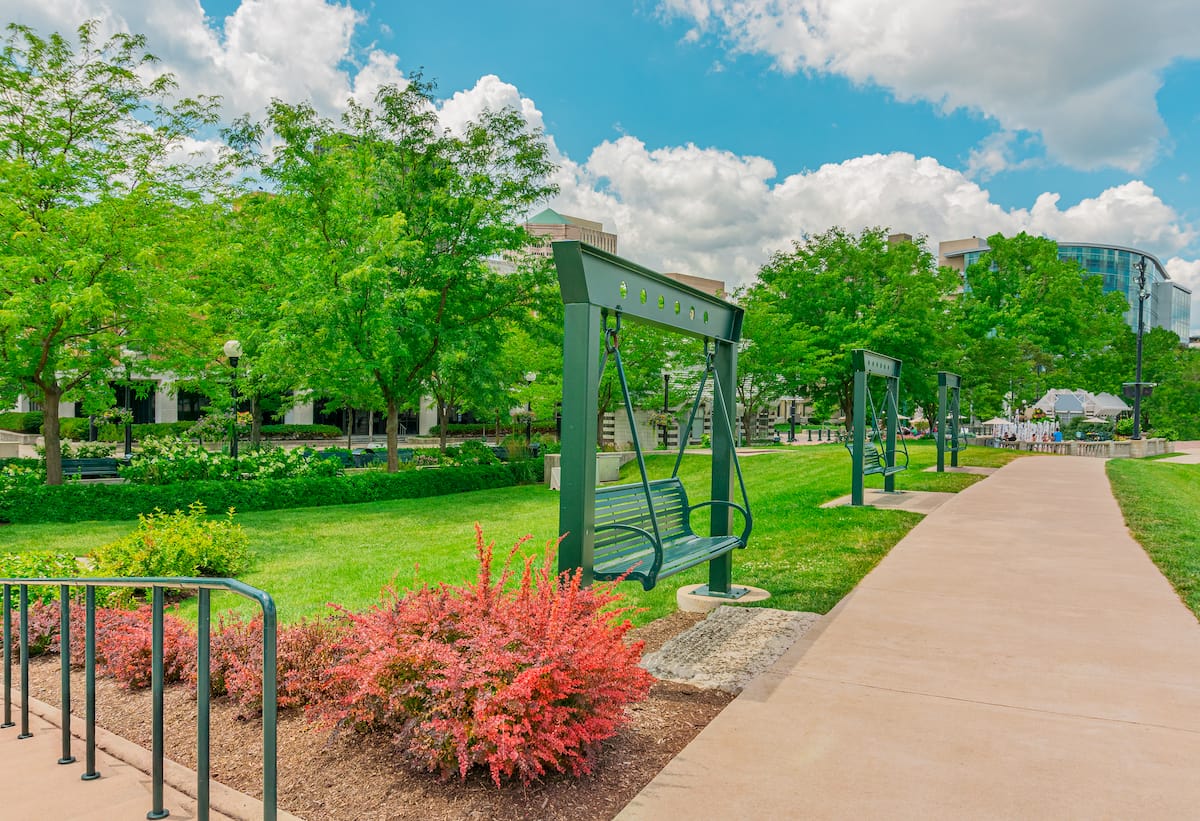 A multitude of events and recreational activities like summer concerts, ice skating, recreation programs, and huge festivals take place here all year round.
You can grab a bike or hike in the park, enjoy the sights of Five Rivers Fountain of Lights, take children to play around the fountains on a hot summer day or enjoy a musical performance at the Pavilion.
Address: 237 E Monument Ave, Dayton, OH 45402
21. Wander Around the Exhibits at Huffman Prairie Flying Field Interpretive Center
The Huffman Prairie Flying Field Interpretive Center is part of the Dayton Aviation Heritage National Historical Park.
There's so much for aviation lovers to do here, including checking out exhibits of the Wright brothers' invention of the world's first practical airplane at Huffman Prairie in 1904 and 1905, the accomplishments of Wright-Patterson Air Force Base, and their flying school that opened in 1910.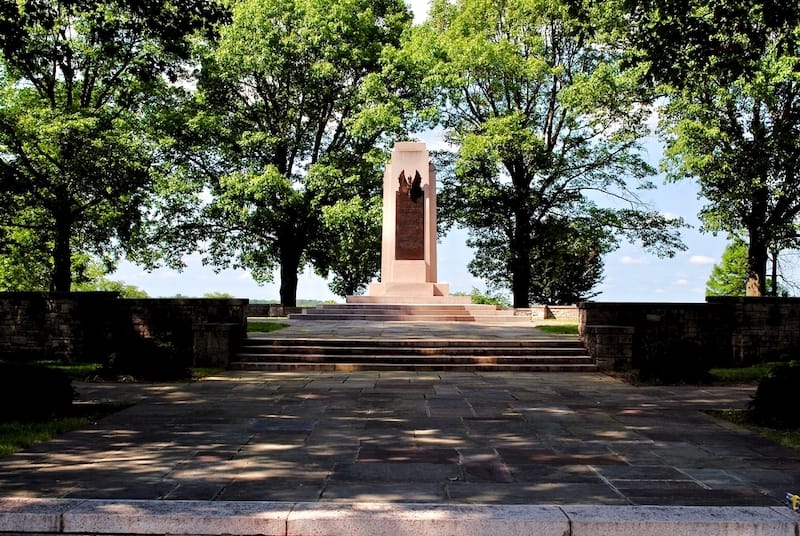 Located in the same area, there is a 27-acre Wright Memorial on Wright Brothers Hill, which is accessible to the visitors of the center.
In addition, there are also prehistoric Adena Native American mounds, which visitors can stroll up.
The Huffman Prairie Flying Field is open daily, except for Wednesdays, and does not charge a fee for admission.
Address: 2380 Memorial Rd, Wright-Patterson AFB, OH 45433
Things to Do in Dayton (On a Map!)
🗺️ HOW TO USE THIS MAP: You can use your fingers/mouse to zoom in and out. To get more info about a place, simply touch/click the icons. Want to save this map for later use? Click the '⭐' by the map title and it will add it to your Google Maps account (Saved > Maps or 'Your Places').
Where to Stay in Dayton
Youʻll find plenty of recognizable places to stay in Dayton on your trip. Below are some of the top-rated options for the Ohio city!
Did we miss out on any great places to visit in Dayton?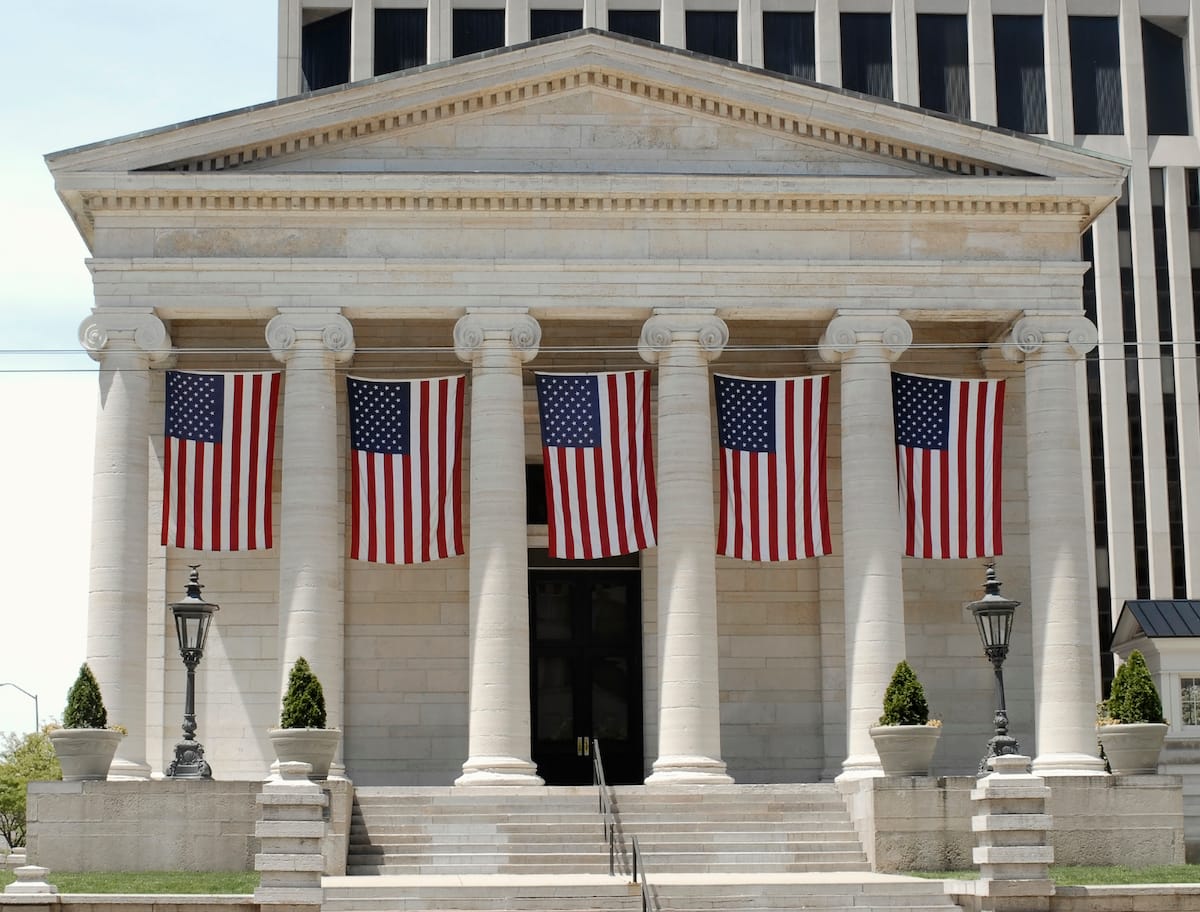 Let us know your favorite things to do in Dayton OH in the comments! Thanks!
More Ohio Travel Guides
Pin this Dayton OH Things to Do Guide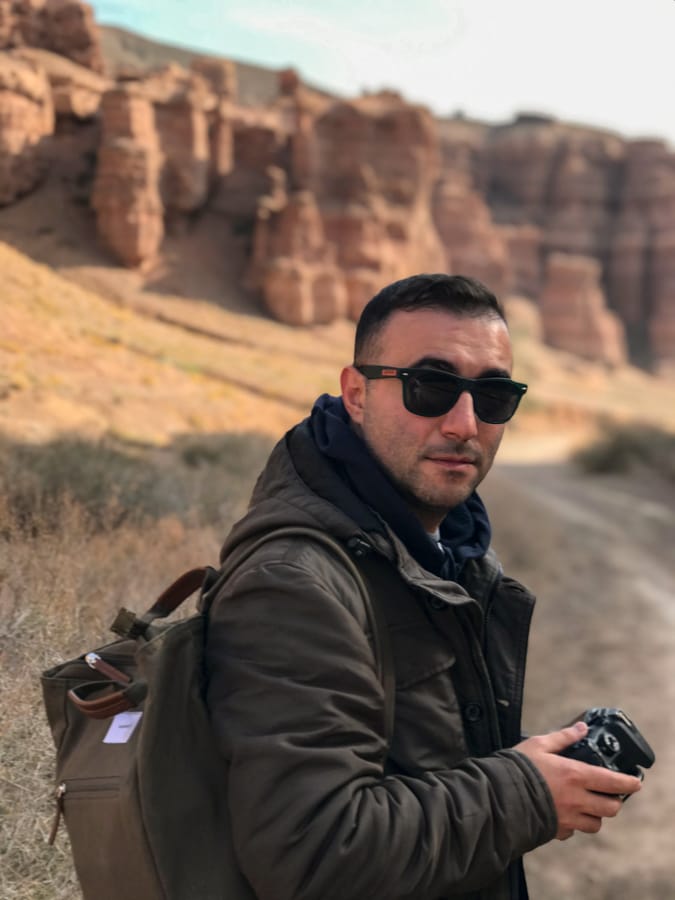 Aram is a travel blogger and writer from Armenia who spends his time between Spain and his home country. He is passionate about music and football (the European kind) and covers a lot of Western European destinations on the blog. Aram is a laidback traveler who enjoys meeting new people and finding the best food in each city that he visits (hence his frequent trips to France, Italy, and Greece!). He has been featured in (or written for) Forbes, BBC, The Guardian, Fodor's Travel, and more.