I found the best waterfalls in South Carolina for you and I hope you are going to love them! This guide details these amazing South Carolina waterfalls.
When most people think of South Carolina, they probably have some general ideas about Southern culture and gentility, but don't realize how scenic and full of natural beauty it is.
In fact, South Carolina is home to approximately fifty state parks, all of which are full of wonders that would captivate any nature lover.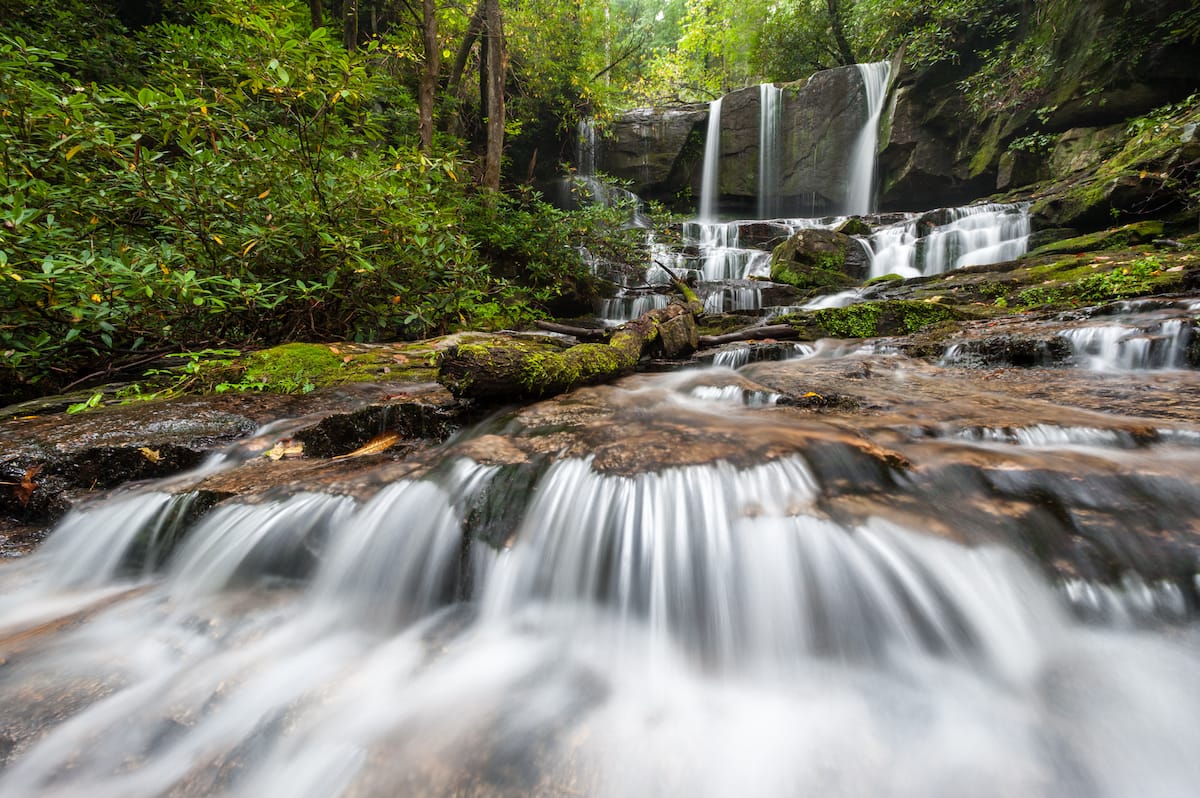 When you travel outside of the cities and towns, South Carolina is actually a perfect place for wilderness fans, including mountains, sub-tropical beaches, and over one hundred beautiful waterfalls to explore, all affording stunning views that will also let you cool off in the midst of the cascading water.
Out of the many waterfall options, I have put together the ultimate list of the prettiest waterfalls in South Carolina that you cannot miss! Let's go exploring!
Best Waterfalls in South Carolina
King Creek Falls
King Creek Falls is located in Sumter National Park near Laurel Creek.
Located in northern Oconee County, these gorgeous falls cascade down over a seventy-foot drop, and are considered by many people to be one of the most scenic spots in the entire state.
It's also in an extremely shady area, due to a great deal of tree cover. That plus the cool mist constantly coming off the falls makes King Creek Falls an excellent destination even in the summer months.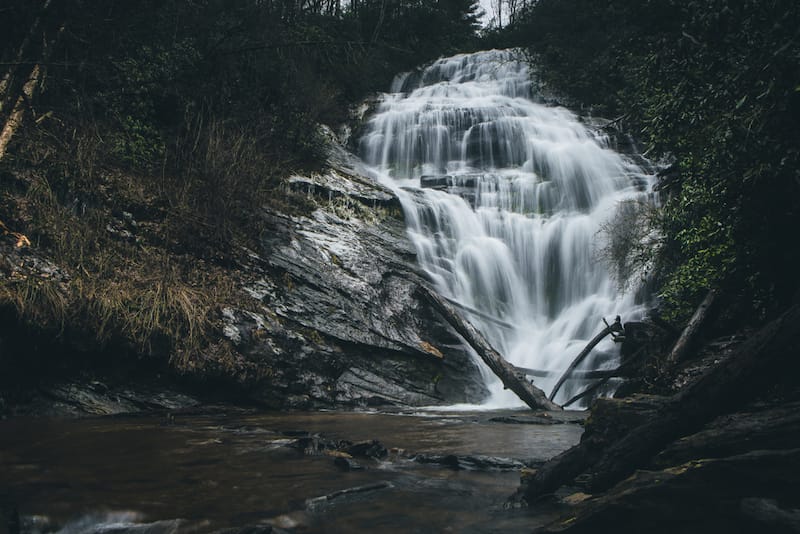 The falls provide a beautiful view of water shimmering down rocky boulders covered in moss that lets out into a famously U-shaped cove filled with laurel, where people wave their feet as they enjoy the atmosphere.
It's also a particularly child- and pet-friendly waterfall, so it's a great place to take your entire family.
To get to King Creek Falls, you will face a hike down the Chattanooga River that provides some challenges, due to the rocky terrain which also has a lot of trees that have been downed over the years.
It's not too difficult for most families to handle, however. It's located at Burrell Ford Road in Mountain Rest.
Raven Cliff Falls
At a whopping four hundred and twenty feet, Raven Cliff Falls is the tallest and arguably most visually breathtaking waterfall in South Carolina, making it also likely the most famous and popular.
The enormous amount of water pours beautifully and forcefully down from Raven Cliff Mountain into a gentle slope of rolling hills.
Raven Cliff got its name thanks to a large raven population that lives in the mountain and the surrounding areas right around the waterfalls.
Within this relatively contained area, ravens from more than one hundred and fifty different species have been spotted over the years, making it a great choice for birdwatchers as well.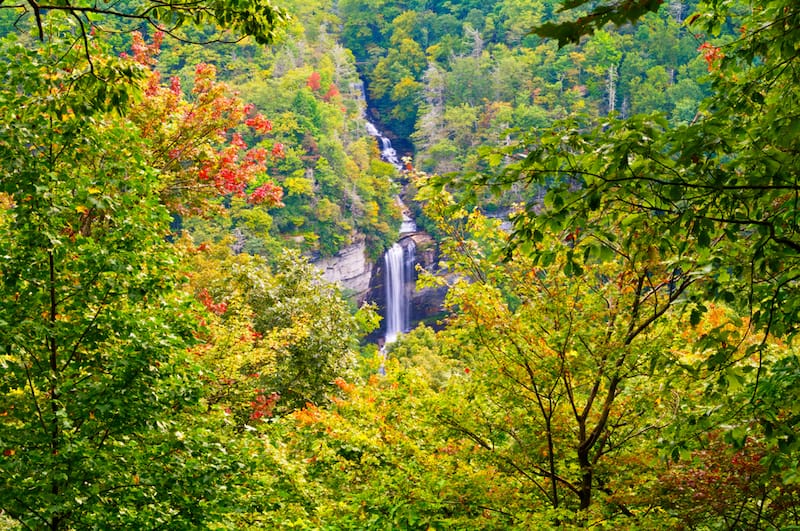 It's less ideal for a family outing, as the two-mile trail is actually quite challenging due to it being largely uphill, but for regular hikers and fit teenagers, it's worth the effort.
A visit in the fall is particularly recommended as the area is particularly lush with colorful leaves making the atmosphere even more beautiful.
Raven Cliff Falls is located off Geer Highway in Caesar's Head State Park, and the hike will take you to either the viewing deck or if you want even more stunning views, there is a suspension bridge that takes you over the falls, although it does require even more uphill climbing to get there.
Spoonauger Falls
Set within a beautiful green hill, Spoonauger Falls is prized as much for its flowing waters as its beautiful scenery.
Besides the lush intense green that surrounds it, the water flows down stepped rock that's approximately fifty feet high, culminating in a flat water-covered rock area, providing a perfect wading pool.
Spoonauger Falls is considered to be one of the most picturesque waterfalls in the state, making it particularly popular for selfies and Instagram posts.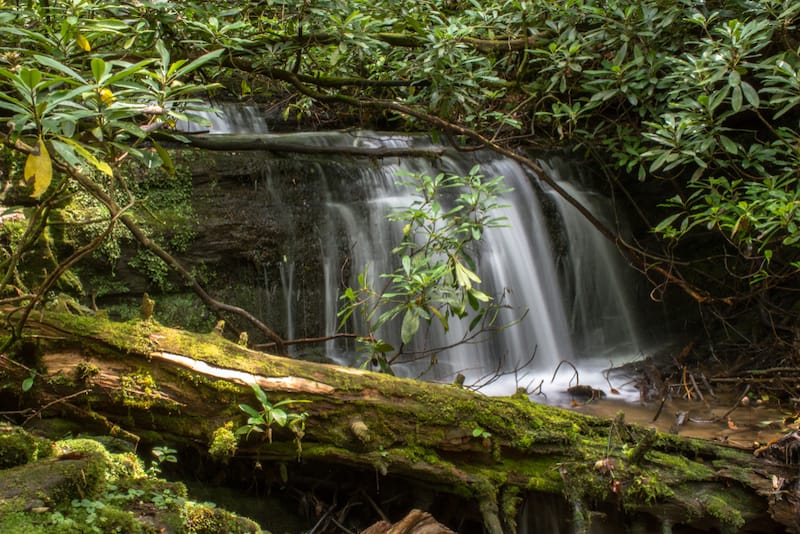 It's also a very accessible waterfall, requiring only a not particularly difficult half-mile hike along a beautifully maintained trail full of shrubbery and trees to reach it, meaning it's perfect for the entire family, as well as people who aren't as experienced in hiking.
Children in particular love wading in the pool and trying to catch the slippery salamanders that populate it.
Spoonauger Falls is located in Sumter National Park and can be reached by driving by the Burrell Ford campground by half a mile and searching for the Chattooga River trailhead sign.
Issaqueena Falls
For people who don't want to face a challenging hike to reach a beautiful waterfall view, Issaqueena Falls provides a perfect solution.
It is absolutely lovely to behold with its two-hundred-foot drop but it's only a brief, easy walk to get to the pavilion that overlooks Issaqueena Falls.
And if you'd like to experience more of it and have a little more of a challenging exercise, there is a steep hike trail that you can take to get to the bottom of the falls that provides some more rugged terrain but similarly worthwhile views.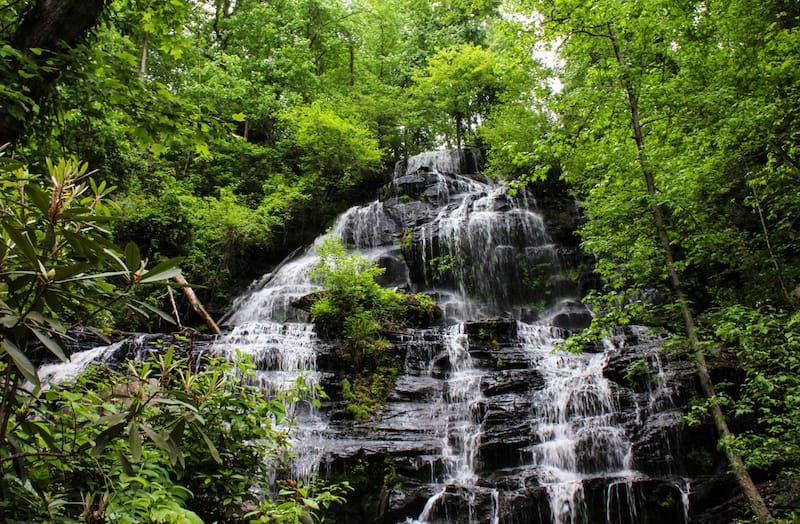 Issaqueena Falls is named for a local legend about a young Native American woman who fell head over heels for a white settler.
In order to save him and his settlement from a supposed attack by her people, she warned him before running to the top of the falls and faking her own death to escape the anger of her people.
Rather than jumping, however, she hid at the top of the waterfall and afterward fled with the white man to Alabama, where the two married. Whether this story has any basis, in reality, is unknown but the legend persists.
Issaqueena Falls can be accessed from Stumphouse Park.
Laurel Fork Falls
Another one of the most beautiful waterfall vistas in South Carolina is Laurel Fork Falls, which is nestled in the lush foothills of a mountainside and features a breathtaking drop of eighty feet.
Beneath the waterfall is also the crystal clear water of Lake Jocassee for swimming.
Unlike any of the previous selections, however, and certainly the past two, reaching Laurel Fork Falls is a genuine challenge and only recommended for serious hikers.
The hike is eight miles long each way and takes between five and six hours, depending on your level of fitness and ability.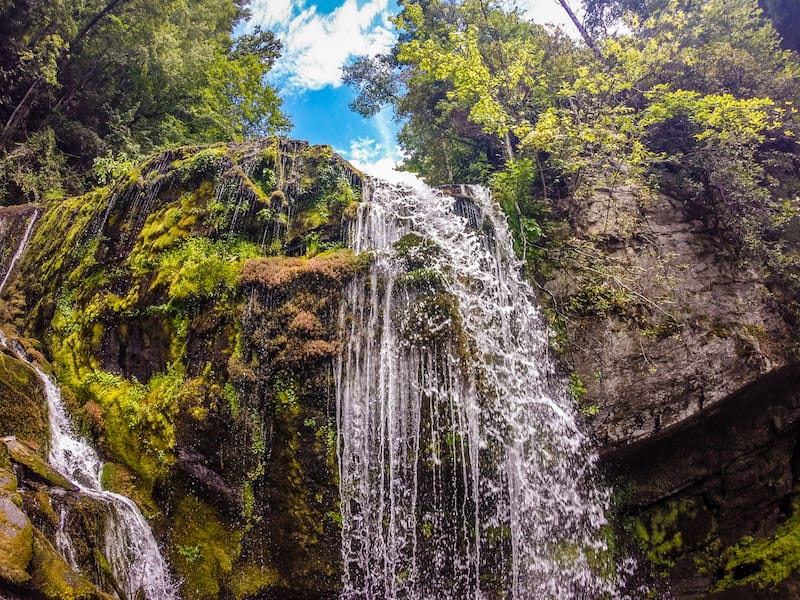 The Foothills Trail which takes you to Laurel Falls crosses Laurel Creek and involves having to cross various bridges both back and forth, as well as climb various sets of stairs both up and down, due to the terrain.
Luckily, there's a camping area also located right by the falls, so should you choose to do so, you could stay the night rather than attempting to travel there and back in one day.
Another option to avoid the hike is to simply pass the falls on a boat. Lake Jocassee is right nearby and you can take a tour to view the waterfall from there.
Rainbow Falls
Another of the most gorgeous waterfalls in South Carolina is Rainbow Falls, which is named for the sparkling water that plummets down the drop of over one hundred feet into a beautiful pool at the bottom.
Located about forty-five minutes outside of Greenville, South Carolina, Rainbow Falls is another one that requires a longer hike to reach.
The hike itself is two and a half miles, which may not sound particularly long, but it's all uphill, mostly up a wooden staircase made of logs. Despite the challenge, Rainbow Falls is more than worth the effort.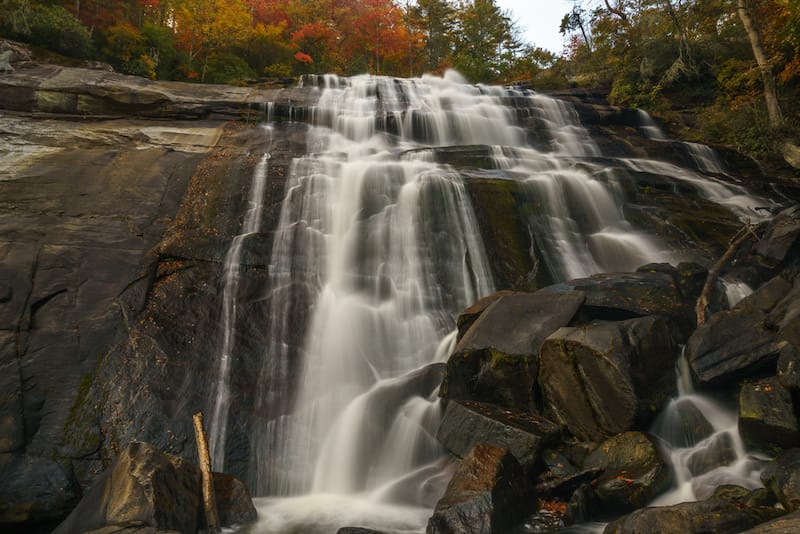 You'll be rewarded with a gorgeous view making it a wonderful spot for a photo op.
Furthermore, the pool underneath the falls is a lovely place for wading, and the grounds nearby provide the perfect spot for a picnic. Rainbow Falls is located in the Mountain Bridge Wilderness Area.
You can reach the Rainbow Falls Trail by starting at the Jones Gap Trail in Jones Gap State Park, and following it alongside the Middle Saluda River until you reach the trail about three-quarters of a mile in.
Twin Falls
Of all of the waterfalls listed here, one of the most unique and beautiful views you'll find in Twin Falls is due to the fact that, as it sounds, it's made up of two adjacent falls in the same view both coming down from Reedy Creek, which splits into the two falls.
The higher one pours from a massive granite slab down a seventy-five-foot drop, and while the other isn't quite as high, it sends water crashing at a forty-five-degree angle at the larger waterfall, which creates a beautiful, jaw-dropping sight to behold.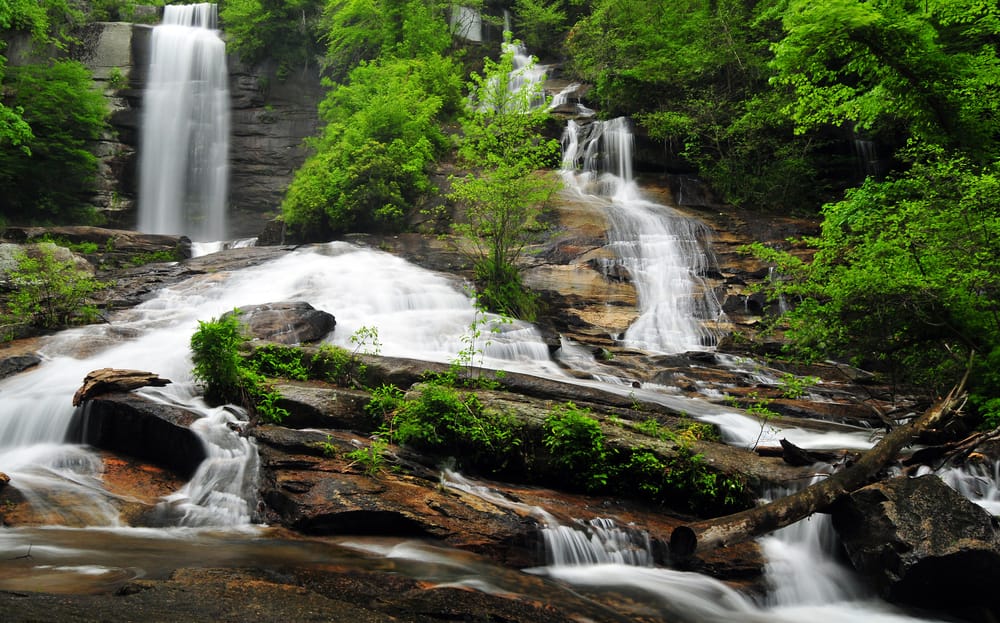 And a bit further downstream is a natural slide that goes into an old-fashioned swimming hole, making it a lovely day trip.
Twin Falls can be reached by Water Falls Road in Sunset, South Carolina.
The trail to reach it, which goes through a lovely tranquil forest, is short, only about a half-mile long, and shouldn't take more than fifteen minutes to traverse.
Yellow Branch Falls
At only fifty feet, you might wonder why we're recommending Yellow Branch Falls as one of the best in South Carolina, but despite it is not as large as some of the others, it's another strikingly beautiful, picture-perfect waterfall.
Many people actually call it the most beautiful of them all, due to the numerous cascades, it's known for, which pour down jagged cliffs, creating a magical view.
One caveat, however: Yellow Branch Falls can go down to barely a trickle after a particularly dry spell, so we recommend timing your visit for either after a big rainstorm or at least during the area's rainy months, which tend to be July through August, and December.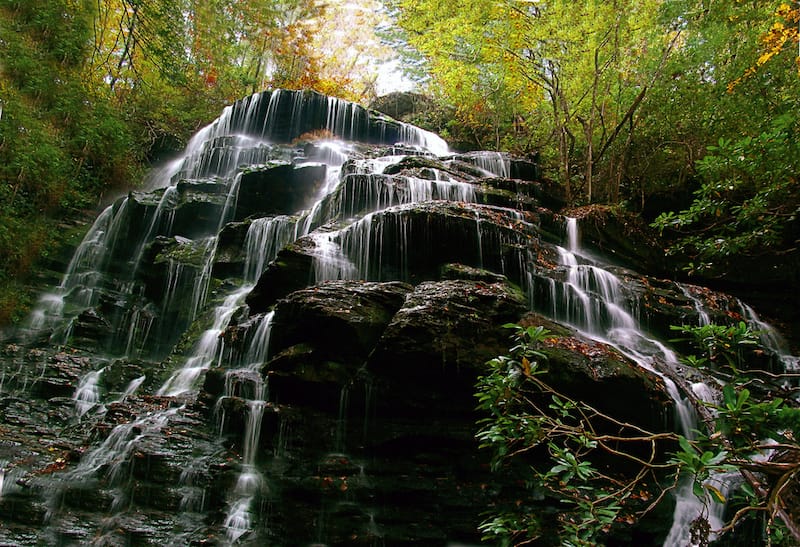 When the water is flowing full blast, it's a magnificent sight.
Yellow Branch Falls is situated by Walhalla and are located in Sumter National Forest within what is designated as the Yellow Branch Picnic area, and are a moderately challenging mile and a half hike through a breathtaking forest setting.
Brasstown Falls
Brasstown Falls, also located in Sumter National Forest, is a particularly fun and unusual waterfall to visit because it actually has three separate drops, each of which has its own name!
The first is Brasstown Cascades, then Brasstown Veil, and finally, Brasstown Sluice.
The upper falls are approximately fifty feet, while the lower ones are only about fifteen.
Still, the combined effect of seeing the water spill from one to the next is genuinely awe-inspiring, and the final cascade culminates in a pool that is a perfect spot to cool yourself on a hot day.
Brasstown Falls only requires a short hike to reach, however, it's surprisingly narrow and steep, which makes it a bit tricky to manage. It's well worth it, however, for the beautiful view awaiting you at the end of it.
While there, if you want to do a little more hiking, you can also reach Little Brasstown Falls, a twenty-foot waterfall that's another lovely hidden gem.
Fall Creek Falls
For waterfall fans, one lesser-known but must-see destination is Fall Creek Falls, which offers the opportunity to see three gorgeous falls all in one location.
The main falls are an impressive hundred and twenty feet high and are truly a wonder to behold.
The shorter ones are thirty and forty feet, which may not sound quite as impressive, but all of which add up to a majestic experience.
Reaching all of them requires a bit of a hike, going six hundred feet up, but you'll be rewarded with some truly unbelievable sights. The three falls are all situated in the Mountain Bridge Wilderness Area.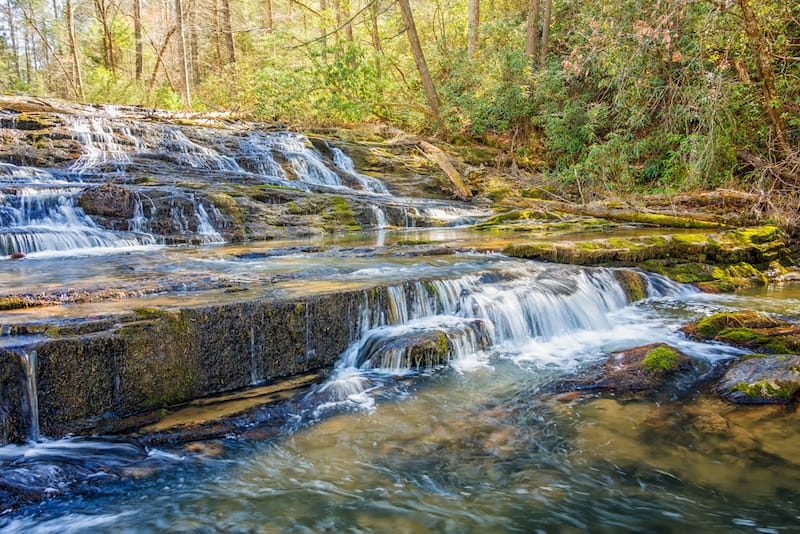 Conclusion
South Carolina has many more wonders to discover than most people may realize.
If you're a fan of natural beauty, there is so much to explore here, and with waterfalls, in particular, you're spoiled for choice with over one hundred options to experience. It is one of the most diverse trips in the US!
We hope this post has been an excellent starting-off point to help you on your journey, and that you decide to visit South Carolina soon so you can take in this beauty in person, for yourself and your friends and family as well!
Did we miss any of the best waterfalls in South Carolina? Let us know your favorite South Carolina waterfalls in the comments. Thanks!
Author Bio
Lorena started her Travel Croc blog after living on 3 continents with her husband and daughter. Now they live in Australia. Lorena has written this article for us, she shares all her traveling experiences on her blog.
More Southeast Travel Guides
Pin this South Carolina Waterfalls Guide