Walla Walla is a place you need to know. These Walla Walla wineries are a large part of the reason you need to know this Washington city of just over 31,000 residents.
There are many reasons to travel to Walla Walla, but wine is definitely one of the main reasons (if not THE reason). I first became familiar with the Eastern Washington city as a kid playing Oregon Trail (no shame).
As an adult, I grew to know the place because of its wine. And while I am no wine expert, I always enjoyed the Walla Walla Valley and the scenery paired with some of the most underrated wineries in the US.
Over 12,000 years ago, the Walla Walla Valley was the site of the world's largest glacial outburst. This flood left behind glacial sediment and volcanic deposit that is exceptional for wine growing.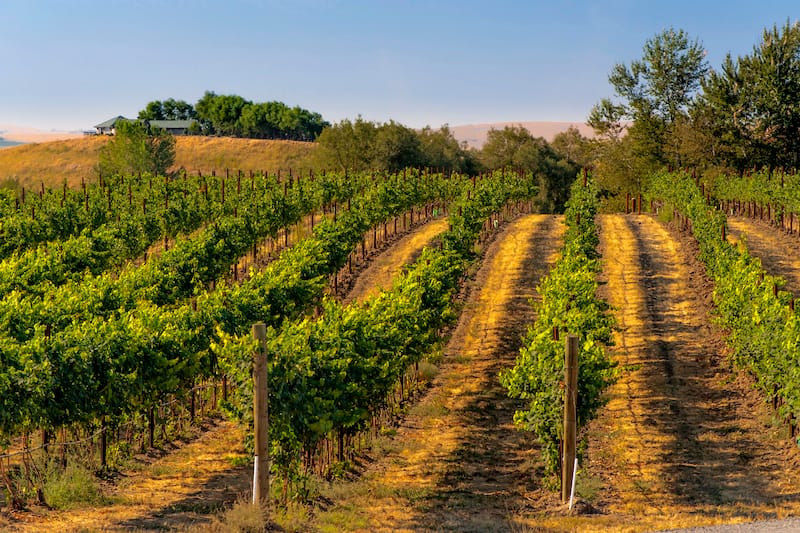 In addition, the sun shines over the Walla Walla Valley for two hours longer than in California wine country due to its proximity north, giving the local grapes more time to ripen and producing a flavorful and complex wine.
Pairing that with nights that are cooler in southeastern Washington than those in the wine regions in California, you will find the wines to have a higher natural acidity, giving the drink a more dynamic and complex flavor.
Walla Walla wineries are split into a few areas, or districts. The main districts are Downtown, Westside, Airport, Eastside, Oregon, and Southside.
Every district has its own characteristics and vibe and it makes the 120 wineries in Walla Walla all worth checking out (and one of the best places to visit in Washington state!).
And, another fantastic thing is that there are plenty of Airbnbs in Walla Walla that are located near the tasting rooms – so you can enjoy the comforts of a beautiful villa (or loft) while you sip on some wine!
As noted above, there are over 120 Walla Walla wineries. Here are some of our top picks for the best wineries in Walla Walla sorted by district.
Walla Walla Wineries Map
To add this map to your Google Maps account, click the 'Star' icon next to the map name. You can then view it on your cell phone or computer by heading to your Google Maps account, click the menu and add it to 'Your Places'.
Best Wineries in Walla Walla (by District)
Reininger Winery
District: Westside
5858 Old Hwy 12, Walla Walla, WA 99362
https://www.reiningerwinery.com
Reininger Winery was the very first winery in Walla Walla dedicated to the Valley's fruit. The winery opened its doors in 1997.
The owner, Chuck Reininger, has a great passion for winemaking, which was the main reason why he and his wife Tracy decided to give a start to the business after they moved to Walla Walla.
They purchased a small 1,700-square-foot metal shed in Walla Walla's historic airport district and transformed it into a production facility. During those times, the winery was the only one located at the airport, but today the area has more than 20 wineries.
Reininger is quite successful for more than 20 years of operations. It gained international acclaim on wines such as Cabernet Sauvignon, Carmenere, and Syrah.
Saviah Cellars
District: Southside
1979 J B George Rd, Walla Walla, WA 99362
https://www.saviahcellars.com
Formed in 2000 in the Walla Walla Valley of southeastern Washington, Saviah Cellars is known for making some extraordinary wines created with traditional winemaking techniques. The winery roots were established by winemaker Richard Funk and his wife, Anita, who moved to Walla Walla in 1991.
Nowadays, the Walla Walla winery is producing nearly 28,000 cases annually. It has been on the most prominent ranking lists, such as Top 100 Wineries by Wine & Spirits Magazine (2009), one of the Rising Stars in Washington by Wine Spectator (2010), and one of the Top Value Brands of the Year by Wine & Spirits Magazine (2013).
Saviah is currently specializing in producing ultra-premium wines that are representatives of Washington's most delicate and high-quality vineyards. Their tasting room, surrounded by scenic views of the Blue Mountains, is located in the center of Walla Walla Valley wine country.
Northstar Winery
District: Southside
1736 J B George Rd, Walla Walla, WA 99362
https://www.northstarwinery.com
Northstar Winery is on the list of Walla Walla's best wineries and is acknowledged to produce one of the world's most acclaimed Merlots. Visitors to this winery are welcomed to enjoy the tasting room that contains beautiful views of the vineyards of the Valley.
A thing that is worth mentioning here is that Northstar Winery offers its guests a unique opportunity to get some insights about blending world-class wine.
After a short presentation about Washington's wine-growing regions, you will be going through a tasting of four different types of Merlots and will have a chance to compose your own blend, bottle it, and there you'll have your personal wine ready for you.
You can also give some very catchy name to it. This kind of experience is truly unique in Washington's wine country.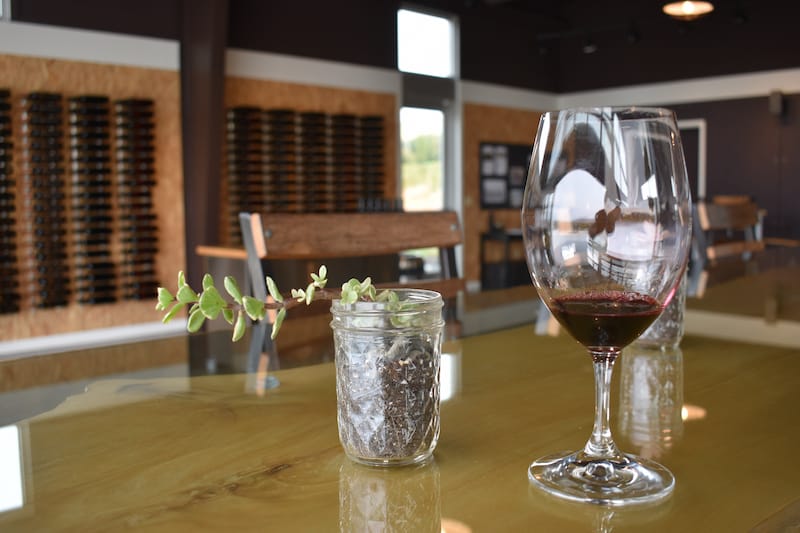 Sleight of Hand Cellars
District: Southside
1959 J B George Road, Walla Walla, WA 99362
https://www.sofhcellars.com
Founded in 2007, Sleight of Hand Cellars aims to serve world-class wines while providing the most fun in the area. During the prosperous years of operations, Sleight of Hand Cellars has been named one of "The Next Generation" of up-and-coming wineries in Washington State.
The winery also got featured in Wine Spectator magazine and had numerous wines in various industry's "Top 100" lists. The tasting rooms are just an excellent spot for those who love to experience wine and music in the same place.
They have and offer more than 2,000 albums with a wide range of musical genres. Moreover, the members of The Wine Illusionist Society (their wine club) get to enjoy the collaboration with one of the favorite music labels, Sub Pop Records in Seattle.
To put it in a nutshell, Sleight of Hand's lifestyle is centered around offering great wine, great music, and lots of fun.
Elephant Seven Wines
District: Downtown
134 W Poplar St, Walla Walla, WA 99362
https://www.elephantsevenwine.com
Elephant Seven is a family-owned, boutique winery, which positions itself with minimalist winemaking philosophy and natural winemaking techniques.
The winery was founded in 2014 in Walla Walla. Currently, it produces 1,000 cases of wine per year. Wines can be purchased at their downtown Walla Walla tasting room, at some retail outlets and restaurants in the Northwest, and also on their website.
The Tasting Room's operating hours are 11 a.m.to 6 p.m. on Fridays, Saturdays, and Sundays.
Pepper Bridge Winery
District: Southside
1704 J B George Rd, Walla Walla, WA 99362
https://www.pepperbridge.com
Going from 10 acres to nearly 200, Pepper Bridge Vineyard has gained a lot of positive accolades among winemakers throughout Washington state.
One of the things that makes this winery stand out is that the weather and irrigation systems are using cutting-edge technology. All the important units like weather, humidity, and wind are recorded around the clock, and the data is being downloaded to the computer via a phone line.
Also, it is worth mentioning that the vineyard uses the most common trellis system named Vertical Shoot Positioning. This basically trains the vines upward from the cordon (grape bearing wire) in a thin curtain which in its place allows the maximum amount of sunshine to be reached to leaves.
As a result, sugar is being produced, allowing the grapes to be picked for harvest in the fall season to produce some great red wines. Grape varietals that grow here include Cabernet Franc, Cabernet Sauvignon, Malbec, Merlot, Petit Verdot, Sangiovese, and Syrah.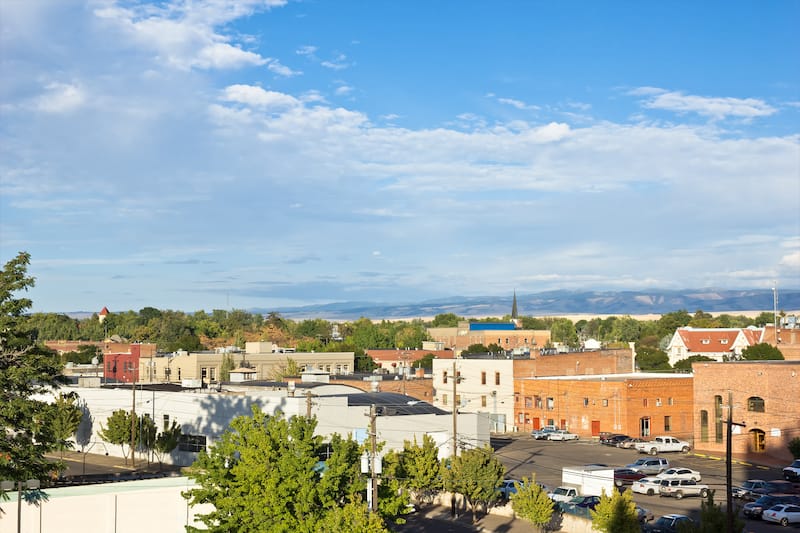 Kontos Cellars
District: Downtown
10 N 2nd Ave, Walla Walla, WA 99362
https://kontoscellars.com
This 1,000 case winery, which offers 15 various types of wines, focuses on ultra-premium Bordeaux varieties grown in the Walla Walla Valley.
Each year, they develop one flagship blend (named Alatus) and share common thinking that blending the same variety between vineyards and using a very extensive French / American oak program creates a great complexity for their wines.
Most popular wines of Kontos Cellars winery include the names of Alatus Blend, Cabernet Sauvignon, Merlot, Malbec. The latter is considered one of the best-rated ones from the winery's collection.
Woodward Canyon Winery
District: Westside
11920 W, US-12, Lowden, WA 99360
https://www.woodwardcanyon.com
Woodward Canyon Winery was established in 1981. The name comes from the canyon Rick's family farmed at and also it is where the Estate Vineyard is now located. It was the second winery in the Walla Walla Valley.
The scope of the winery includes constantly producing premium, cellar-worthy cabernet sauvignons, chardonnays, merlots, and many other varietals. This winery also offers outdoor service with limited indoor service, linked to possible weather changes. Also, the place has a rotating art exhibit.
Waterbrook Winery
District: Westside
10518 US-12, Walla Walla, WA 99362
https://waterbrook.com
Waterbrook Winery dates back to 1984 and has been one of the most iconic wineries in Walla Walla ever since. They provide guests with a tasting room, top-notch winery, year-round events, and a 49-acre estate vineyard in the Walla Walla Valley.
Their estate vineyard is in the northeastern corner of Walla Walla and is 49-acres. It was planted in 2009 and winemaker John Freeman has been producing consistently remarkable vintages after vintages.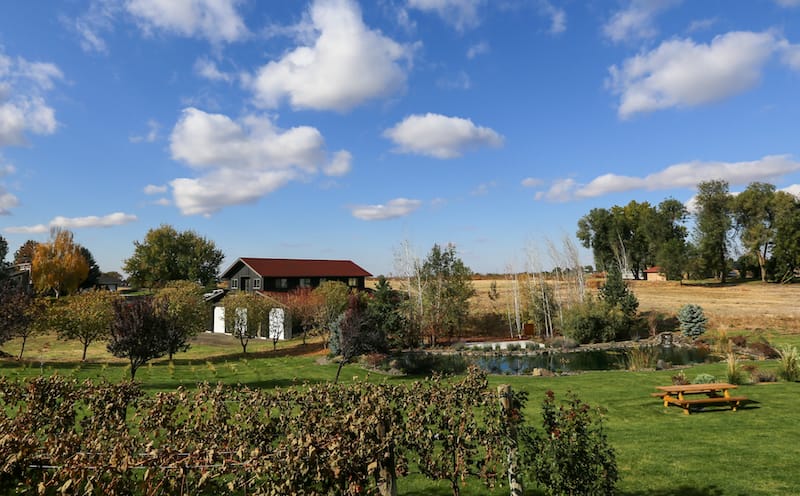 Abeja Inn & Winery
District: Eastside
2014 Mill Creek Rd, Walla Walla, WA 99362
https://www.abeja.net
Abeja Inn & Winery is located in the foothills of the Blue Mountains, 4 miles east of Walla Walla, Washington. There, you will find original and century-old buildings that have been restored and turned into private guest accommodations.
Getting out to Abeja Inn & Winery takes just a few minutes from downtown and is one of the best things to do in Walla Walla if you're looking to experience the wine and an overnight.
Abeja offers its guests an excellent spot to spend some time to read a book in a very cozy environment, socialize with people, or enjoy a tasting in their Tasting Room. Wines at Abeja are produced with a dedication to every detail, accompanied by some innovative techniques mixed with the traditional ones.
Foundry Vineyards
District: Downtown
1111 Abadie St, Walla Walla, WA 99362
https://www.facebook.com/FoundryVineyardsWallaWalla
This renowned Walla Walla Winery was built with the idea to combine art and wine. At Foundry Vineyards, visitors can find aesthetic corners starting from the art-driven Artisan labels to a spare tasting room, which rather reminds one of a gallery.
Foundry Vineyards started its operations in 1998, when, initially, most of the grapes were sourced out to other Walla Walla wineries. However, the latter changed in 2003 when the owners decided to hold the fruit and create some wine to commemorate the work of the clients at the Walla Walla Foundry.
L'Ecole No 41 Winery
District: Westside
41 Lowden School Rd, Lowden, WA 99360
https://www.lecole.com
L'Ecole No 41 Winery is an artisan winery that is located in the Frenchtown School area and has been owned by a family for three generations. They are renowned in the Valley and beyond as they distribute even outside of the United States.
They have three decades of experience and perfecting their Seven Hills Vineyards and Walla Walla Estate Ferguson and the proof is shown in every bottle.
As one of the most acclaimed wineries in Walla Walla and Washington State, they have been featured by Wine & Spirits Magazine as one of the Top 100 Wineries of the Year fifteen times! And, in 2011, their Estate Ferguson was awarded the Best Bordeaux Blend in the world by Decanter.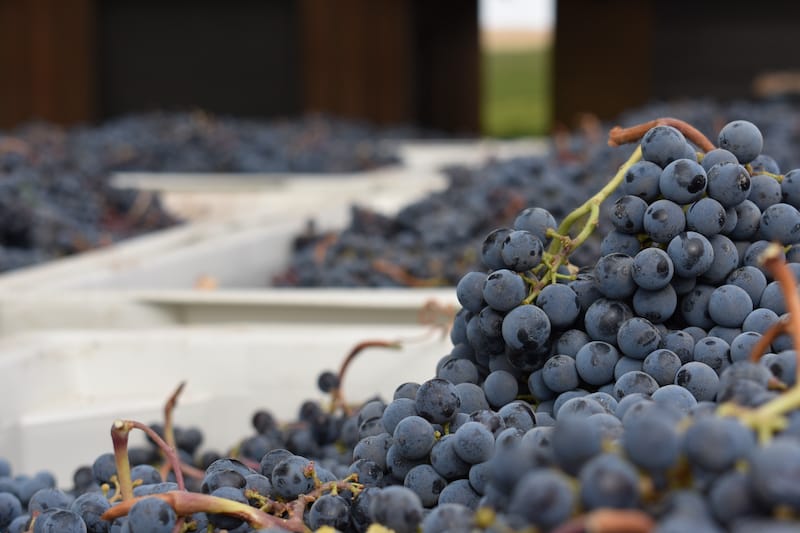 Spring Valley Vineyard
District: Downtown
2 E Rose St, Walla Walla, WA 99362
https://www.springvalleyvineyard.com
Spring Valley Vineyard planted its first grapes in 1993. Founders and Shari and Dean Derby bottled their first Spring Valley Vineyard wines with a 1999 vintage and have been going strong ever since.
You will find this renowned winery 12 miles northeast of Walla Walla and with the stunning Blue Mountains as a backdrop.
One of their most famous bottles is their Spring Valley Vineyards Uriah, a Bordeaux Blend Red offering a bold and structured taste. It is a tougher wine to find despite being one of the most popular in the Walla Walla Valley, so if you come across it, definitely pick up a bottle of it!
Dunham Cellars
District: Airport
150 E Boeing Ave, Walla Walla, WA 99362
https://www.dunhamcellars.com
Dunham Cellars began its story when Eric Dunham did an internship at L'Ecole No. 41. He started making many small lots of wine there and his first bottled was a 1995 Dunham Cabernet Sauvignon I.
Eventually, the soon-to-be winery found its home in an old WW2 airplane hangar in Walla Walla where he was able to start up Dunham Cellars. Dunham was eventually joined by David and Cheryll Blair who added to the Dunham Cellars' journey.
They have two estate vineyards, Kenny Hill and Lewis, that help produce their award-winning wines.
Long Shadows Winery
District: Westside
1604 Frenchtown Road, Walla Walla, WA 99362
https://longshadows.com
The story of Long Shadows began long ago after Allen Shoup had successfully built up Chateau Ste. Michelle and its subsidiaries and affiliates into an iconic, international name. Shoup aspired to create a group of ultra-premium wines and thus Long Shadows was born!
Today, Long Shadows Vintners is a force to be reckoned with in the world of Washington wine and even beyond the state borders.
You can learn more and visit one of their two tasting rooms. The first is in Walla Walla at 1604 Frenchtown Road and the other is in Woodinville (near Snoqualmie Falls) at 14450 Woodinville-Redmond Road.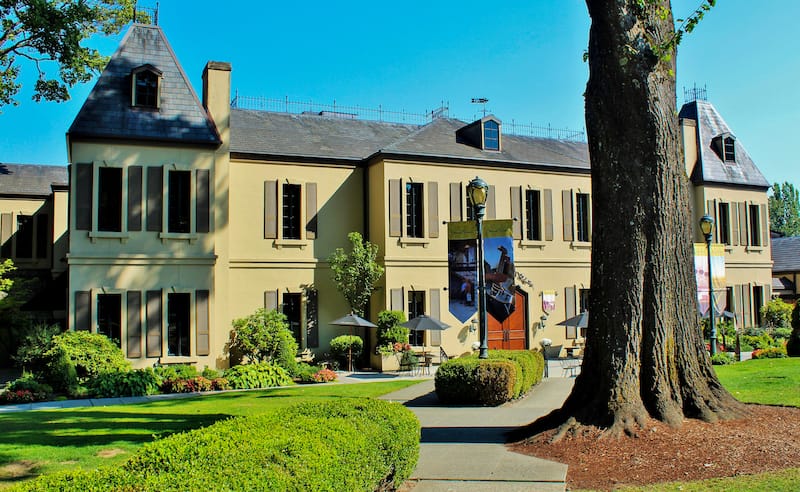 Gramercy Cellars
District: Downtown
635 N 13th Ave, Walla Walla, WA 99362
https://gramercycellars.com
Gramercy Cellars does everything with such attention to detail and pride. They make just 8,000 cases a year and as they say, they pour their passion into each and every bottle.
Co-run by Greg Harrington and Brandon Moss, Gramercy Cellars maintains a tight portfolio of excellent wines after having started out with a Syrah focus. Today, they are also known for their Rhone and Bordeaux blends.
As the name suggests, Greg Harrington is not from Walla Walla originally, but NYC. In 2008, he was named the best new winemaker in Washington and Gramercy was named the best new winery in the state by Seattle Magazine.
The Walla Walla winery has also been named one of the top 100 wineries in the world for four consecutive years by Wine & Spirits magazine.
Cayuse Vineyards
District: Oregon
17 E Main St, Walla Walla, WA 99362
https://cayusevineyards.com
If you're looking for a wine that really appreciates the soil that it originates in, Cayuse Vineyards does just that. One of the most interesting Walla Walla wineries, Cayuse prides itself on craft food-friendly wines with a lot of personality and character grown by using biodynamic farming methods.
Cayuse was started by a curious traveler from a family from the Champagne region of France. Not ready to settle into the family business, Christophe met Americans from the PNW while traveling and he desired to visit them.
After many trips around the world, he found himself in Walla Walla. The rest is history.
Christophe planted his first vineyard in 1997 and named the vineyard after Natives from the area. The winery is currently known for having exceptional syrahs.
itä Wines
District: Airport
600 Piper Ave, Walla Walla, WA 99362
https://itawinery.com
itä wines is a winery located in the Eastern foothills of the Walla Walla Valley's Blue Mountains. They are newer to the Walla Walla wine scene but are no less exceptional! itä wines takes pride in the fantastic land that the fruit grows in and really enjoys expressing that through the quality of the wines produced.
Founded by winemaker Kelsey Albro Itämeri, they have two vineyards – Les Collines Vineyard and Breezy Slope Vineyard (located just south of the Washington border in Oregon).
Itämeri is assisted by Loki, a 4-year-old Idaho Shad that Kelsey and her husband, Kai, adopted from the local humane society in 2017.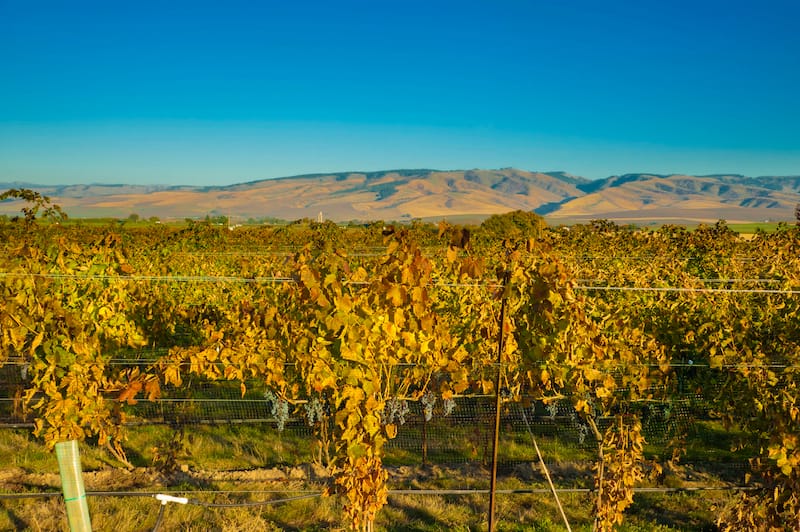 Leonetti Cellar
District: Eastside
1278 Berney Dr, Walla Walla, WA 99362
Facebook
Founded back in 1977, Leonetti Cellar is known for being the very first bonded winery in Walla Walla. Attributing this to their exceptional quality, the wines became famous and loved almost instantly, while also unknowingly setting the benchmark for other Washington wines.
The total production of the winery is around 5,500 cases. The list of the best includes Cabernet Sauvignon, Merlot, Sangiovese, and a Reserve blend. All of these are more of the bold type of taste but also tend to be quite balanced.
The winery's goal is to produce the best wine they possibly can, and over the past 3 decades, they successfully bonded to the family traditions and worked almost non-stop to maintain the excellence of their quality.
There are so many fantastic wineries in Walla Walla that it is hard to choose just one or two! Rather than just taking an extended weekend or day trip from Boise or Portland or wherever you are coming in from, consider staying for a week and really getting to know the Walla Walla scene.
However, we recommend planning an entire trip and seeking out the best Walla Walla wineries and this guide will help get you started!
What is your favorite winery in the Walla Walla Valley?
Additional PNW Travel Resources
Pin This Guide to the Best Walla Walla Wineries