Idaho is one of the most underrated states when it comes to beautiful nature in the US. These epic day trips from Boise are proof of that!
There are many places to visit in Idaho – from the hot springs in Kirkham to mindblowing Shoshone Falls. And fortunately, many of these destinations can be visited on one of the many Boise day trips that are possible if you decide to use the city as a base.
This guide walks you through our curated list of the best day trips from Boise. If we are missing a place – please leave it in the comments below!
Places to Visit Near Boise Map
To add this map to your Google Maps account, click the 'Star' icon next to the map name. You can then view it on your cell phone or computer by heading to your Google Maps account, click the menu and add it to 'Your Places'.
Boise Day Trips (Within 2 Hours)
1. Bogus Basin
Distance from Boise: 18.4 miles (45 minutes)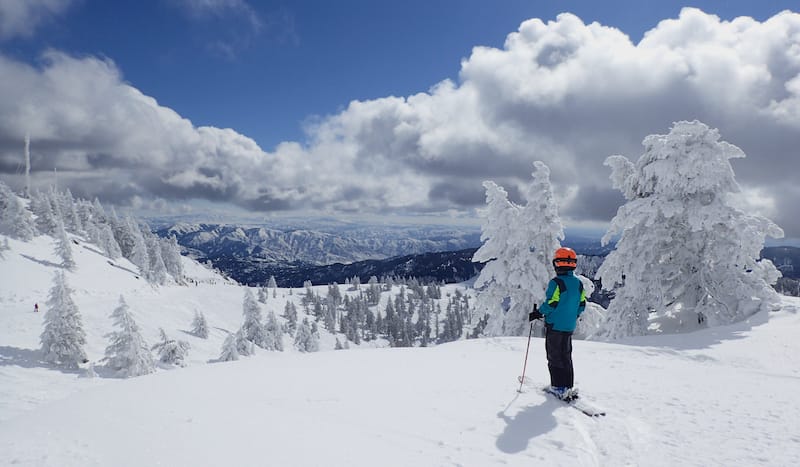 Being merely 45 minutes north of Boise, Bogus Basin is a great location for a fun day trip, especially for those that love skiing.
Visitors can enjoy outdoor mountain activities such as hiking, biking, horseback riding, live music and events, tubing, disc golf, skiing, snowshoeing, and more! Also, the one and only mountain roller coaster in Idaho is located in Bogus Basin.
Moreover, if you're planning to visit this magical place with children, there is a lot for them to do, such as trampolines, wall climbing, and checking out the Shafer Butte Mining Company. Note that unlimited day passes and season passes are available.
2. Bruneau Dunes State Park
Distance from Boise: 63.9 miles (1 hour and 6 minutes)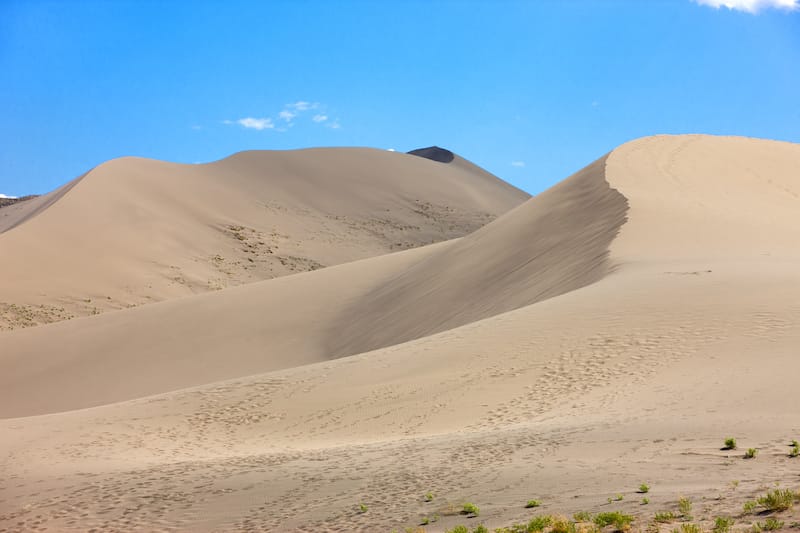 If you're looking for a place to ski on dunes, then this is the only and probably one of the best places in the United States to do so. This dune is the tallest single structured one in the whole of North America, with a height of 470 ft.
When visiting Bruneau Dunes State Park, you will have a chance to rent sand boards from the Visitors Center and have some fun while riding them down the dunes.
Other available activities at the Idaho state park include birdwatching, fishing, camping, hiking, and swimming. Also, if you would like to do some stargazing, keep in mind that The Bruneau Dunes Observatory Complex is home to a 25" telescope and is one of two public observatories in Idaho.
3. Idaho City
Distance from Boise: 39.6 miles (54 minutes)
Idaho City, which once was a mining town, is located nearly an hour away from Boise. You can still feel the breadth of how life was here in the late 1800s.
With many antique shops, restaurants, and many unique places, Idaho City is now considered a historic city as it played a huge role during the historic gold rush in the Pacific Northwest.
Some of the main attractions in Idaho city are the Operational Saloon, which serves sarsaparilla, also has many festivals conducted during different seasons. There is also the Boise Basin Museum where visitors can take a glimpse into the past of the city.
Those are just a few of the wonderful things to do in Idaho City that make it one of the best day trips from Boise.
Operational Saloon serves sarsaparilla, festivals conducted on different seasons, and Boise Basin Museum, where visitors can have a look at the rich past of the city, are just a few highlights that can make your trip to Idaho City a day to remember.
4. Three Island Crossing State Park
Distance from Boise: 71.9 miles (1 hour and 10 minutes)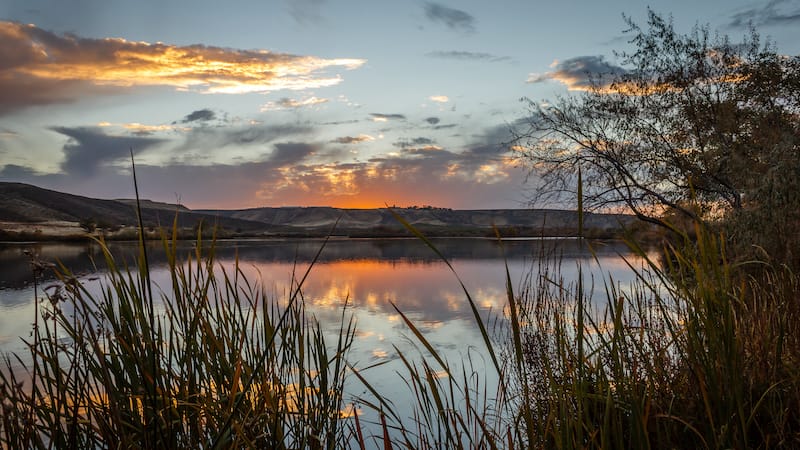 Located in Elmore County, Idaho, Three Island Crossing State Park is a wonderful recreation area where history lovers and nature lovers can get their fill of the place.
This park is the location where those on the Oregon Trail had to ford a river (the Snake River, to be exact). This area was used as a river crossing until Gus Glenn built a ferry across in 1869.
Today, you can venture there for some camping, hanging out in a cabin, disk golf, and more.
5. Eagle
Distance from Boise: 10 miles (19 minutes)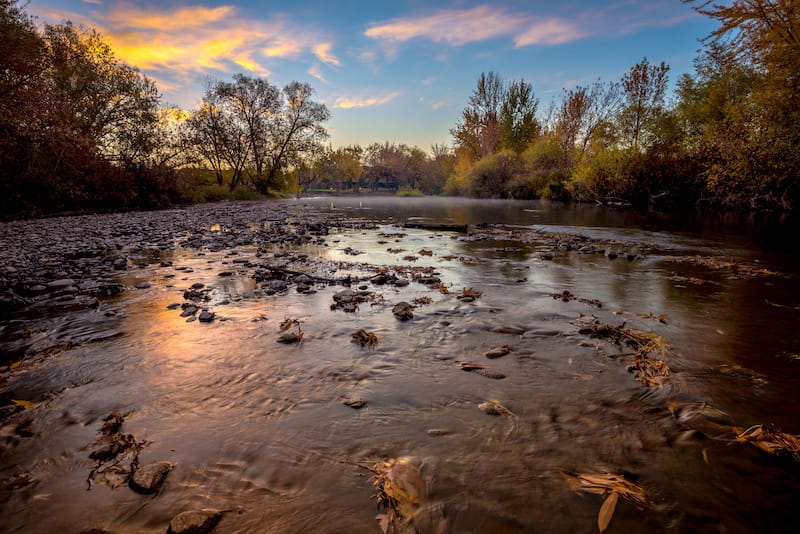 While Eagle may be an unassuming place to take a day trip from Boise to as it is essentially a suburb, you can definitely make a day of it by visiting.
The city has just shy of 20,000 residents and is known for its spas, golf courses, and spacious parks. There is a very well-known Saturday Market where visitors will be greeted with local, live music, vendors, and many produce sellers.
Eagle is known for being rather residential, but if you want to get out of the city and somewhere extremely close by, Eagle is a good choice.
Boise Day Trips (2-3 Hours)
6. McCall
Distance from Boise: 108.3 miles (2 hours and 14 minutes)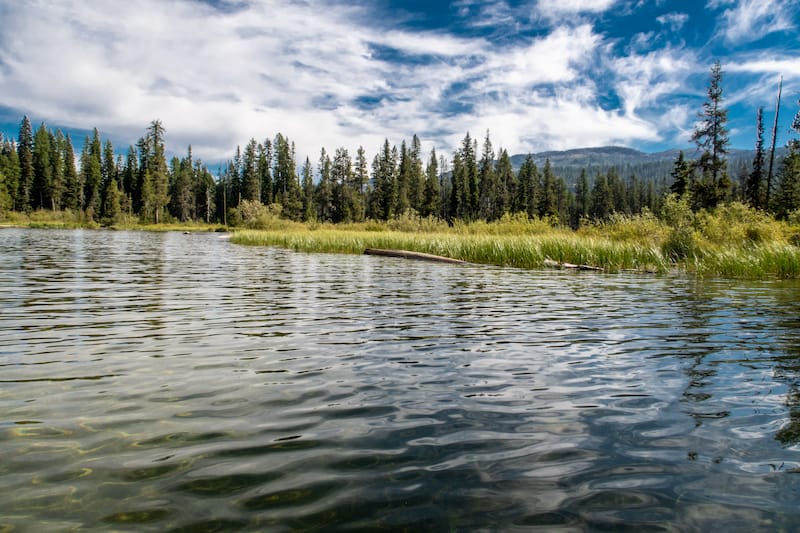 McCall is known as an Idaho destination that can be an excellent choice for the ones who love wild outdoor adventures.
It is great for families who are looking forward to finding a place to relax in an awe-inspiring forested mountain setting. So, if you want to relax and unwind yourself, McCall is a perfect choice!
Note that McCall is on a whole other level when it's about winter activities. In the town, you can go snowboarding, snowmobiling, skiing, and much more.
Also, the Annual Winter Festival in McCall attracts the attention of more than 60,000 visitors to the mountains each year.
7. Idaho Wine Country
Distance from Boise: varies depending on where you're going
Being based on elevations exceeding 3,000-feet and with ideal conditions for grape growing, Idaho has some of the most extensive vineyards and is one of the best things to do in the Pacific Northwest.
Now there are more than 50 wineries in Idaho, most of which are located in the Snake River Valley and Eagle Foothills, Lewis-Clark Valley, and Sun Valley.
There are free tastings available mostly all year-round. The number of Idaho wineries has increased to 51, many of which are producing household brand, award-winning wines. Tour companies have day trip offers from Boise for those who want to experience Idaho Wine Country.
8. Silver City
Distance from Boise: 94.9 miles (2 hours and 26 minutes)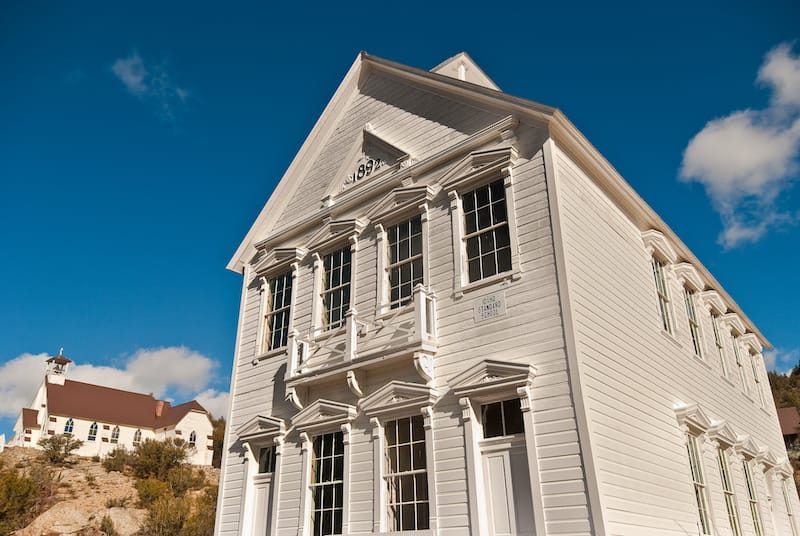 This destination is yet another ticket into the past of an old mining town, but it has a lot to be remembered for. Heading southwest of Boise, this day trip will take you just over two hours.
In Silver City, there are more than 75 historical monuments remaining from the 19th-century. On days like the annual open house over Labor Day weekend, you can tour all the historic spots and perhaps imagine yourself horseback riding through the Owyhee Mountains as they used to do back in the day!
Silver City is indeed quite remarkable, but keep in mind that access to this city is always available throughout the year. It is accessible by vehicle only during warmer months and as soon as the weather gets colder and snow comes, you can only reach it by snowmobile.
9. Shoshone Falls Park (& Twin Falls)
Distance from Boise: 130.9 miles (2 hours and 5 minutes)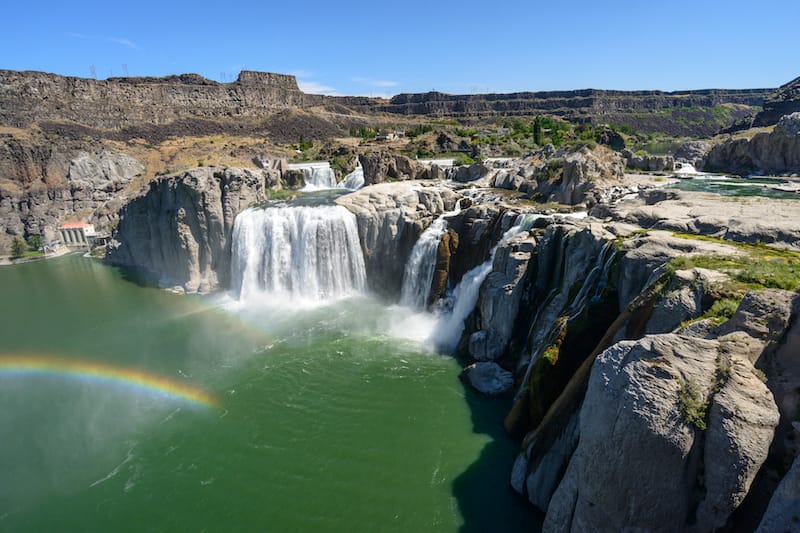 The home of Shoshone Falls, Twin Falls is most widely known as the Niagara Falls of the West. Those who visited this place claim that the views there are truly breathtaking.
There is a 3.6-mile hike to Twin Falls, which is a heavily trafficked out and back trail situated near North Bend, Washington. With this hike, you can easily reach the waterfall.
The difficulty of the route is rated as moderate. The trail can also be used for walking, running, and some relaxing nature trips. The recommended season for visiting is from March until October and this is easily one of the most popular day trips from Boise.
10. Snake River Canyon
Distance from Boise: 130.9 miles (2 hours and 5 minutes)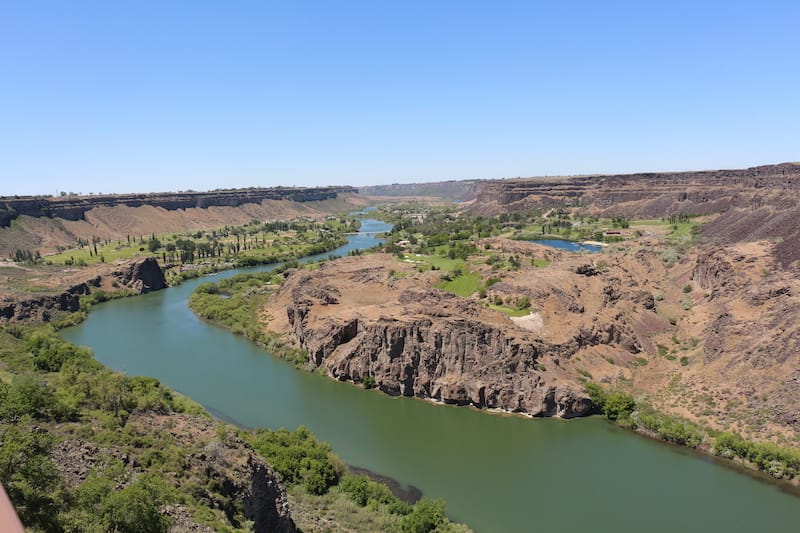 Located within Twin Falls, Snake River Canyon is where the Snake River cuts through ancient volcanic ash in a canyon. For those who like to walk, visitors of the canyon can walk across the Perrine Bridge (this bridge crosses the canyon at 500-feet).
This is the only bridge in the whole United States that is open all seasons of the year and offers BASE jumping. Just a 10-mile walking path along the southern rim of Snake River Canyon gives access to the visitor's center, waterfalls, and the city of Twin Falls.
11. Boise National Forest
Distance from Boise: 83.8 miles (2 hours and 11 minutes)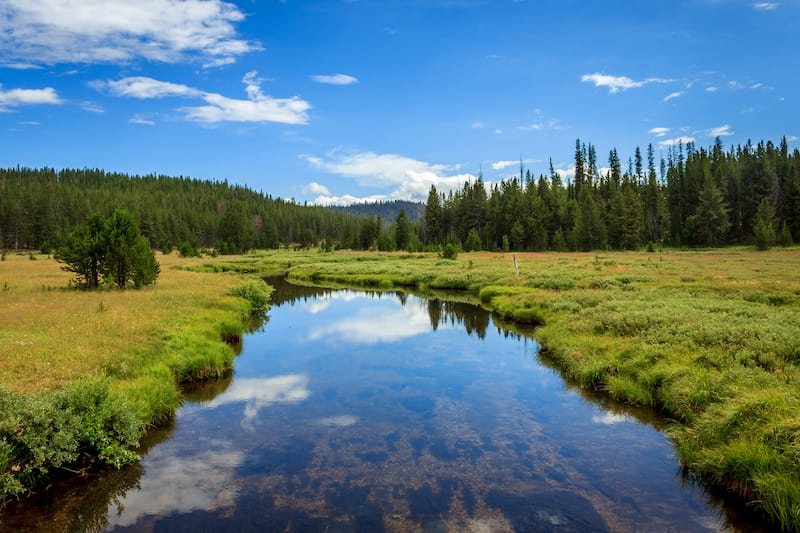 Boise National Forest is a beautiful land of mountains, rivers, and forests. As a result, the location can be an excellent destination for every season of the year.
You don't need to venture all the way to spend a weekend in Yellowstone… Boise National Forest can help with that nature therapy.
The list of available activities includes hiking, biking, snowboarding (when there is snow, of course), swimming, kayaking.
All of these make us believe that a visitor to Boise National Forest won't wind up bored! The number of visitors to the forest every year is over 1.5 million. It is an essential Boise day trip!
There are more than 80 hiking trails in Boise National Forest and one of the most prominent trails is the Stack Rock Trail, which is a 10.9-mile, moderate difficulty, heavily trafficked out and back trail located near Boise. This particular trail features beautiful wildflowers, with the best season being from May to October.
12. Hagerman Fossil Beds National Monument
Distance from Boise: 130.9 miles (2 hours and 5 minutes)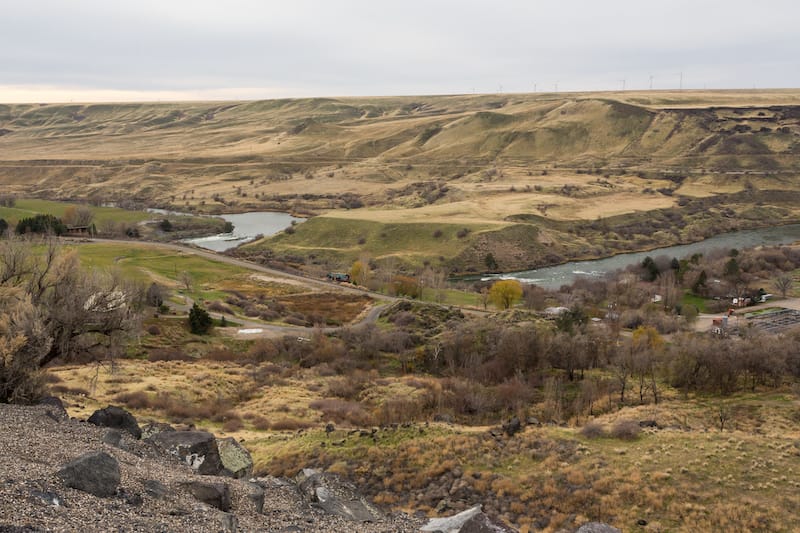 Being just around 2 hours away from Boise, Hagerman Fossil Beds National Monument is known to be home to the Hagerman Horse fossil, which is a horse that evolved in North America and featured only one toe.
Of course, the latter is not the only type of fossil you can see at this US National Monument. There are some remains of a saber-tooth cat, bear, camel, ground sloth, mastodon, giant otter, rodents, swans and other birds, frogs, and many more.
In fact, for the late Pliocene epoch, Hagerman Fossil Beds is the richest deposit of fossils in the world. So, all the "fossil lovers" and archaeology enthusiasts will most definitely love this day trip from Boise!
13. Hailey
Distance from Boise: 141.3 miles (2 hours and 22 minutes)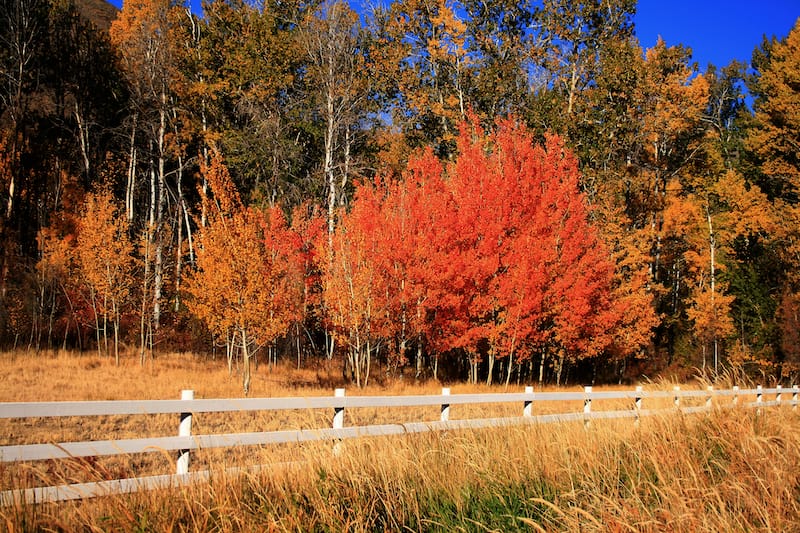 Hailey, Idaho is a city in Blaine County and is known for its location around the Sawtooth National Forest. It is renowned for its skiing and extreme sports such as snowboarding, BMX riding, skateboarding, and more.
The city has its own ski hill named Rotarun Ski Area and while it may be less famous than Sun Valley Resort nearby, it is still worth a visit.
Some of the famous mountains in Hailey are Carbonate, Red Devil Peak, and Della.
14. Boat Box Hot Spring
Distance from Boise: 136.2 miles (2 hours and 42 minutes)
Boat Box Hot Springs is a famous place to visit and one of the best natural hot springs in Idaho. It is renowned for its wood hot tub located on the Salmon River.
The name references the wooden crate tub that you can soak in at the hot springs. The temperature of the water sits around 110F and this is a must-visit if you're in the Stanley area or looking for a Boise day trip out in nature.
There are many things to do in Stanley and this is one of the best!
Weekend Getaways from Boise (Over 3 Hours)
While this guide focuses on day trips from Boise, we also wanted to include a section that offers fantastic weekend getaways from Boise.
Depending on daylight hours and your will to drive, all of these can technically be a day trip (even Coeur d'Alene if you're really adventurous!), but we recommend staying overnight if you have the chance!
Or, you can be really crazy and venture off to check out all the fabulous wineries in Walla Walla, Washington!
These are just a few of the best weekend getaways in Idaho, so leave us your recommendations in the comments!
15. Hells Canyon National Recreation Area
Distance from Boise: 172 miles (3 hours and 33 minutes)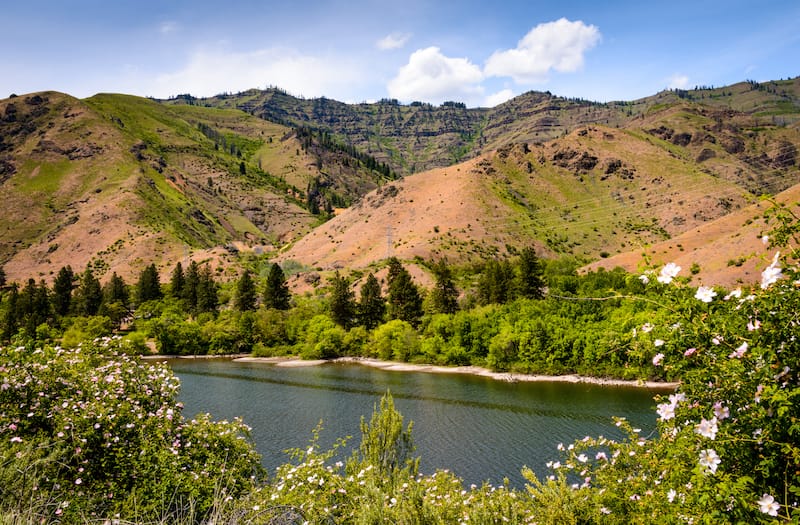 Located along the eastern Oregon border and being about 3-4 hours away from Boise, Hells Canyon spreads over 3 states of Idaho, Oregon, and Washington. One of the famous things about this place is that it is known for having the deepest river gorge in North America.
Even though most of the canyon is inaccessible, you can still enjoy activities such as rafting, hiking, and jet boat rides. Apart from this, you also can see Hells Canyon Dam and take a guided boat trip along the Snake River.
16. Craters of the Moon National Monument & Preserve
Distance from Boise: 175.7 miles (3 hours and 30 minutes)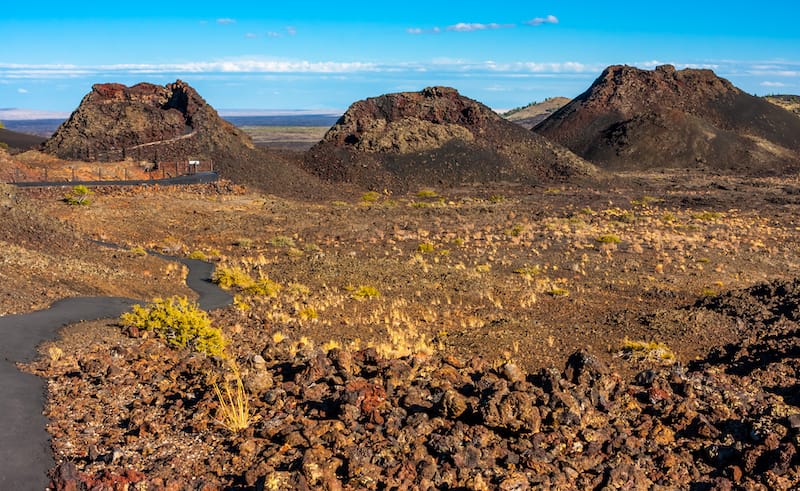 Massive lava flows and overall just a volcanic wonderland… this is what you can see at Craters of the Moon National Monument & Preserve. The name itself also suggests that this is something extraordinary, and it truly is!
It is just over 3 hours away from Boise, so it can be a day trip or a weekend getaway. The guests can find some educational exhibits, films, and a lot of information about this destination upon arrival at the visitors center.
There are various types of guided hikes available during the summer, with different distances and difficulty levels.
For those seeking the ultimate Idaho road trip, there is a 7-mile scenic loop to enjoy from behind the wheel of your own car. Children can also find something interesting for them, like participation in a junior ranger program or any other educational program.
17. Sawtooth National Forest
Distance from Boise: 157.3 miles (3 hours and 9 minutes)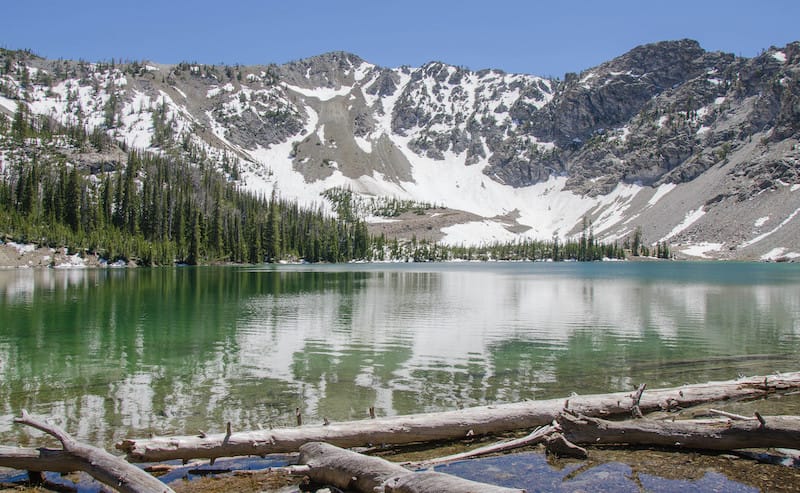 Sawtooth National Forest is on the list of must-sees outside of Boise. Explore the location by hiking or gathering with friends or family and have a one day rest (or weekend) in nature, full of wilderness and beauty.
With an area of 756,000 acres, there are more than 700 miles of hiking trails, 40 mountain peaks, and a few alpine lakes. The forest is vast and open for visitors to enjoy mountain biking, rafting, wildlife spotting, kayaking, boating, swimming, canoeing, photography, and other outdoor recreation activities.
During the wintertime, Sawtooth National Forest also has skiing, snowboarding, snowmobiling, and snowshoeing available in the area.
In addition to all of this, many campgrounds and cabins for rent are also offered in the National Forest. This is a magnificent weekend trip from Boise and one you must do yourself!
18. City of Rocks National Reserve
Distance from Boise: 208.9 miles (3 hours and 17 minutes)
One of the best places to enjoy backcountry adventuring is the City of Rocks National Reserve, situated in southern Idaho, just 2.5 hours away from Boise. This national reserve has an area of 14,407 acres and is a place where rock climbing, camping, hiking, and hunter are among the popular outdoor activities.
If needed, you can reach the visitor's center for the City of Rocks and the nearby Castle Rocks State Park. They are open year-round and are both located in the Almo historic village.
19. St. Anthony Sand Dunes
Distance from Boise: 319.6 miles (4 hours and 31 minutes)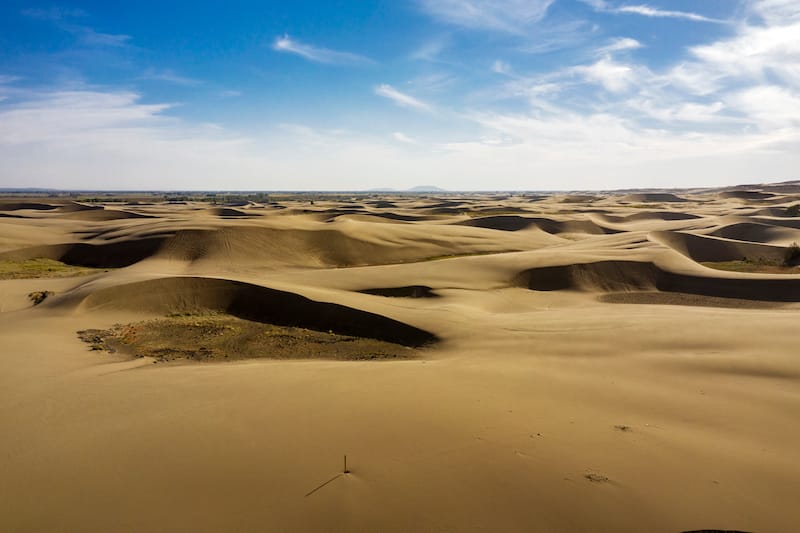 This is yet another great site located nearly 320 miles away from Boise, making it a fantastic weekend getaway from Boise.
St. Anthony Sand Dunes is perfect for off-roading, sandboarding, hiking, and horseback riding. The dunes are ranging from 10 feet tall to up to 400 feet high and they catch the attention of riders from throughout the West.
In case you're interested to know the story of the formation of the dunes, know that they were formed about 10,000 years ago, approximately at the end of the last ice age when the Earth's climate shifted and Eastern Idaho's climate became a lot drier and warmer.
20. Coeur D'Alene
Distance from Boise: 458.3 miles (6 hours and 50 minutes)
Coeur d'Alene is a city located in northern Idaho and it is the county seat of Kootenai. The estimated population is just over 50,000 and the area is so naturally beautiful that it is best visited as a long weekend trip from Boise.
There are many things to do in Coeur d'Alene such as hiking to Cougar Bay, visiting Silverwood Theme Park, and venturing to Independence Point. The nature around Coeur d'Alene is the main reason people visit the city and they are never left disappointed!
There are so many amazing and beautiful day trips from Boise and we hope we highlighted some of the best. If you have any suggestions for the best Boise day trips (and Boise weekend getaways!), please leave a comment below.
Pin This Day Trips from Boise Guide