One of the most beautiful day trips from Athens is undoubtedly Aegina, an island in the Saronic Gulf. This is a guide to things to do in Aegina.
Are you planning your trip to Aegina last minute?
If youʻre booking your trip to Aegina last minute, we have you covered. Below are some of the top tours, hotels, and more!
🇬🇷 Top picks for Saronic Islands tours:
🛌 Top picks for places to stay in Aegina:
🚗 Looking for the best way to get around Greece? Click here to check rental car rates for Greece!
Aegina is the closest of the Greek Islands to Athens and it is the perfect island to spend a day or two exploring, especially if you're looking for a day trip from Athens.
The island is steeped in history and is home to several ancient Greek monuments and plenty of other sites and places to explore. The other big draw to visiting Aegina is the pistachios, the island's most famous produce.
The Aegina pistachio is a different variety from the more common types found in supermarkets and is classed as one of the best in the world (I can verify its deliciousness).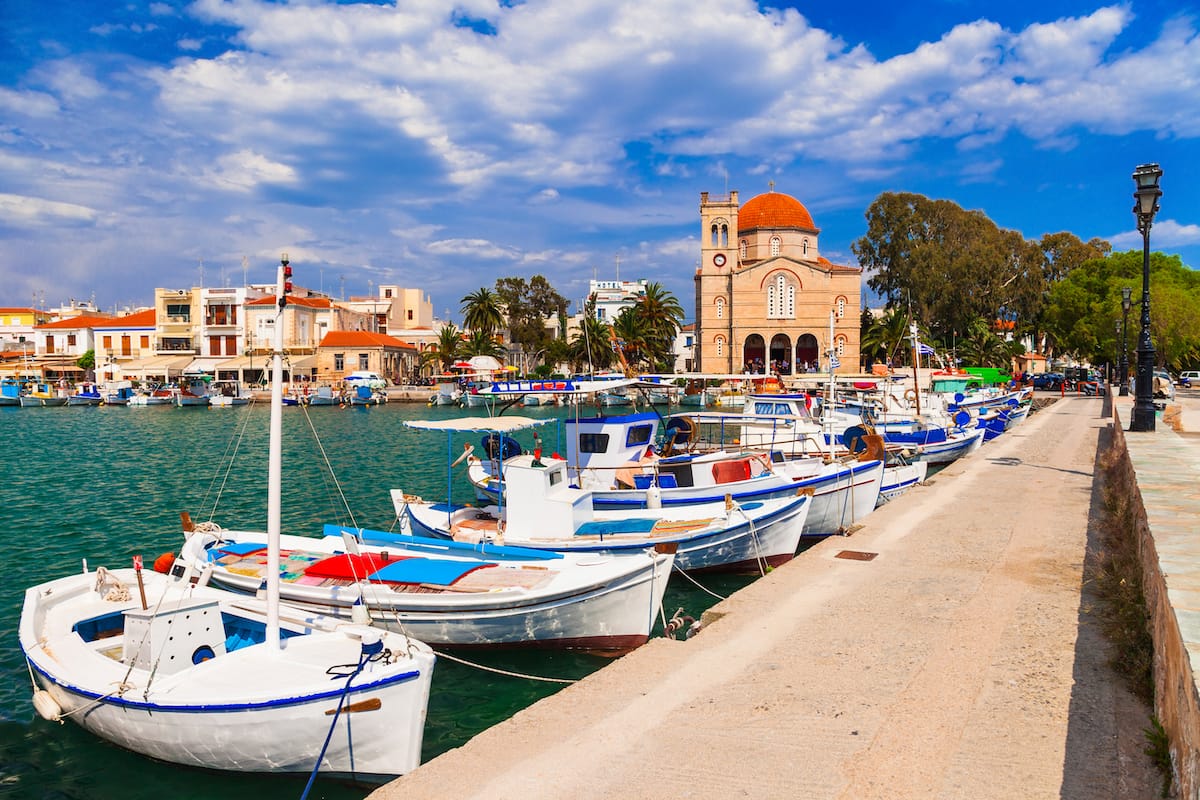 The island of Aegina is definitely busier than the other islands year-round due to its proximity to Athens and the fact that people can bring cars onto the island. But, having been there in two different seasons, I would say that it is still manageable.
There are many things to do in Mykonos and Santorini but they are swarming with tourists. Aegina still is tolerable and not too saturated with them.
There are plenty of ferries heading to Aegina Island, along with cruise ships dropping people off for a few hours.
But, even though it remains close to Athens, it still has that chilled-out island vibe that will lure you over to it.
I traveled to Aegina during the off-season AND high season so this guide was written with all times of the year in mind.
Best Saronic Islands Tours (to Maximize Your Time!)
If you're looking for something more organized when in Aegina and the surrounding area, here are some awesome Saronic Islands tours you should check out.
These tours will help you maximize your time, which is especially important if you only have a short amount of time in Greece! We listed a variety so that you can pick which one is most suitable for you (and many include multiple places!):
Best Things to Do in Aegina
1. Check Out the Top Cafes and Restaurants on Aegina
Aegina is a food lover's paradise- from pistachios being ubiquitous to the freshest seafood you can get.
As you walk down the streets, local restaurants will have fresh octopus hanging out to dry in the sun which quickly entices you into the restaurant. I have been to Aegina twice and both times the food was just outstanding.
Flisvos
Flisvos was located right next to my hotel during my first trip and was the first place I ate on the island.
I had been craving grilled octopus for a long time and within 40 minutes of the island, I am happy to say I had a plate of grilled octopus sitting in front of me and it was just what I had hoped for.

The restaurant had an array of fresh fish that the owner took great pride in presenting to each and every table.
The food was affordable and delicious which was complimented with the sea views. Flisvos is to the left of the main town as you take the road toward the Temple of Apollo.
Mezedopoleío To Steki (ΜΕΖΕΔΟΠΩΛΕΙΟ ΤΟ ΣΤΕΚΙ)
By the central fish market, there are two great little fresh fish restaurants serving up a range of tasty and delicious dishes.
The grilled squid was one of my favorite meals of my whole trip.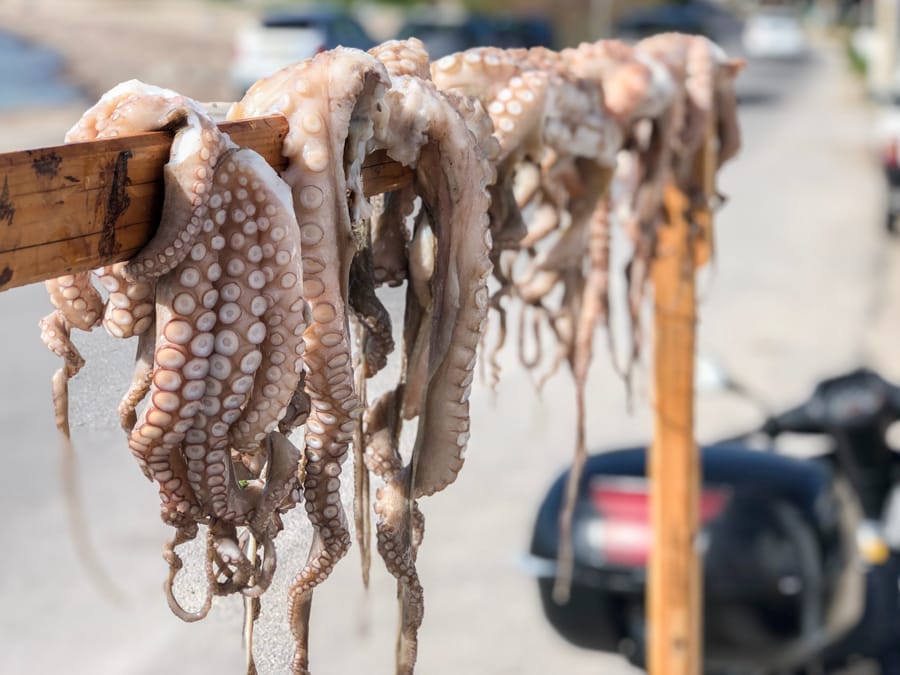 The great food was coupled with brilliant customer service and the owner gave me a free dessert of natural Greek yogurt drizzled with luscious honey.
The only downside of the restaurant is that people were allowed to smoke inside.
I ate here during the off-season… so during high season, it likely was much more open and ventilated.
ΨΑΡΩΤΑΒΕΡΝΑ Η ΑΓΟΡΑ (Σ ΓΕΛΑΔΑΚΗΣ)
Also located opposite this fish market, this awesome little fish restaurant is another gem in Aegina.
I went there for lunch on the final day of my first trip and enjoyed a nice array of dishes that left me leaving Aegina feeling full and satisfied.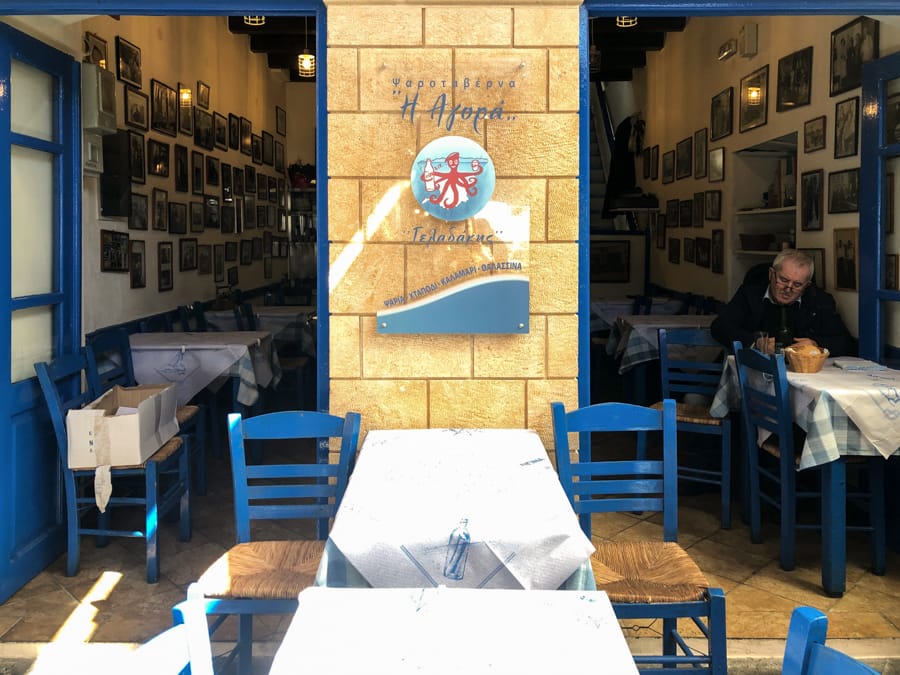 One of the highlights of this restaurant is the fact it's located right on the fish market, meaning there are cats and dogs in the vicinity.
There is plenty of indoor and outdoor seating available at the restaurant and the street is also covered, making it the perfect place to escape the summer sun.
Kappos Etsi
Kappos Esti is a great place to enjoy some elevated modern Greek food. The quaint restaurant serves a variety of traditional dishes.
Kappos Etsi has a great outdoor seating area where you can enjoy your meal in the summer warmth while sipping on a glass of wine from their superb wine list.
The restaurant staff are attentive and make the experience even greater.
La Palma (Marathonas Beach)
On the popular beach of Marathonas sits the beachside cafe, La Palma.
This restaurant and cafe serves food all day from a delicious and refreshing breakfast to Biftekia, a traditional Greek 'burger' of sorts.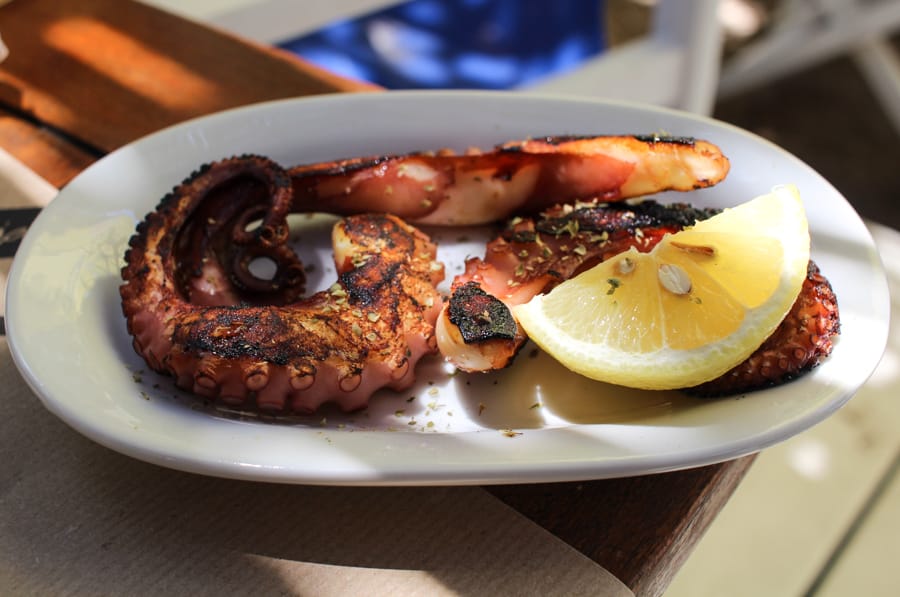 The owners are exceptionally friendly and welcoming and La Palma is an essential place to visit on Aegina if you find yourself in Marathonas Beach.
Restaurants along the Aegina Seafront
Along the seafront, you will find a large range of restaurants all with outdoor seating and seemingly specializing in nearly all kinds of European food.

I personally didn't eat at any as none of the places seemed to be my cup of tea since I was on the hunt for octopus, but they were all crowded.
You can find everything from fish dishes to pizza and burgers so a great place to head to if you are with a group of people that can't decide on what to eat.
Aegina Cafes
If you have a craving for coffee, you are in luck, Aegina has plenty of nice little cafes and coffee shops.
I only had time for one coffee during my visit, which I had at Coffee Island on the recommendation of my hotel owner.
Coffee Island is actually a popular chain across Greece but I have to say the coffee is pretty decent (better than Starbucks by a mile) and the actual café setting is wonderful with spacious outdoor seating and Wi-Fi available.
Eat your Body Weight in Aegina Pistachios
The humble pistachio ranks so high on my very subjective and complicated nut rating scale. The beautiful green nut has found a sanctuary on the island of Aegina- so much so that it's gained European Union protection.
Genetically, it is a different variety of pistachio compared to the more common ones found in supermarkets and is rated one of the best kinds in the world.
I can assure you the taste is phenomenal and worth heading to Aegina.
The second you get off the ferry boat, you will find vendors selling pistachios and happily giving out free samples.
From the advice of my hotel owner, I headed to the stand just to the right (if you are facing inland) of the Alpha Bank on the seafront.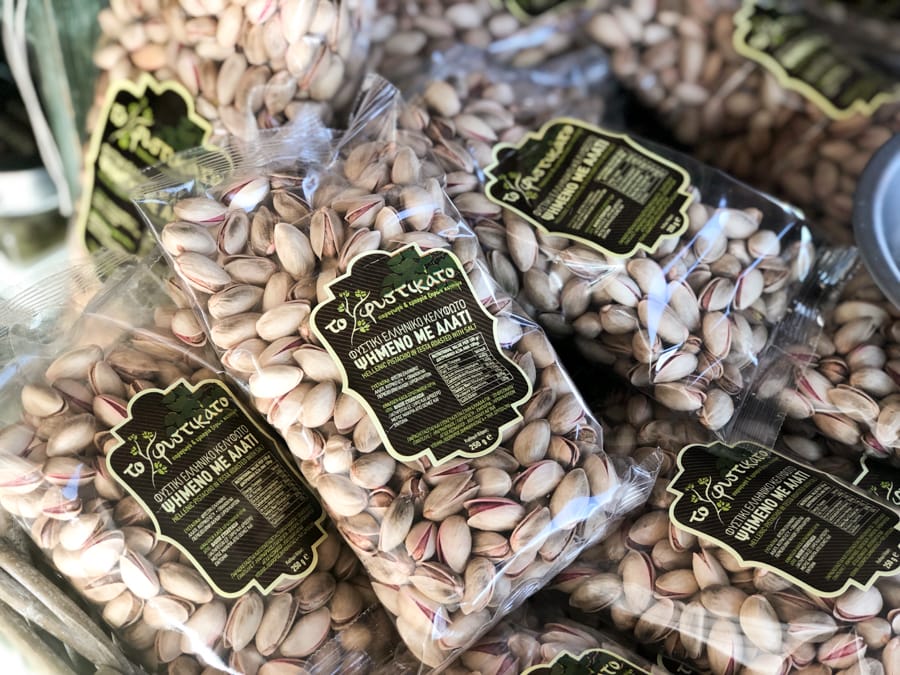 The super-friendly woman working gave me a range of free samples, from pistachios with different levels of salt and some with lemon, pistachio butter (the most delicious thing I have ever eaten), and various different snacks.
I hastily purchased as much as I could carry of both nuts and pistachio butter, along with the best pistachio ice cream I have eaten.
They were all so good so I ended up heading back multiple times for more purchases (whoops).
2. Visit the Ancient Temple of Aphaia
Probably the most famous site on Aegina is the Temple of Aphaia, an impressive ancient Greek temple dating back to around 500 BC.
The impressive temple is 8 miles from Aegina's main town and can be reached by car, bus, or taxi.
The bus schedule to the temple is honestly a bit complicated to understand and the buses run at infrequent times. A taxi, however, is an affordable option.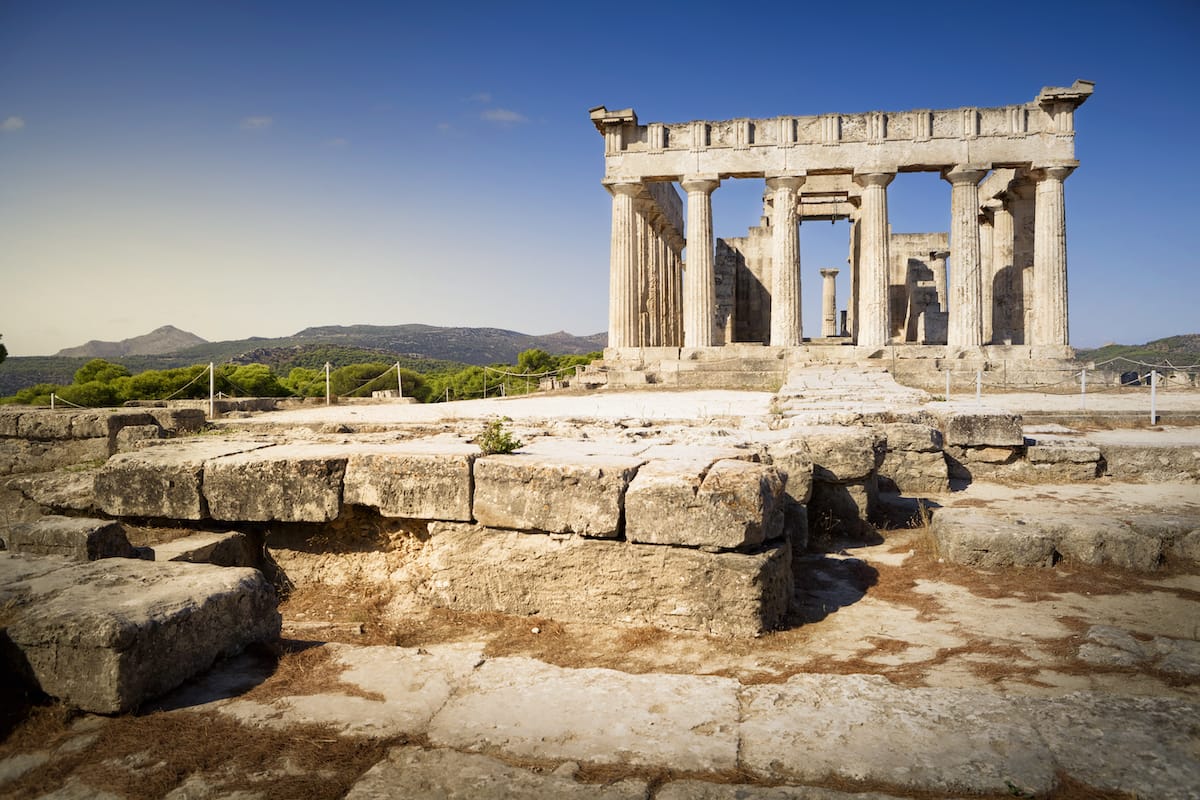 By the harbor, there are plenty of taxis waiting to take you.
For around €35, you can take a taxi out to the temple and wait for 30 minutes while you explore and then drive you back to the main town.
If there are plenty of drivers waiting there, you will have the opportunity to negotiate a better price.
3. Check Out the Temple of Apollo
On the edge of Aegina Town are the remains of the Temple of Apollo, a single pillar of the 6th-century temple remains to stand, although the ruins are still visible.
There is also a museum by the temple where you can learn all about the history of this amazing site and island.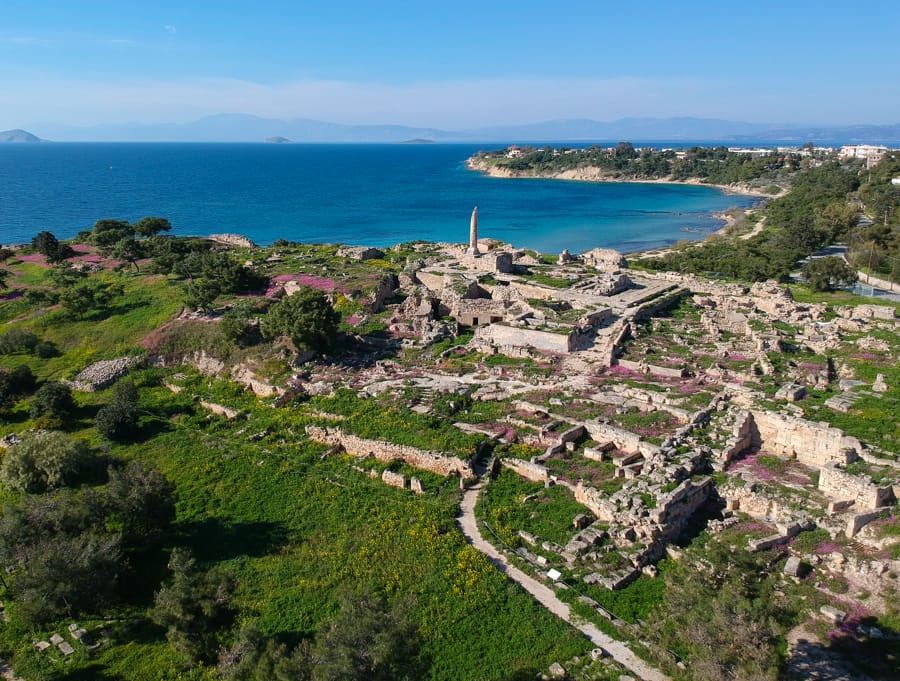 As the temple is centrally located it is really easy to visit but the site is closed on Tuesdays.
The temple is easy to find you just need to head left from the main harbor (facing inland) and you will reach the temple.
4. Soak in an Aegina Sunset
Aegina is one of the best places to take in the sunset. During the golden hour, the harbor is doused in a magical light, especially the small white church that sits out in the harbor.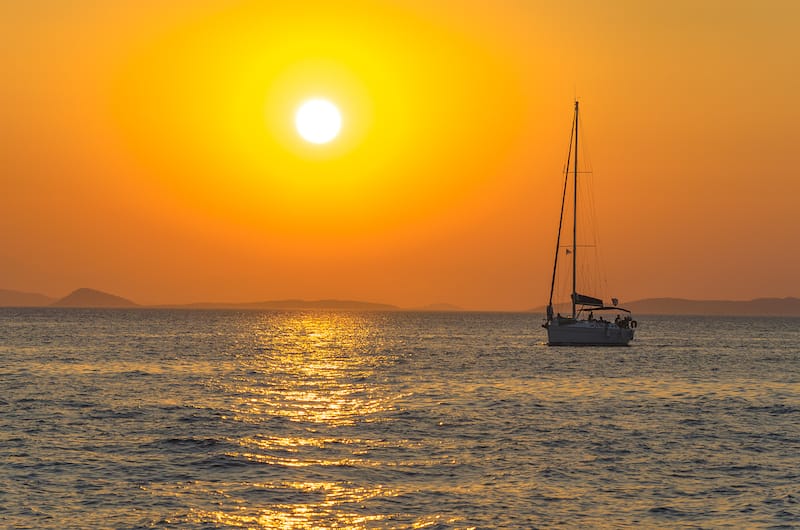 From the main beach in the town, you can enjoy the sun setting as boats bob past and the beautiful colors reflect off of the sea.
5. Visit Perdika
Toward the southern tip of the island is Perdika, a delightful fishing village. It is one of the best places to get fresh seafood from one of the tavernas.
This is also one of the most famous spots for seeing the octopus drying out in the sun, adding to the village's traditional charm. To reach Perdika, you can drive, take a taxi, or head there by boat.
6. Enjoy a Movie at Cine Akrogiali Aegina
There are three open-air cinemas in Aegina and Cine Akrogiali is one of them.
I had the pleasure of going there on their opening night of the season, July 5, to see a Clint Eastwood movie in English (with Greek subtitles).

This was such a cool experience and was a great option for those not looking for a wild night but for something a bit more chilled out and relaxing. It was 8 Euros for a ticket and 3 Euros for a large popcorn.
It is open from early July until the end of September.
7. Explore Paleahora
Paleahora is the former capital of the island and is home to many impressive old churches built into the hillside.
The village is located near the town of Kontos, a place that is home to the famous Nektarios Monastery.
It is rumored that there used to be 365 churches in the area, one for each day of the year. However, only 33 stand today- some of which have been restored and can be visited by the public.
Head out to the village by car or taxi as the village is located up in the hills of the middle of the island.
8. Relax on One of the Beaches in Aegina
Aegina is the ideal location for the Greek island beach experience since the island can easily be traveled to as a day trip from Athens.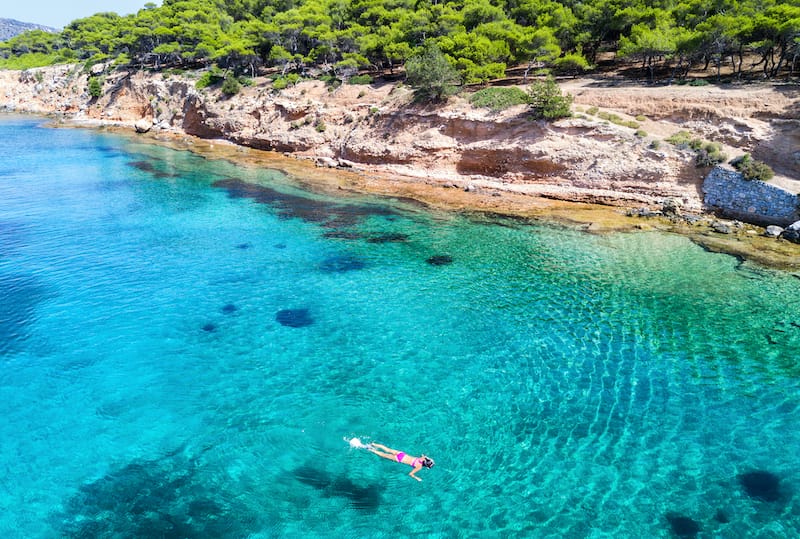 There are plenty of beaches on Aegina that can easily be reached by car, taxi, or water taxi.
Karnagio Beach
Karnagio Beach is the beach to the left of Aegina's main town just before you reach the Temple of Apollo. The large and spacious beach is sandy with crystal clear waters.
The beach gradually slopes into the sea and you can walk out relatively far before getting out of your depth.
There are plenty of tavernas where you can enjoy drinks and food as you chill on the beach. Since the beach is located in the main town, you can easily walk there from your hotel.
The beach rarely gets crowded which makes it a pleasant spot to hang out in summer.
Moni Island Beach
Moni is a small, uninhabited island with a fantastic beach and plenty of nature. Only accessible by boat, this island paradise is the perfect place to go if you want to enjoy some beach time as well as explore nature.
The beach is partly sandy but mostly rocky with sublime waters that are clean and clear.
Behind the beach is a forest that stretches up the hillside and is an enchanting place to spend some time hiking.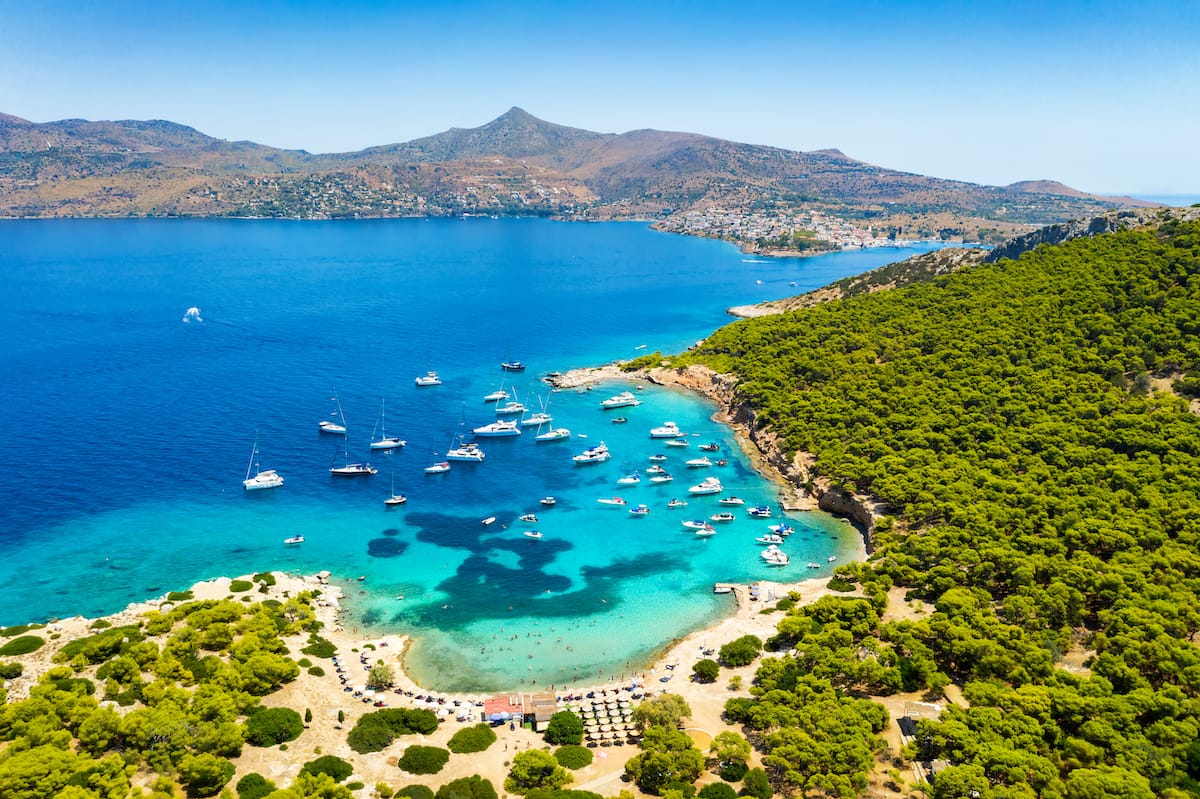 There is also some wildlife on the island such as mountain goats, deer, and peacocks.
The animals don't perceive humans to be a threat and are pretty curious and may even come up to you.
To reach the beach, you will need to head there from Perdika by boat and the boat only runs during the summer months and is a quick 10-minute ride and costs 5 euros return.
Marathonas Beach
One of the most popular beaches in Aegina is Marathonas Beach. The shallow waters and location it is situated in make it ideal for families and those looking to relax by the seaside with a cafe (La Palma) nearby.
You can take a bus there, or as Aram did, hitchhike your way out there.
Agia Marina
In the town of Agia Marina, there is a large sandy beach with plenty of amenities for tourists, such as sunbeds, water sports, cafes, bars, and restaurants.
The large beach is spacious with clear water for snorkeling and seeing the resident fish.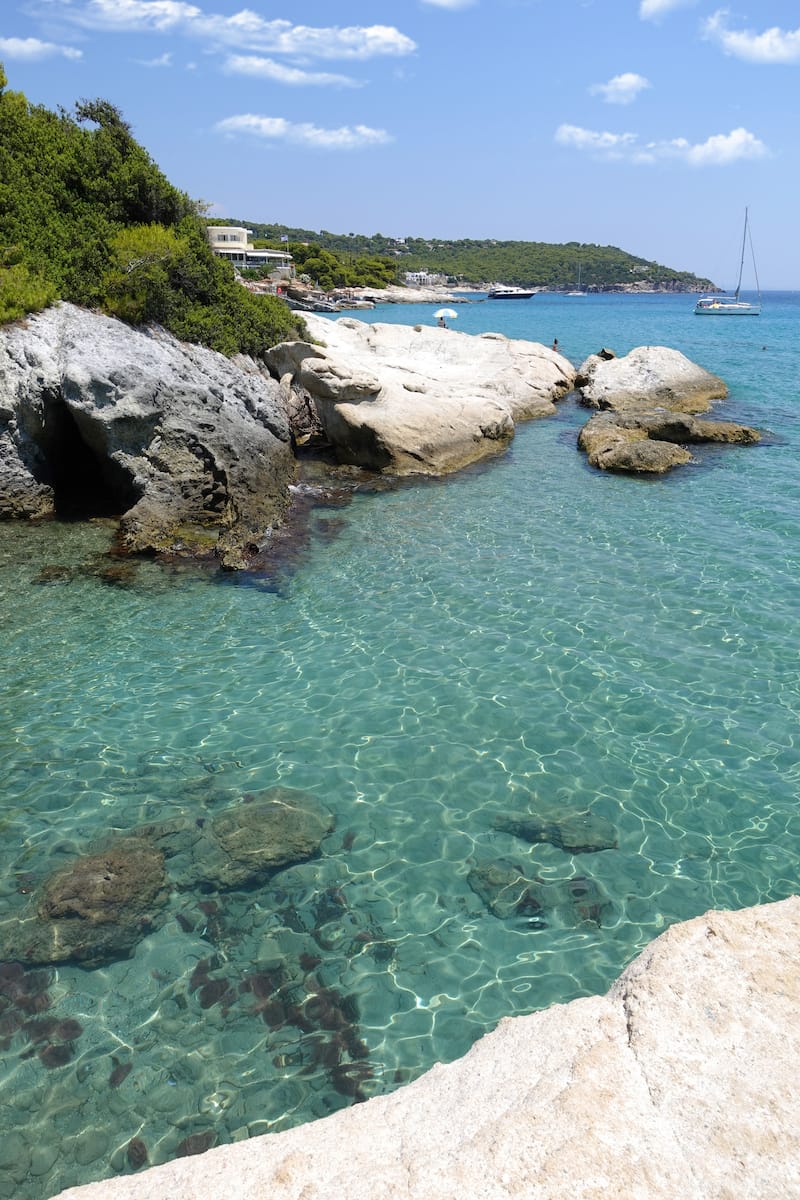 However, it is located in one of the main resort areas and can get crowded with plenty of people frequenting it each day. The beach is reachable by car, taxi, or water taxi.
Alternatively, Agia Marina is a large town with plenty of places to stay and you can base yourself there. You can see our top picks for Aegina villas located in Agia Marina here.
Portes Beach
For a more secluded beach experience, head out to Portes Beach.
Situated on the opposite side of the island to Aegina town, this picturesque beach with a small harbor is a wonderful place to escape the crowds and relax.
There are several tavernas in the area so you can get some tasty food and enjoy a drink or two.
To reach the beach you will need to drive or take a water or regular taxi, although make sure you have arranged a pick-up prior to getting to the beach.
Souvala Beach
To the north of the island is Souvala Beach, a semi-touristy beach located in a charming fishing village.
The biggest draw of this beach is there are thermal springs in the area which are believed to have healing properties and help clear up a range of skin diseases.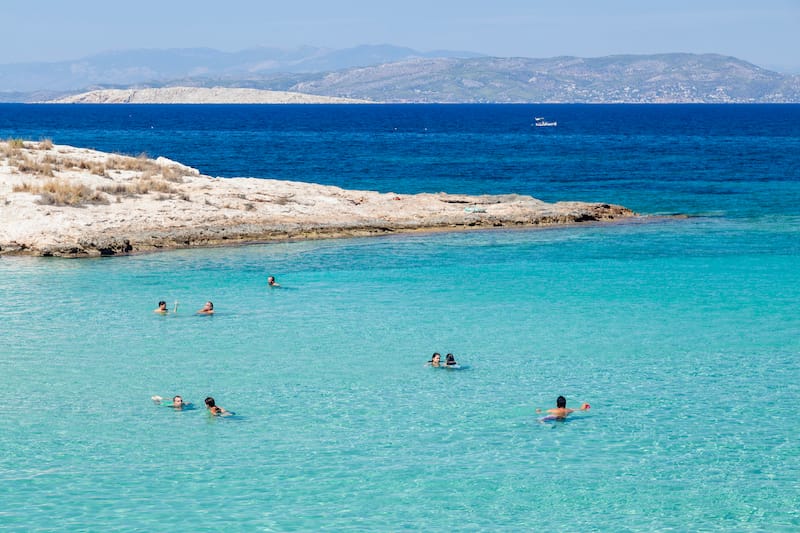 Attracting many locals, there are plenty of amenities around the beach with taverns and bars being readily available.
You can reach the beach by car or boat easily from Aegina Town. There are also a few places to stay in and around Souvala Beach.
Aegina FAQ (and Practical Info!)
When is the Best Time to Visit Aegina?
The best time to visit Aegina is during the summer or high season.
Everything will be open and the weather is warm and the streets are lively. However, if you are looking for cheaper rates and don't mind many establishments being closed, winter is also a fine time to visit.
Is Aegina Expensive?
No, Aegina is not expensive compared to other islands or destinations in Greece.
You can take a ferry there for 8 Euros, enjoy a meal for well under 10 Euros, and find mid-range accommodation for 50-60 Euros a night.
Getting from Athens to Aegina
Aegina is 40 minutes away from Piraeus and is serviced by multiple ferries which makes it really accessible.
During the high season, there are ferries heading from Athens to Aegina in a constant stream, so booking ahead is not always necessary but does take the stress out of the journey.
I booked my tickets via Ferries in Greece. The website is extremely easy to use and will guide you through the process.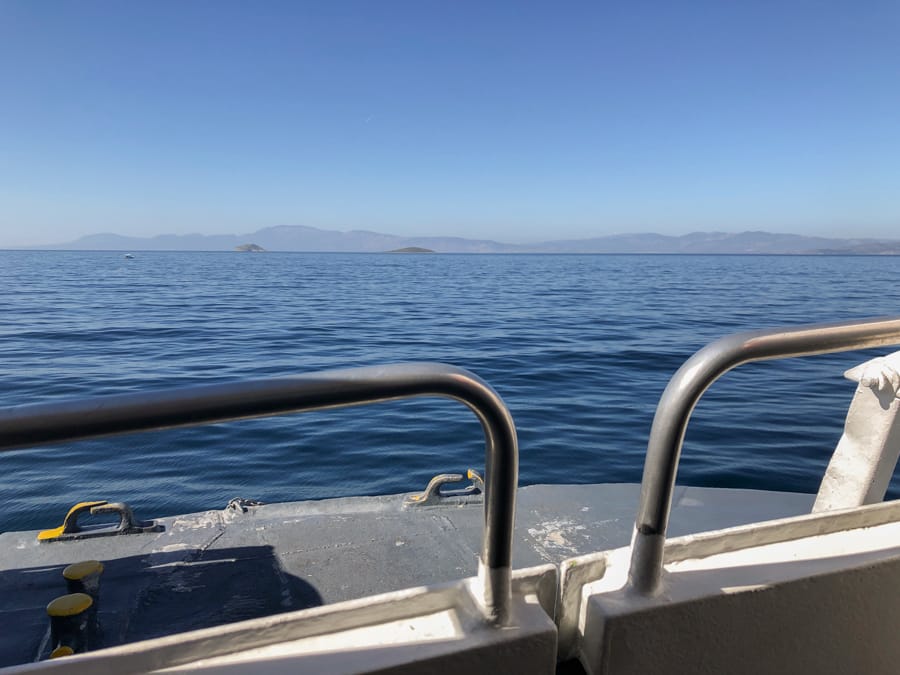 It is important to note that all tickets need to be picked up in person from a vendor around the port and will not be sent to you nor can they be printed out.
Year-round, there are two main ferry options- the FlyingDolphin hydrofoil boat that takes around 40 minutes and is only for foot traffic.
The FlyingDolphin will set you back €14 each way per person but it's the fastest way to the island and the ride is comfy.
Read More:Tips for taking the Athens – Aegina ferry
The other option is to take the car ferry. This is a lot cheaper at €8 each way per person but takes around 1 hour and 20 minutes to reach Aegina.
If you plan to bring a car with you, it will cost an extra €20 euros for the car. If you are taking a motorbike, it is an extra €8.30 or €5.60 for a scooter.
For more information see my guide on getting to Aegina from Piraeus.
Arriving in Aegina
Both ferries will drop you off in the main town of Aegina.
The port is centrally located within the town so if you are staying on the island in the main town, most hotels are easily within walking distance.
If you are staying at a resort on the other side of the island and require transport, there are plenty of taxis lined up once you exit the port.
They will be found to the left. Your hotel should also be able to organize a driver to pick you up.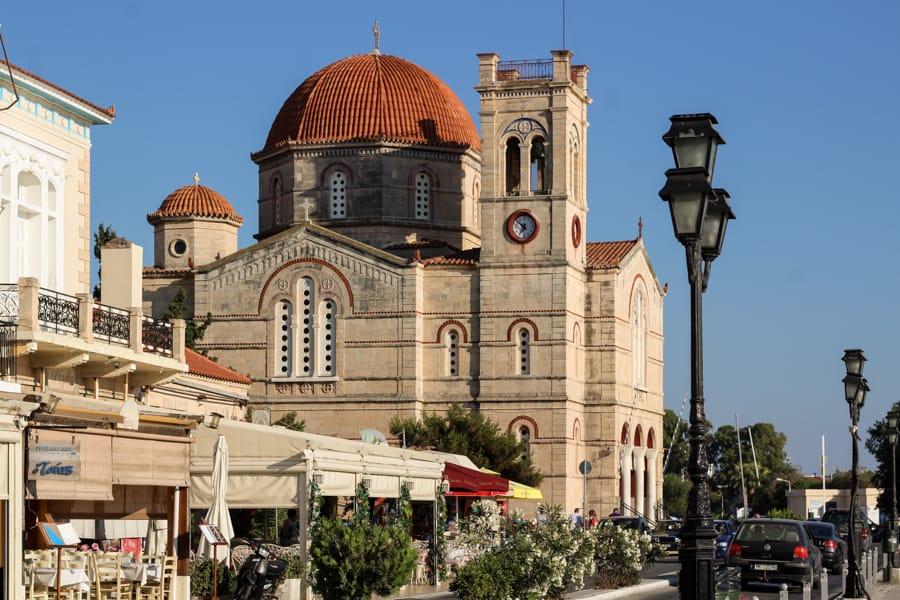 For many places, there are set prices that are listed on a small kiosk at the front of the taxi queue.
If you are on a day trip to the island and want to see the Temple of Aphaia, I highly recommend grabbing a taxi and negotiating the price for them to take you there wait for a period of time, and drive you back.
This service should be around 35 euros, including a 30-minute wait for you to see the site.
Getting Around on Aegina
There are a few ways to get around Aegina. You can rent a car or bring one from Athens.
You can also take public buses. Or, you can walk and stick around the main port.
Taxis on Aegina
The taxi stand is to the left of the port and there are plenty of taxis available on the island. For most destinations, there are set prices that are displayed at the front of the queue.
However, it is possible to haggle with the drivers, especially in the off-season when tourism is sparser.
It is also possible to hire a taxi to take you to a site and wait for a set amount of time and take you back to the main town.
This, however, will need to be negotiated with each driver and it is possible to play them off against each other to get the cheapest deal.
Water Taxis on Aegina
Water taxis are another great way to circumnavigate the island and will take you directly to the beach. They will also, if needed, take you back to mainland Greece or to neighboring islands.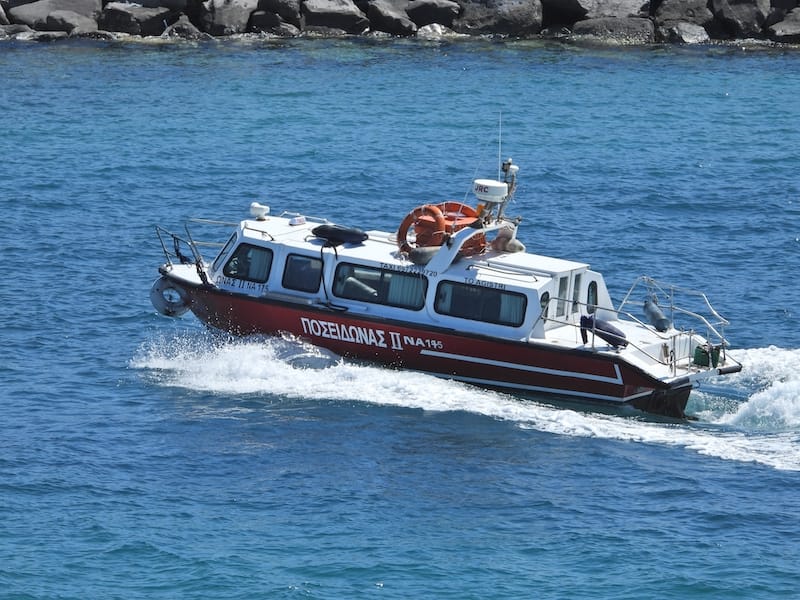 Prices need to be negotiated with the taxi and it is advisable to book a return taxi at the start of the process if you are heading out to a remote beach.
Public Buses on Aegina
There is a network of public buses on the island that will take you to the main sites and the other towns and villages on the island.
If you are limited on time, it is probably best not to use the bus system as the buses are infrequent and operate at slightly inconvenient times.
Where to Stay on Aegina
Plaza Hotel
I stayed at the Plaza Hotel situated just on the edge of Aegina town towards the Temple of Apollo.
The hotel is honestly amazing and the rooms are spacious and some even have a balcony overlooking Karnagio beach.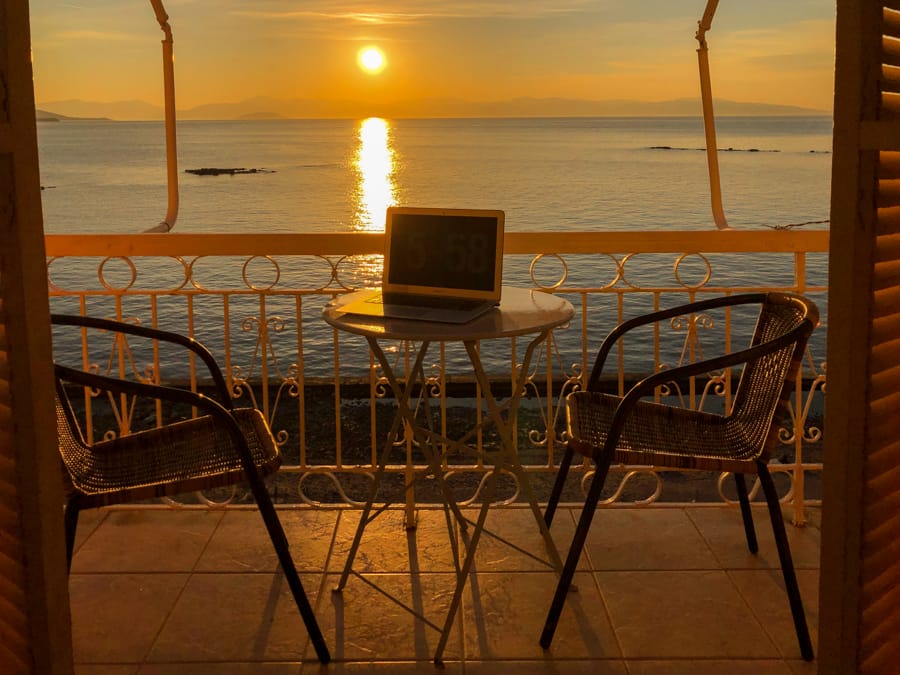 The owner of the hotel is extremely friendly and will treat you as a member of his family and will happily help you with anything you need to know during your stay.
–> For current rates and availability click here
Pantazis Studios
During my second stint in Aegina (and during high season), I stayed with Pantazis Studios.
This guesthouse is actually located a kilometer (just under a mile) from the main port- beware of that!
I didn't know this and had to drag my belongings through the heat. The guesthouse owner was super nice and gave me a ride back into the main part of the city to catch my ferry back to Athens.
My room had a fridge and a bathroom and a comfortable bed. It was really relaxing and the air-conditioning was much-needed!
It is located one street away from the sea and in the middle of a residential area with a lot of pistachio trees. I definitely recommend staying there if you're looking for a quiet area that is still close to the city.
–> For current rates and availability click here
Other Places to Stay in Aegina
Here are some alternative places to stay if you're not interested in my recommendations above (they seriously are awesome though!):
⇒ Affordable & Mid-range: Danae Hotel | Check rates: Booking.com
⇒ Affordable & Mid-range: Hotel Aegina | Check rates: Booking.com
⇒ Luxury: Marini Luxury Apartments & Suites | Check rates: Booking.com
⇒ Luxury: The ROOF Seaview Apartment | Check rates: Booking.com
Aegina Island Things to Do – Thoughts?
I have been to Aegina twice and Aram has visited there once (without me).
We really think it is a great day trip for those who are in Athens for quite a few days. There are so many amazing things to do in Aegina!
I highly recommend going there for the food, island vibes, and a break from the hustle of Greece's capital city. Please leave us a comment if you have questions or are looking for additional information.
Visiting Any Other Saronic Islands?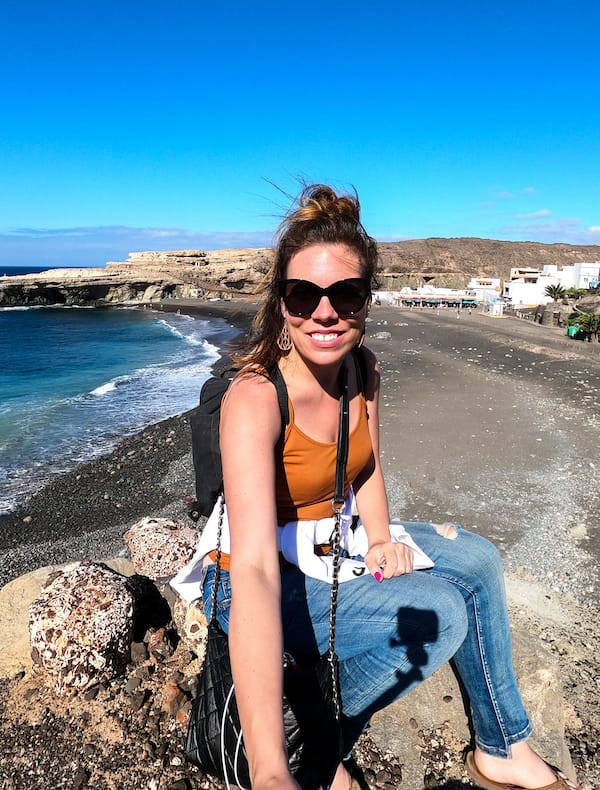 Megan is a travel blogger and writer with a background in digital marketing. Originally from Richmond, VA, she now splits her time between Frankfurt, Germany and Arctic Finland after also living in Norway, Armenia, and Kazakhstan. She has a passion for winter travel, as well as the Nordic countries, but you can also find her eating her way through Italy, perusing perfume stores in Paris, or taking road trips through the USA. Megan has written for or been featured by National Geographic, Forbes, Lonely Planet, the New York Times, and more. She co-authored Fodor's Travel 'Essential Norway' and has visited 45 US states and 100+ countries.