If you're looking to spend 2 days in Yellowstone, this informative Yellowstone itinerary is for you! It will contain things to do in Yellowstone, the best places to visit, and useful tips for your trip.
Itinerary for Yellowstone National Park
Not sure what to do in Yellowstone in 2 days? Worry not.
The 3500-square-mile park might seem intimidating at first, but a well-planned itinerary will save you lots of headaches.
That is why we have created this 2-day Yellowstone itinerary to help you maximize your short time in the park.
We will cover the essentials of planning the perfect Yellowstone trip, such as where to stay, how to get there, and obviously, the best places to visit in Yellowstone.
Deciding Where to Stay in Yellowstone National Park
Because Yellowstone National Park is so massive, visiting it without a thorough plan is like preparing to fail.
One of the most important things to know is where you will be staying when you visit Yellowstone National Park.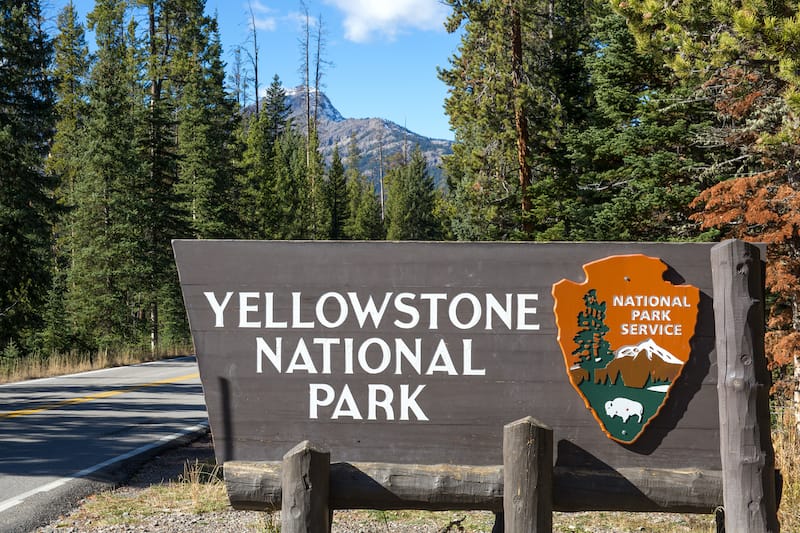 We will talk about the two most common options when it comes to lodging when visiting YNP: Staying inside the park or staying outside the park.
Staying Outside Yellowstone National Park
If you are visiting Yellowstone, staying outside of the park might seem like a silly option, but this cannot be farther from the truth. Because of the inaccessibility of Yellowstone National Park, amenities can be lacking in Yellowstone.
Things such as good restaurants and accommodations are rare commodities inside of the park; so naturally, those are more costly than usual.
If you are traveling on a budget, you should stay outside of Yellowstone. Here is a guide to the best Yellowstone Airbnbs that are near the park!
Staying Inside Yellowstone National Park
Staying Inside Yellowstone National Park is an experience unlike any other. Once the sun sets, visitors begin to leave the park, and you are left with the nearly 3,500-square-mile wilderness recreation area all by yourself (minus the other guests that staying inside the park).
Though it is unlikely that you will do much sightseeing at night, you are able to go for short strolls near your accommodation.
The deafening silence along with the magnificent creation of mother nature as you stroll around is a surreal experience, and alone worth the price to stay in the park.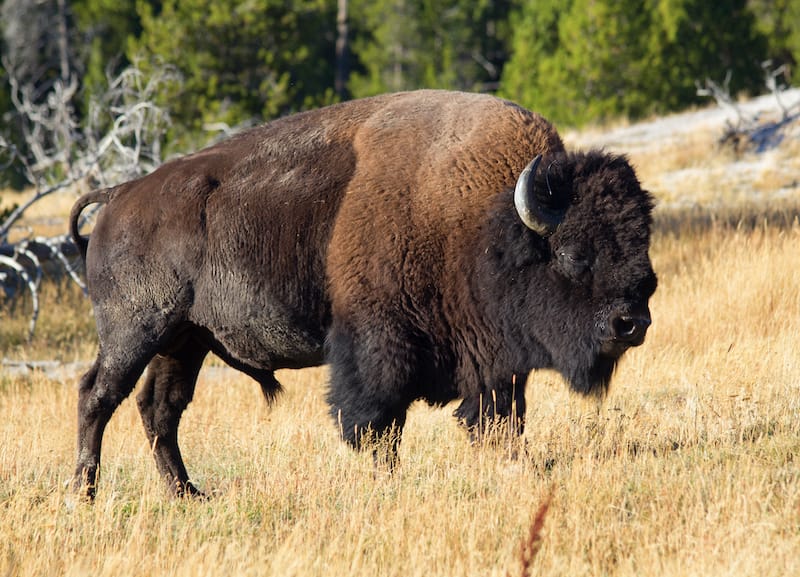 There are a total of nine lodging facilities inside Yellowstone National Park. In total, they make up the over 2,000 rooms that guests are allowed to stay in.
However, depending on the season, some hotels might not be open because of the lowered demand (ex. winter). In the peak summer months, accommodation inside Yellowstone National Park quickly sells out.
We recommend you book at least six months in advance if you plan on visiting during the summer. Visiting national parks in winter is a great idea for prices and availability but you have reduced options.
As we mentioned above, accommodation inside Yellowstone National Park is expensive compared to the accommodation options outside of it.
Dining options are also fairly limited with every restaurant serving a similar type of cuisine. If you are seeking luxury or comfort, you might be better of staying outside of the park.
How To Get To Yellowstone National Park
Because of the numerous airports near Yellowstone National Park, there are many ways to get to Yellowstone.
Unless you are doing a road trip in the USA, you will want to fly into one of the nearby airports. Below we will talk about the 4 most popular airports for getting to Yellowstone National Park.
1. Denver, Colorado
If you are traveling to Yellowstone National Park on a budget, flying into the Denver International Airport might be your best option.
As one of the busiest airports in the United States, flights to Denver are much cheaper than any of the airports near Yellowstone National Park. The airport also contains numerous car rental agencies, so you can be on the move as soon as you arrive in Denver.
When we visited Yellowstone as a family of 4, we collectively saved over 1000 USD because flights to Denver were half the price as the next option.
The con? The drive from Denver to the closest Yellowstone National Park entrance takes about 8 hours. However, the drive through the midwest of the United States is a nice scenic route!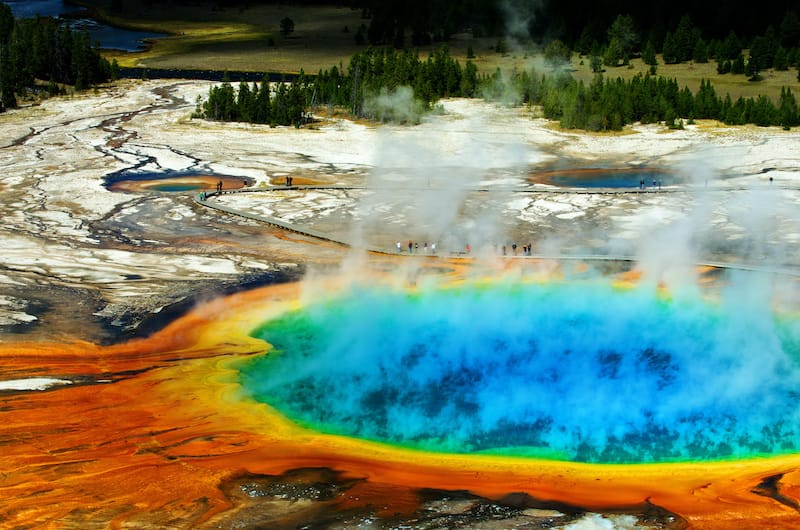 2. Salt Lake City, Utah
Located a 5-hour drive away from the West entrance of Yellowstone National Park, flying into Salt Lake City's airport is one of the most popular options. As the capital of Utah, flights to Salt Lake City are fairly cheap, but usually not cheaper than flights to Denver.
Book your Salt Lake City to Yellowstone tour: SLC to Yellowstone and Grand Teton NP (4-day tour)
If you want to save some money but don't want to drive 8 hours from Denver to YNP, flying to Salt Lake City is the perfect choice for you.
3. Jackson Hole, Wyoming
Located only a 1.5-hour drive from the south entrance of YNP, Jackson Hole is a city in Wyoming and is the closest large airport to Yellowstone.
Book your Jackson to Yellowstone day trip: One day lower loop tour of Yellowstone NP from Jackson
As a popular ski resort town in the winter, flights to Jackson Hole are usually not too expensive. If you are planning to visit the adjacent Grand Teton National Park in addition to Yellowstone National Park, Jackson Hole is the perfect airport to fly into.
4. Bozeman, Montana
The Bozeman Yellowstone International Airport is an airport located 1.5-hour away from the north entrance of YNP. While this is a great airport to fly into because day 1 of our Yellowstone itinerary features the northern parts of the park, flights to Bozeman tend to be the priciest of the 4 options.
2 Day Yellowstone Itinerary: Best Attractions of Yellowstone National Park
Our 2 days in Yellowstone itinerary is simple to follow. On the first day, we will focus on the Yellowstone attractions located in the northern parts of the park.
If you aren't staying inside the park, you would want to stay in Gardiner, Montana the night before.
On the second day of our itinerary, we will focus on the center and southern parts of the park, visiting some of the top sightseeing places in Yellowstone such as Old Faithful and Grand Prismatic Spring.
If you are staying outside of Yellowstone, we recommend you to stay in West Yellowstone, Montana.
On this guide, we did leave out cool activities like white water rafting in Yellowstone simply because we think you need more than two days to do that. But, if you have three days in Yellowstone, definitely consider something more active!
Day 1
1. Mammoth Hot Springs
As one of the most unique places to visit in Yellowstone, Mammoth Hot Springs is the first destination on our Yellowstone trip.
Though the name might entice you to have a relaxing soak in the hot spring, Mammoth Hot Springs will unquestionably melt your skin and bones if you decide to jump in.
Since Yellowstone National Park is located in a highly active volcanic hot spot, rivers of hot water run underneath the surface. Usually, that isn't a problem unless you encounter places with weak bedrock.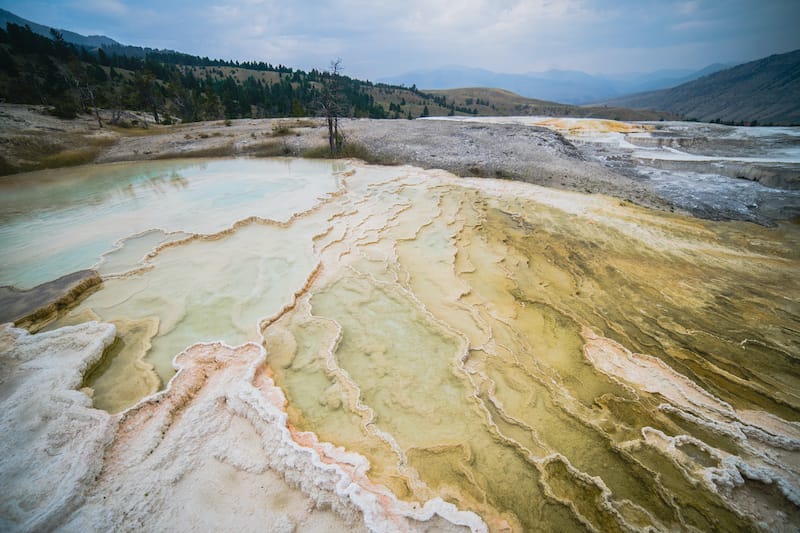 That is the case at Mammoth Hot Springs, where a weak porous limestone is underneath the surface.
The hot water essentially "dissolves" the limestone as the water makes its way to the surface. Once the solution is exposed to the air, it "cools" down and becomes a solid material.
The white chalky mineral is deposited as travertine and forms the terraces you see at Mammoth Hot Springs. Because of its unique properties, Mammoth Hot Springs looks like caves inside out, creating an eccentric and yet iconic appearance.
Visitors can learn more about Mammoth Hot Springs and its history at the adjacent Albright Visitor Center. Please note that you must book a tour here if you're visiting Yellowstone in winter.
2. Calcite Springs Overlook
Calcite Springs Overlook is one of the best-hidden gems of Yellowstone National Park. Situated on a cliff above the narrowest section of the Grand Canyon of Yellowstone, the overlook offers unparalleled views of the Yellowstone River and its surrounding.
Dramatic bleached white cliffs, beautiful dense forest, and hydrothermal springs accentuate the beautiful landscape, and Calcite Springs Overlook might just be the best viewpoint in Yellowstone.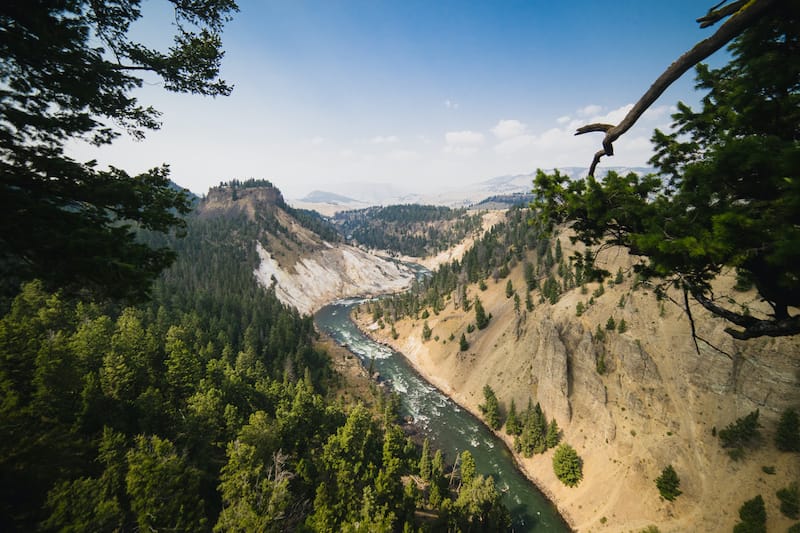 The bonus? Unlike most attractions in Yellowstone where you have to do a short hike, there isn't any hiking to be done at Calcite Springs Overlook.
Just park your car at the Calcite Springs Overlook parking lot and prepare yourself for some stunning landscapes!
3. Tower Falls
A 132-ft tall waterfall nestled in the middle of the forest, Tower Falls is supposedly one of the most beautiful places in Yellowstone.
However, when we visited, we currently did not feel that way. Erosion has badly damaged the path, and visitors are not allowed to hike down to the bottom to admire its grandeur.
The Tower Falls overlook only offers a subpar view of the magnificent giant. But because it is adjacent to the Calcite Springs Overlook, it isn't a terrible place to stop by and check out.
There is also a general store at Tower Falls that sells souvenirs, snacks, and ice cream. If you haven't packed a premade lunch, make sure to get something here!
READ ALSO: Yellowstone in Winter: Reasons to Visit, Things to Do, and Travel Tips
4. Grand Canyon of Yellowstone (Artist Point)
Did you know that Yellowstone National Park has its own Grand Canyon? Yes, and it is awesome! Scientists believe that the Grand Canyon of Yellowstone was formed around 150,000 years ago.
It is now home to two amazing waterfalls, the 308-ft tall Lower Falls and the 109-ft tall Upper Falls. While we haven't been to the Upper Falls, we heard the Lower Falls offer much more spectacular views.
Because of its vastness, there are many viewpoints to observe its beauty. However, none is as spectacular as the Artist Point. The high cliffs at Artist Point provide the perfect place to observe the impressive Lower Falls of Yellowstone.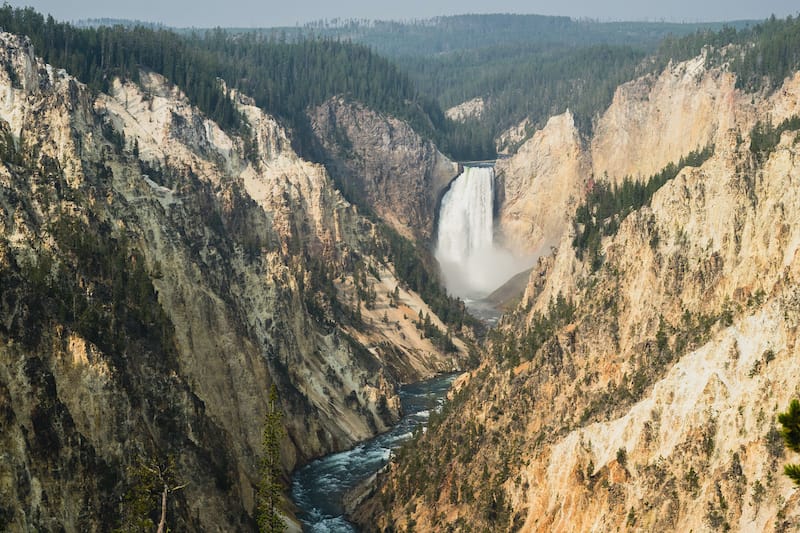 Many people spend half an hour at Artist Point, admiring the views before leaving. What many people miss is the Point Sublime trail behind Artist Point.
The Point Sublime trail is a 2-mile out-and-back trail that follows the Yellowstone River southward along the edge of the canyon.
With no guard rails along the trail, any misstep might cause you to fall a few thousand feet to your doom. This trail is not for the faint-hearted, or anyone with a fear of heights.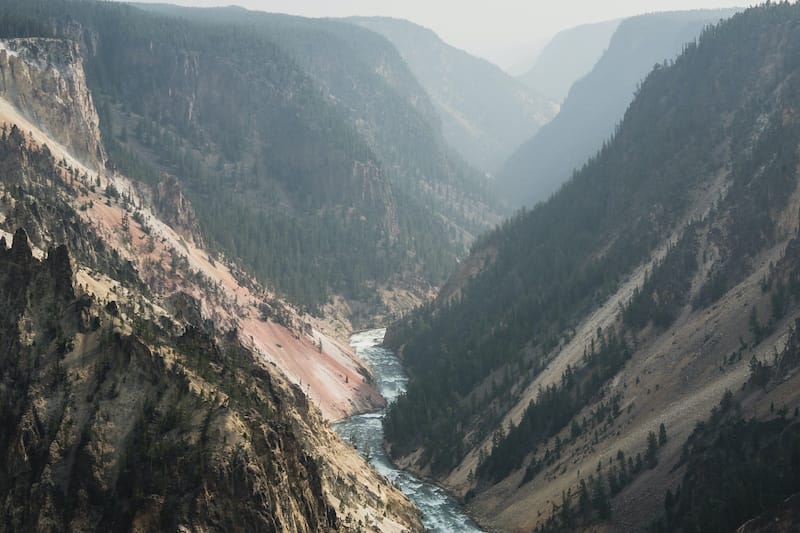 For those that dare to embark on this trail, you are rewarded with views that are equally stunning, if not better, than the view at Artist Point.
5. Hayden Valley
No trip to Yellowstone is complete without seeing some of its impressive wildlife in the wild. Luckily for you, Hayden Valley is the perfect location in Yellowstone to observe wildlife.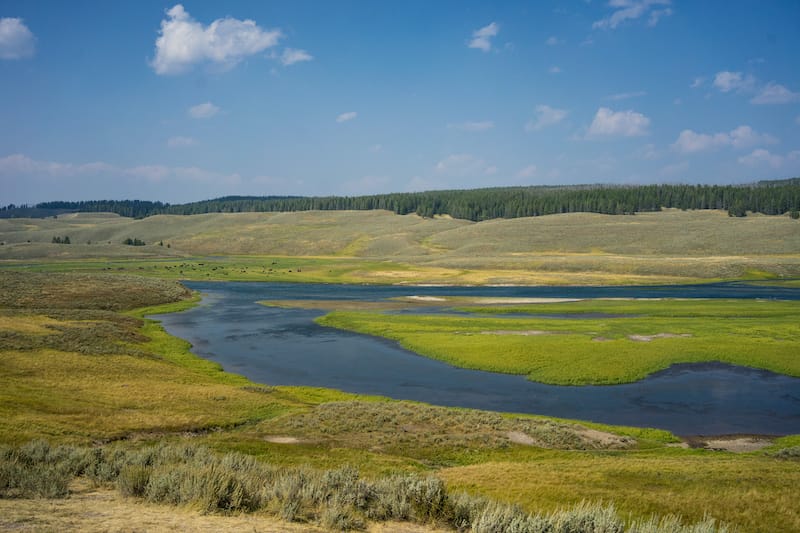 Some of Yellowstone's most famous animals such as buffalo, elk, and bears freely roam the plains at Hayden Valley. A quick drive-through usually suffices and works perfectly as it is on the way to our next destination.
Be prepared for wildlife traffic jams, they are inevitable when you visit Yellowstone!
6. Mud Volcanoes
Mud Volcanoes are some of the most amazing geothermal features in Yellowstone National Park.
Maybe you are imagining a sizable volcano, towering over the natural landscapes of Yellowstone, and spewing scorching mud from the crater.
We are here to tell you that you might be disappointed if that's what you are imagining. Mud Volcanoes are more like giant boiling mud pits (think like a witch's cauldron).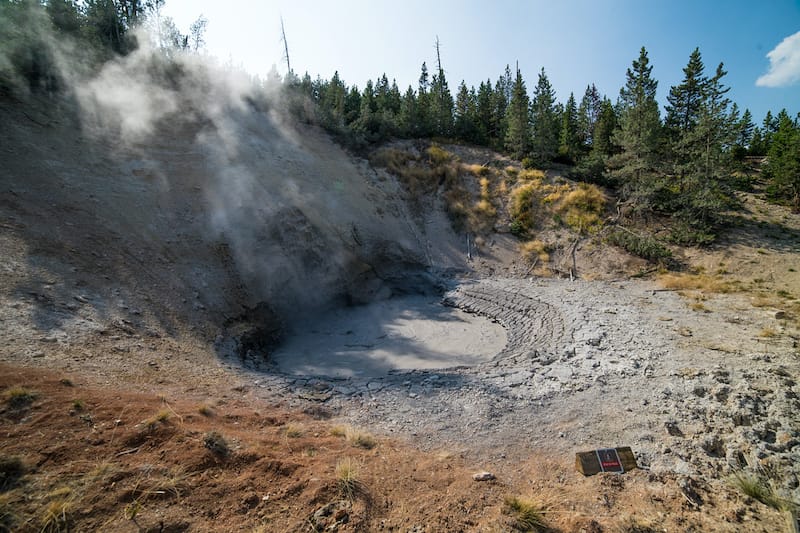 Because of the geological structures, some of these mud volcanoes are highly acidic, with a pH number close to stomach acid.
One of the most striking Mud Volcanoes is the Dragon's Mouth Spring. Boiling mud from underneath the ground has created a cave where steam would congregate, resulting in a thunderous sound.
The cave is named Dragon's Mouth Spring because the phenomenon is as if a dragon is residing inside, roaring and spewing steam.
7. Norris Geyser Basin
If you still have time, check out Norris Geyser Basin before heading to your accommodation. If not, you can save this activity for tomorrow, as it is close to the West entrance of Yellowstone National Park.
Norris Geyser Basin is often overshadowed by other famous geyser basins such as the Upper Geyser Basin and the West Thumb Geyser Basin. However, Norris Geyser Basin offers pristine serenity, unlike the other popular geyser basins.
Featuring numerous geysers and hot springs, Norris Geyser Basin is by no means boring. Stroll around the man-made boardwalk and get close and personal (but not too close) to some of the most impressive hydrothermal features in the world.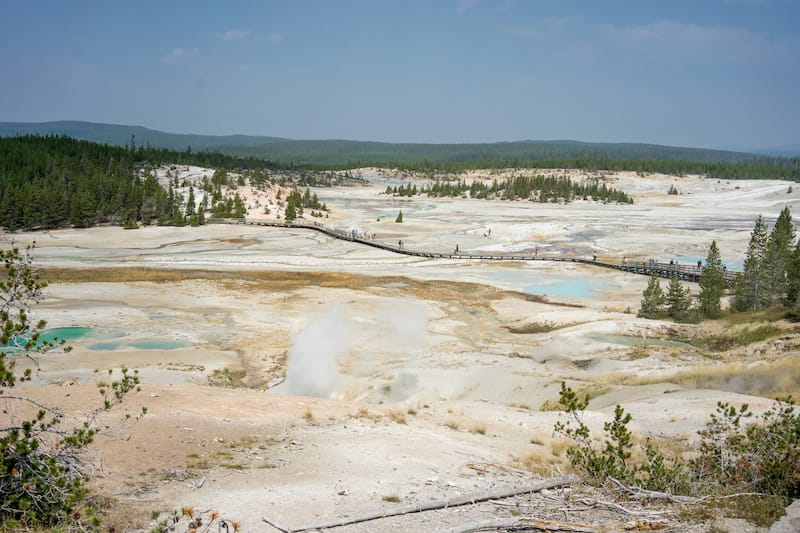 Norris Geyser Basin is also named the Norris Porcelain Basin because of the milky porcelain-like colors of the hot springs.
The whitish-blue color complements the stunning nature that surrounds this place. However, don't stay too long, as the sulfur smell (rotten-egg smell) can be quite strong in this area.
After visiting Norris Geyser Basin, head to your accommodation in West Yellowstone (if you are staying outside the park) and enjoy some delicious traditional midwestern cuisine for dinner.
Day 2
8. Grand Prismatic Spring
The Grand Prismatic Spring, or GPS, is unquestionably the most stunning attraction in Yellowstone National Parking. A visit is a must if you only have two days in Yellowstone National Park.
Approximately 370 feet in diameter, the Grand Prismatic Spring is the biggest hot spring in the United States and the third-largest in the entire world!
Because of its popularity, we recommend you to get here as early as possible, ideally no later than 9 AM.
The GPS is home to many microorganisms that our naked eyes cannot see. The different types of microorganisms live in different areas of the hot spring because of the varying temperature.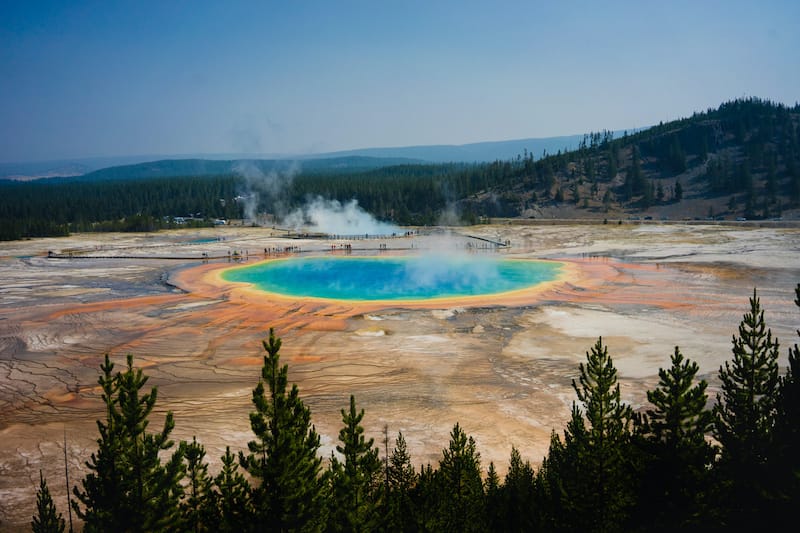 For example, the blue color that you see at the center of the GPS is the hottest part, and the temperature decreases as it reaches the perimeter, where the color is usually more orange.
The result? A rainbow-colored hot spring that looks like it's from outer space!
However, you might not be able to see all of that when you are visiting GPS. Due to all the steam from the area and the immensity of GPS, it is difficult to comprehend its magnificence up close.
In fact, the best spot to see the Grand Prismatic Spring isn't at the Grand Prismatic Spring itself, but at the Grand Prismatic Spring Overlook on the Fairy Falls Trail.
Luckily for you, the Fairly Falls trailhead is easy to locate and is only a 5-minute drive from GPS. After you have parked your car, a short 15-minute hike is all you need to arrive at the vantage point.
This moderately-trafficked trail is perfect for anyone traveling in Yellowstone with kids or family, and bear spray is usually not needed as well!
9. Old Faithful and Upper Geyser Basin
Along with the GPS, Old Faithful Geyser makes up the two most-visited places in Yellowstone. While GPS will amaze you in size and color, Old Faithful Geyser will amaze you in power and loyalty. Earning its iconic name from its consistent eruption (every 60 minutes or so), a visit will guarantee that you leave awestruck.
But before visiting, we recommend you check out the Old Faithful Visitor And Education Center, which is located adjacent to the geyser itself.
Here you can learn more about the science before witnessing the incredible phenomenon. You will also find the predicted time when Old Faithful will be erupting!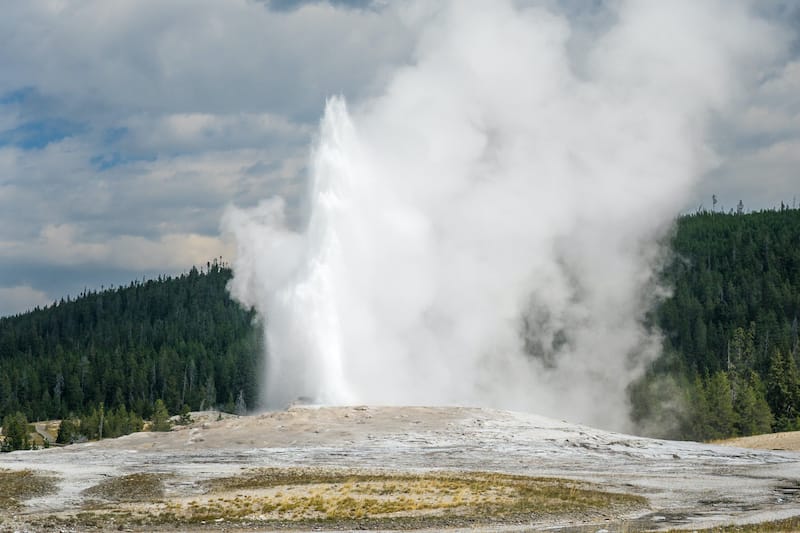 The eruption of Old Faithful usually lasts somewhere between 1.5 minutes to 5 minutes with water shooting up to a height of around 185 feet. It is by no means the biggest or most regular geysers in the park, but it is the biggest regular geyser in Yellowstone.
The tallest active geyser in Yellowstone (and in the world) is actually the Steamboat Geyer in the Norris Geyser Basin. Its unpredictable eruption time makes seeing the Steamboat Geyser in action impossible.
After admiring the powerful forces of nature at Old Faithful Geyser, spend some time walking along the Upper Geyser Basin.
Home to many of the largest geysers in Yellowstone, the Upper Geyser Basin is more than just Old Faithful. Many of these large geysers (such as Grand, Castle, Daisy, and more) have predicted eruption times, make sure to check their time of eruption before exploring the Upper Geyser Basin.
At the end of the Upper Geyser Basin boardwalk is the Morning Glory Pool, a sizeable hot spring known for its vivid colors. Though not as multicolored or big as the Grand Prismatic Spring, the Morning Glory Pool allows visitors to get much closer.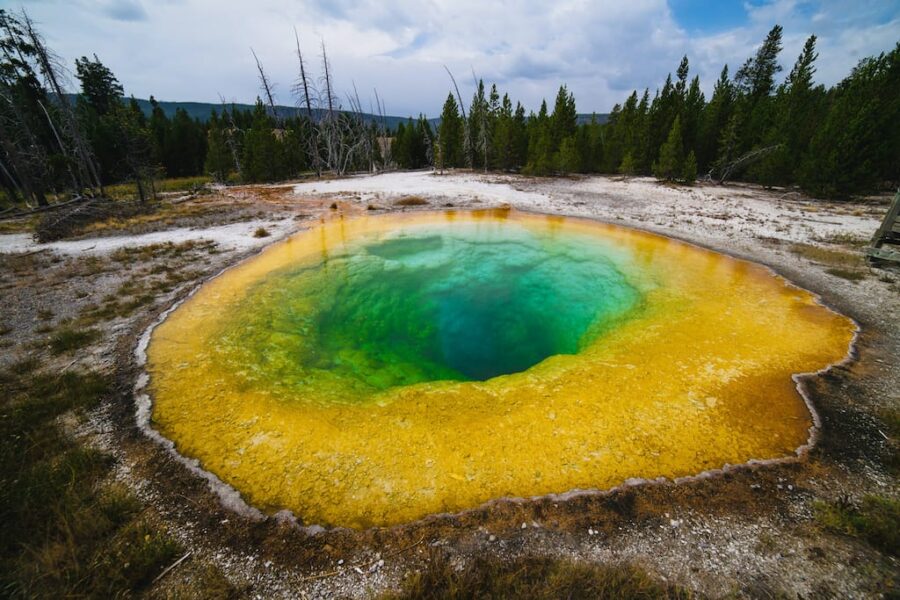 But because of the close vicinity, some inconsiderate visitors have been throwing objects inside the pool to see what would happen.
This clogs the source of the hot water deep inside the pool, causing the temperature of the water to change and ultimately altering the color of the pool in the long run. Be careful not to drop anything inside the Morning Glory Pool when you visit.
Before you leave the Upper Geyser Basin, make sure you have a tour of the rustic Old Faithful Inn. As the largest log hotel in the world, the Old Faithful Inn's rustic resort architecture looks like it belongs in a classic American cowboy movie.
The Old Faith Inn also houses the Old Faith Inn Dining Room, arguably the best restaurant inside Yellowstone. They also sell sandwiches and other meals to go in case you need to catch any of the geysers erupting.
Make sure you grab lunch here before you head off to do more sightseeing.
10. West Thumb Geyser Basin
The last attraction on our Yellowstone 2-day itinerary is the West Thumb Geyser Basin, the largest geyser basin on the shore of Yellowstone Lake.
It is also the home to one of my favorite hot springs in Yellowstone National Park, the Abyss Pool. It initially received its name from its abyss-like appearance. However, scientists now know that the Abyss Pool only has a depth of 53 feet.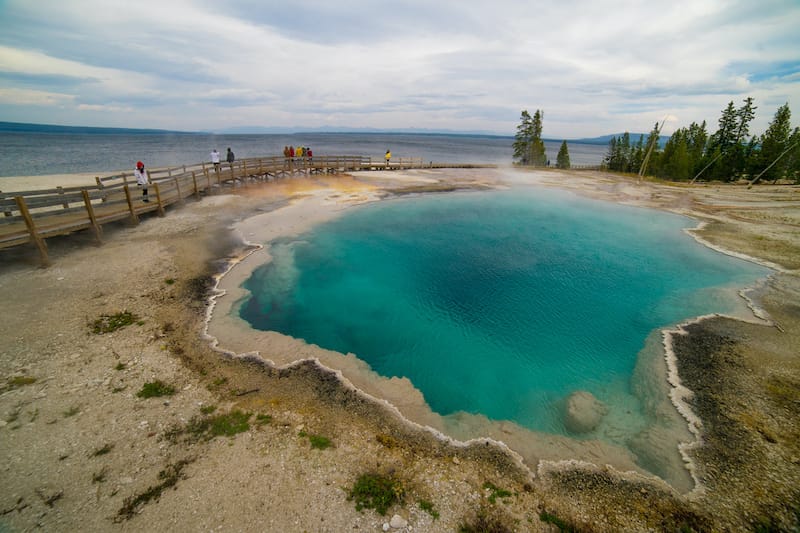 Situated in front of Yellowstone Lake, Abyss Pool's beauty is accentuated by the surrounding scenery.
The West Thumb Geyser Basin also contains one of the most peculiar geysers, the Fishing Cone. Once upon a time, it used to be an active geyser that shot up to 40 feet in the air, but nowadays, it is an inactive geyser.
It received its name from fishermen that used to fish at Yellowstone Lake. They would catch a fish, hang it from the end of their fishing rod, and cook it inside the Fishing Cone.
Afterward, they would eat their freshly-cooked fish! Nowadays, fishing and cooking your catch at the Fishing Cone is prohibited, and the mineral from the Fishing Cone geyser can be toxic.
Do You Have More Time In Yellowstone?
If you finished our Yellowstone itinerary and have time left, we recommend you to visit the nearby Grand Teton National Park. Home of the stunning Grand Teton mountains, Grand Teton National Park provides breathtaking scenery as well as many hiking trails.
If you plan on doing any hiking in Grand Teton, make sure you bring bear spray as the trails are not as populated as the ones in Yellowstone.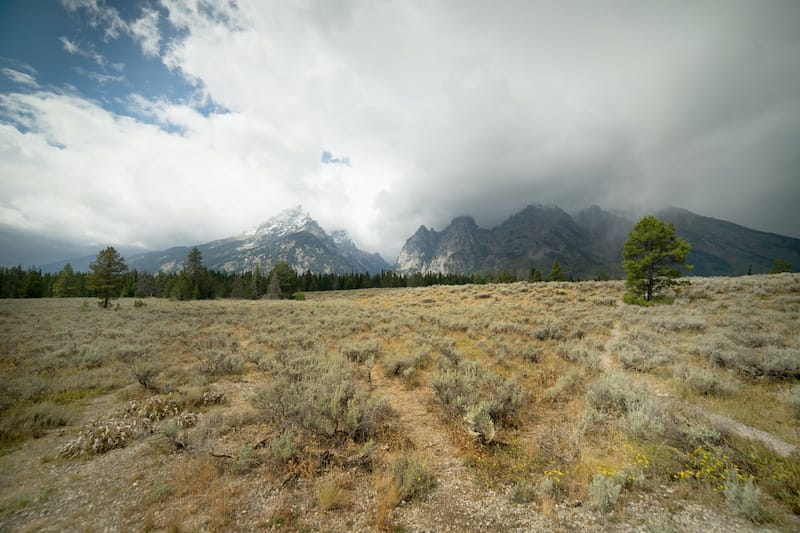 This concludes our two days in Yellowstone itinerary. We hope our Yellowstone guide has given you crucial information to plan your Yellowstone visit!
Book your Grand Teton and Yellowstone trip: 4 days and 3 nights in Yellowstone and Grand Teton National Parks
Author Bio: Hey, I am Sean of LivingOutLau. Since 2018, I have been on a mission to experience the world through different cultures. My favorite countries to travel to are ones that are off-the-beaten-track, ones where their authenticity can be fully experienced. On LivingOutLau, you will find carefully curated travel guides, tips, and photos that will inspire your next trip! Find him on Instagram, Facebook, Pinterest.
ABOUT THIS LAND
Yellowstone National Park is on the unceded land of the Assiniboine and Sioux, Blackfeet, Cheyenne River Sioux, Coeur d'Alene, Comanche, Colville Reservation, Crow, Crow Creek Sioux, Eastern Shoshone, Flandreau Santee Sioux, Gros Ventre and Assiniboine, Kiowa, Little Shell Chippewa, Lower Brule Sioux, Nez Perce, Northern Arapaho, Northern Cheyenne, Oglala Sioux, Rosebud Sioux, Salish and Kootenai, Shoshone–Bannock, Sisseton Wahpeton, Spirit Lake, Standing Rock Sioux, Turtle, Mountain Band of the Chippewa, Umatilla Reservation, Yankton Sioux peoples. We ask you to join us in acknowledging their communities, their elders both past and present, as well as future generations.
We also acknowledge that Yellowstone National Park was founded upon exclusions and erasures of many Indigenous peoples, including those on whose land these US National Parks are located.
⇒ Do your research before visiting National Parks and places in the US. Native Land and Whose Land are good starting points.
⇒ Hire Native guides when possible and encourage National Parks and government organizations to start hiring them.
⇒ Donations matter. Part of the proceeds from this blog is donated monthly to the Native Women's Wilderness.
You Might Also Like:
PIN IT FOR LATER!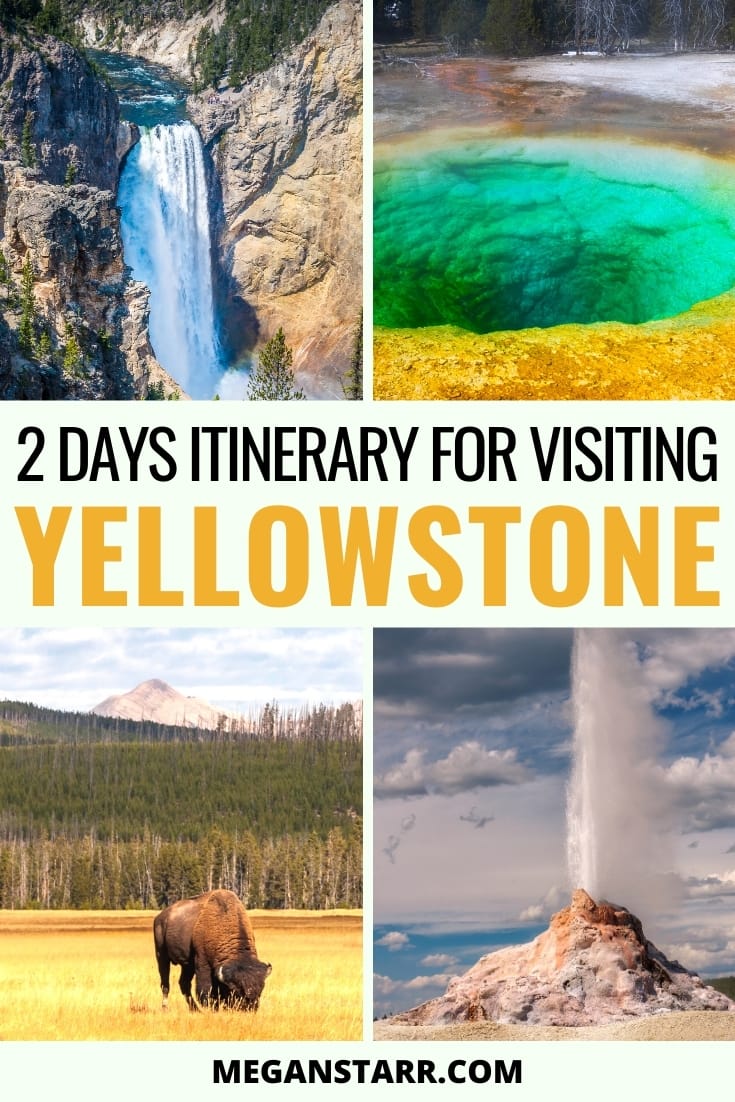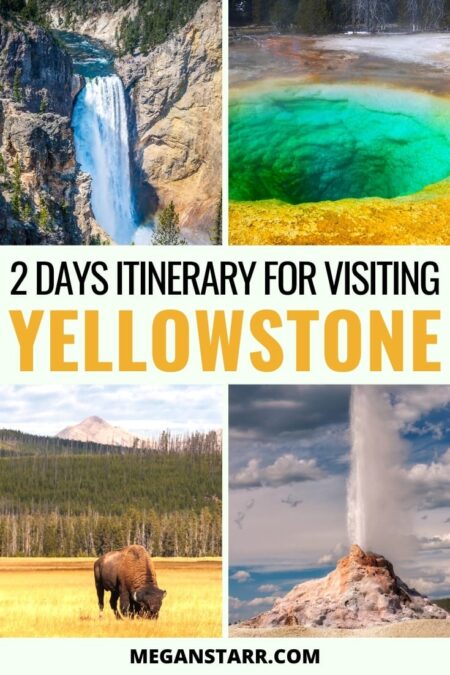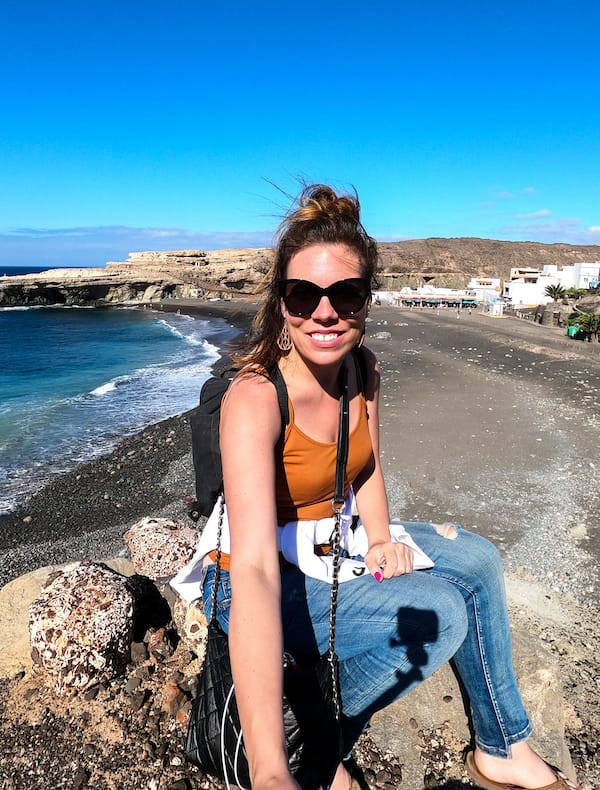 Megan is a travel blogger and writer with a background in digital marketing. Originally from Richmond, VA, she now splits her time between Frankfurt, Germany and Arctic Finland after also living in Norway, Armenia, and Kazakhstan. She has a passion for winter travel, as well as the Nordic countries, but you can also find her eating her way through Italy, perusing perfume stores in Paris, or taking road trips through the USA. Megan has written for or been featured by National Geographic, Forbes, Lonely Planet, the New York Times, and more. She co-authored Fodor's Travel 'Essential Norway' and has visited 45 US states and 100+ countries.