Planning a trip to Yellowstone is a blast – but you need to plan ahead! These are the best Airbnbs near Yellowstone National Park that you'll want to consider for your trip!
Yellowstone National Park is one of the most popular national parks in the US. It truly has it all – hiking, camping, mesmerizing sights, and more! But, you will need really good sleep to explore it all and take it all in!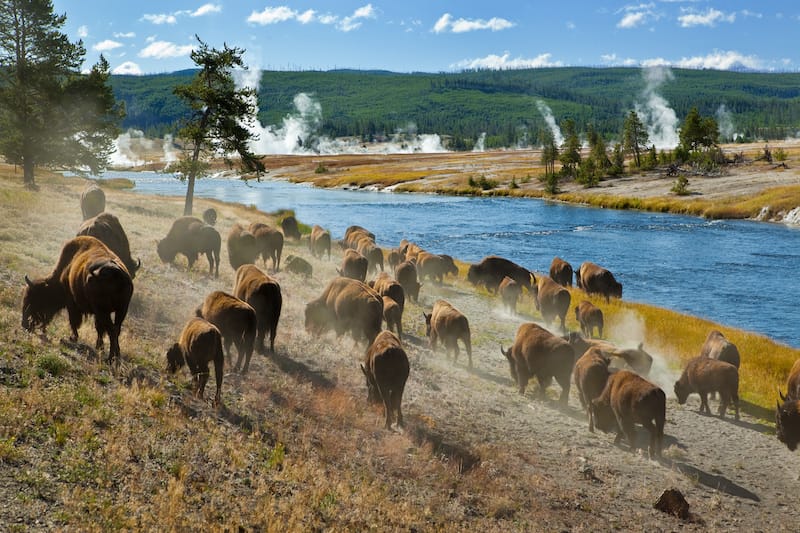 These Yellowstone Airbnbs will get you started! We rounded up the best Airbnbs in Yellowstone regardless of budget. We have cabins, ones with hot tubs, unique stays, etc.
So, whether you are visiting Yellowstone in winter or traveling with children, you will have an option on this guide! We also hand-picked Airbnbs in different places around Yellowstone – ranging from Island Park, Idaho to West Yellowstone, Montana (and more).
If you have any questions, please let us know. If you're not keen to stay around Yellowstone and are also visiting other national parks, be sure to check out our guide to the best Airbnbs near Grand Teton National Park nearby!
Where are these Yellowstone Airbnbs Located?
Yellowstone is a large park that spans multiple states! There are several places to stay and enter from. My favorite place to visit from is West Yellowstone, but you have your pick.
We have selected Airbnbs in Big Sky, Gardiner, and West Yellowstone in Montana. We have also chosen some in Island Park, Idaho. In addition, we picked some random and unique stays in places nearby in Wyoming, giving you several different options.
If you're visiting Grand Teton National Park on the same trip, you may want to consider staying around that park instead. Still a popular national park, it has a variety of options in Jackson Hole and locally.
Best Airbnbs near Yellowstone National Park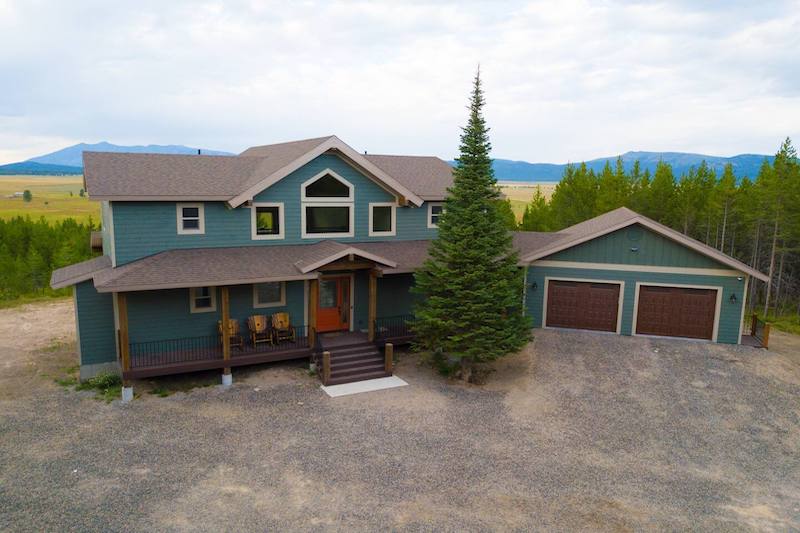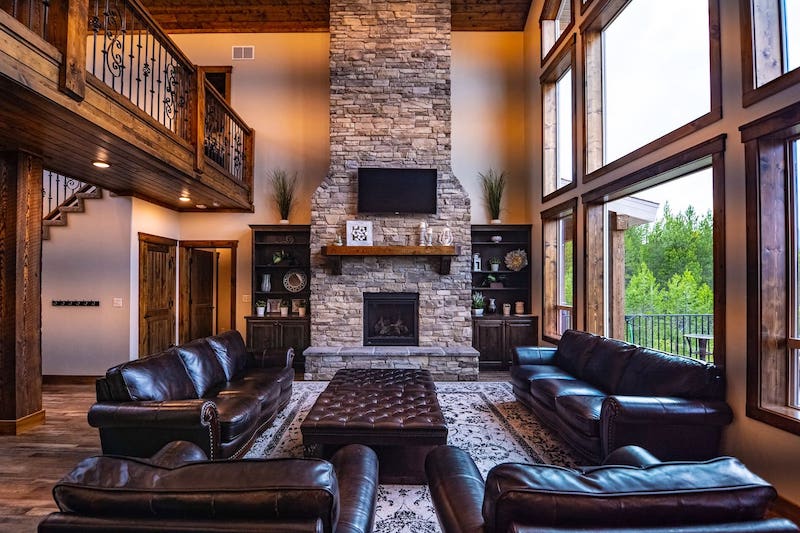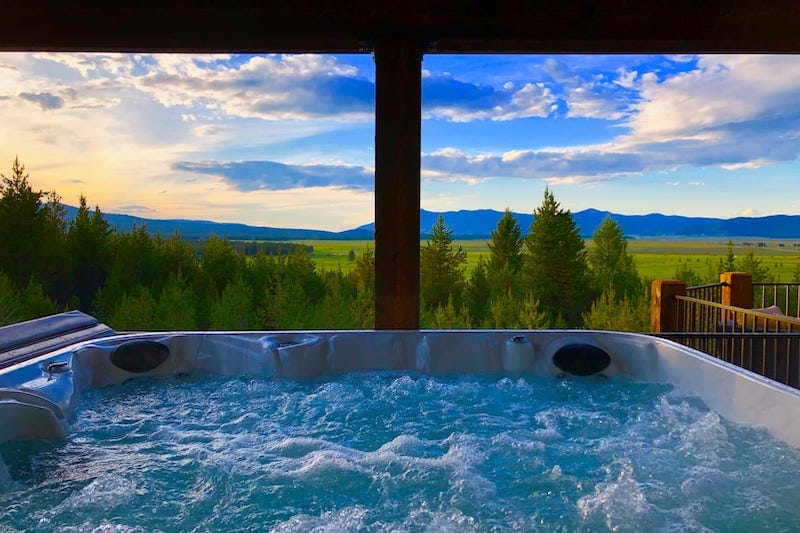 Location: Island Park, ID
Book here: https://www.airbnb.com/rooms/23943208
This entire house welcomes up to 30 guests and is a great choice if you plan to have a getaway with your friends or relatives. The location promises some fantastic views of Sawtelle Mountain and Henry Flats. It was built in the summer of 2018, so it's pretty new too!
The house is around 28 minutes away from the entrance of Yellowstone. Also, Grand Teton National Park and Jackson Hole are just one hour away. So, this is a great perk as well.
It has 6 bedrooms, 5.5 bathrooms, a screened-in porch, and a large deck with a hot tub. It also has a fully accessible 2-car garage along with a spacious area to park your vehicles!
This is a huge house; it has an area of 4820 sq. feet and another 2000 in the deck and porch space. It is equipped with flat-screen TVs, a fully-stocked kitchen, pool table, Xbox One, BBQ grill, etc.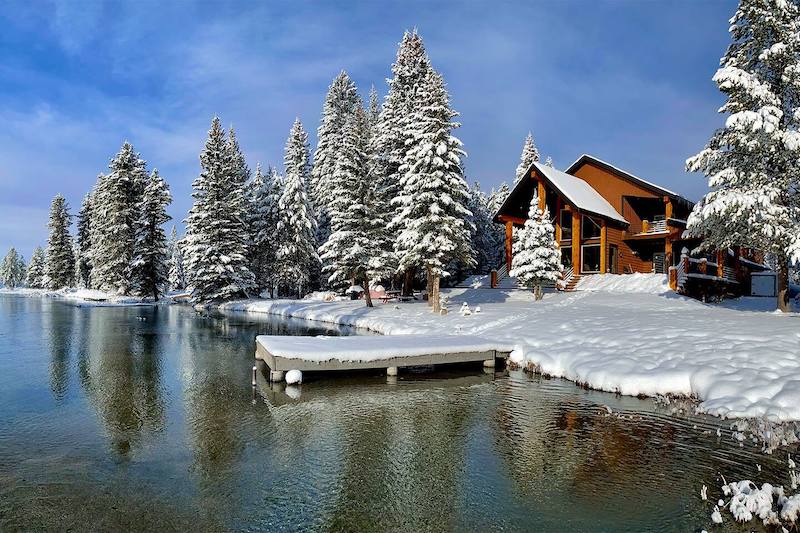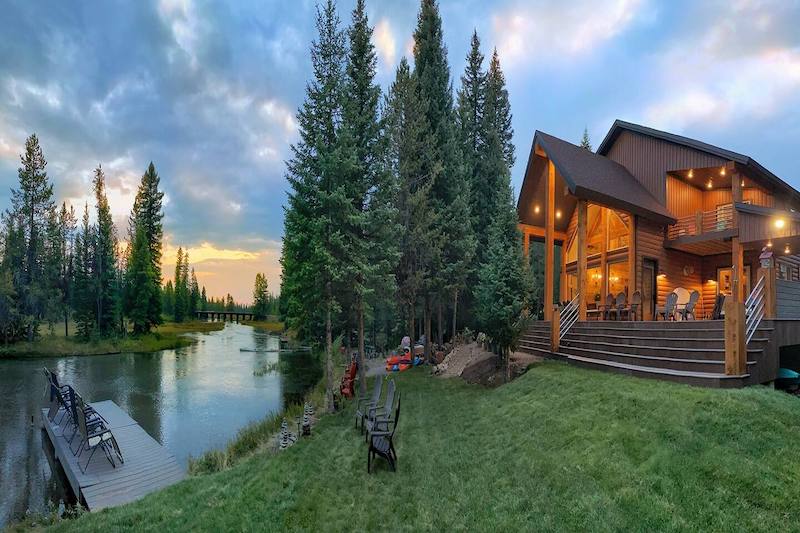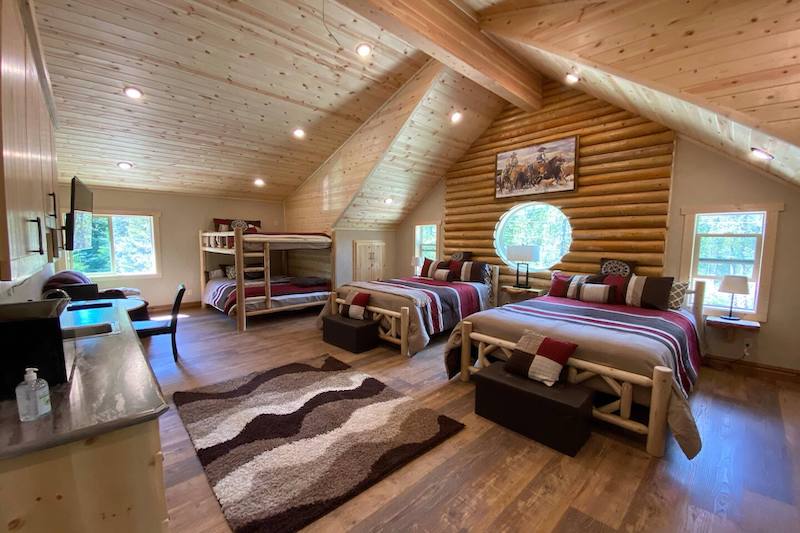 Location: Island Park, ID
Book here: https://www.airbnb.com/rooms/44088321
Merely 30 minutes away from Yellowstone National Park, this beautiful cabin is located in a pristine forest and is another excellent getaway idea.
The guests will have 2 suites, 2 bathrooms, 2 kitchens, sitting areas, and dining tables available for use in the apartment. There is also a separate entrance.
Apart from that, there is a riverfront, kayaks, dock, an outdoor cooking area with a grill and firepit that belongs to the hosts, but the guests are welcomed to use them.
Note that the apartment given to visitors is on the second floor, while the hosts live downstairs. Also, if you have a dog, be mindful of the fact that the owners do not allow them to enter the Airbnb.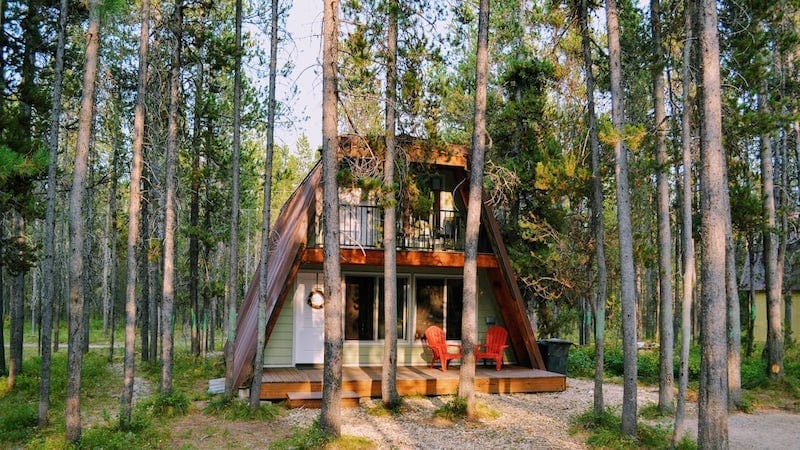 Location: Island Park, ID
Book here: https://www.airbnb.com/rooms/27631323
If you're looking for a comfy and cozy cabin in the woods while still near Yellowstone NP, then definitely consider this property!
The house is situated in the middle of Island Park, and getting to Yellowstone would require about 20 minutes of your time. It has an area of 1100 square feet, 3 bedrooms, and a huge deck.
The property includes a well-stocked kitchen, a living room that features a flat-screen TV, leather couches, and a gas fireplace. There is also a master bedroom, a bunk room, and a third bedroom. This is perfect for the 5 guests it can host.
The visitors are given access to the whole property. Moreover, the back of the property is adjacent to the national forest, which is entirely free to explore.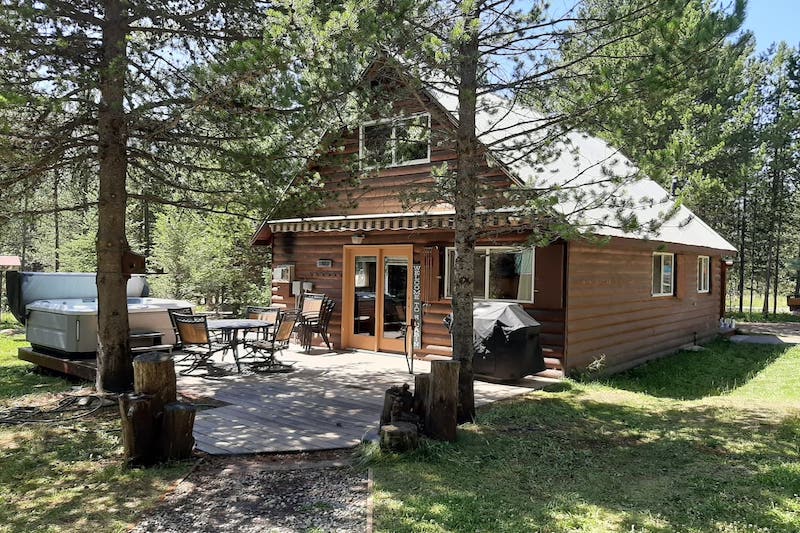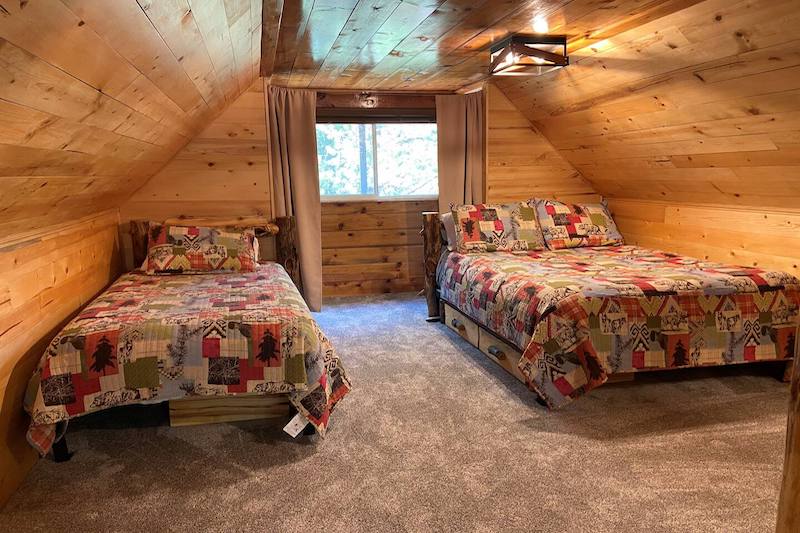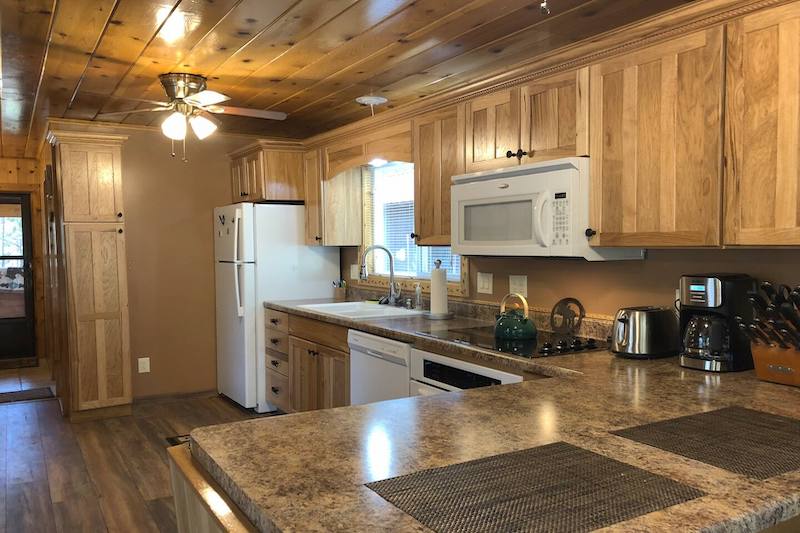 Location: Island Park, ID
Book here: https://www.airbnb.com/rooms/27140328
Classical, yet impressive… these are probably the best ways to describe this Island Park Airbnb!
"Uncle Tom's Cabin" is ready to welcome up to 8 guests under its roof. The location allows the guests easy access to ATVs (Trail #626) and snowmobiles (the groomed Shotgun Trail).
The cabin is accessible all year-round and is 30 miles from the entrance to West Yellowstone National Park. The location is perfect for doing some hiking, fishing, boating, and kayaking.
The house is equipped with a hot tub, outdoor grill, coffee machine, and other essential amenities available for guests.
Also, note that upon your rental, you will have the entire house and the lot for your usage.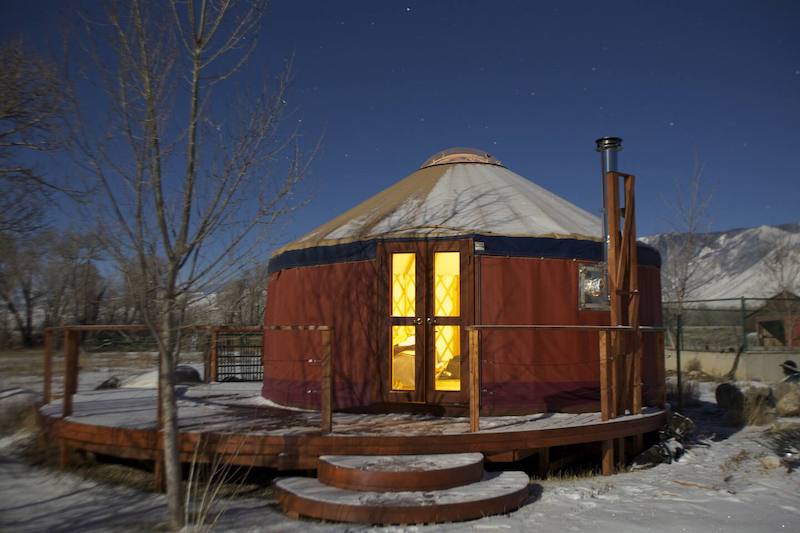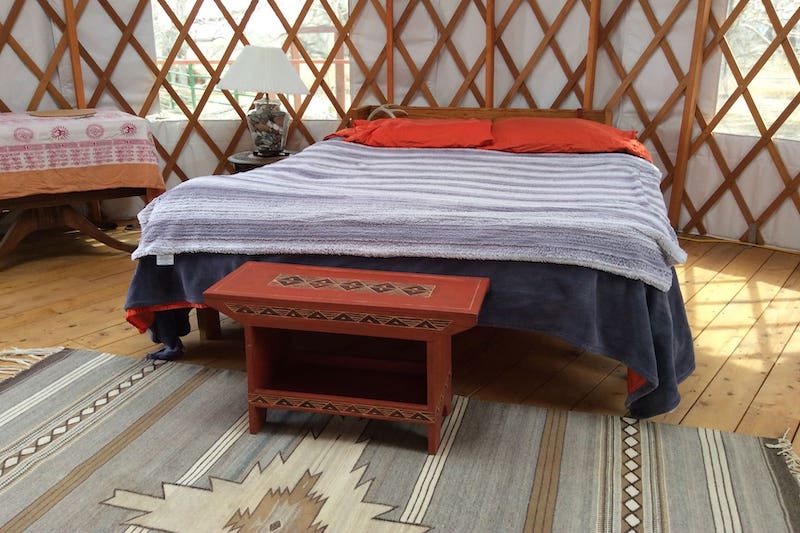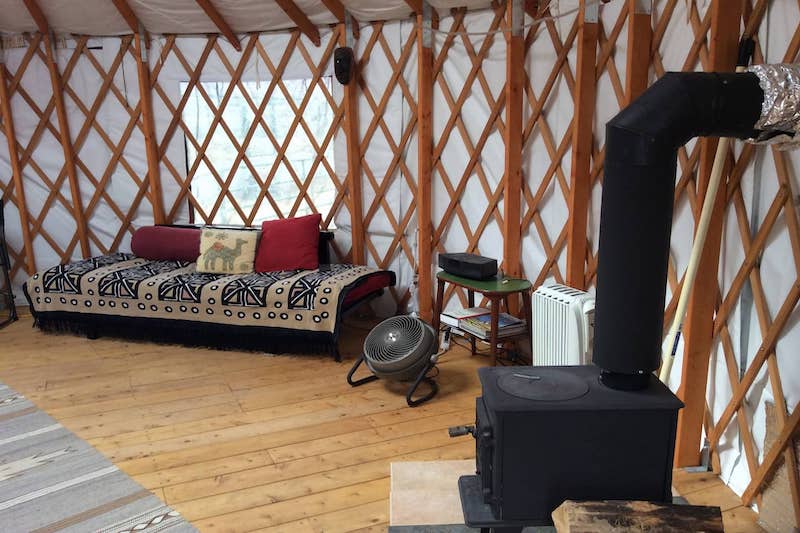 Location: Clark, WY
Book here: https://www.airbnb.com
This place is ideal and you can enjoy glamping at its finest. It is one of the best Airbnbs near Yellowstone National Park, especially if you're looking to stay somewhere that is not as packed with tourists.
The yurt has a unique design and is open for up to 3 people. It has one large room with 2 beds, and a private bath located 15 yards away in the main space. The deck overlooks the Beartooth Front Range.
Animal lovers will most probably find their happy place here as friendly llamas are guiding guests to their yurt. There are also 3 dogs and 3 cats living there, promising even more entertainment! The property also starts the day off with coffee and the world's best blueberry muffins.
There is quick access to restaurants, gas, and grocery stores nearby in Cody, Wyoming, and Red Lodge, Montana. You can also ask the hosts for some assistance in case you need help while planning your itinerary in Yellowstone or Grand Teton National Park.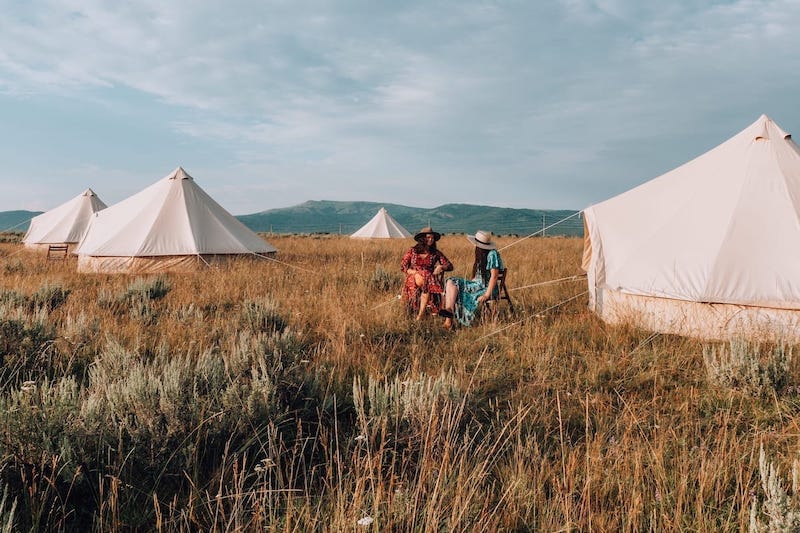 Location: West Yellowstone, MT
Book here: https://www.airbnb.com/rooms/44278404
Guests who prefer the power of nature over staying in excessively designed apartments will enjoy this beautiful glamping spot in West Yellowstone. The hosts promise that the nature and views from the tent are exceptional, with magnificent landscapes to gaze at and stunning sunrises to wake up to.
Wander Camp is about 15 minutes outside of West Yellowstone and very close to Henry Lake. The tents are made from sturdy waterproof canvas with many small windows and a large netted door.
They are distanced from each other, and each one has a size of 216 square feet, inside which there is a cozy furnished bedroom, chairs, side tables, and more.
Wander Camp offers one of the most unique Airbnbs in Yellowstone and one you should consider for your trip!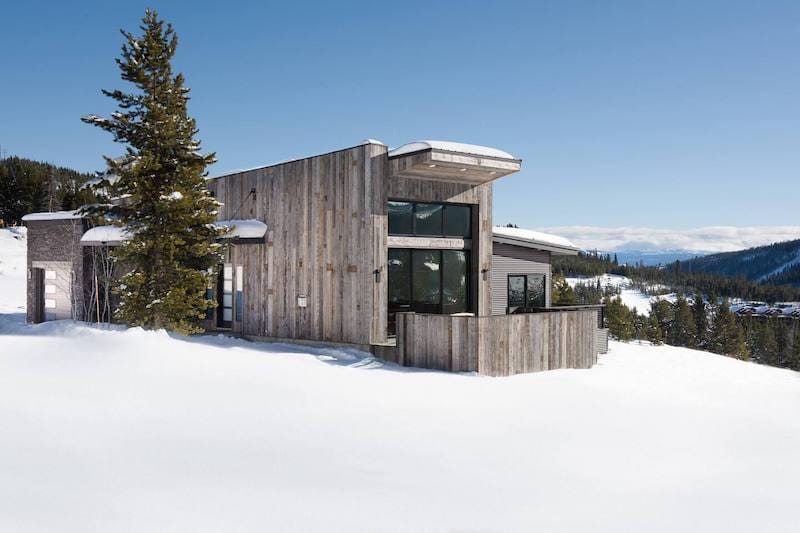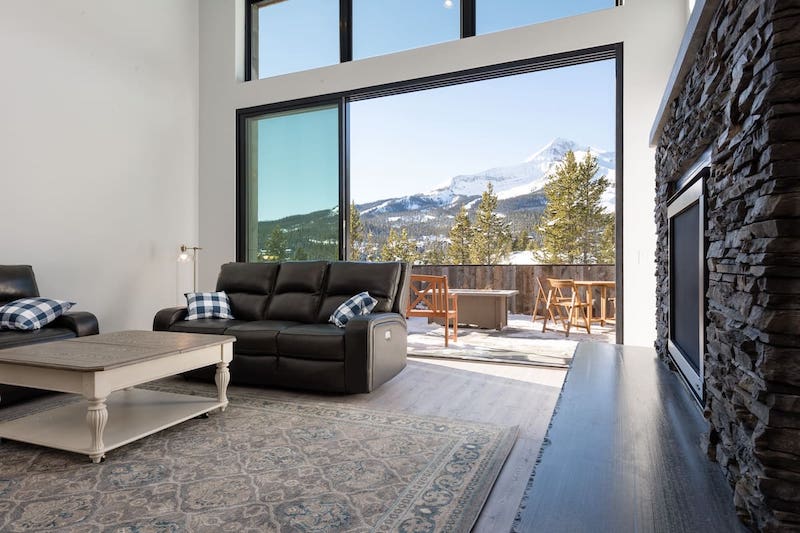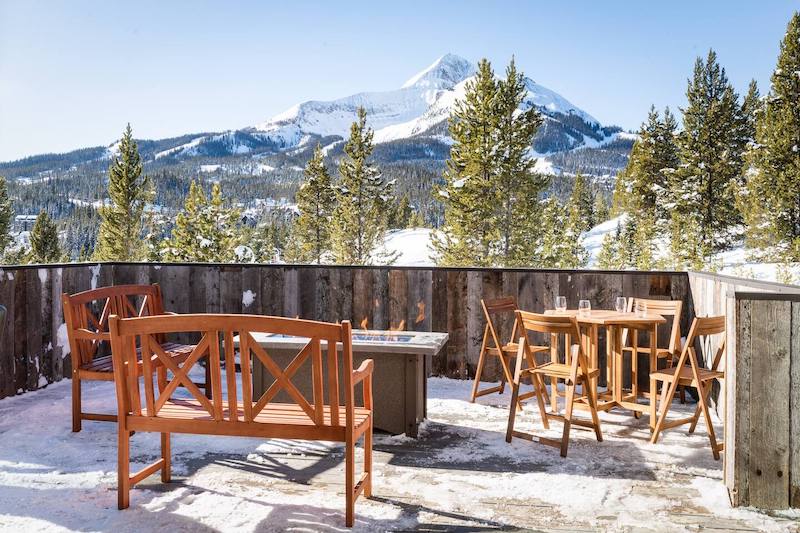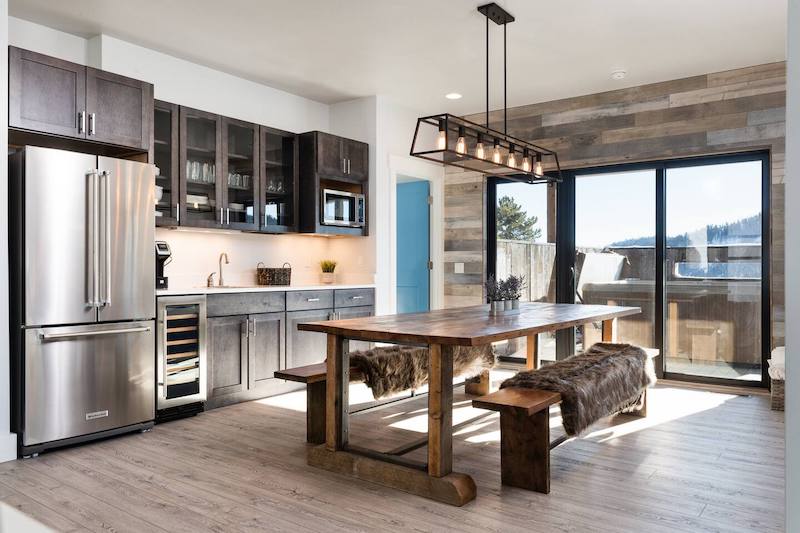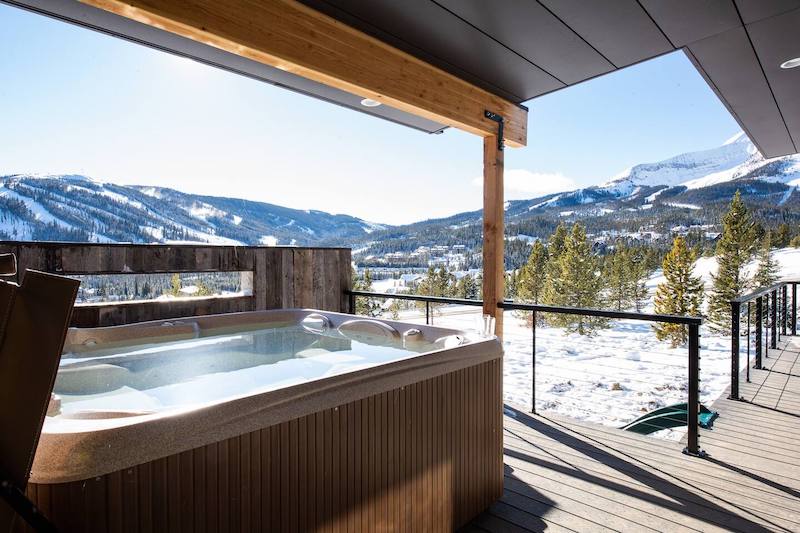 Location: Big Sky, MT
Book here: https://www.airbnb.com/rooms/30712266
This luxurious house with a contemporary design is another excellent place for a family or a big group vacation. It can accommodate up to 8 people.
According to its hosts, the dwelling has some fabulous views of Lone Park, not to mention that the living room has a direct view of Lone Mountain. Another amazing feature of this house is its large windows that open up to a vast deck with a hot tub, grill, and slide for the kids.
On top of all this, the place is quite separated from neighbors, allowing you a very intimate trip to Yellowstone.
You can relax in the hot tub or out on the deck in front of the outdoor fireplace or watch TV when you want to cozy up to the fireplace inside. For serving a tasty, homemade dinner, guests will have a large wooden table.
Also, if you're a fan of waking up to views of the mountains (shouldn't we all be?!), then take the master bedroom – you can enjoy some breathtaking views of Lone Peak in the morning!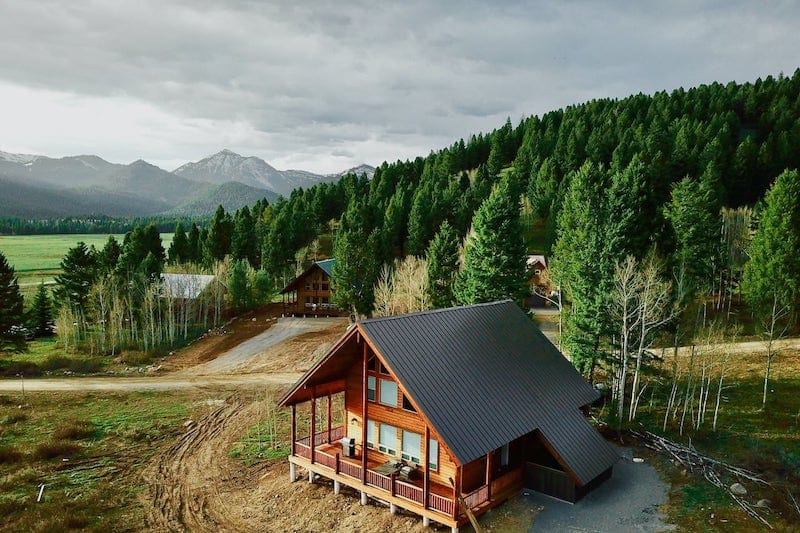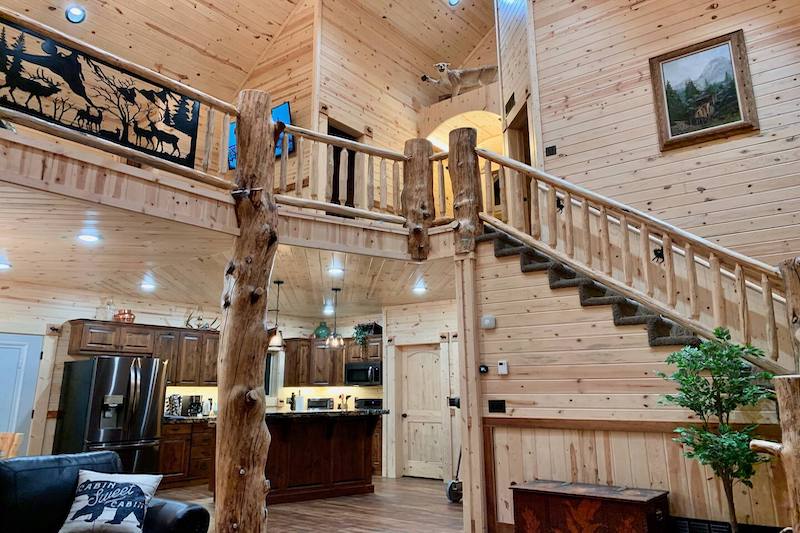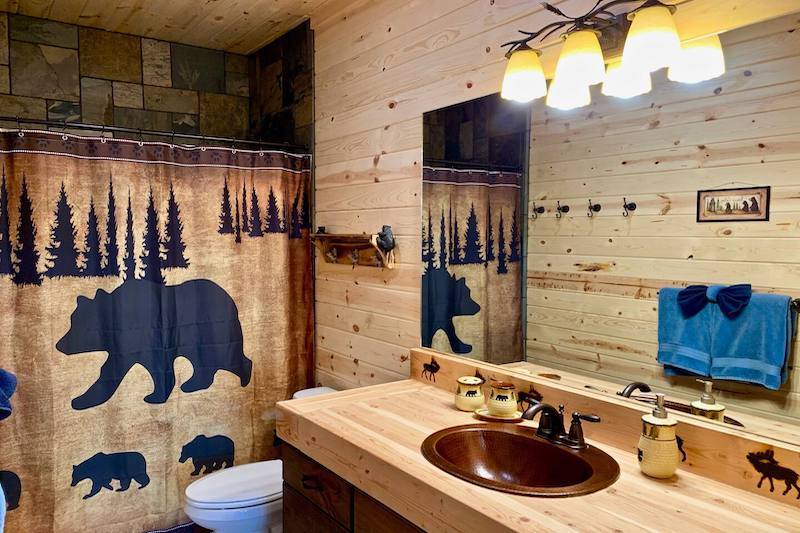 Location: Island Park, ID
Book here: https://www.airbnb.com/rooms/41416486
This fabulous cabin is the ultimate definition of peace and tranquility. It is located just 10 miles away from the Yellowstone National Park West Entrance and is the perfect Airbnb for those traveling in large groups. The cabin was built in 2020 and is brand new!
Staying at this house has many advantages, one of which is the breathtaking views of Henry's Lake Mountains and Targhee National Forest. Every window of the house has either a view of the mountains, forests, or meadows. You're literally surrounded by nature!
The house has 4 bedrooms, 3 bathrooms, 2 living rooms, and a spacious kitchen with an outdoor space for grilling, which provides a lot of room for some fun cooking.
Something to note about this place is that the hosts are pretty strict with the rule of not having more than 10 people staying or visiting the house (infants also count), so be mindful about that.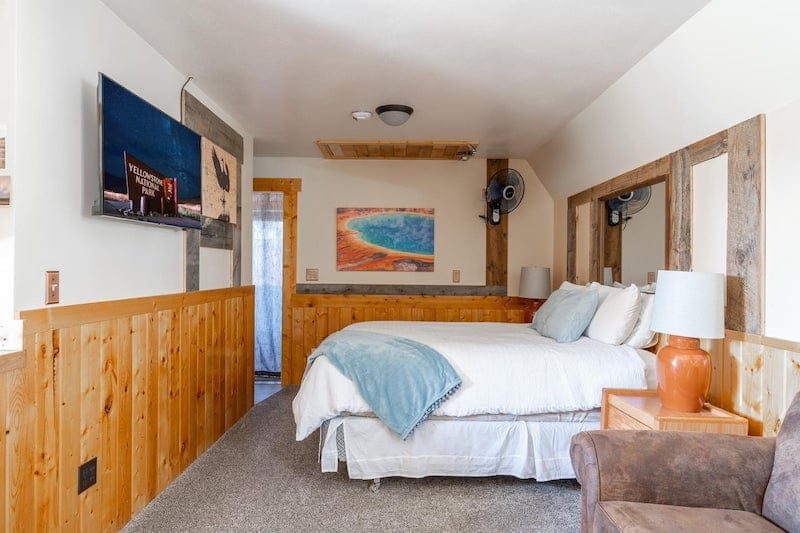 Location: West Yellowstone, MT
Book here: https://www.airbnb.com/rooms/37532975
This nice, yet relatively small West Yellowstone cabin is the perfect place for those visiting with 4 or fewer people.
Raven's Heart is located within walking distance of a fitness center, local attractions, restaurants, and shopping in the old town of West Yellowstone.
In the kitchen and bathroom, the home has heated floors. Another feature that's worth mentioning is that it has a vaulted ceiling and huge windows, making it feel like the room is more spacious than it actually is.
This property does not accept dogs.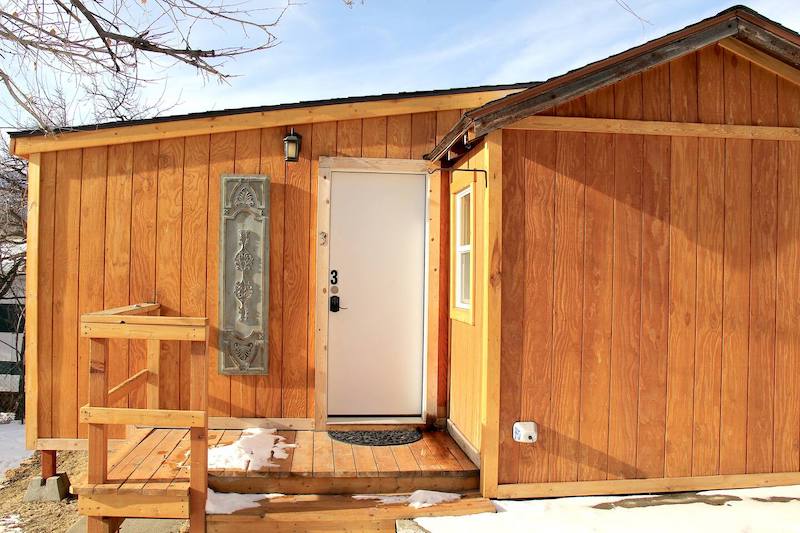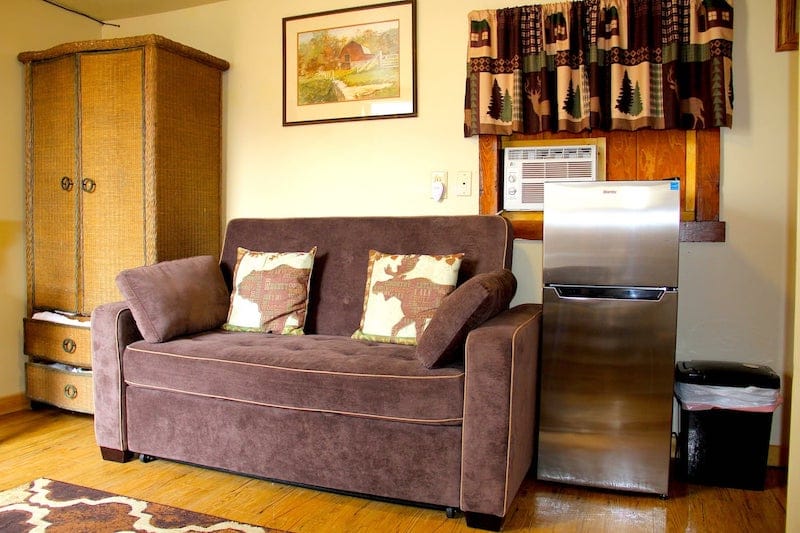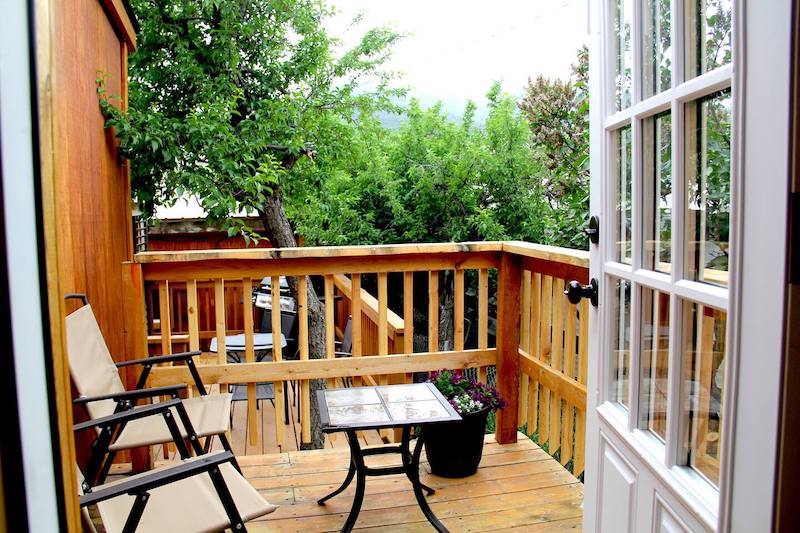 Location: Gardiner, MT
Book here: https://www.airbnb.com/rooms/31152004
These 6 miniature and comfy cabins are situated in the small town of Gardiner in Montana, a 2-minute drive from the North Entrance of Yellowstone National Park.
Just a walk distance away are a variety of pubs and restaurants, a post office, a bank, and many other entertaining places.
If you choose to stay here, be ready to be visited by some of Montana's wildlife – including elk and deer!
The cabins have the necessary amenities for kids, so don't hesitate to bring your little ones with you. But when it comes to parties and pets, note they're not allowed and there is a penalty fee.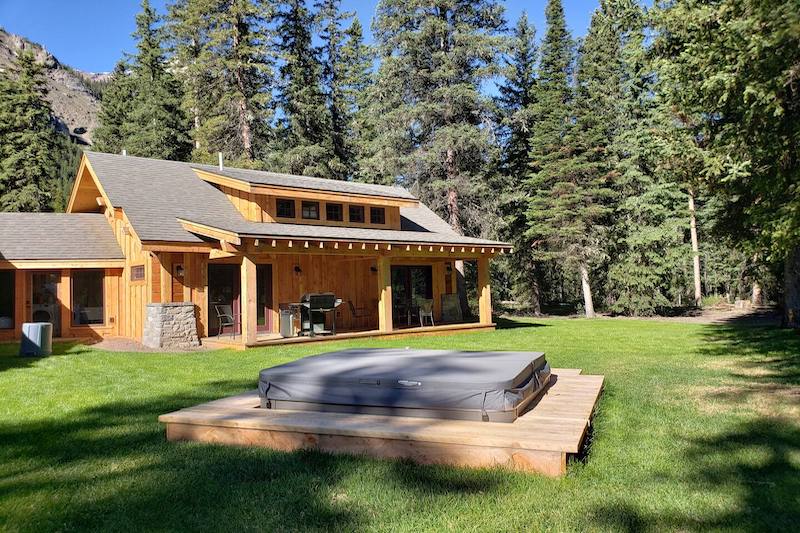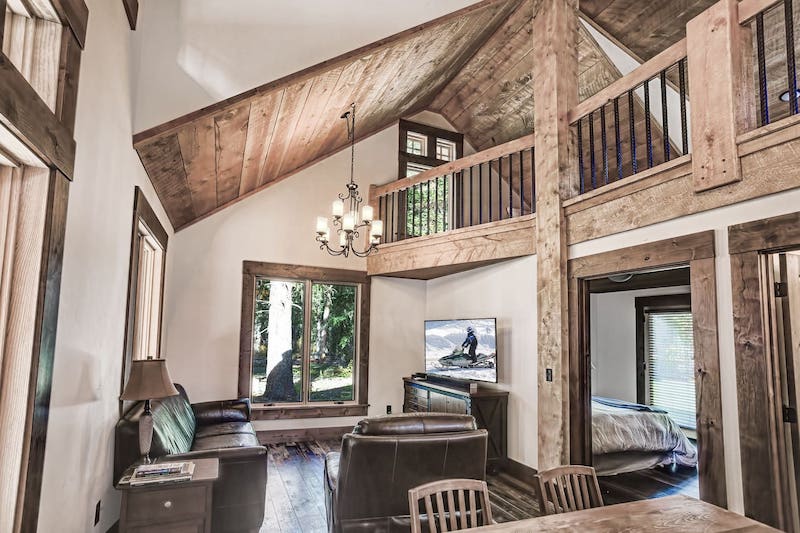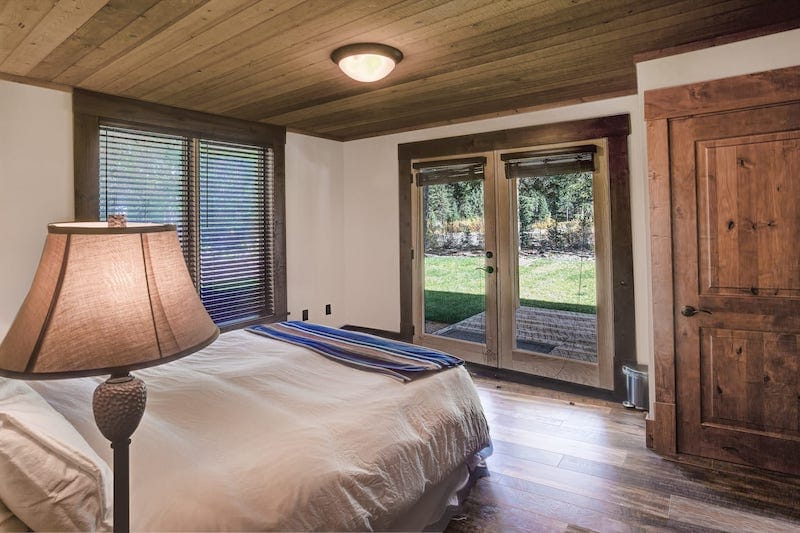 Location: Cooke City – Silver Gate, MT
Book here: https://www.airbnb.com/rooms/20917498
Ready to welcome up to 6 visitors, this chic guest house with a wooden design can be a suitable choice if you're planning your vacay in the area close to Yellowstone.
The hosts state that some of the most outstanding features of the place are the bedroom with a feather bed, a fully-equipped kitchen, and an open loft that creates a great spot for kids to enjoy their space and time.
This Airbnb near Yellowstone is located in Cooke City, MT. Being at an elevation of 7400 feet and only minutes from the Northeast Entrance to Yellowstone National Park, the property has some great options for summer and fall recreational activities.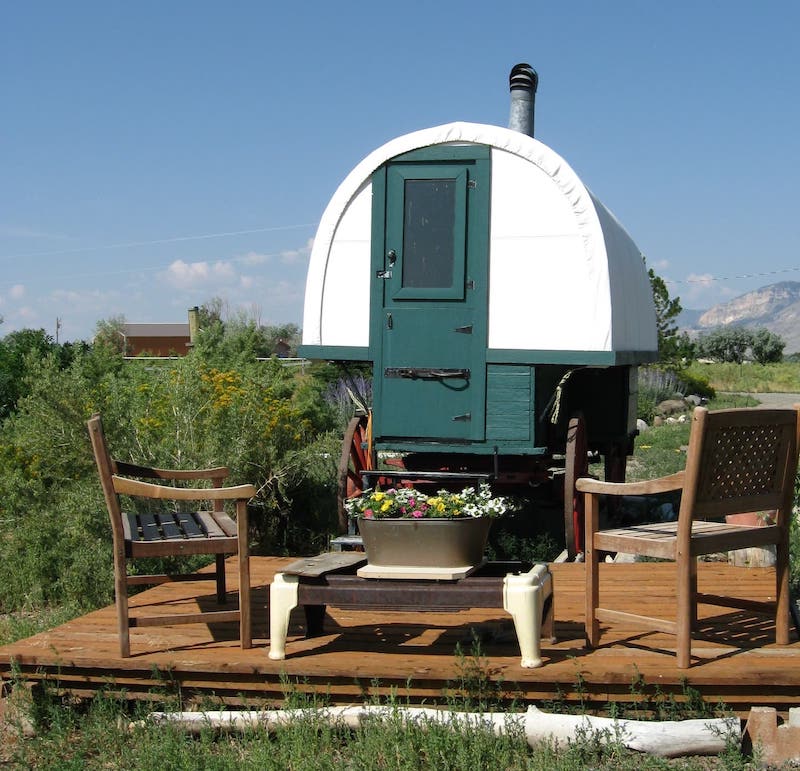 Location: Cody, WY
Book here: https://www.airbnb.com/rooms/3231554
If you're on a budget and want to enjoy a unique experience, check out this gorgeous Airbnb near Yellowstone!
Staying at this Yellowstone vacation rental will, even for a day, give you the vibes of how early ranchers lived with the only difference of having a more comfortable mattress!
The wagon has a bed and a couple of other amenities inside and also features a small deck with a table right in front of the entrance – an amazing spot to enjoy morning coffee or evening wine.
Bathroom and shower access for guests is in the main house through a separate entrance. It is located in Southfork Valley, which is known for its beauty and quietness.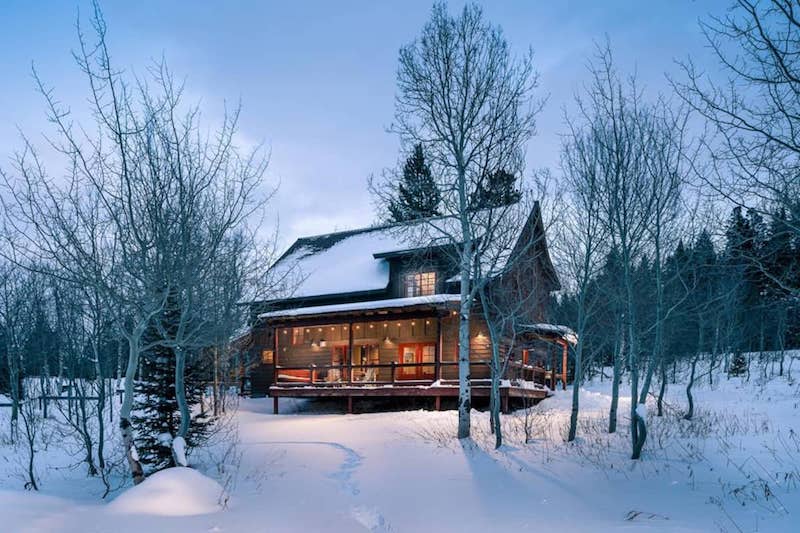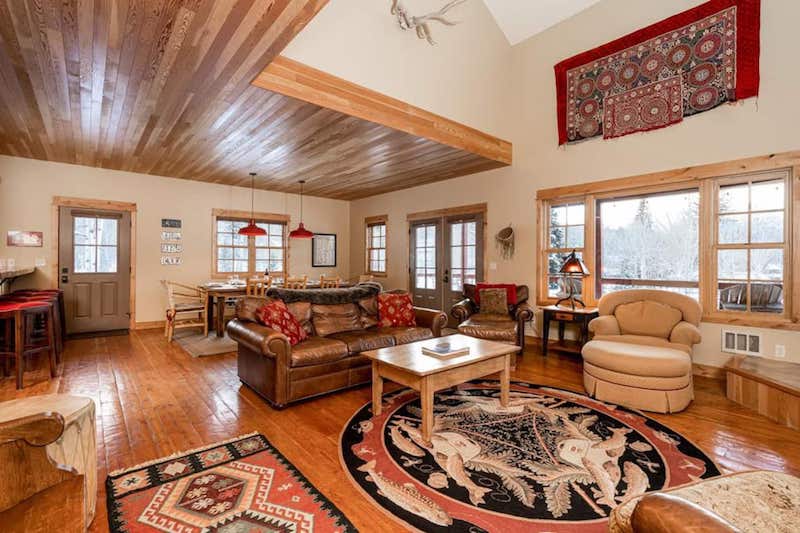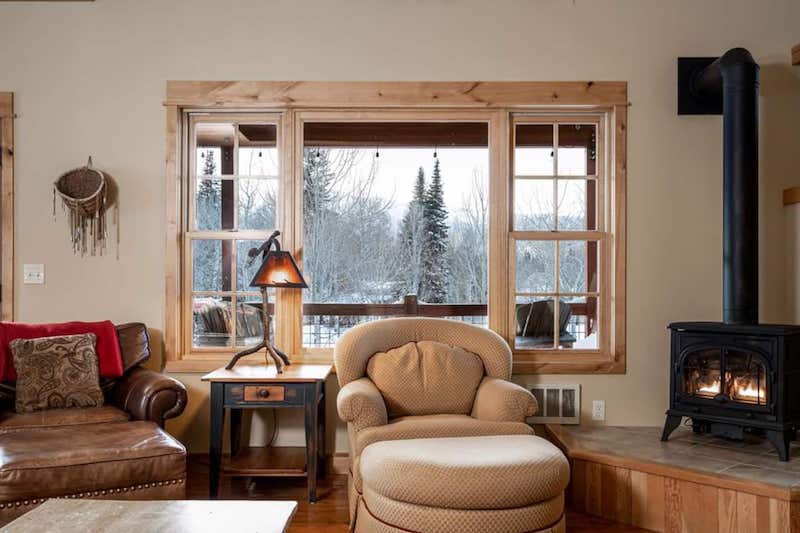 Location: West Yellowstone, MT
Book here: https://www.airbnb.com
Last but surely not the least one on the list is this cabin near Yellowstone National Park. It is excellent for families or a group of friends and is suitable for up to 8 people.
The time required to get from the house to Yellowstone National Park is about 8 minutes. In general, the location has some stunning views of Lionhead Mountain and surrounding peaks.
Being engulfed by hiking trails, mountain biking, and snowmobiling spots, the region where the house is located gives many ways of how the guests can spend their spare time when staying at the property.
The house has 4 bedrooms, a spacious, fully-equipped kitchen that opens up to the bar, a dining area, and a living room. There are also decks on three sides of the house, which makes an ideal place to enjoy coffee in the morning sunshine or evening sunset colors over the mountains.
These Airbnbs in Yellowstone National Park will provide you a fantastic place to stay regardless of whether you have two days in Yellowstone or longer!
Let us know your favorite Yellowstone Airbnbs in the comments!
ABOUT THIS LAND
Yellowstone National Park is on the unceded land of the Assiniboine and Sioux, Blackfeet, Cheyenne River Sioux, Coeur d'Alene, Comanche, Colville Reservation, Crow, Crow Creek Sioux, Eastern Shoshone, Flandreau Santee Sioux, Gros Ventre and Assiniboine, Kiowa, Little Shell Chippewa, Lower Brule Sioux, Nez Perce, Northern Arapaho, Northern Cheyenne, Oglala Sioux, Rosebud Sioux, Salish and Kootenai, Shoshone–Bannock, Sisseton Wahpeton, Spirit Lake, Standing Rock Sioux, Turtle, Mountain Band of the Chippewa, Umatilla Reservation, Yankton Sioux peoples. We ask you to join us in acknowledging their communities, their elders both past and present, as well as future generations.
We also acknowledge that Yellowstone National Park was founded upon exclusions and erasures of many Indigenous peoples, including those on whose land these US National Parks are located.
⇒ Do your research before visiting National Parks and places in the US. Native Land and Whose Land are good starting points.
⇒ Hire Native guides when possible and encourage National Parks and government organizations to start hiring them.
⇒ Donations matter. Part of the proceeds from this blog is donated monthly to the Native Women's Wilderness.
Additional Reading
Pin this Airbnb Yellowstone Travel Guide!