Paragliding in Interlaken is a unique and thrilling experience. And this guide will tell you everything you need to know before you go!
Are you planning your trip to Interlaken last minute?
If youʻre booking your trip to Interlaken last minute, we have you covered. Below are some of the top tours, hotels, and more!
🇨🇭 Top Experiences and Tours in Interlaken:
Boat day pass for the lakes (wheelchair-accessible option)
🛌 Top Hotels in Interlaken:
🚗 Visiting Interlaken independently? Be sure to book your rental car ahead of time to ensure availability!
In Interlaken, you have the chance to go tandem paragliding, which involves flying in a paraglider designed for two individuals with the pilot situated in the back and the passenger in the front.
This year-round activity is one of Interlaken's most popular and it allowed me to admire the stunning views of the Swiss Alps from a bird's eye view (and make once-in-lifetime memories from the amazing location!).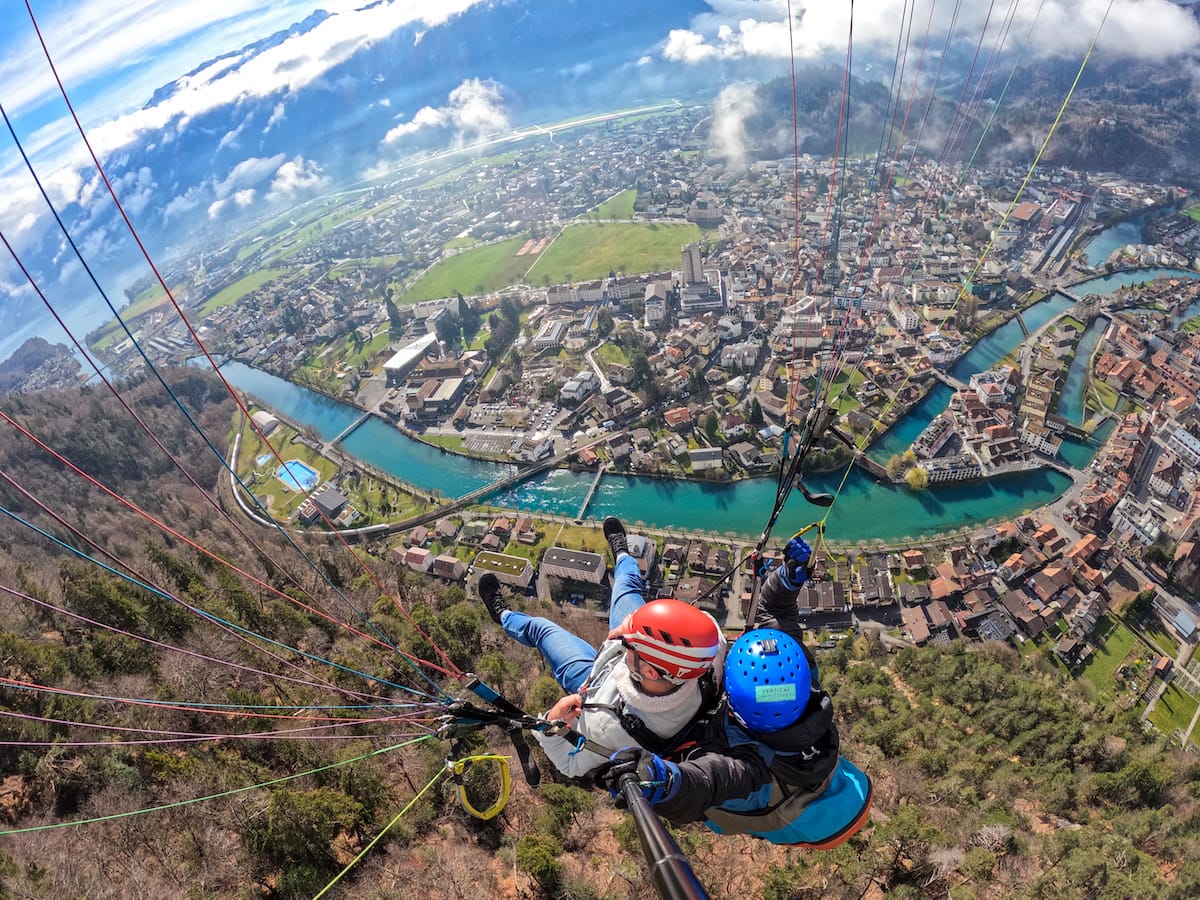 This article will tell you all you need to know about booking an Interlaken paragliding flight, how to book it, what to expect, and more.
If we missed anything about paragliding in Interlaken, let us know in the comments and we will try to answer!
Why I Signed Up for Paragliding in Interlaken
Interlaken, a picturesque town in the Swiss Alps, is a popular destination for adventure sports enthusiasts from all over the world.
Paragliding stands out as a favorite among visitors among the many thrilling activities available in Interlaken, like winter kayaking in Interlaken.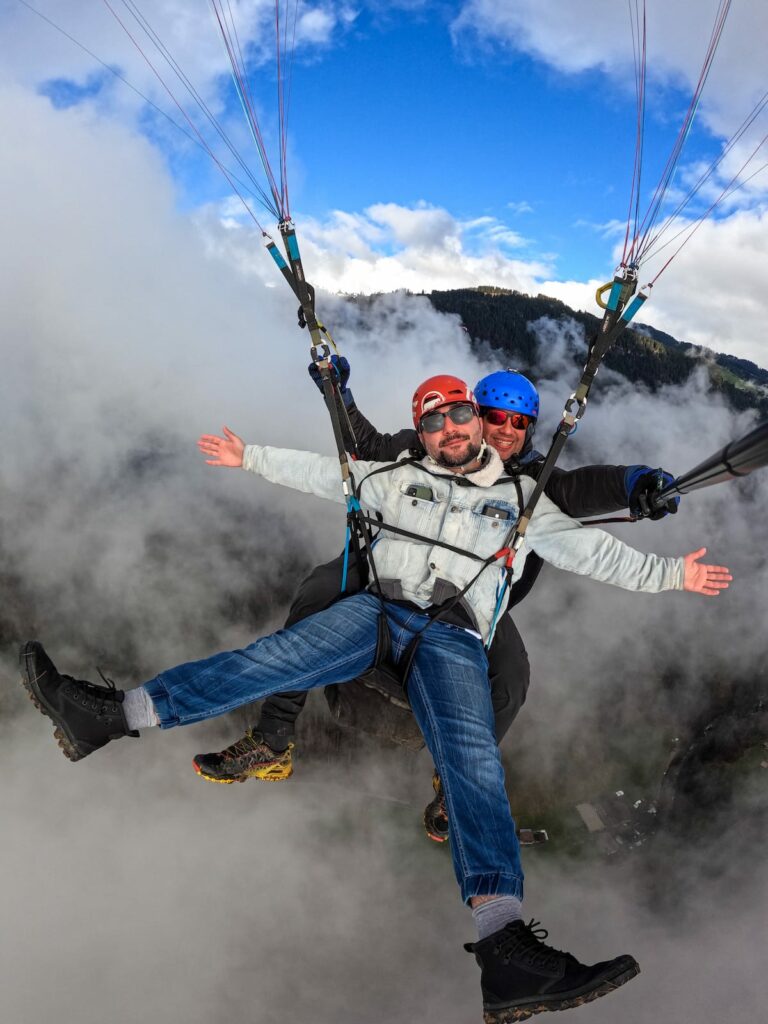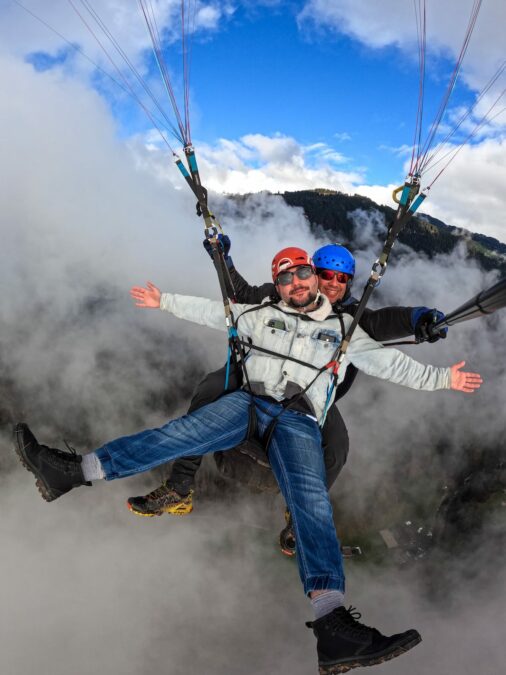 Paragliding in Interlaken offers breathtaking views of the surrounding snow-capped mountains, green valleys, and pristine lakes.
To see the stunning natural beauty of the Swiss Alps from above was my long-time goal, and paragliding in Interlaken is an unforgettable adventure that offers that unique perspective.
BOOK HERE: Paragliding in Interlaken
It's a once-in-lifetime thrilling and peaceful experience suitable for people of almost all skill levels and ages.
How to Book a Paragliding Tour in Interlaken
I booked my paragliding in Interlaken tour via Manawa, one of our reliable partners, and the process was fast and easy!
Following my last-minute booking, I swiftly received a confirmation email.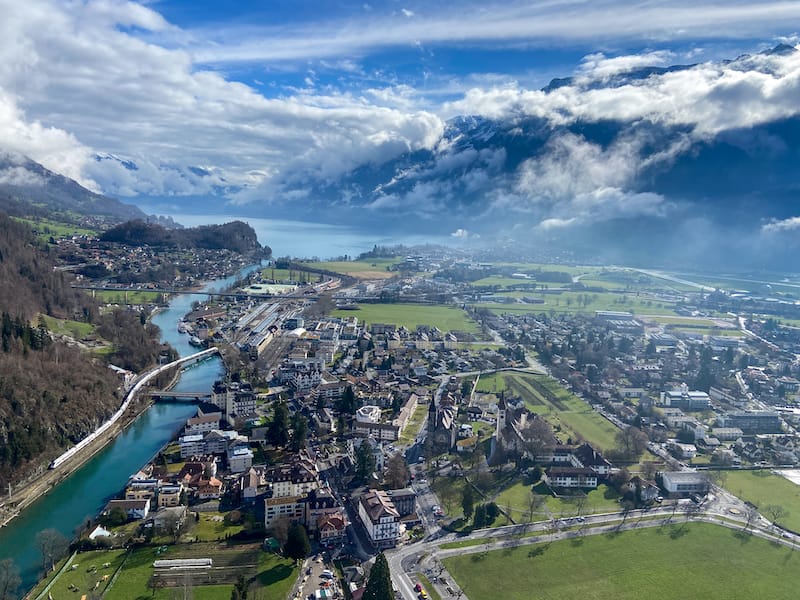 Only a day later, I got picked up by the organizers and fellow adventurers at my hotel to embark on the Interlaken paragliding adventure.
Book your Interlaken paragliding trip here!
Where to Meet on the Day of the Tour
The meeting point for paragliding is the Skywings shop at 72 Höheweg, or Outside Schuh Café, 56 Höheweg depending on your email communication.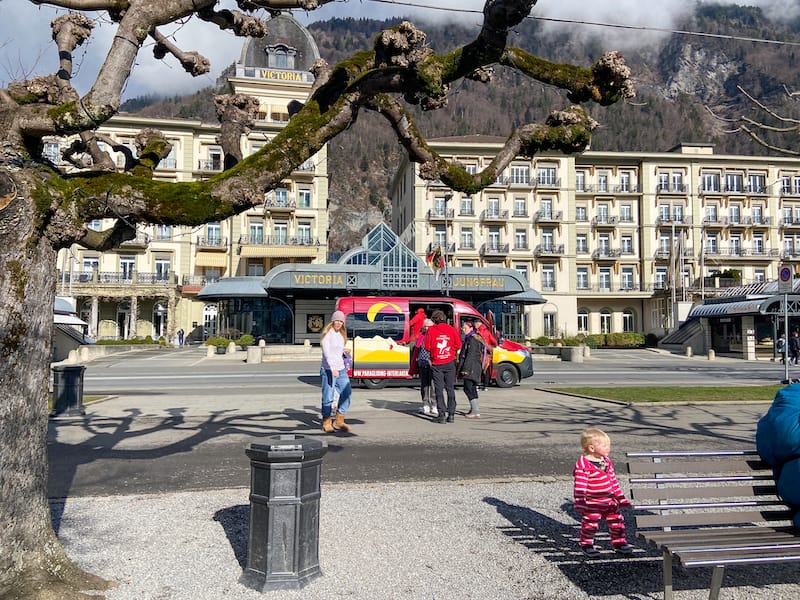 Also, you can get picked up from your hotel if the place you're staying is not nearby.
Make sure you mention that while booking it.
Highlights (& My Experience) from Paragliding in Interlaken
Duration: 1.5 hours
Meeting Point: Skywings shop at 72 Höheweg, or Outside Schuh Café, 56 Höheweg
Language: English, French, German
✅ CLICK HERE TO BOOK!
Our paragliding experience began after the 20-minute ride to the top of the hill that surrounded the town.
After picking the card with the name of our instructor and tour guide, we reached our endpoint.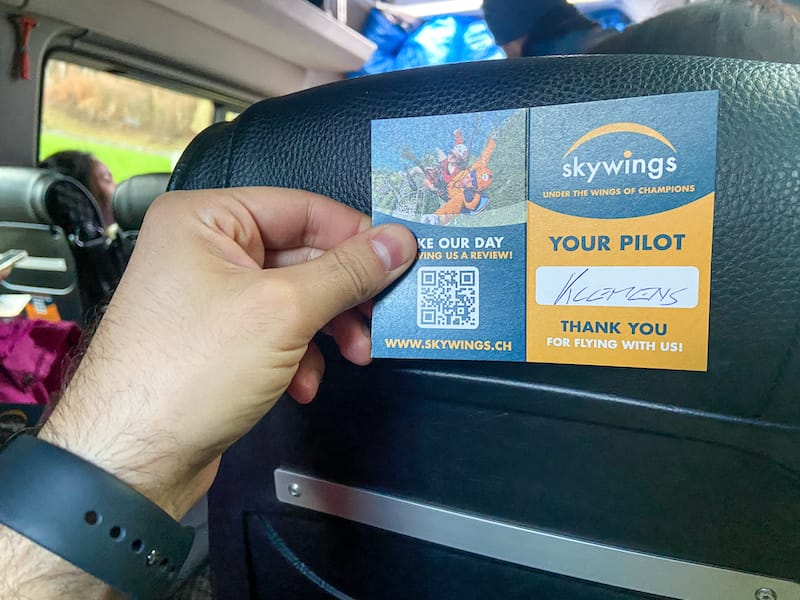 After a short hike up (a 10-minute easy walk) to one of the nearby mountains, we received a safety briefing and were harnessed by an experienced instructor.
Safety Briefing
Safety is always a top priority in paragliding, and all equipment is checked and maintained regularly to ensure a safe and enjoyable experience for all participants.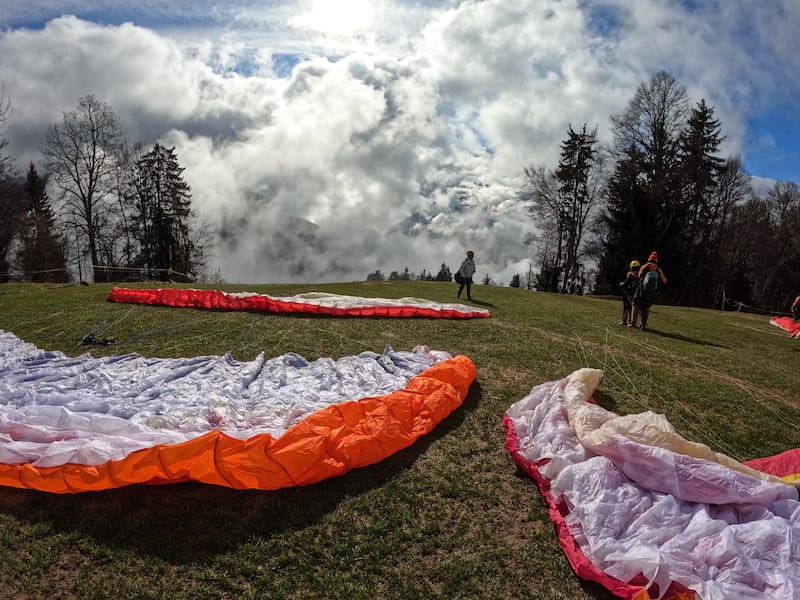 So pay attention to your guide's brief training about what to do or not to do during the takeoff, flight, and landing.
The instructor will guide the flight, controlling the wing and steering the paraglider through the air.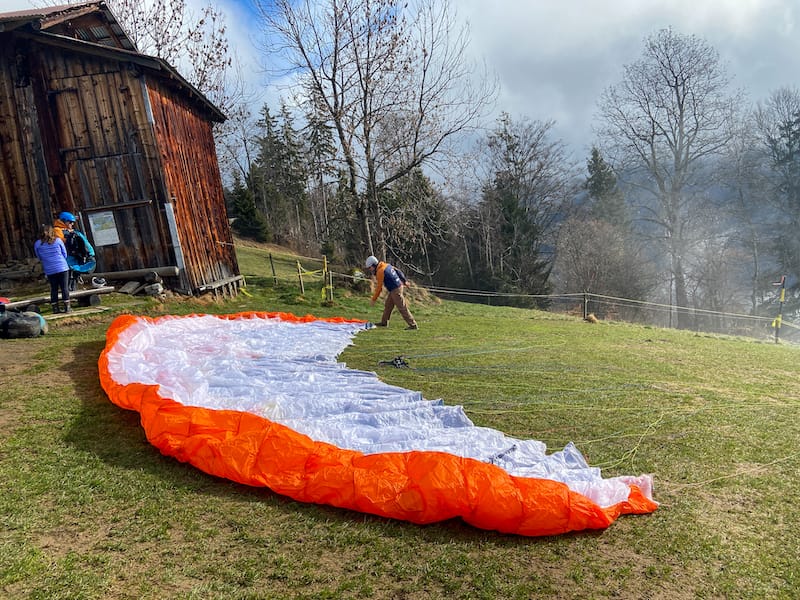 The flight can last anywhere from 10 minutes to over an hour depending on the weather conditions.
The instructors are experienced and knowledgeable, and they will guide participants through every step of the flight.
Taking off
At first, it was cloudy and hazy, and I was worried that we won't see anything, but after our run and dive into the clouds, the views changed drastically.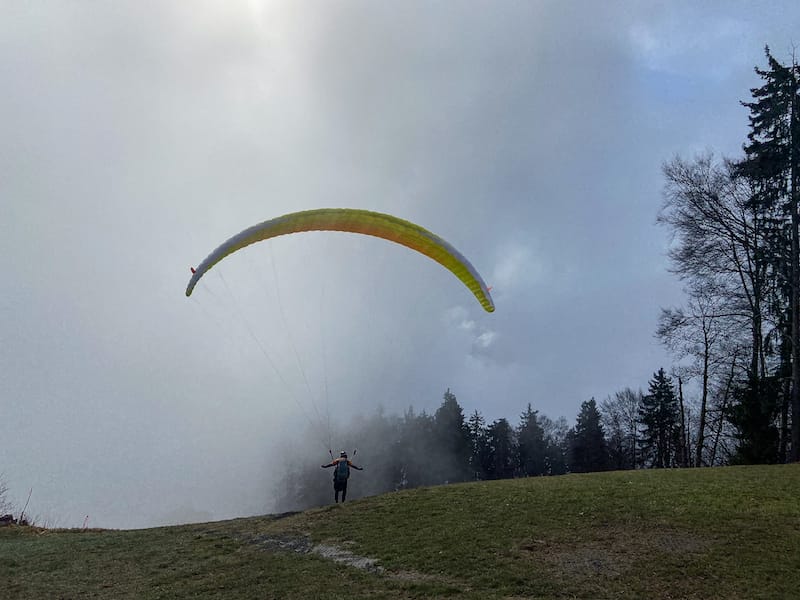 Here we are breaking through the thick layer of clouds, and soaring above the snow-capped mountains, green valleys, and pristine lakes of Interlaken.
The views were getting more phenomenal and mesmerizing.
I was holding my breath from the feeling that I'm flying like a bird surrounded by stunning nature and dramatic mountains.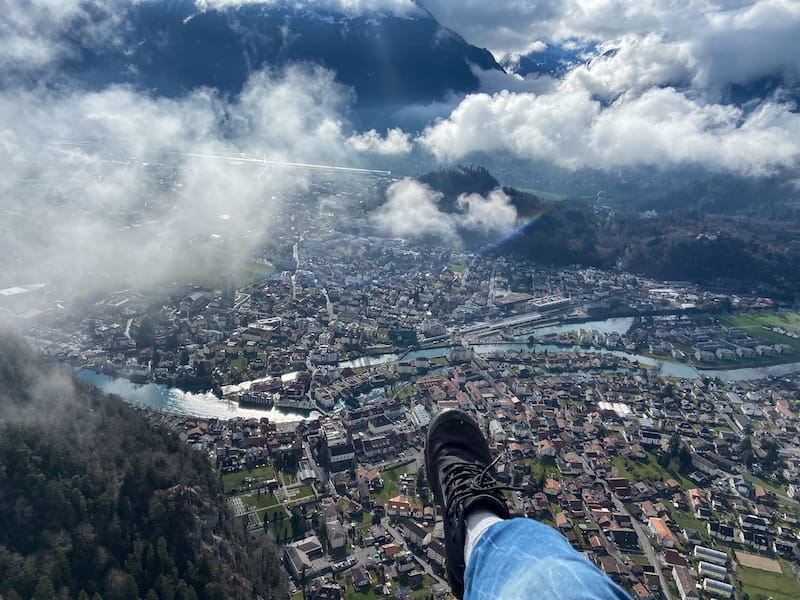 I was experiencing a rush of adrenaline as we were gliding through the air and enjoying a unique view of the stunning natural beauty of the Swiss Alps.
Interlaken from above looks like a town trapped between high mountains and lakes that glows on the surface of the picturesque landscape under the rays of the morning sun.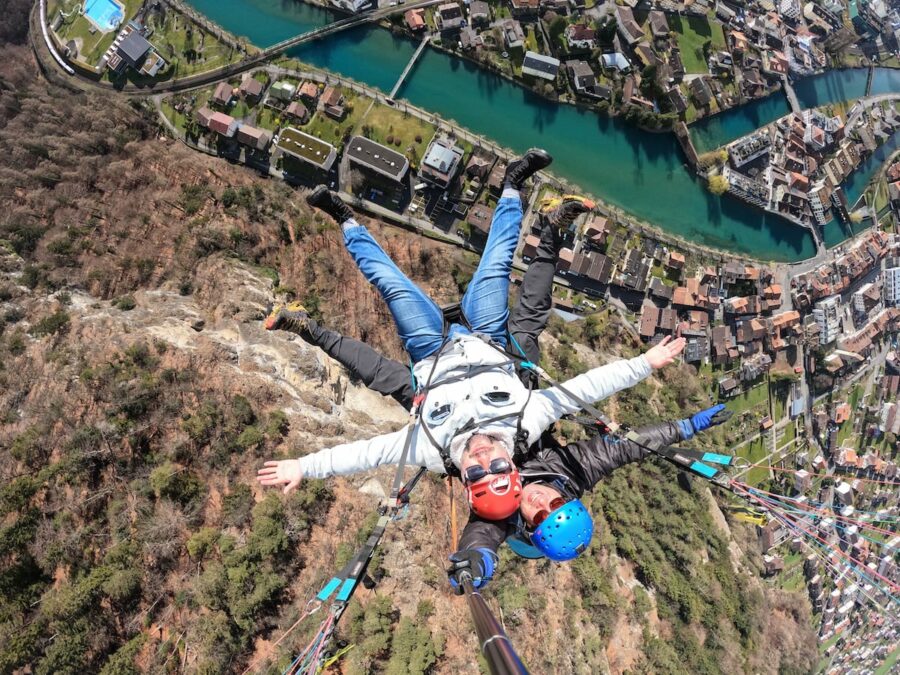 From my vantage point, I had a view of the magnificent peaks of the Eiger, Mönch, and Jungfrau mountains, as well as the shimmering turquoise waters of the Thun and Brienz lakes.
Landing
As we were getting closer and closer to the town, our landing spot was coming closer into view. It was a big green flat space known as Schlosspark.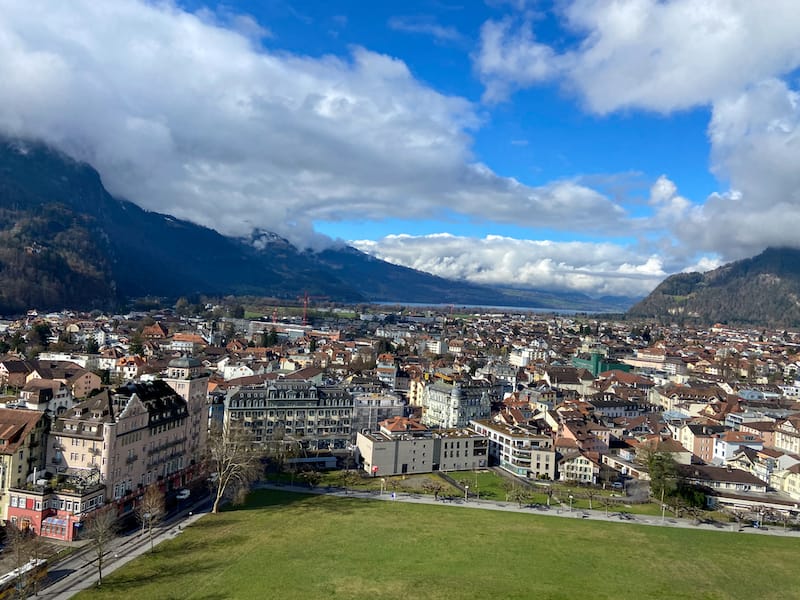 Before the landing, the instructor asked if I wanted another adrenaline rush, and after getting my consent, he started to swing the parachute and we started to make big swings in the sky right above the town.
BOOK HERE: Go Paragliding in Interlaken!
The feeling is truly unforgettable.
At first, you feel that you are falling, then after swinging to the opposite side, you feel how the wind picks you up and you start to do the process again.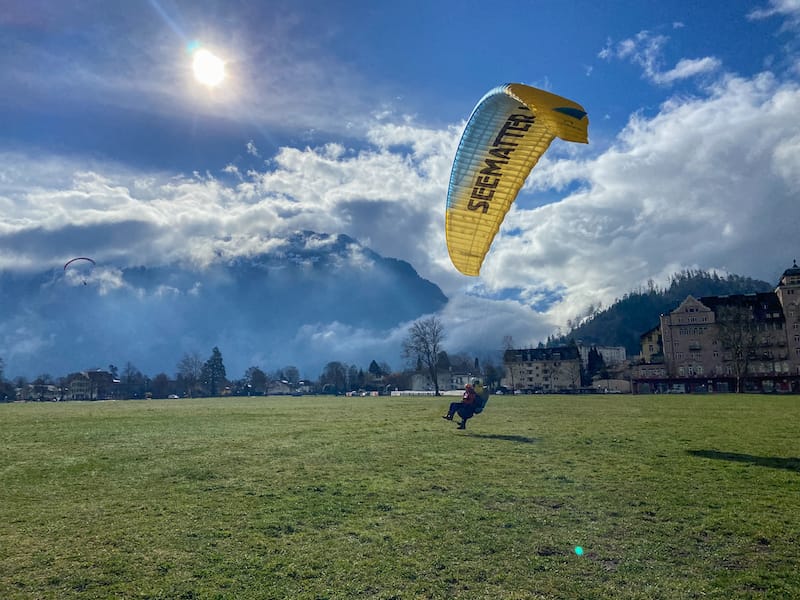 During the landing, make sure to listen to the instructor and as you are close to the ground, you need to run a bit so he can easily stop. It is an easy process and you won't have any issues.
What to Know Before You Go
For safety reasons, there is a maximum weight limit for this activity, which varies depending on the season and time of day. Please ensure you meet these requirements before making a booking.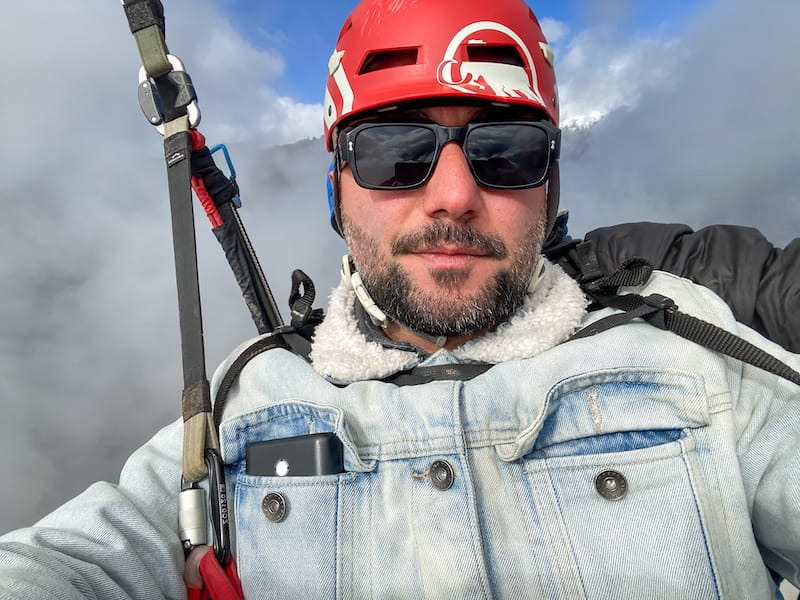 During the summer season (April-October), the weight limit is 90kg/200lbs until 4 PM, and 80kg/180lbs after 4 PM.
In the winter season (November-March), the weight limit is 90kg/200lbs for the 9.45 AM, 11 AM, and 12.15 PM slots, and 80kg/180lbs for the 8.30 AM, 1.45 PM, and 3 PM slots.
The experience includes a video or photo service, allowing participants to capture their unforgettable experiences. It is possible to purchase after the flight on the spot.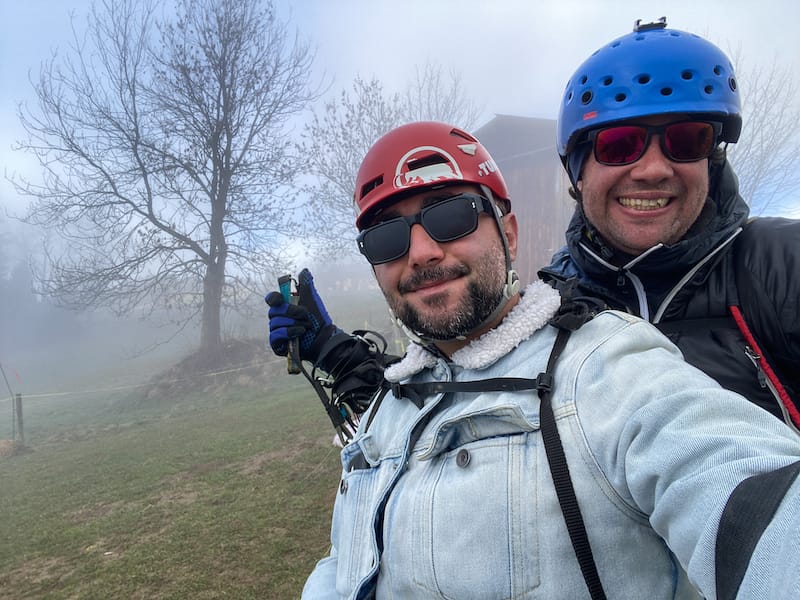 If you are using your own GoPro, phone, or other devices, you must have some special type of equipment or attachments that will prevent your devices from falling and potentially damaging something or someone.
Do you have any questions about going paragliding in Interlaken?
Let us know your questions about Interlaken paragliding flights… and also let us know what your favorite part was if you have already taken one yourself!
More Switzerland Travel Guides
Pin this Interlaken Paragliding Guide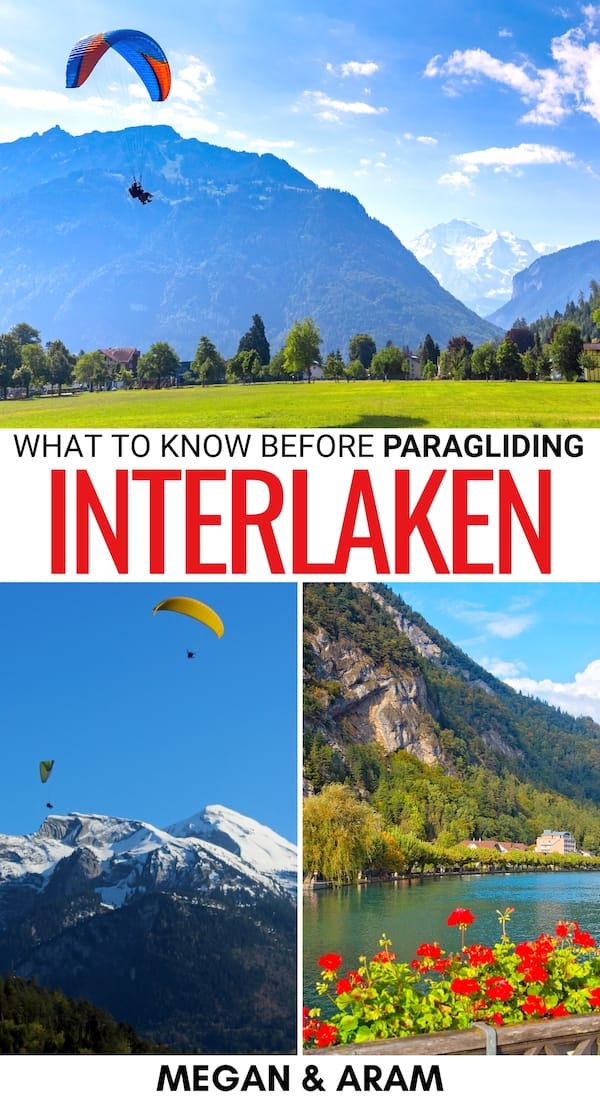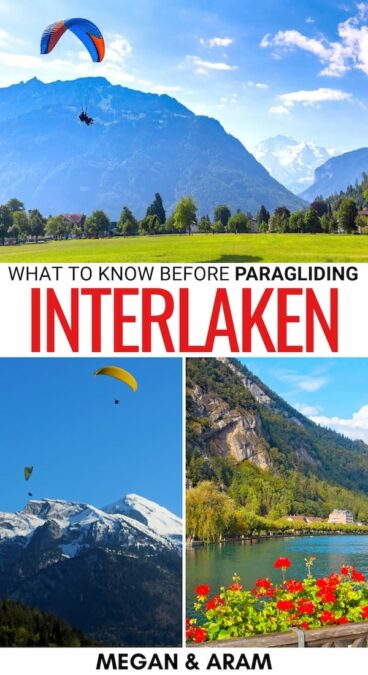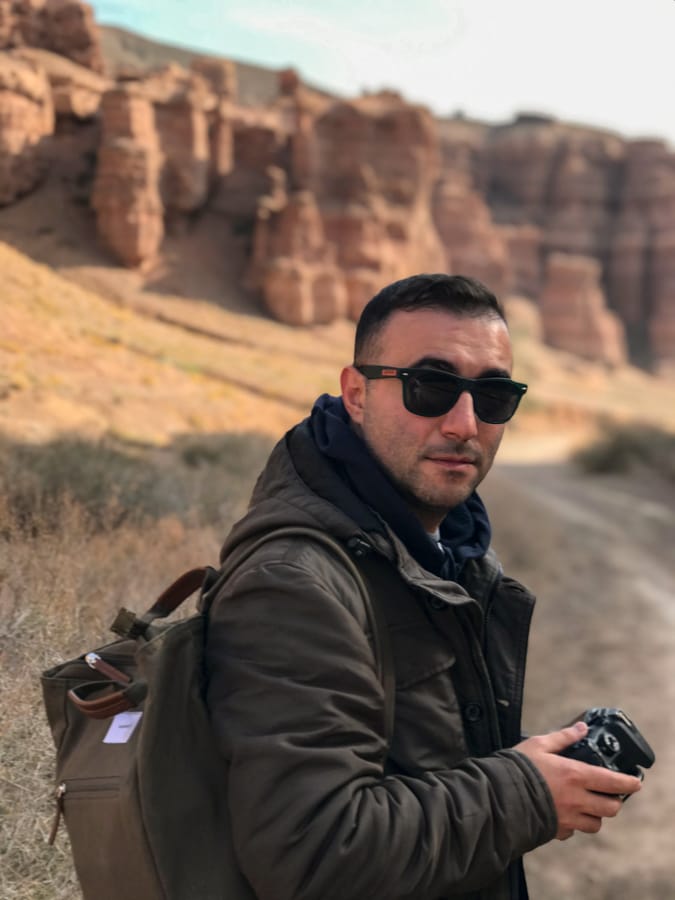 Aram is a travel blogger and writer from Armenia who spends his time between Spain and his home country. He is passionate about music and football (the European kind) and covers a lot of Western European destinations on the blog. Aram is a laidback traveler who enjoys meeting new people and finding the best food in each city that he visits (hence his frequent trips to France, Italy, and Greece!). He has been featured in (or written for) Forbes, BBC, The Guardian, Fodor's Travel, and more.