One of the best experiences in Norway and Scandinavia is staying at an ice hotel. This is a list of the best ice hotels in Norway.
It includes ice parks and places that are seasonally built from ice during the winter months in Norway (and one that stays open all year round)!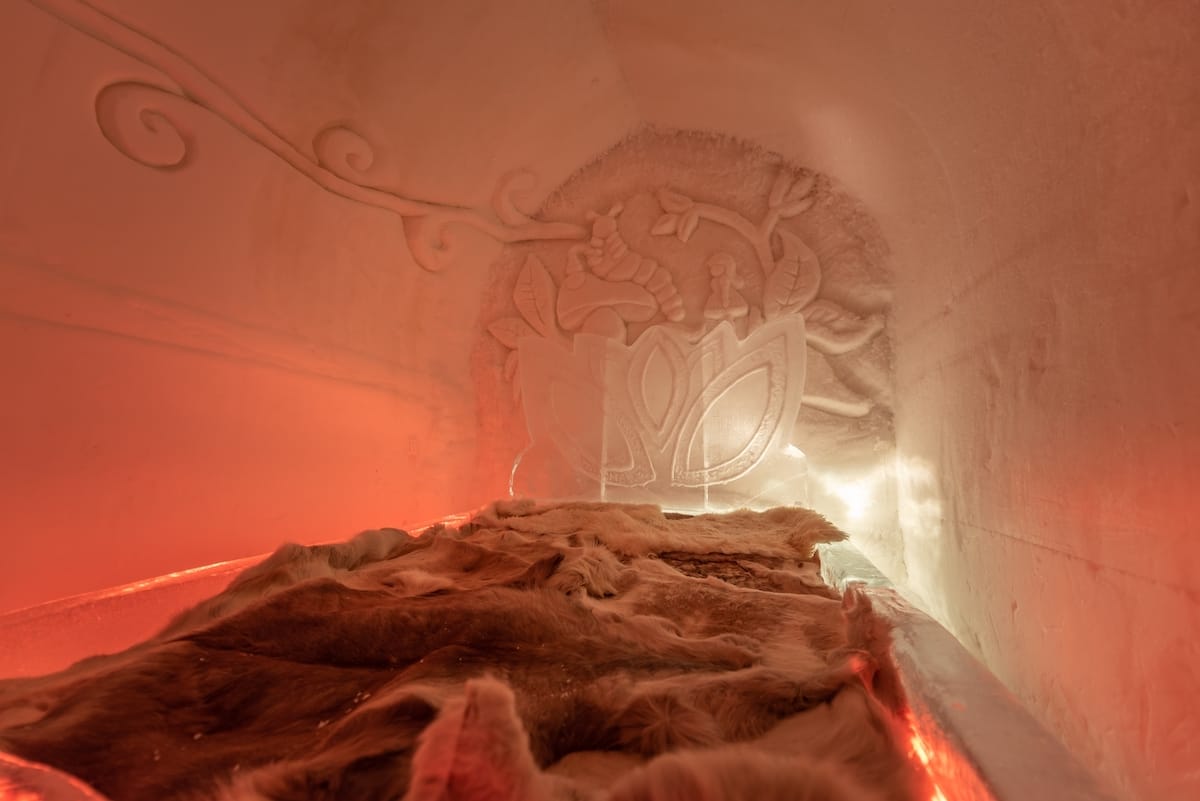 This post was originally published in 2012. It was updated in December 2021. If you have any Norway ice hotels that have newly opened or that I completely overlooked, please drop them in the comments! Thanks!
Ice Hotels in Norway – Overview
What I have learned all these years of blogging is that when people book a trip to Norway, more often than not, they are seeking an experience that is different from what is offered in their home country.
We certainly didn't have the northern lights in Virginia, where I grew up. We also didn't usually have real snow (it was made by machines to create 'ski resorts').
One thing we definitely didn't have where I grew up was ice hotels, or any type of unique hotels, for that matter. After moving to Norway, I quickly learned what a cool and unique experience staying, or even visiting, a Norwegian ice hotel was for people coming from similar climates to mine.
I was repeatedly asked by people if Norway had ice hotels and while some have closed throughout the years or you can't find any current and up-to-date information on them, such as Bjørli Hotel, others have remained opened and new ones have popped up.
This post showcases the four ice hotels in Norway that are in existence currently in 2022.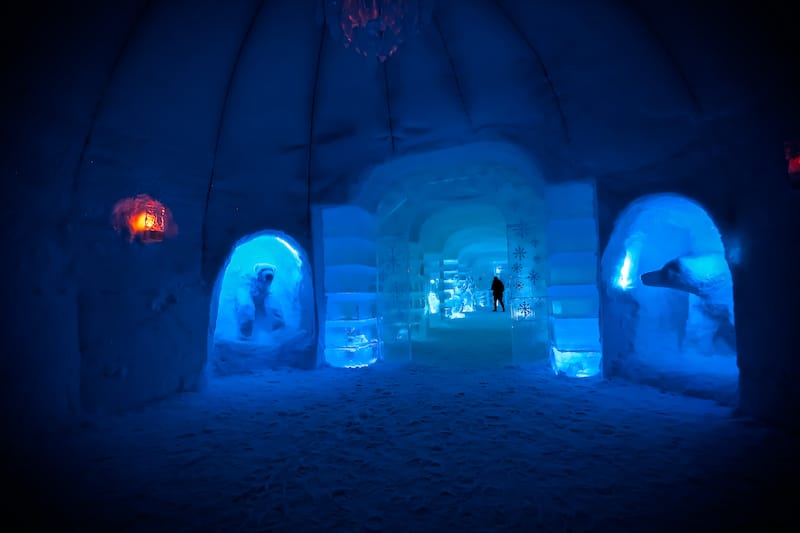 Of course, Norway ice hotels are seasonal! And… dependent on the weather. With climate change unleashing its fury on Norway, there is no telling how long the creation of ice hotels will even last.
But for now, they exist during the winter months and are there for your enjoyment.
These are the four Norway ice hotels you can visit and/or stay overnight in.
We also added a cool ice experience in Norway at the end for those looking for a quick 'ice' experience but don't have the cash to shell out on an overnight stay or organized tour.
At the end of this post, we also added an area where you can find some FAQ and practical information if you're seriously considering visiting an ice hotel in Norway (or anywhere, really!)
Drop us a comment or send us a message if you have additional questions.
Best Ice Hotels in Norway
1. Snowhotel Kirkenes
Location: Bjørnevatn, Norway (near Kirkenes)
Season: open year-round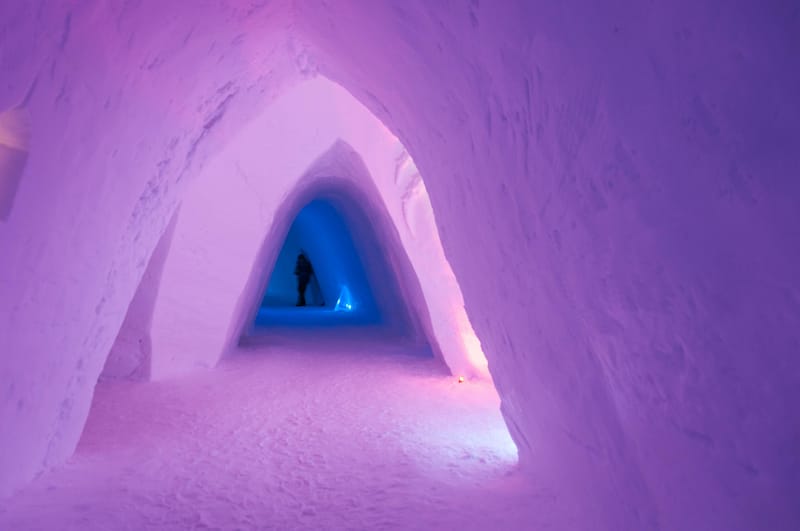 Snowhotel Kirkenes is a hotel in Bjørnevatn, Norway like no other.
There are two types of accommodations on the property- the rooms at the Snowhotel and outdoor Gamme Cabins.
The Snowhotel opened in 2006 with only eight rooms and a small ice bar. Now, it has 20 uniquely themed rooms for you to choose from.
As its name suggests, the whole place is made of snow and ice.
In other words, it's a huge and sophisticated igloo where you can spend the night. Because of its materials, the Snowhotel is only open during the winter – the ice and snow melt back into the fjord come springtime.
As mentioned earlier, each room has a theme of its own and staying there is truly one of the best things to do in Kirkenes!
Some of the rooms in Snowhotel Kirkenes include a nautical room, a Japanese-inspired room, and a room inspired by the Disney film Frozen, complete with the characters.
And although the temperature inside (-4˚C) seems daunting, it's actually quite nice to sleep in there.
There is a thermal bed in each room that will keep you warm enough throughout the night.
But if you're not visiting Norway during winter or if you're just going to see the northern lights or maybe you prefer the wilderness more than a chance to sleep in a room made of snow, then you can stay at one of Snowhotel Kirkenes' outdoor Gamme Cabins.
These cabins were designed by Swiss architects who took inspiration from Nordic architecture. They blend into the surroundings and will make your vacation closer to nature.
>> Book it here: Snowhotel Kirkenes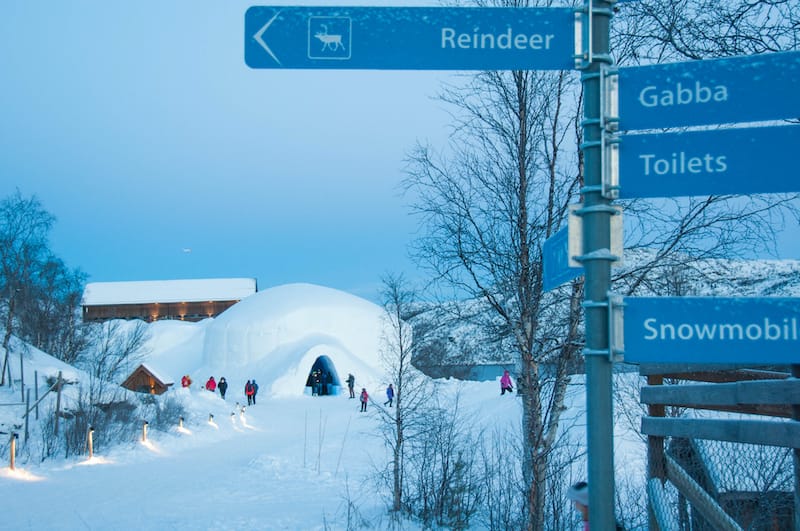 2. Hunderfossen Vinterpark
Location: Fåberg, Norway (near Lillehammer)
Season: usually opens in February
Located inside the Hunderfossen Familiepark in Fåberg, Norway, the Snow Hotel is part of the Hunderfossen Hotel & Resort that offers accommodation facilities and other amenities to its guests.
It is situated at the heart of the Winter Park and is surrounded by other attractions such as the Ice Cathedral and the Ice Bar.
Every year, the Hunderfossen Vinterpark Hotel invites ice artists from all over the world to sculpt the ice and snow that make up the hotel. Therefore, the interior design of the hotel changes annually.
In 2017, it was designed by Elisabeth Kristensen who used Norwegian folk tales as an inspiration to decorate each room with a whimsical touch.
The average temperature inside the Hunderfossen Vinterpark Hotel is -5˚C, which can seem disconcerting to some, but there is a Bergan's sleeping bag in each room that will keep you warm for the whole night.
In fact, these sleeping bags are made for extreme weather conditions and will keep you protected from the cold even up to -30˚C. In addition to that, you'll have a sheepskin underlay to keep you warm and insulated while you sleep.
For a truly unique and special experience in the southernmost part of Scandinavia, stay at the Hunderfossen Vinterpark Hotel. While you're at the theme park, you should also see its other attractions such as the Fairytale Palace, the Play House, and the Troll Drop.
There are also restaurants and kiosks serving food nearby such as the Kong Valemons Ice Bar, the Den Lille Prinsen, and the Coffee House "Kaffehuset".
>> Book it here: Hunderfossen Vinterpark Resort
🌟 GOOD TO KNOW: Hunderfossen is not only a winter destination, but it is also one of the best places to visit in Norway during the summer. It has several theme park rides and experiences, making it the ultimate family destination. Not to mention, nearby Lillehammer is also a fantastic place to visit in Norway.
3. Sorrisniva Igloo Hotel
Location: Alta, Norway
Season: approximately December 20 – April 7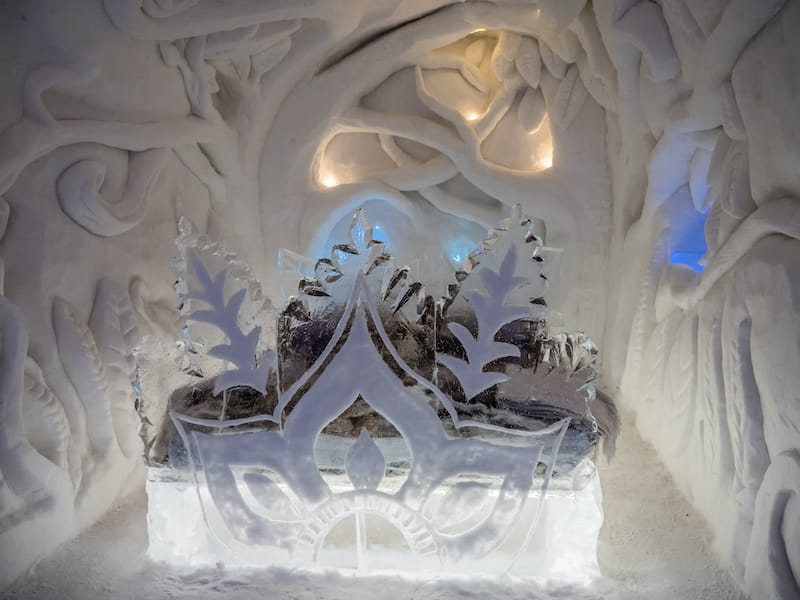 Norway's first ice hotel was the Sorrisniva Igloo Hotel in Northern Norway's adventure capital of Alta.
The idea came in 1999 and in 2000, the Sorrisniva Igloo Hotel, the world's northernmost ice hotel, opened its doors to guests.
Today, you will find an igloo hotel consisting of 26 bedrooms, 4 uniquely-decorated suites, an ice chapel, an ice bar, and an on-site restaurant.
There are also many activities you can participate in at the Norwegian igloo hotel that will help you occupy your time in beautiful Alta.
Some available activities are ice sculpting, snowmobile safaris, reindeer and Sami experiences, dog sledding, and northern lights safaris.
Every year, Sorrisniva Ice Hotel undergoes a new theme, keeping travelers coming back to see what else they have up their sleeves.
The hotel is about 2500 square meters and is made of 250 tons of ice and 7000 cubic meters of snow.
Local artists and creatives are used to create the igloo hotel and its ever-changing aesthetic.
You will receive a nice dinner from an a la carte menu that uses local ingredients, recipes, and traditions when you stay at the ice hotel in Alta.
Like most Scandinavia ice hotels, Sorrisniva is seasonal and is only around when the weather allows it to be!
You don't need to book a room to check it out- you can take a tour of it and learn more about its construction.
To find out more, check out their webpage.
>> Book it here: Sorrisniva Igloo Hotel
4. Tromso Ice Domes
Location: Tamok Valley near Tromso, Norway
Season: approximately December 20 – April 9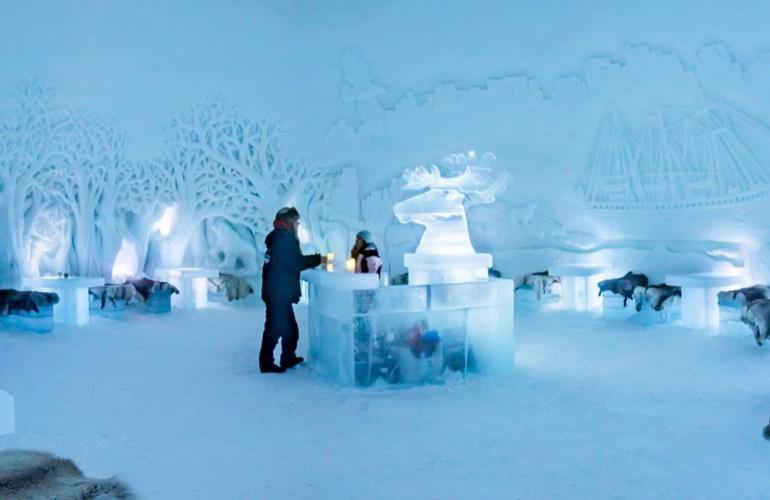 One of the most popular things to do in Tromso in winter is to visit the Tromso Ice Domes, an ice hotel that is so much more than just a place to sleep. It truly is the ultimate Norwegian experience.
In Tromso's nearby Tamok Valley (95 kilometers away), you will find the Tromso Ice Domes.
This rural retreat comes to life every winter and you can stay overnight there or simply book an excursion from Tromso for the day.
The Tromso Ice Domes has an ice bar, ice cinema, ice restaurant, and bedrooms made completely from ice.
Tromso's local Sami culture has influenced the aesthetic and vibe of the place and it is evident throughout the many ice sculptures, lighting, and decor.
If you choose to stay overnight, you will receive a polar sleeping bag to keep you comfortable and able to get a good night's sleep in the ice hotel.
You will also be provided reindeer skins for added warmth in the spacious, 600 m² ice hotel. Needless to say, you can not do this during summer in Tromso.
Another thing Tromso is known for is the northern lights and you will have a great opportunity to see them if they make an appearance as the Tamok Valley is very secluded and remote and it offers little light pollution.
Staying at the Tromso Ice Domes overnight will allow you the chance to witness them with ease.
If you don't have the time or budget to stay overnight at the Ice Domes, we recommend booking a trip there anyway!
This snowmobile safari and Tromso Ice Domes visit is the ultimate way to combine an adventurous activity with seeing one of the coolest ice hotels in Norway.
>> Book it here: Tromso Ice Domes
Bonus: Magic Ice Bar
Okay, so definitely not a Norway ice hotel, but rather an ice bar (as the name describes).
While it doesn't totally belong on this list, it is worth checking out if you want a quick and similar experience and you're in one of the cities in Norway that has a Magic Ice Bar.
You will find Magic Ice Bar locations in Svolvær in the Lofoten Islands, Bergen, Tromso, Oslo, and Reykjavik (Iceland).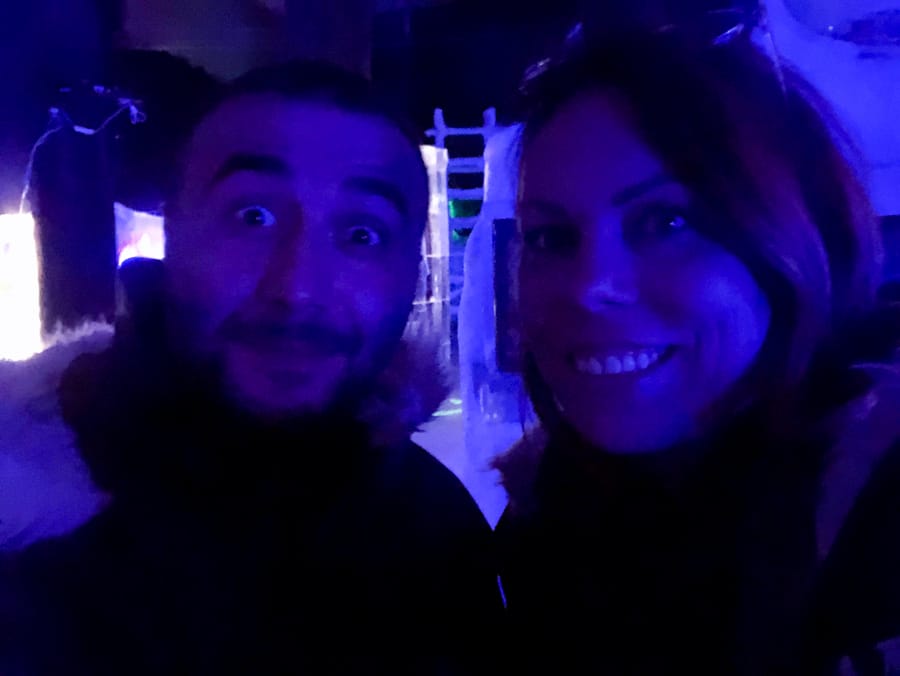 The Ice Bar is affordable and you will get a free drink with an admission ticket.
I have only been inside the one in Svolvær but it was a cool thing to do there if you're from a warmer climate or are traveling with children. A bonus is that it is open year-round! We went in the summer.
What to Expect at Norway's Ice Hotels
Many people have no idea what to expect from an ice hotel.
Unfortunately, there is no single answer as every hotel is completely different and operates with different seasons, rules, and standards.
Here are a few frequently asked questions when it comes to visiting an ice hotel (or staying in one).
⇒ Are ice hotels open year-round? It really depends on the hotel.
Of the Norway ice hotels listed above, only one is open year-round (Kirkenes). The rest are completely seasonal and dependent on the weather.
⇒ Do you sleep on ice at an ice hotel? Generally, the hotel will give you a polar sleeping bag with amazing insulation to help keep you warm.
There are also reindeer skins available and you will not be sleeping directly on the ice.
⇒ Are the bathrooms made of ice? No. You will use bathrooms in the commons area that are heated.
Bathrooms made from ice would surely be the ultimate experience though (can't even fathom how that would work, to be honest).
⇒ How do you charge your electronics? You will likely not be hanging out in your hotel room except to sleep.
The commons area is warm and cozy and has everything you need to charge your electronics and that is where you can access wifi and meet other travelers. Restaurants are also usually available on-site.
⇒ Can you visit an ice hotel instead of staying in one? At most ice hotels in Norway, you can visit the rooms and take a tour without staying there.
Of course, you will pay a fee to do so, but it will give you an idea of the process of building the hotel as well as how it operates during the winter months.
⇒ How many nights should you stay at an ice hotel? Naturally, the hotels will tell you to stay as long as you can… but you really can get the experience by staying just one night.
It is not a cheap stay and while there are many activities at the ice hotels, you can do many of those same activities by being based in the city at a regular hotel, too.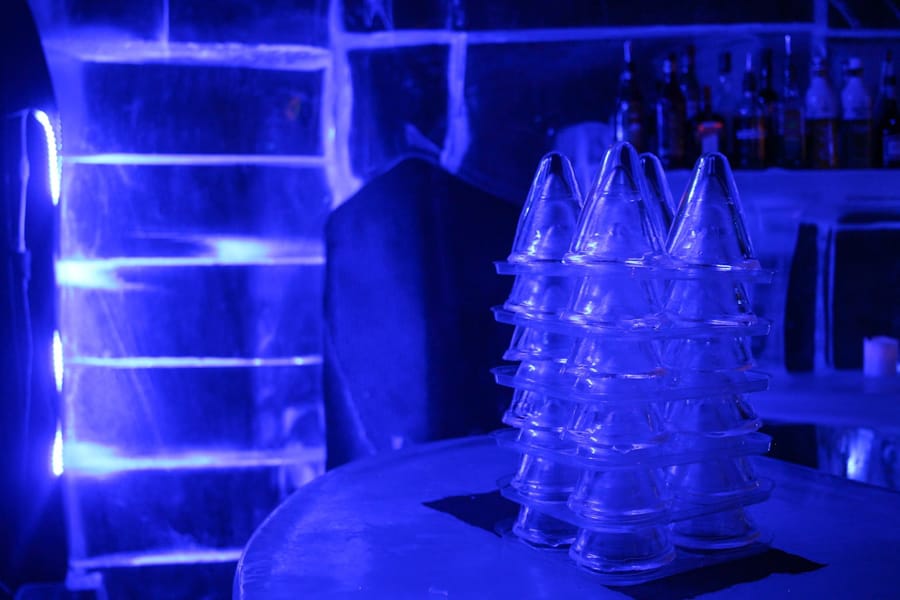 What to Bring to an Ice Hotel (and What to Wear)
If you're planning to visit an ice hotel in Norway during the winter, you will need to pretty much wear what you bring.
We assume you didn't show up to Arctic Norway wearing a bathing suit.
You can check out our Norway winter packing list for more information on what to bring to Norway during the colder months… we have tips for men and women both!
We hope that this post inspired you to book a trip to Norway to stay in an ice hotel… or at least put the experience on your Norwegian bucket list!
If you have any tips or care to share your Norway ice hotel experience, please leave us a comment below!
More Northern Norway Travel Guides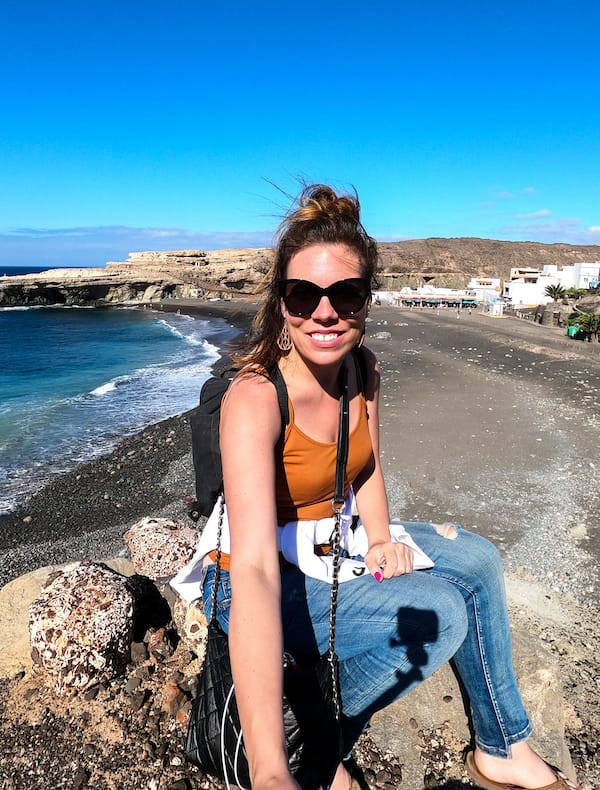 Megan is a travel blogger and writer with a background in digital marketing. Originally from Richmond, VA, she now splits her time between Frankfurt, Germany and Arctic Finland after also living in Norway, Armenia, and Kazakhstan. She has a passion for winter travel, as well as the Nordic countries, but you can also find her eating her way through Italy, perusing perfume stores in Paris, or taking road trips through the USA. Megan has written for or been featured by National Geographic, Forbes, Lonely Planet, the New York Times, and more. She co-authored Fodor's Travel 'Essential Norway' and has visited 45 US states and 100+ countries.