Are you looking for the best things to do in Clearwater Beach, Florida? This guide has you covered – keep reading!
Are you planning your trip to Clearwater Beach last minute?
If youʻre booking your trip to Clearwater last minute, we have you covered. Below are some of the top tours, hotels, and more!
🐬 Top Experiences and Tours in Clearwater:
🛌 Top Hotels in Clearwater Beach:
🚗 Looking for the best way to get around Clearwater? Click here to check rental car rates for Florida!
I have been to Clearwater Beach (and parts of Clearwater) a few times throughout my life and have thoroughly enjoyed every trip!
This guide will detail what to do in Clearwater Beach, as well as some cool places and things to do nearby.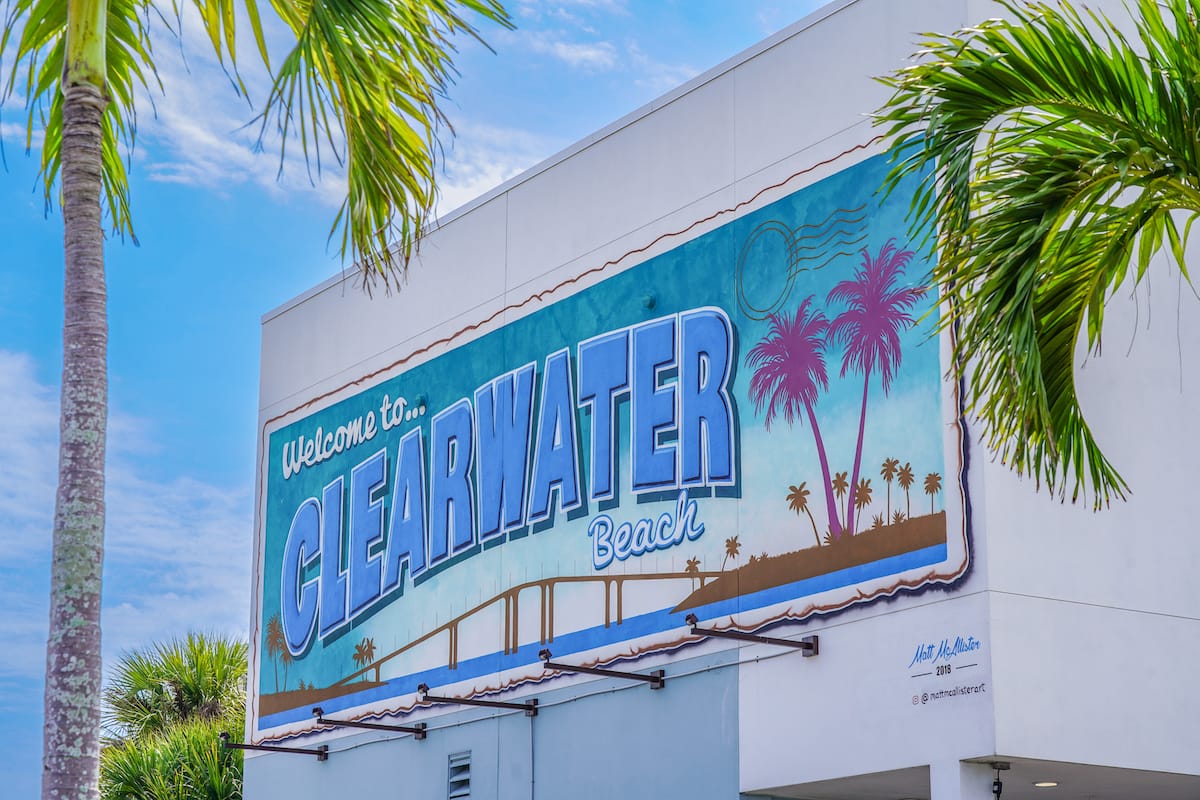 If we missed any amazing Clearwater Beach attractions, landmarks, restaurants, etc… let us know in the comments. Thanks!
Best Things to Do in Clearwater Beach
1. Spot Some Sea Life on a Dolphin-Watching Cruise
Take on an exciting and unique experience in the Gulf of Mexico during a dolphin-watching cruise to spot these adorable creatures. It is one of the best places in the US to see them!
The Little Toot tugboat-style boat will take you from Clearwater Beach to the spots where dolphins come to play in big wakes.
Not only will you have the chance to see these intelligent creatures in their natural habitat, but you'll also hear some exciting stories about the dolphins and the beach.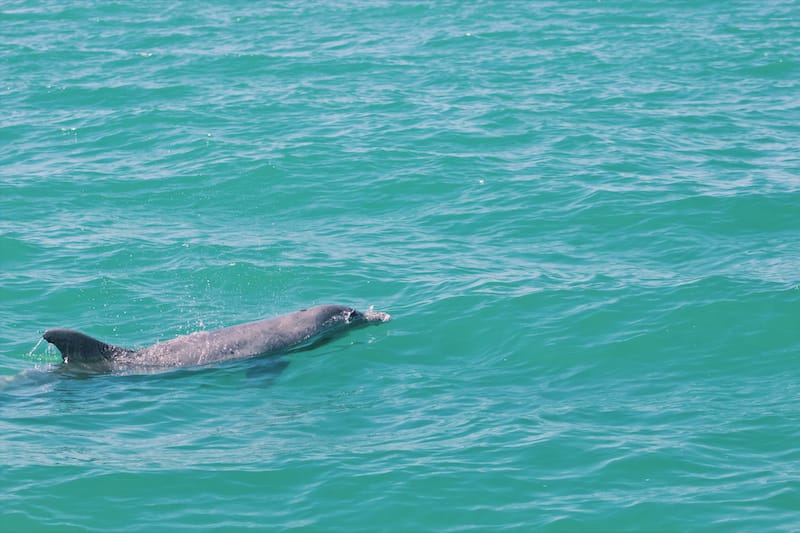 The dolphin-watching cruises typically last 1 hour and 15 minutes and depart from the Clearwater Marina.
During the tour, you will see the most playful bottlenose dolphins swimming and jumping in the waves, as well as other marine creatures such as pelicans, egrets, and ospreys.
With open netting, you will see as much as possible.
The tour also offers soft drinks, water, wine, and beer available for cash only.
>> Click here to check tour rates and availability
2. Watch the Sunset from the Water
If you're looking for a romantic experience while visiting Clearwater, you might want to consider enjoying the sunset from the water.
For an hour and 45 minutes, you will be a guest on a comfortable double-decker catamaran, embracing the views of Clearwater and sunset colors.
The cruise departs from Clearwater Bay. During the cruise, you'll sit back and relax as the boat takes you into the Gulf of Mexico to watch the sunset.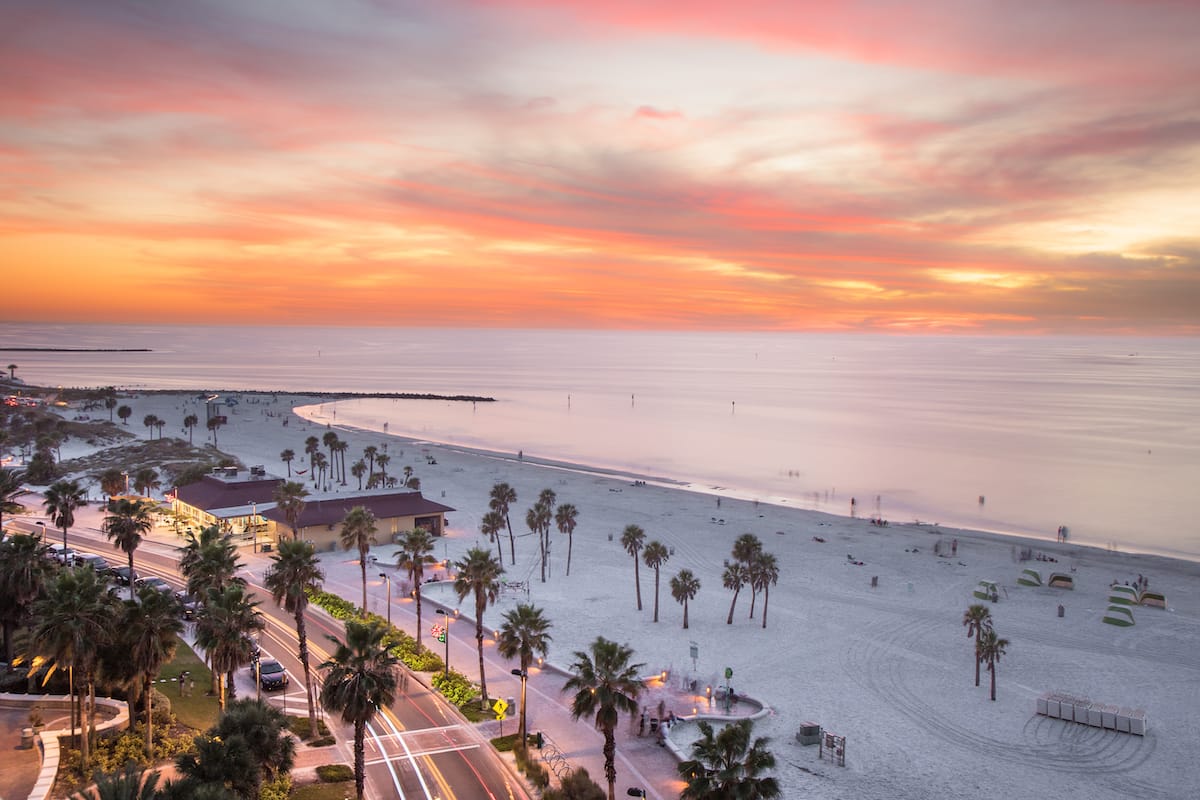 While you take in the breathtaking views, sipping champagne and enjoying the company of your fellow passengers, your captain will tell you interesting facts and stories about the gulf.
Other alcoholic beverages can be purchased on board. Remember to have cash with you.
The tour is wheelchair and stroller-accessible.
>> Click here to check tour rates and availability
3. Party on the Tropical-themed Calypso Queen Cruise
What could sound better than a tropical party on a boat in the middle of the Gulf of Mexico? If you are already thrilled, hurry up to plan your 2-hour party aboard the Calypso Queen.
This tropical-themed cruise is perfect for those who want to let loose and have a good time while enjoying the dazzling views of Clearwater's waters.
Departing from the Clearwater Marina, you will immediately plunge into the mood of tropical romance with DJ music and dancing, plus unlimited rum punch, wine, and beer.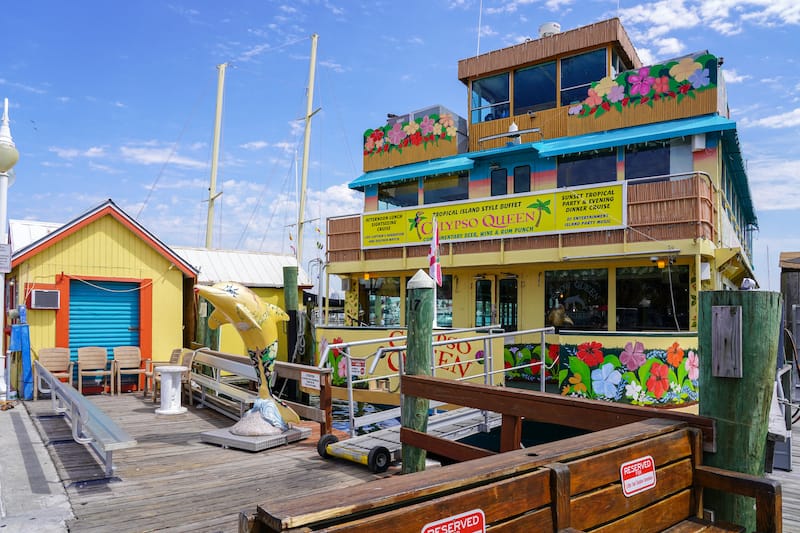 A lunch or dinner buffet with quick snacks will be just in time. The atmosphere is lively and festive, and the crew will make sure that you have a great time.
The Calypso Queen Cruise is designed to be a fun and inclusive experience for everyone. The cruise is suitable for all ages. It is wheelchair- and stroller-accessible.
>> Click here to check tour rates and availability
4. Walk the Trails at Moccasin Lake Nature Park
Moccasin Lake is a peaceful and serene escape, occupying 40 acres of protected land, including a 5-acre lake and miles of walking trails to explore.
The short but scenic Moccasin Lake trail is the most visited route in the area, perfect for birdwatching and simply enjoying the views.
The trail often winds, taking you through a hardwood hammock with huge oaks. You will easily find the route, so be sure you won't get lost even if you are without a guide.
One of the highlights of Moccasin Lake Nature Park is its educational opportunities.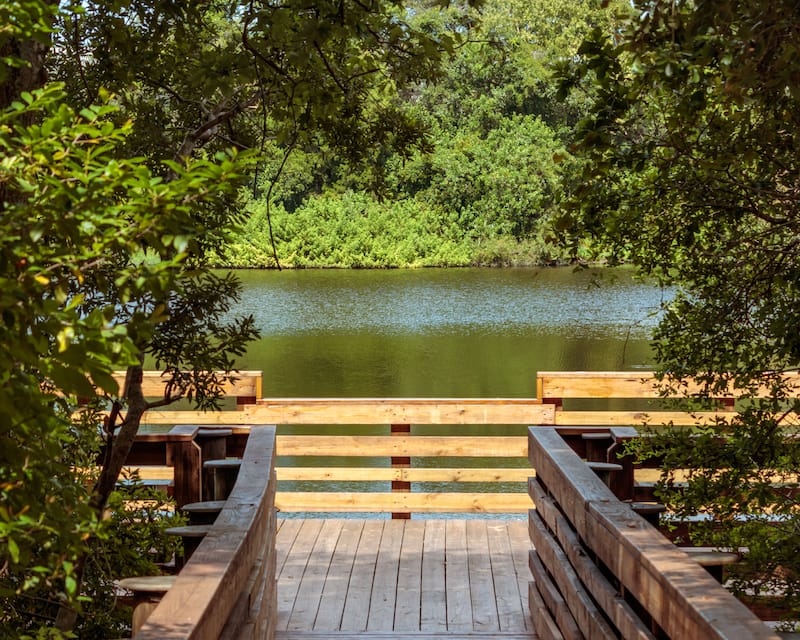 The park features a nature center that offers exhibits on local ecology, including animals, and educational programs for adults and children.
Another popular attraction at Moccasin Lake Nature Park is the butterfly garden.
This garden is home to a variety of butterfly species, including yellow sulfurs, monarchs, zebra longwings, and giant swallowtails.
Address: 2750 Park Trail Ln, Clearwater, FL 33759
5. Eat at Frenchy's Restaurant
There are places in Clearwater that cannot be missed by any means, and Frenchy's Restaurant is one of them.
This iconic eatery has been serving fresh seafood and other tasty dishes since 1981.
Plus, they are the "inventors" of the famous grouper sandwich that features a generous portion of freshly grilled grouper served on a toasted bun with lettuce, tomato, and Frenchy's special sauce.
Also, make sure you taste buffalo shrimp, oysters, octopus dishes, and other seafood favorites.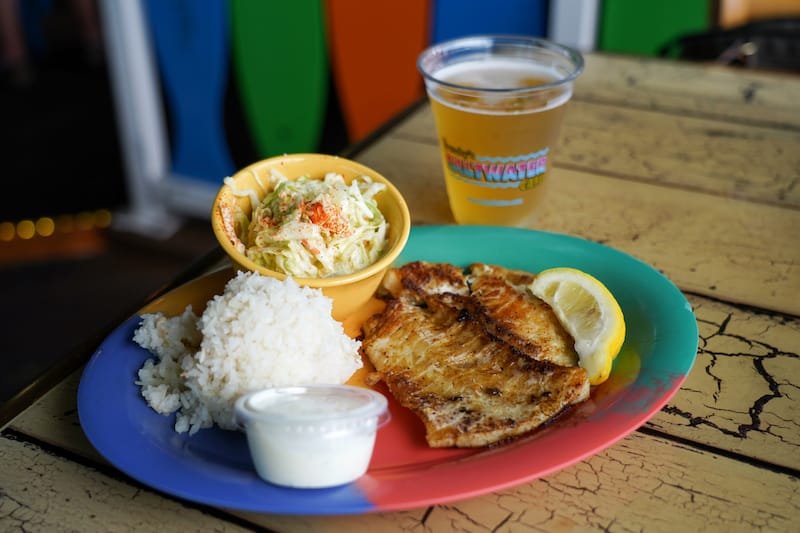 The restaurant is located on Clearwater Beach, just a stone's throw away from the ocean.
Frenchy's offers a casual and laid-back atmosphere, making it the perfect place to grab a meal after a day at the beach or before a night out.
Frenchy's Saltwater Cafe features open-air dining indoors and outdoors with a relaxed atmosphere and always positive vibes.
The bright facade immediately catches your attention, while the mouth-watering smell of grilled food will never let you pass by.
Address: 41 Baymont St, Clearwater, FL 33767
6. Visit Jimmy's on the Edge for a Rooftop Drink
With its breathtaking views, delicious drinks, and luxurious atmosphere, Jimmy's on the Edge is a must-visit destination for anyone traveling to Clearwater Beach.
Located on the 10th floor of the Edge Hotel, this super cool rooftop bar opens to spectacular panoramic views of the Gulf of Mexico and the Clearwater Beach skyline.
Jimmy's on the Edge is a wonderful combination of craft cocktails, beer, wine, and tasty eats in a perfect setting for a romantic date night or a night out with friends.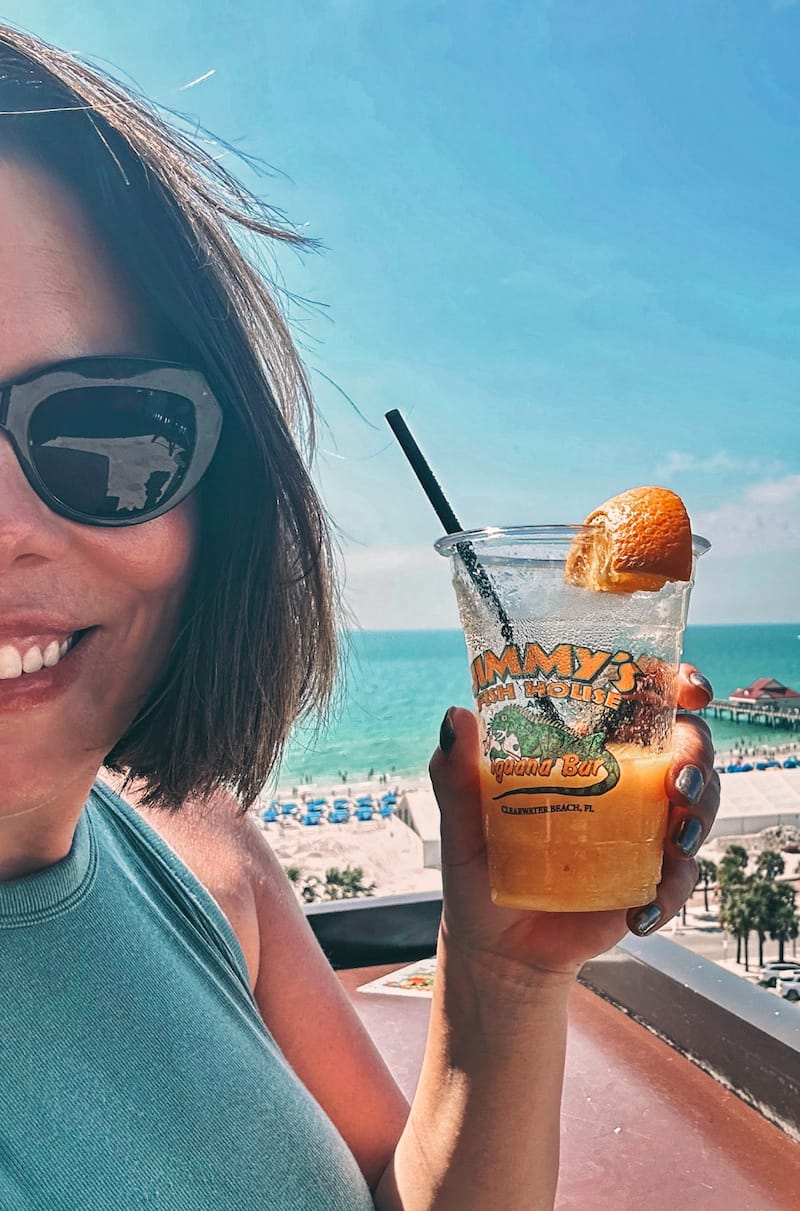 Order enormous seafood plates and buckets for a sports night displayed on the big screen, or simply embrace the night's vibes.
Finally, enjoy your free Fireball shot every night at 9 p.m. at Fire Bar as a hot kickstart to a crazy night.
Address: 505 S Gulfview Blvd, Clearwater Beach, FL 33767
7. Spend the Day on Roller Coasters at Busch Gardens in Tampa
Busch Gardens Tampa Bay is an adrenaline rush and a thrilling experience with its roller coasters, animal exhibits, and live entertainment.
The park houses 10 extreme roller coasters from Level 3, such as Cheetah Hunt, North America's tallest triple launch coaster; Iron Gwazi, with a 200-foot drop at a 90-degree angle; and Montu, the longest inverted roller coaster that loops and twists through seven inversions.
Of course, there are also less extreme Level 1 roller coasters for beginners who want to take things slowly before screaming their lungs out.
Level 2 roller coasters are something between too extreme and mild, giving slight cold sweats.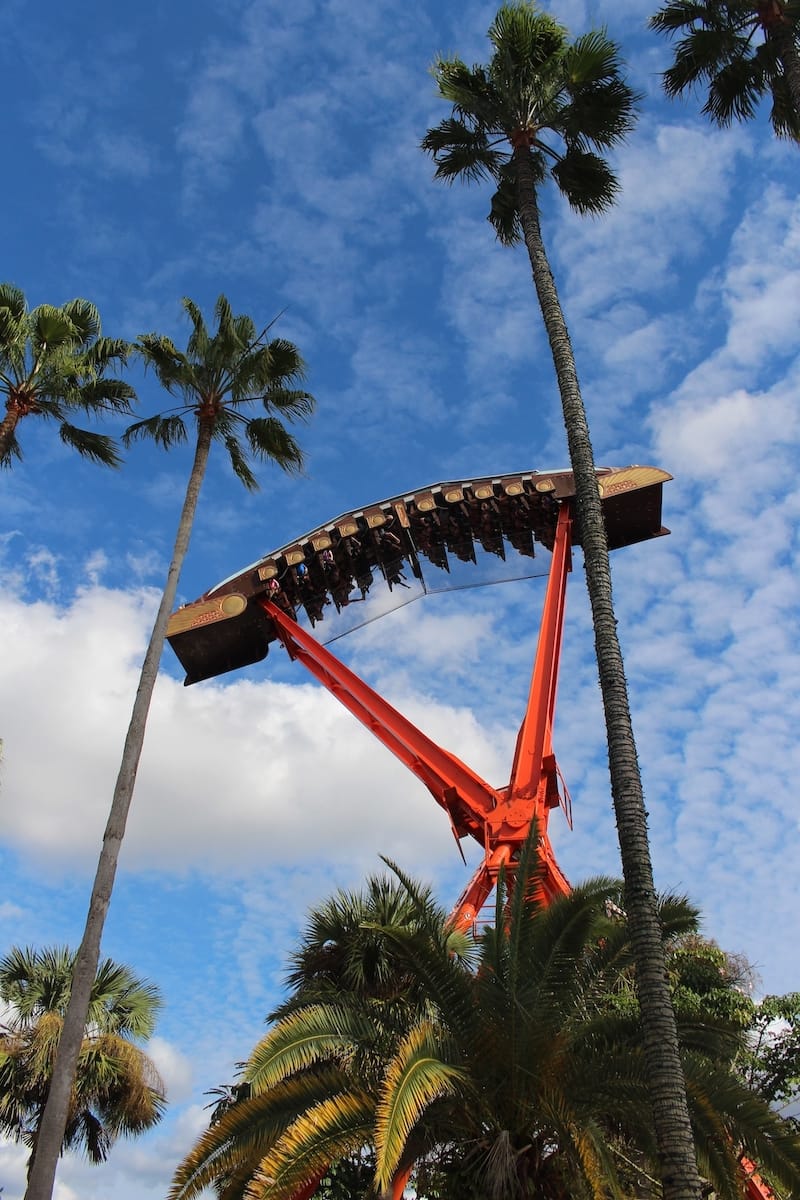 In addition to roller coasters, Busch Gardens also has animal exhibits that allow you to get up close and personal with 200 species, including tigers, cheetahs, and elephants.
The park also has a bird aviary, where you can walk through and interact with various bird species.
Finally, don't forget to fuel up in one of the 11 cafes and restaurants on the territory for any taste.
Address: 10165 McKinley Dr, Tampa, FL 33612
8. Walk the Promenade (Clearwater's Beach Walk)
Clearwater's Beach Walk is a famous promenade in the town, providing spectacular views of the landscapes and the beach infrastructure.
This picturesque boardwalk stretches for 1.5 miles along the Gulf of Mexico, with endless options of attractions, restaurants, and shops to explore.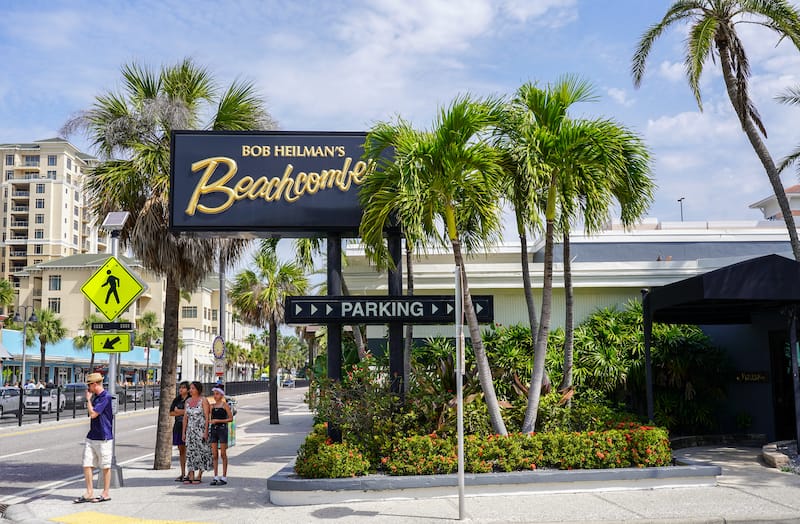 To explore the promenade with more vigor, rent a bike or scooter from one of the rental shops along the Beach Walk, and you can cruise up and down the boardwalk or venture out into the surrounding neighborhoods.
The Beach Walk is home to local restaurants and cafes with fresh fish dishes and tropical cocktails – it will be no wonder why this is one of the top beaches near Tampa!
Whether you choose to have crepes at Holy Crepe, shrimp and grouper at Crabby's Dockside, or donuts at Dunkin, there is every type of food for all tastes.
9. Spend a Day on Quiet Sand Key
Unlike Clearwater Beach's active and always busy life, Sand Key is a peaceful paradise and relaxing escape with picture-perfect beach views and sunsets.
This beautiful 95-acre barrier island is known for its uncrowded, serene beaches, where you can unwind and soak up the sun.
The beach has all the amenities to make your stay comfortable: cabanas, kayak and paddleboard rentals, public restrooms, showers, and bathhouses. You can also get free beach wheelchairs.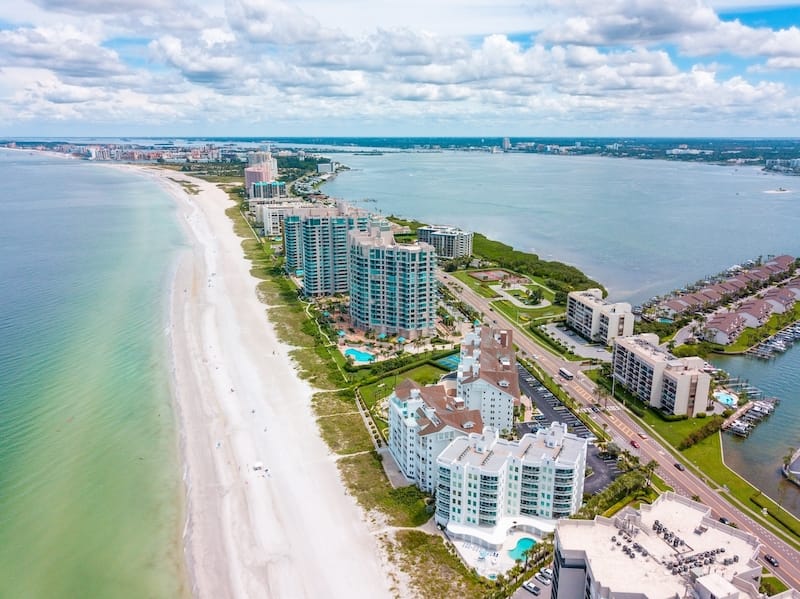 The beaches on Quiet Sand Key are excellent for shelling. Spend some time combing the shore for beautiful shells to take home as a souvenir.
Eventually, you will step on one of the nature trails winding through mangroves, where you will spot turtles, herons, and ospreys.
10. Eat at Columbia Restaurant on Sand Key
Waterfront dining at Clearwater is one of the best experiences, especially if you are treated to Cuban specials.
Columbia Restaurant on Sand Key is one such example, which has been serving authentic Spanish and Cuban cuisine since 1905, offering delicious food and incredible views of the Gulf of Mexico.
Once you arrive at the restaurant, you'll be greeted with a warm and friendly atmosphere that captures the essence of Spanish culture.
The restaurant features indoor and outdoor seating, including a beautiful patio area with water views. Whether you're looking for a romantic dinner for two or a family celebration, you can choose an indoor dining room.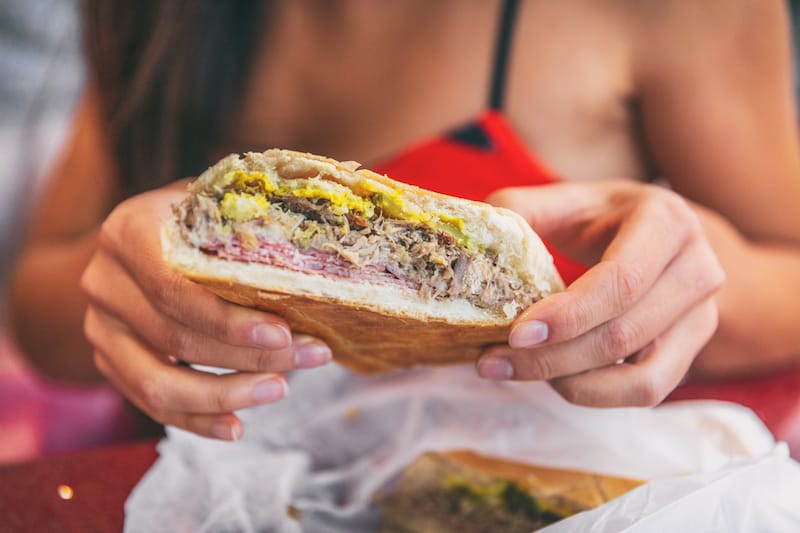 Just keep in mind that there is a dress code for indoor halls.
The outdoor deck overlooking the beach has a more relaxed and casual atmosphere.
The menu includes century-old recipes and traditional Spanish dishes like Paella a la Valenciana, a classic Spanish rice dish with seafood and chicken, fresh seafood specialties, Roast Pork a la Cubana, and more.
The wine cart perfectly completes the dishes with a selection of Spanish wines.
Address: 1241 Gulf Blvd, Clearwater, FL 33767
11. Shop and Dine in the Cleveland Street District
While it's practically impossible to get tired of beach views and clear waters, you should definitely spend some time in the vibrant downtown area with a mix of shopping, dining, and entertainment options.
The Cleveland Street District east of Clearwater Beach is a palm tree-framed street stretching for 3.5 miles, perfect for a day or night walk.
If you happen to visit downtown on the last Friday of a month, you will take part in a family-friendly Blast Friday festival with exciting performances, food trucks, and music.
The rest of the month, the downtown stays busy with guests shopping and dining.
One of the popular buildings not to miss is the Bilheimer Capitol Theater, a historic venue that hosts concerts, plays, and shows throughout the year in its small yet very atmospheric vintage hall.
From a unique shopping experience, don't miss out on GIOFFRÈ Boutique with high fashion pieces like black velvet suits, crepe capes, leather skirts, and more.
Finish your day at Pour Yours wine bar with machines that let you taste different wines and discover the one you like most.
12. Jetski with BouYah Watersports
Laid-back vibes are not for you? Then you will like the thrill and excitement of active water sports at Clearwater Beach.
BouYah offers an exciting way to experience the beauty of Clearwater's coastline with top-of-the-line jet ski rentals.
Before you hit the water, the friendly staff will provide you with all the necessary safety equipment and a brief instructional session on how to operate the jet ski.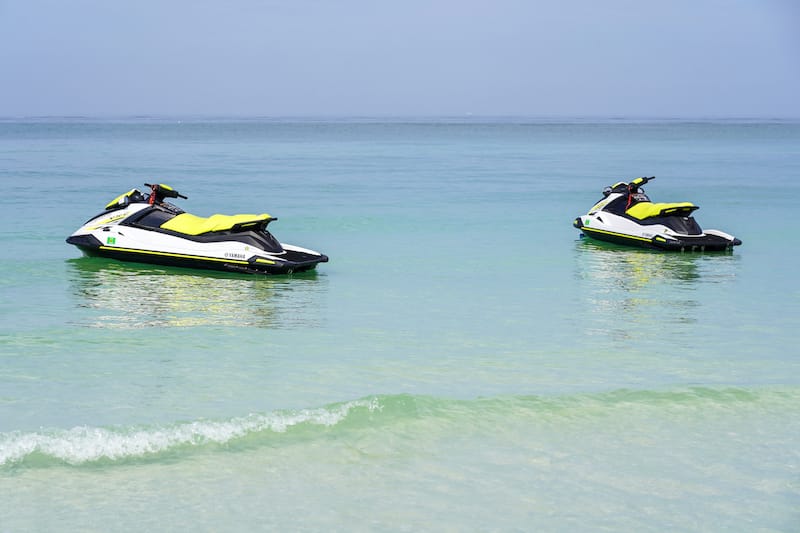 Once you're ready, you can take off and explore the stunning scenery of Clearwater Beach.
If Jetski is too extreme for you, BouYah offers other water sports, including kayaking and kayak rentals, banana boats for a family ride, paddle boarding to explore waters at your pace, or parasailing for unforgettable moments in the sky.
Address: 400 Mandalay Ave, Clearwater Beach, FL 33767
13. Kayak Through Mangrove Forests in Caladesi Island State Park
Caladesi Island State Park is an enchanting barrier island with a beautiful, unspoiled beach stretching three miles along the Gulf of Mexico.
The island is only accessible by boat, and the beach is much quieter and less crowded than other beaches in the area.
Despite being isolated, the island has quite a developed infrastructure with restrooms, picnic pavilions, shower stations, a restaurant, and wheelchairs.
If you're interested in wildlife, be sure to check out the park's nature trails in the Scharrer Homestead and kayak trails.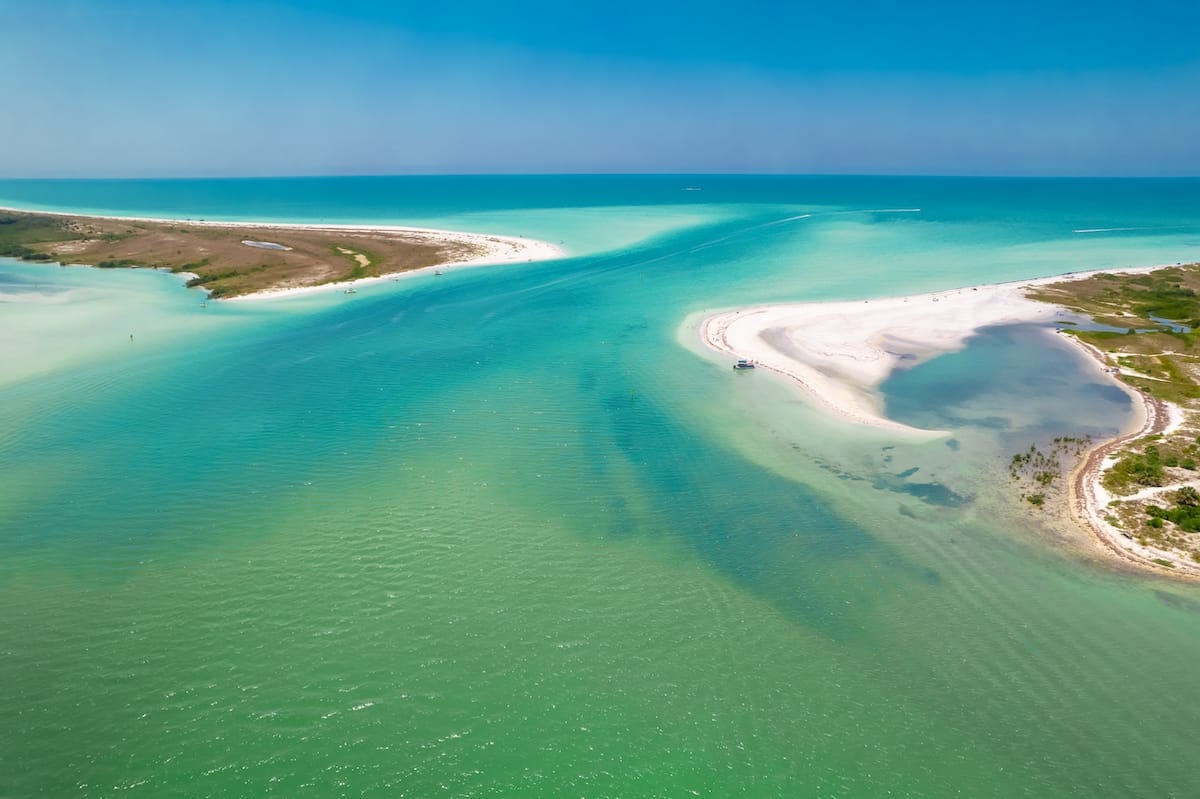 You'll have the opportunity to spot birds, turtles, herons, ospreys, and eagles. There is a 3-mile loop trail around the island that will take you through salt marshes and mangrove swamps to the beach.
Another popular activity on Caladesi Island is fishing off the shore.
Rent a kayak on the beach and head to the Honeymoon Island Causeway, 15 minutes from Caladesi Island, to find redfish, tarpon, grouper, seatrout, snook, and more.
Address: 1 Causeway Blvd, Dunedin, FL 34698
14. Visit the Collection on Palmetto's Museum of Antique Automobiles
The Collection on Palmetto is a fascinating museum of antique brass-era automobiles.
The museum showcases about 100 vehicles, ranging from classic cars from the 1920s and 30s to muscle cars from the 60s and 70s and more modern supercars from the 2000s. It is pure time travel to explore car evolution.
Some of the most notable vehicles on display include a 1933 Pierce-Arrow Silver Arrow, a 1962 Ferrari 250 GTO, and a 2017 Ford GT.
Each car is meticulously maintained and beautifully displayed, making for an immersive and visually unforgettable experience.
But the museum isn't just about looking at cars.
You will have a unique chance to drive one of the vintage or modern cars around the museum and embrace the thrill of driving these beautiful machines.
There are chances you will see at least one wedding photo shoot and wedding ceremony in the museum. More and more couples choose this venue as an excellent place to recreate an old-style wedding.
Address: 2116 Palmetto St, Clearwater, FL 33765
15. Enjoy Sand, Sun, and Swimming at Clearwater Beach
Clearwater Beach is all about soaking up the sun, enjoying clear waters, and experiencing an adrenaline rush in water sports.
Fully equipped with facilities, it is a perfect destination for a whole day.
To start your day, rent a shaded cabana to stay protected from the sun. If you prefer privacy, walk to the north end of the beach with fewer crowds.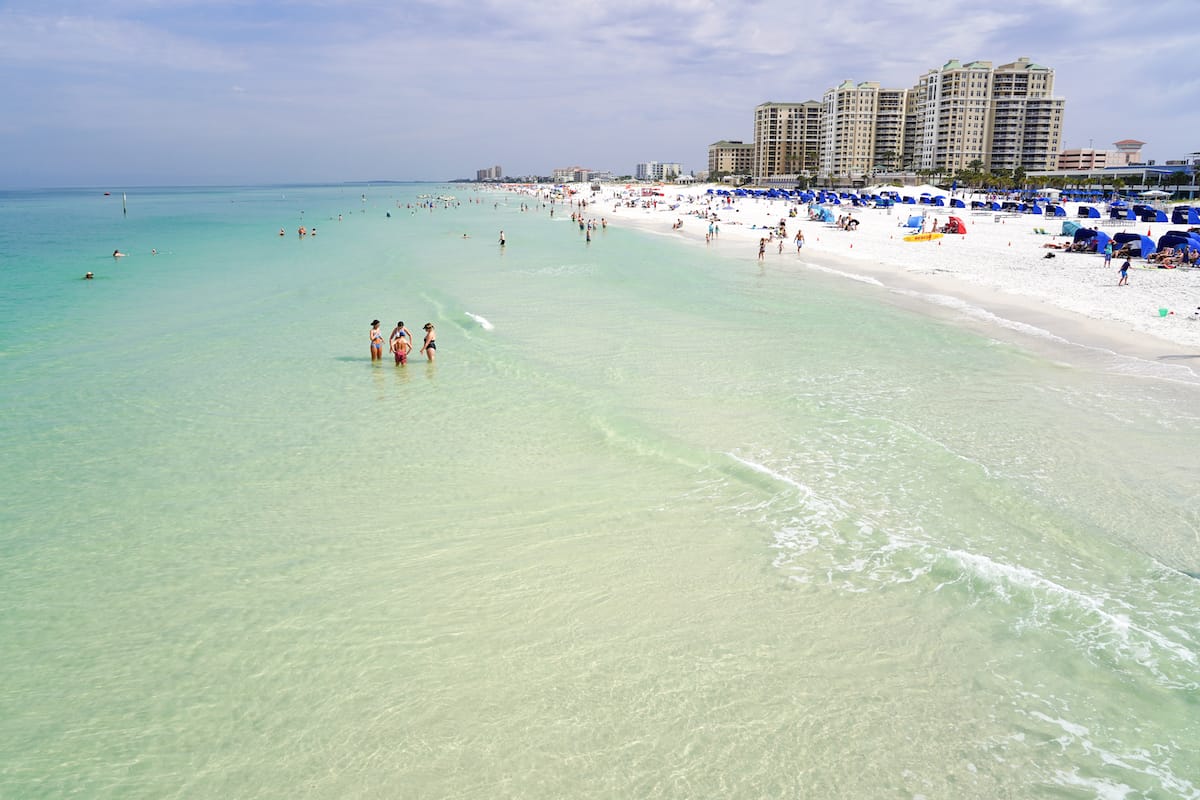 While visitors with kids prefer the territory with playgrounds close to Pier 60.
With dozens of food options, there is one not to miss. Frenchy's Rockaway Grill is known for its top grouper sandwiches far beyond Clearwater. Make sure to taste this legendary dish.
🐬 INSIDER TIP: If you want to do a little dolphin-spotting but are not keen to go on a boat, you can often see them from Pier 60! It costs $1 to enter the pier – just be respectful of those fishing around you.
16. Breakfast at the Salty Crab Bar & Grill
There are dozens of breakfast spots in Clearwater, but the Salty Crab Bar & Grill is definitely a name not to miss.
The waterfront restaurant offers delicious food and a laid-back atmosphere, perfect for starting your day right.
Salty Crab Bar & Grill is located on Clearwater Beach and features a large outdoor patio with stunning views of the Gulf of Mexico and indoor seating.
The interior is unsophisticated but cozy and ideal for relaxing and enjoying a quiet morning.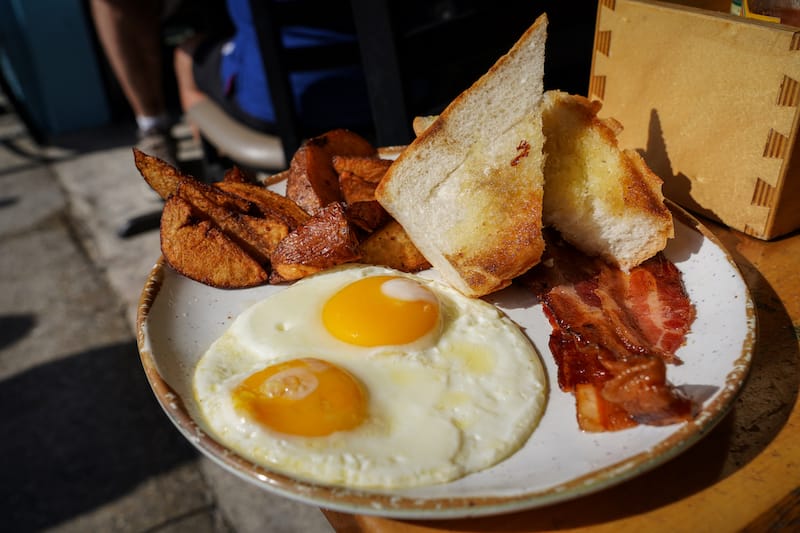 The menu at the Salty Crab Bar & Grill features a variety of breakfast favorites, including eggs, pancakes and Belgian waffles, tacos and burritos, and breakfast sandwiches.
One of the most popular dishes is the Crabby Benedict, with two poached eggs and a crab cake on an English muffin topped with hollandaise sauce. Sounds delicious!
You can also kick start your Clearwater morning with the Ultimate Bloody Mary, Electric Mimosa, and other "morning" cocktails from the breakfast menu.
Address: 154 Estero Blvd, Fort Myers Beach, FL 33931
17. See a Minor League Baseball Game or Spring Training at BayCare Ballpark
Clearwater is not only about beaches; as a guest, you will find here lots of entertainment, including sports events at BayCare Ballpark.
The stadium holds minor league baseball games and major league spring training games.
BayCare Ballpark, formerly known as Spectrum Field, is home to the Clearwater Threshers, the minor league affiliate of the Philadelphia Phillies, and also serves as the spring training home of the Phillies.
The best thing about the stadium is its small size, and if you may first think that it is too small with 8000 seats, you will later appreciate the close view of a game.
Before, during, or after the game, don't forget to visit Frenchy's Tiki Pavilion, a huge open-air bar at the top of leftfield stands with a panoramic view of the stadium.
On Wednesday games, the bar opens before the game and holds a "happy-hour special" with free drinks for ladies, $1 for a beer, and $3 for a cocktail.
Address: 601 N, 601 Old Coachman Rd., Clearwater, FL 33765
18. Have a Smoothie Bowl at Kaia Bowls
To start your morning with a vitamin and energy boost, look no further than Kaia Bowls, a trendy cafe serving delicious and nutritious smoothie bowls to keep you energized for a day of exploring.
Kaia Bowls is located in downtown Clearwater, just a short drive from the beach.
The bright and juicy colors of the bowls are perfectly matched with the venue's no less positive and warm interior, with plenty of seating.
The menu at Kaia Bowls is focused on smoothie bowls, which are made with a variety of fruits, vegetables, and other wholesome ingredients.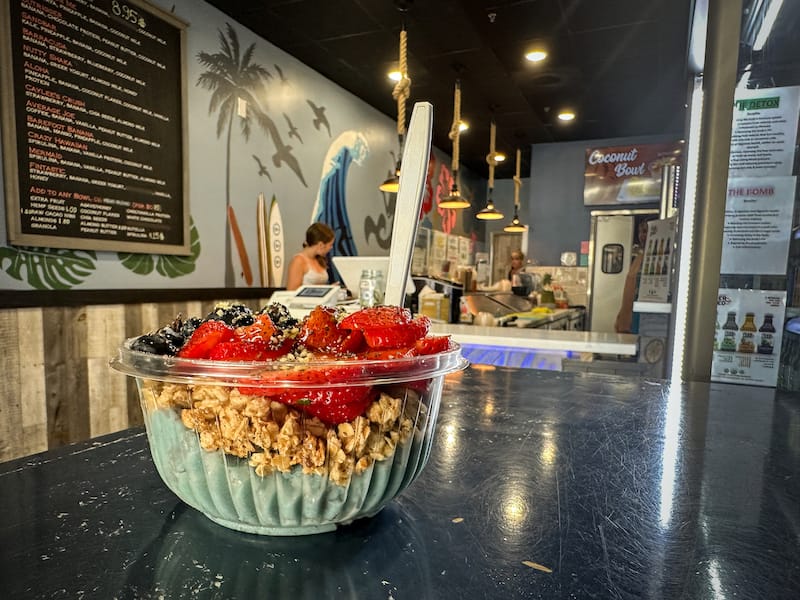 One of the most popular smoothie bowls at Kaia Bowls is the Acai Bowls, which features a blend of frozen acai berries with granola and different toppings: banana, blueberry, strawberry, pineapple, kiwi, Nutella, coconut flakes, chocolate, almonds, peanut butter, and more.
Instead of an acai bowl, you can also choose pitaya, green, banana berry, oatmeal, chia, coconut, spirulina, or signature poke bowls with a mix of toppings.
No matter which one you choose, you will get a daily dose of nutrients.
Address: 483 Mandalay Ave Suite 107, Clearwater, FL 33767
19. Enjoy a Craft Beer at Big Storm Brewing
Craft beer enthusiasts would love to learn that there is an excellent place in Clearwater to deliver a unique and delicious tasting experience.
Big Storm Brewing is an award-winning brewery with a wide selection of beers brewed on-site and a cozy taproom where you can enjoy a cold beer while taking in the atmosphere.
The brewery features 20 Big Storm craft beers on tap, enjoyed with snacks, all served in the taproom, decorated in a rustic and industrial style with a large bar area and plenty of seating.
The brewery offers a rotating selection of beers on tap, including year-round favorites like the Wavemaker Amber Ale and the Tropic Pressure Florida Ale, as well as seasonal and limited-edition brews.
For something stronger, visit Big Storm Distillery, which produces premium spirits to share the Florida lifestyle and pay tribute to Floridians.
Address: 12707 49th St N, Clearwater, FL 33762
20. Rent a Paddleboard with Clearwater Paddle Board & Rental Company
Paddleboarding is one water sports activity and a way to explore Clearwater Beach at a slow pace.
With multiple rental options, including paddle boards, kayaks, bicycles, chairs, and umbrellas, the company is an excellent one-stop shop for necessary equipment or a short instructional session on how to use them.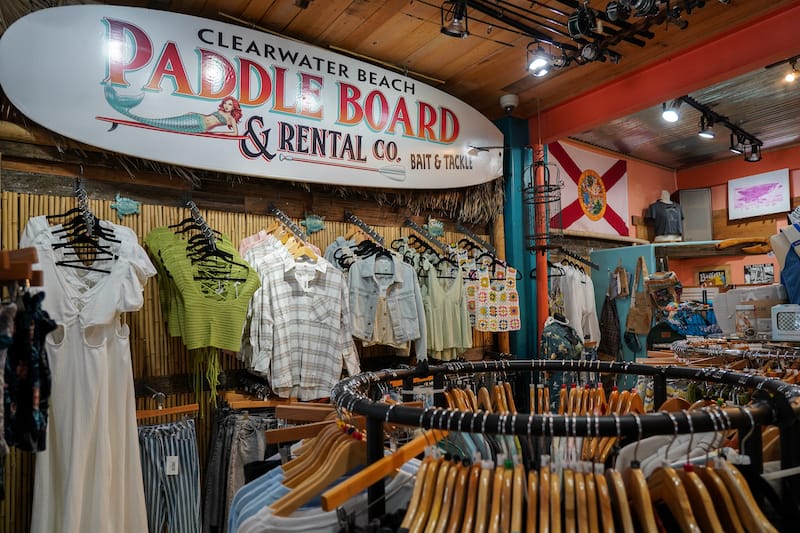 Once you're ready, you can take off and explore the breathtaking beauty of Clearwater Beach.
Stand-up paddleboarding is one of the most popular water sports because it is accessible to everyone, regardless of their level of physical training and experience.
Glide across the ocean's surface, embracing the light waves and serenity all by yourself.
Address: 439 Poinsettia Ave, Clearwater, FL 33767
21. Have a Beachside Drink at Tate Island Grill
A long day on the beach cannot go wrong if combined with a refreshing beachside drink at Tate Island Grill.
Part of Sandpearl Resort, the beach restaurant bar offers spectacular views of the Gulf of Mexico and a laid-back atmosphere that's ideal for enjoying a cold beverage and a bite to eat.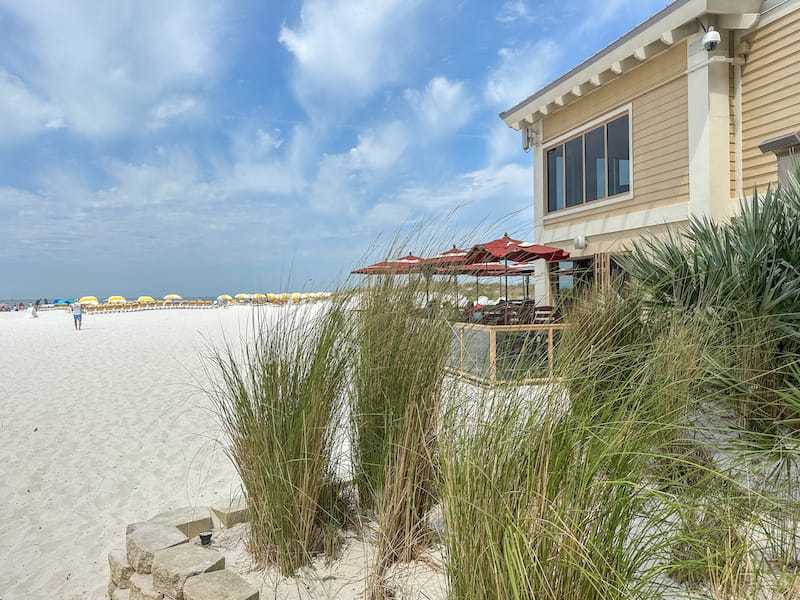 Refreshing drinks aren't the only reason to visit Tate Island Grill. The restaurant also offers a delicious menu of fresh seafood, burgers, salads, and more.
You can indulge in a plate of jumbo shrimp, grouper tacos, or mahi-mahi tacos while soaking up the sun and enjoying the ocean breeze.
Address: 500 Mandalay Ave, Clearwater, FL 33767
22. Try Your Luck Fishing on Pier 60
If you're a fishing enthusiast or just looking for a new outdoor experience, trying your luck fishing on Pier 60 at Clearwater Beach should be on your travel itinerary.
This 1080-foot pier is a hotspot for fishing and a recreational area with pavilions, a bait house, and a telescope to watch stars.
The pier is open 24/7, and visitors can purchase daily or weekly fishing passes at the entrance to the bait house.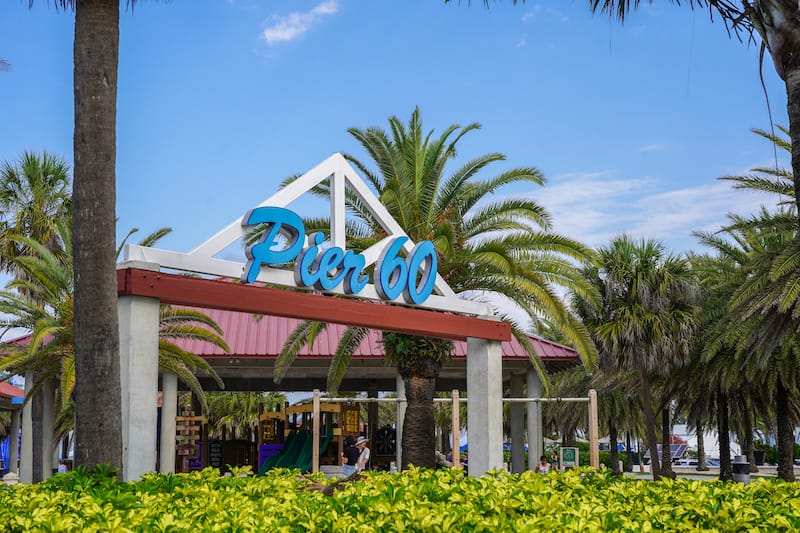 There are also fishing equipment rentals, including rods, reels, and bait. If you are a beginner, you can even hire an experienced fishing guide to get tips on the best spots and techniques for catching fish.
The common fish you can expect to catch are Spanish mackerel, redfish, spotted and silver trout, sheepshead, jacks, snappers, and more, depending on the season.
With night lights, you can enjoy night fishing, watch the sunset, or grab a bite to eat at the pier's restaurant.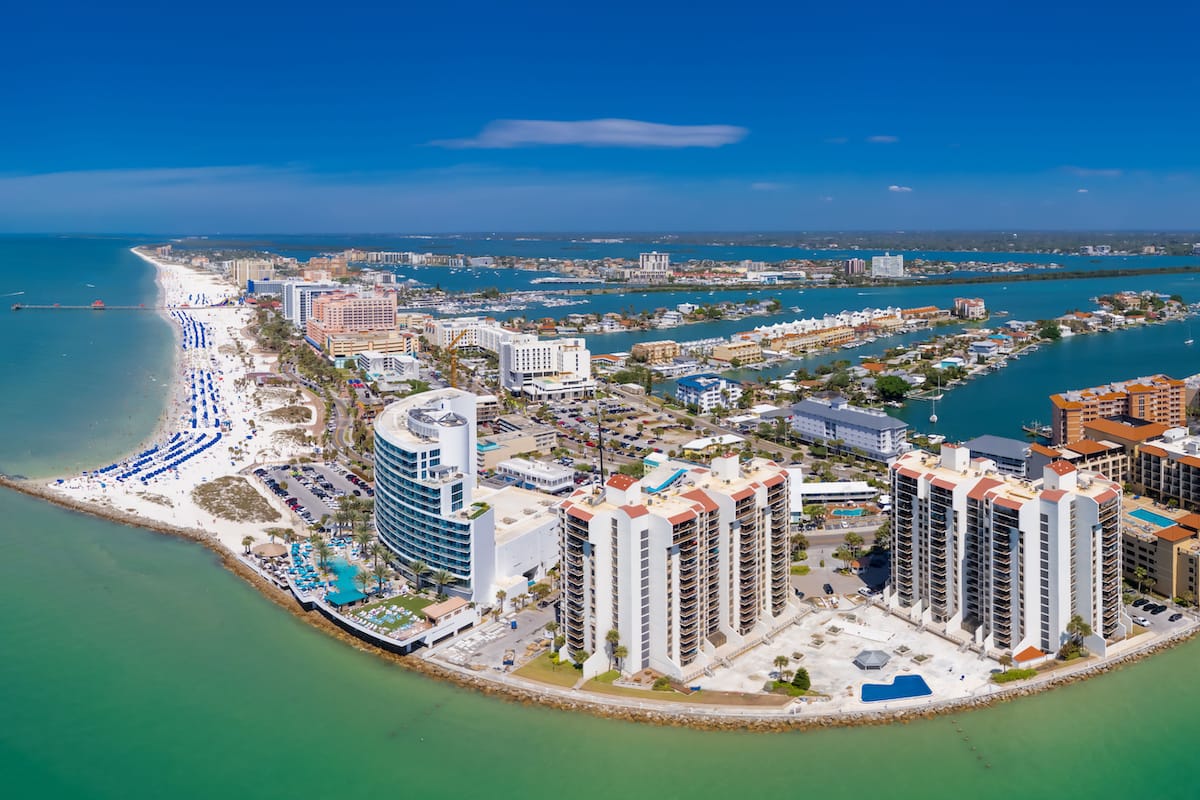 Where to Stay on Clearwater Beach
If you're looking for the best places to stay in Clearwater Beach, these are some of our favorites!
Did we miss any of the best things to do in Clearwater Beach (and Clearwater!) Florida? Let us know in the comments!
More Florida Travel Guides
Pin Clearwater Beach Things to Do Guide