Are you looking for the best beaches in Tampa for an upcoming trip? Keep reading to find out more!
Tampa has so much to offer visitors – from historic Ybor City to its incredible day trips… but one of the best things about Tampa are its beaches (and ones nearby!).
We have selected some of the best Tampa beaches… including ones near the city!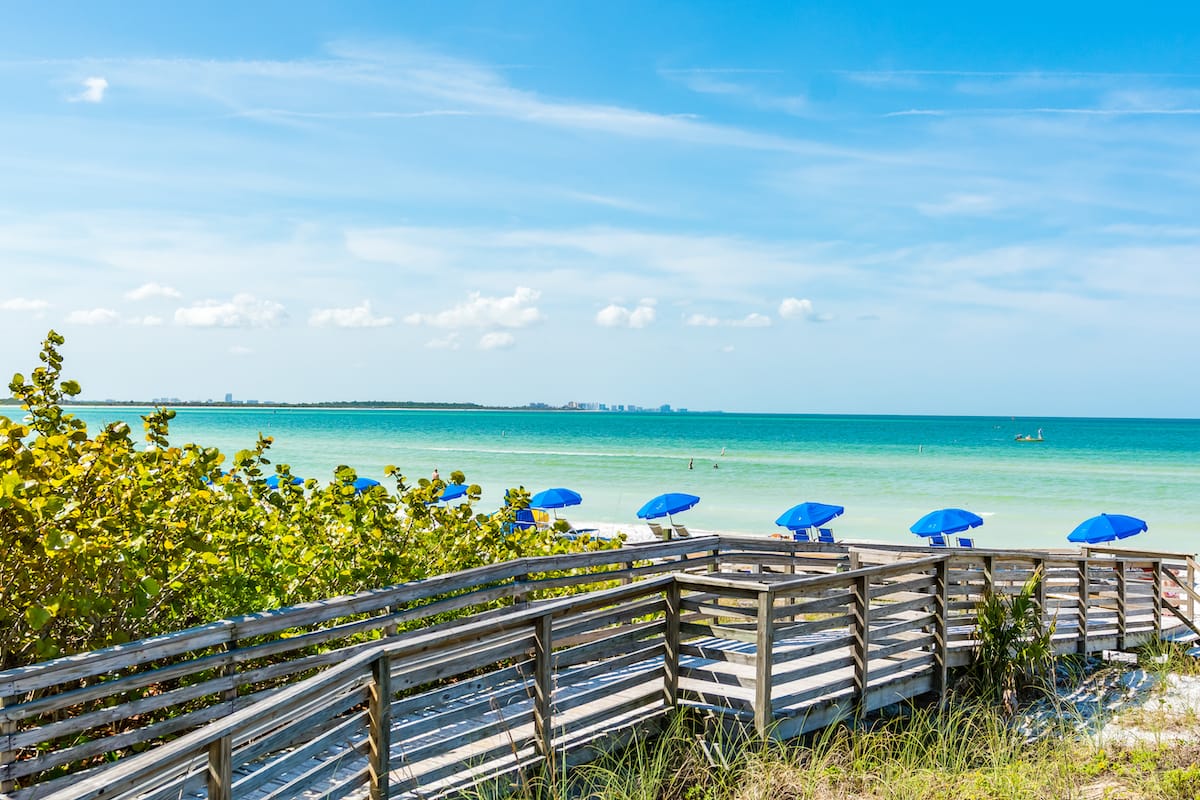 Did we miss any beaches in Tampa or close to the city on this guide? Let us know in the comments!
Best Beaches in Tampa (and Nearby!)
1. Ben T. Davis Beach (Tampa)
Ben T. Davis Beach is located along the shores of Tampa Bay and features a wide sandy shoreline with shallow waters and nice views of the bay and the skyline of downtown Tampa in the distance.
You can enjoy a variety of beach activities as well as water sports activities, such as paddle-boarding, kayaking, and jet skiing. You can also walk along the scenic boardwalk stretching along the shoreline.
You'll find people taking a leisurely stroll or a jog on the boardwalk for views of the beautiful shoreline at different hours during the day.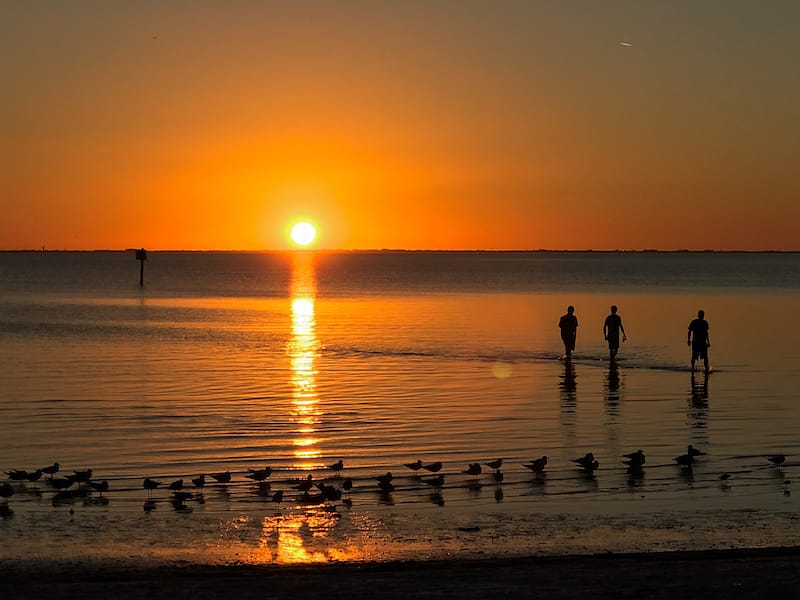 The beach is also equipped with picnic shelters, grills, restrooms, and showers and the beach is easily accessible with ample parking available.
It is particularly popular for its views of the beautiful sunsets over Tampa Bay and is a popular and picturesque setting for an evening stroll or a romantic sunset picnic.
Some of the most popular eating establishments nearby include Sharkey's Coffee N Cream Waterfront Cafe for quick to-go orders and Whiskey Joe's Bar & Grill, where you can actually take a seat and enjoy comforting food over views of the beach from a terrace.
The closest hotel to check out would be the Godfrey Hotel & Cabana.
Address: 7650 Courtney Campbell Cswy, Tampa, FL 33607
2. Sand Key Beach (Clearwater)
Sand Key is an excellent beach only a quarter of a mile away from Clearwater Beach, which is typically always packed.
As there are fewer people, parking is only $5 from sunrise to sunset, and other rentals and amenities are less expensive, such as the cabana rental.
The trails winding through the flat sand connect to numerous boardwalks that can lead you to and from the parking lot as well as to the sandy beaches along the Gulf.
Near the park entrance, there is a sand walking trail prepared with hard-packed sand that leads through the parking lot toward the beach. The beach itself is large and there is ample parking.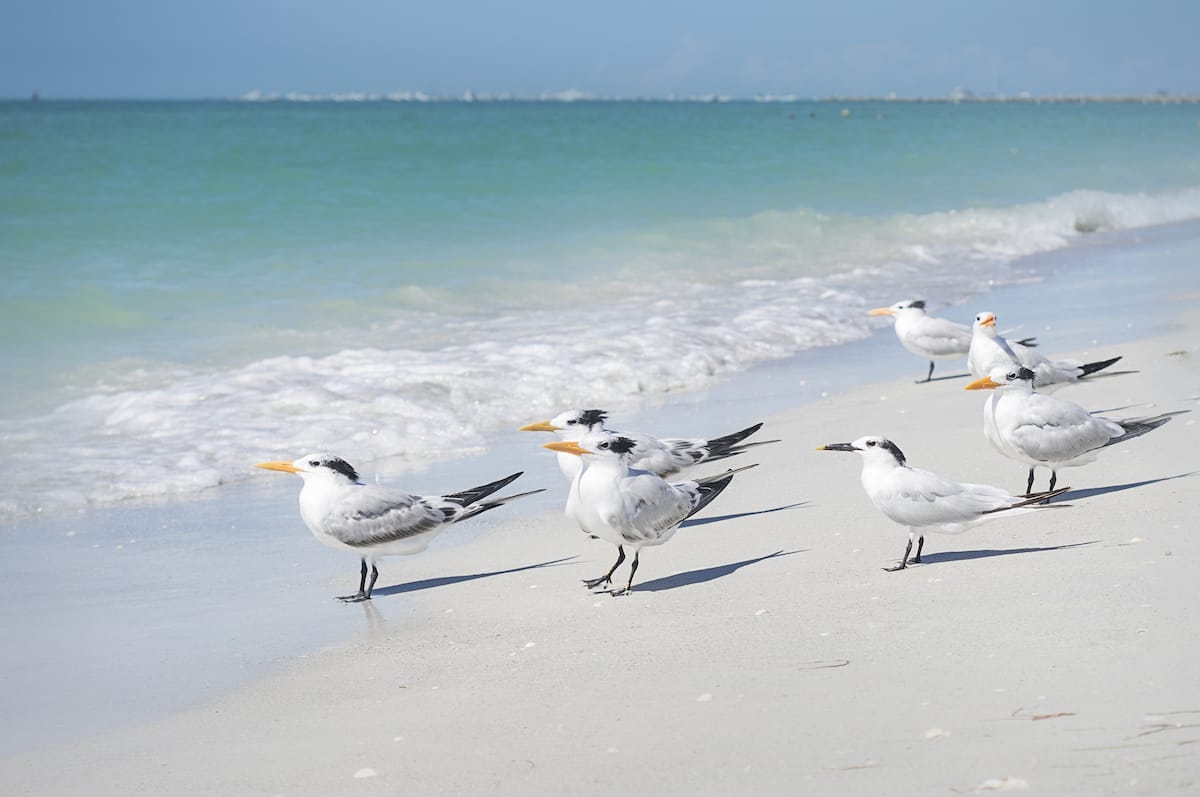 The bathrooms are cleaner than at most beaches in the area as well. Enjoy a swim, sunbathe, watch the ocean waves, or try shelling on the beaches of Sand Key.
This area is known for its top-quality restaurants with gorgeous patios, terraces, and sea views. Some of the best include Backwaters and Columbia Restaurant just below the park.
Up past Gulf Boulevard, you can find Cabana's Coastal Grill, Cesare at the Beach, and Forest on the Beach, all with excellent seafood and comfort food options to really get that satisfying vacation fix.
3. Madeira Beach (Pinellas County)
You will find many amazing things to do in Pinellas County (and nearby) like some of Florida's best hot springs, sandiest beaches, and more. And one top spot to visit is Madeira Beach!
Madeira Beach is a city in Pinellas County bordered by the Gulf of Mexico on the west and by St. Petersburg on the east.
The quaint beach town typically attracts affluent and preppy college students for spring break and has many top-quality hotels and restaurants prepared to cater to the demographic.
As a fishing village, there are plenty of opportunities to enjoy the sunshine, go swimming, relax on the beach, and even engage in fishing and shelling.
There are also numerous restaurants and shops located along the waterfront on both the Gulf and St. Petersburg.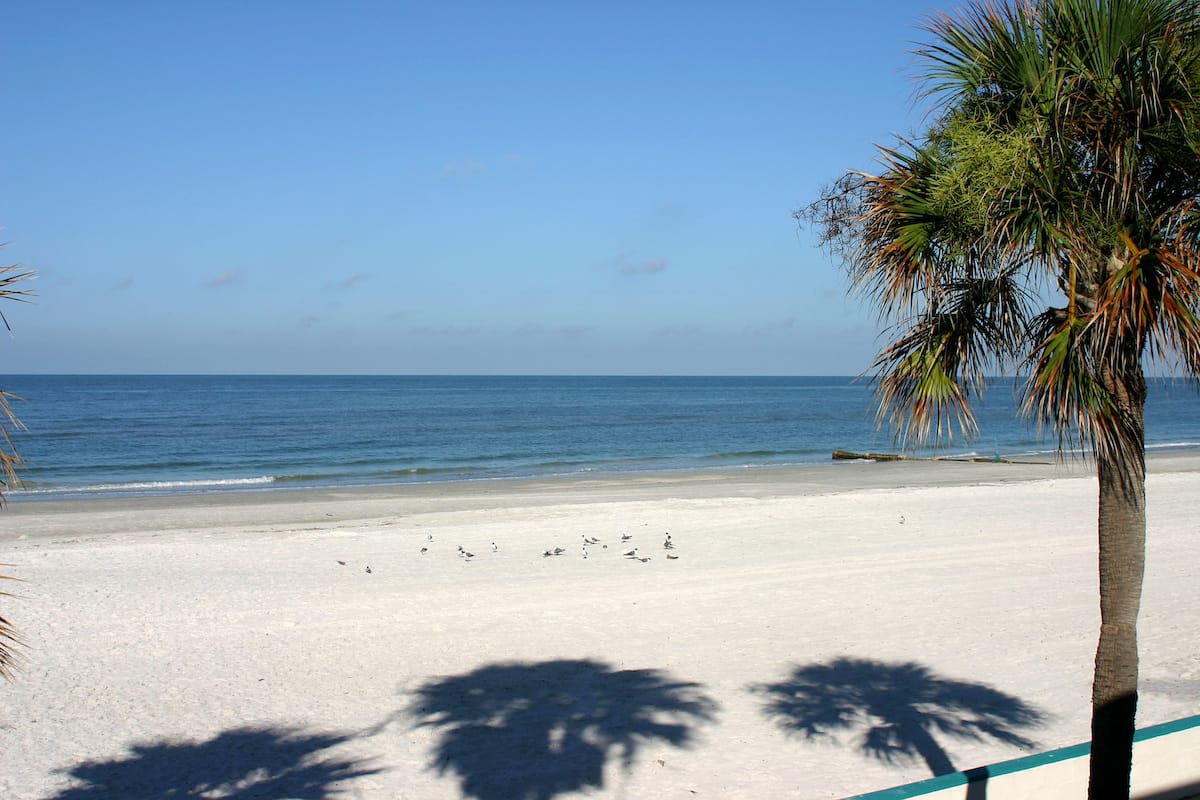 Some popular hotels include the Cambria Hotel in St. Petersburg which is right on the Madeira Beach Marina on Madeira Way. Another popular option is Blue Hammock.
For a laid-back dining experience on the waterside with a vibrant atmosphere and casual ambiance, you can enjoy sandwiches, BBQ, beer, and wine at Angry Pepper.
For something more classy and sophisticated, Gulf Bistro serves up elegant French fare with signature dishes like pâté & bouillabaisse.
Savor chunks of lobster in the Gulf Bistro's lobster penne pasta and crème brûlé under bright fluorescent lights or a classic sweet potato waffle fries paired with a filling fried chicken sandwich as you overlook the coastline.
4. Caladesi Island (Dunedin)
Caladesi Island is an untouched island and State Park along the Gulf Coast that can only be accessed by boat. However, its pristine beaches are worth the extra effort.
Stroll along the island's flat coast and deep and fine-grained white sandy beaches or take a kayak trip through the mangrove forest on the bayside.
The beaches on the island are particularly great for snorkeling with families due to the shallow waters, however, wildlife isn't as booming in this region despite the efforts to preserve the natural environments of the island.
One of the best beaches for snorkeling can be found near the restrooms and café near Main Beach.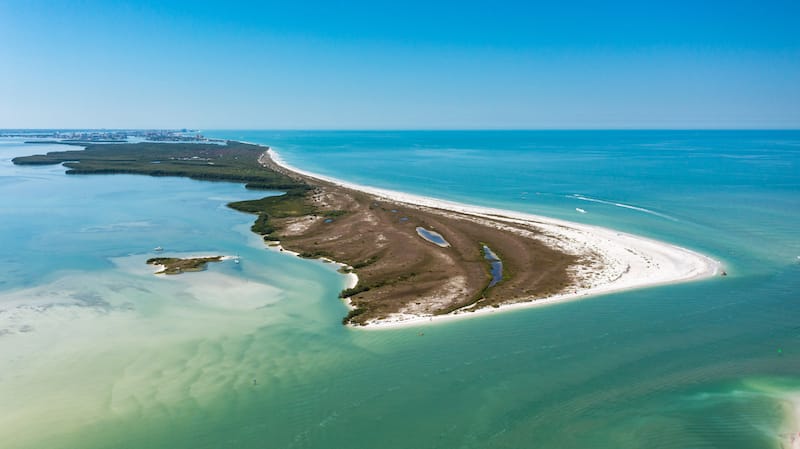 It is a popular family-friendly beach because its flat coast makes it ideal for shells to remain intact upon reaching the shore, and thus there are excellent shelling opportunities on the island.
Hiking is a popular activity on the island as well since the state park has prepared numerous hiking and exploration trains immersed in the unscathed nature of the island.
You can venture through salt marshes, mangrove swamps, and coastal scrubs, and can set afoot from the boat dock or boardwalk.
The most popular trail is a three-mile loop called the Island Trail which should be marked with signs throughout.
Address: 1 Causeway Blvd, Dunedin, FL 34698
5. St. Pete Beach (St. Petersburg)
St. Pete Beach is a resort city west of St. Petersburg on a barrier island and is known for its beaches and world-famous museums and art scene.
Its most famous landmark, the pink Moorish-style Don CeSar Hotel, overlooks the shore and dates back to 1928.
There are numerous independent galleries, especially in the Pass-A-Grille area, as well as a plethora of trendy shops for working artists and crafts people, as well as public art and outdoor installations.
The city frequently hosts film festivals, has live music, and its vibrant literary arts and performing arts communities rally in many other events throughout the year.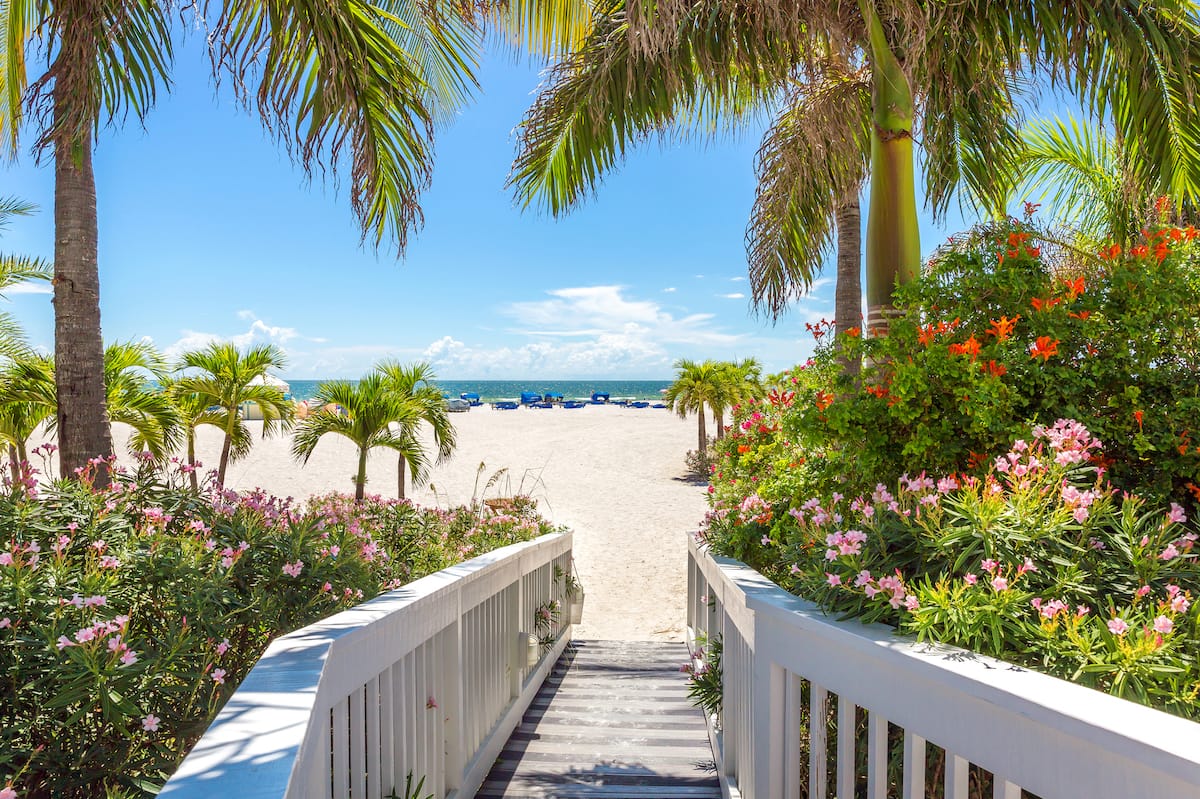 It is also home to the Gulf Beaches Historical Museum, which displays postcards and other artifacts in a 1917 church. Nearby, boats depart to Shell Key, a nesting site for seabirds and turtles.
The city's beach itself was actually named the number one best beach in the U.S. and number five in the world in 2021 on Tripadvisor.
It has excellent accessibility to downtown and the nearby downtown St. Petersburg, making it an ideal stop to add to a tight itinerary.
The Salvador Dalí Museum, Gulf Beaches Historical Museum, Upham Beach Park, and the Corey Avenue Shopping District are a few specific attractions to look out for.
6. Sunset Beach (Treasure Island)
Sunset Beach is located at Treasure Island's southern tip of Treasure Island and is a popular residential community for beach lovers.
You will find many decorated houses, beachfront bars, restaurants, and tiki huts all along the white sandy coast with bohemian themes.
The amenities on the beach include a shaded pavilion, vending machines, and showers for your comfort.
The narrow barrier island is about a mile long and is found on the western fork of Gulf Boulevard. Its width measures about a quarter of a mile wide.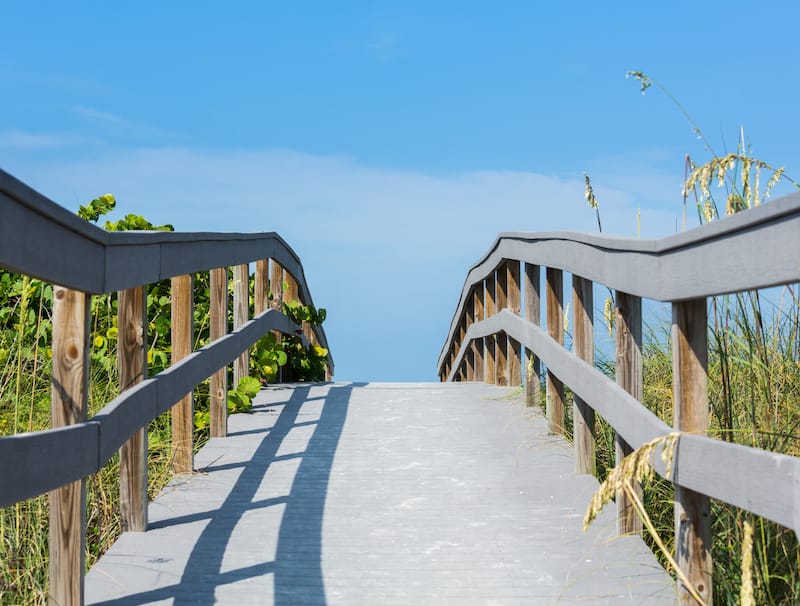 The beach amasses an impressive crowd of college students during Spring Break, especially at the popular Caddy's Beach Bar.
This spot may look like a typical beachfront cafe, but its trendy setup with DJs and live music makes it one of the hottest spots in town.
You can kick back and enjoy casual fare with burgers and seafood and then go dance it off on the sandy beach with some colorful drinks or take a dip in the water.
The gulf waters are also crystal clear and you have no need to worry about jelly fish as they are almost never spotted. You can also come across some dolphins since they don't swim too far from shore.
7. Honeymoon Island (Dunedin)
Honeymoon Island State Park has a delightful, slightly rocky beach that is a wonderful family-friendly option for you to consider.
The park is divided in half, with a surplus of hiking and outdoor recreational activities and pursuits available on the northern end, and on the southern end, you have optimal access for picnics and sunbathing.
In contrast to the hiking trails and mangroves in the north, the south has a waterfront that also divides into a north and south beach.
Surfers typically head over to the north beach since it has its own bathhouse, whereas the south beach offers bathrooms and concessions areas for those looking to stay near the coast.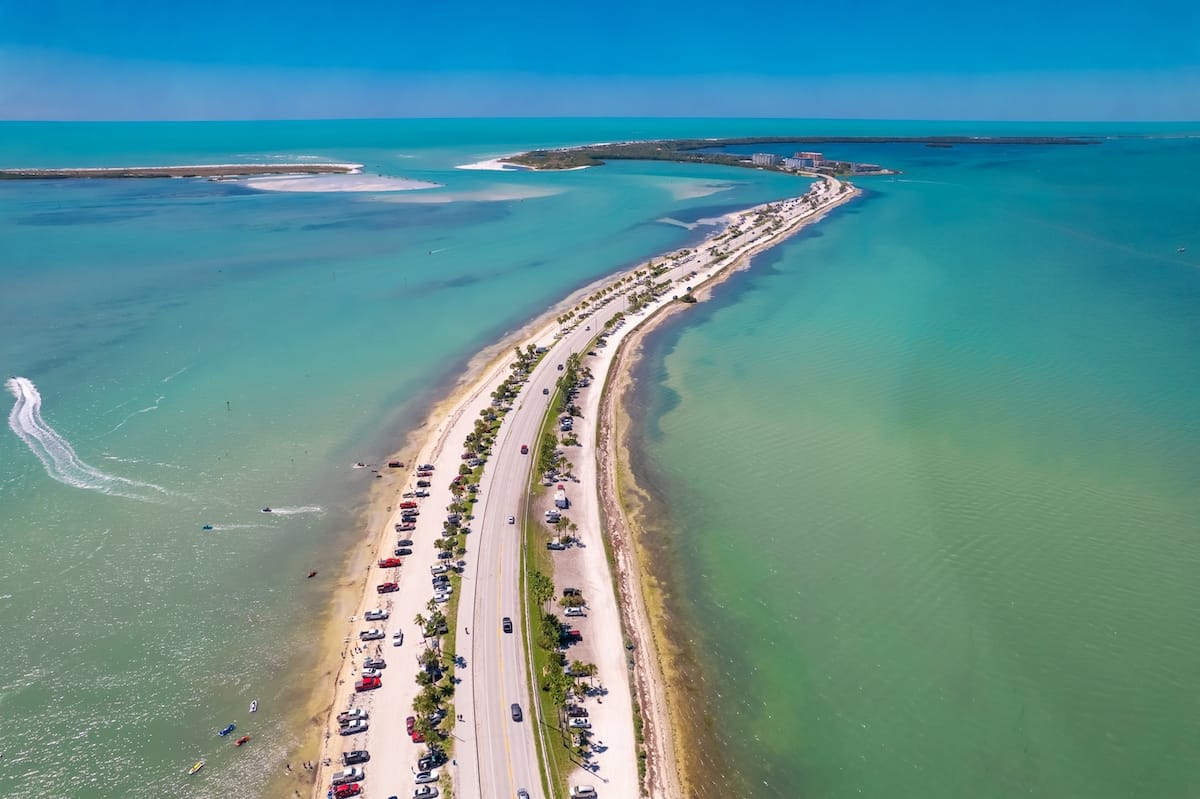 There is an entry fee of $4 for a vehicle with only one person and $8 per car that can cover up to eight people, and it must be paid at the south end of the island at the toll booth.
For pedestrians and bicyclists, or anyone over the eight-person limit in a car, $2 is required apiece for entry.
The northern end of the island has no parking or services and the southern tollbooth is the only entrance into the park.
8. Indian Rocks Beach (Pinellas County)
Indian Rocks Beach is an excellent and less crowded alternative to Clearwater Beach. I
t offers about three miles of gorgeous and accessible beaches along the Gulf of Mexico and is the perfect place to be for a calm and relaxing vacation.
Its multiple miles of coast along Gulf Boulevard grants 27 beach access points.
Indian Rocks Beach Nature Preserve is a scenic preserve with lush natural environments such as mangroves that lead to the beach and ocean via boardwalk.
You can take a rest at one of the many benches along the way and relax with views overlooking the bay.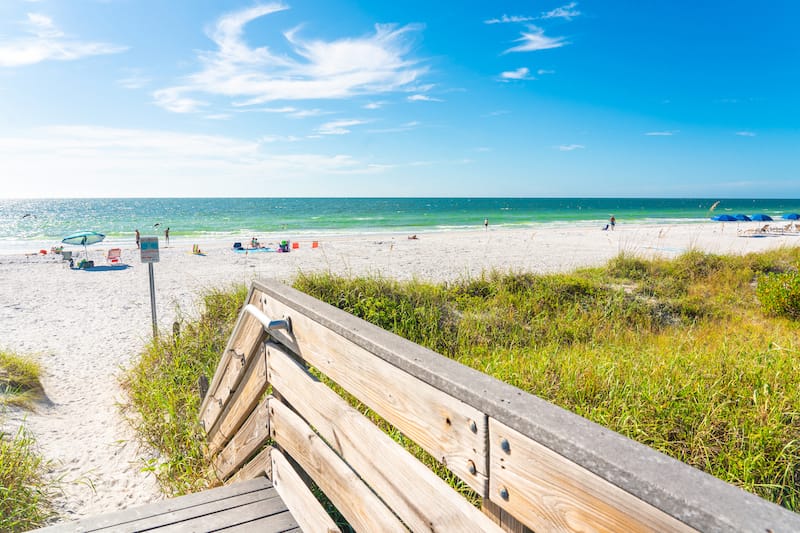 Splash Harbor Water Park is an exciting destination in town offering a variety of slides and splash zones for kids as well as casual dining options and a tiki bar.
With game rooms, numerous water amenities, and relaxing lounge chairs under the sun, there is something for everyone at the water park.
You can check out the charming Indian Rocks Historical Museum to learn about the town and its origins.
It goes all the way back to the time when the beach was originally a Native American campsite and explains how it was given the name from the large red rocks along the shoreline.
9. Clearwater Beach (Clearwater)
Clearwater Beach is perhaps the most famous in the Tampa area and is crowded all throughout the year.
It is famous for its white sands along the clear blue waters of the Gulf Coast and its pier is a gorgeous attraction drawing in visitors from all around.
There are numerous beach activities to enjoy on the barrier island's clear waters and soft white sands, such as swimming, boating, parasailing, jet skiing, stand-up paddle boarding, fishing, and kayaking.
The beachfront also has a winding promenade that attracts rollerbladers and cyclists all throughout the day.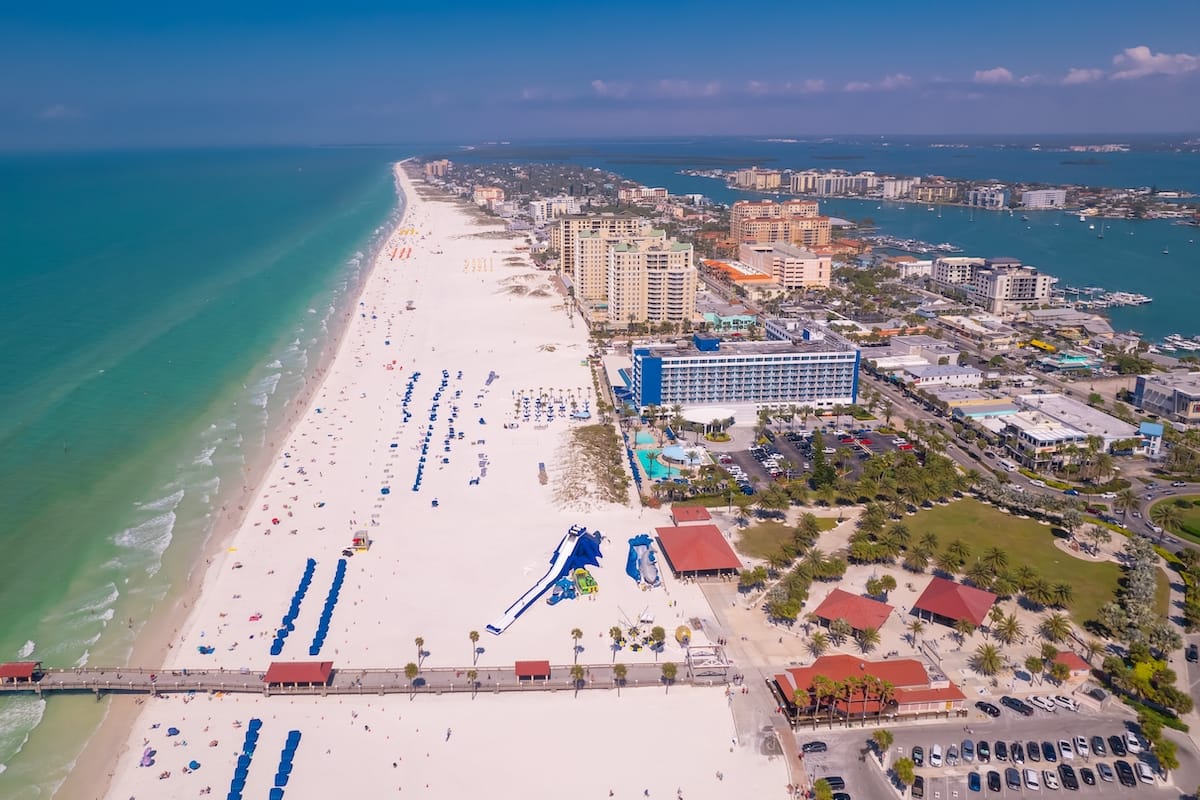 The promenade is also lined with a plethora of cafes and seafood restaurants (eating is seriously one of the best things to do in Clearwater Beach!).
At sunset, the beachfront promenade's Pier 60 has nightly festivals with craft vendors and street performers.
There are also opportunities for sightseeing boat tours, private cruises, and boat rentals – one of the most popular on the list is the Tiki Boat Cruise.
It consists of a tour around the Gulf of Mexico on a floating bar. Additionally, there are cruises by Dolphin Adventures that will take you up close to the amazing creatures during the cruise.
Frenchy's Rockaway Grill is a popular place near the water and it serves up local caught seafood and delicious Grouper sandwiches.
10. Fred Howard Park (Tarpon Springs)
Fred Howard Park is a beautiful park stretching 155 acres along the Gulf of Mexico in Tarpon Springs and draws in many people all throughout the year for its clear and beautiful beaches.
The white sandy beach is about one mile into the park and is particularly popular to visit during sunsets.
There is a swimming area, a windsurfing area, a fishing area, a launching area for canoeing and kayaking, as well as two playgrounds, a ball field, a nine picnic shelters.
The six restrooms and showers also grant visitors convenient access to quickly resume their day on the beautiful beaches.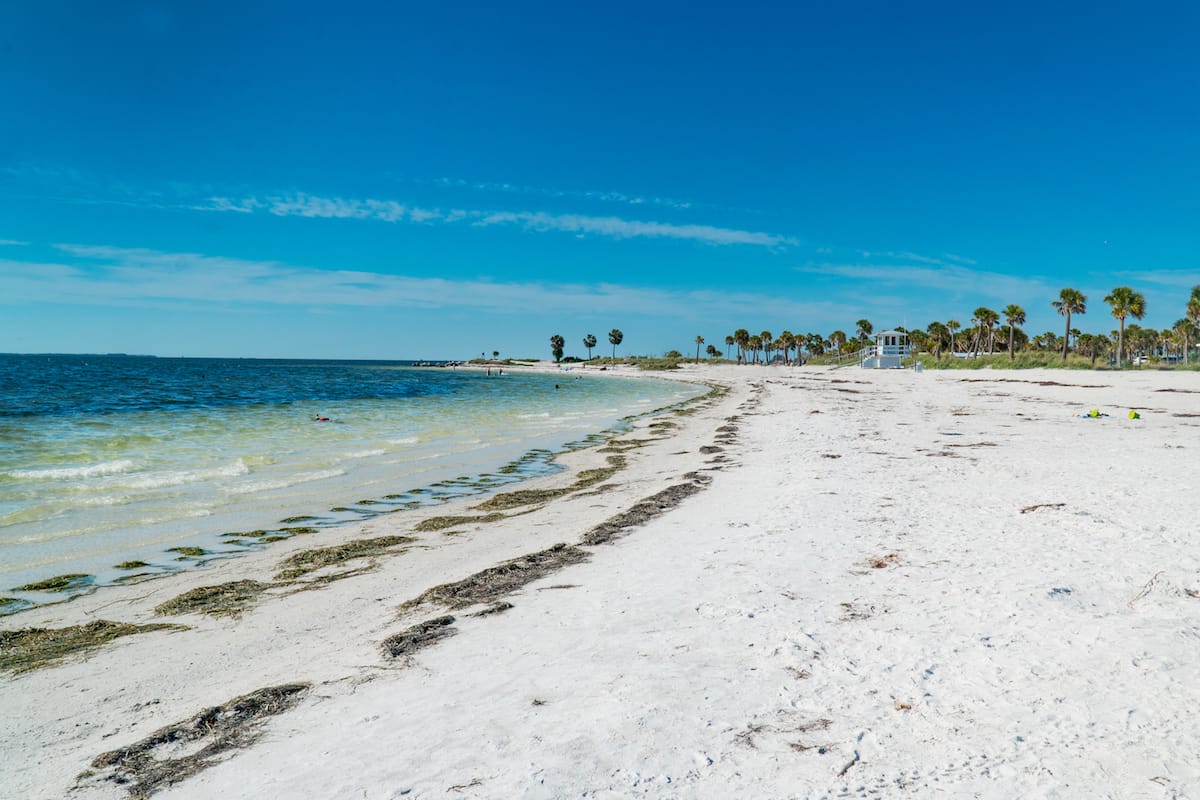 The beach itself is less congested compared to that of Clearwater and is a place where you can actually enjoy the environment under the sun as well as under the shady trails.
Fred Howard Park is unique compared to the other beaches because it is not over-commercialized and tourist driven, thus it is untouched by t-shirt shops, bars, and restaurants.
The nearest access to something along those lines would be in Tarpon Springs' Greek Village.
Otherwise, the picnic amenities and clean beaches are ideal enough to bring your own food to enjoy with the stunning scenery and breeze.
Address: 1700 Sunset Dr, Tarpon Springs, FL 34689
Did we miss any of the best beaches near Tampa? Let us know your favorite Tampa beaches in the comments!
More Florida Travel Guides
Pin this Tampa Beaches Guide