If you're planning a trip to The Sunshine State and are looking for the best things to do in Kissimmee, Florida, welcome to my corner of the internet!
Are you planning your trip to Orlando/Kissimmee last minute?
If youʻre booking your trip to Orlando and Kissimmee last minute, we have you covered. Below are some of the top tours, hotels, and more!
🌴 Top Experiences and Tours in Central Florida:
🛌 Top Hotels in Orlando/Kissimmee:
🚗 Looking for the best way to get around Central Florida? Click here to check rental car rates for Florida!
In the detailed post below, you'll find nothing but the best recommendations for Kissimmee area restaurants, nightlife, amusement parks, museums, and much more.
Just 22 miles (a 35 minutes drive) south of the Orlando metro area, Kissimmee is a city full of endless family-friendly activities.
Although it's often overshadowed by Orlando, the small city is home to a historic downtown, nature trails, decades-old shops, golf courses, and two stunning lakes.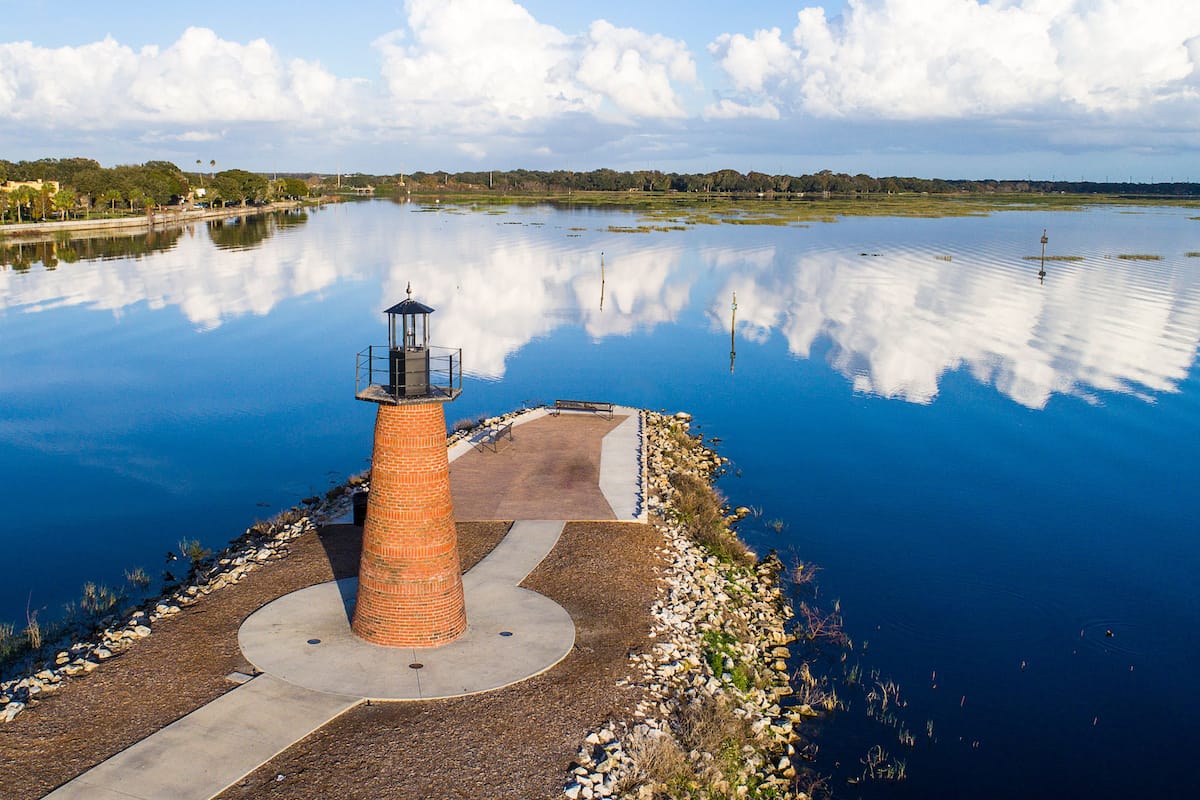 It's also within easy driving distance to Orlando International Airport (MCO) and just an hour from several amazing Florida beaches!
It's the perfect place to escape the hustle and bustle of Orlando for a day trip or to spend a dedicated few days exploring the area. Trust me when I say there is plenty to see (and eat)!
Read on below to learn about the best things to do in Kissimmee during your next Florida vacation.
Best Things to Do in Kissimmee, Florida
1. Go Back in Time at Medieval Times
A real-life Game of Thrones experience, Medieval Times is an entertainment hybrid of fairy tale and Middle Age chivalry.
Guests are shown a riveting display of showmanship, and romance set to exciting music, thundering hooves, and games of skill.
This two-hour jousting tournament dinner includes six competing knights using real weapons (wooden).
During the show, a four-course meal is provided, and live animals (magical horses and a royal falcon) join in on the performance.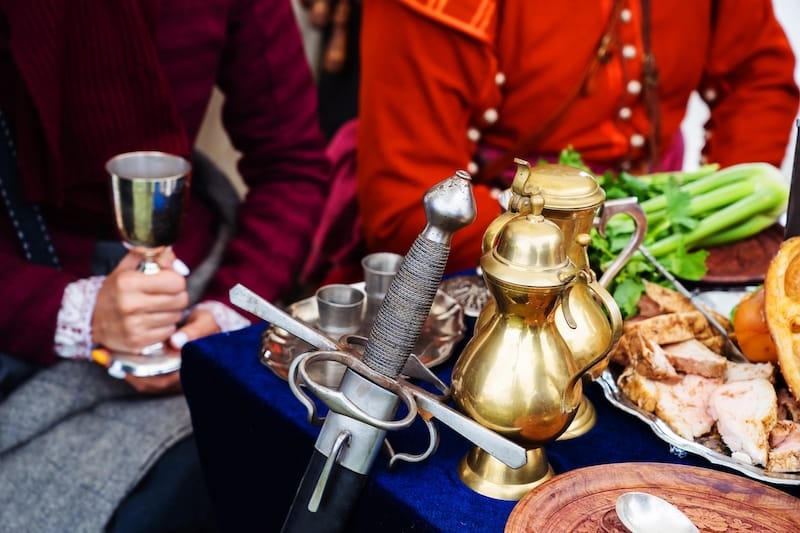 The experience begins in the Hall of Arms. Here, guests can admire reproductions of elaborate Middle Age Medieval décor, coats of arms, and weaponry.
Guests will then be sent into an area where they are seated by color-coded sections before their feast.
What follows is a spectacular display of equestrian skills and Medieval pageantry. Games such as the ring pierce, flag toss, and javelin throw are carried out.
At the end of the competition, guests can receive autographs and mingle with cast members.
Address: 4510 W Vine St, Kissimmee, FL 34746
2. Discover the Friendly-Family Old Town
The Old Town is perhaps one of the most popular attractions in Kissimmee. It's free to enter, and offers free parking around the nearby buildings!
Old Town is a mecca of restaurants, bars, stores, shows, and rides all in one place!
This family-friendly campus is home to a Ferris wheel, a rollercoaster, a carousel, a Great Magic Hall, and a Ninja Challenge obstacle course. It's a great place to skip the prices (and the crowds) of the Orlando parks.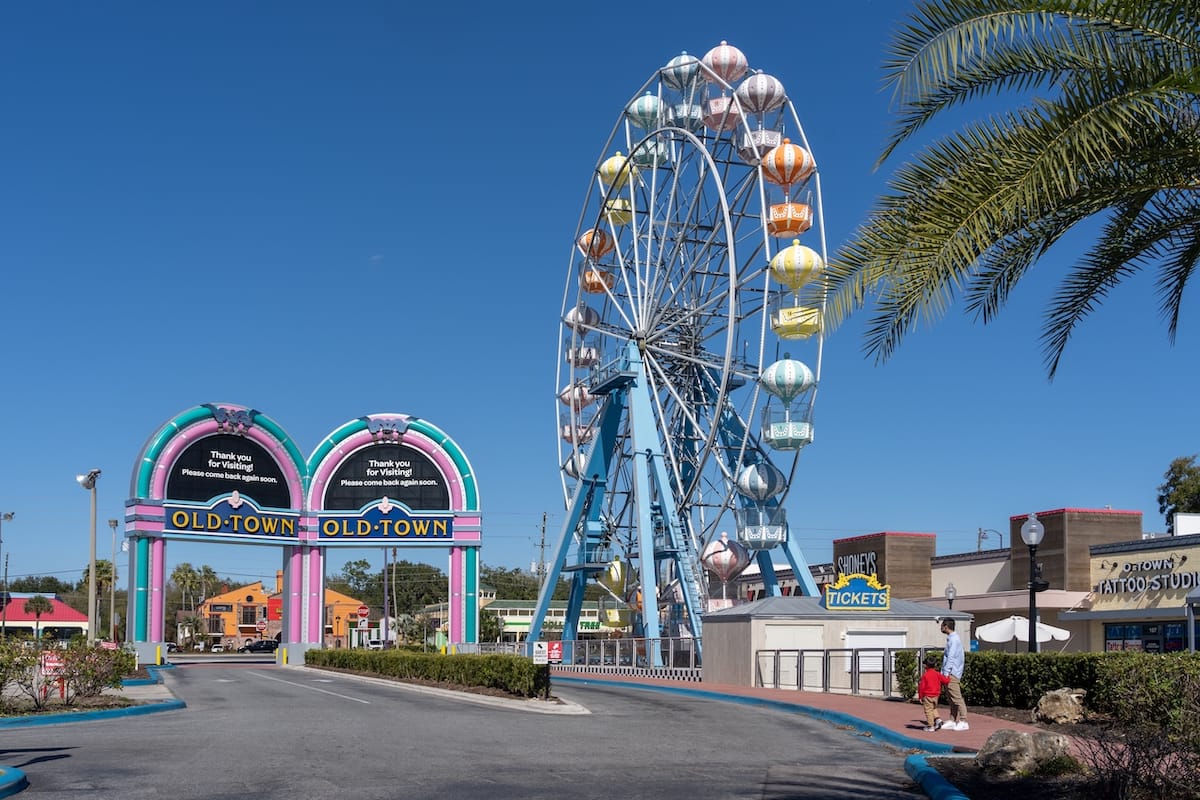 If shopping is more your forte, you can find discount stores, a general store, spas, a barbershop, a specialty food store, and a jewelry store.
After working up an appetite, stop into one of the dozens of restaurants to wet your whistle or grab a bite.
Some favorites among locals are Twisted Vine Winery & BBQ, Flipper's Pizzeria, and Mr. Sushi. You may even be able to enjoy live music with your meal on certain nights.
3. Relax at Kissimmee Lakefront Park
The stunning and grassy Kissimmee Lakefront Park is a waterfront park is a popular spot for outdoor activities including fishing, boating, hiking, and biking.
Just a short drive from Walt Disney World, it lies along the shores of Lake Toho.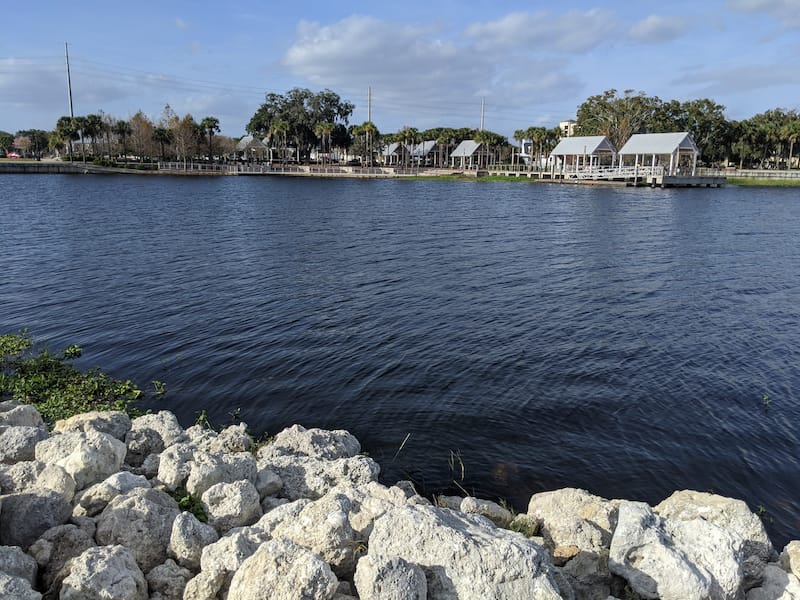 With barbecue grills, concessions, a fishing pier, nature trails, picnic tables, open fields, playgrounds, restrooms, and plenty of pavilions for shelter, you'll be sure to have a relaxing day.
Even better, it's a very short drive to Old Town. If you find some additional time in your schedule, you can enjoy a thrilling ride, shop till you drop, or savor the local cuisine.
Address: 201 Lakeview Dr, Kissimmee, FL 34741
4. Enjoy the Thrills at Fun Spot America
One of the best things to do in Kissimmee, Florida for kids who love a thrill is Fun Spot America. This all-in-one massive theme park boasts dozens of rides, games, and shows.
Even though each ride has its own height requirements, Fun Spot America has something for everyone.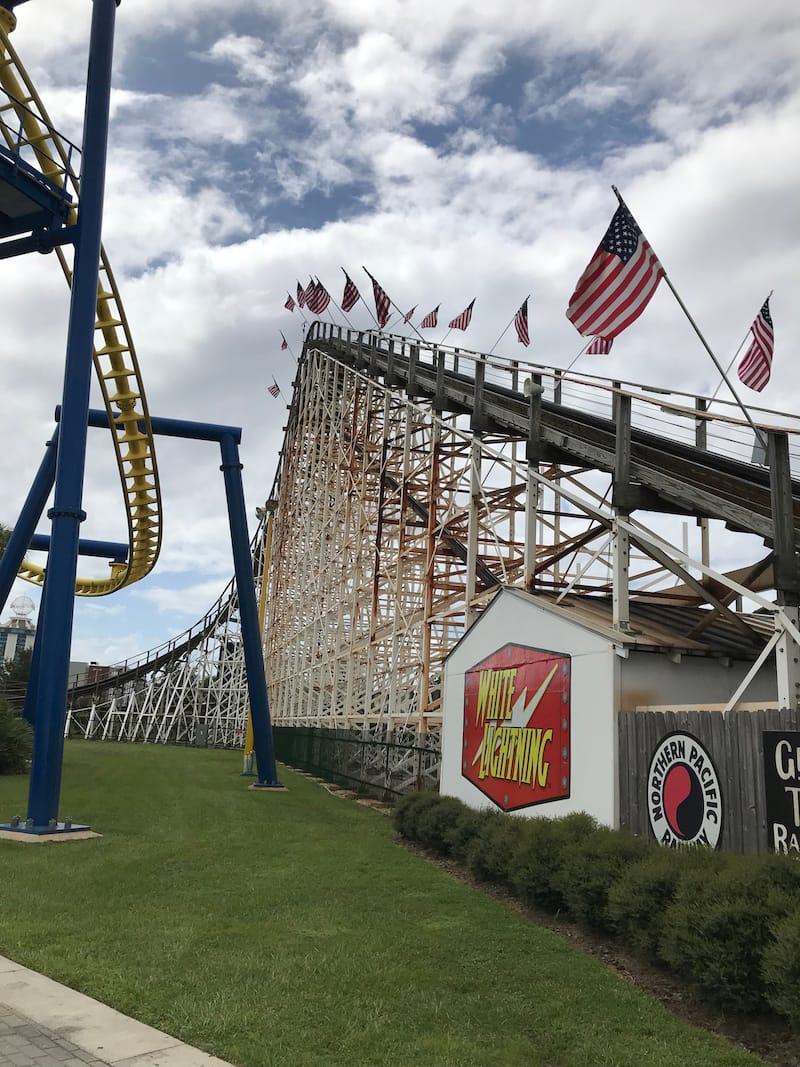 Some "all age" friendly activities include bumper cars, a fun slide, a kiddie coaster, an arcade, a carousel, and the Frog Hopper.
Older kids with a bit more height can "feel the rush" on the Headrush 360, fly in the Hot Seat, ride the ParaTrooper, or experience the world's tallest Sky Coaster.
There is also a sister Fun Spot America located in Orlando.
Address: 2850 Florida Plaza Blvd, Kissimmee, FL 34746
5. Go Racing at Kissimmee Go Karts
This one-mile-long racetrack is the largest one of its kind in Central Florida, and it's been around for more than 20 years.
The course features three bridges, winding multi-level figure-eight turns, and ultra-fast race cars. It may sound intimidating, but it's built for drivers of all ages and experiences!
In addition to the race track, Kissimmee Go Karts also has a gator pool with live gators that you can feed from a safe distance.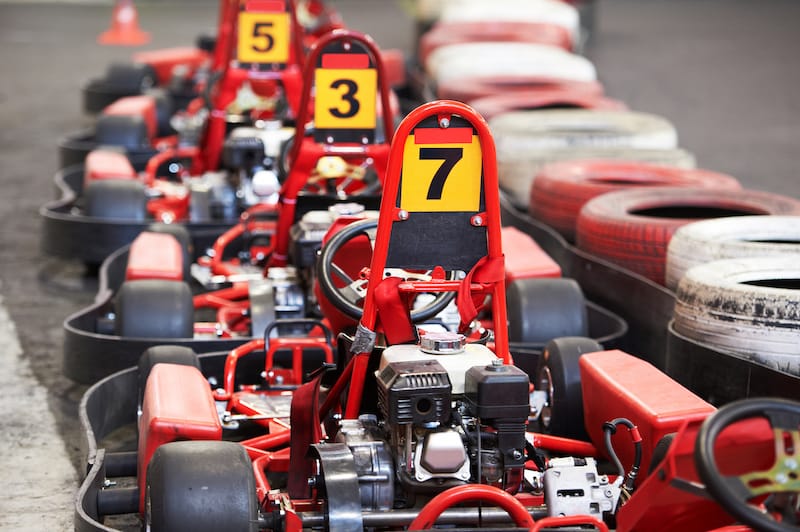 For guests who prefer to steer clear of the reptiles, the arcade is a great choice. It has tons of old-school games like Ms. Pac-Man, Galaga, Skeeball, and air hockey.
Kissimmee Go Karts is open seven days a week, even on most holidays, and reservations are not necessary. Parking is also free of charge.
Address: 4708 W Irlo Bronson Memorial Hwy, Kissimmee, FL 34746
6. Explore Nature at Shingle Creek Regional Park
Shingle Creek Regional Park is known as the northernmost Headwaters of the Florida Everglades.
Deemed an "America's Great Outdoor" by President Obama, it's one of the best things to do in Kissimmee, Florida for nature lovers.
At 23 miles long, it flows into Lake Toho before traveling another 350 miles journey down the Kissimmee River, then into Lake Okeechobee, and finally to the Everglades.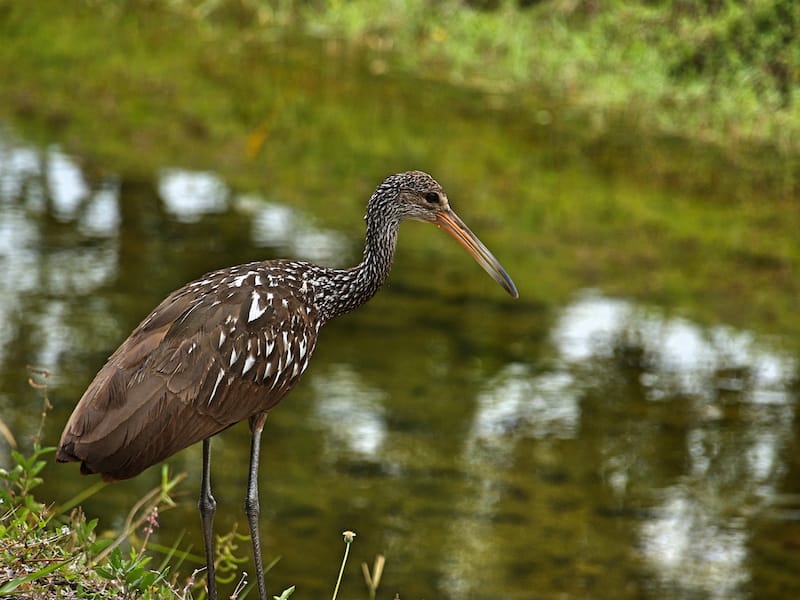 Today, you can explore the park's trail by foot, bicycle, or boat. You can walk the urban trails, or take to the water for a two-mile paddle.
Once complete, it will extend 32 miles to Wekiva Springs State Park.
Address: 925 S Bass Rd, Kissimmee, FL 34746
7. Chill Out at Brinson Park
This sizable Brinson Park is a local favorite! It's a great place to spot unique birds and wildlife species, have a barbecue, go fishing, or simply spend time outdoors in the sun.
There are also a number of great hotel options nearby the park including the Duo Boutique Hotel, the Flamingo Waterfront Resort, and Unno Boutique Hotel.
Address: 406 Neptune Rd, Kissimmee, FL 34744
8. Visit Dare 2 Escape (a Halloween Escape Room!)
Dare 2 Escape is the brainchild of four friends who met at Universal Studios' Halloween Horror Night.
They had the vision to create the scariest escape room experience in Central Florida — so they did.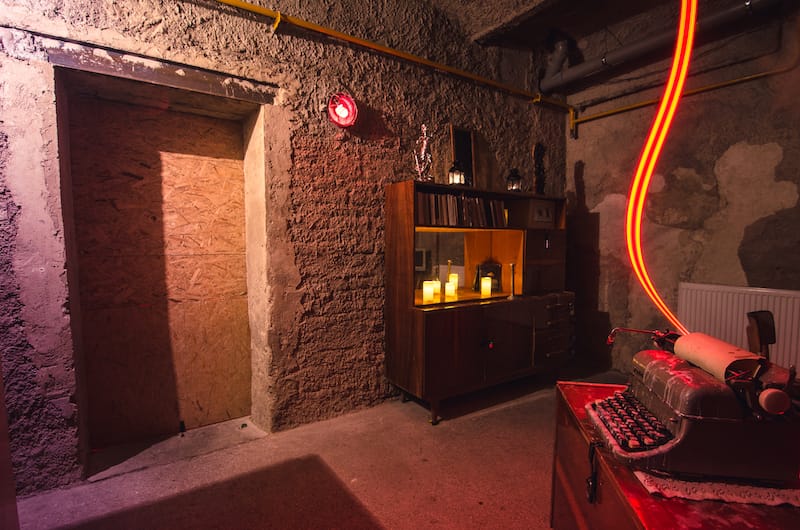 The goal is to transport guests into a highly immersive environment so authentic, that guests feel they are in reality.
Focusing on the notorious Tillman family, Dare 2 Escape celebrates the best of Halloween every day.
If you're someone who isn't as enthusiastic about Halloween, don't worry! Dare 2 Escape also offers non-scary, family-friendly escape rooms so everyone can enjoy the experience.
Address: 5041 W Irlo Bronson Memorial Hwy, Kissimmee, FL 34746
9. Check Out the Museum of Military History
For retired or active military, the Museum of Military History is a must-see.
This small but mighty museum pays homage to the American soldier and features exhibits with artifacts from previous conflicts.
You'll likely see military uniforms, model weapons, maps, and other items. With friendly and knowledgeable staff, you can take a guided tour or explore on your own time.
The museum is friendly for all ages.
Address: 5210 W Irlo Bronson Memorial Hwy, Kissimmee, FL 34746
10. Take a Ride with Orlando Airboat Tours
It's not a trip to Florida without taking an airboat tour. Orlando Airboat Tours offers a unique option as the company operates smaller and more maneuverable boats.
These boats are state-of-the-art and include stadium seating. This ensures that all passengers enjoy unobstructed views of the landscape and any wildlife that could be encountered.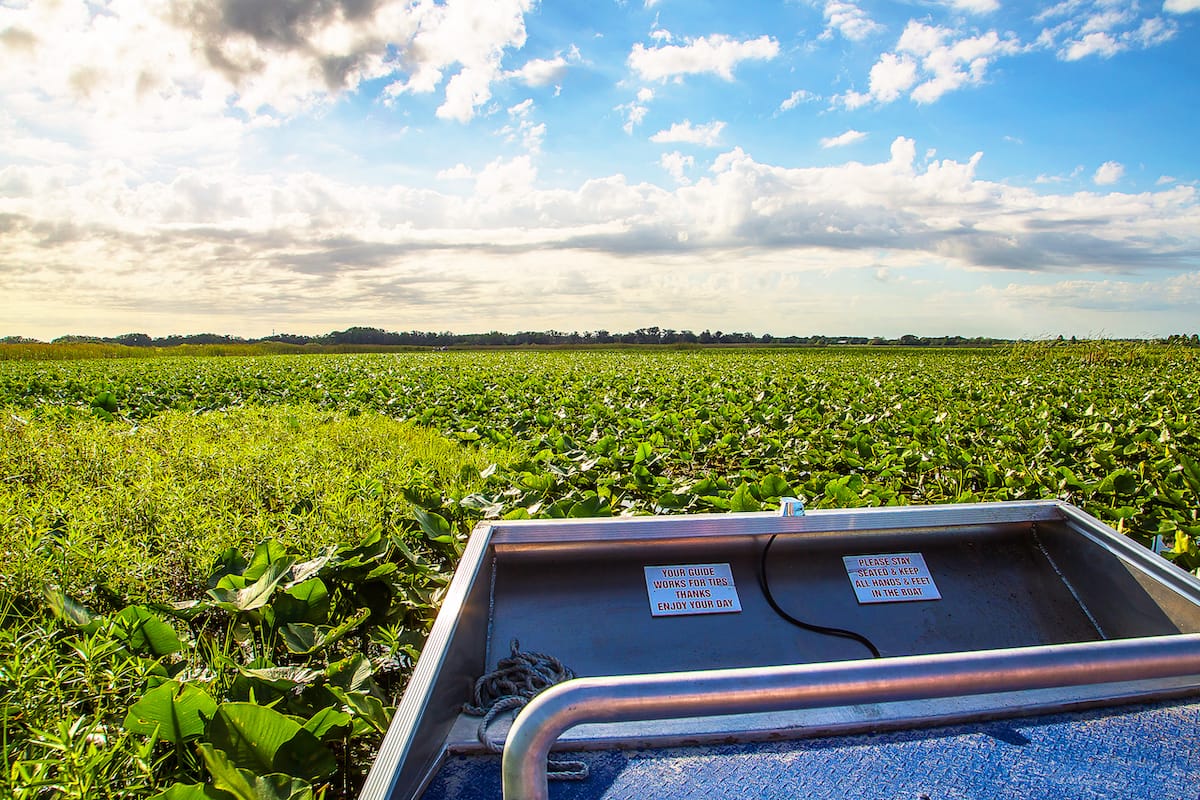 This might include alligators, birds, fish, snakes, or flora!
Tours are customizable and can range from one hour to four hours of small group or private rides.
They ride rain or shine, so if the forecast calls for bad weather, be sure to cancel at least 24 hours in advance. Reservations are mandatory and tours operate Monday to Saturday.
11. Stop by the Great Magic Hall
Prepare to be amazed! The Great Magic Hall is just inside Old Town near the colorful neighborhood of Celebration. Here, guests can get a private viewing of special tricks and otherworldly performances.
In addition to show-stopping magic shows, guests can try their hand at magic themselves.
The Great Magic Hall offers magic classes, private demonstrations, and livestreams.
Even better, the magic hall is just minutes from Walt Disney World, SeaWorld, and Universal Studios.
It makes for a great evening show after a hectic day at the parks.
Address: 5770 W Irlo Bronson Memorial Hwy #400, Kissimmee, FL 34746
12. Go Ziplining at Orlando Tree Trek Adventure Park
Water slides and airboat tours are great, but zip lines are the ultimate thrill. If you're looking for an additional activity away from the Orlando theme parks, the Orlando Tree Trek is it.
This progressively challenging obstacle course will send you flying through the tree canopies of a natural pine forest.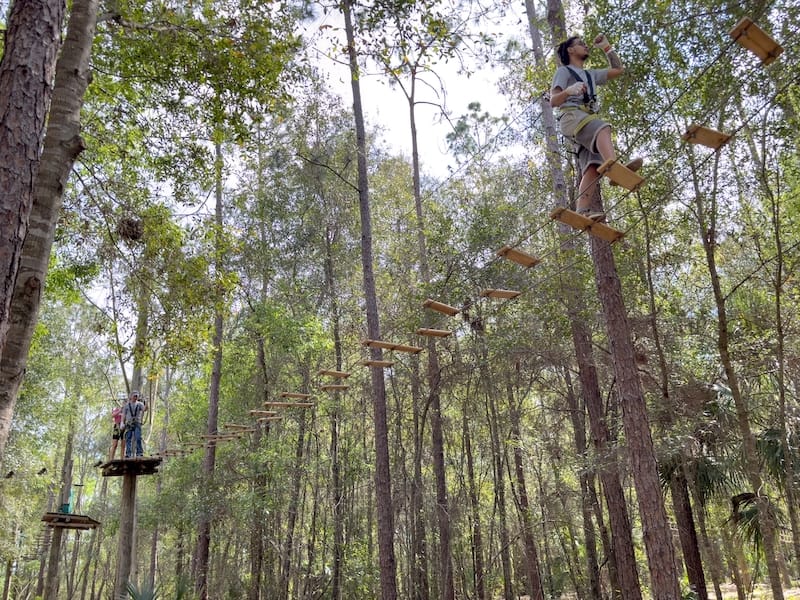 You'll safely swing on Tarzan ropes, climb ladders, scrabble hanging nets, cross suspension bridges, and topple across swinging logs.
There are numerous course options that vary in skill level, including a green course with minimum elevation, a blue course at medium elevation, a silver course with advanced elevation, and the red course for advanced skill.
There are also two separate courses just for kids!
Address: 7625 Sinclair Rd, Kissimmee, FL 34747
13. Get Wet at H2O Live
During the hot Florida summers, there's no better way to cool off than at a water park.
With nearly a dozen water slides ranging in intensity, you can choose to take it easy or try the vertical descents for yourself at H2O Live.
If you're feeling adventurous, some of the most popular "max thrilling" slides include the Drop Down and the Follow Me Falls.
If you want to avoid the rides altogether, you can stick to the lagoon pools and The Virtual Village. Here, you can share meals and memories in a relaxing atmosphere.
Be sure to stop by the Pelican Hut for ICEE Floats, and Cabana for hamburgers and fried coconut shrimp!
You and your group can even book a private luxury cabana in four options: Standard, Cabana Suite, Adult, and Ultimate.
Address: 3230 Inspiration Dr, Kissimmee, FL 34747
14. Spend the Day at Universal
If you plan to spend at least a week in Central Florida, one of the best things to do in Kissimmee, Florida is to take a day trip to Universal Studios Orlando Resort.
With numerous ticket options to fit most budgets, you can enjoy Universal with an annual pass, a special vacation package, or a day pass with an express ticket add-on.
There are three theme parks within Universal Studios: Universal Studios Florida, Universal's Islands of Adventure, and Universal's Volcano Bay.
You will need to buy separate tickets to each park, although some ticket options allow entry into two parks in one day.
Both Universal Studios and Islands of Adventure offer unique experiences. However, they are slightly different.
The theme of Universal Studios focuses on TV shows and movies, while Islands of Adventure focuses on superheroes and magical creatures.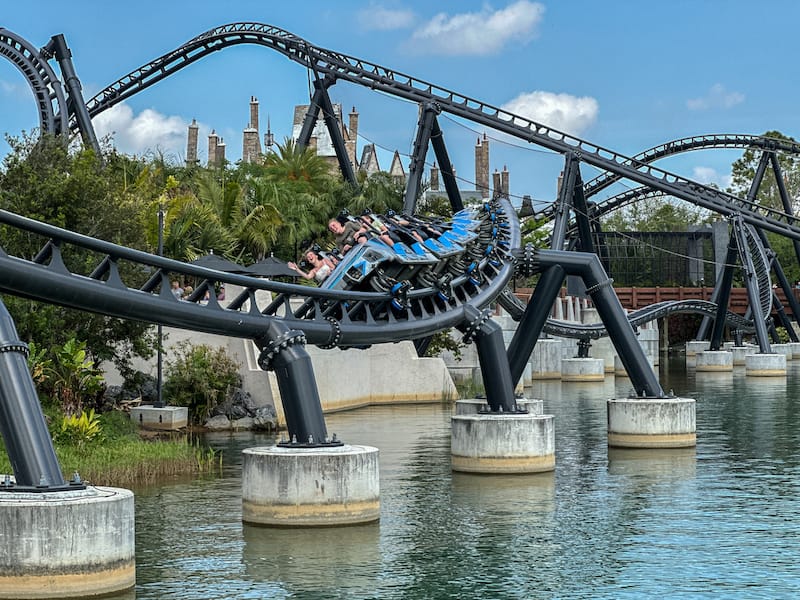 If you're visiting both parks in one day, definitely don't miss out on spending ample time in the Wizarding World of Harry Potter.
Diagon Alley is in Universal Studios and Hogsmeade is in Islands of Adventure.
Address: 6000 Universal Blvd, Orlando, FL 32819
15. Spend Another Day at Disney
With more than 62 million visitors each year, Walt Disney World is the number one reason why people visit Central Florida.
In fact, visiting Disney World is an item that can be found on most people's bucket lists.
The park itself is a total of 43 square miles. Within it, there are four parks: Disney's Hollywood Studios, Disney's Animal Kingdom Theme Park, Magic Kingdom Park, and EPCOT.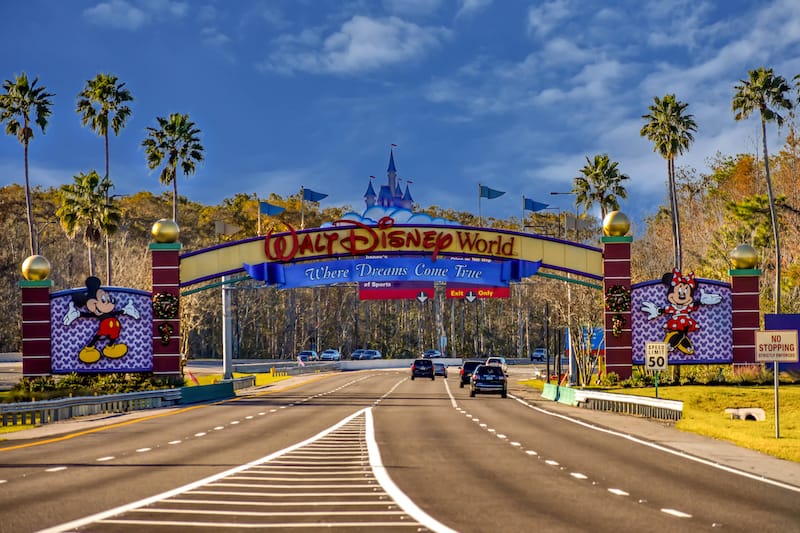 Some of the most popular attractions include Cinderella's Castle and Space Mountain in Magic Kingdom, and Star Wars and Toy Story Land in Disney Hollywood Studios.
Given its sheer size, it's best to spend at least two if not three days in the park if you have the time.
Don't forget to bring sunscreen, a rain poncho, a phone battery pack, themed clothes, Mickey ears, and an autograph book if you have kids!
16. Go Shopping and Dining at Disney Springs
To unwind after exploring the parks, Disney Springs is a great place for a stroll and some fresh air and it is one of the top fun spots in the US!
The outdoor shopping, dining, and entertainment complex can be found in Lake Buena Vista, Florida, near Orlando.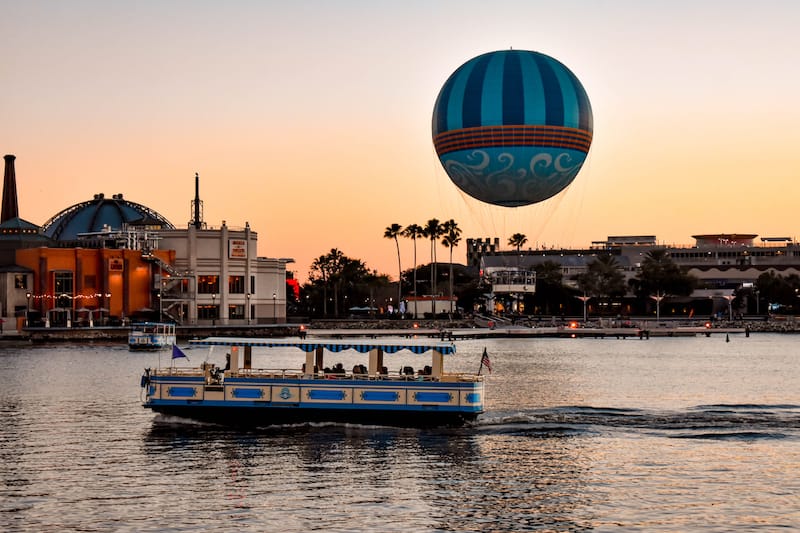 No matter the day, you'll experience live music, eccentric shops, Disney-themed memorabilia, shows, and unique restaurants you won't find anywhere else.
Some of the most popular attractions include the AMC Dine-In Theater, Amorette's Patisserie Cake Decorating, and the Aerophile Balloon Flight.
Address: 1486 Buena Vista Dr, Lake Buena Vista, FL 32830
17. Channel Your Inner Child at LegoLand
A mecca for kids ages 2 to 12, the LEGOLAND Florida Resort is a multi-day amusement park. It is home to more than 50 interactive rides over 14 different lands inspired by LEGO.
These lands feature shows, building zones, and creative play centers. and a water park.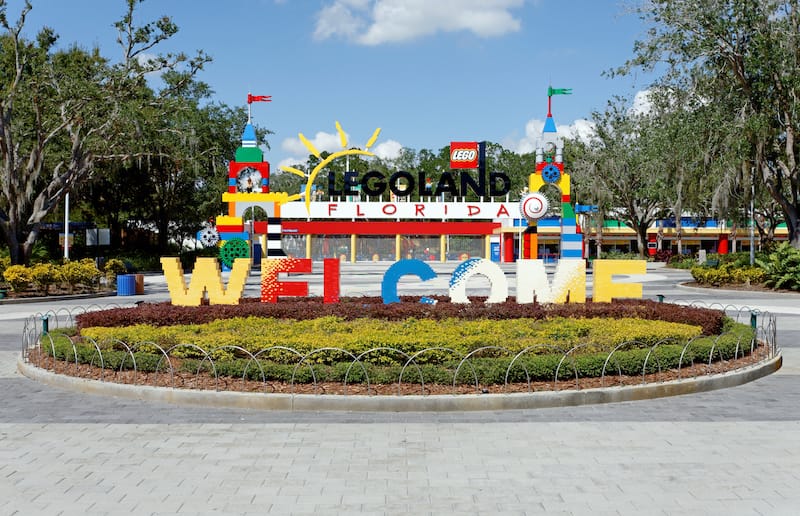 For the wee-little ones, there is a brand new Peppa Pig Theme Park that features relaxed rides, a cinema, and character shows.
There are plenty of hotels nearby that are also on theme. You can stay at the "5-gazillion star" LEGOLAND Hotel, the LEGOLAND Pirate Island Hotel, or the LEGOLAND Beach Retreat.
Address: 1 Legoland Way, Winter Haven, FL 33884
18. Spend the Evening at Icon Park
In the heart of Orlando on International Drive, Icon Park is a 20-acre entertainment complex.
With more than 50 attractions, a 400-foot-tall observation wheel is a permanent fixture of the Orlando skyline.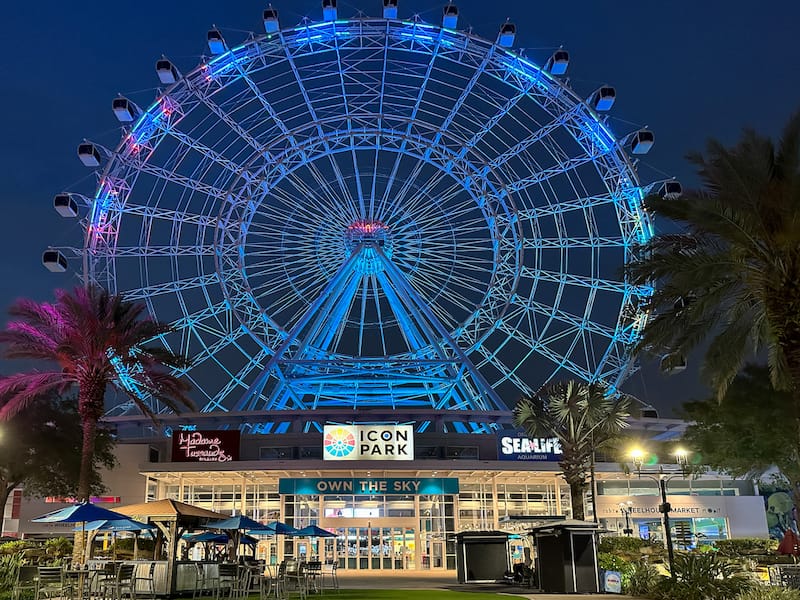 It also houses a Madame Tussaud's Wax Museum, a Sea Life aquarium, the Museum of Illusions, and the Pearl Express Train.
Address: 8375 International Dr, Orlando, FL 32819
Where to Stay in Kissimmee (and Nearby)
If you're on the search for the best places to stay in Kissimmee, and nearby, here are some of our favorites:
Did we miss any of the best things to do in Kissimmee? Let us know your favorite Kissimmee attractions in the comments!
Author Bio
Wayne is a travel blogger and creator of Always On The Shore.
He loves to write about the best attractions, restaurants, and resorts in Florida and the southeastern U.S.
When he is not writing, he is running outdoors, spending time with family, or planning his next trip.
More Florida Travel Guides
Pin this Kissimmee Attractions Guide