Are you planning a trip to Calgary in winter and are not sure how to keep yourself occupied?
Are you planning your trip to Calgary last minute?
If you're traveling to Calgary last minute, you want to ensure you have lodging ahead of time! Below are some of our top picks in town!
Best Hotels and Accommodation in Calgary:
Palliser Fairmont (downtown, luxury)
Sheraton Hotel (downtown, 4 stars)
Hampton Inn Airport (airport, 3 stars)
Best Day Tours and Attractions in Calgary:
This Calgary winter guide will give you all the tips and the best things to do in Calgary in winter to ensure you have an epic trip!
If you have any tips for winter in Calgary, be sure to leave them in the comments!
Best Things to Do in Calgary in Winter
Calgary is the largest city in the province of Alberta, Canada. Often overlooked by tourists traveling to the Canadian Rockies, and merely using the city as a stopover, we highly recommend adding Calgary to your Banff Itinerary for its culinary and city vibes.
In addition, Calgary is the nearest airport to Banff and other national parks in the Rockies.
It is located only 1.5 hours away from the mountains and all the amazing things to do in Banff.
If you are visiting Calgary in the winter, you will be welcomed to a white, winter wonderland!
And there are so many things to do in Calgary in winter that you will have no issue keeping occupied if you're combining the Canadian city with a Banff trip or not.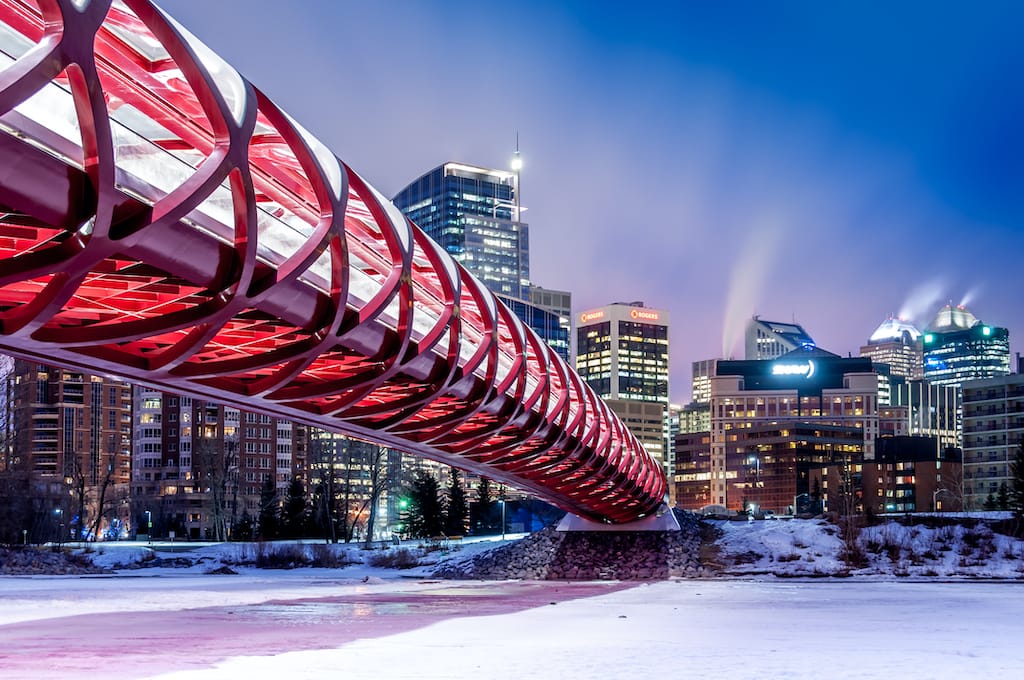 When is it Winter in Calgary?
Winter in Calgary technically starts toward the end of December and finishes by the end of March. However, it tends to last longer in this part of Canada and Calgary is no exception!
How Cold Does it Get in Calgary?
Is it cold in Calgary, you ask? Yes, it is cold.
Winter temperatures in Calgary range from -1C to a low of – 12C and with the wind chill, it could drop to below – 20C.
The only way to enjoy the winters in Calgary is to layer and dress warmly!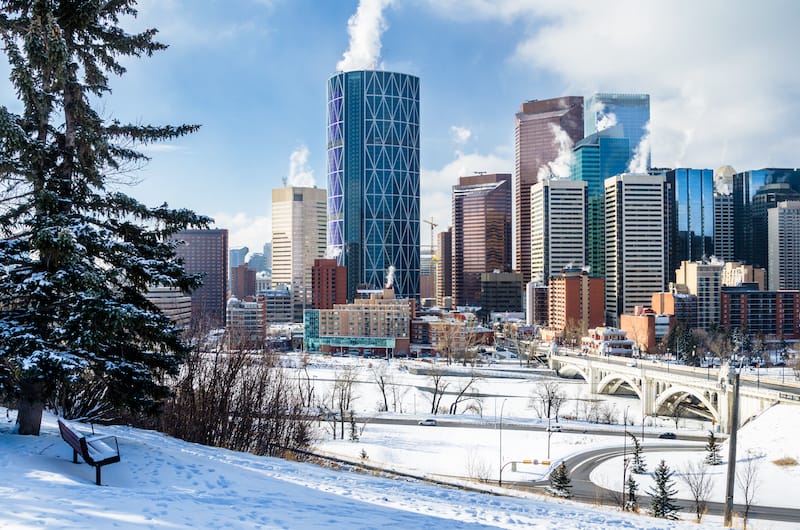 The coldest month in Calgary tends to be January and (usually), and Calgary is colder than Toronto.
Also, note that Calgary can be very windy… but there are many things to do in Calgary that make the winter tolerable (and extremely enjoyable!)
Does it Snow in Calgary during Winter?
Yes, you will almost certainly see snow in Calgary in winter.
The first snowfall usually arrives in September or October and the last one will usually fall in April or May.
There are an estimated 55 snowfall days in Calgary annually and around 1288mm (50.7in) of snow accumulates.
What to Know Before Visiting Calgary in Winter
There are many things to know before visiting Calgary in winter and this guide hits all of the activities and things to do, but here are a few useful pieces of information to know that will help you in planning your winter Calgary trip.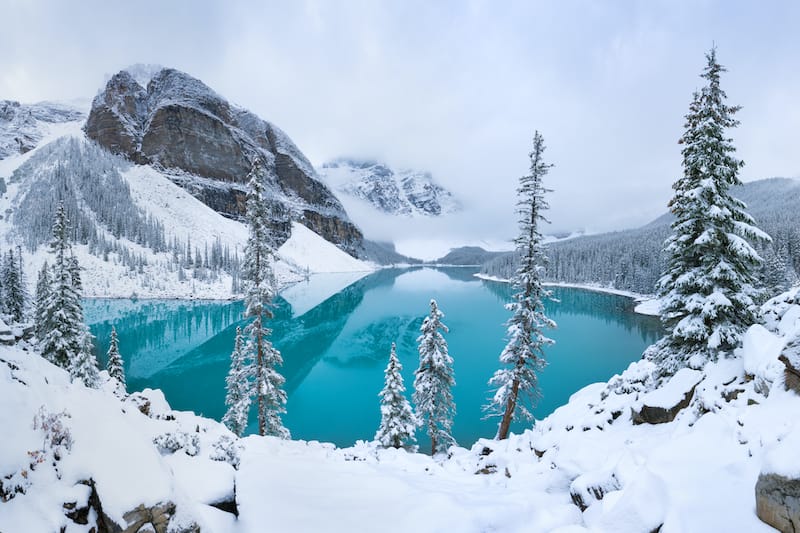 Do You Need a Visa to Visit Canada?
Travelers from the USA

:

US passport holders traveling to Canada can stay visa-free if staying less than 180 days.

Travelers from the EU

: European Union nationals are visa-exempt (for up to six months' stay). You'll need to complete an Electronic Travel Authorization (ETA) online before boarding the flights to Canada.
Non-visa-exempt visitors traveling to Canada need to apply for a visitor visa from the country of residence prior to arriving in Canada.
Currency in Canada
Canada uses Canadian dollars. The acceptance of USD is very rare in Calgary and Banff. Credit cards are widely accepted, and debit machines are easily available across the city.
How to Get Around Calgary in Winter
Calgary is best explored using a car in the winter. You can easily rent a car from Calgary Airport.
Calgary also has a well-connected and reliable public transportation network, including buses and light rail trains.
As many of the landmarks are located in the downtown area, you can also take the airport shuttle to reach the city's core from the airport.
Buses are also available to take you to major hotels in Calgary downtown. If you are planning to use public transportation, note that fares for adults start at $3.50 CAD for one trip.
Multi-day and monthly passes are available for a long-term stay.
Do dress warmly, as it could get very cold while you wait at the LRT platforms or bus stations.
If you are driving in town, ensure you have winter tires on and drive safely!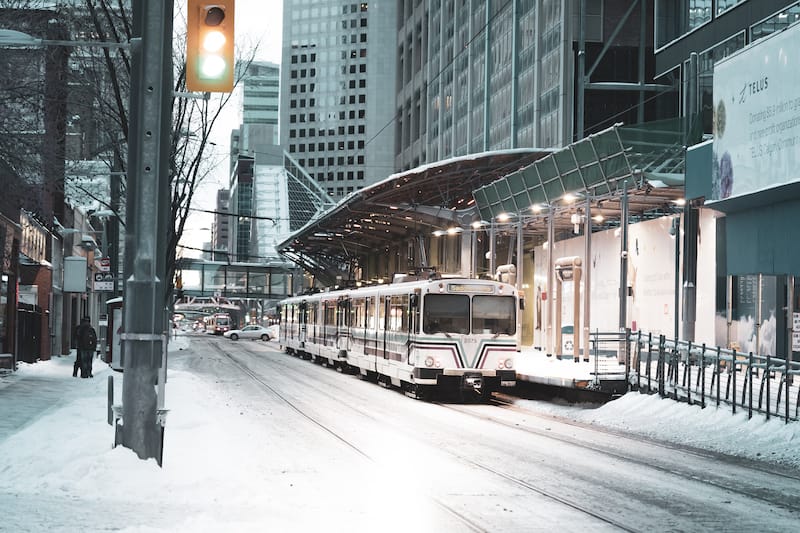 What to Pack for Winter in Calgary
If this is your first-ever trip to Canada or Calgary, here are some travel essentials for winter in Calgary.
Outerwear: Wear warm parka/outerwear for your winter visit to Calgary. Ensure it has a deep hood, and sleeves with tight cuffs to keep the cold wind out. This Helly Hansen parka is wonderful.
Thermal top and bottoms (or Long Johns)

: Layering is key to enjoy Canadian winters. Wear thermals for your base layer. Merino Wool thermals are highly recommended.

Snow pants

for outdoor adventures

Snow boots: Wear mid or tall winter boots to stay warm outside. Ensure the boots have strong outsole threads. Sorel is a Canadian brand and knows how to get the job done!
Accessories:

Carry and wear gloves, beanie or warm cap, warm socks, scarf, and sunglasses

Other clothing: T-shirts, cardigans or vest (for mid-layer), loungewear, undergarments
Cosmetics:

Sunscreen, moisturizer, hand cream, lip balm, perfume

Other: Don't forget your camera gear, cash, and travel documents
If you're keen to photograph, make sure you bring extra batteries for your camera as they will drain much more quickly in cold temperatures, as well as a mobile power bank for your cell phone.
If you're seeking a more detailed packing list, feel free to check out our Norway winter packing list where you will see all the essentials.
Calgary Things to Do in Winter – Map
To add this map to your Google Maps account, click the 'Star' icon next to the map name.
You can then view it on your cell phone or computer by heading to your Google Maps account and going to 'Your Places'.
What to Do in Calgary in Winter
There are plenty of cool activities in Calgary in winter that you can join in on and enjoy this beautiful time of year.
Here are some of the recommended things to do in Calgary during winter.
1. Explore Downtown Calgary
There are so many things to do in downtown Calgary from festive dinners and shopping to seasonal events.
Many of the city's prime attractions are also located in the downtown area such as the Calgary Tower, Bow Building, Peace Bridge, and Glenbow Museum just to name a few.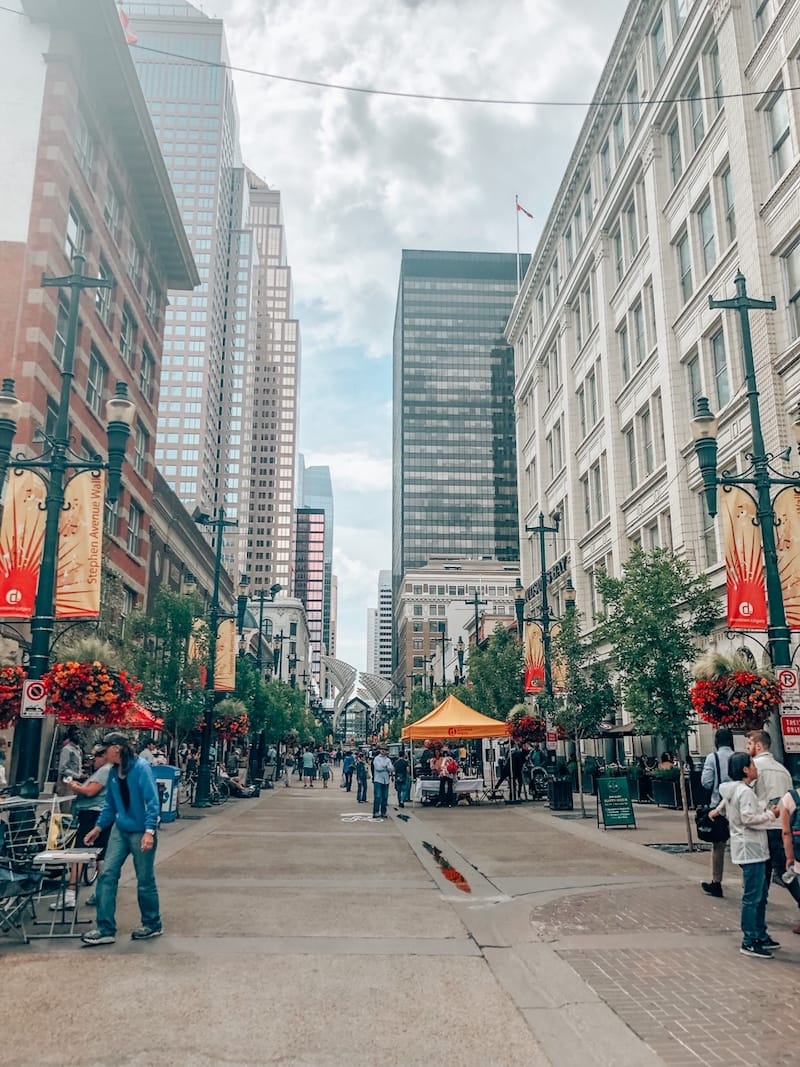 Depending on your tolerance for the cold, you can either walk the Stephen Avenue Walk or take a spin and drive through Calgary's downtown admiring the beautiful holiday season lights.
Don't forget to stop by a local cafe for coffee or a drink. It will warm you up and prepare you for the rest of your day.
2. Enjoy Tubing at WinSport Tube Park
Enjoy winter tubing in Calgary at WinSport Tube Park. The park features 10 groomed lanes for ice tubing in the winter (starting from January to March).
It is located on the east side of the main hill near Calgary Olympics complex.
Address: 88 Canada Olympic Rd SW, Calgary, AB T3B 5R5
3. Head to the Calgary Tower
Calgary Tower is one of the iconic landmarks of Calgary. Standing tall at 191 meters, Calgary Tower offers amazing city views in the winter.
From up top, you can check out the Calgary Saddledome and many other landmark buildings covered in dusty snow – and it looks amazing!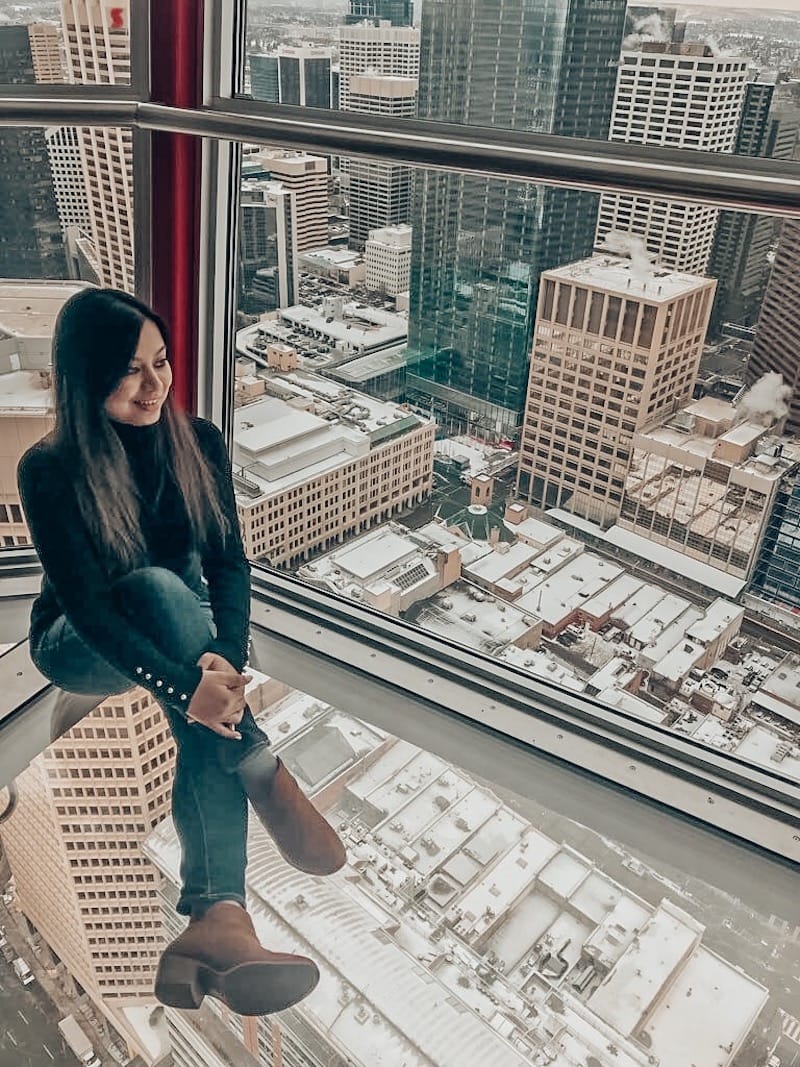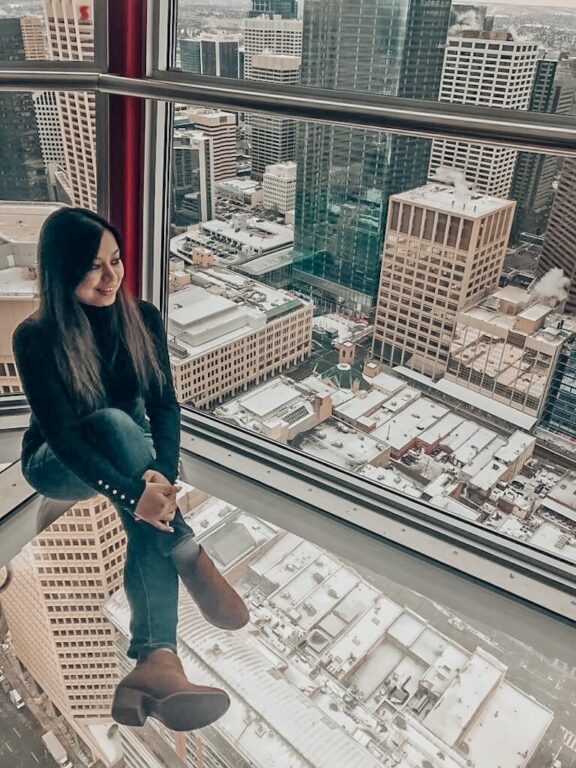 The glass floor of the Calgary Tower is a great attraction inside. Don't forget to snap a photo there as you will get a chance to see the Calgary winter landscapes from above!
If you are cold and hungry, stop at the Sky 360 restaurant located at the tower observation floor level. Please note that there is an $18 CAD fee per adult to visit the Calgary Tower.
Address: 101 9 Ave SW, Calgary, AB T2P 1J9
4. Ice Skating at Prince's Island Park
Prince's Island Park is located in downtown Calgary. This urban park is a local favorite and during the summers and winters and is used as a venue for outdoor events.
The lagoon at Prince's Island Park becomes extremely solid in the winter, making it the perfect place for outdoor ice skating in Calgary!
Address: 698 Eau Claire Ave SW, Calgary, AB T2P 5N4
5. Learn City History at Fort Calgary
Fort Calgary is another attraction to visit in winter. You can learn about so many quirky details of the city's formation since the days of Hudson Bay and fur trading.
There are many replicas (stores, hospitals, offices) that showcase how life was during those times.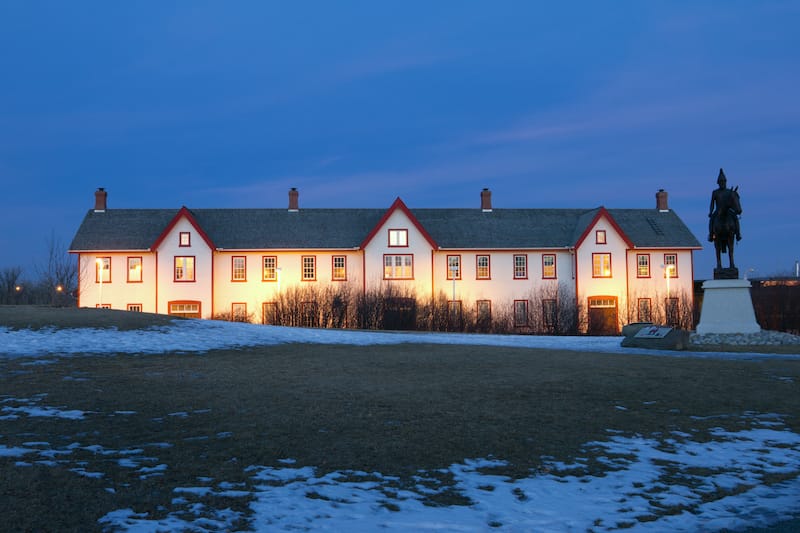 During summer, this place is a delight to explore.
And in the harsh Calgary winter, you get to learn about the city, buy souvenirs, and warm up and get toasty inside!
Please note that there is an entry fee at Fort Calgary and it is $12 CAD per adult.
Address: 750 9 Ave SE, Calgary, AB T2G 5E1
6. Explore the River Walk and Peace Bridge
If the cold doesn't bother you, take a walk along the river.
The Eau Claire market area is our favorite, and the pretty red bridge, also known as the Peace Bridge, looks wonderful covered in snow.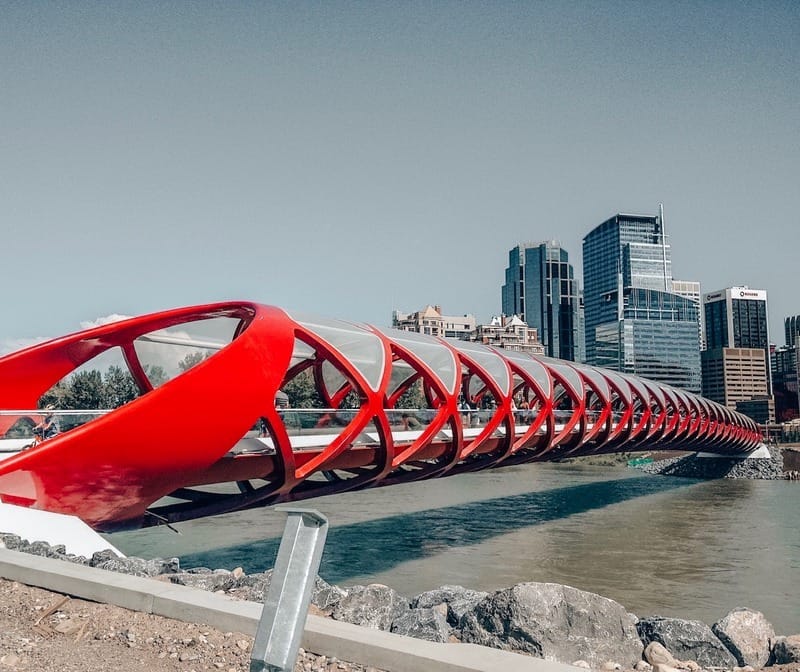 7. Go Shopping in Calgary
Shop at one or many of the retail outlets in Calgary and nearby areas (like Rocky View County).
During this time, malls look extra beautiful with festive decorations, seasonal events, and retail sales.
Our favorites include: CORE Shopping Center, Chinook Mall, CrossIron Mills Retail Outlet
8. Visit Fairmont Palliser Hotel for Winter Events
Fairmont Palliser Hotel is a 5-star heritage hotel in Calgary.
During the winters, the hotel has specials for couples and spa packages (they are great for staycations), and festive comfort food and dining.
Last year, they had a giant gingerbread house on display for visitors to see!
Address: 133 9 Ave SW, Calgary, AB T2P 2M3
9. Visit the Glenbow Museum in Calgary
If the weather is too cold for you, head indoors to a museum.
Located in downtown Calgary is the popular art museum – Glenbow Museum. If you wish to learn about Canada's Indigenous Cultures, this is a good place to start in the city.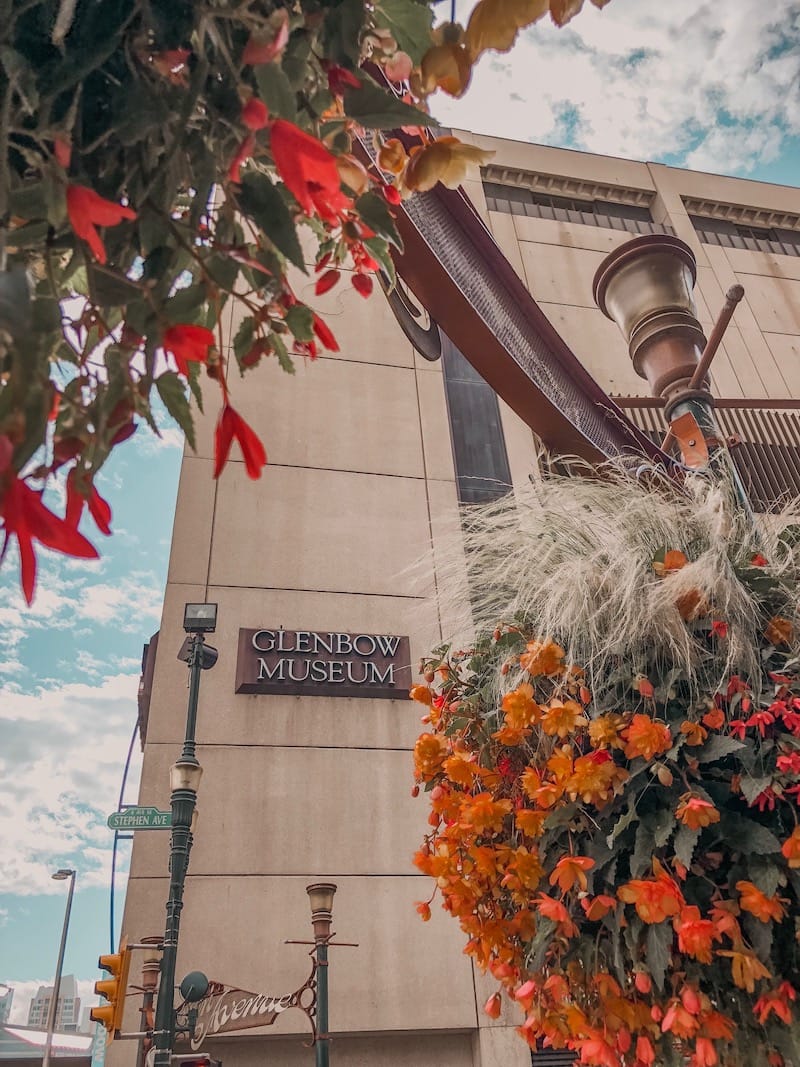 Glenbow's library and archival material showcase art history from various corners of western Canada. The entry fee is $19 CAD per adult.
Address: 130 9 Ave SE, Calgary, AB T2G 0P3
10. Check Out the Calgary Central Library
The wonderfully designed Calgary Central Library is an amazing place to visit.
Located in downtown Calgary, the four-story building was designed by Norwegian architecture firm Snøhetta (they also designed the Oslo Opera House, one of the best places to visit in Oslo!) and Canadian firm DIALOG.
Its oval-like form and interior with a large central atrium make for amazing Instagram photos.
It is a serene place to read or just to hang out and there is a public plaza located near the complex.
Address: 800 3 St SE, Calgary, AB T2G 2E7
11. Head to Calgary Olympics Stadium (WinSport)
Calgary was home to the 1988 Winter Olympics, hence why the state-of-the-art complex was established a little outside of Calgary city.
This is an amazing spot to enjoy winter activities from skiing, skating, tubing, and more.
You can easily get ski lessons there from a seasoned instructor at a nominal fee.
Address: 88 Canada Olympic Rd SW, Calgary, AB T3B 5R5
12. Attend a Calgary Flames Games
In Canada and thinking of sports? Ice hockey is Canada's most popular sport, so check out this beloved Canadian pastime while you're there.
Calgary's professional team is the Calgary Flames, and their games are held at the Saddledome.
Address: 555 Saddledome Rise SE, Calgary, AB T2G 2W1
Where to Eat in Calgary
The winter menu at Calgary restaurants brings in seasonal flavor and tons of comfort food. Don't forget to pair your delicious dinner with a tasty drink.
Alberta Steak: Alberta steak is the most popular food to try out in the province. You can easily order Alberta beef at local restaurants, markets, and food halls.
Top places to try: Caesar's Steak Restaurant & Lounge, Pampa's, Hy's Steakhouse
Drinks: Head to World Bier Haus Restaurant for a wonderful evening of beer, with tons of varieties to choose from.
For breakfast and snacks: Head to OEB Breakfast Co. for a huge selection of delicious breakfast and brunch options.
Romantic dining options at the Fairmont Palliser Hotel Restaurant or Sky 360.
In addition, in the Downtown Calgary / Stephen Avenue area, you can easily find intercontinental bars and restaurants. There are many fantastic places to eat in Calgary in winter (and year-round!)
Best Winter Day Trips from Calgary
There are many places you can visit on a day trip from Calgary (including Banff National Park for winter activities). We have listed some of the best winter day trips from Calgary below.
Abraham Lake
Abraham Lake is where you can view the famous ice bubbles from deep underwater.
Abraham Lake is an artificial lake, located about 3.5 hours away from Calgary. This is definitely a long day trip, so alternatively, you can plan it as a weekend excursion.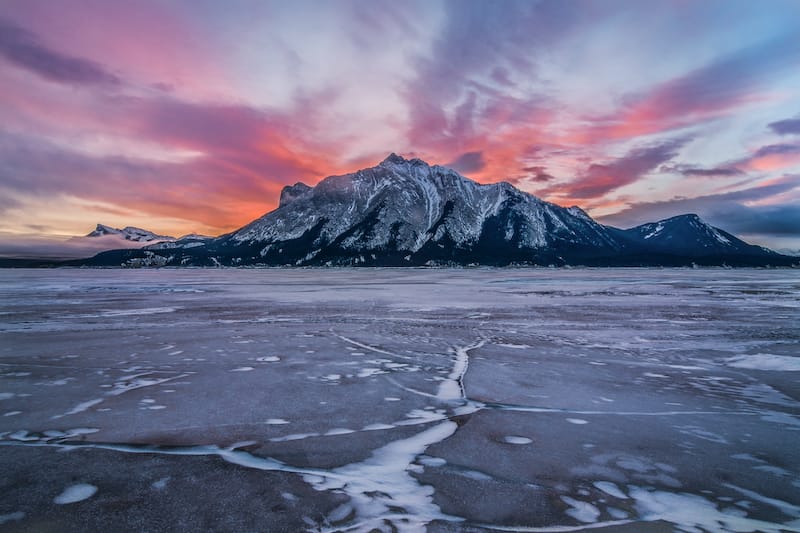 Banff National Park
Of course, when we talk about Banff, you can rest assured that you will enjoy breathtaking views of the mountains and fun outdoor activities like ice skating and cross-country skiing.
There are three ski resorts in Banff where you can check out skiing options:
Mt. Norquay
Lake Louise Ski Resort
Sunshine Village
From Banff town, you can also plan to explore Lake Louise.
The frozen lake looks delightful in the winter. You can easily find options to stay in Banff and Lake Louise if you prefer.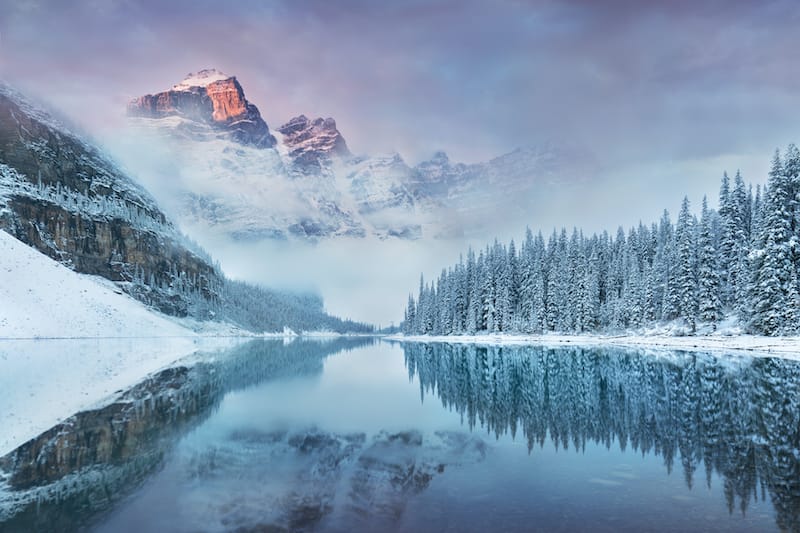 Drumheller
Drumheller is about 1.5 hours drive from Calgary. It is home to Midland Provincial Park and the Royal Tyrrell Museum which houses the "World's Largest Dinosaur".
Located in the town are the Atlas Coal Mine National Historic Site and the Hoodoos. This is definitely one of the coolest day trips from Calgary in winter.
Edmonton
Alberta's capital city, Edmonton, should not be missed if you wish to explore the province's best in winter.
Yes, it gets super cold there, but that brings in amazing winter festivals like the Ice Castles, Luminaria, Zoominence, and more.
I highly recommend visiting the Legislature Grounds to view the festive lights and decorations.
Where to Stay in Calgary
There are two neighborhoods where we normally stay in Calgary and recommend to you as well.
First, the area around the Calgary Airport is convenient, as it allows quick access to Banff as well as the Rocky View Outlet Mall.
Most hotels will have free parking on-site, plus free breakfast. Most hotels in this area are in the budget to mid-range.
Secondly, the downtown area is a fantastic option for your Calgary trip.
Staying in the downtown area means tons of restaurants, cafes, and sightseeing areas are within walking distance. You can choose from mid to luxury hotels.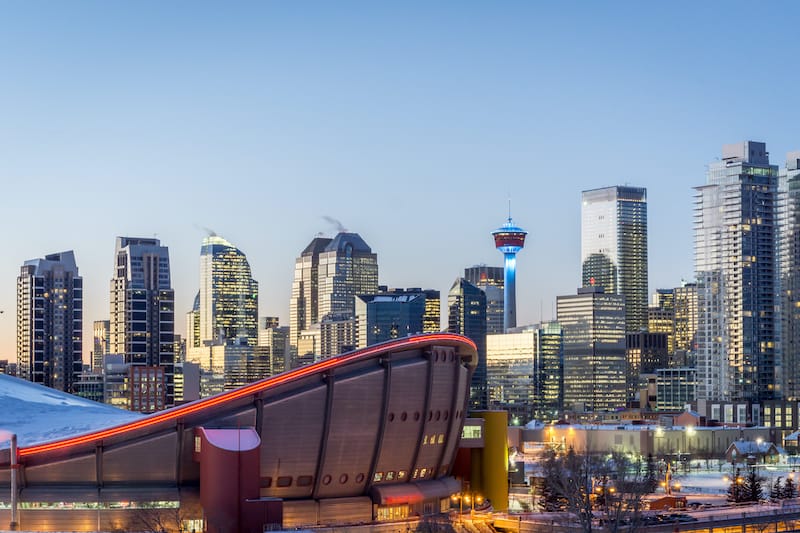 Most properties will be high-rise buildings with amazing views from suites.
Parking and breakfast usually aren't included in your nightly rate, though you can often add it on as an option.
Here are our top picks for Calgary hotels for your trip:
Palliser Fairmont (downtown, luxury):

A top 5-star vintage hotel in the heart of downtown Calgary. Perfect for a romantic staycation or just if you are after a little luxury.

Sheraton Hotel (downtown, 4 stars)

: Located near Eau Claire Market, Sheraton Hotel is another personal favorite. Super big rooms with great views, this property won't disappoint you!

Hampton Inn Airport (airport, 3 stars):

Lovely 3-star property with free breakfast and parking, we love staying at the Hampton Inn. Opt for a suite with airport views.
We hope you enjoyed this list of amazing things to do in Calgary for your winter trip!
Should You Travel to Calgary in Winter?
You definitely should choose a trip to Calgary in winter if you don't mind the cold and are still looking for a fun city with plenty to do! If you're visiting Banff in winter, definitely consider adding on a few days in Calgary.
Author Bio:
Mayuri is an avid traveler and founder of ToSomePlaceNew, a city and culture travel website.
An Indian-Canadian, she is a History graduate and an MBA who loves to explore cultural nuances in Europe, Canada & beyond.
She lives near the Canadian Rockies, and travels with her husband! You can follow her on Instagram, Facebook, or Twitter for more.
More Canada Travel Resources
Pin This Visit Calgary in Winter Guide for Later!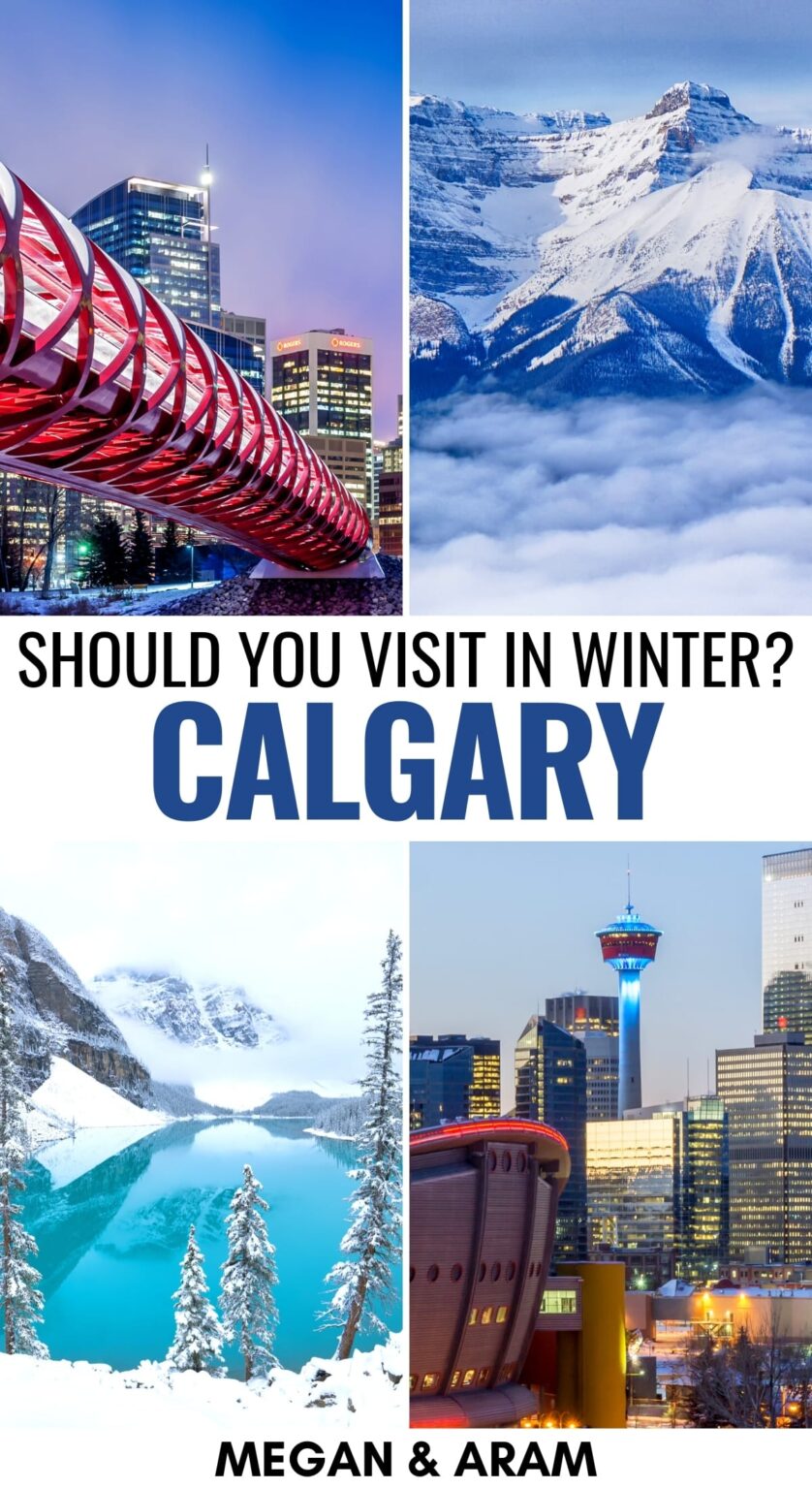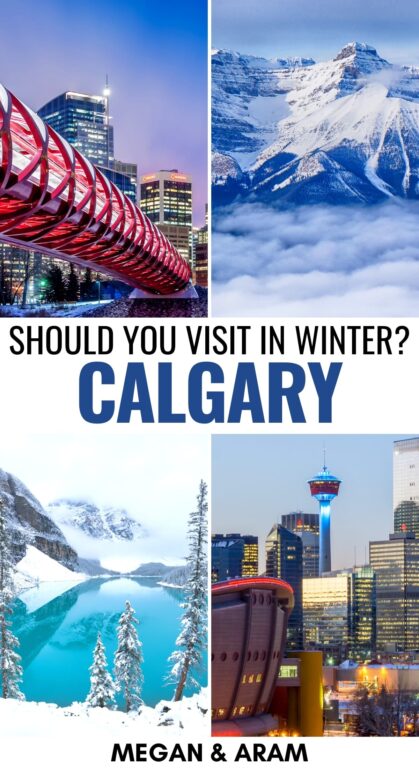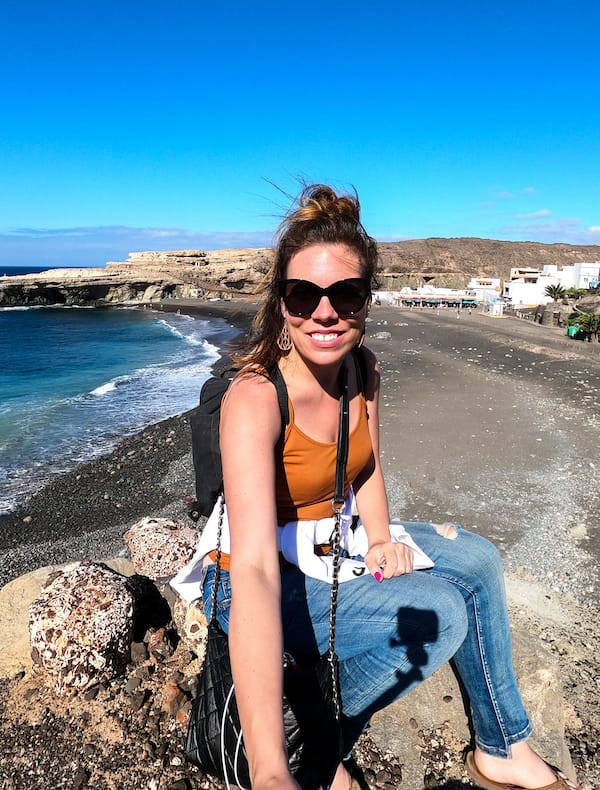 Megan is a travel blogger and writer with a background in digital marketing. Originally from Richmond, VA, she now splits her time between Frankfurt, Germany and Arctic Finland after also living in Norway, Armenia, and Kazakhstan. She has a passion for winter travel, as well as the Nordic countries, but you can also find her eating her way through Italy, perusing perfume stores in Paris, or taking road trips through the USA. Megan has written for or been featured by National Geographic, Forbes, Lonely Planet, the New York Times, and more. She co-authored Fodor's Travel 'Essential Norway' and has visited 45 US states and 100+ countries.