Jasper and Banff are two of the most popular National Parks in Canada, both located in the province of Alberta and in the Canadian Rocky Mountains.
This guide will compare Jasper vs Banff – and tell you which national park is better for your trip!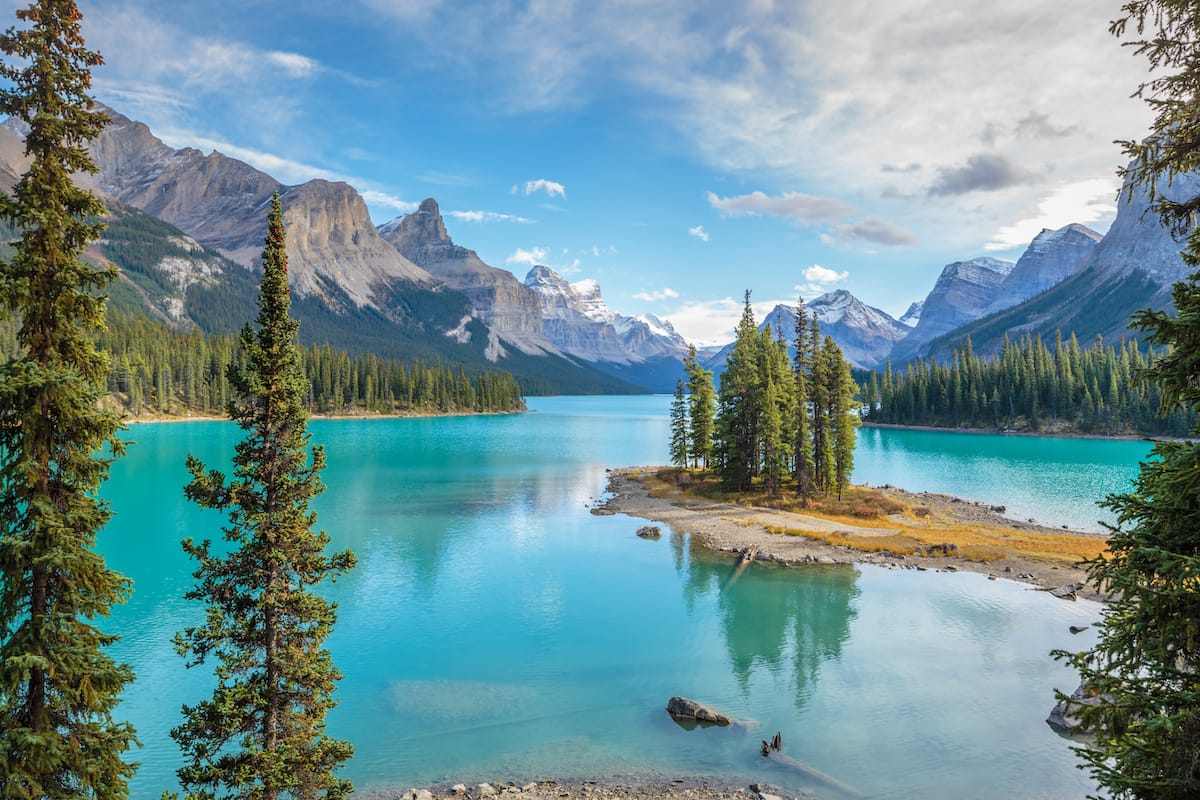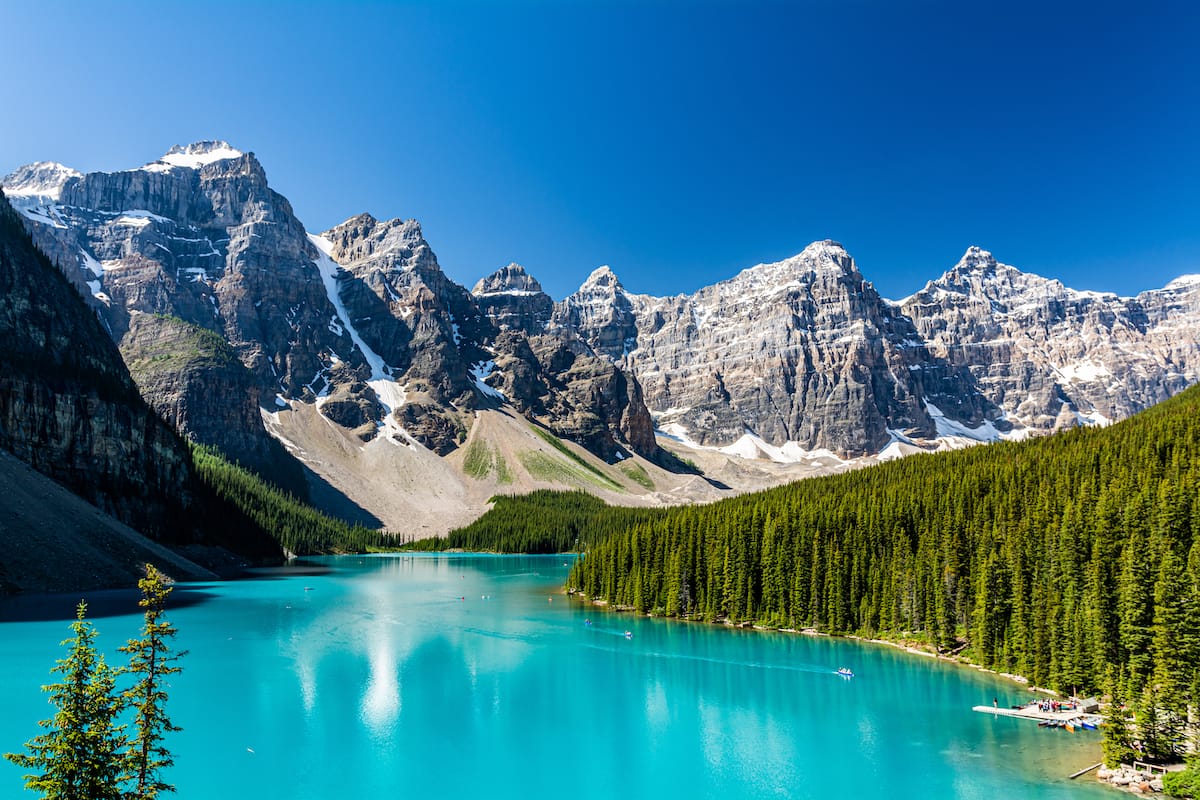 Both Canadian National Parks offer breathtaking natural beauty and an abundance of outdoor activities, but they definitely have differences that might make one preferable to visit over the other, depending on what you're looking for.
In this article, we will compare Jasper vs Banff to help you decide which one is better for you (if you don't have the time to visit both beauties!).
Please share your thoughts with us in the comments below!
Jasper vs Banff: Which Park is Best For You?
Location and Accessibility
Jasper National Park is the largest National Park in the Canadian Rockies, with over 11,000 square kilometers of protected land.
Banff National Park, on the other hand, is the oldest National Park in Canada.
Banff is more popular, with around 4.5 million visitors each year, whereas Jasper sees around 2.5 million a year.
Both parks are easily accessible by car from the nearby cities of Edmonton and Calgary.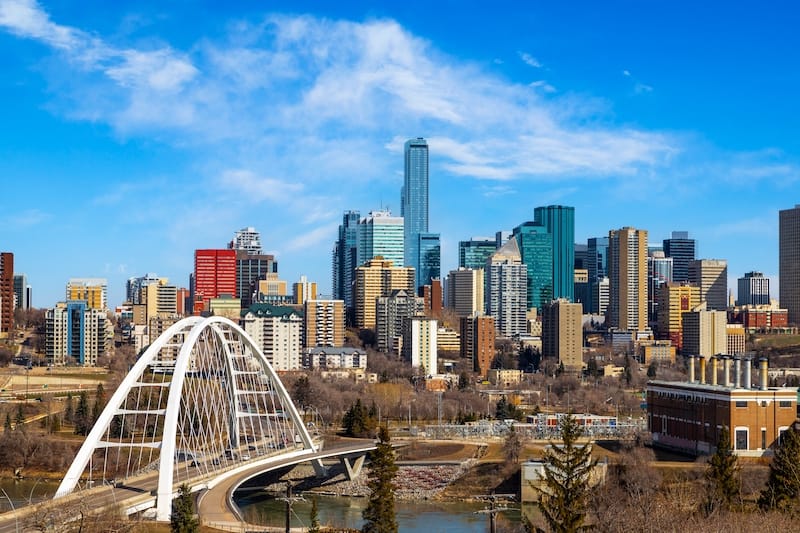 Banff is around a 1.5-hour drive from Calgary International Airport and Jasper is around 4.5 hours.
If you're arriving at Edmonton International Airport, Jasper and Banff are each about a 4-hour drive from Edmonton.
So, depending on which city you're flying into, the decision might be made for you! If you're landing in Edmonton, it's a similar drive to both parks, although I prefer the highway that goes to Jasper from Edmonton.
If you're landing in Calgary, Banff is definitely the closer choice.
From Banff, you can continue onto Jasper via the Icefields Parkway if you're wanting to visit both National Parks.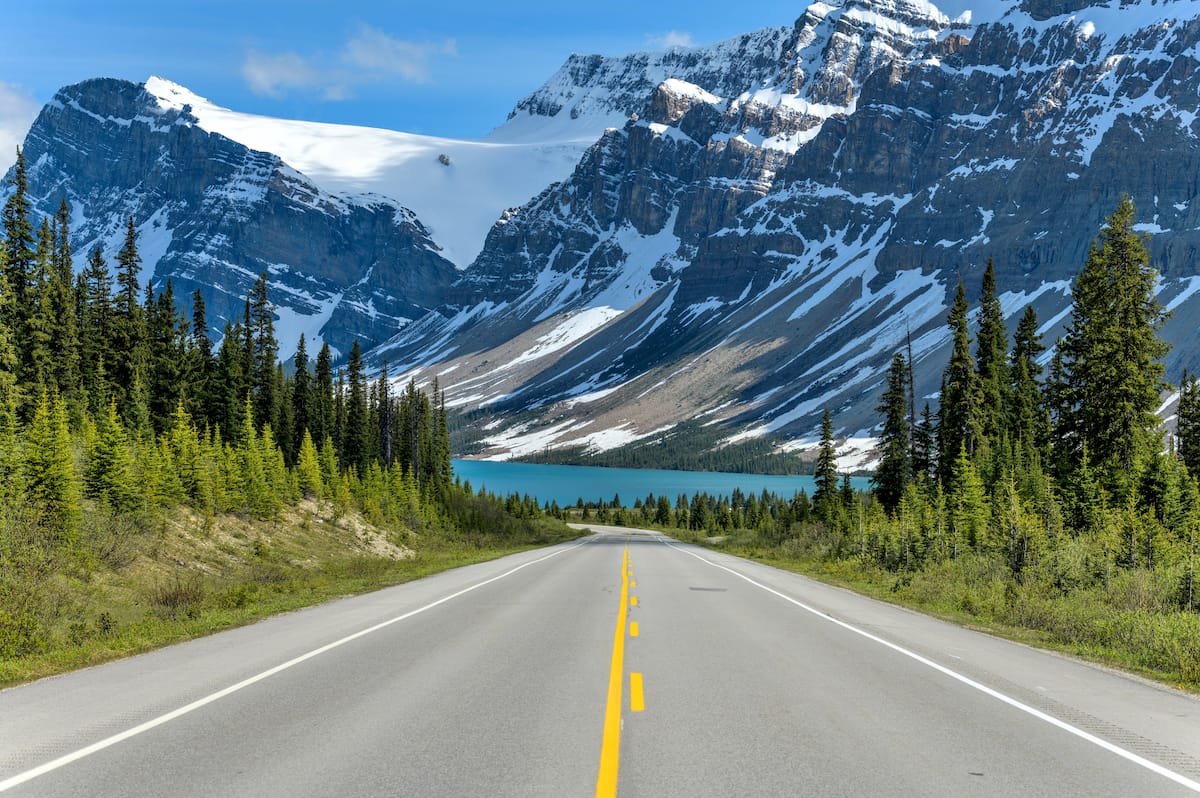 For public transportation, Banff National Park has a public transit system called ROAM Transit which stops at a lot of the popular spots around the park.
This makes it a lot easier to get around without a car, and if you're trying to travel Banff on a budget.
Parks Canada also offers bookable shuttles to Lake Louise and Moraine Lake, making it easy to visit these spots without a car.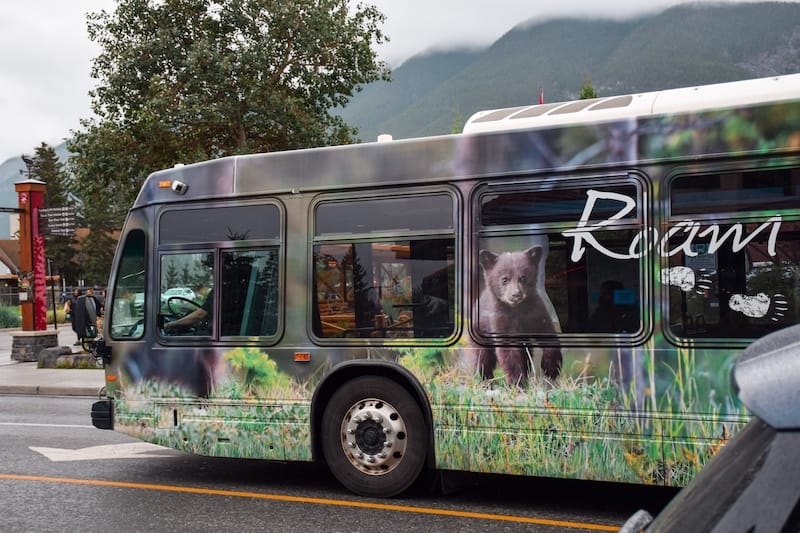 Jasper National Park, on the other hand, does not have public transportation and there are no bookable shuttles through Parks Canada.
This means visitors without a car in Jasper will mainly have to rely on private tours or private shuttles.
Scenery and Natural Beauty
Both Jasper and Banff National Parks are known for their stunning natural beauty.
They boast some of the most spectacular mountain scenery in the Canadian Rockies, with beautiful mountains, waterfalls, turquoise lakes, and even glaciers.
Jasper is home to the Columbia Icefield, which is one of the largest icefields in North America and a must-visit spot!
Athabasca Falls, Maligne Canyon, and Medicine Lake are also popular attractions in Jasper.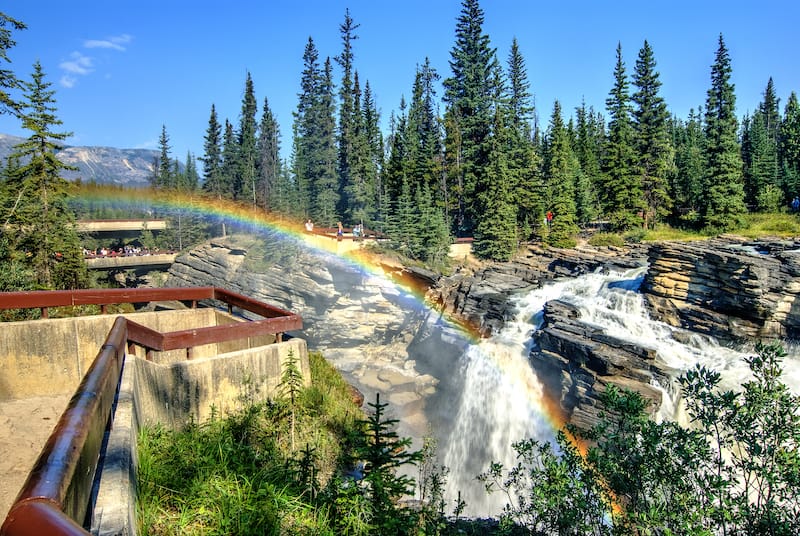 One of the most famous spots to photograph in Jasper is Spirit Island on Maligne Lake. You can take a boat cruise here or paddle in a canoe or kayak to get a stunning view paired with an amazing mountain backdrop.
Banff National Park is equally stunning and is home to the iconic Lake Louise, which is known for its bright turquoise color and is one of the most photographed lakes in the world.
Moraine Lake, Peyto Lake, and Johnston Canyon are other popular destinations in Banff to visit.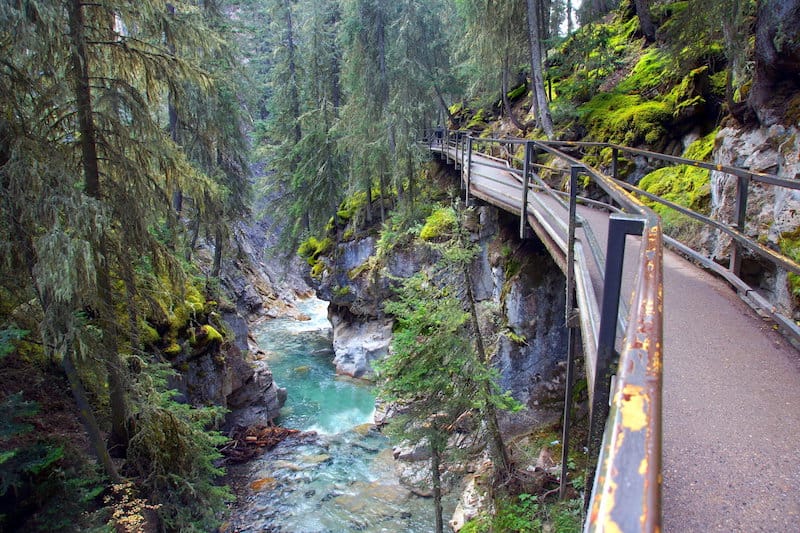 If you're on the hunt for wildlife, both Banff and Jasper offer this too. A popular road to drive is the Bow Valley Parkway in Banff and Maligne Road in Jasper.
However, you're never guaranteed to see wildlife in either park, because wildlife is wild! For the best chance in either park, go for a drive in the early morning or late in the day around sunset (or just after sunset).
When comparing Banff vs Jasper in this area, it really depends on what sights you're more interested in seeing.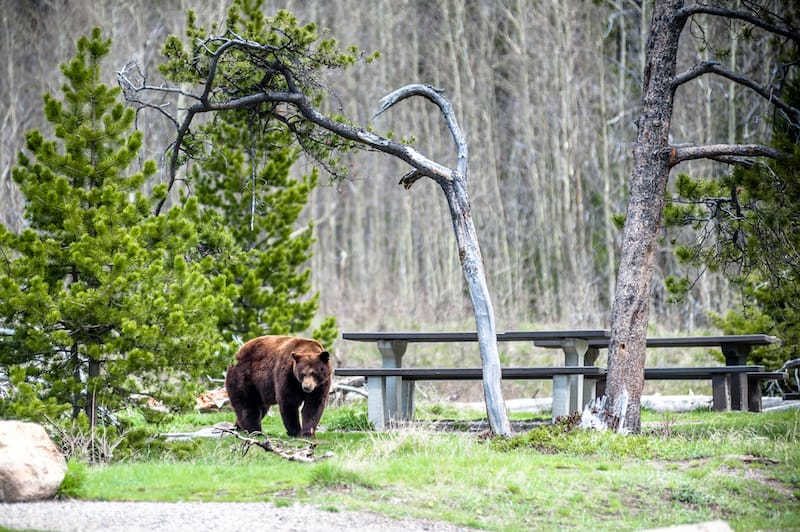 Some visitors have Lake Louise and Moraine Lake on their Banff National Park bucket list and definitely don't want to miss them, meaning Banff National Park would win in this category for them!
Activities and Attractions
Both Jasper and Banff National Parks offer an abundance of outdoor activities, including hiking, camping, and exploring different viewpoints.
Jasper itself is home to the Jasper SkyTram, which takes visitors to the top of Whistlers Mountain for panoramic views of the surrounding scenery.
There are also super pretty spots in Jasper to hike, including Valley of the 5 Lakes, Sulphur Skyline, and Mount Edith Cavell.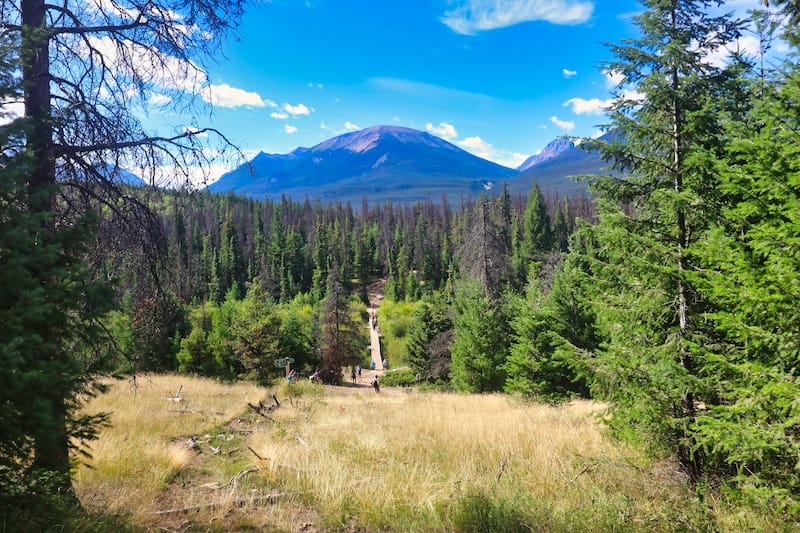 Canoeing on Pyramid Lake or Maligne Lake is a must-do activity as well.
For even more adventure, book a backcountry canoe site on Maligne Lake and paddle to Spirit Island.
For swimming in Jasper, Lake Annette is a great choice in Jasper!
Banff offers a similar range of outdoor activities, with hiking trails, canoeing, and swimming spots all over the National Park.
The Banff Gondola takes visitors to the top of Sulphur Mountain for stunning views of the surrounding landscape, and the town of Banff offers a range of shopping, dining, and free things to do (like the Cascade of Time Gardens!).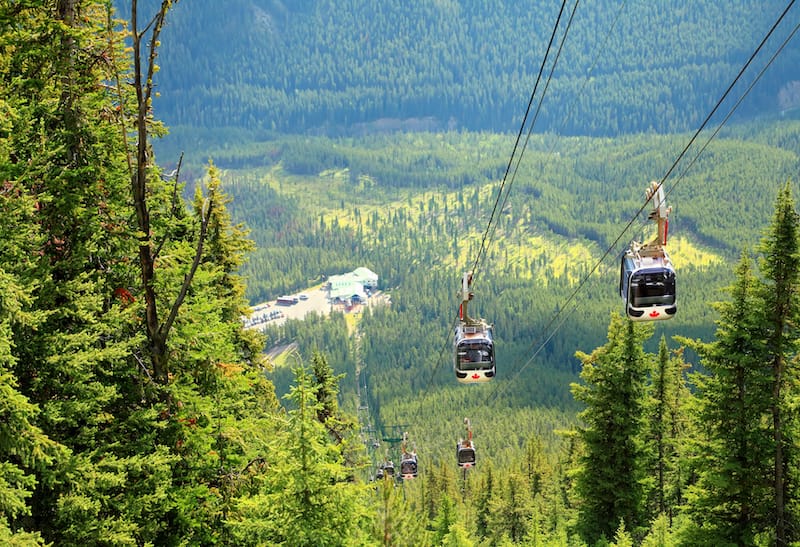 You can canoe at Moraine Lake or Lake Louise, and hike Little Beehive at Lake Louise or Tunnel Mountain from Downtown Banff.
One thing that Banff has that Jasper doesn't, is teahouse hikes. On this hike, you can go to a teahouse for drinks and snacks nestled in the mountains.
A popular teahouse hike is the Lake Agnes Teahouse or the Plain of Six Glaciers Teahouse, both leaving from Lake Louise.
Banff is also nearby other stunning places in the Canadian Rockies. If you're interested in hiking, Kananaskis Country is close by and offers a ton of hiking options.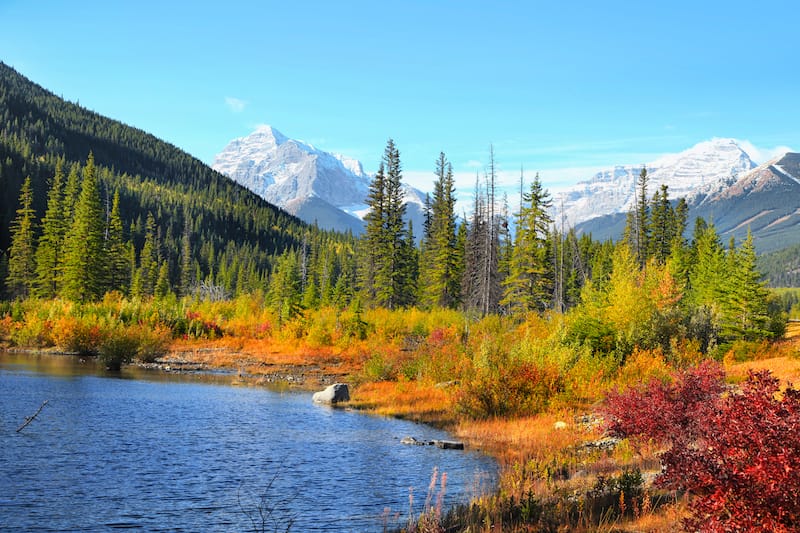 One really easy and popular hike in Kananaskis is the hike to the Blackshale Suspension Bridge – a free suspension bridge nestled in the forest with amazing views!
Yoho National Park also borders Banff and is in British Columbia.
Yoho is home to Takakkaw Falls and Emerald Lake, which is around 30 minutes from Lake Louise, and both sites are absolutely beautiful.
One of the main attractions in the Rockies is the hot springs. The Banff Upper Hot Springs are located just outside of the Town of Banff and have pretty views of the surrounding mountains.
Jasper National Park has its own version of hot springs, the Miette Hot Springs, which are also stunning with mountain views as well!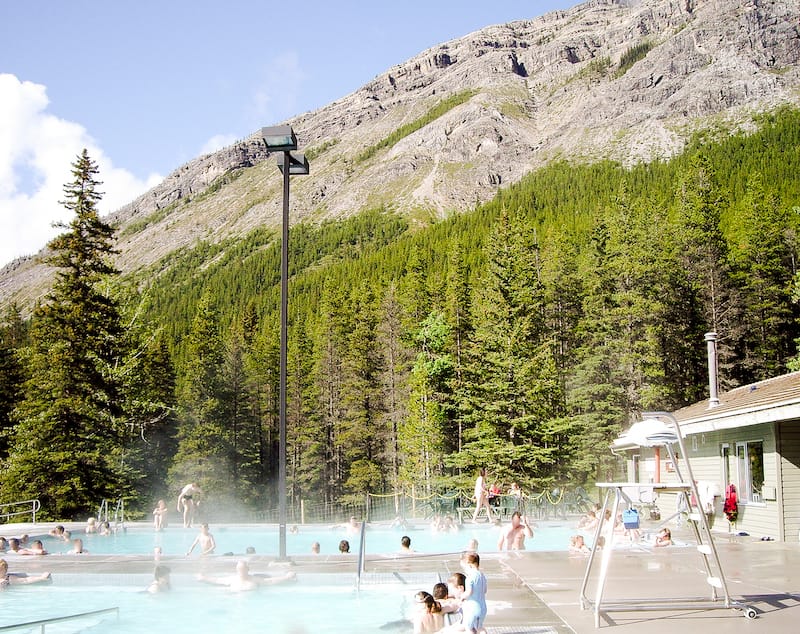 Both hot springs are commercialized, and you'll need to buy a ticket to soak in them.
Downtown Banff has a lot more shops and "big-name stores" such as Patagonia, Columbia, and Starbucks. But, there are also a lot of locally owned shops in Banff as well, and in nearby Canmore.
In Canmore, you'll find the best homemade bagels at the Rocky Mountain Bagel Company – this cannot be missed!!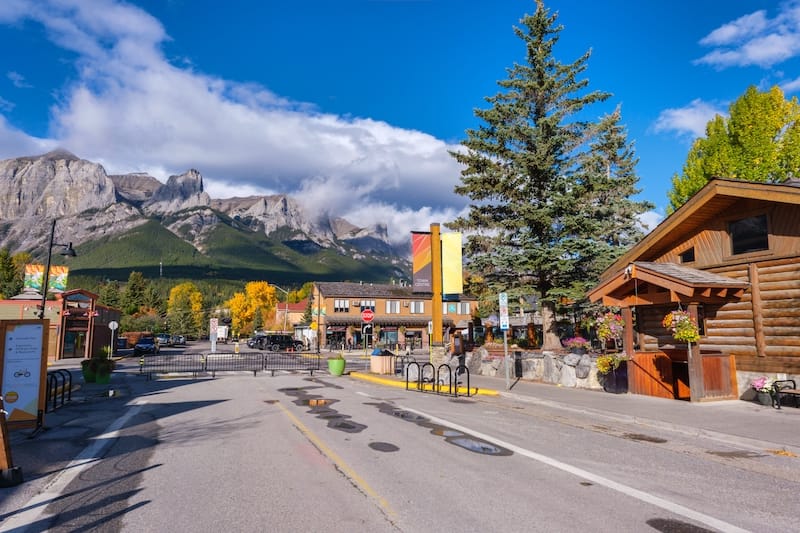 In Downtown Jasper, you won't find nearly as many big-name stores. There is no Starbucks, and most shops are locally owned cafes, restaurants, and gift shops.
For this reason, Jasper has a more authentic feeling than Banff, however, Downtown Banff is still incredible!
In Jasper and Banff, you can take a scenic drive along the Icefields Parkway, which connects the town of Jasper to the town of Banff.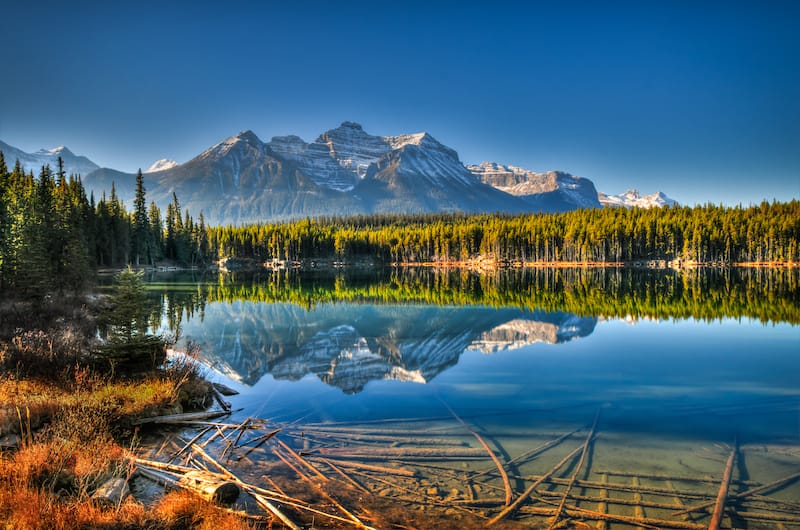 You can drive part of the Parkway from either town, or, drive the full length of the Parkway and visit both!
In this category, it's a close race, but there are definitely a ton of things to do in Banff National Park, and some of them you can't get in Jasper – like the Teahouse hikes!
Crowds and Cost
While both parks are popular tourist destinations, Banff can be significantly more crowded than Jasper, especially during peak tourist season. Banff is also generally more expensive, with higher accommodation and dining costs than Jasper.
Jasper still sees a lot of crowds, and during peak season parking lots do fill up. However, hiking trails usually have fewer people on them in Jasper (apart from the incredibly popular Valley of the 5 Lakes hike).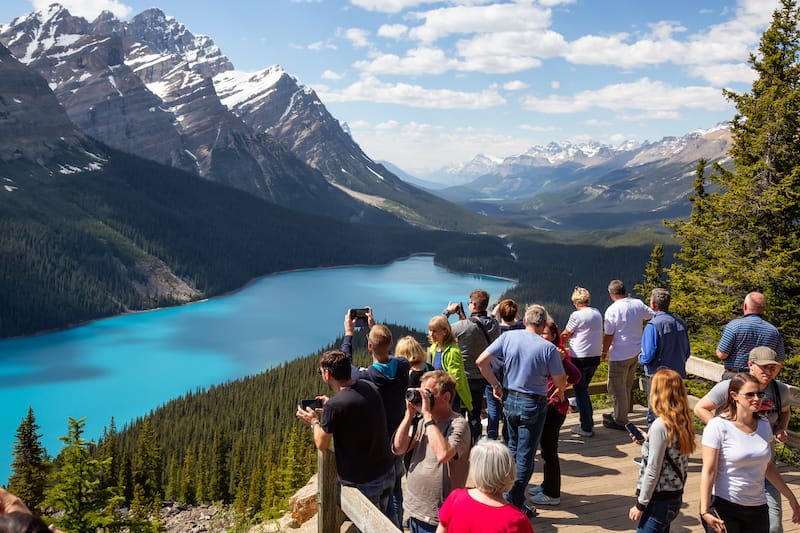 Downtown Jasper is also a lot smaller than Downtown Banff, which can make it seem busier in Jasper than it actually is.
In this category, Jasper wins as it does typically see about half the visitors that Banff does each year!
Jasper vs. Banff Accommodation Options
Both Jasper National Park and Banff National Park have amazing places to stay, including hotels and campgrounds.
Banff is more popular amongst tourists, especially because it is so close to Calgary and the airport. Because of this, hotels are typically quite expensive in Banff, especially during peak months.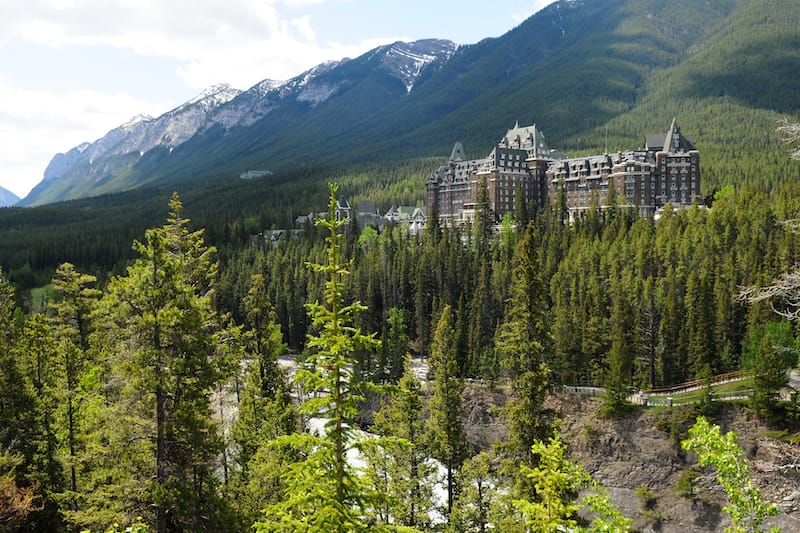 Jasper hotels can be pricey as well, but if you book in advance you can sometimes find a better deal in Jasper.
The most stunning hotels in Canada are the Fairmont Hotels.
In Banff, there are two Fairmont hotels:
In Jasper, there is one Fairmont hotel:
If you're visiting during the summertime, a cheaper option for accommodation is to go camping. Camping in Banff sells out faster, and there are multiple campgrounds to choose from.
The campgrounds in Banff are quite nice, with nice facilities and most are close to town while also being close to main outdoor attractions, like Two Jack Main Campground.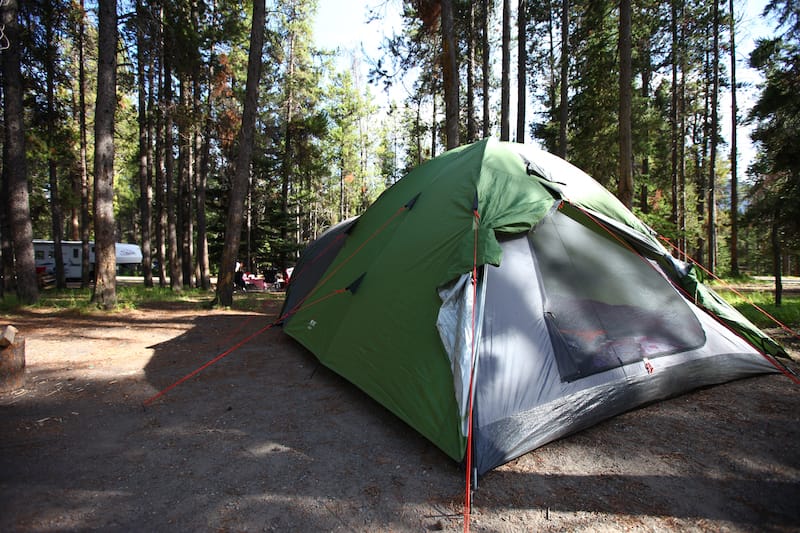 There is also a variety of campgrounds to choose from in Jasper National Park. Campgrounds in Jasper sell out slower but typically do still sell out.
Jasper was also hit badly by the mountain pine beetle in recent years, meaning a lot of trees had to be clear-cut from the campgrounds, especially in Whistlers Campground and Wapiti.
Because of the clearcutting of trees, the campgrounds in Banff win in the category. Although with fewer trees in Jasper campgrounds, you have a nice clear view of the mountains!
Which is Better in Winter? Jasper or Banff?
The Canadian Rocky Mountains are stunning in the winter; the mountains become dusted in snow and the lakes start to freeze, meaning both Jasper and Banff and magical in the winter.
When comparing the two spots though, Banff National Park is a better place to visit in the winter.
Banff is home to 3 ski resorts (Mount Norquay, Sunshine Village, and Lake Louise Ski Resort), whereas Jasper has only 1 (Marmot Basin). Banff has way more options in this category!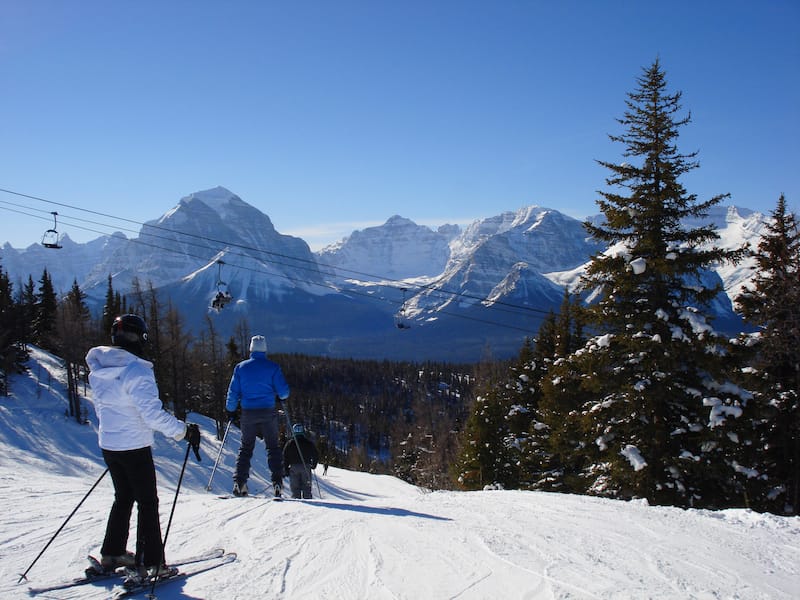 Banff also has great options for dog sledding in the Rockies; most tours are in Canmore, but there is one company that offers tours in the Lake Louise area!
If you're planning a visit to Banff in the winter, keep in mind that the road to Moraine Lake closes each year due to avalanche risk, meaning you won't be able to see this famous lake during the winter season.
Both National Parks have a lot of places you can ice skate in the winter. You can go to the Fairmont Lake Louise Hotel and skate on Lake Louise in Banff.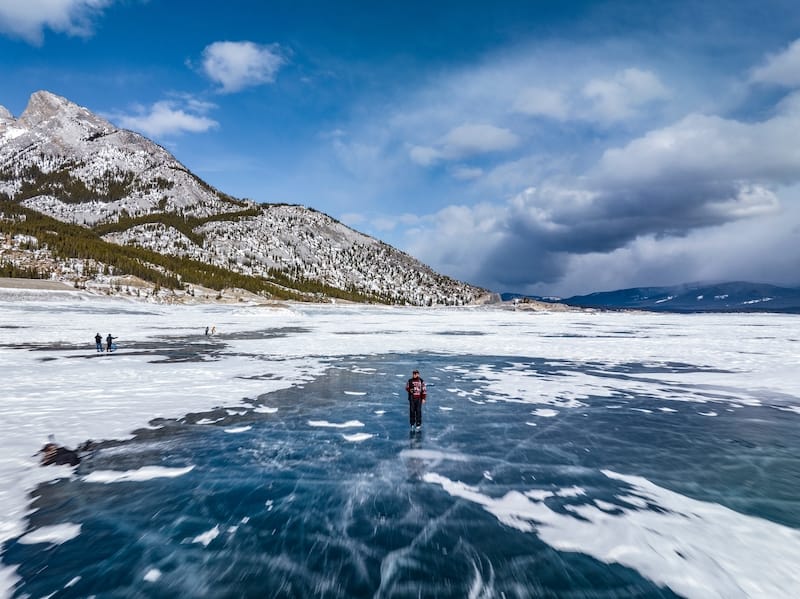 They maintain and clear the ice and allow anyone to skate there, even if you're not a hotel guest.
Otherwise, you can wild ice skate in other places in Banff, including Two Jack Lake and Johnson Lake (just be sure to check ice thickness and skate at your own risk – these spots are not monitored).
In Jasper, there are two maintained lakes to skate on – one at Pyramid Lake, maintained by Pyramid Lake Lodge, and the other at the Fairmont Jasper Park Lodge Hotel.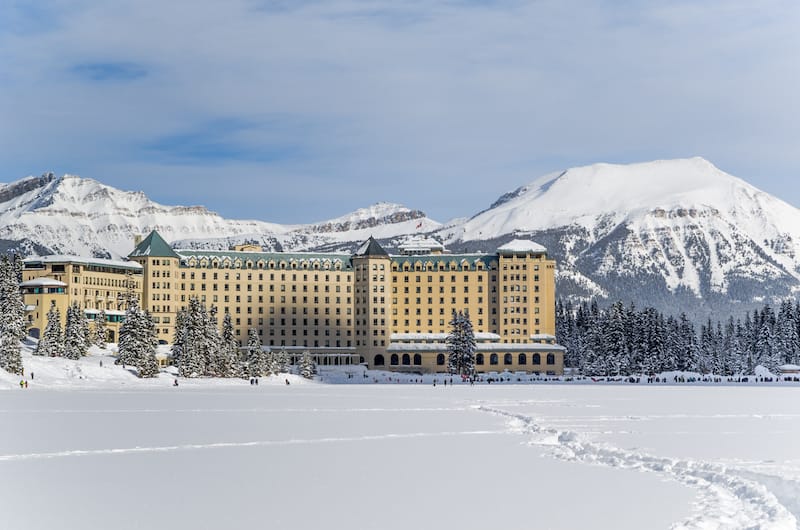 Because Banff offers more options for winter activities, like 3 ski resorts instead of 1, and multiple dog sledding tours to choose from, Banff wins this category.
Jasper National Park Highlights
Athabasca Glacier
Maligne Lake and Spirit Island
Maligne Canyon
Miette Hot Springs
Jasper SkyTram
Athabasca Falls
Sunwapta Falls
Pyramid Lake and Pyramid Mountain
Columbia Icefield
Awesome day hikes: Mount Edith Cavell and Valley of the 5 Lakes
Skyline Trail and other great multi-day hikes
Jasper Dark Sky Preserve
Athabasca River Rafting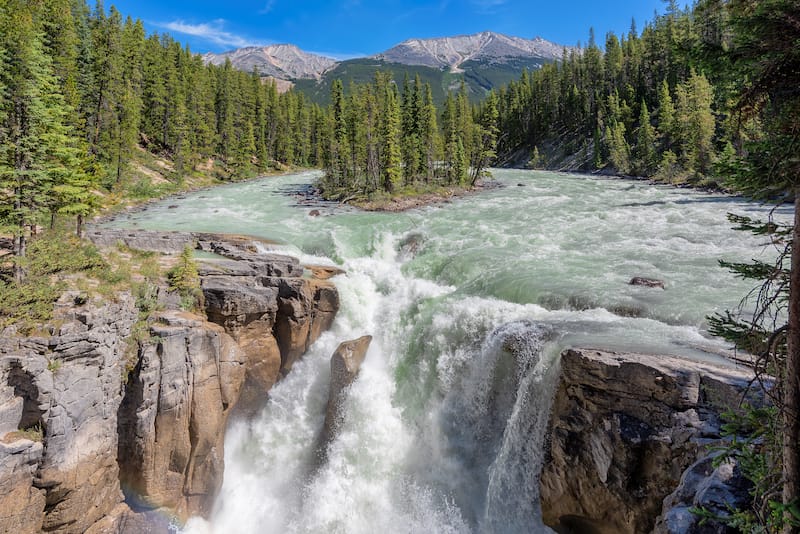 Banff National Park Highlights
Lake Louise
Moraine Lake
Banff Upper Hot Springs
Johnston Canyon and the Bow Valley Parkway
Banff Gondola and Sulphur Mountain
Peyto Lake (on the Icefields Parkway)
Bow Lake (on the Icefields Parkway)
Tunnel Mountain and the Tunnel Mountain hike
Vermilion Lakes
Banff Avenue
Cascade Gardens
Sunshine Village Ski Resort and Sunshine Meadows
Two Jack Lake
Lake Minnewanka
Yoho National Park is so close to Banff National Park, meaning you can explore another beautiful place so close by. Emerald Lake is only a 30-minute drive from Lake Louise and is stunning.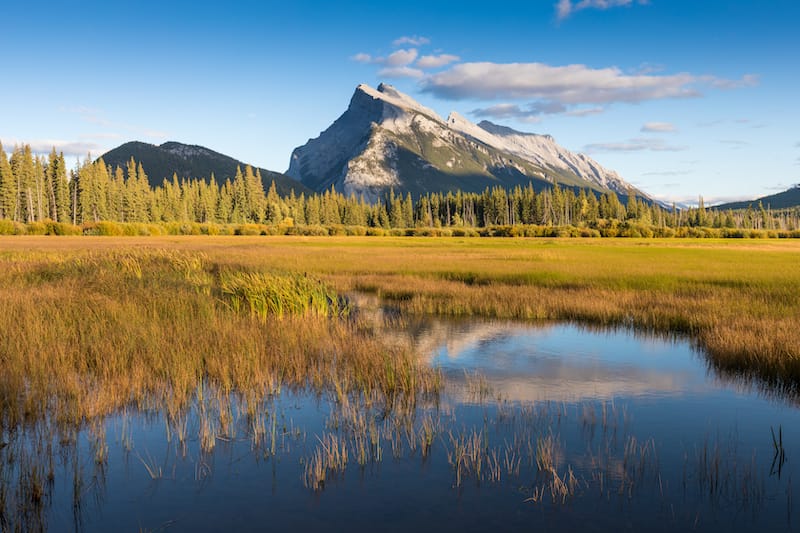 So Should You Visit Jasper or Banff? (Or Both!?)
Both Jasper and Banff National Parks offer stunning natural beauty and an abundance of outdoor activities for visitors to enjoy.
Jasper is larger and typically less crowded than Banff (although still crowded in peak summer season), with a focus on rugged wilderness and outdoor adventure.
Banff, on the other hand, is more developed and offers a wide range of famous attractions, and has a wider variety in general. Banff is also closer to other beautiful spots, like Yoho National Park and Kananaskis Country.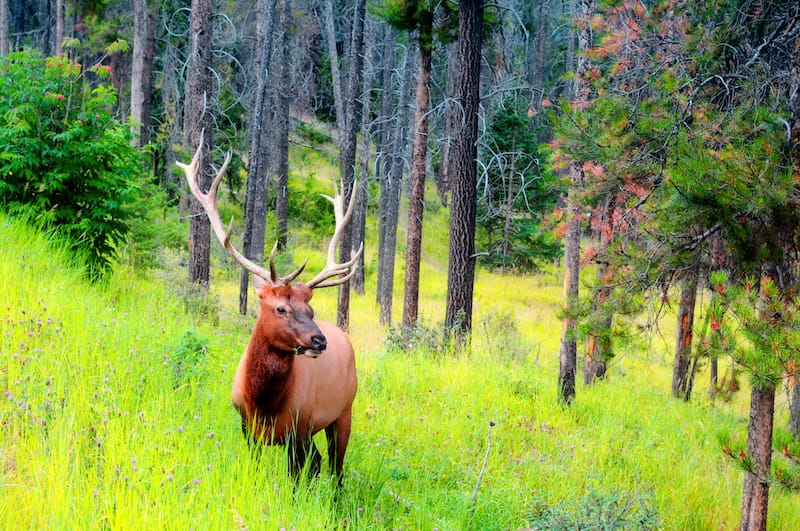 In terms of accessibility, Banff may be more convenient for visitors arriving from Calgary, and for those who are planning on relying on public transportation.
However, both parks are easily accessible by car.
When it comes to scenery and natural beauty, both parks are equally stunning, with breathtaking mountain landscapes and crystal-clear lakes.
However, the specific spots to visit and experience within each National Park vary.
Banff has the more renowned spots like Lake Louise and Moraine Lake, whereas Jasper still has incredible places that aren't as popular on social media – like Pyramid Lake and Maligne Lake.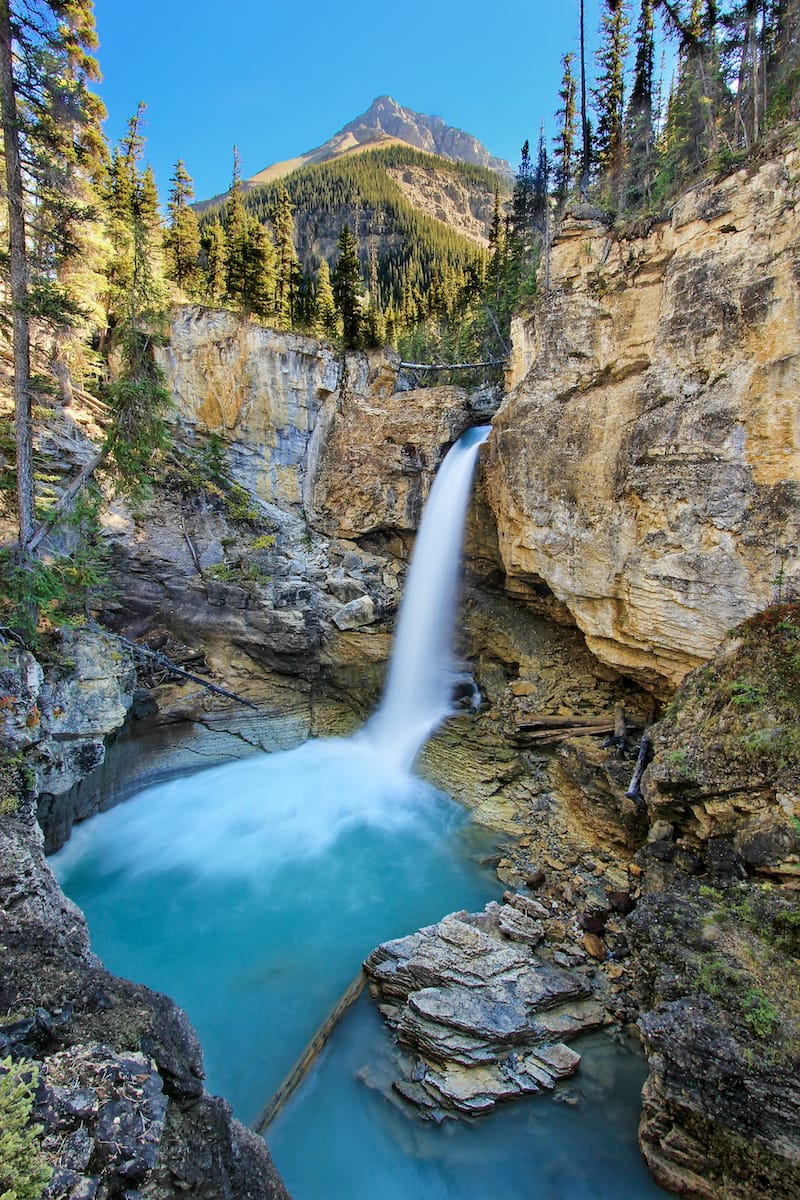 Ultimately, the decision between Jasper and Banff comes down to personal preferences and interests.
If you're looking to experience something a little more rugged and slightly less popular, Jasper may be the better choice.
If you are looking for a wider range of popular sites you see online and a slightly more developed park, Banff may be the way to go.
Whichever park you choose, you are sure to be treated to some of the most stunning natural beauty in Canada!
More Canada Travel Guides
Pin this Banff vs Jasper Guide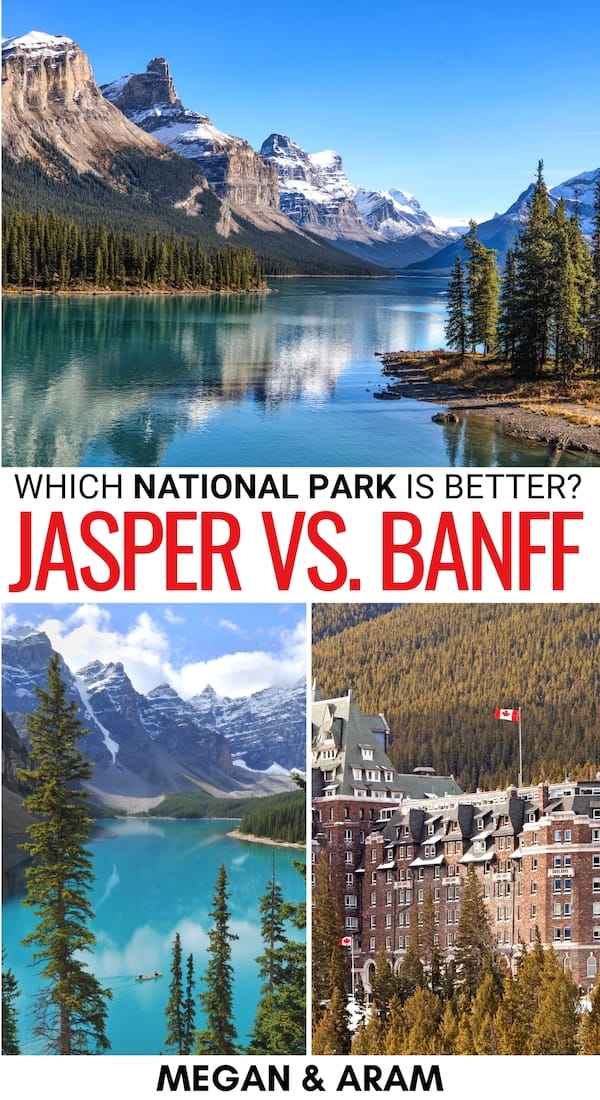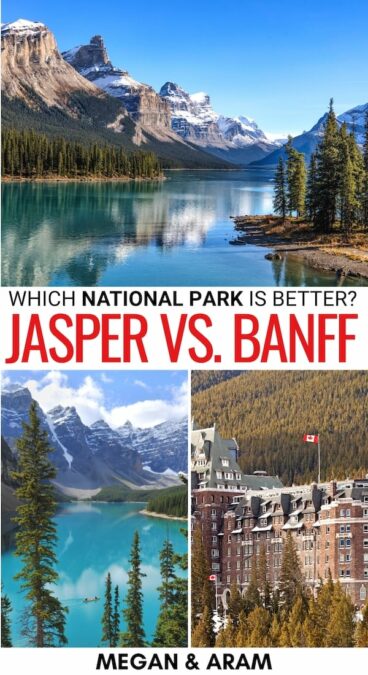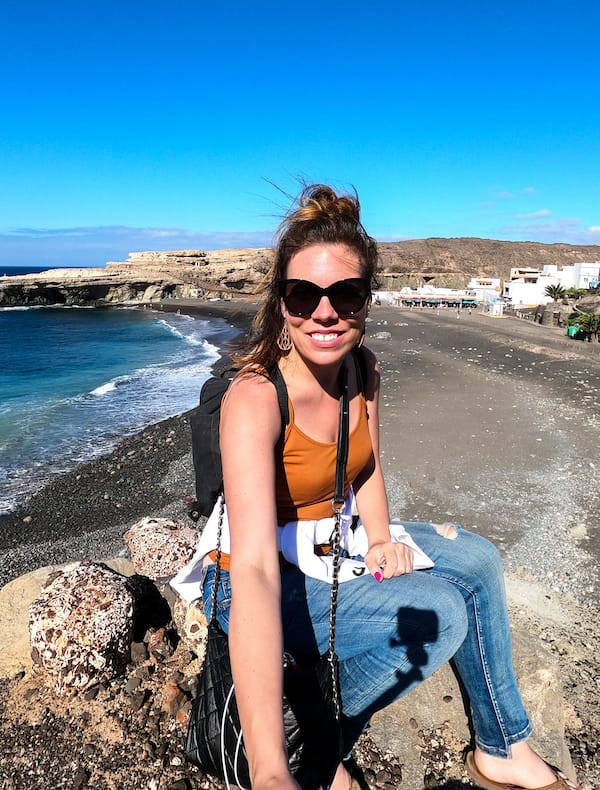 Megan is a travel blogger and writer with a background in digital marketing. Originally from Richmond, VA, she now splits her time between Frankfurt, Germany and Arctic Finland after also living in Norway, Armenia, and Kazakhstan. She has a passion for winter travel, as well as the Nordic countries, but you can also find her eating her way through Italy, perusing perfume stores in Paris, or taking road trips through the USA. Megan has written for or been featured by National Geographic, Forbes, Lonely Planet, the New York Times, and more. She co-authored Fodor's Travel 'Essential Norway' and has visited 45 US states and 100+ countries.