Do you have a trip planned to the Canadian Arctic and are looking for some of the best excursions from Iqaluit?
This guide details the best tours, activities, and things to do in Iqaluit and nearby. Please let us know your tips and suggestions in the comments!
Iqaluit is the capital city of Nunavut – the northernmost territory in Canada and one of the least visited. Once you come to this wild and wonderful tundra though you'll want to return again and again.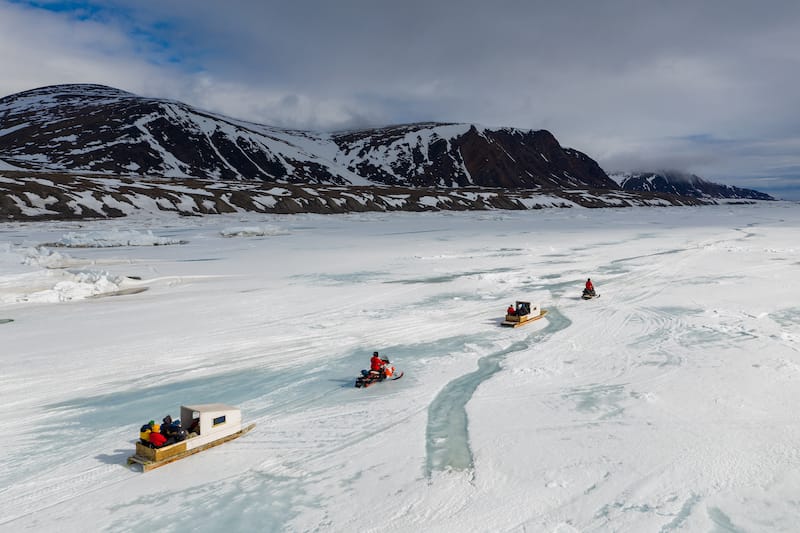 The landscape of Nunavut is awe-inspiring and the perfect playground for those who love outdoor adventures. There are many excursions you can take while visiting Iqaluit that are absolutely perfect for adventure lovers and wildlife enthusiasts.
Most of these activities are with local tour companies so you'll have a knowledgeable guide that can tell you all you'd like to know about the area as well as the culture of the Inuit people who live there.
Single Day Excursions from Iqaluit
If you're staying in Iqaluit and want to venture out for the day or maybe just a few hours then there are lots of options to choose from. You can't go wrong with any one of these tours because each one gives you a unique perspective of the area.
Snowmobiling
Inukpak Outfitters is currently the only company that offers a snowmobile tour in Iqaluit. There is nothing quite like zipping over the frozen lakes and snow-covered tundra.
You'll see ice cliffs, snow-capped hills, and race over cracked ice. Depending on your guide you may also visit the polynya. This is where you can find seals and birds along the Arctic ocean and it's the perfect spot to enjoy a sunset.
Read more: Snowmobiling in Svalbard
The tours typically last about four hours and they will give you a snack and hot drink halfway through. Be sure to dress in warm layers and have especially warm gloves. Though the handlebars are heated, the wind is biting cold.
Snowmobiling in Iqaluit is a fantastic activity if you're looking to keep occupied for a day!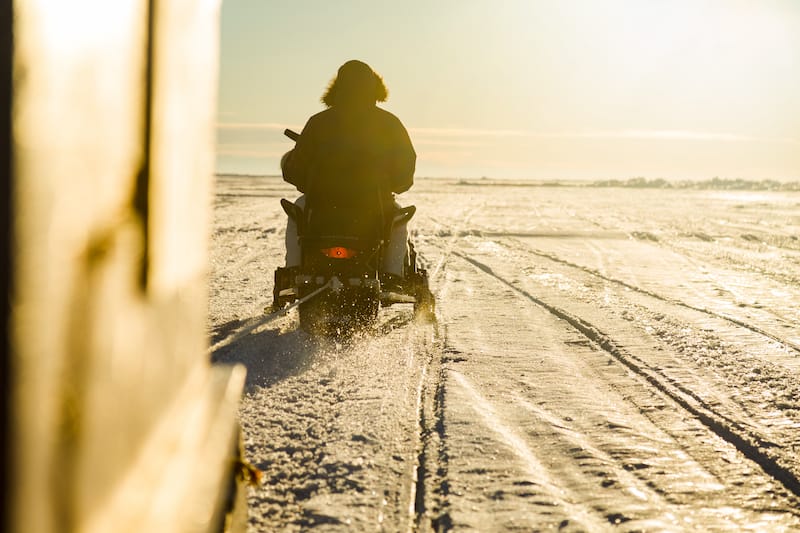 Dog-Sledding
If you'd rather be propelled through the Arctic by a team of dogs instead of a machine then this is the excursion in Iqaluit for you. Not only will you get to enjoy the views of the Arctic, but you'll also get to meet your team of sled dogs.
The breed of dogs that pull the sleds, or qamutik, comes from a long line of working dogs and they have so much energy that giving them a job to do is essential. They are able to stay outside year-round because of their heavy fur coats and insulated bodies.
Read more: Dog-sledding in Tromsø, Norway
One of the most fun parts of this Iqaluit excursion is seeing the different personalities come out in each of the dogs. It's interesting to watch their dynamic – how the older ones lead the younger and the hierarchy of alpha-females and alpha-males.
Fun fact: the females actually trump the males.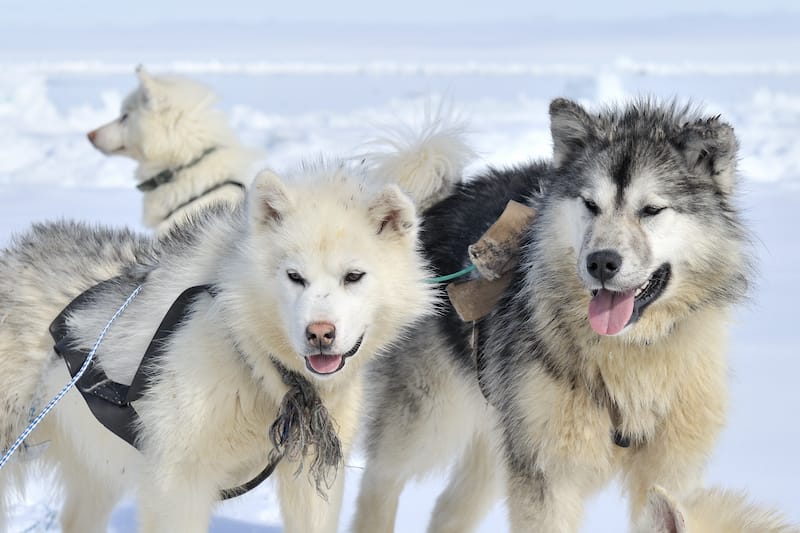 The dog-sledding tours are typically offered in three or six-hour increments but three hours is really enough. They stop halfway through for snacks and coffee on this tour as well.
If this is something that you are interested in then make sure you visit from late-February to May. You can go dog carting during the summer months, but sledding is only offered during this time. Inukpak Outfitters is the only company that offers tours for dog sledding in Iqaluit as well.
Snowshoeing
The tundra is so flat and expansive that it's the perfect place for snowshoeing, especially for beginners. Again, this tour would be with Inukpak Outfitters. Seeing a trend here?
Inukpak actually offers a snowshoeing and/or backcountry skiing excursion which can last a half or a full day so you can experience both methods of transport!
This is one way to travel a bit slower through the tundra and get up close and personal with the landscape. Your guide will tell you all about the plants and wildlife that survive in this harsh environment.
Snowshoeing in Iqaluit is a wonderful way to stay active and see the scenery at the same time.
Northern Lights
These excursions run from September to mid-March and there are two different options to choose from with Inukpak Outfitters.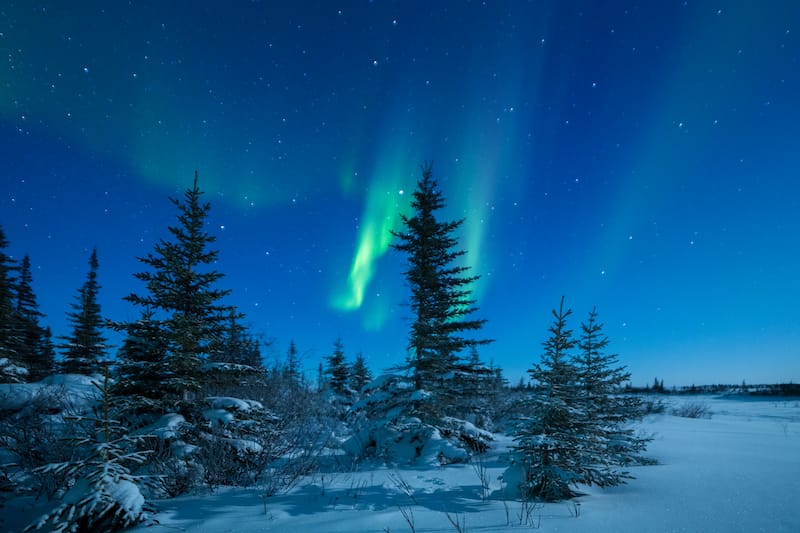 The first option is to chase the northern lights in Iqaluit from the seat of a warm vehicle. They'll drive you as far from the city as possible during the tour so you'll get away from any light pollution.
Read more: Northern lights in Rovaniemi
The next option doesn't start running until December, but you can take snowmobiles out to a secluded cabin in the tundra to watch the lights. The tour includes dinner prepared by the guides and after you've watched the lights dance across the sky you get to warm up in the cabin by a cozy fire.
Witnessing the northern lights in Nunavut is a great way to truly experience the magic of the Arctic and understand why the area is so special.
Multi-Day Iqaluit Excursions
Some of the multi-day excursions in Iqaluit start and end in the Nunavut capital and many of them even include airfare to the city. There are two main outfitters that provide these tours from Iqaluit and you've already heard about one of them.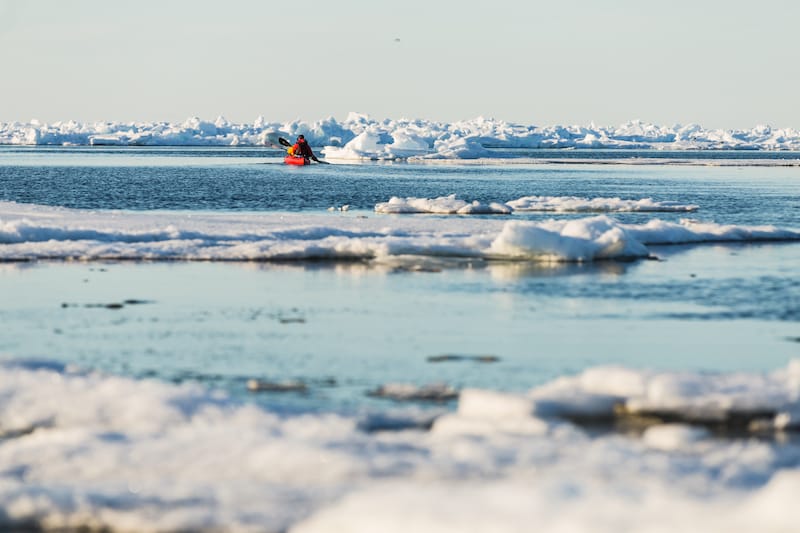 Another option for multi-day tours is to explore the outlying communities of Nunavut and the high Arctic islands. The last two companies specialize in these off-the-beaten-path activities.
Arctic Kingdom
This outfitter specializes in four-day or longer excursions but they do not come cheap. If you are an adventure or wildlife junkie this would absolutely be a bucket list experience for you!
Most of their tours are 7 – 10 days and these are primarily for wildlife viewing for polar bears and narwhal. They offer one tour just for viewing the northern lights and another for diving at Baffin Island. This is the island where Iqaluit is located.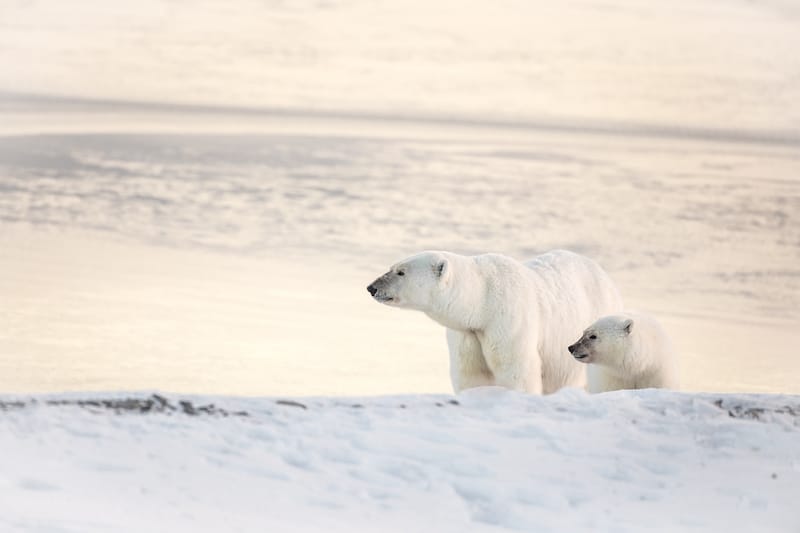 One of their summer tours called Taste of the Arctic Summer runs between the very end of July and through the month of August and lasts 4 days and 3 nights. You'll be guided around the town of Iqaluit, hike the surrounding tundra, and kayak among icebergs.
Inukpak Outfitters
Inukpak currently offers three different options for multi-day excursions from Iqaluit. One centered around summer activities, one around winter, and the other lets you explore a community outside of Iqaluit during the summer.
Their tours are typically 4 – 5 days and include excursions like hiking and sea kayaking in the summer and dog sledding, snowmobiling, and igloo building in the winter.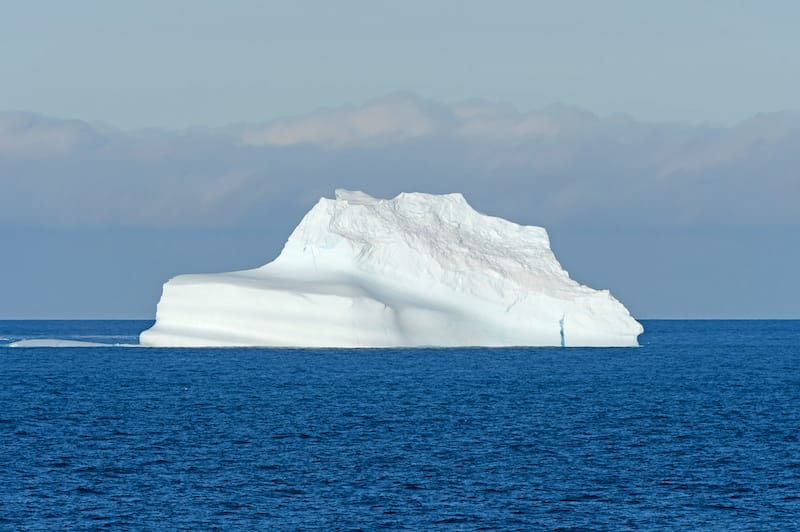 Weber Arctic
These are luxury tours in the northern part of Nunavut so instead of spending time in Iqaluit, you would stay outside of the city. They have two wilderness lodges – Arctic Haven and Arctic Watch – plus Basecamp Baffin.
Each one offers unique activities but all are centered around outdoor adventure. At the wilderness lodges, you'll be able to view wildlife, hike, kayak, bike, and much more. Basecamp Baffin is all about backcountry and heli-skiing.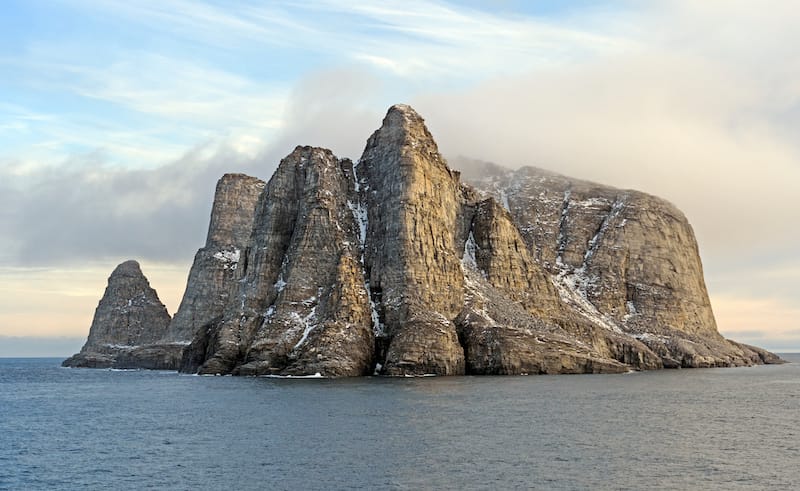 Black Feather
Black Feather is another outfitter that offers tours well outside of Iqaluit. The two locations they have in Nunavut are on Baffin Island and the High Arctic islands.
In the Arctic Islands, you can hike and sea kayak while Baffin Island offers canoeing, sea kayaking, and hiking. Both areas offer fantastic opportunities for wildlife viewing.
Read more: Weekend in Toronto itinerary
How to Get to Iqaluit
There are regular flights to Iqaluit from Ottawa or Montreal and you can even fly to some of the other larger communities in Nunavut from Yellowknife. Flights are typically around $700 each way but you can occasionally find something cheaper.
The major airlines flying into Iqaluit are First Air and Canadian North. You can use Google Flights to find the best flight options to where you are headed.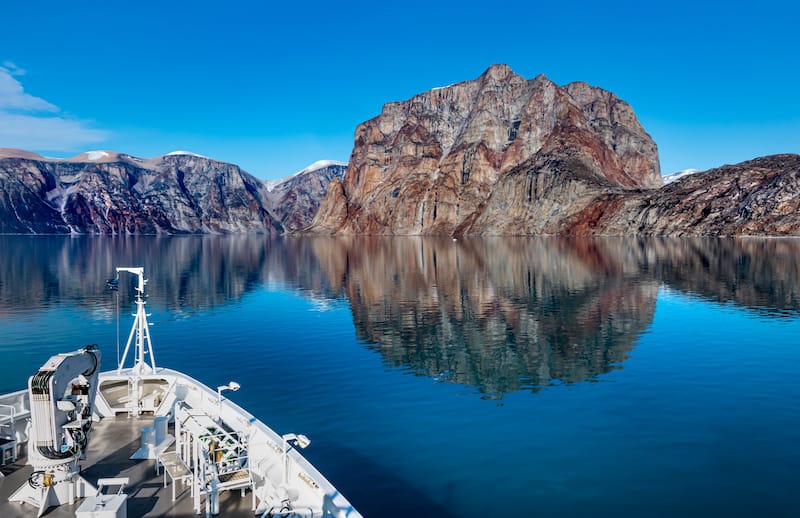 If you book a multi-day excursion with one of the companies mentioned above, then your flights may actually be included in the price. Sometimes the flights are only from a specific airport in Canada (like Ottawa) to Iqaluit though.
This means you would only be responsible for getting to Ottawa.
Where to Stay in Iqaluit
All of the multi-day excursions will include lodging, but if you're in charge of finding your own hotel in Iqaluit, then there are plenty to choose from. Before choosing where to stay, think about the type of activities that you'll be doing.
Will it be important for you to stay in town or is it okay if you're staying outside of town? If you don't plan on being in the room that often then maybe you opt for a cheaper option.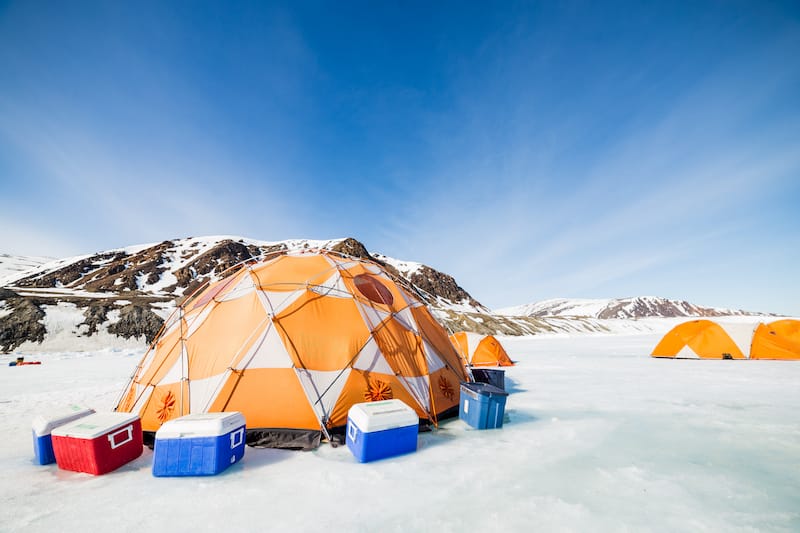 For views of the bay go for Accommodations By The Sea. It's at a great price point and includes breakfast. The only downside is that it's outside of downtown.
The best hotels in downtown Iqaluit are Frobisher Inn and the Discovery Lodge Hotel. Both are similarly priced but Frobisher has the best location downtown while Discovery has the nicest rooms.
There are a few Airbnb options that are a bit cheaper than the hotels but not much. The major advantage to renting an Airbnb in Iqaluit is having your own kitchen and saving on food.
This is completely dependent on what you would like to do while you're visiting Nunavut. If you want to try winter activities like dog-sledding and snowmobiling, then plan your trip between mid-February to April.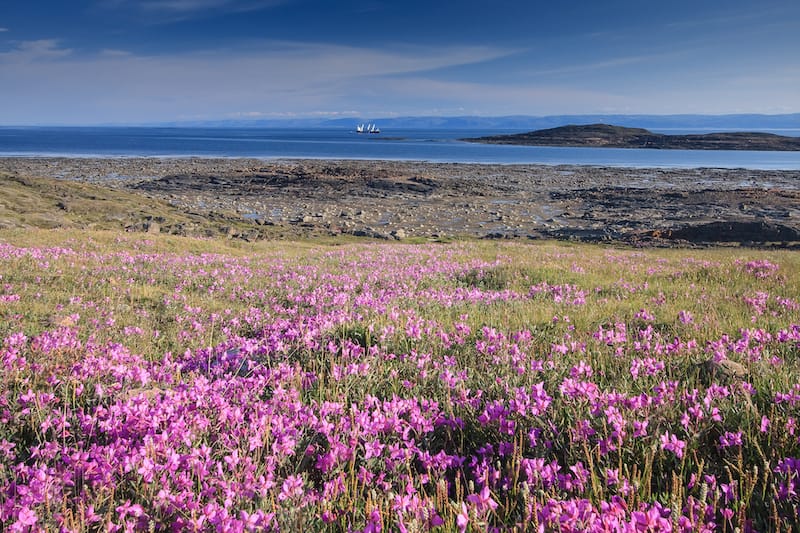 If you want to see the northern lights during these months, then be sure to get there before late-March. During this time, daylight hours are getting longer and you should have about 12 hours of sunshine.
May and June are considered shoulder seasons for Iqaluit as there isn't much to do. Once July rolls around and it really starts warming up, you can go hiking again.
Read more: Calgary in winter
You can continue hiking through October and the sea kayaking season is from August to mid-September. The months of November, December, and January are too cold to do much of anything. The average highs are between -23 C and -29 C.
We hope that this guide gives you a great impression of all the wonderful things to do in Iqaluit and helps you consider it for your next trip.
If you have any tips on worthwhile excursions from Iqaluit, please let us know in the comments!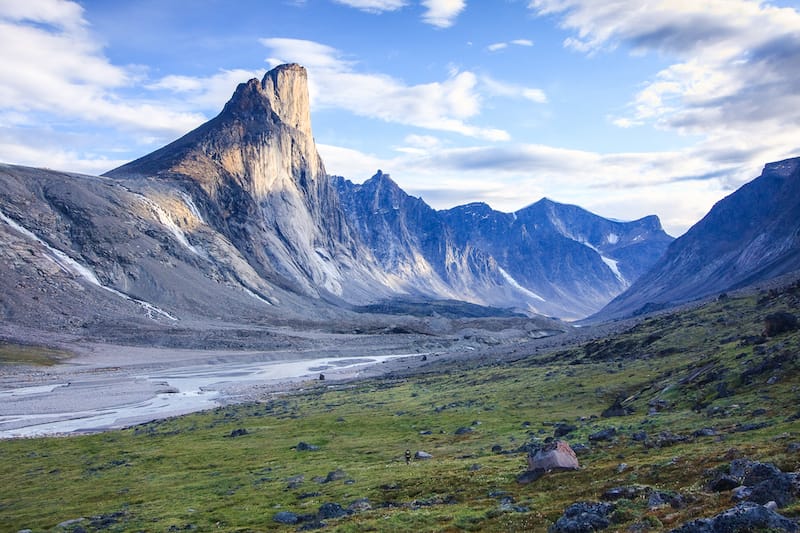 Author Bio
Mikaela at Voyageur Tripper has been canoeing, hiking, and camping for over ten years. She previously worked as a canoeing guide in Canada and spent a season guiding hiking and kayaking tours in the high Arctic. Mikaela is a Wilderness First Responder and Whitewater Rescue Technician.
Pin This Things to do in Iqaluit Guide!