Finland has plenty of northern lights accommodation, but, I have to be honest, not all are really that great for seeing the aurora.
And while I stayed at Aurora Village in Ivalo, Finland in summer – I am 100% confident that this is one of the premier places in Finland to stay if you're an aurora hunter!
In this post, I will give a short review of my stay at Aurora Village as well as some tips for your trip (and things to do in various seasons). I'll also explain how I booked my stay at Aurora Village!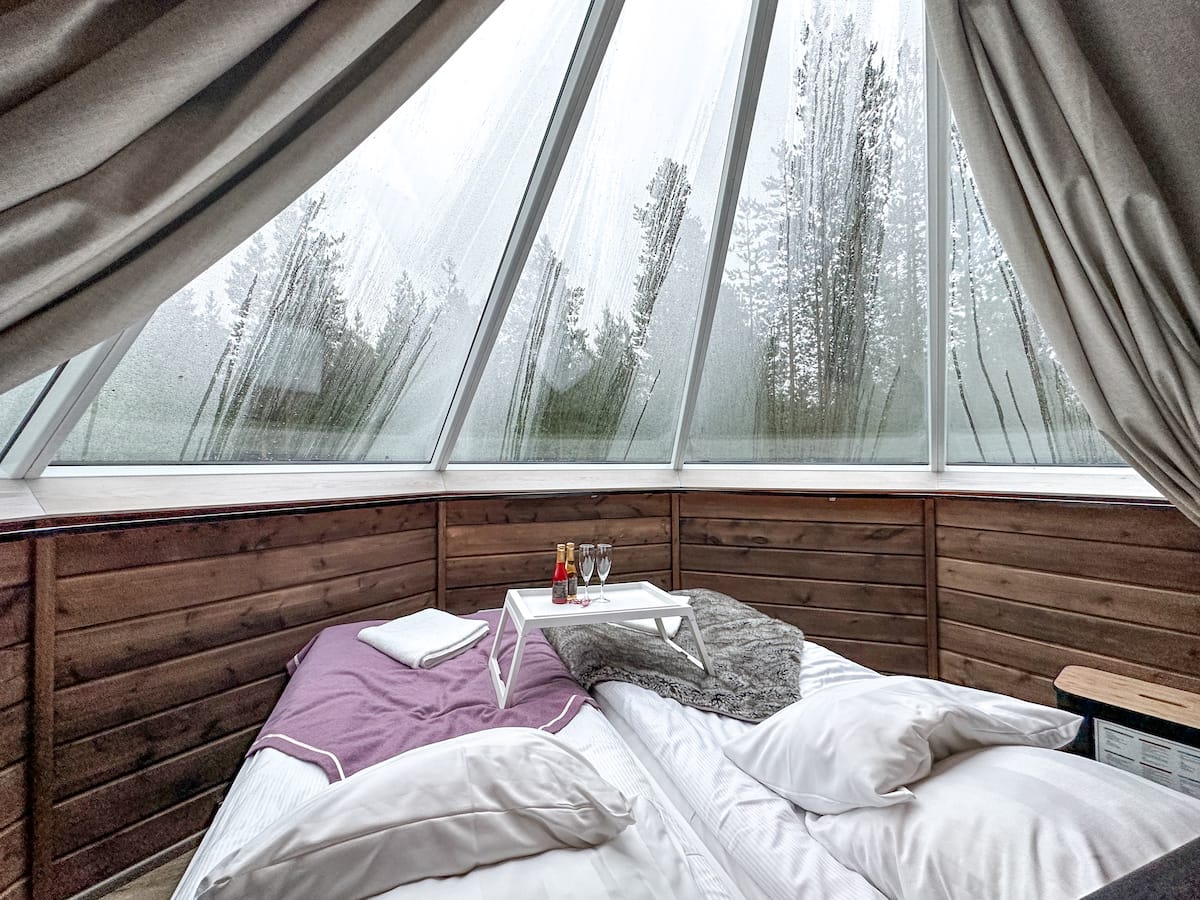 If you have any questions that I didn't cover in this post, drop them in the comments or send me a message! I am happy to answer them.
About Aurora Village (and Ivalo)
Aurora Village is a family owned 'igloo' resort in Ivalo, Finland. Ivalo is known as the gateway to Saariselka, a well-known resort area in Lapland.
Ivalo's Aurora Village is open year round and I had the pleasure of visiting during the summer months, which is the low-season there.
On-site, you will find several cabins that are 28m sq. While they fit two comfortably, you can actually accommodate up to 4 people in a cabin (the additional beds will come with a surcharge).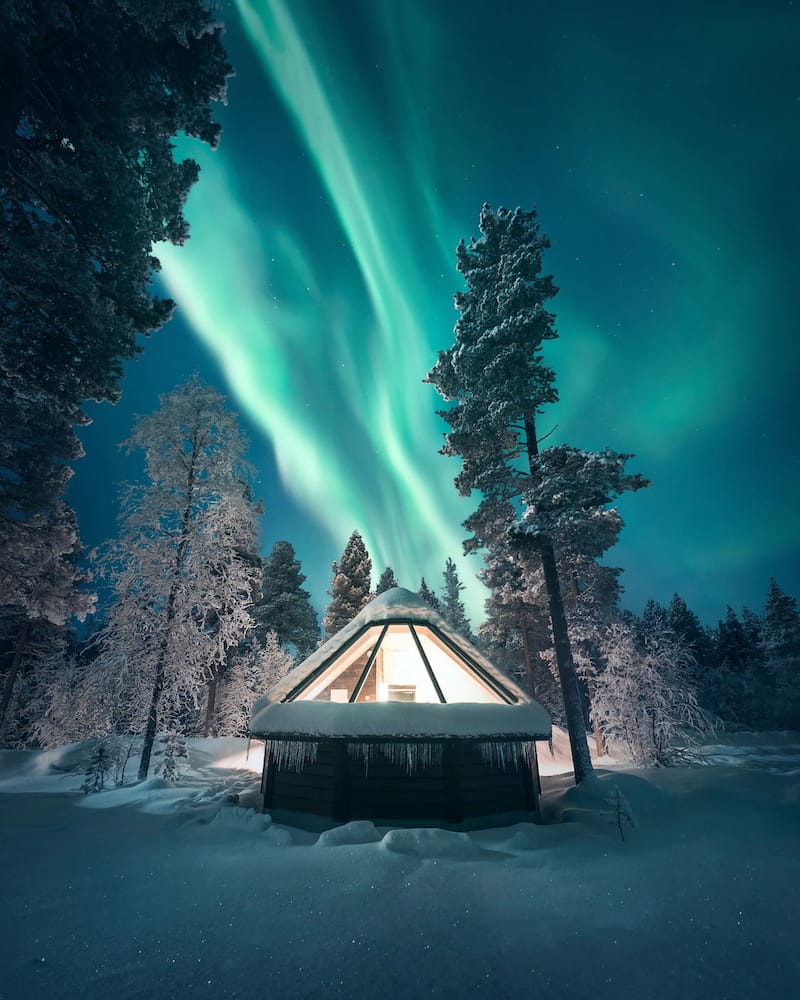 You will also find a restaurant and lounge area (that has a cozy fireplace in the center), which is also where breakfast will be served.
At Aurora Village, you will also find several activities (detailed below), as well as rental saunas and jacuzzi so you can relax before going to check out the aurora dancing across the Ivalo skies!
Why I Booked a Stay at the Aurora Village (& How You Can, Too!)
To be honest, I was driving from Rovaniemi to Kirkenes for my birthday week and I wanted to stay at some places I had on my bucket list on the way up there.
Aurora Village had been on my list of places I wanted to stay at in Finland – I just never thought I would make it there in summer, not winter!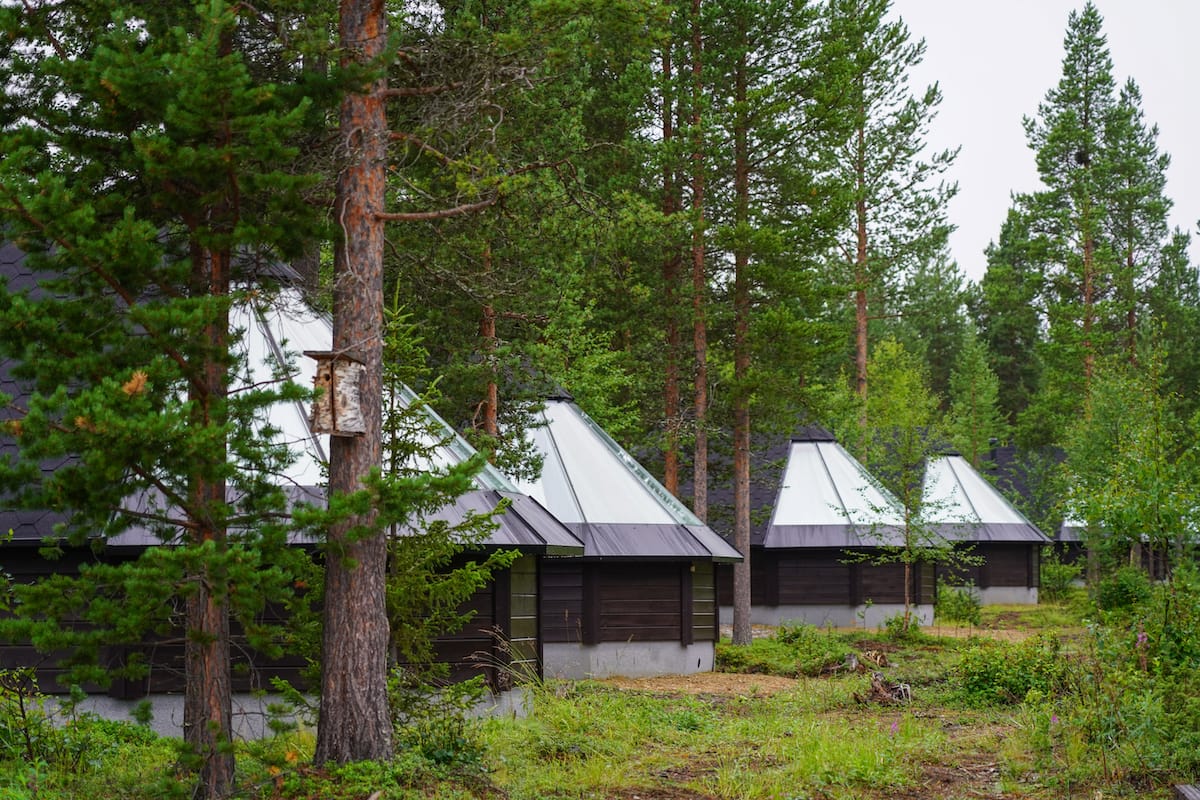 So, I booked Aurora Village without hesitation and made my way to Ivalo. I booked through Booking.com (where I book all my hotels!) and it was nice because summer rates are less than winter ones.
I am determined to make it back up there this winter to catch Aurora Village in its high-season (okay, I am really going for the northern lights).
Highlights of My Stay at Ivalo's Aurora Village
My favorite thing about Aurora Village was my private cabin.
There was free parking outside of it and I felt like I had plenty of space away from others and I was able to just stare out at the forest (in between the rain we had when I was there).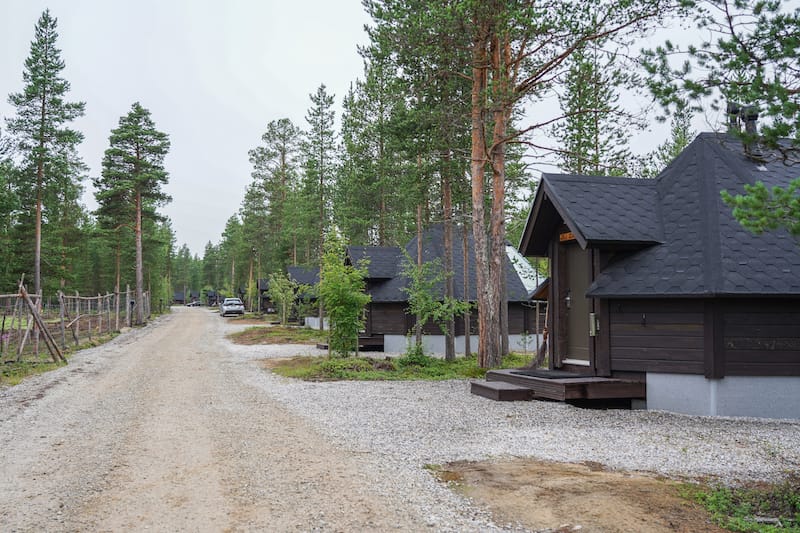 I also loved the breakfast they served the next morning. It was pretty typical Finnish-style, but I love that breakfast. There was fruit, granola, Finnish bread, and plenty of toppings to go along with it.
BOOK HERE: Aurora Village in Ivalo
The nature surrounding the property changes from season to season. In summer, it was GREEN. There were stairs down to the river below and you can rent kayaks and other fun stuff from the lodge.
And this might be the strangest thing of all – but I loved the hand soap they had in the bathrooms so much that I went back and purchased it for my home in Rovaniemi (Rituals Sweet Orange & Cedarwood).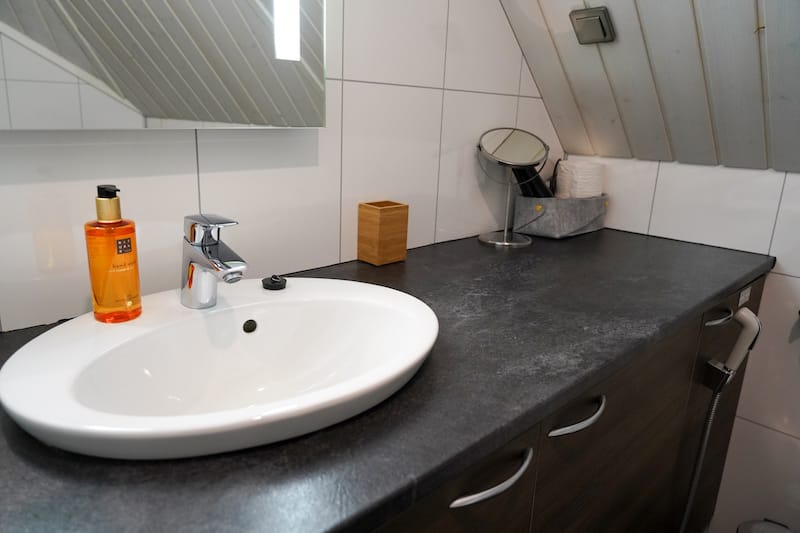 Now every time I smell that scent from the hand soap and diffuser I bought, it takes me back to my night at this place!
Accommodation Info
When you drive onto the property, you will notice a lot of igloo cabins scattered about on a large plot of land. Each cabin is about 28m sq and comes with space for 2 guests (you can add 2 more for an additional fee).
Inside the cabin, guests will find heating and air-conditioning, making them a comfortable stay regardless of what time of year you will be visiting.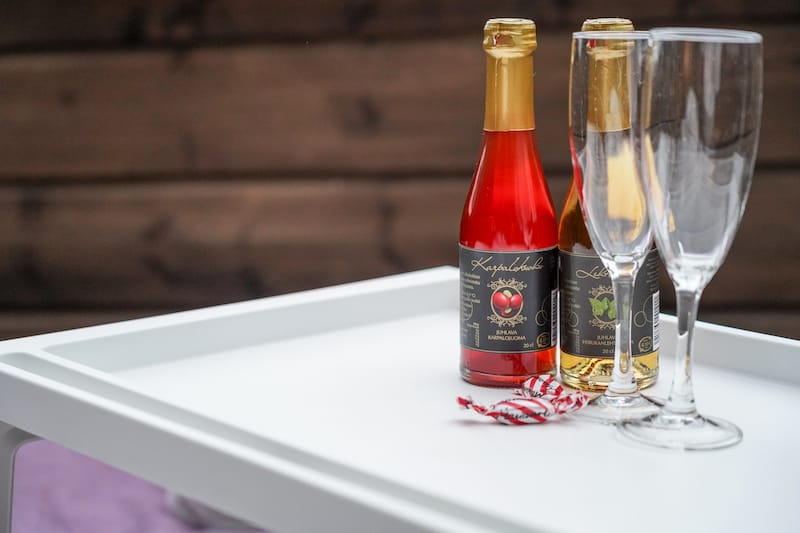 Each cabin comes with its own bathroom that includes a toilet and shower with hot water.
You will also find amenities such as a fridge, kettle, hair dryer, and a Nespresso machine (hey – you'll need the be fueled up for the aurora hunting!).
One thing I also loved was that I was greeted with a delicious bottle of non-alcoholic Finnish fruit 'wine'. It was the perfect welcome to Ivalo!
Aurora Village in Winter
While my stay at Aurora Village was not in winter, I can confidently say that this area is so far removed from light pollution that seeing the aurora from your cabins should not be a problem if they are strong enough.
As someone who lives in Rovaniemi, you can't imagine the look on people's faces when I tell them how lousy some of the city's 'northern lights hotels' are for aurora watching.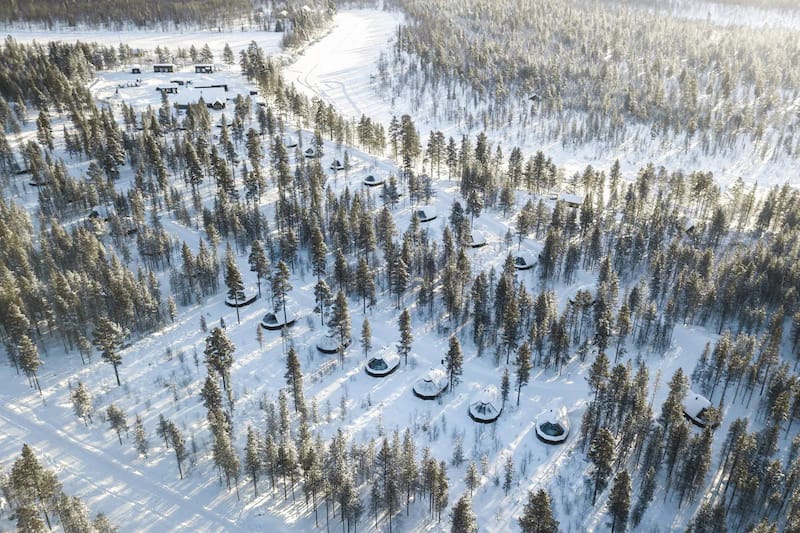 There is simply too much light pollution, as well as lights outside of each cabin or igloo!
Aurora Village, on the other hand, has taken all of this into consideration. The cabins have windows facing the forest or the north, where you won't see the light of other cabins nearby (they are extremely private).
But, then again, there is NEVER a guarantee with the northern lights, and things don't always work in your favor. As a result, I recommend booking a northern lights tour with them to have a much better chance of seeing them.
Aurora Village in Summer
I had the pleasure of staying at Aurora Village in summer. The midnight sun was doing its thing and the skies never fully got dark.
I was a little worried that staying in a glass igloo would make it hard to sleep, but Aurora Village has curtains that can be pulled entirely over all windows with ease.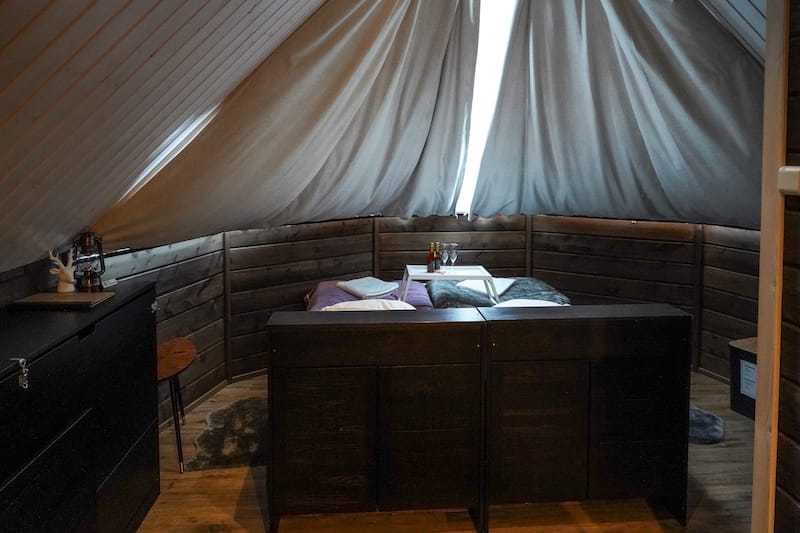 I had absolutely no issue sleeping there during the summer months.
One thing that you should know about Aurora Village in summer is that it is the low season, and the staffing is more minimal and there is not as much going on. In fact, it was SO quiet (to my liking).
🫎 PRO TIP: In the summer, there are moose near the property! When I was staying there, a moose was hanging out by the river below. Wake up early and go check things out!
I was planning to hang out in the dining room area after breakfast for the day (I was working), but they closed the common areas.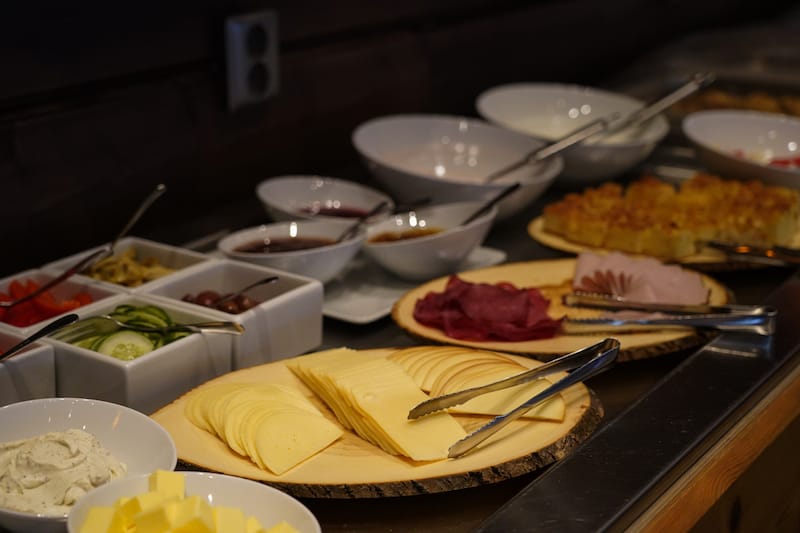 Totally fine – just know that the place is much quieter than in the winter months.
On a side note – summer is cheaper!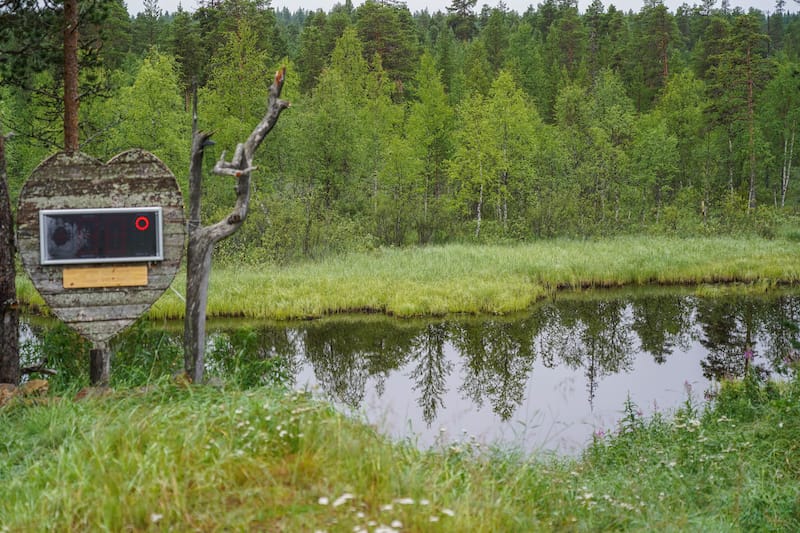 Restaurant at Aurora Village
If you're looking to grab something quick for your stay, you can shop for groceries in Ivalo center. Otherwise, be sure to get yourself booked into the restaurant at Aurora Village!
The 60-seat restaurant is located in the dining area and it is so cozy. It has a fireplace in the center and is just one of those atmospheres where you could spend an evening sipping on hot tea and never feel more at peace.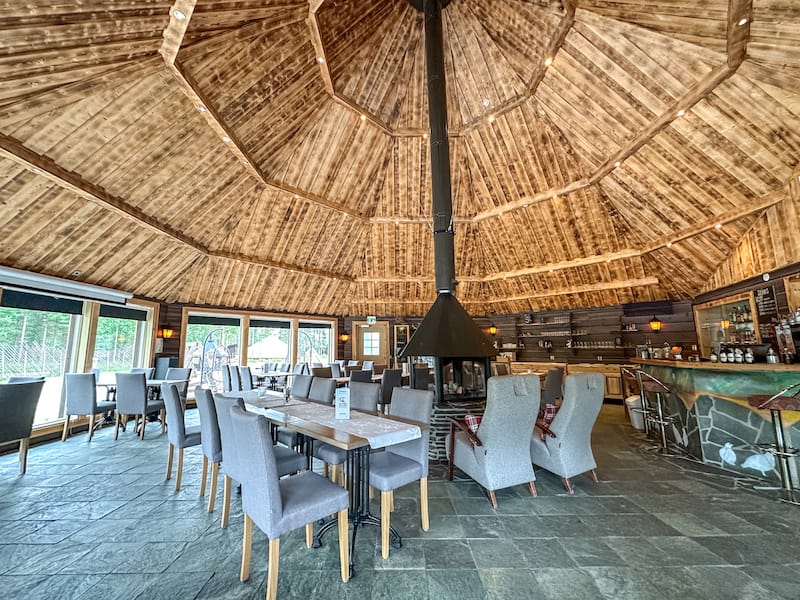 You will need to book your table in advance (seatings are at 1800 and 2000) and let them know of dietary restrictions at that time.
Each night offers something different to guests, and the 3-course menu is ever-changing! This menu goes from September 1 until April 10 and is included in your room rate.
You'll find everything from sugar-salted Arctic Char to a reindeer roast on the menu. There are always vegetarian and vegan options available for guests.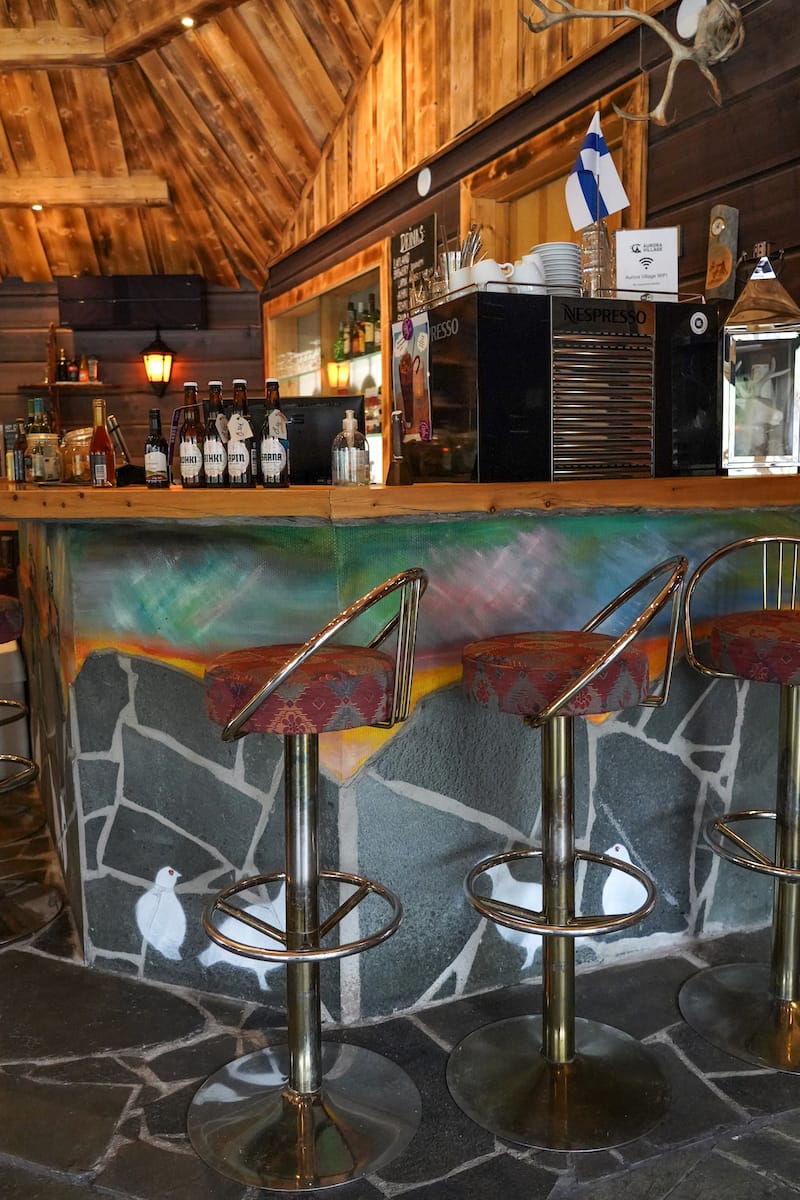 There is also a lunch buffet from November 1 until April 10. It runs from 1200-1500 and has a large selection of different foods. There are also main dishes you can order (such as reindeer pasta).
If you're coming outside of the specified dates above, you will need to pre-order this.
Activities at Aurora Village
As mentioned above, Aurora Village also offers plenty of activities on-site!
During the winter, you will find snowmobile safaris, husky-sledding, horseback riding, and reindeer experiences. And, naturally, you can also book a northern lights tour with them.
One thing that is great is that the place does not forget about summer and autumn visitors.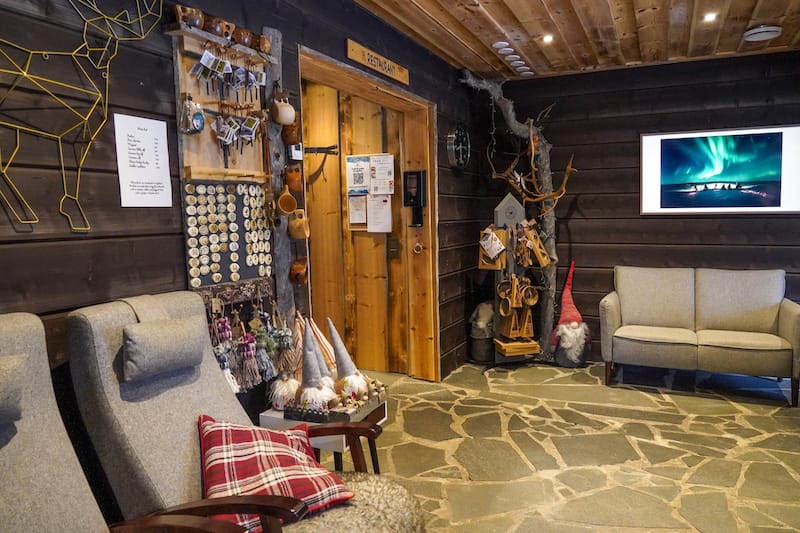 They also have horseback riding, hiking, summer husky, and cycling tours. You can also book a boat trip on Lake Inari with them.
Activities can be booked through their website (or they will send details to you after you have booked your stay).
How to Get to Aurora Village from Ivalo Airport
If you're coming to Aurora Village from the Ivalo Airport, the hotel can arrange a pickup for you ahead of time. This is a great option for those opting not to rent a car in Finland.
You just need to get in touch with the property (after you book) with your flight number and arrival time, and they will have someone waiting for you with a sign at Ivalo Airport.
Do you have any questions about booking a stay at Aurora Village in Ivalo? Let me know in the comments!
More Lapland Travel Guides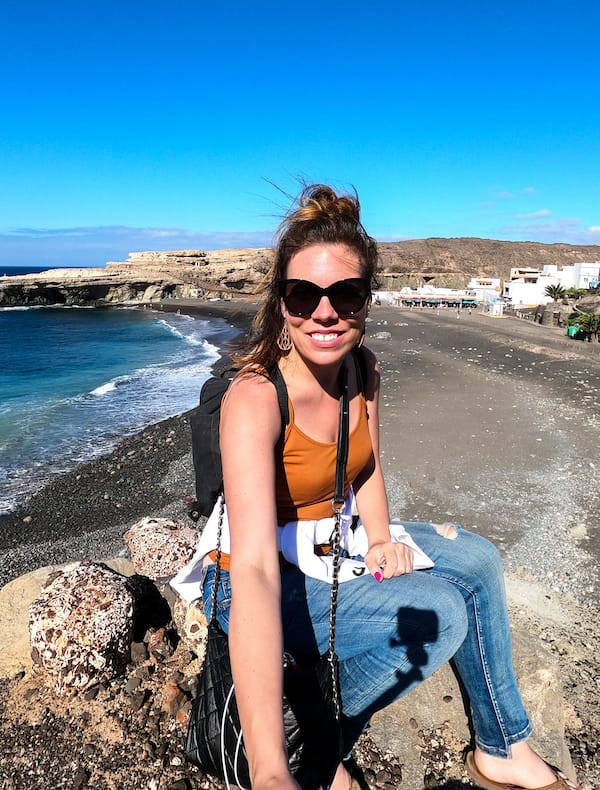 Megan is a travel blogger and writer with a background in digital marketing. Originally from Richmond, VA, she now splits her time between Frankfurt, Germany and Arctic Finland after also living in Norway, Armenia, and Kazakhstan. She has a passion for winter travel, as well as the Nordic countries, but you can also find her eating her way through Italy, perusing perfume stores in Paris, or taking road trips through the USA. Megan has written for or been featured by National Geographic, Forbes, Lonely Planet, the New York Times, and more. She co-authored Fodor's Travel 'Essential Norway' and has visited 45 US states and 100+ countries.