Are you looking for the best Airbnbs in Missoula for your upcoming visit to the city? This guide takes you through the top Missoula Airbnbs that will be perfect for your trip!
Let us know if you have any recommendations for great Airbnb rentals in Missoula. Missoula truly is one of the best places to visit in Montana!
We know many are coming for the football games, so we hand-picked a selection based on variety and location for this guide!
Best Airbnbs in Missoula MT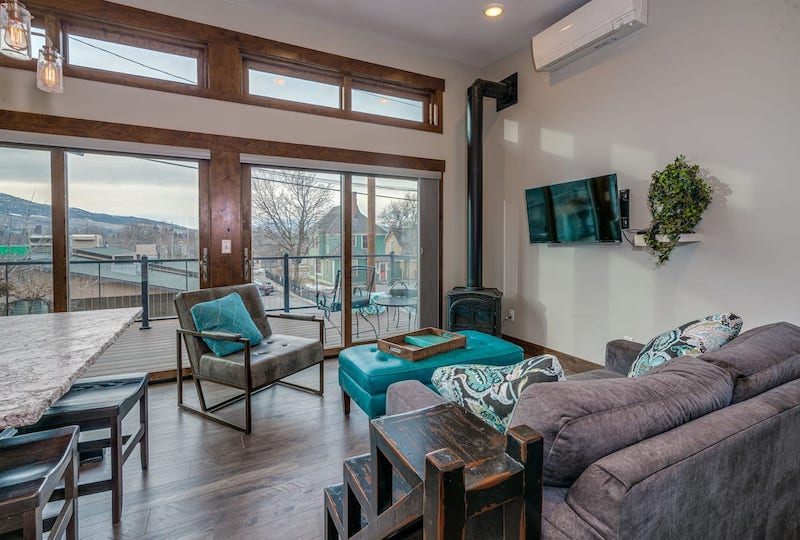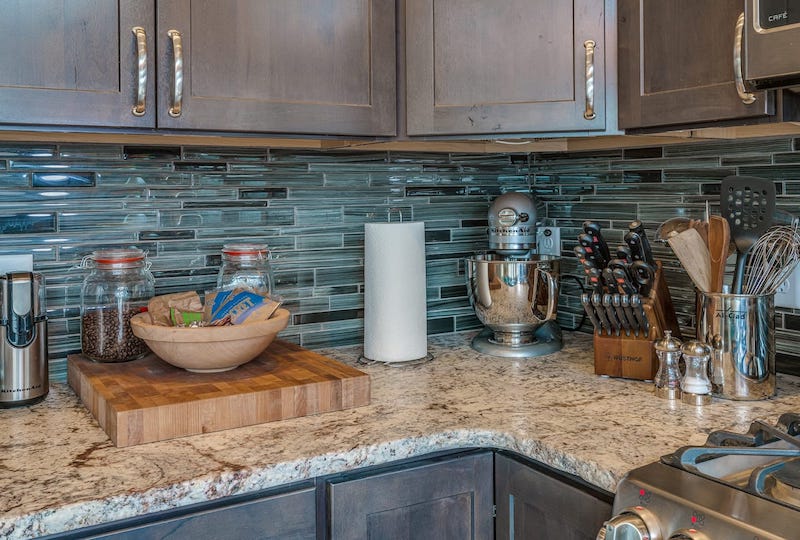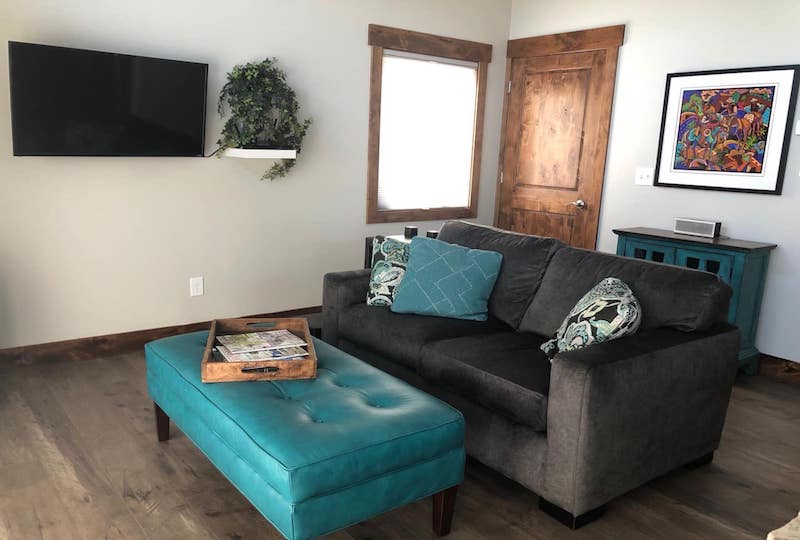 If you are looking for a place that sits in a peaceful neighborhood but is also close to downtown, this Missoula Airbnb rental is for you!
Mountainous surroundings embellish this lovely and modern style apartment, which welcomes 2 people in its one bedroom/one bathroom, living room, and fully-equipped kitchen.
You can welcome the sunrise on the balcony or finish off your day with your loved one on the outside patio around the cozy firepit or in the hot tub.
You will find Missoula Art Museum, Grizzly Stadium, and the University of Montana in very close proximity.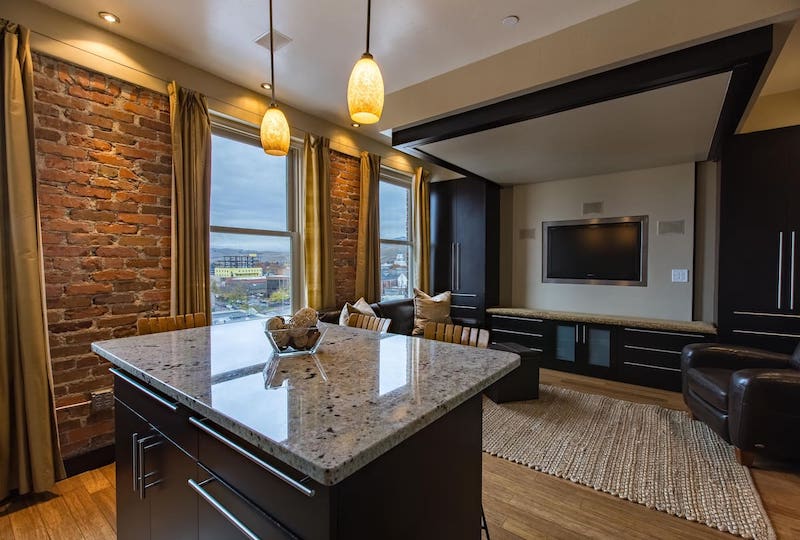 Are you planning to take a vacation or staycation in the heart of downtown Missoula? If so, then this modern studio located on the seventh floor of the iconic Wilma Building should be on your list!
It's a great fit for 2 people. The studio offers a spacious living area with a smart lighting system. It has a king-sized cantilevered bed that can be lowered from the ceiling via a remote, a bathroom, a fully-equipped kitchen, air conditioning, TV, and much more.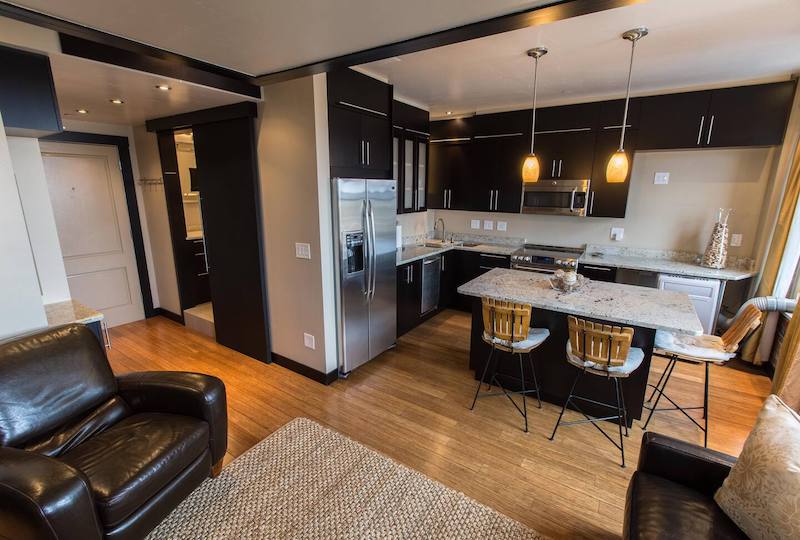 The building has all the essentials needed for a top-quality stay. You will even find a restaurant, spa, and theater! In addition, you will be within walking distance from entertainment in town, such as Caras Park, shopping centers, restaurants, hiking trails, etc. If you're in town at the right time, you may even get to witness (or run in) the Missoula Marathon.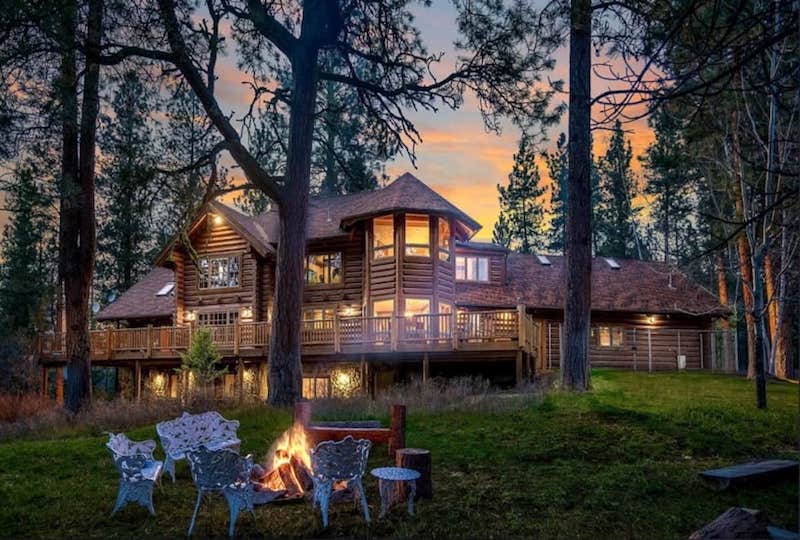 This spacious cabin surrounded by pine forest is an absolute slice of heaven and exudes uniqueness with its completely wooden design.
It can welcome up to 6 guests and is perfect for family and friend gatherings. It has 2 spacious bedrooms; one offers 1 king-sized and 2 offer single-sized beds and the other one a queen-sized bed.
Other conveniences that the house provides are a living room, a bathroom, a fully-equipped kitchen with a laundry room, heating, wifi, and a beautiful garden in a mysterious forest.
A 10-minute drive will get you to downtown Missoula or give you access to endless hiking and biking trails. Please note that this is a guest suite.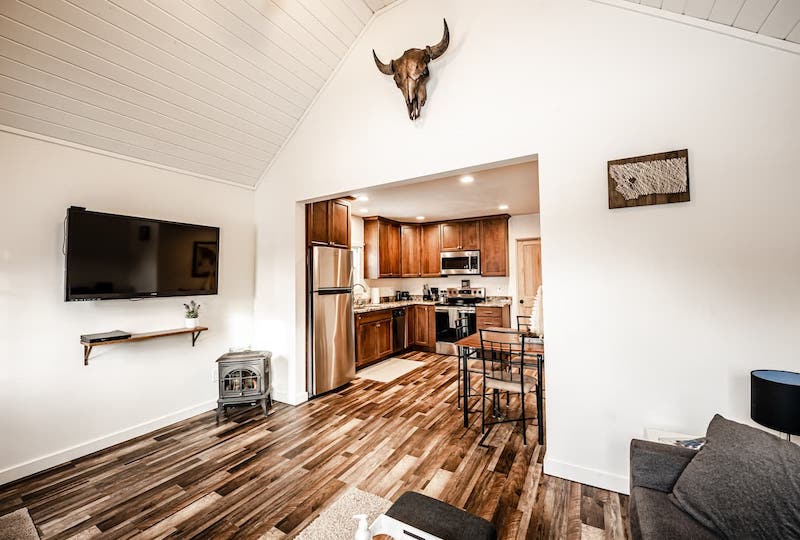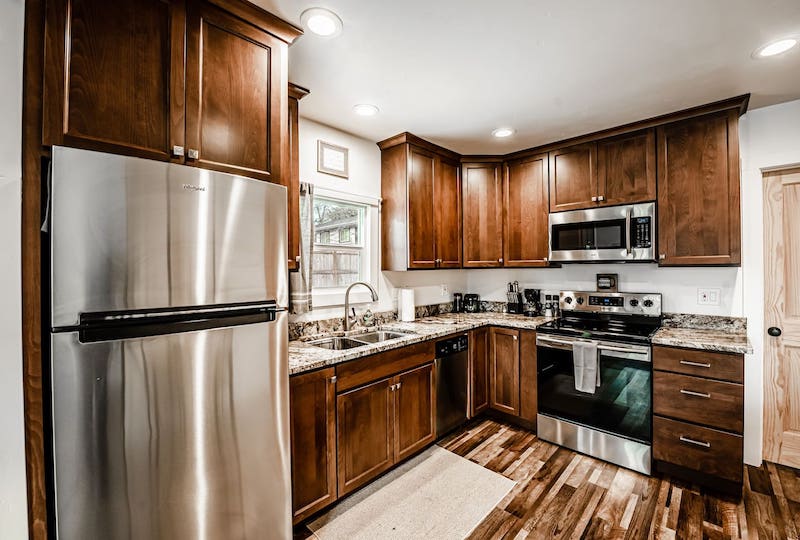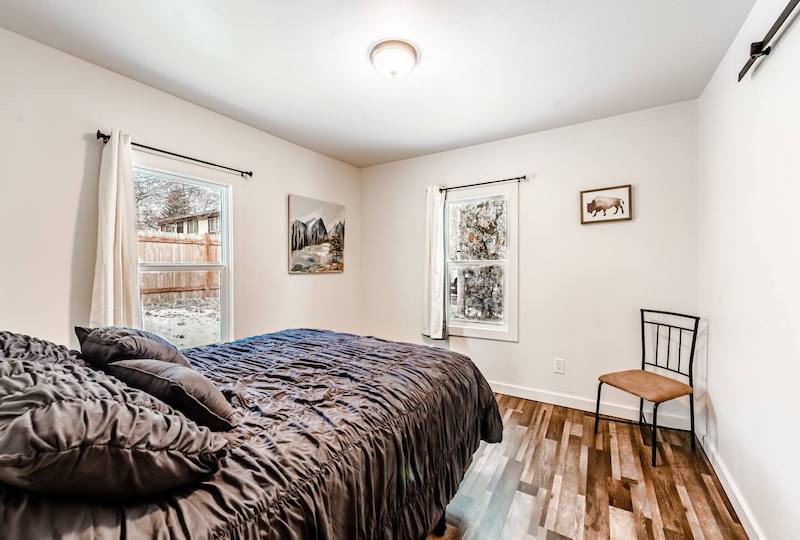 This cozy house has a unique personality and is one of the best Airbnbs in Missoula. It is also centrally-located.
It can accommodate up to 4 people in its one bedroom with 1 queen-sized and 1 sofa bed. It has many conveniences for a relaxing and comfortable stay, including a roomy and well-furnished kitchen, a bathroom, air conditioning, wifi, and much more.
In the evenings, you can chill with your friends next to the indoor fire pit watching Netflix or you can explore the downtown, which waits for you nearby.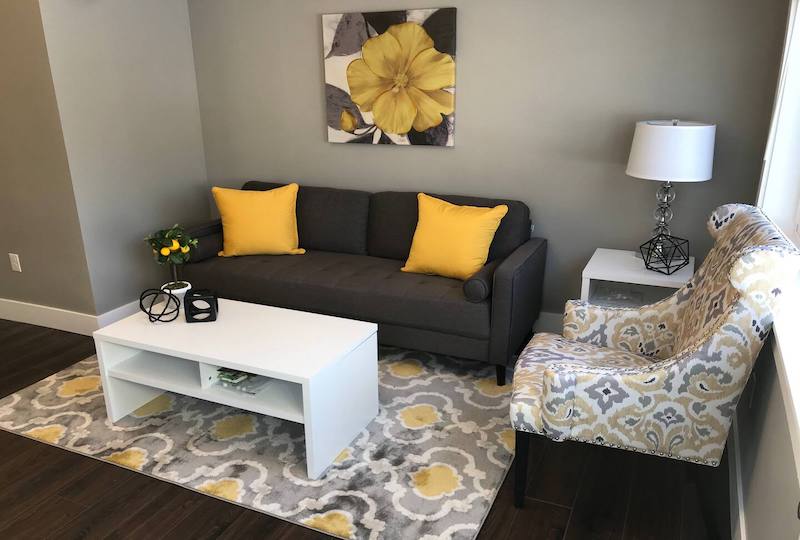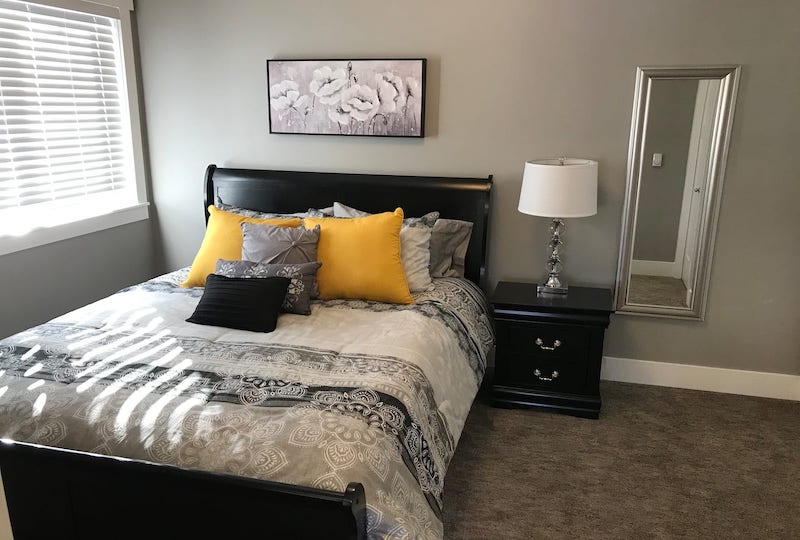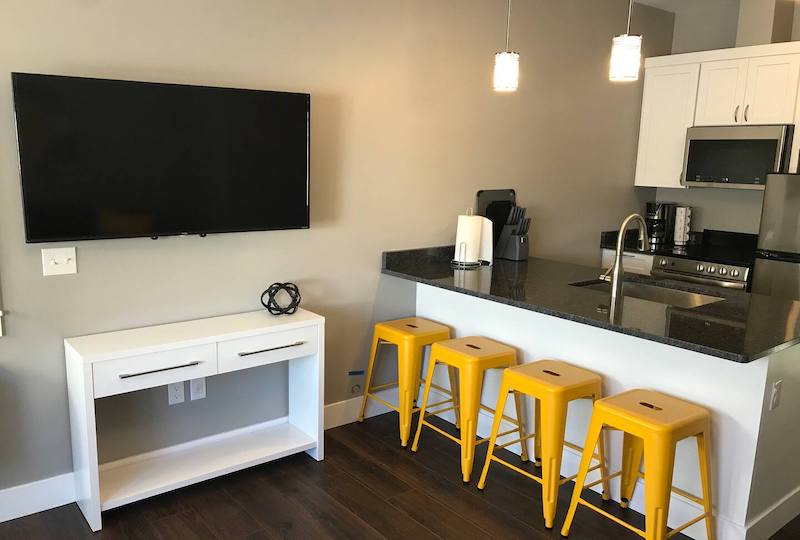 If you are looking for a place that will feel like a home away from home, then this modern and cozy 2 level apartment building is the one for you. Located in close proximity to the downtown, you can have an exciting day while exploring the best of Missoula.
Suitable for up to 2 guests, it offers a bedroom with a queen-sized bed and a bathroom on the second floor, while a fully-stocked kitchen with a sitting area of four connected to the living area is on the first floor. You will also have a free parking space, TV with access to Netflix, wifi, and much more.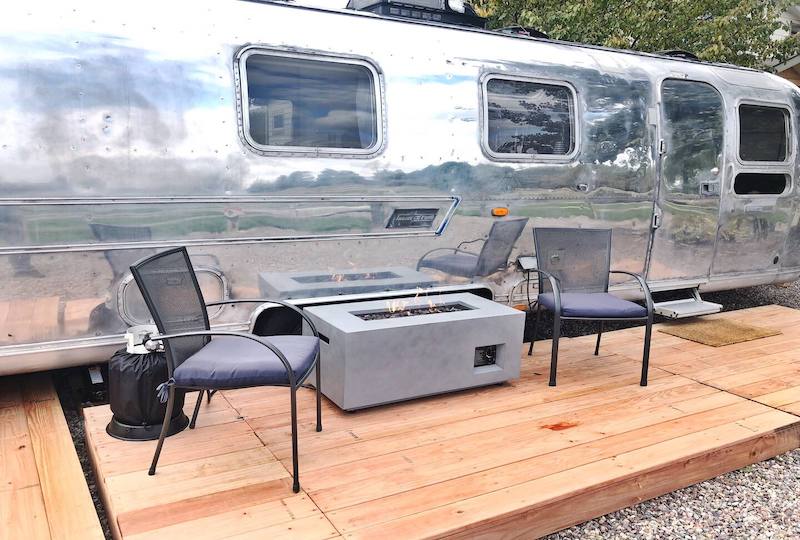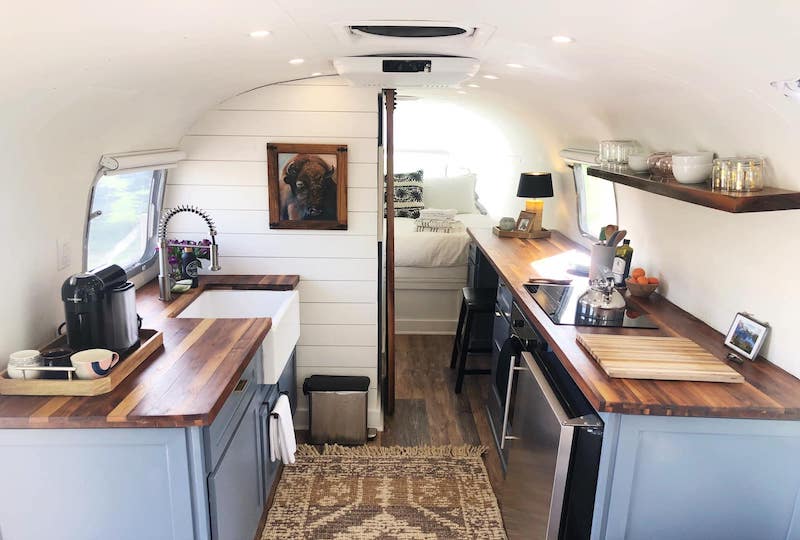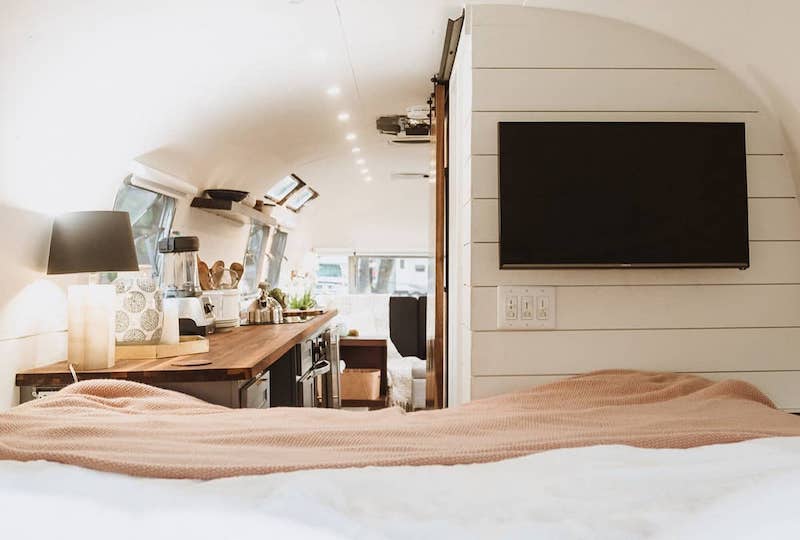 Do you want to have a memorable romantic getaway in a special location? Then this luxury Airstream is a fantastic choice of Missoula Airbnbs for you!
This tiny RV, with its 1-bathroom, cozy bedroom, and well-furnished kitchen is the perfect fit for couples. You can unwind with your loved ones next to the outdoor fire pit and admire the magical Montana sunsets or enjoy wintertime wonderlands.
A 6-minute walk will get you downtown, and it will grant you access to all the fun places that Missoula has to offer such as The Olde Dairy Neighborhood Restaurant, Ft. Missoula Sports Complex and Historic Site, Missoula County Fairgrounds, and the Ice Rink.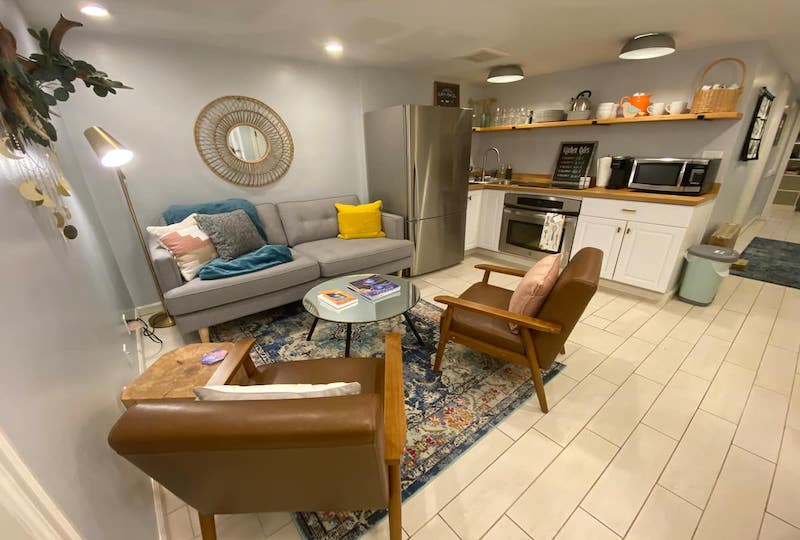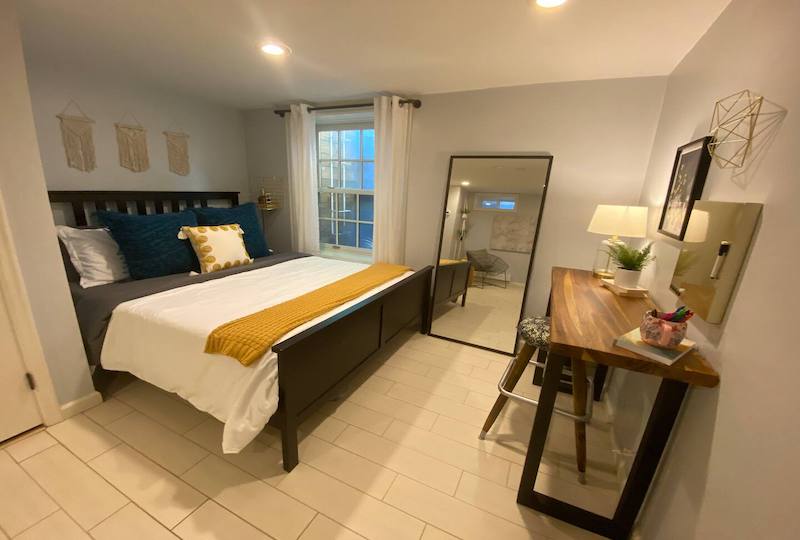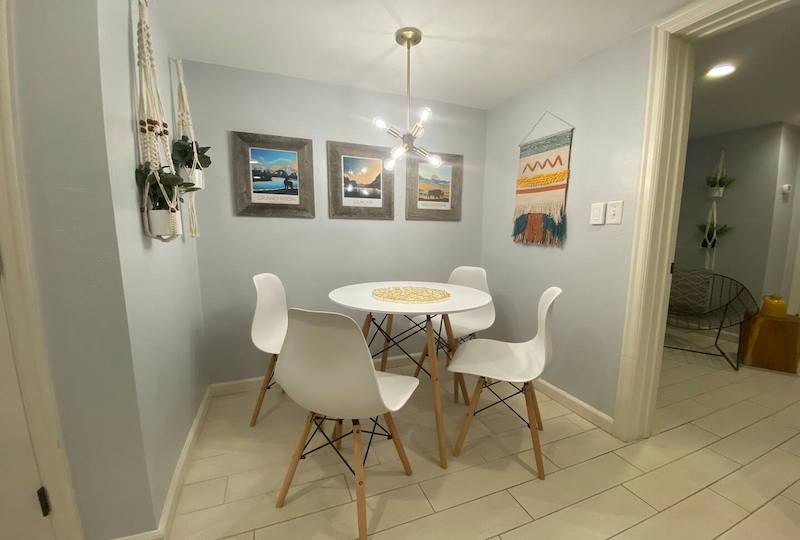 Suitable for up to 4 guests, this Modern Bohemian basement suite will be your home away from home during your trip to Missoula.
Away from the hustle and bustle of the city, the suite offers you a living room, 2 bedrooms (each with a queen-sized bed), a bathroom, a well-equipped kitchen with a dining area, wifi, a TV, and much more. A small courtyard in the front of the house will be the perfect place to enjoy your morning coffee.
It's an ideal location for your Missoula stay: very close to the downtown, the Clark Fork River, the University district, etc.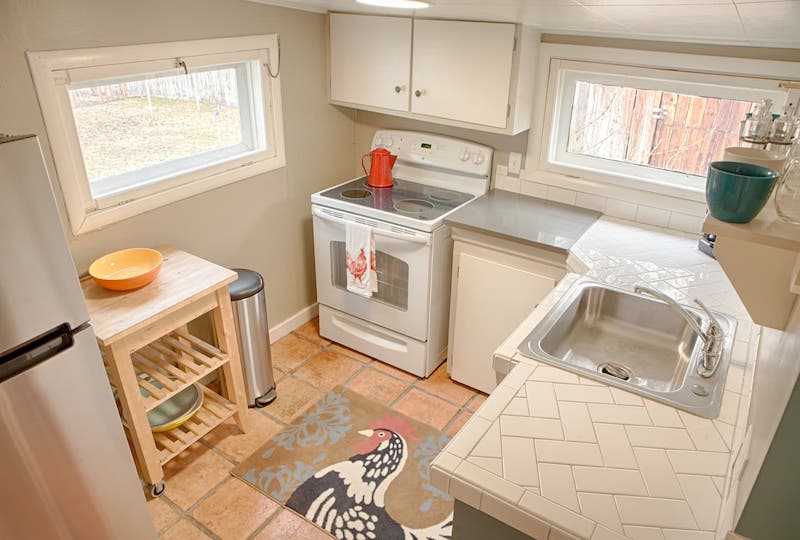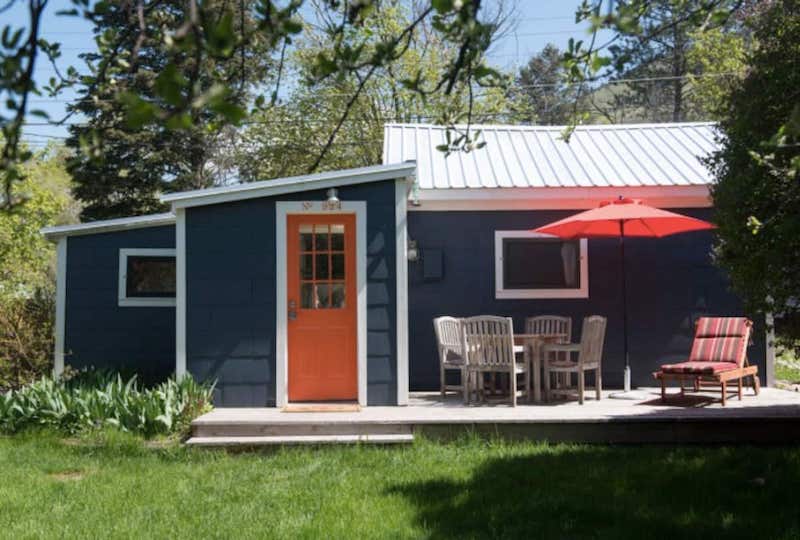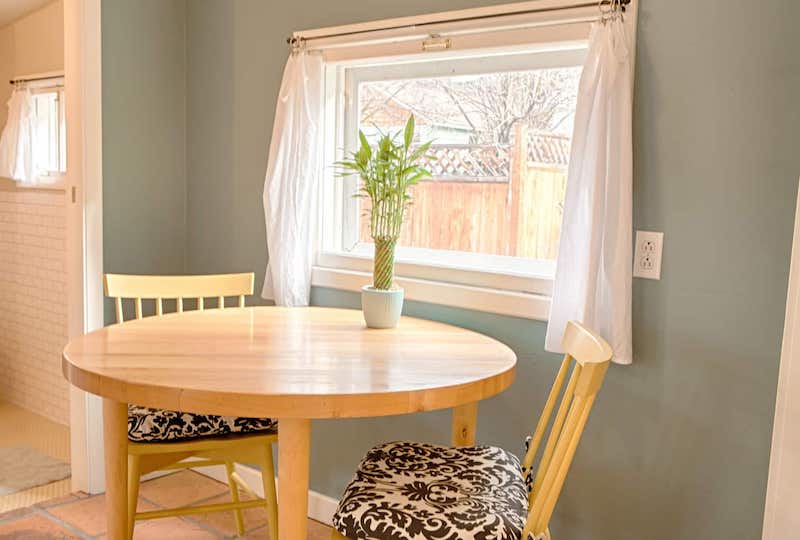 Feel the need for a tranquil vacation while being close to a bustling downtown? If yes, then this cozy cottage just minutes away from Missoula will ensure you a relaxing stay with its warm and charming atmosphere.
The space inside has an open living area directly connected to a fully-equipped kitchen, a bedroom with a queen-sized bed, and a bathroom.
The outdoor patio is the perfect place to enjoy your meal and admire the surrounding beautiful garden when the sun is shining.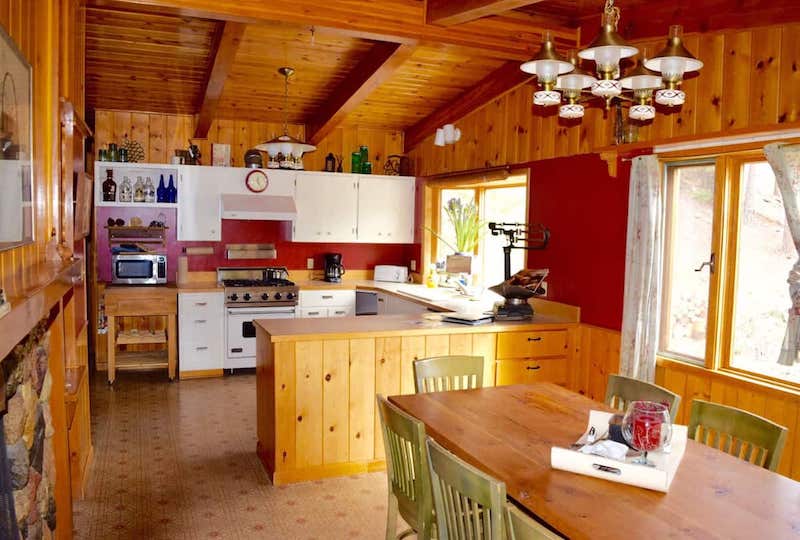 This spacious house built on the Clark Fork River offers you enough space to organize family reunions, friend gatherings, hiking and biking trips, and even weddings.
It can accommodate up to 13 guests in its spacious area, including 3 bedrooms, 2 family rooms, 2 baths, a large kitchen, and other conveniences. The outdoor deck offers seating space, while the lower-level walkout gives access to the hot tub and fire pit. The side yard will guarantee the best picnics followed by volleyball matches.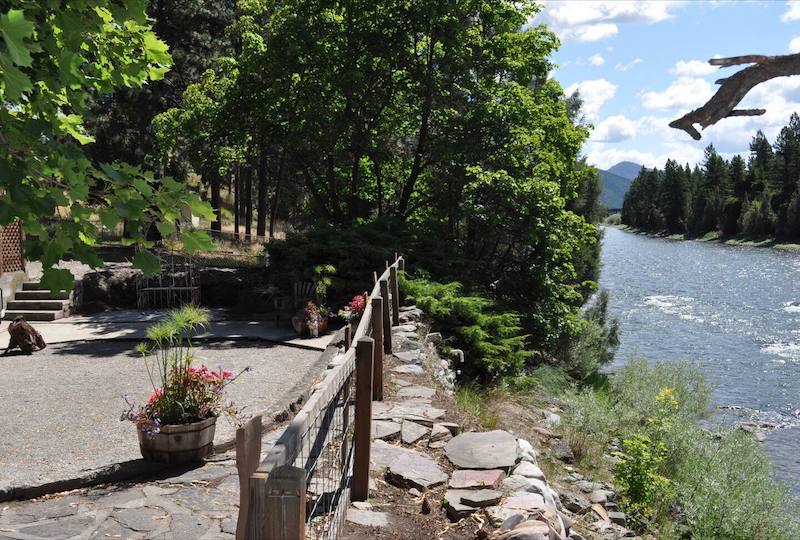 Being very close to Missoula and the rest of western Montana, you can finish off your day dining in a restaurant or shopping downtown.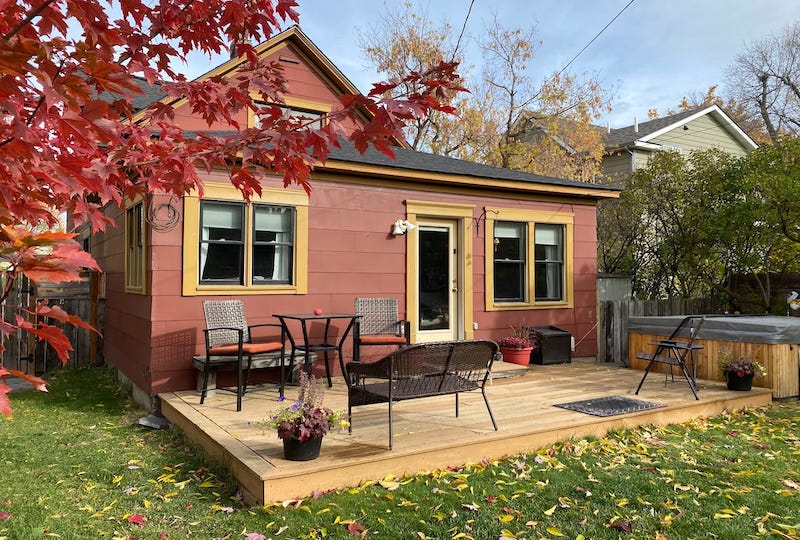 This sunny and cozy cottage nestled in a cozy neighborhood in Missoula is a great place to spend your weekend getaway.
It welcomes up to 2 guests in its one bedroom/one bathroom area and the kitchenette with the living room. Other conveniences you'll find are wifi, air conditioning, heating, and a free parking space.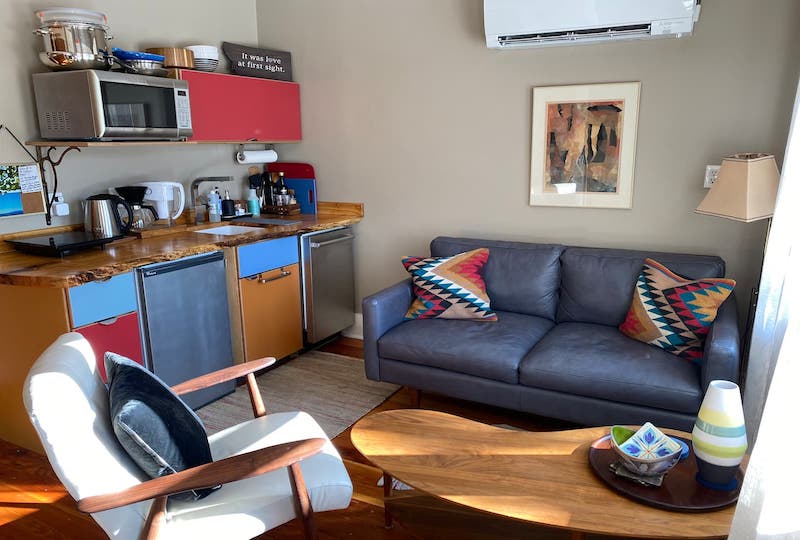 The outside deck has seating for 2 and also offers a hot tub next to it. The well-kept garden in the front of the house is the best place to admire the sunrise when sipping your morning coffee.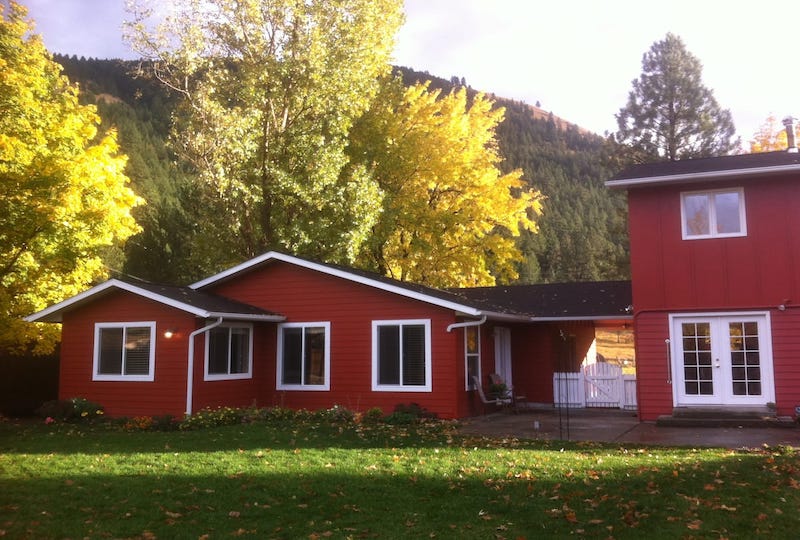 This charming house is located in the heart of the Rattlesnake recreation corridor; hence being landscaped with breathtaking nature will guarantee you a relaxing countryside getaway.
Minutes away from the University of Missoula and downtown, this private studio is an excellent fit for up to 3 people. It has an open area where the living room is connected to other rooms. The rooms have a queen-sized bed, 1 full-sized futon/bed for your guests, a bathroom, plus a fully-equipped kitchen.
You will have access to a shared backyard where you can find a 3-person hot tub, swing set, small trampoline, volleyball net, and much more to keep entertained during the evenings.
These are some of the top Airbnbs in Missoula, Montana. Please let us know if you have any recommendations for Missoula Airbnbs (or even any cool cabins in Missoula)!
More Montana Travel Inspiration
Pin this Best Missoula Airbnbs Guide