There are many things you should know before you visit the Faroe Islands. After two trips to the Nordic islands, I understand and feel confident advising others on how to travel to the Faroe Islands successfully (and to take cute photos of sheep).
Planning your trip to the Faroe Islands last minute?
Below are some of the top tours, hotels, etc to help plan your Faroe Islands trip!
Getting around the Faroe Islands:
Cheapest car rental options (and with most availability!)
Vagar airport to Torshavn (a quick transfer service!)
Top Experiences and Tours in the Faroes:
Top Lodging and Hotels in the Faroes:
This is a guide of things to know before you go to the Faroe Islands.
I have included photos from both trips in this guide. If the grass is brown, it was taken in March. If it is green (and sunnyish), it was taken in August.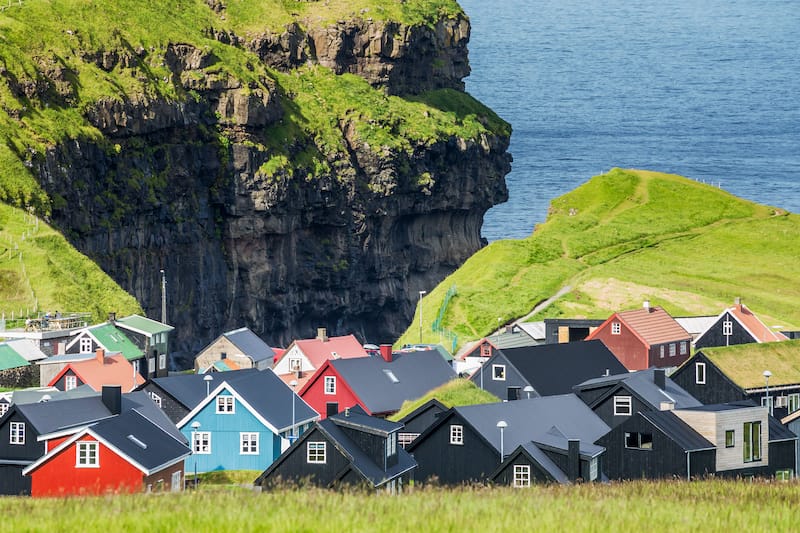 Tips for Traveling to the Faroe Islands
The Faroe Islands are one place that I just can't stop raving about. It has been ten months since I traveled to these Northern Atlantic beauties, but I have so many untold stories, travel tips, and questions to answer about my travels there.
By the time I get everything posted about the Faroes, I will likely have made a return trip or two there (spoiler- I have now been twice).
Anyway, it is really difficult to know what to expect in the Faroes for someone who has not stepped foot on its lush, sheep-poo-filled soil. Once you're there, everything is a bit easier to wrap your head around.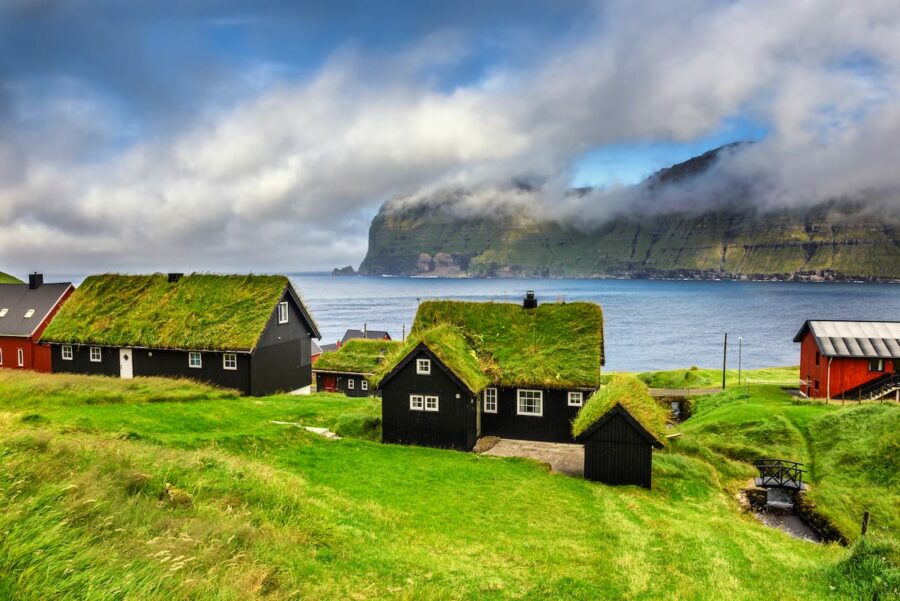 And once you leave, you will be longing to learn more about these secluded and wondrous islands.
These are 30 useful things to know before you travel to the Faroe Islands. Some of them are facts and some are just my observations and experiences about Faroe Islands tourism, in general.
Please feel free to leave comments with some of your tips and suggestions if you've traveled to the Faroe Islands!
Things to Know Before You Visit the Faroe Islands
The Inhabitants are Diverse
There are over 77 nationalities living in the Faroe Islands. When I was there, I met people from all over residing in the Faroes… from Ukraine to Thailand to France.
While a lot of the diversity comes from students, seasonal workers, and bar staff, there is also a demand for women there as the islands have a shortage.
When I was in Torshavn, I discovered that Mikkeller Beer was opening a bar there right after we left and they posted applications publicly so that they could attract applicants from all over the world.
I later returned to the Faroe Islands and didn't have a chance to stop in Mikkeller but I assume I will make it a priority on my third trip to the Faroe Islands one of these days!
Getting to the Faroe Islands is Easier (and Cheaper) than Expected
Long gone are the days when the Faroe Islands were inaccessible. Now, you can fly directly from Edinburgh, Reykjavik, or Copenhagen on Atlantic Airways straight to Vagar Airport.
You can also fly directly from Copenhagen with SAS to Vagar Airport. There are talks of New York flights soon, as well.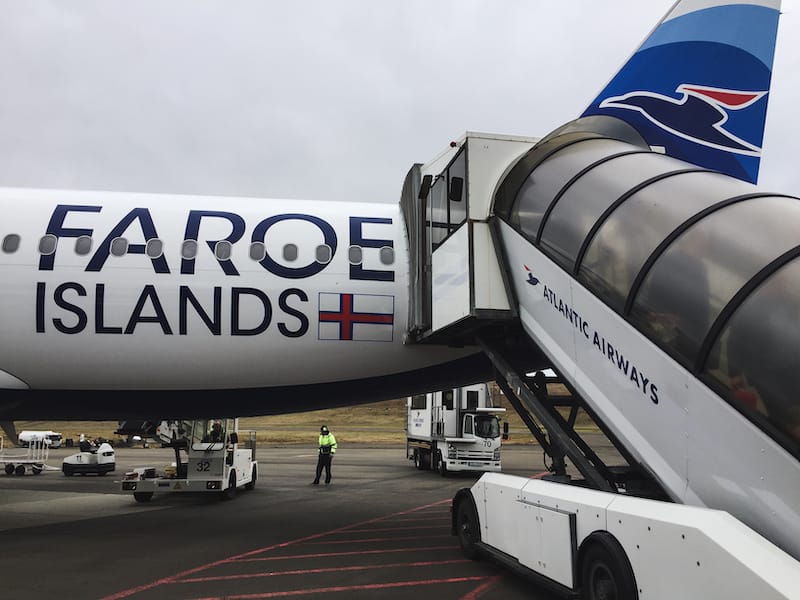 These flights to the Faroe Islands are year-round and I think I paid a little over $100 for my round-trip ticket from Copenhagen to the Faroe Islands. I was so shocked at how affordable the prices were.
You Can Take a Ferry to the Faroe Islands from Denmark (and Iceland)
From Hirtshals, Denmark, you can take a ferry to the Faroe Islands from the European mainland. While this isn't my cup of tea, it still is a nice alternative for those who are perhaps afraid of flying or want to try something a little different.
You can also take your car on the ferry, so it is a viable option for those who don't want to rent a car in the Faroe Islands (FYI- rentals are cheaper than you'd expect there if you book ahead).
During the Faroe Island summer months, travelers will find two options a week and it decreases to one option a week during the winter months.
These will be on the Norröna ship and the journey takes about 37 hours.
This journey also continues on to Iceland. And you can also get it back from Iceland to the Faroe Islands. To find out more and see updated schedules, fares, and information, check out Smyril Line's website.
Wild Camping in the Faroe Islands is Illegal
Scandinavia and the Nordics have a reputation for allowing wild camping or setting up to sleep wherever you please.
This is not the case in the Faroe Islands (and rightfully so, in my opinion, as the weather can be really harsh in certain places and you're never more than 5 kilometers from the sea).
While there are various reasons for this rule, it must be mentioned that there are several designated places to go camping in the Faroe Islands.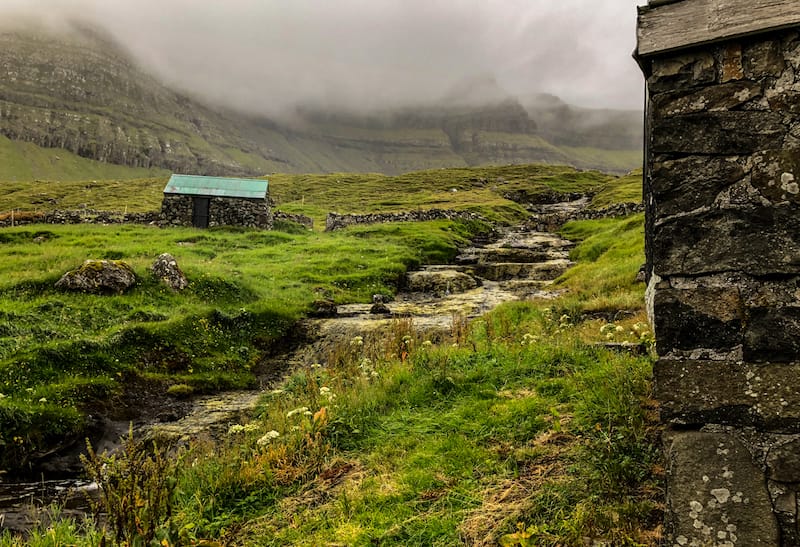 It is also not permitted to sleep in a car or campervan randomly in parking lots, on land, or somewhere on the roads. This has been a bit of an issue for tourists who don't do their research beforehand.
It is not fair to the locals and travelers should come prepared to follow the rules of the Islands as they have been put in place for a reason.
To see all updates, follow Camping.fo for additional information.
Also, do note that if you are camping during winter in the Faroe Islands, you must call and make arrangements ahead of time.
Not a fan of camping? Stay in a hotel in the Faroe Islands instead!
Mullafossur Waterfall in Gasadalur is Temperamental
When most people think of the Faroe Islands, they have the same three images in their mind: the Kallur Lighthouse on Kalsoy in Trøllanes, the optical illusion at Lake Sørvágsvatn on Vagar, and the Mullafossur Waterfall flowing beautifully and calmly into the Atlantic in Gasadalur.
That waterfall doesn't really always look like the photos you see of it. Sometimes it blows into the sky. But, wait around for the wind to die out and you'll get a good photo.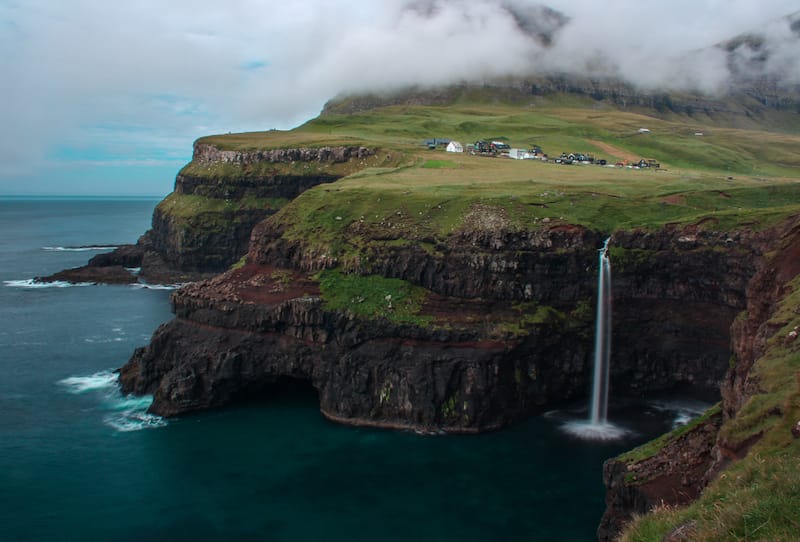 Like they say in the Faroes, just wait five minutes and the weather changes. With a little patience and a good eye, you'll be able to probably catch a good shot of the waterfall as you visit it.
Just expect it to often defy gravity and blow up into the sky instead of softly down into the sea. While you wait for that perfect photo, you can actually see Mykines in the distance from where you'll stand which is pretty cool.
Visiting Mulafossur is the perfect thing to do when you're en route from the Vagar Airport to Torshavn.
The Faroe Islands are not Schengen
This affects such a small minority of us. But this was really cool for me when visiting as I was able to go there for a week and not lose my Schengen days. But yes, the Faroe Islands are not part of the Schengen zone and I am super thankful for it.
You Likely Won't See Puffins in the Faroe Islands
Obviously, this is dependent on when and where you go. If you arrive in the Faroes in March, the likelihood that you'll see them is basically non-existent.
If you arrive at the Faroe Islands in June, you have a great chance to see them if you make the effort to do so. There are puffins living all over the islands, but their colonies may not always be accessible to us humans.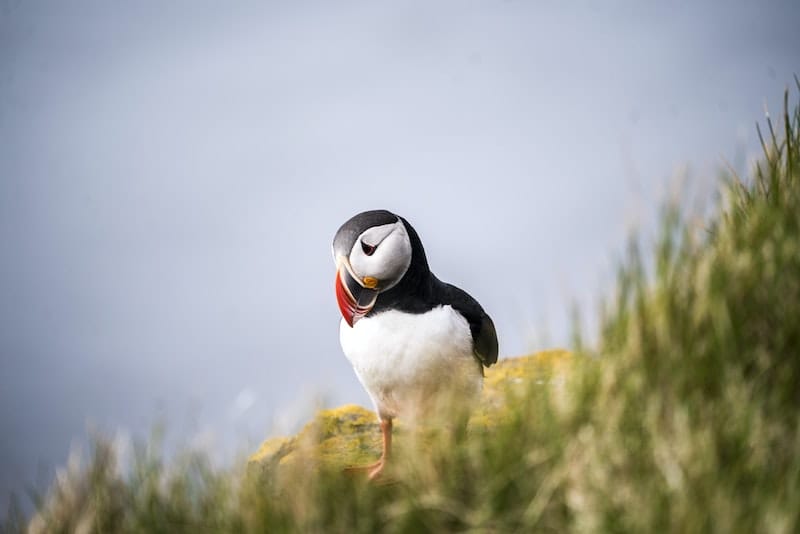 For example, on Kalsoy, there are 40,000 pairs of puffins, but they are located on the northern and western coasts, which are rugged and not conveniently located for humans. You can find puffins from Kunoy to Suduroy and beyond.
While many people go to the Faroes just to see the puffins, I think it is important to respect their habitat and give them their peace. There are many reasons to visit the Faroes and puffins are just one of the thousands.
If you're wanting to see puffins in the Faroes, do your research. Obviously, Mykines is prime territory for puffin sightings during the summer months, but you can also sometimes see them on Skuvoy and Streymoy at Vestmanna and other islands.
To find out more about puffin watching and birdwatching in the Faroe Islands, click here. There is even a downloadable birdwatching booklet.
You can also look at Faroe Islands tours that go to Mykines and a lot of the dirty work is already done for you!
You Now Need to Pay to go to Mykines (and the Optical Illusion Lake)
Speaking of puffins on Mykines, you must now pay a fee to go to the island to see the puffins. Congratulations to human beings for being unable to respect the animals and their habitat.
I saw a video of a traveler on Mykines one time running after them while she video'ed the entire thing for her Instagram Stories.
I wanted to vomit when I watched it. Anyway, the fee isn't substantial, but things are always subject to change in the future.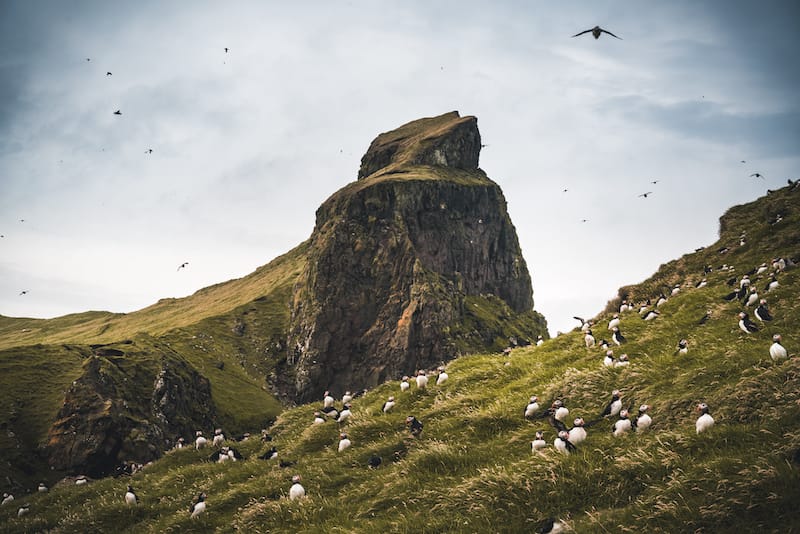 I am happy to see the Faroe Islands doing their best to protect the birds on this island. You can find plenty of tours in the Faroe Islands if you research well.
To avoid all of the new rules and regulations regarding Mykines, I recommend taking a tour there. Click here to see the rates and availability for a full-day tour to Mykines from Torshavn.
As of 2019, the famous 'Optical Illusion Lake' hike is no longer free. I have had the chance to go two times without payment so it is, unfortunately, but maintaining land is no easy or cheap feat… so I totally understand the new fees implemented. You have a few options for hiking there.
You can organize a hike ahead of time with a local guide. Click here to check rates and availability.
You can show up at one of the slotted times (9am, 12pm, and 3pm) and join one of the tours with a local guide. This price. is 450DKK per person (children are 150DKK).
You can pay 200DKK and hike independently. To be honest, it is an extremely easy hike and requires little to no effort if the weather cooperates. I would go this route if you're on a budget and feel comfortable walking on your own.
Buses in Torshavn are Free
That's right. There are multiple lines that operate in the Torshavn municipality and the bus lines are free to users. I wish other places around the world used tax money for public transportation, to be honest.
I think this is brilliant and I'd be more inclined to take public transport everywhere if I didn't have to constantly purchase tickets for it.
In addition, these buses also will transport passengers out to the historic city of Kirkjubøur, a must-see for anyone interested in learning more about the history of the Faroe Islands and the people that inhabit them.
The Seawater is Extremely Colorful
Obviously, this is an observation. But it is true! The water in the Faroe Islands is really blueish-green and is so beautiful. I expected it to be a murky blackish color before arriving and I was completely stunned when I saw how vivid it really was.
There are so many photos out there that showcase how green it is, and I truthfully thought it was all photoshopped to enhance the long exposures people had taken with their cameras.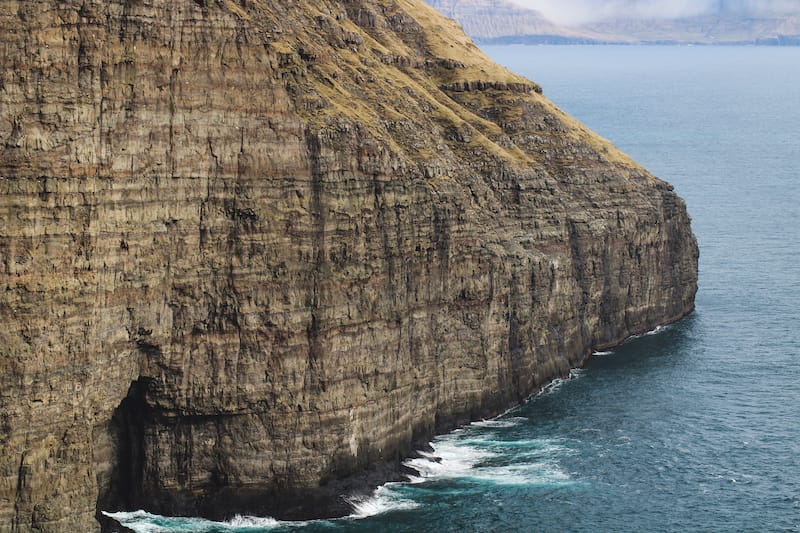 I found the water beautiful and bright almost everywhere, but it really stood out on Sandoy to me, where it appeared to be a bright blue color with a teal tint to it.
Is there seriously anywhere in these islands that aren't absolutely stunning?!
Beer Prices in Torshavn are Mostly the Same
When I arrived in Torshavn, I was pretty shocked to discover that despite the bar I went into for a local beer, the beers were all the same price (according to which beer I ordered).
The hotel bars had the local beer priced at the exact same price as a dive bar. My favorite bar, Sirkus, had their beer priced the same, too.
Of course, craft beers and imports are slightly more expensive and I am not sure if they are priced the same throughout the city (there aren't too many bars, to begin with), but I loved this as a traveler because I could choose my favorite bar based on atmosphere and its scene instead of whether or not I could afford it.
There are two breweries in the Faroe Islands: Okkara and Føroya Bjór. Both have a range of beers and Føroya Bjór also makes some soft drinks that you can easily find in the grocery shops.
You will find both beers ubiquitously at bars and restaurants, alcohol license permitting, in Torshavn and the other cities and towns.
Insider tip: If you're on a budget and want to hang out at a bar with locals, head to Klaksvik. Beer was much cheaper there!
You Can't Buy Alcohol Over 2.8% at a Grocery Store
In order to purchase alcohol that is over 2.8% ABV, you must travel to the nearest Rúsdrekkasøla Landsins, or state monopoly for alcoholic beverages.
The opening hours are worse than banking hours, so you must really make an effort to get there if you're looking for some local beverages while in the islands.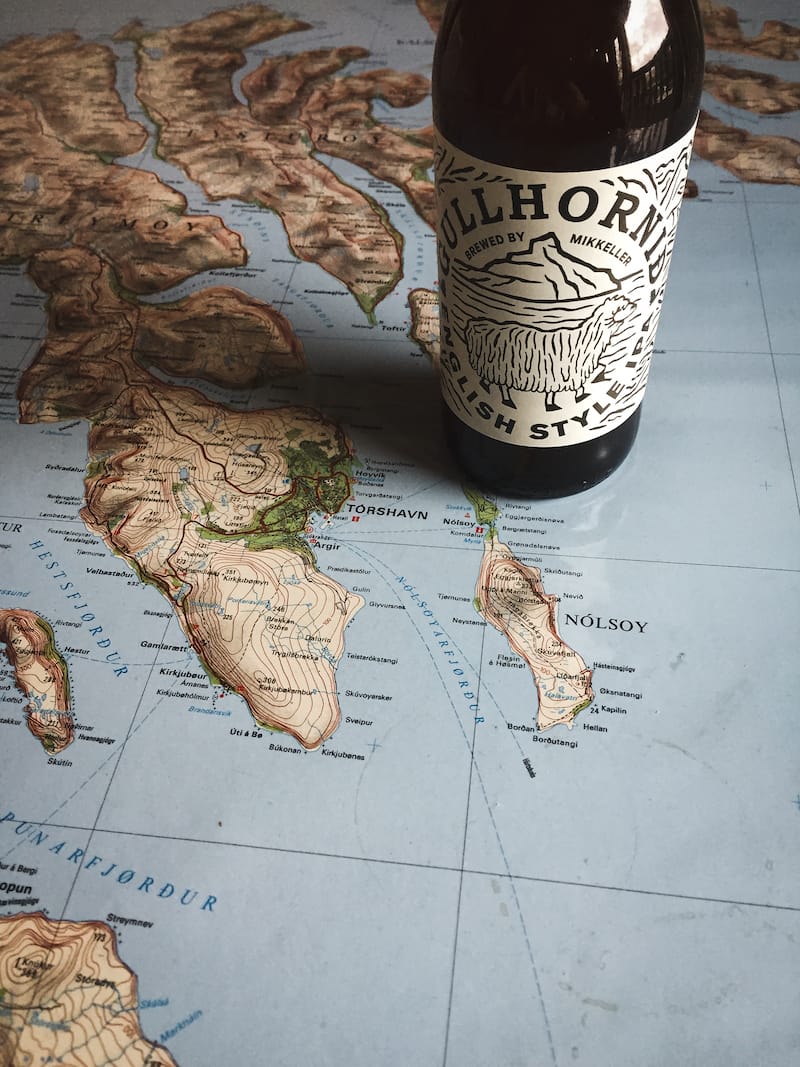 I was really impressed at how vast of a variety they carried in the shop. There are only six Rúsdrekkasølas throughout the islands, so you need to ensure you are within a close distance of one and that it is open.
They are located in the following places: Klaksvík, Miðvágur, Saltangará, Skálavík, Torshavn, and Drelnes.
The one in Torshavn is not located down by the sea, in fact, and requires a little effort, or a car, to get to. You can find out more about the Rúsdrekkasøla Landsins here.
You can also purchase alcohol at duty-free at the airport upon arrival.
Fish from the Fishmonger is Affordable (and Insanely Delicious!)
If you're staying at a hotel, you likely won't be able to cook while in the Faroes. I stayed at an apartment while there and one day we decided to hit up a fishmonger down by the harbor to see what he brought in that day and how we could incorporate it into our dinner.
We bought some freshly caught cod from him and the rest is history. It was super affordable and so delicious that I am still salivating at the thought of it.
We bought some local potatoes and root vegetables and created a nice fish casserole with it all – it was easily my favorite meal we had in the Faroes, and we cooked it in our own kitchen there.
It was also really exciting to see how big of a role fishing plays in a local's life given that fishing is a multi-billion dollar industry for the Faroe Islands.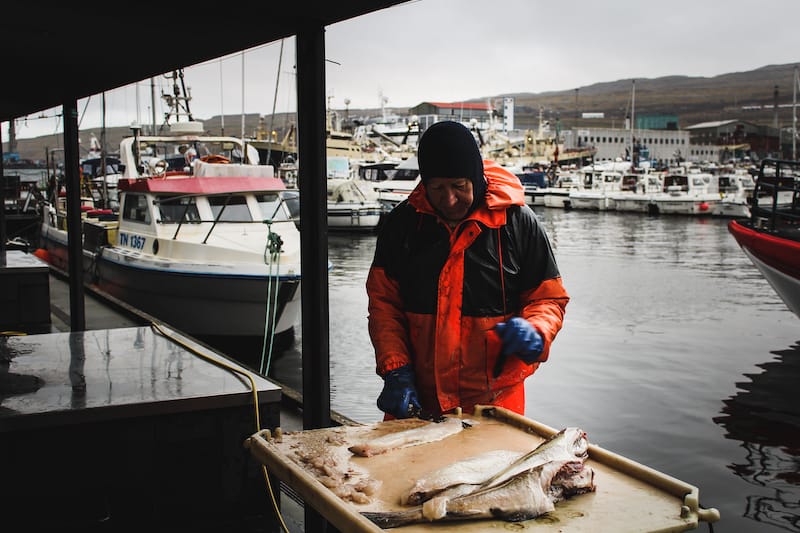 You're Unlikely to See the Northern Lights in the Faroe Islands
Unfortunately, the Faroes are a bit too south and have a bit too moody of weather to make the destination a prime spot for Northern Lights spotting.
That doesn't mean it is impossible, as many photos will indicate, but don't plan a trip there for northern lights hunting or you may end up disappointed.
With that said, plan that out-of-season trip anyway, and just keep your fingers crossed. The lack of tourists and unique landscapes of the Faroe Islands during the cooler months is well worth it! Click here for my Faroe Islands photography guide.
The Road to Saksun May Take Forever in High-Season
Set out early! I was there in March and there was no one on the road. However, we kept commenting on how horrible of an experience it would be if it had been high-season. The road is small, often one-lane, and windy.
It also doesn't help that the landscape of the Faroe Islands is a permanent postcard that just makes you feel compelled to stop every five minutes and take pictures in awe of its beauty.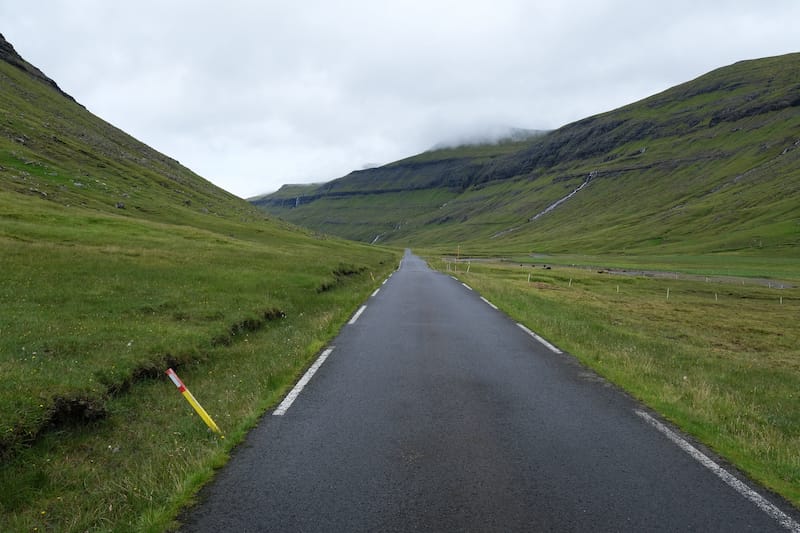 It took us ages to get out to Saksun and mostly because of the frequent stops to admire the beauty.
I can't imagine doing this with larger vehicles on the road or just more cars in general.
Find A Cheap Faroese Sweater in a Second-Hand Shop
The famed, woolen Faroe Islands sweater is extremely sought after by tourists and Faroe Islands enthusiasts. Unfortunately, if you're on a budget, they 'don't come cheap'.
One of my dreams years ago was to own a Guðrun & Guðrun knit from the Faroes, but it definitely wasn't in my price range while I was visiting the Islands.
There is obviously no guarantee that second-hand shops will have any sweaters in, but it is worth a shot as you may score a hand-knitted gem for a meager amount.
When you're in Torshavn, ask where the thrift stores are. We found various ones and some seemed to be closed most of the time. The only one that stayed open while we were there was a Salvation Army down by the harbor area.
There is also rumored to be a second-hand shop in Klaksvik that sells Faroese wool, but I don't have any definitive information on it. The islands are so small and the people are so extraordinarily friendly that they will most certainly do their best to guide you there.
If you do purchase brand new, don't forget to ask for tax-free as you'll be refunded 15% once you leave the islands! Bringing your own clothes to the Faroes? Click here to check out my Faroe Islands packing list.
Leave the House in Saksun Alone!
There is a house in Saksun that belongs to a farmer that is the image that comes to mind when people envision Saksun. Yes, the one that stands all alone with the grass roof.
I am not even going to put a photo of it here as it is kind of contradicts what I am about to say.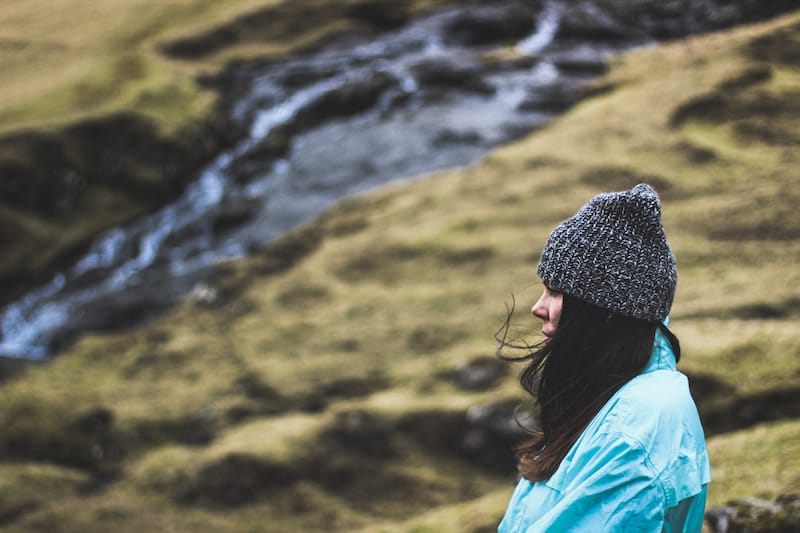 The guy who resides there doesn't like it when you trample across his land. He doesn't like it when you peer in his windows. He also probably doesn't like your Instagram photoshoot that you're about to do beside or in front of it. Leave it alone.
There are plenty of spots to photograph in Saksun, so long as you do it respectfully.
Update 2020: Congratulations travelers- there is now a fee to enter Saksun down into the black sand lagoon. The fee is 75DKK and you can pay as you enter Saksun.
Don't Switch off Your Rental Car's Automatic Lights
I am pretty sure this isn't permitted anyway, but we switched the automatic lights off temporarily when waiting for a ferry. The only problem? We forgot to switch them back on.
Once we hopped off of that ferry, we immediately entered a one-lane tunnel to go up to Muli and we wrecked in the tunnel instantly. Yep, we wrecked our car in the Faroes.
I was unsure about what happened and thought it was a failure on behalf of the car itself and that those lights ended up turned off as a fault. Turns out we had turned them off and never flipped them back on. That was a pretty expensive mistake to make.
Our car rental in the Faroe Islands was really easy to work with despite our wrecking of the vehicle. If you're looking to hire a rental, click here for rates and availability.
Invest in a Wide Angle Lens for Photography in the Faroe Islands
The landscape is outrageously grandiose and you will feel so humbled and small- but to morph that feeling into photos, you really do need a wide-angle lens.
I used an affordable Canon 10-18mm which worked perfectly for the landscape as I'm not a professional photographer and didn't need anything more than that lens and my other standards.
I was very happy with the results and can definitely recommend the lens to those with a cropped sensor camera.
You can check out the lens and its cost here.
Here is a photo that was taken with the wide-angle lens in the Faroes: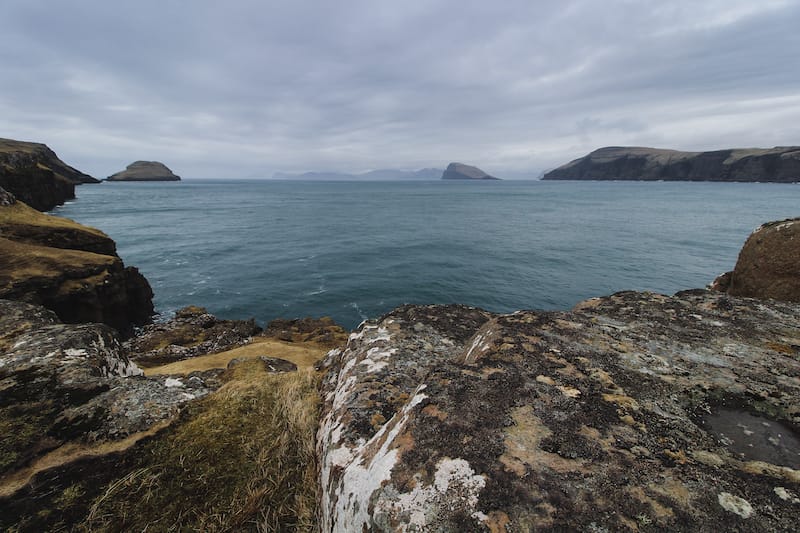 If you're into bird photography, I also suggest bringing a zoom lens that fits your camera. You can see a recommendation of mine at the end of this post.
Zoom lenses in the Faroes are also good for stalking the other islands as you can almost always see other islands from where you're standing!
Ferries Sometimes Have to Be Ordered During Low-Season
If you're looking to go to Skuvoy or another lesser-visited island during the low-season, you are best off giving a call to order that ferry.
The fare isn't extra, but they simply don't need to run it otherwise. Be sure to get familiar with SSL's website to figure these things out far ahead of time.
Trust me, you could end up stuck on Sandoy waiting on a ferry to Skuvoy and you may have a panic attack when it doesn't read your mind to show up and haul you over to the island.
While that probably worked out in our best interest as a massive storm rolled in, it could have been easily avoided.
For more information, including ferry schedules (where this information will be stated below each schedule), head to Strandfaraskip Landsins website where everything is noted.
Get to the Kalsoy Ferry in Klaksvik Early
This is a small ferry. I am not sure if they bring in a larger one during summer season or high-season, but our ferry was very small and only fit a handful of cars.
Quite frankly, Kalsoy doesn't have the infrastructure to handle many cars and people… so don't think they will make an exception for you and run a ferry over just because you couldn't get on it.
As Faroe Islands tourism increases, so will the demand to get to Kalsoy for the famed lighthouse hike and photograph. If this is seriously on your list, arrive early at the ferry and wait. Kalsoy is worth it, after all.
The Faroe Islands has Its Own Currency
The Islands have their own currency and it has pictures of very Faroese things on it! I have a bill with Tindhólmur on it that I saved from my trip to the Faroes.
You are able to use Faroese Krónur or Danish Kroner when on the islands and you obviously need to get rid of any of the Faroese money before leaving the Islands as you're unable to exchange it elsewhere. But, save some. It is kind of cool to keep a bill or two!
You can get Faroese Krónur from an ATM or see if someone will give you change when shopping there in Krónur. The rate is on par with Danish Kroner, so you don't have to convert it to something else.
That Photo of the Illusion Lake in the Faroe Islands Isn't an Easy Feat to Score
Okay, it kind of is. Pending you have the right weather and are pretty fearless. I had okay weather when I made it up there, but the wind began picking up and I decided to not risk myself getting any closer than I did. I am afraid of heights, too, which doesn't help things in the Faroes.
Now that I know how to do it properly, I will make sure I have the weather on my side and try to get it next time.
On the other hand, I kind of find some of the other views to be a bit more dramatic and mind-blowing. Many people also forget to keep walking toward the ocean away from the road where you can score an even cooler view.
Update 2020: I never did get that desired shot. My second trip to this lake ended up in the fog. It was fun and beautiful, but definitely no great photo!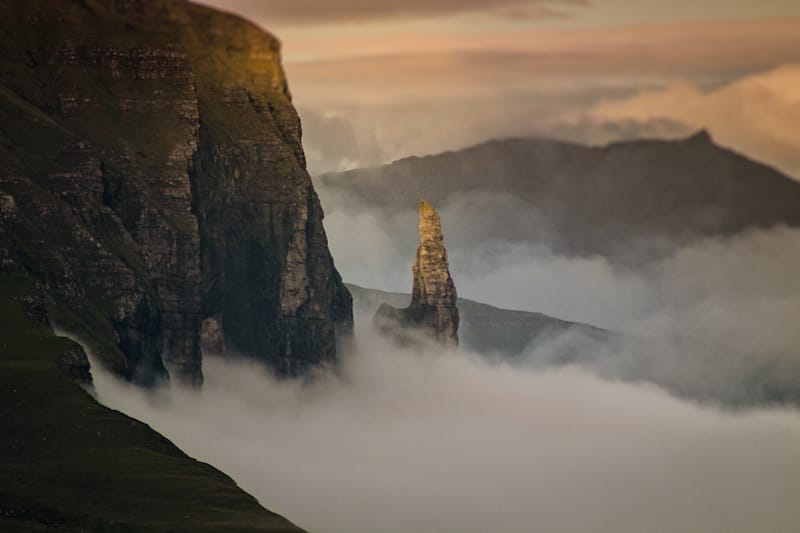 Faroe Islands Waterfalls Need Rain to Be Powerful
Duh? I mean, I know this, but I never really consider the effect of rain on waterfalls. The Faroes don't get an overabundance of snow, but they do get plenty of rain, and it keeps those waterfalls gushing for our delight most of the year. But not always.
One thing I was really looking forward to in the Faroe Islands was checking out Fossurin í Fossá, one of the largest waterfalls in the Islands. It is situated on north Streymoy in Sunda Kommune and is a major attraction.
We were driving back from Tjornuvik to Gjogv when we tried finding this waterfall. I knew it had two cascades and was hard to miss as it is large and powerful. We scoped out the drive and couldn't find it.
We eventually gave up. Once we got to the other side of the water, on Eysturoy (where Gjogv is), we spotted it across the sea.
It was hardly a waterfall and it became really evident that this natural wonder needed a little fuel behind it to put on a show. Oh well. We got a photo, but it's poor quality and rather a shame we didn't catch it from close by!
Gas in the Faroe Islands is Cheap(ish)
Gas is cheaper in the Faroe Islands than it is in many other northern and western European countries, including Denmark.
And, as distances are closer than meets the eye, you may not need to get gas often. We were in the Faroe Islands for about a week and filled up once at the end. That was it- and we saw more than most people do during their trip.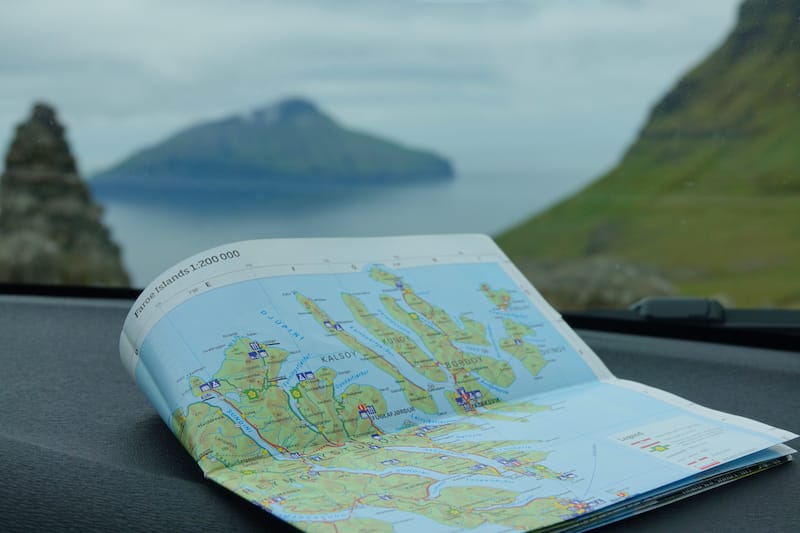 I was traveling with people from England and they made remarks about how much cheaper the petrol prices in the Faroe Islands were compared to where they live outside of London. So, there's that.
If you're American and traveling to Europe– do know that gas prices vary widely in different destinations… the Faroes is no exception!
Buttercup Routes Make for One of the Best Road Trips in the World
If you grab a map in the Faroe Islands, you'll notice little flowers dotting the map along certain roads. These are called "Buttercup Routes" and will guarantee spectacular views and scenery.
I had done no planning for my Faroes trip before I actually arrived in the Islands and I was glad I hadn't as I didn't know these routes existed. The map basically planned it all out for us.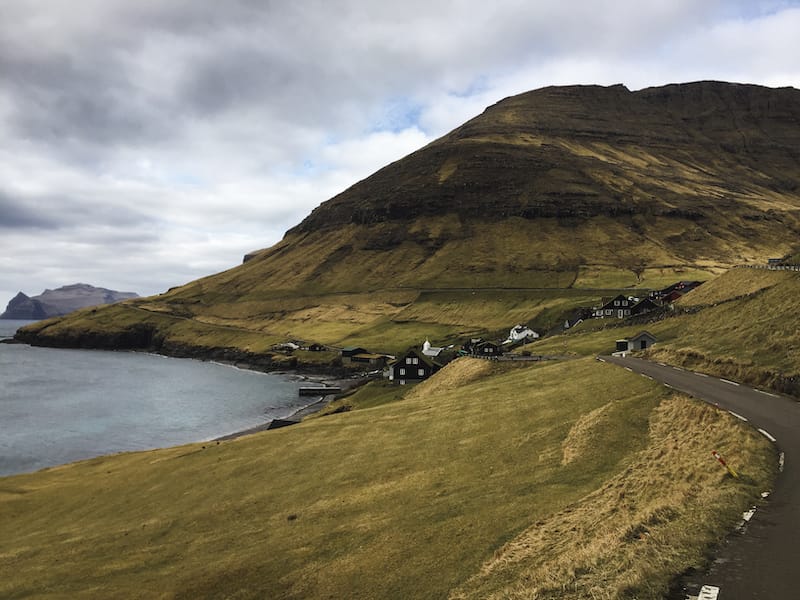 Roadtripping in the Faroes is fairly easy anyway as not many roads connect places, but to have a map indicating which roads would offer the best scenery was particularly useful.
You can pick up a map with the Buttercup Routes at the tourism office or at the airport upon arrival. Don't forget to do so!
Helicopter Rides in the Faroe Islands are Government Subsidized
Therefore, rides are cheap. BUT- these helicopter routes were created for the residents of the islands, first and foremost. You're not even able to book a roundtrip ticket on them. You also can not reserve a spot on one more than two months in advance.
A helicopter is a viable way to visit some of the more remote islands and the ones that present more difficulties to visit, but be respectful and don't use them as your primary means of getting around the islands.
To see the current helicopter schedule with Atlantic Airways, click here.
Harvesting and Eating Fulmar Eggs is a Thing
I actually don't know how many locals consume fulmar eggs on a regular basis, but I have seen many programs that have talked about this on television, and it left me pretty intrigued.
While I am an avid egg lover, I tend not to do well with eggs that don't come from a chicken or quail. So, I'm not sure if I'd be up for trying this, but I have heard that people have made curries from these eggs… perhaps I'd give that a go.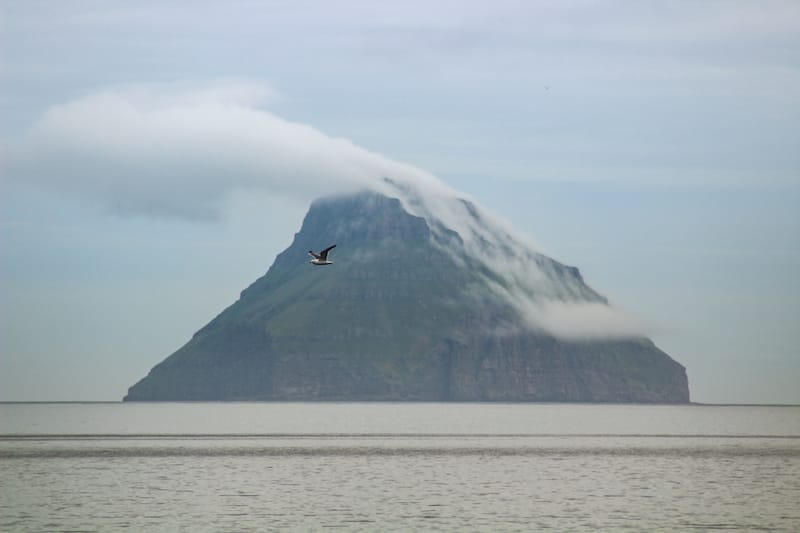 To read more about a harvest of fulmar eggs on Skuvoy, click here. They also have a history of harvesting seabird eggs on Suduroy.
Sirkus Bar is the Epicenter of Life and Culture in Torshavn
My favorite bar in Torshavn was Sirkus. The bar is located at Vágsbotnur in the heart of Torshavn by the harbor. I went there every night that I was in Torshavn for a drink and some music.
The bar celebrates all things art, music, and culture. The owner is named Sunneva and she used to work at a place of the same name in Reykjavik.
Once that place closed down, she realized the need for a place that accepts everyone with an open mind in Torshavn, and the rest is history!
I found comfort here as I smelled Indian food (they cook vegan and veggie Indian food in the kitchen), could enjoy local beers, listen to live music, and everyone seemed to enjoy themselves there.
One thing to note about Sirkus is that it was opened as a safe haven for people to be who they want to be. While the Faroe Islands can be progressive and accepting in some manners, there is still some resentment toward the LGBTQI community there and Sirkus offers a refuge to those people.
For this reason, photography is not encouraged inside the bar. I think Sunneva is brilliant.
In addition to the tasty beers and the carefree atmosphere inside, on the first floor is Bjórkovin, or the beer cove.
This is the first bar in the Faroe Islands to specialize in craft beer and they offer an array of beers from Iceland in-house. I had a blast there enjoying some Icelandic brews by the friendly Frenchman who worked behind the bar.
To learn more about Sirkus Bar and how integral its role in the community is, check out their Facebook page.
Watch Out for Sheep on the Roads
It's your fault if you hit them. If you do, contact the police in Torshavn immediately at 351448. As cute as these little animals are, they will inevitably strive to block your drive at some point or another.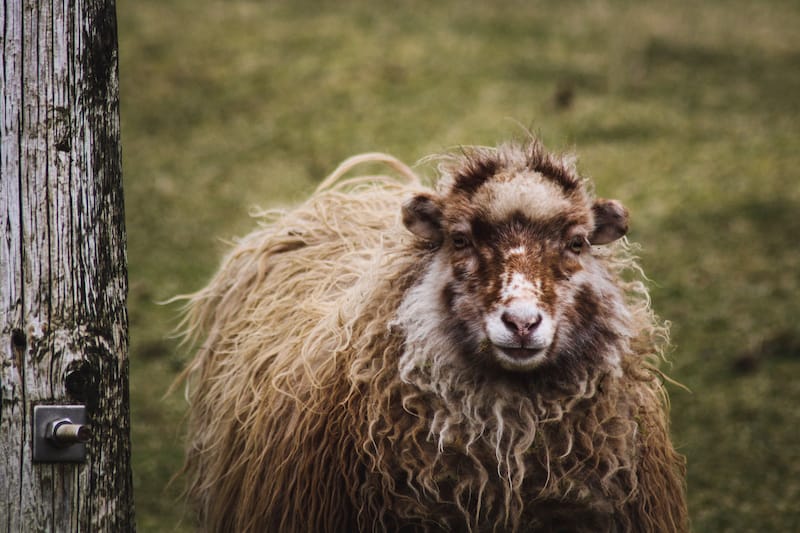 Be patient and take a photo of them instead of honking or trying to get them to move. They will eventually get bored with you and move elsewhere.
If a Grocery Store is Conveniently Located, it is Probably Expensive
This isn't always true of course, but if you are staying in Torshavn near the water and you get your groceries or snacks close by as it is 'convenient', you're probably paying a bit extra.
We stumbled upon Mylnan and immediately started doing all of our shopping there. We found it really expensive, but it was high-quality food, so we never thought to seek out an alternative.
Eventually, after walking around Torshavn more, we found another shop and it was a drastic difference in price. We also shopped at a few Bonus grocery stores on the road and they were pretty affordable too.
In the end, we kept going back to Mylnan because the bakery is awesome (that is their specialty) and the fresh orange juice is to die for.
In addition, coffee is so expensive in the Faroe Islands. If you're an avid drinker like me, I recommend you bring a coffee kit with you or ask your hotel if they have it for free or for an affordable price.
But if you're really keen on supporting a local cafe (you should!), I highly recommend Brell Cafe which roasts its own beans and serves tasty coffee to locals and visitors! You can learn more about Brell Cafe here.
Do You Need Travel Insurance for the Faroe Islands?
We absolutely recommend travel insurance for the Faroe Islands. Whether you're hiking, driving, or just taking in and admiring the dramatic landscapes, you want to ensure that you're always covered.
Our recommended travel insurer is SafetyWing, an Oslo-based company that offers widespread coverage at an extremely affordable rate. They will keep you covered while you're cruising around one of the Earth's most beautiful spots!
>> Click here for a Faroe Islands travel insurance quote
Renting a Car in the Faroe Islands
The Faroe Islands are magical and best seen by renting a car. Trust us, you will want to be able to stop at any given time and take in the scenery and photograph its beauty.
It is magnificent! Please do read up on road rules for the Faroes as the driving is not for the lighthearted.
>> Click here to check rental car rates for the Faroe Islands
How to Get to the Faroe Islands
Getting to the Faroe Islands is becoming easier and easier. More routes are opening up with Europe and the first direct route with the United States just opened beginning this fall (New York City).
I have found the cheapest option is to get to Copenhagen and fly with Atlantic Airways to the Faroes.
Faroe Islands Tours Worth Considering
Most people go to the Faroe Islands to take a road trip around the eighteen gorgeous islands. You can actually visit without a car and join a couple of affordable tours instead!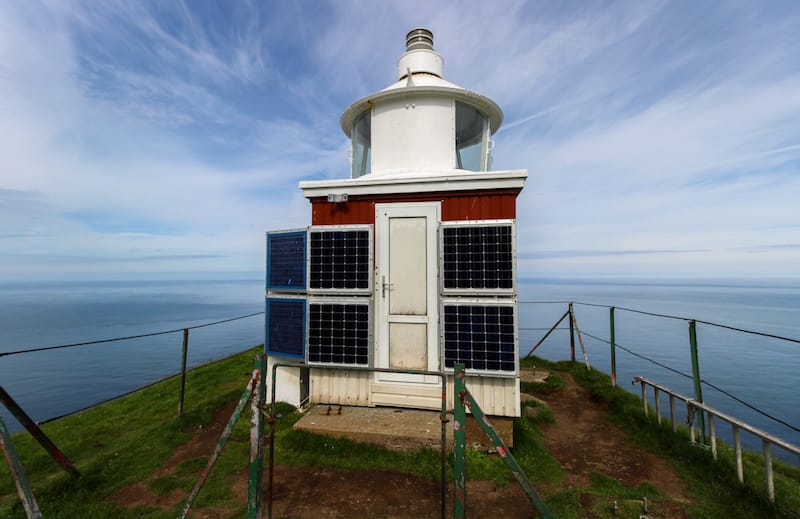 You can see my full list of recommended Faroe Islands tours here… or you can see the four most popular ones that people are booking on my site below:
Where to Stay in the Faroe Islands
The Faroe Islands offer some of the best accommodation simply because of the scenery at your doorstep. If you want to see more about where to stay in the Faroe Islands, check out our entire guide dedicated to finding the right accommodation (and broken down by island).
But, we want to give you some recommendations here by our favorite places on the top four islands:
1. Hotel Djurhuus (Streymoy)
Hotel Djurhuus is located on Streymoy Island in the city of Torshavn. The hotel is pretty basic but has a lot of personality, a tasty breakfast, and views of the sea.
It is within a really short walking distance from the city center and offers parking. I stayed at this hotel on my second trip to the Faroes and the rooms are super comfortable and clean. Click here for rates and availability.
2. Gjaargardur (Eysturoy)
If you're looking for a place with epic scenery and charm to stay on Eysturoy, you will want to check out Gjaargardur Guesthouse in Gjogv.
The guesthouse is located right in the heart of the village and you will get to experience Faroese hospitality at its finest. This is definitely a place to stay for at least one night while in the Faroes as you will inevitably fall in love with Gjogv. Click here for rates and availability.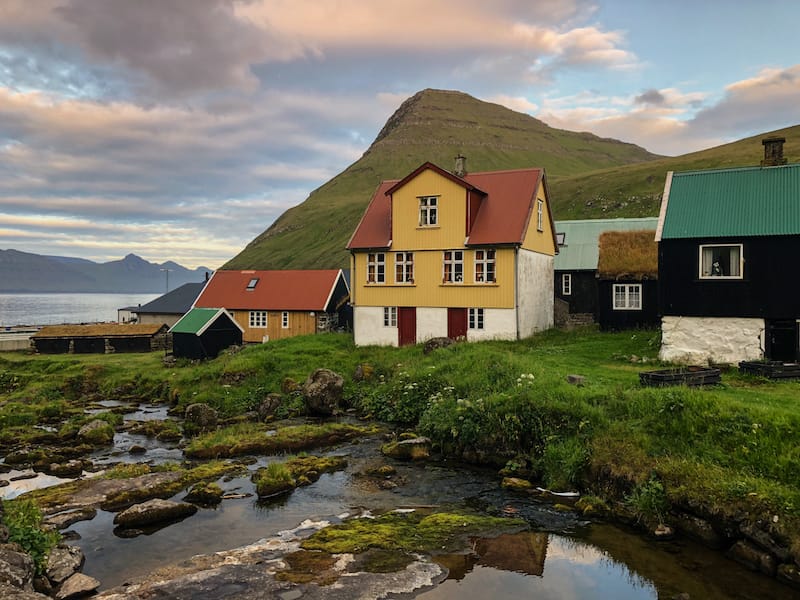 3. Hotel Klaskvik
If you're planning to travel to the Faroe Islands, particularly the northern isles including beautiful Kalsoy, you will want to crash in Klaksvik for a night (trust me… it is such a cool second city!).
Our recommended place to stay is Hotel Klaksvik. They have a good breakfast, slightly outdated but comfortable rooms, and really wonderful hospitality. There are restaurants and pubs nearby. Click here to check rates and availability.
4. The View (Vagar)
This home on the picturesque island of Vagar offers exactly its name… A VIEW. And a killer one at that. You can see Tindhólmur islet from Bøur, the village that the home is nestled in (see above).
If you're spending a day on Vagar seeing the sights, you may want to splurge and stay here so you can at least once say that you woke up to one of the most beautiful views in the world. Click here to see rates and availability.
We hope that this guide helps you plan your Faroe Islands visit. If you have any questions about traveling to the Faroe Islands or the best places to visit in the Faroe Islands, do reach out! We are stoked to help!
More Faroe Islands Travel Guides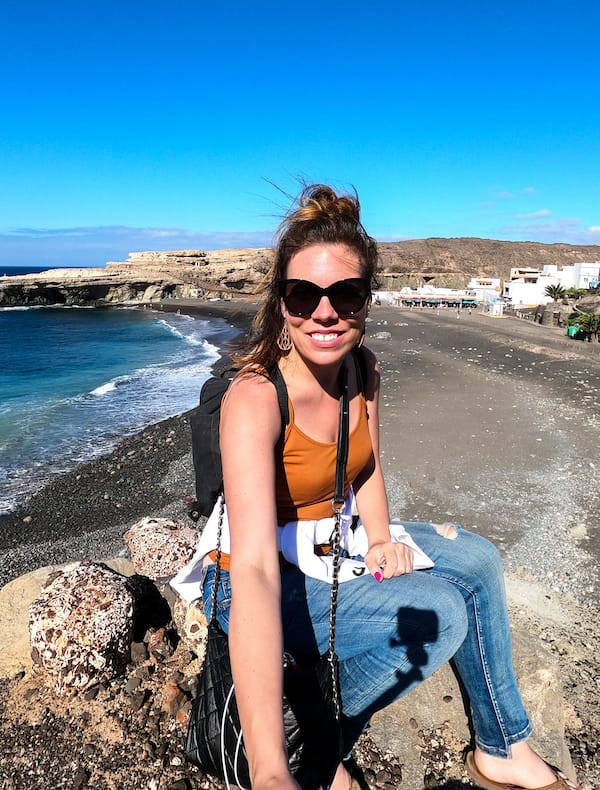 Megan is a travel blogger and writer with a background in digital marketing. Originally from Richmond, VA, she now splits her time between Frankfurt, Germany and Arctic Finland after also living in Norway, Armenia, and Kazakhstan. She has a passion for winter travel, as well as the Nordic countries, but you can also find her eating her way through Italy, perusing perfume stores in Paris, or taking road trips through the USA. Megan has written for or been featured by National Geographic, Forbes, Lonely Planet, the New York Times, and more. She co-authored Fodor's Travel 'Essential Norway' and has visited 45 US states and 100+ countries.