Times have definitely changed in Armenia. When I first went there back in early 2013, the Yerevan taxis running the streets were using copyrighted logos as branding and identification and many were owned by individuals who had no affiliation with local taxi companies. After constantly being heckled and harassed by taxis in other cities in the Caucasus, I was very surprised to find that Armenians seemed to have little intent on screwing me over.
How to Take a Taxi in Yerevan
Fast forward five years later and I have noticed that many of the taxis in Yerevan with copyrighted logos have left the streets as mobile apps have taken over. It all made planning my Yerevan itinerary 100 times easier, to be honest.
Tourism is on the rise in Armenia, inevitably giving way to more and more taxi scams if hailing a street taxi, but in true Armenian fashion, every street taxi I took didn't try screwing me over. But I seem to be the anomaly as I know several people who have had issues. This is a guide to how to take a taxi in Yerevan, Armenia. Things are constantly changing there, so I will do my best to keep this as up-to-date as possible.
Arriving in Yerevan by Train
There is a huge possibility that you will arrive at the Yerevan Railway Station without a SIM card and little knowledge of the taxi situation. I have never actually been to the railway station myself, but my friends recently went through there and arrived without a SIM card.
Taxi drivers hounded them for around $10 for a ride up into the city center. They knew better and refused until they found a driver who asked for 1000 drams ($2.00) and settled for that, which is a fair price, in my opinion for taking a taxi in Yerevan off of the street. But I would say try to pay around 600 drams (but up to 1000 drams isn't completely terrible, either).
Arriving in Yerevan by Bus
The bus station isn't that far out of the city but is still a short distance, so you may likely encounter issues with taxi drivers off of the street if you don't have a SIM card. If you arrive in Yerevan by bus, you will need to find a driver who will not charge more than around 600 drams for a ride into the city center. Know your address and have it screenshotted on your phone, along with a phone number as they may not be able to easily locate depending on the neighborhood.
I would aim to pay 600 drams or less but never more than 1000 drams to get to the city from the bus station. Paying 1000 drams is actually pretty high but in the grand scheme of things, it is only $2 and after getting off of that marshrutka, you will just want to be checked into wherever you're staying without much hassle.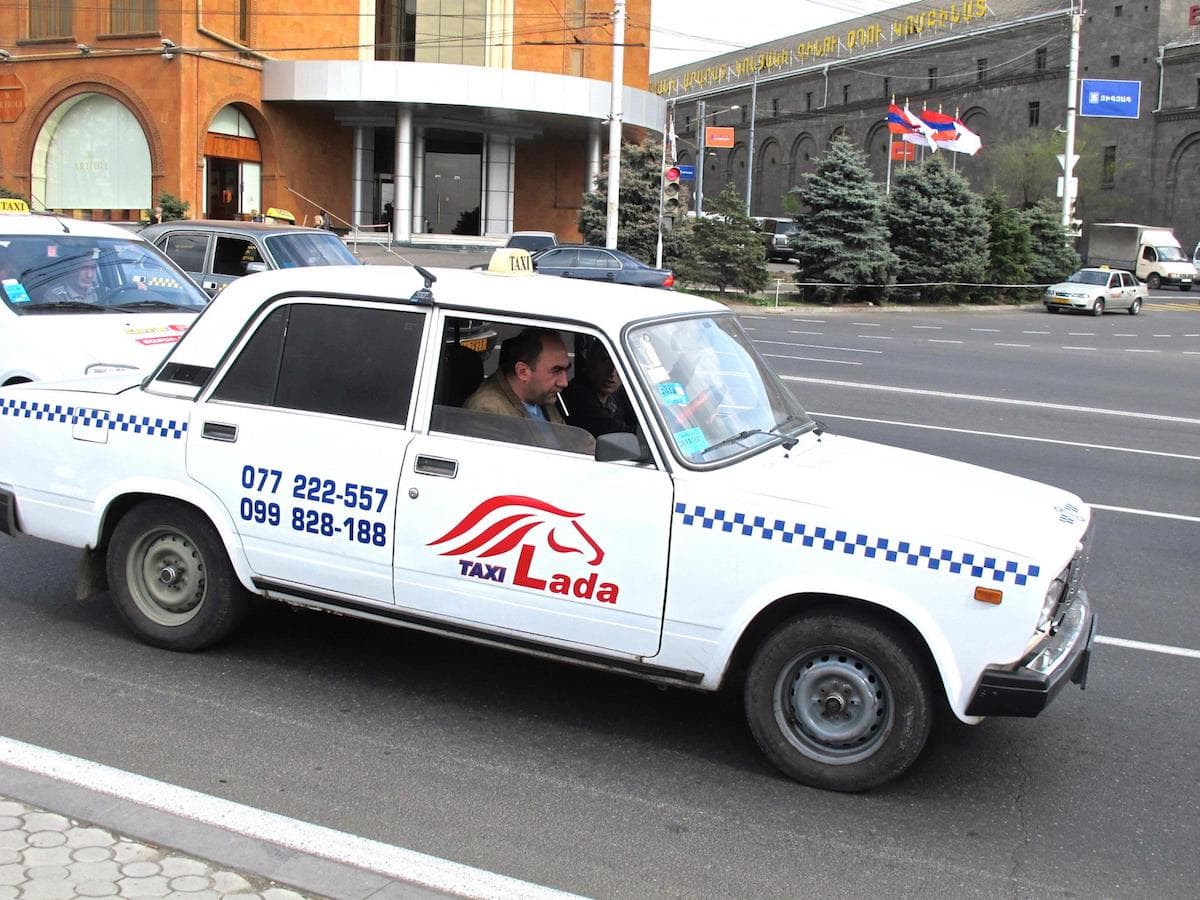 Getting a SIM Card in Armenia
While this doesn't really 'fit' this post, I highly encourage you to get a SIM card when in Yerevan. The tariffs are affordable and the process is seamless and doesn't require me to write much about it or a full post regarding the process.
Just take your passport to Beeline (that is what I have always used there) at 4 Northern Ave. near the Opera and they will have someone who speaks English who will be ready to help and get you sorted.
Once you have a SIM card, it will be a lot easier to call for a taxi via an app where you're a lot less likely to get screwed over or charged that fancy 'tourist tax'.
Apps for Getting a Taxi in Yerevan
There are a few apps that work for taxis in Yerevan. The three below are ones you can use, although GG Taxi comes with higher recommendations from locals.
GG Taxi
My friends, Aram Vardanyan and Arevik Harutyunyan, strongly suggested using GG Taxi when in Yerevan. I actually tried using this per Arevik's recommendation when there, but I had issues with it not recognizing my phone number. I eventually just gave up instead of reentering things, but the app seemed very user-friendly.
Arevik likes this app because she has never had an issue and the drivers always seem to be cordial, drive safe cars, and have change for the fare. It is an Armenian-founded company and there are nearly 1,300 registered drivers in Yerevan alone. When Yandex entered the Armenian market, GG Taxi actually saw a 40% rise in usage… which means Armenians are loyal and love supporting a good and local business model. I think that is pretty impressive. GG Taxi also works in Georgia.
Click here to download GG Taxi on iPhone Click here to download GG Taxi on Android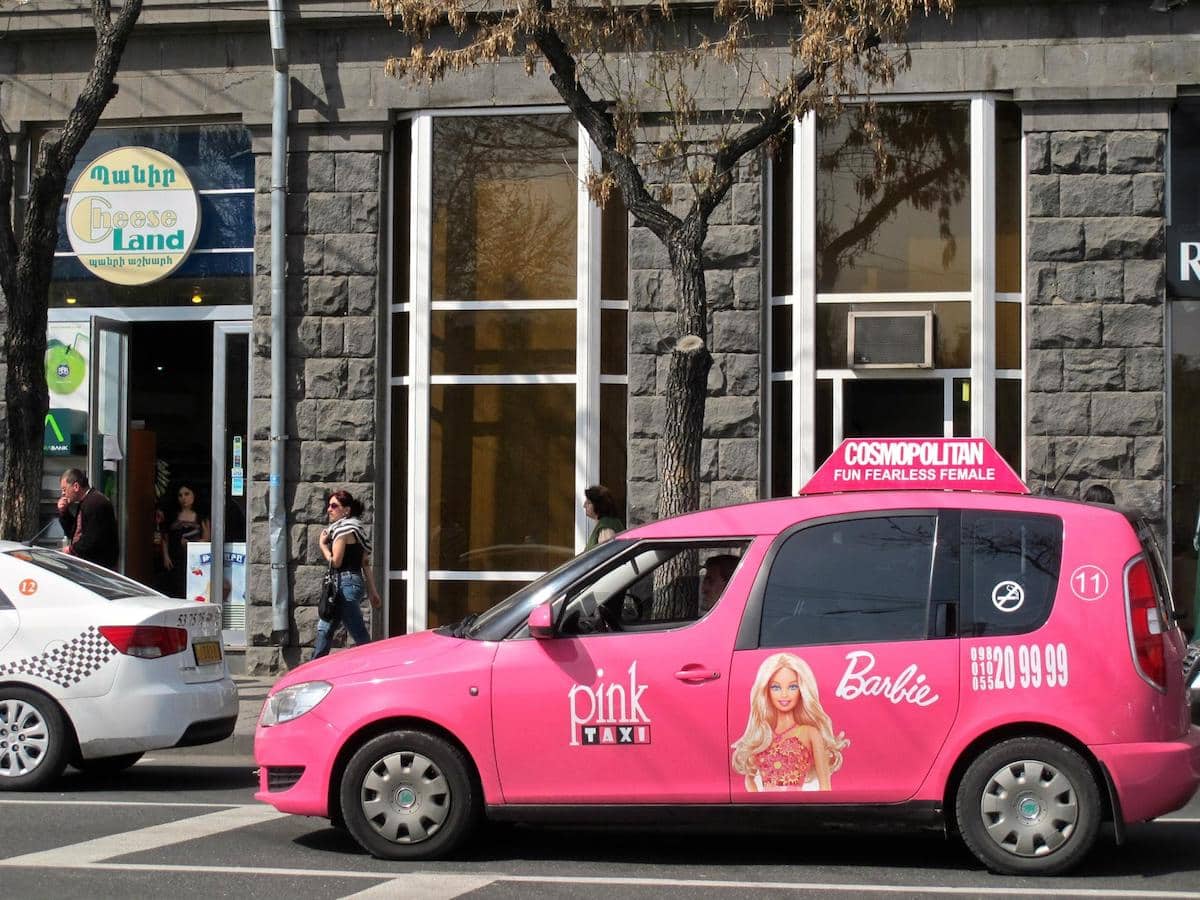 Yandex Taxi
I use Yandex in countries where it is available because I know how to use it, the fares are cheap, and I already have the app downloaded and my information on it. However, in Armenia, I never used it. I usually just had friends near me call me a GG Taxi since I struggled to get an account set up on the app. Usually, when I said I was calling a Yandex, they would become exasperated and just call me a GG Taxi instead.
The issue that I have with Yandex is that they rarely have change… or they say they don't have change. I don't have my card aligned with my account as I struggled to set that up (are you noticing a pattern with my tech skills?) so this can become problematic. But, Yandex is easy to use and the fare is always what it states from the beginning of the ride, which I like. The cars can be old and a bit dodgy, but I have never had problems using Yandex in any country thus far.
Click here to download Yandex Taxi on iPhone Click here to download Yandex Taxi on Android
UTaxi
Another app you can use to catch a taxi in Yerevan is UTaxi. I have not personally used them and most of my friends are not big fans of the app, but it is an option if you are looking for an alternative to the two mentioned above.
Click here to download UTaxi on iPhone Click here to download UTaxi on Android
Standard Taxi Fares in Yerevan
To be safe, I say that the standard fare is around 600 drams per 4 kilometers and around 100 drams per kilometer after (for Americans: $1.25 for every 2.5 miles and then $0.20 for every .6 mile after). If you use an app, this is a bit cheaper at a standard fare of around 400 drams ($0.80) per 4 kilometers (2.5 miles). And you won't have to negotiate any nonsense.
Do you have any tips for taking a taxi in Yerevan? Please leave them in the comments if so! Thanks!