Are you on the hunt for a weekend getaway in NM? These are the best small towns in New Mexico to add to your itinerary!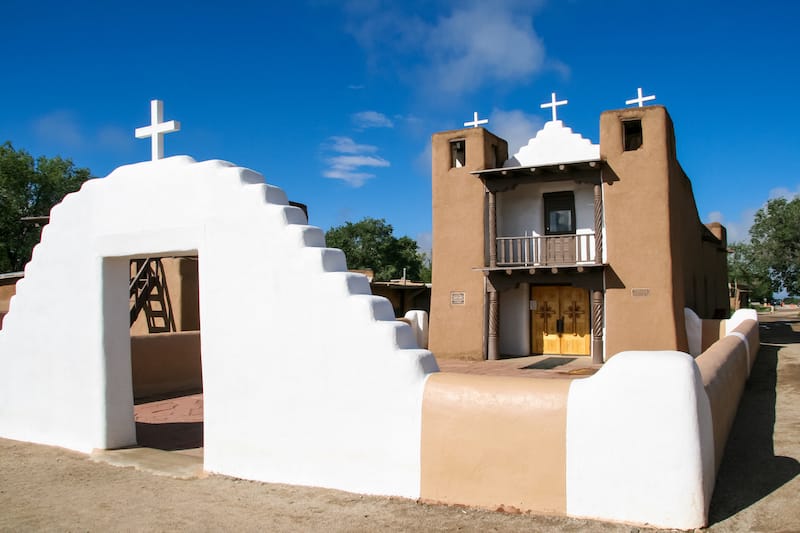 Did we miss any charming New Mexico small towns? Let us know in the comments! Thanks!
Best Small Towns in New Mexico
Taos
One of the most remarkable places to visit in New Mexico is Taos, home to the Taos Pueblo. This Native American community has been inhabited for more than 1000 years and is regarded as a UNESCO World Heritage Site and National Historic Landmark.
Take a tour and find your way to Taos Plaza, the Saint Francis de Assisi Catholic Church, Rio Grande Gorge, and the old Taos Pueblo Village.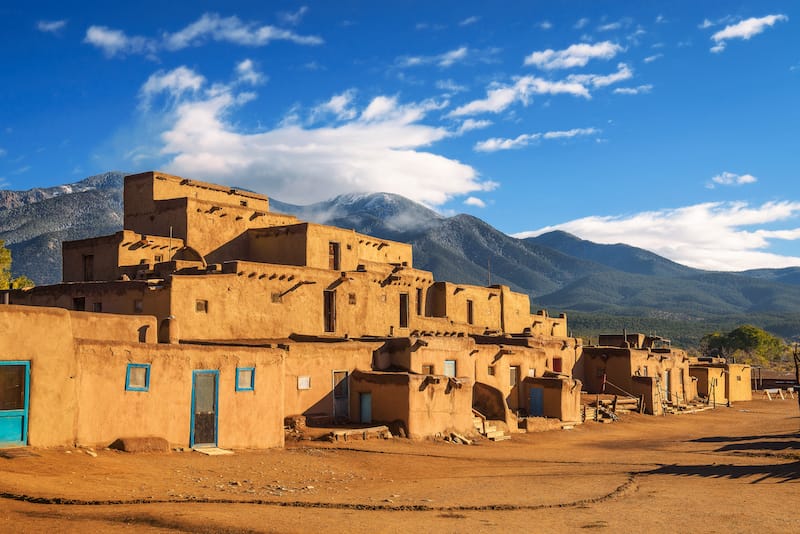 Another must-see when visiting this New Mexico town is the Kit Carson Home and Museum. Preserving traditional Spanish architecture, it offers educational programs, tours, and lectures about life in a frontier town.
In addition, be sure to explore the Millicent Rogers Museum, Enchanted Circle Scenic Byway, Taos Art Museum at Fechin House, Taos Mesa Brewing, and The Wild Rivers Recreation Area. There is a reason that so many people visit Taos annually! It really is that cool!
Silver City
Your walking tour in Silver City should start from the Silver City Visitor Center, where you'll receive all the information you need about the area and its attractions.
Close to the visitor center, you'll find the Billy the Kid Homesite, a replica of a log cabin where Billy and his family lived.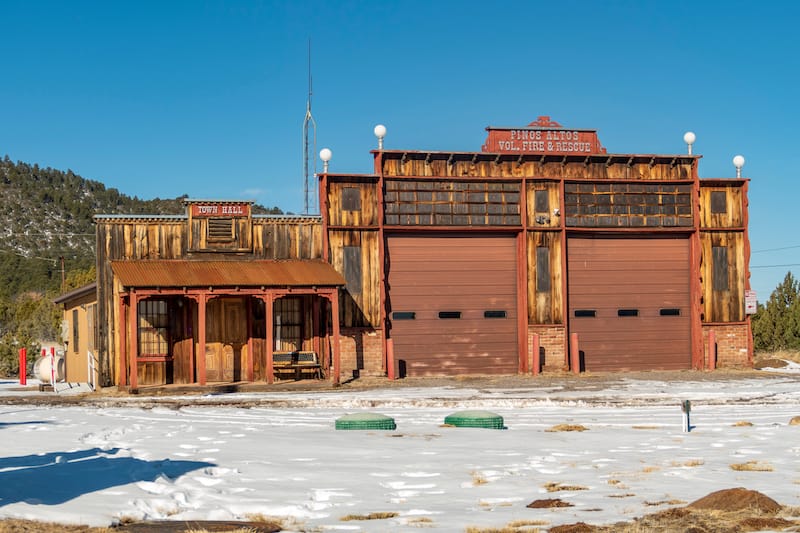 On West Broadway Street, be sure to stop at the small Silver City Museum and explore the local history it has on display! Then, stroll along North Bullard Street and witness the architectural gems of the town.
And don't worry – Silver City is home to several outdoor adventures and parks! Just visit Big Ditch Riverwalk Park, the Gila Mountains, Gila Cliff Dwellings National Monument, Silver City Koa, the Catwalk, Fort Bayard, and Lake Roberts and you'll never want to leave this NM town!
Aztec
The most popular attraction of the town of Aztec is Aztec Ruins National Monument.
Start at the visitor center and museum and work your way to the 900-year-old ancestral Puebloan Great House, which includes 400 masonry rooms, original timbers holding up the roof, ancient walls, and the heart of the site – the reconstructed ceremonial great kiva.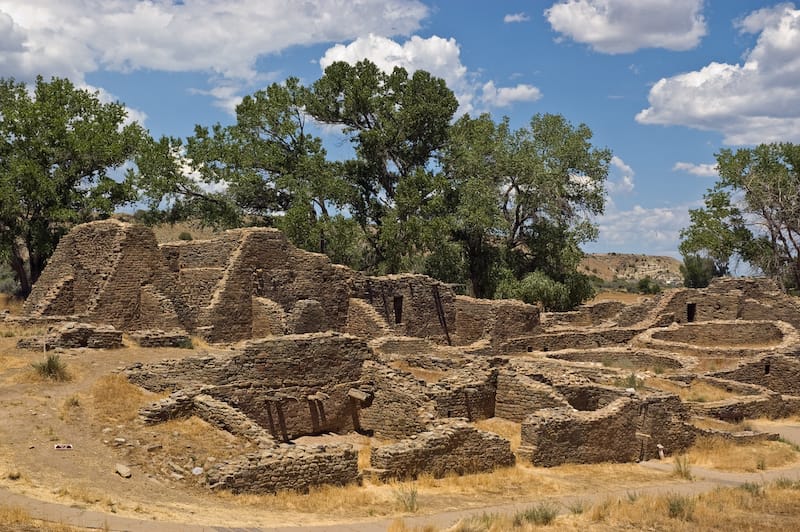 As a continuation of your historical trip, visit the Aztec Museum with collections of unique mining tools, dairy equipment, early clothing, and the Pioneer Village, which encompasses a carpentry shop, log cabin, farmhouse, village church, and a schoolhouse.
Take a walk along the historic downtown and stop by the Jarvis Hotel, the Aztec Theater, the Randall Building, and the Old Fellows Hall.
For a little outdoor enjoyment, check out the Alien Run Trail, Animas River Trail, the Cox Canyon Arch, and the Arch Rock.
Gallup
Your trip to Gallup should start at Route 66 and Coal Avenue. These famous streets represent a mixture of culture and history, packed with galleries, trading posts, and cafes.
Explore the Rex Museum, Navajo Code Talkers, and El Morro Theatre.
You can watch tribal Indian dances in Courthouse Square Plaza, have a downtown mural walking tour, or shop for Native American authentic jewelry at one of the town's trading posts.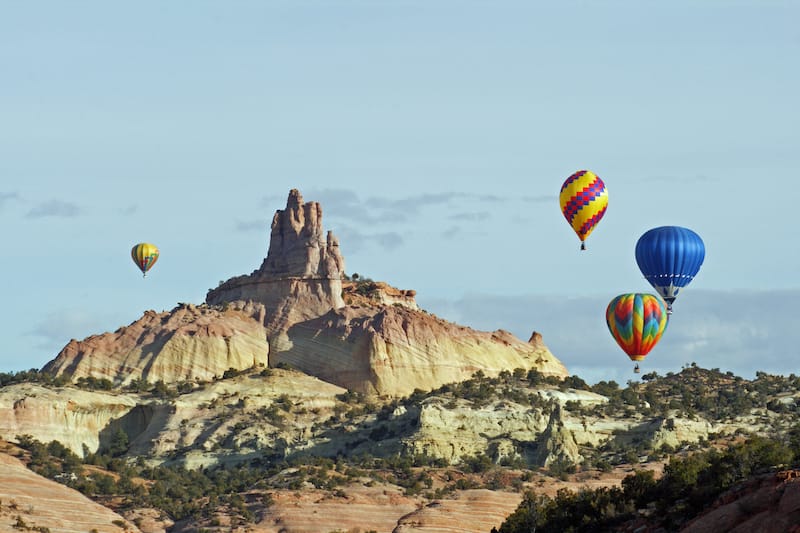 Take a break and dine in a cozy atmosphere at one of the best restaurants in Gallup! Check out Sandra's Place, Coal Street Pub, and Ancient Way Cafe.
Other nearby points of interest include the Zuni Pueblo, El Malpais National Monument, Chaco Culture National Historical Park, and Red Rock Park.
Gallup is a great place to visit on the way to Arizona or simply as a day trip from Albuquerque. Make sure you don't leave without trying a cup of coffee from Gallup Coffee Company!
Red River
The New Mexico mountain town of Red River is a tourist destination providing year-round recreational opportunities to everyone that visits.
For winter adventures, you'll be pleased to find cross-country skiing, snowmobiling, and plenty of skiing and snow adventures at the Red River Ski Area, Red River Sled Shed, and Enchanted Forest Cross Country Ski Area.
For summer recreation, you can enjoy horseback riding and off-roading, head to Red River Stables and Red River Offroad. You'll have the perfect opportunity to see Greenie Peak and Goose Lake on your adventures!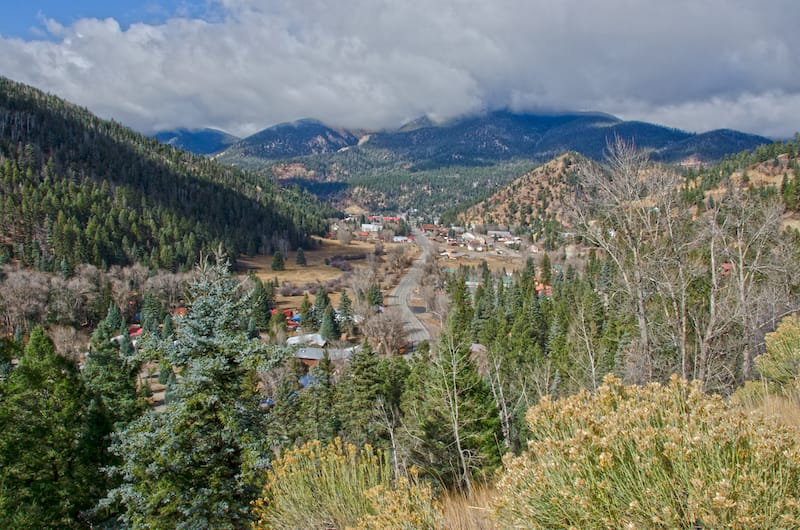 The small town in NM boasts plenty of hiking trails of various difficulties including the Red River Nature Trail, Sawmill Park Trail, and Gold Hill.
Don't miss your chance to taste stellar New Mexico cuisine at the Old Tymer's Café, Sundance, Red River Brewing Company, and Texas Reds Steakhouse.
If you're looking for somewhere to unwind in the evenings, be sure to stop by the Cowboy Evening up at Bobcat Pass Wilderness Adventures, where you can hear live music and enjoy western hospitality.
Tucumcari
Looking for a trip full of history and culture? Then definitely plan a getaway to Tucumcari, one of the coolest small towns in New Mexico!
Start your day at the many museums you'll find there such as the Mesalands Community College's Dinosaur Museum and Natural Sciences Laboratory which offers displays of genuine fossils as well as life-sized bronze dinosaur sculptures.
Tucumcari Historical Museum is another must-see as it houses a wide variety of artifacts and memorabilia. Add also the New Mexico Route 66 Museum and Tucumcari Railroad Museum to your list.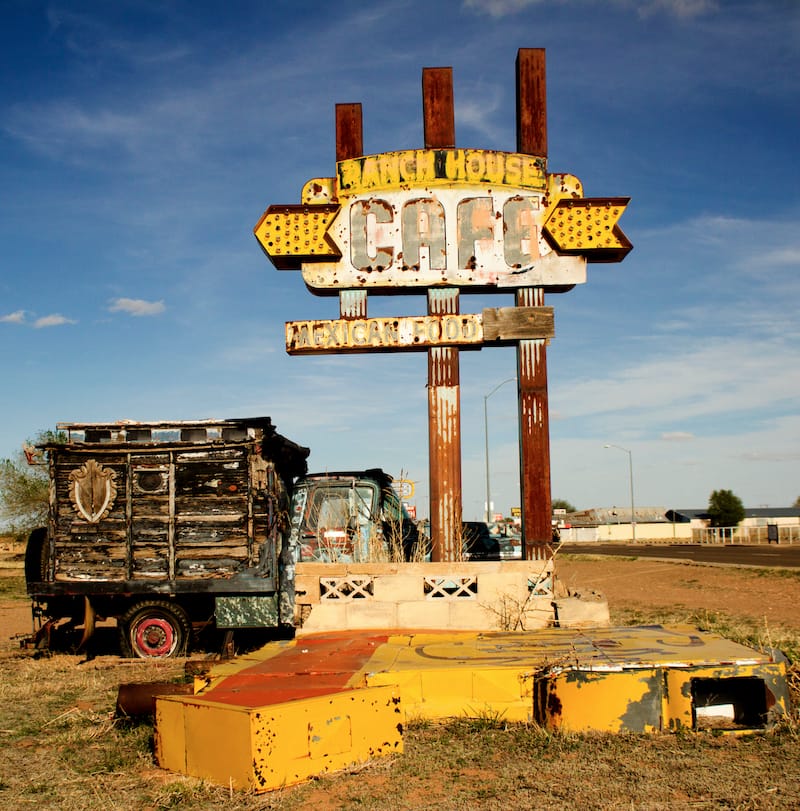 Switch it up a bit at this Route 66 town and head to the Murals of Tucumcari, capture 'antique' memories at Mother Road Old Time Photos, enjoy shopping for unique jewelry at the Route 66 Townhouse Welcome Center and Gift Shop, and more!
Other attractions and things to do in Tucumcari include checking out the Tee Pee Curios, Eastern NM Arts and Cultural Center, Route 66 Monument, Tucumcari Ranch Supply, Odeon Theatre, and the Tucumcari Municipal Golf Course.
Galisteo
Do you want to be in a western movie scene? Head to the streets of Galisteo, if so!
There are many things to do in Galisteo and one of the main attractions of the town is the Encaustic Art Institute. It is a real gem for art enthusiasts and contains several incredible exhibits and collections.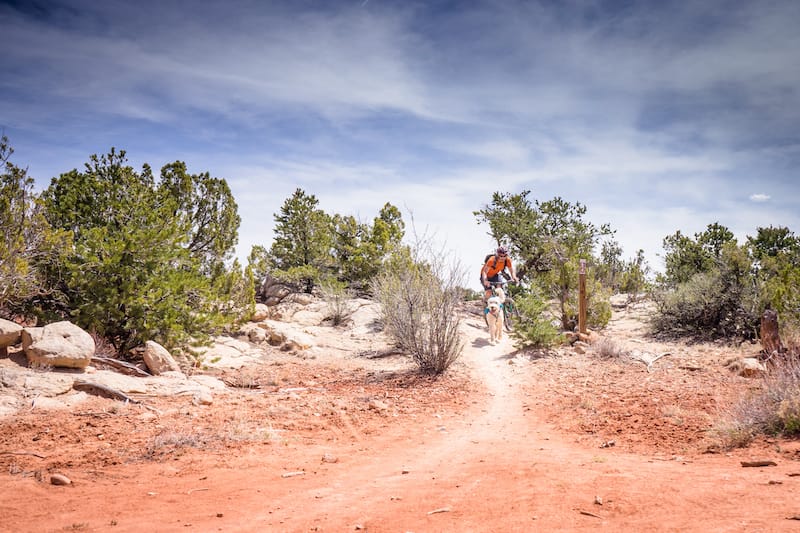 You can't tour Galisteo without visiting its most iconic store, the Casa Grande Trading Post. If you want to have a break from the hustle and bustle of the town itself, head out into the wilderness at nearby Cerrillos Hills State Park.
Alternatively, you can enjoy horseback riding at Creek Stables Trail Riding. Another awesome place to tackle the wilderness is Galisteo Basin Preserve, where you will find many horseback riding, hiking, and biking trails.
Santa Rosa
There are many unique things to do in New Mexico and visiting the Blue Hole is certainly one of the coolest! In order to visit the Blue Hole, you will need to get yourself to Santa Rosa.
Start your day off at the famous Blue Hole, a natural water hole that offers activities like swimming, diving, and scuba diving. Spend a bit of time admiring the New Mexico landmark before moving about the rest of the day.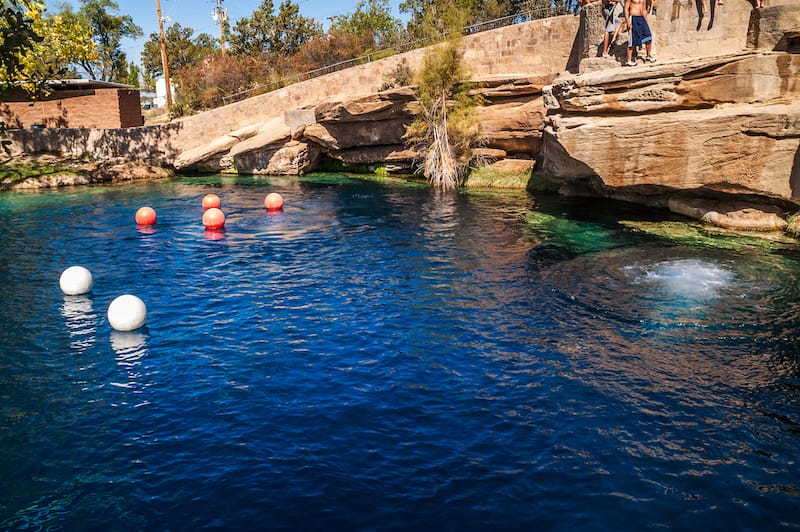 Your next stop should be Santa Rosa Lake State Park. There are many things to do there, including watersports, having a picnic, and letting your youngsters have fun in the water floating play center.
If you want to keep the water adventures coming, be sure to check out Park Lake, WIBIT Park Lake, and the Santa Rosa Dive Center.
Next, take a trip back in time and witness an outstanding collection of vintage wheels at the Route 66 Auto Museum. Explore the Guadalupe County Courthouse and try some local flavors at 1865 Brewing Co. and Joseph's Bar and Grill.
Jemez Springs
Visiting Jemez Springs? It is one of the most beautiful small towns in New Mexico and you will find plenty to do there, especially if you're a nature lover!
In the heart of the town is Jemez Springs. You'll find soothing hot springs, small waterfalls, and a lot of hiking trails surrounding it. Next, drop by Valles Caldera National Preserve, a 13.7-mile-wide extinct volcanic caldera.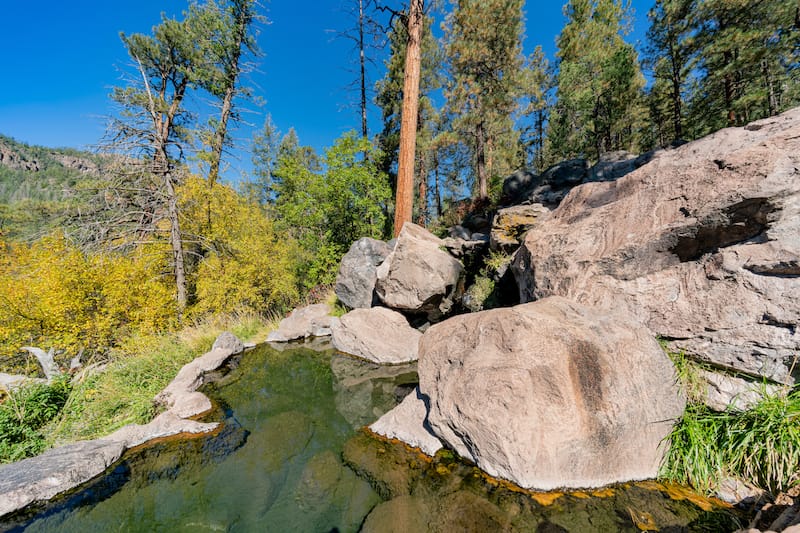 Enjoy trails for horse riding, ranch roads, and livestock. A must-see of the town is the Jemez State Monument, an important ancestral site of the Jémez Pueblo people.
If you want to have a cultural experience, be sure to check out the Jemez Fine Art Gallery.
Additional places to visit for nature lovers are the Jemez National Recreation Area, Battleship Rock, and the Jemez Mountain Trail National Scenic Byway.
Cloudcroft
Cloudcroft is a New Mexico mountain town that has so much to offer visitors. In the summers, one can explore the historical trails, walk through the forests, and enjoy the beautiful landscapes.
There are several nature spots and trails in Cloudcroft and some of the most renowned ones are the Trestle Recreation Area, Cloud-Climbing Trestle Trail, Rim Trail, Osha Trail, and Bluff Springs.
Camping opportunities are also available here, as is golfing! You can play a round of golf at the Disc Golf Course or the Lodge Golf Course, both of which offer great views of the Sacramento Mountains.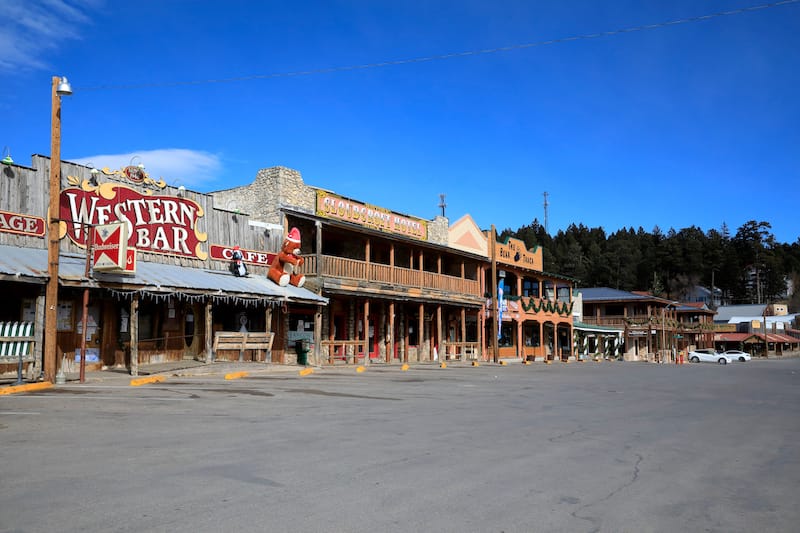 If you're planning your visit during winter, check out the Cloudcroft Ice Rink or Ski Cloudcroft for cross-country skiing, snowboarding, and other snow adventures.
Many things to do in Cloudcroft don't depend on the weather, and you can always enjoy a glass of beer or wine! Visit the Noisy Water Winery, Pistachio Land, Heart of the Desert, and the Cloudcroft Brewing Company.
And also, don't miss your chance at heading to the Cloudcroft Light Opera Company, the Sacramento Mountains Museum & Pioneer Village, Silver Springs Fishing Pond, and Coco Blu.
Raton
Raton is a fantastic town that is often not stopped at when passing through eastern New Mexico. When there, you'll find plenty of outdoor adventure areas at places like Climax Canyon Park and Sugarite Canyon State Park.
One can't miss landmark in Raton is the Capulin Volcano. You can witness volcanic formations and study 10 million-year-old geologic history right before your own eyes!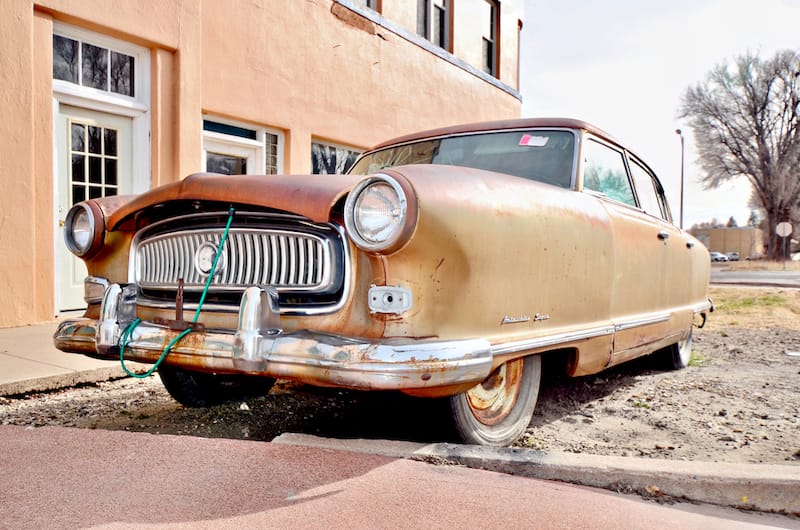 Explore the nearby ranches like Philmont Scout Ranch and Vermejo Park Ranch before having a shopping adventure at unique shops and trading posts in the town.
Some key places to not miss when shopping are Solano's Boot and Western Wear, Flat Mountain Trading, Patchwork Phoenix, and Dulces Encantados.
Other things to do in Raton are aplenty and you can enjoy visiting the Raton Museum, El Raton Theatre, Shuler Theatre, Raton Golf Course, and Raton Regional Aquatic Center.
Madrid
Located in between Albuquerque and Santa Fe, you will find the colorful and small artist town of Madrid. The small New Mexico town has merely around 200 people but boasts a ton of galleries and things to do!
Stop at the Crystal Dragon, Ghost Town Trading & Boarding, 10 pm Steampunk, and explore unique handmade silver, turquoise, and gemstone jewelry.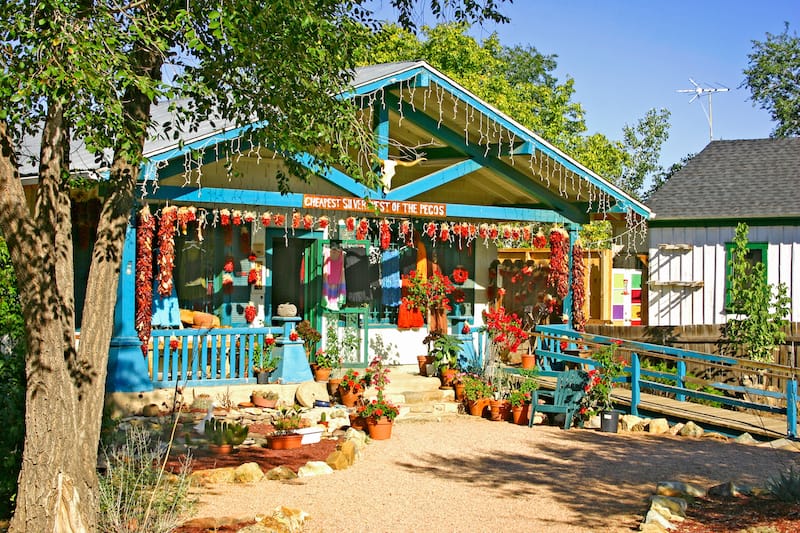 To experience local art and culture, visit the Gifted Hands Gallery and Indigo Gallery. Don't miss out on a chance to see the Starshine Gallery, where you'll meet a spirit medium offering intuitive readings and healing services.
But creativity doesn't end at the galleries – you can also check out some cool restaurants and places to dine such as the Mine Shaft Tavern And Cantina, Java Junction Coffee And Gifts, and Shugarman's Little Chocolate Shop.
If nature is what you're after, you are not too far from the Turquoise Trail, one of New Mexico's best scenic drives.
Ruidoso
Ruidoso attracts thousands of Americans each year with a wide range of outdoor adventures. There truly is something for everyone here and it is renowned as one of the coolest New Mexico small towns!
Bonito Lake welcomes visitors with great campsites, hiking trails, and fishing opportunities. For those loving cycling or horseback riding, check out Fort Stanton – Snowy River Cave National Conservation Area and Grindstone Lake.
During the snowier months, you'll be delighted to be close to some of the best skiing in the state at Ruidoso Winter Park and Ski Apache.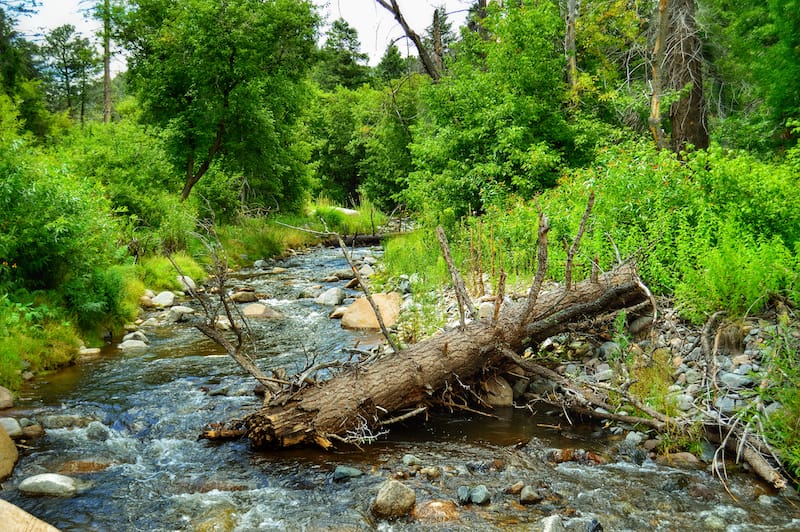 Ruidoso is no stranger to good food and you can enjoy a delicious meal at The Village Buttery, famous for its sandwiches and soups.
Wine lovers can also make a stop at Noisy Water Winery, where you'll find great varieties of both wine and cheese.
If you are interested in learning some of the town's history, be sure to visit Fort Stanton, Monjeau Lookout, and the Hubbard Museum of the American West.
If you're traveling with youngsters, be sure to visit Pillow's Funtrackers, an amusement park with go-karts, bumper boats, and more! There are so many amazing things to do in Ruidoso that it definitely warrants a trip to the town!
Las Vegas
Not to be confused with Sin City in Nevada, Las Vegas is a small city in New Mexico that is situated about an hour east of Santa Fe.
If you find yourself in this cool New Mexico destination, start your trip by visiting the old town square called the Old Plaza.
You'll find Demarais House – Our Lady of Sorrows Parish Hall, a historic building dating back to 1882 and currently serving as a Parish Hall.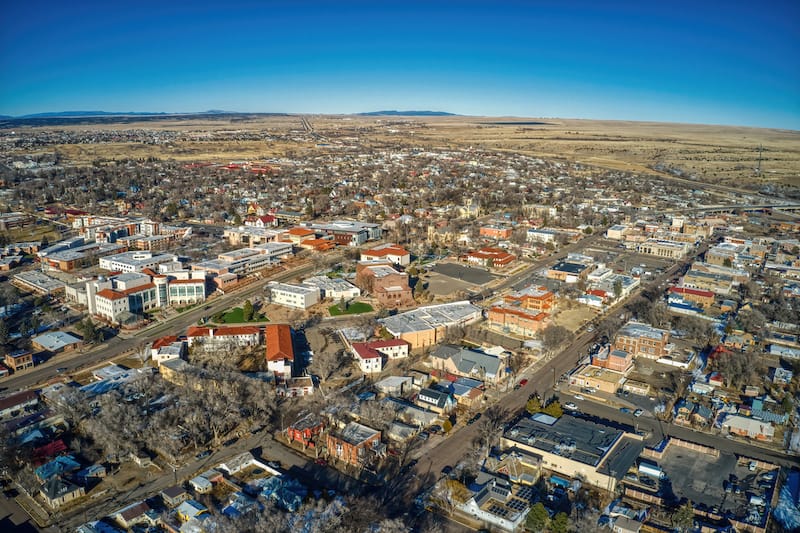 The next stop on your Las Vegas itinerary is at the Plaza Hotel, a beautiful structure that hosts many events. This Italian-style building is proclaimed as the Belle of the Southwest.
Check out Las Vegas' parish church, Our Lady of Sorrows Church (built in 1836), the Carnegie Library, the City of Las Vegas Museum and Rough Rider Memorial Collection, the Old City Hall, and La Castañeda Hotel.
Outdoor adventurers will love the surrounding nature such as Storrie Lake State Park, Villanueva State Park, and Montezuma Springs.
Chimayo
Start your trip to the Chimayo area by visiting the famous Roman Catholic church in Chimayo, El Santuario de Chimayo, a famous pilgrimage site that receives 300,000 visitors each year.
Buy some unique souvenirs at Ortega's Weaving Shop, run by nine generations of weavers, or drop by El Potrero Trading Post, which specializes in local produce.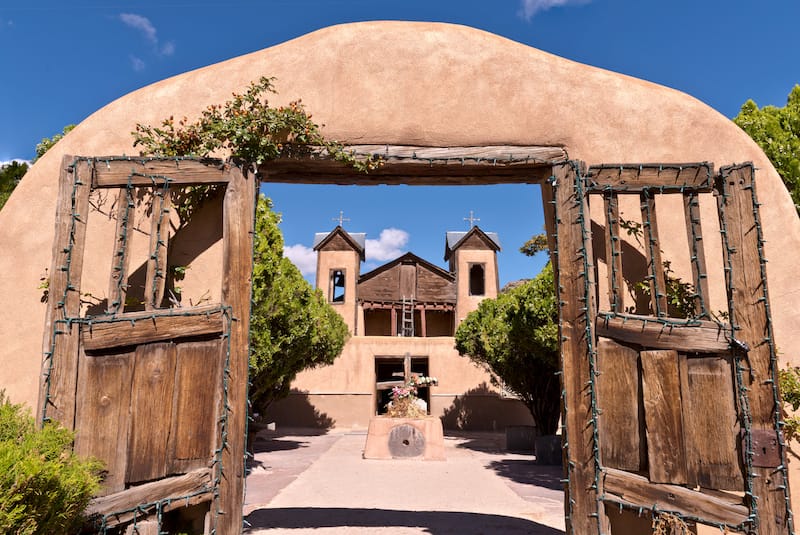 Another must-see religious site is the Chapel of Santo Nino. Explore its unique architecture that dates all the way back to 1856.
Take to the outdoors at the Santa Cruz Lake Recreation Area, which offers campgrounds, water sports, fishing, and swimming for active visitors.
And finally, take a break and have a wonderful dinner at Rancho de Chimayo, a family-owned restaurant serving food for more than 50 years.
There are many amazing small towns in New Mexico and these are some of the absolute best!
Did we miss any places? Let us know your favorite New Mexico small towns in the comments! Thanks!
More New Mexico Travel Guides
Pin this New Mexico Small Towns Guide