Ruidoso is one of the best bases in New Mexico for visiting some of the most mind-blowing sights in the state! These are the best things to do in Ruidoso NM!
Are you planning your trip to Ruidoso last minute?
Be sure to book your accommodation in Ruidoso ahead of time to ensure availability!
🛌 Top Ruidoso Lodging Options:
🚗 Looking for the best way to get around New Mexico? Click here to check rental car rates for NM!
We opted not to include Ski Apache Ski Resort as that is why so many people find themselves in Ruidoso. Instead, we opted to list some restaurants, day trips, and other heritage points of interest in Ruidoso.
Did we leave anything off this list? It is an all-seasons guide – so please let us know in the comments! Thanks!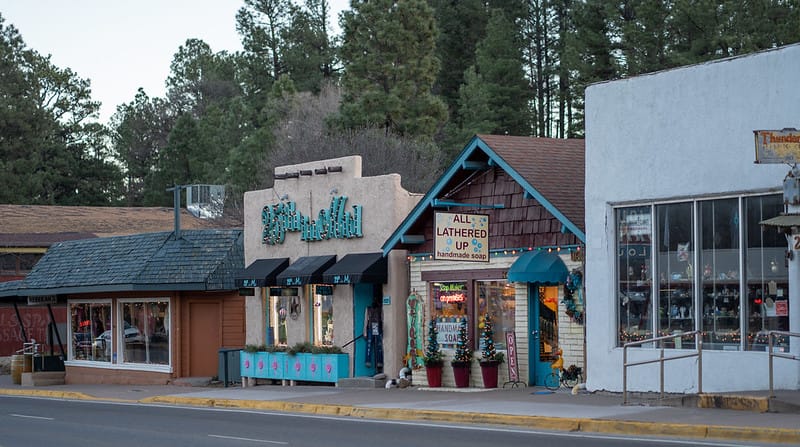 Best Things to Do in Ruidoso, NM
1. Lincoln National Forest
Ranging from 4,200 feet to more than 11,500 feet in elevation, Lincoln National Forest boasts a wide variety of recreational opportunities and is home to 19 developed camping locations.
The landscape covers breathtaking peaks and valleys, rugged canyons, and pine-packed foothills. Visitors can enjoy horseback riding, hunting, hiking, mountain biking, camping, snowboarding, and skiing inside the New Mexico forest.
The park offers over 200 miles of trails for leisure walks or challenging hikes, including the Trestle Trail, the Three River Trails, the South Fork Trail, and the Crest Trail.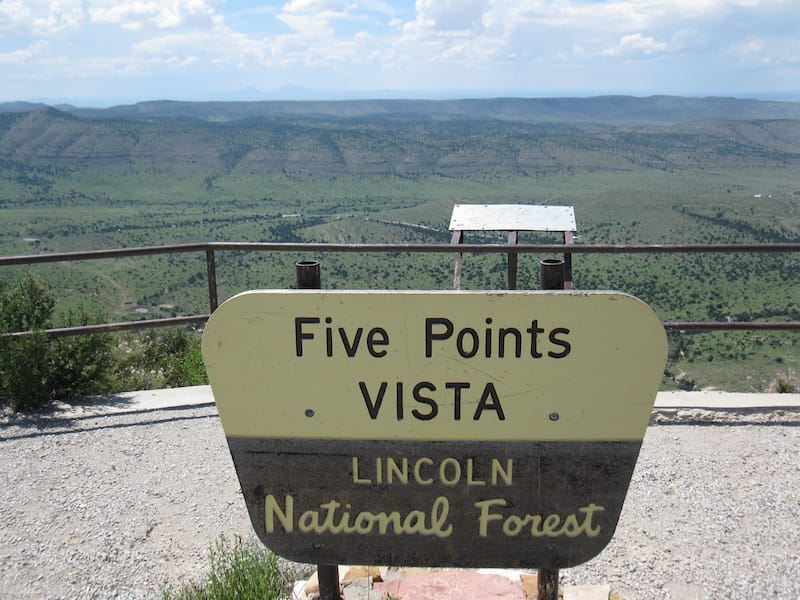 Observe the abundant species of trees and wildlife by visiting the forest's campgrounds like Deerhead Campground, Saddle Campground, and Sleepy Campground, where you will get to wake up each morning to the sounds of the forest.
The forest also provides day-trip activities. Visitors can join tours at National Solar Observatory or visit the Three Rivers Petroglyph Site.
2. Pillow's Funtrackers
Find entertainment for the entire family at Pillow's Funtrackers, a famous amusement park in Ruidoso. The park includes seasonal and yearly attractions like three go-kart tracks, an 18-hole mini-golf, an arcade, bumper boats, a mountain maze, and panning for gemstones.
The Ruidoso attraction has been providing entertainment for over twenty years! They are open seven days a week, and also during Spring break, Christmas break, and throughout all the major holidays.
Please, remember that some outdoor activities may or may not function, depending on the weather. Find tickets at the office located on the east side of the parking lot and do note that these tickets are for one person per ride.
Opening hours:
Saturday: 10 am – 8 pm
Sunday: 10 am – 7 pm
Address: 101 Carrizo Canyon Rd, Ruidoso, NM 88345, United States
3. Carrizozo Museum
The building of the Carrizozo Museum dates back to the 1940s when it was used as a frozen food locker. In 2003, a museum was opened in the building featuring historical exhibits and collections, educational programs, and events.
The museum focuses on railroad and ranching history, showcasing a 1930's kitchen, an old country schoolroom, a 1905 barbershop, a homesteader's log cabin, and a Western area.
Visitors can find a gift shop with books about local history, including New Mexico cuisine and southwest cooking.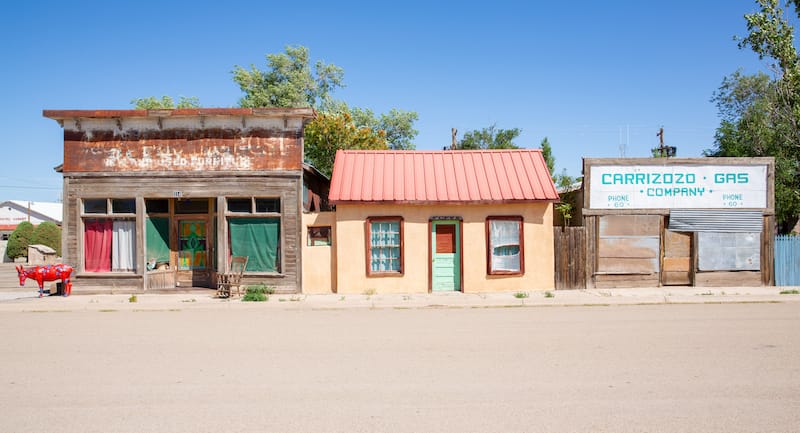 In addition, check out the building next to the museum to see a mining exhibit, a chuckwagon, and railroad relics. The Carrizozo Museum welcomes its guests from 10 am to 2 pm each Thursday through Saturday.
Carrizozo is actually one of the coolest small towns in NM and it is worth spending an extra hour or two walking around and seeing the throwback of a place!
Address: 103 12th St, Carrizozo, NM 88301, United States
4. Billy The Kid Scenic Byway Loop
The Billy the Kid Scenic Byway Loop provides a view of the past and a little bit of the present and it exudes the aura of the legendary West.
Start your trip at the Billy The Kid Interpretive Center where you can get some maps and travel brochures.
Next up on the route is the famous racetrack Ruidoso Downs and the Spencer Theatre which hosts several diverse performances.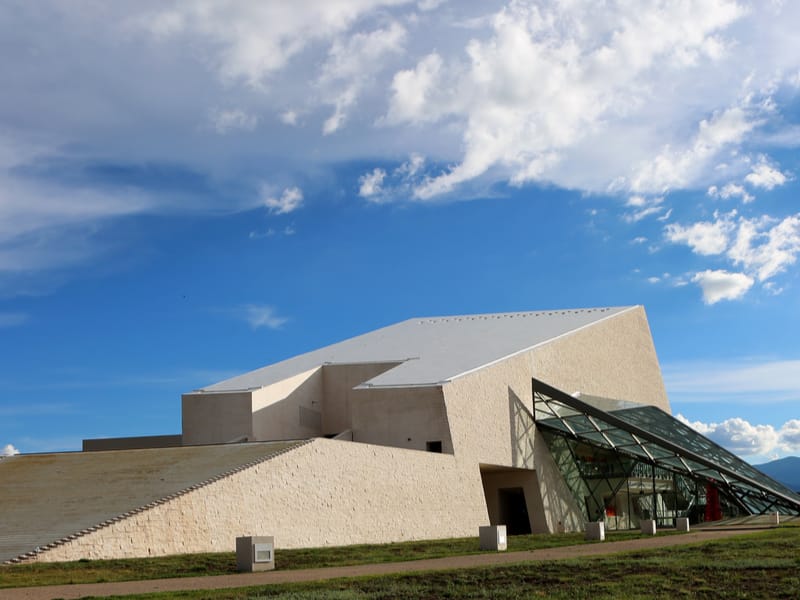 The Mescalero Apache Lands are situated nearby, boasting perfect winter and summer recreation opportunities. The road will take you to Fort Stanton, home to many popular figures like Kit Carson and John J. "Blackjack" Pershing.
Stop also at the conservation area to explore an important scientific and archeological site, the Snowy River Cave System.
Other must-visits include Capitan, home to the Smokey Bear Museum and Smokey Bear Historical Park.
5. Day Trip to Roswell
The International UFO Museum and Research Center is a popular tourist attraction hosting various exhibits and displays on UFO encounters.
Opened in 1991, the kitschy museum boasts an extensive library and information center on the subject and a gift store with UFO-inspired souvenirs.
Next, stop at the Roswell UFO Spacewalk to enjoy a blacklight celestial journey. This really is one of the quirkiest day trips from Ruidoso!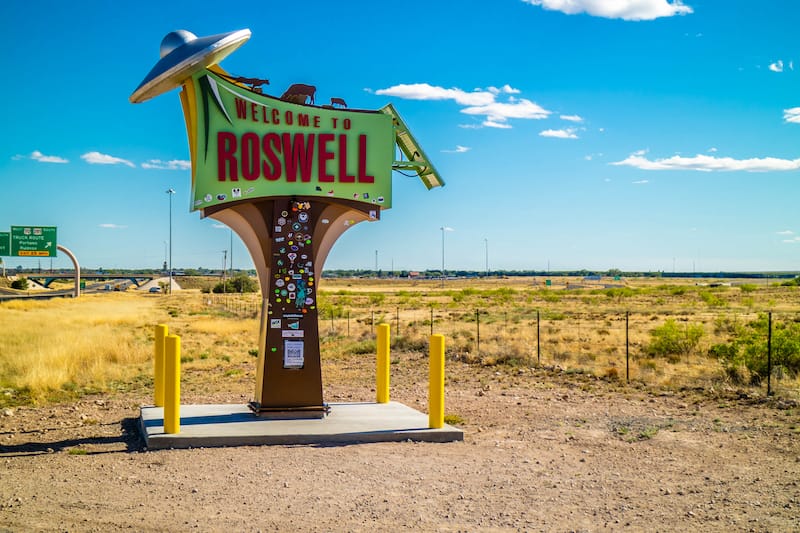 This unique art exhibit will take you to a spaceship and outer space through a wormhole and a mutant forest. Also, see the works of the creator and artist Bryan Ward in the lobby.
Roswell isn't merely a UFO town but it also contains plenty of various sights, among which the rarest is the Iron Cross symbol. The cross is located along the riverbank and was created by German prisoners of war.
Other attractions in Roswell are the Miniatures & Curious Collections Museum, Bottomless Lake State Park, and the Roswell Mcdonald's (not joking… it is worth a visit!).
6. Day Trip to White Sands National Park
Welcome to one of the most eye-catching national parks in America, White Sands National Park.
Explore the endless miles of dunes surrounded by rugged mountains, desert, and a sweeping cerulean sky.
Stop at the White Sands National Park Visitor Center to learn the local history and get information and maps before starting your journey. Hiking is the best way to discover the park and White Sands has five trails to choose from.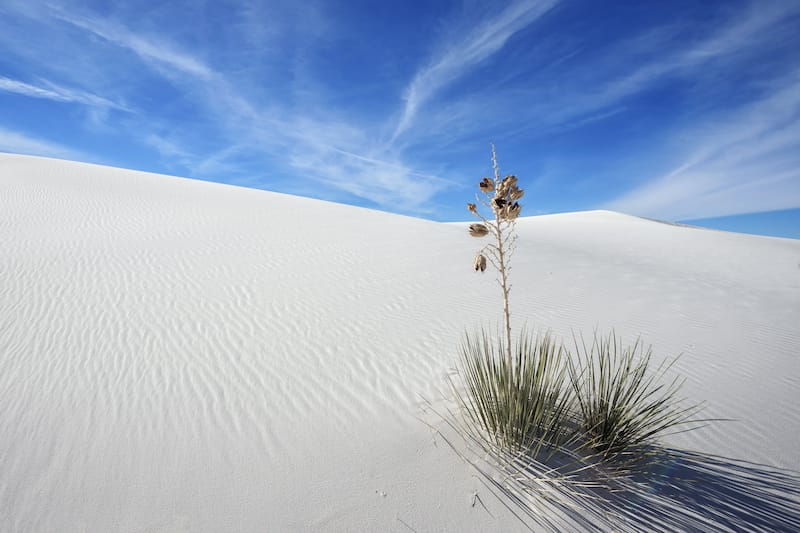 Stroll along the Interdune Boardwalk to enjoy desert and mountain vistas or have a ride along Dunes Drive, an 8-mile scenic road. You can also enjoy heading out on the Full Moon Hike!
Dunes sledding is one of the top things to do in White Sands NP and you will find suitable places to do it in the back area of the park.
And to round out your day trip to White Sands, be sure to not miss the sunset which provides a unique contrast to the white sands!
7. Day Trip to Carlsbad Caverns National Park
With so much to do in Carlsbad Caverns National Park, it makes for the perfect Ruidoso day trip! It really is more than just a small cave (it is world-famous!) and there are two trails inside the area that will help you explore it deeply!
The Big Room Trail consists of a large limestone chamber of 4000 feet long. This trail is paved and easy, full of rock formations and sculptures.
The Natural Entrance Trail descends 750 feet down and is extra challenging.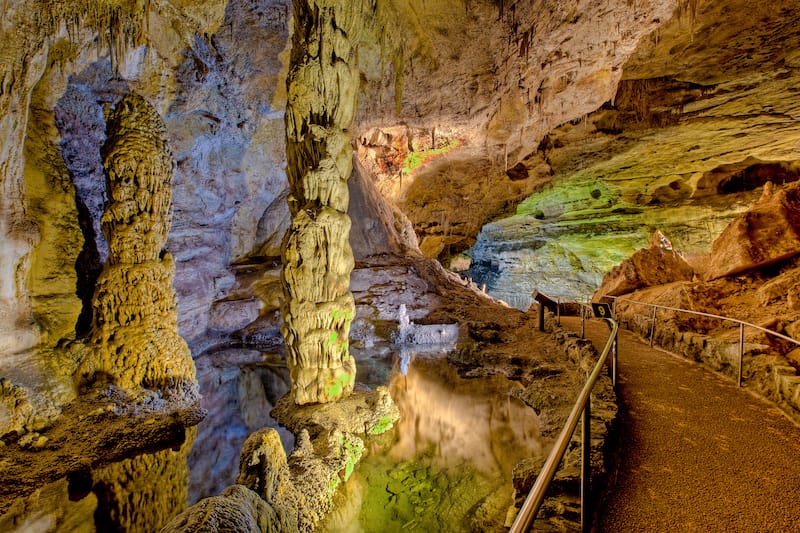 There are hand railings available along the trail, as well as benches to take a break. You can also join ranger-guided tours at this underrated national park.
Outside of the caverns, drive the Walnut Canyon Desert Drive, where you'll experience the wildlife and surrounding scenery of the New Mexico landmark.
Discover the key attractions such as Rattlesnake Springs, King's Palace, Bottomless Pit, Lion's Tail, Slaughter Canyon Cave, and Hall of the White Giant all within the park and caves.
8. Hubbard Museum of the American West
Have an educational immersion into the diverse portals of the past at the Hubbard Museum of the American West.
The museum is a tribute to the old times, housing famous art collections as well as Native American, Hispanic, and Pioneer culture antiquities. It was founded in 1992 and originated from Anne C. Stradling's Museum of the Horse.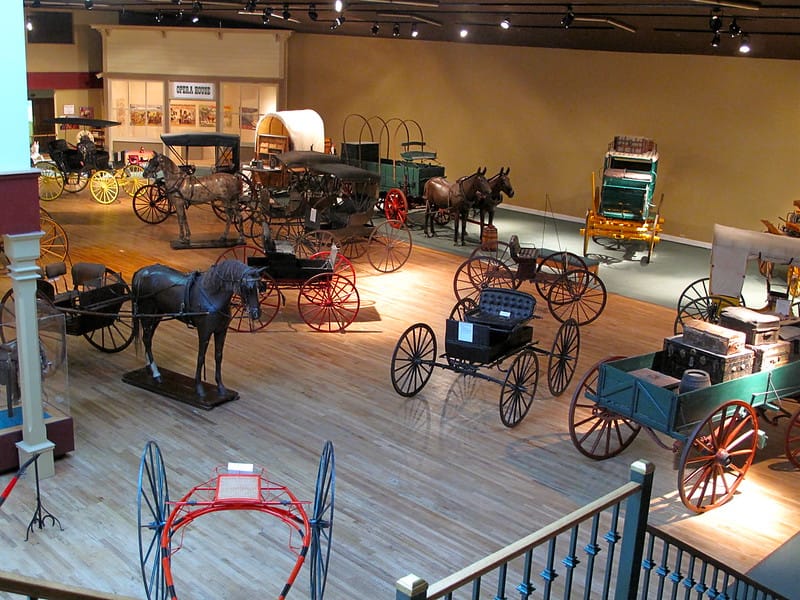 The historic Western museum focuses on collecting and preserving the history, arts, and culture of the American West from the beginning of human habitation up to the present day.
It includes one main room on the lower floor displaying various means of transportation of the past and six large rooms packed with antique relics. It also hosts educational programs, exhibits, and events for visitors who are interested in the early US settlers moving west.
9. Ruidoso Winter Park
If you're visiting Ruidoso in winter, be sure not to miss the Ruidoso Winter Park, a family-fun park that offers everything from tubing to a snow play area! The park also has the largest snow-making system in the Rockies.
Another unique way of exploring winter here is from the comfort of stylish VIP Igloos provided by the park.
The igloo package includes tables, chairs, handmade pizza, beverages, zip line tickets, and unlimited snow tubing. There are also plenty of heaters to warm up with!
Opening hours:
Fridays-Mondays: 10 am – 5 pm (from November 24-March 19)
Daily: 9 am – 5 pm (from December 16 – January 9 and March 3 – March 19)
Address: 121 Ski Run Rd, Ruidoso, NM 88345, United States
10. Grindstone Lake
One of the most popular recreation areas in Ruidoso is Grindstone Lake. The NM lake provides various outdoor activities you need to enjoy your vacation, including swimming, kayaking, paddle boarding, fishing, hiking, and picnicking.
Check out Grindstone Family Fun Park. The youngsters will love their tractor rides, petting zoo, giant slide, tunnel, and bounce house.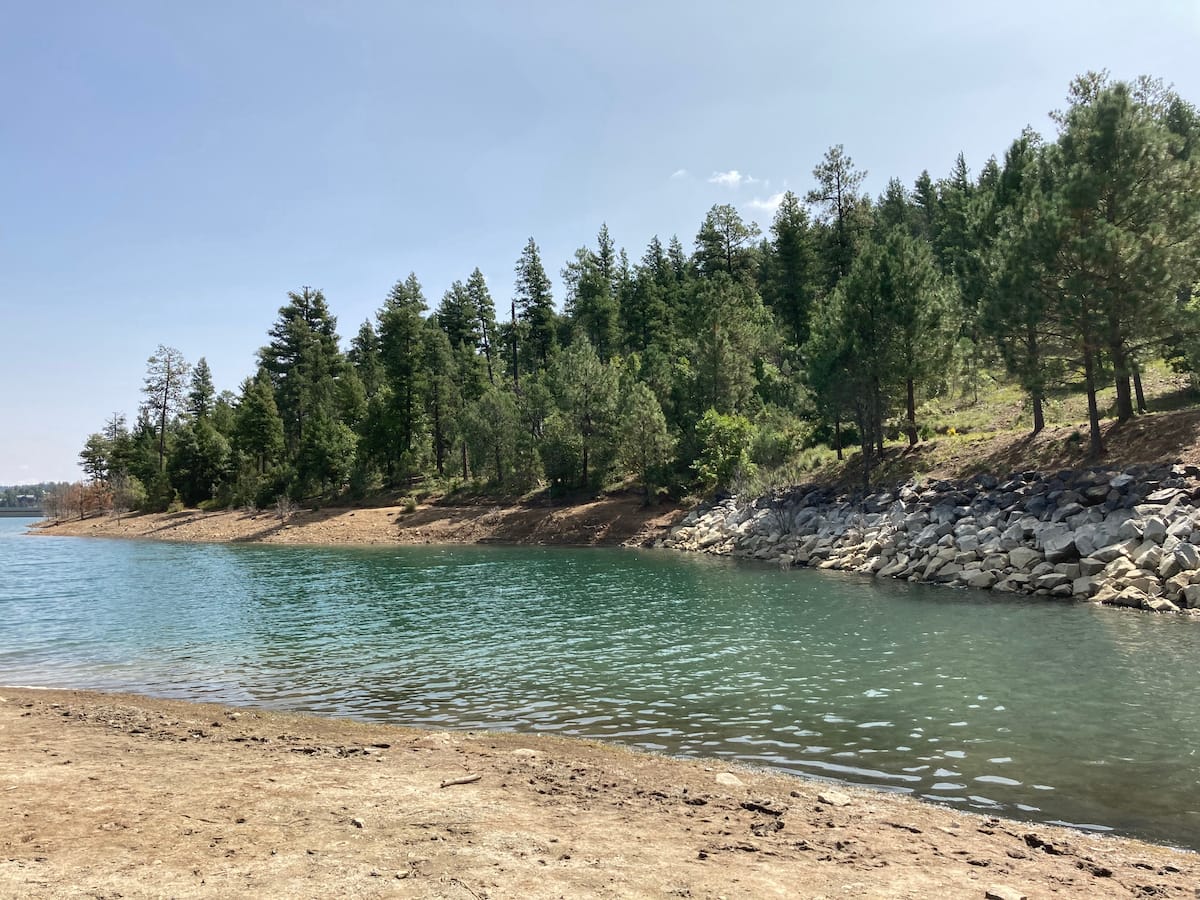 Choose from 22 tent campsites at Grindstone Lake Campground and wake up to nature in the mornings. The amenities at the campsite include restrooms with running water, a shower, a sink, and toilets.
Be sure to partake in a game of disco golf when you're there as they have a 27-hole course on-site.
In addition, Grindstone Lake has an 18-mile multi-use trail system designed for hiking, biking, and horseback riding.
11. Noisy Water Winery
Have an unforgettable experience at the Noisy Water Winery! Founded in 2009, it's home to over 40 award-winning wines and handmade cheeses.
Their wide selection includes red, white, portlike, chili-infused, sweet, and dry wines. The company is very famous for its two unique quintessential New Mexican chili wines: Besito Caliente and Rojo Caliente.
These incredible wines are made with love and care from the amazing grapes of New Mexico.
Visitors can visit the business for a tasting or just to enjoy a glass of wine with a variety of handmade cheeses (which are just as famous as wines).
Among the best-selling cheese is a green chile jack with roasted garlic, bacon cheddar, feta, and mango habanero gouda.
Opening hours:
Sunday – Thursday: 10 am – 6 pm
Friday: 10 am – 7 pm
Saturday: 10 am – 7:30 pm
Address: 2331 Sudderth Dr, Ruidoso, NM 88345, United States
12. Monjeau Lookout
Monjeau Lookout is located in Lincoln National Forest and it wasn't always a tourist destination. Built in 1936 as a watchtower for forest fires, today, it's earned its place on the National Register of Historic Places.
The tower is one of the main historical sights to visit while traveling to Ruidoso.
The lookout is open for guests in the summer months and you can enjoy the panoramic views of the surrounding forests and mountain ranges from the tower.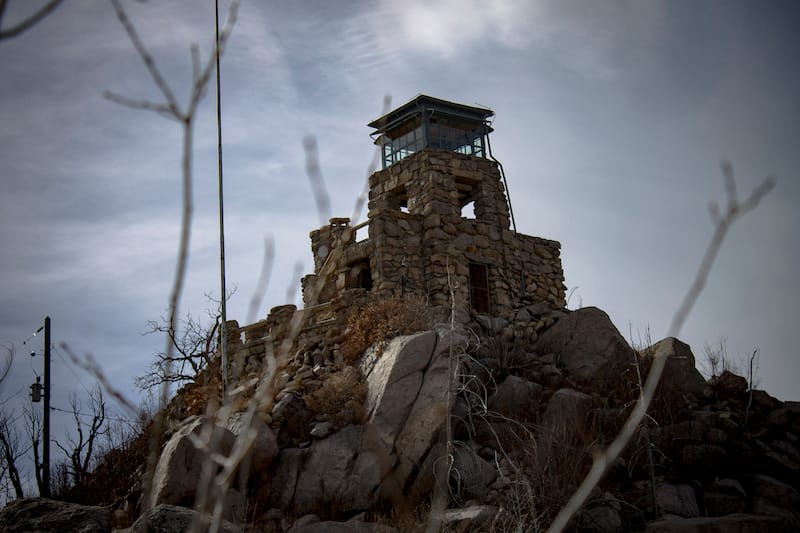 Monjeau Lookout is accessible by car but for a more adventurous trip, you can hike there!
Three camping areas and parking lots are also available.
13. Seeping Springs Trout Lake
If you want to try fishing with your kids or even by yourself, check out Seeping Springs Trout Lakes and RV Park. Anglers of all ages and skill levels are welcome there!
The lake is stocked with rainbow trout, and the average catch may exceed 10 inches. Outside equipment is prohibited to keep the pond clean, so you can get your fishing poles, baits, and buckets at the lake.
This RV park offers great conditions and amenities for camping with 50 full hookup sites, including water, sewer, electricity, and cable. Daily and weekly rental options are possible.
Another exciting thing you'll find here is paddle boating!
14. Apache Eagle ZipLiner
Check out the Apache Eagle ZipLiner and soar over the waters of beautiful Lake Mescalero. Open at the Inn of Mountain Gods, it offers parallel cables for two minute-rides of high speeds.
The zipline spans over 2,668 feet in length, flying up to 55 mph. Side-by-side gliding is also possible so that riders can enjoy the panoramic views together.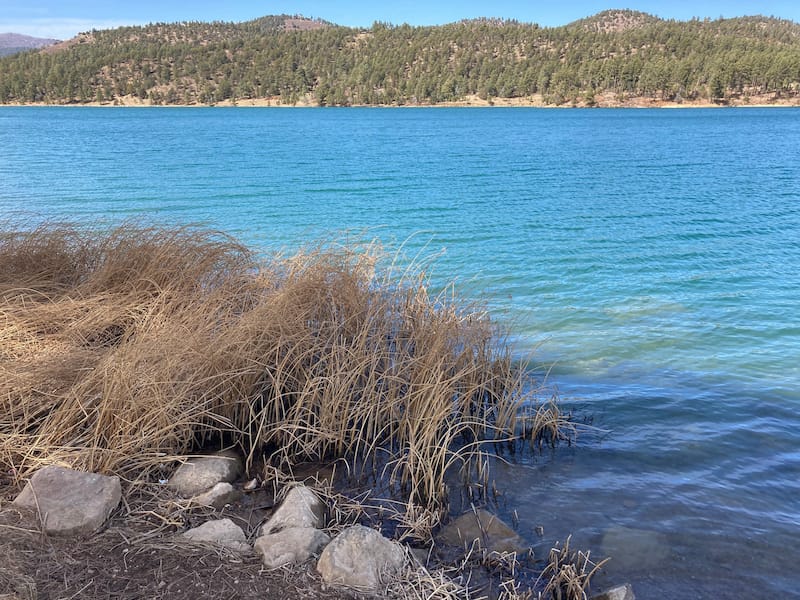 The attraction in Ruidoso is very popular, and reservations are required in advance.
Sometimes zip tours may be canceled because of the wind or fog. Visitors must check on the weather and make sure the center is operating on the scheduled day!
In order to go on the ziprider, you will need to be a minimum of 4'4" (max of 6'8″) and a minimum weight of 75-100 lbs, and a max of 250-275 lbs.
Opening hours:
Friday – Sunday: 10 am – 4 pm
>> Click here to schedule a ziplining adventure
15. Ruidoso Mural Tour
Stroll an hour or two along the streets of Midtown Ruidoso to discover the incredible works of art created by local artists and the Ruidoso Midtown Association.
Ten colorful murals decorate the buildings of the area. Some of them are easily found on the main road, while others are hidden on the sides of various restaurants and shops.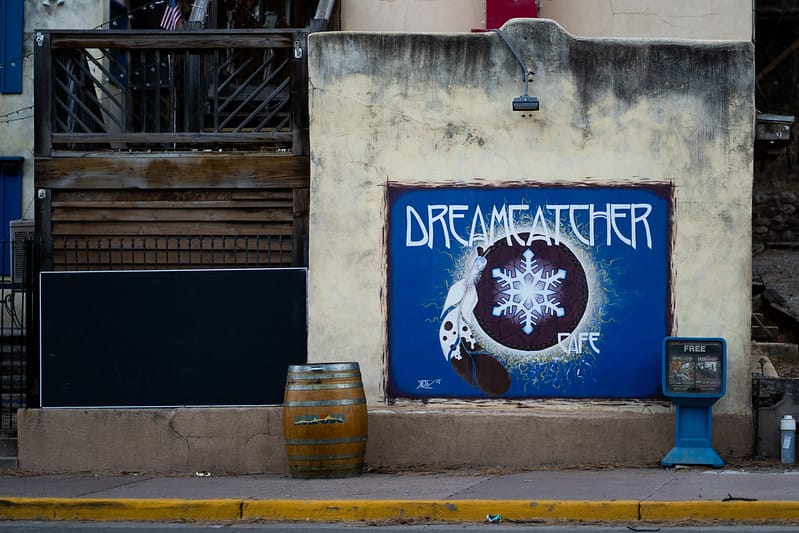 Since the parking in the town is limited and all the murals are located in the vicinity, it's better to take a walk and check them out yourself!
Your mural route will include the Village Battery, the Agency, Noisy Water Winery, Old Barrel Tea Co., Unique Boutique, Happy Trails Gift Shop, Hall of Flame Burgers, and 25th in Mid.
16. Zocca Coffee & Tea
Start your day with a morning coffee at Zocca Coffee and Tea. This cozy local coffee shop will delight you with a great selection of coffee and tea, great staff, and a relaxing atmosphere.
Enjoy your meal at the cafe offering delicious sandwiches, grilled breakfast burritos, grilled lunch paninis, and other styles of burritos. There are plenty of vegetarian options and take-away is available.
Zocca Coffee and Tea is open daily from 7 am to 2 pm.
Address: 1129 Mechem Dr, Ruidoso, NM 88345, United States
17. Mescalero Apache Cultural Center And Museum
Explore the Mescalero Apache Cultural Center and Museum and learn about Apache history and culture.
Focused on the importance of the Native American heritage, the museum includes pictures of the Mescalero, Chiricahua, and Lipan Apache People.
It also houses stone Apache tools, weapons, clothing, and a fine collection of baskets. Various entertainments and group lectures are organized at the Ruidoso Museum.
You can take a walk and explore the relics on your own or join a guided tour provided at the museum. A video is also available for watching. Admission is free.
Opening hours:
Monday – Friday: 8 am – 4:30 pm
Address: 181 Chiricahua Plaza, Mescalero, NM 88340, United States
18. The Village Buttery
The Village Buttery is a great lunch spot famous among Ruidoso locals. It has been operating since 1994 and has won the title of the Best Lunch in Lincoln County several times.
You'll find delicious sandwiches, salads, flavorful soups, quiches, and special hot dishes on the menu. Enjoy your lunch on the Aspen patio or inside the comfy dining room.
The Village Buttery is also known for its selection of gourmet desserts, pies, and cookies. Be sure to taste their famous Granny Guthrie's Buttermilk Pie! The eatery is also pet-friendly.
Opening hours:
Monday – Saturday: 10:30 am – 2:30 pm
Address: 2107 Sudderth Dr, Ruidoso, NM 88345, United States
19. Fort Stanton
A short trip from Ruidoso is one of the state's most famous historic sights, Fort Stanton.
Founded in 1855, it has 88 buildings made of local stone, featuring officers' quarters, a hospital, a morgue, a guardhouse, a dining hall, a chapel, a gymnasium, and horse stables.
The only renovated building in the area serves today as the Fort Stanton Museum and administrative office. This historic fort played a significant role in the Indian and Civil Wars.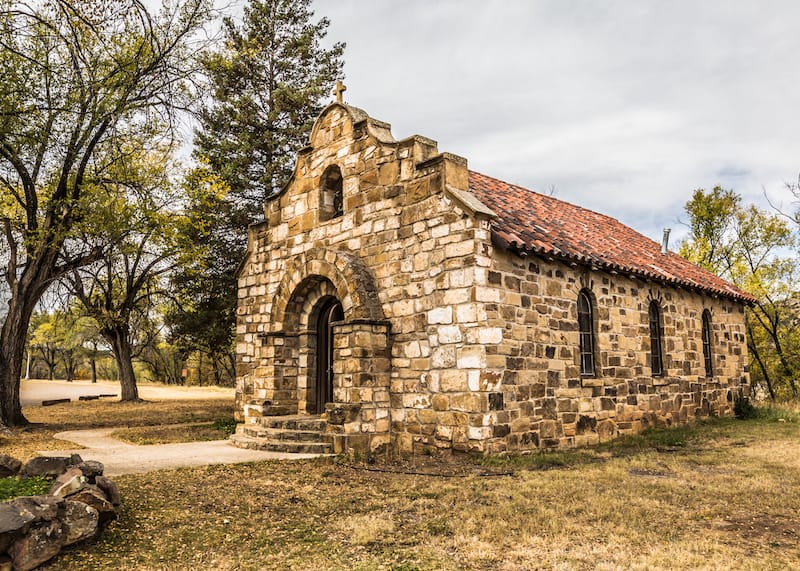 Its 160-year history covers Billy the Kid's lawless days, the Lincoln County War, the epidemic in the 1920s, and the internment of German sailors during World War II.
Definitely check out Fort Stanton and learn about the unknown corners of New Mexico's history.
Opening hours:
Thursday – Sunday: 10:00 am – 4:00 pm
Address: 104 Kit Carson Rd, Fort Stanton, NM 88323, United States
20. Bonito Lake
This Alpine reservoir is situated in the Sierra Blanca mountains and is a popular tourist destination. Bonito Lake serves as the primary water supply of Alamogordo City.
Because of the high altitude, the water is cold year-round and teeming with rainbow trout. The area boasts fishing and camping opportunities with great hiking trails and streams.
At the Westlake Campground, you'll find drinking water and restrooms as there are port-a-potties available throughout the campgrounds.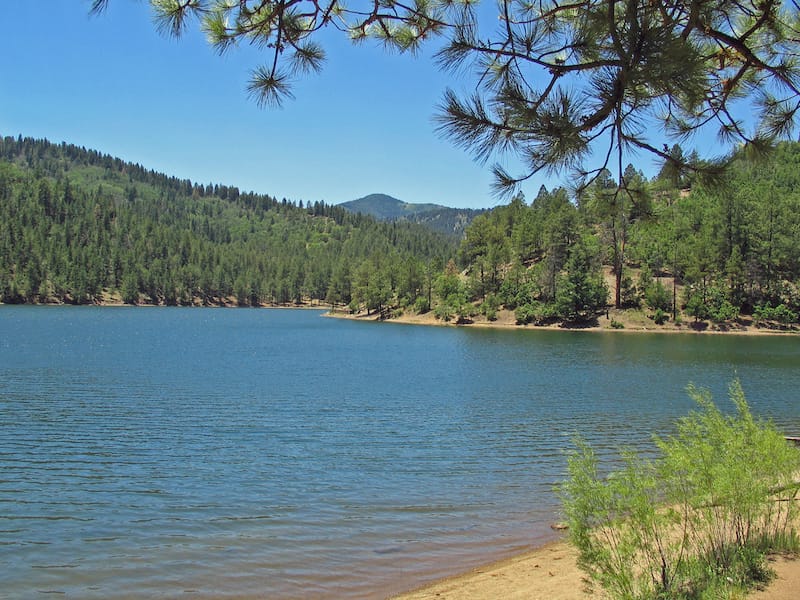 Please note that fires are allowed only in fire pits and in order to go fishing, you will need a New Mexico fishing license which can be obtained at any sports store.
Remember that picnicking, camping, or fires aren't permitted on the lake shores. Dogs are allowed on a leash, and make sure to clean up after them (and yourself)!
21. Craft Beer in Ruidoso (+ Spirits)
While visiting Ruidoso, don't miss your chance to explore the coolest bars and pubs in the area!
Start at the Hidden Tap. With more than 30 craft beers on tap, it provides a gastropub menu and games for youngsters.
Stop at Rio Grande Grill and Tap Room to enjoy Sierra Blanca Brewing Company's craft beers, delicious food, and fine wines.
Next up on your Ruidoso craft beer route is Tall Pines Beer and Wine Garden. This family and dog-friendly place has a huge outdoor patio with two fire pits as well as cozy indoor seating.
Find New Mexico's best wines with tasting and cafe tables to relax at the Cork & Kettle. It offers fine wines and gourmet food items. And finally, discover handmade craft spirits, including whiskeys, liqueurs, flavor-infused vodkas, and organic cocktails at the Glencoe Distillery.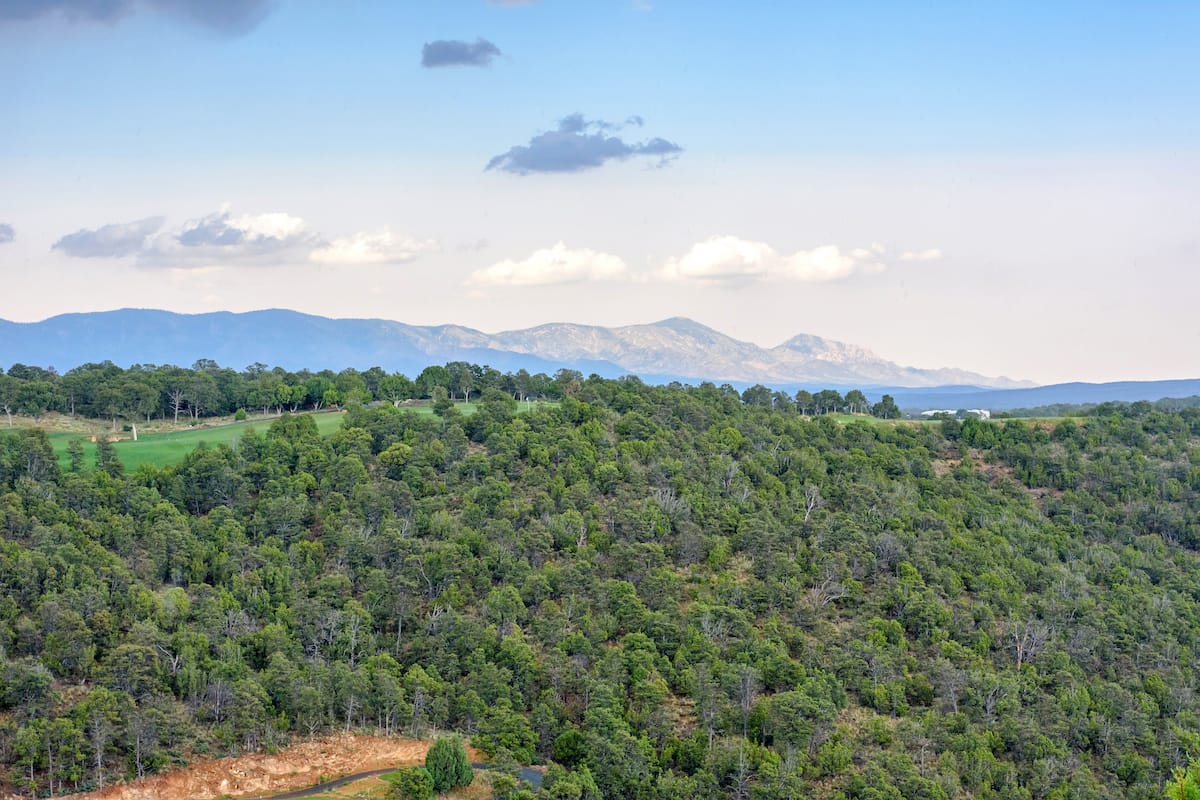 Where to Stay in Ruidoso, NM
You will find plenty of places to stay in Ruidoso, from motels to hotels to luxury resorts and beyond! These are some of our top picks for lodging in Ruidoso:
Did we miss any fun things to do in Ruidoso that should be in this guide?
Drop your tips for what to do in Ruidoso in the comments for other travelers (and for us in the future)! Thanks so much!
Additional New Mexico Travel Guides
Pin this Ruidoso Things to Do Guide