Are you looking for the best things to do in Siem Reap (aside from visiting the world-famous temples)? We have you covered!
Are you planning your trip to Siem Reap last minute?
If youʻre booking your trip to Siem Reap last minute, we have you covered. Below are some of the top tours, hotels, and more!
Top Experiences and Tours in Siem Reap:
Top Hotels in Siem Reap:
This guide details the best Siem Reap attractions and activities outside of Angkor Wat and other temples around the Cambodian city.
Did we miss any incredible places to visit in Siem Reap?
Let us know your favorite Siem Reap landmarks, museums, and more in the comments! Thanks!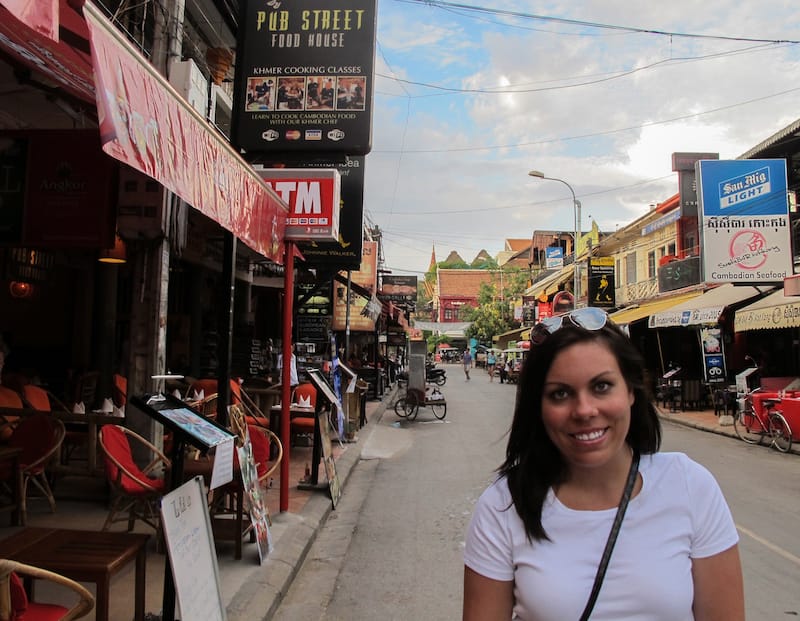 How to Get to Siem Reap
To be honest, I arrived in Siem Reap on a train from Bangkok. I found that this was the cheapest and easiest mode for me at the time.
If you head to Thailand first, you need to check to see if you need a visa for the country.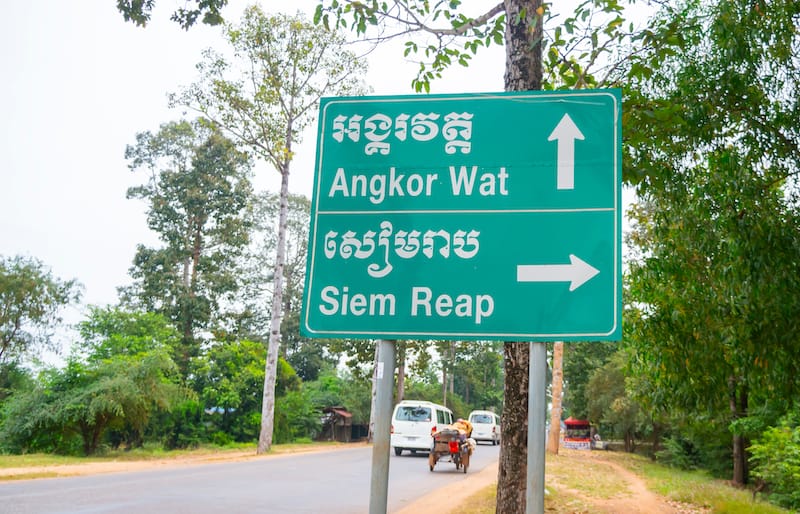 You can see if you need a special tourist visa for Thailand or are visa-free (as an American, I don't need a visa).
You may or may not need a visa for Cambodia. I did need one with an American passport.
If you're arriving in Siem Reap from Phnom Penh, you can reach the city known for Angkor Wat by boat or bus (many times a day)!
How Long Do You Need in Siem Reap
I definitely recommend a minimum of 2 days in Siem Reap. This gives you an entire day to explore the temples (while we left them off this guide, trust us, VISIT THEM!
Personally, I think 3 days in Siem Reap is the perfect number of days.
This gives you one entire day at the temples, one doing day trips, and one to explore the city and take a cultural class!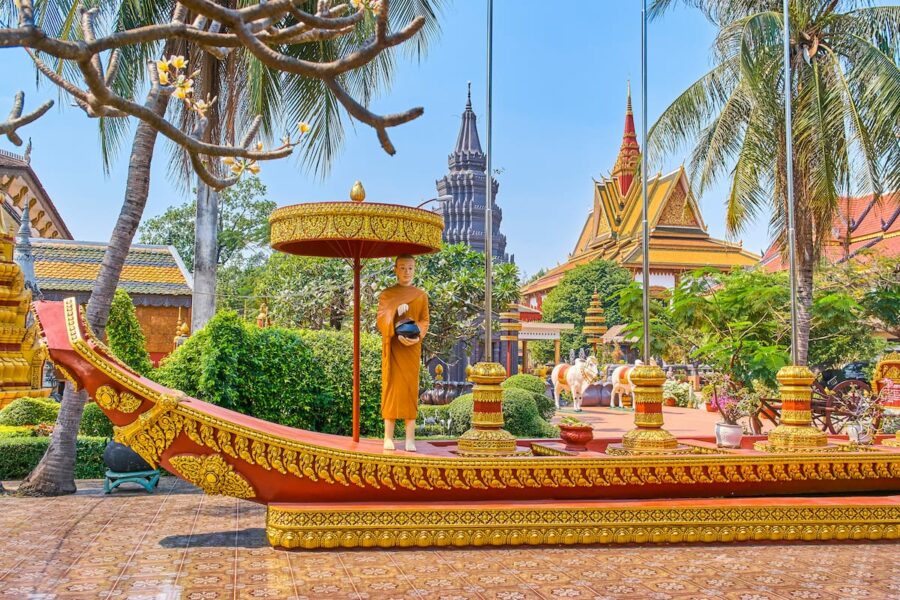 Best Things to Do in Siem Reap
Stop by the Angkor Centre for Conservation of Biodiversity
Preserving and respecting wildlife is part of Cambodian identity; near Angkor Wat is the educational center for the local communities in which the initiation of reintroducing and restocking of endangered species takes place.
This rehabilitation center not only focuses on and builds the capacity for conservation of the wildlife and their environment but also increases awareness; thus, the maintenance and management of the region is heavily revolved around the respect for biodiversity, which has consequently blended in with the cultural values of the people– making the center a true upholder and model of international standards.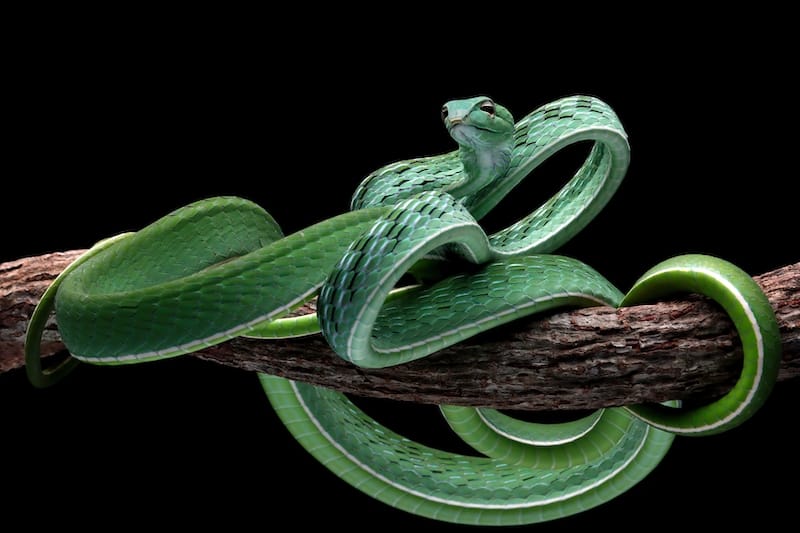 The long-term education programs and activities sculpt the critical thinking and decision-making skills of not only the locals but also international tourists and visitors throughout the year.
The various workshops and seminars redirect the tourism into villages as opposed to the forest, thus generating income for generations for the people whilst unanimously educating everyone involved.
Take a Floating Village Bike Tour and Sunset Cruise
Discover the floating village of Kampong Phluk on an informative and unique bike tour.
Witness the everyday life of Cambodian villagers by cycling down Siem Reap's countryside… consisting of a multitude of local farms to village activities on charming back roads with views of the picturesque landscape leading to the floating city.
When you arrive at the floating village, you can marvel at the colorful houses, schools, church, temple, market, and pagoda built on stilts, which were done so to withstand flooding during even the most extreme rains.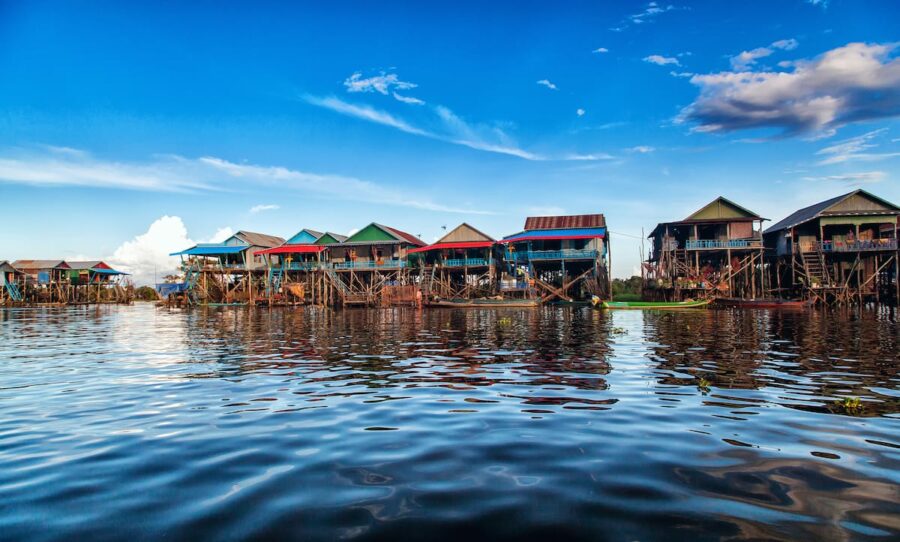 The village life on the water is something to take in and cherish, especially on the Tonle Sap Lake, where most villagers travel by boat.
End the trip with a cruise and watch the sunset whilst trying the local cuisine and regional flavors, which includes shrimp and fresh coconuts.
The tour takes about ten hours to complete, and at its completion, a car will take you home.
>> Check here for rates and availability
Watch an Apsara Dance Performance
Radiant silk tunics, garments and elaborate gold jewelry, and diadems engraved and sewn with careful details and symbols of the culture adorn a row of Apsara dancers replicating the dances depicted on the walls of Angkor Wat.
It was historically an art only taught at the royal court and had nearly been eliminated from the culture in the fifteenth century when neighboring countries' invaded the Khmer Rouge.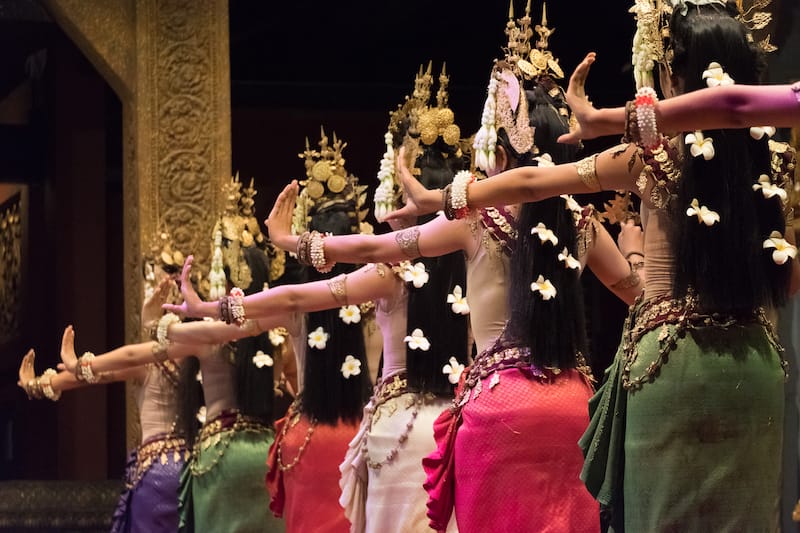 In 1995, Princess Boppha Devi revived the artform, sixteen years after the fall of the Khmer Rouge, by studying the depictions of the dance and its movements on the temple panels.
Most dancers study at the Royal University of Fine Arts in Phnom Penh as early as seven years old in order to train their bodies' flexibility as they mature.
In Siem Reap, there are a handful of restaurants that present performances of Apsara dances, such as APSARA TERRACE and Apsara Theatre.
Chase Waterfalls at Phnom Kulen National Park
Kulen Mountain was called the "Mountain of Indra" who was the king of their ancient gods.
From the top of Kulen Mountain are roaring, gorgeous waterfalls, which attract the locals seeking a relaxing evening with their picnics and hammocks.
It is notable for its holy waters and draws not only people seeking healings and blessings, but also natural medicine doctors, especially at Kbal Spean, which is known for its vitalizing waters that are said to help with fertility.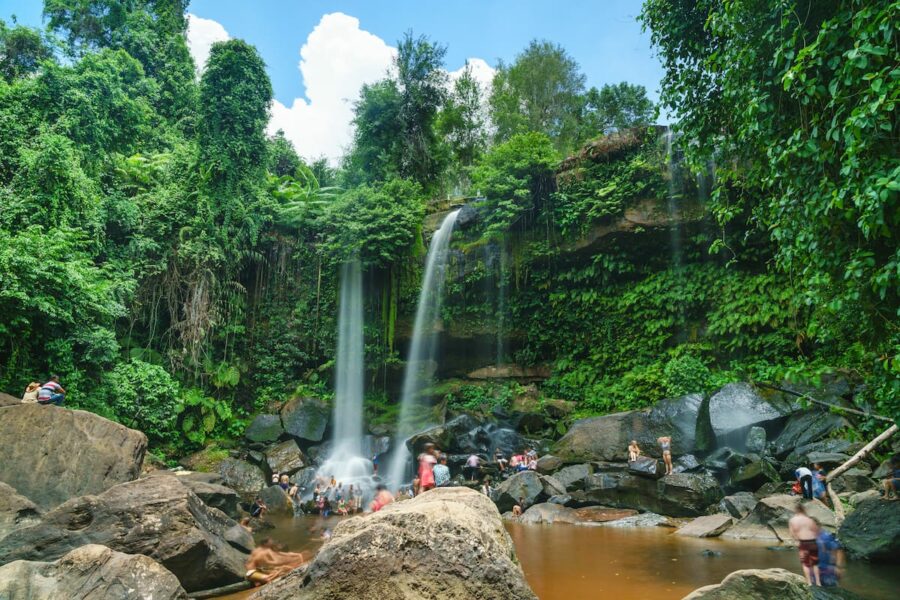 Along the waters and mountains are various, several historically paramount temples, like the Prasat O'Paong, known for its intriguing pyramid-like structure and elaborate towers.
As you explore the area around Kbal Speak, you may find lingas, or engravings, carved into the rocks and earth; there are said to be thousands all over the place!
The giant buddha at Preah Ang Thom pagoda is also another spectacle to behold.
Pay Respects at the Cambodia Landmine Museum
Cambodia has seen dark days from the decades of conflict; with the Khmer Rouge regime and genocide, the Vietnamese occupation, a civil war, and American bombings, which to this day, civilians face the consequences of.
Every year, dozens of civilians are injured or killed by leftover landmines and other explosive devices over the years.
These devices of war can be found in just about any environment– from rice fields, backyards, roads, to the wilderness.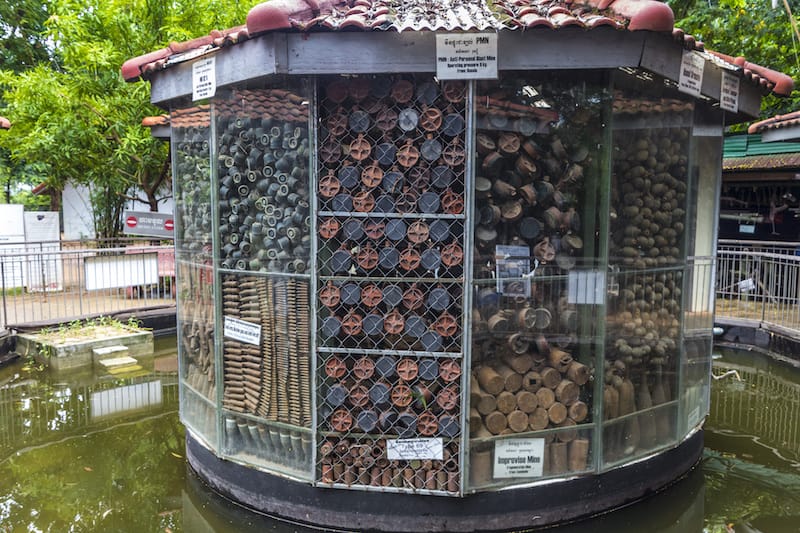 Millions of landmines have been cleared over the years, however, it is highly likely that there are more explosives dispersed around the terrain of Cambodia.
Unfortunately, it may take numerous decades before Cambodia becomes landmine-free.
This landmine museum educates on the history and struggle of the people, alerts visitors about landscapes known to have landmines, teaches safety, and also informs them how to avoid and prevent the activation of one.
Have Dinner at the Best Restaurants in Siem Reap
In Wat Bo Village is the Banlle Vegetarian Restaurant, offering not only Cambodian and other Asian dishes, but also popular, meatless European ones with their own grown ingredients.
It is primarily popular for its vegan eggplant tempura, vegetable amok with steamed rice, and the quesadilla with guacamole.
Another local favorite is Blue Pumpkin, which offers a traditional Cambodian noodle soup called Kuthiew, as well as an assortment of baked pastries, bread, homemade ice creams, and sorbets, such as Danish passionfruit and cheesecake, all in a trendy setting.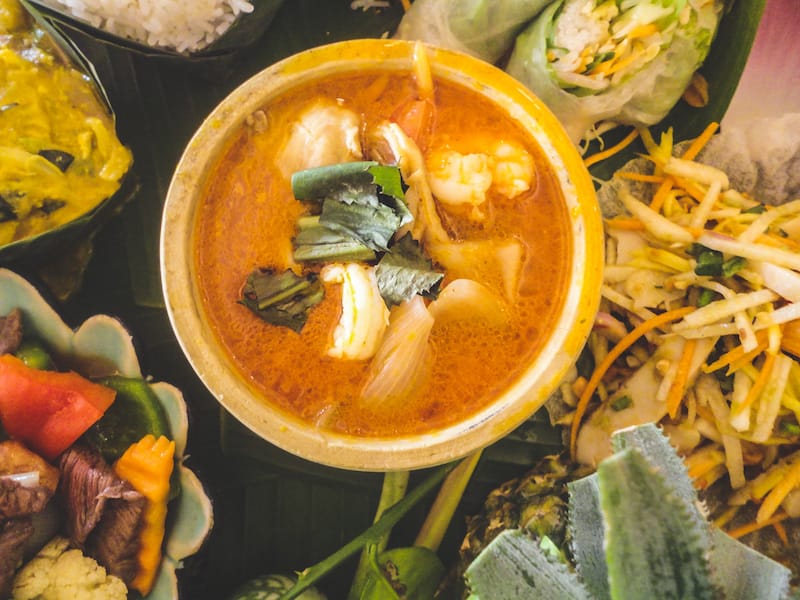 There is a starter sampler that presents 5 different starters for a full dining experience.
Some of the most locally popular dishes include the Mediterranean Feuillet's with ants and scorpion and green papaya salad.
Discover the Old Market
Shop for a wide array of fresh vegetables, seafood, and meat as well as household items early in the morning on the west side of Siem Reap River at The Siem Reap Old Market.
It's the oldest Khmer market in Siem Reap that'll give you a glimpse into the average, daily life of a local.
It is locally known as Psar Chas, however, this old market has products for tourists as well; there are shoes, silks, t-shirts, and antiques also to check out and perhaps take home with you.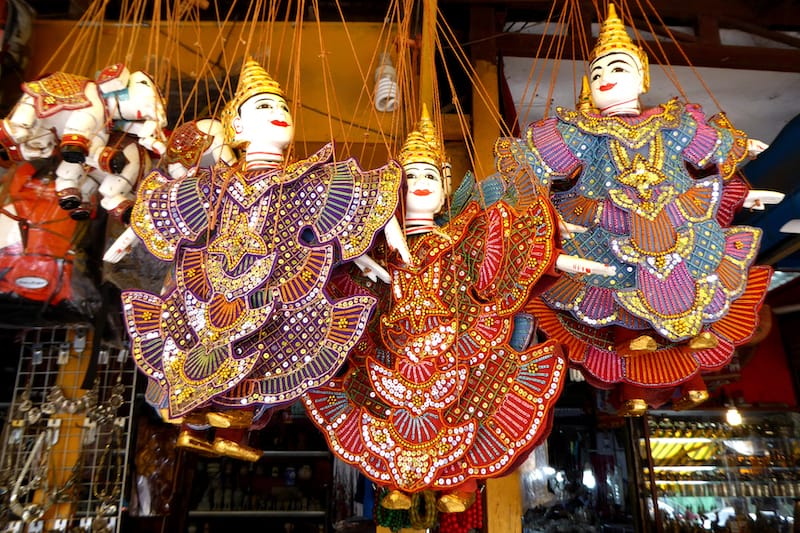 There are vendors that can give you a quick breakfast to start your day, such as the popular local bai sach chrouk, which consists of scrambled eggs over rice and pork slices.
Additionally, the food section offers an ample collection of noodles, rice dishes, Cambodian soups, baguettes, and spiced barbecue meats, such as frogs and pork sausages.
Address: 2 Thnou St, Siem Reap
Working hours: Daily from 7 am to 8 pm
Head to the Banteay Srey Butterfly Centre
Explore the majesty of Cambodian butterflies at the Banteay Srey Butterfly Centre interactive exhibit.
A tropical garden netted with thousands of indigenous Cambodian butterflies flying all around, it is considered the largest outdoor butterfly exhibit in all of Southeast Asia.
Residents and tourists are able to interact with the butterflies in the visually stimulating environment and learn about the butterflies, the preservation of butterflies, and also support local communities and conservation projects.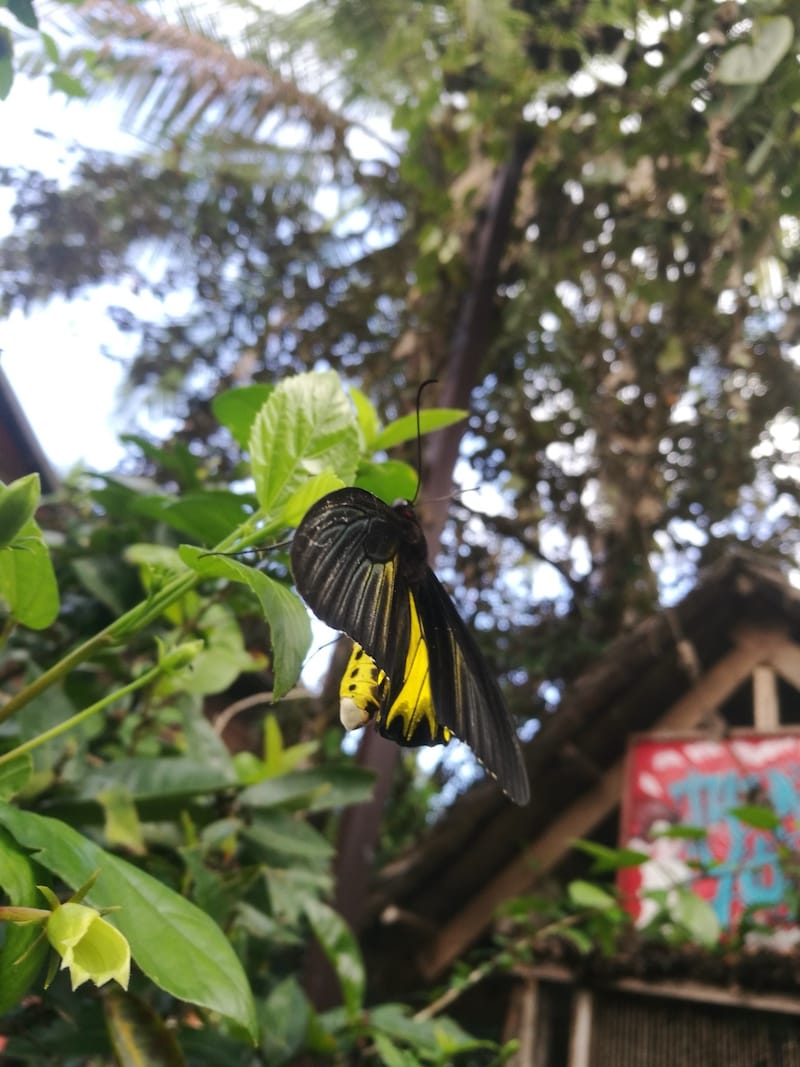 Experience up close, how butterflies feed and fly from destination to destination, as well as observe many species' complete life cycle.
In addition to the in-depth educational tours and breeding rooms, there are conservation awareness programs, that teach information about the environment's fragility and the importance of the interaction of plants and butterflies, in which the center hopes to establish a heart-to-heart connection with nature for its visitors that that will last, and thus inspire others.
Try Eating Red Ants in Siem Reap
The fire red ants of Cambodia are more than just protein– they are a sour and citrusy delicacy added to dishes for extra flavor.
At Prey Pros River near Siem Reap, you can find a rest-stop serving such dishes.
Depending on the region, the red ants vary in size– some are very tiny, whereas some are huge. It is often combined with beef, vegetables, and herbs, such as ginger, holy basil, and lemongrass.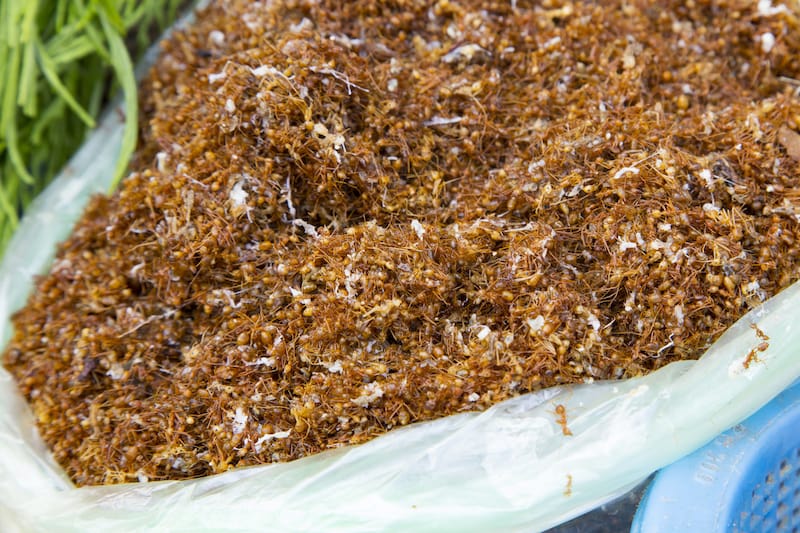 The delicate sour flavor it adds to the meat is now a valued culinary ingredient and accent, as opposed to decades ago during the Khmer Rouge regime when, at the time of the famine, was used as an affordable source of protein and amino acids– in addition to other bugs.
This flavor profile has adapted into a unique, exotic cuisine highlighted by restaurants all throughout the nation.
Take a Quad Bike Countryside Tour
Explore the countryside of Siem Reap by quad bike.
The journey starts after a safety instruction session at the company's office, and the tour will take you through the villages around the city, where the green and untouched landscapes will present to you authentic rural Cambodian life and scenery.
You will see locals herding their water buffalo as you drive through the region.
There are three tours to choose from, with a durational difference of about half an hour to an hour.
On the shortest one, which is an hour and a half long, there is a Buddhist monastery that you can explore prior to returning to the beginning base.
On the two-hour tour, you can stop at the ornate, stone Angkorian temples.
For the three-hour tour, you will have all of the aforementioned stops in addition to a stop at the market to experience the local, authentic cuisine and ambiance.
>> Check here for rates and availability
Hike along the Kulen Nature Trails
Phnom Kulen National Park is a popular destination for hiking, biking, and running in the midst of streams, mountains, and waterfalls.
There are three major trails at the park, the most popular being the Mount Kulen trail.
It takes on average, three hours to complete this 8.5-kilometer trail, and is decently challenging, however, the waterfalls at the end are worth it.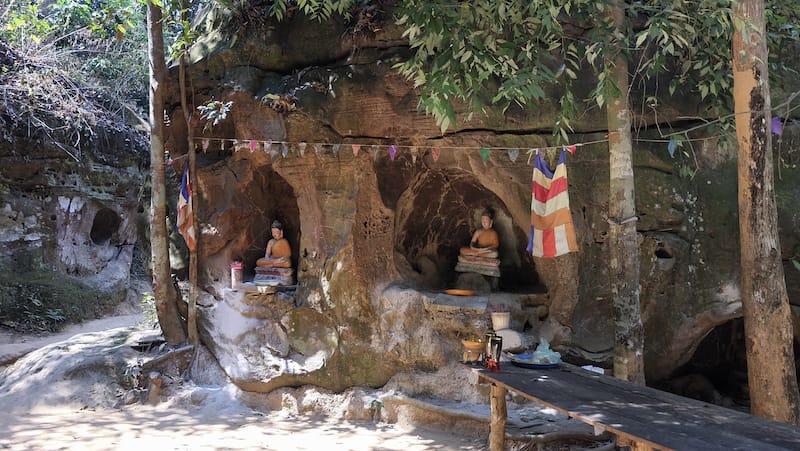 The Kbal Spean trail takes at the most an hour, with a distance of 3.2 kilometers, and is a fairly moderate route.
Finally, the scenic Phnom Kulen Waterfall loop is an excellent option for a quick hiking tour around the park's most vibrant parts; it lasts about forty-five minutes over a span of 2.6 kilometers.
Perhaps as you reach the waterfalls, you'll find locals sprawled on their hammocks or picnicking near the refreshing waters.
Ultimately, enjoy the beautiful jungles and the shade of the trees on your exploration!
Visit Banteay Chhmar
Okay, okay… so there is a temple on this guide. But the immense city complex of Banteay Chhmar is a great alternate stop to Angkor Thom and Preah Khan of Kampong Svay.
It is tucked between the impressive forest and has the main, central site as well as the satellite temples and towers dispersed throughout the terrain.
Due to its expansive structures, it is best to take it slow and explore the ruins over a period of a few days, or at least an overnight stay, to get the most out of the experience.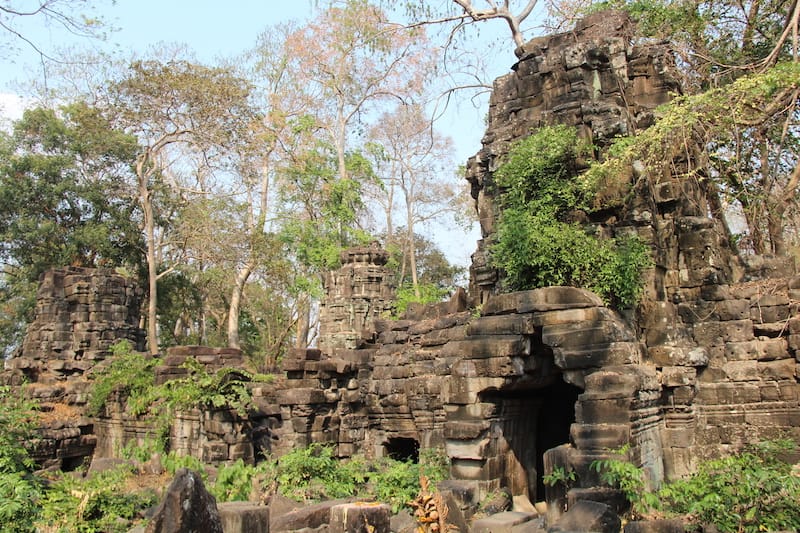 There are several homestays organized by the Banteay Chhmar Community Based Tourism group with excellent options to consider.
To get to the site from the city, you can take the public bus to Sisophon, followed by a taxi upon getting there.
There are also tour companies that plan specifically dedicated trips with guides, which may also give pointers as locals, the best overnight stay locations that'll fit your preferences.
Enjoy the Best Bars in Siem Reap
Siem Reap's bar scene is no joke. Long's Bar has a happy hour from 4:30 PM to 7PM serving $0.50 draft Angkor beers in ice cold, frothy mugs with complementary salted ginger nuts.
Their ice cream floats are also something to consider to forget the heat, or any of their fresh, tropical, and exotic tasting cocktails, such as the Ginger and Lemongrass Mojito or the Cinnamon Margarita.
The Laundry Bar is perhaps the livest, most chill, and most unique in Siem Reap.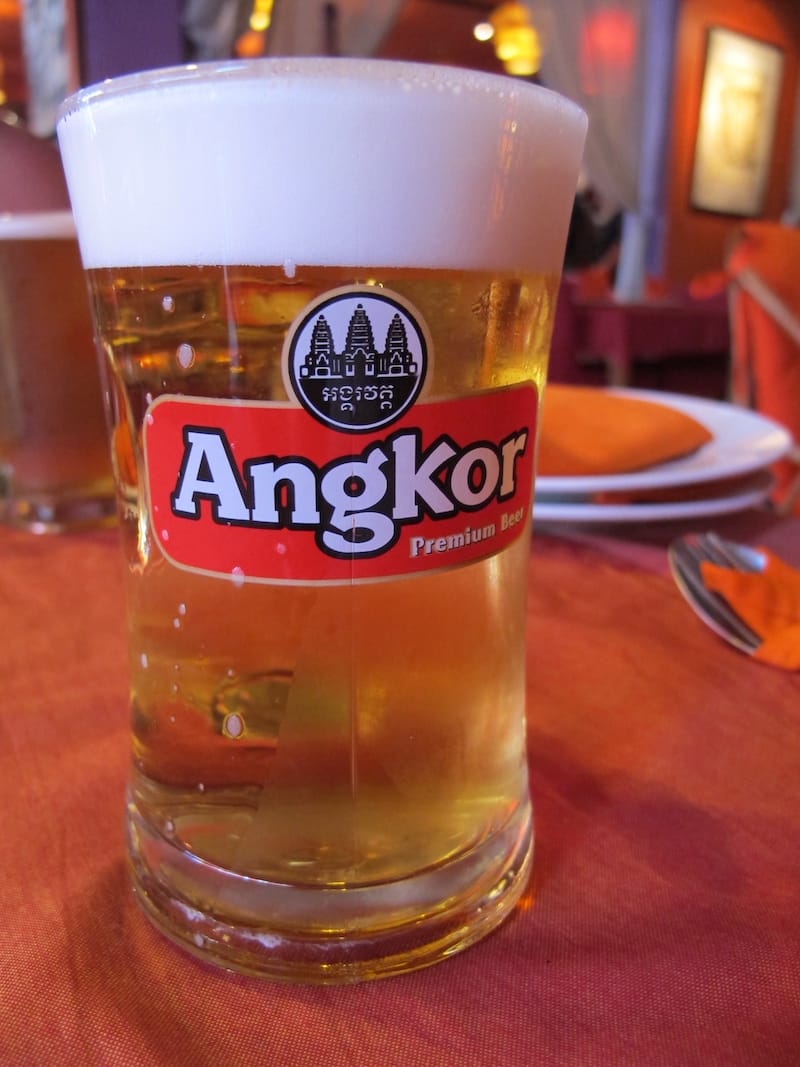 In addition to the extraordinary cocktails, the live local and touring DJs, dancing, and cozy ambiance, there is a large balcony on the second floor outside its art gallery that'll let you watch the sunset behind the river.
The Miss Wong Cocktail bar has everything elegant and classy.
Their menu has a collection of classic cocktails married with Asian flavors, and the interior decor will incentivize you to dress your best.
Take a Cambodian Cooking Class
Learn from local masters the art of Khmer Cuisine and attempt to make authentic Cambodian meals yourself!
With a local chef, visit a local family's home, learn about what is grown and used at the average home, and with the chef, begin the food preparation.
As you work together, you will learn about the historical context for typical Cambodian foods, the way they are cooked, and the several dishes that will be made together.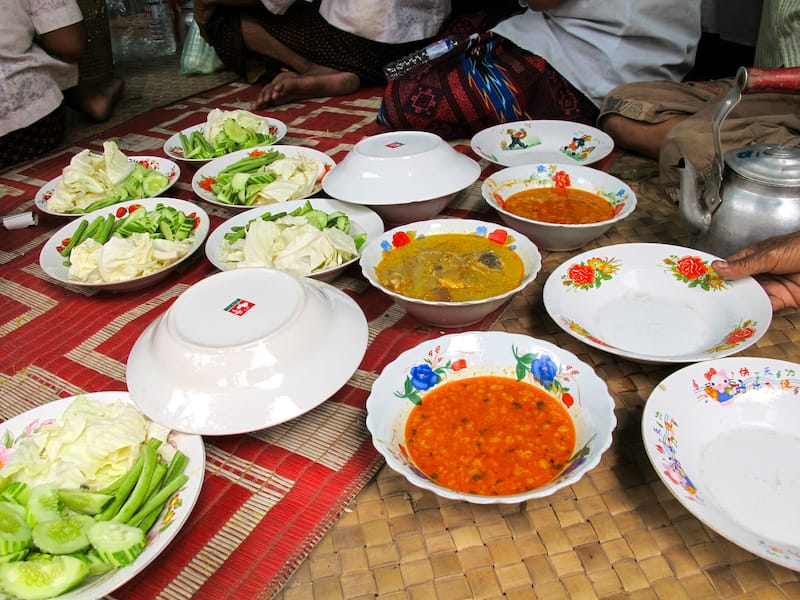 There are two classes during the day, one in the morning and one in the afternoon, and thus there are two different menus: for the morning classes, the dishes taught in the classes are Fish Amok, Sticky Rice Balls, and Cambodian Mango Salad, whereas, for the afternoon, Cambodian Curry, Nom Tong Noun, and Prahet Chien will be prepared.
At the end of the class, you can eat your dishes to your heart's content in the beautiful, local nature!
>> Check here for rates and availability
Wander Pub Street
In the heart of the tourist center of Siem Reap lies Pub Street.
Also officially known as Street 8, is the center and heart of the Siem Reap nightlife. It has just about everything, from street food, boutique shops, market vendors, to restaurants, bars, and nightclubs.
What makes it unique from other nightlife scenes in the area is that many places are open 24/7, however you feel the energy of Pub Street launch around seven in the evening.
There are night markets for shopping, and usually live performances of local traditional Khmer bands.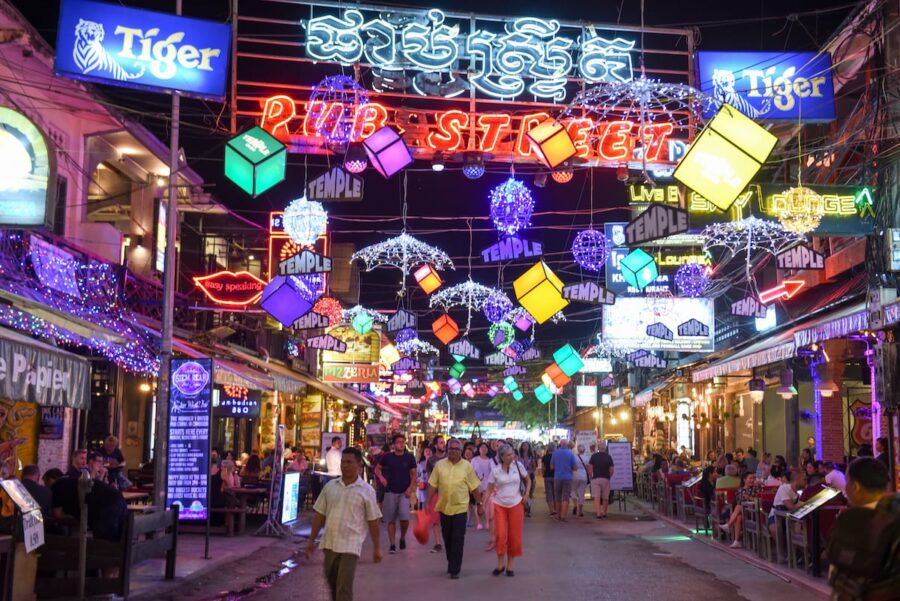 For a popular restaurant, try The Red Piano, The Banana Leaf, or Le Tigre de Papier, which all offer a variety of food, from street food to exotic cuisine.
For a popular bar and club, check out the Angkor What? Bar and Temple Bar. For something more social and classy, there is the Miss Wong Cocktail Bar.
Check Out the Cambodia Cultural Village
For an immersive, authentic experience of the development and preservation of Cambodian culture, visit the Cultural Village.
The theme park and cultural museum complex were also developed unanimously to publish the Cambodian Culture into an interactive educational center.
Considered an antique resort, it has facilities and recreation services that present the tradition of the culture within a resort setting.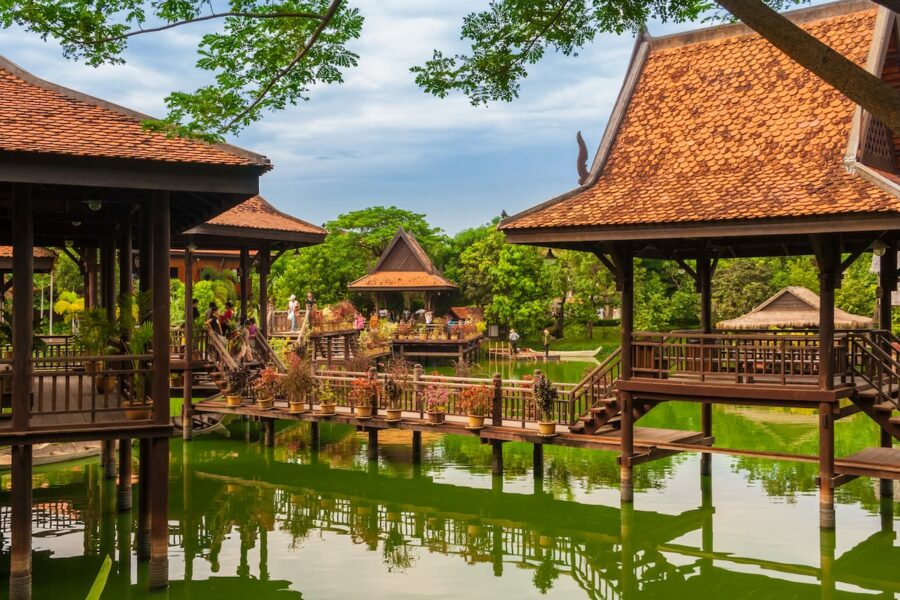 There are two museums that exhibit the most important historical figures and personalities that helped shape the identity of the people from the first century up to the 20th century, with colorfully painted wax figures depicting kings, queens, generals, ambassadors, monks, ethnic minorities, Apsara dancers, to the more recent movie stars.
There are also demonstrations of how the ancient Khmers built the Angkor Wat temple, as well as demonstrations of their lifestyles during the Angkorian period. It is only five kilometers from the Angkor Wat temple complex, which can be planned accordingly.
Explore the Best Coffee Shops in Siem Reap
Right across from the Siem Reap river on Old Market Bridge is an open-aired coffee shop called the Sister Srey Cafe.
It has an excellent brunch menu combining local and international flavors, with a variety of coffee beverages available, in addition to many vegan, vegetarian and gluten-free options.
Their eggs benedict and avocado toast are expat favorites!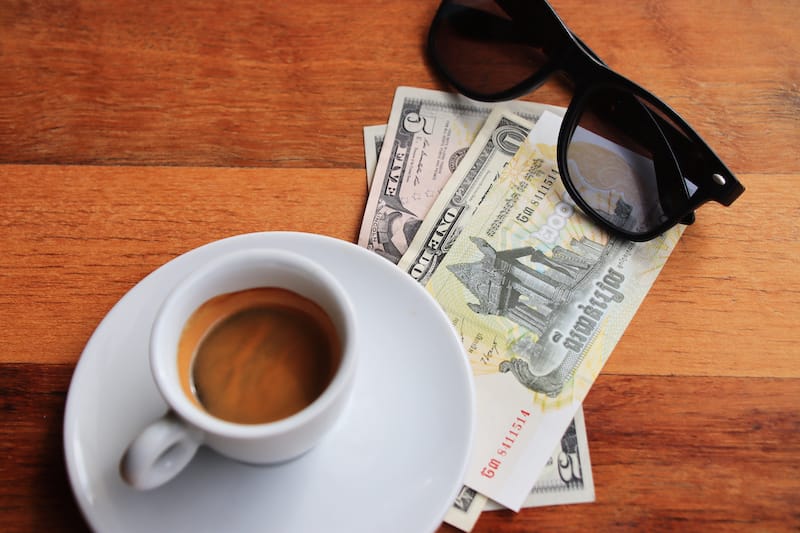 Brother Bong Cafe is known for its artisanal coffee experience and its raved, extensive beverage menu. In addition to its popular coffee, they serve milkshakes, smoothies, and juices, and for their meals, offer breakfast and brunch foods, finger foods, and traditional Khmer dishes.
Try a cappuccino! For a place that's nestled in between books and the beautiful nature and river with quiet, co-working spaces, then Footprint Cafes is the place to be.
In addition to their brunch menu, they serve strong roasts from Cambodia, Thailand, and Vietnam that are raved by their expat and nomadic coffee-lovers!
Did we miss any awesome things to do in Siem Reap?
Let us know your tips for Siem Reap restaurants, sights, and more in the comments!
More Southeast Asia Travel Guides
Pin this Siem Reap Things to Do Guide