This is the ultimate 2 days in Singapore itinerary for first-time visitors. We also list what to do if you have more than a weekend in Singapore at the end!
My First Time Traveling to Singapore
My first trip to Singapore was in 2012. I have no idea why I added it to my Southeast Asia itinerary, but I was in Kuala Lumpur for a couple of weeks and I figured it just made sense to pop down for a few days.
Maybe Singapore came at exactly the right time for me, but I LOVED it.
While some people I knew adored it and some people I knew found it vapid and soulless, I found it to be one of the most exciting places I had ever visited.
It wasn't perfect, but it came at the right travel time for me, making it feel like paradise (I had had a rough couple of weeks).
However, one thing I did wrong on that trip was that I failed to plan.
I saw all of the main sights in Singapore, but it was almost by accident. The only thing I really remember doing right was eating, which is always a top priority for me when on the road.
Nevertheless, I found that two days in Singapore was not enough, so… I stuck around.
But, if you're visiting Singapore and merely have just a weekend or a few days there, don't worry – you can still see plenty and maximize your time!
This weekend in Singapore itinerary will tell you just how to do that. And, of course, there are plenty of good restaurant and coffee recommendations throughout.
What to Know Before You Visit Singapore
Singapore is quite expensive. But not everything is expensive there. Food can be cheap… or pricey. Hotels can be cheap… or pricey. Drinking is almost always expensive.
So, just plan ahead and you will certainly be able to stay within your budget if you do enough research.
Please don't be shocked to find out that Singapore is not as walkable as you think! While it may look small on a map, Singapore is still 724.2 square kilometers (279.6 square miles).
Thankfully, the next section will aid you in getting around.
Singapore is really clean. Now, I can't confirm that the parts outside of the main tourist sights are equally spotless, but you will find the city very clean and orderly.
English is the de facto language. Singapore may be one of the most multicultural places you will ever travel and you will hear many languages, but you will be able to get by without any issues with English.
How to Get Around Singapore
Changi Airport is constantly voted the world's number one airport and for very good reason.
It is clean, well-run, and beautifully constructed, and getting from the arrivals at the Singapore Airport into the city is seamless and efficient. In fact, nearly everything in Singapore is efficient.
The best way to get around Singapore is by taking the MRT. The MRT, or Mass Rapid Transit, is a subway system that has over 180 stops throughout Singapore.
Otherwise, you can always use taxis. Taxis are affordably priced in Singapore compared to many other places I've traveled.
For the sake of this Singapore itinerary, you can get around most places on foot.
There are a few places you may need to take the MRT to, such as the botanic gardens, but I list the MRT station to help you get there with ease.
Where to Stay in Singapore (All Budgets)
One of the best things that you can do before jetting off for two days in Singapore is to plan your accommodation beforehand!
Singapore is brimming with fantastic hotels, hostels, and more. And, fortunately, there is something suitable for any budget.
The options below are suitable for all 2 days in Singapore budgets, whether it be large or small! We have also listed a little bit of information about the property.
Luxury Accommodation
There are plenty of fancy and luxurious places to stay in Singapore. The following places are top-rated or iconic places in Singapore that you will want to consider for a higher budget:
⇒ Marina Bay Sands: Famous hotel in Singapore known for its infinity pool.
⇒ Raffles: Singapore icon is known for its history and the Singapore Sling.
⇒ The Fullerton Hotel: 5-star luxury located downtown close to Merlion Park.
⇒ Capella: Luxury resort located on Sentosa Island. This is literally paradise.
Mid-Range Accommodation
I find that mid-range accommodation in Singapore varies from cheap to super expensive. Normally, I would consider a 'super-expensive' mid-range place to be luxury, but it doesn't always seem to be that way in Singapore.
Nevertheless, here are some of our top mid-range accommodation picks for Singapore.
⇒ Zen Premium Kampong Glam: Malay and Chinese style hotel near Sultan Mosque.
⇒ Hotel Bencoolen: Affordable accommodation located downtown.
Budget Accommodation
My first trip to Singapore was as a backpacker and I definitely opted to save money on traveling and crash in hostels and cheaper accommodation. Fortunately, I found some really fantastic places that didn't eat up my bank account.
Here are some of our top picks for hostels and budget accommodation in Singapore.
⇒ hipstercity hostel: Budget accommodation located at Clarke Quay.
⇒ Dream Lodge: Colorful lodging in a 1950's old shop on Lavender Street.

This Singapore Itinerary
This itinerary for Singapore keeps you mainly in one area of the city.
While we do recommend your first day starting off at the Singapore Botanic Gardens (which requires a taxi or MRT ride), most of the other stops can actually be done on foot – some with far more walking than others.
I have curated this itinerary for a first-time traveler to Singapore. So, the landmarks on here are ones that may not be suitable for someone who has been to Singapore on many occasions.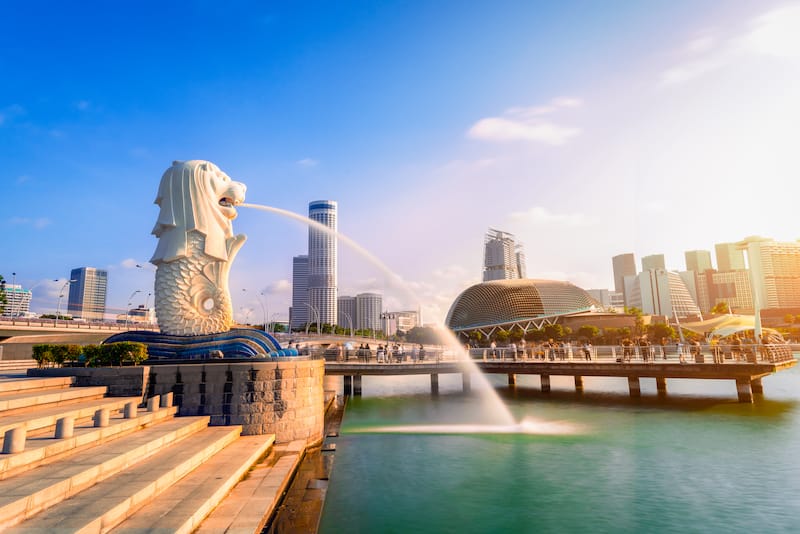 Please also note that day one is much heavier and busier than day two.
This is with intent as it will allow you to move things around a bit and revisit places you liked or heard were worthy of visiting!
Here is a short summary of what to expect in this 2 days in Singapore itinerary:
Day 1 Attractions:
Singapore Botanic Gardens

Dapper Coffee or Five Oars Coffee Roasters (breakfast)

Sri Mariamman Temple

Buddha Tooth Relic Temple

Maxwell Hawker Center (lunch)

Gardens by the Bay and Supertree Grove

Marina Bay Sands

Esplanade Park

Merlion

Dinner Options

Raffles Hotel
Day 2 Attractions:
Chye Seng Huat Hardware (breakfast)

Sri Veeramakaliamman Temple

Sultan Mosque and Kampong Gelam

Zam Zam Restaurant (lunch)

Haji Lane

Clarke Quay and Boat Quay

Annalakshmi Restaurant
We also list a few suggestions for those staying in Singapore for more than two days at the end of this travel guide.
2 Day Singapore Itinerary Map
To add this map to your Google Maps account, click the 'Star' icon next to the map name. You can then view it on your cell phone or computer by heading to your Google Maps account, click the menu and add it to 'Your Places'.
Day 1: Botanic Gardens, Chinatown, Little India, Marina Bay, & More
Today is action-packed! The main reason is that seeing most of the sights in Singapore on the first day allows for far more freedom and flexibility on the second day.
We have included metro stations on each of the places on this itinerary, as well as tours that you might like.
Singapore Botanic Gardens
Address: Tanglin, Central Region of Singapore
Closest MRT stop: Botanic Gardens (stops in NW corner of the gardens)
Hours: 5am-12am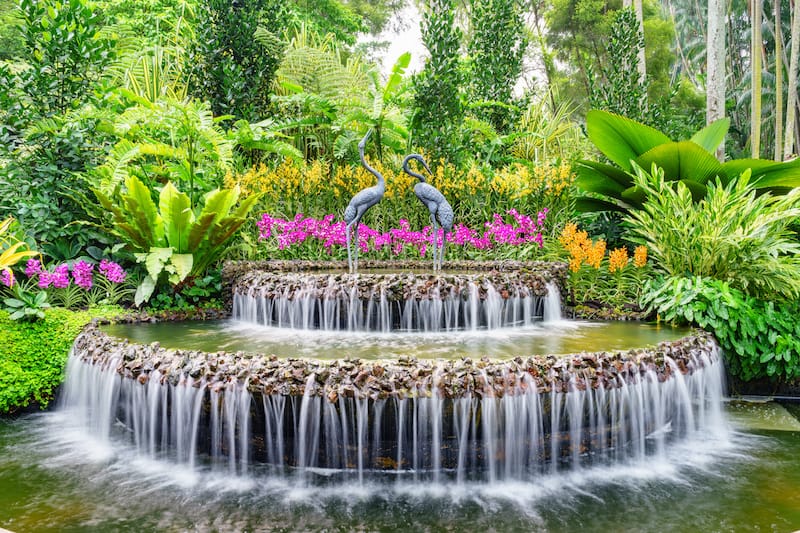 From this entire Singapore itinerary, this is the furthest and most inconvenient stop on it. So, why did I list it? Well…
The Singapore Botanic Gardens are one of the best attractions in Singapore. These 161-year-old gardens are located on the edge of Orchard Road, Singapore's famed shopping area.
And, these are not just any ordinary botanical gardens… the Singapore Botanic Gardens are one of three tropical gardens in the world to be declared a UNESCO World Heritage Site.
Not to mention, they have been ranked the #1 park activity in all of Asia consistently each year since 2013.
The gardens open early and close late, making them an ideal start to your 2 days in Singapore.
They open at 5am and close at midnight and there is no entrance fee unless you choose to visit the National Orchid Garden.
Singapore Botanic Gardens contains more than 10,000 different species of plans and receives over 4.5 million visitors each year.
If you aren't keen on checking out the botanic gardens simply for the fact that they are out of thetp.media/r way, consider starting your day in Chinatown, instead.
Breakfast and Coffee in Chinatown
Address: 73A Amoy Street Second Floor (Dapper) and 39 Tg Pagar Rd (Five Oars)
Closest MRT stop: Chinatown
If you're heading this way from the Singapore Botanic Gardens, you will need to take the MRT from Singapore Botanic Gardens MRT station to Chinatown MRT station.
From the MRT station, I recommend indulging in one of two renowned Singapore coffee shops for a tasty brew and some breakfast. I am listing two places here because while Dapper Coffee is my favorite, they are only open during the week starting at 8am.
So, if you're visiting on Saturday or Sunday, you will be out of luck!
However, Five Oars Coffee Roasters is exceptional and will deliver on all fronts. They are open daily from 8am.
Both of the coffee shops are a bit of a walk from the MRT station, but you will have a chance to admire the sights of Chinatown and the area on the way.
It will also help you familiarize yourself with the neighborhood as you will be spending the rest of the morning there (and lunch)!
Sri Mariamman Temple
Address: 244 South Bridge Rd
Closest MRT stop: Chinatown
Hours: 5am-11:30am; 5pm-8:45pm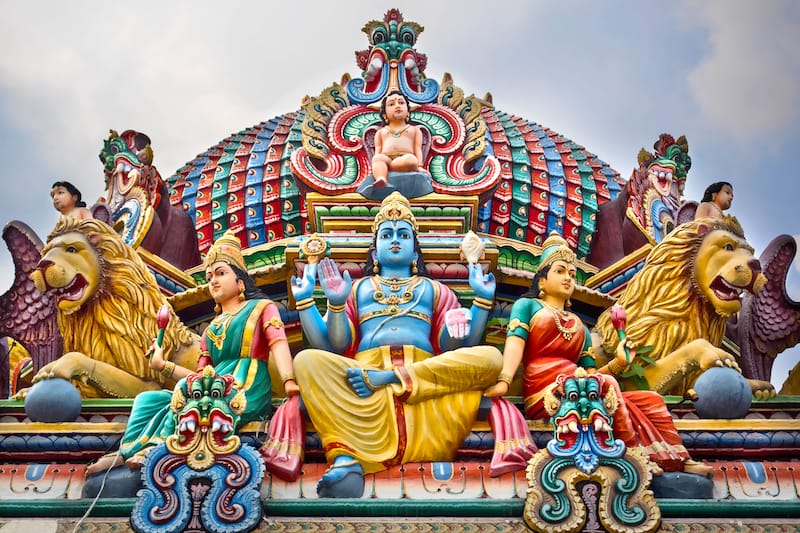 First and foremost, please note the opening times for this temple.
If you don't make it here by 11:30am, you will not be permitted to go inside. I actually never entered this temple and found it completely striking from the outside.
This Hindu temple located in Chinatown is the oldest Hindu temple in all of Singapore and it is in the most unassuming of locations, making it very difficult to miss as you will likely pass by it even without trying!
Sri Mariamman Temple dates all the way back to 1827 when it was known as Kling Chapel or Mariamman Kovil.
It was initially a wood and attap structure that was built by immigrants hailing from South India (the Nagapatnam and Cuddalore districts).
Goddess Mariamman, whom the temple was named after, is particularly special in Hindu culture for her power to heal those with diseases and illnesses.
Today, this temple is one of the top cultural places to visit in Singapore and it is open from 5am-11:30am and then again from 5pm-8:45pm.
It is only a 3-minute walk to the Buddha Tooth Relic Temple & Museum, the next place on this itinerary!
Buddha Tooth Relic Temple & Museum
Address: 288 South Bridge Rd
Closest MRT stop: Chinatown
Hours: 7am-7pm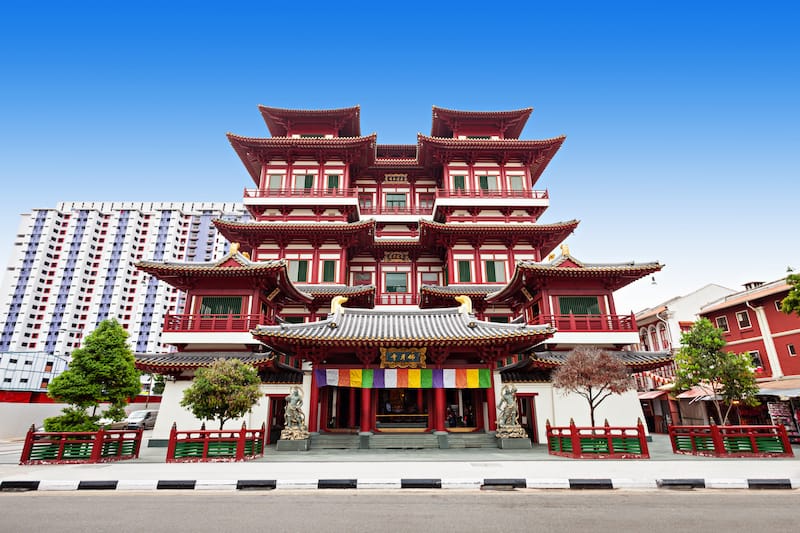 One of the most famous attractions (and a must-see on your Singapore 2 day itinerary!) in Chinatown is the Buddha Tooth Relic Temple & Museum.
It was built in 2007 and its name came from the Buddhists regard as the left canine tooth of Buddha. It has an extremely ornate design and you can learn about thousands of years of culture inside the museum and temple.
On the third floor of the Buddhist Culture Museum, you will find many artifacts of Buddha, like tongues and bones.
Another highlight of the Singapore attraction is that it also holds the Eminent Sangha Museum, a theatre and cultural performance center. You will find film screenings and lectures there.
Admission to the temple is free and on Saturdays, you can even take a guided tour for free from one of the temple's volunteers.
You can find more information on their website about registering for tours, as well as what events are on.
INSIDER TIP:
If you really are keen to learn more about Chinatown and Singaporean culture, this
3-hour tour of the Buddha Tooth Relic Temple
, Hindu Sri Mariamman, and Jamae Mosque is a fantastic way to see how three cultures come together in harmony in Singapore.
Lunch at Maxwell Hawker Centre
Address: 1 Kadayanallur St
Closest MRT stop: Chinatown
Hours: 8am-2am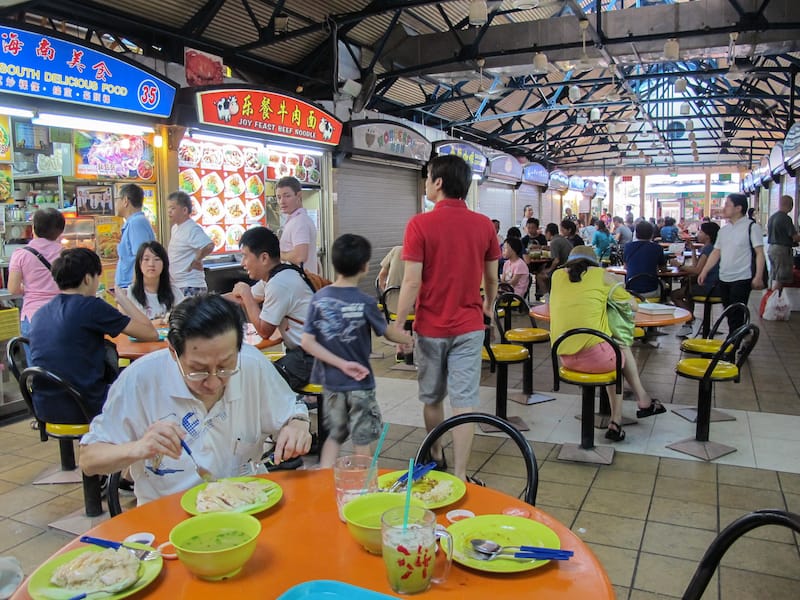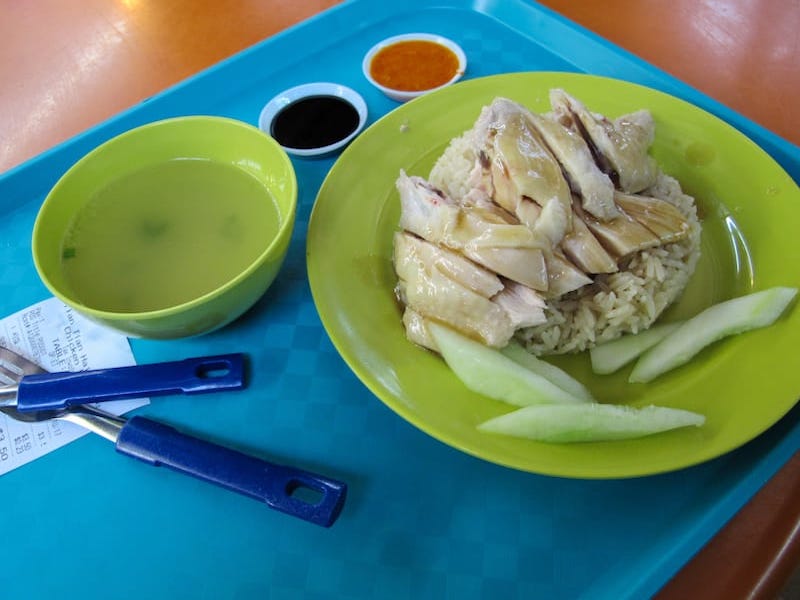 A must-have experience in Singapore is a meal at a hawker center.
While you will find these behemoth centers all throughout Singapore, Maxwell Hawker Centre is close to all of your previous stops and is a popular one, so I recommend having lunch there!
One of the unwritten rules of a hawker center is to find the longest line and go to that stall.
However, I do recommend going there for local chicken rice or dim sum. I had Hainanese chicken rice when I went there and I don't recall the meal being over $2-$3 (USD).
You will notice that most people flock to Maxwell in particular for Tian Tian Chicken Rice (Stalls 10 and 11), arguably the most popular stall there made famous by Anthony Bourdain, but some other renowned ones are Ah Tai (Stall 7), Zhen Zhen Porridge (Stall 54), Jin Hua Sliced Fish Bee Hoon (Stall 77), and Maxwell Fuzhou Oyster Cake (Stall 5).
You will find Maxwell Food Centre at the corner of South Bridge and Maxwell.
So, what is a hawker center?
A hawker center is a food center that has several food stalls selling local cuisines (all cooked) that you can find throughout Singapore.
They tend to be located near residential areas or transportation hubs and are open early and close late. And… they are cheap.
Gardens by the Bay
Address: 18 Marina Gardens Dr
Closest MRT stop: Gardens by the Bay
Hours: 5am-2am (unless you're visiting a specific place inside)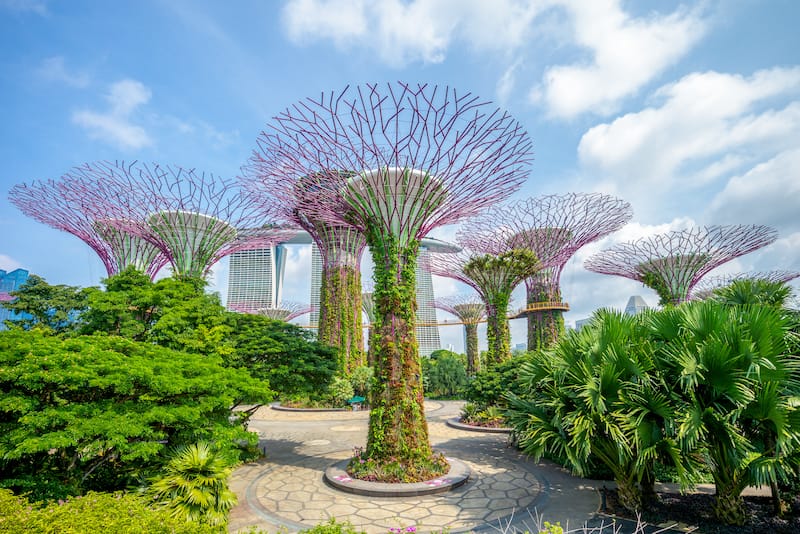 Gardens by the Bay consists of three different gardens that are all situated along the waterfront.
You will need to take the MRT here from Chinatown as it is a long, long walk otherwise!
The three waterfront gardens are known as Bay South, Bay East, and Bay Central. The most recognizable places inside of the gardens are the Cloud Forest and Supertree Grove.
The largest is Bay South and it was brought to life in 2012. It is renowned for the iconic Supertrees (Supertree Grove) that has been blowing Instagrammers' minds and feeds since their construction.
In Bay South, you will also find ever-changing floral displays that are immensely popular such as Tulipmania and Blossom Beats. These create such a memorable experience for visitors!
Bay East and Bay Central are still in development but East offers a fantastic view of Singapore's famous skyline.
In Bay South, you will see many music concerts, movie screenings, and other festivals throughout the year.
>> Get your full-access Gardens by the Bay ticket here: GetYourGuide <<
There are various prices and hours depending on which place you want to visit inside.
If you're looking to visit the outdoor gardens, they are open from 5am-2am daily and are free. You can see the Serene Garden, Supertree Grove (but you can't walk up it), Sun Pavilion, Heritage Gardens, World of Plants, and Dragonfly and Kingfisher Lakes.
If you're wanting to visit the Supertree Observatory, it is open from 4pm-10pm daily with the last admission at 9:30pm.
So, please note that according to this itinerary, you won't be there late enough to go there. If you want to see this in the evening or when it is open, you can plan it for Day 2 in the evening, instead.
Standard tickets for the Supertree Observatory are $14 for adults and $10 for children.
INSIDER TIP:
The easiest way to get an admission ticket to see all of the exhibits at Gardens by the Bay (including the Flower Dome and Cloud Forest) AND to go up to Marina Bay Sands' observation deck (next on this itinerary!) is to have a ticket in advance.
This skip-the-line ticket grants access to both icons for a super-low price!.
Marina Bay Sands SkyPark Observation Deck
Address: 10 Bayfront Ave
Closest MRT stop: Bayfront
Hours: 11am-9pm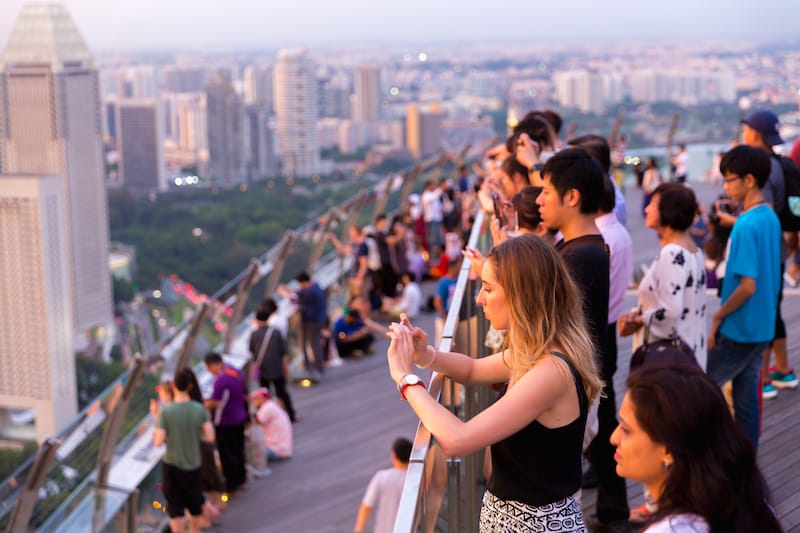 Marina Bay Sands is definitely an icon in Singapore and is recognizable around the world, so if you have 2 days in Singapore and you're a first-time visitor, it is worth checking out the SkyPark Observation Deck there to take in the city as a whole and step inside one of the most famous hotels in the world!
Located 57 stories up, you will be able to see pretty much everything from the Singapore Flyer to the Gardens by the Bay, and more!
Unfortunately, the only people allowed to jump into the famous infinity pool are actual guests of the hotel. But, the observation deck is cool enough as it is.
You will need to book tickets for the SkyPark Observation Deck. The easiest way to purchase them is to have them even before you go.
>> Click here to book your SkyPark Observation Deck Ticket <<
Walk to Esplanade Park (via Helix Bridge)
Address: Along Connaught Dr
Closest MRT stop: City Hall or Esplanade
Hours: Lighting from 7am-7pm
The next place to venture off to is on foot, permitting you can do so. Otherwise, you can take the MRT from Bayfront Station to either City Hall or Esplanade. If you go on foot, you will pass over the modern Helix Bridge.
One of the oldest heritage parks in Singapore, Esplanade Park is a must-see if you're in the downtown area.
It contains many historical landmarks, such as the Lim Bo Seng Memorial and the Cenotaph.
There is also the Tan Kim Seng Fountain which was built in 1882 as a way to pay tribute to the Chinese philanthropist.
Close to the park is the Singapore Flyer and many other public areas. It is an enjoyable walk from Marina Bay Sands and a good place to venture through in the early evening.
Merlion
There is not much to say about Merlion except that it is iconic and a Singaporean landmark. Built in 2002, it sits right on the water and is a lion's head with the body of a fish spitting water.
It is a must-visit on your Singapore itinerary, however. And, you can't miss it if you're in this area. It is very noticeable!
Have a Singapore Sling at the Raffles Hotel
Address: 1 Beach Rd
Closest MRT stop: City Hall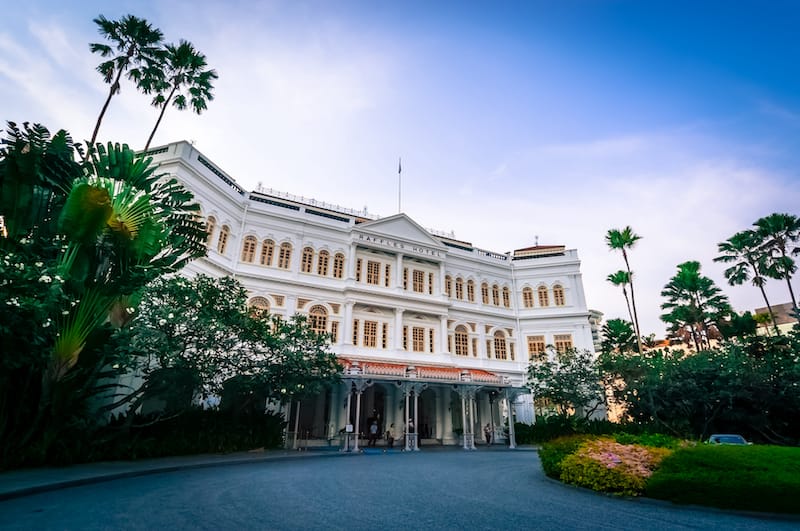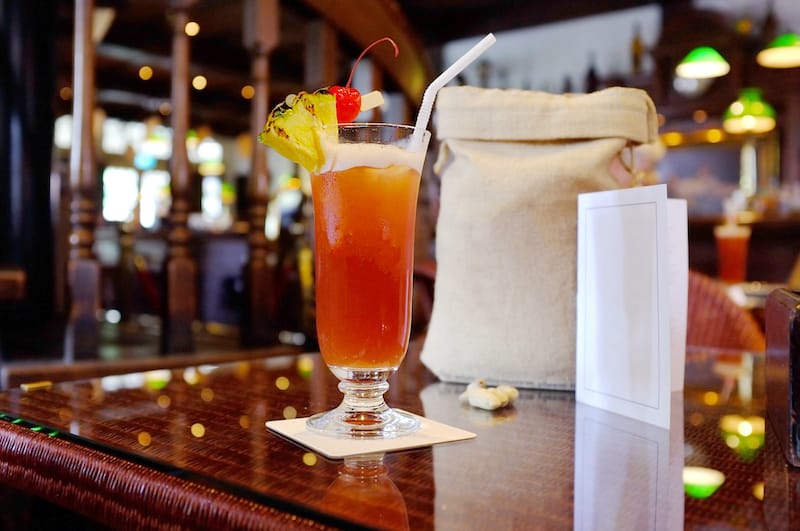 Of course, I would add this, but if you're a history buff or a lover of famous drinks, a first trip to Singapore wouldn't be complete without tasting its most famous drink.
Raffles Hotel is one of the most famous hotels in the world and it was built in 1887 with only 10 rooms. In its entire existence, it has only undergone 2 restorations.
The Singapore Sling was invented by Mr. Ngiam Tong Boon at the Raffles Hotel at the turn of the 20th century.
The drink consists of top-quality gin, cherry brandy liqueur, Cointreau, pineapple juice, lime juice, grenadine, aromatic bitters, and sparkling water.
Today, you can visit the hotel and enjoy the beverage at Long Bar, but it is not cheap. You're paying for the experience of drinking it in the place it was invented, and inside of a very historical Singapore hotel.
Expect to pay nearly $25 for a Singapore Sling at Raffles Hotel (USD).
Is there a dress code at Raffles Singapore?
Despite what many think, there is no official dress code for visitors popping in to enjoy a drink or stroll throughout the hotel. Just be sure that you have on clothing.
Downtown for Dinner
Everyone craves different food and with Singapore being one of the most multicultural places on the planet, there is no 'wrong' food to eat there! Given that you will be downtown, here are some of the top restaurants in the area that you can enjoy.
Try to order chili crab if it is on the menu – it is one of the most famous dishes in Singapore (Momma Kong's is a good place to get it at)!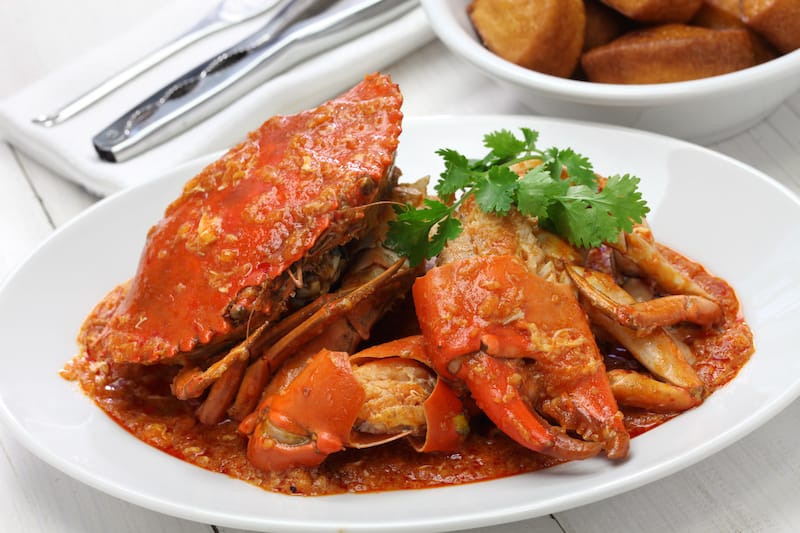 Tiffin Room (North Indian food inside of Raffles Hotel)
Momma Kong's (delicious Singaporean and Asian fare in Chinatown)
VUE (Singapore's first rooftop spritz bar)
Restaurant Ibid (contemporary Chinese cuisine)
Takayama (Japanese restaurant specializing in seafood and soy)
Meta Restaurant (French cuisine classics with Asian touch)
If you have chosen a hotel near Clarke Quay (pretty good nightlife!), here are some top-recommended hotpot places nearby.
Din Tai Fung
Upin Hot Pot
Da Miao Hotpot
Haidilao Hot Pot @313
Day 2: Kampong Gelam, Haji Lane, & Clarke Quay
Day two is a bit more relaxed and far fewer Singapore highlights! This gives you the flexibility to do what you want with the day or two follow along and enjoy Singapore at a more leisurely pace.
Breakfast at Chye Seng Huat Hardware
Address: 150 Tyrwhitt Rd
Closest MRT stop: Bendemeer
Hours: 9am-9pm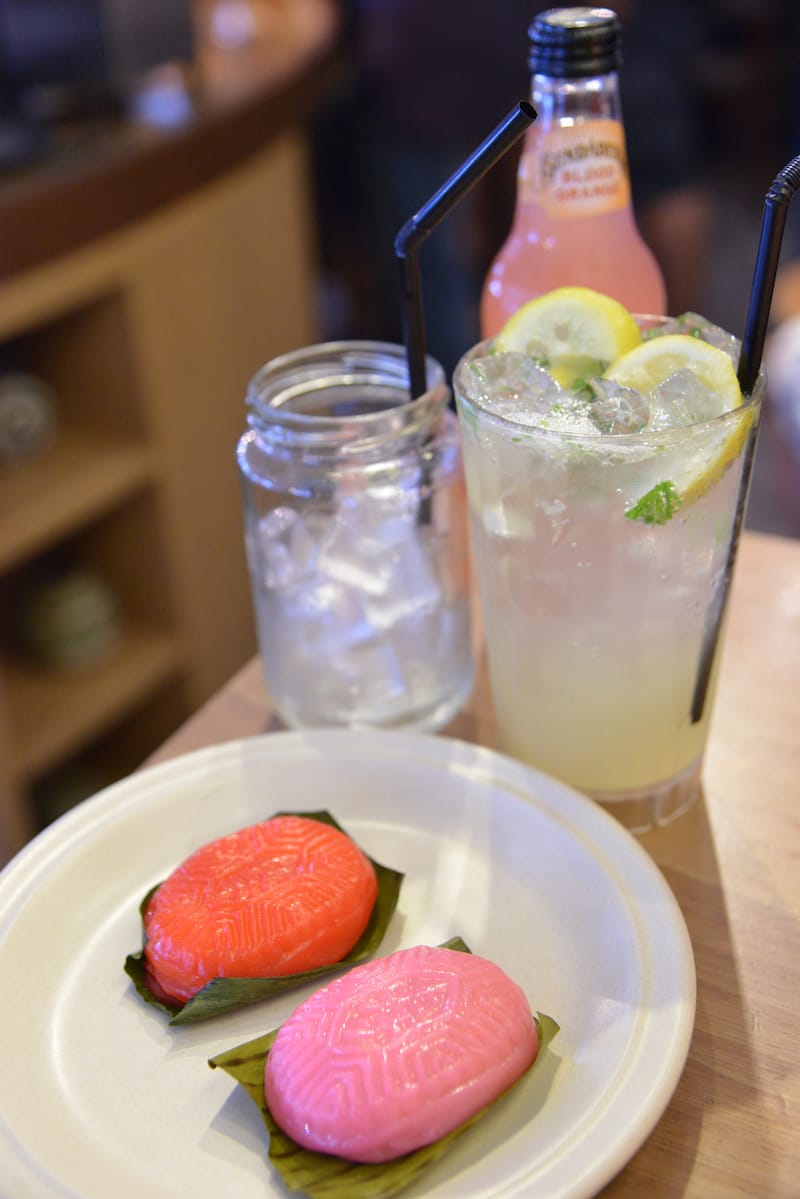 As you have probably gathered, I love coffee and cool, independent cafes regardless of where I travel in the world. Singapore is no exception!
Chye Seng Huat Hardware is one of the pioneers of specialty coffee in Singapore and it is a great place to start the day. They do not open until 9am, so feel free to bypass breakfast and coffee if you're starting your day earlier or if visiting cafes simply does not interest you.
This cafe is open 7 days a week and is located in the Jalan Besar district of the city. The name is a tribute to the metal and hardware companies that this district was known for in the past.
Today, CSHH (as it is often abbreviated) is located in an Art Deco shophouse. They roast in-house and their 360-degree bar allows you to see the entire brewing process as the baristas meticulously prepare your coffee.
Their menu is available *mostly* all day and they also sell baked goods. On the full-menu, you will find items such as Samsui chicken soba to Tempera unago wraps and more.
They also serve breakfast from 9am until 5pm and you'll find items such as Oat Milk Muesli to Pandan pancake stacks.
Sri Veeramakaliamman Temple
Address: 141 Serangoon Rd
Closest MRT stop: Little India
Hours: 5:30am-9:30pm
One of Singapore's oldest Hindu temples, Sri Veeramakaliamman Temple is located in Little India and is dedicated to the destroyer of evil, Kali (or Sri Veeramakaliamman).
This temple was previously a place of worship for migrant workers that had been brought over from India and many claims that it helped them feel safe in a foreign land.
This temple also had a significant role during WW2 when people sought refuge there during the Japanese air raids.
Sri Veeramakaliamman Temple is a must-visit place today as it remains a key part of Hindu history in Singapore and is simply just a stunning and detailed piece of art in its construction.
If you choose to start your second day in Singapore at this temple instead of a cafe, it can be easily reached via the Little India MRT station.
Kampong Gelam (and Sultan Mosque)
Address: 3 Muscat St
Closest MRT stop: Jalan Besar
Hours of Sultan Mosque: Monday to Thursday 10am–noon, 2–4pm, Friday 2:30–4pm, Saturday & Sunday 10am–noon, 2–4pm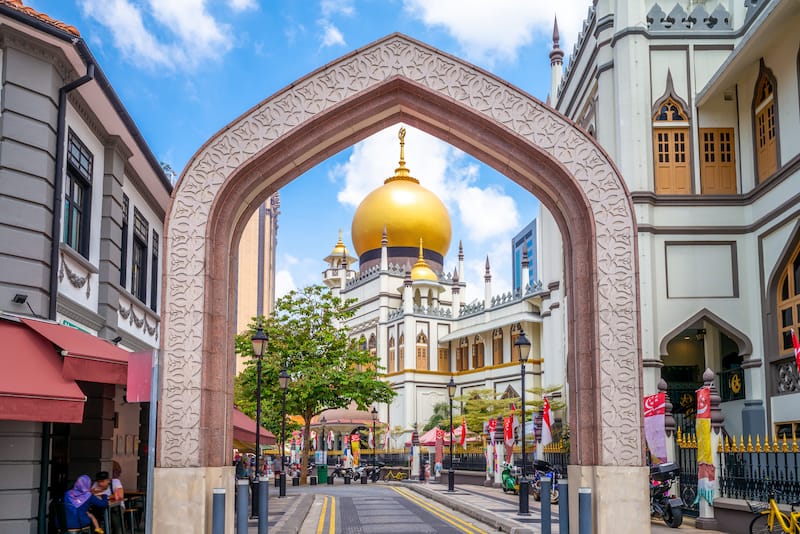 Masjid Sultan, or the Sultan Mosque is located in the Kampong Gelam district of Singapore. This is my favorite area of the city.
Sultan Mosque was initially built in 1824 for Sultan Hussein Shah. He was the first sultan of Singapore and the founder of Singapore, Sir Stamford Raffles, donated money to the mosque's construction.
This impressive mosque is located in the historic Kampong Gelam area and was declared a national monument in 1975.
During Ramadan, it is definitely worth checking out as the area has night markets and many food stalls.
Kampong Gelam has insanely good food, cool shops, and is home to Haji Lane, which I discuss a bit later. You will also find the Malay Heritage Centre here. It is Singapore's oldest urban quarter.
Aside from Haji Lane, two of the most famous streets where you can find everything from Persian carpets to beautiful clothing are Arab Street and Bussorah Street.
If you want a sit-down meal, you can look for places offering nasi padang or you can head for a budget delight that I love that is next on the itinerary!
Eat Murtabak at Zam Zam Restaurant
Address: 697-699 North Bridge Rd
Closest MRT stop: Jalan Besar
Hours: 7am-11pm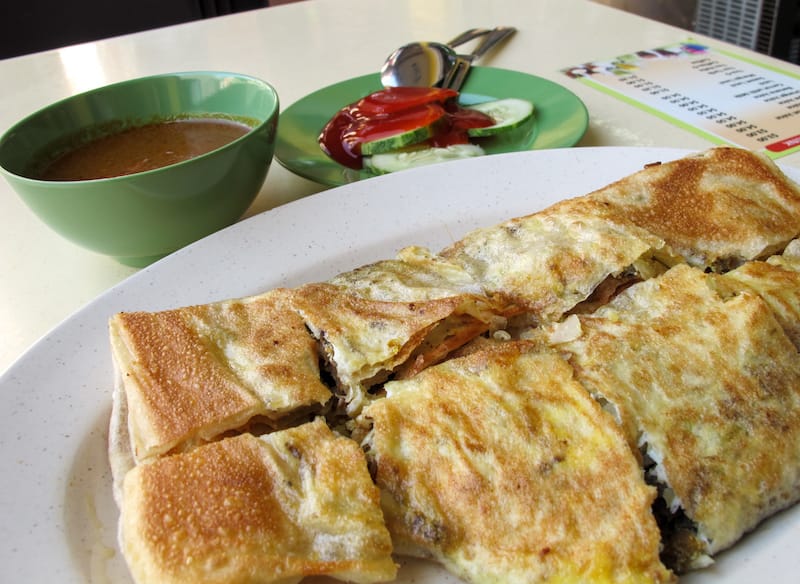 One of my favorite meals in Singapore was the unassuming murtabak, a thin dough packet that is stuffed with a combination of deliciousness from minced meat and eggs to other (you can find it without meat).
The mutton murtabak was my favorite.
One of the best places to enjoy murtabak is at Zam Zam, located really close to the Sultan Mosque.
The establishment has been serving locals since 1908 and is consistently rated one of the top restaurants in the city.
While Zam Zam may appear small at first glance, there is an entire upstairs with a lot of seating! The entire experience is affordable and no-frills, so please don't expect luxury dining.
Be sure to order a cup of teh tarik (milk chai) with it! The murtabak alone will be around $6 (USD).
Haji Lane
Address: 141 Serangoon Rd
Closest MRT stop: Jalan Besar
Hours: 5:30am-9:30pm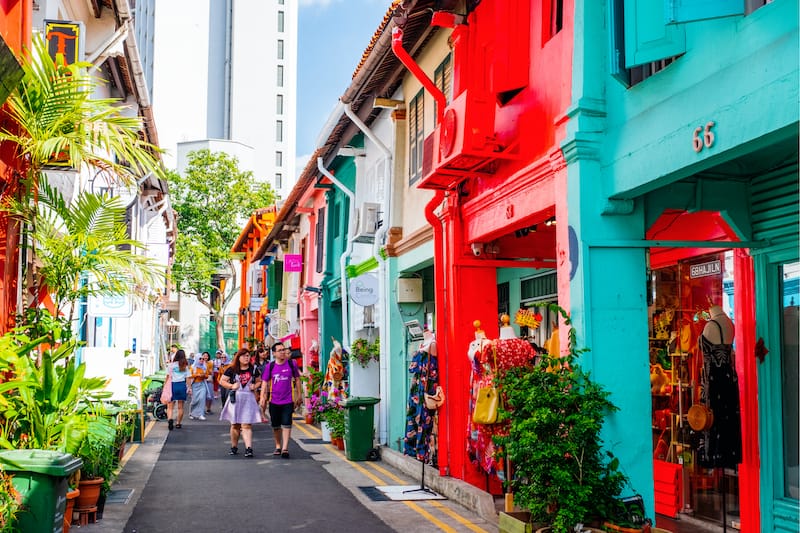 The next place on the list is a famous place for hip shops, cool cafes, and more. It is one of my favorite places in Singapore and it seems to hit all the notes for others as it is an Instagrammable place with a lot to offer.
Nevertheless, I recommend heading there since it is in Kampong Gelam and slowing down for a few hours.
Haji Lane was the original hip and colorful neighborhood in Singapore (now Tiong Bahru is stealing a bit of the spotlight).
The indie neighborhood has cool cafes, street art, and boutique shops that make it a worthwhile stop on your 2 day Singapore itinerary.
You will find a variety of places along the street. Some of the most popular places are Little Damage (ice cream parlor from LA), Selfie Coffee, Limaa (acai smoothie parfaits), The Singapura Club, Meomi Cat Cafe, Juice Clinic, Hygge (a shop with personalized gifts), and more.
The bars, cafes, and restaurants on Haji Lane will allow you to get off of your feet for a while.
Clarke Quay (and Boat Quay)
Address: 3 River Valley Rd
Closest MRT stop: Clarke Quay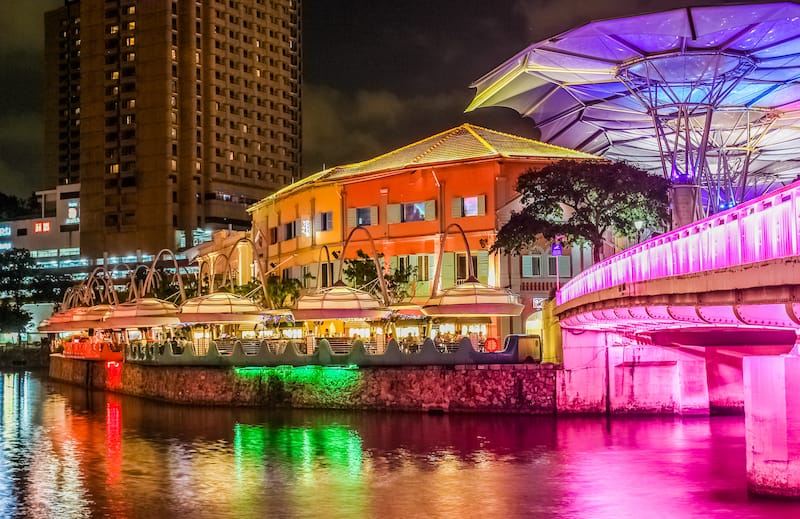 The next stop is a place that is known for being an epicenter of life in Singapore. There are restaurants, bars, and all kinds of other hip places located in this area right on the water. Clarke Quay is a great area to stay if you like to party or go out because there are an endless number of things to do there!
In Clarke Quay, you will find clubs like F.Club x Attica SG or Crazy Elephant or Cuba Libre. The latter two are known for their music (rock and roll for Crazy Elephant and Latin music for Cuba Libre).
In addition, there are several fantastic restaurants around this area, such as the hotpot places we listed as dinner options on Day 1 of this Singapore itinerary.
Boat Quay is another lively area along Circular Road. It has heaps of bars and nightclubs. Hero's is known as a large sports bar with live music (rock and roll) while Molly Malone's is the first Irish Pub in Singapore.
If you want to overlook the city, opt for Southbridge where you will get an insane view of the skyline while you enjoy New Zealand Pacific oysters and a bottle of Champagne.
Dinner at Annalakshmi Restaurant
Address: 20 Havelock Rd, #01-04 Central Square
Closest MRT stop: Clarke Quay
Hours: Daily from 11:30am-2:30pm, 6pm-8:45pm (closed Monday evenings)
If you didn't find a place to eat around Clarke Quay or if clubbing and nightlife isn't your thing, I recommend venturing over a couple of blocks to Annalakshmi Restaurant, one of the best Indian restaurants in the area. Please note: This is a vegetarian South-Indian restaurant.
More than Two Days in Singapore?
If you have more than two days in Singapore, you will still be able to keep occupied. If you're traveling with your family or want a bit of adventure and activity, head to Sentosa Island!
Sentosa Island is a small island located off of the mainland off Singapore's southern coast. It was previously used as a British military base and Japanese POW camp but has now been transformed into a resort and tourist destination.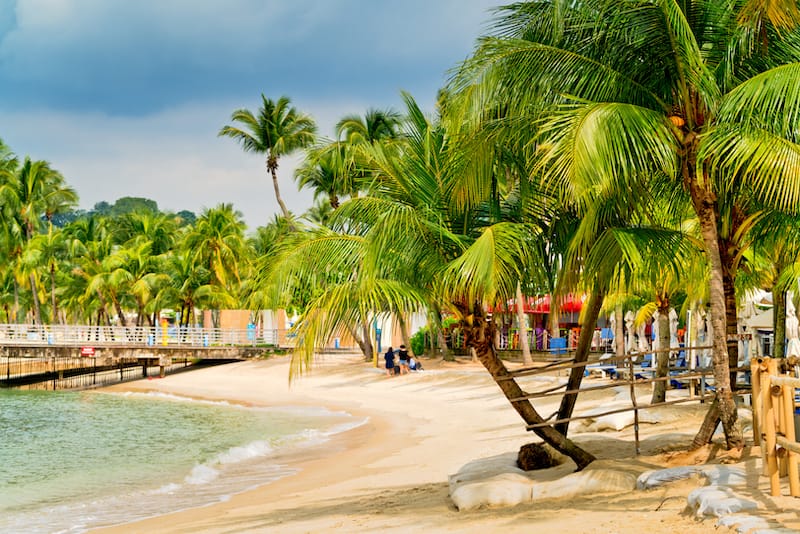 You will find Madame Tussauds, a cable car, golf courses, many hotels, Universal Studios Singapore, casinos, and so much more. It is a fantastic place to stay and it is an ideal spot for those visiting Singapore with children.
Only One Day in Singapore?
If you merely have only one day in Singapore, we recommend keeping your itinerary mostly the same except eliminating the Botanic Gardens (simply based on location) and factoring in Kampong Gelam instead somewhere throughout the day.
You should be able to squeeze everything in, especially if you opt to take the MRT or taxis from some of the places where the walking distances are greater.
Best Time to Visit Singapore
To be honest, Singapore is a fantastic year-round destination.
The weather is consistently hot and humid, although the rainy season is from December to early March (northeast monsoon) and June until September (southwest monsoon).
I have ONLY visited during Monsoon season and I never saw rain.
Just note that there are so many places that you can visit that won't be affected by rain, however. There are many museums, restaurants, and more where you don't need to be suffering outside in a monsoon.
Is a Weekend in Singapore Enough?
I could spend a year in Singapore, personally, and primarily because of its food. However, if you have only 48 hours in Singapore, you can still see so much and have a memorable trip there!
We hope that this 2 days in Singapore itinerary gave you the excitement to plan a weekend in Singapore or to extend your layover there.
It is also an easy trip from Kuala Lumpur to Singapore! If you have any questions, please let us know in the comments!
More Southeast Asia Travel Guides
Pin this Singapore Two Day Itinerary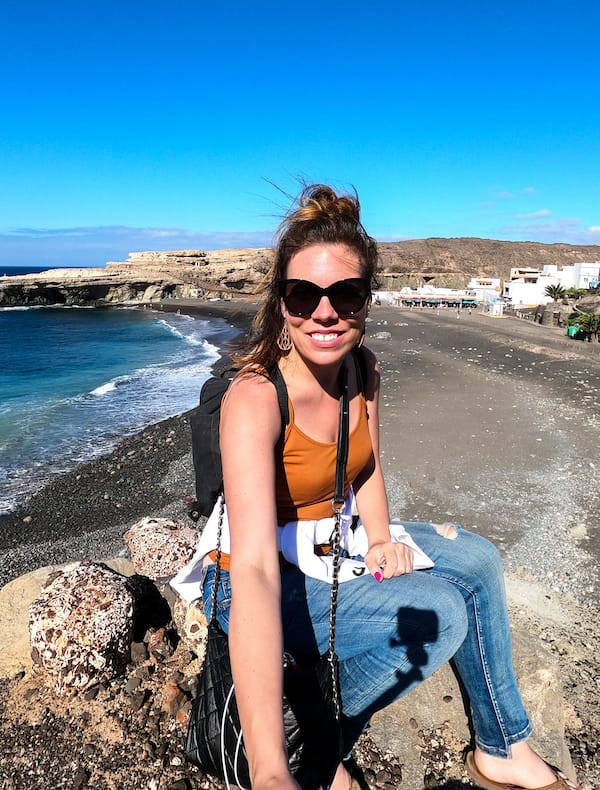 Megan is a travel blogger and writer with a background in digital marketing. Originally from Richmond, VA, she now splits her time between Frankfurt, Germany and Arctic Finland after also living in Norway, Armenia, and Kazakhstan. She has a passion for winter travel, as well as the Nordic countries, but you can also find her eating her way through Italy, perusing perfume stores in Paris, or taking road trips through the USA. Megan has written for or been featured by National Geographic, Forbes, Lonely Planet, the New York Times, and more. She co-authored Fodor's Travel 'Essential Norway' and has visited 45 US states and 100+ countries.