Chiang Mai is one of the gems of Thailand's north and it is a must-visit for those spending any time in the country. This is a guide on how to spend 4 days in Chiang Mai.
Are you planning your trip to Saigon last minute?
If youʻre booking your trip to Saigon last minute, we have you covered. Below are some of the top tours, hotels, and more!
Top Experiences and Tours in Saigon:
Top Hotels in Saigon:
The Deer Resort (a luxury five-star hotel that is absolutely beautiful)
The Astra by 5 Star (mid-range apartments with awesome views)
Stay Here Hostel (design hostel for budget travelers)
The Chiang Mai itinerary caters to different types of travelers and details the best things to do and landmarks to visit.
Perfect 4 Days in Chiang Mai Itinerary
Chiang Mai is known as the Bangkok of the North and whilst getting between the two cities is relatively straightforward, they're far apart when it comes to culture and way of life.
The city is much calmer and has its own cuisine (you seriously need to try Khao Soy noodle soup), its own dialect, and architectural style.
The reason for these differences lies in Chiang Mai's origins over 700 years ago as the capital of the Lanna Kingdom which only became part of Thailand in 1893.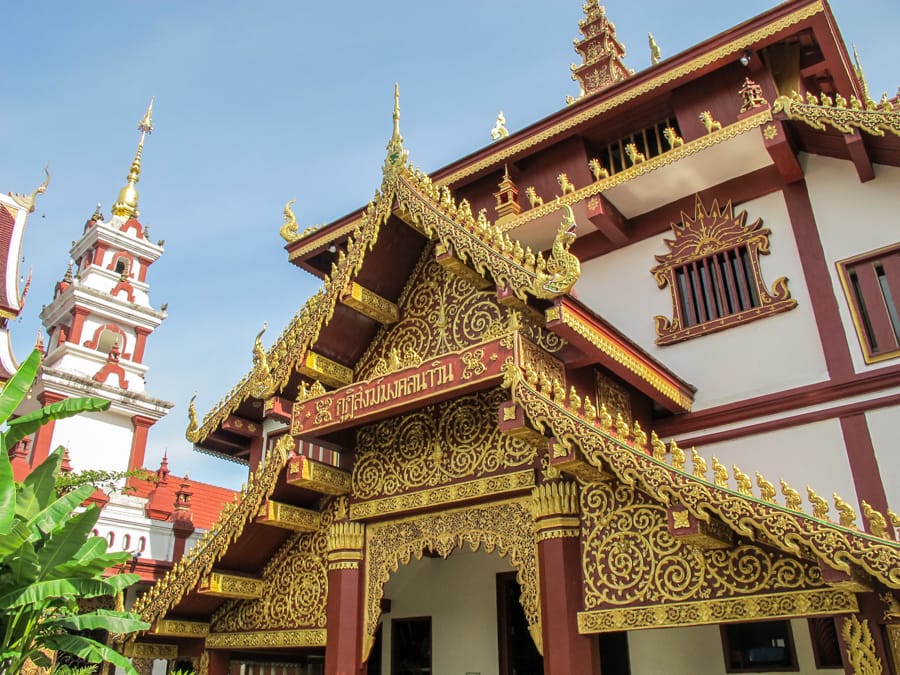 Chiang Mai is one of those cities that has a huge number of great attractions and activities for tourists so you could easily spend a week or more exploring the city and its surroundings.
However, time isn't always a luxury so this guide will help you discover the best of Chiang Mai in 4 days.
How to Get to Chiang Mai from Bangkok
There are several ways to get from Bangkok to Chiang Mai. You can fly, take a bus, or take the train. All are viable options and have their own advantages.
We recommend booking your tickets for the journey with Bookaway. They offer several options for VIP buses and various train journeys with the state railway company. I always find it a lot more trustworthy to book via them in case there are issues or something that arises unexpectedly.
>> Click here to book your journey to Chiang Mai with Bookaway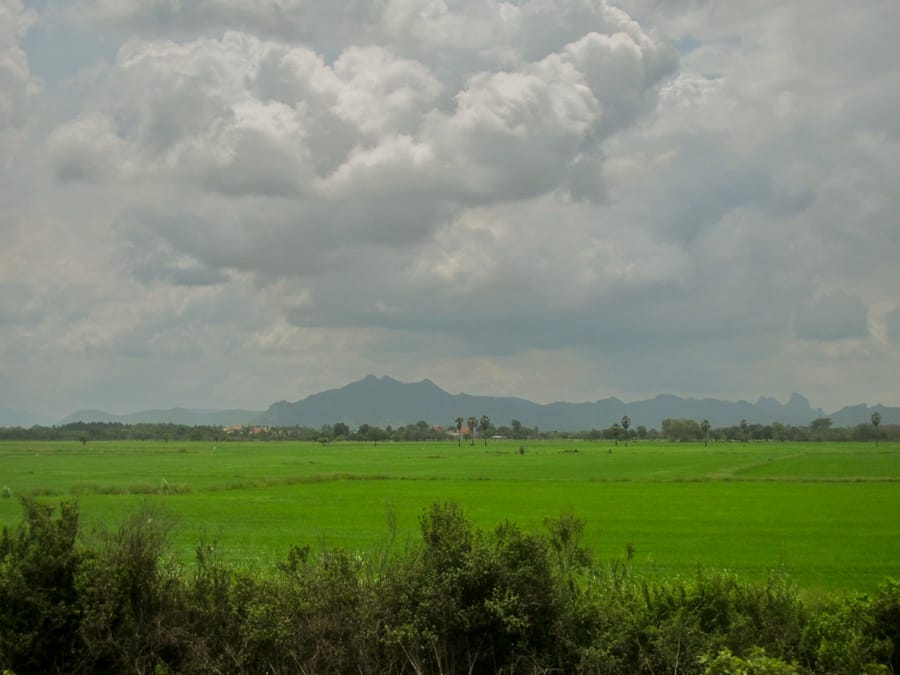 Getting Around Chiang Mai
Getting around in Chiang Mai is far easier than in the capital with four main methods of transport:
⇒ Red Songthaew – You'll notice red trucks circling around the city, picking up locals and tourists, these are Chiang Mai Songthaews and they are really easy to use.
Hail one down and tell the driver where you're going, if he says yes, then hop in the back.
You'll pay the driver on arrival and it will never be more than 40 baht between two destinations within the old city walls.
⇒ Tuk Tuk – A tuk-tuk is a three-wheeled, open-air taxi that usually holds between 2-4 people and are the most traditional way to get around in Thailand.
They are a lot of fun and feels a bit more authentic than a regular cab. However, this is probably the most expensive way to get around in Chiang Mai.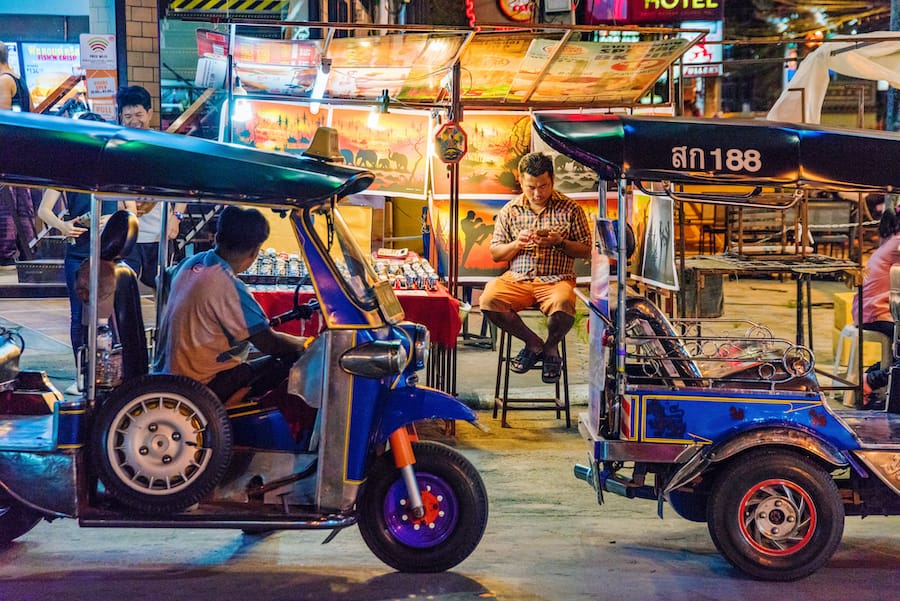 ⇒ Grab – Grab is a ride-hailing app that's like a version of Uber for Southeast Asia. You can request a taxi and It will display the price before you even confirm your journey.
You can also request Songthaews on the app but you'll usually be able to hail one down.
⇒ Bus – This is a new addition to the Chiang Mai public transport scene and not something I've tried myself.
It's particularly useful as it also goes to the airport which can be an expensive journey otherwise.
The buses charge a flat fee of 30 baht per journey but follow a specific route so you'll need to plan the closest bus stop to your destination.
Where to Stay in Chiang Mai
For the best experience in Chiang Mai, you'll want to stay in or around the old city and ideally on the east side near Tha Phae Gate.
This will give you the best access to all the city's best attractions including the market, temples and many of the bars and restaurants which can be found in this area.
Here are some hotel options:
For backpackers, there are plenty of hostels in Chiang Mai to choose from ranging from lively party hostels to those better suited for digital nomads.
If you prefer to stay in a guest house or hotel, you'll find a range of options to suit every price bracket however some of the more luxury resorts lie outside of the main city area.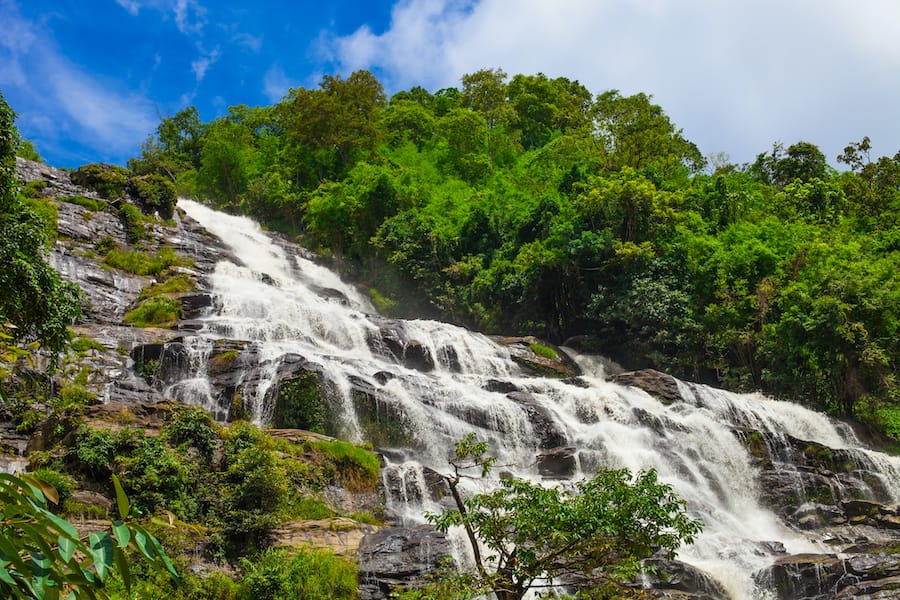 Chiang Mai Itinerary 4 Days – Overview
The first of your 4 days in Chiang Mai will be all about getting to know the city. Day two will be a visit to one of the ethical elephant sanctuaries in Chiang Mai that have become synonymous with the city.
On day three, you'll try some of the more adventurous activities, such as the water park and Muay Thai… and on your final day, it will be about rest and relaxation with a massage and a scenic walk.
Chiang Mai itinerary broken down:
Day 1: Get to know Chiang Mai (highlights and landmarks)
Day 2: Visit an ethical elephant sanctuary
Day 3: Adventurous activities such as the water park and Muay Thai
Day 4: Relax! Massages and city strolls
Day 1: Chiang Mai Landmarks and Attractions
Spend your first morning getting to know the old city- this is the central part of Chiang Mai that lies inside the city walls. Here are a few things to look out for as you wander the city:
Morning of Day 1
The City Walls and Gates
The city wall forms a perfect square surrounding the old city and was originally built for fortification against attack, however, most of the walls you'll see today are restorations.
There are five major gates to the city, one on each corner of the city walls and Tha Pae Gate on the eastern wall which has historically served as the main gate to the city for monks, diplomats, and other notable people.
Tha Pae Gate is a big landmark for tourists with dozens of cafes, hotels, and restaurants in the surrounding streets and the nearby Chiang Mai night bazaar.
Tourists seem to enjoy being photographed whilst feeding pigeons in front of the prominent 'do not feed the pigeons' sign.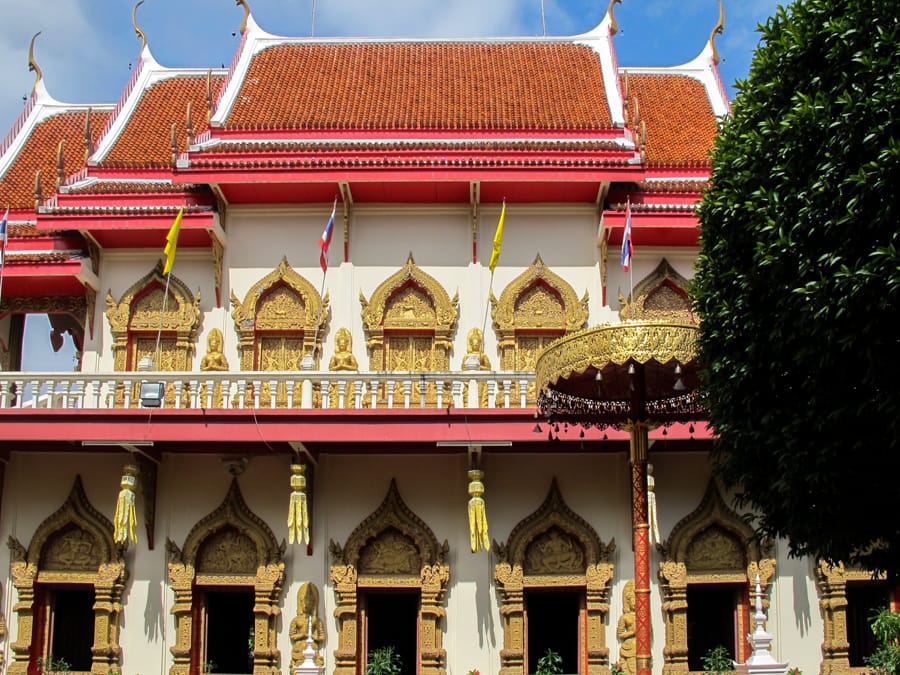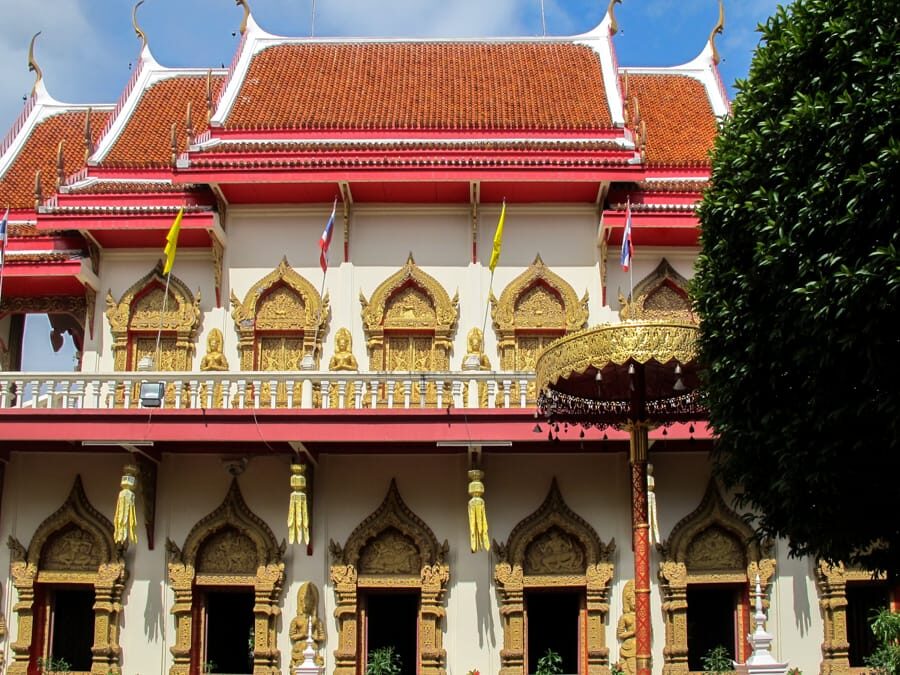 Wat Chedi Luang
At the center of the old city lies Wat Chedi Luang. During its prime, the central chedi of this temple will have stood 80m tall, however, it was damaged during the 1545 Earthquake and is now only half it's original height.
Worshippers can use the installed pulley system to leave offerings on top of the chedi.
Wat Phra Singh
Wat Phra Singh is one of the oldest temples in Chiang Mai, having been built in 1345.
It's home to two medieval buddha statues and at one stage housed the Emerald Buddha which is a sacred statue of Thailand now held in Bangkok.
Wat Phra Singh is also an important monastery, housing 700 monks whom you'll see during your visit. They are very friendly and enjoy chatting with tourists to practice their English.
Wat Sri Suphan
A little off the main tourist track but an interesting temple to see in Chiang Mai is Wat Sri Suphan in the silversmith area of the city.
This temple is better known as the silver temple due to the silver decoration that covers the entire temple and sees it glisten under bright sunlight.
The temple follows outdated traditions so, unfortunately, women aren't allowed inside the main temple, however, there isn't much to see inside anyway.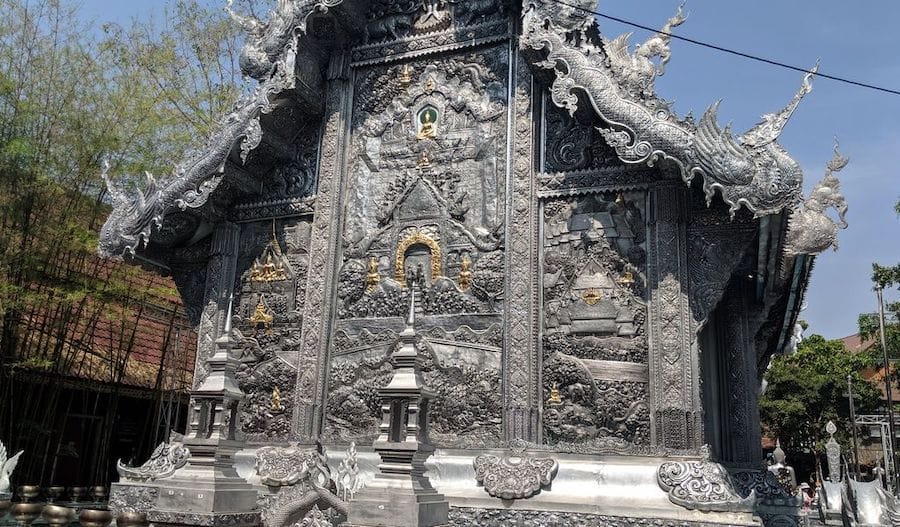 Other Temples
The city has more than 300 temples, many of which are within the old city. The temples are built in the Lanna style with origins in the Lanna Kingdom between 13th-19th centuries.
You'll notice the multi-tiered v-shaped roofs, small doors, and windows, and the carved wood decoration that is typical of this style.
Afternoon of Day 1
In the afternoon, I recommend taking a trip to Wat Phra Doi Suthep which sits at the top of Doi Suthep mountain on the outskirts of Chiang Mai.
You can visit via Songathew or on a guided tour but the best way to see this temple is by renting a motorbike from your hostel or a nearby rental shop and driving yourself.
The road to the temple is a beautiful drive along winding roads which adds to the overall experience.
There's a hiking trail up to the temple, but if you chose this option, be prepared for an all-day hike.
After parking the bike or leaving the Songthaew, you'll need to climb the 300+ steps to the temple or take the funicular railway.
The panoramic views from the top are enticing on their own but the temple itself is also impressive.
The 24m tall stupa is gold plated and shines brightly, reflecting the sun's light on a clear day. Make sure your knees and elbows are covered, especially for women as this is one of the stricter temples for dress code.
Insider tip: If you're looking for a bike tour that is already organized around Chiang Mai, this tour will take you around the city on bike and with an expert guide.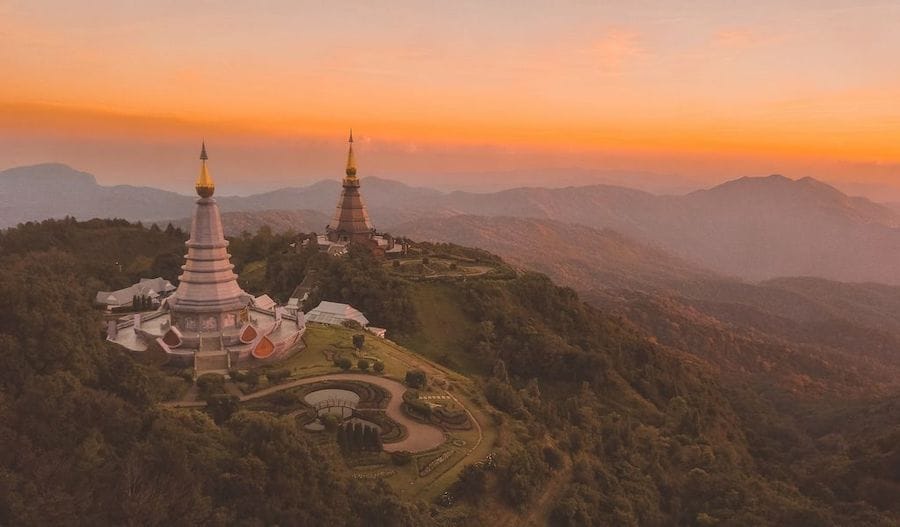 Evening of Day 1
Chiang Mai Night Bazaar
Every evening, the Chiang Mai night bazaar is open for business on Chang Khlan Road and the surrounding streets.
Expect everything you'll usually find in a typical Thai market but on a huge scale.
This includes street food, souvenirs, electronics, and of course, elephant pants.
There are street food vendors scattered throughout the market, but my two favorite areas to find food at Chiang Mai night bazaar are Ploen Ruedee outdoor food court and the food center in the Kalare covered market.
You'll find both of these on Google maps.
Both have plenty of stalls with a range of local Thai dishes and international cuisine. Ploen Ruedee was my personal favorite as it had a lively atmosphere with music and entertainment.
Day 2: Visit an Ethical Elephant Sanctuary
The elephant is a national symbol in Thailand representing strength, durability, and longevity, so it makes sense that seeing one is a must-do activity on your Chiang Mai itinerary.
However, I'd encourage you to do this in a sustainable way to ensure that you're not supporting animal cruelty or irresponsible tourism.
Luckily, Chiang Mai is one of the best spots in the country to find an ethical elephant sanctuary with many to choose from.
I recommend Elephantland ethical sanctuary from my own experience, but I've also heard positive reviews of Elephant Nature Park which is one of the biggest ones.
Elephantland is a lot smaller than many of the other sanctuaries with only a handful of elephants, but also only accepts a handful of visitors each day so you get more one-on-one time with them.
On a day at the sanctuary, you'll get to feed the elephants, walk with them through the jungle and enjoy a mud bath with them before finishing the day at a waterfall.
It's also possible to stay with the locals overnight where you'll learn to cook Thai cuisine and go on a short trek around the mountainous area.
Evening of Day 2
Cabaret
If you didn't visit the Cabaret in Thailand, then did you really go?
There are a few Cabaret options to choose from in Chiang Mai but I can personally recommend Chiang Mai Cabaret, which costs 290 baht, including a free drink.
Expect a cheesy night with plenty of audience participation so be prepared to get involved, even if you're not sitting at the front.
The performances are always very elaborate with popular songs that everyone can get on board with.
After the show, you can have a photo with some of the performers, provided you give them a tip of course.
>> Click here to get a ticket to a cabaret show in Chiang Mai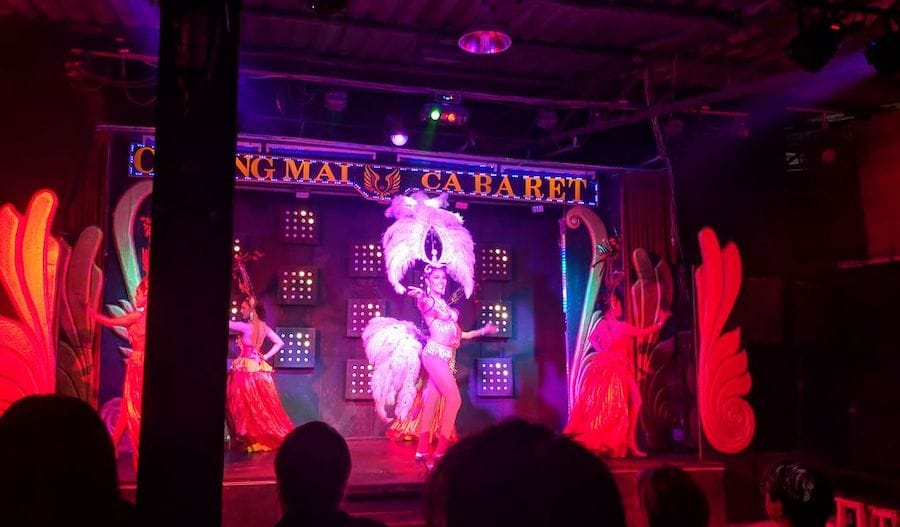 Day 3: Experience the Adventurous Side of Chiang Mai
Day 3 in Chiang Mai will be about experiencing the more adventurous side of the city. Here are some suggestions to keep you occupied on your third day in Chiang Mai.
Daytime of Day 3
Grand Canyon Water Park
Chiang Mai has its own Grand Canyon, but it's not like the Grand Canyon that first springs to mind.
This is an old limestone quarry that has slowly filled with water and now hosts an enormous inflatable water park complete with zip lines, kayaks, and wakeboarding.
Try your hand at rope bridges, monkey bars, and enormous air cushions that throw you in the air.
The water park only takes up a small area of the canyon and other parts are popular with cliff jumpers due to the high steep cliffs that line it.
Insider tip: There is also another very small and tired-looking water park at the Grand Canyon which many visitors confuse for the big one… check that it looks like the one in the image before paying to enter!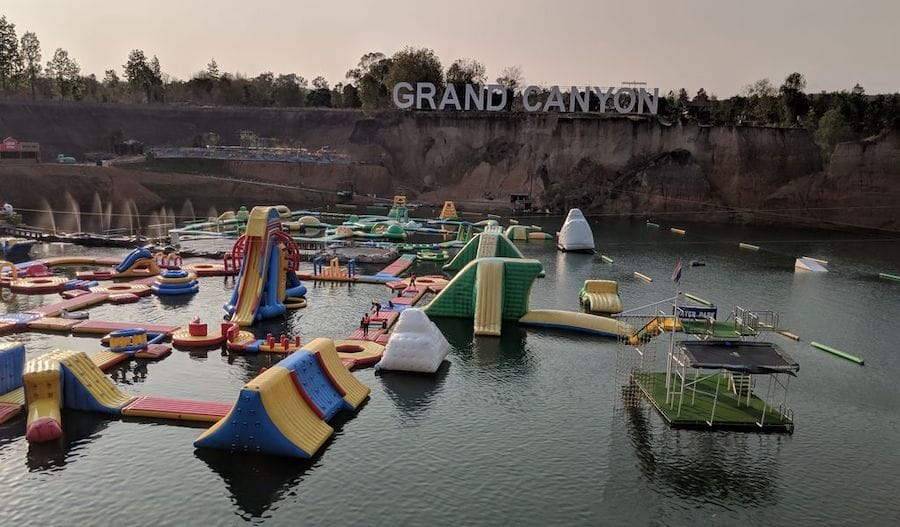 Evening of Day 3
Muay Thai at the Chiang Mai Boxing Stadium
Muay Thai is Thailand's national sport and it plays a huge part in their culture. It's a form of close-combat fighting that uses punches and kicks, similar to kickboxing, but not identical.
Those who enjoy martial arts may want to try out a Muay Thai class on their visit to Thailand, but for most people, just watching professionals in action will be close enough.
Chiang Mai is the perfect place to watch a fight.
There are three rings to choose from:
Chiang Mai Boxing Stadium – This is the biggest stadium and attracts some of the best fighters making it popular with tourists and locals, it's also generally the most expensive with 3 events per week.
Thapae Boxing Stadium – This ring is centrally located and most popular with tourists. Events here include both pros and novice fighters.
Loi Kroh Boxing Stadium – Events are staged at Loi Kroh Boxing Stadium almost every evening with a bar and pool tables to keep spectators busy in between fights.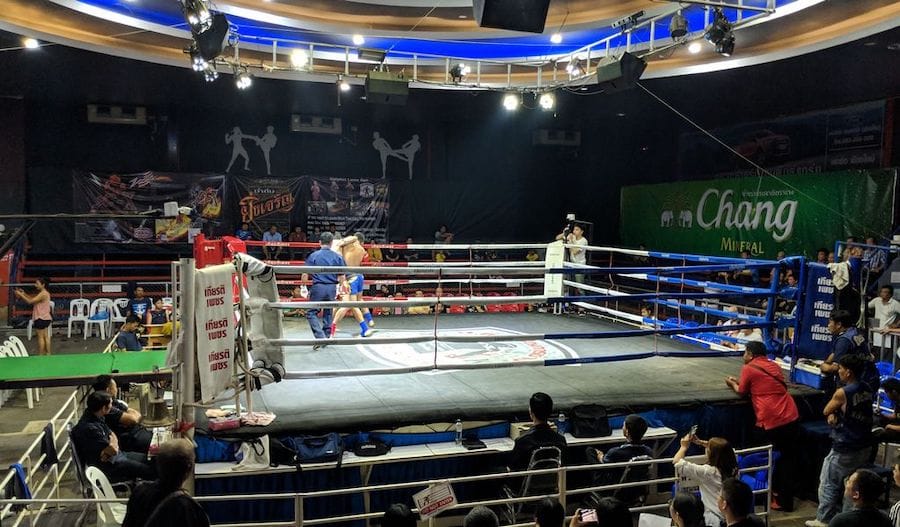 Day 4: Rest and Relaxation in Chiang Mai
After an exhilarating third day, the last of your 4 days in Chiang Mai will be a bit more relaxing.
Morning of Day 4
Art in Paradise Museum
Unlike most art museums, Art in Paradise is a museum that everyone can enjoy. It's a fun 3D adventure that will keep you out of the sun for a few hours.
Download the app before visiting and you can create amazing 3D photos as you interact with the art in the museum.
Within a few hours, you'll be seen surfing the oceans, hanging from buildings and being chased by giant cats.
Even the most sensible adults will feel like a child in this museum. Entry to the museum costs 400 baht.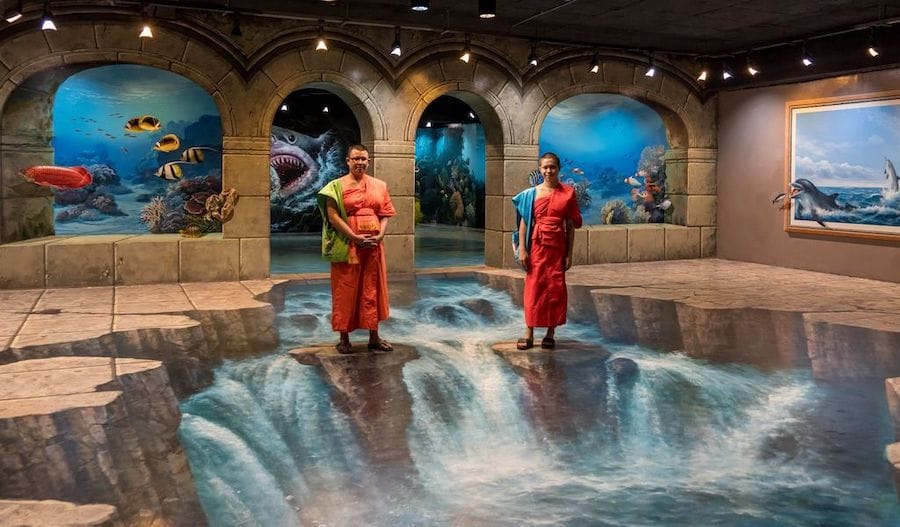 Eart Afternoon of Day 4
Massage from a Prisoner
You might be shocked to learn that you can get a Thai massage and support a good cause at the same time but I'm not kidding.
At the Chiang Mai Women's Correctional Institution, you can get a Thai massage from female prisoners who are being rehabilitated.
Thai massage is an ancient art that has been passed down over many generations and is seen as a great way to relieve stress and improve circulation.
Insider tip: I'll warn you now that a Thai massage can be very intense with both hands and legs used by the masseuse.
You may feel aches immediately afterward but eventually, you'll feel much looser and rejuvenated.
Late Afternoon of Day 4
Royal Park Rajapruek
Spend the final afternoon of your trip with a peaceful walk around Rajapruek Royal Park to loosen up after your massage.
This well-maintained park is easily accessible from the center of Chiang Mai and rewards visitors with bright floral displays, unusual sculptures, and melodic music.
Interesting features include the mini-gardens designed to represent each country, an orchid pavilion, and the royal palace itself.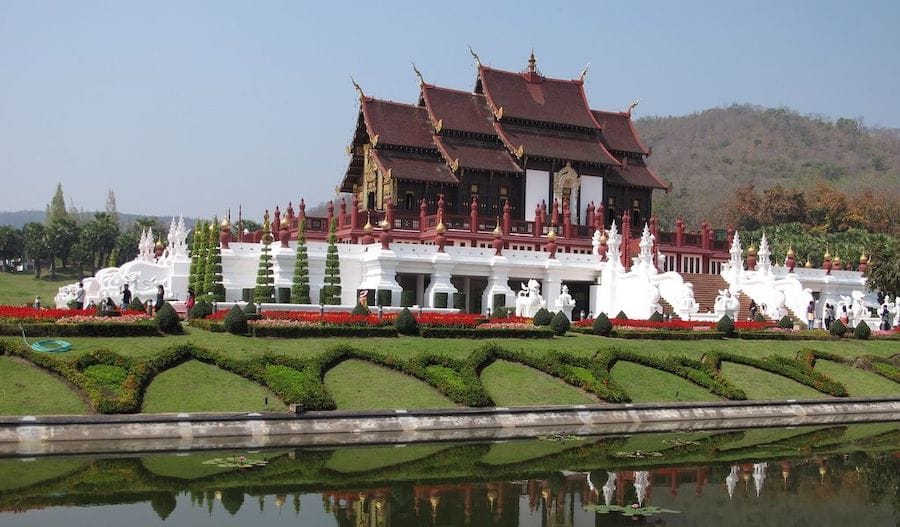 The park is huge so you can spend hours wandering around.
The entry cost is 200 baht and that includes the use of the park's tram for getting around if the weather gets unbearable.
Royan Park Rajapruek is beautiful at sunset as the sun disappears behind the palace and on a clear day, the sky glows red for a fantastic end to your trip.
I hope you've found this guide to 4 days in Chiang Mai useful… have a great time!
Author Bio
Kieren is a 20-something-year-old from Wales with a passion for adventure. He's spent time backpacking through Europe and Southeast Asia and shares tips and travel guides over at Got My Backpack.
More Southeast Asia Travel Guides
PIN IT FOR LATER!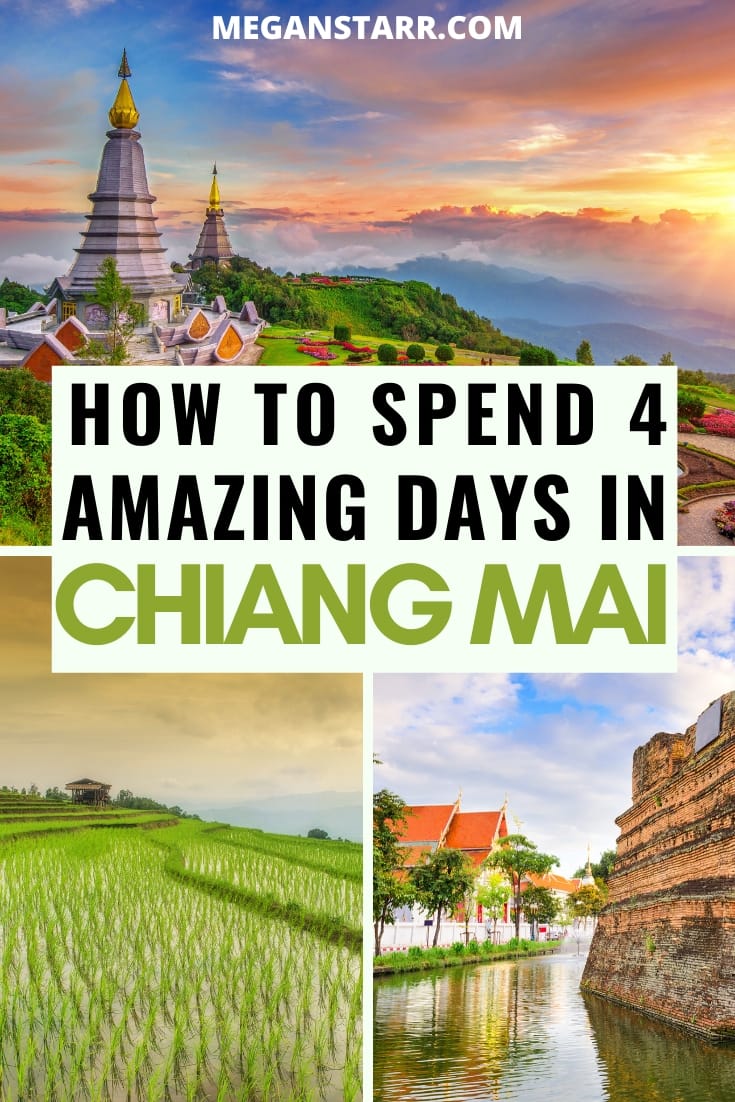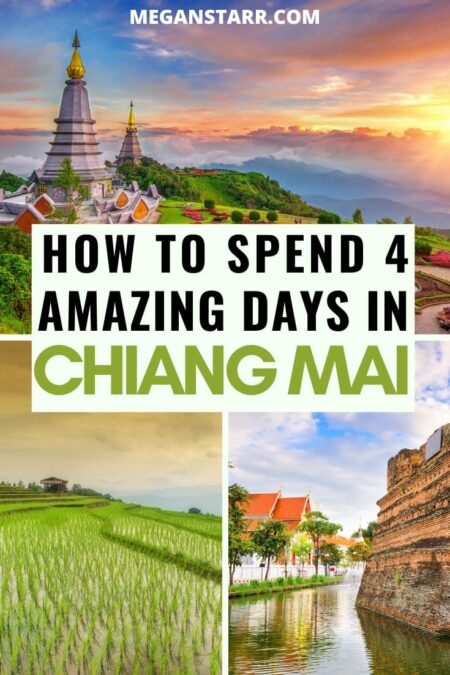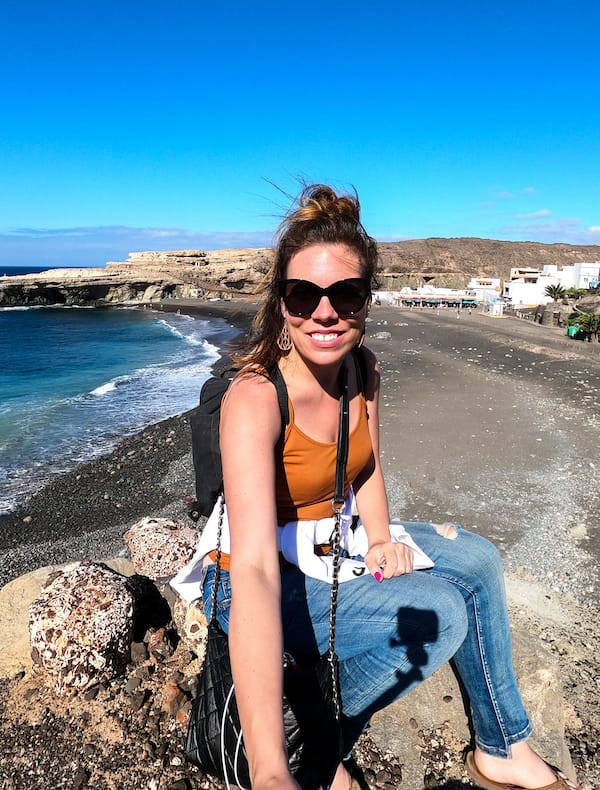 Megan is a travel blogger and writer with a background in digital marketing. Originally from Richmond, VA, she now splits her time between Frankfurt, Germany and Arctic Finland after also living in Norway, Armenia, and Kazakhstan. She has a passion for winter travel, as well as the Nordic countries, but you can also find her eating her way through Italy, perusing perfume stores in Paris, or taking road trips through the USA. Megan has written for or been featured by National Geographic, Forbes, Lonely Planet, the New York Times, and more. She co-authored Fodor's Travel 'Essential Norway' and has visited 45 US states and 100+ countries.