There are many amazing things to do in Saigon that you could be kept busy for weeks (and months!) in this southern Vietnamese city.
This is a guide on what to do in Saigon for travelers visiting the eclectic city in Southeast Asia.
This Saigon guest post was written by Vietnam Chronicles.
Things to Do in Saigon, Vietnam (Ho Chi Minh City)
Planning to visit Saigon soon? It has gone a long way, from a small village during the French occupation in 1863 to the sprawling metropolis we know and love today.
Saigon is also called Ho Chi Minh City, but locals still prefer its former name. Being the most visited city in Vietnam, there is a plethora of things to do in Saigon!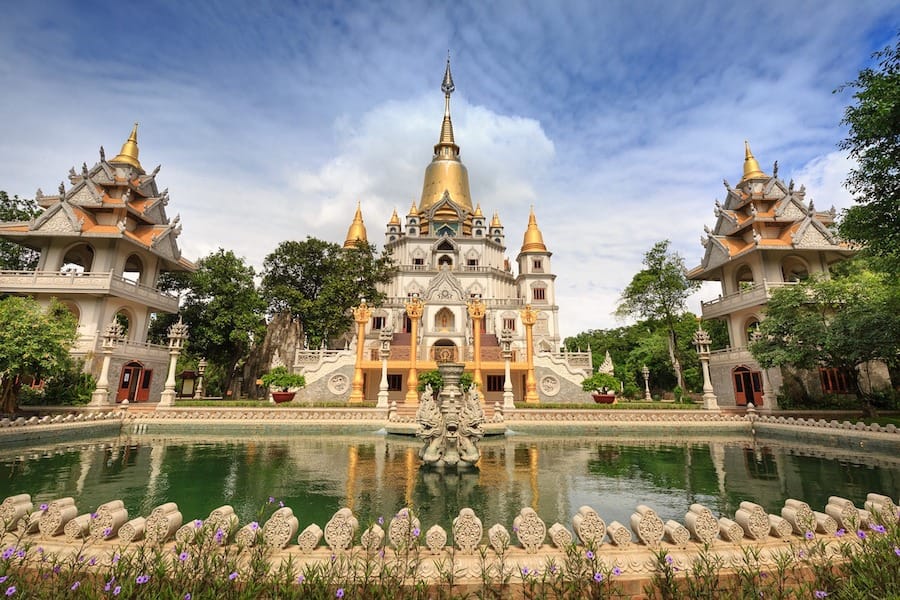 Saigon is culturally and historically important, and you can see that on almost every street corner.
Don't forget the fact that Saigon is one of the most lively cities in Vietnam, with a skyline full of modern buildings and not to mention the famous vibrant nightlife!
As Saigon is a massive city, housing over 8 million people in its territory, it may be overwhelming to get around and find things to do yourself.
So, sit back and relax, and let's find out what are the best things to do in Saigon together!
Be sure to read this piece about scams in Vietnam before you start planning your trip, however.
Visit the vibrantly colored Mariamman Hindu Temple
Indian traders built Mariamman Hindu Temple in the late 19th century, and it's surprising how well it is preserved.
That is a sacred Hindu temple that is dedicated to (you guessed it!) Mariamman, who is the Hindu goddess of Rain.
Actually, Mariamman Temple is the only Hindu temple in Saigon and it showcases the Vietnamese views on freedom of religion.
The main highlight of this temple is definitely the vibrantly colored main hall, called the Rajagopuram.
It is 12 meters tall and you can see a collection of statues representing different gods in Hindu mythology.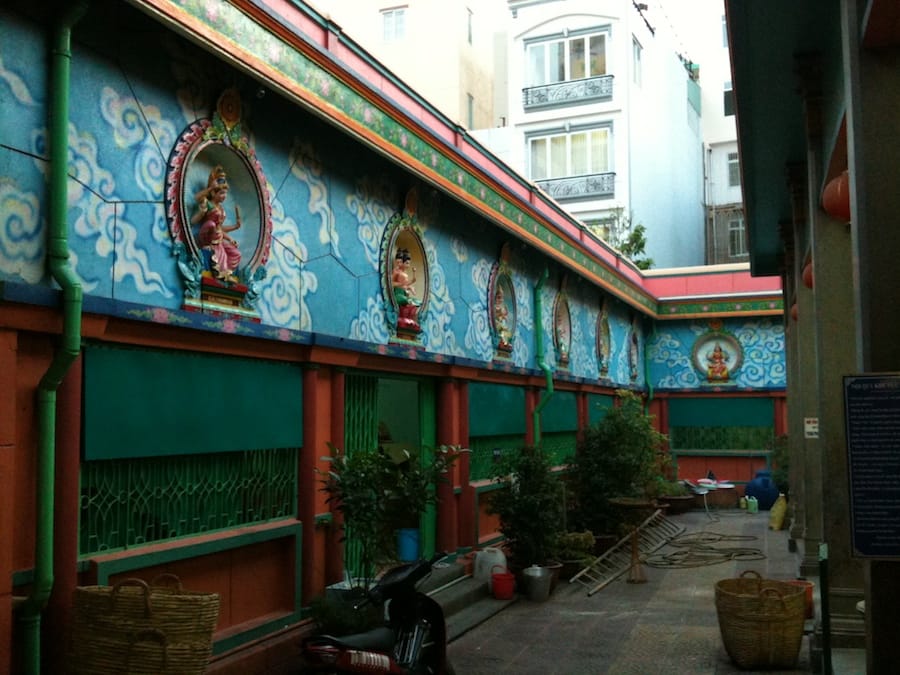 Inside the temple itself, you can see a well-preserved statue of Mariamman. Just make sure that you take off your shoes and dress accordingly if you wish to enter the main hall.
Speaking of that, the entrance to the temple is free and you can visit it anytime from 7 AM to 7 PM.
Indulge in the numerous markets of Saigon
Vietnam is by now famous throughout the world for its haggling culture.
What is better than experiencing the charms and challenges of haggling in an actual market in Saigon?
Thankfully, there are a lot of markets just to scratch that itch!
Ben Thanh Market is located in District 1 and is really close to the Mariamman Hindu Temple.
This market is really big, and it is good to know when to visit it. It all depends on your preferences, after all.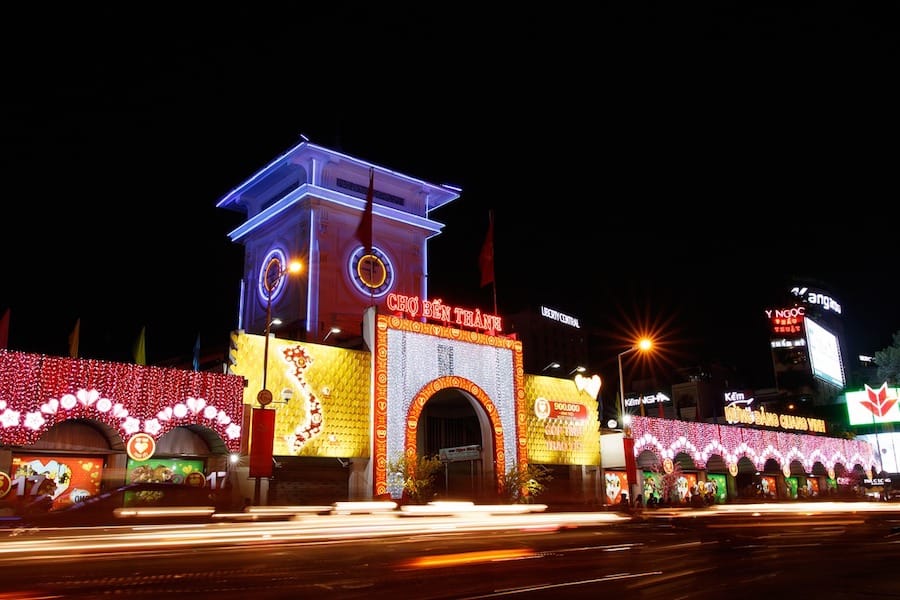 So, if you're interested in buying local handicrafts, branded goods, and souvenirs, visit this market during the day.
Lots of goods will be on sale, but always remember to bargain and you may get a reasonable price for a piece of tailor-made clothing.
If you prefer to taste some delicious local street food, then nighttime is the way to go!
During the nighttime, the market will be suddenly surrounded by dozens of eateries and the scent of fried noodles and barbecued meat.
Another market that we want to add is the Binh Tay Market.
This market is located in the Chinatown district and it mainly serves the local population, making it an ideal market to sample the local lifestyle!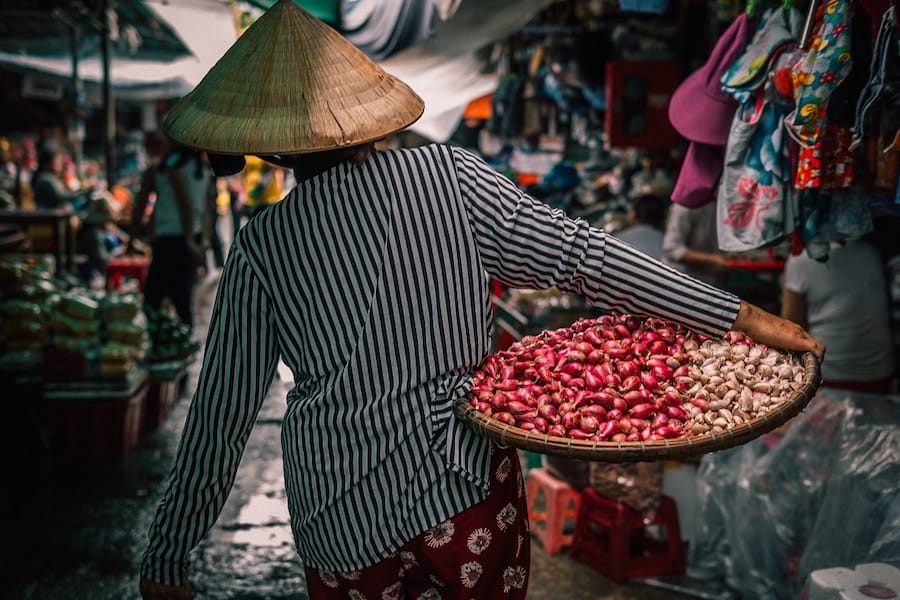 You can find fresh fruits and vegetables, as well as a lot of other locally produced food on Binh Tay Market.
There are also a lot of interesting local handicrafts and souvenirs for you to check out!
Other than these two markets, we would recommend you also to visit Dan Sinh Market, which is located in District 1 where you can check out tools, machinery, and military gear from the Vietnam War period.
If you want to find some cheap clothes, then An Dong Market in District 5 is a no-brainer!

Check out the wonderfully designed pagodas in Saigon
Thought that you would get away without adding the numerous pagodas to the things to do in Saigon?
Some may consider this a mainstream choice, but these pagodas are architectural wonders and everyone should experience the tranquil feel they radiate with (at least when there are fewer crowds).
The first one that we would like to mention is the Jade Emperor Pagoda, which is also known as Tortoise Pagoda.
It was built in 1909 to honor the supreme Taoist god, the Jade Emperor. This temple is one of the five most important shrines in Saigon and it's nothing short of spectacular.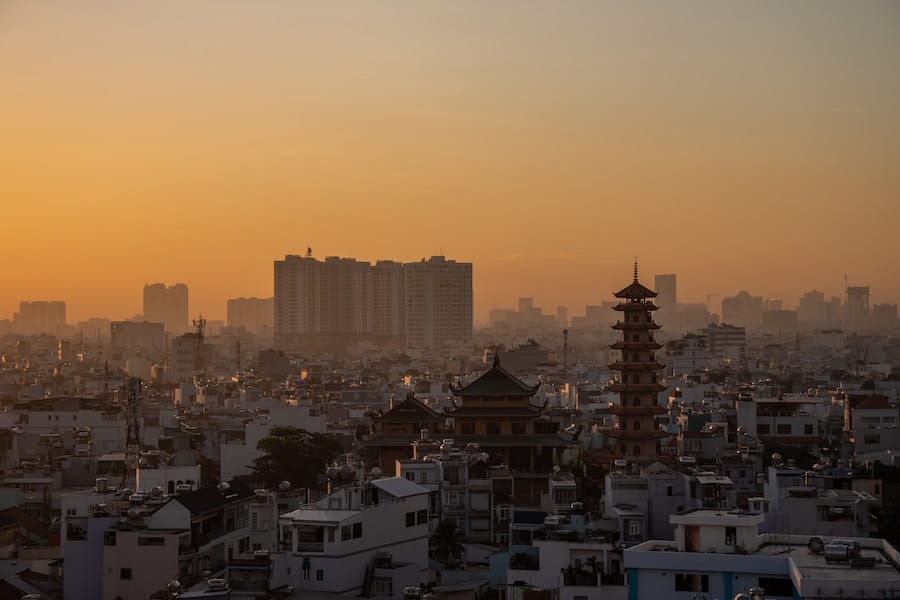 You can see a lot of statues depicting divinities and heroes from the Taoist lore, and feel the strong scent of incense throughout the temple.
There are different halls inside the Jade Emperor Pagoda, and they can get crowded during the day, as the worshippers make their offerings.
The tortoise pond that gave this temple the "Tortoise Pagoda" is located in front of the temple grounds.
You can feed the tortoises there as this act is considered a merit-making ritual. Because of that, it's not unusual to see it overcrowded.
Another pagoda that you should visit is located in District 5, Chinatown.
It is the Ba Thien Hau Pagoda that is dedicated to the Chinese goddess of the sea, Mazu.
This pagoda was built in 1760 in honor of the "Lady of the Sea" and features a wonderfully designed exterior with a traditional curvy roof with porcelain figures standing on it.
The interior is notable for the colorful dioramas that decorate the roof of the pagoda.
There are lots of peculiar little details and statues that will amaze you in this temple!
Other than the mentioned two, consider visiting the Giac Lam Pagoda, which is the oldest Buddhist temple in Saigon.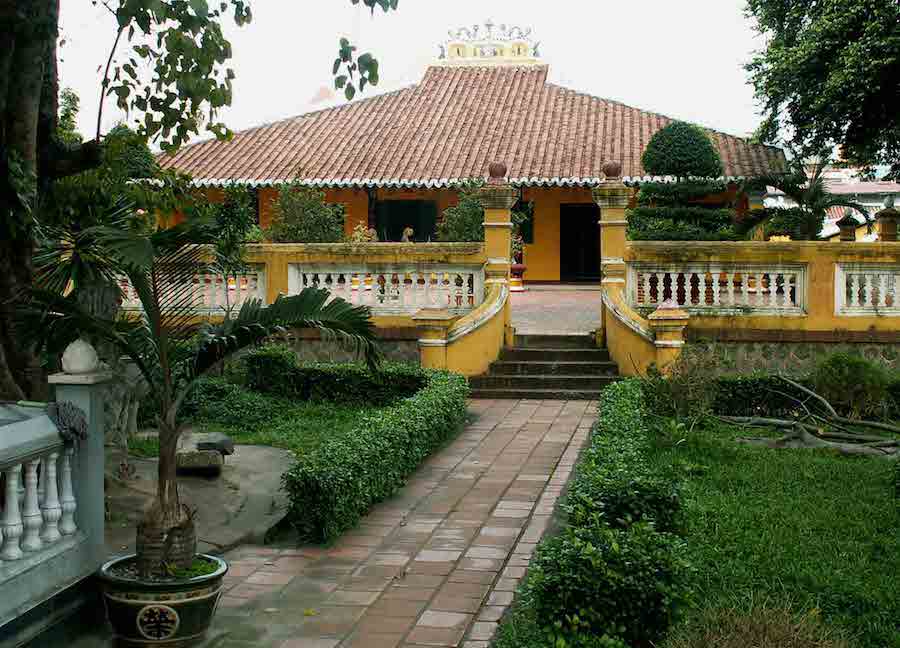 Make sure to visit Giac Vien Pagoda which is located in District 11 that is also one of the oldest temples in Saigon.
It is notable for the 60 wooden engravings inside the pagoda, that illustrate different aspects of Vietnamese culture.
For the end, make sure to visit Phuoc An Hoi Quan Pagoda which is located in Chinatown if you want to marvel at one of the most ornamental pagodas in Saigon.
Visit the temple of the Cao Dai religion
Cao Dai Temple is home to the Cao Dai religion. Its followers believe that all religions are the same and they want to promote religious and social tolerance all over the world.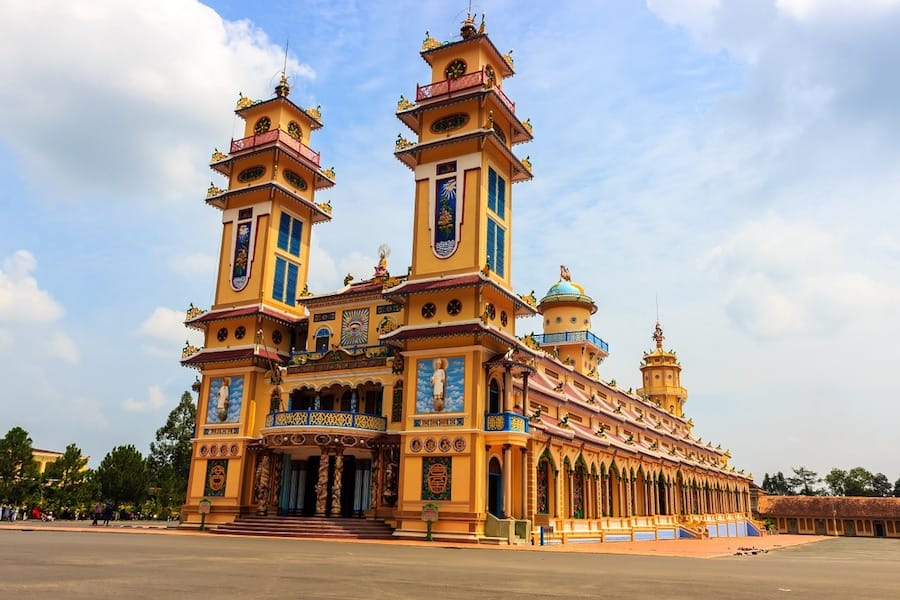 This temple resembles a Christian cathedral in its design and also features a stand-out detail – the Divine Eye – that features the Ying and Yang symbol in its pupil.
One of the major highlights of Cao Dai Temple is definitely watching the Caodaists pray, as they have some unusual customs.
For example, the group of male worshippers on the right side, and female worshippers on the left side!
Also, the architecture of the temple itself takes inspiration from several architectural styles, most notably Neo-Gothic, Baroque and Oriental styles.
Learn more about Vietnamese history in the museums
Saigon has a plethora of museums to see, each detailing some intricate part of Vietnamese history.
If you are eager to learn more and widen your perspectives about the fascinating history of Vietnam, then make sure to add the museums to the things to do in Saigon!
If you have a short time for visiting museums in Saigon, make sure that the War Remnants Museum is the one.
This one has a crazy amount of graphical content and features some of the raw brutality of the Vietnam War.
Because of that, visiting this museum is an incredibly emotional experience, as you can see how "Agent Orange" impacted the lives of Vietnamese people.
It is a shocking reminder of how brutal and unnecessary that war was.
This museum is located in District 3, and you can visit it during two periods: 7:30 AM to 12:00 AM and 1:30 PM to 5:00 PM.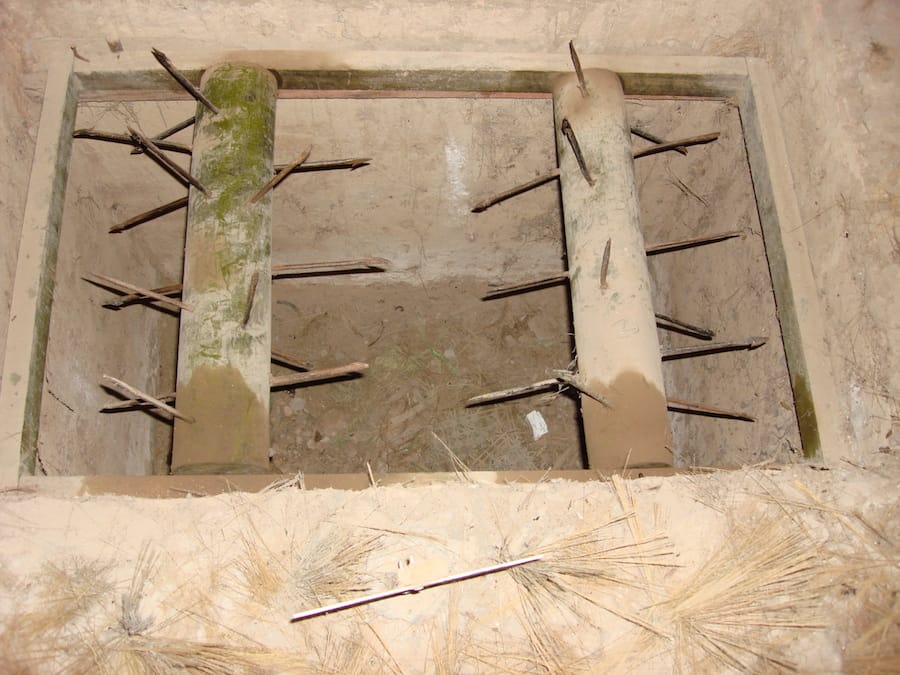 Another reminder of the brutal Vietnamese history are the Cu Chi Tunnels, which is now one of the most popular attractions in Saigon.
The tunnels offer a peek at the life of the soldiers who had to live underground back in 1948.
It is an hour's drive from the city, but if you want to know more about the brutal conditions the Vietnamese people had to endure for their independence, then it's absolutely worth it! The Cu Chi Tunnels are opened daily from 7:00 AM to 5:00 PM.
If you want to learn about Vietnamese history from prehistoric times to today, then visit the Museum of Vietnamese History should suffice.
The entrance fee is 30,000 VND and you can get inside during one of two periods: between 8 AM and 11:30 AM, and between 1:30 PM and 4:30 PM.
To learn about the history of the city and marvel at the exquisite architecture, make sure to visit the Ho Chi Minh City Museum.
It features artifacts from different periods and displays of traditional marriages of the ethnic minorities.
The building has a beautiful garden that is very popular for portrait photography.
To enter, you should pay an entrance fee of 30,000 VND. Museum has an open door from 8 AM to 5 PM every day.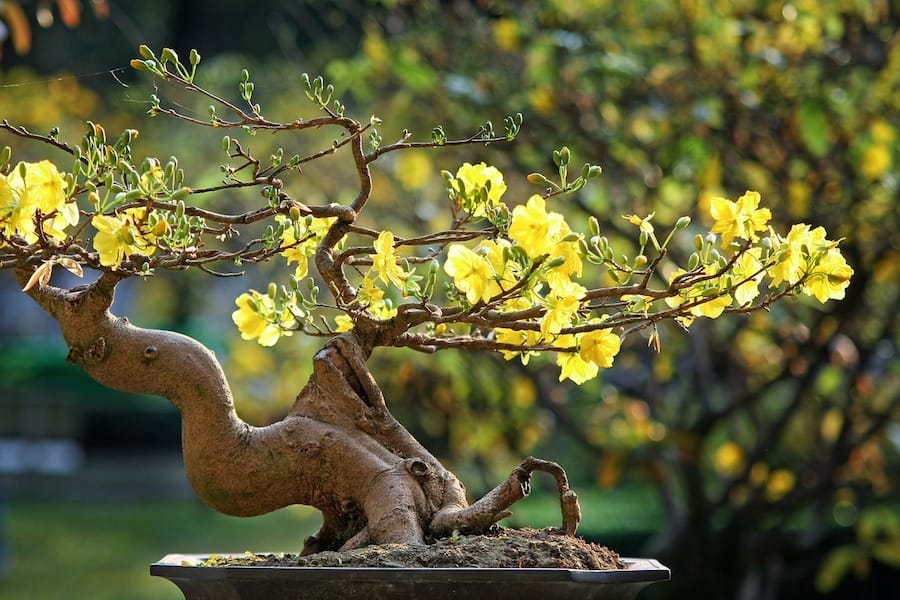 Last but not least, the Museum of Traditional Vietnamese Medicine is wholly dedicated to the diverse flora of Vietnam, and how the people have used that to their advantage to create various medicines.
Over 3,000 items are on display in this museum, so there is a lot to learn about East Asian traditional medicines!
Adult tickets cost 120,000 VND and children can enter for 60,000 VND. This museum is opened every day from 8:30 AM to 5 PM.
Visit a few notable landmarks and marvel at the colonial architecture in Ho Chi Minh City
Saigon has fully integrated into French Indochina in 1862. The French have left their impact on Vietnam, both good and bad. But, one thing is certain – their colonial architecture is simply marvelous!
If you want a showcase of French colonial architecture, make sure to add these landmarks to the things to do in Saigon list!
Located on Paris Square in District 1, Notre Dame Cathedral is a perfect example of French colonial architecture.
This architectural wonder was built in the 1880s by French colonists and it is almost 60 meters high.
It has distinctive features from Neo-Romanesque architectural style, like the red brick facade, two bell towers and a garden.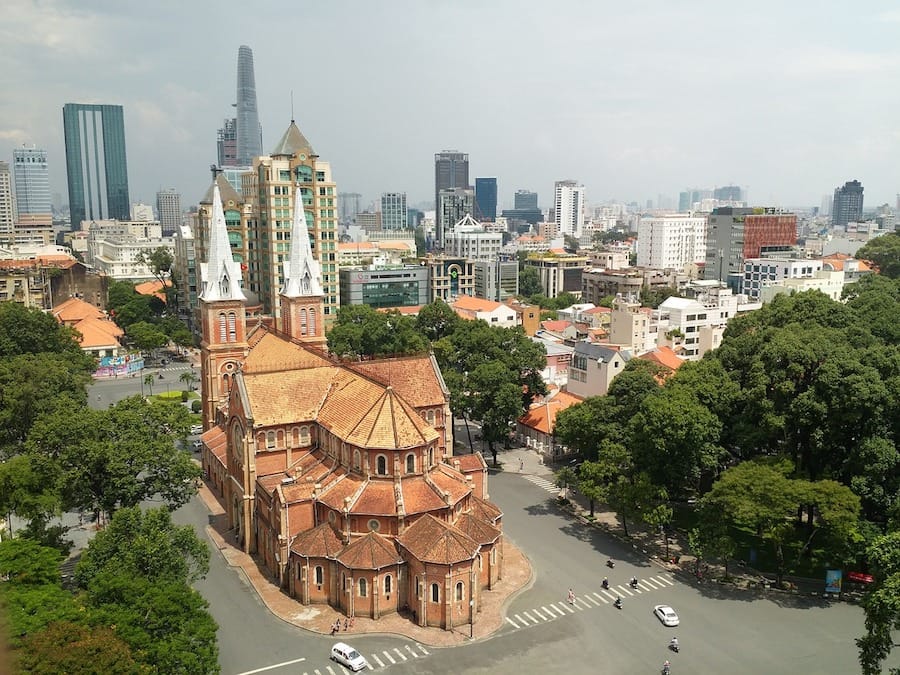 There is also a beautiful Virgin Mary statue in front of the cathedral. The best time to visit this attraction is on Sunday when the mass is taking place at 8:30 AM.
Next to the Notre Dame Cathedral is the Ho Chi Minh Central Post Office.
This building is like a time machine to the French colonial period, thanks to its magnificent colonial architecture.
The repeated pattern of arches and wonderfully designed marble floors coupled with telephone boxes stand as a reminder of a time long past.
There are also two maps of the region painted to remind you that you're still in Vietnam.
Even a big portrait of Uncle Ho himself hanging high above. The post office is open every day from 7 AM to 7 PM.
If you want to marvel at more of the French colonial architecture, make sure to visit Nguyen Hue Street that is located very near to Notre Dame Cathedral and Reunification Palace.
It is an ideal place for some sightseeing and enjoying the view of the Saigon River.
Dong Khoi Street is the street to look for if you want to see more of the fantastic French architecture!
This street has witnessed many changes throughout history, but its glamour is still unchanged.
On the intersection of the Dong Khoi Street and Le Loi is a beautiful French colonial architectural wonder, the Saigon Opera House.
The Opera House was built in 1897 and underwent some restoration work in 1995.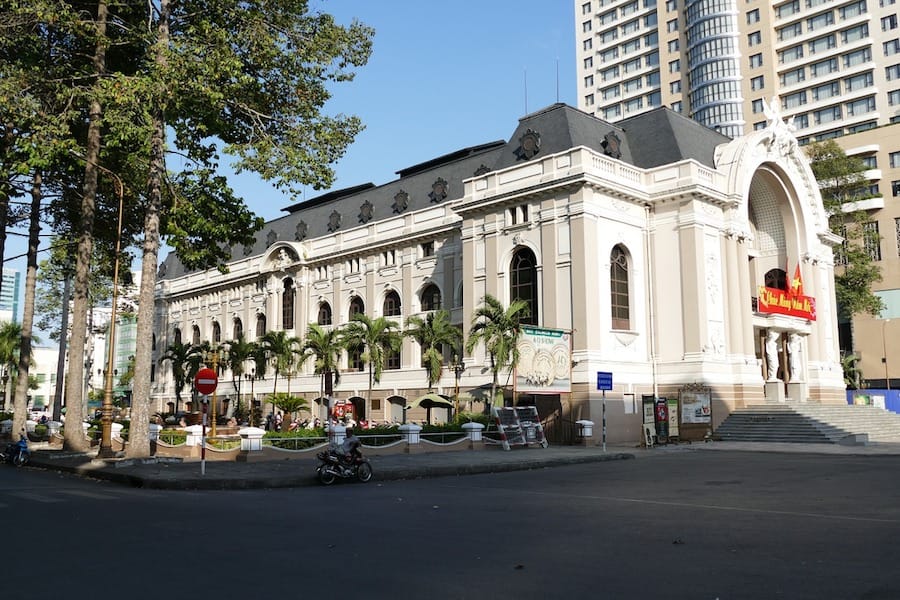 When you see the exterior of this building, you will be tempted to get that perfect shot, because the polished exterior is a great place to photograph.
There are 800 seats reserved for opera, but also ballet, concerts, and Vietnamese traditional dances.
Reunification Palace is a place that seems like it's frozen in time. It also features impressive French colonial architecture, with two tanks that symbolized the end of the Vietnam War still in the same place.
You can explore the five levels of this palace where you can see the war command room, numerous tunnels, and a telecommunication center.
The palace is open during two periods: 7:30 AM to 11 AM and 1 PM to 4 PM. The entrance fee is 40,000 VND per person.
Meet the backpacker community in Bui Vien Street and Pham Ngu Lao Street
Located in District 1, Bui Vien Street is called the backpacker hub of Saigon for a reason. It is full of cheap restaurants and bars to keep you energized and hotels/hostels to keep you rested.
Bui Vien Street is a perfect place to indulge in the local culture for a very low amount of money.
The regular dinner with a drink included costs at least 100,000 – 200,000 VND here!
If you want to meet up with fellow backpackers, make sure to visit some of the numerous bars and pubs where you can get a beer from 10,000 VND to anywhere near 80,000 VND.
The nightlife here can get crazy sometimes!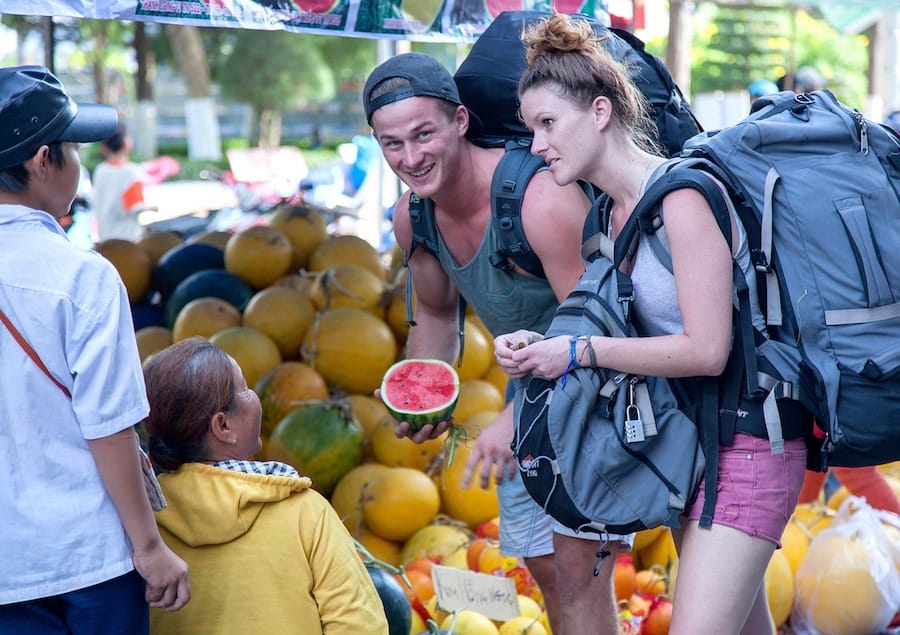 Bui Vien Street is the busiest from 6 PM to 2 AM, so prepare accordingly!
Another street that is a popular backpacker retreat is Pham Ngu Lao Street.
The street is packed with western-style restaurants, coffee shops, bars, and affordable accommodation.
The nightlife scene is vibrant and is a great way to connect with more backpackers!
It isn't only limited to low-budget travelers, as this street draws people of all backgrounds thanks to its close proximity to many landmarks.
Visit Phu My Hung area and enjoy a romantic night at Starlight Bridge
Phu My Hung is a development area located in District 7, 6 kilometers south of Ben Thanh Market.
Although it's close to the Downtown area of Saigon, it has a completely different vibe than that part of Saigon.
That is one of the reasons why you should absolutely consider it in your things to do in Saigon list!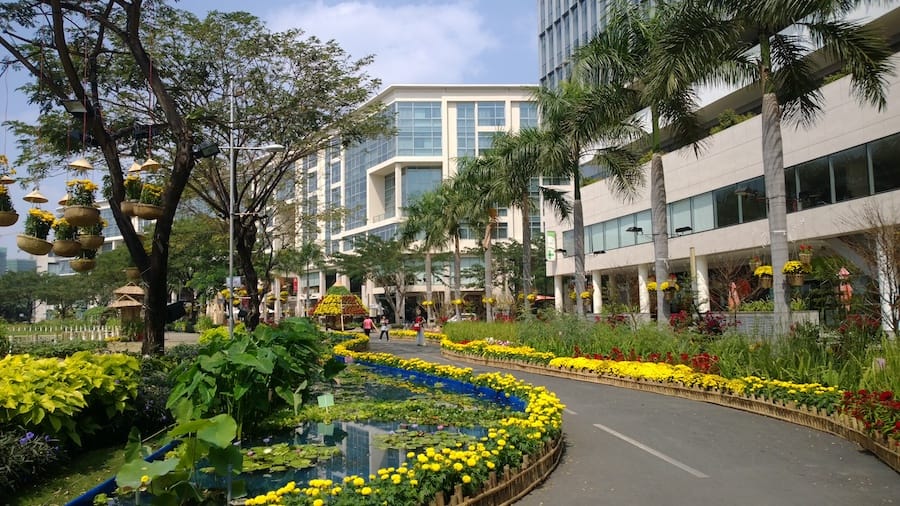 There are numerous cafes and restaurants around, both international and Vietnamese.
Get out in this area during the evening, and it will be wholly different.
The cooler temperatures are ideal for long socializing nights in one of the numerous restaurants and bars.
Other than the shops, restaurants, and bars, another highlight of Phu My Hung is definitely the Starlight Bridge!
It has a psychedelic vibe to it, especially in the evening, as it's spanning across the lake with a waterfall falling down and getting illuminated by a wide spectrum of colors.
Observe the rural lifestyle in Thanh Da Island
The Saigon River completely surrounds Thanh Da Island, and it is peculiar to see a rural community in the middle of Saigon.
This place gives you a completely different perspective on Saigon, as you can see people living off fish from the river and growing their own fruit in their modest houses.
It is certainly beautiful to see rice paddy fields within Saigon; it is also common to see chickens and pigs walking around the sprawling labyrinthian alleys.
Add this to your things to do in Saigon for a unique experience!
Catch a break from the hustle and bustle of the city in the Can Gio Mangrove Forest
An experience to add to the things to do in Saigon is definitely the Can Gio Mangrove Forest!
Located on the outskirts of Saigon and stretching all the way to the ocean, this is a favorite local's get away from the busy and noisy city.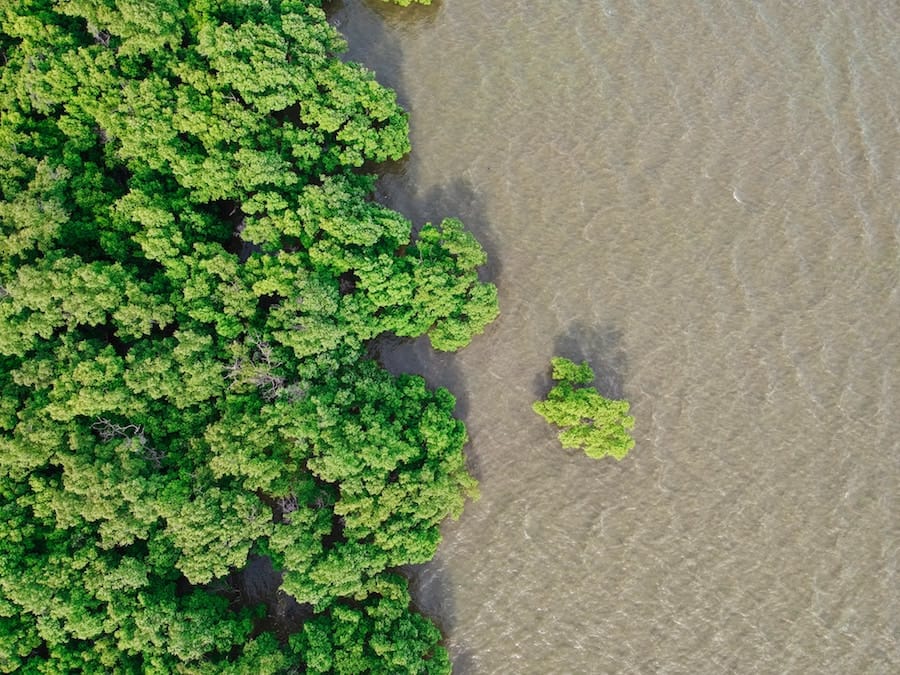 Monkey Island is home to one thousand monkeys and Vam Sat is home to the dangerous crocodiles.
It is an awesome place to reconnect with nature and see why UNESCO has protected this area.
Relax in Tan Dan Park
If you want to up your morning routine with exercise in nature, then make sure to add Tan Dan Park on the things to do in Saigon list!
This park is located in District 1 and is called the "green lung" of the city, as it is completely in contrast to the city outside.
It is open officially from 7 AM to 10 PM every day.
The park has its own outdoor gym which the people utilize and you can see a lot of people jogging around the park.
There are also a few impressive monuments inside the park such as a replica of a Cham Tower and the Monument to the Hung Kings.
There are also numerous coffee houses around the park, where you can enjoy in the peace and quiet, away from the chaotic city life.
Check out the diverse flora in the Botanical Garden
We would also add the Saigon Zoo to the things to do in Saigon list, but the questionable maintaining of the zoo and the treatment of the animals made it go past the list in the end.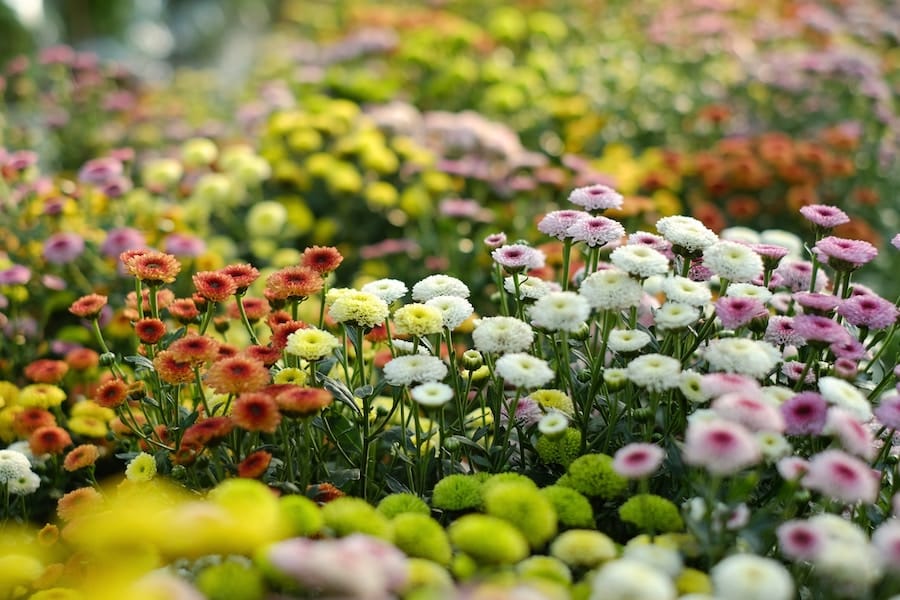 In contrast to that, you should definitely check out the Saigon Botanical Garden instead.
More than 2,000 species of trees are growing there throughout the 150 years of its foundation. These trees are so huge that it feels like you're walking in a lush forest.
Also, because there are so many trees in this area, monkeys are allowed to jump around the branches instead of being in cages.
Check out the Orchid House, which is the most colorful part of the Botanical Garden where many types of orchids are planted and taken care of.
The entrance to the Saigon Zoo and Botanical Garden is 30,00 VND for children and 50,000 VND for adults.
Experience the Water Puppet Show
Even though a Water Puppet Show is a touristy ordeal these days, the sheer novelty this experience may give you makes it enough to land on our things to do in Saigon list!
You can check out the Water Puppet Show in one of two places in Saigon: either at The Golden Dragon Water Puppetry Theatre or at the Villa Song Saigon.
Visitors to these shows will see the depiction of the Vietnamese folklore, culture, and values in the form of puppets that act on a stage of water.
Interestingly enough, the puppets are moved from under the water. We won't spoil the secret for you as it is uncovered at the end of the show!
→ Click here to purchase a ticket to the Golden Dragon Water Puppet Show
Enjoy the view on the rooftop bar in Saigon
Rooftop bars are definitely going on the list of things to do in Saigon as they offer amazing views over Saigon during the day and an awesome nightlife experience during the night!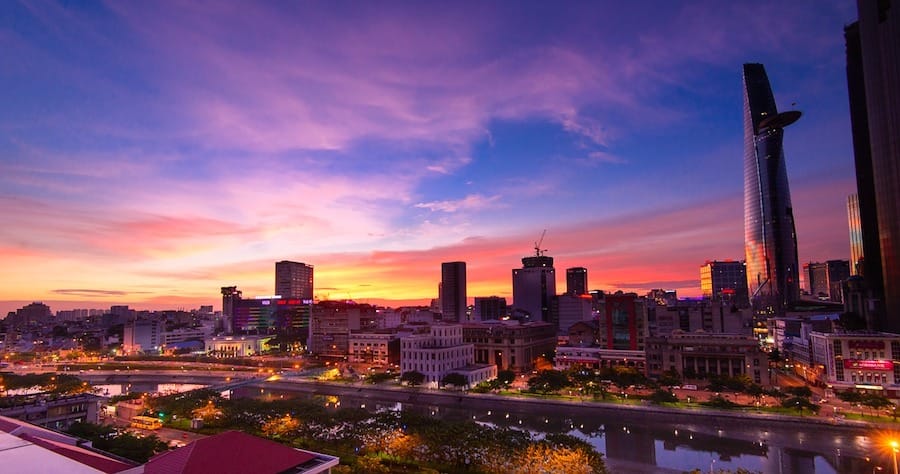 One place that we're going to mention is the Bitexco Financial Tower, which towers above the business district of Saigon with 262 meters of height.
Its Sky Deck offers a breathtaking 360-degree view over the whole of Saigon.
Imagine drinking a coffee on the Sky Deck and enjoying that view!
The thing is, that is actually possible, as there is a bar on top of the building!
There are more rooftop bars in Saigon, of course, where you can enjoy the view of Saigon and sip a beverage of your choice while doing so!
Enjoy the vibrant nightlife of Ho Chi Minh City
Nightlife in Saigon is one of the best parts of its newly formed culture.
This alone could fill your list of things to do in Saigon. The nightlife scene is thriving and the bar scene is simply amazing!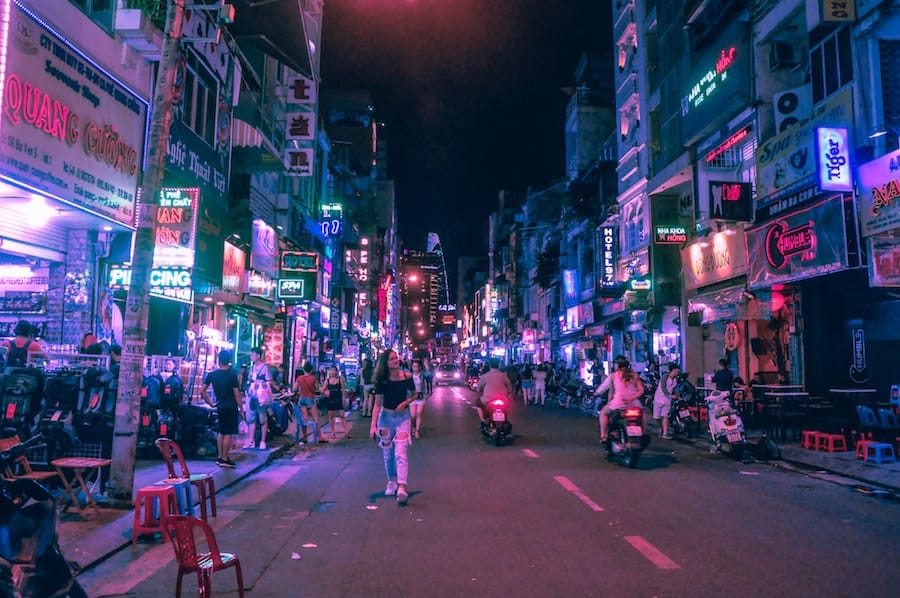 Also, karaoke is an integral part of modern Vietnamese culture, and there is a vast number of karaoke bars around where you can just have the purest of fun!
Check out the backpacking streets we mentioned before (Bui Vien Street and Pham Ngu Lao Street) to get a view of the vibrant nightlife scene.
Also, make sure to visit one of the numerous rooftop bars during the night, as the cocktail parties there are out of this world!
If you think nightlife is overrated and would rather go on a tour to grab delicious, Vietnamese food, click here to join a night street eats tour of Saigon.
Check out the coffee shops in Saigon
The whole process of preparing and serving the coffee is so intricate and borders on obsession – in a good way, of course!
Saigon has seen the rise in the cafe scene during the last decades, and now, it's more vibrant than ever!
The best coffee shops offer amazing interior design combined with free and fast Wi-Fi and a great vibe, of course!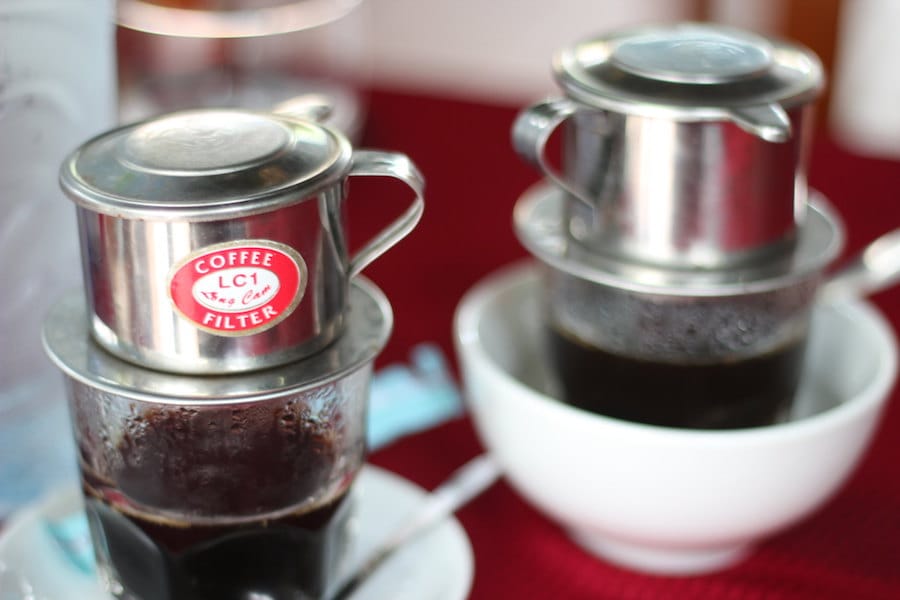 Check out the Id Cafe in District 1 if you value the vibe of the long past 70s.
Also, this cafe offers terrific coffee and is designed with comfort in mind.
The other cafe you should check out is Hideaway Cafe. It is located in a yellow French villa in District 3.
This coffee shop is one of the most beautiful in the whole of Saigon.
They offer delicious coffee and the vibes here are totally peaceful, which is a perfect getaway from the city's bustle.
Other than these two, there are still a lot more coffee shops in Saigon that are worthy of adding to the things to do in Saigon list!
Just stroll around and you will most likely find a random coffee shop!
Relax in a spa in HCMC
One of the essential things to add to the things to do in Saigon is definitely a massage!
After all, Vietnamese are renowned throughout the world for their massage skills!
It is also a perfect way to unwind all the stress that may have accumulated during your stay in the hectic Saigon.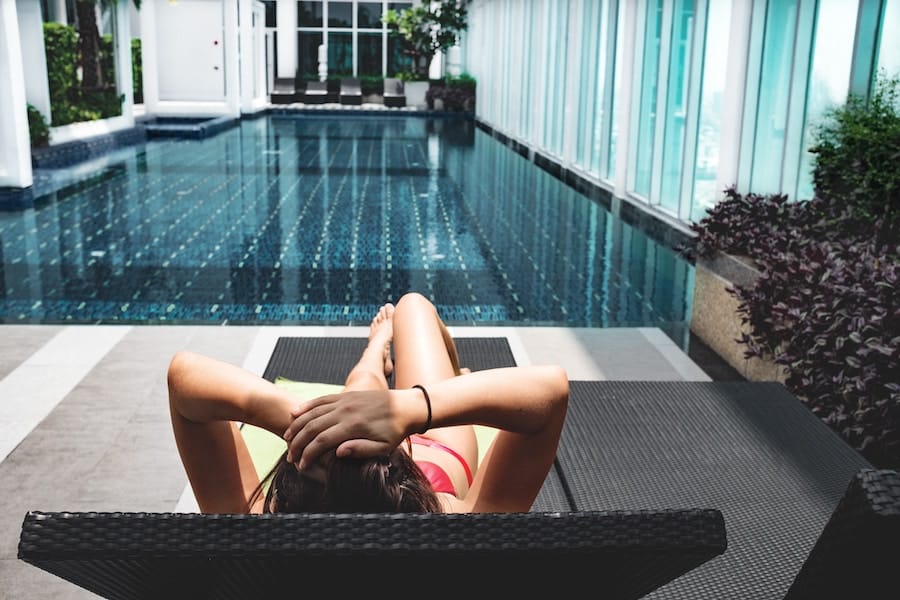 You can find a lot of spa places around the Pham Ngu Lao area, where most of them will be open during the night too!
Massage prices vary on your bargaining skills, but usually, be prepared to pay about $6 for this service!
Saigon is a huge city- actually the largest city in Vietnam. Of course, there are more things to do in Saigon than the 17 that we have listed here.
Even if you hit all the mentioned activities, make sure to explore on your own and discover new things.
Where to stay in Saigon
More Southeast Asia Travel Guides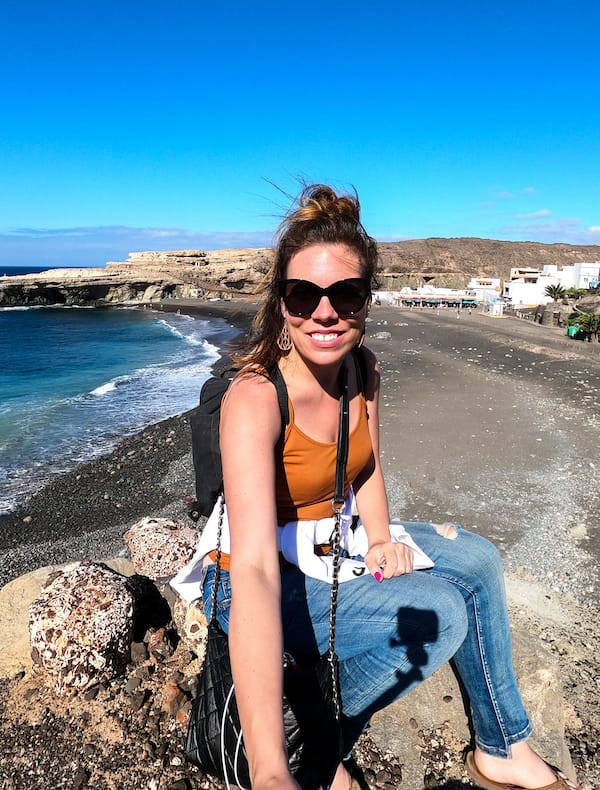 Megan is a travel blogger and writer with a background in digital marketing. Originally from Richmond, VA, she now splits her time between Frankfurt, Germany and Arctic Finland after also living in Norway, Armenia, and Kazakhstan. She has a passion for winter travel, as well as the Nordic countries, but you can also find her eating her way through Italy, perusing perfume stores in Paris, or taking road trips through the USA. Megan has written for or been featured by National Geographic, Forbes, Lonely Planet, the New York Times, and more. She co-authored Fodor's Travel 'Essential Norway' and has visited 45 US states and 100+ countries.