If you're looking at the best things to do in Ayutthaya if you only have a day, you're in the right place!
You'll be happy to hear that there are many fun things to do in this historical city which you can fill your day with.
Luckily, you also have various visiting options such as visiting Ayutthaya independently or joining a group tour. Whichever way you choose to visit this ancient city, you're sure to have a wonderful trip!
In this post, we will discuss what to do in Ayutthaya for the day while diving deeper into the best things to see and do.
We'll also cover topics including how to get to Ayutthaya and how to get around the city while answering a handful of related questions.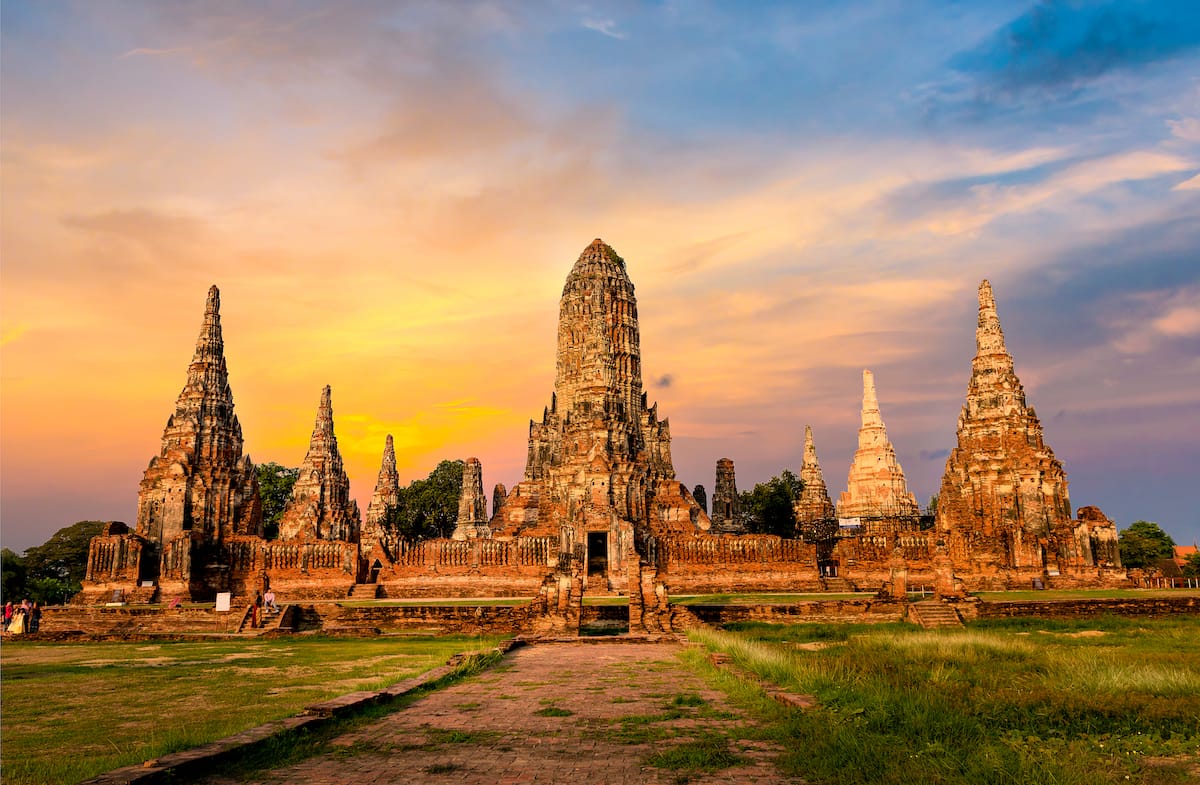 Did we miss any of the best places to visit in Ayutthaya? Let us know what should be on an Ayutthaya itinerary in the comments!
Where (and What?!) is Ayutthaya?
Did you know that Ayutthaya was once the capital of the Siam Kingdom? It stood regally as the home of the Royal Family and the center of commerce, trade, and politics.
It grew to be a very successful municipality before it was attacked, ransacked, and burnt down by the Burmese in the later part of the 18th century.
Consequently, the capital was moved to Bangkok and Ayutthaya was almost forgotten, but not quite! Today, the ancient city sees many tourists visiting to walk among the ruins which tell a story of an archaic and influential past.
The historical city of Ayutthaya has been designated a UNESCO World Heritage site contributing to the preservation and rebuilding of the most important buildings and sites.
Therefore, it is only obvious that what to do in Ayutthaya is to visit these ancient sites.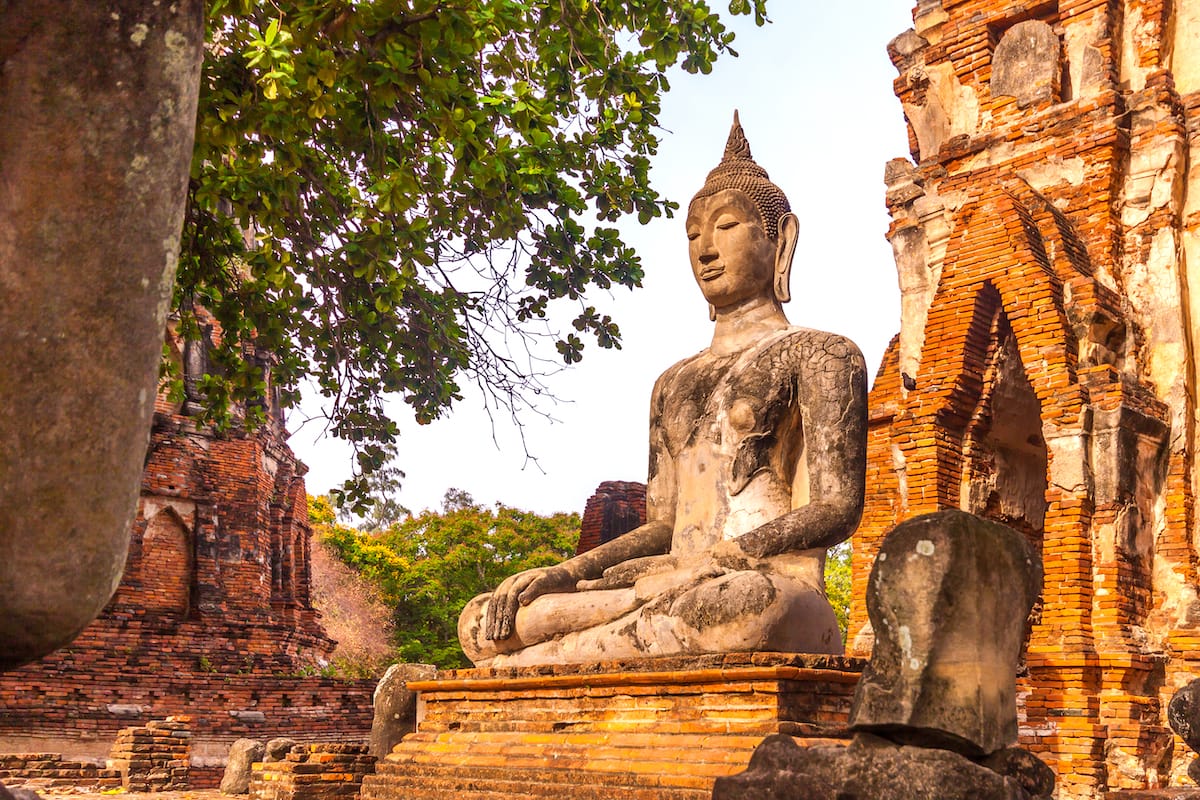 Ayutthaya's temples are by far the most important elements for visiting the city and they are wonderful.
For your day trip to Ayutthaya, you will be spending most of your time walking around the historical sites. But which ones are the best?
There are many temples and it's not possible to visit them all in one day. There are also other reasons for visiting which don't involve temples at all!
If you're someone who enjoys archaeological treasures, a riverside setting, and a more traditional Thai experience you might find you need more days in Ayutthaya!
One Day in Ayutthaya Itinerary Overview
Morning: Wat Phra Si Sanphet, Wat Mahathat, Wat Ratchaburana, Chao Sam Phraya National Museum
Lunch: Ayutthaya Floating Markets
Afternoon: Wat Phra Ram, Wat Yai Chai Mongkhon, Phutthai Sawan
Sunset: Wat Chai Watthanaram
Evening: Ayutthaya Night Market
Most important tip: Make sure you don't dawdle and get there early! You can fit all these activities in but you'll need to be at your first site at 9 am to ensure you make sunset at Wat Chai Watthanaram.
Best Things to Do in Ayutthaya
Now you know what you'll be doing in Ayutthaya during your day excursion (that is, mainly exploring the temples) I want to dive into which ones we think are the best.
There are 7 temples you should try and visit during your day in Ayutthaya.
Our favorites, if you like, turned out to be some of the most famous Ayutthaya temples (it's a given) but also a few hidden gems.
If you have the time, there are also some other places worth checking out noted below as well.
1. Wat Phra Si Sanphet
One of the biggest sites and likely the most visited and revered temple in Ayutthaya is Wat Phra Si Sanphet. It is located within the grounds of the former royal palace and is famous for its three large chedis which stand in the centre of the complex.
Walking around the site is a nice experience, and it has been laid out in a way that you can enjoy all aspects of the palace.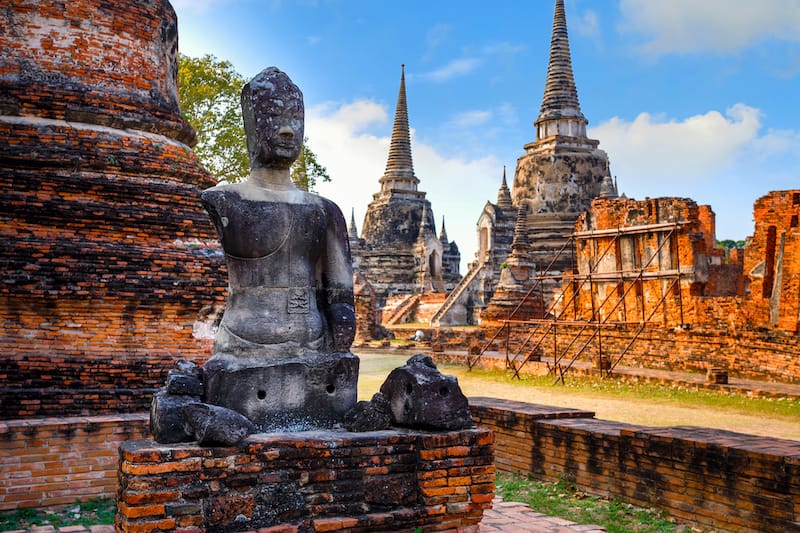 There is a circular path although you can go off the path and get closer to the structures.
Tip: There isn't much shade at any of the sites and it can get hot in Ayutthaya. It's a good idea to take a hat, plenty of water and wear sunscreen.
2. Wat Mahathat
Wat Mahathat was one of the most important temples in the Ayutthaya kingdom, and its ruins still attract visitors for its impressive architecture, ancient stupas, and intricate carvings.
Most famously known for the Buddha's head which has become entwined in the roots of a banyan tree, this temple is great for a photo snap!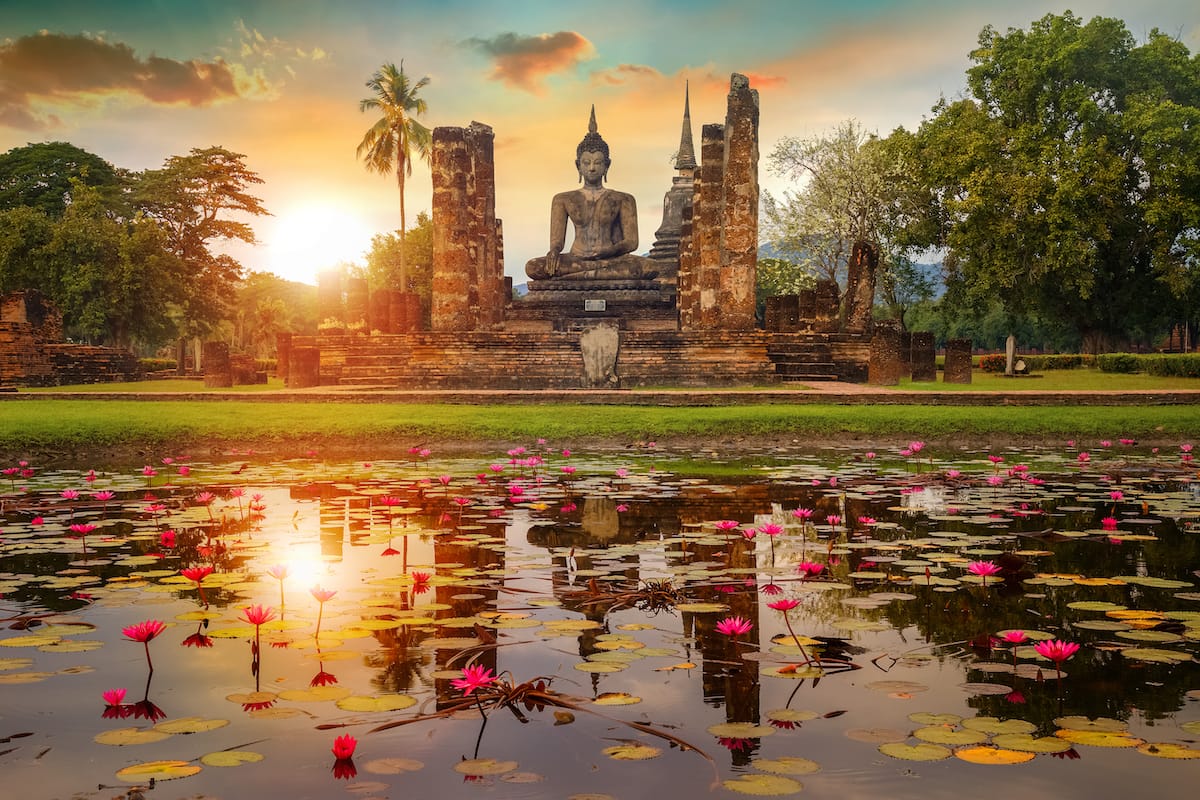 Since the iconic head has become a symbol of Ayutthaya's historical and cultural significance, you will find lots of people gathering around so you will need to wait for your shot.
3. Wat Ratchaburana
Wat Ratchaburana is known for its impressive Khmer-style prang, which is adorned with intricate carvings and details. This temple and the two above are next to each other and so visiting them all at once is possible during your day in Ayutthaya.
When walking around the temple, you'll notice the impressive prang central to the site – you can get a nice photo of it inside a remaining gateway.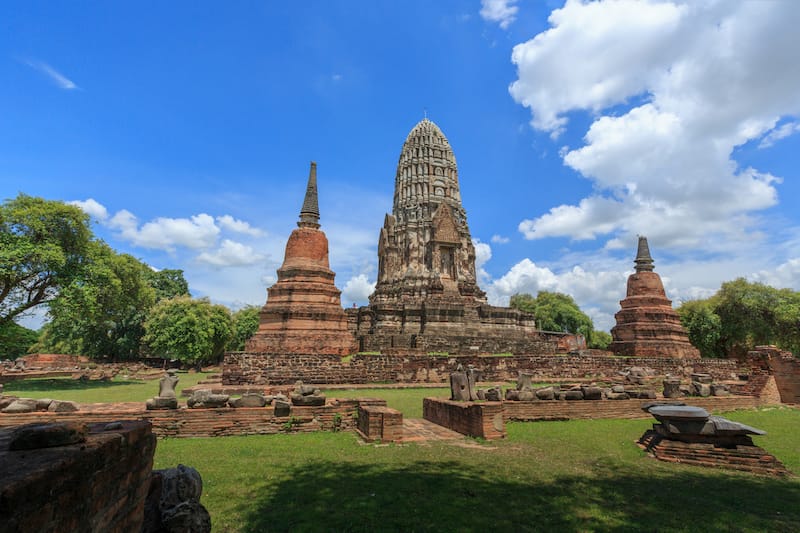 Explore more of the temple and you'll notice many murals and Buddha statues.
There is also a crypt beneath the prang, which can be accessed via a staircase and contains a number of ancient artifacts and treasures!
4. Chao Sam Phraya National Museum
The Chao Sam Phraya National Museum was after King Chao Sam Phraya, a ruler of the Ayutthaya Kingdom in the 17th century.
The museum houses a collection of artifacts and exhibits related to the history and culture of Ayutthaya, including ancient statues, pottery, weapons, and jewelry.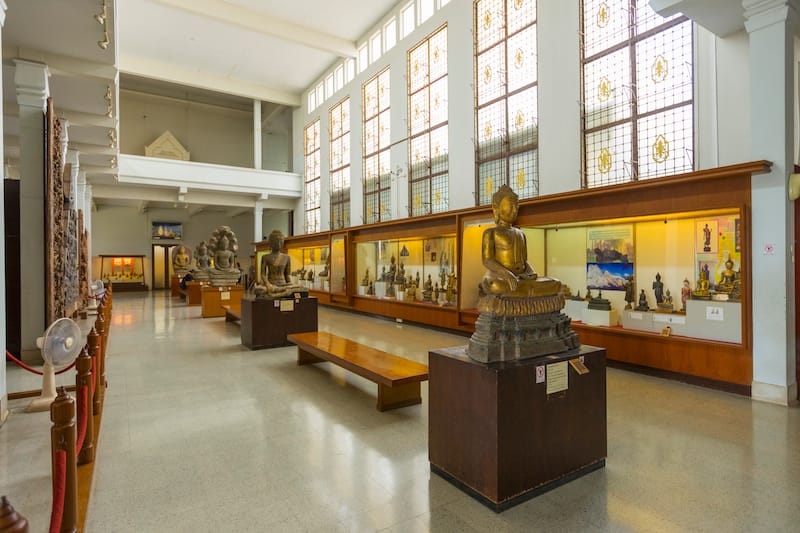 It's quite a small museum and so doesn't demand too much time but it's nice to learn about the city's rich history through these fascinating artifacts and exhibits.
5. Ayutthaya Floating Markets
If you haven't visited at least one floating market in Thailand, have you really been to Thailand? Of course! But, it has become such a popular activity that it's now on everyone's bucket list.
Ayutthaya has its own floating market and incorporating a visit into your day trip is a great idea if you're looking for where to go during your lunch break.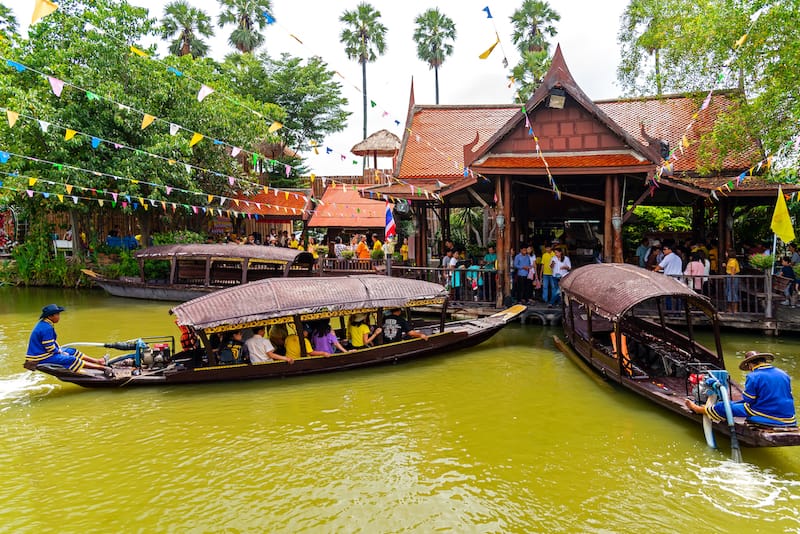 Expect to see a lively atmosphere with vendors calling out their wares and bargaining with customers. The markets also offer cultural performances, such as traditional Thai dance and music!
As you walk around, explore the many vendors and try a variety of local street food, including grilled meat skewers, fried noodles, and sweet desserts.
If you want, you can also take a boat ride along the canals to experience the markets from a unique perspective.
6. Wat Yai Chai Mongkhon
Wat Yai Chai Mongkon was one of our top favorites! It's located outside the island within a well-maintained complex and has different areas to wander.
The main temple in the middle is known for its large chedi which can be climbed for a panoramic view of the surrounding area. You can stroll around the temple grounds, which feature a large number of Buddha statues, pagodas, and ancient ruins.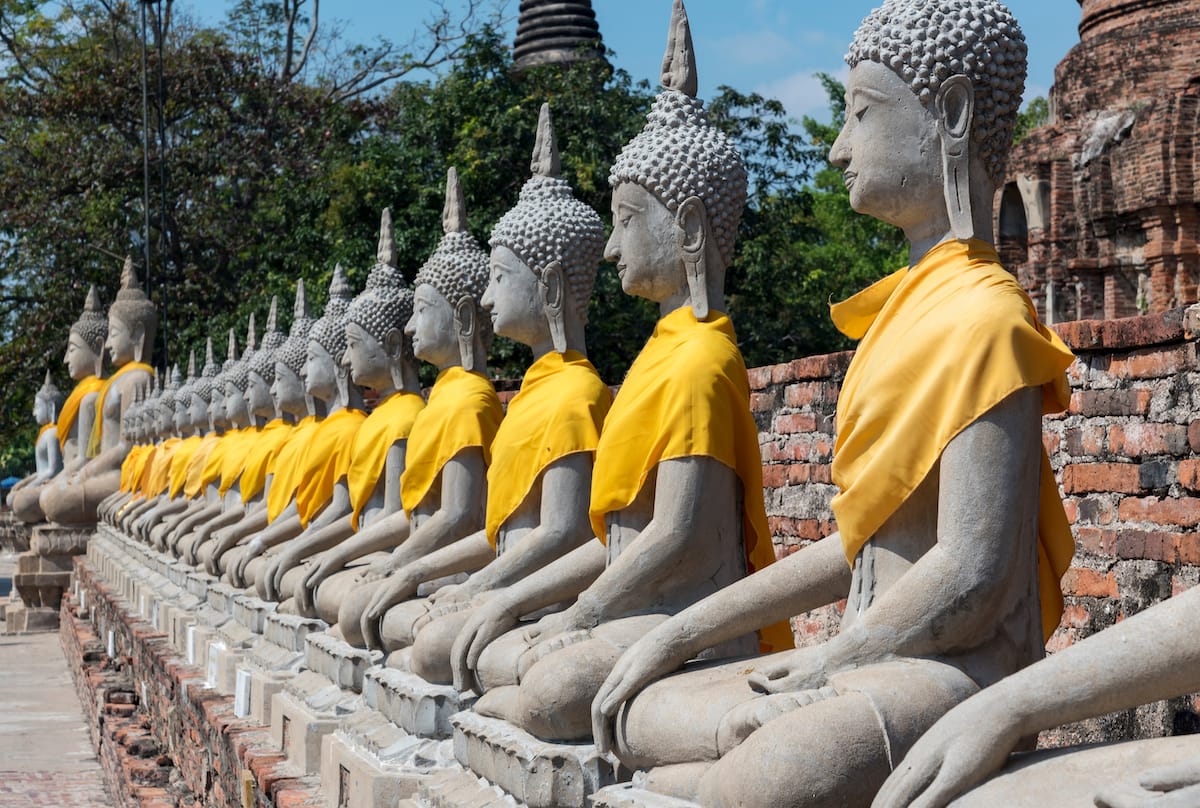 One thing we loved was the rows of Buddhas lining the temple. There is also a reclining Buddha here too. There are many colorful flowers and you can expect to see many local devotees praying and offering flowers and incense.
You'll also witness monks performing religious rituals and ceremonies if you're lucky! We found this temple to be the most relaxing and peaceful.
7. Wat Suwan Dararam
Wat Suwan Dararam is an active temple and a great one to visit to envision what the ruins would have looked like in their heyday!
The white render, colorful gems, gold leaf, and intricate details would have covered the ancient temples as they do at Wat Suwan Dararam.
Or at least, this is how I envision them, if not with more grandeur.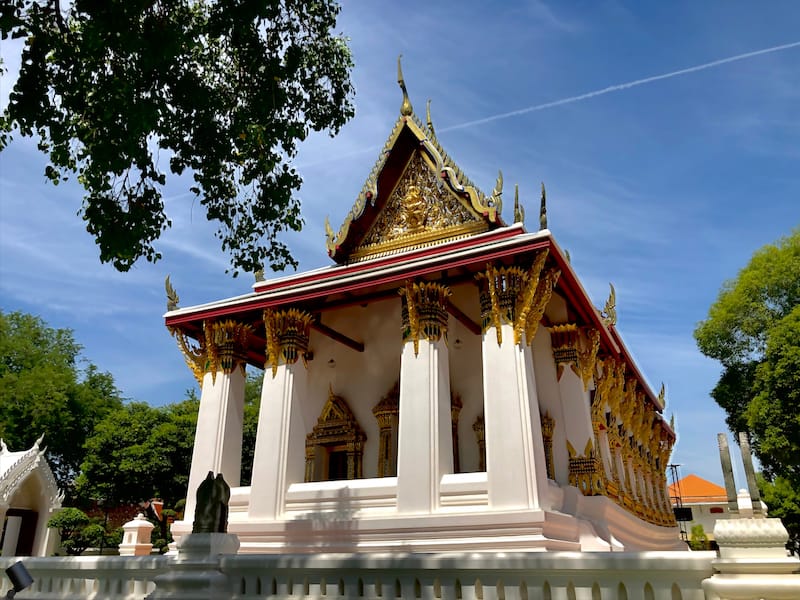 This particular temple is known for its striking, golden-roofed ubosot and has undergone several restorations over the years.
Inside you'll find a beautiful, golden Buddha statue surrounded by wonderfully handpainted art on the walls depicting battle scenes.
8. Phutthai Sawan
Our favorite hidden gem is Phutthai Sawan! This little beauty was in quite a state of disrepair, especially around the temple grounds. Although, that said the temple itself was actually doing okay.
You will notice a tall white chedi which we climbed to the top, although we were greeted with a rather awful smell and so quickly retreated.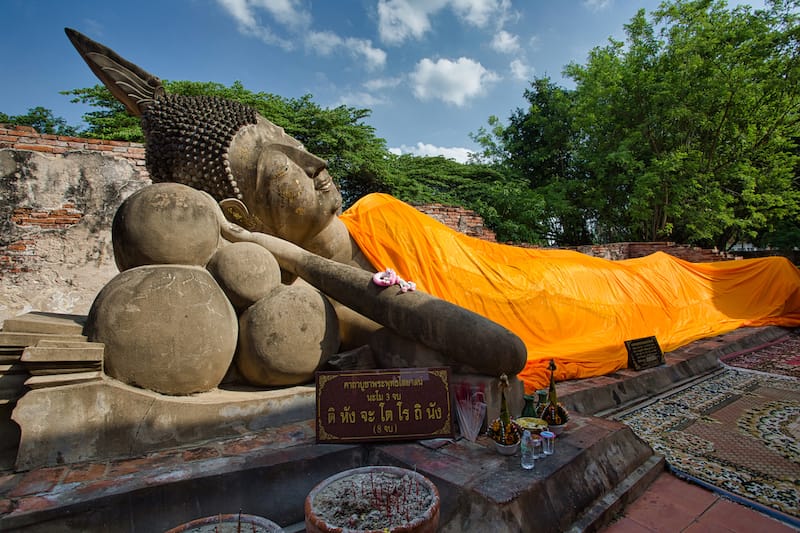 What's nice about Phutthai Sawan is its charming rows of gold Buddhas and overgrown gardens, making it a peaceful and serene place to visit. We enjoyed visiting this one due to the lack of crowds.
9. Wat Chai Watthanaram
A favorite of many visitors, Wat Chai Wattanaram is the one to visit at sunset. The positioning of this temple beside the river makes for a magical scene as the sun begins to set behind the temple.
There has been a lot of restoration work on this temple and it's really a nice one to explore. If you're lucky you'll see monks sitting on the river bank performing meditation during your sunset visit!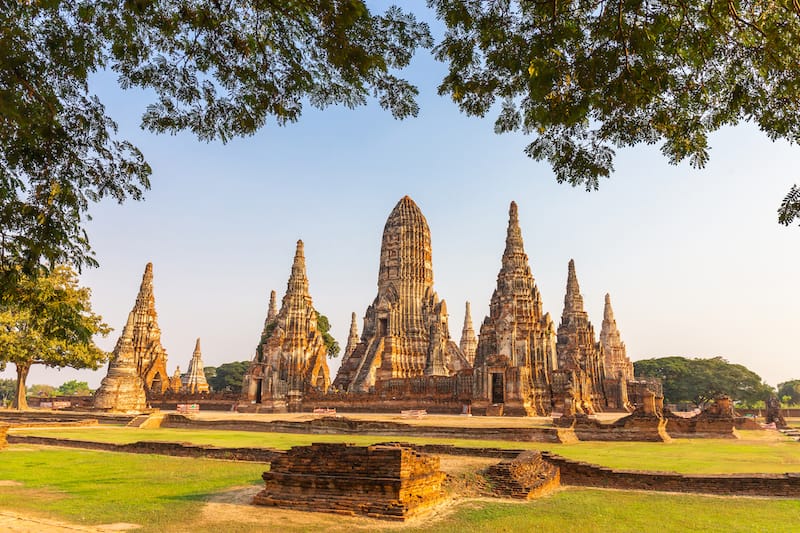 Tip: The temple site does close before sunset but you can hang about on the river's edge or in the car park to get your shoots.
10. Ayutthaya Night Market
The Ayutthaya night market takes place every evening and offers a variety of local street food at very good prices. The one we visited is opposite Wat Mahathat but you will need to be staying later to enjoy it as it starts after dark.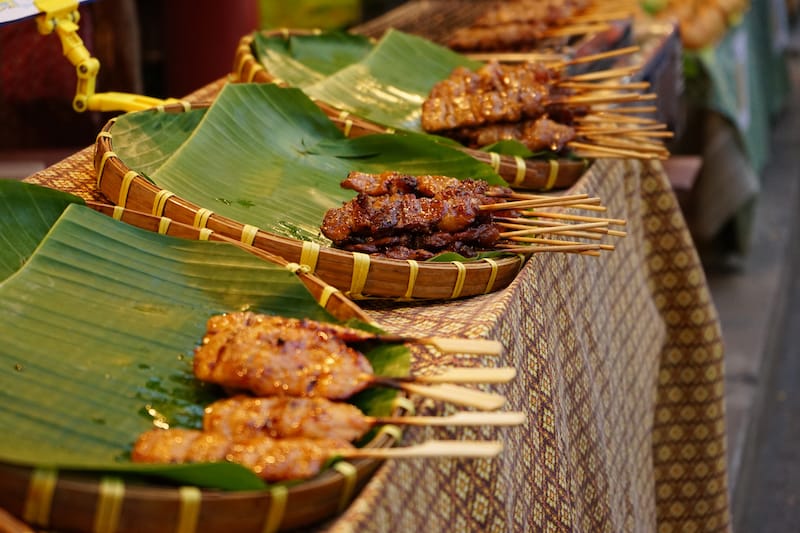 Why not grab some grub for your journey home? Or you can choose to eat at the market as they put chairs out for customers towards the rear. In truth, we generally took our prizes back to the hotel.
The night market is a great way to experience the local culture and cuisine of Ayutthaya in a vibrant and fun setting. I think it's the best way to end your day exploring the ancient city.
How To Get To Ayutthaya From Bangkok
There are various ways to reach Ayutthaya, although I would guess most of you will be visiting from Bangkok, especially if you're only visiting for the day.
Train
The easiest way to get to Ayutthaya is by train. It takes under 2 hours and leaves from Hua Lamphong Railway Station in central Bangkok.
Costs vary depending on class, just so you know, I would say that the third class (the most affordable) is fine during the day. You might prefer to travel second after dark.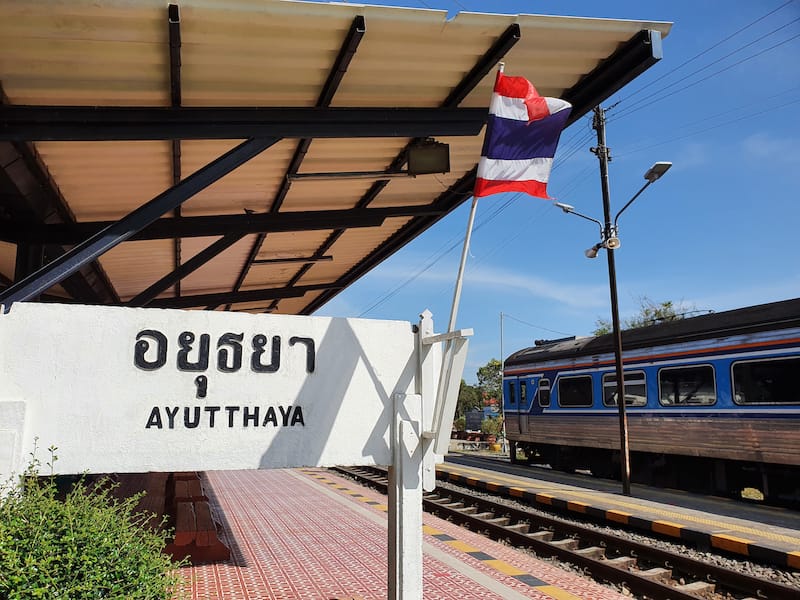 Tour
Another popular way to visit the historical city is on a tour. You can choose private tours or group tours however you won't be able to explore independently, and will have to follow the guide's itinerary.
This is the best way to do it if you're unsure or feel unsafe traveling by yourselves. Tours are organized events generally held by reputable companies.
The Best Way To Explore Ayutthaya For The Day
The most fun we had was being able to explore the temples on a bicycle at our own pace.
However, towards the end of our time in Ayutthaya, we were running out of time and utilized the local tuk-tuks to take us around harder-to-reach sites.
Rent A Bike
The best way to explore the temples is to rent a bicycle. You'll be able to get reach the temples which are located outside the island much easier if you have a bike.
The three temples you visit in the morning won't necessarily require cycling as they are within walking distance of one another.
However, many people do cycle between them since you'll be able to rent a bike for 50Bhat or if you prefer there are cycle tours you can join to explore the city sites too!
Hire A Tuk-Tuk & Driver
If you don't fancy biking around all day another option is to jump in a tuk-tuk. You can hire one for the whole day as well or use them to take you on single trips.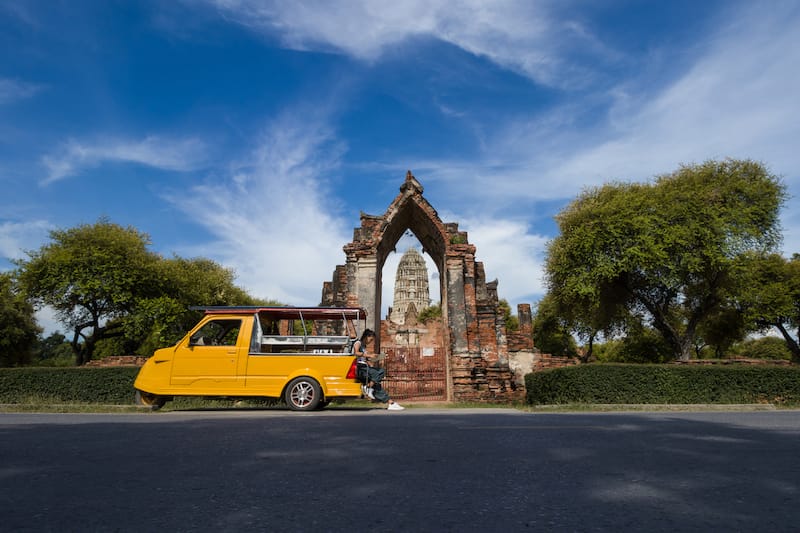 Whichever way you choose to get around, make sure you negotiate the price and pay at the end of your trip.
What About If You Decide To Stay?
After reading this you might have decided that staying the night is a good idea. It is! Honestly, we feel that you will need more than one day to fully appreciate this ancient city.
Even if you're staying for one night more it will certainly give you more time to visit the sites and enjoy the city.
The great news is that there are some wonderful hotels in Ayutthaya to suit all budgets. Depending on your budget and travel preferences there are homestays, hostels, and high-end hotels all within the central island or along the river.
FAQ About Visiting Ayutthaya
How Can I See Ayutthaya In One Day?
The best way to see Ayutthaya in one day is to plan for a day trip. You'll need to leave early and make sure you reach the ancient city by 9 am to ensure you fit in most of the major sites and activities.
Another great way is to join a group tour leaving from Bangkok, this way you'll be able to leave the organization and the day's itinerary to experts.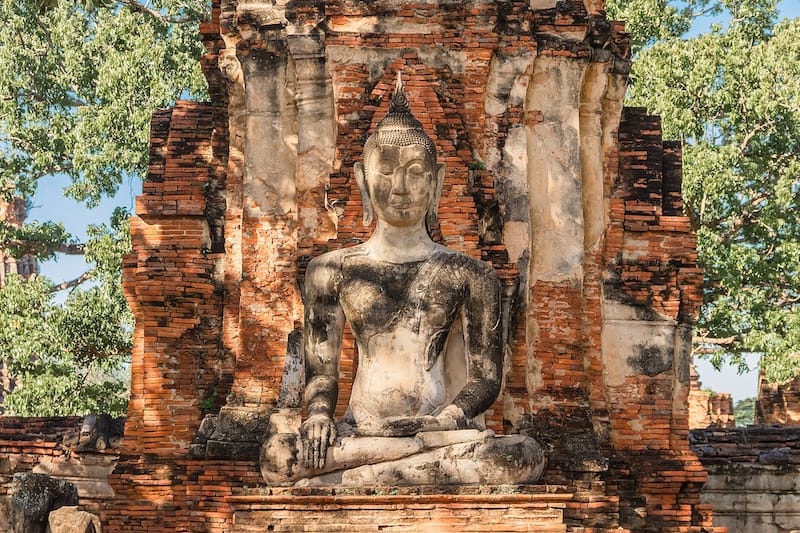 It's also good to have a guide who can tell you more about the history of the area while you walk around.
Is An Ayutthaya Day Trip Worth It?
Honestly, we feel that you would require a couple of days to fully appreciate Ayutthaya.
That said, if you're short on time then it's worth visiting Ayutthaya on a day trip rather than not at all. You will still get plenty of opportunities to explore the sites and learn about the city's culture and history.
How Much Time Do I Need In Ayutthaya?
To make the most out of your day in Ayutthaya you will need the whole day. If travelling indecently aim to reach the city by 9 am.
This will give you three hours in the morning to explore the temples within the island's historical Park.
1-2 hours for lunch followed by 3 hours for the afternoon temples. Make sure you reach Wat Chai Wattanaram before sunset, generally around 6 pm.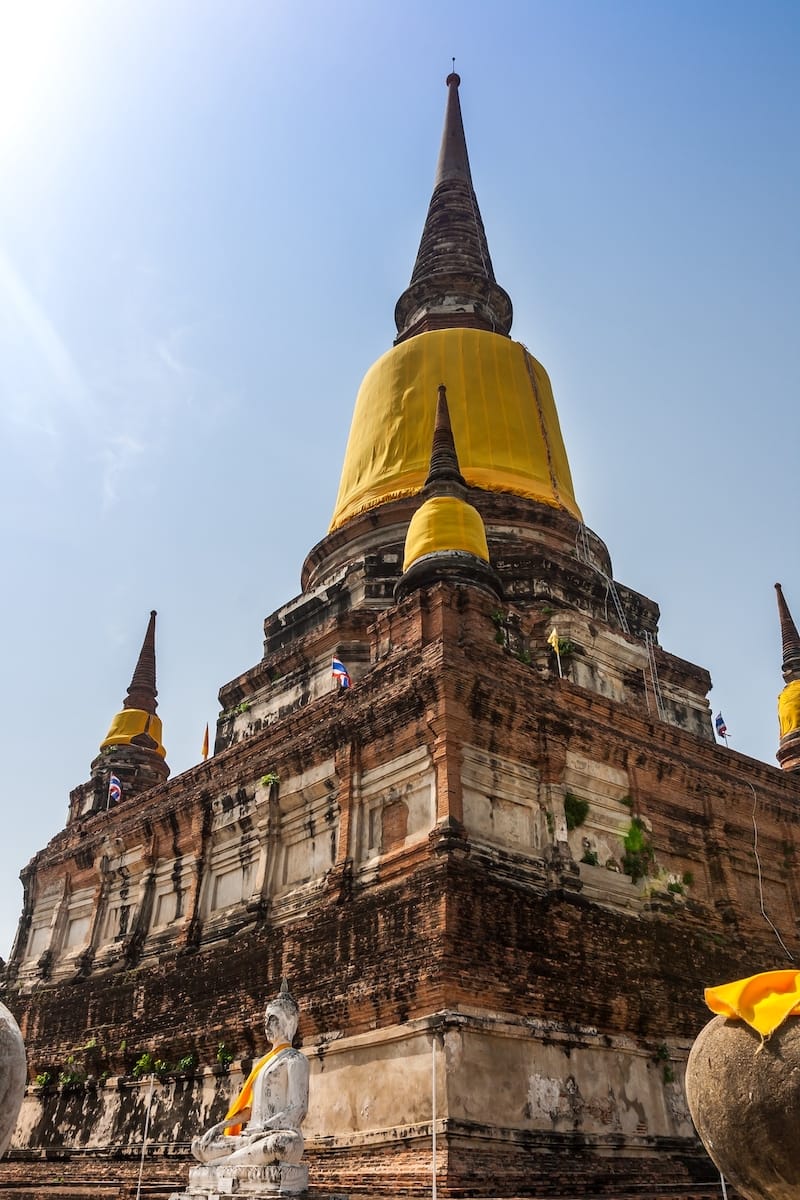 Afterward, you'll need another hour or so for the night market and so plan to return to the train station at 8 pm.
Should You Visit Ayutthaya For A Day?
Hopefully, your question about what to do in Ayutthaya for a day has been answered and you're now prepared for your journey.
Ayutthaya is a fascinating place to visit in Thailand and due to its proximity to Bangkok, it does make for a lovely day trip.
You'll be able to immerse yourself in its history and culture and walk around sites that would have otherwise been inaccessible.
To enjoy and ensure you get the most out of your trip be sure to go prepared. Plan your day by sticking to the top must-visit sites in this article and optimize transport options, such as hiring a bicycle, to get you around the sites.
Do you have any questions about the best things to do in Ayutthaya? Let us know about your favorite Ayutthaya attractions in the comments!
Where to Stay in Ayutthaya
Cattani's Riverside Home (Luxury)
Baan Thai House (Mid-range)
Luang Chumni Village (Budget)
More Thailand Travel Guides
Pin this Ayutthaya Things to Do Guide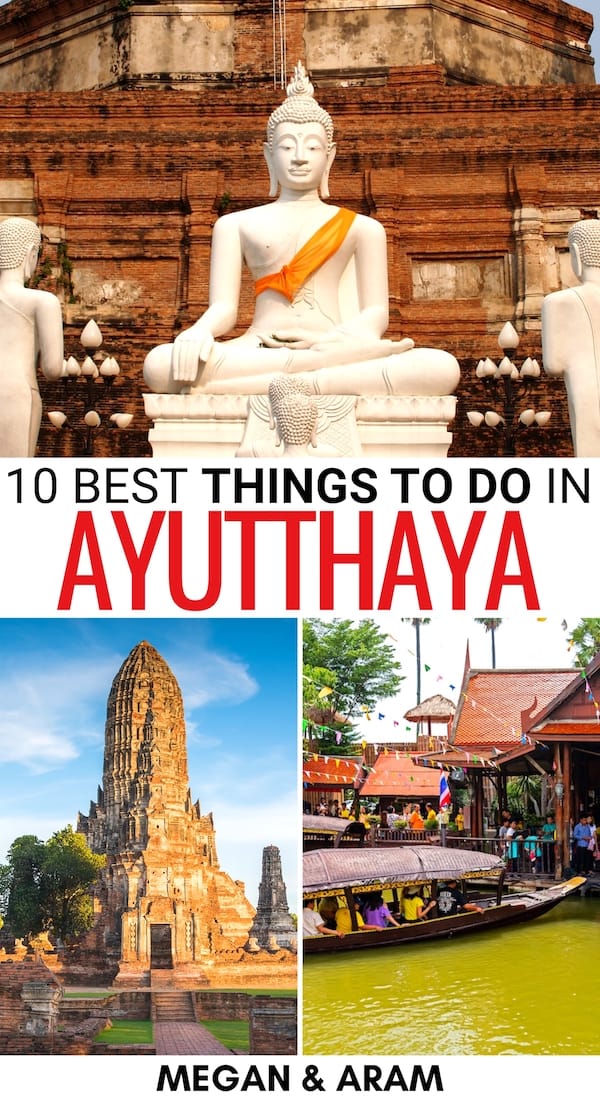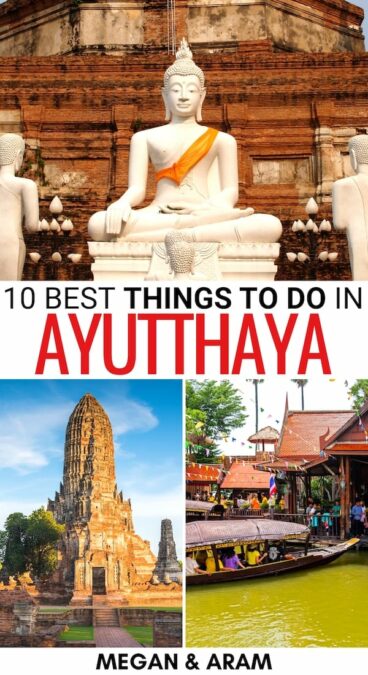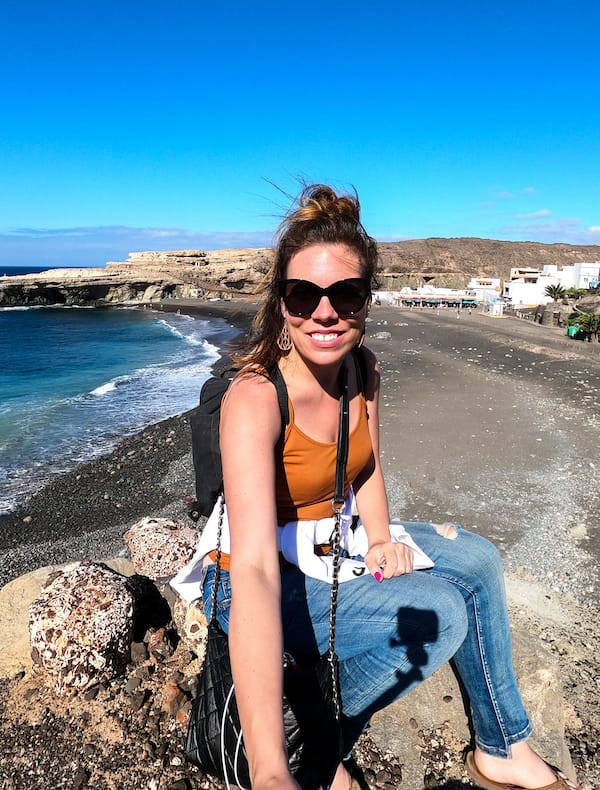 Megan is a travel blogger and writer with a background in digital marketing. Originally from Richmond, VA, she now splits her time between Frankfurt, Germany and Arctic Finland after also living in Norway, Armenia, and Kazakhstan. She has a passion for winter travel, as well as the Nordic countries, but you can also find her eating her way through Italy, perusing perfume stores in Paris, or taking road trips through the USA. Megan has written for or been featured by National Geographic, Forbes, Lonely Planet, the New York Times, and more. She co-authored Fodor's Travel 'Essential Norway' and has visited 45 US states and 100+ countries.