Have you been to Thailand or is it on your bucket list? This guide showcases the most beautiful places to visit in Thailand – from Pai to Krabi to Koh Samui and beyond!
Beautiful Places To Visit In Thailand
Thailand is a country bursting with beauty at every corner! With so much to explore, it's almost impossible to decide where you should visit first.
Well, to help narrow things down and inspire your trip to Thailand, I've put together a list of the most beautiful places to visit in Thailand.
Pai
Pai is located in the north of Thailand and is "in-land". It may not have any spectacular beaches on offer, but Pai is bursting with natural beauty and it's one of my favorite places to visit in Thailand.
If you want a slower pace of life compared to other more manic areas of Thailand, then you could easily spend days relaxing in Pai.
Home to amazing hot springs, stunning waterfalls, epic street food, and strawberry vodka (as good as it sounds!), Pai has it all!
It even has its own Pai Canyon, which I have to admit, is pretty epic. Plan to spend at least 3 nights in beautiful Pai.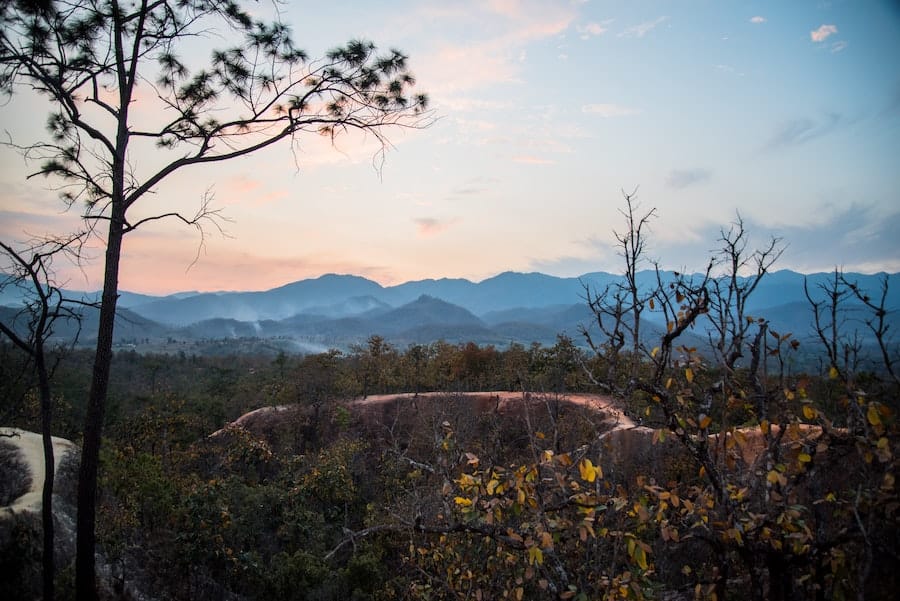 Tip: rent a moped to gain easy access to all the best sites in Pai
Top things to do in Pai:
Rent a moped and discover remote hot springs around the area (such as

Sai Ngam)

Discover beautiful waterfalls (including Mae Yen Waterfall)

Wander around the epic Pai Canyon

Visit the Strawberry farm and taste some strawberry vodka and strawberry wine

Eat your heart out at the famous night market
Chiang Rai
Chiang Rai is becoming more and more popular thanks to the amazing pictures of the epic temples that are located there. It is one of the things Thailand is known for these days!
Chiang Rai is home to the famous "White temple" (Wat Rong Khun) and "Blue Temple " (Wat Rong Seua Ten), both absolutely unique and beautiful.
I would go as far as to say that these are some of my favorite temples in all of Thailand and South East Asia (big claim, I know!).
But the White Temple is super unique in design and creativity, and the Blue Temple is just jaw-droppingly gorgeous. Of course, there is more to Chiang Rai than just temples.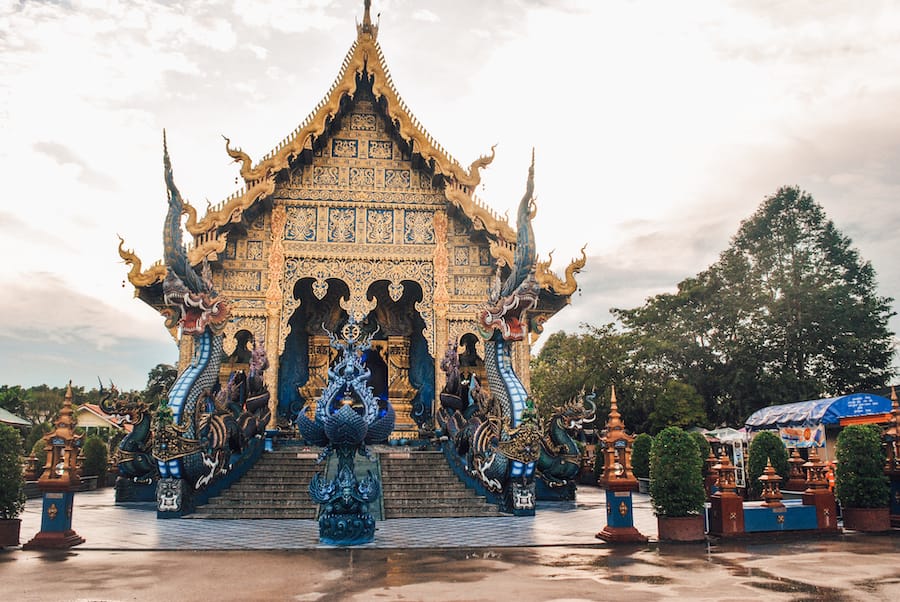 You should check out the epic Black House too and there are also some awesome waterfalls. Our favorite was Khun Korn Forest Park Waterfall, we got soaked just getting a little bit close to it. I would suggest at least 2-3 nights in Chiang Rai.
Tip: Moped rental or tour is the best way to go "Temple hopping" in Chiang Rai
Top things to do in Chiang Rai:
Discover the variety of awesome temples in the area

Eat delicious food at the night markets

Discover epic waterfalls and beautiful forest walks
Koh Samui
The Thai islands are bursting with stunning beaches, but one of my favorite Thai islands is Koh Samui. I love that it's small and packed with beauty.
You can easily rent a moped and drive around the full island in one hour which is so much fun. Koh Samui is easily one of the most beautiful places to visit in Thailand and since it has its own airport, it's super easy to reach.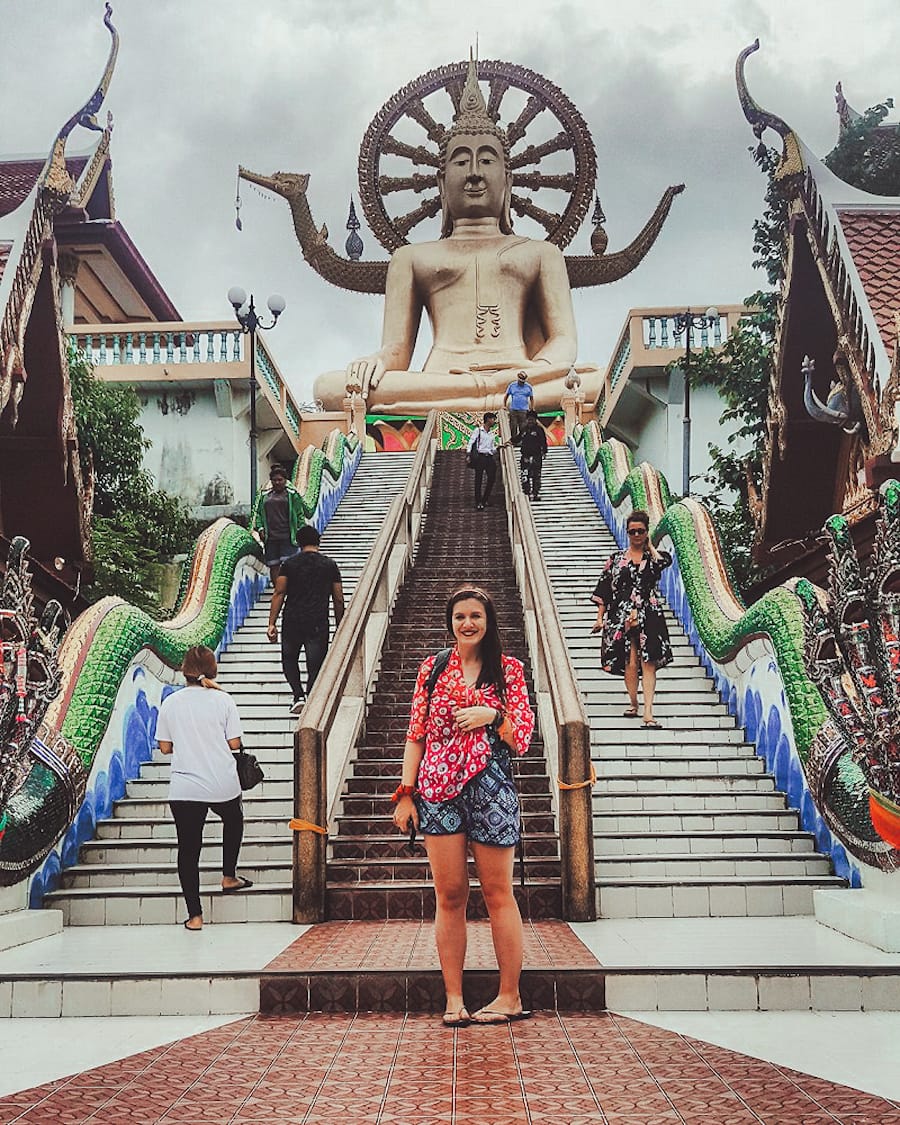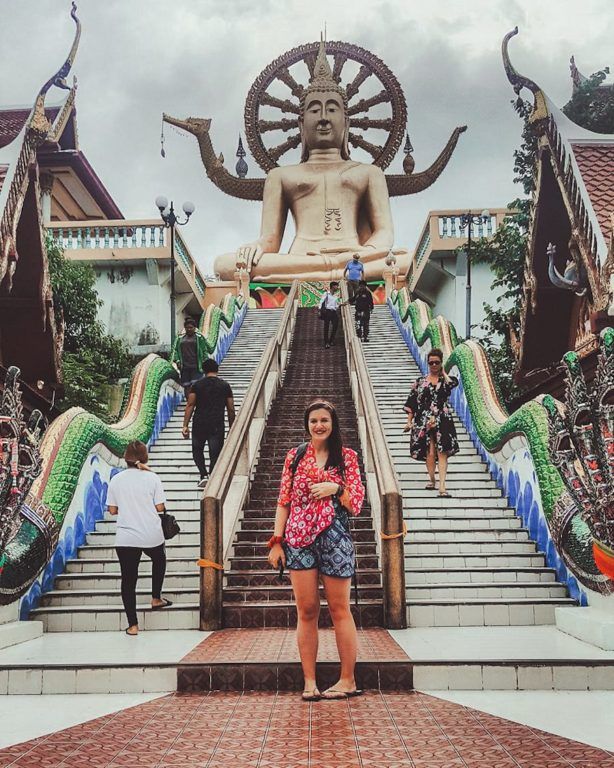 Koh Samui appeals to families, couples, and solo travelers. It can give you a relaxed chilled vibe, or party central, depending on where you stay and what you do!
I would suggest you stay at least 3 nights on Koh Samui, but if you want to relax, you could easily spend a week here.
Tip: Flights to Koh Samui are reasonable when booked in advance
Top things to do in Koh Samui:
Rent a moped and drive around the whole island for epic coastal views

Visit the amazing Big Buddha

Relax in stunning waterfalls, including Hin Lat waterfall and

Na Muang waterfall

Try delicious seafood at the Fisherman's Village Market

Party and relax at one of the brilliant beach clubs
Krabi
Krabi is another one of the beautiful places Thailand has to offer and it is one of the places that is easier to reach if you're traveling from Kuala Lumpur or Singapore to Thailand.
Krabi town itself is a great place to base yourself with fantastic restaurants, accommodation options, and nightlife. But the real charm of Krabi is to take some island hopping trips.
My favorite nearby island is Railay Beach. It's just a quick long-tail boat ride from the pier in Krabi and you're greeted with stunning limestone cliffs, an epic beach, and just complete beauty.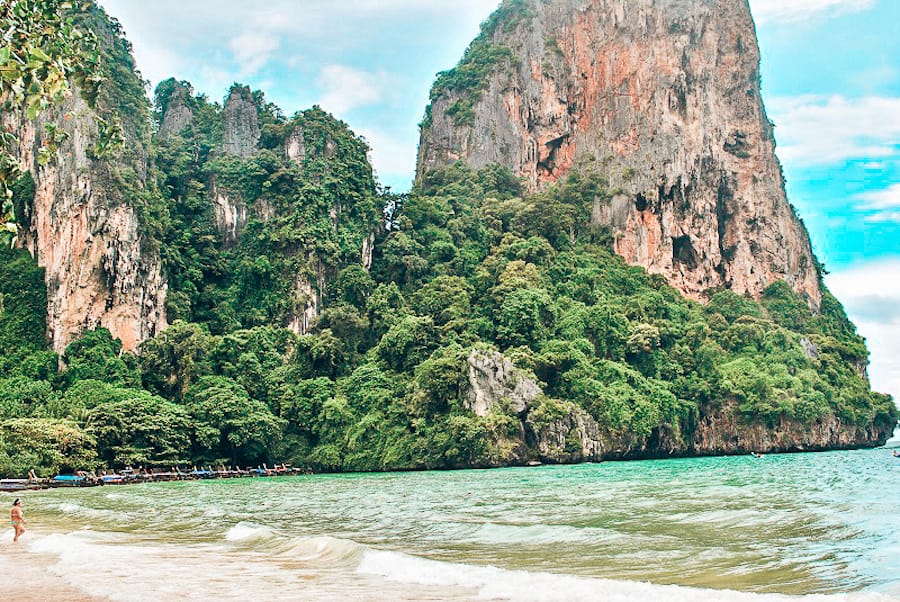 Once on Railay Beach, you can even trek to a secret lagoon (I warn you, that trek is muddy and challenging!).
When back in Krabi province itself, you've got lots more to explore including the beautiful Khao Phanom Bencha National Park and Wat Kaew Korawaram. I would suggest a duration of around 2-3 nights in Krabi.
Top things to do in Krabi:
Go snorkeling on one of the nearby beaches

Day trip to Railay beach

Eat and drinks lots of Thai cuisine at the Krabi walking street night market

Explore nearby temples and national parks
Phi Phi Islands
The Phi Phi islands are often regarded as one of the most beautiful islands in South East Asia, and definitely in Thailand. As beautiful as they are, they're often well known for their party reputation.
But, even if you're not into partying, the Phi Phi islands have a lot to offer, especially when you venture off to the nearby Mosquito island and Phi Phi Leh Island (which was the filming location of the brilliant movie "The Beach").
The key to getting the most out of the Phi Phi islands is visiting in the slower seasons and heading to the beautiful beaches earlier in the day so you'll have them all to yourself.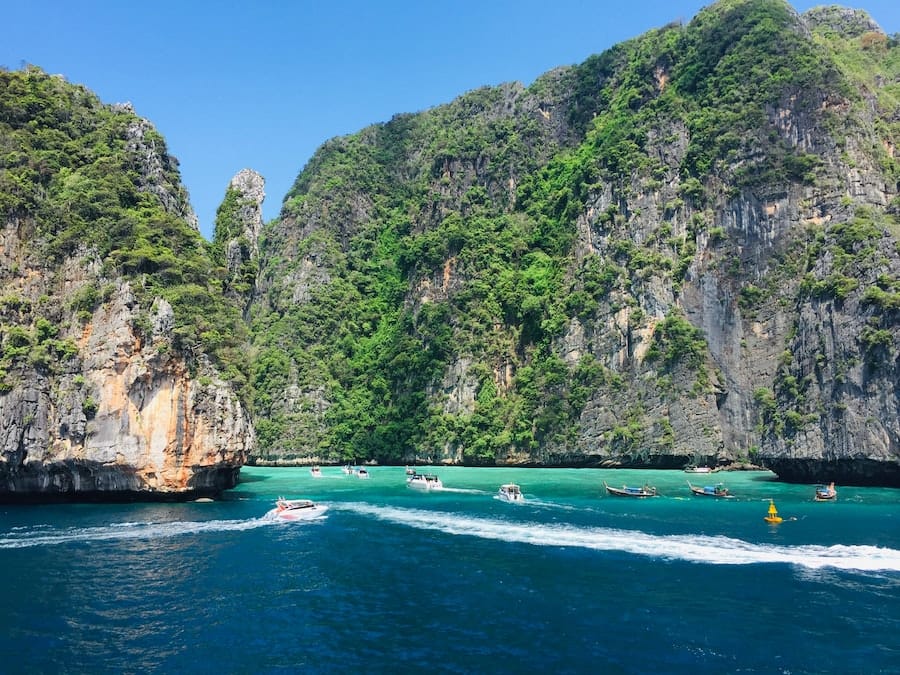 You can also arrange island hopping tours to quiet, secluded islands that have no one on them! Truly one of the most beautiful places to visit in Thailand. Aim to stay on the Phi Phi islands for 2-3 nights.
Tip: Try and arrange a private boat tour and start early to explore some lesser-known corners of the islands
Top things to do in Phi Phi:
Hike to the Phi Phi viewpoint for epic views of the island

Go snorkeling, or learn how to dive

Visit the Viking cave

Explore the nearby Bamboo island
Bamboo Island
Because it's so beautiful, it's worth giving Bamboo Island its own section! This tropical paradise offers you the chance to escape the crowds and truly experience the beauty of Thailand.
It's actually quite small and measures at around 600m by 700m long and it's a pretty iconic island thanks to its ́ 'heart shape". It's completely surrounded by white sand so there are lots of opportunities for relaxing, swimming, and even snorkeling.
It's close to a super famous coral reef spot known as Hin Klang which gives visitors the feeling of swimming in an aquarium (yes, that many fish!).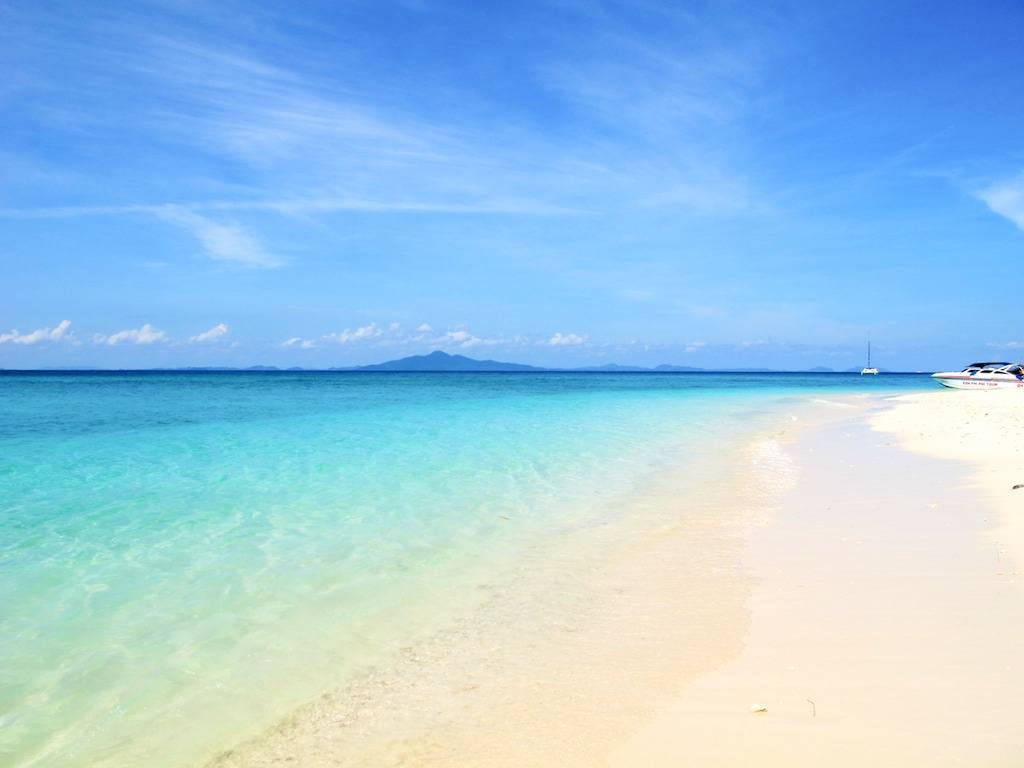 You can easily get to Bamboo island from Phi Phi itself and even Phuket. This is nature at its finest and while there are many things to do in Phuket with kids, this is a nice getaway to take them away from the hustle and bustle of the busy island!
You could visit Bamboo island more than once since it's so easily accessible. If you need some peace and quiet, then this is the place for you.
Tip: Bamboo island is part of a national park so an entrance fee of 400 baht for adults applies
Top things to do in Bamboo Island:
Relax on the beautiful white sand beaches

Snorkel among the thousands of fish

Walk around the island (it only takes 30 minutes)

Yoga on the beach: epic views and a tranquil setting- what more could you want?
Chiang Mai
Another one of my favorite places to visit in Thailand is Chiang Mai. It's a very popular spot for backpackers and it's filled with beauty and amazing things to do.
It's also got an international airport which makes it a great starting to endpoint for your Thailand adventures.
When we visited Chiang Mai, we were actually surprised by some of the cool activities that were on offer there. For example, diving and swimming in the "Grand Canyon".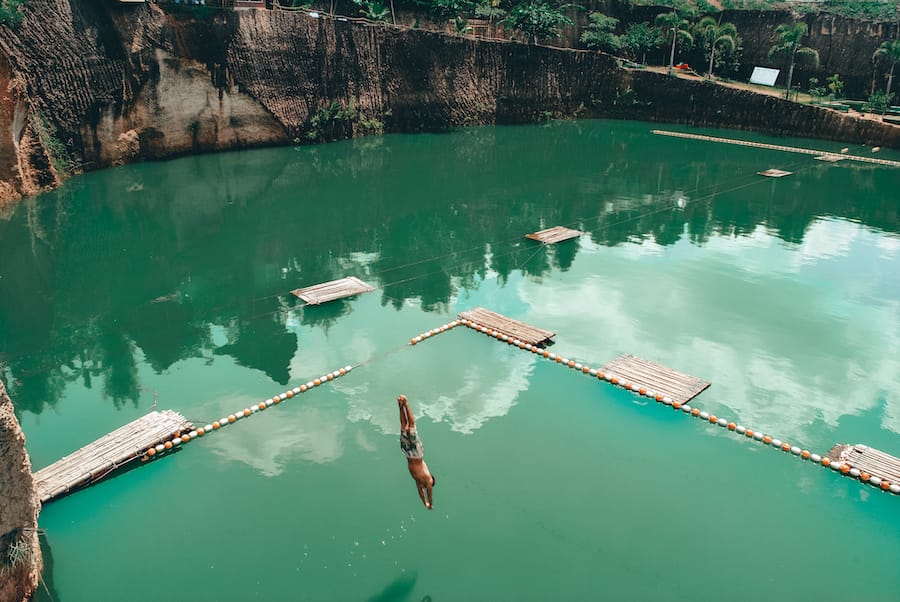 This was super cool and very cheap. Chiang Mai is also home to great temples, and the chance to interact with elephants.
Thankfully, there are ethical companies in Chiang Mai, so just research who you are visiting and make sure you don't ride elephants.
I think 3 nights in Chiang Mai is a great length of time to see lots of top attractions, but 4 days in Chiang Mai is also a viable option if you have the time (there is so much to see!). There are fantastic places to stay in Chiang Mai and we think one of these Chiang Mai Airbnbs would be well-suited to any travel needs!
Top things to do in Chiang Mai:
Swim and dive in the Grand Canyon

Visit the epic Wat Phra That Doi Suthep in the national park (keep an eye on the weather, the view is no good with fog)

Shop until you drop at the Chiang Mai Night Bazaar

Discover unique waterfalls
When is the Best Time to Visit Thailand?
Thailand's climate differs all over, so the best time to visit will largely depend on where you want to go. For example, the west coast has better weather in the winter months when snorkeling and diving opportunities are at their best.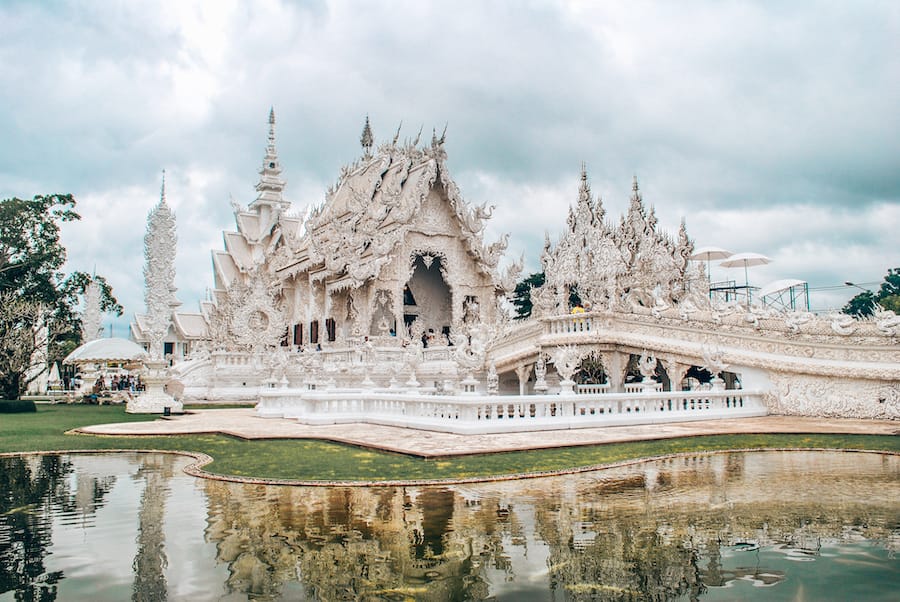 But, in general, the dry season in Thailand runs from November to around April, which would make this the best time to visit. I've visited Thailand in the months of September, and August and both times the weather was great.
How Long Do I Need to Visit Thailand?
This largely depends on what you want to see and do. If you stick to one area during your trip to Thailand, such as the north (to explore Chiang Rai/Chiang Mai/Pai) or the south (for the Thai islands), then you'll probably need around 10 days for each specific area.
However, if you decide you'd like to visit all of Thailand, then it's very possible to do the full country in 3 weeks.
Final Few Tips for Visiting Thailand
Cash withdrawal in Thailand is now set at a pretty expensive withdrawal rate, regardless of who your card provider is. So we recommend you bring Thai Baht in with you, or withdraw larger amounts to reduce the ATM fees.

Using a moped is the most convenient way to get around most of the places I've listed above. Moped rental is cheap, but remember you'll need an international driving license which you can apply for in your home country.

Bus travel is a cheap and comfortable way to get from place to place. Long haul buses are of a high standard which leads to a fuss-free journey.
So that's it from me! I hope you've found this guide on the most beautiful places to visit in Thailand useful.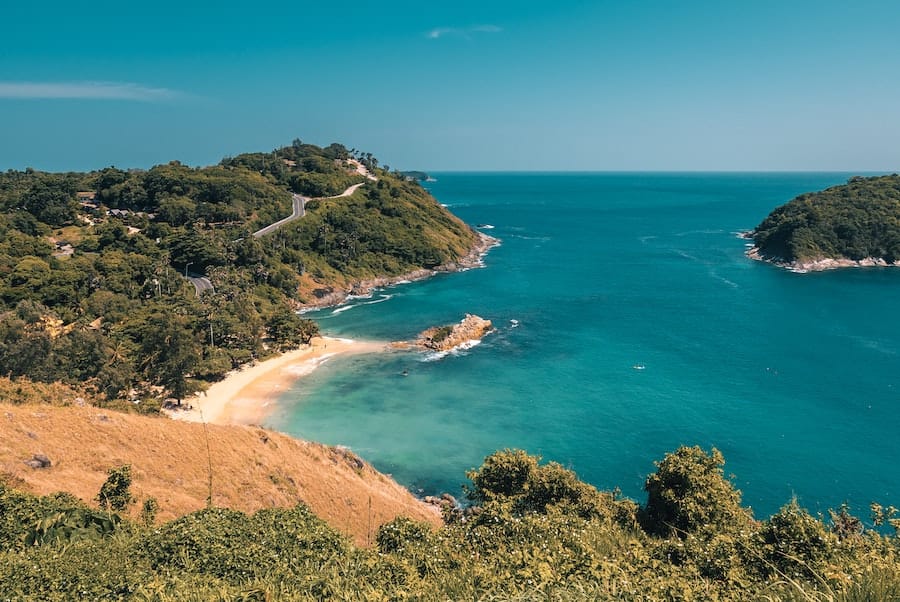 There are definitely more beautiful locations in Thailand that aren't on this list. But these seven places should be a good start to exploring the beauty that Thailand has to offer.
Bio:
Cazzy Magennis is a writer at Dream Big, Travel Far. The blog to inspire couples and type 1 diabetics to explore the world with no limitations! She's been to over 60 countries so far with an aim to see the entire world!
More Southeast Asia Travel Guides