I was pleasantly surprised when I visited Siem Reap many years ago. I knew nothing more about the city than the temples, but I found a plethora of things to do to keep me occupied.
This post will show how to have an awesome 3 days in Siem Reap.
Are you planning your trip to Siem Reap last minute?
If youʻre booking your trip to Siem Reap last minute, we have you covered. Below are some of the top tours, hotels, and more!
Top Experiences and Tours in Siem Reap:
Top Hotels in Siem Reap:
Golden Temple Retreat (Luxury)
Baby Elephant Boutique Hotel (Mid-range)
Tropical Breeze (Budget)
This Siem Reap itinerary is a guest post from Delilah Hart at Our Travel Mix.
What to Know Before Traveling to Siem Reap
Being the largest religious monument in the world, Angkor Wat really has put Siem Reap on the map.
And, for good reason! Exploring the grounds while being surrounded by ancient temples is an unforgettable experience.
While others love to spend time in the picturesque Koh Rong Island, Siem Reap is without a doubt my favorite area in Cambodia.
There are some great things to do in Siem Reap, including the incredible Angkor Archaeological Park, night market shopping, and street food sampling.
Follow this 3-day Siem Reap Itinerary on your first time in Cambodia.
This Itinerary for Siem Reap
These 3 days in Siem Reap itinerary contains a mixture of things to do, including visiting Angkor Wat. However, the city is not just the temple! Here is a quick overview of what this itinerary contains:
Day 1: Old Market, Angkor National Museum, Angkor Archeological Park, night markets
Day 2: Sunrise at Angkor Wat and visiting temples, massage, Pub Street
Day 3: Beng Mealea and Koh Ker, cooking class, and Apsara dance performance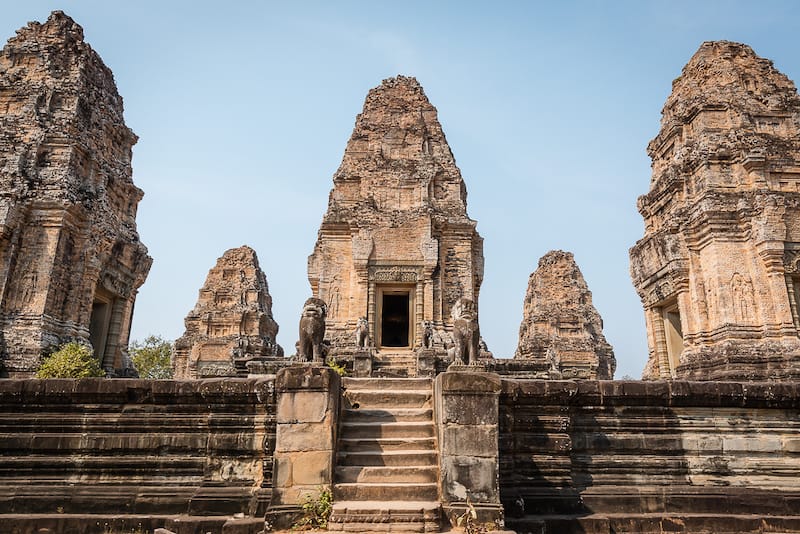 Day 1 in Siem Reap
Old Market
I love visiting the local markets. It gives you a chance to see what real life is like in a town, rather than getting the tourist experience.
Head to the Old Market in the morning, as this is when you'll find locals buying their fresh produce. It really is one of the best attractions in Siem Reap!
Many of the locals in Siem Reap own cafes and restaurants, so they'll buy their produce fresh at the local markets each morning.
Spend some time walking around the town and orient yourself to the area. Stop for lunch at a local restaurant.
My absolute favorite place to eat in Siem Reap is Chae Ngek. There are very few tourists here, which is part of the reason I first dined there.
The food was so good (especially the curries) so I went back more times than fingers I have!
If you're not quite up for a local experience with shared tables and menus in Khmer, just across the road are My Little Cafe and Palm Cafe, which serve slightly westernized versions of Khmer food.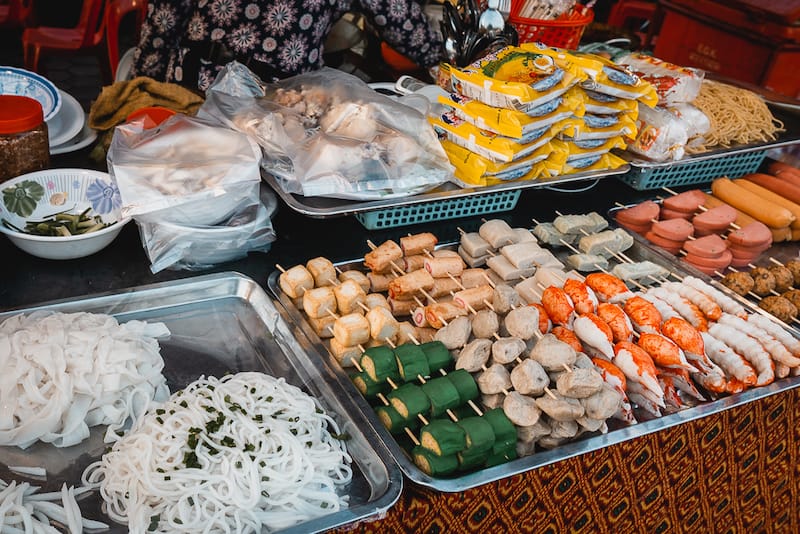 Angkor National Museum
Before heading to Angkor Wat and its surrounding temples, it's time to brush up on your Khmer Kingdom history.
This was something I never learned at school, so I'm glad that I was able to learn more about Cambodia's history and culture during my trip to Cambodia. It also gives you plenty of interesting facts about Angkor Wat.
I try to choose indoor activities during the heat of the day, so the Angkor National Museum is perfect to spend a hot afternoon. Especially if you're still acclimatizing to Southeast Asian heat.
Cambodia is home is some great, informative museums. As well as Angkor National Musem, Tuol Sleng Genocide Museum, and the Choeung Ek Killing Fields are must-sees in Cambodia and are amongst the best things to do in Phnom Penh.
Sunset at Angkor Archaeological Park
Angkor Archaeological Park is huge, so one full day in the park isn't really enough. Luckily, there is a little hack you can do if you've got limited time in Siem Reap.
After 5:30 pm, Angkor is free to enter. All you have to do is show your tickets for the next day.
You can buy your tickets for the next day at 5 pm the day beforehand, so head to the Angkor Ticket Office (your tuk-tuk driver will definitely know where this is), then after 5:30 pm, head into Angkor Archaeological Park.
Phnom Bakheng is my recommendation for a sunset spot. Just climb up the mountain for a great view.
The walk will take around 20 minutes and the incline is quite gradual.
Bring your camera and tripod for you for some great sunset photography.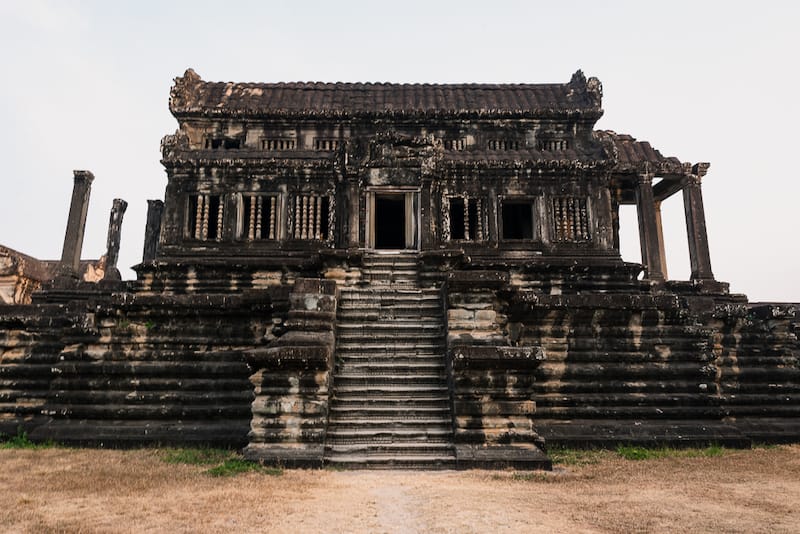 Night Markets
I love to shop and enjoy getting a bargain – I'll admit it! If you're like me, you'll love spending your evenings browsing the night markets.
Even better, there isn't just one night market in Siem Reap, there are multiple.
And, they all seem to intersect when you're wandering around the town.
Even if you're not an avid shopper, browsing the intricate souvenirs and creative artwork is an interesting way to spend your evening.
Don't miss the Siem Reap Art Centre Night Market with great paintings on canvas and parchment.
Spend some time exploring Pub Street if you wish, but I'd recommend having an early night if you're planning to watch the sunrise at Angkor Wat.
You'll have to get up around 4 am and will be spending a full day of walking around the temples, and at some parts of the day, in the heat.
You'll definitely thank yourself if you get a good night's sleep!
Day 2 in Siem Reap
Angkor Wat Sunrise
Following this itinerary, you would already have bought your Angkor pass the day beforehand.
This is crucial to get a good spot to watch the sunrise the next day!
Book your tuk-tuk driver in advance. We went with 'tuk-tuk driver Keo' – you should be able to find him on Google.
A driver for the day should cost you $25 USD for one day, or $20 USD per day for multiple days. Shared tours are also available, often through your accommodation.
Most tours leave at 4:45 am, but it's best to leave even earlier to be at the front row overlooking Angkor Wat for sunrise.
We left at 4:30 am, and we got one of the last front-view spots, which was amazing considering my short stature!
After watching the incredible colors as the sun rises, explore Angkor Wat itself.
Then, choose either the short route or the long route of the park.
The short route is most popular and includes Ta Phrom, the Tomb Raider temple. The long route is usually chosen if you have multiple days at the park, or if you'd rather visit less busy temples.
If you've got more time in Siem Reap, I highly recommend buying a three-day pass instead – there is just so much to see at Angkor and the temples are incredible.
Definitely a Southeast Asia highlight!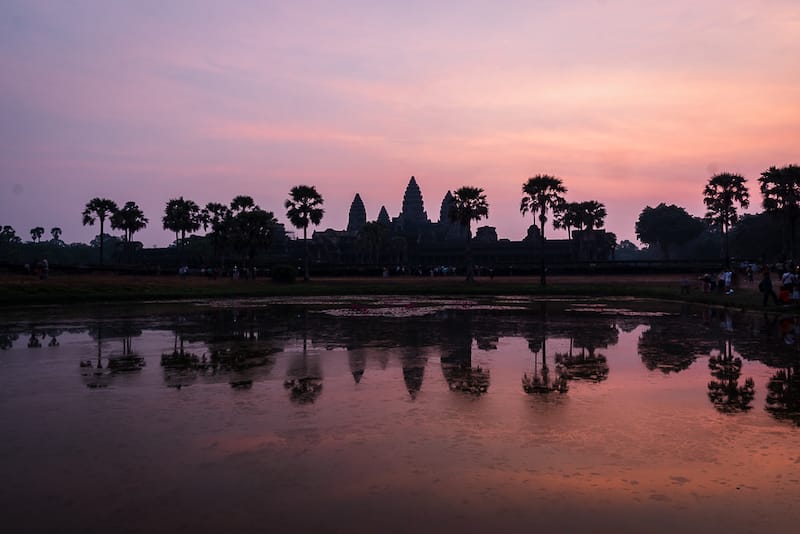 Get a Massage
Southeast Asia is known for its great and affordable massages.
The best time to get a massage is after you've been roaming around Angkor Wat all day!
On one of the days I visited the park, I walked 17 kilometers! That's close to the distance of a half marathon.
So put your feet up and relax with a massage.
A 30-minute foot massage won't cost you much at all – only a few dollars if you find the right place.
Of course, the closer to the tourist areas, the more inflated prices will be, but they will always be cheaper than Western prices nonetheless.
Or, go all out and get a full-body massage. After all that walking, you deserve it!
Pub Street
Pub Street is definitely the place to be at night in Siem Reap. On the walk to Pub Street, you'll come across street stalls selling great food.
For budget-conscious travelers, you can grab a fried noodle dish for super cheap to satisfy you for dinner.
There are also tonnes of rolled ice cream stalls – this seems to be the dessert of choice in Siem Reap and will only cost you $1 USD.
Eat your way to Pub Street, where you'll find even more interesting food – think fried crickets, scorpions, and other critters!
Once you're at Pub Street, you'll see why it's a great place to spend your night. There are great restaurants and bars lining the streets.
My choice for bars is Beatnik – there is live music, often jazz and bar-goers occupy the outdoors area and spill out onto the streets.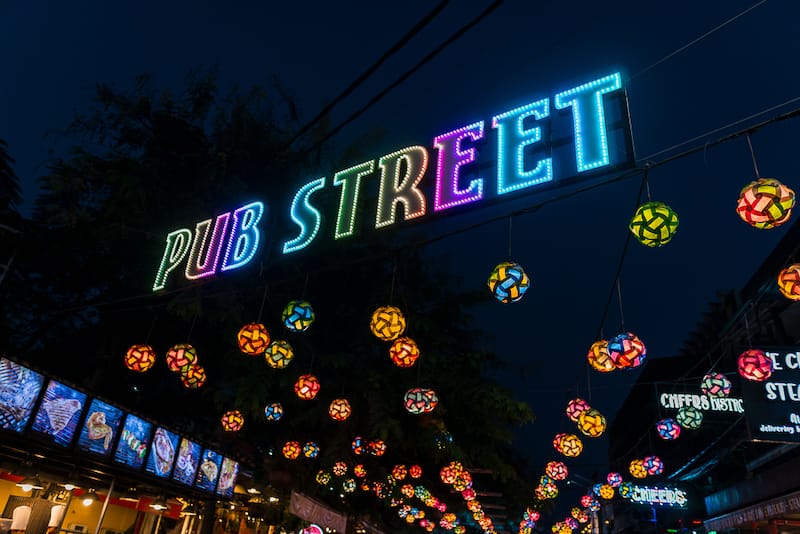 Day 3 of 3 Days in Siem Reap – Museum, Cooking, and a Show
Beng Mealea and Koh Ker
The temples in Siem Reap aren't only located at Angkor Archaeological Park.
Beng Mealea Temple is said to be a prototype of Angkor Wat. This is because the temple has exactly the same layout as Angkor Wat, but is much smaller in size.
It also differs from Angkor Wat in the number of visitors (you get more of Beng Mealea to yourself) and that Beng Mealea is overgrown with jungle which completes the off-the-beaten-track atmosphere.
Beng Mealea is an hour away from Siem Reap Town, and Koh Ker is a further hour away, so it makes sense to visit both temples on the same day.
There are tours available, otherwise, you could book a tuk-tuk driver for the day. Unlike Beng Mealea, Koh Ker is a tiered pyramid-style temple.
Cooking Class
Usually, I'd see cooking as a chore. But when it comes to cooking cuisines from countries I've traveled to, it's a super exciting activity. Especially during lockdown when I haven't been able to travel!
I've begun to realize how big a part food plays in travel.
Lately, I've gotten into cooking Vietnamese food.
This was the country I was in just before lockdown. So far, I've cooked two noodle dishes (pho bo and bun cha) as well as both fresh and deep-fried spring rolls.
The next cuisine on my list is Cambodian. First up will be the fish amok, then beef lok lak.
Siem Reap is a great place to try out a cooking class – there are quite a few companies running classes in the town.
Classes usually run for a few hours, so block off an afternoon for a class.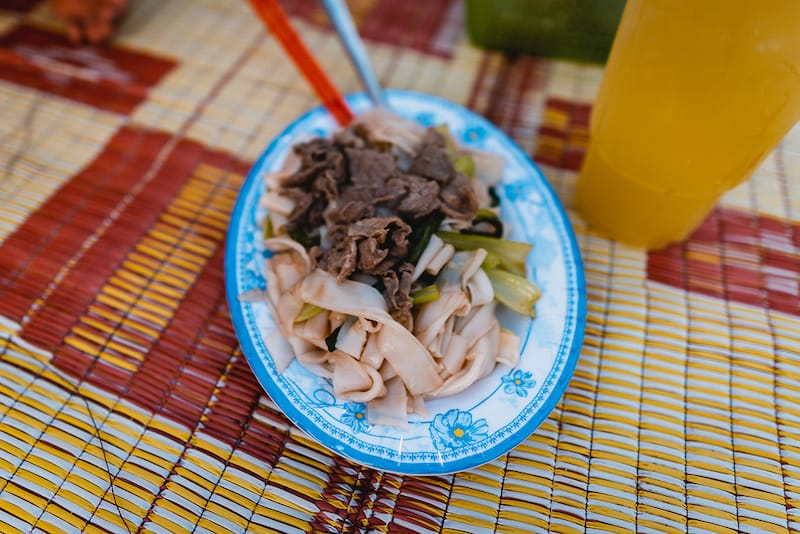 Apsara Dance Performance
Watching an Apsara dance performance is a great way to experience the culture in Cambodia. Apsara is a type of traditional ballet in Cambodia.
The dance is led by the Apsara, or spirit, dressed head to toe in white.
The subordinates complete the show sporting colored skirts.
An Apsara dance performance is a great evening activity. There are many great options, most including dinner with the performance.
If you're from a dance background, like I am, you'll definitely enjoy watching a dance performance.
Even if you're not so keen on dancing, you'll appreciate the work the dancers put into the show.
Siem Reap Travel Tips
Getting to Siem Reap
The majority of visitors to Cambodia will arrive in the capital city of Phnom Penh. Getting to Siem Reap is super easy from Phnom Penh.
Just take the shuttle bus which is only a 6-hour ride, with a toilet and rest stop included.
The Giant Ibis company offers great service and even provides you with a snack on departure – for us, we received delicious pain au chocolats!
The bus terminal is a little far from Siem Reap Town, so book a Grab once you're there (which is the cheaper option) or take a tuk-tuk from the bus terminal.
The tuk-tuk drivers know what time the bus arrives in Siem Reap each day, so there will always be someone there to offer a ride.
If you're flying into Siem Reap, take a Grab tuk-tuk or taxi from the airport (which are the cheapest options), line up by the taxi stand, or organize with your accommodation beforehand as they may provide airport transfers.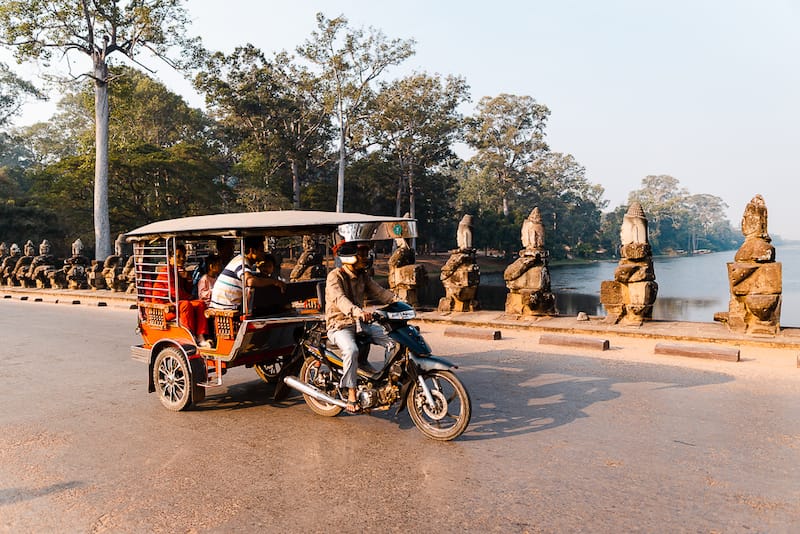 When is the Best Time to Visit Siem Reap?
There are two monsoon seasons in Cambodia; the northeast monsoon season and the southwest monsoon season.
During the northeast monsoon season, December through to April is the best time to visit Siem Reap, as it is their drier season.
As expected, Cambodia is busy during the Christmas holidays.
Getting Around Siem Reap
Siem Reap's town is very walkable. You can easily get around on your two feet as you explore the night markets, massage parlors, and other stalls.
Angkor Wat, however, is huge! You'll need to hire a tuk-tuk driver for the day (whether it be as a private tour or shared tour) to get around for the day.
There are plenty of drivers available, but if you're planning on heading to Angkor Wat for sunrise, book your tuk-tuk driver in advance.
For places outside of Siem Reap Town like the floating markets, Beng Mealea, and Koh Ker temples, you will also need to arrange tuk-tuk transport.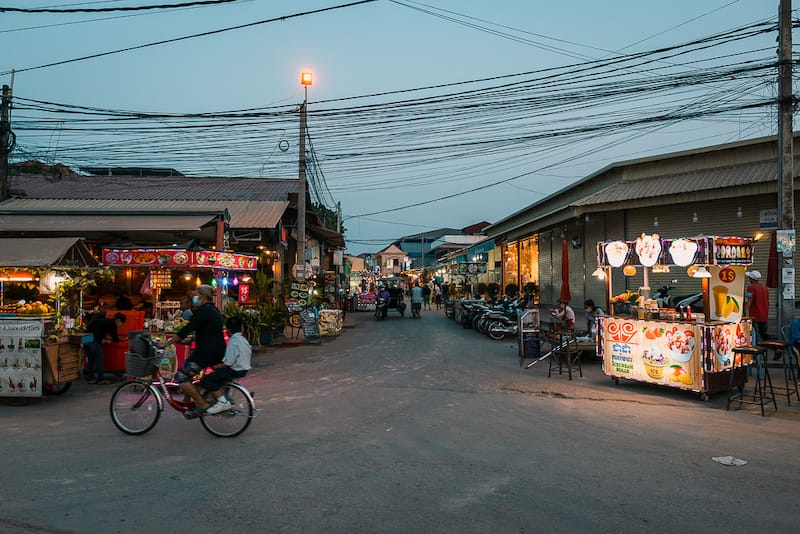 Where to Stay in Siem Reap
For budget-conscious travelers like backpackers, stay in the Wat Bo area. It's near to Pub Street and hostels are plentiful.
This is the cheapest area in Siem Reap and there is a great atmosphere here. Choose from dorm rooms and private rooms.
For mid-range budgets, the French Quarter is your best bet. Its location is incredibly convenient being located in the middle of the town and the buildings are beautiful, with lots of French-inspired architecture from the colonial period.
For those wanting more luxurious and quiet areas to stay in, there are a few villages and areas outside of the town.
This is also a great option if you're returning to Siem Reap for a second time, or you're planning on staying in Siem Reap for an extended period of time.
Check hotel options below:
About the Author:
Delilah Hart is a traveler, photographer, and writer from New Zealand.
She documents her adventures and tips on her travel blog, Our Travel Mix. Follow her travels on Instagram and Pinterest.
More Southeast Asia Travel Guides
PIN IT FOR LATER!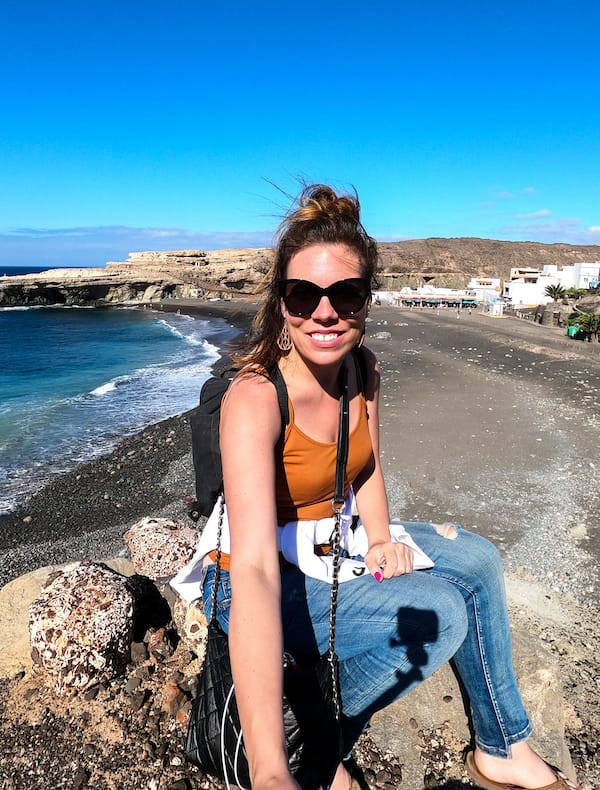 Megan is a travel blogger and writer with a background in digital marketing. Originally from Richmond, VA, she now splits her time between Frankfurt, Germany and Arctic Finland after also living in Norway, Armenia, and Kazakhstan. She has a passion for winter travel, as well as the Nordic countries, but you can also find her eating her way through Italy, perusing perfume stores in Paris, or taking road trips through the USA. Megan has written for or been featured by National Geographic, Forbes, Lonely Planet, the New York Times, and more. She co-authored Fodor's Travel 'Essential Norway' and has visited 45 US states and 100+ countries.