My first trip to Pittsburgh was most likely long before I could even say the word 'Pittsburgh'.  As a baby born west of the city in a small, steel-mill town called Steubenville, Ohio, I am quite certain that my parents took me into Pittsburgh at any given opportunity.  But shortly after I was born, we fled the Ohio Valley and wound up in various locations across the United States and Europe.  However, holidays and family gatherings always led us back to that football-crazed area of the USA.
Traveling back to the area as a kid growing up mostly in Virginia always perpetrated the most confusing of thoughts being created in my head.  Part of me wanted to live in the area to be closer to my grandparents and extended family.  But mostly, I secretly thanked my parents for fleeing the area.
Pittsburgh was depressing.  The buildings were grey and drab.  The skies seemed to clutch onto clouds in such a manner that I wondered if the sun was even allowed to shine in such a place.  I would gaze to the right-hand side out of the car window and check out Three Rivers Stadium as we were going over the Monongahela via the golden Fort Pitt Bridge and think to myself that I hated this city during the day.
But sometimes, just sometimes, I got the treat of coming into the city at night.  When we entered the city late at night I remember getting butterflies in my stomach as I knew that nothing in this world could compare to the beauty of Pittsburgh at night.  Sure, I was just a naive child with such thoughts, but I knew they were justified.  For all of what Pittsburgh lacked during the daylight hours, it surely made up for at night.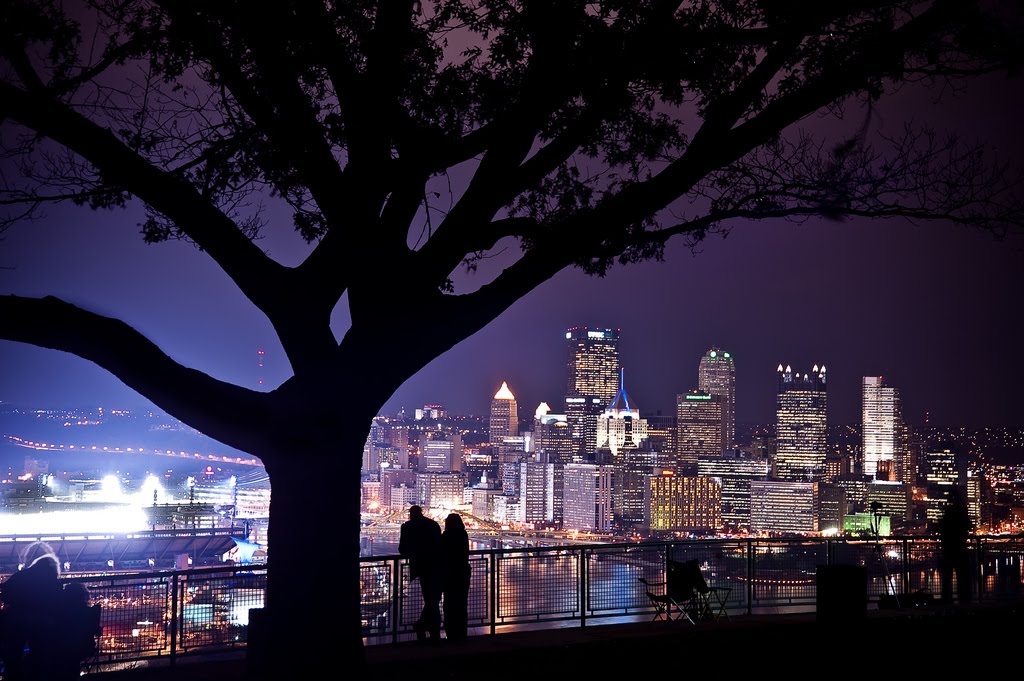 Years went by and those trips through and to Pittsburgh continued to happen.  And each and every year, something new popped up in the area to make me think, "Wow, this city is really turning itself around…"  The shopping got better, Three Rivers Stadium was demolished and made way for Heinz Field and PNC Park (which was bittersweet for many Pittsburghers), and new areas around the city began undergoing renovations.  But most importantly, jobs returned to Pittsburgh.  What was once globally known as the steel-mill capital was now becoming a force to be reckoned with in the banking and healthcare industries.  But one thing that didn't change, thank goodness, was the butterflies that Pittsburgh gave me when I saw her at night.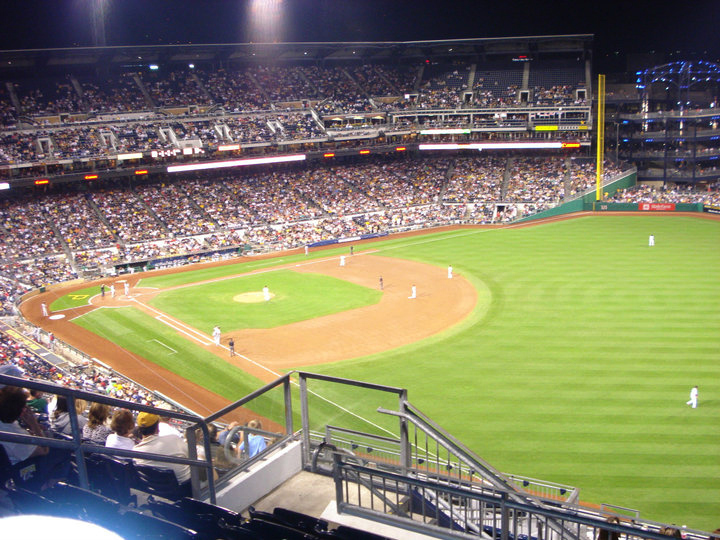 At age 21, this Virginia girl officially became an Ohioan (again).  I moved to southwestern Ohio, which was only a four-hour drive (with my lead foot) to Pittsburgh.  Since my grandparents were still living west of the city, I visited as frequently as I could.  And every single time I visited them, I made sure I took that little drive into Pittsburgh to see the city.  But something strange happened in the process.  I began getting those butterflies I had received upon seeing the Pittsburgh skyline at night… during the day.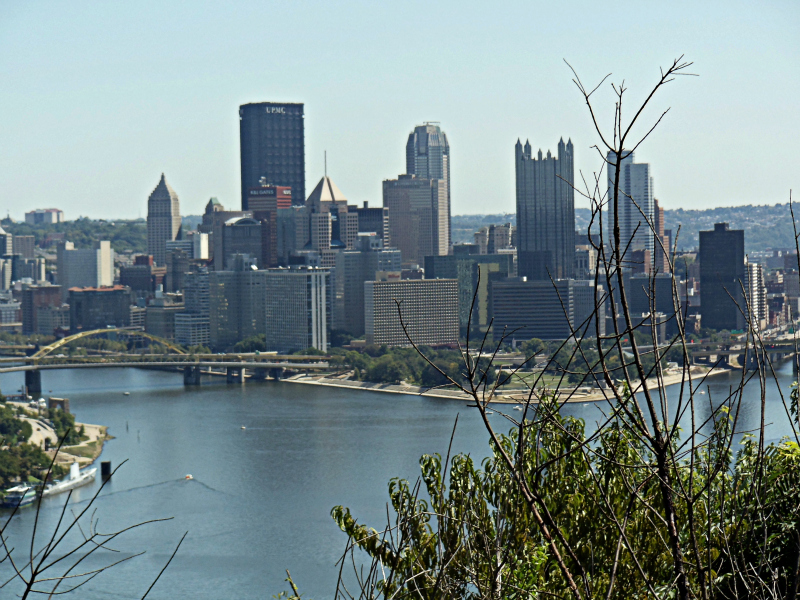 Every time I went into the city I began discovering something new.  I discovered I could actually enjoy french fries on a sandwich at Primanti Bros.  I discovered the diversity of Pittsburgh and its immigration history through the Strip District, or even from indulging in Ethiopian cuisine in East End.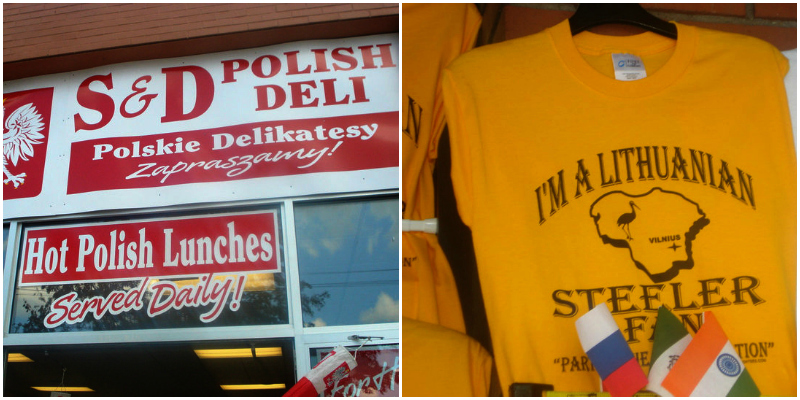 I discovered that, hands down, the most loyal people in the United States live in the Pittsburgh area.  And if you don't believe me, go to a Pittsburgh Steelers game.  But don't you dare wear anything purple or orange.  And if you can't make it to a Steelers game, you are almost guaranteed to find a Steelers bar filled with fans of the franchise in any city in the US.  Or in the world, for that matter.  The Steelers craze has even taken over Rome, Italy.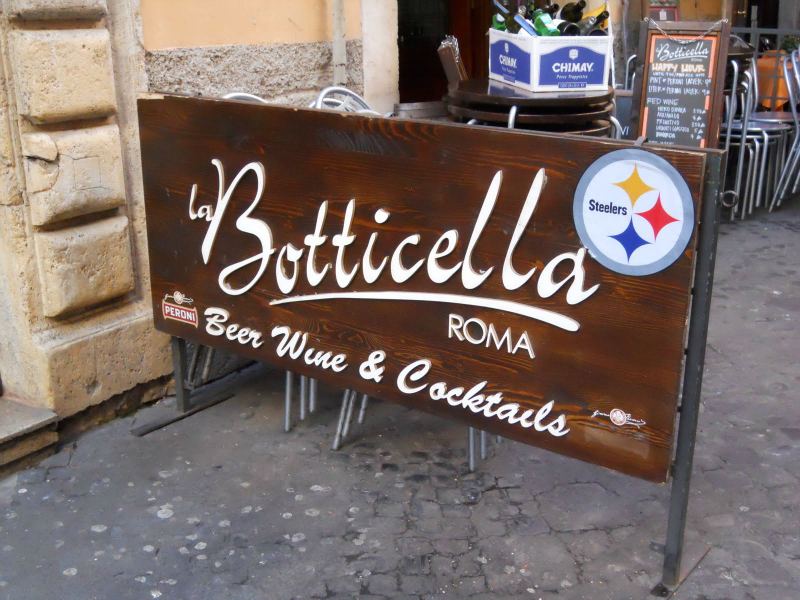 Before my life got turned around and I ended up in Norway, I was actually searching for jobs in Pittsburgh.  I felt, despite having never truly lived there, at home in the city.  I grew used to GPSs never being able to keep up with Pittsburgh's curvy roads and the crap weather this area of the country delivered to its inhabitants.  I even thought it was semi-normal to only be able to purchase beer at a distributor due to crazy Pennsylvania beer laws.  It turns out I'm not the only one who has an affinity for all things Pittsburgh.  Have you even seen how many movies have been filmed in Pittsburgh in the last few years?  You'd be amazed if not.
Andrew Carnegie once said, "Pittsburgh entered the core of my heart when I was a boy and cannot be torn out".  While it took my emotional attachment to the city a little longer to build and strengthen, it is there and our bond will never be broken.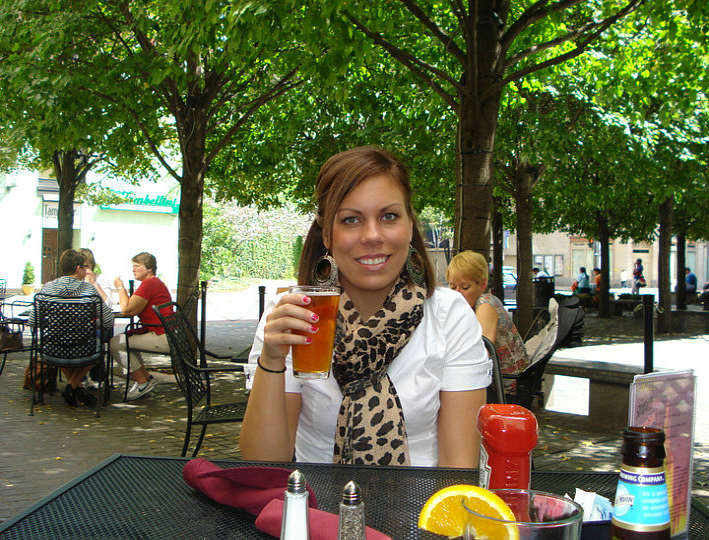 Pittsburgh was once a thriving place to live.  And then it became a depressing place to live.  And currently, it is continuously being ranked as one of the best cities in America to live and work in.  The only factor that could have played such a huge role in the renaissance of a major city is the perseverance of the people that live there.
Bottom line:  Visit Pittsburgh. 
And if you don't do it for any other reason, do it for the two million people that live in the area who never gave up on Pittsburgh when the rest of the nation did.