Almaty, Kazakhstan has a variety of delicious places to eat for the hungry traveler. This is a guide to the best restaurants in Almaty.
It will include Almaty restaurants that focus on traditional Central Asian food in addition to giving vegan, vegetarian, gluten-free, and international options for those looking to enjoy something different to eat in Almaty.
16 Delicious Restaurants in Almaty
Pretty much anyone that comes to this website knows that Almaty is one of my favorite cities and I have even spent time living there in the past few years.
One of my favorite things about Almaty is the food. While Central Asian food can take its toll on someone after a while of being in the city, it still is delicious and a must-try when visiting Almaty.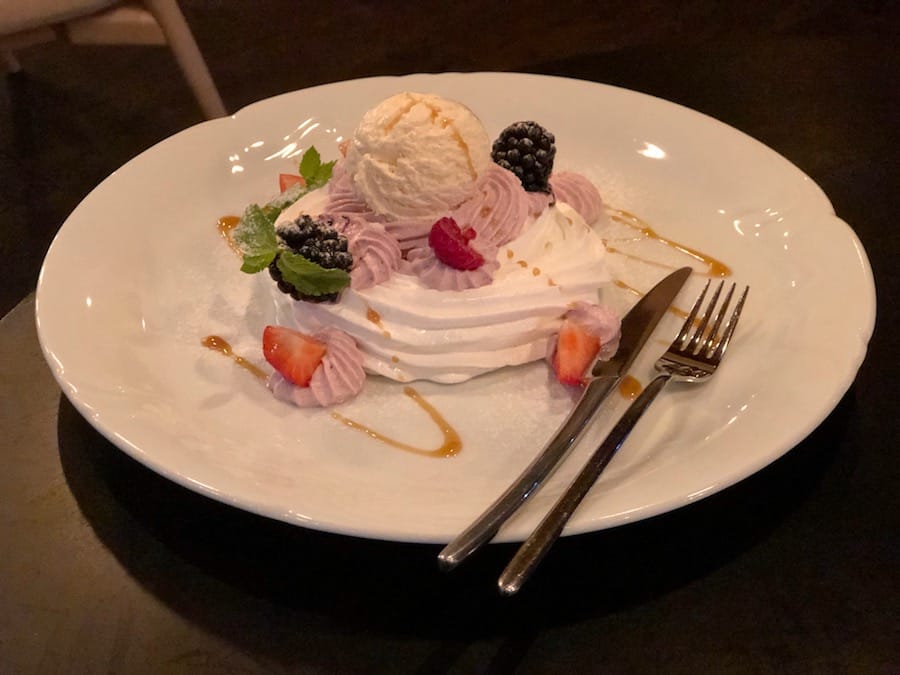 This is a guide to my favorite restaurants in Almaty. It will not focus merely on Central Asian and Kazakh food, however.
This is a guide to everything I know about the city and I will give Almaty restaurant suggestions for vegans, vegetarians, meat lovers, gluten-free travelers, and those seeking something international.
If you have additional suggestions for Almaty restaurants, please drop them in the comments. I will do my best to keep up with this guide as restaurants in Almaty open and close their doors in the blink of any eye.
There is also a map at the end of this guide to help you track down the places listed.
There are some incredible places outside of the city center, too, but I am trying to focus on places that are easily accessible for most travelers.
If you have any questions or are particular with an ingredient, please send me a message and I'll do my best to answer! You can also find some tips directly below that may help you when in Almaty.
You can also read our Central Asia travel tips that may guide to on your trip.

Gastro Tour of Almaty
Before I get into listing some of my favorite restaurants in Almaty and some tips for those heading to the city (regarding food), I definitely want to note that there is a great gastro tour in Almaty available for those looking to gain more knowledge about Kazakh and Central Asian food. It is run by GB Travel.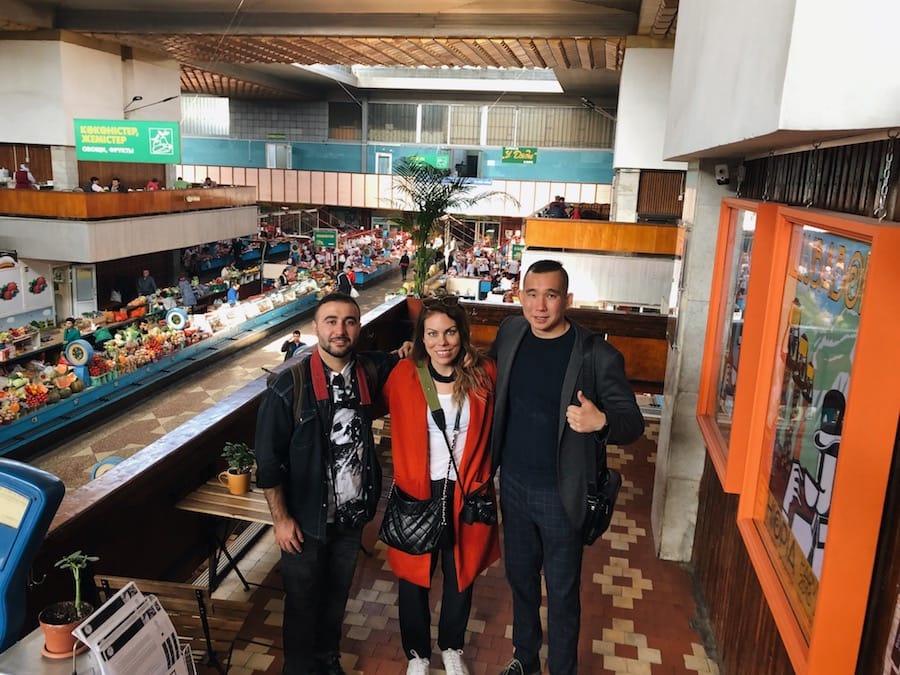 Aram and I had the chance to take the tour when in Almaty and it was exceptional.
The tour takes you to several places, such as the Rakhat chocolate factory, the Green Bazaar, and out for a meal at a local restaurant where you will try a local dish and learn more about it.
Do You Need Travel Insurance for Kazakhstan?
We highly recommend traveling to Almaty with good travel insurance in your name. While you're pretty safe in Kazakhstan, you can never prepare for the unpredictable and it is better to be safe than sorry.
We recommend the Norwegian travel insurance company SafetyWing for traveling to Kazakhstan. Their policies are affordable and they offer wide-coverage throughout the world.
What to Pack for Almaty
While we don't have a huge list of things to bring to Almaty outside of your usuals, these are a few things to consider for your trip:
Activated charcoal: Food in Kazakhstan is good but it can be a bit hard to get used to for those sensitive to diet changes (raising my hand here). The food is pretty oily and meat-heavy. I highly recommend bringing activated charcoal with you when traveling to Central Asia. Click here to buy activated charcoal for your trip to Kazakhstan.
Lonely Planet Central Asia: If you're keen to carry a guidebook with you on your travels, I recommend Lonely Planet's Central Asia guidebook for the job. It will give you practical information at your fingertips as well as some travel tips for the region. Click here to purchase a copy of Lonely Planet Central Asia.
Mobile power bank: The winters in Almaty are cold and they will drain your phone's battery almost in an instant. I recommend bringing a mobile power bank with a lot of charges. I use one with 25000mAh as it gives me SO many charges and I rarely have to recharge it during a trip. Click here to purchase a mobile power bank.
Recommended Reading Before Your Almaty Trip
Here are a couple of books you might like to invest in before your trip to Kazakhstan and Central Asia:
[maxbutton id="5″ url="https://www.amazon.com/Samarkand-Recipes-Stories-Central-Caucasus/dp/1909487422/ref=as_li_ss_tl?keywords=central+asian+food&qid=1571645635&sr=8-3&linkCode=ll1&tag=megancstarr-20&linkId=1cfdcac6cd88146e2474eb7e74a91c3d&language=en_US" ]
[maxbutton id="5″ url="https://www.amazon.com/Kazakhstan-Culture-Smart-Essential-Customs/dp/185733681X/ref=as_li_ss_tl?keywords=food+central+asia&qid=1571645722&sr=8-20-spons&psc=1&spLa=ZW5jcnlwdGVkUXVhbGlmaWVyPUEySkZDMU9NUTdVUkI4JmVuY3J5cHRlZElkPUEwNjE1Njc4MTYzWEtUNlcwRUFQMSZlbmNyeXB0ZWRBZElkPUEwNjYyODAxMkJWVUgyRjQzUklDMiZ3aWRnZXROYW1lPXNwX2J0ZiZhY3Rpb249Y2xpY2tSZWRpcmVjdCZkb05vdExvZ0NsaWNrPXRydWU=&linkCode=ll1&tag=megancstarr-20&linkId=902bcf320a7dce3ee9298a89917fb686&language=en_US" ]
Almaty Restaurants Tips and Advice
There are so many restaurants in Almaty… in fact, so many that several will shut their doors soon after opening, unfortunately. It is not uncommon to wander into a place and it be completely empty.
That doesn't necessarily mean the food isn't good- it is just that not everyone can afford to eat out every night of the week just like anywhere else in the world.
And there are so many places to eat that when people do go out to eat, they don't always infiltrate the same places.
Food in Central Asia is heavy on the oil. Kazakhstan is no exception. It can definitely be an adjustment for many people when they first arrive in Almaty.
However, the ingredients are high quality and if you're eating something that is local and produced in Kazakhstan, it is, in fact, organic.
They don't mass-produce anything and an apple tastes like what an apple should taste like and meat tastes like what it should taste like.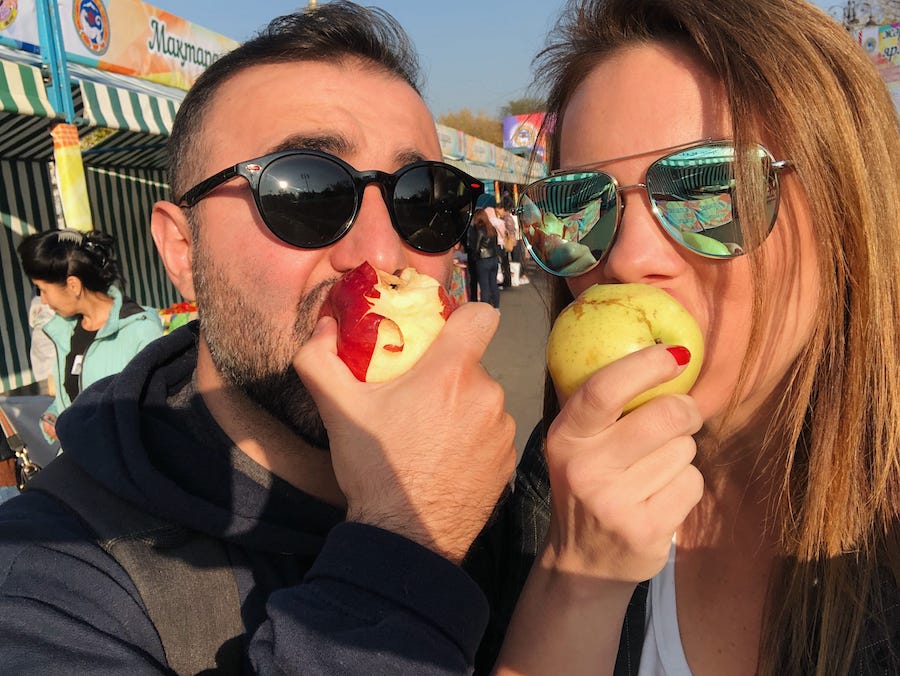 Almaty food is not really spicy or overly seasoned. I have a high heat tolerance but I have never once felt that the local cuisine was too much.
They do eat herbs with some of the dishes and love some dill. That is all I'm going to say about that.
English Menus
Many Almaty restaurants have English menus. Now, I can't account for how great the translation is (or isn't), but you should be able to make sense of most menus at the places I list below.
If you can't read the menu, do ask if they have an English menu or one with photos on it.
Common Ingredients in Kazakhstan
One of my favorite things about Kazakhstan is the lack of ingredients. Now, hear me out… What I mean is that they use what is local and seasonal.
You won't find huge sections of imported ingredients at the grocery stores in Almaty and you won't find restaurants using random stuff from Chile. It just means that the quality is superior.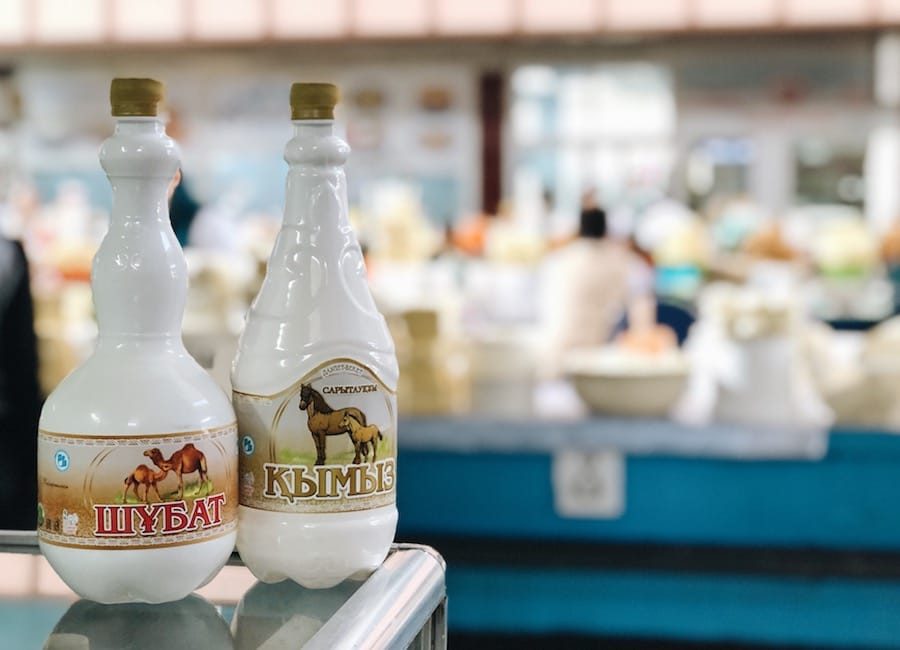 Some things you'll commonly find in Kazakhstan are dill, onions, meat (usually beef, chicken, or horsemeat), apples, pears, bell peppers, tomatoes, cucumbers, lots of bread, carrots and other root vegetables (beetroot especially), cabbage, noodles and macaroni, parsley, coriander, pumpkin, varieties of squash, and a fair amount of dairy usage.
Horsemeat in Kazakhstan
While I, personally, don't find horsemeat any more controversial than beef, pork, or chicken, I totally understand that many people are not keen on eating it.
It is not a meat I really like from a taste perspective but I will have it every so often when I am there if it is served to me.
You will find horsemeat sometimes on plov or in sausage. If you order beshbarmak, it will almost certainly be served with horsemeat sausage.
Most of the restaurants below will happily offer an alternative on the menu or if you ask them, as they understand not everyone is accustomed to eating it or wants to try it.
Horsemeat sausage is 'казы' on menus. If you see 'казы' written anywhere and don't want to try horsemeat… stay away!
If you do want to add horsemeat to your Almaty itinerary, locals will be pretty impressed, on the other hand.
Vegan and Vegetarian in Almaty
Is Central Asian food vegan-friendly? Um, no. Not at all. But, as the times evolve, it is becoming easier and easier to maintain a vegan or vegetarian diet in Almaty.
I was actually a pescetarian when I first visited Almaty in 2013 and it was not the easiest feat. Every time I return now, I find it a much more pleasant place for plant-based eaters.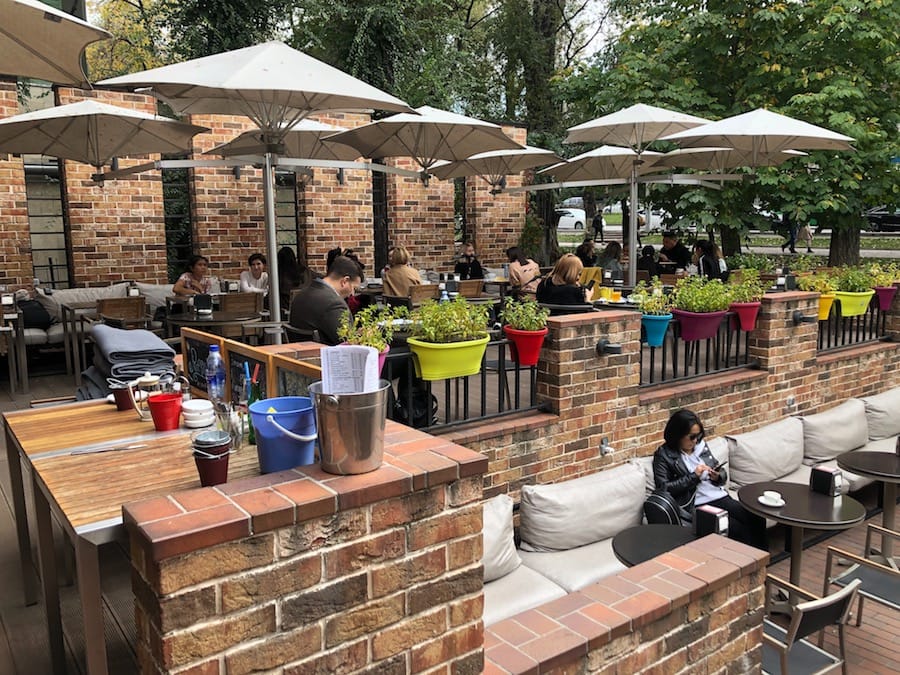 One thing I do suggest is to ensure that you double-check that a dish wasn't prepared alongside other meat dishes.
While the people in Almaty understand that a vegan or vegetarian dish must be plant-based (or abstain from dairy), they tend to usually consider this when serving the finished product. They don't always consider preparation methods.
Just double-check… the locals are learning to accommodate and would never intentionally serve anything that would dissatisfy you, they just don't always know better.
Tipping and Surcharges
Tipping is usually included in Almaty on menus. The added percentage is usually 10% and you'll see this at the bottom of a receipt written in Russian but with 10% added so you can easily identify it.
If you feel service was great, leave more. Otherwise, it is usually included.
The exception to an already added tip is at very expat heavy establishments. Sometimes, you will see they leave the tip-off knowing that Americans will leave a lot more.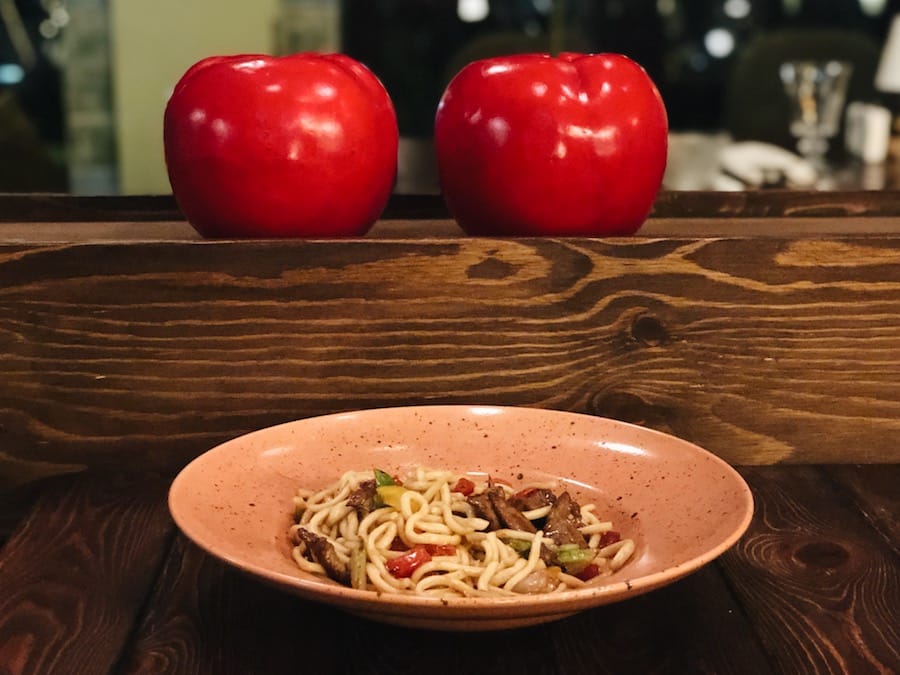 Restaurant Service in Almaty
In an effort to not be negative, let's just say that restaurant service in Almaty is improving. Don't be shocked if you sit around for twenty minutes before a worker glued to their cell phone comes to take your order.
Kazakhs tend not to be in a hurry or very rushed, so the service there tends to take the same approach. I think you get the jist.
Cash or card?
Most places take card in Almaty. I actually usually pay with Apple Pay, in fact. Cash is widely accepted, as well. If you're taking a taxi, usually it is easier just to pay with cash.

Kazakh and Central Asian Restaurants in Almaty
If you're looking for traditional food in Almaty, you will happily find it in many establishments. Some are better than others but it all varies according to your tastes.
The places listed below are often considered Uzbek. While most food on the menu is, in fact, Uzbek, you'll find a variety that is not.
Please do note that not all places serve alcohol. They will always have some tasty tea so it is the perfect time to swap out that beer for something a bit more Central Asian.
Navat
One of the best Central Asian restaurants in Almaty is Navat. I used to eat frequently at their location in Bishkek before they entered the Almaty market and then I finally had a chance to eat at the one in Almaty and wasn't disappointed.
While the experience is a bit more gimmicky, the food certainly offers a tasty experience for travelers. Navat's menu is very Uzbek-focused and plov and manti are my favorites.
If you're looking to try beshbarmak, you can also find it at Navat.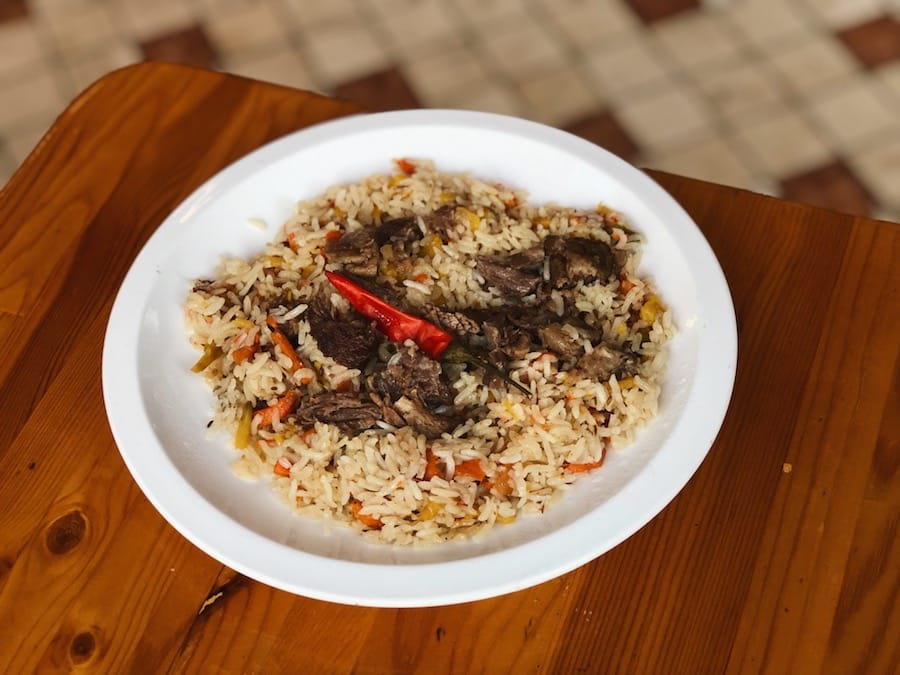 Navat is a popular place for both locals and tourists and you may want to reserve ahead or be prepared to wait a bit for a table.
In addition, if you go there during Ramadan, do expect that alcohol will not be permitted (unless you ask them to seat you in a private area with a curtain… which they will do if space allows).
If you're vegan or vegetarian, they will have a soup (vegan) for you or varenyky (Ukrainian dumplings) that are vegetarian. They also serve an array of grilled vegetables.
You can find Navat at Dostyk Avenue 48 in Almaty.
Shashlik Dvor
Okay, this place isn't really Central Asia, per se, but shashlik has become such a staple in Kazakh culture and cuisine that I am listing it under traditional although I would really like to file it under 'Caucasian' (Armenian, to be precise).
Shashlik Dvor is my favorite place for shashlik, or grilled meat, in Almaty.
The large restaurant sits a short walk from Dostyk Avenue and has a wonderful outdoor seating area in addition to the multiple floor-seating plan it has inside.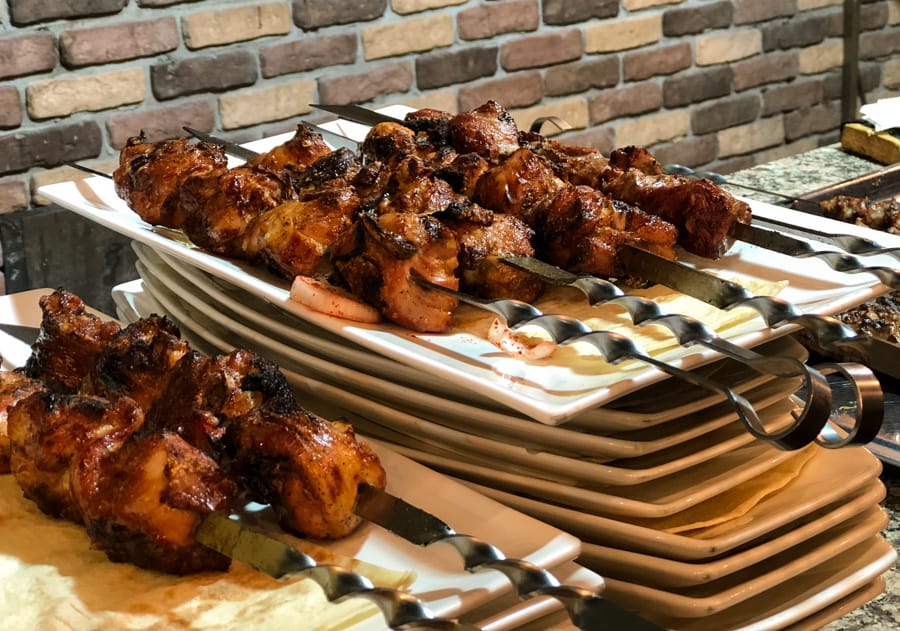 The menu is pretty much grilled meat galore and they also serve a lot of Armenian condiments, breads, and sides. There is often live music at Shashlik Dvor and it is usually packed with take-away customers, too.
If you're vegan or vegetarian, they have a few menu options, including grilled vegetables (everything from eggplant to potatoes).
They also have cheese plates for vegetarians.
You can find Shashlik Dvor at Kabanbai Batyr Street 40 in Almaty.
As-Kazan
If you're in the mood for some laghman, As-Kazan is regarded as one of the best places in Almaty to enjoy the Uighur dish.
They have four locations throughout the city and the menu is kind of extensive for a place that focuses really on only a few dishes.
Their specialty, of course, in laghman. You can also try ganfan (Dungan and Uighur) there if you're looking for something different.
This is not the place for vegetarians even though they have a few things on the menu that could technically be veggie-friendly. As-Kazan also delivers. Click here to see their locations.
Qaimaq
One of the best Kazakh restaurants in Almaty is Qaimaq, a festive establishment located right beside the FC Kairat Stadium near Baikonur metro station.
Inside of Qaimaq, you will find a lot of Kazakh décor and a very friendly staff (really… this place killed it on service!) The place has a great terrace that is open during the summer months.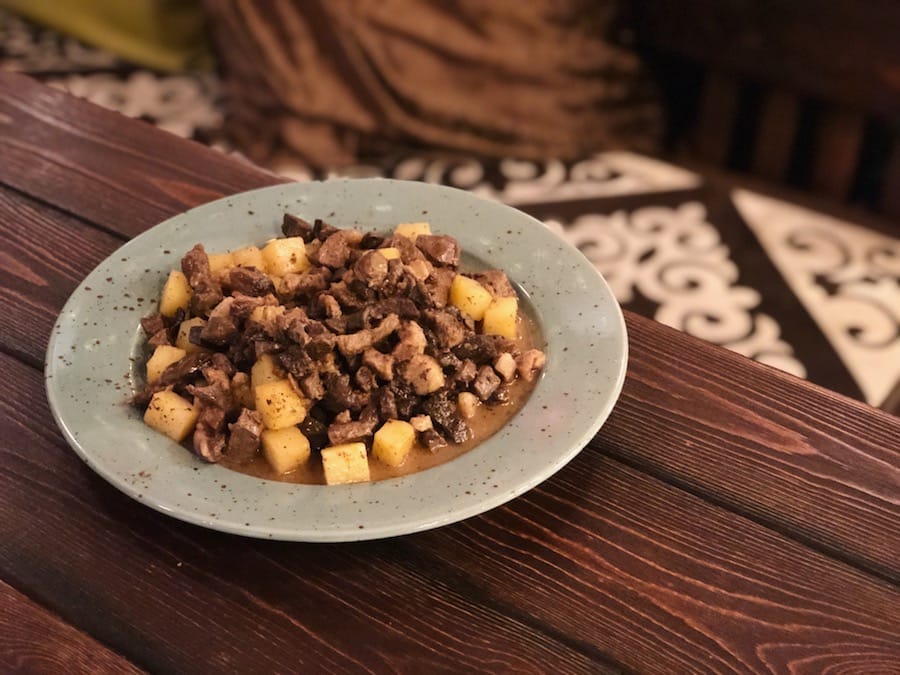 Food-wise, you can find pretty much anything Kazakh or Central Asian there. I had kuurdak while Aram had laghman (more of a Uighur dish but ubiquitously eaten here in Almaty).
We paid around 6 Euros per person for the dishes excluding drinks. They also serve kumis at Qaimaq.
You can find Qaimaq at Abay Avenue 46a in Almaty (close to Baikonur Metro Station).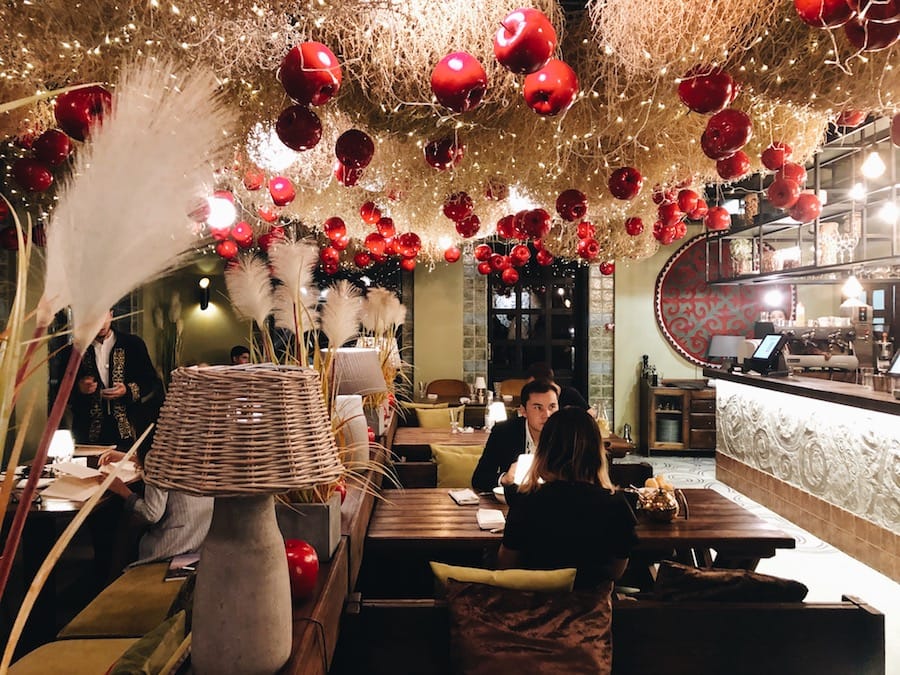 Baursak City
On the other side of the city from where I usually stay is Baursak City, a Kazakh restaurant specializing in local cuisine and as you guessed, baursak (little fried donuts that are commonly eaten in Kazakhstan).
Baursak City comes highly recommended by a lot of locals and expats in Almaty. The interior is pretty simple and nothing extravagant and they let the food do the talking.
It is a great place to visit and enjoy dinner at if you're in the neighborhood.
You can find Baursak City at Muratbaev Street 138 in Almaty.
Other Decent Central Asian Restaurants in Almaty
There are several places where you can grab Central Asian fare in Almaty.
I just listed a few of my favorites but some other notable places are Tyubeteika (Dostyk Avenue), the restaurant at the top of the Green Bazaar (they serve plov, beshbarmak, and laghman), and Gakku (Keremet Microrayon 7).

Korean Restaurants in Almaty
One thing that many people do not realize about Almaty is that there is that the city has a huge affinity for Korean food. There is a small Korean diaspora in Almaty and the country just grew to love its food.
Rightfully so… I am not complaining.
So, in every grocery store, you will see a Korean section. You will find Korean shops and you will definitely see Korean restaurants in the city.
Interestingly enough, one of the most local experiences you will have in Almaty is eating at a Korean restaurant. It truly is a part of the culture there and it gives you the perfect excuse to cheat on Central Asian food a bit.
Asian Barbecue
Asian Barbecue is one of my favorite restaurants in Almaty, hands-down. The restaurant is situated on the other side of the city from where I stay but the metro ride or taxi ride there is so worth it.
The humbly named restaurant serves patrons Korean BBQ. The food is extremely affordable and absolutely delicious. Every order comes with a table full of banchan and the thought of eating there makes me salivate.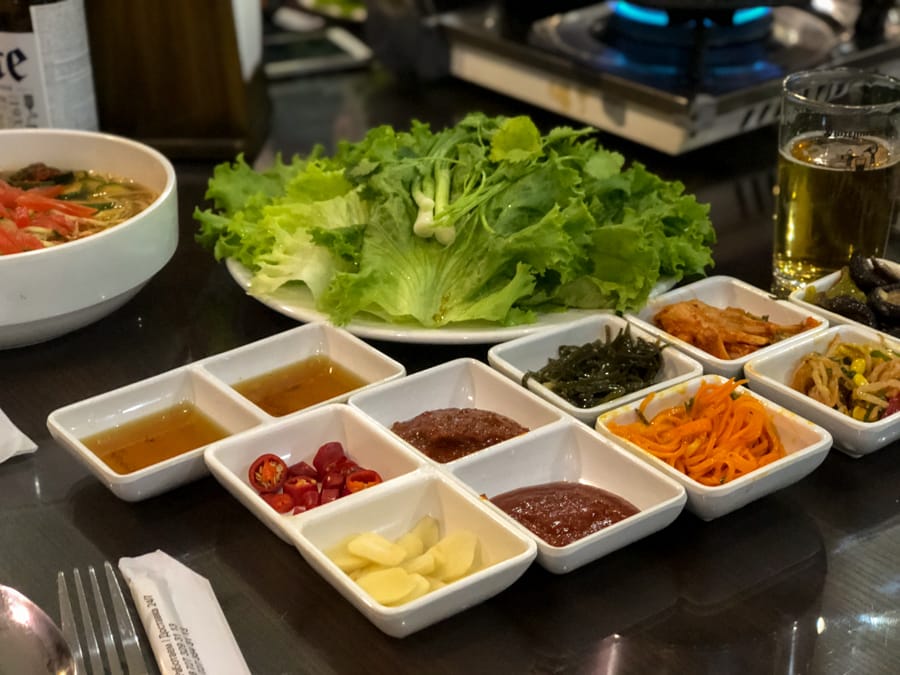 I tend to eat there during off-peak hours as it is much easier to get in. Asian Barbecue can be rather crowded otherwise.
You can find Asian Barbecue at Mynbaev Street in Almaty. It is kind of hidden in the alleyway but just look for a lot of people out front (it's always a little busy) and a sign on the door indicating the business name.
Masisso
Another great restaurant in Almaty for Korean BBQ is Masisso. Aram and I went there with friends because Asian Barbecue was undergoing renovations recently and closed for a bit.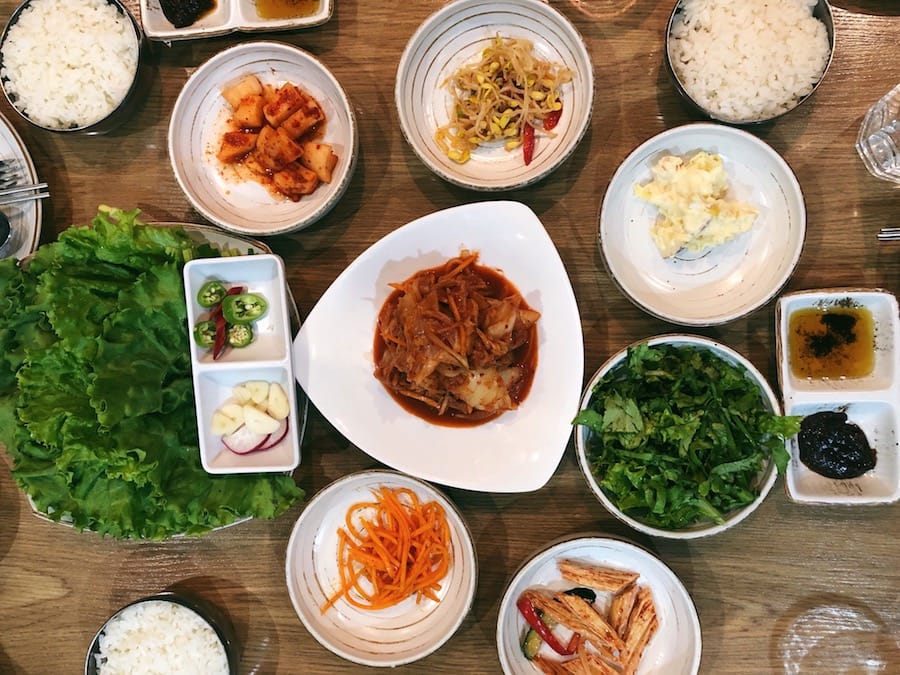 They put us in a private room for the evening and we had a grill to cook ourselves, which was what we were wanting.
The food was extremely tasty and service was really good. I was stoked leaving as I had another great place to recommend to those looking for Korean restaurants in Almaty.
You can find Masisso at Nazarbayev Ave 57 in Almaty.
Vegan and Vegetarian-Friendly Restaurants in Almaty
Craft Kitchen & Bar
I find Craft Kitchen & Bar to be one of the most underrated places in Almaty. The décor is truly spectacular (oh, and Instagrammable) and the food is really a breath of fresh air.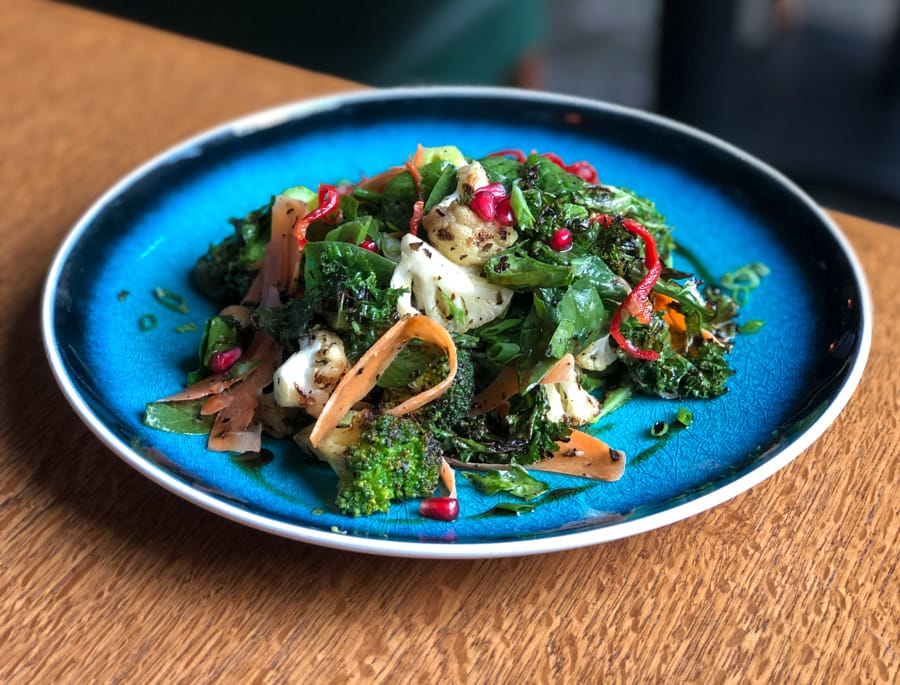 I always eat at Craft whenever I am in desperate need of something fresh or a salad.
They have a superfood salad there that always gives me the energy kick that I lose when eating too much plov or other local foods that lack fresh vegetables.
You can find Craft Kitchen & Bar at Dostyk Avenue 40/1 in Almaty.
International Restaurants in Almaty
There are several options for international flavors in Almaty. You will see a fair amount of Korean food in the city, which is why it has its own section above.
But, you will also find American, Italian, Georgian, Chinese, Thai, Japanese, Indian, German, and more in the city. The following are a few of my favorite places that showcase a different cuisine than Central Asian.
Samurai Sushi
Will Samurai Sushi win an award for its delicious flavors? Probably not, but for its price, location, and service, it's pretty dang good.
It is one of the most popular places to get sushi in Almaty and it is almost always filled with hungry locals.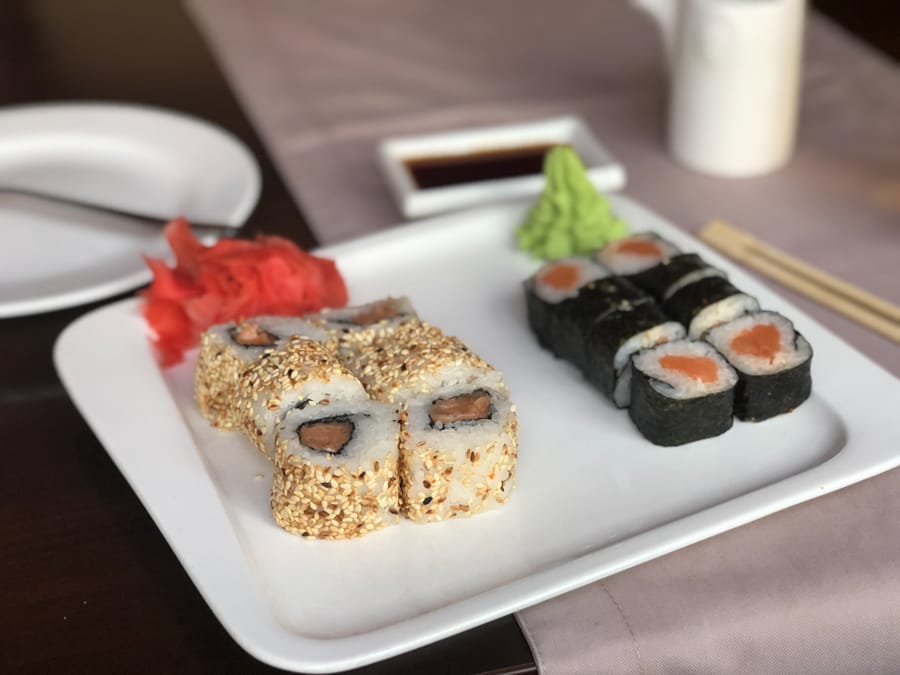 I am not a huge sushi eater but I will go there a few times when I am in Almaty every time as it is extremely cheap (compared to places in Western Europe) and pretty consistently good.
You can find Samurai Sushi at Dostyk Avenue 95 in Almaty. It is really close to Dostyk Plaza
Shakespeare Pub
Oh no, a British pub. Really!? Yes… I couldn't help myself. Shakespeare Pub is, in fact, a British pub… with an Indian chef.
I have eaten at a few places throughout Almaty looking for good Indian food and while I have found such at Tandoor and Spice Mantra, it has also suffered from inconsistency throughout the years.
Shakespeare Pub, on the other hand, has not.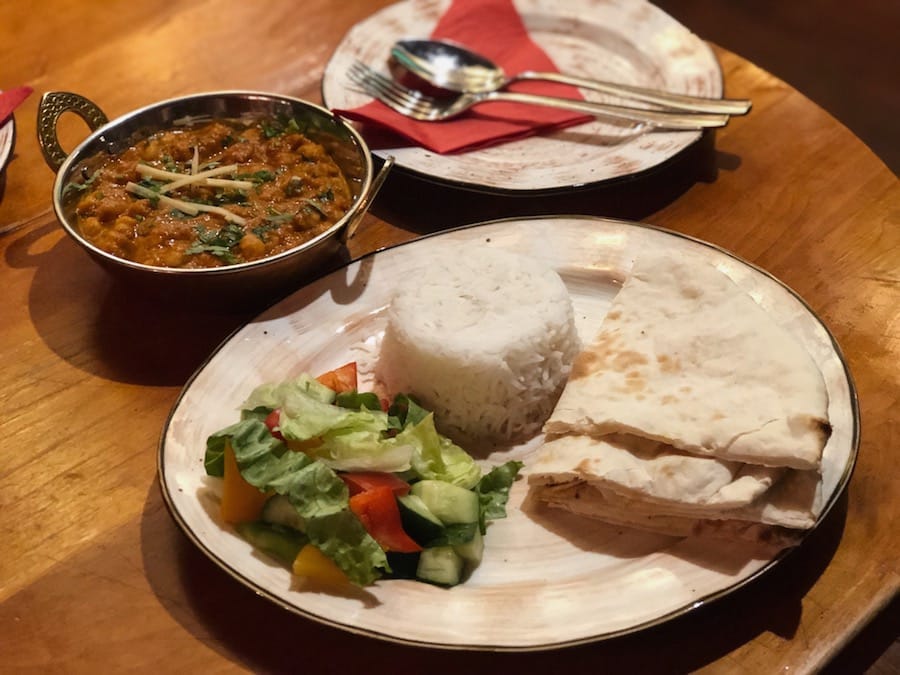 I always order a Channa Masala when there. The pub is pretty pricy for Almaty standards but when you need spice, you need spice. It is also a great place to watch sports and other events.
I have witnessed everything from the World Cup in 2018 to Donald Trump winning the election in 2016 inside of this pub. Needless to say, all memories aren't as positive to reflect on as its Channa Masala.
Wednesday nights are curry night and you get beer and curry at a discount.
You can find Shakespeare Pub at Dostyk Avenue 40 in Almaty.
Alternatively, if you're looking for a good Indian restaurant that is not a British pub, I like Tandoor and Spice Mantra. Spice Mantra is inconsistent, however, but Tandoor has traditionally been pretty solid.
Smug Burger Bar
You can get a pretty decent burger at a few places in Almaty. You can also get some pretty horrendous burgers in Almaty. One place that stays consistently pretty good is Smug Burger Bar.
I go to the location at Dostyk Plaza and it is open extremely late and the burgers are always quite good. They get a bit hipster on their plate situation, however.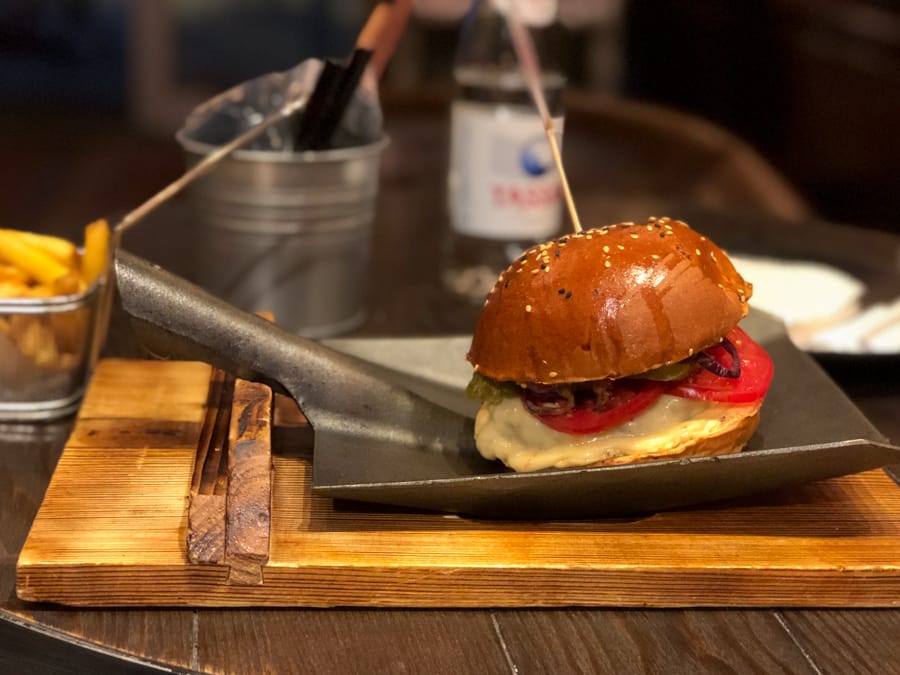 At Smug Burger, there are several options of burgers, including vegetarian patties, and you can also create your own. I'm not that picky and usually just order something straight from the menu.
You can find Smug Burger at Dostyk Plaza in Almaty. It needs to be entered from the outside (to the left of Cafe Central) and can not be accessed from inside of the mall itself.
Patsatsina Georgian Kitchen
This new Georgian restaurant replaced my favorite pelmeni restaurant that was there for like two months (welcome to how quickly things come and go in Almaty).
It quickly became the favorite Georgian kitchen for many here in Almaty and it truly has a great vibe and delicious food.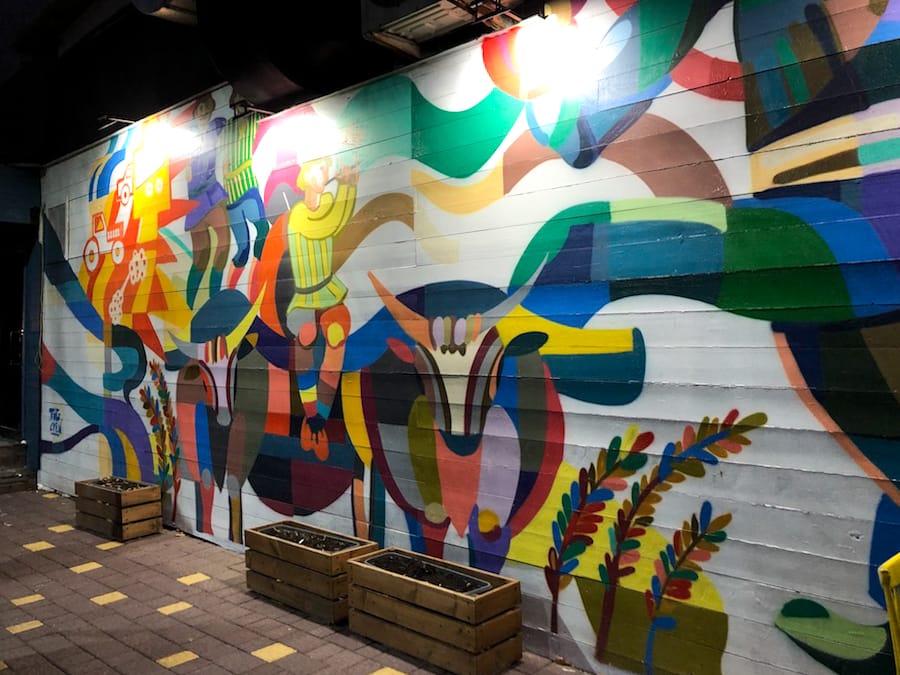 The outside is very recognizable as there is a large, painted mural indicating its location.
This is a must-visit Almaty restaurant for those that love Georgian food or are keen to try something a bit different than the typical Central Asian fare available.
You can find Patsatsina Georgian Kitchen at the corner of Dostyk Avenue and Kabanbai Batyr.
Cafes in Almaty
To be honest, there is no real reason I am putting cafe(s) on this guide except that I spend a lot of time in them and some have decent salads and a cozy atmosphere.
I have an entire guide to Almaty cafes that I am about to update, and it includes a mixture of places with good coffee as well as great atmospheric cafes in Almaty.
Nedelka
This cafe is a popular local spot that has a spacious dining area and terrace. My favorite reason to head there is that I really love their salads.
They are basic yet affordable and tasty. I usually just order a Caesar or Greek salad.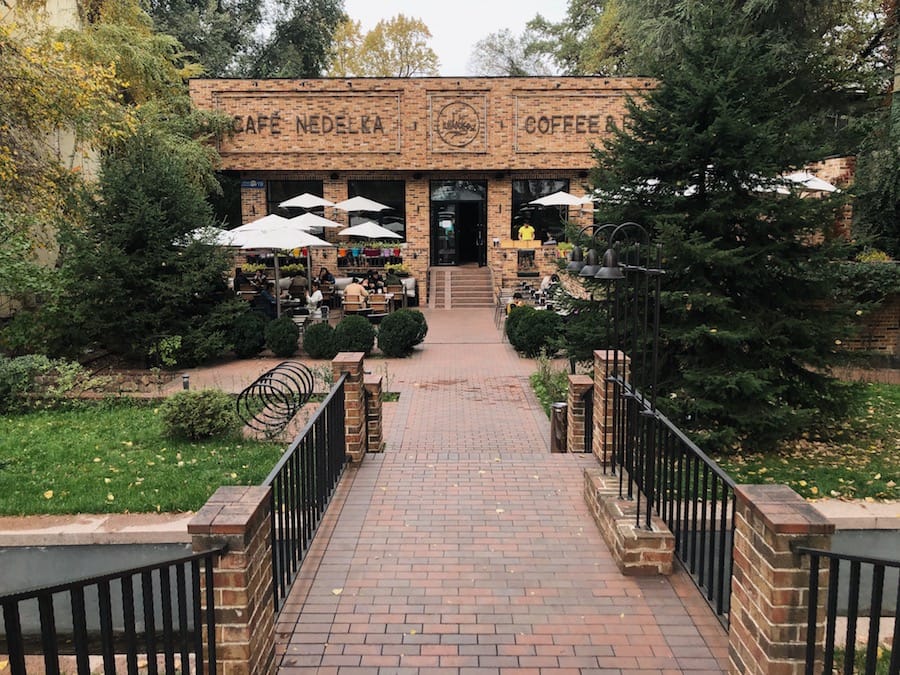 Nedelka is popular for working on laptops and has several power outlets and the service is exceptionally friendly. They also have good coffee. This is one of my favorite places in Almaty.
You can find Nedelka at Abay Avenue 19 in Almaty.
Cafeteria-Style and Budget Places to Eat in Almaty
Mandarin Goose (Мандариновый гусь)
Inside of Dostyk Plaza sits a cafeteria called Mandarin Goose that I always end up eating at due to its affordable prices and convenient location.
You will find it on the top floor where the food court is to the left. It is pretty much like any other cafeteria-style eatery that you will use in Eastern Europe or this part of the world and the food is nothing to write home about… but it is pretty decent.
You will find everything from soups and salads to plov and dumplings. Do know what you want ahead of time as it is a toss-up whether or not the staff will speak English.
If you're not picky and just point to things, you will be fine. This is not the place to go if you have food allergies or are plant-based. I usually just get borsch there.
You will find Mandarin Goose at Dostyk Plaza on the third floor in Almaty.
Qaganat
This cafeteria is pretty popular in Almaty and has multiple locations. It is super affordable, has fresh food, and is actually quite stylish for a cafeteria compared to several others I've been in around the world.
The interior overhaul is a recent touch as they wanted to update beyond the traditional 'drab' canteen-style seen in other ones.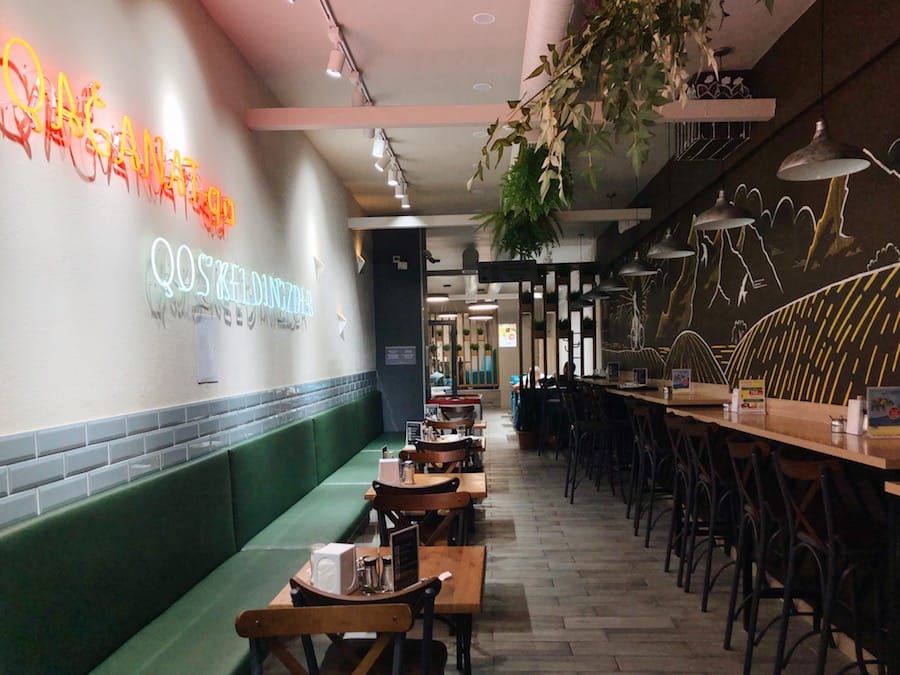 Aram and I usually eat at the one near Dostyk Plaza on Ulitsa Nyuntona. It just opened and is one of the 20+ in Almaty.
The staff is friendly and there are different sections to enjoy your lunch or dinner at, including an outdoor terrace. They are open 24/7 and my bill is usually less than $2 there.
They serve an array of local food from manti to plov to borsch and more.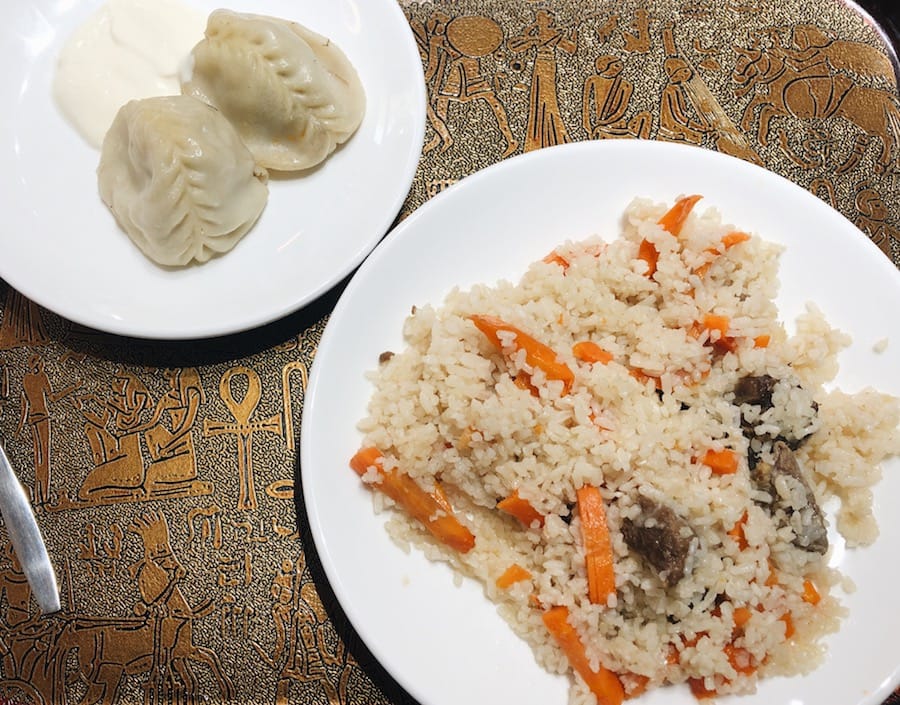 Bahandi Burger
Extremely popular amongst locals, Bahandi is a burger joint that is nothing more than a kiosk serving delicious food at their few Almaty locations (actually not all are kiosks… only the ones I go to).
These stand-alone kiosks can often have a line as locals really love the burgers which are kind of a fusion between Indian and American-style.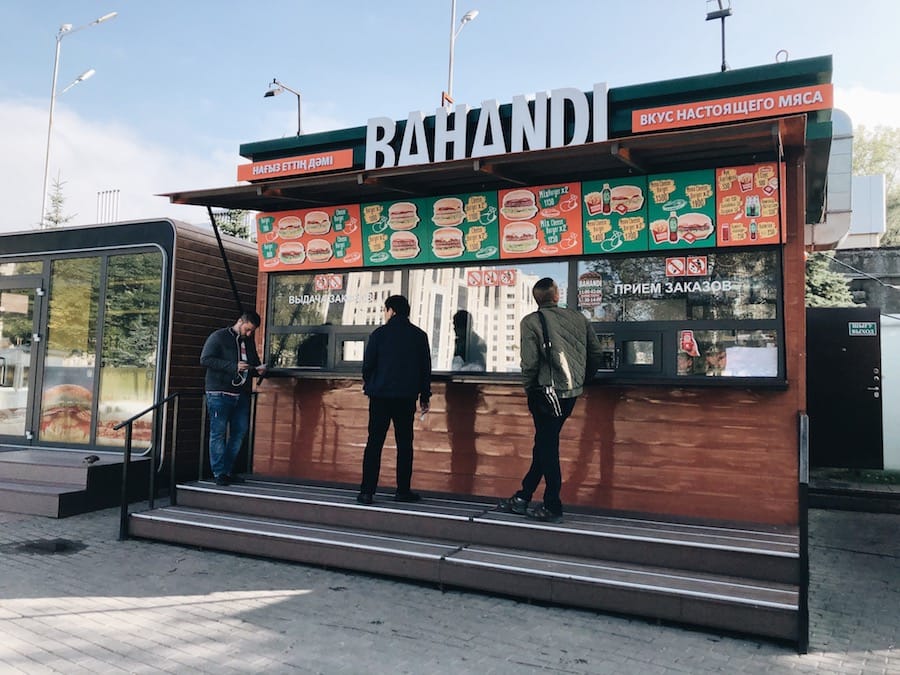 There is a centralized location on Abay near the metro station if you want to give it a try. It is cheap and there will be locals around enjoying some of their tasty burgers.
Map of Almaty Restaurants
This is a map containing the restaurants above and where they are located in Almaty.
Where to Stay in Almaty
When I travel to Almaty, I really only stay in one place, Parasat Hostel. I get a private room there and the owner has become a friend of mine throughout the years.
The hostel is clean, spacious, and secure. It is not a huge party palace but it is a very social place where you can meet some new people.
Here are my three recommendations in Almaty depending on your budget:
These are our top recommendations of restaurants in Almaty.
We are always up for trying new places and expanding on this list, so please drop us a comment with other places that we can check out next time we are in Almaty! Thanks!
PIN IT FOR LATER!