One of the most interesting pieces of architecture that I've come across in my travels are Soviet circus buildings. This post rounds up some of the circuses of the Soviet Union that I have visited throughout the years with a little bit of background on each.
Foreword: I don't like circuses. In fact, I can think of very few things that repulse me more than a circus. I have protested their existence for more years than I can remember and I will not step foot inside of one.
My affinity for a Soviet Circus lies 100% within its architecture and the history that surrounds it. I have only stepped inside of one, ever, and that was the one in Zaporizhia, Ukraine because locals were selling honey inside the main entrance and I wanted to purchase a small amount to take back with me.
With that being said, I hope you enjoy this post about the circuses of the Soviet Union and the USSR architecture that carries on that legacy in certain countries today.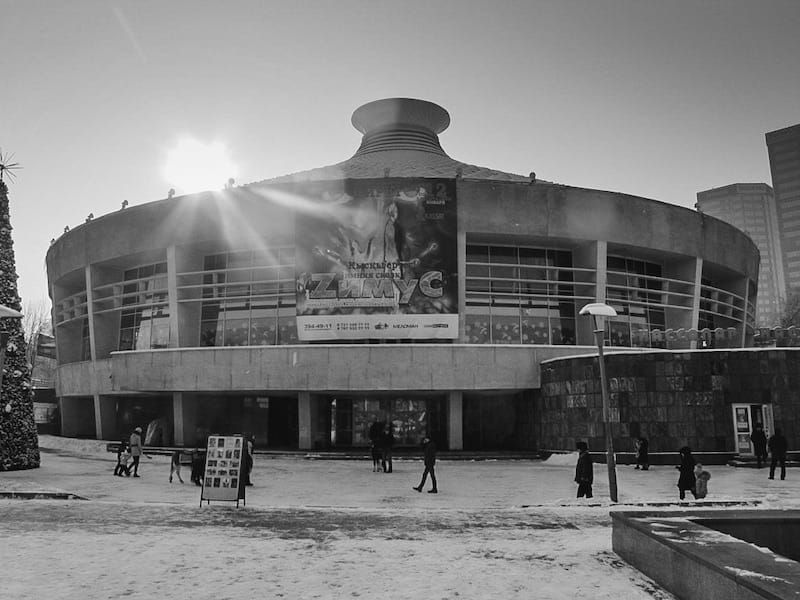 I have wanted to create this post for years. The only issue I had was that I hadn't really visited too many Soviet circuses, so it seemed a bit remiss of me to write about the history of ones I hadn't yet visited. I still haven't seen the vast majority.
I salivate over photos of the ones in Tashkent and Dushanbe and dream about the day I'll see the ones in Yekaterinburg, Tver, Gomel, Kryvyi Rih (which looks freakishly similar to the one that was demolished in Yerevan in 2012), and particularly the one in Kislovodsk.
Update: I have since added Tbilisi, Baku, and Kryvyi Rih Circuses to this guide after my visits to each.
USSR Circus Buildings
Kazakh State Circus (Almaty, Kazakhstan)
I first visited Almaty, Kazakhstan in January 2014 and as many of you know, I later moved there for a few months last year. When I first visited Almaty, I stayed in a neighborhood called Sayran.
The locals of Almaty know this area as the 'dangerous' area of the city. It really doesn't have a great reputation. But I stayed at a lovely homestay/hostel there and at the time, Almaty didn't have a lot of other options.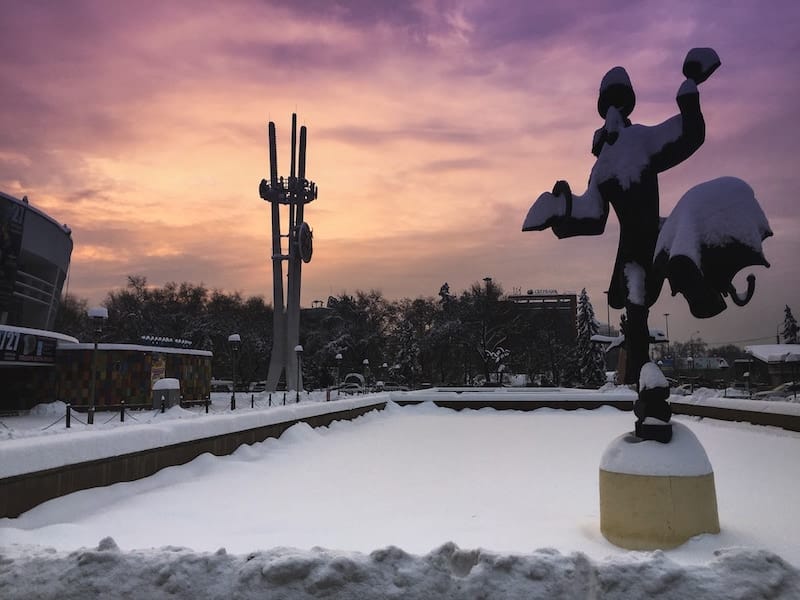 Sayran is located quite a bit outside of the center of Almaty and my trek into the city required a really, really long walk or a crowded bus ride. There is now a metro stop there, which makes things a bit easier. Anyway, my walk into Almaty always took me past the circus building.
I often stopped and took photos or just glanced over its idiosyncratic roof. Events always seemed to take place there and even though I refused to step inside and check out its interior, its history left me curious.
The Kazakh National Circus began in 1967. Their acts and performances took place in the Sarator's Circus and in tents until the new location (pictured above) was built in 1972.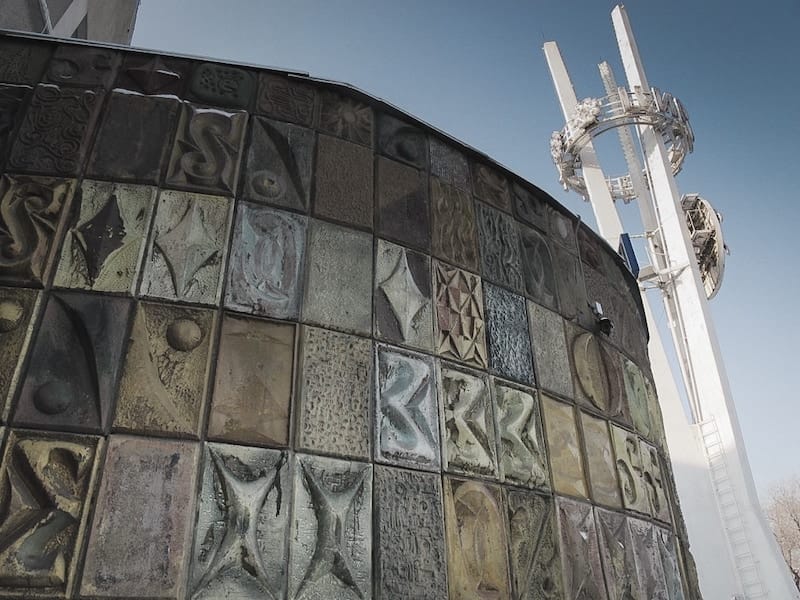 The architects who headed the project were Vladimir Katsev and Innokentiy Slonov. Engineers SB Matveev, M. Plakhotnikov and artists G. Zavzionniy and I. Nimetz also played a major role in getting the new circus ready for its launch.
The circus building's design history was rather interesting as the Head of the Kazakh SSR, Dinmukhamed Kunayer called for the construction of the new circus, but stated that he wanted its design to resemble the one over in Ashgabat.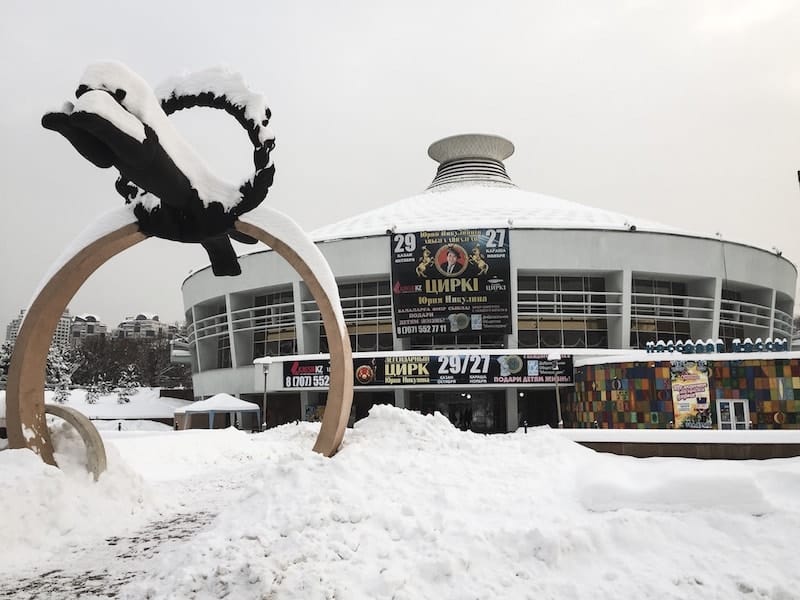 Katsev, the architect behind the project who also led the one for Medeu, the outdoor speed skating and bandy rink that Almaty is known for, said otherwise.
He decided that the Kazakh State Circus would have its own identity and created it with an understanding of the local mountainous terrain and Kazakhstan's renowned national culture… ultimately ending up with a finished product where the silhouettes resemble nomads' tents.
Today, the Kazakh National Circus can be seen at Abay 50 in Almaty. The capacity is 2,160 and inside one will find a two-tiered lobby. There are also two courtyards for walking the animals on the premises. If you can't check it out during daylight hours, it is lit up beautifully at night and is worth popping by then.
Kharkiv State Circus (Kharkiv, Ukraine)
Across the Kharkiv River in the Ukrainian city with the same name, is one of Ukraine's oldest circuses. The Kharkiv State Circus was formed some time ago but really came to fame in 1906 when the circus used a building called the Grikke for its performances and shows.
Today, that building still stands and is used for rehearsals and training, but the building pictured below is where the big shows take place today. Because the Grikke couldn't accommodate everyone, the current building's construction began in 1966.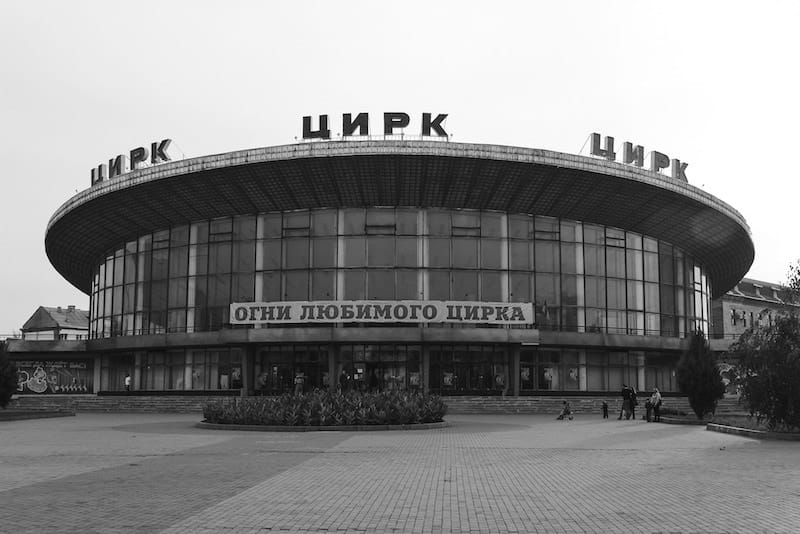 On April 9, 1974, the first performance took place. Almost every famous and incredible performer, acrobat, and trainer during the Soviet Union has performed inside of this building. The Kharkiv Circus is located at Irinu Bugrimovoi Square 1 or you can use my Soviet Guide to Kharkiv to navigate to it.
Dnipropetrovsk State Circus – Old (Dnipro, Ukraine)
Not a lot of people know about the old circus in Dnipro because the new one is quite popular in its own right. I even asked a few locals for directions and they gave me a puzzled look (maybe it was my crappy language skills though, on second thought).
Either way, this circus building is abandoned, decrepit, and probably on its last legs. Endangered or not, it is still there and can be seen easily if you make an effort. It sits across the street from Ozerka market.
The beginning of the Dnipropetrovsk State Circus didn't begin inside of this building, however. The circus began inside of a purpose-filled building that ended up demolished in 1929.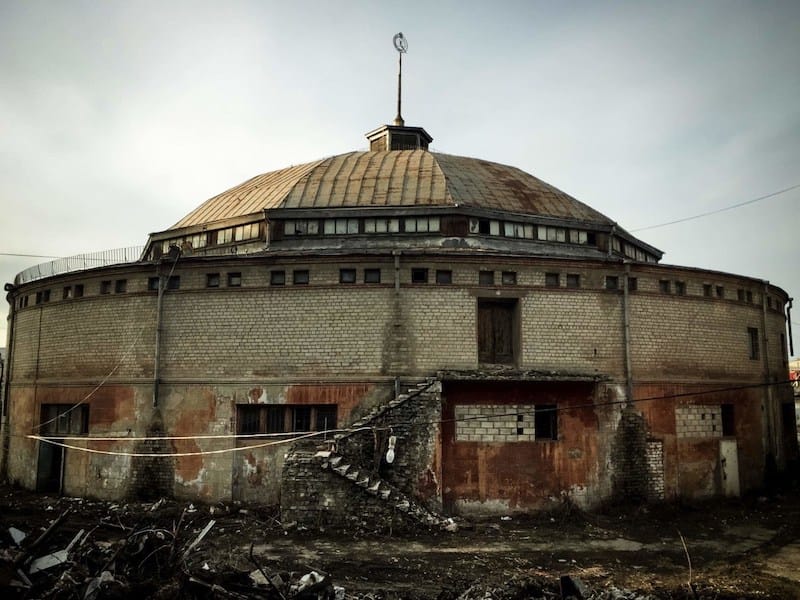 They then moved into tents which were later destroyed during WWII. Eventually, architect Vladimir Zhukov, known for his Stalinesque creations, was tasked with creating a stationary circus building.
The old Dnipropetrovsk circus building opened its doors on June 23, 1960, with an act from Belarus. This building remained in use until the city decided to keep the circus year-round and not just seasonally. In order to do this, a new building with a heating system had to be built in its place.
This building has remained abandoned since 1980. You can find it at Vulytsia Shmidta 7 or use my Soviet Guide to Dnipro to track it down.
Dnipropetrovsk State Circus – New (Dnipro, Ukraine)
In 1980, this stunning building opened its doors to the public all the way across town from its predecessor. The building is state-of-the-art when it comes to Soviet circuses and is the only circus building in Ukraine with an area to conduct rehearsals and training sessions and even comes equipped with its own staging area.
The roof, distinguishing in its own right, was built with special lighting within its dome that helps produce great acoustics and it also allows convenient and reliable suspension for mount equipment for artists.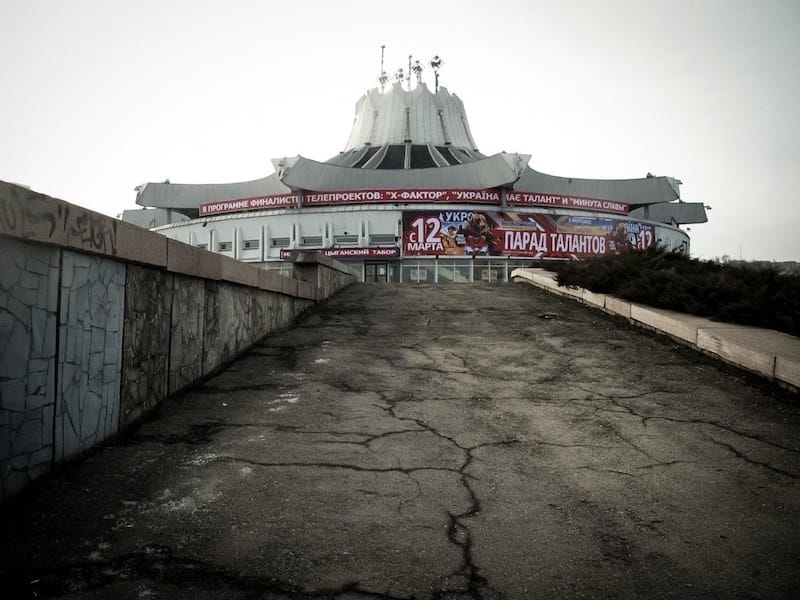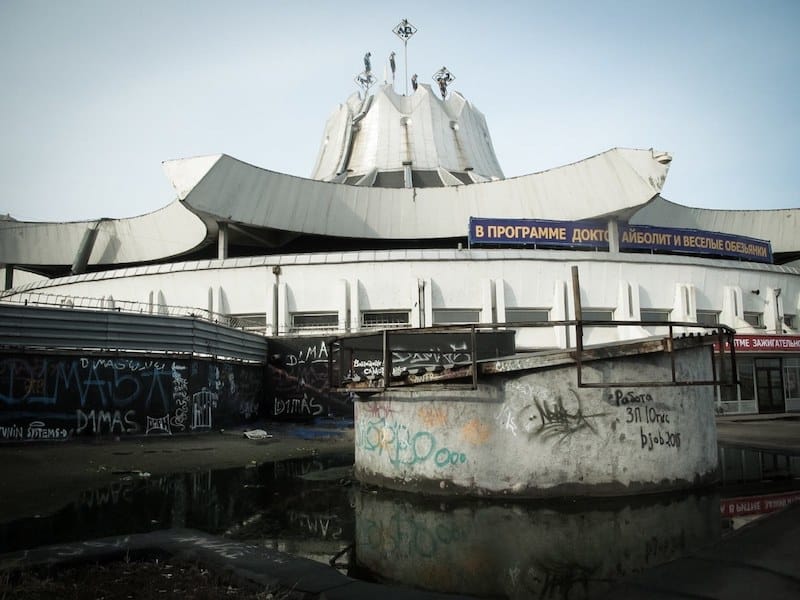 Capacity is 1,914 and the architectural genius behind the building was Pavlo Nirinberg. The circus building also has its own ballet studio for jazz-related events and shows that take place inside.
While I found the circus building very unique and captivating to my eye, my favorite thing about it was the Accommodation for Circus Artists next door. It was a construction project that began in 1985 and was the brainchild of Oleg Tchmona.
The brutal building is a stone's throw from the river and was strangely one of my highlights in Dnipro. You can find the circus at 33 Naberezhna Lenina Street or you can use my Soviet Guide to Dnipro.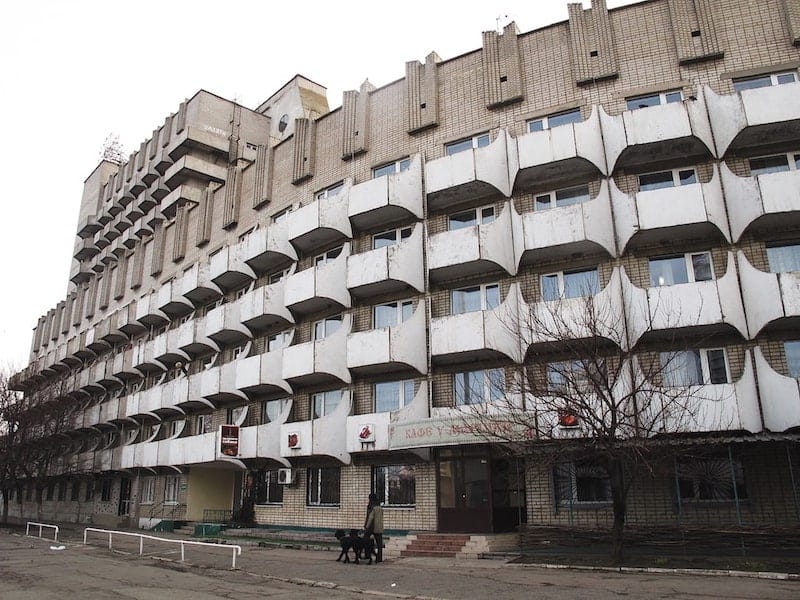 Kyrgyz State Circus (Bishkek, Kyrgyzstan)
Ohhhh controversy. No Soviet Circus seems to have undergone as much skepticism and criticism as the Kyrgyz State Circus in Bishkek. And rightfully so; circuses are inhumane.
Some of the situations have been 'wrong place at the wrong time', but it doesn't justify anything that has taken place. I will explain a bit below.
The Bishkek circus building was a project realized in 1973 and completed in 1976 headed by architect L. Segal (other names of note are V. Shardrin, A. Nezhurin, and D. Leontovich).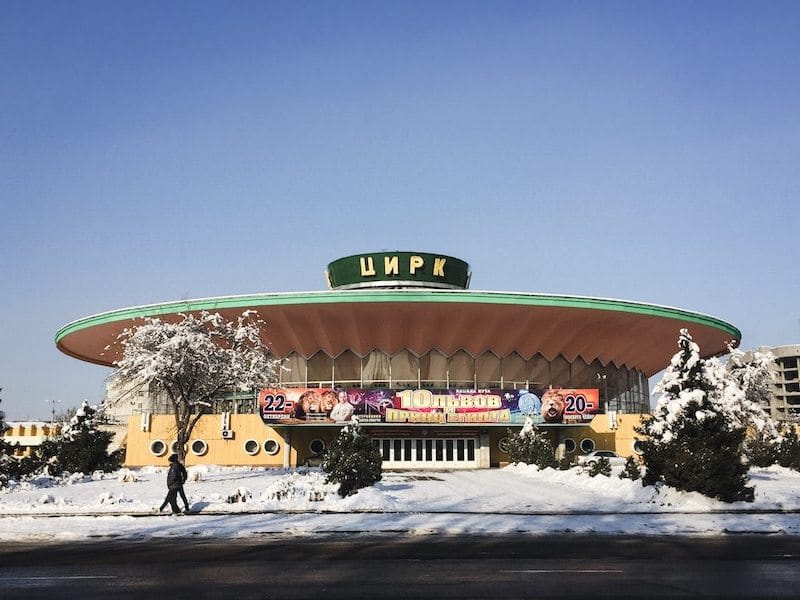 The first performance took place in 1978 and showcased the best acrobats, magicians, and trainers that the Kyrgyz SSR had to offer. The circus has stood since and is in decent condition (aside from some of the art on the outside) and is still used. It did, however, undergo renovations in 2005.
In 2009, the Russian State Circus was in town and performing at the Kyrgyz State Circus building in Bishkek. Their act, "Bears on Ice" was well-known throughout post-Soviet countries and the performance was a popular one.
During rehearsals for this performance, a five-year-old bear severed the leg of the circus administrator, Dmitry Potapov, and dragged him across the rink by the neck. Potapov was declared dead at the scene. Another man was injured for trying to intervene but ultimately did not lose his life. The bear, on the other hand, was shot and died at the scene.
In early 2016, a Russian traveling 'Dolphinarium' arrived in Bishkek amidst over the thousand people who had petitioned to not allow such a cruel and unethical showcase of events happen on Kyrgyz soil.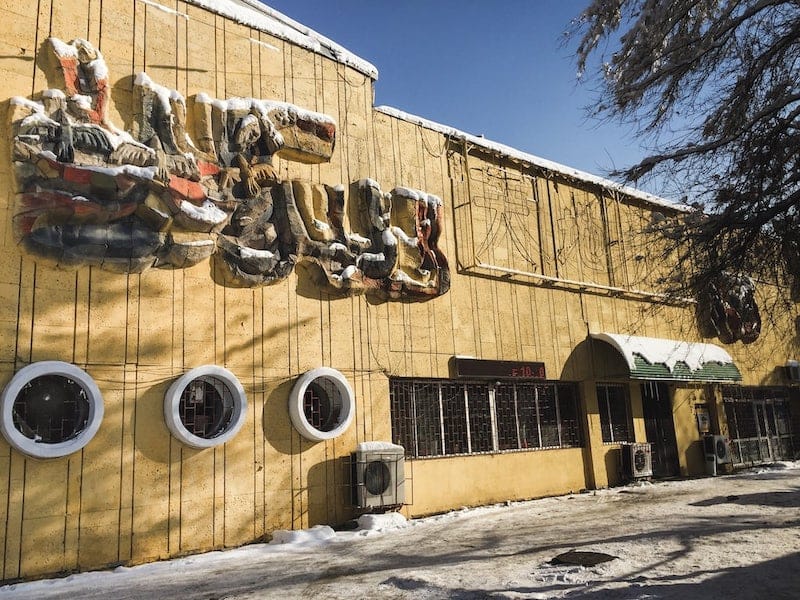 Nevertheless, the show arrived and featured dolphins, as the name suggests, and beluga whales, which are banned in acts across the world but still remain quite popular in post-Soviet countries today. A Beluga whale named Dale died in 2010 in Kazakhstan from heart issues as a result of being a 'performer'. A group of protesters suggested the following:
"Why has this dolphin circus ended up in Kyrgyzstan? Because it has nowhere else to go and we are a poor country with lax legislation," said Anna Kirilenko of BIOM, an environmentalist non-profit organization based in Bishkek.
The Mayor's office retorted back, "Dolphins love to be touched. Training and performances are a form of play for dolphins…they were born in captivity and thus would not survive in the wild."
Anyway. I think that speaks for itself. If you'd like to go and visit the Circus and see it from the outside as I did, you can check it out at Jumabeka Street 119 in Bishkek. The circus is still in operation today.
Zaporizhia State Circus (Zaporizhia, Ukraine)
One of the few things I knew about Zaporizhia prior to arriving there was that they had a pretty well-known circus and circus building. While I didn't hunt down the building immediately upon my arrival (coffee and beer won that battle), I did stroll down that way after my dinner that night to see the building.
It was lit up nicely at night and when I went back the next day, I found the circus in the middle of a bustling and pretty clean park.
It was very apparent that the residents of Zaporo took pride in their circus. This circus building is the only one I have ever stepped foot inside of, actually.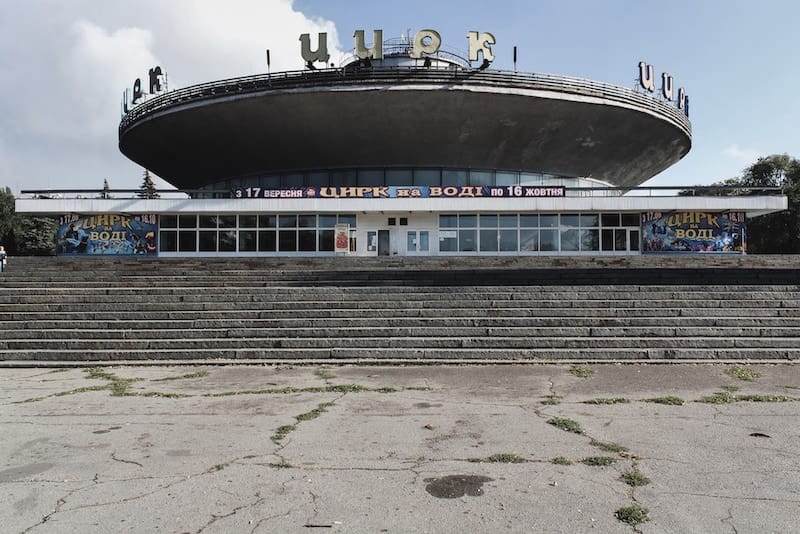 I didn't want to do it, but there were some sweet local ladies selling honey inside right at the front doors and I decided to go in and buy a little off of them. I purchased and walked right out, so I really didn't see anything inside of the building.
The Zaporizhia State Circus is old and existed long before this building was built. The initial performance center and summer circus area was obliterated during WWII and later reconstructed in 1948.
Eventually, the circus grew and became more and more popular and demanded a higher capacity as well as year-round options (it was only seasonal at the time). This building's construction began in 1966 and it opened its doors on April 20, 1972.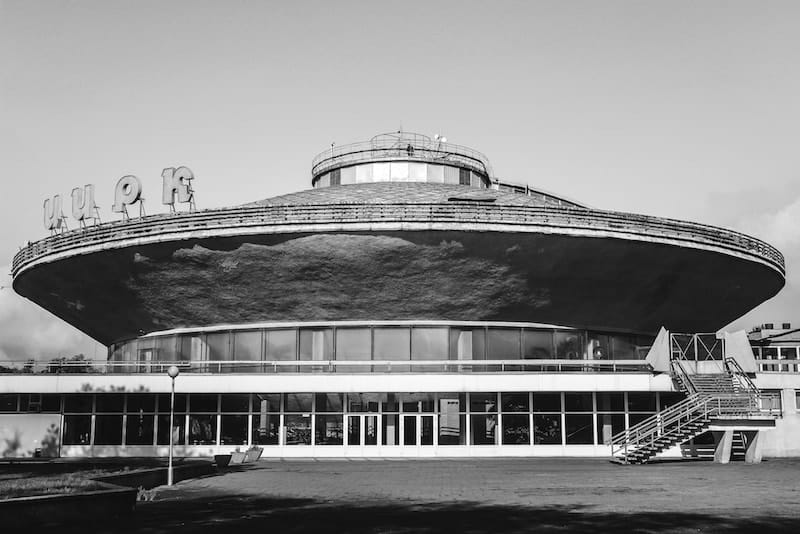 The current capacity is 2,000. Zaporizhia's circus has hosted several notable Soviet performers and artists such as Yuri Nikulin, Igor and Emil Kio, Durova, Filator, and Fragrant. Over the last six years, the circus has been seen by more than 700,000 people inside this building. You can find the Zaporizhia State Circus building at Rekordna St. 41.
Chisinau State Circus (Chisinau, Moldova)
I had read quite a bit about this abandoned circus building prior to stepping foot inside the country of Moldova but was super keen to check the building out with my own eyes. It was exactly as I had expected.
I left in a state of confusion about whether it is actually still abandoned or not as the banners advertised something, but I never researched to see what the current state of the building actually is. Oh well.
The Chisinau State Circus was built in 1981 from the designs of architects S. Shoykhet and A. Kirichenko and officially opened its doors in 1982 after some design team and the Circus Union of the USSR disputes. The Circul de Stat Chisinau closed down in 2004 for renovations and repairs and never opened back up.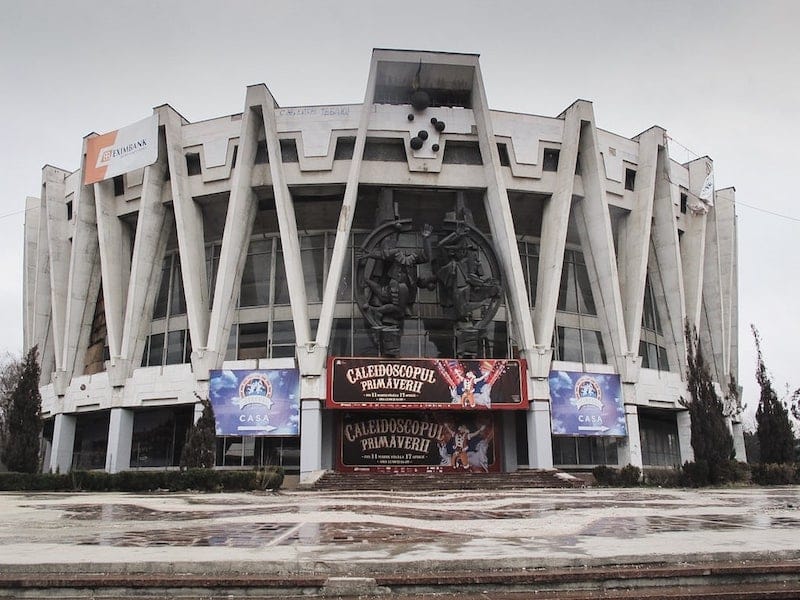 In 2008, the Cypriot company Pesnex Development LTD signed a contract to restore and maintain the place, but in 2011 they had failed to meet their contractual obligations and the circus was returned to Moldavian state ownership.
Everything I read stated that it was in an advanced state of decay currently and many decorative elements on the facade are likely to collapse. I am curious to see what the future of this circus building will be. The Chisinau State Circus building is located at Renasterii Boulevard 38.
Ukraine National Circus (Kyiv, Ukraine)
The Ukrainian National Circus is strangely easy to miss when you're in Kyiv. It is situated along a rather busy road and there is so much happening around you that if you're on the same side as the circus, you may walk past it without any glance over at it.
From the other side of the street, you can see its dome and size, but it just doesn't catch your eye like some of the others. But, the history of the circus in Kyiv is rich and pretty remarkable, so even though the building and its location are slightly underwhelming, the story behind it is fairly compelling.
The Kyiv Circus history goes back far, but the most interesting history, in my opinion, began in 1903 when Mikhail Krutikov won a contest held by the Kyiv City Council who was looking to build a stationary circus and have a hired director.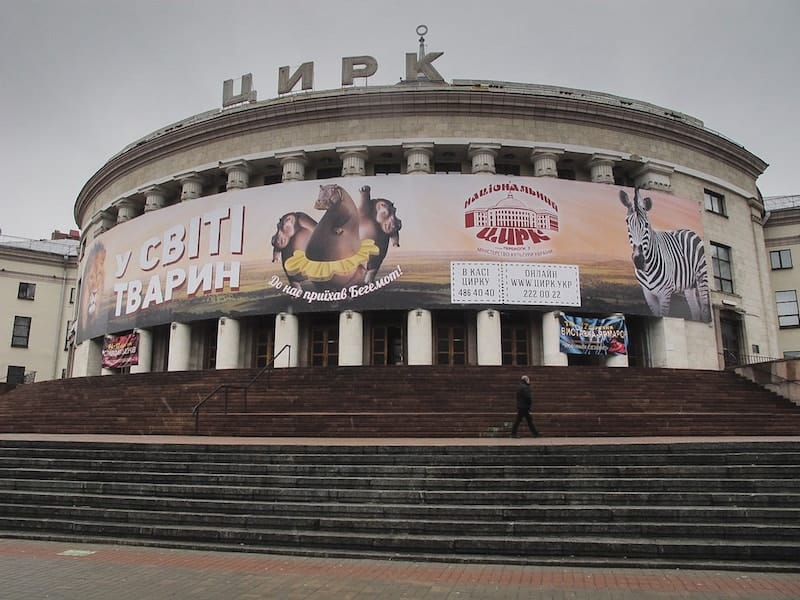 The contest ran for a while and he was selected after many proposals from others were rejected. Mikhail was known for his talent with training and communicating with horses.
The Hippo-Palace (horse palace) was the idea of architect Eduard Bradtman and served as Europe's largest stationary circus until 1941 when it was bombed by retreating Germans. In 1945, the building was demolished due to excessive damage. Today, passersby will see the "Ukraine" cinema (1964) in its place.
In November 1960, construction was completed on the Kyiv Circus building which still stands today. The domed building (one of the largest domical buildings in all of Kyiv), can hold up to 1,900 spectators. In 1998, the Kyiv Circus became the National Circus of Ukraine.
Many famous performers, trainers, and acrobats have passed through the doors including Boris Mikhailovich Zayats (a general director), Vladimir Shevchenko (gymnast, acrobat, and trainer), and Shevchenko's wife Lyudmila (trainer).
In 2007, Shevchenko was named General and Artistic Director of the Ukrainian National Circus. He, unfortunately, passed away in 2012 and his wife, Lyudmila, took over his duties as General Director of the state circus.
You can find the Ukrainian National Circus on Peremohy Avenue in Kyiv or you can check out my Soviet Guide to Kiev.
Baku State Circus (Baku, Azerbaijan)
The Baku State Circus dates back to the 1980s and the first building was built at the intersection of Nizami Street and Bul-bul Avenue in 1906. In 1924, after a fire, the circus was built and in the 1930s, the Baku Circus was officially founded.
The current, colorful building that you see in the photo was built in 1967 and was designed by architects E. Ismayilov and F. Leontyev.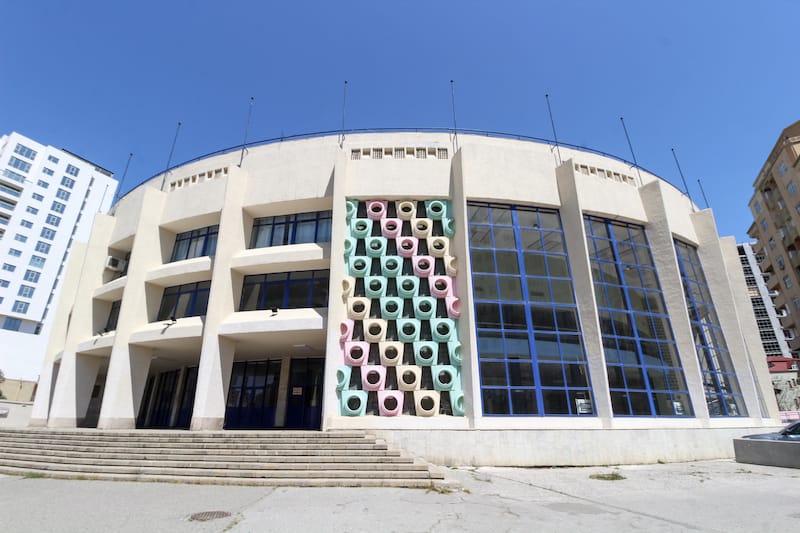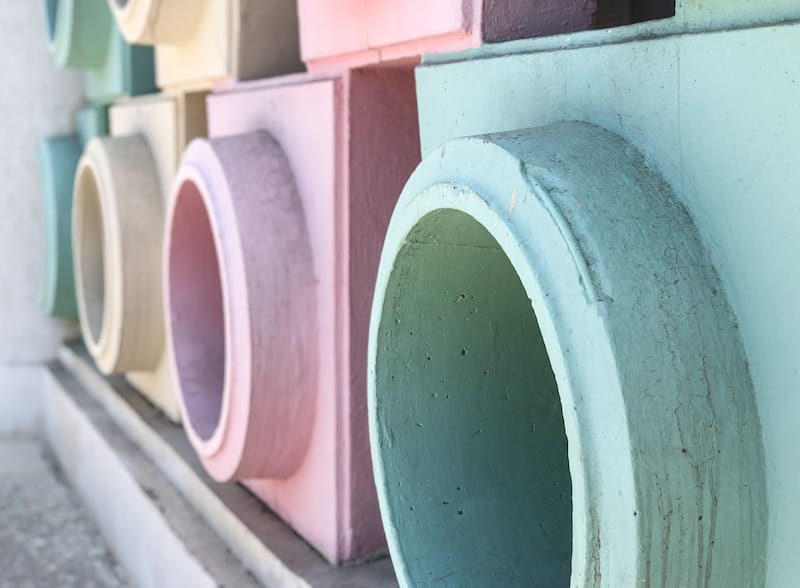 Today, in over the decades, the Baku Circus has used custom traditions from Azeri culture, national weddings, dance, and more for its numbers. The Baku Circus building is easy to visit from the city but it is quite a walk away from the main promenade in Baku.
Tbilisi State Circus (Tbilisi, Georgia)
I first time I visited the Tbilisi Circus was sometime in 2013 and I just walked up to it, did not photograph it, and walked down.
Between that time and now, I have revisited to take some photos for this post and see how the area looks. It was rather run-down and overgrown, but evidently, it is still in use.
The Tbilisi Circus was built in Stalinist neoclassical style. The construction of the building began in 1939 and was completed a year later. The architects behind it were Stephan Satunts, Nikolay Neprintsev, and Vladimer Urushadze.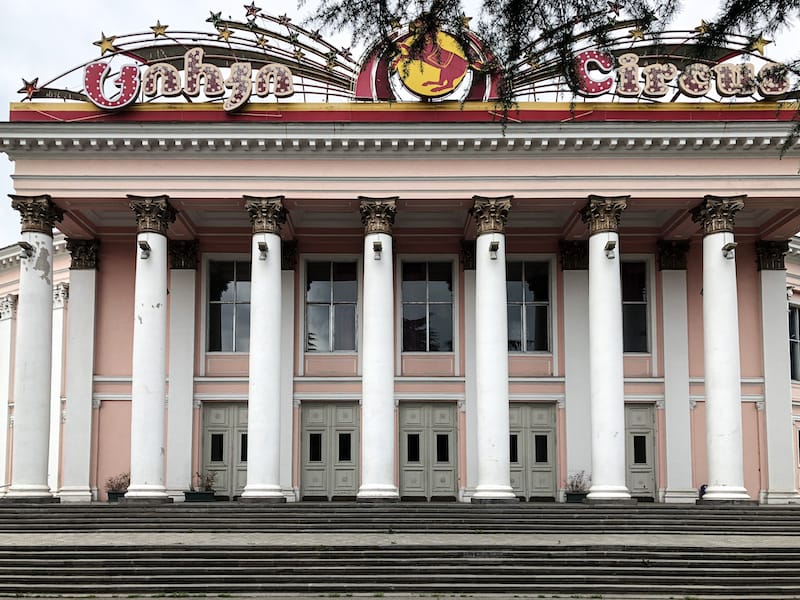 While the circus in Tbilisi went into disrepair in the 1990s after the dissolution of the USSR and was known more for being a place for street prostitution, the circus was eventually purchased by Georgian tycoon Badri Patarkatsishvili. His involvement in the political crisis in 2007 ended up putting the renovations on hiatus and it was not until 2011 that the circus got to reopen properly.
Kryvyi Rih Circus (Kryvyi Rih, Ukraine)
One of the main reasons I had planned to visit Kryvyi Rih was because of its circus building. It has a spaceship appearance (like many Soviet circuses do) and it lured me into Ukraine's eighth-largest city.
Situated in Sotsgorod in the Metallurgical District, you can find the Kryvyi Rih Circus at Vitaliya Matusevycha Street and near a very popular area of the city.
The Kryvyi Rih Circus in Ukraine dates back to 1970 when its construction was finished in the Soviet Union. The architect behind the project was S.M. Gelfer.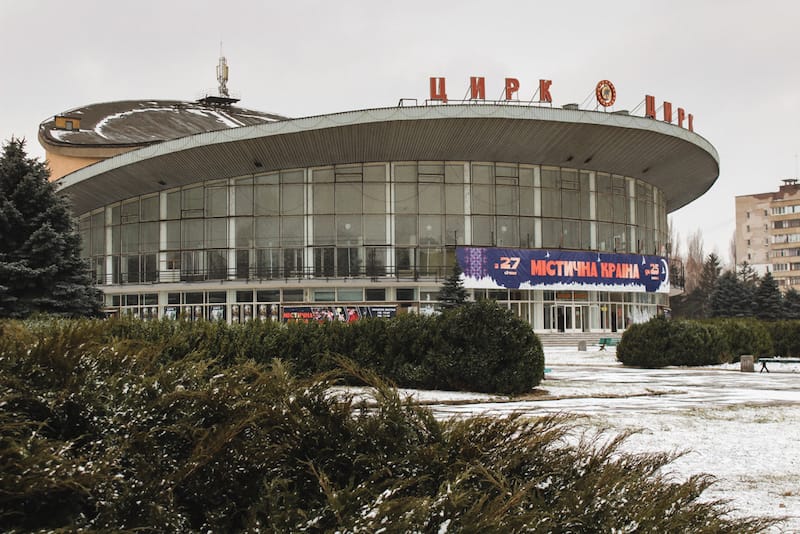 I don't like the circus. I never have and will likely never step foot inside of one. I am someone who celebrated when the circus was officially canceled in the United States. While I don't understand it from an ethical and moral standpoint, I do love looking at the architecture of a Soviet Circus building.
That is what I wanted to share and display here. I hope to visit more (from the outside, of course) over the next few years as these buildings really are pretty threatened from a structural standpoint, and when I do, I will continue to add to this list. I would love to hear your thoughts on circuses, Soviet circuses, etc… in the comments section!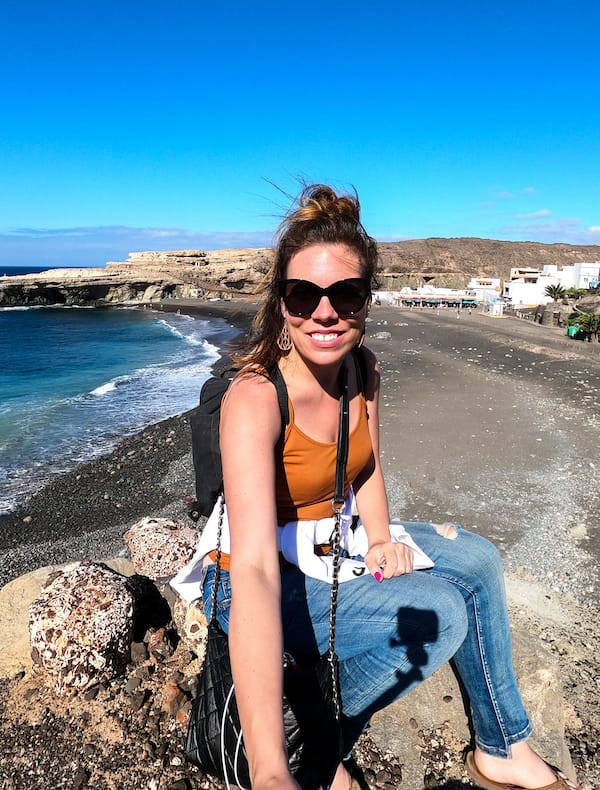 Megan is a travel blogger and writer with a background in digital marketing. Originally from Richmond, VA, she now splits her time between Frankfurt, Germany and Arctic Finland after also living in Norway, Armenia, and Kazakhstan. She has a passion for winter travel, as well as the Nordic countries, but you can also find her eating her way through Italy, perusing perfume stores in Paris, or taking road trips through the USA. Megan has written for or been featured by National Geographic, Forbes, Lonely Planet, the New York Times, and more. She co-authored Fodor's Travel 'Essential Norway' and has visited 45 US states and 100+ countries.